Complicated installation processes and high cost are some of the most common reasons why homeowners search for alternatives to the heat pump and mini-split systems. In this LG 12,000 BTU air conditioner review, we're going to explore the brand's affordable and effective cooling systems you can install on your own.
LG manufactures a broad range of portable, through-the-wall, and window air conditioners, and you can choose the option that best fits your needs. This LG 12000 BTU air conditioner review concentrates on the properties of the LG LW1217ERSM window AC because it is one of the brand's best 12,000 BTU window units.
We're also going to look at some of the best 1-ton window ACs manufactured by some of the most reputable brands in the industry. Read our guide to the best slider window ACs to learn more about how these devices work.
See Also: How to Find The Best 12,000 BTU ACs. 
Key Specifications of the LG LW1217ERSM Air Conditioner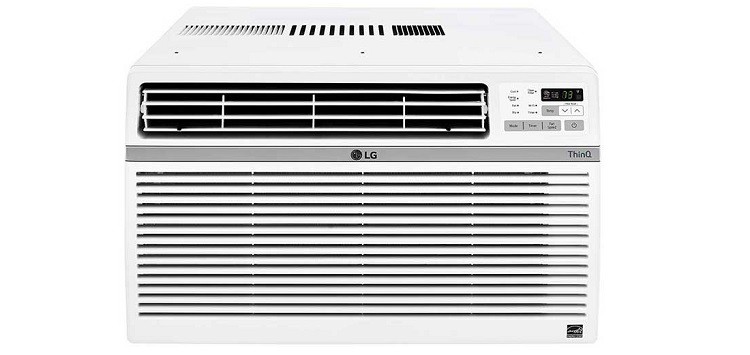 The cooling output of LG's horizontal window air conditioners spans from 5,000BTU to 24,000BTU, enabling you to pick a unit that matches the size of the room.
Also, the LW1217ERSM isn't the brand's only 1-ton window AC, and you should consider other options if this model doesn't meet your expectations. Here are some of the most important properties of the LW1217ERSM unit.
| | |
| --- | --- |
| Cooling capacity | 12,000 BTUs |
| Combined energy efficiency ratio  | 12.0 CEER |
| Energy efficiency ratio | 12.1 EER |
| Dehumidification capacity | 3.8 pints per hour |
| Number of fan speeds | 3 |
| WiFi-enabled | Yes |
| Minimum window width  | 27 inches |
| Latest price | Check latest price here |
Core Features of the LG LW1217ERSM Air Conditioner
These ACs aren't compatible with all types of windows as they need to be positioned correctly in order to function normally. Hence, a horizontal unit like the LW1217ERSM can only be installed on single-hung or double-hung windows.
In case you have slider windows in your home, you must look for a vertical window AC. LG's ACs for sliding windows were discontinued, so you'll have to consider models manufactured by other brands if you need a vertical air conditioner.
Also, the LW1217ERSM doesn't have the heat pump function, and you can only use it during the cooling season. You should consider getting a model like the LW2421HRSM if you're searching for a window AC you can use throughout the year.
Our guide to the best window heat pumps can help you find a model that cools or heats the space where you want to install it.
Coverage Area
Estimating the unit's coverage range is more complicated than just looking at its maximum cooling output. Under ideal conditions, a 12,000 BTU unit should be able to regulate the room temperature in spaces that have up to 550sq/ft.
So, according to the manufacturer, the LW1217ERSM is powerful enough to cool a 550sq/ft room, but its coverage area also depends on the quality of insulation or the number of obstacles that might prevent the air from spreading evenly through the room.
You can also move this window AC from one room to another, but you should keep in mind that this unit is heavy and that the window must have the necessary support for the outdoor part of the AC. Placing this LG model in a room that is too small for its coverage range might increase its power consumption.
Go through our guide to the best ventless air conditioners if you're looking for a unit that doesn't need access to fresh air to cool a room.
Compressor Properties
Window ACs utilize a refrigerant to absorb the heat and cool the air, but unlike on more advanced systems, their compressor and evaporator coils are located within the same cabinet. The performance of the LW1217ERSM is defined by the properties of its rotary compressor.
This unit utilizes the R32 refrigerant, and its compressor features two rotors that run in opposite directions. The compressor can run for hours without consuming a lot of power, which enables you to use the LG's model in bars, stores, and similar commercial settings.
This window AC also has an outdoor vent that allows it to dispose of the warm air and bring in the fresh outside air. The length of the unit's power cord is 72 inches, so it shouldn't be too difficult to find a suitable spot for this AC.
Check out our guide to the best portable air conditioners if you need a cooling unit, you can easily move from one room to another.
Cooling Efficiency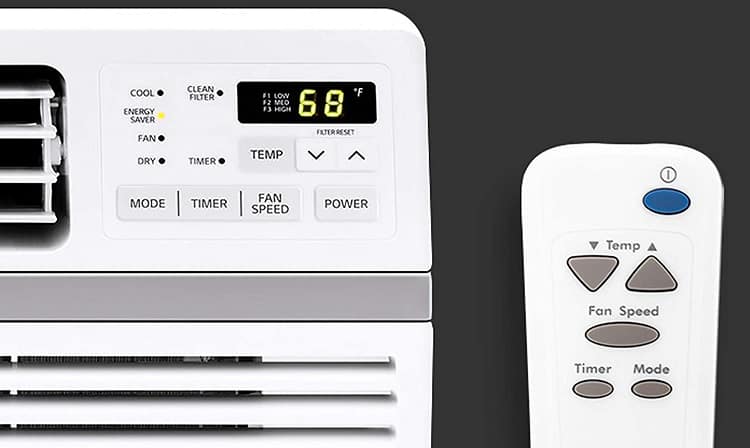 The LW1217ERSM can save you hundreds of dollars on utility bills during the cooling season because it is one of the brand's most energy-efficient window AC models. Its 12.1 EER and 12.0 CEER ratings suggest that this unit doesn't need much power to cool a 550sq/ft area.
The AC is also Energy Star certified, and it features the energy saver mode you can activate whenever you don't want to use it at its maximum capacity. Its estimated seasonal power consumption cost is just $89.
The unit maintains its energy efficiency at high temperatures because its operating temperature range spans from 60 to more than 100F. This window AC is also equipped with a Turbo cooling mode that enables you to reduce the room temperature quickly.
Go through our guide to the best mobile air conditioners to find a suitable cooling solution for your RV or manufactured home.
Airflow Control Options
The maximum airflow volume this AC unit can generate is limited to 265CFM. The model is equipped with a Turbo indoor fan that can operate at three different speeds, so you can adjust the AC's airflow volume to your current needs.
The Fan Only mode also has three speeds, and you can use it to ventilate the room rather than control the room temperature. The louvers can be placed in four different positions, while the unit utilizes the top discharge method to dispose of hot air.
The airflow options can be adjusted directly on the unit or with a remote. The ThinkQ technology allows you to control this windows AC with the Google Assistant and similar virtual assistance technologies. Check out our guide to the best window fans to explore alternative ways of cooling 550sq/ft spaces.
Noise Levels
One of the downsides of a powerful rotary compressor capable of running for hours is noise. The compressor is the reason why the LW1217ERSM makes almost 60dB of noise while operating at its maximum capacity.
Its noise level drops to 55dB when you reduce its cooling output to medium, while the unit makes 52dB at the low output or in the Sleep mode. In comparison, the indoor component of the Blueridge mini-split generates just 34dB at the lowest cooling or heating output.
That's why this window air conditioner isn't a good match for parts of your home you use to rest, but it can still be an effective cooling solution for a kitchen, dining room, or garage. Read our guide to finding the best garage air conditioner to learn more about how you can control the room temperature in this part of your home.
Dehumidification and Air Filtration Capacities
The Dry mode lets you turn this AC into a dehumidifier whenever the air humidity levels in your home rise above normal. The unit can absorb 3.8 pints of moisture per hour, so if you leave it in the Dry mode for an entire day, it will collect more than 90 pints of moisture.
The LW1217ERSM's air filtration properties aren't impressive because it cannot trap microscopic particles. In addition, its washable air filter doesn't have hypoallergenic properties, and it can only partially remove dust, pet dander, and similar allergenic particles from a room.
Cleaning the filter is easy, as you just have to slide the filter holder out of its position, remove the filter and wash it. The unit features a filter alarm that informs you when you have to clean the air filter in order to continue using the AC.
Browse through our guide to humidity control systems to discover different ways to increase or decrease air humidity in your home.
Installation Requirements
This LG model doesn't require professional installation, and you don't have to spend money to set up this air conditioner. The unit arrives with an installation kit that contains everything you need to complete the installation process.
However, you should keep in mind that the window on which you want to install the LW1217ERSM needs to be at least 27 inches wide and 16 inches tall. Also, you can only install this unit on single-hung or double-hung windows, and trying to place it in a vertical position might damage its components.
This AC weighs 82lbs, so moving it from one window to another isn't going to be easy, especially if you don't have multiple mounting support brackets installed in your home. Read our guide to the best Amana portable ACs if you're looking for a cooling unit, you can install quickly.
Cost and Warranty
This smart and WiFi-enabled window AC costs a bit less than $450, and it's moderately priced compared to other brand's models with the same coverage range. The manufacturer offers a 1-year warranty that includes the free part replacement and labor costs during this period.
Despite the short warranty, this LG model can last for up to ten years because its components don't break down quickly. Also, the unit doesn't have high upkeep requirements since you just have to wash and change its filter occasionally.
Go through our guide to the best Lowes mini-splits to find an AC system you can use to heat and cool your home.
The Pros of the LG 12,000 BTU Air Conditioners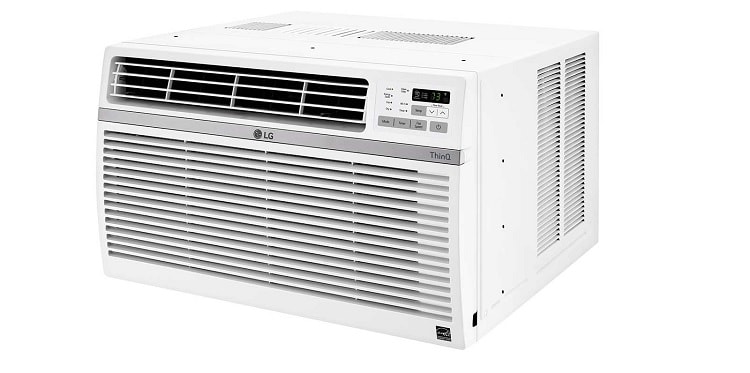 Advanced Controls
You can choose if you want to adjust the LW1217ERSM's settings directly on the unit, with a remote, or through an app. The ThinkQ technology lets you use a virtual assistant to change the selected temperature or program the unit.
Vast Coverage Area
With a 1-ton cooling capacity, this air conditioner is powerful enough to regulate room temperature in spaces that have up to 550sq/ft. The Dry and Fan Only modes enable you to lower the air humidity or ventilate the space.
Great Energy Efficiency Ratings
The estimated power consumption cost of this window AC for an entire cooling season is less than $100. The Energy Star certification or high EER and CEER ratings make the LG's model a great choice for homeowners that want to cut down on their cooling expenses.
Quick and Easy Installation
You can start using LG's 12,000 BTU air conditioner less than an hour after it reaches your home. The unit arrives with an installation kit, so you don't have to purchase different accessories; you need to install a window AC.
Adjustable Airflow Direction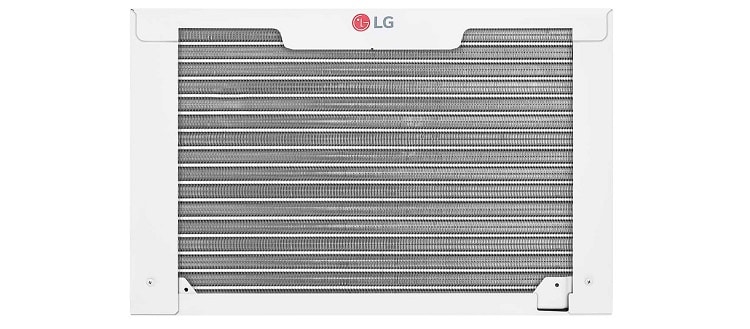 4-way louvers allow you to choose how you want to distribute the cool air the AC generates. Also, the unit's fan can operate at low, mid, and high speeds, which enables you to control the volume of airflow the AC generates at any given moment.
The Cons of the LG 12,000 BTU Air Conditioners
High Noise Level
The LW1217ERSM makes 52dB of noise while operating at the lowest capacity, and its noise level increases up to 60dB when you're using the unit at the maximum capacity.
No Heating Function
None of the LG's 12,000 BTU air conditioners are equipped with the heat pump feature, and you can only use them during the cooling season.
The Best Alternatives to the LG 12,000 BTU Air Conditioners
You won't have a shortage of options at your disposal while searching for a 1-ton air conditioner. Besides LG, brands like Amana, Haier, or Frigidaire all offer a broad range of powerful cooling units you can install in your window.
We've shortlisted a few of the best models manufactured by some of the biggest brands in the industry, so let's take a look at what they have to offer.
Amana AMAP121BW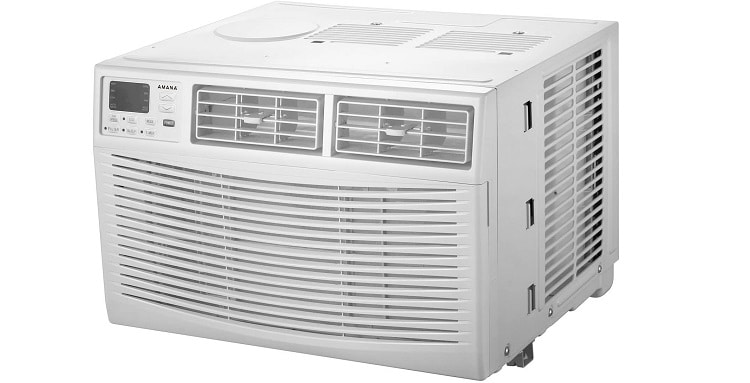 Compact and relatively lightweight design enables you to install the Amana AMAP121BW on windows that are just 26-inches wide. This Energy Star certified AC doesn't need vast amounts of power to lower the room temperature and maintain it at the same level.
In addition, the unit lets you choose between 8 different air distribution patterns and three cooling speeds. The Timer feature allows you to program the unit to switch off and on at specific hours, while the Sleep mode lets you continue cooling your home during the night.
This Amana's model can only absorb 2.64 pints of moisture per hour while operating in the Dry mode.
Koldfront WAC12001W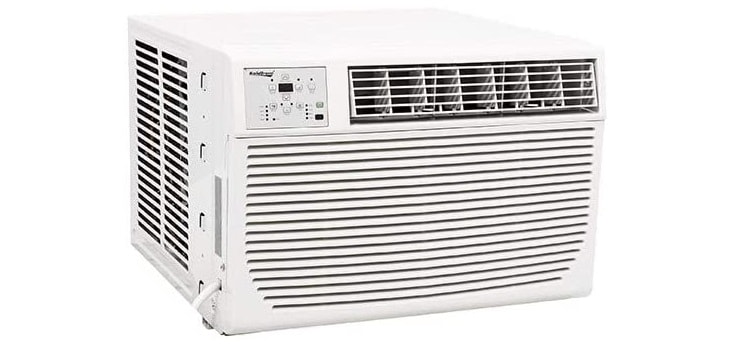 In case you're searching for a window AC that has both cooling and heating modes, then the Koldfront WAC12001W might be the right choice for you. The unit's heating output is slightly lower than its cooling output, so its coverage range varies from 400 to 550sq/ft depending on the mode you're using.
This window AC can maintain the room temperature in the range between 62F and 86F, but low outdoor temperatures can affect its performance. Even though it is energy efficient, Koldfront's model isn't Energy Star certified.
Frigidaire FFRA122WAE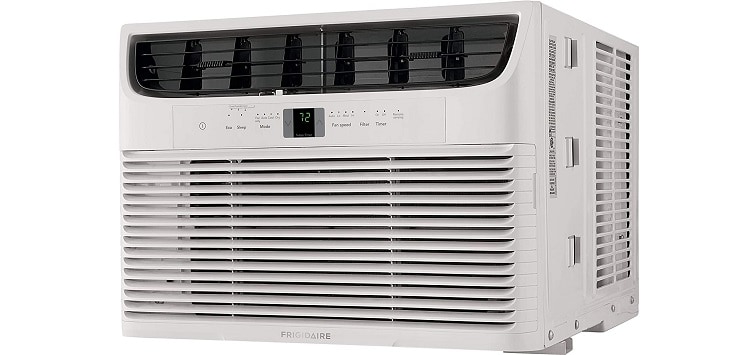 The basic set of features the Frigidaire FFRA122WAE offers makes it a great choice for homeowners in need of an affordable window AC capable of cooling 550sq/ft area. This model doesn't have high energy efficiency ratings even though it has Eco and Sleep modes.
You can choose between three cooling speeds, use the AC in Fan Only mode or activate the Dry mode to reduce the air humidity in a room. The air filter is washable and reusable, but it doesn't have antiallergenic properties. The unit isn't WiFi-enabled, and you can only control it with a remote.
Check out more products from Frigidaire:
FAQs
Question: Do LG's 12,000 BTU Air Conditioners Have the Timer Setting?
Answer: Yes, they do, and you can program the brand's ACs to run at equal intervals.
Question: Is it Necessary to Recharge LG 12,000 BTU Air Conditioners?
Answer: The only situation in which you'll have to recharge a window AC is if its refrigerant leaks.
Question: What Type of Chassis does the LG LW1217ERSM Have?
Answer: This unit has a slide-in-out chassis that enables you to install it on a window or through the wall.
Question: Are All LG 12,000 BTU Air Conditioners WiFi-enabled?
Answer: No, only a handful of models have the WiFi feature or the ThinQ technology.
Our Verdict: Is the LG LW1217ERSM Air Conditioner Worth the Money?
LG manufactures some of the best window AC on the market since its models have excellent cooling and heating capacities and low power consumption. However, the brand's units equipped with the heating mode can be very expensive, and it is more affordable to use these ACs to cool your home.
We recommend the LG LW1217ERSM air conditioner to homeowners in need of a 1-ton cooling system that can also serve as a dehumidifier. A model like the Koldfront WAC12001W is a much better option if you're looking for a window AC you can use as a secondary source of heating during cold months.
Hopefully, this LG 12,000 BTU air conditioner review has helped you decide if this is the right cooling option for you. Let us know in the comments or continue reading our review of Goodman's 3-ton heat pump to find out what this whole-house heating and cooling system has to offer.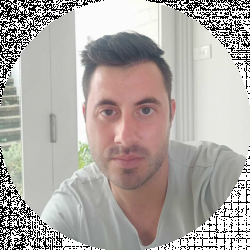 Latest posts by David Borgogni
(see all)