Latest posts by David Borgogni
(see all)
Maintaining the same level of thermal comfort in your home throughout the year requires you to have an AC with powerful cooling and heating capabilities. Opting for one of the best 36000 BTU mini-splits will help you achieve and maintain thermal comfort during cold and hot months.
Mini-splits are much easier to install than conventional HVAC systems, and they occupy significantly less space as they don't have bulky ducts.
In this article, we're going to take a look at the benefits of 36000 BTU mini-splits, and we'll introduce you to some of the best models you can get for your home or office. You should go through our guide to mini-split systems to learn more about how these systems work.
At a Glance – The 5 Best 36000 BTU Mini-Splits
The coverage area of 36000 BTU mini-splits
Most mini-splits are available in different sizes, so the same model can offer 12000 BTU or 36000 BTU depending on the option you choose. The unit's coverage range depends on its output capacities, as a 12000 BTU unit has a smaller coverage range than a 36000 BTU unit with the same set of features.
The British Thermal Unit represents the amount of energy an AC needs to raise or lower the air temperature. On average, mini-split needs 20BTUs to cool or heat a square meter of space, but the insulation of a room or its layout can affect the unit's coverage range.
36000 BTU or 3-ton mini-splits can regulate the room temperature in spaces with 1200sq/ft and 2000sq/ft. Hence, you can use them as a whole-house cooling or an additional heating option in spaces that already have a heating system.
Read our guide to the best 4-ton AC units if you need a more powerful cooling or heating solution than a 36000 BTU mini-split.
Single and multi-zone mini-splits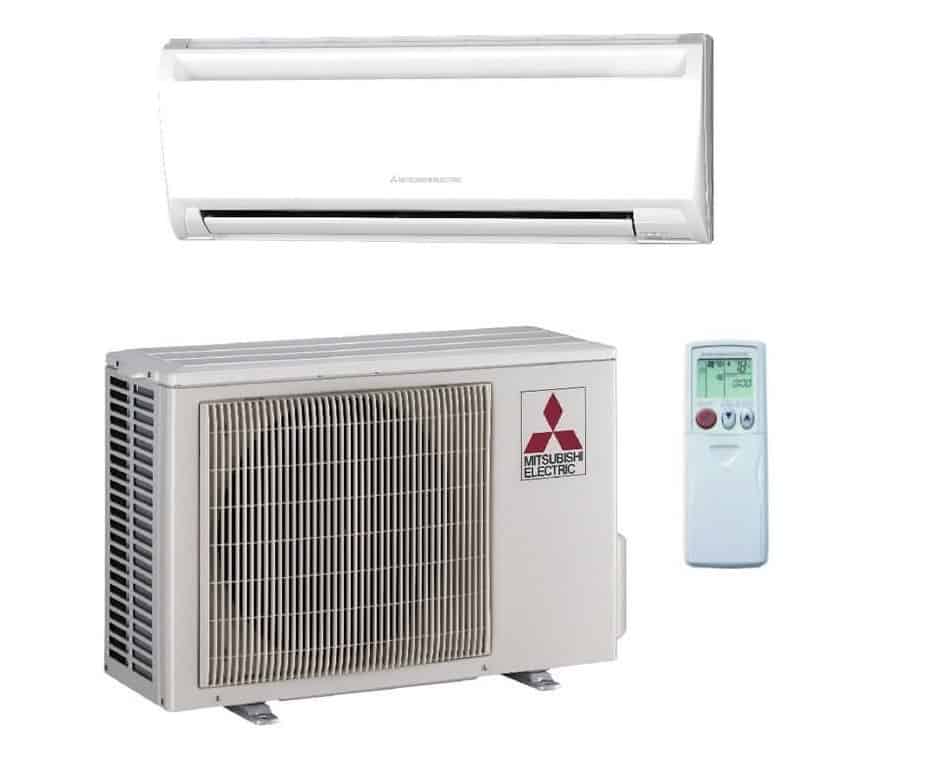 Another factor that largely affects the coverage range of mini-splits is the number of indoor air handlers. These systems feature an outdoor compressor connected to one or more air handlers, and depending on the number of indoor units, mini-splits can be divided into the following categories.
Single-zone mini-splits – This type of multi-split features just one air handler capable of generating the unit's maximum BTU output. So, the air handler of a 3-ton single-zone mini-split will have the maximum output capacity of 36000 BTUs. It is worth adding that it is impossible to convert a single-zone unit to a multi-zone unit.
Multi-zone mini-splits – Rather than allocating all of their power to a single air handler, these systems divide the power between several indoor units. A multi-zone mini-split can have between two and four indoor air handlers capable of producing anywhere between 9000 BTUs and 18000 BTUs. Besides, air handlers don't always have the same output capacities, enabling you to use them in rooms of different sizes.
Read our guide to the best 5-ton heat pumps if you're looking for a way to heat or cool a space larger than 3000sq/ft.
Multifunctional mini-splits
Besides the cooling functionality, mini-splits can have other features that can assist you with regulating the air humidity or replace a conventional ceiling fan. These special features aren't standard on all mini-split, and you need to check which functionalities of the model you want to get.
Heat pump – Some mini-splits can double as heat pumps, as they can collect the hot air from a room and replace it with cooled outside air. Units equipped with the heat pump functionality have a temperature rating, and they can cool or heat a room as long as the outside temperature is within their operating range.
Fans – Instead of cooling the air, these units can operate as fans and simply circulate the air. The maximum airflow capacity depends on the unit, but most models can supply an average-sized room with a pleasant breeze.
Dehumidifiers – A mini-split dehumidifies the air in a room, and using the unit in this mode will enable you to regulate the air humidity in your home. In most cases, these units can absorb several pints of moisture per hour.
Check out our guide to humidity control systems to find out how to control air humidity in your home.
Power consumption and energy efficiency
Various factors can affect the power consumption of 36000 mini-splits, but even in extremely cold or warm weather conditions, these systems are highly energy-efficient.
Their power consumption is higher when they're used for heating which is the reason why they're commonly utilized as an additional heating option. The Seasonal Energy Efficiency Ratio or (SEER) of these units ranges between 16 and 23, and many of the models are Energy Star certified.
So, if you leave a mini-split running for 8 hours every day, it will consume approximately 3000W. These systems use less power per BTU than most other heating and cooling systems, and they can lower your monthly utility bill up to 30%.
In addition, the multi-zone mini-splits are more energy-efficient than single-zone systems as their coverage is divided into smaller zones. Go through our guide to the best mobile home air conditioner units if you need a cooling system for your RV or manufactured home.
Installation process
Despite the fact that many 3-ton mini-splits come with a DIY installation kit and charged refrigeration lines, the installation process is still too complicated for most homeowners.
The complexity of the process increases with each air handler you add to the system, so a licensed technician might need a few days to install a 36000 BTU quad-zone mini-split. Hiring a contractor to install this system will increase your costs since installing a single-zone mini-split can cost between $500 and $2000.
Each indoor air handler you add to the system will add $500 to $1000 to the initial installation costs. You shouldn't attempt to cut costs by installing a 3-ton mini-split by yourself since even a minor mistake may damage the entire system.
Browse through our guide to the best window heat pumps if you need a cooling and heating system that is easy to install.
The most important factors to consider while choosing a 36000 BTU mini-split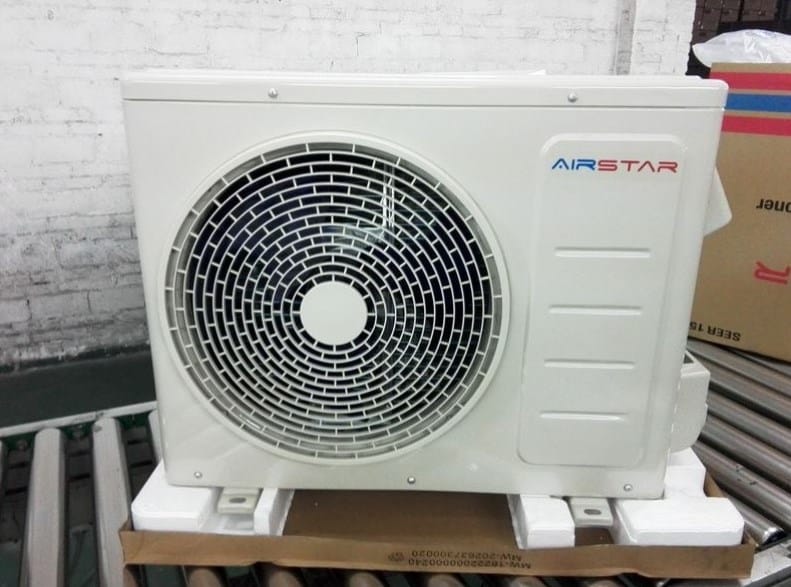 Systems that are too big or too small for a particular space lose most of their energy-saving capabilities as they need to run longer to reach a set room temperature. That's why a 36000 BTU mini-split is only a good choice for you if you need a system capable of heating or cooling 1200sq/ft to 2000sq/ft area.
Even though the unit's coverage range is the most important factor you need to consider, it's far from the only one. Here's what you need to pay attention to while selecting a 36000 BTU mini-split.
The layout of the room
You shouldn't take the unit's coverage range as absolute because it shows its maximum cooling or heating capacity in ideal conditions. However, walls and other barriers can prevent the mini-split from regulating temperature in the entire area it covers.
You should also look for a suitable position where you can place an indoor air handler to provide even cooling or heating throughout the room.
Maintaining the temperature at the same level in poorly insulated spaces or rooms with large windows and multiple doors can prove challenging even if their size fits the coverage range of a 36000 BTU mini-split.
The number of indoor air handlers
The layout of the space where a 3-ton mini-split will be used usually determines how many indoor air handlers you're going to need. A single-zone system equipped with one air handler is a good choice for offices that don't have many barriers that can disrupt the unit's airflow.
Multi-zone mini-splits are a great fit for homes as they allow you to control the temperature in several rooms separately. The maximum number of air handlers you can connect to a 36000 BTU mini-split system is limited to four.
Noise ratings
The average noise rating of mini-split systems is 32dB, making them quieter than most home appliances. Models that can produce more than 40dB of noise are a poor fit for kid's rooms or bedrooms as they may affect the quality of sleep.
Even so, mini-splits are by far the quietest cooling system on the market, as they generate significantly less noise than heat pumps or ceiling fans.
Heating capabilities
There's no difference in terms of heating and cooling capacities of mini-split systems, so a 36000 BTU model will heat or cool spaces smaller than 2.000sq/ft.
Nonetheless, the heating capabilities of most units are limited, as they can only keep a home warm if the outdoor temperature is higher than 5F, while only a handful of models can be used for heating at -15F.
The power consumption of these systems increases during the winter season, which is the reason why they're commonly used as a supplementary heating solution.
Cost and warranty
The price of 36000 BTU mini-splits is approximately the same regardless of how many indoor air handlers they have. You'll have to spend more than $2000 on a 3-ton mini-split and cover the additional installation expenses that depend on the number of air handlers you want to add to the system.
The duration of the warranty period and its coverage vary from brand to brand, and you must check if the model you want to get has a 5-year or lifetime warranty.
The advantages of 36000 BTU mini-splits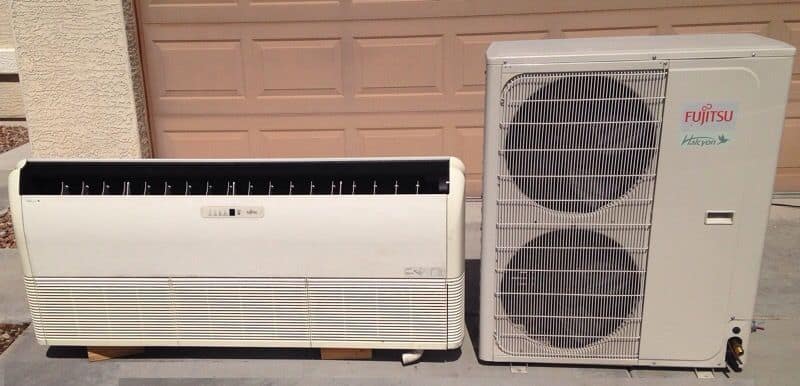 Wide coverage range
Both single-zone and multi-zone units can keep large spaces cool or warm, as their maximum coverage range is around 2000sq/ft. Multi-zone models allow you to regulate the temperature in different parts of your home separately.
Excellent energy efficiency ratings
These systems utilize an inverter technology that lowers the power they need to regulate the room temperature. Most models have high SEER and EER ratings, and they can significantly lower the amount of electricity you're using to cool or heat your home.
Multiple airflow direction options
All mini-split models let you choose the airflow direction, and you can also switch between different speeds. These features enable you to adjust the unit's output to your current needs.
The disadvantages of 36000 BTU mini-splits
Complicated and expensive installation process
A 3-ton mini-split has to be installed by an HVAC professional to ensure that the system will work properly. Nonetheless, this service is usually very expensive, and it can cost more than $1000.
Top 5 36000 BTU mini-splits
We chose these mini-splits based on positive customer reviews, affordability, and positive customer reviews.
Senville Sena 36MO-218 – The best dual-zone 36000 BTU mini-split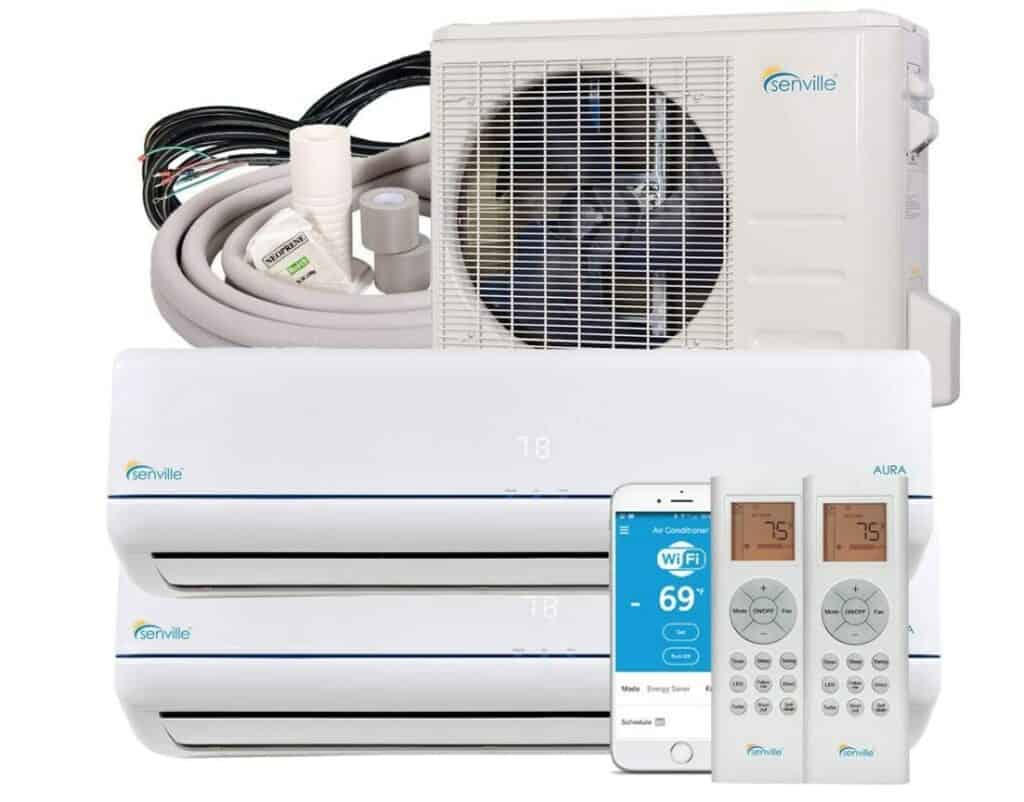 The DC inverter technology enhances the Senville Sena 36MO-218 mini-split's power-saving capabilities.
The unit has an impressive SEER rating, and it is Energy Star certified, which guarantees that you won't have to use a lot of electricity to heat or cool your home. Besides, this Senville mini-split can remain operational even at extremely low temperatures.
This model comes with two indoor handlers, but you can expand the system by adding more indoor components. You can control the unit's air handlers from your smartphone or with remote controls included in the package.
Pros
Separate temperature control for each room
Excellent power-saving features
Quiet operation
Multiple control options
Cons
Parts are under warranty for just two years
Very expensive
Pioneer WYS036G – The best inverter 360000 BTU mini-split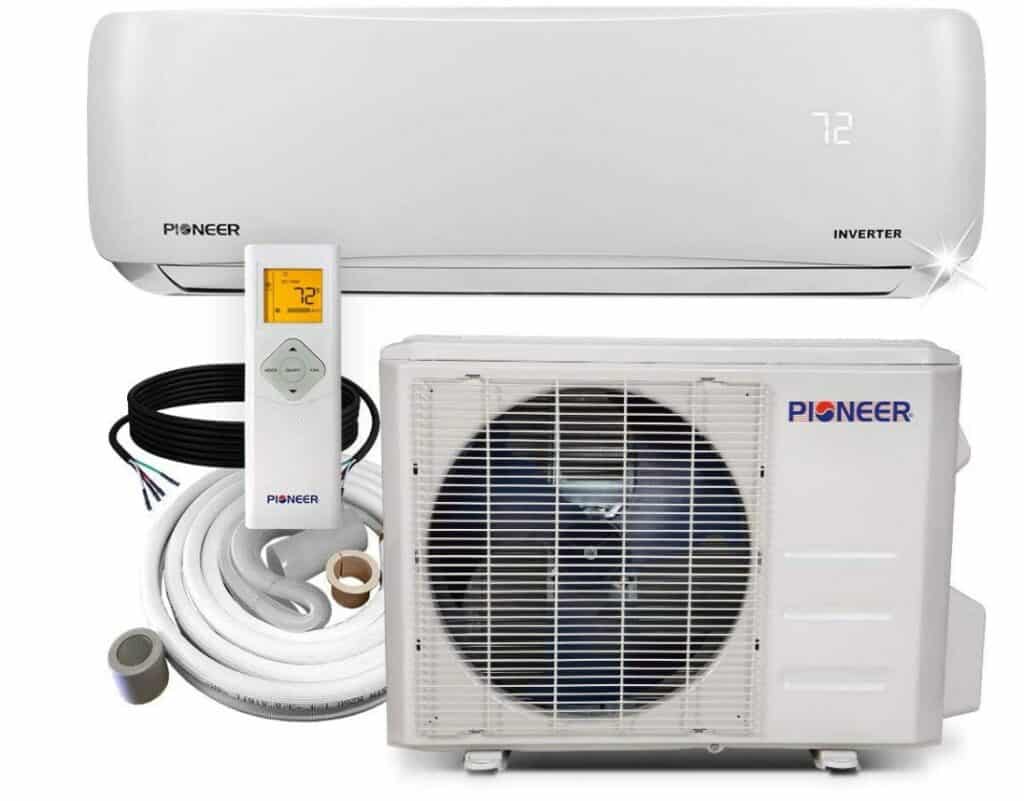 The inverter technology, the Pioneer WYSO36G mini-split, ensures that the system doesn't need much energy to regulate the room temperature. Besides air conditioning, the unit has reversed heat pump, ventilation, and dehumidification option.
You can use the Pioneer WYSO36G in the heat pump mode while the outdoor temperatures are within the 5F to 86F range. The unit can supply cooling for your home as long as the temperature outside remains below 132F.
This Pioneer's model comes with a single wall-mounted air handler, and you cannot add more indoor units to it.
Pros
Excellent SEER and EER ratings
Variable speed compressor
Eco-friendly refrigerant
Optional smart controller kit
Cons
Can't provide heating at extremely low temperatures
Features just one indoor air handler
Cooper & Hunter Sophia Series Mini-Split – The best WiFi-enabled 36000 BTU mini-split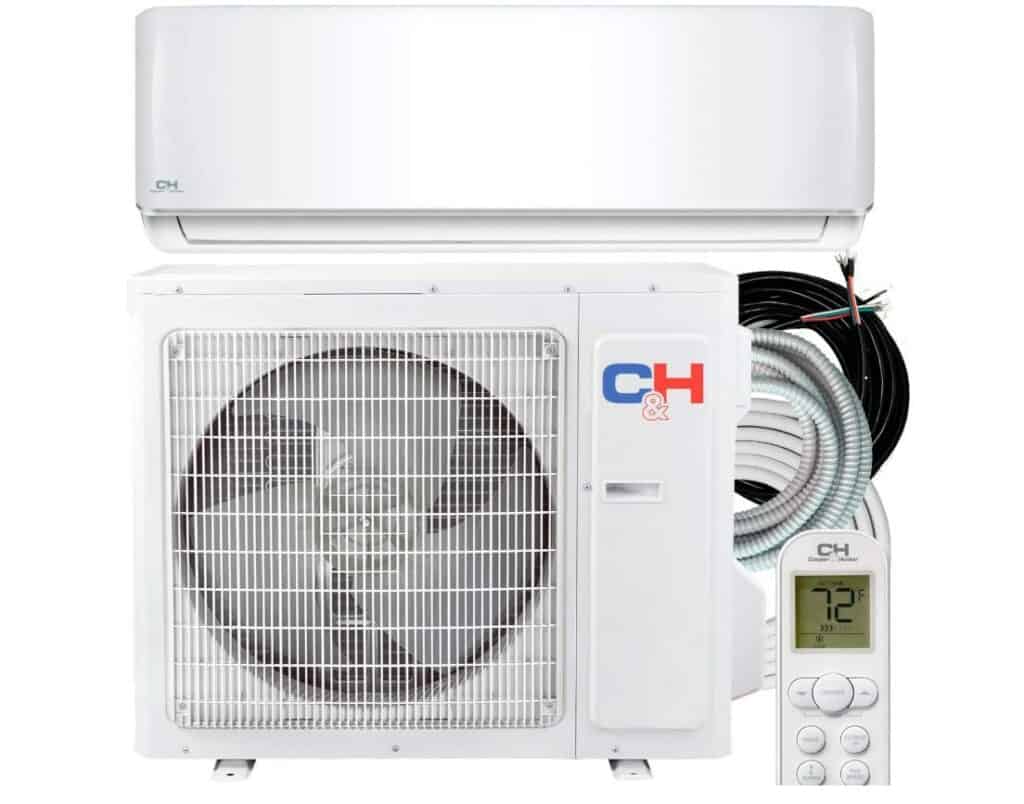 You can choose between different versions of Cooper & Hunter Sophia Series Mini-Split, as you can opt for a 9000 BTU or 36000 BTU model. The system's energy efficiency decreases as the output increases, so a 36000 BTU version of this mini-split is your least energy-efficient option.
This 3-ton system has a 16 SEER rating which indicates that it won't spend vast amounts of power during the cooling and heating seasons.
The WiFi-enabled unit can be controlled from anywhere as long as you have access to the internet, and you can use this feature to activate the mini-split just before you get home.
Pros
Equipped with the Whisper technology
The installation kit is included in the package
Automatically detects refrigerant leakages
12 airflow direction options
Cons
It doesn't work at temperatures lower than 5F
Long delivery times
GREE Vireo Mini-Split – The quietest 36000 BTU mini-split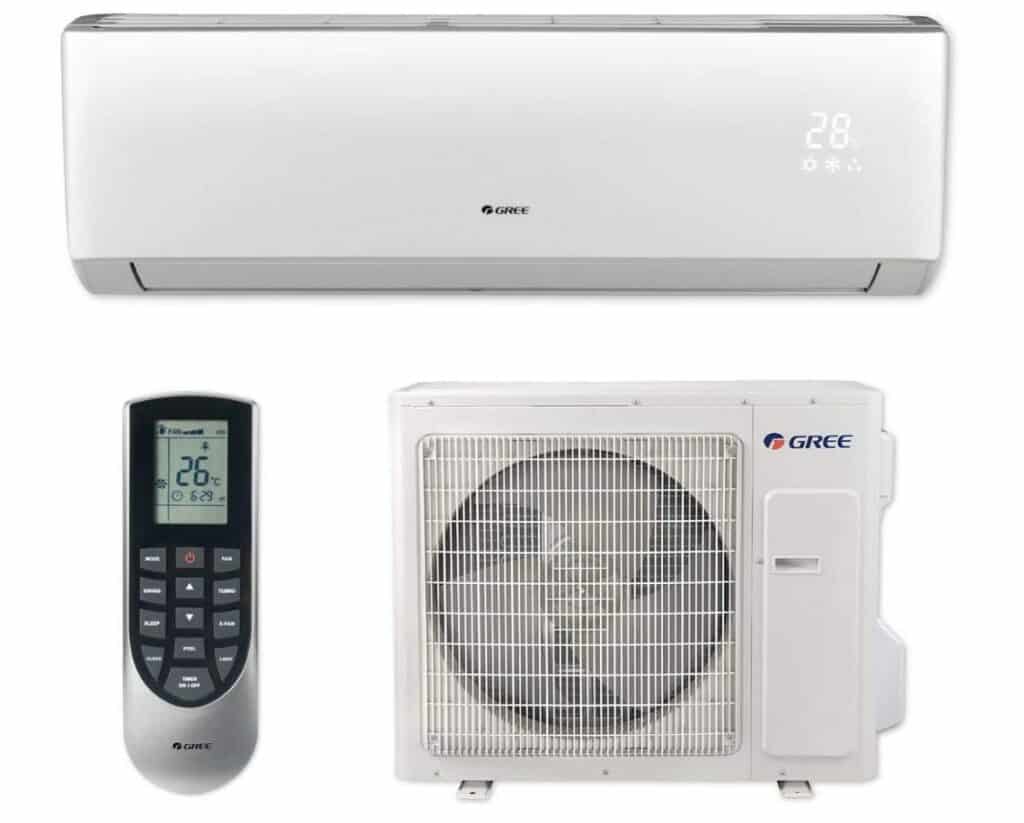 The GREE Vireo mini-split features the Quiet mode that lowers its noise level even further. This feature makes this mini-split system a great fit for all spaces where even the slightest noise can cause a disturbance.
This model comes with just one air handler that has an advanced set of options, as it allows you to control the airflow direction, change the speed of the compressor or set a timer.
The unit's remote is equipped with a temperature sensor that measures the temperature at its current location and activates the mini-split automatically if the detected room temperature is too low.
Pros
Features an energy-saving mode
Utilizes the G10 inverter technology
Offers heat pump and dehumidification functionalities
Durable outdoor compressor
Cons
The WiFi kit must be purchased separately
Underwhelming heating performance
Senville Sena-36HF/Q – The best quad-zone 36000 BTU mini-split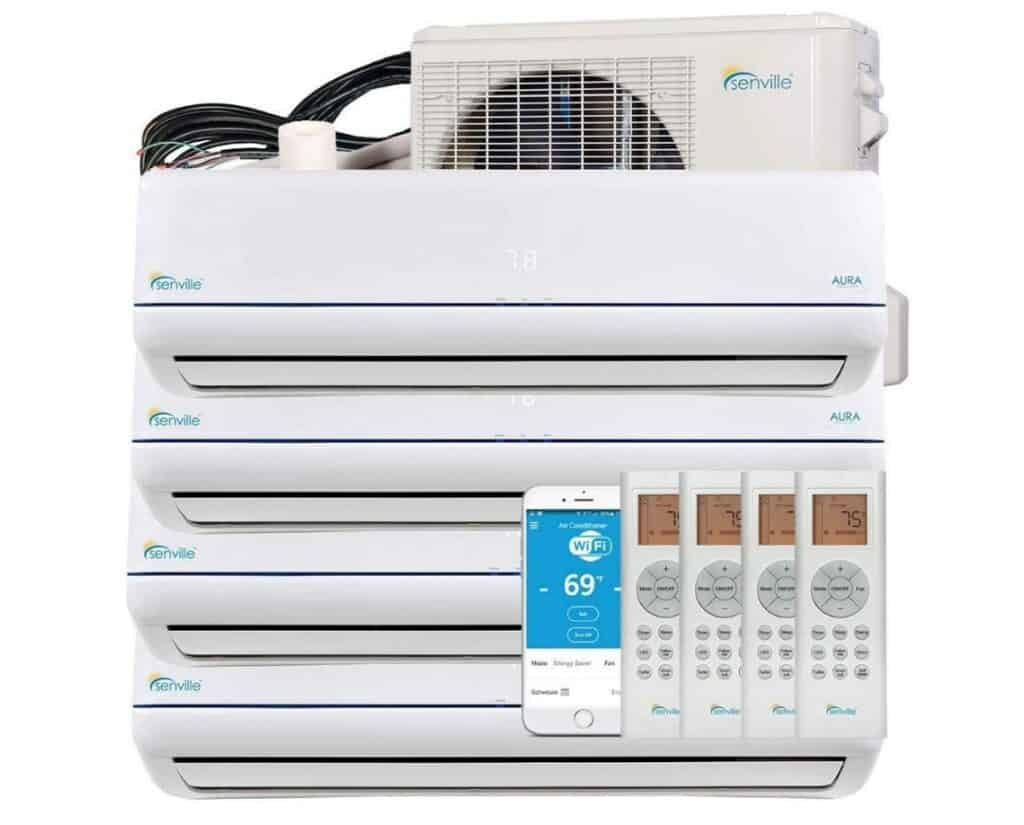 Opting for the Senville Sena 36HF/Q mini-split will enable you to control the temperature in four different rooms. Each of the four indoor air handlers has 9000 BTU capacity, and you can install them in rooms smaller than 400sq/ft.
The system has a 22 SEER rating which means that it is more energy-efficient than most competitors. Besides cooling, the unit can be used as a heat pump, fan, or dehumidifier, and you can easily adjust its speed or airflow direction.
You will get a 7-year warranty for the unit's compressor and a 2-year warranty for all other parts if you decide to purchase this 3-ton mini-split.
Pros
Separate temperature control in multiple spaces
Low power consumption
Excellent cooling and heating performance regardless of the outdoor temperature
Suitable for residential and commercial settings
Cons
Some components of the system are not included in the package
Long and complicated installation process
Frequently asked questions about 36000 BTU mini-splits
Question: Do 36.000 BTU mini-splits have permanent filters?
Answer: Yes, most models have permanent washable filters that don't have to be replaced unless damaged.
Question: Are multi-zone 36000 BTU mini-splits more expensive than single-zone models?
Answer: The price difference between single-zone and multi-zone mini-splits is minimal as most models cost around $2.500.
Question: Do I have to charge the refrigerant lines of 36000 BTU mini-splits?
Answer: Most models ship pre-charged, so there's no need to charge the refrigerant lines.
Question: How long do 36000 BTU mini-splits last?
Answer: With proper maintenance, a 36000 BTU mini-split can last for two decades.
Our verdict: How to know which 36000 BTU mini-split is the best?
Most 3-ton mini-split systems have a similar set of features, as they let you switch between cooling and heating modes, change the compressor speed or dehumidify the air. Arguably, the biggest difference between these systems is the number of indoor components.
We recommend the Senville Sena 36HF/Q mini-split if you need a system that lets you control the temperature in different rooms independently.
A model like the Cooper & Hunter Sophia Series Mini-Split can be a better choice if you want to regulate the temperature in a large space that doesn't have a lot of obstacles that can disrupt the airflow. Which 36000 BTU mini-split are you going to choose?
Let us know in the comments or continue reading our guide to the best portable GE air conditioners. If you need an AC you can move easily from one room to another. Or go through our guides on how to find the best: