I relied on brand recognition heavily while choosing my first mini-split system because I think that industry-leading brands like Pioneer vouch for the quality of their products. Years later, I still believe that the best Pioneer mini-splits outperform models produced by competing brands.
Pioneer offers a wide range of mini-split systems with different numbers and types of indoor units. In addition, each model has different cooling and heating outputs, so finding the Pioneer mini-split suitable for your home doesn't require much effort.
In this article, I'll share with you the information you'll need to choose the best Pioneer mini splits for your cooling and heating needs and recommend several models that deserve your attention.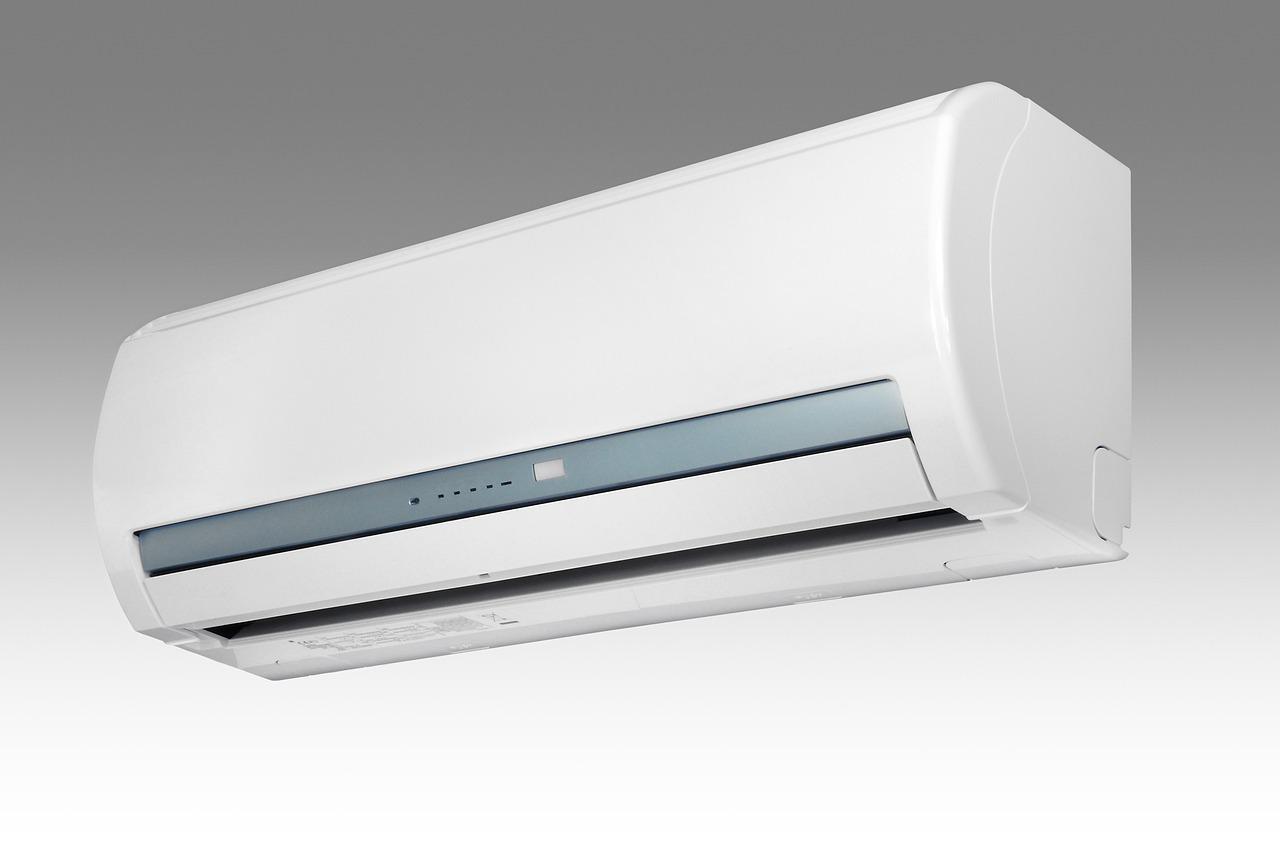 Bottom Line Up Front
All Pioneer mini-splits I ever encountered were durable and energy-efficient. I think that each of the brand's models has excellent performance capabilities, but which mini-split you're going to choose depends on factors such as the size of the space you want to cool and your budget.
I think the Pioneer UBO48GMFILCHFD is the brand's best model designed for spaces up to 2,000sq/ft, while the Pioneer WYTO 12ALFI19RL mini-split is among the premier options for rooms smaller than 350sq.ft.
My Top Picks At a Glance
Types of Pioneer Mini-Split Systems
A mini-split system consists of an outdoor condenser and one or more indoor units connected to it by a line set. Depending on the number of indoor units you can connect to the outdoor condenser, mini-splits can be single-zone or multi-zone systems.
Pioneer offers ductless systems with the following types of indoor units:
Wall-mounted
Floor-ceiling mounted
Ceiling cassette
Floor-mounted
Brand's multi-zone mini-splits can have up to four wall-mounted, ceiling cassette, or floor-ceiling indoor units. There are no significant differences between the features of single-zone and multi-zone indoor units, but their performance capacities depend on the model.
Here are a few parameters you need to pay attention to while choosing the system's indoor unit:
Noise level
Maximum airflow output
Automatic room temperature adjustment feature
Refrigerant leak detection
Louver position options
It's worth adding that most Pioneer single-zone mini-splits come with a matching indoor unit capable of supporting the outdoor condenser's maximum cooling and heating outputs.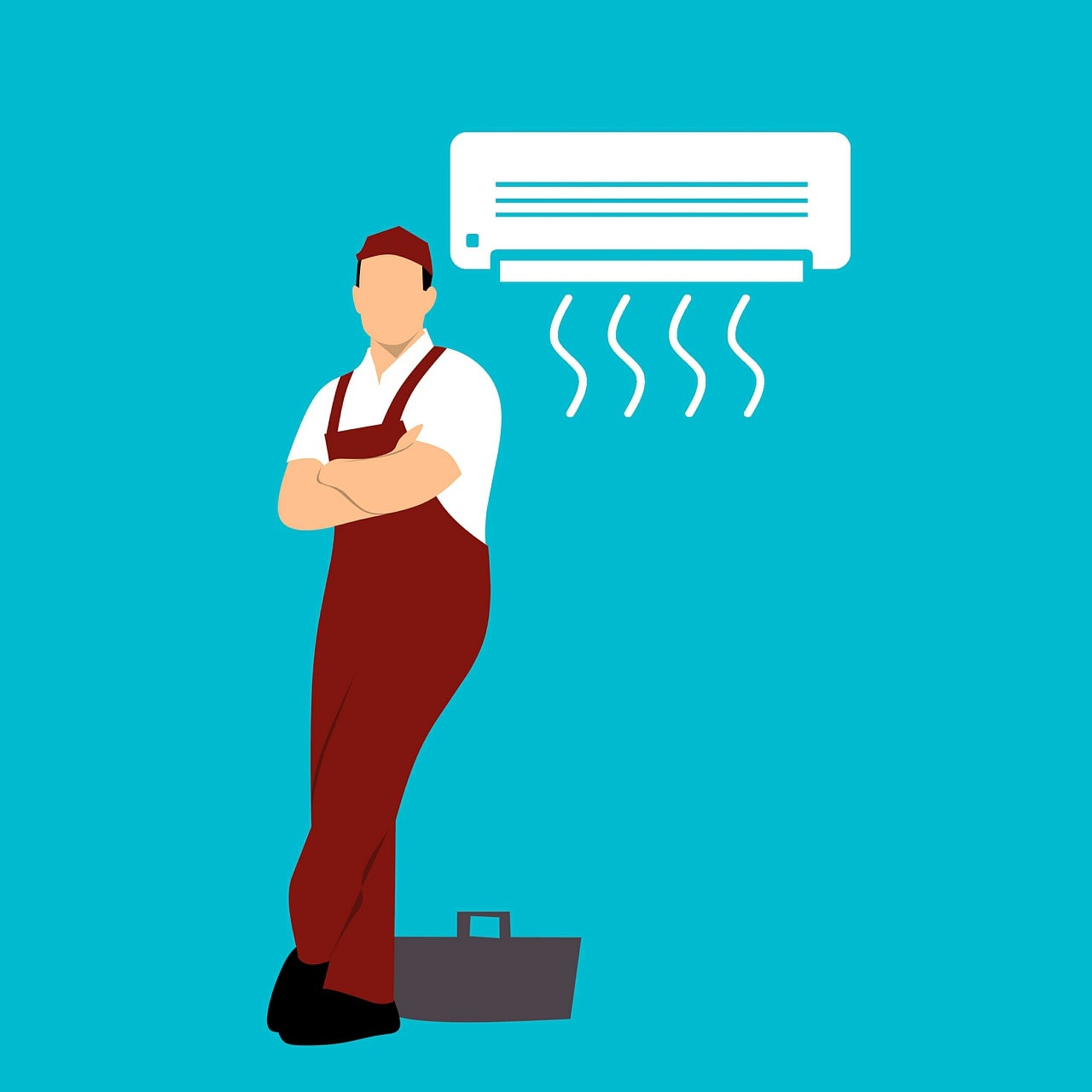 Heating and Cooling Ratings
Seasonal Energy Efficiency Ratio and the Heating Seasonal Performance Factor indicate how much energy a mini-split system consumes during cooling and heating seasons. Hence, SEER and HSPF ratings enable you to determine the energy efficiency of a particular Pioneer mini-split.
SEER ratings of Pioneer mini-split systems range from 15 to 24, while their HSPF ratings vary from 9.5 to 11.5. Moreover, most models are Energy Star certified, which means they meet the EPA's energy-saving guidelines.
Top tip: The climate in the region where you live and the size of the space you want to heat or cool are also among the factors that affect the mini-split's power consumption. 
These ratings depend on the model's maximum BTU output, so a system capable of generating 48,000 BTU will consume more energy than a 9,000 BTU mini-split.
According to the Air Conditioning, Heating, and Refrigeration Institute (AHRI), a Pioneer mini-split's average annual cooling operating cost varies from $90 to $400. In comparison, the heating costs span from $250 to $1,000.
This information indicates that Pioneer mini-splits are more energy-efficient than most models offered by the brand's competitors.
The Coverage Area of a Pioneer Mini-Split
The maximum cooling and heating outputs of mini-split systems are measured in British Thermal Units (BTU). The lowest output of a single-zone mini-split is around 9,000BTU, while five-zone models can offer up to 60,000 BTUs of cooling and heating output.
Keep in mind that a single indoor unit in a multi-zone system usually has an output capacity ranging from 9,000 to 18,000 BTUs. Mini-split's coverage range doesn't depend solely on its maximum output as the following factors can affect its coverage:
House's insulation
The number of windows and doors in a room
Climate
Ceiling height
Estimating an appropriate mini-split size for a particular space isn't a simple task, so consulting an HVAC technician can help you determine which model is suitable for the area you'd like to cool or heat.
Here's an overview of the coverage range offered by Pioneer mini-splits with different cooling and heating outputs.
9,000 BTU – up to 350sq/ft
48,000 BTU – up to 2,650sq/ft
It's also worth adding that the heating output of all Pioneer's models is either the same or higher than their cooling output.
Installation Kits and Accessories
I never attempted to install a mini-split by myself simply because I didn't want to void its warranty. Moreover, you won't be able to activate the Pioneer mini-split's Standard Warranty unless the system is installed by a licensed technician.
You can purchase an installation kit for a specific Pioneer model from the manufacturer or choose the preferred line set length. Currently, the brand offers 10, 16, 25, 33, and 50 ft long line sets which enables you to choose the option suitable for the distance between the system's outdoor and indoor units.
Top tip: Check if a mini-split is designed for 110V or 220V power outlets to avoid buying a system that isn't compatible with electrical outlets in your home.
Optionally, you can add the following accessories to a Pioneer mini-split system:
Smart programmable thermostat
A remote control WiFi device
Lineset flushing kit
Charging port adapter
Refrigerant line covers
These accessories aren't compatible with all brand's models, so you need to check which of these accessories are available for the Pioneer mini-split you're interested in.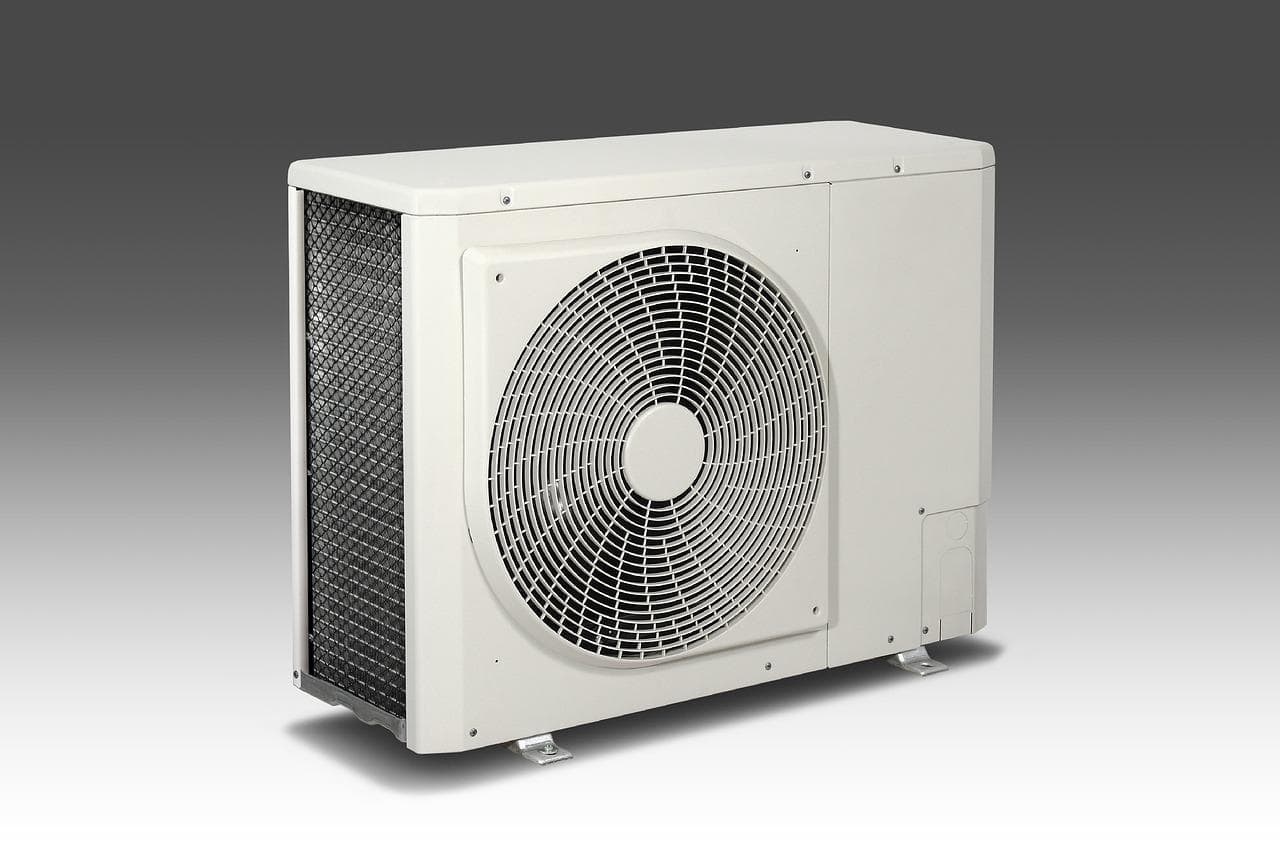 Prices and Warranties
Pioneer offers mini-splits in all price ranges, and you can opt for a model that costs less than $400 or get an advanced cooling and heating system that costs close to $5,000. However, most options designed for residential use cost between $700 and $2,000.
Failing to register a mini-split or installing it on your own will make the Pioneer model you purchased eligible for the Basic Warranty that lasts for twelve months.
Having your Pioneer mini-split installed by a licensed HVAC technician and registering it on the manufacturer's website will make it eligible for the Standard 5-year warranty. The Standard Warranty applies to the system's outdoor unit and indoor components.
Also, the product must be registered within six months from the installation to be eligible for the brand's Standard Warranty. Professional installation of a Pioneer mini-split usually costs from $500 to $2,000, while most HVAC technicians charge around $100 for annual maintenance checks.
Selection Criteria
All Pioneer mini-split models I encountered were durable and reliable even though their performance capacities weren't the same.
These cooling and heating systems last much longer than their Standard Warranty, and they're not prone to refrigerant leaks and other common mini-split problems. That's why shortlisting the brand's best models wasn't easy, as nearly all models have plenty to offer.
Here are some of the key criteria I used to choose the best Pioneer mini-splits:
The mini-split's size – This parameter has enabled me to identify the models suitable for small and large spaces. Besides the system's cooling and heating output, I also considered its energy efficiency ratings.
Affordability – Besides the mini-split's price, I also considered the installation and upkeep costs to choose models that fit all budgets.
Top 9 Pioneer mini-splits
Pioneer FYB/UYB Series Inverter + Ductless Mini-Split System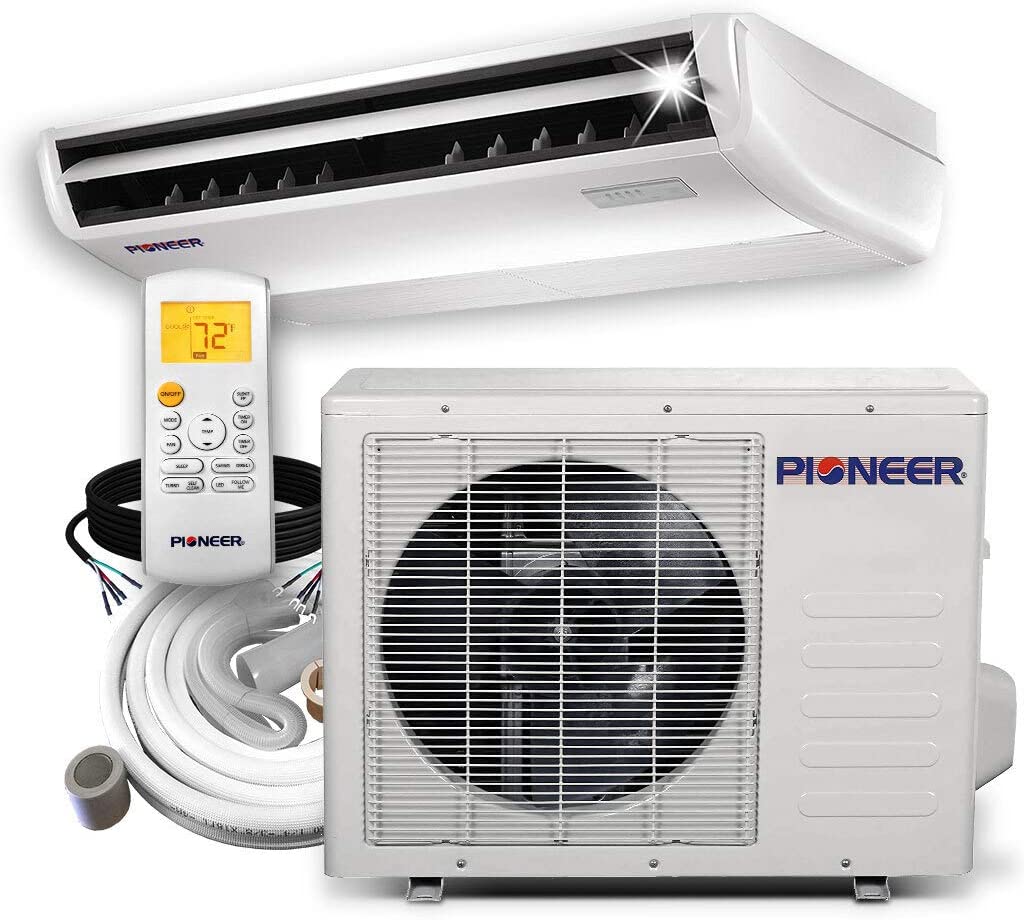 To say that I was impressed the first time I saw the Pioneer FYP/UYB Series Inverter + Ductless Mini-Split System at work would be an understatement. This powerful mini-split can supply heating at temperatures as low as 5F or cooling at outdoor temperatures up to 122F.
Its indoor unit can be mounted on the floor, low wall, or ceiling, depending on your needs, but keep in mind that the outdoor compressor doesn't have enough refrigerant for linesets longer than 25ft. The system's high SEER and HSPF ratings speak volumes about its energy efficiency.
Pros
The mini-split comes with an installation kit
Variable airflow speed
Quiet operation
Multiple remote control options
Cons
It can't regulate the temperature in spaces larger than 1,000sq/ft
Pioneer WYTO 12ALFI19RL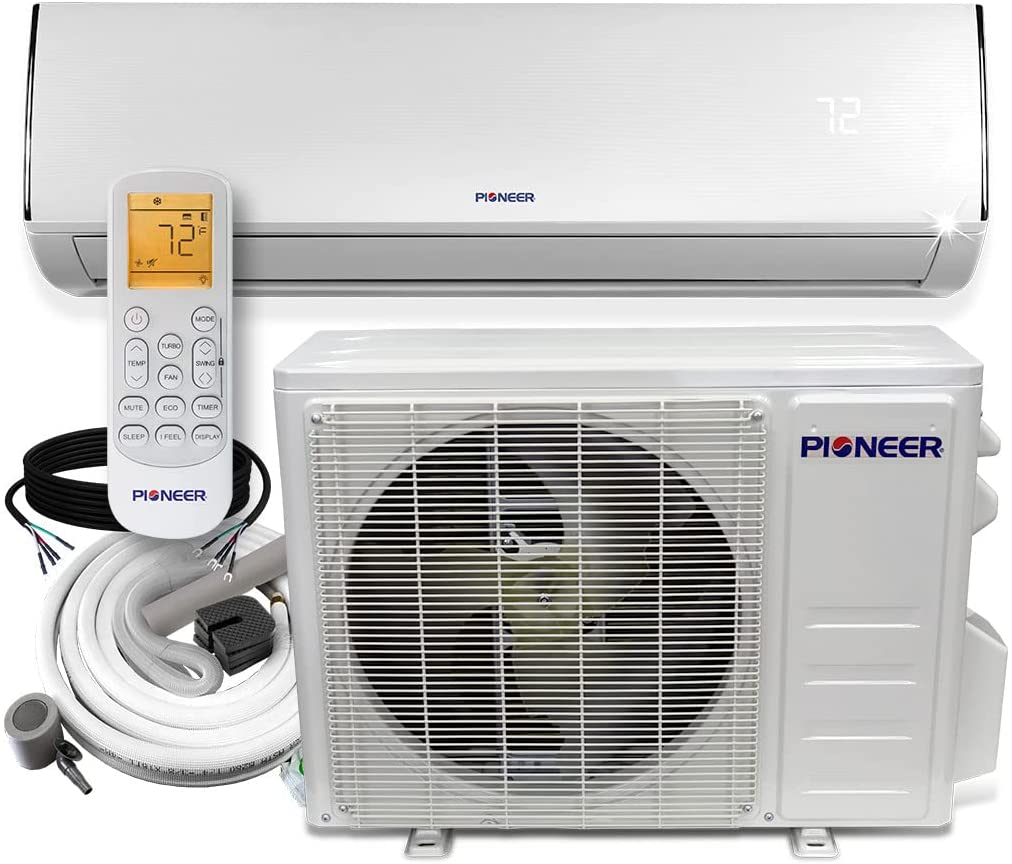 Besides highly efficient cooling and heating capabilities, the Pioneer WUTO 12AFLT19RL mini-split also has remarkable air dehumidification and ventilation features. Its maximum cooling and heating capacity is limited to 12,000 BTU, which makes this model suitable for relatively small spaces.
However, its vast operating temperature range enables it to supply heating even when temperatures drop to -13F. The wall-mounted indoor unit has double-directional louvers and allows you to choose from several airflow speed options.
The mini-split doesn't generate a lot of noise even while operating at maximum capacity.
Pros
The indoor unit has washable air filters
The mini-split has an energy-saving ECO mode
The indoor unit has the Follow Me function
Excellent value for money
Cons
It requires professional installation
Pioneer CYB036GMFILCBD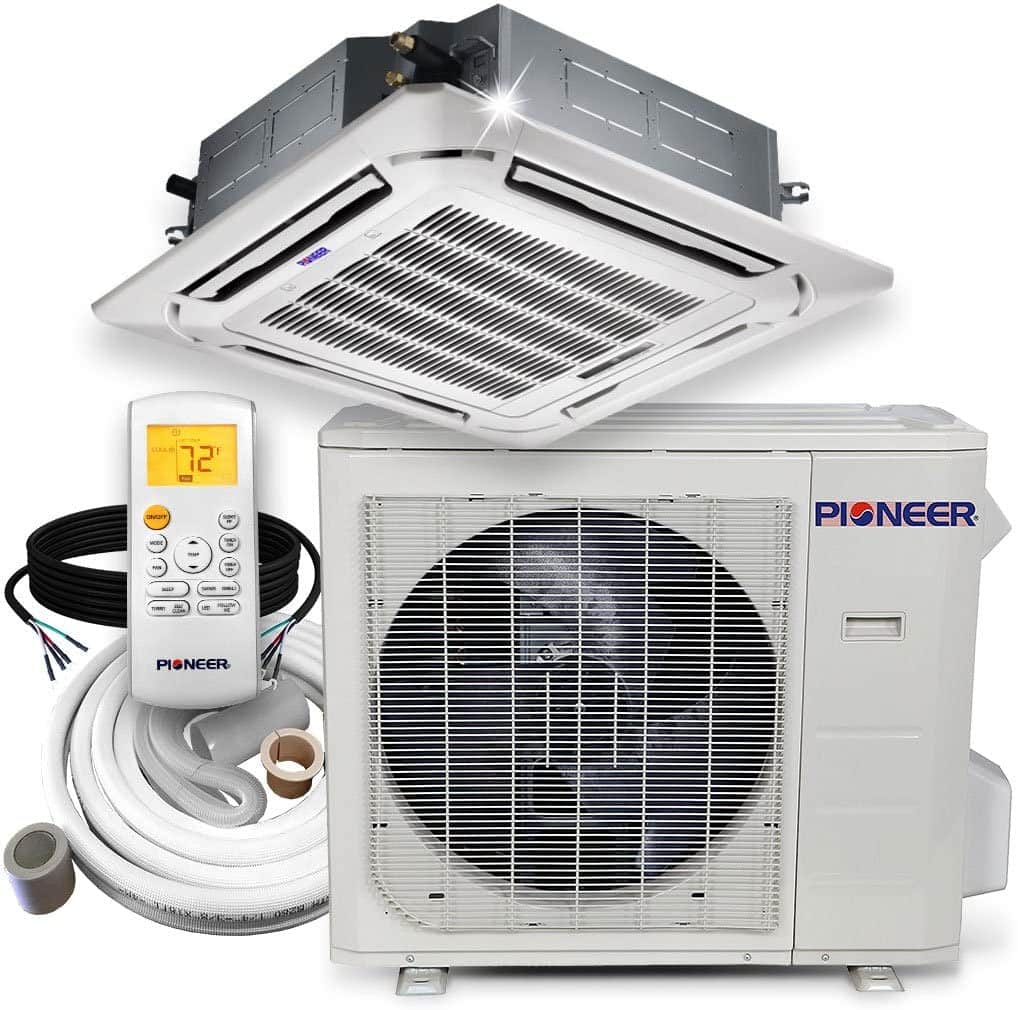 Opting for a model like the Pioneer CYB036GMFILCBD could be a good option for homeowners that don't have enough space for floor or wall-mounted indoor units. This Pioneer mini-split comes with a ceiling cassette that is suitable for both residential and commercial contexts.
The model can regulate the temperature in spaces up to 2,000sq/ft and automatically adjust its heating or cooling outputs to the current room conditions. The mini-split also has dehumidification and air filtration functions that can help you improve air quality in your home.
Pros
This mini-split is WiFi-enabled
The maximum airflow speed is 720CFM
High SEER and HSPF ratings
A long warranty period
Cons
The mini-split produces 55dB of noise while operating at the maximum capacity
Pioneer UBO48GMFILCHFD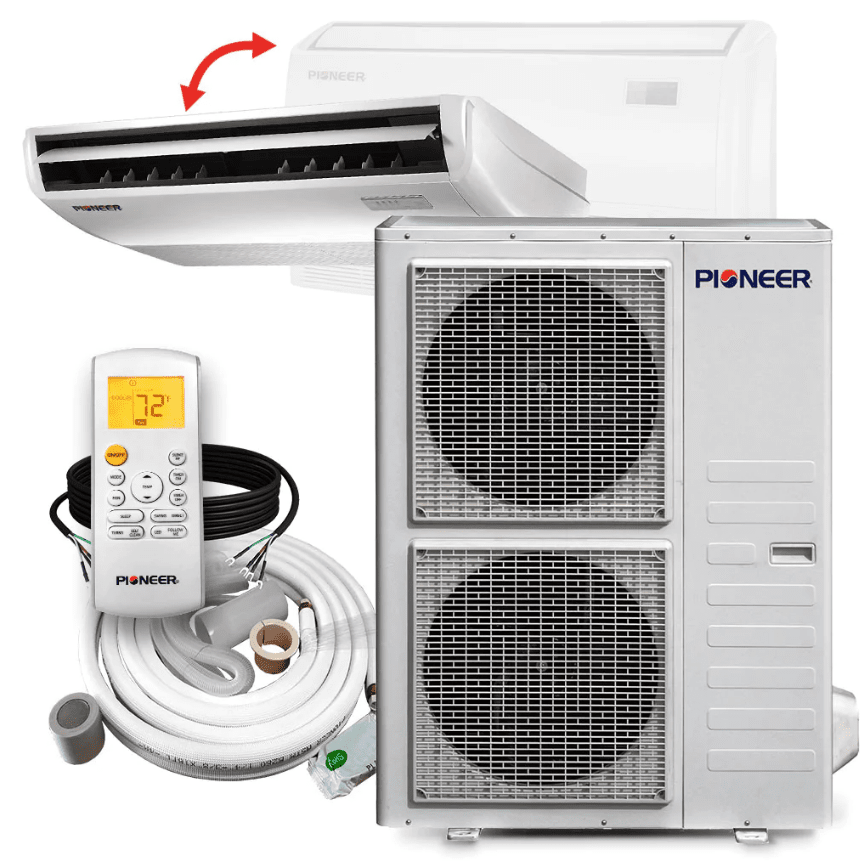 I recommend choosing the Pioneer UBO48GMFILCHFD only if you need a mini-split that can cool or heat spaces that have more than 2,000sq/ft. Keep in mind that installing this model in a smaller space will increase its power consumption and your monthly utility costs.
The outdoor compressor is charged with enough refrigerant to support indoor unit installation within the 25ft radius. You must consult an HVAC technician if you want to get a 33ft or 50ft long line set.
Pros
The indoor unit supports floor and ceiling installation
The mini-split has a built-in Low Ambient Cooling function
This Pioneer model is AHRI certified
The indoor unit has automatic sweeping louvers
Cons
This Pioneer mini-split is pricey
Pioneer WYS YN009GMFI20RPD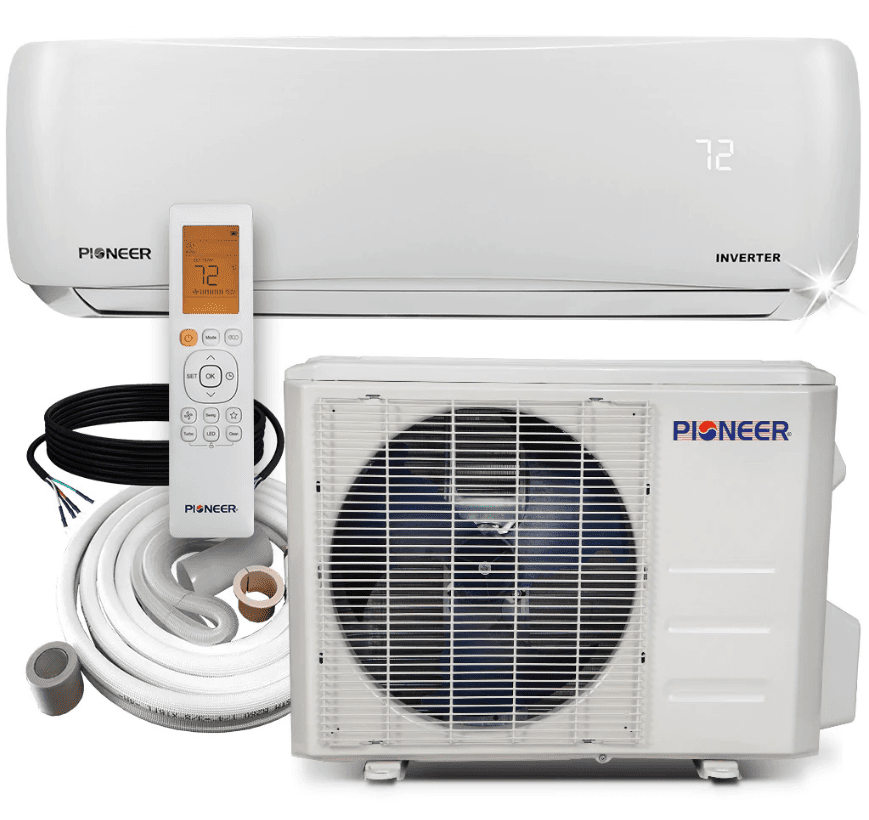 According to the AHRI, the Pioneer WYS YN009GMFI20RPD mini-split's estimated annual cooling cost is just $55, while you'll have to spend $211 if you want to use this Pioneer model to heat parts of your home.
Mini-split's coverage range is limited because its maximum cooling output is 9,000 BTU, and its heating output is 10,000 BTU. The indoor unit adjusts the airflow based on the current room temperature, and it's equipped with a front display that enables you to change its settings effortlessly.
Pros
Low power consumption
Follow Me function provides even temperatures throughout the mini-split's coverage area
The outdoor compressor unit makes less than 55dB of noise
Automatic refrigerant leak detection
Cons
It's the only suitable cooling and heating solution for small spaces
Pioneer Diamante Series Mini-Split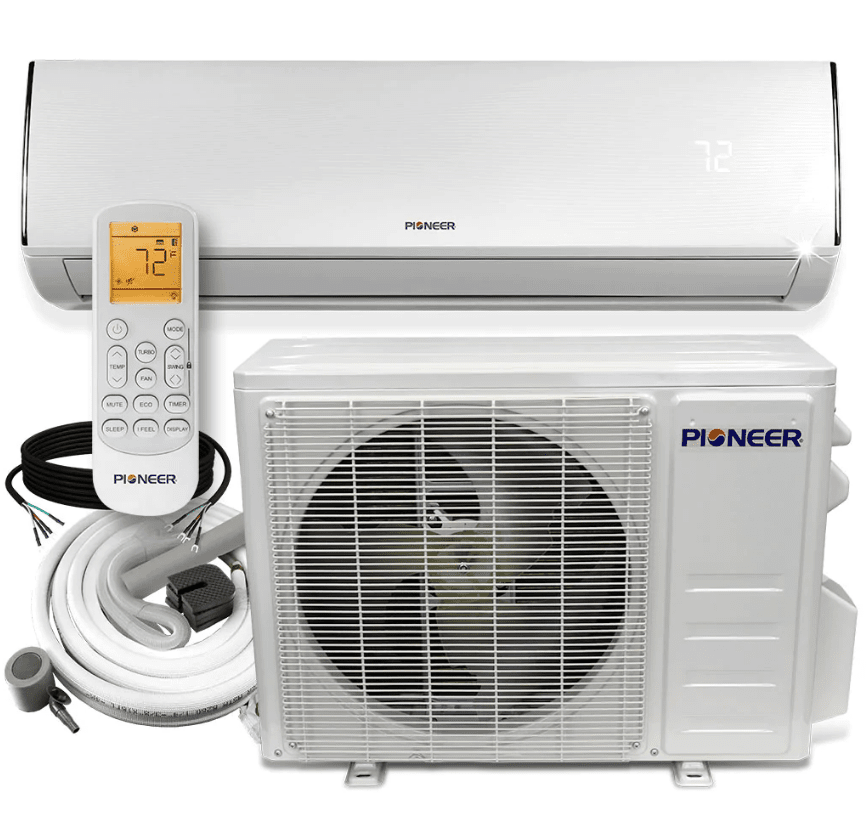 Like all models from this series, the Pioneer Diamante Series mini-split delivers excellent cooling and heating performances even in extreme weather conditions. Its 18,000 BTU output is sufficient to control the temperature in spaces smaller than 1,000sq.ft.
This model also has a dual-drainage function that ensures efficient disposal of the condensate, while its indoor unit is equipped with a dual swing function that provides even air distribution. The mini-split generates 606 CFM of airflow and doesn't have a variable airflow function.
Pros
An affordable price
Excellent performance in freezing temperatures
The mini-split arrives with a wireless remote controller
Cons
It's only compatible with 230V outlets
Pioneer Diamante Ultra Series WTO24GLFI22HLD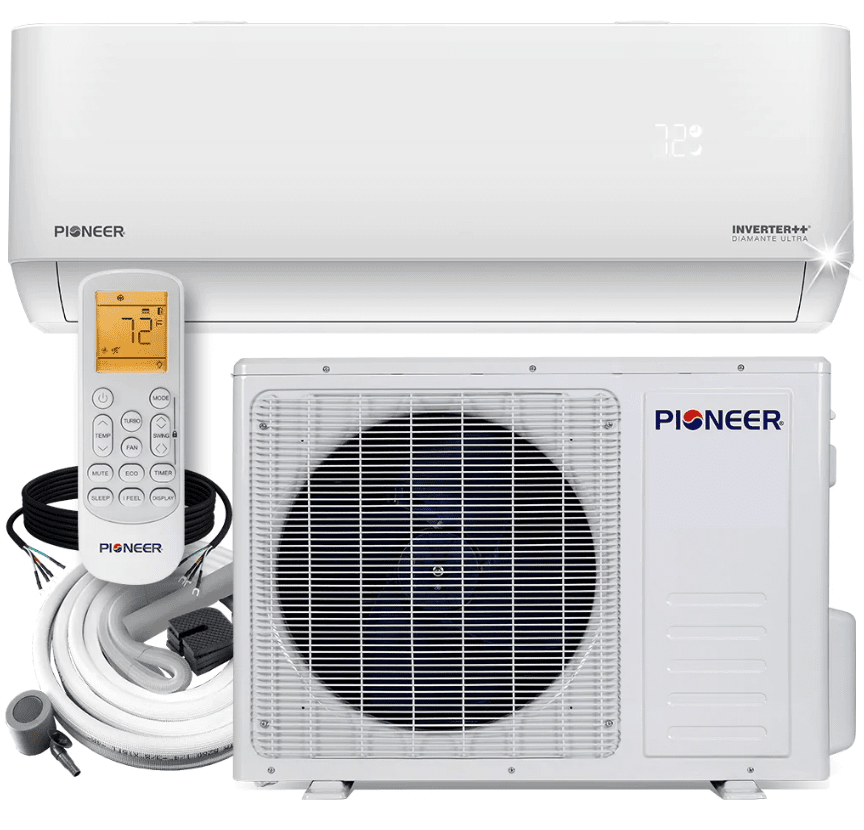 A highly efficient and Energy Star-certified mini-split system like the Pioneer Diamante Ultra Series WTO24GLFI22HLD is an excellent fit for residential and commercial contexts.
Its 20 SEER and 10 HSPF ratings suggest that its power-saving features can considerably lower your monthly cooling and heating bills. The mini-split is WiFi-enabled, so you can easily adjust its settings from a Smart device. However, you can't increase or decrease its airflow.
The model's installation kit is included in its price, and you'll receive a wall passage sleeve, 16 ft cooper line, and all other parts you need to install this mini-split.
Pros
The mini-split utilizes inverter technology
The indoor unit has a power-saving mode
It consumes less than $200 worth of electricity during the cooling season
Cons
It isn't a budget-friendly option
Pioneer UBO36GMFILCFHD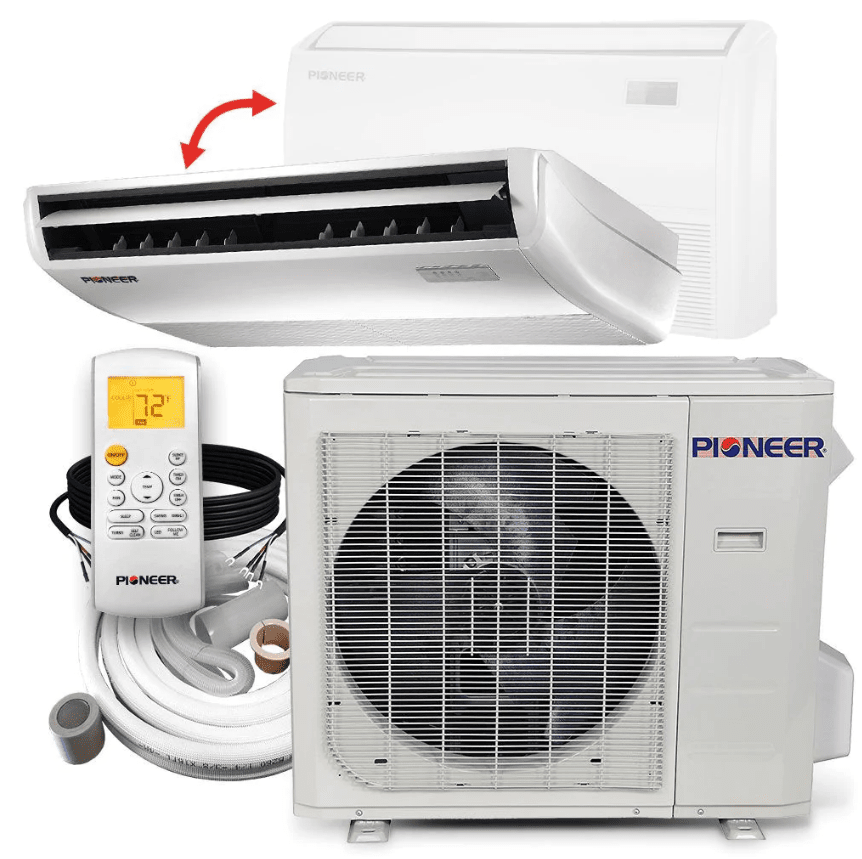 Even though it isn't the brand's most energy-efficient model, the Pioneer UBO36GMFILCFHD still has multiple modes that enable you to control its power consumption. The indoor unit has an anti-cold air function that prevents it from blowing cold air into the room before the evaporator coil warms up.
You can adjust its airflow speed, program the unit to switch on and off automatically, or use the Follow Me function to equalize the temperature throughout the mini-split's coverage area. Optionally, you can purchase a smart programmable thermostat that will make adjusting the unit's settings easier.
Pros
Multiple installation kit options
All mini-split's parts are durable
Excellent dehumidification and air ventilation capacity
Relatively low annual cooling costs
Cons
All accessories are sold separately
Pioneer WTO18GLFI22HLD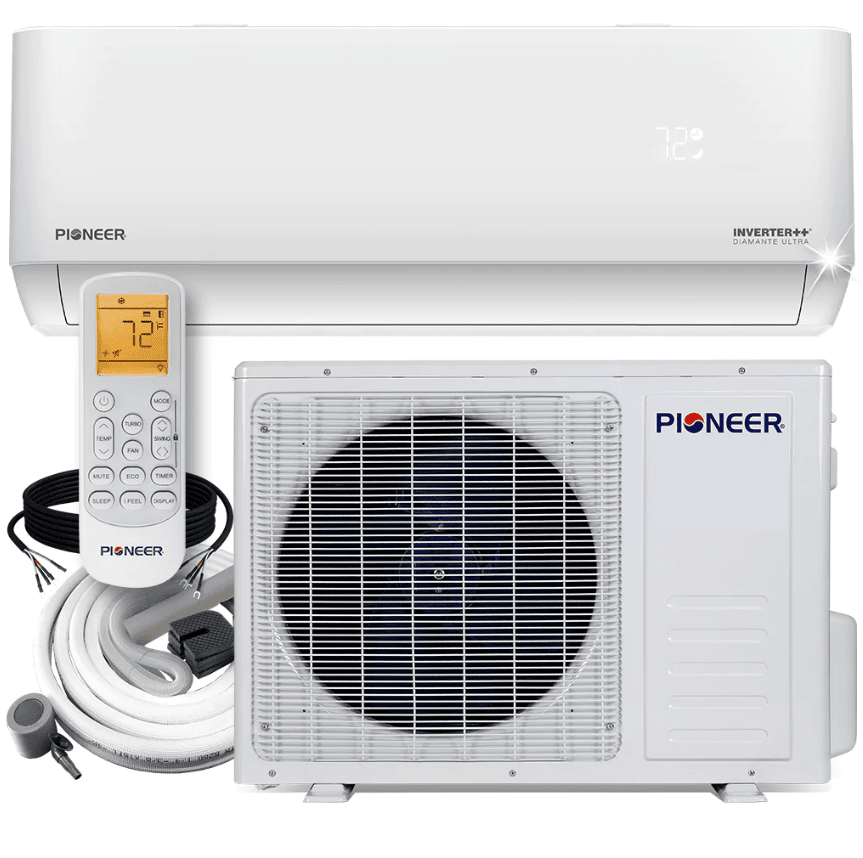 Models from the brand's Diamante Ultra are famous for their high energy efficiency, and the Pioneer WTO18GLFI22HLD mini-split isn't an exception. The 21.5 SEER and 10 HSPF ratings indicate that this model doesn't consume much power during the cooling or heating season.
According to the AHRI, this Pioneer mini-split uses only $111 worth of electricity during the summer, but its power consumption increases during the winter. This 1.5-ton model doesn't have variable airflow speed, and its indoor unit generates 45dB of noise while operating at maximum capacity.
Pros
This mini-split is Energy Star certified
It is WiFi-enabled
The outdoor unit has a sturdy case
Cons
Copper lines and electrical wires are just 16 feet long
Frequently Asked Questions about Pioneer Mini-Splits
Question: Which refrigerant are Pioneer mini-splits using?
Answer: All Pioneer mini-splits utilize R-410A refrigerant that isn't harmful to the environment.
Question: How often do I have to perform maintenance checks on a Pioneer mini-split?
Answer: You should perform regular monthly checks of your mini-split system to ensure its air filter and condenser coil are clean. In addition, your HVAC technician should inspect the system annually to check if all its components are in good condition.
Question: Can I evacuate the system on a Pioneer mini-split by myself?
Answer: Yes, you can, but only if you have the necessary equipment. Also, attempting to evacuate the system on your own might void the mini-split's warranty.
My Verdict: How to Know which Pioneer Mini-Split Is the Best?
I replaced the first Pioneer mini-split I got after ten years of almost constant use. During that time, its parts didn't break down often, and my utility bills were relatively low. I think Pioneer offers a remarkable selection of mini-split models suitable for small and vast spaces.
The Pioneer UBO48GMFILCHFD is arguably the brand's best model for spaces over 2,000sq/ft, while models like Pioneer WYTO 12ALFI19RL or Pioneer WYS YN009GMFI20RPD are a good fit for single-room apartments or similar spaces.
I hope this article has helped you find the best Pioneer mini-split for your cooling and heating needs. Please go through our Senville mini-split review to learn more about the brand's Sena 30HF-D1212 model.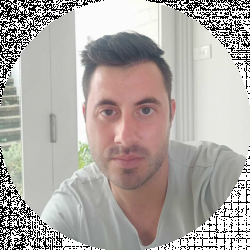 Latest posts by David Borgogni
(see all)