General Electric has been at the forefront of innovation for over a century. During this time, the company produced home appliances that transformed the way we live. So, it's not surprising that the best GE air conditioners stand shoulder to shoulder with those manufactured by competing brands.
The company currently offers close to a hundred ACs with different features, cooling outputs, and installation methods. Determining which of these models is the right option for you is time-consuming, especially if you don't have much experience with air conditioners.
In this article, I'll take you through the key aspects you need to consider while deciding which are the best GE Brand Air Conditioners that fits the space you want to cool and recommend some of the brand's top models.
Bottom Line Up Front
In my experience, the intended use is as important as the AC's performance capabilities, which is why I think that looking solely at the model's spec sheet isn't enough to find an AC that can meet all your requirements.
Hence, the best GE brand air conditioner is the one that fits your budget and the cooling needs of the space in which you want to install it.
I recommend the GE AHFK24BA model if you're looking for an AC with a vast coverage area, while the GE APWA14YBMW unit might be a good option if you need an AC you can easily move from one room to another.
See also: The best GE portable air conditioners
My Top Picks At a Glance
Types of GE air conditioners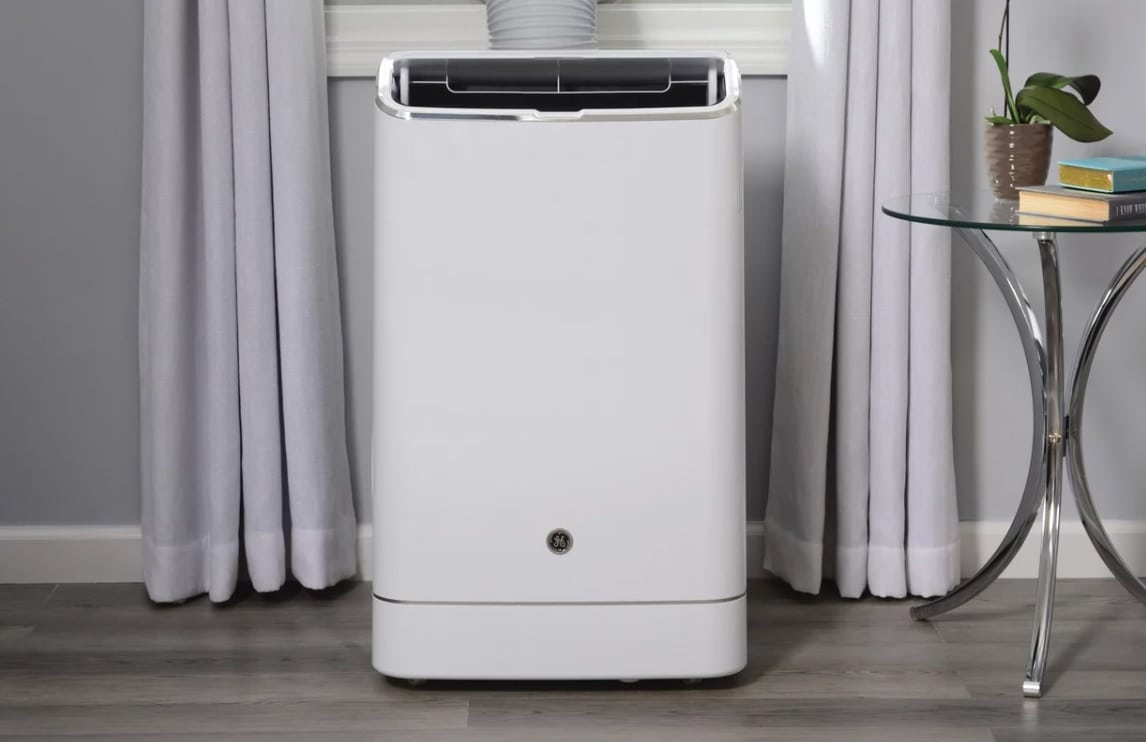 Depending on their installation method GE ACs are divided into three categories. Each category contains an excellent selection of models designed for small and relatively large spaces. Let's take a look at different types of GE air conditioners:
Built-in: Through-the-wall or built-in ACs are, as their name implies, installed on a building's exterior wall. They slide into a sleeve that extends on both sides of the wall and prevents the outside air from reaching the home's exterior. Some built-in ACs have both cooling and heating functions.
Window-mounted: You can choose from thirty GE window AC models with different dimensions and cooling outputs. Keep in mind that the width of a window on which the unit will be installed plays an essential role in the selection process.
Portable: Compact dimensions or lightweight and functional design are some of the most common traits of portable ACs. However, these units require access to a window through an exhaust hose to function, which limits their movability.
See also: How to find the best ventless air conditioner
The coverage range of GE air conditioners
The unit's output measured in British Thermal Units (BTU) indicates the size of an area it can cool. However, the AC's coverage range doesn't only depend on its size, as various contextual factors like the space's insulation quality or the climate can make a unit less effective.
Cooling outputs of GE residential air conditioners range from 5,000 BTU to 24,000 BTU depending on the AC type and the model. Moreover, the brand doesn't offer portable ACs with cooling capacities over 14,000 BTUs, which means that they're only suitable for spaces smaller than 500sq/ft.
Top tip: Don't underestimate the importance of sizing the AC unit properly. Consult an HVAC technician if you're unsure which GE AC size is the best fit for the space you want to cool. 
Only seven GE AC models have cooling outputs powerful enough to regulate temperatures in rooms larger than 1,000sq/ft.
Power consumption and energy efficiency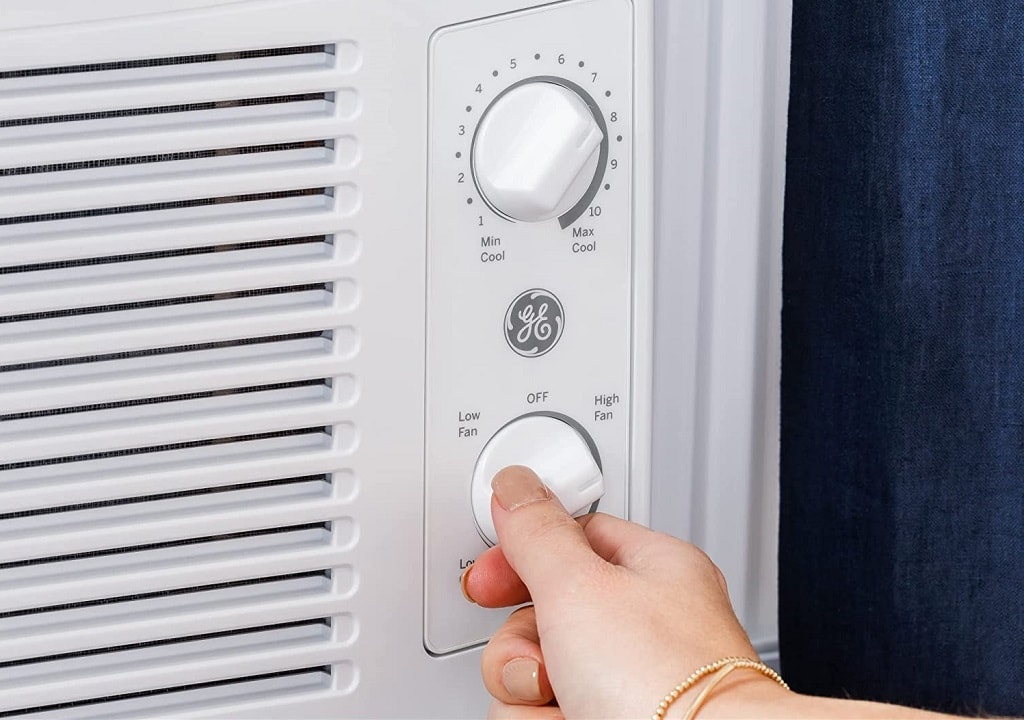 The unit's power draw depends on its size, so the 5,000 BTU model needs less power to maintain the room temperature at the same level as a 24,000 BTU model.
Calculating the unit's power consumption is easy since you just have to check its wattage per hour on the energy-saving label located at the back and multiply it with the number of hours the AC runs in a day.
A 12,000 BTU window AC utilizes around 1,000 Watts per hour, so you'll have to spend 4kW to use it for four hours. Most GE models are Energy Star-certified and have high Energy Efficiency Ratios (EER). In addition, GE ACs usually have ECO and Energy Saver modes that limit their power consumption.
It's important to note that a unit that is either too small or too big for the room in which it is installed draws more power to reach and maintain a specific temperature than models placed in spaces suitable for their cooling outputs.
Key features of GE air conditioners
The brand's AC models have similar features regardless of their type or maximum cooling output. Even though the exact list of GE air conditioner's features varies from model to model, most units share the same functionalities.
Here are some of the most common features you'll encounter on GE ACs:
Cooling, Dehumidification, and Fan-Only modes
Adjustable fan speeds (up to three speeds)
ECO or Energy-Saving mode
Automatic temperature adjustment
Sleep mode
Filter Reminder
Some models are WiFi-enabled, and you can use the SmartHQ app to adjust the unit's settings or monitor its power consumption. The noise level of GE air conditioners ranges from 40dB to 65dB, so you need to check how loud is the model you'd like to get.
The brand includes installation kits with all its AC models, and you don't have to worry about finding wall sleeves, window AC brackets, or exhaust hoses compatible with the unit you purchased.
See also: The best vertical window air conditioner guide
Upkeep requirements and price ranges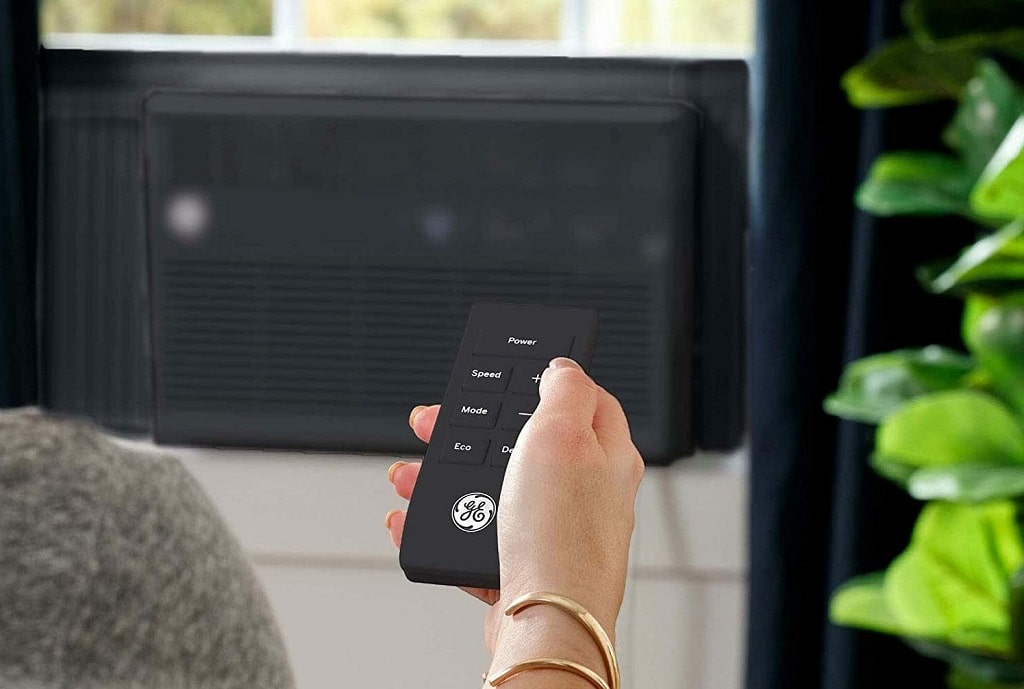 Even though GE portable, built-in, and window ACs can last ten to twenty years, failing to take proper care of the unit can significantly shorten its lifespan. Most brands' models have reusable air filters that require frequent cleaning.
The unit's Filter Reset light turns on automatically after 250 hours of operation without cleaning the filter. Despite this, I still recommend checking your GE AC's air filter monthly to ensure that the dirt it accumulates doesn't affect the AC's performance.
The brand offers several self-evaporative models that automatically dispose of the water while the unit operates in Cool or Dry modes, and unless your model has a continuous drain option, you'll have to drain its pan manually.
Top tip: Examine your GE air conditioner thoroughly before a cooling season to make sure all of its components are in good condition.
The prices of the brand's AC models vary from approximately $200 for entry-level units with low cooling outputs to over $1,000 for high-end through-the-wall models.
Selection criteria
Even though I've used numerous GE ACs, the experience I acquired over the years wasn't sufficient to face the brand's immense selection of models. That's why I had to rely on a variety of parameters that enabled me to identify the best units in a specific price or coverage range.
Here are some of the vital factors I considered while choosing the best GE air conditioners:
Unit type: My goal during the selection process was to identify the brand's portable, window, and built-in models suitable for different residential contexts.
Cooling output: The final selection includes GE ACs with cooling outputs ranging from 5,000 to 24,000 BTUs so that you can pick a unit that best fits your cooling requirements.
See also: The best slider window air conditioner options
Top 9 GE air conditioners
GE AHEU08BC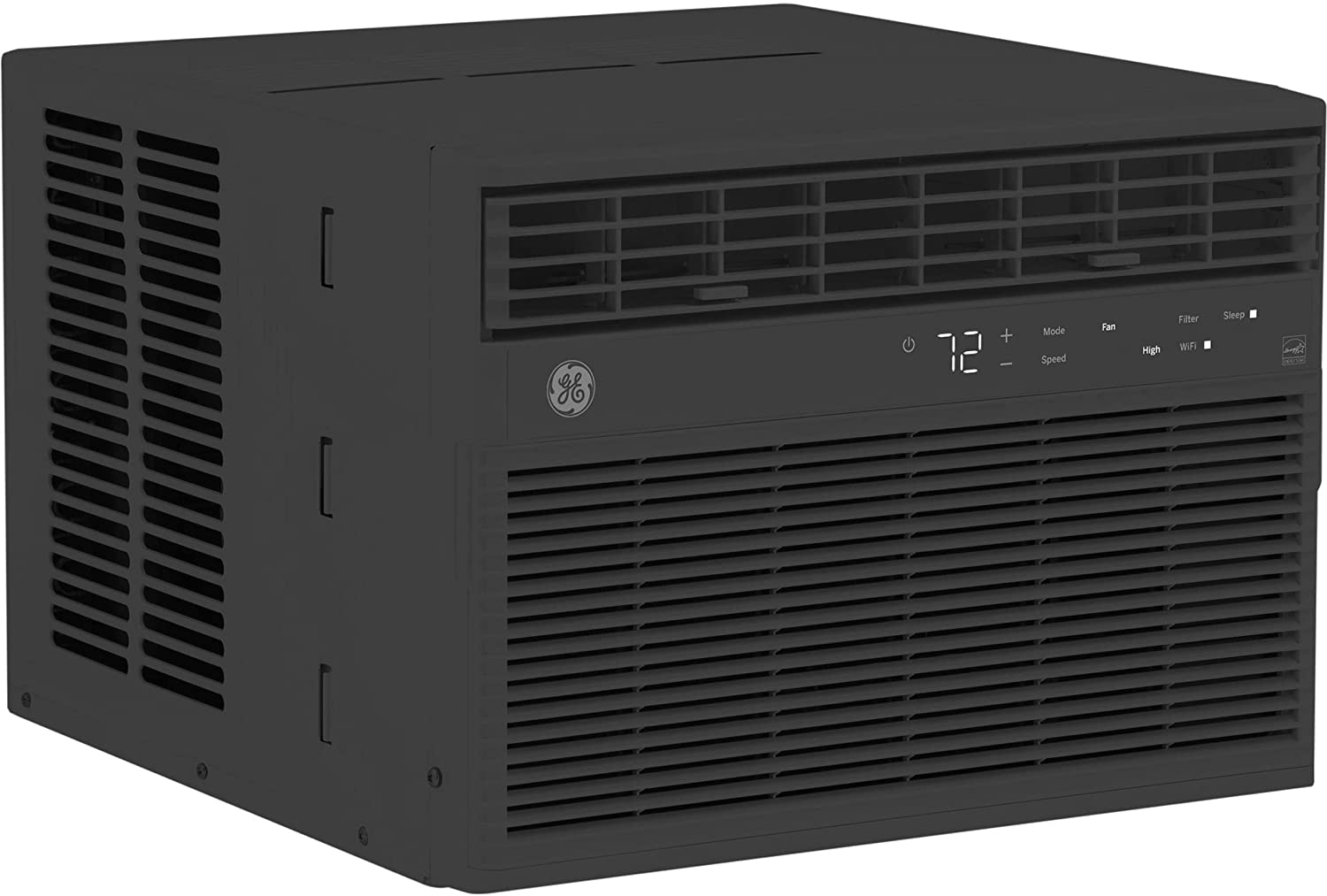 The 8,000 BTU output makes the GE AHEU08BC a good fit for 250 to 350sq/ft spaces. The Energy Star-certified unit can operate in Cool, Dry, and Fan-Only modes, and you can choose from three fan speeds. This GE model can generate up to 190CFM of airflow and absorb 2.1 pints of humidity per hour.
Its 4-way adjustable louvers can direct the cool air to a specific part of the room or spread it evenly throughout the space. Aside from the built-in digital controls, you can use voice commands or the Smart HQ app to adjust the AC's settings.
Pros
EZ Mount installation kit is included in the model's price
It's compatible with Amazon Alexa and Google Assistant
Stylish and durable design
This unit is WiFi-enabled
Cons
This window AC makes 62dB of noise while operating at maximum capacity
GE APWA14YBMW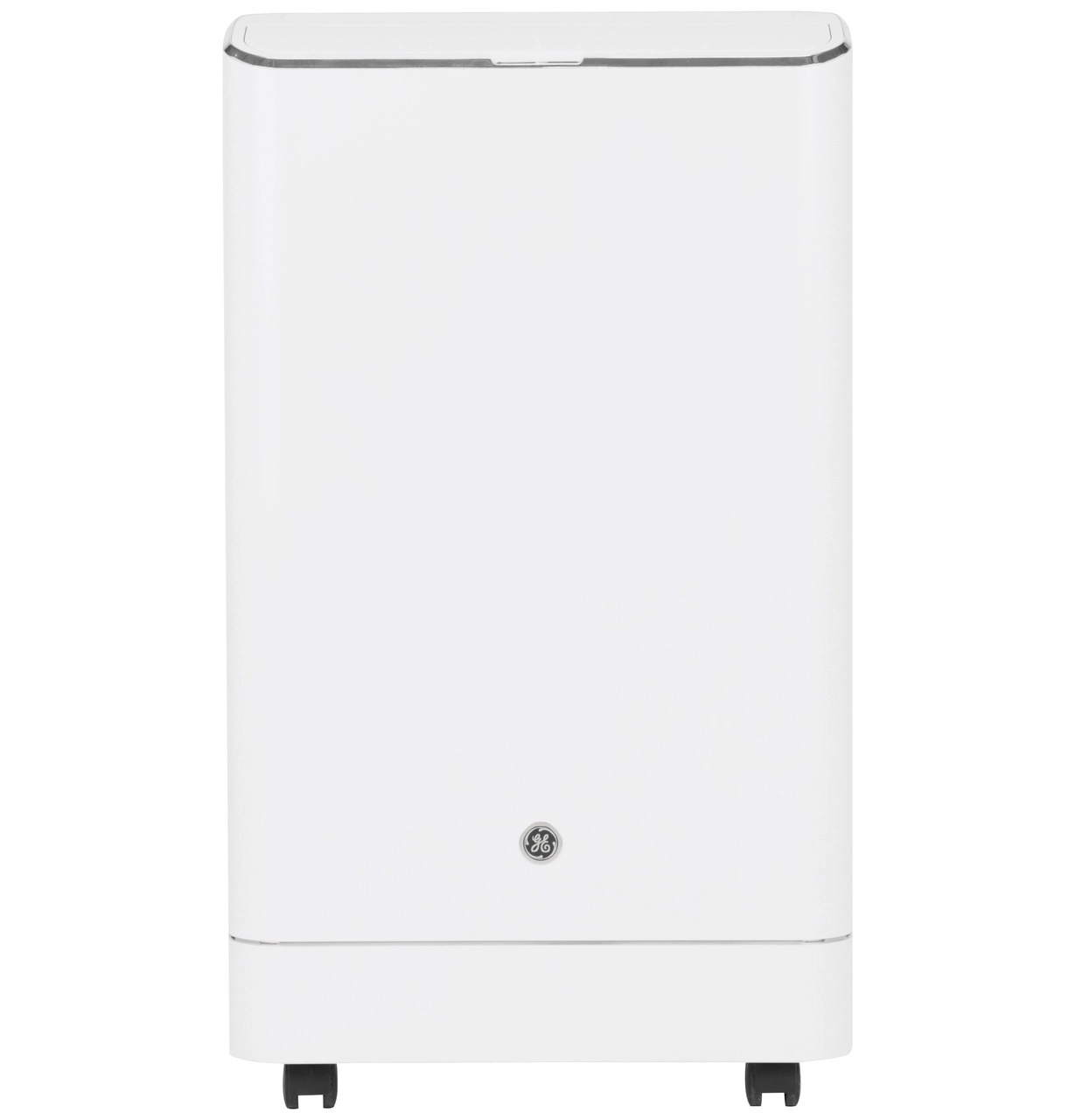 The Easy-Roll wheels make finding the perfect position for the GE APWA14YBMW portable AC easy and enable you to move it from one room to another effortlessly. Moreover, the installation kit enables you to use the unit with double-hung or sliding windows.
The unit's cooling output is 14,000BTUs, and it can regulate the temperature in spaces smaller than 550sq/ft. This portable AC operates at three cooling speeds and generates up to 250CFM of airflow, while its self-evaporative condensate drain function lowers its upkeep requirements.
Pros
The AC can absorb 100 pints of humidity per day
It has a washable air filter
It restarts automatically after a power outage
Programming the unit is easy
Cons
This portable AC weighs 71lbs
GE AJEQ14DWG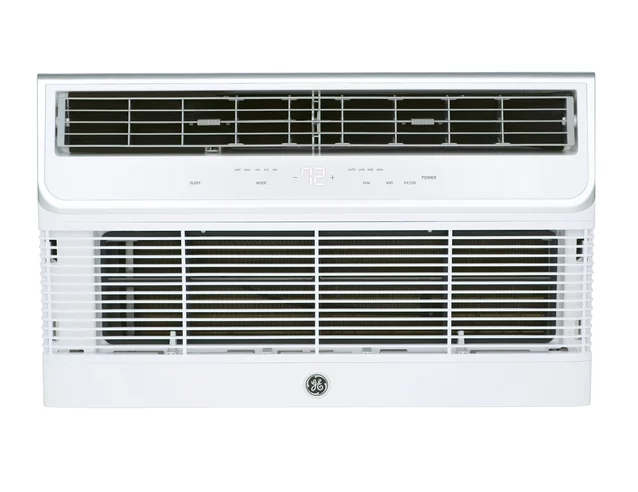 You should consider getting the GE AJEQ14DWG built-in AC if you're looking for a permanent cooling and heating solution for a specific part of your home. The unit can generate up to 14,000 BTUs in the cooling mode and 10,600 BTUs in the heating mode.
However, it doesn't have the capacity to reduce the room temperature below 60F or increase it over 86F. Its sleeve and chassis are corrosion resistant and fit perfectly, eliminating air leaks. GE's built-in model is WiFi-enabled, so you can use its remote or an app to adjust its settings.
Pros
Intuitive auto-dimming display
Effortless temperature control
A high EER rating
A long warranty period
Cons
Complicated installation process
GE AHEC05AC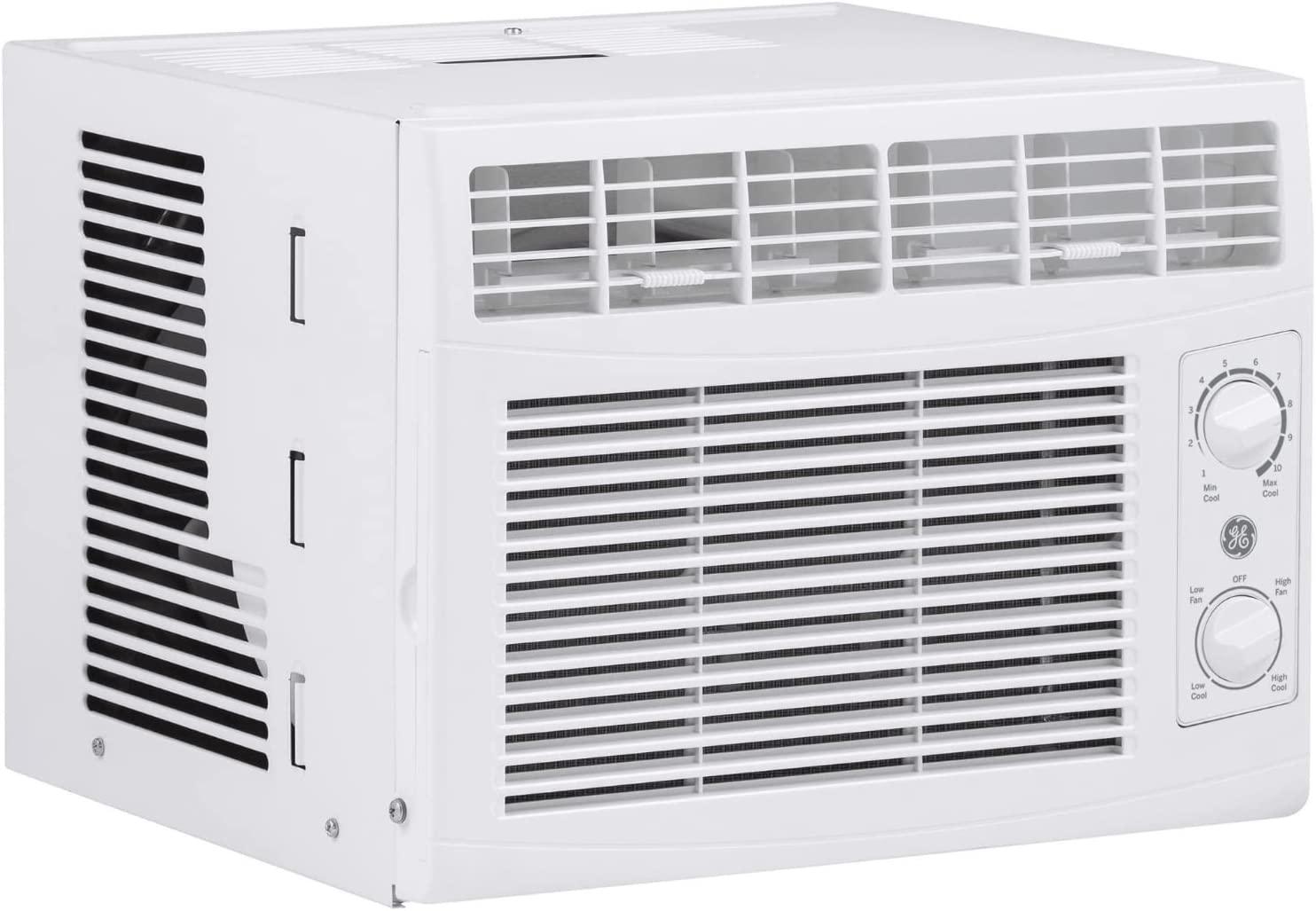 As one of the brand's most affordable models, the GE AHEC05AC is an excellent budget option for spaces under 150sq/ft. This mechanic window AC doesn't have all the bells and whistles of GE's more advanced modes, but it still allows you to adjust its cooling output and fan speed effortlessly.
Even though it isn't Energy Star-certified, the unit draws just 455 Wats, so it won't need much power to keep a room cool. The AC doesn't have a display, so making intricate temperature adjustments isn't possible.
Pros
The air filter is easily accessible
EZ mount installation kit arrives with the unit
Affordable price
Cons
This window AC doesn't have the dehumidification mode
GE APCD10JASG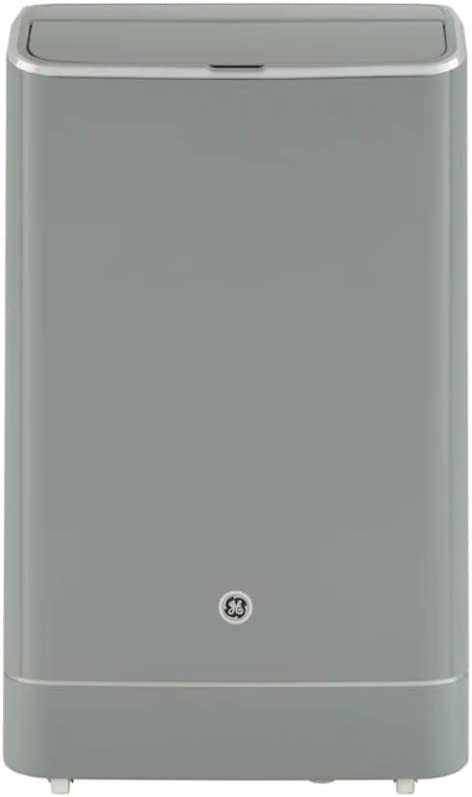 Acquiring the RAP2 Dual Hose Conversion kit extends the GE APCD10JASG's coverage range. The model's cooling output is impressive even when used with one hose, as it can regulate the temperature in spaces up to 450sq/ft.
Besides an impressive cooling output, this portable AC also has a Dehumidification mode enhanced by the Auto Evaporation technology that drains the condensate automatically.
The unit can operate at three cooling and fan speeds, and it can generate 235, 260, or 285 CFM of airflow. Its noise level doesn't exceed 56dB.
Pros
The AC's dehumidification capacity is 100 pints per day
Sturdy casters make moving the unit over uneven surfaces easy
It has 24h On/Off function
Intuitive digital controls
Cons
A narrow operating temperature range
GE AJCQ14DWH
The True Built Design that ensures the GE AJCQ14DWH's chassis and sleeve fit make a complicated installation process somewhat easier. This though-the-wall AC has 6-way lowers that allow you to choose where you want to direct the airflow.
The unit also has the Auto mode, which maintains the room temperature at the same level, while its ECO mode switches the fan off between two cooling intervals. The GE model has a 9.5 EER rating, so its power consumption won't inflate your monthly utility bill.
Pros
The AC is WiFi-enabled and compatible with the SmartHQ app
This GE through-the-wall model is Energy Star-certified
Its louvers are five inches deep
Over and under air discharge
Cons
Wall case and grill accessories are sold separately
GE AHFK24BA
You can use the GE AHFK24BA to lower the temperature in spaces up to 1,500sq/ft. The unit's high cooling output doesn't come at the cost of its efficiency because it is Energy Star-certified, so you won't have to waste a lot of power to keep a large room cool.
Four-way adjustable louvers distribute the cool air evenly throughout the room, and you can adjust the AC's cooling and fan speeds. GE AHFK24BA is WiFi-enabled and supports voice commands through Amazon Alexa or Google Assistant.
Pros
The AC has a 9.8 EER rating
A wide cooling range
It has an Energy Saver and ECO modes
Cons
This GE air conditioner is noisy
GE APCA11YBMW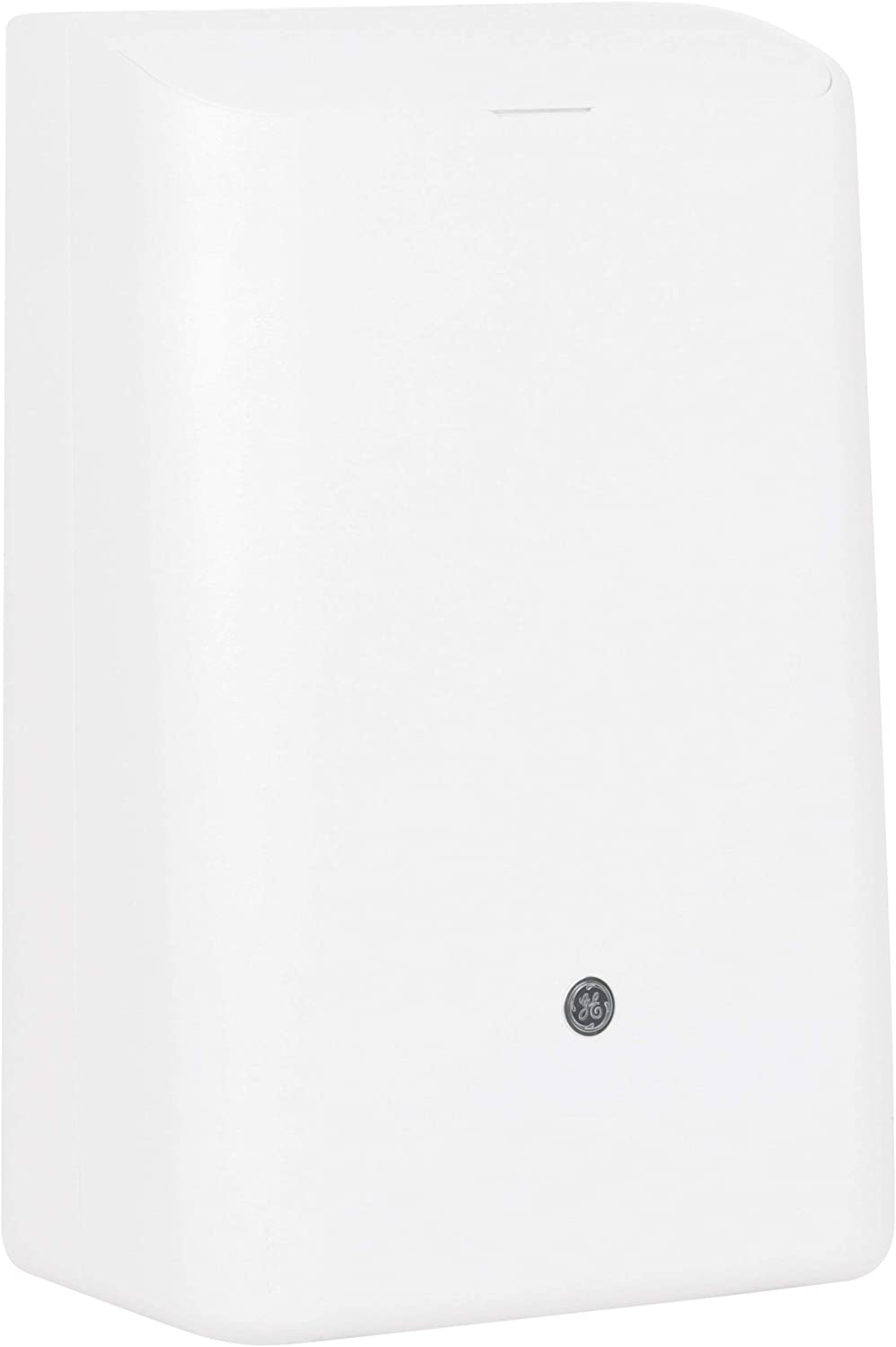 A portable AC like the GE APCA11YBMW is only a good fit for homes with 20 to 46-inch wide windows. The model's 11,000 BTU cooling capacity is sufficient to regulate the temperature in a 450sq/ft room, but its coverage range might shrink during the hottest days of the year.
The unit has three cooling and fan speeds, and its operating temperature range spans from 64F to 86F. This AC is self-evaporative, but it also has the Continuous Drain function, and its maximum daily dehumidification capacity is 90 pints.
Pros
The AC has a reusable mesh air filter
It has Auto Louvers function
The AC restarts automatically after a power outage
Excellent dehumidification capacity
Cons
The exhaust hose is only five feet long
GE AJCM10AWH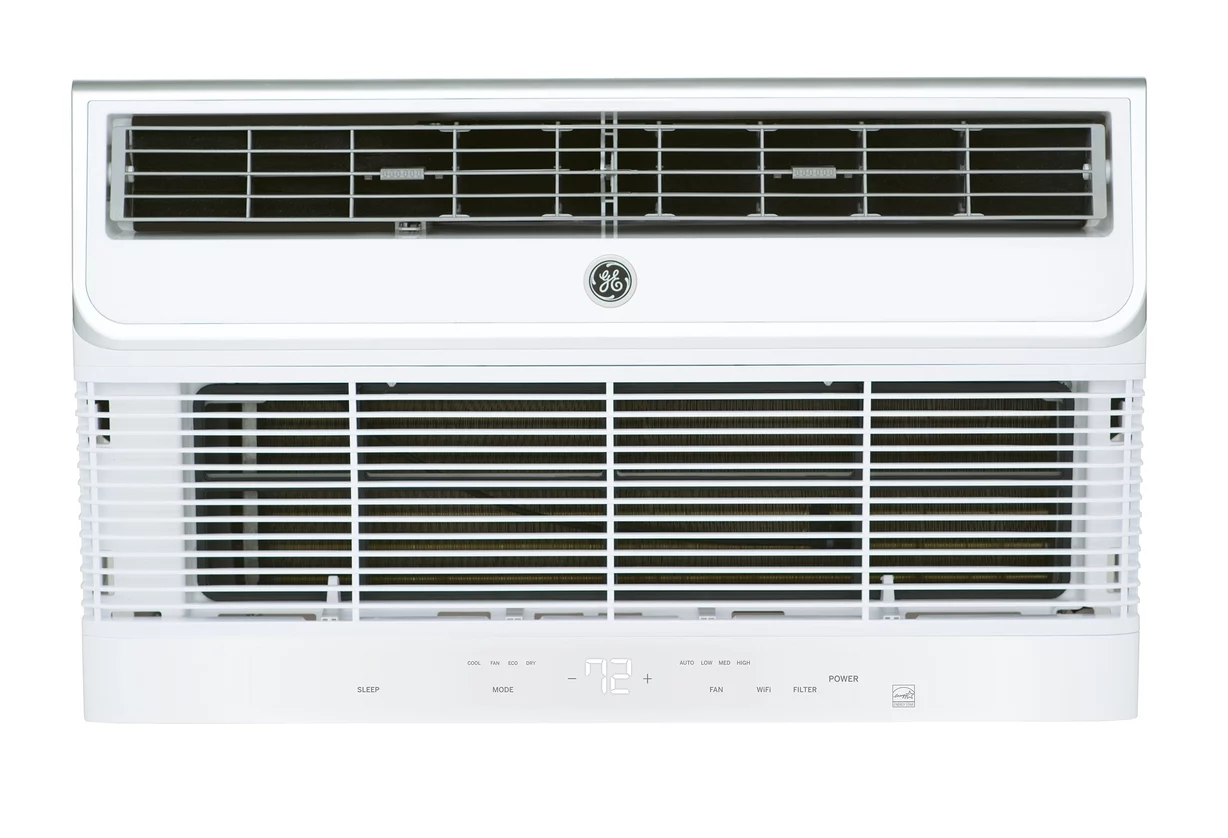 All components of the GE AJCM10AWH are durable, and it is unlikely that you'll ever have to use its 5-year sealed refrigerating system limited warranty. This 10,000 BTU built-in air conditioner can't cool spaces larger than 450sq/ft, while its temperature range spans from 60F to 85F.
The unit is Energy Star-certified and has a 10.6 EER rating, which is why it doesn't need a lot of power to lower and maintain the room temperature. It absorbs 2.7 pints of humidity while operating in the Dry mode.
Pros
The AC is compatible with the SmartHQ app
It has an auto-dimming display
This model is equipped with six-way directional louvers
Sturdy and durable cabinet
Cons
It weighs more than 80lbs
Frequently asked questions about GE air conditioners
Question: Do all GE air conditioners have the same warranty?
Answer: Depending on the model, GE ACs can have 1-year or 2-year warranties, while some models also have 5-year sealed refrigerating system warranties.
Question: Are GE air conditioners compatible with all window types?
Answer: Brand's ACs are only compatible with sliding and double-hung windows. In addition, most models can't be mounted on windows wider than 46-inches.
Question: Can I install a built-in GE air conditioner by myself?
Answer: These ACs require professional installation because creating a wall opening and positioning the sleeve correctly is an overwhelming task for most homeowners.
Question: Does GE offer accessories for its air conditioners?
Answer: Yes, the brand offers a variety of accessories for its AC products.
I hope this article has helped you find a GE air conditioner that is a good fit for the space you want to cool. Please look at our guide to the best Amana portable air conditioners to see how they compare to GE's portable models.
My verdict: How to know which GE air conditioner is the best?
Navigating through nearly a hundred GE air conditioners can take a long time if you don't have a clear idea of what you're looking for. Choosing a specific AC type or preferred cooling output will narrow your range of options and make finding the right model easier.
I think that GE AHFK24BA is one of the brand's best window ACs because of its high cooling output, excellent energy efficiency, and advanced features. A portable model like the GE APWA14YBMW might be a good option if you want a unit you can set up quickly.
Read More: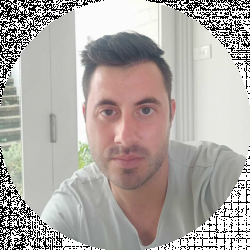 Latest posts by David Borgogni
(see all)