It can be a struggle to find window air conditioners that fit in casement windows, sliding windows, and other oddly shaped openings. You can do it, but you have to find an air conditioner that fits differently than a typical window unit.
Air conditioners that fit in these types of windows are narrower than normal. Standard window units are perfect for double-hung windows because they're short and wide, but casement windows are tall and narrow.
If you want to install a window air conditioning unit in a casement window, your window needs to be at least 15.5 inches wide. Measure the window first to make sure you can install a window unit. It will also require a vertical AC kit, but your unit should come with this.
There aren't very many manufacturers that make these vertical window units. Some of the best are Frigidaire, Koldfront, and PerfectAire.
Terminology Explained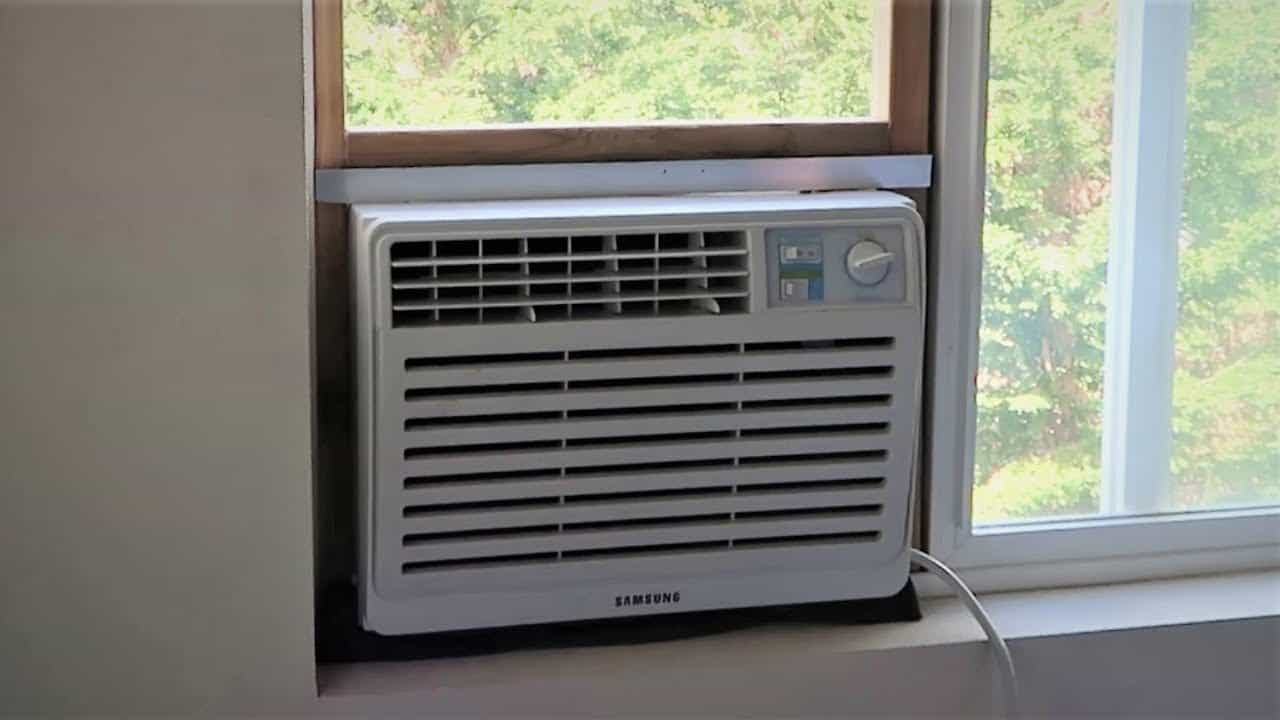 There are many different terms for this kind of air conditioner. Casement, vertical, slider, and sliding are a few of them, but they all mean the same thing. If you have a narrow window like a casement window or a sliding window, you can't look for a standard window unit. You have to find one that's a different shape.
Every manufacturer calls them something different, but don't be confused, because they all refer to the type of unit you're looking for.
Casement window air conditioner: This is the phrase used most often and it refers to a window unit that fits a casement window.
Vertical window air conditioner: This term describes a window unit that fits in a vertical window opening.
Sliding window air conditioner: This term refers to the fact that you can put the air conditioner in a sliding window and then slide the window closed as far as possible to fill in the spacing.
Slider window air conditioner: This term refers to the same thing, but sometimes they're called slider window AC units.
Thin air conditioner: These units refer to a high ratio between height and width.
Every one of these terms is used interchangeably for this type of air conditioner. You can install any one of these air conditioners in either a casement or a sliding window.
Buying Guide
There are several things you should look for when purchasing a window unit for a sliding window. Of course, you'll want to get one that's tall and narrow. They're usually 14-15 inches wide and the height can vary from 20-30 inches.
Cooling capacity
This metric is measured in BTU/hr. The higher the number, the more effective it will cool the space. It stands for British Thermal Units and it's a standard rating on all air conditioning units. Standard units can generally produce 6000-15,000 BTU, but narrow window units come with a smaller range.
Sliding window air conditioners typically only come with 8000 or 10,000 BTU, but 10,000 is the most common because it has a better cooling capacity.
Coverage area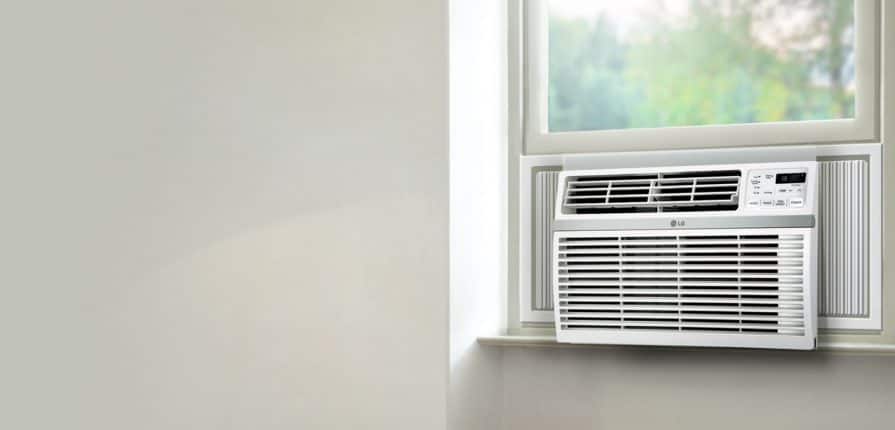 How much area it can cool will depend on the BTU rating. You can determine how much space it can cool using the EPA recommendation of 20 BTU for every square foot. If your BTU rating isn't high enough for your large space, you may need 2 of them.
Alternatively, you may not need such a high BTU rating if you turn the fan to a lower setting.
EER rating
EER stands for energy-efficiency ratio, and it's an important factor to consider if you want to spend less on your electric bill. Having a window unit is only effective if it's energy-efficient. Your window unit could save you up to $500 over the next 10 years.
The EER comes from dividing the BTU by the maximum energy input, which is measured in wattage. More efficient vertical window air conditioners have higher EER ratings. A rating of 10 is considered very efficient, but 8 or 9 is still good.
Window size
You have to measure your window to make sure you get a unit that fits. While standard units require a minimum width of 20-25 inches, a vertical unit will fit in a narrower opening. While they're rated for windows that have a width of fewer than 15 inches, you still have to consider adding about an inch for the installation kit.
All window units will also list the minimum window height requirement, but you generally don't have to worry about that as much because vertical windows tend to be tall.
Noise level
Window units can be noisy, so consider how loud the unit is before you purchase it. Sliding window units tend to be louder than standard units. Anything less than 60 decibels is considered quiet.
Make sure you're looking at the correct measurement because these types of air conditioners have 2 different ratings. One is for how loud the unit is on the inside and the other is for how loud it is outside.
If you can't find these ratings from the manufacturer, don't count on it being quiet.
Frigidaire FFRS1022R1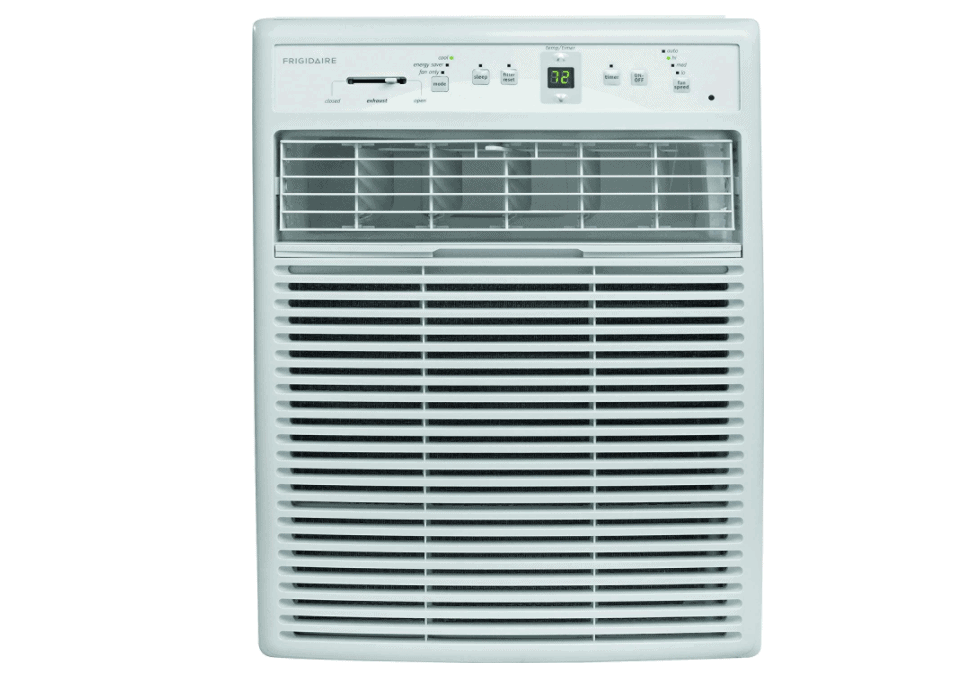 This is perhaps the best overall vertical window air conditioner because Frigidaire is one of the most reputable manufacturers on the market. This unit is designed specifically for non-standard window sizes.
With a 10,000 BTU rating, it can effectively cool up to 450 square feet and it comes with everything you need in the installation kit to install it yourself. It's designed to sit on the window sill and will also work as a dehumidifier, removing as much as 3.4 pints of water per hour.
The EER rating of this unit is 10.4, so it's very efficient. It uses much less electricity to create its cooling effect than other units with lower ratings, so you'll save money on your monthly bill.
Specs:
The window must be at least 15.5 inches wide.
The window must be between 21.5 and 40 inches tall.
This unit is also very easy to use. It features multi-speed electric controls, a remote control, a 24 hour timer, and several different modes including auto, sleep, and energy saver. You can direct the air 4 different ways as it blows through a mesh filter that's washable and reusable. When it's time to clean the filters, a red light will alert you.
The reputation of Frigidaire is synonymous with ease of use and reliability, so you'll get everything you need in this highly rated unit.
Pros:
Made by a recognizable brand
10,000 BTU
Easy to use with great features and several modes
Lasts up to 15 years
Cons:
Koldfront CAC8000W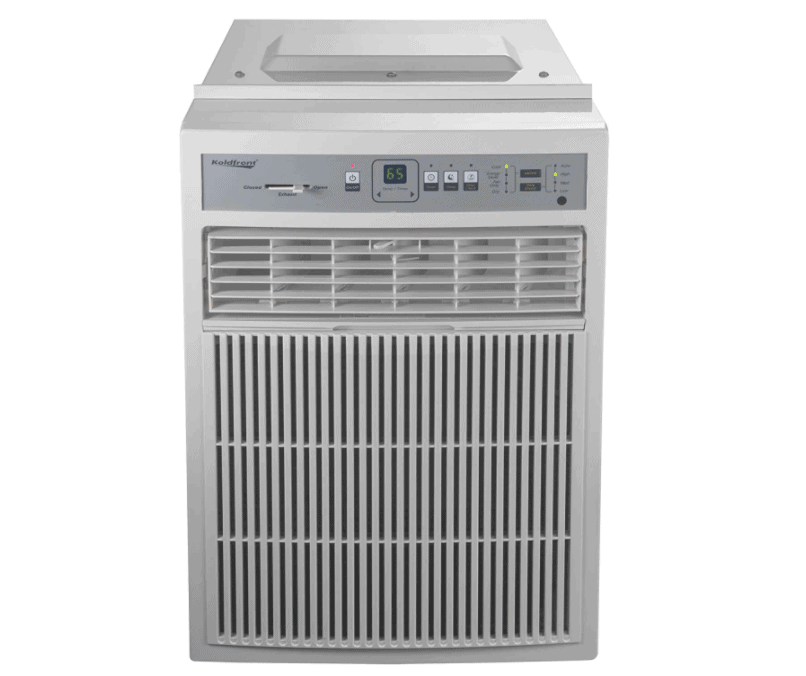 The Koldfront CAC8000W is the quietest 8000 BTU unit you can buy. Although it can't cool as much space as the Frigidaire model, it is still a very reliable window unit for casement or vertical windows.
With its EER rating of 11, it's actually one of the most energy-efficient vertical window air conditioners you can buy. It comes with an EnergyStar label that indicates you'll pay as little as $70 on electricity, even in the hottest summer months.
It's not only energy-efficient, but it's very quiet. It has a noise rating of 55 decibels, which is well below the 60 decibels needed to be considered whisper quiet.
However, the one drawback is that it only works on windows that slide side to side. If you have a vertical window that slides up and down, this unit won't work.
Pros:
11 EER rating
55 decibels for whisper-quiet operation
Reliable with good reviews
Cons:
Can't be installed on windows that slide up and down
PerfectAire 3PASC10000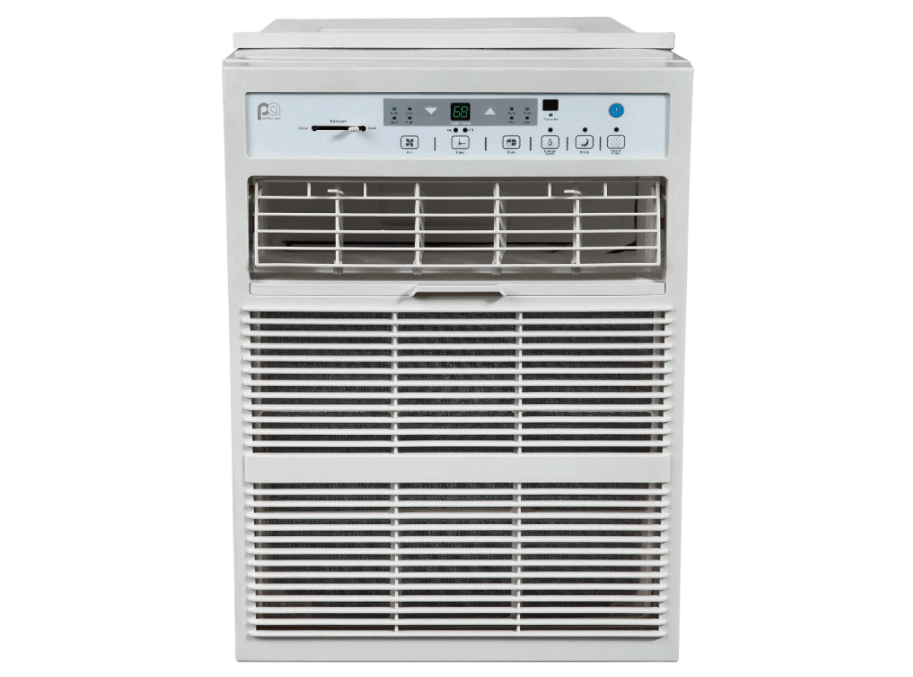 When it comes to specs, this PerfectAire unit comes very close to competing with the Frigidaire unit and is still one of the best vertical window air conditioners on the market. You can cool up to 450 square feet of space with 10,000 BTU.
It comes with the installation kit you need to install it in any window that's at least 15.5 inches wide. Your window must be 21.25-39.5 inches tall.
It also has an EER rating of 10.4, making it very efficient. While this unit has nearly identical specs to the Frigidaire, not many people have heard of the PerfectAire brand. While this will save you money, some people would rather have a brand they recognize.
Pros:
10.4 EER
Includes installation kit
Affordable
Cons:
Noise level is greater than 60 decibels
Not a well-known brand
Keystone KSTSW10A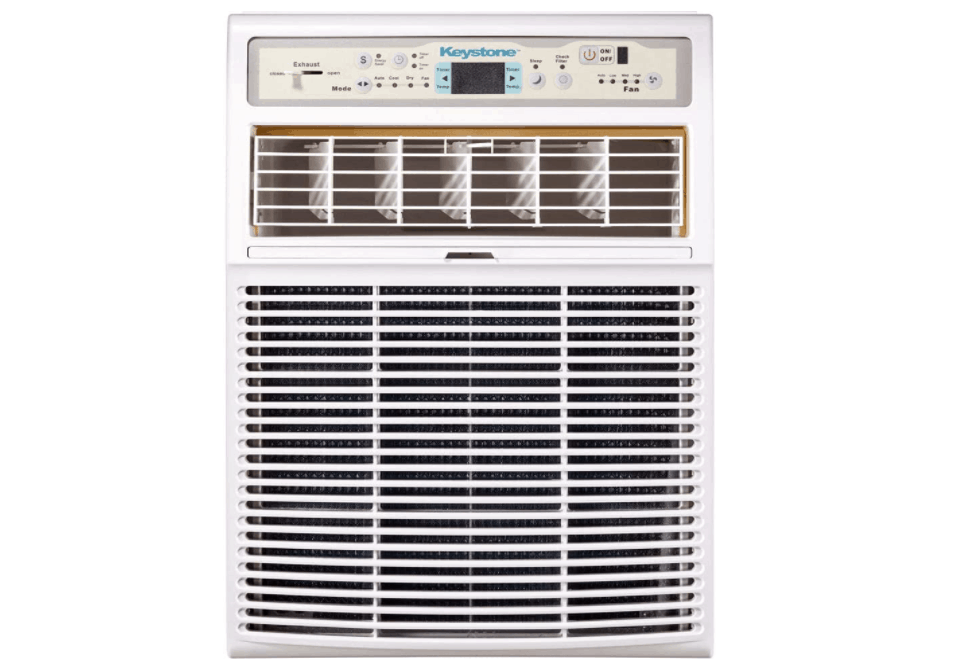 This 10,000 BTU unit can cool up to 450 square feet of space as well, but where it really shines are the controls. There are 3 fan speeds with 4 directions for airflow. That makes it an efficient unit in terms of keeping the space cool however it works best for you. You can direct airflow wherever you need it most.
Its EER rating is 10.4, so it's also very energy efficient. With the Energy Saver mode, you can make it even more efficient than its full mode. This is the best unit for people who want complete control over their airflow and energy usage.
However, not only is Keystone, not a recognized brand, but they also don't specify the noise levels of this unit. It may make you feel more comfortable to purchase something when you know what to expect.
Pros:
10.4 EER
3 fan speeds and 4 airflow directions
Affordable
Cons:
Noise levels not listed
Not a well-known brand
Global Industrial MWDUL-10CRN1-BCJ4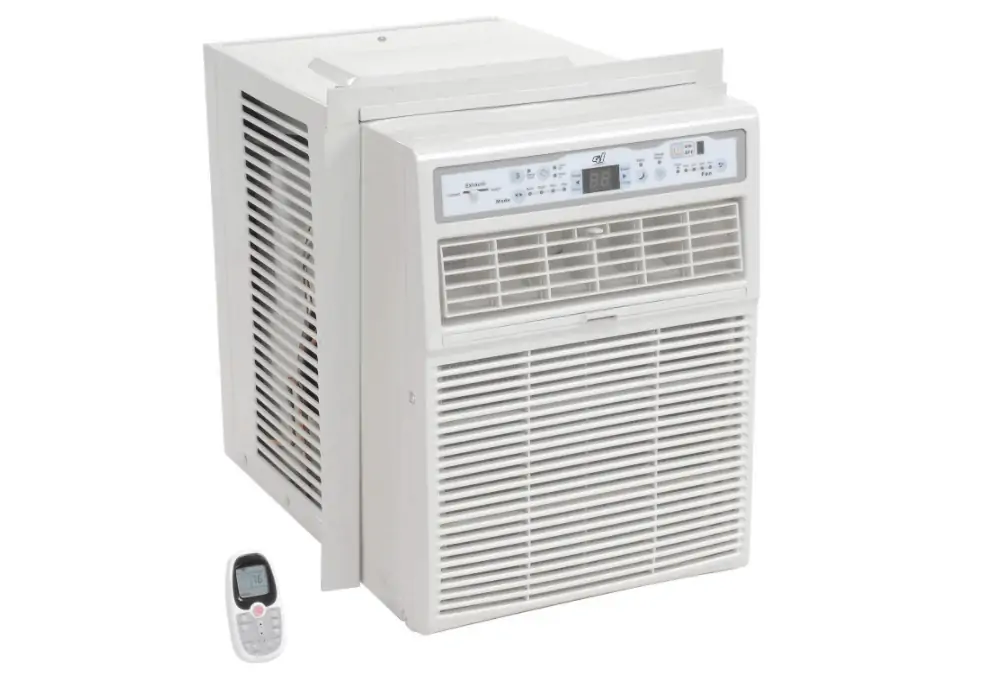 This window unit is pretty basic. It's not the most attractive window unit, but it will fit in your vertical windows and cover 450 square feet with 10,000 BTU. It includes an installation kit, but the unit isn't as narrow as the other options.
All filters are washable and reusable, making it easy to keep clean. It also comes with auto-restart mode and a sleep mode feature as well as a 24 hour on/off function.
It has some great features, but the EER rating and noise level specs aren't published, so if that makes you feel uncomfortable, choose one of the other options.
Pros:
10,000 BTU
Installation kit included
Cons:
Not a well-known brand
Some specs aren't known
FAQ
If you're looking for a window unit that will work for your vertical windows, there aren't as many options as there are standard units. However, they do exist, and these frequently asked questions may help you learn a bit more.
Question: Do they make air conditioners for crank-out windows?
Answer: You can definitely install a window unit in a window with a crank, but in some cases, you may have to fabricate some sort of insert to make it fit. You can use Plexiglas or wood to keep the hot air and bugs out.
Question: How do you install a portable air conditioner without a window?
Answer: If you have a windowless room, you can still use a window unit if you can vent it through a door or the wall. You can purchase kits that are designed for sliding doors so you can install your window unit in the door, but you can also create a vent in the wall if you want your window unit to be a more permanent fixture in the room.
Dryer vents, ceiling vents, and chimneys also work but can prove a bit more difficult if you don't already have a vent like this in your room.
Question: Can you install window AC without side panels?
Answer: Many air conditioners come with installation kits so you can create a seal, making your window unit more effective. However, if you don't have an installation kit or you need to cover more of an opening, you can use Plexiglas or plywood.
Final Thoughts
Window units are great solutions for cooling a room, but if you have a vertical window, it can prove more difficult to install one. The Frigidaire FFRS1022R1 is by far the best option with a brand name people recognize, well-known reliability, and a whole list of features that many others don't include.
However, if you want to save a bit of money, the PerfectAire 3PASC10000 is also a great option with many of the same features. Only you can choose which is right for you and your space.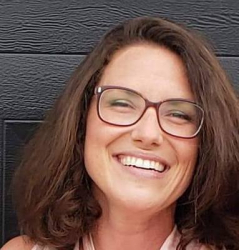 Latest posts by Sarah Caldwell
(see all)