I had the same dilemma each time I changed my home's cooling HVAC system because I couldn't decide which brand to choose. Usually, my choices would come down to Ruud vs Trane because both options seem equally attractive to me.
However, the final decision often depends on the HVAC system type I'm looking for and the space in which I want to install the unit. As a result, I have a Trane single-zone mini-split in my garage, while I use a Ruud heat pump to control the room temperature in the rest of my house.
I'll use my experience with Ruud and Trane HVAC systems to compare their products and help you decide which of these companies to pick.
Bottom Line Up Front
Ruud and Trane offer the same categories of HVAC products, and you can choose from hundreds of single-room and whole-house solutions. So, you'll have to split hairs when deciding which of these brands is better.
Trane is generally viewed as a more luxurious brand, but its products don't cost drastically more than HVAC systems offered by other brands. On the other hand, Ruud is regarded as a budget-friendly brand, but you'll still have to spend close to $8,000 if you want to get a Ruud whole-house heat pump.
Recommended reading: The best Fujitsu mini-split models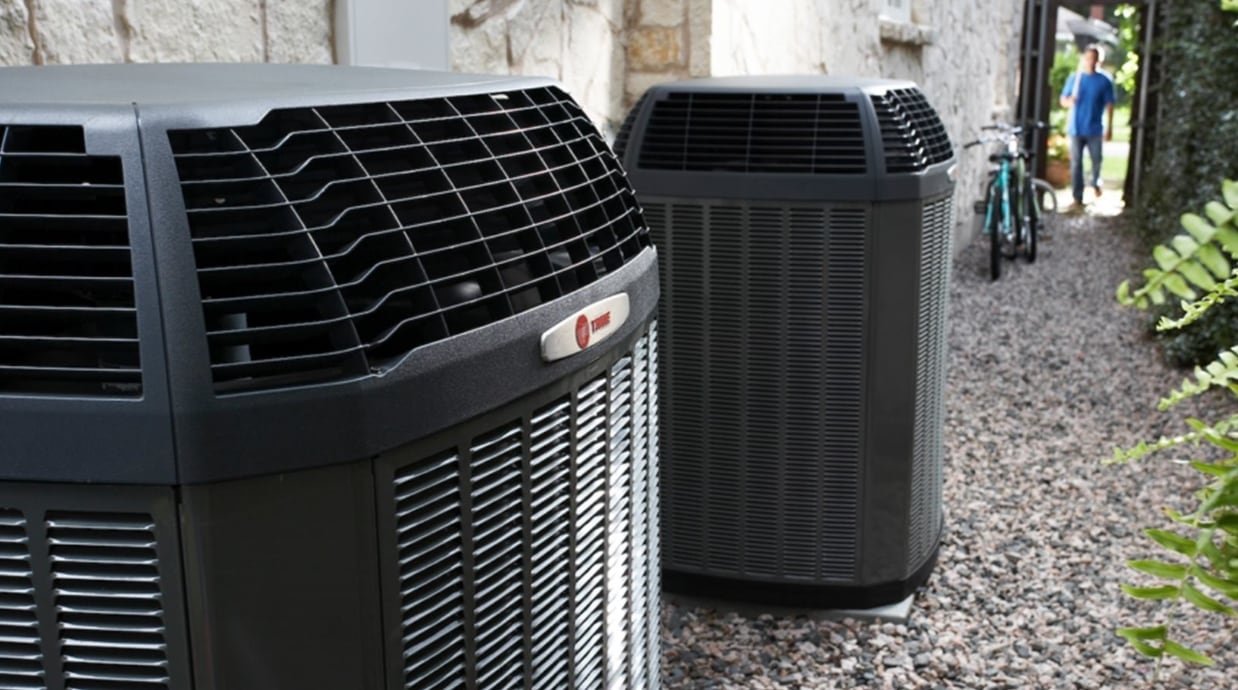 Main Differences Between Ruud Vs Trane HVAC Systems
Trane HVAC systems are quiet, whereas the models produced by Ruud can be noisy.
Ruud has a versatile selection of medium-efficiency models, whereas Trane offers a broad spectrum of high-performance models.
Trane HVAC systems have a smart and futuristic design, whereas Ruud models favor functionality over aesthetics.
Ruud HVAC systems usually have radiator fins, whereas Trane's units come with spine fins
Key specifications
Model
Ruud 
Trane
Efficiency rating
Medium or high
High
Noise levels
Moderate
Low
Refrigerant types
R-134a, R-410-a
R-410a
Indoor unit mounting options
Wall, low-wall, ceiling
Wall, low-wall, ceiling
Estimated life expectancy
Length of the warranty period
Ten years
Twelve years
Latest prices
Check the latest price here
Check the latest price here
Evaluating the features of Trane and Ruud HVAC systems
Ruud
Some of the best and most innovative HVAC systems released in the last hundred years were produced by Ruud. The brand's long history is connected to Rheem Manufacturing Company that acquired Ruud in 1960, which is why they're often mentioned synonymously.
Ruud's line of HVAC systems ranges from packaged units to multi-zone mini-split units with different efficiency ratings. Finding a model with a 16 SEER or 20 SEER rating model in the medium price range isn't difficult.
All models have high-quality components and utilize advanced technologies to limit their power usage and maximize heating or cooling efficiency. Ruud's whole-house cooling and heating solutions can last up to thirty years and are protected with ten-year warranties.
In addition, Ruud has a network of licensed HVAC technicians that can estimate your home's cooling and heating requirements and help you select the right HVAC system size.
See also: How to find the Best Heat Pump
Key features
Excellent low-temperature performance
High energy efficiency
Long lifespan
Good air filtering capacities
Low maintenance requirements
Advanced safety features
Vital system components don't break down often
HVAC system types
I was overwhelmed by the versatility of Ruud's product lineup while searching for a whole-house heat pump because I could choose from ten different models. So, depending on the system type you need, you can select units from the following categories:
Heat pumps – Units in this category are published within the Choice and Archiver series. They have high SEER ratings, but their heating efficiency is sometimes underwhelming.
Air conditioners – Single-Stage and Two-Stage air conditioners Ruud offers are released as parts of the Ultra and Choice series. Their SEER ratings range from 12 to 20.
Gas and oil furnaces –Ruud's selection of oil furnaces is limited to just two products, so you'll have a broader range of options at your disposal if you opt for a gas-powered model. Their fuel efficiency ratings vary from 80% to 96%.
Single and multi-zone mini-splits – The output of Ruud's single-zone models doesn't exceed two tons, while multi-zone systems can generate up to 60,000 BTU. Also, different indoor unit options are available for each model.
You might also like: The best Pioneer mini-split models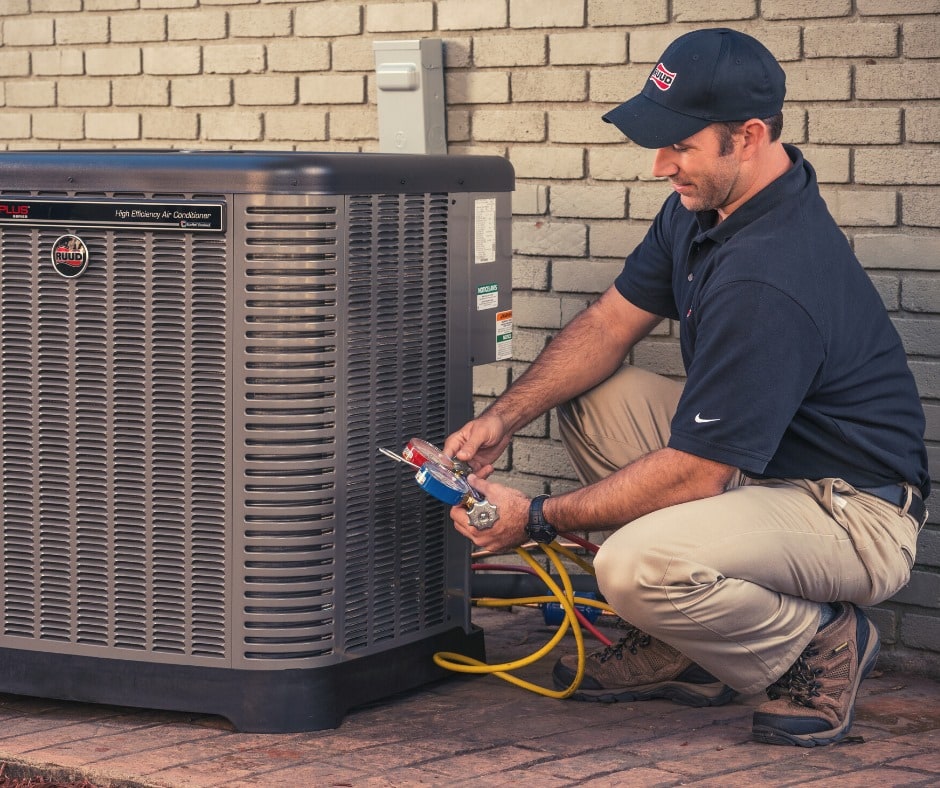 Outputs and coverage of Ruud HVAC systems
Over the years, I've learned that maximum cooling and heating outputs of HVAC systems provided by the manufacturer are only a guideline because the unit's actual coverage range also depends on the space where they're installed.
Ruud furnaces, heat pumps, air conditioners, and mini-splits are suitable for spaces from 400 to 3,000 sq/ft.
Estimating your home's heating and cooling requirements can be challenging if you're unfamiliar with these systems, and you may have to consult a professional to choose the correct Ruud HVAC system size.
Also, most models are available in several sizes, so you can choose from 1.5 or 5-ton versions of a model like the Single Stage WA-16 air conditioner.
Ruud ductless options are aimed primarily at smaller spaces, although some configurations of multi-zone systems can be a good fit for spaces larger than 2,000sq/ft.
See also: The best portable heat pump options
Efficiency and power draw
The amount of electricity I spend to run my Ruud HVAC system depends on the season because I use the unit more frequently during the summer and winter months than I do during spring or fall. My unit draws around 3kW per hour, so its daily consumption rarely exceeds 15kW in a day.
The model I own is Energy Star certified, and its efficiency level is impressive because it doesn't need much time to reach a specific temperature. Ruud air conditioner and heat pump models have efficiency ratings up to 20.5 SEER and 11.5 HSPF.
The brand also offers less efficient models, and you can find options with 16 SEER and 9 HSPF ratings if you don't want to overspend on a high-end unit. All Ruud furnaces have AFUE ratings in the range from 80% to 96%, but keep in mind that the selection of high-efficiency models is limited.
Please read: The best 4-ton heat pumps
Dependability of Ruud HVAC systems
I didn't have to repair a single part of my Ruud heat pump in more than four years. These systems can last up to thirty years, although their efficiency decreases after fifteen to twenty years. Moreover, all Ruud HVAC systems come with a ten-year warranty that includes free replacement of all components.
These systems require frequent upkeep, but most options have an automatic defrost function that protects the evaporator coil from ice accumulation. Also, most units come with reusable air filters that require cleaning every few months.
A licensed technician examines my HVAC system annually, which helps me determine if some components are worn out. Doing so helps extend my unit's lifespan and ensures it performs well during heating and cooling seasons.
Prices of these systems range from $700 to more than $7,000, while their installation costs can exceed several thousand dollars.
See also: The best 2.5-ton heat pump guide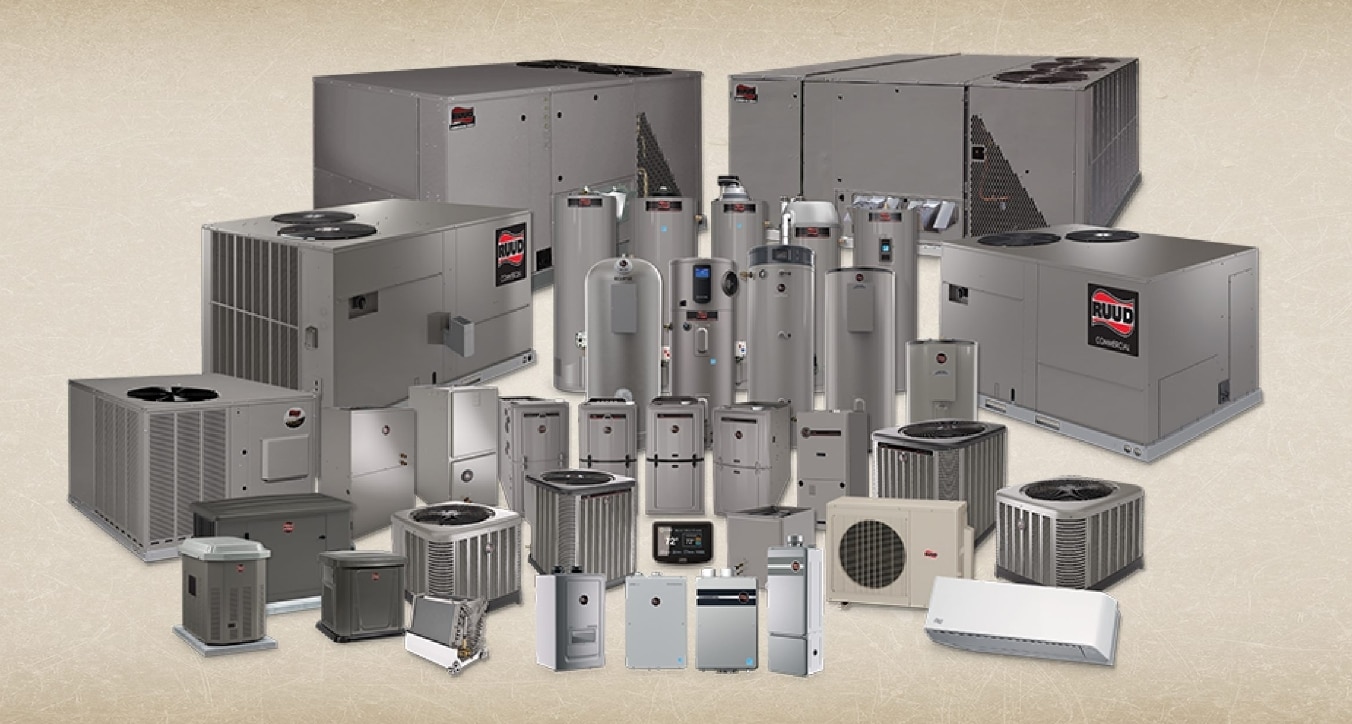 Trane
Like Ruud, Trane is one of the oldest HVAC system manufacturers in the United States, famous for the quality of its products. High-quality standards enabled the brand to secure its place among industry leaders decades ago.
Hence, each of its mini-split, furnace, or heat pump models is capable of delivering energy-efficient performances for a long time. Trane is also considered one of the industry's most expensive brands, as some of its products cost more than $10,000.
Their outdoor components are weather-resistant, so prolonged exposure to rain, snow, cold, or heat is unlikely to damage them. Outdoor compressors of Trane air conditioner and heat pump systems are covered by a twelve-year warranty, while other components are under warranty for five years.
Even though they're pricier than Ruud's models, I think investing in a Train HVAC system is an excellent decision that can significantly reduce your heating and cooling costs.
Recommended Reading: How to find the best window heat pump
Key features
A wide selection of models
Advanced safety features
Quiet operation
Outdoor components are rust-resistant
Standard indoor unit options
Innovative power-saving technologies
Stylish and durable design
Expensive installation process
HVAC system types
Besides conventional and ductless systems, Trane also offers a broad spectrum of packaged units. Such an abundance of options can complicate the selection process if you're unsure which HVAC system you'd like to get. Let's go through the HVAC system types this brand offers:
Heat pumps and air conditioners – These units regulate temperatures in spaces larger than 1,000sq/ft. They're highly efficient and don't draw an extensive amount of power during cold or warm months.
Furnaces – Durability and low fuel consumption are the key characteristics of all Trane furnace models. Units that run on gas usually have AFUE ratings over 90%.
Mini-splits – The number of indoor air handlers Trane mini-splits can have depends on the unit's types. Multi-zone models allow you to create systems with more than five indoor units with outputs between 9,000 and 18,000 BTU. Optionally, you can get a single-zone model if you need an HVAC system suitable for spaces smaller than 1,500sq/ft.
Outputs and coverage of Trane HVAC systems
Trane's HVAC systems are available in different sizes, varying from 9,000 BTU mini-splits to 60,000 BTU whole-house solutions. So, selecting a Trane mini-split system for my garage was a relatively easy task that didn't take much time.
Despite their remarkable efficiency, their coverage range is slightly lower than the one indicated by the manufacturer. That's why I suggest getting a model with the maximum output marginally bigger than the one recommended for the size of the space you'd like to heat or cool.
It's also worth adding that the efficiency and coverage range of Trane HVAC systems don't deteriorate over time, so you won't have to consider alternative cooling and heating sources if you purchase one of the brand's models.
You might also like: The best 5-ton heat pumps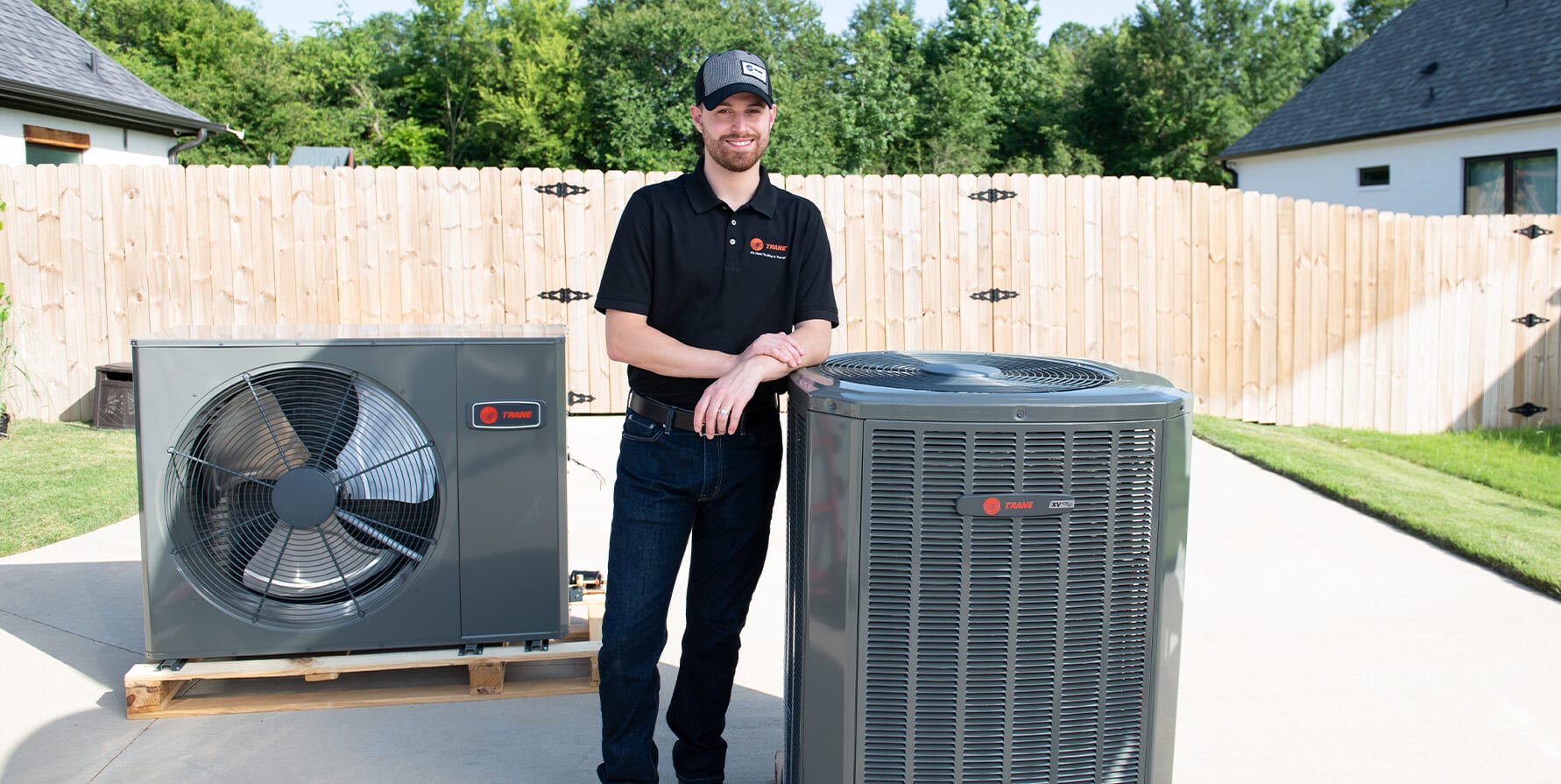 Efficiency and power draw
Power consumption of Trane whole-house air conditioners and heat pumps increases with their size, so a 60,000 BTU might need as much as 5kW of electricity to run for an hour. Trane's mini-split system I own draws a minimum amount of power and reaches the temperature I select quickly.
Nearly all Trane HVAC systems are Energy Star-certified and use up to 40% less power than models produced by other brands that don't have this certificate. All Trane's units equipped with heating and cooling functions maintain the same efficiency level throughout the year.
Furnace models usually have AFUE ratings over 90%, so you won't have to burn a lot of gas regardless of the option you choose. Nearly all Trane HVAC systems have better efficiency ratings than similarly sized Ruud models.
Dependability of Trane HVAC systems
The extraordinary reliability of Trane's models comes at a high cost, but despite this, I think investing in these systems is worth every penny. These systems have durable components, and they're equipped with advanced features that let you control air quality in your home.
Their air filtering capabilities can help you reduce the level of dust and allergenic particles in your household. All HVAC products are protected by the five-year Base Limited Warranty while registering the product you purchased makes you eligible for the full ten or twelve-year warranty.
The steep price is, in my opinion, the biggest downside of Trane HVAC systems since none of the brand's models can be considered budget-friendly. That's why I think Ruud's units are a better fit for homeowners searching for an affordable and reliable furnace, air conditioner, or mini-split.
Ruud vs Trane – Pros and Cons
Ruud
Pros
A broad spectrum of medium-efficiency models
These systems aren't prone to refrigerant leaks
The brand offers financing options
All units have weather-resistant outdoor cabinets
Cons
Some models become loud over time
High installation costs
Trane
Pros
Selected units support remote setting adjustments through the Trane Home app
Trane HVAC systems improve household's air quality
Low power and fuel consumption
Excellent dehumidification capacities
Cons
Trane HVAC systems are expensive
The warranty doesn't cover repair costs
The best alternatives to Trane and Ruud HVAC systems
You don't necessarily have to purchase one of the Ruud or Trane products to get a reliable and highly efficient HVAC system. I usually opt for models these brands produce because they're durable and deliver excellent heating and cooling performances regardless of the current outdoor temperature.
However, I also think that competing brands offer a myriad of air conditioners, furnaces, heat pumps, and mini-splits that are just as dependable as those produced by Trane or Ruud. So, let's look at some of the best alternatives to these brands.
Goodman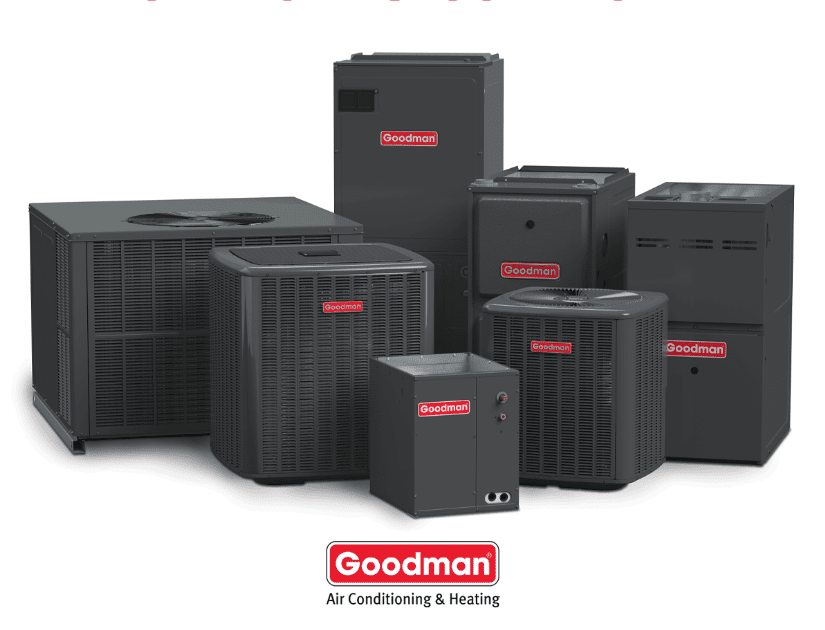 What I like the most about Goodman's products is that they strike a perfect balance between quality and value. The brand offers whole-house cooling and heating solutions, while its ductless systems are published under the Daikin brand.
All Goodman heat pump and air conditioner models are available in multiple sizes, which makes it easy to find the unit with the right output for your home. Goodman offers a five-year warranty for its products or a ten-year warranty for all registered units.
Lennox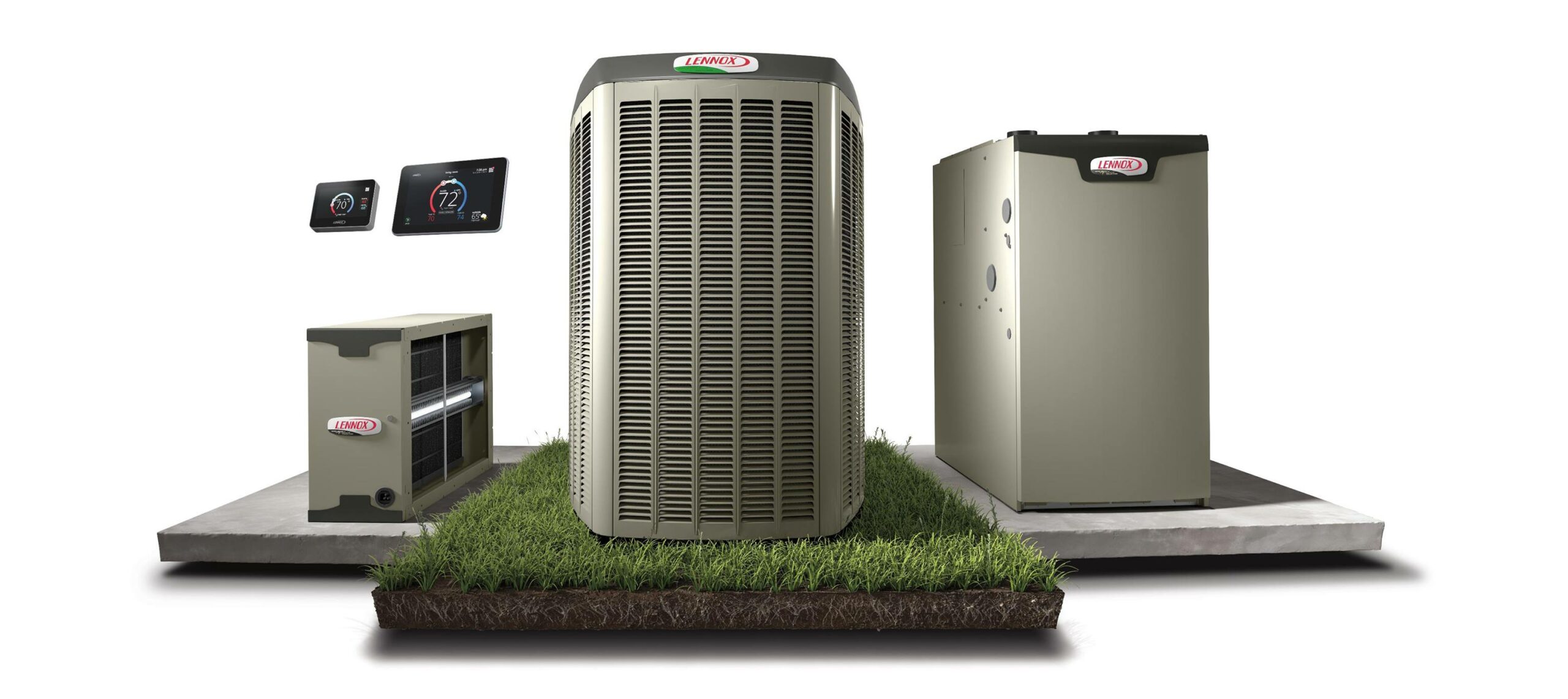 Although it's widely regarded as a budget-friendly brand, Lennox still produces durable, high-performance systems suitable for spaces of all sizes. The company offers a wide range of air conditioners, ductless units, and furnaces with high-efficiency ratings and excellent safety features.
I think some of the brand's models offer excellent value for money because they have impressive SEER and HSPF ratings for their price range. However, I suggest exploring other options if you're looking for a multi-zone mini-split system, as Lennox's models in this category are underwhelming.
Here's how Lennox compares to others:
Rheem
Even though the same company owns Ruud and Rheem HVAC brands, the products these two manufacturers offer aren't identical.
Rheem releases heat pump and air conditioner systems within Prestige, Select, Classic Plus, and Classic series designed for users with different requirements. I recommend exploring models from the Classic series if you don't need an expensive but a highly-efficient unit.
On the other hand, Prestige series systems are stacked with advanced features, but their prices can be prohibitively high.
Here are more HVAC System comparisons from top brands that we have covered:
Frequently asked questions about Ruud and Trane HVAC systems
Question: When do I have to register my Trane HVAC system?
Answer: You must register your Trane HVAC system within sixty days from its installation to activate the Registered Limited Warranty.
Question: Can I install a Ruud ductless system on my own?
Answer: All Ruud's products require professional installation, and attempting to install them yourself can void their warranty.
Question: Is it difficult to find a local Trane dealer?
Answer: The company has at least one dealership in all fifty states, so you must check where the nearest Trane dealer in your area is.
With any luck, reading this article has helped you understand nuanced differences between Trane and Ruud brands. Please take a moment to look at our guide to the best 3-ton heat pumps for more information about the best unit in this output range.
My verdict: Trane or Ruud, which HVAC systems are better?
As a long-time user of Ruud and Trane HVAC systems, I think that each brand makes sturdy and powerful units that deliver equally efficient performance at high and low temperatures.
In my opinion, Trane's heat pumps and air conditioners outperform the models Ruud offers, but they're also more expensive. I recommend exploring Ruud's offer of medium-efficiency models if you're looking for an affordable and reliable whole-house cooling or heating solution.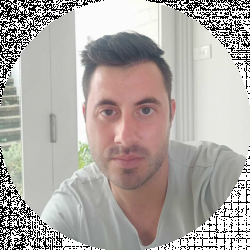 Latest posts by David Borgogni
(see all)