Like most renowned manufacturers of ductless mini HVAC systems, Fujitsu offers a broad spectrum of mini-splits with different cooling outputs, airflow adjustment options, and energy-saving ratings. Still, all of the best Fujitsu mini-splits models come from the Halcyon series.
The brand offers single and multi-room systems that allow homeowners to regulate temperatures in spaces up to 2,650sq/ft, making it reasonably easy to find a model you can use to cool or heat your garage or your entire home. Whether you are using this to replace a central air conditioner, or want to look into replacing a heat pump system, this guide is for you.
In this article, I'll walk you through the brand's flagship models and point out several factors you need to take into account while deciding which of the best Fujitsu Mini Splits models to choose.
Bottom Line Up Front
Versatile functionalities, straightforward installation process, and reliable performance are the reasons why I recommend choosing the Fujitsu 15RLS3Y model if you're looking for a single-room mini-split or a mini split system that will work for you.
The Fujitsu AOU45RLXFZ model is the brand's most powerful multi-room system suitable for homeowners searching for mini-splits capable of regulating temperatures in spaces larger than 2,000sq/ft.
See also: Gree mini-split model guide
My Top Picks at a Glance
Model 
BTU rating 
Core features
Price
Fujitsu 15RLS3Y
Cooling: 14,500 BTU

Heating : 18,000 BTU

Automatic airflow adjustment, Energy Saver, Ion Deodorizing Filter
$$$$
Fujitsu 9RLS3Y
Cooling: 9,000 BTU

Heating: 12,000 BTU

Energy Saving Program, Inverter technology, Auto-restart
$$$$
Fujitsu 15LZAS1
Cooling: 14,500 BTU

Heating : 18,000 BTU

Wireless LAN, Dry mode, Blue Fin Heat Exchanger
$$$$
Fujitsu 12LMAS1
Cooling: 12,000 BTU

Heating: 16,000 BTU

Dry mode, Fresh air intake, Third-party device control
$$$$
Fujitsu AOU18RLXFZ
Cooling: 18,000 BTU

Heating: 22,000 BTU

The two-zone system, multiple indoor handler options, deodorizing filters
$$$$$
Fujitsu 24RLXFW1
Cooling: 22,000 BTU

Heating: 25,200 BTU

4-way auto louver, quiet mode, weekly timer
$$$$$
Fujitsu AOU45RLXFZ
Cooling: 45,000 BTU

Heating: 48,000 BTU

Multiple air handler options, High SEER rating, inverter technology
$$$$$
Fujitsu AOU36RLXFZH
Cooling: 35,200 BTU

Heating: 36,400 BTU

Air filtration, low noise level, freeze prevention
$$$$$
Key Aspects of Fujitsu Mini-splits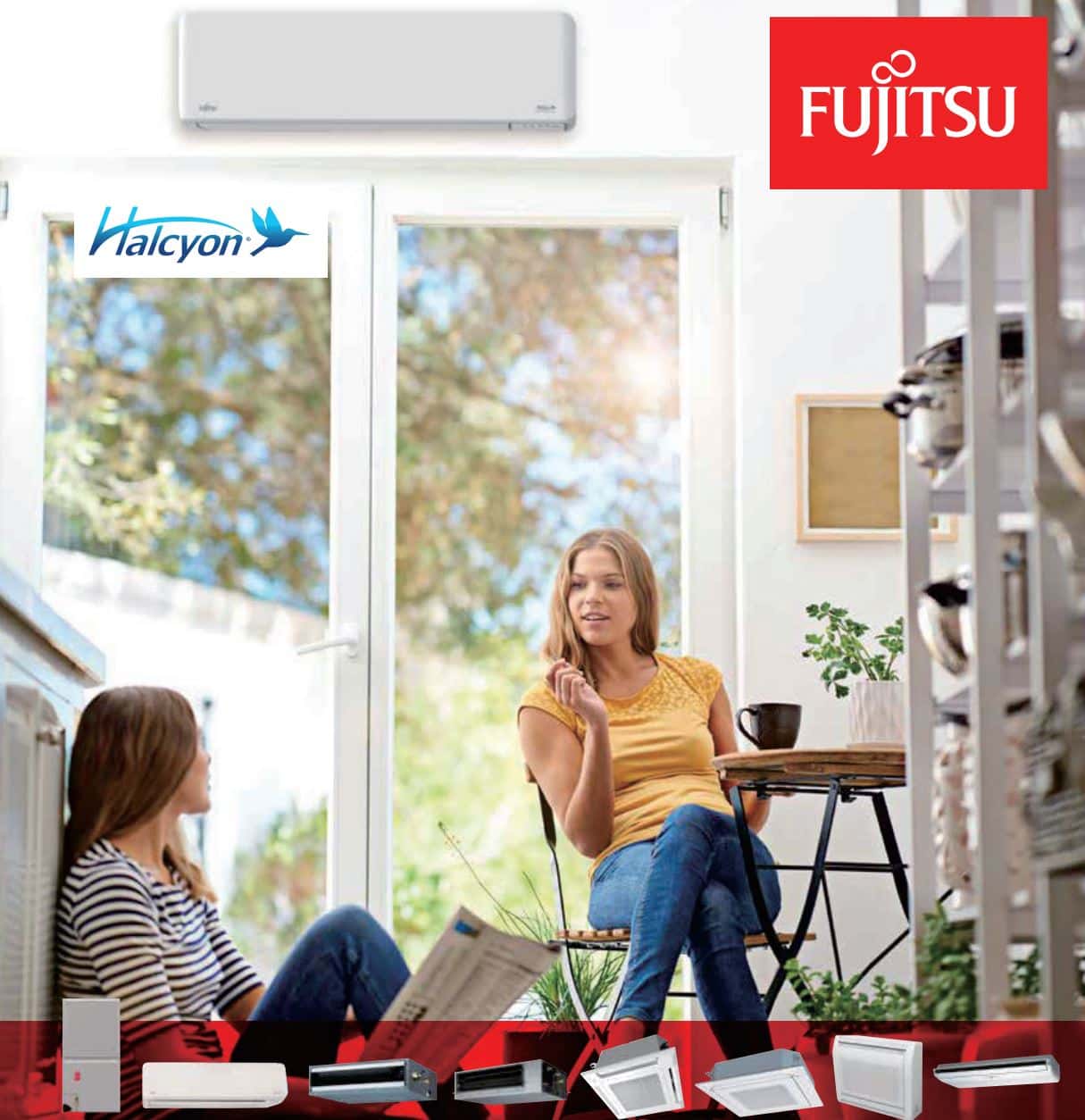 Fujitsu's ductless HVAC systems are famous for their durability and reliability as they are equally efficient in warm and cold conditions. Nonetheless, the brand's models are designed for users with specific needs, and they come with functionalities made for different environments.
It's also important to note that Fujitsu offers a variety of heat pump models that utilize different technologies to regulate room temperatures.
Aside from learning to differentiate between a heat pump and a mini-split, you'll also have to take a multitude of aspects into consideration while deciding which brand's mini-split is the right option for you.
I've listed several crucial factors that can help you choose the Fujitsu mini-split model that meets all your requirements, so let's take a closer look at them.
Single or Multi-room Mini-split
All mini-split systems consist of an outdoor and one or more indoor units. Single-room systems have just one air handler with cooling and heating outputs in the range between 9,000BTU and 36,000BTU. Hence, their coverage largely depends on the system's output.
Fujitsu offers several types of wall-mounted single-room mini-splits, and you can choose from models in the following categories:
Highest SEER (wireless LAN)
High SEER
Extra low-temperature heating
Entry-level
Multi-room models can have up to five indoor air handlers or so-called zones. Each zone is controlled separately, enabling you to cool or heat a specific part of your home without using the system's full capacity.
Moreover, each indoor air handler in a multi-room system can have a different BTU output allowing you to create zones adjusted to different room sizes. Two-zone Fujitsu's multi-room mini-splits have a maximum output of 18,000 BTUs, while five-zone models can generate up to 45,000 BTUs.
See also: The best 36,000 BTU mini-split option
The Maximum Cooling Output of an Air Handler
As I already pointed out, mini-split's coverage depends on its size, so a 9,000 BTU model will only be able to heat or cool a 350 to 400sq/ft room.
However, the brand's mini-splits have different cooling and heating outputs. A model like the Fujitsu Halcyon 09LMAS can generate 9,000 BTU when operating in the cooling mode and 12,000 BTUs in the heating mode.
Nearly all Fujitsu mini-splits have a larger coverage area in the heating mode than in the cooling mode, but this is something you need to consider if you want to use a mini-split to regulate room temperature during cold months.
Top tip: Air handler's coverage range doesn't depend solely on its BTU output, as factors such as the climate or the quality of the home's insulation can affect the unit's coverage. Consulting an HVAC professional can help you determine an adequate mini-split size for the space you want to cool or heat. 
The overall size of a multi-zone mini-split is the sum of the maximum BTU output of each indoor air handler in the system. Outputs of individual air handlers aren't always the same as one unit can have the maximum output of 9,000 BTUs, while another might generate up to 18,000 BTUs.
Energy Efficiency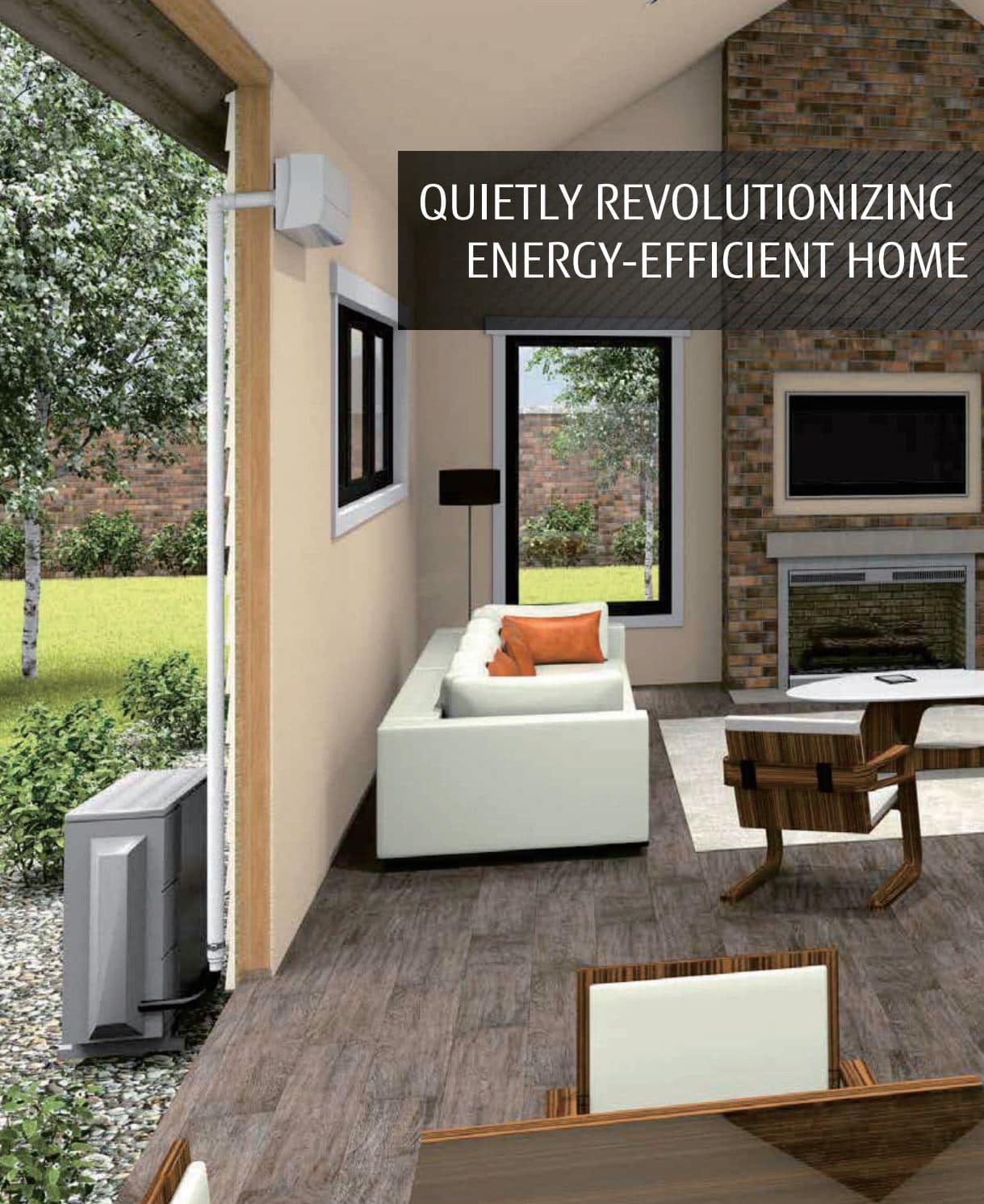 All mini-split systems have several energy efficiency ratings, but the SEER ratings are the most important parameter you need to pay attention to while choosing a mini-split.
SEER – Seasonal energy efficiency ratio is calculated by dividing the unit's cooling output during summer by the energy the unit consumed during this period. Most Fujitsu mini-split models have 20 or higher SEER ratings.
Moreover, all models in Fujitsu's mini-split product lineup are either Energy Star certified or qualified, indicating that their power consumption remains relatively low even when used at the maximum capacity.
Installing a mini-split in a space that is either too small or too big for its cooling output will affect its energy efficiency, as the unit will have to work more to maintain the room temperature at the same level.
See also: The best 12,000 BTU mini-split option
Indoor Unit Style
Fujitsu condensers aren't only compatible with wall-mounted indoor units. So, depending on the layout of the space where the mini-split model will be installed, you can choose from the following indoor unit styles:
Floor mounted
Cassette
Universal floor-ceiling
Slim duct
Medium static pressure duct
Compact cassette
Large ceiling
These indoor unit types aren't compatible with all Fujitsu outdoor condensers, so you'll have to pick both units in accordance with your home's requirements. All the brand's indoor units are quiet as their maximum noise level doesn't exceed 21dB.
Top tip: Wall-mounted air handlers are the easiest to install, so most homeowners choose them over indoor cassette units.
It's also worth adding that Fujitsu indoor air handlers offer a variety of advanced options such as wireless control, multi-directional airflow, or energy-saving modes, although these features aren't available on all models.
Common Fujitsu Mini-split Problems
Reliability and durability are the traits that characterize all Fujitsu mini-splits. The brand also offers two standard warranty options.
Six-year compressor and two-year parts warranty
Seven-year compressor and five-year parts warranty
Mini-split models installed after June 1, 2015, are eligible for the following extended warranties but only if they're installed by a licensed or elite contractor and registered on the manufacturer's website:
Ten-year compressor and parts warranty
12-year parts and compressor warranty
Regular maintenance checks performed by the contractor that installed the Fujitsu mini-split will prevent common issues like refrigerant leaks, mold accumulation, or ice accumulation on the coils.
The brand's ten and twelve-year warranties aren't available for homeowners that choose the DIY installation option. Also, all repairs performed by HVAC technicians that don't have the required certification to install and maintain Fujitsu mini-splits can void a warranty.
Selection Criteria
All Fujitsu mini-splits come from the Halcyon series, but each model has slightly different features. Moreover, nearly all of the brand's models are compatible with multiple indoor air handler types, so the options they offer often depend on the properties of the air handler you choose.
I utilized several factors to shortlist the Fujitsu mini-splits included in this article. However, this doesn't mean that the models that didn't make the final cut have unsatisfactory performance capabilities. Let's take a look at some of the key criteria I used during the selection process.
Number and type of indoor air handlers – Fujitsu mini-splits in this article have between one and five indoor air handlers.
Maximum BTU output – I used this criterion to handpick the models suitable for small and vast spaces.
Top 8 Fujitsu Mini-splits
Fujitsu 15RLS3Y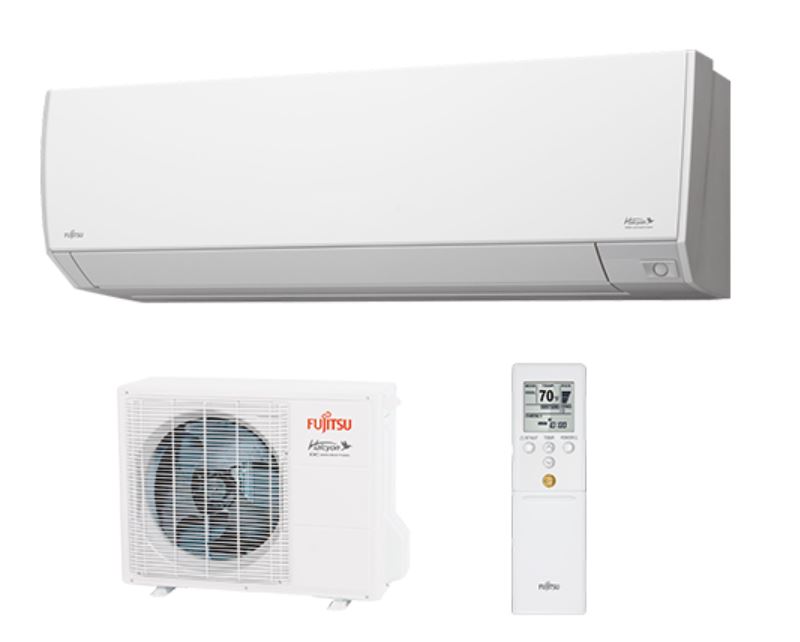 A high SEER model like the Fujitsu 15RLS3Y is an excellent option for homeowners living in warm climates.
Its 33 SEER rating indicates that the unit won't consume high amounts of power during the warmest months of the year, while the Energy Saver and Economy modes allow you to have complete control over its power consumption.
Its wall-mounted indoor handler directs air vertically or horizontally in seven different positions, and it is equipped with a microcomputer that adjusts the airflow to temperature changes.
Pros
The outdoor compressor generates low amounts of noise
Compatible with cassette indoor air handlers
This mini-split arrives with a 165ft-long line set
Wireless control
Cons
Can't cool rooms larger than 700sq/ft
Fujitsu 9RLS3Y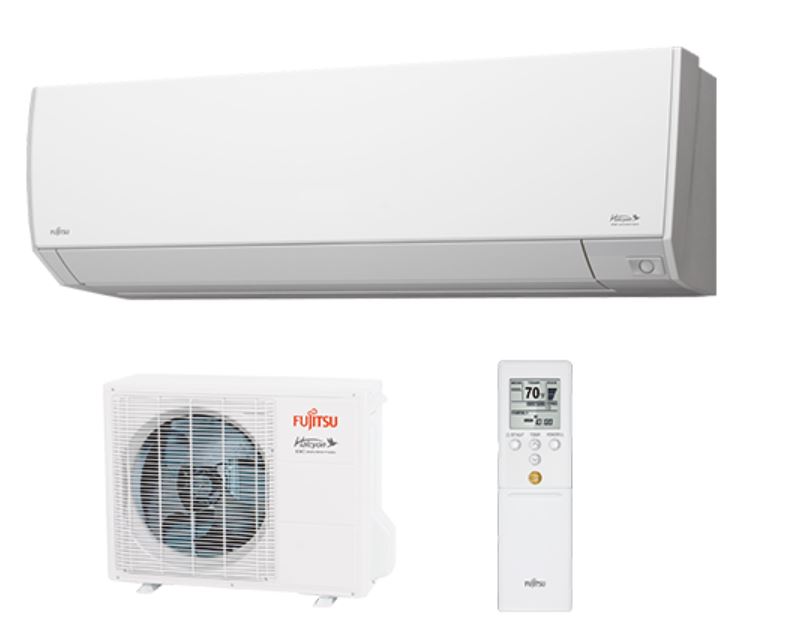 Even though it is one of the brand's most affordable models, the Fujitsu 9RLS3Y is still more expensive than mini-splits with similar BTU outputs produced by competing brands. However, this unit is stacked with features that justify its steep price.
Aside from a variety of energy-saving options, this Fujitsu mini-split also provides users with features that improve the air quality in their homes.
The Apple Catechin Filter utilizes static electricity to trap dust, microorganisms, and mold. This model also has a Dry Mode that enables you to reduce air humidity in the room by 50%.
Pros
The outdoor condenser has a base pan heater
The mini-split is compatible with home automation devices
This Fujitsu model is Energy Star qualified
The unit can switch between cooling and heating modes automatically
Cons
Fujitsu 15LZAS1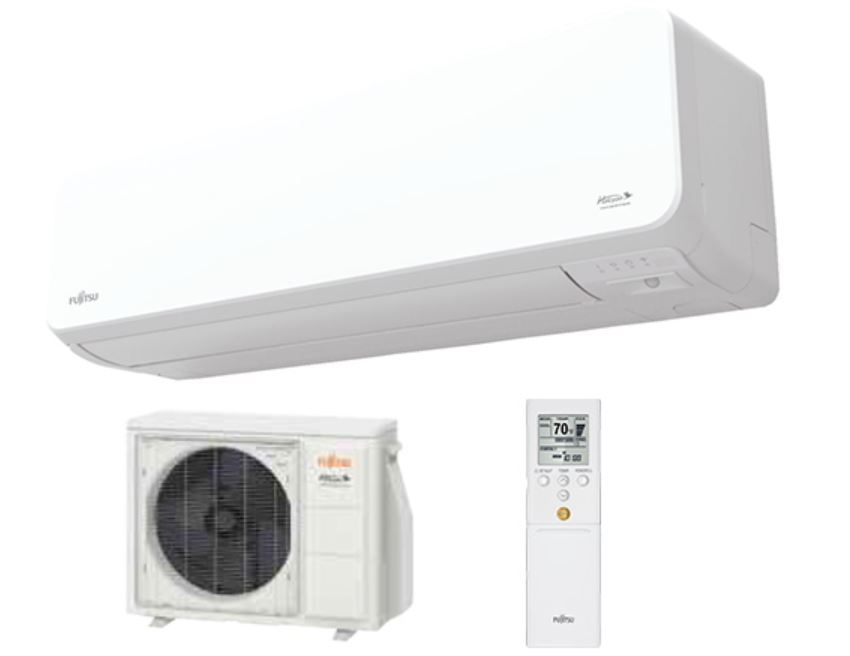 The Fujitsu 15LZAS1 provides an equally impressive performance regardless of the weather conditions. The unit can function normally at temperatures up to -5F, making it a reliable heating option. The highest outdoor temperature at which you can use this mini-split is 115F.
The Power Diffuser function activates the additional louver that enhances the unit's cooling and heating performance, while the Low Ambient Cooling feature enables homeowners to use the mini-split in cooling mode even at low outdoor temperatures.
Pros
The pump-down function makes servicing the unit easier
Inverter technology lower's the mini-split's power consumption
Multiple timer options
The unit restarts automatically after a power failure
Cons
All accessories are sold separately
Fujitsu 12LMAS1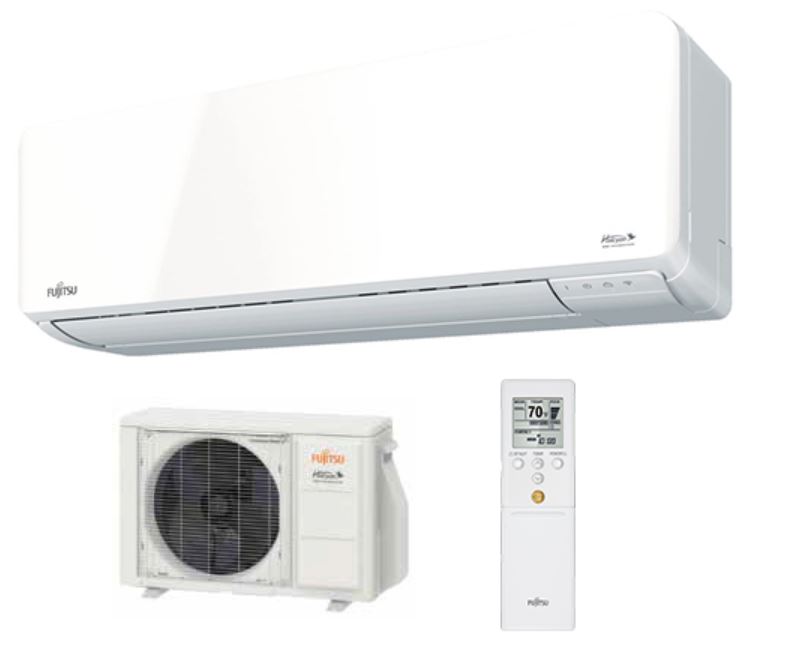 Homeowners searching for a mini-split suitable for spaces up to 550sq/ft should consider getting the Fujitsu 12LMAS1 model. This unit can generate up to 12,000 BTUs in the cooling mode and up to 16,000 BTUs in the heating mode.
The unit comes with a washable panel filter that extracts the air impurities and removes allergenic particles from your home. The Dry Mode lets you control air humidity levels within the mini-split's coverage area.
Pros
The unit utilizes the eco-friendly R410A refrigerant
The long warranty period for the compressor and parts
This mini-split can improve the household's air quality
Straightforward installation process
Cons
The indoor unit can only direct the airflow vertically
Fujitsu AOU18RLXFZ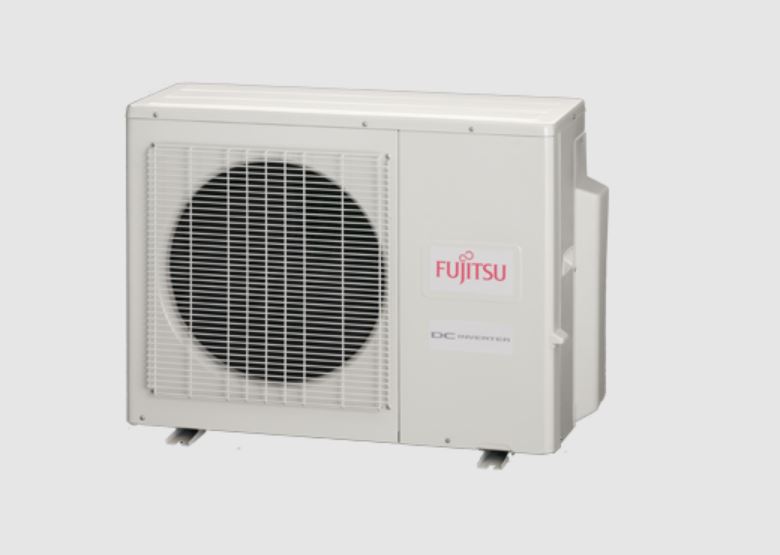 A multi-zone mini-split like the Fujitsu AOU18RLXFZ is designed for relatively small spaces since the unit can't generate more than 18,000BTUs in the cooling mode or 22,000BTUs in the heating mode. Hence, each of the system's two indoor air handlers can cover up to 450sq/ft.
The unit's outdoor condenser is compatible with slim duct, cassette, wall-mount, and floor-mount air handlers, but keep in mind that the model's price and features depend on the air handler option you choose.
Pros
Each zone can be controlled separately
All indoor air handler types generate low amounts of noise
The outdoor compressor utilizes the Blue Fin technology
This multi-zone mini-split is durable
Cons
This mini-split isn't a whole-house cooling solution
Fujitsu 24RLXFW1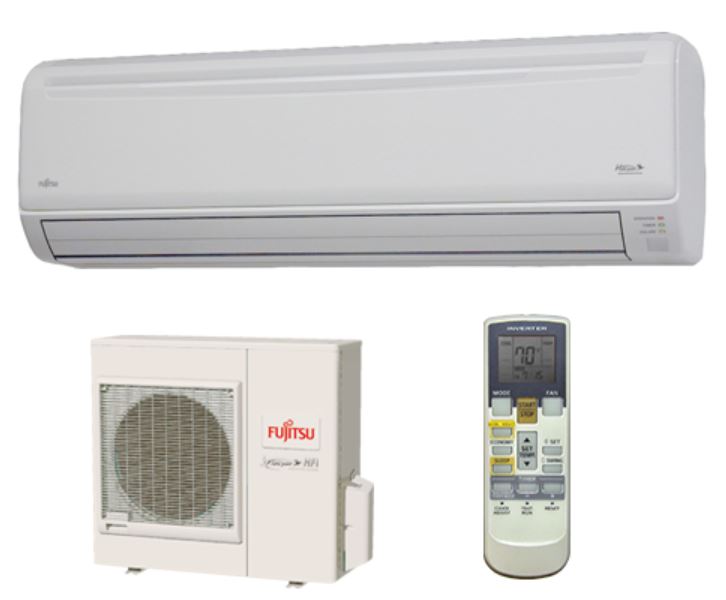 Like all Fujitsu's Hybrid Flex Inverter mini-splits, the Fujitsu 24RLXFW1 lets you connect up to eight indoor air handlers to a single outdoor condenser. However, this model is designed primarily as a single-zone system compatible with different types of indoor units.
Its maximum cooling output is 24,000BTUs, which makes it powerful enough to regulate the temperature in spaces smaller than 1,500sq/ft. This model is Energy Star qualified, and it offers a variety of energy-saving options.
Pros
Automatic airflow control
The unit can function in the cooling mode even at low outdoor temperatures
The mini-split arrives with a wireless remote controller
Efficient air filtration
Cons
Fujitsu AOU45RLXFZ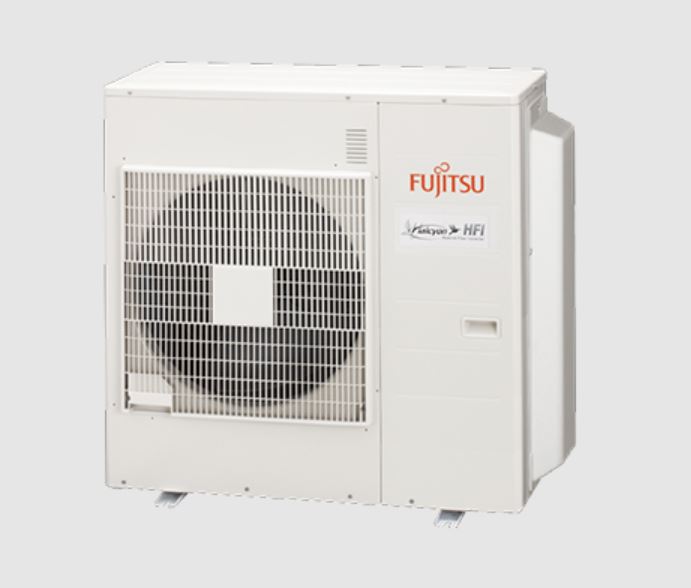 Fujitsu AOU45RLXFZ is the brand's most powerful mini-split with 45,000BTU cooling and 48,000BTU heating output. You can create a five-zone system using different types of indoor handlers with cooling and heating outputs suitable for the size of each zone.
The model's overall coverage area is approximately 2,250sq/ft, and you should only consider it if you're looking for a mini-split that can regulate the temperature in an entire home. The outdoor condenser unit utilizes inverter technology that lowers its power consumption.
Pros
Excellent performance at low outdoor temperatures
Each indoor air handler can have a different cooling and heating output
High energy efficiency
Low noise level
Cons
More expensive than other Fujitsu's multi-zone mini-split models
Fujitsu AOU36RLXFZH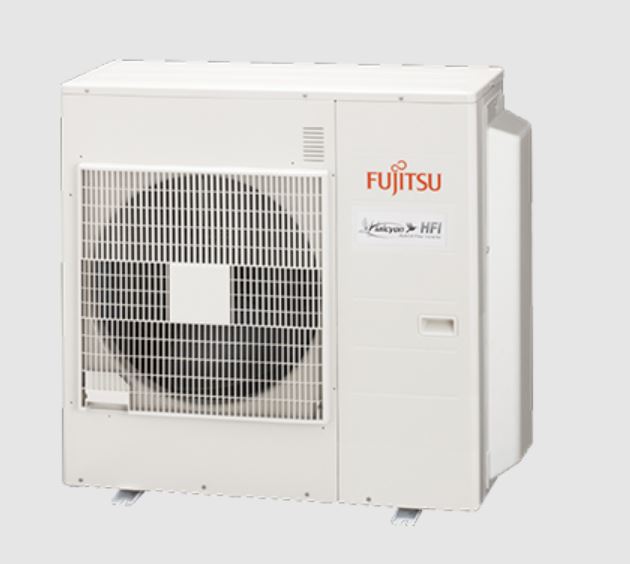 The extra low-temperature heating feature makes the Fujitsu AOU36RLXFZH mini-split a reliable year-round cooling and heating solution. You can divide the model's BTU output into four zones and choose the size of each zone.
The mini-split is compatible with cassette and wall-mounted air handlers, and the cassette air handlers can fit into a standard ceiling tile. The base freeze prevention feature protects the outdoor condenser unit from damage in low-temperature conditions.
Pros
High SEER and HSPF ratings
Reasonable price
Compatible with different indoor unit types
Durable parts
Cons
Frequently asked questions about Fujitsu mini-splits
Question: Can I install a Fujitsu mini-split by myself?
Answer: Yes, you can, but doing so might void the warranty. Instead of going through the installation process alone, you should consider contacting a contractor through the brand's website.
Question: How long does a Fujitsu mini-split last?
Answer: The average lifespan of a Fujitsu mini-split is around twenty years, but failing to perform regular maintenance checks can cut the unit's lifespan in half.
Question: Do all Fujitsu mini-splits have the same features?
Answer: The list of features varies from model to model, so you'll have to check which options are available on a Fujitsu mini-split you're interested in.
Question: Can I control a Fujitsu mini-split with an app?
Answer: Yes, you can use the FGLair app compatible with Android and iOS devices to adjust the mini-split's settings. However, this is only possible on WiFi-enabled models.model capable of regulating temperatures in multiple rooms.
hope that this guide has helped you find the Fujitsu mini-split for the space you'd like to heat or cool. Please take a look at our guide to the best Carrier mini-splits if you'd like to compare the models produced by these two brands.
My verdict: How to know which Fujitsu mini-split is the best?
Depending on your needs, you can opt for a model designed to maximize energy savings or a mini-split system that delivers remarkable heating performances in extremely cold conditions. I recommend the Fujitsu 15RLS3Y model because it has a high SEER rating and offers various advanced functions.
This model has just one indoor air handler that can't control temperatures in spaces larger than 1,000sq/ft. Multi-zone mini-splits like the Fujitsu AOU45RLXFZ or Fujitsu AOU36RLXFZH could be the right option if you're searching for a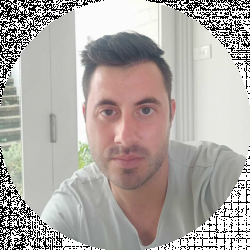 Latest posts by David Borgogni
(see all)