Even though they're relatively rare and pricey, the best 5-zone mini-splits are still among the best whole-house cooling and heating systems on the market. Unlike the single-zone or dual-zone systems with a limited coverage range, Penta-zone mini-splits are designed for huge spaces.
Despite having a vast coverage range, these systems are among the most energy-efficient heating and cooling options you can get because they allow you to control each zone separately.
However, the unit's maximum output capacity is just one among numerous factors you need to consider during your search for the best 5-zone mini-split. In this article, we're going to provide you with key information about these systems and introduce you to some of the industry-leading models.
You should also check our article on the best 36,000 BTU mini-splits to find a unit you can use to heat or cool spaces that have up to 1,800sq/ft.
At a Glance – The 5 Best Five-Zone Mini-Splits
Selection criteria
All mini-splits systems have similar or identical features regardless of their size or the number of zones they offer. Even so, the quality of these features depends on the model, which is the reason why you need to go through the unit's specifications to find out its performance capabilities.
We utilized some of these features to help us select the best 5-zone mini-splits we featured in this article.
Heating and cooling capacities – Despite allowing its users to divide their homes into multiple zones, the maximum output of these units depends on the model you choose. Our selection includes 3-ton, 4-ton, and 5-ton models.
Energy-efficiency ratings – Like all mini-splits, 5-zone units usually have high SEER, EER, and HSPF ratings. This article only features models that have SEER 18 or higher seasonal cooling ratings.
Overall cost – Units equipped with 5 indoor air handlers are more expensive than other versions of mini-splits. We made sure to include models at different price ranges so that you can choose a unit that fits your budget.
Read our guide to mini-split systems to learn more about what these heating and cooling systems have to offer.
Benefits of multi-zone mini-split systems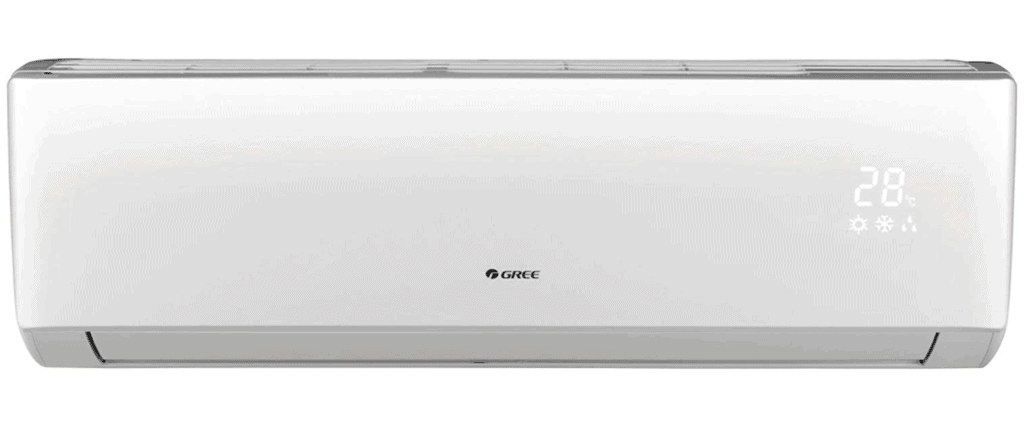 The sheer power isn't enough to secure an even temperature throughout the entire space. So, instead of focusing the system's entire output on a single air outlet point, multi-zone systems allow you to create several independently controlled cooling and heating areas.
These systems usually have two, three of four indoor air handlers, and their output varies from 18,000 BTUs to 48,000 BTUs. The so-called Penta-zone mini-splits are the most powerful options you have at your disposal since some models have the maximum heating and cooling capacity of 60,000 BTUs.
Besides an additional zone, units equipped with five air handlers don't have any other features that set them apart from mini-split systems that feature fewer indoor handlers.
Nonetheless, they're arguably the most energy-efficient version of these systems because they allow their users to choose which areas of their home or office they want to cool or heat. Our guide to the best heat pumps can help you find an alternative whole-house cooling and heating solution.
The coverage range of 5-zone mini-splits
The total output of 5-zone mini-splits ranges from 3 to 5 tons which means that you can use them to regulate temperatures in spaces that have between 1,500sq/ft and 3,000sq/ft. The maximum power output of a single air handler in the system varies from 9,000 BTUs to 24,000 BTUs.
Consequently, the size of one zone can vary from 350sq/ft to 1,200sq/ft depending on the air handler's power output. Most 5-zone mini-splits feature air handlers that have different sizes, which enables you to create both small and large cooling and heating zones.
Each air handler comes with a remote that lets you regulate the temperature in a specific zone without having to utilize the full capacity of the entire system.
You should keep in mind that the coverage range of these units isn't the same in cold and warm climates, and you should consult with an HVAC professional while trying to determine if a 5-zone mini-split is the best solution for the space where you want to install it.
Check out our guide to the best 1.5-ton AC units if a penta-zone mini-split is too large for your home.
Power-saving features of 5-zone mini-splits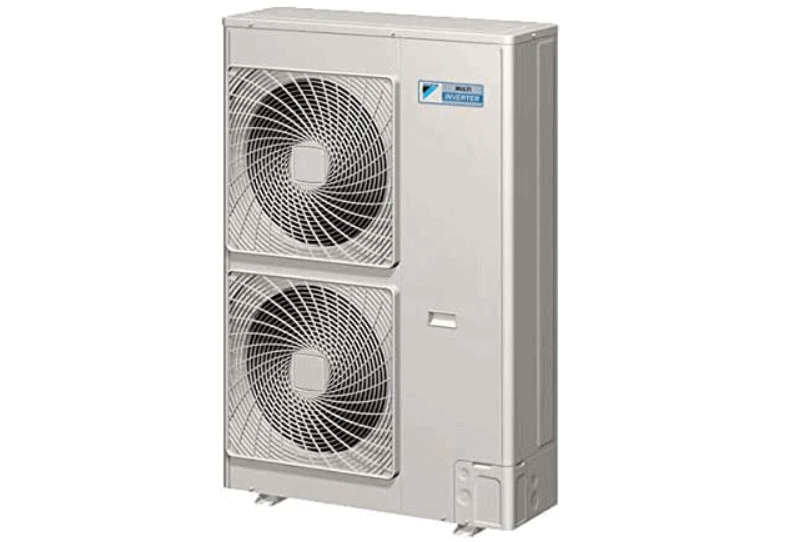 Having the ability to control which zones you want to heat can make your home more energy-efficient. What's more, the majority of these systems utilize inverter technology to control the condenser's motor, which ultimately reduces their power consumption.
The easiest way to check the unit's energy efficiency is to look for its EER, SEER, and HSPF ratings. The SEER and HSPF ratings show you how the unit is going to perform during a cooling or heating season, while the EER rating reflects the mini-split's efficiency on an hourly basis.
5-zone mini-splits usually have high SEER and HSPF ratings that suggest you won't have to spend a lot of electricity to regulate the room temperature in your home with them.
Nonetheless, these ratings are calculated at specific temperatures, and the unit's actual energy efficiency might be lower if it operates at extreme temperatures. Go through our guide to cooling systems if you want to explore alternatives to mini-splits.
Core features of 5-zone mini-splits
Aside from regulating the room temperature, 5-zone mini-splits can also dehumidify and purify the air. You can also change the airflow speed, program a unit to switch off and on at specific hours or detect a faulty part of the system automatically.
Let's take a closer look at some of the most important features a 5-zone mini-split should offer.
Auto Reset – Units equipped with this feature will switch on automatically after a power outage. The Auto Reset function can be useful if you want the 5-zone mini-split to control the temperature in your home while you're away.
Airflow speed options – Some systems offer only 3 fan speeds, while others allow for infinite airflow speed adjustments. Choosing a model that has a variable fan speed will enable you to have more control over the temperature and air humidity levels in your home.
Auto Clean function – The moisture extracted from the air can cause the rusting of the evaporator coils and the growth of microorganisms that can damage the system's components. The Auto Clean function ensures that all parts of the system are dry, and it makes them more durable.
Browse through our guide to the best 4-ton AC units if you want to explore different central AC options.
The most important factors to consider while choosing a 5-zone mini-split
Even though the selection of 5-zone mini-split models is relatively limited, finding the option that fits your budget and your expectations shouldn't be too difficult. Aside from a wider coverage area, these systems offer the same set of features as all other multi-zone mini-splits.
Parameters like the climate in the region where you live, the quality of your home's insulation, or your budget will ultimately determine which Penta-zone mini-split is the right choice for you.
We've selected several factors that can help you narrow down your options, so let's take a closer look at them.
The power output of individual indoor air handlers
The unit's total power output doesn't tell you much about the cooling and heating capacities of individual indoor air handlers. In case the model you choose has five 9,000 BTU air handlers, the maximum size of a zone will be limited to approximately 400sq/ft.
On the other hand, if you choose a system that features one 18,000 BTU or 24,000 BTU air handler and several smaller 9,000 BTU indoor units, you'll be able to install the mini-split in a differently sized rooms.
Energy-efficiency ratings
Estimating your cooling and heating costs will be much easier if you check the unit's SEER, EER, and HSPF ratings.
5-zone mini-splits are designed as cooling and heating systems for an entire home, and opting for a model that needs high amounts of power to keep the room temperature at the same level will increase your monthly utility bills.
You should opt for a unit with 20 SEER or higher and 9.5 HSPF or higher energy-efficiency ratings to ensure you won't have to spend a lot of money on regulating room temperature in your home.
Noise levels
A mini-split that makes 60dB of noise might be too loud for a bedroom and similar spaces where every sound can cause a disturbance. 5-zone mini-splits can produce between 20dB and 60dB of noise while operating at the maximum capacity depending on the model.
Units equipped with the inverter technology are generally quieter than the models that don't utilize this technology. Opting for an inverter Penta-zone mini-split might be a better option if you need a cooling and heating system for your home.
Installation costs
DIY installation of a mini-split system that features five indoor air-handlers isn't an option, even if you're familiar with all the steps of the installation process. Most brands require professional installation, and attempting to install the system will void the warranty.
You may have to spend several thousand dollars on the installation of this system, so consulting with an HVAC technician before deciding to get a 5-zone mini-split can help you get an accurate estimate of the costs you have to cover.
Model's price and warranty
Penta-zone systems are among the most expensive mini-split options, and their price varies from $3,000 to $6,000. Also, you may have to purchase the installation accessories and additional linesets if the model you choose doesn't include the installation kit.
Most brands offer separate warranties for the outdoor compressor and the rest of the system. The compressor warranty usually lasts between five and ten years, while the guarantee for other parts commonly lasts for two to five years.
The advantages of 5-zone mini-splits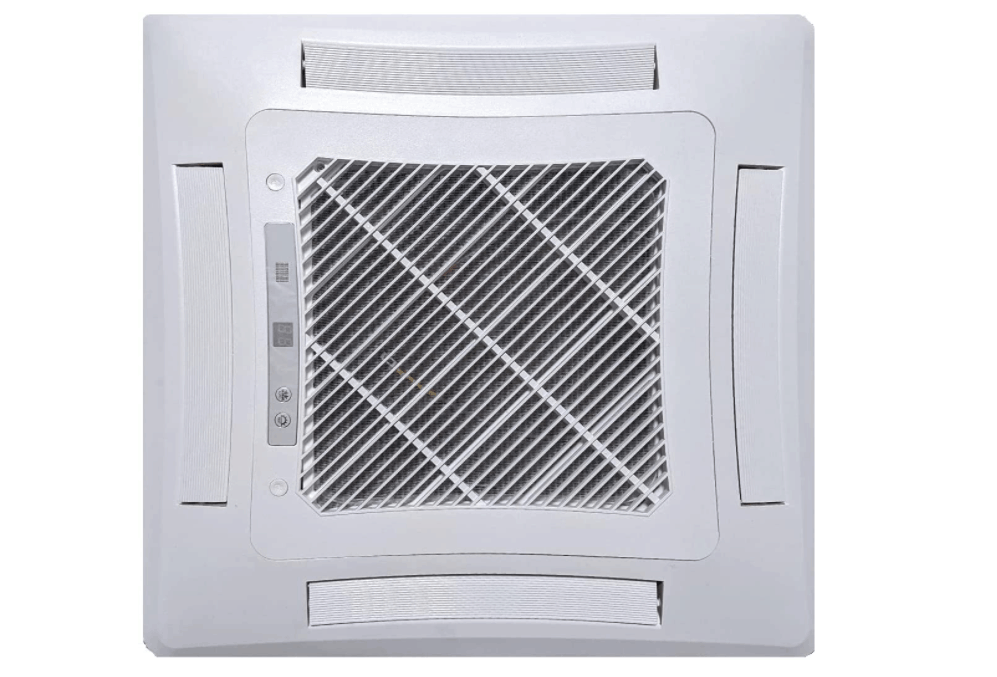 Vast coverage area
These systems enable you to cool and heat spaces that have up to 3,000sq/ft by combining relatively limited outputs of multiple indoor air handlers. You can choose between 3-ton, 4-ton, and 5-ton versions of these mini-split systems.
Separate zone control
Arguably, one of the greatest benefits of getting a Penta-zone mini-split is having the ability to control the temperature in each zone separately. Each air handler comes with a remote that lets you adjust the temperature settings for a particular zone.
Excellent heating capabilities
A wide operating temperature range enables you to continue using 5-zone mini-splits throughout the year. Models equipped with the heat pump feature can heat your home even when the outdoor temperatures drop to 5F.
The disadvantages of 5-zone mini-splits
Expensive and complicated installation process
Reducing your expenses by cutting the installation costs isn't an option because 5-zone mini-splits require professional installation. Hence, you'll have to spend $5,000 to $10,000 to get this heating and cooling system up and running.
Top 5 five-zone mini-splits
YMGI Ductless Mini-Split – The best cassette air handler 5-zone mini-split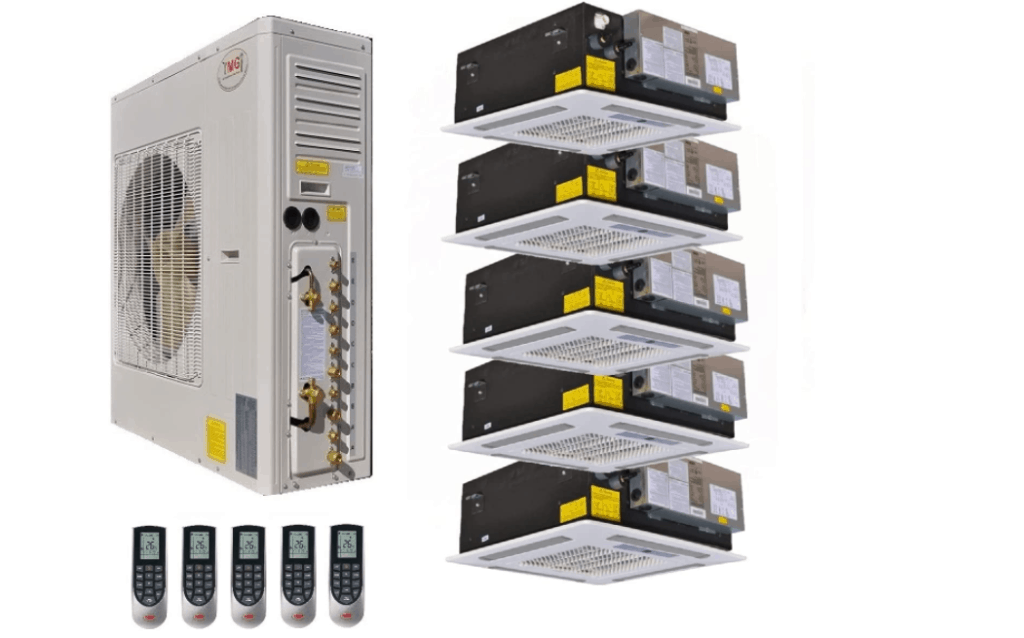 Instead of choosing a model that comes with wall-mounted air handlers, you can get the YMGI Ductless Mini-Split that offers a more discreet solution.
The unit features five 12,000 BTU cassette air-handlers that are installed in the ceiling, so you don't have to worry about matching them with the style of your home. Its maximum power output is sufficient to regulate room temperature in spaces that have up to 3,000sq/ft.
The YMGI's model offers a variety of features that allow you to program the system to switch off and on in equal intervals or heat a specific zone quickly.
Pros
Excellent performance at low temperatures
Efficient air dehumidification
High SEER and HSPF ratings
Low noise level
Cons
Linesets and all other installation accessories must be purchased separately.
High price tag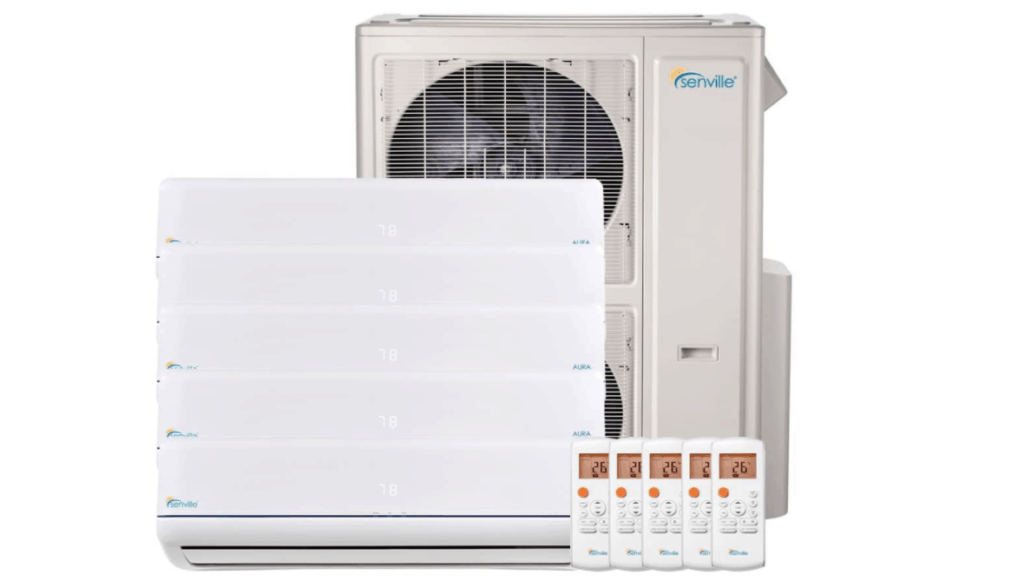 Opting for the Senville Sena 48HF/F Ductless Mini-Split will enable you to divide your home into five equal cooling and heating zones. Each of the unit's wall-mounted indoor air handlers has the maximum output capacity of 9,000 BTUs, which means that the size of a single zone can't exceed 400sq/ft.
The Sena 48HF/F has a 22.5 SEER rating, and it is Energy Star certified, which guarantees that the system won't use a lot of power even if you're using it for several hours every day.
Read our full Senville Mini Split review here.
Pros
Anti-microbial air filters
High dehumidification capacity
Multiple airflow speeds
Reasonable price
Cons
No WiFi module
Choosing air handlers with different sizes is not possible
Daikin RMXS Ductless Mini-Split – The best WiFi-enabled 5-zone mini-split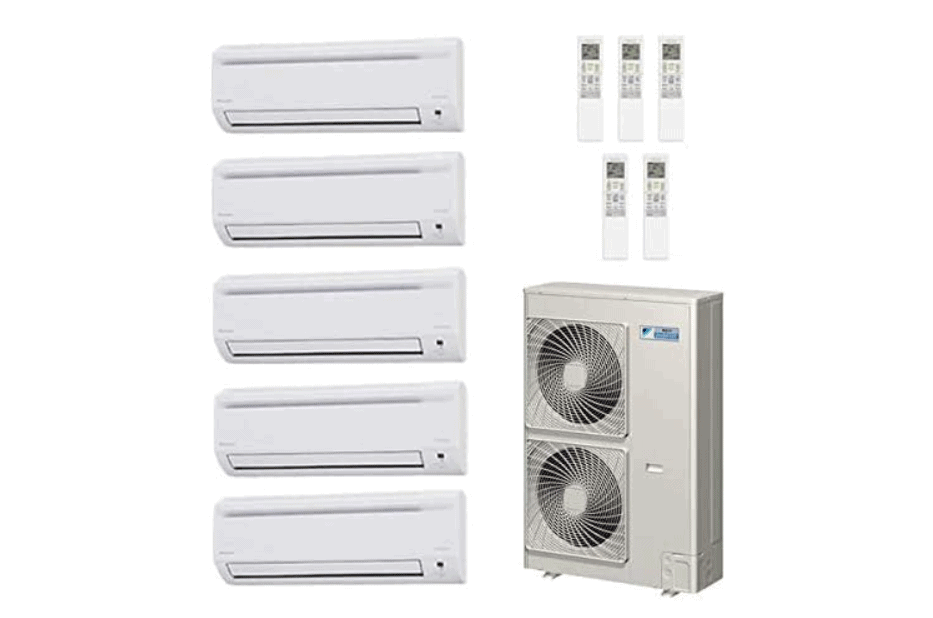 You can decide if you want to control the Daikin RMXS Ductless Mini-Split with a remote controller or via an app on your smartphone. The unit ships with two 9,000 BTU air handlers, a pair of 12,000 BTU air handlers, and an 18,000 BTU air handler.
This enables you to cover unevenly sized zones in your home and regulate the temperature in both large and small rooms. This Daikin model utilizes the inverter technology, but despite this, its energy-efficiency ratings are still relatively low.
Pros
Auto Defrost feature protects evaporator coils from damage
5-ton cooling and 54,000 BTU heating range
Easy temperature adjustments
12-year warranty
Cons
Power-saving features could be better
It doesn't utilize the inverter technology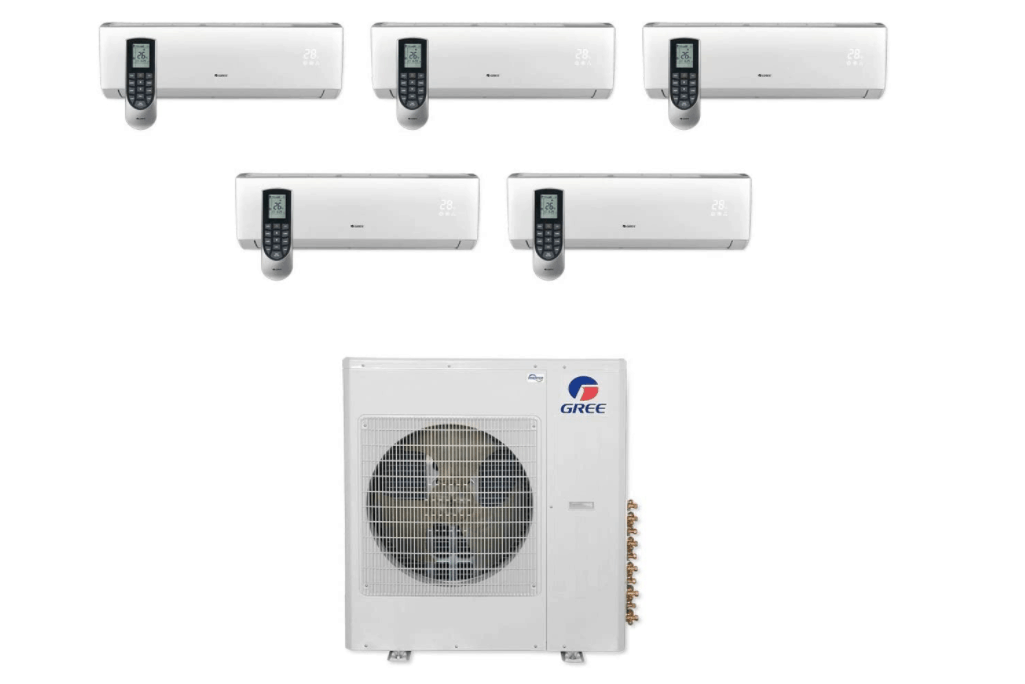 You should consider getting the GREE MULTI36CVIR501 penta-zone mini-split if you're concerned with the level of noise your cooling and heating system is going to make. The G10 inverter technology makes the unit's compressor more energy efficient and keeps its noise level at a minimum.
This 3-ton unit features a combination of 9,000 BTU and 12,000 BTU indoor air handlers that can be controlled with a remote or a home control app. However, you should keep in mind that you can't use this system to heat and cool different zones simultaneously.
Pros
Impressive HSPF and SEER ratings
Turbo mode for quick temperature regulation
Excellent self-diagnostics features
Quiet operation
Cons
Limited coverage area
Short warranty period
GREE MULTI36CVIR501 | Amazon
GREE Multi21+ systems, with inverter technology, are some of today's most advanced ductless split heat pumps. Providing both cooling and heating comfort, in as many as five separate zones, they are the perfect solution for many residential and light commercial applications.
Buy at Amazon
We earn a commission if you make a purchase, at no additional cost to you.
06/07/2023 07:57 pm GMT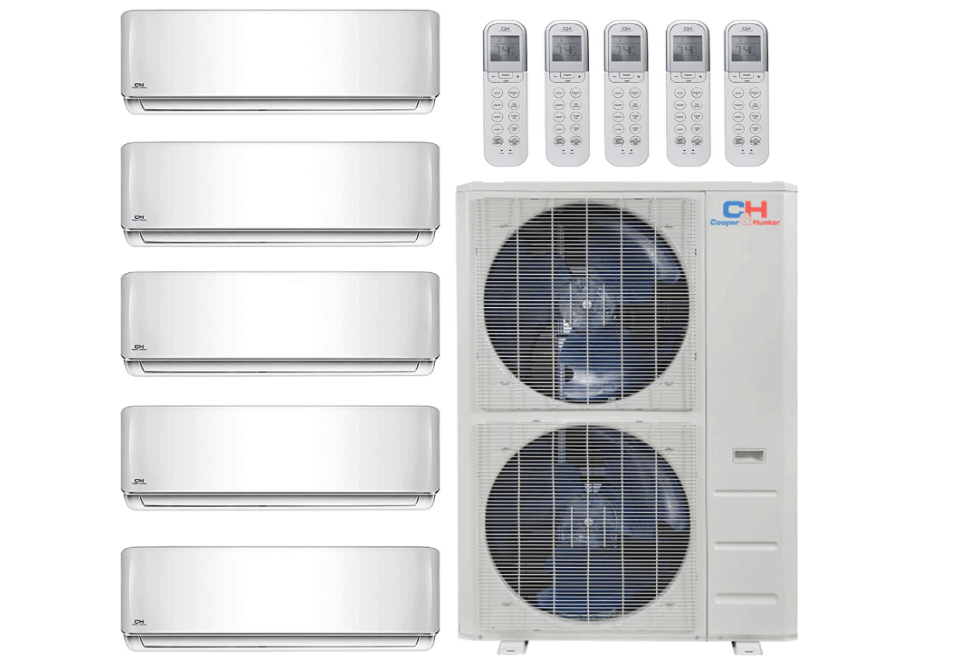 You can rely on the Cooper & Hunter Ductless Mini Split to provide even heating across all zones, even at subzero temperatures. This 5-zone mini-split has three 9,000 BTU and two 12,000 BTU air handlers that can heat or cool spaces that have up to 2,400sq/ft.
You can set the preferred temperature separately in each zone with the remote controller, but keep in mind that this unit doesn't have a built-in WiFi module. The manufacturer offers a 30-day money-back guarantee that allows you to return this mini-split system if you're unhappy with its performance.
Pros
Retains full operational capacity at low temperatures
Wide cooling and heating range
Low power consumption
7-year warranty for the compressor
Cons
The installation kit must be purchased separately
Not WiFi-enabled
Frequently asked questions about 5-zone mini-splits
Question: Do I have to charge a 5-zone multi-split?
Answer: No, all models arrive charged and ready for installation, but you may have to purchase the linesets that connect air handlers to the compressor.
Question: How often do I have to service a 5-zone multi-split?
Answer: It is advisable to perform a maintenance check at least once per year.
Question: Are all 5-zone multi-splits equipped with anti-microbial air filters?
Answer: An anti-microbial air filter isn't a standard feature on all penta-zone multi-splits, and you must search for a model that has such a filter if you want to remove allergenic particles from your home.
Question: Can a 5-zone mini-split heat and cool and at the same time?
Answer: No, these systems can either operate in a cooling or heating mode, but they cannot heat and cool different zones simultaneously.
Our verdict: How to know which 5-zone mini-split system has the most to offer?
Investing in a Penta-zone mini-split can turn out to be a great long-term decision despite the initial high cost. These systems can lower your annual cooling and heating expenses by several hundred dollars, and they really start to pay off after several years of year-round usage.
You can choose from 3-ton, 4-ton, and 5-ton versions of these systems depending on the size of the space you want to cool and heat. Moreover, these mini-splits can have air handlers with different power outputs, which enables you to choose how big you want each zone to be.
We recommend the Senville Sena 48HF/F Ductless Mini-Split because of its exceptional seasonal heating and cooling ratings. An option like the Daikin RMXS Ductless Mini-Split might be a better option for you if you need a unit with a wider coverage range.
Which 5-zone mini-split option are you going to choose? Let us know in the comments, or continue reading our guide to furnace types if you need an efficient heating solution for your home.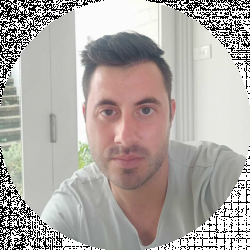 Latest posts by David Borgogni
(see all)