Air conditioners do much more than just keep a room cool since they can help you filter out the allergenic particles or regulate air humidity in your home. Almost all of the best 1.5-ton AC units are both multi-functional and highly energy efficient.
Learning how to differentiate between different types of 1.5-ton ACs will make finding the right model much easier. In this article, we're going to supply you with information about different types of ACs and introduce you to some of the best 1.5 ton AC Unit models you can find on the market.
Go through our guide to cooling systems if you want to learn more about different types of cooling systems.
At a Glance – The 5 Best 1.5-Ton AC Units
Choosing the 1.5-ton AC Unit Type
Numerous factors can affect your decision to choose one AC type over another. Their price, the installation method, or power consumption varies from model to model, and gathering information about different types of AC units can help you understand their performance capabilities.
Let's take a look at some of the most common 1.5-ton AC unit types.
Split system – These units feature indoor and outdoor components connected with refrigeration lines. They're often referred to as ductless split systems because the air isn't distributed through the ducting.
Mini-split systems – Ductless mini-splits are simply a smaller version of a conventional split system. They're commonly used to cool or heat spaces smaller than 2000sq/ft.
Window AC – Most window ACs have output capacities lower than 1.5-ton, and they're usually used as a one-room cooling or heating solution. These units are much easier to install than split and mini-split systems which is the reason why they're also more affordable.
Read our guide to mini-split systems to learn more about how these systems work.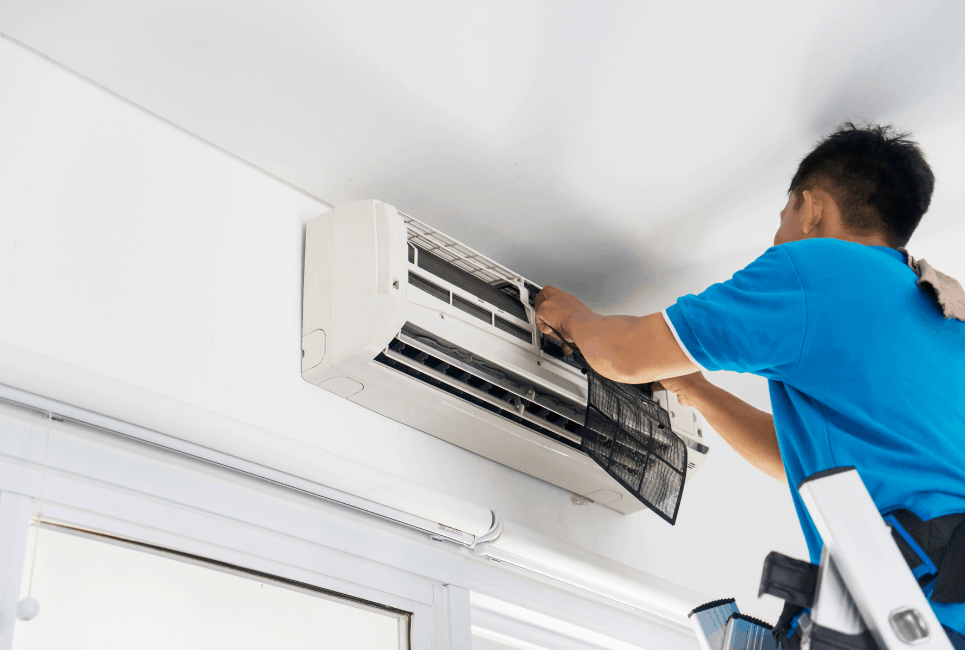 Figuring out the coverage area of a 1.5-AC unit
The maximum cooling or heating capacity of an AC unit is measured in British Thermal Units, and 1 BTU indicates how much heat the unit can add or remove from the air. The term ton denotes the amount of heat the unit can remove from the room in one hour.
So, a one-ton AC is capable of removing or adding 12000 BTUs of heat in one hour, while a 1.5-ton will add or remove 18000 BTUs of heat in an hour. The coverage area of AC units depends on how many BTUs they have, hence a 1.5-ton unit will cover more floor space than a 1-ton unit.
ACs use around 20 BTUs to heat or cool 1sq/ft of space, so an 18000 BTU model can supply heating and cooling for 800sq/ft to 900sq/ft of floor space. Keep in mind that the climate, room's layout, and numerous other factors can limit the AC's coverage range.
Go through our guide to 3-ton heat pumps if you need a system to regulate room temperature in large spaces.
Understanding the energy efficiency ratings
ACs run on electricity, and they can inflate your monthly utility bill if you opt for a model that needs a lot of power to regulate the room temperature. That's why you need to check the unit's SEER, EER, and HSPF ratings before you decide to purchase it.
Models with EER or Energy Efficiency Ratio higher than 8.5 are generally considered energy-efficient, but if you want an AC with excellent power-saving capabilities, you should target models with EER ratings above 10.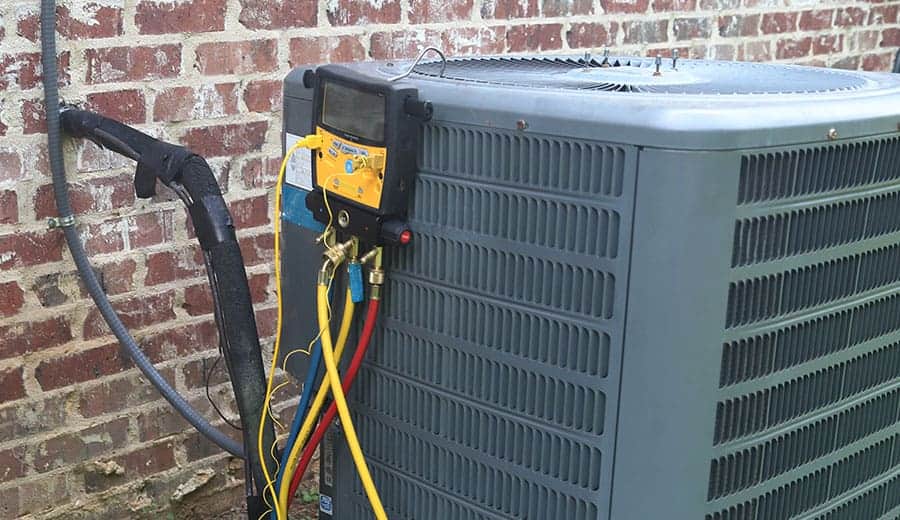 The seasonal energy efficiency ratio shows you how efficient the unit will be during a cooling or heating season. A unit should have the 14 SEER rating or higher to be considered energy-efficient, while models with SEER ratings above 20 usually have the Energy Star certification.
The heating seasonal performance factor or HSPF shows you how efficient the AC will be during the cold months, and you should opt for a model that has an HSPF rating higher than 9.
Browse through our guide to residential insulation if you want to learn more about factors that can affect the energy efficiency of your AC unit.
Heating and cooling capacities
ACs don't always have a heating mode, and you must check if the unit you want to get has this feature. Models equipped with heating and cooling capabilities have a similar coverage range when operating in either of these modes.
Hence, a 1.5-ton is equally efficient at heating and cooling up to 900sq/ft of floor space. All ACs have an operating temperature that usually spans from -4F to 120F.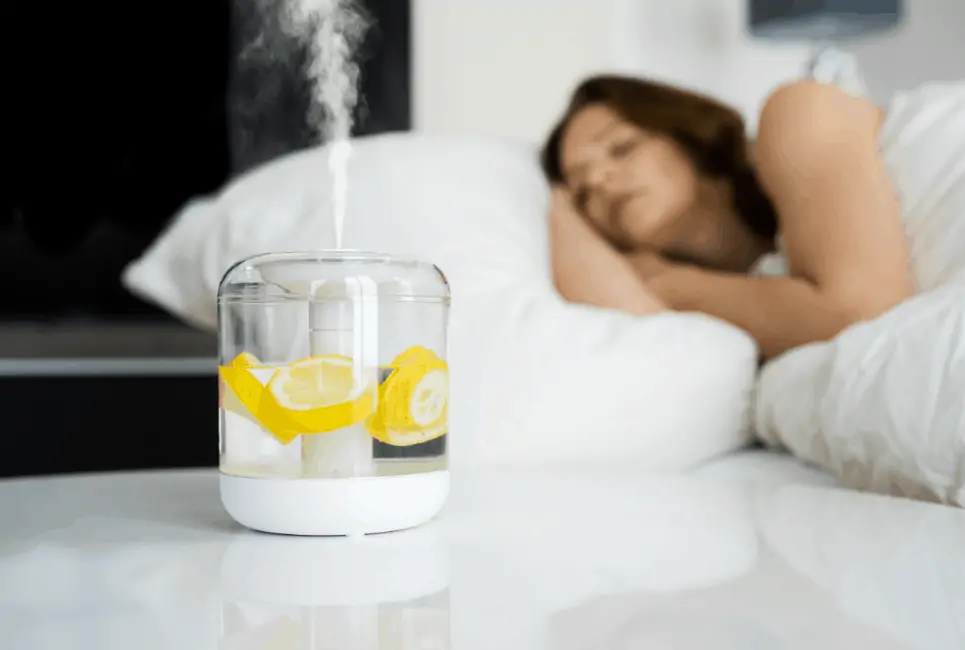 Only a handful of models can supply heating at extremely low temperatures, which is why you need to check the unit's operating temperature if you want to use it for heating.
Moreover, ACs consume more power in the heating mode than in the cooling mode, and you can't use them as the primary heating source unless you live in a warm climate region. Go through our guide to the best vertical window air conditioners to find an AC you can install on a sliding window.
The key features of 1.5-ton AC units
Aside from heating and cooling or power-saving features, ACs offer various options that can help you regulate the air humidity in your home or maintain the same room temperature throughout the night.
Filters – ACs equipped with antimicrobial filters can remove pet dander, mites, and other types of allergens. You should opt for a unit that has a washable and reusable filter to purchasing replacement filters.
Sleep mode – This mode prevents significant temperature drops, and it is particularly useful if you need an AC you want to install in your bedroom.
Remote control and WiFi – Adjusting the AC's setting manually isn't always possible since the air handler might be out of reach. Getting a model that has both remote control and WIFi functionality will grant you complete control over the unit's settings regardless of your current location.
Timer – This feature lets you program the AC to switch on and off in equal intervals. You can use this option to control the room temperature in your home even while you're away.
Dehumidifier – By absorbing the moisture from the air, ACs enable you to control the air humidity in your home.
Check out our guide to humidity control systems to explore different ways of dealing with humid or dry air.
The most important factors to consider while choosing a 1.5-ton AC
You'll have a wide array of options at your disposal while exploring the 1.5-ton AC market. Deciding which type of AC you want to get is the first step you need to narrow down your search criteria.
Also, knowing how often you're planning to use the AC will help you determine if covering the cost of a highly energy-efficient unit is justifiable. Let's go through some of the factors that can make finding the right 1.5-ton AC unit easier.
The layout of the space
The majority of 1.5-ton ACs has just one indoor air handler, which means that all the hot or cold air they produce comes from a single source. In most cases, you can't divide the unit's output into several zones and use it to heat two or more rooms separately.
That's why indoor air handlers or window ACs need to be positioned correctly to maximize their coverage range. Keep in mind that the insulation of the space or different types of barriers can limit the AC's cooling and heating capacity.
AC's average power consumption
Checking the AC's SEER, EER, and HSPF ratings is probably the quickest and easiest way to determine how energy-efficient it is. On average, 1.5-ton ACs use 1.7kW of power per hour, which means that you're going to spend approximately 14kW per day if you leave your AC running for 8 hours.
Opting for an energy-efficient model can reduce your daily power consumption and ultimately lower your utility bill. It is worth noting that window ACs are less energy-efficient than spit and mini-split systems.
Unit's air filtering capabilities
The AC's filter is an often overlooked feature that can be very important if you or someone in your family suffers from allergies. A unit equipped with an antimicrobial filter will help you get rid of mites, dust, and all other particles that can cause strong allergic reactions.
Most ACs feature reusable filters, but their ability to retain allergenic particles varies from model to model. Checking the air filtering capacities might be useful if you're searching for an AC unit that can help you keep the air in your home clean.
Noise levels
The amount of noise an AC unit makes depends on its type since a window AC is considerably louder than a mini-split. Nonetheless, most 1.5-ton ACs generate less than 60dB of noise while operating at the full capacity regardless of their type.
Mini-splits are your quietest option since the average noise rating of these units is between 30dB and 40dB. Split systems and window ACs operate in a similar noise range, and you should expect to deal with 40dB to 60dB of noise if you opt for either of these types of ACs.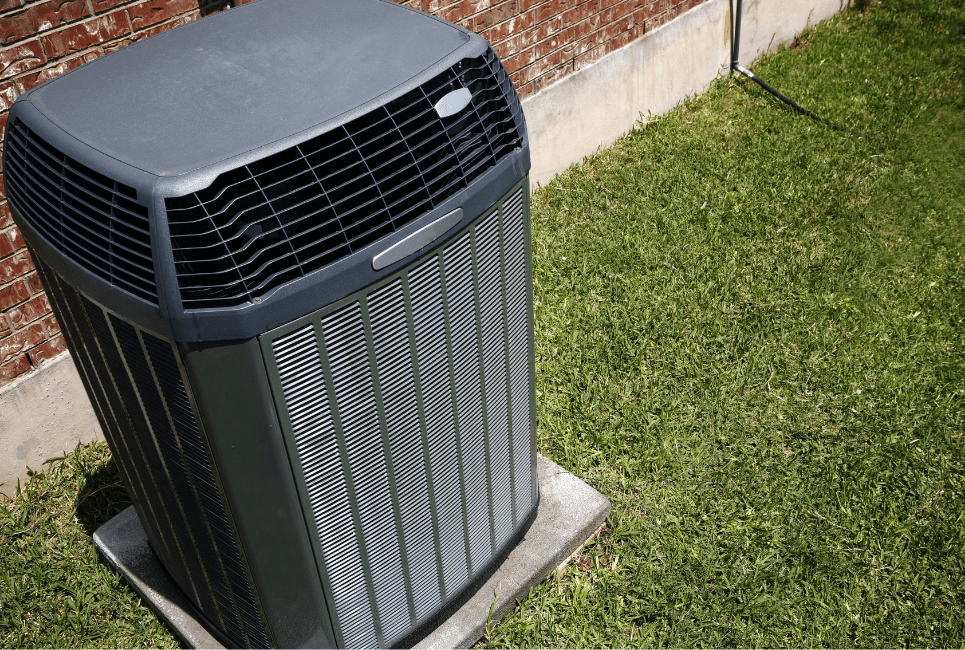 The AC's price and installation costs
The price range of 1.5-ton ACs spans from $400 to more than $2000, so how much money you're going to spend on a new AC depends on the model you choose. Despite having identical output capacities, the cheapest and the most expensive 18000 BTU ACs don't have the same features.
Installing a split system or a mini-split AC can cost more than $500, while in some cases, the installation costs can balloon to over $1000. Window ACs don't require professional installation, making them a budget-friendly option for homeowners who don't want to spend a lot of money on an AC.
The advantages of 1.5-ton AC units
Variety of available options
You can choose from hundreds of different 1.5-ton AC units and select the model that meets your requirements and fits your budget. What's more, you can pick the type of AC suitable for the context in which you want to use the unit.
Excellent coverage range
With a coverage range of approximately 900sq/ft, 18000 BTU ACs can be a reliable cooling and heating solution for residential and commercial venues. You can use these ACs to cool multiple rooms, even though they usually feature just one indoor air handler.
Long lifespan
1.5-ton AC units remain operational for years, and you don't have to replace them unless several of their key components fail. Moreover, they have low upkeep requirements, as you only have to wash the air filter occasionally to keep the unit functioning normally.
The disadvantages of 1.5-ton AC units
Difficult installation process
1.5-ton AC units require professional installation unless you opt for a window AC that is somewhat easier to install. Hiring a licensed HVAC technician to install an 18000 BTU AC for you can cost you hundreds of dollars.
Top 5 1.5-ton AC units
Goodman GSX140181 – The Best 1.5-ton Split System AC unit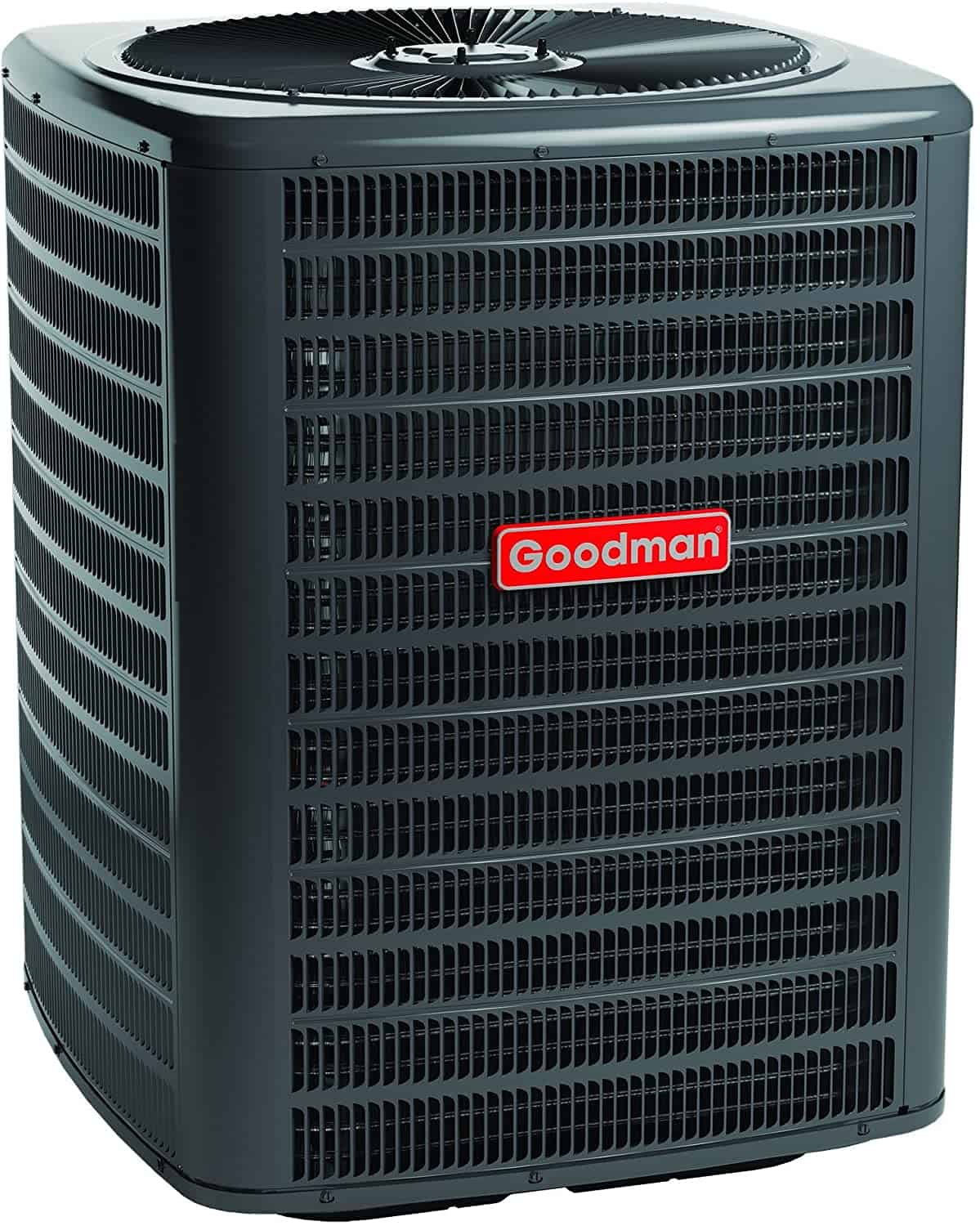 You will get an air conditioner and a multi-positional air handler if you opt for the Goodman GSX140181 AC. The unit is equipped with a single-speed motor and an energy-efficient compressor that are capable of stunning cooling and heating performances.
This AC features a built-in filter drier that helps remove the moisture and contaminants from the system. However, adjusting the compressor's speed isn't an option which is the reason why the unit's SEER rating is just 14.
Pros
Quiet operation
Excellent cooling performances
Great for residential and commercial use
Long warranty period
Cons
More expensive than most 1.5-ton AC units
It doesn't have a variable speed compressor
Boreal Brisa – The best 1.5-ton mini-split AC unit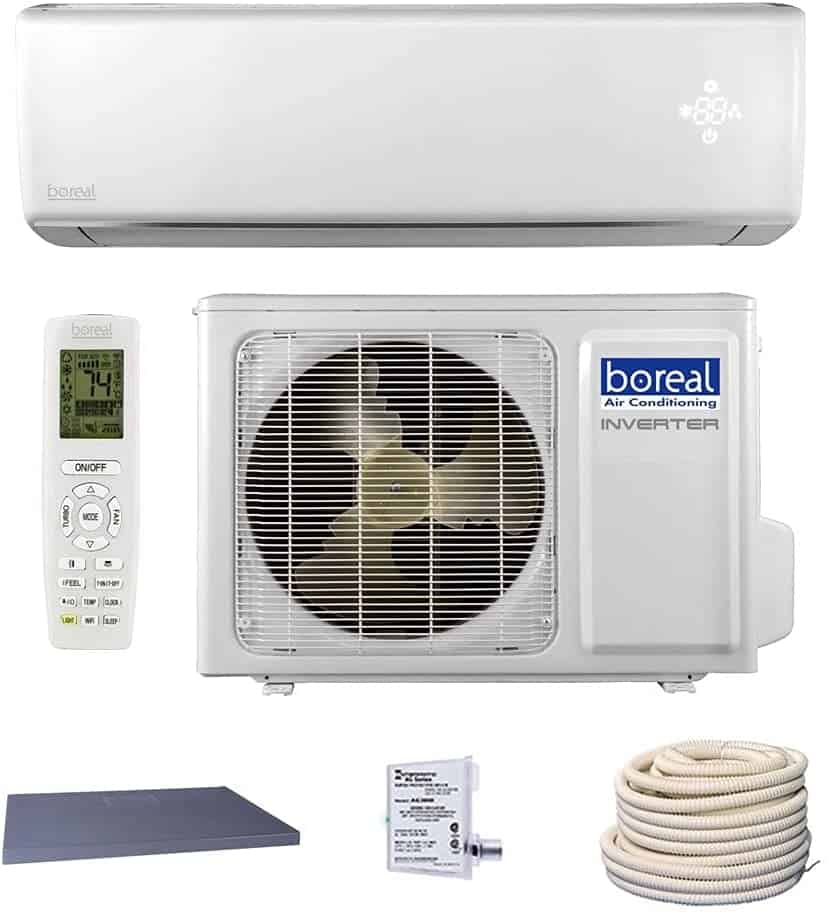 Even though you cannot divide the Boreal Brisa's coverage into multiple zones, this 18000 BTU is still a good option for large living rooms and other spacious rooms in your home. This model is equipped with inverter technology that reduces its power consumption and lowers the noise level.
Despite having SEER 16 rating, the Boreal's model isn't Energy Star certified, but even so, the unit has impressive power-saving capacity. You must purchase the installation kit and other accessories separately from the unit.
Pros
Performs well at low temperatures
Utilizes an eco-friendly refrigerant
Good SEER and HSPF ratings
Reasonably priced
Cons
A single indoor air handler
Not WiFi enabled
LG LW1816HR – The best 1.5-ton window AC unit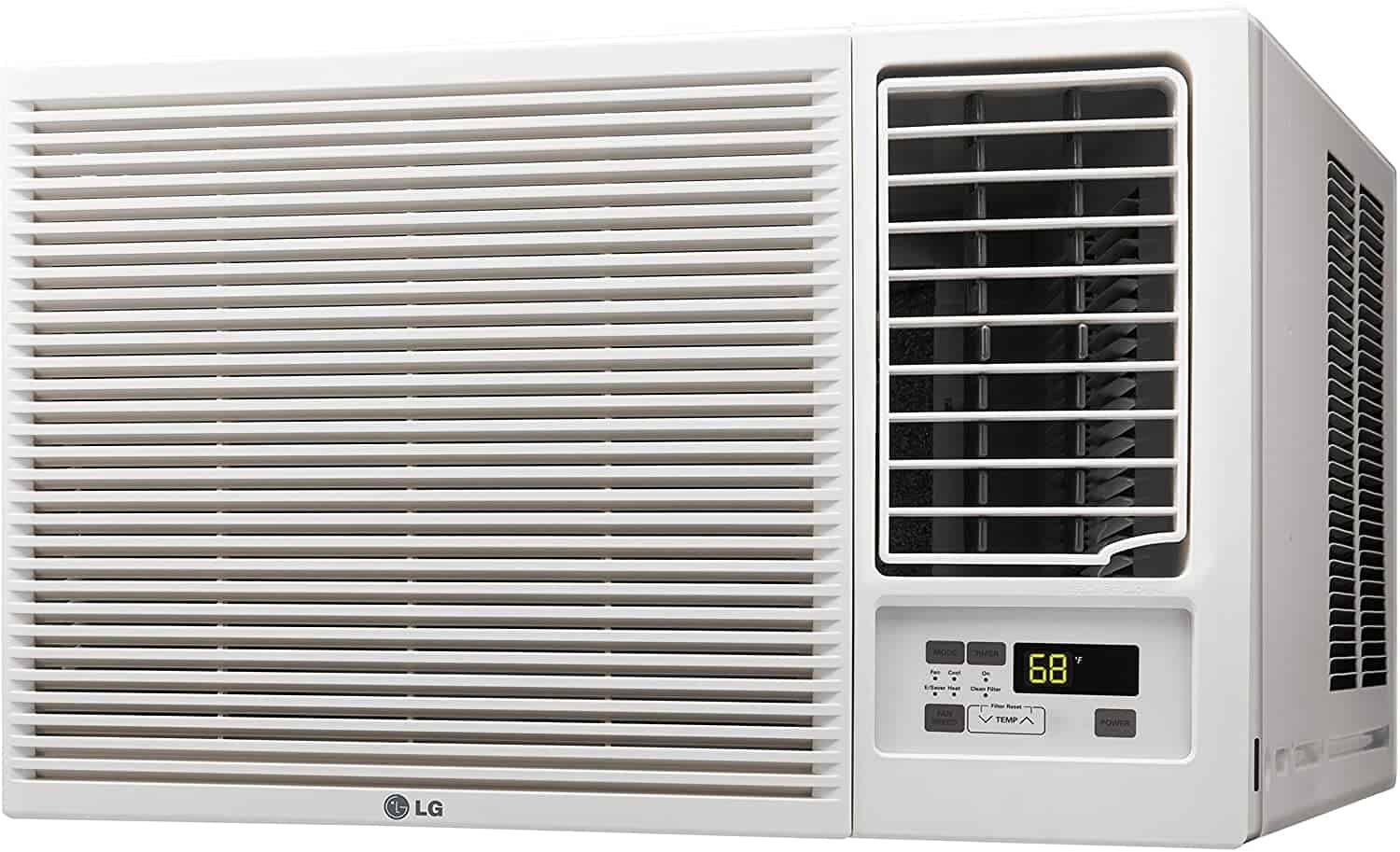 Getting the LG LW1816HR window AC will help you avoid dealing with a complex installation process. The unit comes with an installation kit that includes everything you need to mount it on a window. The unit has cooling and heating modes, but its output is limited to 12000 BTU in the heating mode.
The LG's window AC also has the dehumidifier function that can absorb up to 5.5 pints of moisture per hour. This model can operate at two different speeds, and you can direct its airflow in four different directions.
Continue reading our full 12,000 BTU LG AC Review.
Pros
It fits windows that are between 29 and 41 inches wide
Simple and quick installation process
High EER rating
Features a timer
Cons
Generates up to 61dB of noise
1-year warranty
Air-Con Blue Series 3 – The most energy-efficient 1.5-ton AC unit

The broad operating temperature range ensures that you can use the Air-Con Blue Series 3 AC unit in all seasons. This model can help you heat or cool your home as long as the outdoor temperatures remain above -4F or below 115F.
The inverter technology this AC uses is a part of the reason why it has a 23 SEER rating. The unit is equally efficient at cooling and heating that have up to 1000sq/ft. The AC features several modes that allow you to regulate the room temperature quickly or program the unit to run at equal intervals.
Pros
WiFi-enabled
Cleaning mode activates automatically
Louvers move horizontally and vertically
Energy Star certified
Cons
High price tag
Complicated installation process
OLMO Window AC – The most affordable 1.5-ton AC unit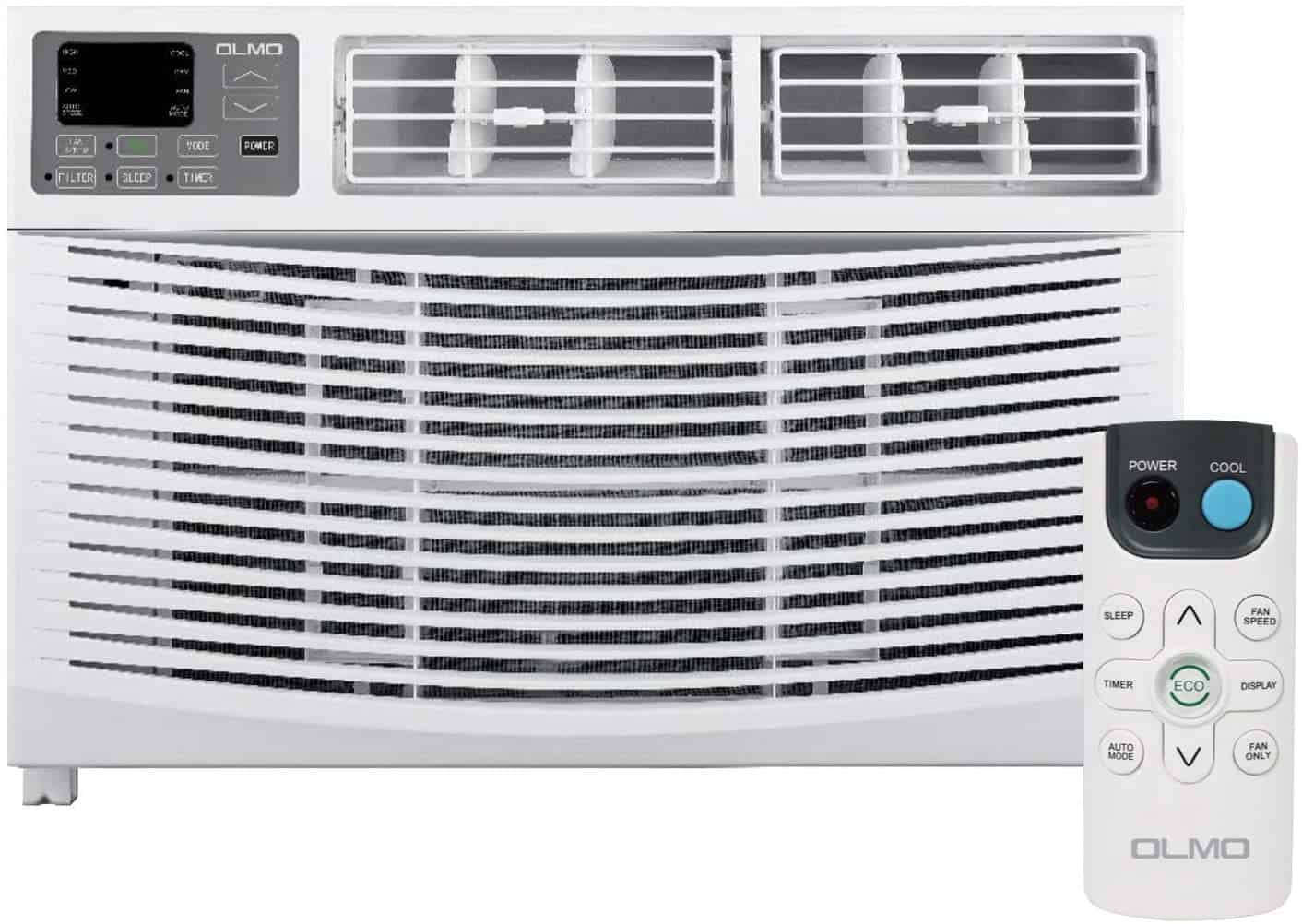 OLMO Window AC is a simple but efficient cooling solution for living rooms, home-based workshops, garages, and similar spaces that have single-hung windows. The unit is nearly 24-inches wide, which means that you can only use it on windows that are wider than 25-inches.
High energy-efficiency ratings make this unit Energy Star compliant, but despite this, the OLMO window AC isn't Energy Star certified. The AC comes with a universal installation kit which enables you to start using it almost immediately after it reaches your home.
Pros
Features a reusable filter
Quick and easy setup
Manual and remote controls
Affordable price
Cons
No heating mode
It doesn't work with standard power outlets
Frequently asked questions about 1.5-ton AC units
Question: What is the temperature range of 1.5-ton AC units?
Answer: The temperatures of 1.5-ton AC units can help you create depend on the model, but in most cases, you can set room temperatures in the range between 60F and 90F.
Question: Can 1.5-ton AC units detect refrigerant leakage automatically?
Answer: Yes, some models have a self-diagnostics feature that enables them to detect refrigerant leakages.
Question: Are 1.5-ton AC units prone to corrosion?
Answer: Yes, they are, and you should search for models that feature components that have an anti-corrosion coating.
Question: Do I have to service a 1.5-ton AC unit often?
Answer: No, you can service a 1.5-ton AC unit once per year and perform occasional inspections to make sure all components are in good condition.
Our verdict: Which is the Best 1.5 ton AC unit you should choose?
One of the greatest benefits of 1.5-ton AC units is that you can use them during cold and hot months since most models have cooling and heating modes. In addition, their power-saving abilities enable you to cut your cooling and heating costs.
Arguably, the greatest downside of ACs with 18000 BTU output is that they usually have just one air handler so they're not an efficient solution if you want to regulate the temperature in multiple rooms.
We recommend the Air-Con Blue Series 3 because it has a high SEER rating and a variety of options that allow you to adjust the unit's output to your needs. A window AC like the LG LW1816HR might be a better option for you if you don't want to deal with a complicated installation process.
Which 1.5-ton AC unit are you going to choose? Let us know in the comments, or continue reading our guide to the best window heat pumps to learn more about this type of window AC.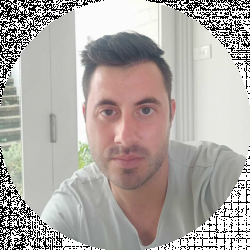 Latest posts by David Borgogni
(see all)