Keeping a large room cool requires a powerful and energy-efficient cooling system, as otherwise, you may find yourself spending hundreds of dollars monthly to cover your utility bill. Some of the best 72-inch ceiling fans can help you save money while providing you with the cooling you need.
In this article, we're going to explore some of the top 72-inch ceiling fan options that can make hot summer days more bearable. You should go through our guide to the best 3-ton heat pumps if you need a cooling system for an entire house.
At a Glance – The 5 best 72-inch ceiling fans
Fan and room sizes
Before you decide to get a 72-inch fan, you first need to make sure that it is suitable for the room in which you want to install it. Overall blade lengths vary from approximately 25 inches up to 100 inches, and they are suitable for rooms that have between 75 and 1.000sq/ft.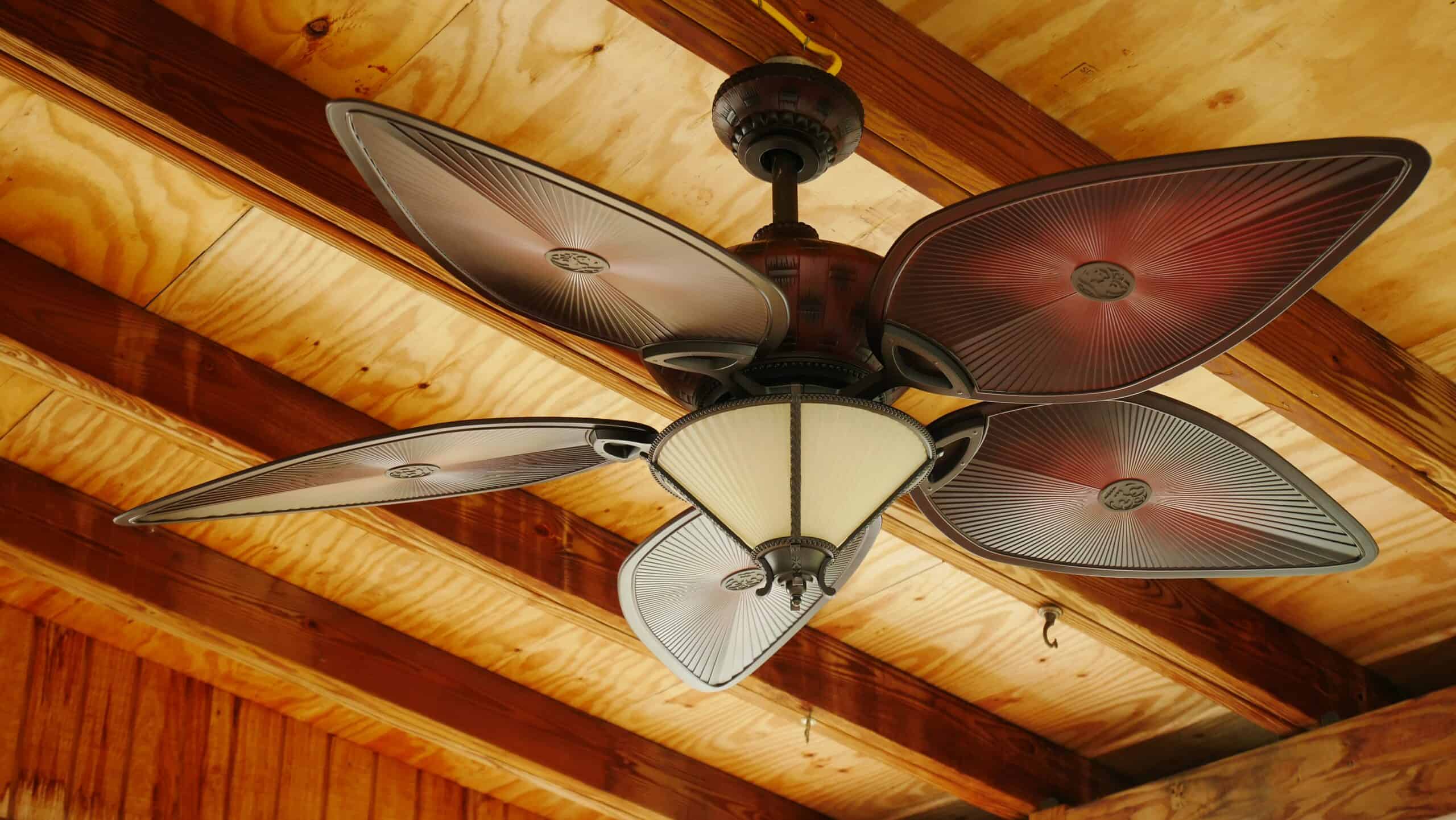 The average size of a bedroom in the United States is 200sq/ft, which suggests that an ideal ceiling fan for this room should have blades that are 44 inches long. However, according to the American Lighting Association, a 72-inch ceiling fan would be a good fit for rooms larger than 400sq/ft.
The standard size of a living room is 340sq/ft, so a 72-inch ceiling fan can be one of your best options if you need a way to cool a family room. In addition, opting for an outdoor version of 72-inch ceiling fans can help you create a refreshing breeze on your patio.
Read our guide to cooling systems to find out how to push out hot air from your home.
Finding the right distance from the ceiling and the floor
How effective a fan will be depends on its distance from the floor and the ceiling. According to the national building codes, the minimal distance from the floor to the blades should be around 7 feet. However, placing the fan 8 or 9 feet away from the floor will ensure optimal air circulation.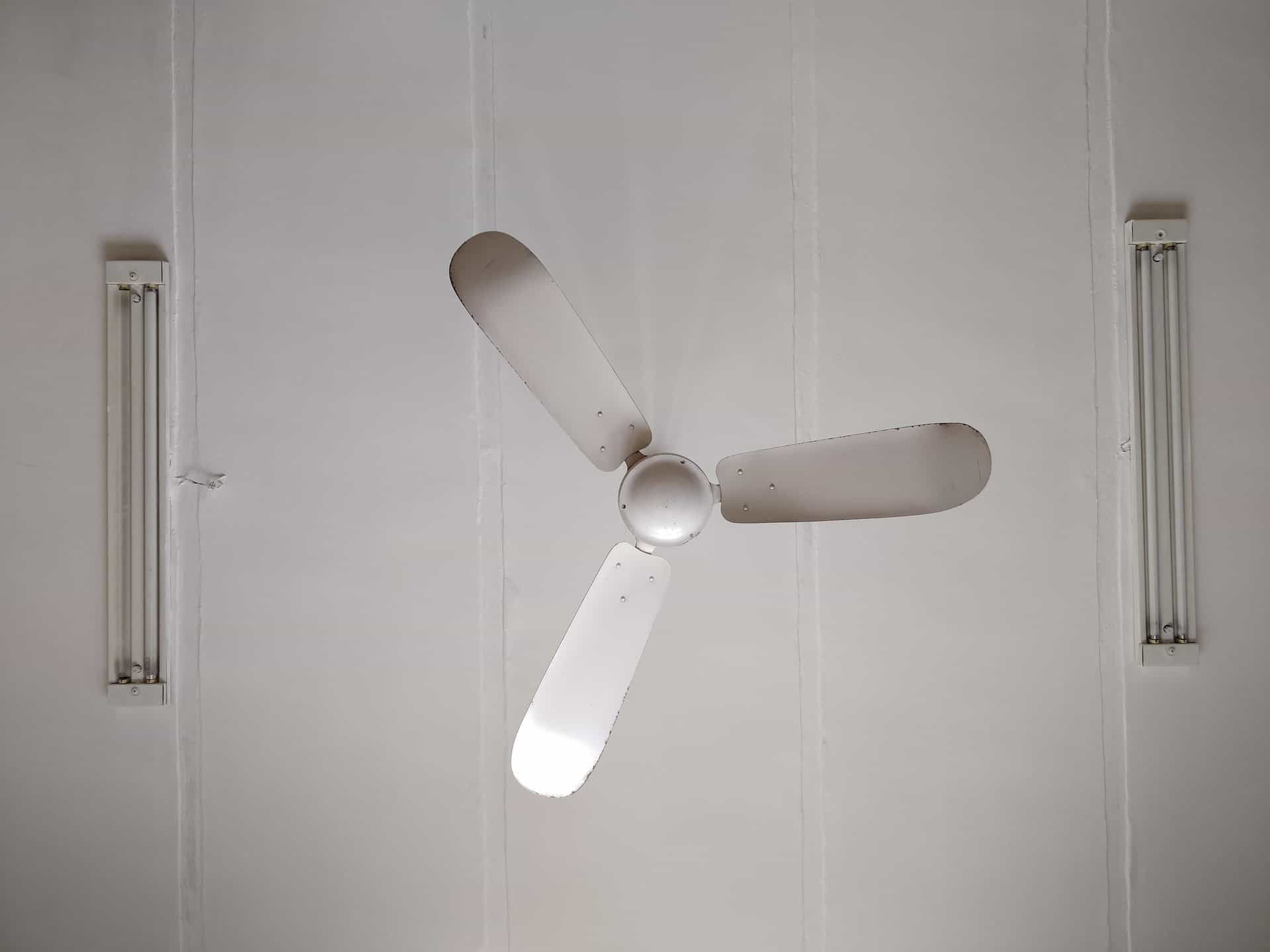 On the other hand, you should try to create as much separation between the ceiling and the blades as possible to avoid hampering the fan's airflow capacity. The blades should be positioned at least 8 inches away from the ceiling, while lowering them to 12 inches will maximize the fan's capabilities.
Also, the blades should be at least 18-inches from the nearest wall, and you should keep them approximately 40-inches away from the nearest light fixture. Check out our guide to mini-splits if you don't want to use a ceiling fan as your primary cooling source.
Fan's airflow capacities
The amount of airflow a ceiling fan can deliver is measured in cubic feet per minute (CFM), and it is calculated by dividing the amount of airflow a model generates at the highest speed by the amount of watts it consumed to generate such airflow volume.
A ceiling fan must generate 75CFM per watt to be considered energy efficient and become Energy Star certified. So, you should opt for a model capable of generating between 7,000 and 9000 cubic feet of airflow per minute to ensure you're not going to use too much power to keep your living room cool.
Finding the unit's airflow capacity usually isn't difficult since most manufacturers include this information in the product description section. You should also keep in mind that the fan's power consumption will be higher if it includes a light fixture.
Read our guide to the best exhaust wall fans if you need an efficient home ventilation system.
The fan blade materials
The fan's visual appearance is largely dependant on the material from which the blades are constructed. But, besides the model's aesthetics, the blade material can also affect its performance capabilities and durability. So let's take a closer look at some of the most common fan blade materials and their properties.
Metal – Fans with metal blades can be used in outdoor and indoor conditions, as most models can withstand moderate exposure to water. However, they're not an ideal solution for homeowners who live near the ocean because they corrode quickly in humid conditions.
Plastic –Acrylonitrile butadiene styrene or ABS plastic is one of the most common fan blade materials. The material is sturdy and performs equally well in outdoor or indoor conditions.
Wood – Arguably the most stylish fan blade material on the market, as it can be molded into various shapes. The cost of processing solid wood increases the cost of ceiling fans that have blades made from this material.
MDF – Models that have medium-density fiberboard blades are usually inexpensive. This material isn't very durable as exposure to high humidity levels can cause it to deteriorate quickly.
Check our guide to humidity systems if you're struggling to control air humidity levels in your home.
The benefits of DC fan motors
A ceiling fan can have either an alternating current (AC) or a direct current (DC) motor. You'll encounter models equipped with both types of motors while searching for a 72-inch ceiling fan, so it might be useful to know some of their key characteristics.
AC motors are usually featured on ceiling fan models with three or four speeds, while DC motors are more common on 6-speed models. The budget-friendly fans are often equipped with AC motors, but they consume significantly more power than DC motors.
The chances are that an Energy Star certified ceiling fan will have a DC motor that supplies you with much more torque than an AC motor while consuming considerably less energy. What's more, fans powered by DC motors are virtually silent when compared to generally noisy AC fans.
Browse through our guide to the best vertical conditioners if you're searching for a reliable alternative to ceiling fans.
The most important factors to consider while choosing a 72-inch ceiling fan
The size of the room you want to cool isn't the only factor that can affect your decision to choose a 72-inch ceiling fan. Besides the overall size of the blades, you should also consider the model's energy efficiency, airflow capacity, and design.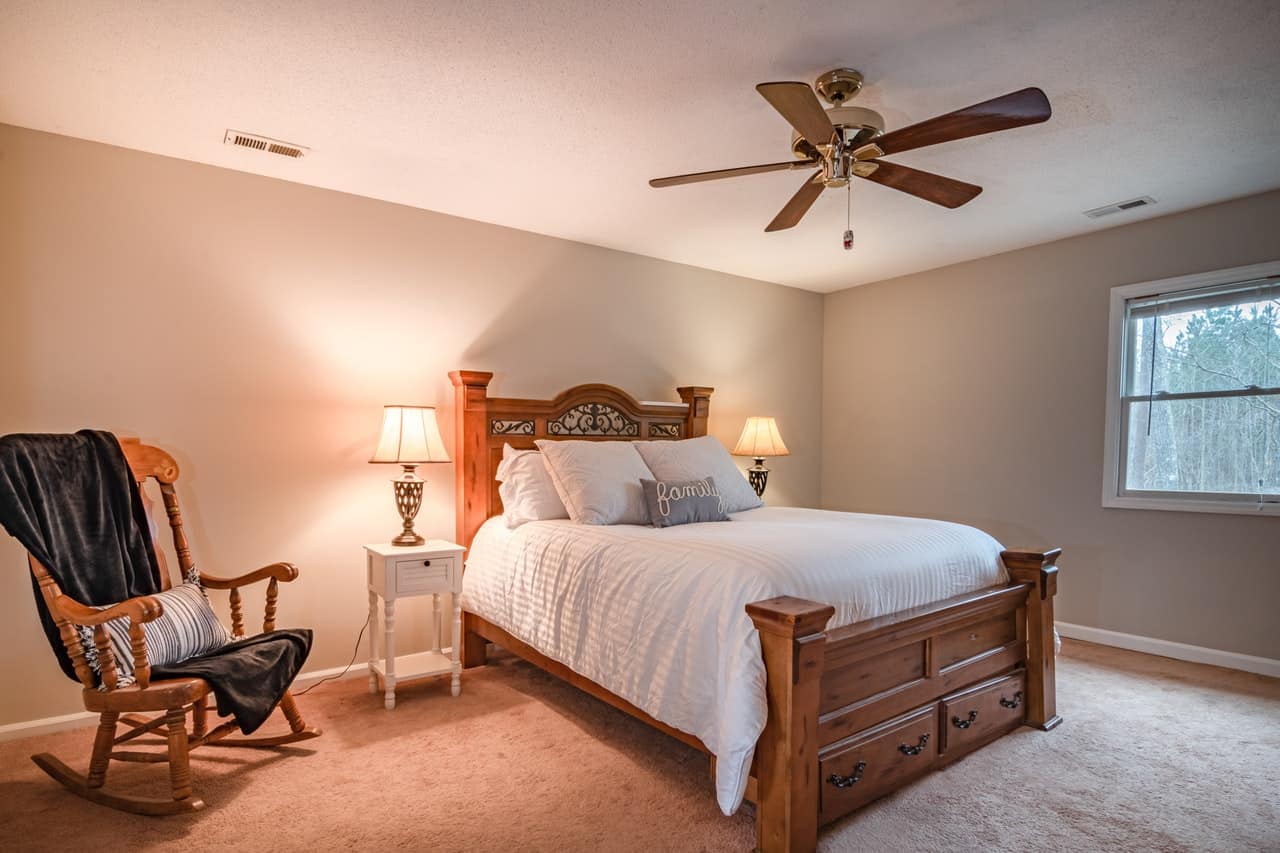 You should also make sure that the room layout and the ceiling type in that room are suitable for the 72-inch ceiling fan model you want to get.
We've selected some of the factors that can assist you in finding the model that meets all your needs, so let's take a closer look at them.
The mounting methods and the length of the downrod
The fan's distance from the ceiling depends on the recommended mount method. Most models are installed using the downrod mount designed for rooms with ceilings higher than 8 feet.
For instance, if the ceiling height in your living room is 9 feet, you should get a model that has a 12-inch downrod, while a 24-inch downrod is recommended for 11-foot ceilings.
You should opt for a model with a flush mount mechanism if the room's ceiling height is below 7 feet. Dual-mount and triple-mount ceiling fans can be a great option if you have no easy way of measuring the height of the ceiling.
Fan control options
The most convenient way to switch on a ceiling fan and adjust its speed is to use a remote, but you must choose a model that comes with this accessory. The remote control isn't a standard feature on all 72-inch ceiling fans since some models can have a wall switch or a pull chain control system.
A model equipped with a pull chain isn't a great option if you have high ceilings since you might struggle to reach the chain if the fan is installed 8 or 10 feet from the floor. A wall switch is similar to a light switch installed in the wall, and it is equally easy to operate.
Number of blades
The number of blades used to have a major impact on the fan's airflow capacity since six-blade models were more powerful than models with just three blades.
The introduction of new technologies and highly efficient motors changed that, as models with two and six blades have similar output capabilities.
You should opt for a model with fewer blades if you want to give a room a modern look, while 72-inch fans with four or more blades match better with traditional home décor styles.
Indoor or outdoor use
The vast majority of 72-inch ceiling fans are designed for indoor use, and unless specified by the manufacturer, you shouldn't use them in outdoor conditions.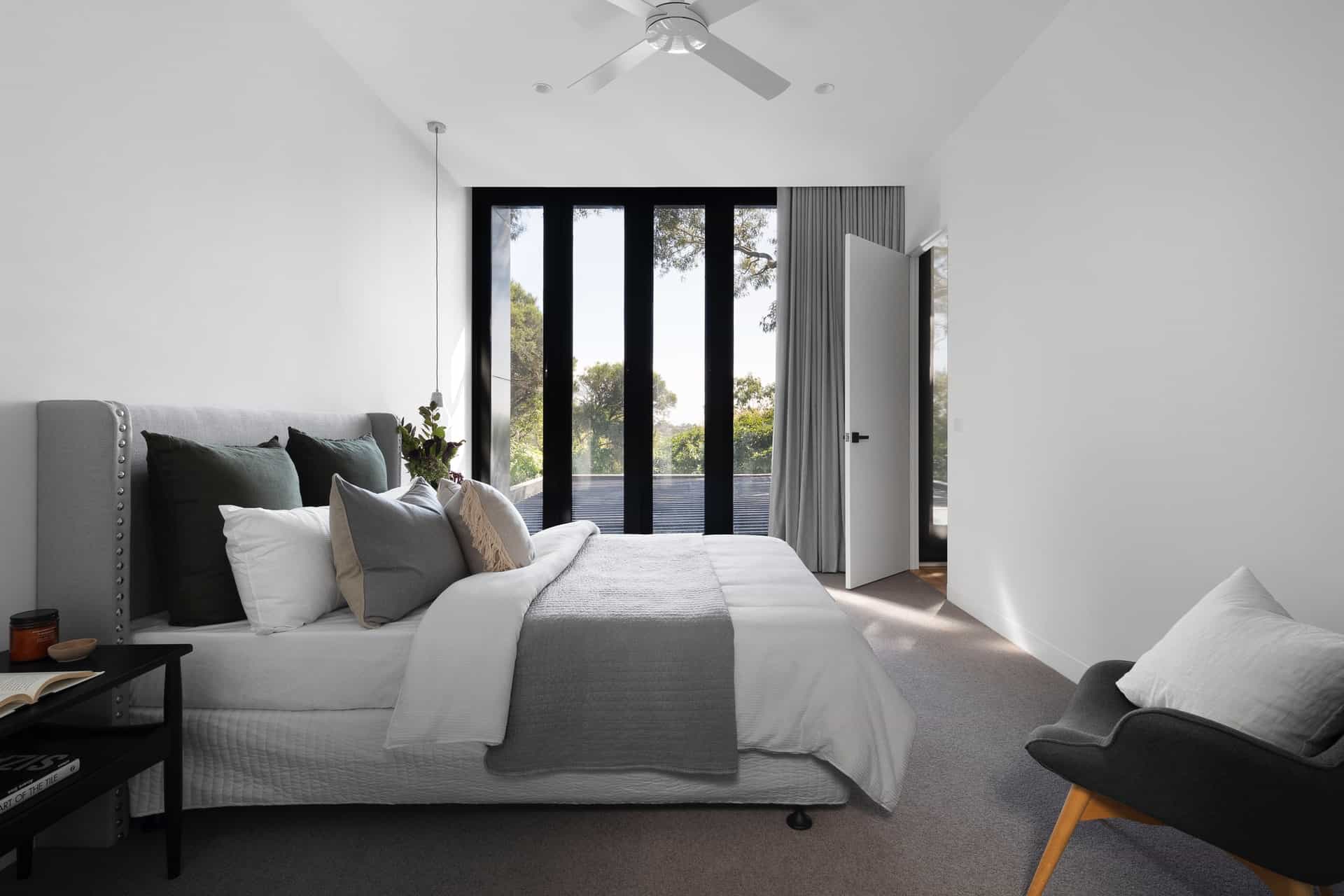 Try to estimate how humid are the conditions in which the fan is going to be located while choosing an outdoor-rated model since even the fans designed specifically for this purpose can corrode or warp if they're exposed to rain frequently.
The cost and warranty period
The price of 72-inch ceilings ranges from $300 to well above $1.000, depending on the model's features, blade material, and numerous other factors. So, to get a mid-range model, you need to spend around $600.
Most manufacturers offer at a least 1-year warranty for their ceiling fans, but even such short warranties can include a lifetime warranty for the motor or other fan's components.
That's why you must check what the warranty for a specific model covers to know if you can repair it for free if it breaks down.
The advantages of 72-inch ceiling fans
Large coverage area
A 72-inch ceiling fan is powerful enough to provide cooling for 400sq/ft to 500sq/ft rooms. Such a large coverage area makes them a great fit for common spaces all members of your household use.
Excellent energy efficiency ratings
Energy Star certified models can supply a high amount of airflow while utilizing moderate amounts of electricity. Hence, a 72-inch ceiling fan can keep your home cool and lower your monthly utility bills.
Variable speed
You don't have to use a ceiling fan at its maximum capacity at all times since most models have between 3 and 6 speeds. This enables you to adjust their output to your current needs and control their power consumption.
The disadvantages of 72-inch ceiling fans
Complicated installation method
You need to connect a 72-inch ceiling fan to your home's electrical system, and in some cases, you also have to install the wall switch. This can be an overwhelming and even a dangerous task for someone who isn't used to working with electricity.
Top 5 72-inch ceiling fans
Monte Carlo 3MNLR72BKD-V1 – The best 72-inch ceiling fan with wooden blades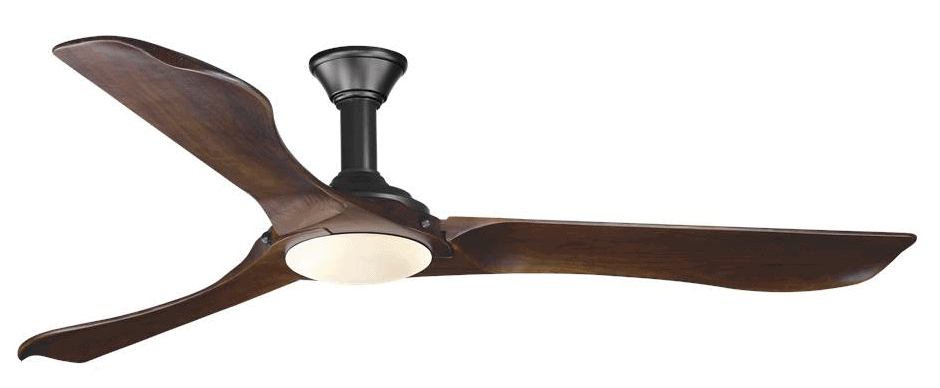 The minimalist 3-blade design of the Monte Carlo 3MNLR72BKD-V1 ceiling fan makes it a great fit for modernly furnished living rooms. The blades are made of walnut wood, and they're approved for outdoor use.
This Monte Carlo model is equipped with a powerful DC motor capable of generating 9468CFM of airflow when operating at maximum capacity. This ceiling fan doesn't make a lot of noise, and it features an LED light that can, at least partially, illuminate the room.
Pros
Operates at six different speeds
Remote control has a reversing function
Blades are available in three finishes
Excellent energy efficiency
Cons
The ceiling fan weighs more than 17lbs
Very expensive
Emerson CF515NA72ORB – The best indoor 72-inch ceiling fan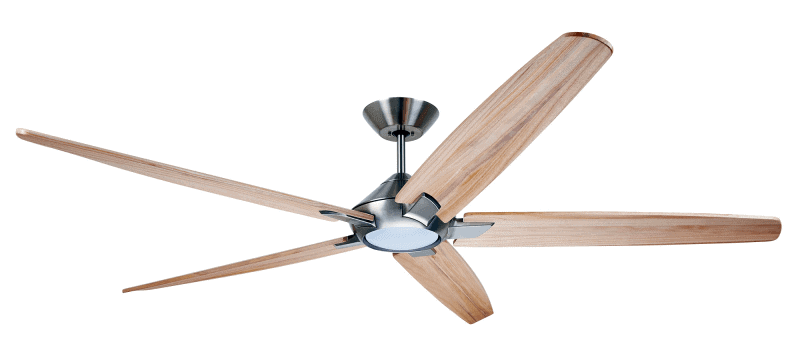 The six-inch downrod makes the Emerson CF515NA72ORB best suited for rooms with low ceilings. The fan has an eco-motor that can provide a maximum of 7377CFM of airflow per minute. You can switch between six speeds and adjust its output to your needs.
Emerson's 72-inch ceiling fan has 5 blades that are made of solid wood, but you should only use it in indoor conditions. The dimmable LED light fixture is protected by a shatter-resistant shade, which enables you to use it as an extra source of light.
Pros
Quiet and powerful motor
Excellent CFM output
Made of sturdy materials
Matches different types of home décor styles
Cons
Short downrod
Wall switch controls
TroposAir Titan II – Best 72-inch ceiling fan for sloped ceilings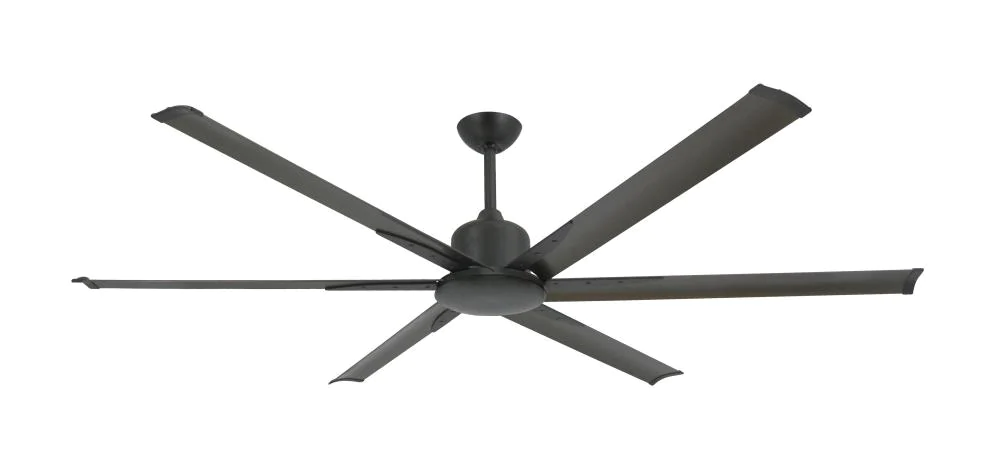 An extra efficient DC motor is the reason why the TroposAir Titan II has an airflow output capacity of 11230CFM. This six-blade ceiling fan is rated for damp outdoor and indoor use, so you can choose if you want to install it on your patio or in your living room.
You can switch between six speeds and decide how much of the fan's output capacities you want to use. The Titan II ships with a hand-held remote that lets you adjust its settings from anywhere within the room.
Pros
Suitable for residential and commercial settings
High airflow output
Mounts on 20-degree sloped ceilings
Great for outdoor and indoor use
Cons
No built-in light
Unreliable performance at high speeds
Quorum International Windmill Ceiling Fan – The most stylish 72-inch ceiling fan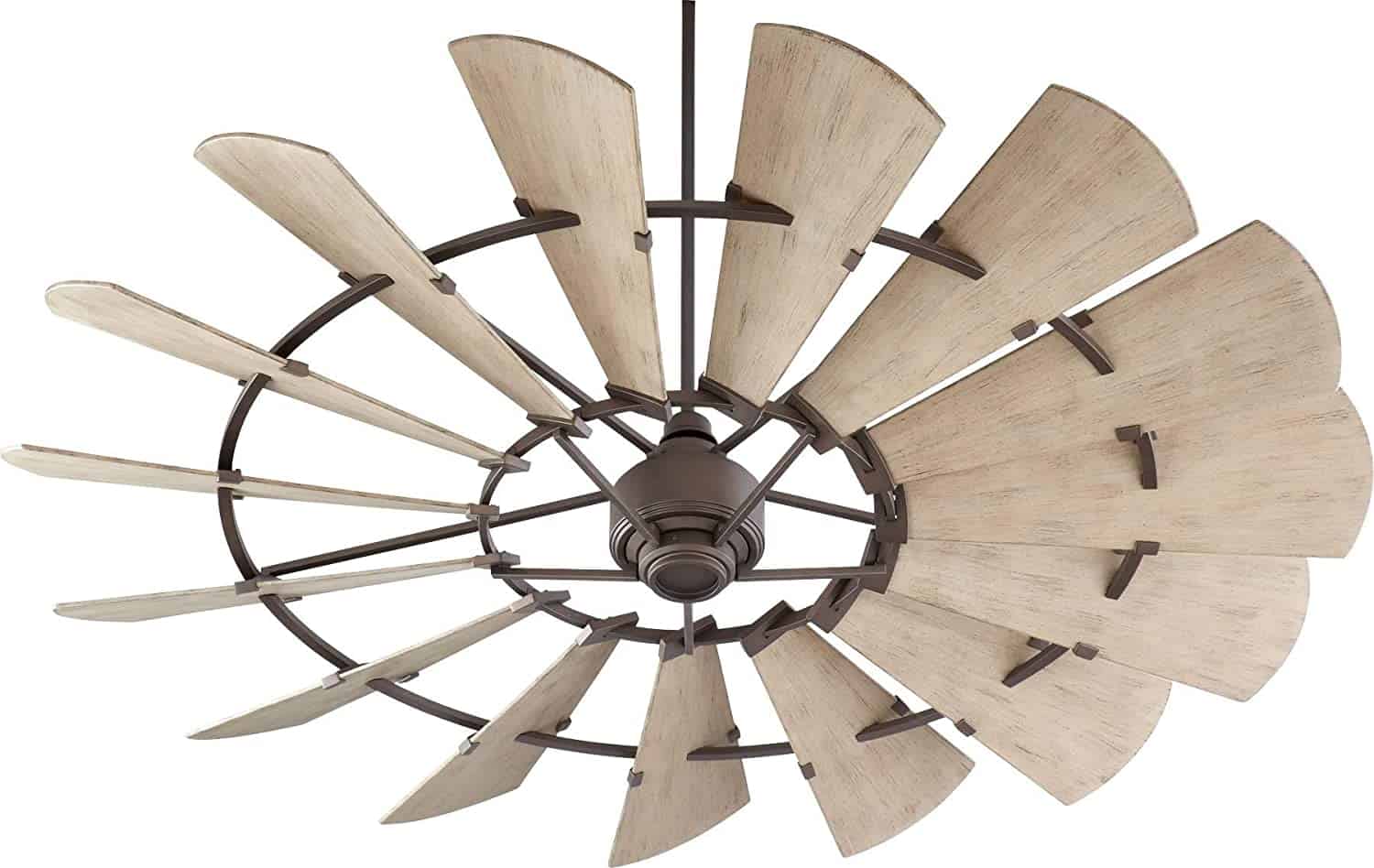 The unusual and unique design of the Quorum International Windmill ceiling fan makes it a great fit for stylishly decorated spaces. The 16.46-inch downrod provides you with a lot of flexibility by allowing you to choose how far the blades are going to be from the ceiling.
This 72-inch fan can operate at six speeds, and you can use a hand-held remote control to change the speed with a push of a button. Besides, Quorum International's model is highly efficient as it generates 85CFM per watt.
Check out our full list of the best windmill ceiling fans.
Pros
Blades are made of weathered oak.
Great for all types of rooms larger than 400sq/ft
Features a light fixture
Long and easily adjustable downrod
Cons
This ceiling fan weighs almost 50lbs
High price tag
Hunter Fan Casablanca – The most budget-friendly 72-inch ceiling fan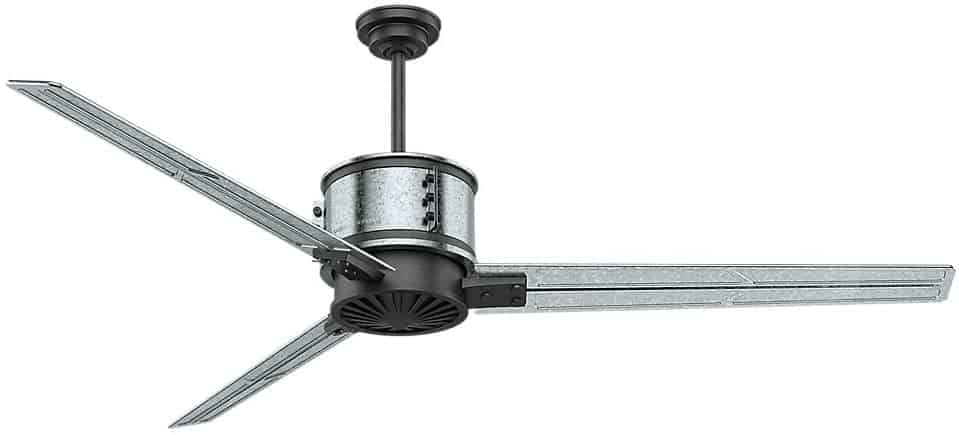 In case you don't want to spend a lot of money on a 72-ceiling fan, you should consider getting a budget-friendly model like the Hunter Fan Casablanca. Despite featuring three galvanized steel blades, this ceiling fan is designed only for indoor use.
Its 11-inch downrod lets you create considerable separation between the ceiling and the blades to maximize the fan's airflow capacity. The energy-efficient direct drive motor has a maximum airflow output of 9475CFM and can operate at three speeds.
Besides standard ceilings, you can also mount the Hunter Fan Casablanca on moderately sloped ceilings.
Pros
Lightweight and durable construction
The manufacturer offers a lifetime motor warranty
Two-position mounting system
Reasonable price
Cons
Crude design
No remote control
Frequently asked questions
Question: Do I have to hire an electrician to install a 72-inch ceiling fan?
Answer: Even though the installation process of a 72-inch ceiling fan isn't very difficult, hiring an electrician might be a safer option, especially if the model you choose has a wall switch control.
Question: Can I use the 72-inch ceiling fan to illuminate an entire room?
Answer: The lightbulbs in a 72-inch ceiling fan are usually not powerful enough to illuminate a room well, and you must add complementary light sources to make sure the room has enough artificial lighting.
Question: How often do I have to replace a 72-inch ceiling fan?
Answer: A mid-range 72-inch ceiling fan should last around ten years, while high-end models may remain functional for two decades.
Question: Do I have to replace a wobbly 72-inch ceiling fan?
Answer: No, but you have to find the source of the problem and fix a wobbly ceiling fan as soon as you can.
Our Verdict: What is the best 72-inch ceiling fan option?
Even though they cannot reduce the air temperature, 72-inch ceiling fans can provide you with instant cooling by circulating the air in the room.
The coverage area of these fans makes them suitable for spaces larger than 400sq/ft, so you should consider alternative options if you need a ceiling fan for a 200 sq. ft room.
We recommend the Monte Carlo 3MNLR72BKD-V1 ceiling fan because it doesn't need a lot of power to generate a high airflow output. Despite its stylistic shortcomings, a model like the TroposAir Titan II can be a great option if you need a ceiling fan you can use outdoors and indoors.
We hope that this guide to the best 72-inch ceiling fans has helped you find the model that matches your home décor style and cooling needs. Share your opinions with us in the comments, or continue reading our guide to the best ceiling fan mounting brackets, retractable ceiling fans, Helicopter ceiling fan ideas or guide to the best enclosed ceiling fans if you're replacing or installing a ceiling fan.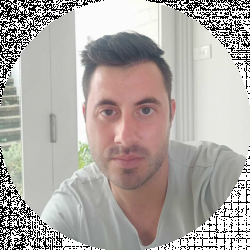 Latest posts by David Borgogni
(see all)