The common view is that aesthetics and ceiling fans don't always go hand in hand since the functionality of these devices is far more important than their visual appearance. The best retractable ceiling fans challenge this notion by combining a high level of functionality with an elegant design.
These devices are multi-functional, and they match a wide range of home décor styles. Hence, they offer an affordable cooling and ventilation solution for living rooms, bedrooms, kitchens, and all other spaces in your home, regardless of the room's style.
In this article, we're going to take a closer look at the most important properties of the best retractable ceiling fans and introduce you to different models that might be a perfect match for your home.
Check out our guide to the best 72-inch ceiling fans if you're searching for a ceiling fan that can keep large spaces cool.
At a Glance – The 5 Best Retractable Ceiling Fans
Selection criteria
The huge selection of retractable ceiling fan models complicates the process of choosing the best units. We've used strict criteria to narrow down our search and find the models that are both beautifully designed and equipped with various features.
Here are some of the parameters we used to pick retractable ceiling fan models we included in this article:
Style – These fans are manufactured in industrial, contemporary, or traditional styles, which enables you to use them in different settings. Our selection includes models that have the characteristics of traditional, rustic, industrial, and contemporary styles.
Light fixture type – All models we featured in this article utilize LED lightbulbs and offer various light control options. The maximum number of lightbulbs you can use simultaneously depends on the model.
The versatility of features – Bluetooth connectivity, built-in speakers, or programmability are some of the options retractable ceiling fans we included in this article offer.
Read our guide to the best-enclosed ceiling fans to find out more about this type of ceiling fan.
What is a retractable ceiling fan?
The best way to describe a retractable ceiling fan is to crossover between a chandelier and a ceiling fan. While in operation, the fan's blades are fully extended to provide the maximum air flow volume, and they retract automatically to approximately half of their size once you switch the fan off.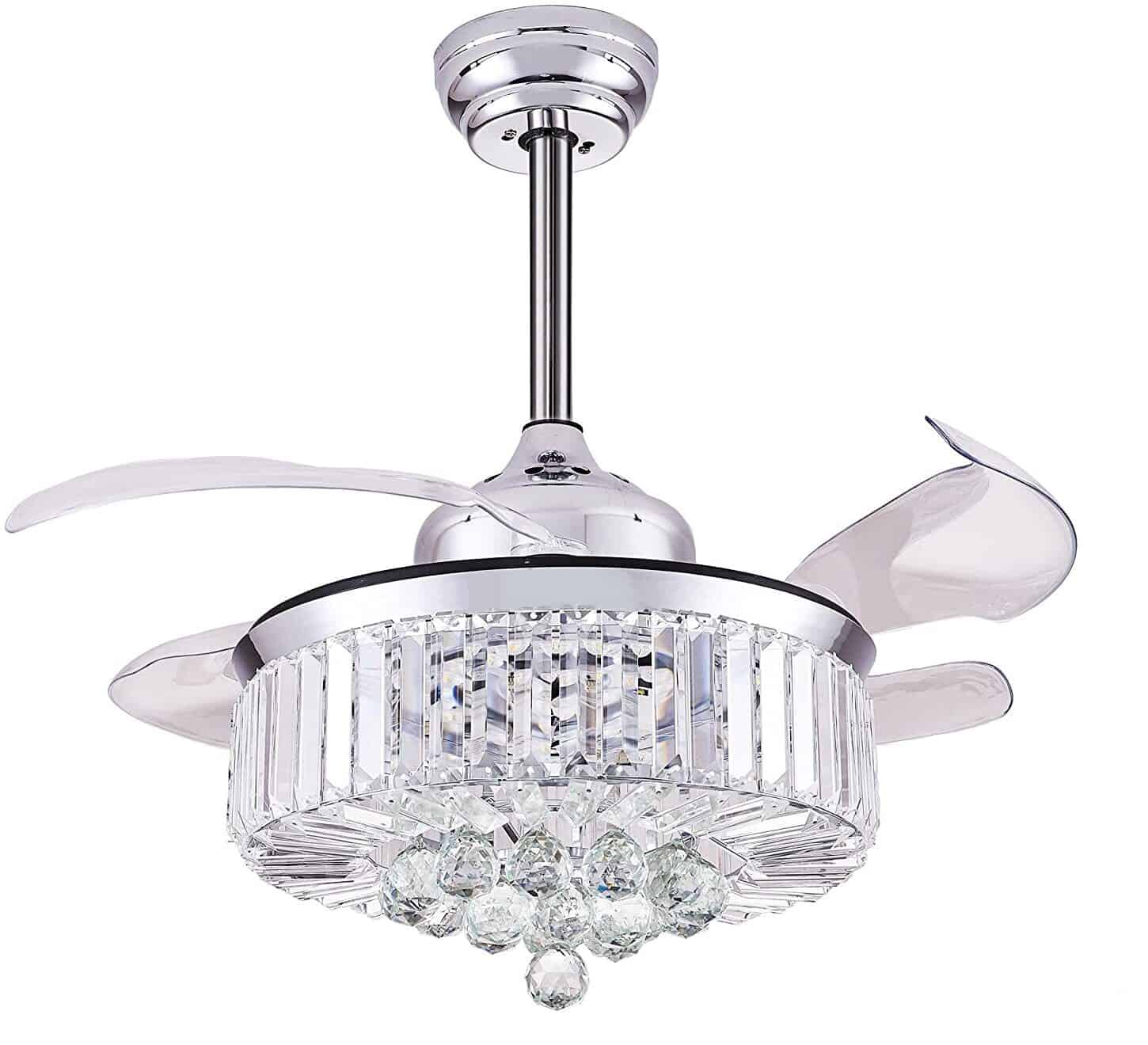 Retracted blades are concealed from view, and they don't affect the visual appearance of the chandelier. This enables you to use these appliances to illuminate the space without having to activate the fan. In addition, most models let you control the brightness and the warmth of the light.
Units with retractable blades are a great fit for spaces with low ceilings as they're not a safety hazard even if you install them less than 7 feet away from the floor. Depending on their mount type, these fans can be installed on standard, slopped, or vaulted ceilings.
Browse through our guide to the best window fans if you're searching for an alternative to retractable ceiling fans.
Blade length and materials
Unlike conventional ceiling fans with blade diameters spanning from 24 to more than a hundred inches, most retractable units have a relatively small diameter. Consequently, you can choose between models with blade diameters that range from 30 to 50 inches.
The blades are usually built from the following material:
ABS plastic is by far the most common material used to produce the blades of retractable ceiling fans. ABS plastic is an affordable material, which is why models equipped with blades made from it are usually inexpensive.
Units equipped with retractable blades made of wood or metal are rare, although these materials are used to produce the lampshade and other components. Despite having mostly plastic blades, these fans are remarkably durable as their average lifespan is between five and ten years.
Read our guide to the best ceiling fan mounting brackets to learn more about the installation process of retractable ceiling fans.
Motor and airflow volume
The blade diameter and motor's power are the two factors that determine the airflow capacity of all types of ceiling fans. For example, models with retractable blades can't generate enough airflow volume to cool rooms larger than 200sq/ft.
A 42-inch unit can generate around 3000 CFM, while a retractable ceiling fan with a 30-inch diameter is powerful enough to cool a 75sq/ft of space. These fans can either have AC or DC motors, and their performance capabilities largely depend on their motor.
AC motors – Even though they offer plenty of power and torque, they are loud and energy inefficient. However, fans equipped with these motors aren't expensive.
DC motors – Lower power consumption, excellent durability, or quiet operation are advantages DC motors have over AC motors. Also, DC motors allow for more intricate fan speed adjustments than AC motors.
Go through our fan electricity usage guide for more information on how much power ceiling fans use or read here to learn more about the highest CFM ceiling fans.
Light fixtures
A light fixture is a standard component of retractable ceiling fans, so when you're not using them to cool or ventilate a room, you can use them as a source of light. However, it is worth noting that the fan function doesn't activate automatically every time you switch on the light.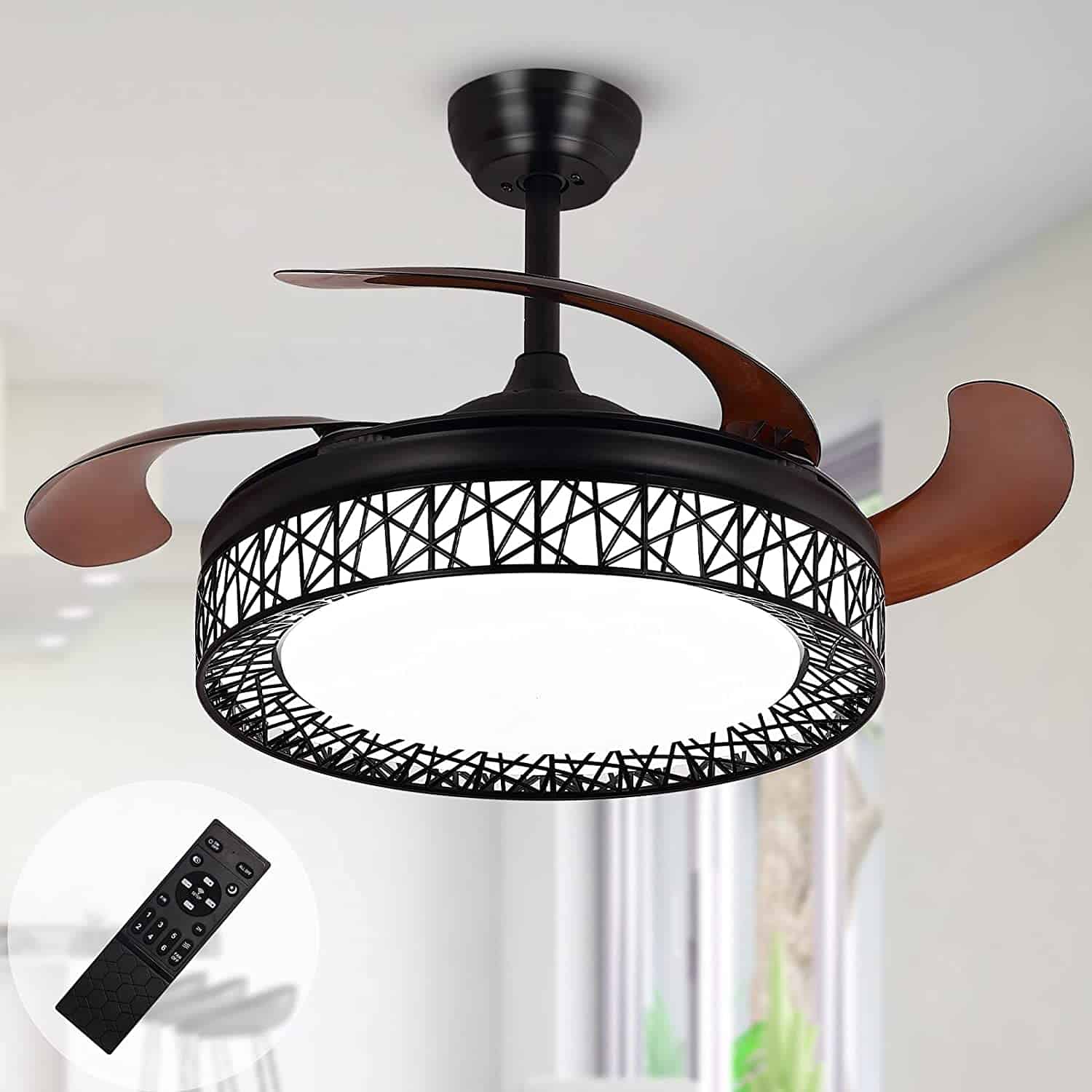 Most models feature a single ceramic light socket compatible with E26 LED bulbs, while some units have up to four light sockets. Depending on the light bulb's wattage size, a retractable ceiling fan can illuminate an entire room or just a specific area.
In addition, some units allow you to adjust the light settings and choose its warmth or set the brightness level. You can regulate these settings through a remote controller, wall switch, or an app if the fan is Bluetooth compatible.
Check out our guide to ventilation systems if you're looking for a way to improve the ventilation system in your home.
The most important factors to consider while choosing a retractable ceiling fan
The size of the room where the retractable ceiling fan will be installed is arguably the most important aspect you have to consider before starting to explore your options. Unfortunately, these fans have a limited coverage range, making them a poor fit for spaces over 200sq/ft.
You should also keep in mind that some models can only illuminate a relatively small area if you're planning to use this type of fan as a primary source in a room where you want to install it. Let's take a look at more factors that can make the retractable ceiling fan selection process easier.
Mount type
Almost all retractable ceiling fans use a downrod mounting method, as they're designed for standard ceilings taller than 8 feet. They often arrive with two downrods with different lengths so that you can choose how far the fan is going to be from the floor.
Some models include an installation kit for sloped ceilings, but you need to check the unit's pitch to determine if it is compatible with the ceiling's angle. The flush mount method is also commonly featured on retractable ceiling fans.
Control options
The fan and the light of these fans are usually controlled with a remote controller that arrives as a part of the package. The exact options you'll have at your disposal vary from model to model, as some units have just 3 fan speeds, while others can operate at 6 different speeds.
A wall switch is another common control option for these fans that allows you to control them as any other light fixture in your home. In addition, you can adjust the settings of Bluetooth-enabled models using an app on your smartphone.
Noise level
Checking this information can be difficult because manufacturers don't always include it in the product description. For example, on average, a ceiling fan makes between 30dB and 70dB of noise while operating at full speed.
Models equipped with a DC motor are usually less noisy than fans powered by AC motors. Also, the number of blades and their diameter affect the unit's level of noise level, as models with fewer blades tend to be louder than the ones that have 5 or more blades.
Ceiling fan's style
These fans attract a lot of attention because they're also used as chandeliers. That's why failing to match them with the rest of the furniture can create a sense of disharmony in a room. You can pair a retractable ceiling fan with traditional, industrial or modern home décor styles.
In addition, a carefully selected fan can create a strong contrast with the rest of the room's furniture, which enables you to combine an industrial-style retractable fan with contemporary and other home décor styles.
The complexity of the installation process
Even though the process of installing a retractable ceiling fan isn't difficult, it still takes between two to four hours to complete it. You shouldn't go through this process alone if you don't feel comfortable working with electricity.
These fans are considerably heavier than light fixtures, which is the reason why you should consult with an experienced professional while choosing their place in a room.
Failing to provide them with the support they need can cause an accident if the setup isn't strong enough to carry the fan's weight.
The advantages of retractable ceiling fans
A wide range of options
A huge selection of available models enables you to choose the size, color, or style of the unit that best matches the space you want to cool. You can decide how powerful you want the fan to be depending on the room's cooling and ventilation requirements.
Multi-functionality
Besides providing an instant source of cool air, a retractable ceiling fan can also serve as a light source the illuminates the entire room. Some models are even equipped with speakers, and you can use them to listen to music while performing your daily activities.
Long lifespan
Besides occasional dusting, there isn't much else you need to do to keep these fans in great condition. So, with minimal upkeep, you can continue using the same retractable ceiling fan for more than a decade.
The disadvantages of retractable ceiling fans
Limited cooling range
The maximum airflow volume you can expect from a fan with retractable blades rarely exceeds 3,000 CFM.
That's why even the most powerful models have a reliable cooling option for small rooms, and you should consider getting two or more units if you need an economic cooling solution for a space larger than 400sq/ft.
Top 5 retractable ceiling fans
POCHFAN Retractable Ceiling Fan – The best downrod mount retractable ceiling fan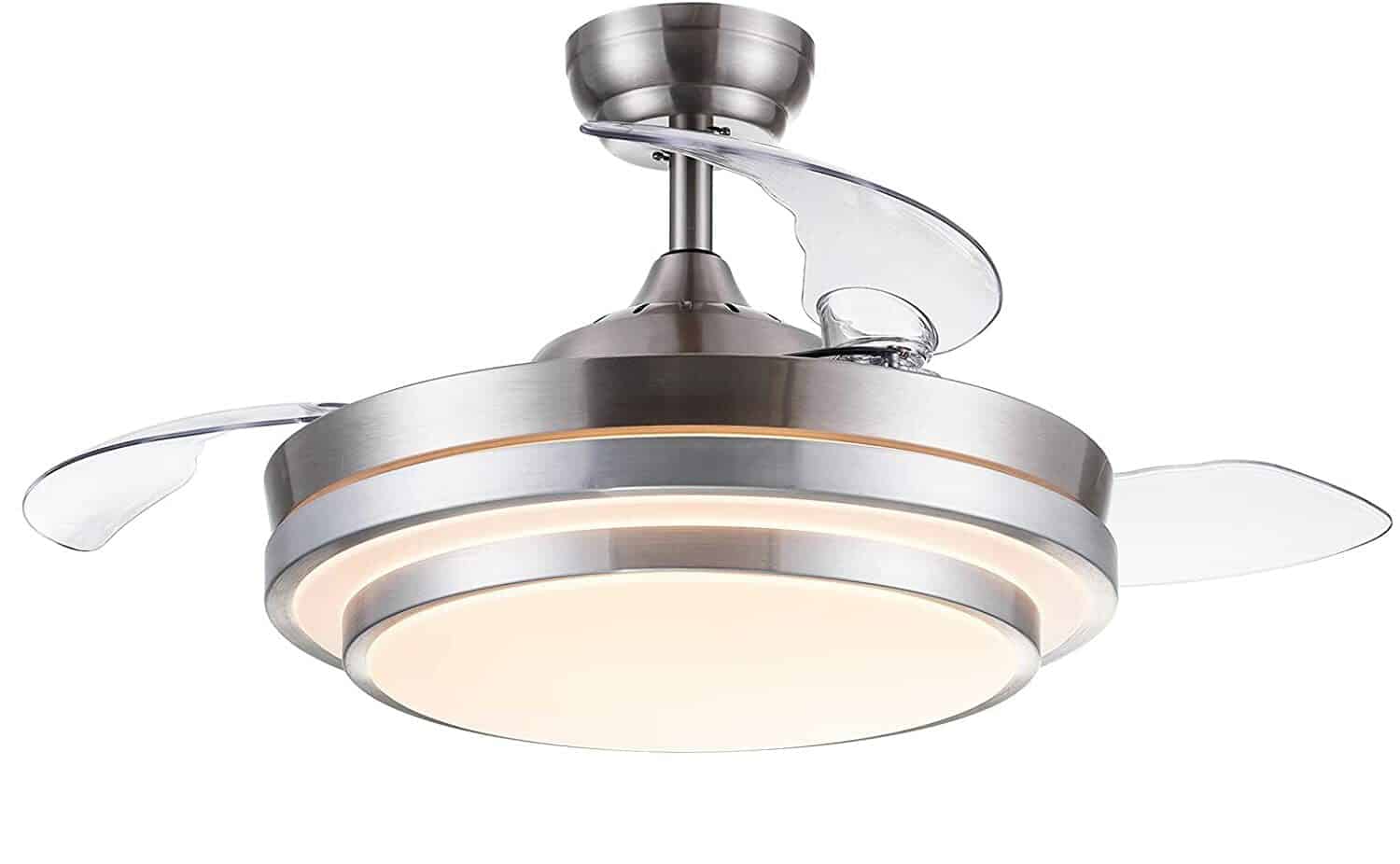 With a downrod length of 5 or 8 inches, the POCHFAN retractable ceiling fan is a great fit for spaces with low ceilings or rooms with sloped ceilings that have a 15-degree pitch. Its blades are made of transparent plastic, and their diameter is 42-inches when fully extended or 21-inches when retracted.
An AC motor made of copper and silicon steel that can operate at three speeds powers this Porchfan's model. You can program the fan to run continually for 1, 2, 4, or 8 hours and choose the warmth of its 36W LED light.
Pros
Modern and sleek design
Simple light adjustments
Programming the fan is easy
Sturdy and lightweight construction
Cons
Can't generate high airflow volumes
Light control options could be improved
Parrot Uncle Retractable Ceiling Fan – The quietest retractable ceiling fan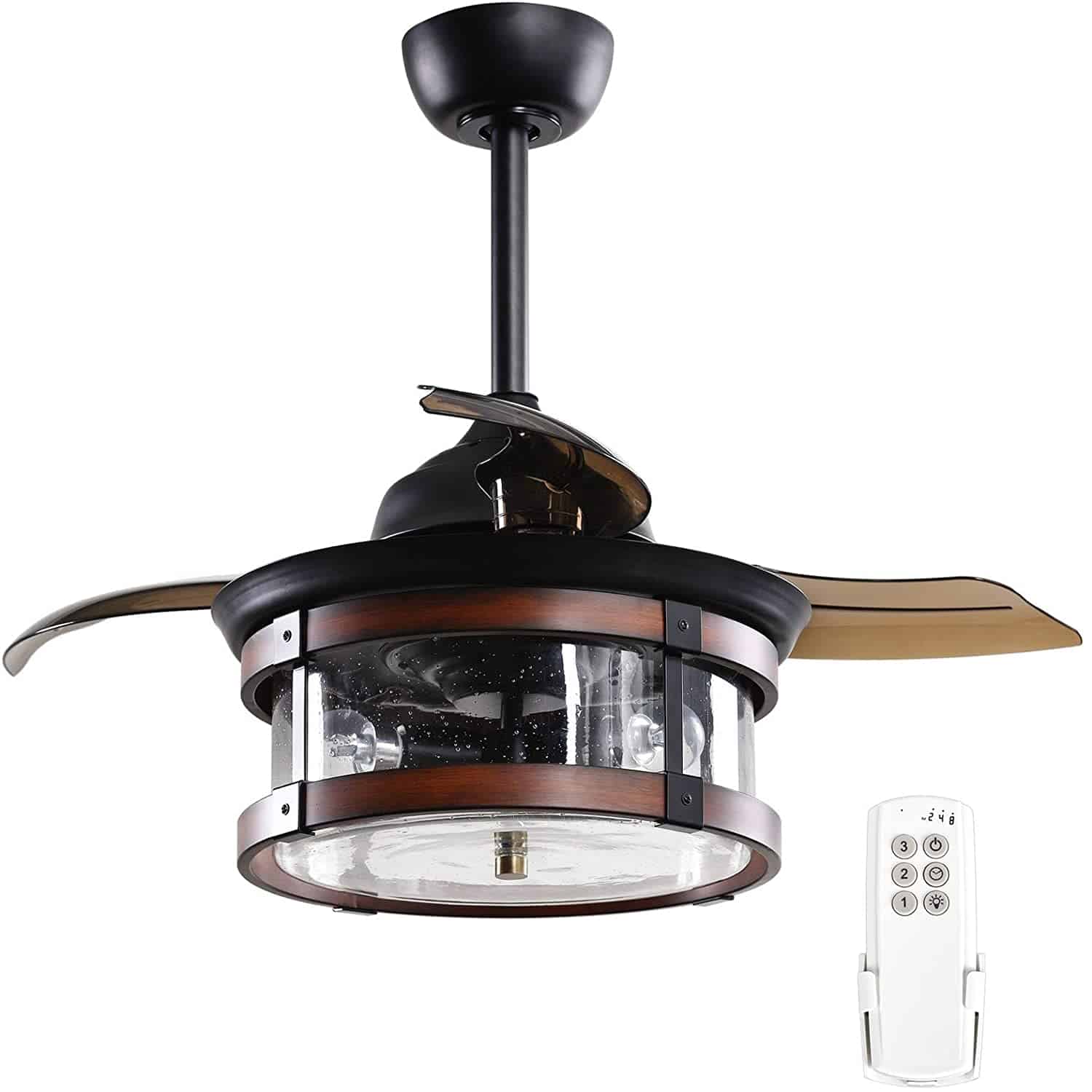 The wooden frame and a glass lampshade give the Parrot Uncle Retractable Ceiling Fan a vintage rustic look. You can add three E26 LED or halogen lightbulbs to this fan to ensure it can provide enough light for the entire room.
The blades are almost invisible when the fan isn't in operation, and you can use the unit's remote to activate the fan or adjust the blade speed, but keep in mind that it cannot produce more than 2384 CFM of airflow.
The Parrot Uncle's model makes less than 30dB of noise while operating at the maximum capacity.
Pros
Stylish design
Dual mount for sloped and conventional ceilings
Blades are perfectly concealed
Reasonably priced
Cons
Lights aren't dimmable
High power consumption
Hall of Lamp Retractable Ceiling Fan – The most affordable retractable ceiling fan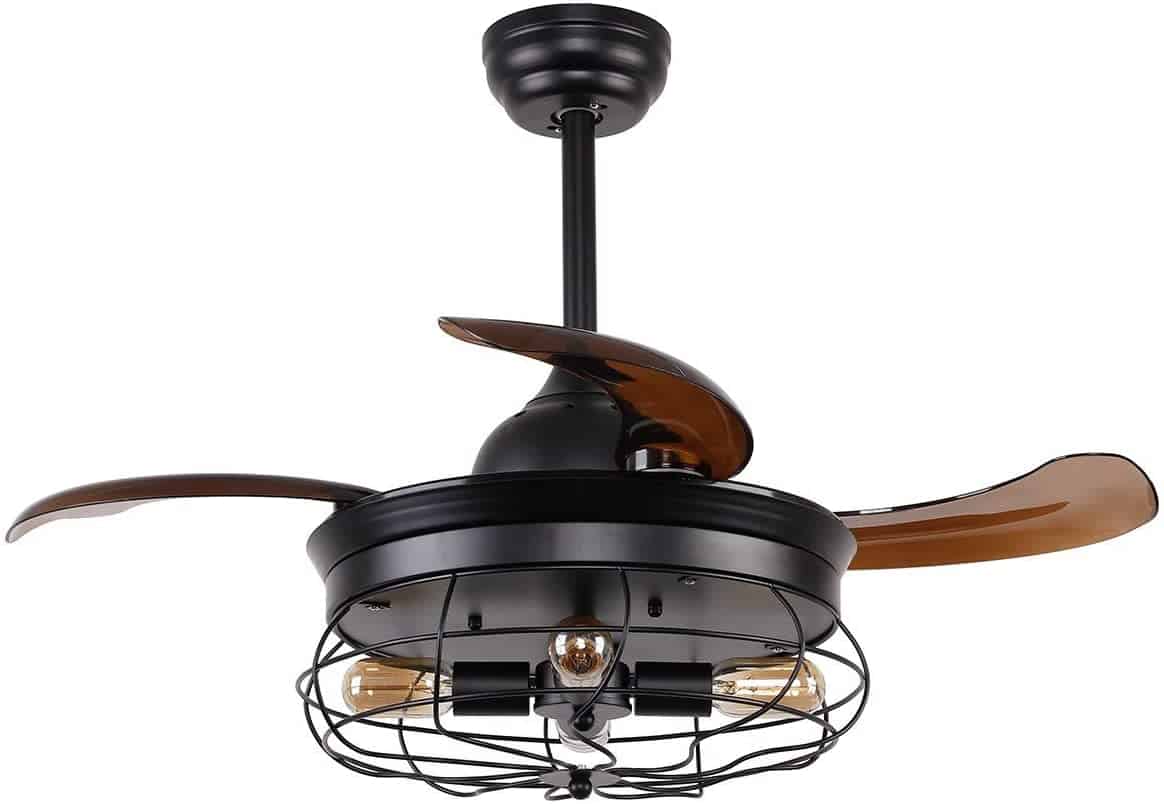 Despite being one of the least expensive options on the market, the Hall of Lamp Retractable Ceiling Fan still offers plenty. Its acrylic blades have a 34-inch diameter, and they fold automatically when you switch off the fan.
The unit has four ceramic light sockets compatible with E26 bulbs, but you cannot dim them or change their warmth. You can control this fan with retractable blades with a remote that offers only basic functions since programming the fan or reversing the blade rotation direction isn't possible.
Pros
Industrial look
A reliable light source
Multiple downrod options are available
Affordable price
Cons
Small blade diameter
Difficult installation process
Ohniyou Retractable Ceiling Fan – The best variable speed retractable ceiling fan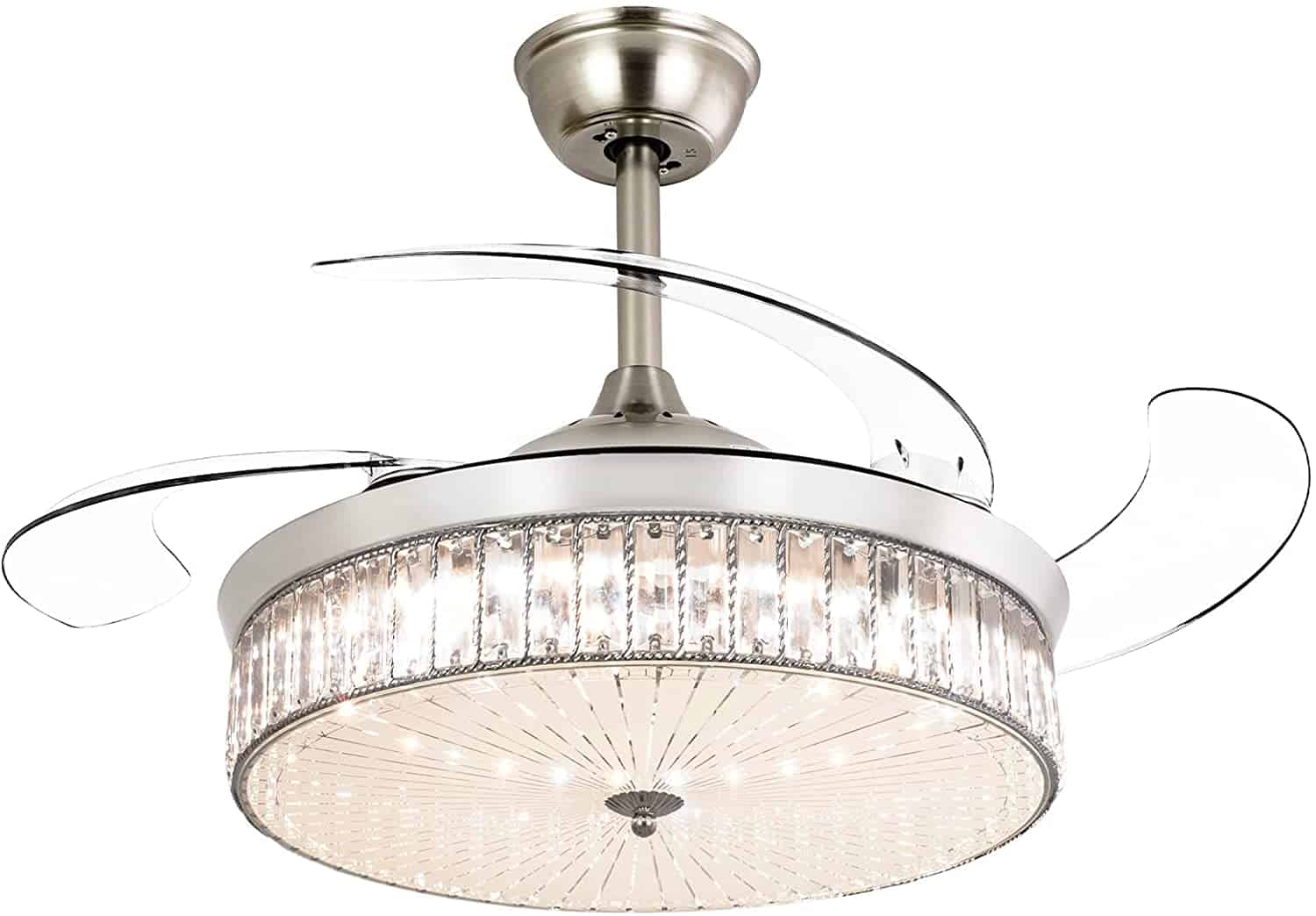 The flush mount method enables you to install the Ohniyou Retractable Ceiling Fan safely from the floor. The unit's DC motor allows you to use the fan at six speeds and adjust its output to your needs.
The diameter of the ABS plastic blades is 42-inches, and you can choose their rotation direction. The lampshade is made of crystal, and it houses a 48W LED light. The remote lets you change the fan's speed settings or alter the brightness and the warmth of the light.
Pros
Excellent energy-saving features
Low noise level
Variable fan speed
A wide range of applications
Cons
One-year warranty
More expensive than similar models
DewShrimp Retractable Ceiling Fan – The best Bluetooth-enabled retractable ceiling fan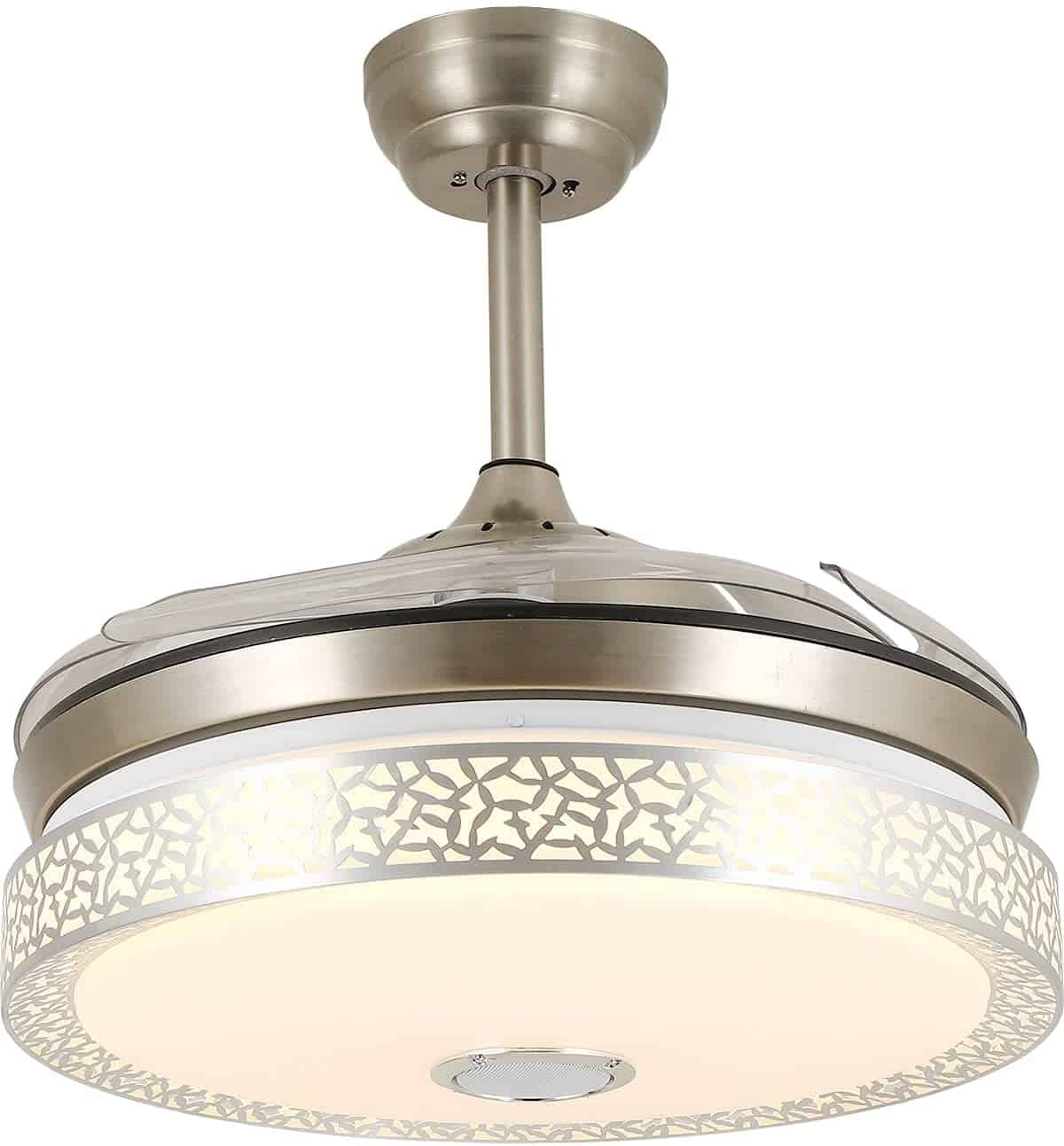 Four timer settings enable you to program the DewShrimp Retractable ceiling fan to run for an hour or 8 hours, depending on your cooling needs. You can adjust all of the fan's settings via a remote controller.
The most attractive feature this ceiling fan offers is Bluetooth connectivity because you can pair it with your phone and use the unit's speaker to listen to music or news. 42-inch blades can operate at low, medium, and high speeds, while the fan's light can have cold, medium, or warm colors.
Pros
Great cooling and ventilation capabilities
Features a built-in speaker
Modern and functional design
2-year warranty
Cons
High power consumption
Limited speed control options
Frequently asked questions about retractable ceiling fans
Question: How to clean a retractable ceiling fan?
Answer: Cleaning a retractable ceiling fan is easy since you just have to use a cloth to remove the dust from the blade and the lampshade.
Question: Can I install a retractable ceiling fan outdoors?
Answer: No, unless the model you choose is rated for use in humid conditions.
Question: Are the lights on all retractable ceiling fans dimmable?
Answer: The light dimming option isn't available on all fans with retractable blades.
Question: How many rotations per minute can retractable ceiling fans have?
Answer: The fan's maximum speed depends on the model, but in most cases, these fans can't develop speeds higher than 300 RPM.
Our verdict: Selecting the most functional and elegant retractable ceiling fan
The multi-functionality of these fans makes them an attractive option for almost every room in a home because they are stylish enough to be installed in a living room and functional enough to help you get rid of strong odors in a kitchen.
Their airflow capacity isn't impressive, but it is still sufficient to supply ventilation in rooms with up to 200 sq/ft. We recommend the Ohniyou Retractable Ceiling Fan because it has excellent cooling and light control features.
If you're looking for a more affordable option, you should consider getting the POCHFAN retractable ceiling fan. Hopefully, this article has helped you discover the best retractable ceiling fan for your home.
Let us know in the comments or continue reading our guide to the best bladeless ceiling fans or guide to cooling systems if you need to regulate the room temperature in large spaces.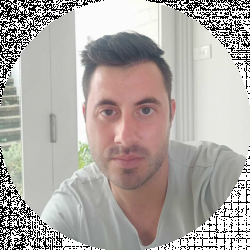 Latest posts by David Borgogni
(see all)