Estimating your cooling and heating needs is one of the first and most important things you need to do to determine which type of cooling system you need. Some of the best Lowe's mini-split options might be a long-term heating and cooling solution for your home or office.
This home improvement retail store is one of the best places to shop for ductless mini-split systems because it offers a huge selection of models produced by some of the best brands in the industry.
This article will provide you with the information you'll need to find a mini-split option that is a good fit for the space you want to heat or cool. We'll also introduce you to some of the best best Lowes mini split models you can find at this home improvement store.
You should check out our guide to mini-split systems if you're not familiar with how they work.
At a Glance – The 5 Best Mini-Splits at Lowe's
Selection criteria
Lowe's offers more than 200 mini-split models with different performance capabilities. We've used a wide range of parameters to shortlist the units we've considered.
The system's affordability, its temperature operating range, or a maximum number of fan speeds were among the criteria that helped us pick the best Lowe's mini-splits. Let's take a look at the most important search criteria we've used to choose the models we included in this article.
The number of zones – Lowe's selection of mini-splits includes single-zone and multi-zone models with different output capacities. We picked units that have between one and five indoor air handlers so that you can choose the option that best matches your needs.
Heating and cooling capacities – You cannot find models with output capacities higher than 4 tons at Lowe's. That's why we selected units that can supply between 1 and 4 tons of heating and cooling power.
Energy efficiency – The vast majority of models you can find at Lowe's have high SEER, EER, and HSPF ratings. Our selection of mini-splits includes units that have SEER ratings higher than 17.
Read our guide to the best 36,000 BTU mini-splits to learn more about what 3-ton versions of these systems have to offer.
Lowe's mini-split brands
Despite being one of the largest home improvement retailers in the United States, Lowe's only offers mini-splits manufactured by a handful of brands. As a result, the selection of MrCool's mini-splits is the most versatile since you can choose from more than a hundred models.
In addition, the store offers a large number of units manufactured by Celiera and Bosch, while brands like Aux, DuctlessAir, and Royal Sovereign are represented by a handful of models.
You can also search for units from a specific series like MrCool's Olympus Hyper Heat or Bosch's Climate 500. Nonetheless, mini-splits manufactured by LG, Pioneer, and other industry-leading brands aren't available at Lowe's.
That's why you must explore the options offered by other retailers if you don't want to get mini-splits produced by any of the brands you can find at Lowe's. Check out our guide to the best 12,000 BTU mini-splits if you need a mini-split with a relatively narrow coverage range.
Types of mini-splits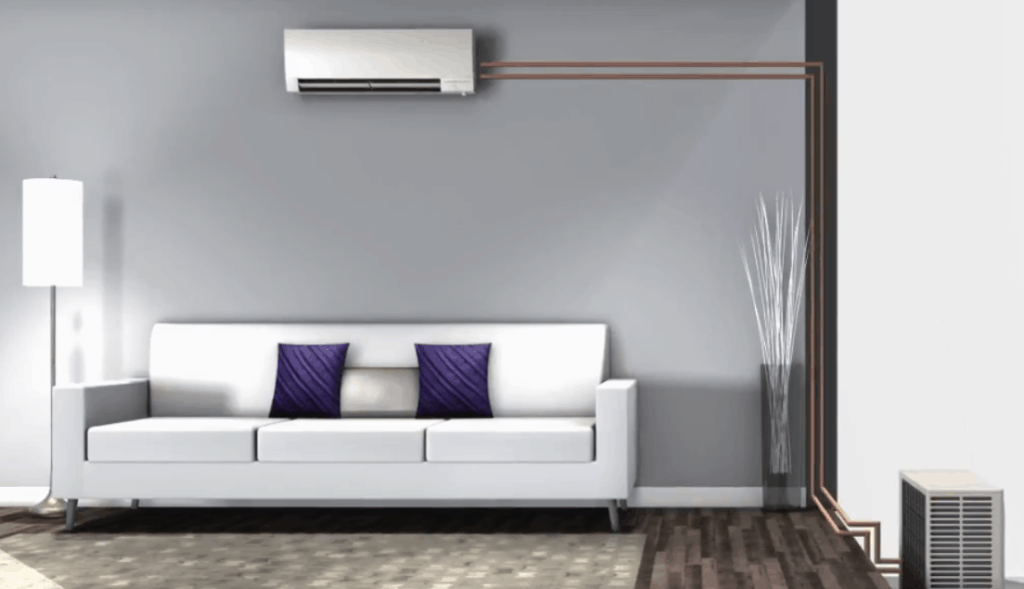 All mini-splits have the same components regardless of their size, and they contain an outdoor compressor and one or more indoor air handlers.
These two parts are connected by line sets, semi-flexible copper pipes that enable the air and the refrigerant to circulate between the outdoor and indoor components. Based on the number of indoor air handlers a system has, you can choose between single-zone and multi-zone mini-splits.
Single-zone – The compressor's maximum heating and cooling output match the air handler's output capacity. Their size varies from 9,000 BTU to 36,000 BTU, and you can use them to regulate the temperature in spaces that have up to 1,800sq.ft.
Multi-zone – These systems usually contain between two and five indoor air handlers that control the room temperature in different zones separately. Multi-zone models you can find at Lowe's have compressors with 2 to 4-ton cooling and heating capacity, while the output of individual air handlers varies from 9,000 BTU to 24,000 BTU.
Go through our guide to the best vertical window air conditioners if you're considering alternatives to mini-split systems.
Energy efficiency
Nearly all mini-splits at Lowe's have the heat pump feature, which means they're designed for year-round use.
Checking the model's energy efficiency ratings will enable you to calculate your monthly heating and cooling expenses and determine if the system's average power consumption justifies its cost. There are three ratings you need to pay attention to while considering different mini-split options at Lowe's.
The EER or energy efficiency ratio indicates the unit's power consumption on the hourly level, and you should avoid mini-splits with EER ratings below 10.
SEER and HSPF ratings show you the mini-split's seasonal cooling and heating efficiency, and they allow you to estimate how much power you have to spend to run a unit throughout the entire heating or cooling season.
The only downside is that both of these ratings are calculated at specific temperature ranges, so the model you choose can turn out to be less energy efficient at extreme outdoor temperatures. Read our guide to the best 4-ton ACs to learn more about split system heating and cooling options.
Key features of mini-splits
The performance of a mini-split system doesn't solely depend on its output since numerous other features contribute to the level of comfort it offers. Besides regulating the room's temperature, these systems enable you to ventilate a space or control the air humidity.
Let's take a closer look at some of the most important features of these systems.
Auto Clean mode – Evaporator coils are exposed to high humidity levels, and without proper maintenance, they corrode quickly. Models equipped with the Auto Clean mode get rid of the moisture and microorganisms automatically to prevent damage to evaporator coils or any other part of the system.
Sleep mode – This feature can be very useful if you live in a region where temperatures decrease significantly during the night. Activating the Sleep mode ensures that the unit is going to continue regulating room temperature throughout the night.
Washable filters – Opting for a model that has a reusable filter reduces the system's maintenance costs since they usually last between 24 and 36 months. Getting a mini-split equipped with a HEPA or anti-microbial air filter can help you remove allergenic particles from your home.
Browse through our guide to humidity systems to find out how you can regulate air humidity levels in your home.
The most important factors to consider while choosing a mini-split at Lowe's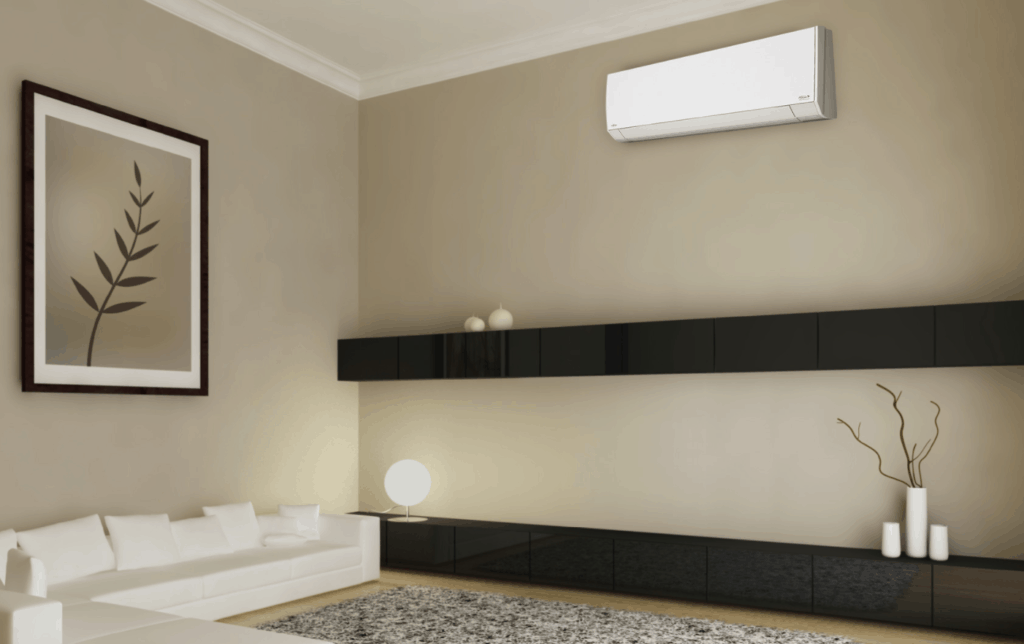 Lowe's online store grants you access to powerful search tools that make the process of finding the mini-split that meets your demands. However, these tools won't be of much use if you don't know exactly what you're looking for.
We've shortlisted some of the most important factors that can help you navigate through the retailer's impressive selection of mini-split systems.
Unit's power output
The mini-splits you can find at Lowe's can have outputs that range from 9,000 BTUs to 48,000 BTUs. The cooling and heating capacities of the model you choose should be adjusted to the space where the system will be installed.
Units with 9,000 BTUs are a great solution for a single room, while 3-ton or 4-ton mini-splits are designed to regulate the temperature in an entire home.
It's advisable to consult with an HVAC technician while calculating the size of a mini-split you need since the unit's coverage range doesn't depend only on its power output.
Energy efficiency ratings
There's just one simple rule you have to follow while determining how energy efficient a mini-split system is. The higher the EER, SEER, and HSPF ratings are, the more energy-efficient the unit is. Finding this information is easy because all manufacturers include it in the packaging of their products.
Also, you should consider getting an Energy Certified model if you want to ensure that the system you choose isn't going to increase your monthly power consumption significantly.
Noise levels
Mini-splits make different levels of noise while operating at low and high capacities. In addition, their noise level also depends on their size, so a 4-ton unit will be considerably louder than a 1-ton unit.
The noise these systems make while operating at maximum capacity can reach 60dB, but most units operate within the 20dB to 40dB noise range. Considering this feature is only important if you want to install an indoor handler in your bedroom.
Delivery and installation options
Lowe's has a nationwide network of professional HVAC installers to guide you through the entire mini-split selection and installation process.
You can schedule an appointment with a contractor who will recommend the most suitable size of a mini-split system for your home and provide you with an estimate of the installation costs.
The delivery times depend on several factors but in most cases, your mini-split will be delivered within 5 to 10 workdays.
Costs and warranty duration
The price range of Lowe's mini-splits spans from $600 for entry-level single-zone models up to $6,000 for penta-zone units.
Hence, finding an option that fits your budget shouldn't be too difficult, but you should remember to add the installation costs to the mini-split's initial price, even if you opt for a unit that comes with a DIY installation kit.
The length of the compressor and parts warranty usually isn't the same, and it varies from one brand to another. Most brands offer 5 to 10-year warranties for the compressor and 2 to 5-year warranties for other system components.
The advantages of Lowe's Mini-Splits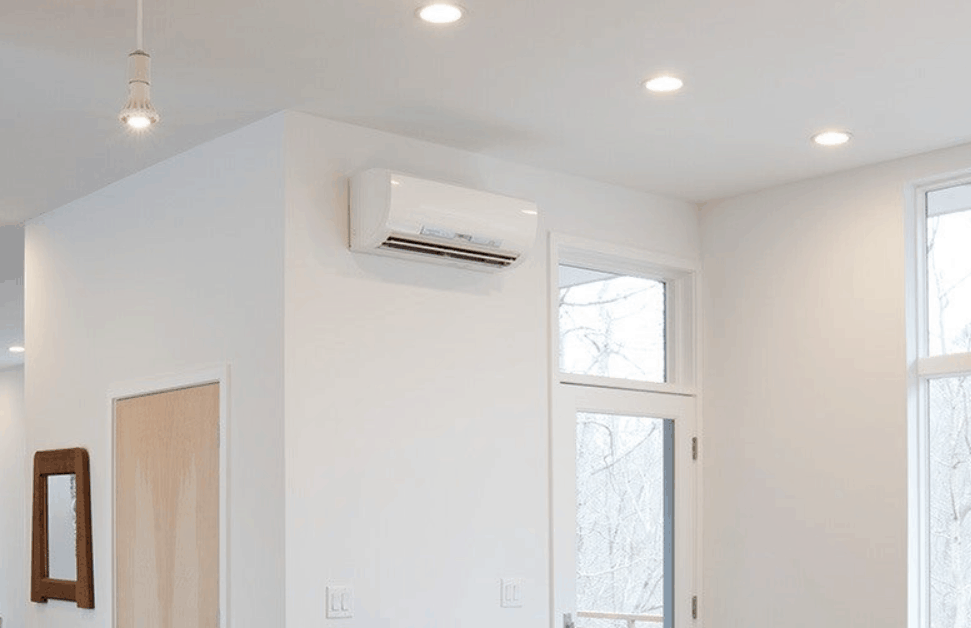 Powerful search tools
Lowe's online store lets you use the search tools to choose the mini-split's size, number of zones, features, or price range. These tools help you narrow down your search so that you don't have to browse through hundreds of mini-split models.
Multiple mini-split size options
A 9,000 BTU mini-split is the smallest system you can find at this home improvement store, while the largest output capacity of these systems is limited to 48,000 BTUs. This enables you to choose a model with a heating and cooling output that matches the size of the space where you want to use it.
A nationwide network of HVAC installers
Shopping for a new mini-split at Lowe's enables you to use the company's network of certified HVAC installers that help you choose the right model and install it.
Moreover, you can use the services of these contractors to perform maintenance checks or repair faulty components.
The disadvantages of Lowe's Mini-Splits
Limited brand selection
Despite featuring hundreds of mini-splits, Lowe's offers models produced by just six brands. That's why this home improvement store might not be the right place for you if you're searching for a mini-split produced by a specific brand.
Top 5 Lowe's Mini-Splits
Aux ASWH12U3/JIR1D1US-A – The most affordable single-zone mini-split at Lowe's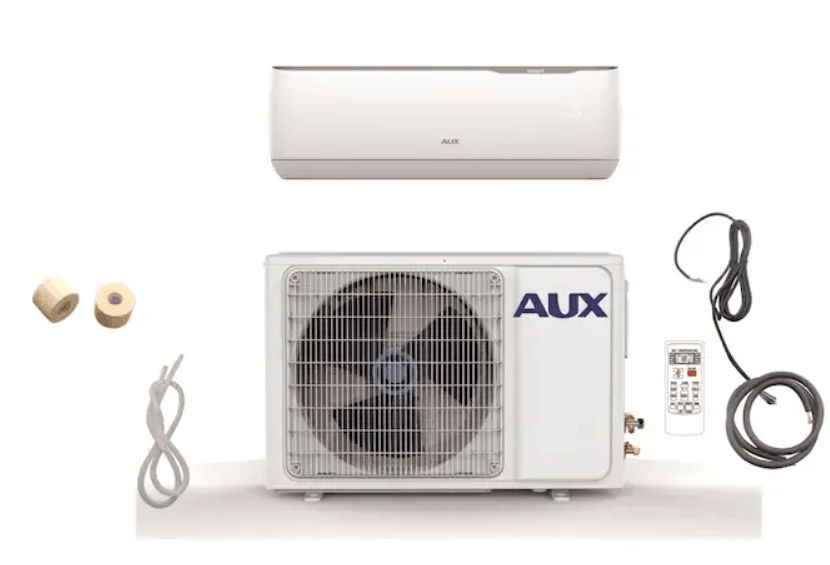 Even though it is one of the cheapest mini-splits at Lowe's, the Aux ASWH12U3/JIR1D1US-A still has a lot to offer. The unit has the maximum heating and cooling capacity of 12,000 BTUs, which makes a perfect fit for spaces up to 600sq/ft.
Its Timer function allows you to choose how often and for how long you want the unit to run while activating the Sleep mode ensures that the room temperature will remain the same throughout the night.
This Aux's mini-split isn't WiFi compatible, and you can only adjust its settings with a remote.
Pros
Multiple air control options
Features a variable speed compressor
Affordable
Easy temperature adjustments
Cons
All installation accessories are sold separately
1-year warranty
DuctlesAir D27-12-18 – The best dual-zone mini-split at Lowe's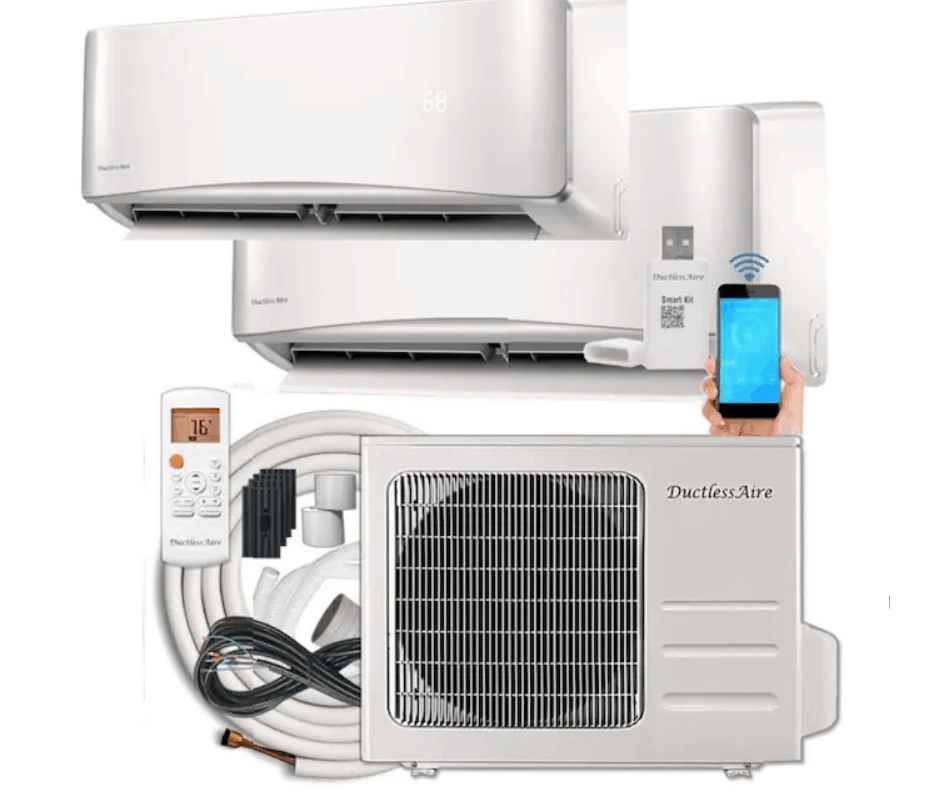 You can heat or cool up to 1,300sq/ft with the DuctlesAir D27-12-18 mini-split using its 12,000 BTU and 18,000 BTU air handlers. The unit is not Energy Star certified, but it still has high SEER, EER, and HSPF ratings that vouch for its energy efficiency.
This cooling and heating system includes a WiFi module that enables you to adjust its settings from a smartphone. The mini-split is equipped with a reusable HEPA filter that efficiently removes allergenic particles from the air.
Pros
Features two 1-ton and 1.5-ton air handlers
The mini-split arrives with an installation kit
Equipped with Refrigerant Leak Detection and Self-Diagnostic features
It makes less than 45dB of noise
Cons
It can't function at temperatures lower than 5F
Not Energy Star certified
MrCool DIYM336HPWO3BK2 – The best triple-zone mini-split at Lowe's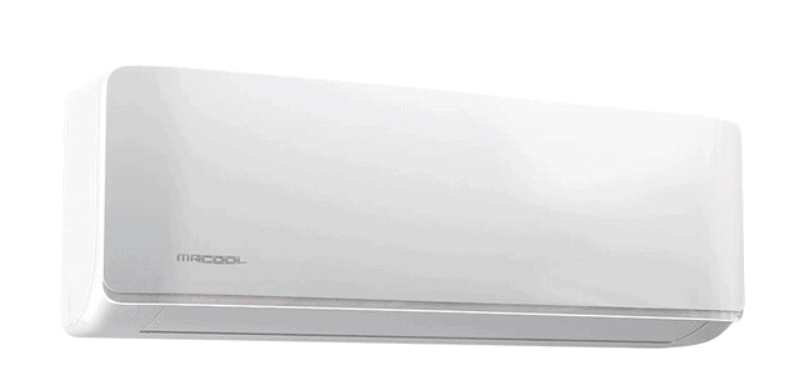 Although it's listed as a DIY installation model, it is still better to leave the task of installing the MrCool DIYM336HPWO3BK2 mini-split to a licensed HVAC technician. This 3-ton system features three air handlers with different outputs that enable you to create unevenly sized cooling and heating zones.
This mini-split has the Smart Controller feature that lets you use Amazon Alexa or Google Assistant to configure its settings. In addition, you'll get a remote for each of the unit's air handlers that allow you to make temperature adjustments or enter different modes with a push of a button.
Pros
Advanced Smart options
Features a corrosion-resistant gold fin condenser
Wide range of applications
Great low-temperature performance
Cons
It doesn't fit all budgets
No Automatic Shut-Off feature
Bosch 873395440 – The best quad-zone mini-split at Lowe's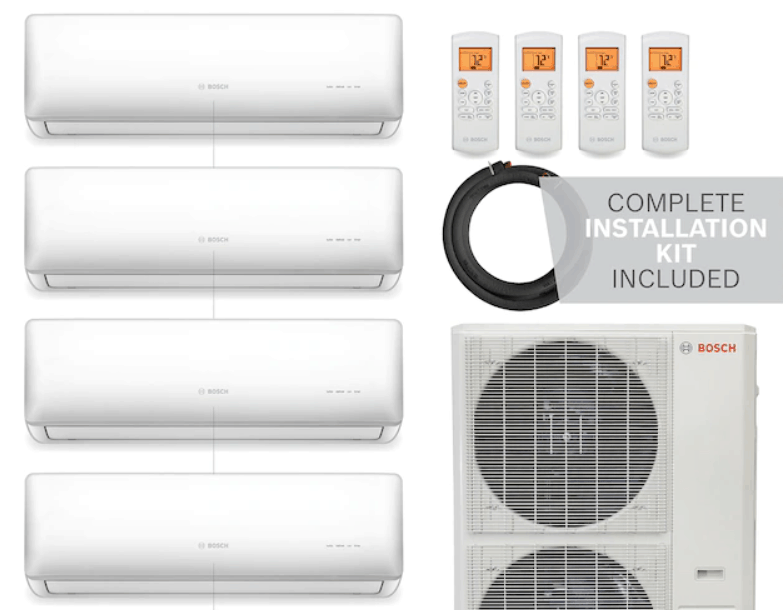 The Bosch 873395440 mini-split is a reliable year-round heating and cooling solution because it can operate at full capacity at temperatures as low as -13F. This 3-ton system contains four 9,000 BTU air handlers that allow you to create 400sq/ft zones.
This Bosch's mini-split is Energy Star certified because it has 23 SEER, 12.5 EER, and 10.2 HSPF ratings. Hence, your annual power consumption is unlikely to increase significantly if you decide to heat or cool your home with this mini-split.
Pros
Quiet operation
Modern and elegant air handler design
Wide operating temperature range
Impressive energy-efficiency ratings
Cons
Not WiFi compatible
Not designed for spaces larger than 1,800sq/ft
Celiera CH5Z-48-5X12WM – The best penta-zone mini-split at Lowe's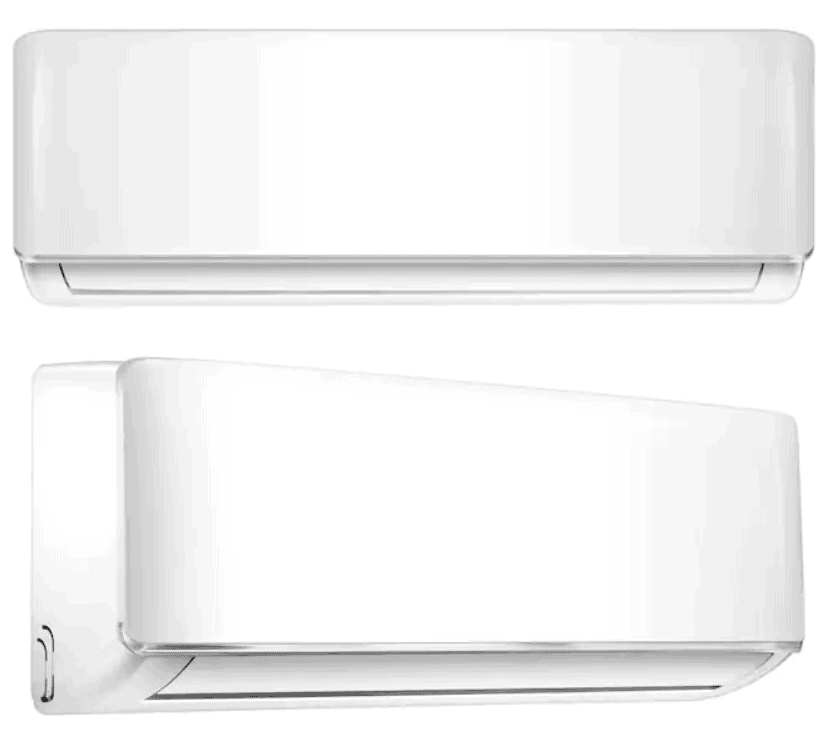 Regulating the room temperature in your home with the Celiera CH5Z-48-5X12WM is easy because this cooling system grants you complete control over its settings. The manufacturer lets you choose the size of each air handler and adjust its output to the size of zones you want to create.
The Celiera's mini-split makes just 39dB of noise while operating at maximum capacity, and it is one of the quietest penta-zone systems you can find on the market. The unit is also Energy Star certified, and it has high SEER, EER, and HSPF ratings.
Pros
Huge coverage range
Equipped with the inverter technology
Multiple louver positions
Energy Star certified
Cons
Requires professional installation
Hefty price tag
Frequently asked questions about Lowe's mini-split options
Question: Can I return a mini-split I purchased at Lowe's?
Answer: Yes, you can return a mini-split 90 days after you purchased it, but you need to check if the company allows you to return a unit already installed.
Question: Does Lowe's have mini-split installation accessories?
Answer: Yes, it does. You can purchase everything you need to install a mini-split at this home improvement store.
Question: Do I have to pay for the mini-split delivery?
Answer: No, Lowe's will deliver the mini-split your purchase to your home address free of charge.
Question: Does Lowe's sell mini-splits with voice controls?
Answer: Yes, you can choose from a variety of mini-split options with voice controls at Lowe's.
Our Verdict: How to Know Which Mini-Split Option at Lowe's is the Best?
Navigating through Lowe's huge selection of mini-splits will be much easier if you know what you're looking for. So, before you start searching for a mini-split, you first need to size the space properly and decide if you want to divide it into cooling zones.
Lowe's offers mini-splits that fit all budgets, as you can get a model that costs less than $1,000 or more than $5,000 depending on how much money you want to spend on a cooling and heating system.
We recommend the DuctlesAir D27-12-18 because it's stacked with remarkable features that allow you to control the room temperatures in two different zones. A model like the Celiera CH5Z-48-5X12WM might be a good option if you need a mini-split capable of heating and cooling a 2,700sq/ft space.
Which of the Lowe's mini-split options are you going to choose? Let us know in the comments, or continue our guide to the best 5-ton heat pumps if you want to explore alternatives to mini-split systems or check out how Lowe's models compare to Home Depot Mini-Splits Here.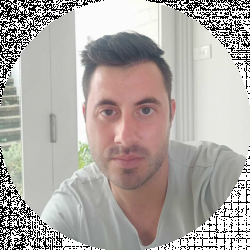 Latest posts by David Borgogni
(see all)