All Ductless AC systems contain indoor and outdoor components that work together to regulate the room temperature. The refrigerant these two components use to cool or heat the air cannot circulate between them without the best AC line set for a specific AC unit.
Mini-split and heat pump systems operate on the same principle as their refrigerants go through an endless cycle of changes from gas to liquid. The vast majority of units come with a compatible line set that enables you to install the AC system.
You're at the right place if you're looking for a replacement for your mini-splits or heat pump's line set because in this article, we're going to take you through some of the best models on the market. Also, you should go through our guide to cooling systems if you need more information about how they work.
At a Glance – The 5 Best AC Line Sets
| | | | |
| --- | --- | --- | --- |
| Model | Dimensions  | Insulation material | Price range  |
| Mueller Industries 61280250 | 3/8-inch, ¾-inch, 25 feet | Elastomeric | $$$ |
| Wostore Line Set | ¼-inch, 3/8-inch, 50 feet | Insulated cotton | $$$ |
| ICOOL AC Line Set | ¼-inch, ½-inch, 16 feet | Climate-resistant foam | $$ |
| Senville Mini Split Line Set | ¼-inch, 3/8-inch, 25 feet | Climate-resistant foam | $$ |
| DuctlessAire Line Set | ¼-inch, 3/8-inch, 25 feet | Polyethylene hard-shell insulation | $ |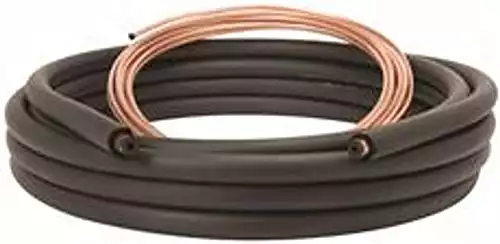 Selection criteria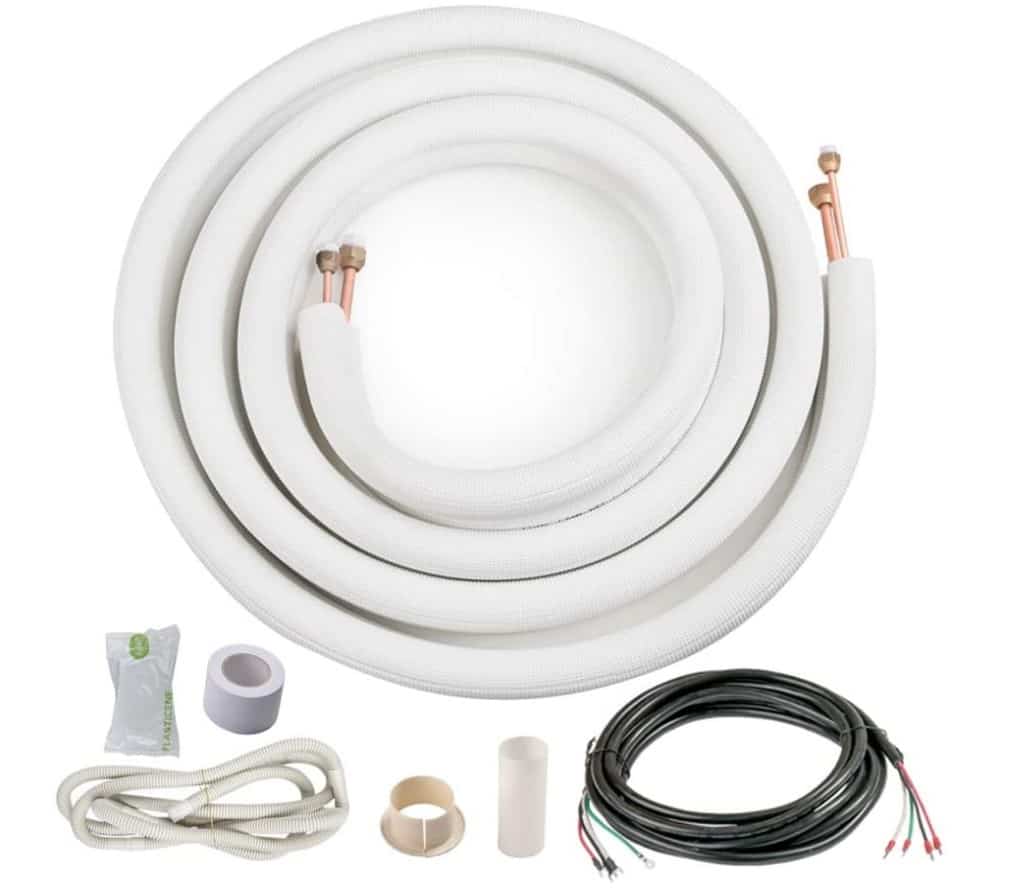 Even though they're very durable, line sets aren't indestructible as extreme weather conditions or general wear and tear can result in refrigerant leakage.
Replacing this component of the AC system is your only option if it's no longer capable of ensuring the smooth flow of the refrigerant through the system. We utilized the following properties of line sets as selection criteria during the selection process, so let's take a closer look at them.
Pipe material – All line sets featured in this article have pipes made of copper because they're durable and flexible. We excluded models made of aluminum because they're incompatible with the R-410A refrigerant.
Sizing – The term refers to the width of the line set's pipe rather than the total width of the line set. Our selection of line sets includes models that are compatible with units that have different cooling outputs.
Check out our guide to the best 2.5-ton heat pumps if you need a new cooling system for your home.
What's a line set?
The functionality of split and mini-split AC systems largely depends on their line sets because the refrigerant needs to be under the right amount of pressure to be effective.
A line set is essentially a pair of copper tubes that connect the outdoor compressor to the indoor air handler. The larger of the two pipes is called the suction line, and its task is to move the refrigerant in the gaseous state from the indoor hander to the compressor.
The second smaller tube is called the liquid line, and it carries cooled refrigerant to the evaporator coil, where it absorbs the heat.
It is worth noting that you can't use a single line set to connect multiple air handlers to the outdoor compressor. So, if you have a 5-zone mini-split, you're going to need 5 separate refrigerant line sets.
Even though it is technically possible to use an R-22 line set on a system that utilizes R-410A refrigerant, it isn't advisable to do so because you might end up lowering the unit's cooling capacity. Our guide to the best air conditioner replacement coils can help you restore your AC's functionality.
Common line set dimensions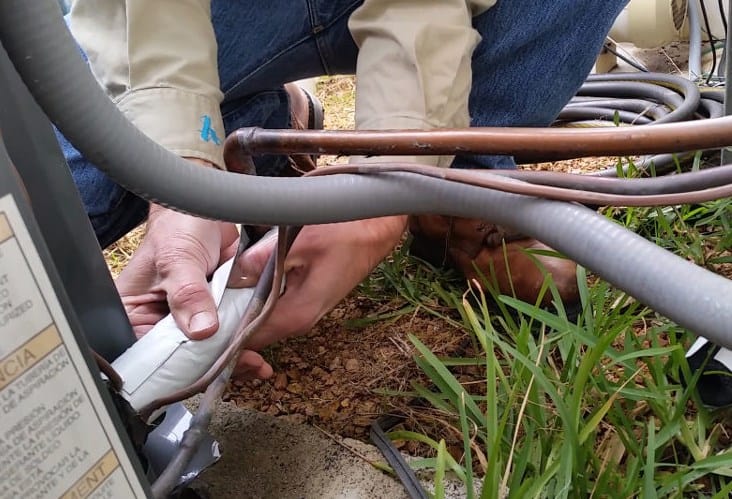 There are two factors you need to pay attention to while choosing a new line set, the model's width and its length. It's also important to keep in mind that the width of a suction line and the liquid line isn't the same, so the suction line will always be wider than a liquid line.
As a general rule of thumb, ACs with high BTU outputs need wide line sets, while models with heating and cooling outputs below 2 tons usually use narrow line sets. However, even mini-splits or heat pumps with the same BTU rating may use different types of line sets.
Failing to match the size of the refrigerant line to the system's requirements will result in a pressure drop and lower the amount of refrigerant that reaches the evaporator coil. Here are some of the most common line set sizes:
¼-inch and 3/8-inch
½-inch and ½-inch
¼-inch and 5/8-inch
3/8-inch and ¾-inch
3/8-inch and 5/8-inch
The standard length of line sets spans from 15-feet to 50-feet, and it determines how far apart the indoor and outdoor components of an AC system can be. Browse through our guide to the best Home Depot mini-splits if you need a new multi-zone cooling system for your home.
Reasons to get a new line set
A malfunctioning suction or liquid line can cause compressor failure and a wide range of issues that can only be prevented if you replace the unit's line set. However, you won't have to get a new line set if you're upgrading your home's AC system as long as it meets the specifications of the new unit.
Also, you may want to consider changing the line set if your old system was using the R-22 refrigerant, but the new AC is using the R-410A refrigerant. Refrigerant leaks and kinked suction and liquid lines are the most common reasons why line sets have to be replaced.
Although sometimes, you can continue using the same line set after upgrading your cooling system, you should only do so after consulting with an HVAC technician.
Nonetheless, you must perform the triple evacuation procedure to ensure that the line set is cleaned properly before connecting it to a new AC system. Check out our guide to the best garage mini-splits if you're searching for a way to regulate the temperature in this part of your home.
Installation process
You shouldn't attempt to replace a line set on your own, especially if you don't have previous experience. The process is highly technical, and it involves working with refrigerants and electricity.
Hiring a professional to install a new line set for you can cost you between $100 and $700, depending on the complexity of your AC system. Brands like MrCool offer pre-charged line sets that simplify the installation process but are not enough to justify DIY installation.
You might want to consider flushing your AC system before connecting it to a new set of refrigerant lines to get rid of the particles that might clog one of the pipes.
If you're unsure how long the new suction and liquid lines should be, you should always opt for a longer option because an HVAC technician can shorten them to meet the system's requirements.
Go through our guide to the best 36,000 BTU mini-splits if you're searching for a whole-house cooling and heating solution.
The most important factors to consider while choosing a line set
The first thing you'll need to do is determine whether or not you need to replace your AC's line set because, in some cases, you can continue using an old one even if you're changing the outdoor compressor and the indoor air handler.
New refrigerant lines need to be compatible with your AC system, so the best way to determine which line set you need is to check the specifications. Let's take a look at factors that can help you find the right line set for your AC.
Line set's length
The maximum distance between an outdoor and indoor unit depends on several factors, including the unit's cooling output. The standard lengths of line sets are 15, 25, and 50 feet, while some versions of refrigerant lines can be up to 150 feet long.
You should consider moving the condenser if the distance between two components exceeds 75 feet. Also, the optimum distance between these two components depends on the AC model, so for some systems placing the air handler and the compressor as close as possible to each other can be beneficial.
Flare connections
Liquid and suction lines have connectors at both ends that enable you to attach them to the evaporator and the condenser. Models that cannot tightly seal the connection to either of these components may start to leak over time.
Flare connections are compression fittings designed to create a leak-tight seal that prevents the refrigerant from escaping the system. So, ideally, the line set you get should be equipped with flare connections because it will eliminate the risk of a refrigerant leak.
Insulation material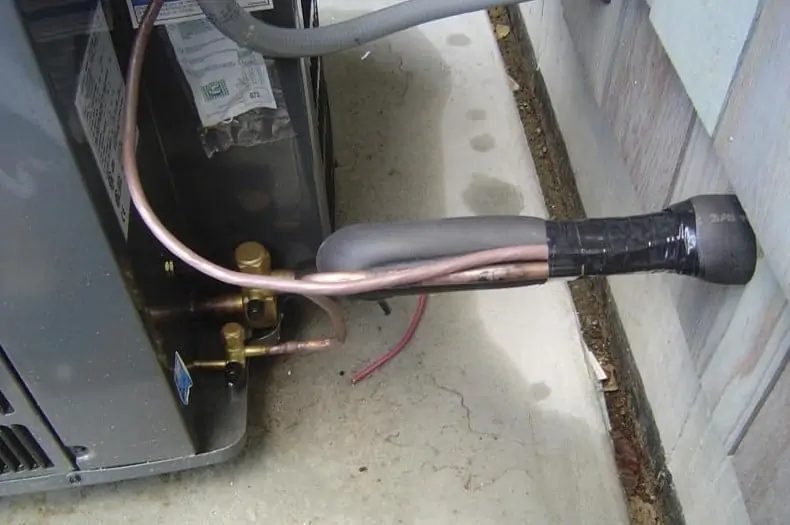 Unlike the width of the copper tube, the width of the line set's insulation section is almost always the same. The vast majority of models you'll find on the market have ½-inch or 3/8-inch insulation thickness, but their insulation is made from different materials.
Insulated cotton or closed-cell foam are some of the most common line set insulation materials. Each of these materials is highly efficient at preventing condensation on suction and liquid lines and trapping heat inside the copper tube.
Line set's flexibility
In perfect conditions, the line between a compressor and the air handler should be straight. However, this is rarely the case. That's why the line set you get needs to be flexible in order to adjust to the obstacles.
Bending a suction or a liquid line for up to 1 inch without kinking shouldn't be too difficult, but you might have to use a metal bender if you're working with line sets wider than ½-inch.
Price and durability
A copper refrigerant line can remain fully functional for up to 25 years, and it is often more durable than other components of AC systems. Prolonged exposure to freezing temperatures, poor upkeep, and numerous other factors can shorten the lifespan of a line set.
You can spend anywhere between $100 and $400 on a new line set, but you should also factor in the installation costs that span from $100 to $700. That's why purchasing the line set with the rest of the AC unit can sometimes be a more affordable option than replacing only this part of the system.
The advantages of line sets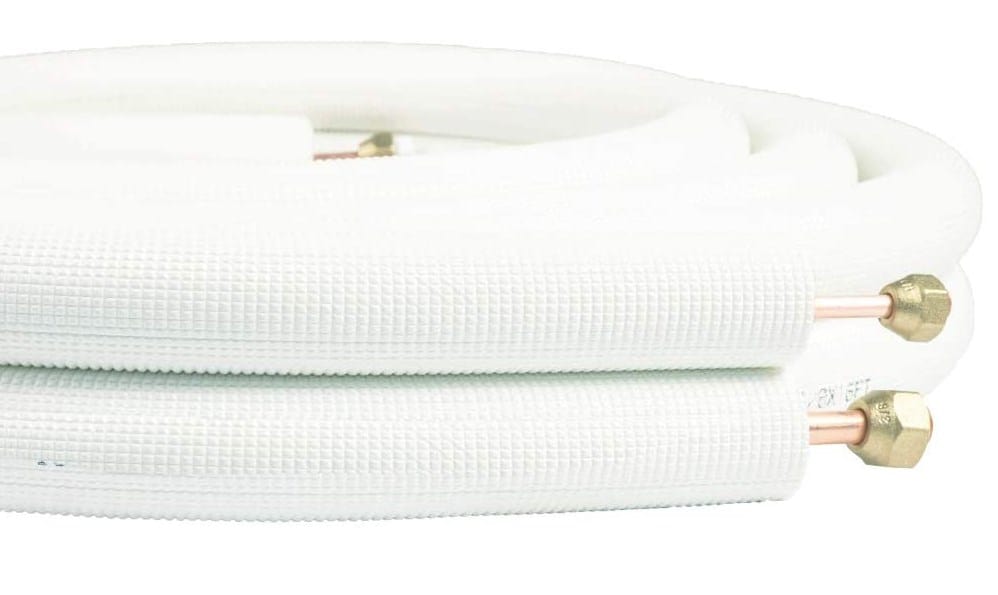 Extended lifespan of an AC system
Replacing the AC's suction and liquid lines might restore its cooling capacity and enable you to continue using the same cooling system. Finding a line set that is compatible with your AC is usually easy because most models have standardized widths.
Made from high-quality materials
Most line sets on the market have flexible copper tubes that can last for a couple of decades with proper upkeep. Their insulation is also made from durable materials that prevent condensation on pipes and stop heat from escaping the suction line.
Excellent sealing properties
Flare connections ensure that the refrigerant cannot leak as it transitions from the compressor into the liquid line and from an evaporator to the suction line by creating a strong seal.
The disadvantages of line sets
Poor visual appearance
Line sets don't look good, which is the reason why most homeowners try to conceal them. A line set cover can help you hide the refrigerant lines and lower their impact on your home's exterior and interior.
Top 5 AC line sets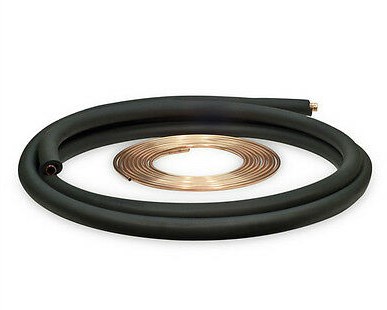 Mini-splits and heat pumps compatible with line sets that have a 3/8-inch liquid line and a ¾-inch suction line can benefit from the Muller Industries 61280250 refrigerant lines. The thickness of the model's insulation wall is 3/8-inches.
The line set is sealed with nitrogen which simplifies the installation process, but bending this line set for 90 degrees isn't possible, so it may be difficult to find a way around different obstacles. The length of the suction and liquid lines is 25 feet.
Pros
Compatible with different types of AC systems
Ships with necessary installation tools
Pipes are made of copper
Sealed with nitrogen
Cons
Thin insulation layer
Limited flexibility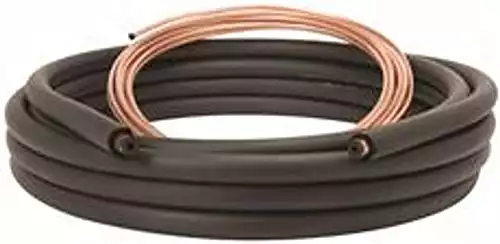 Wostore Line Set – The line set with the best flare connections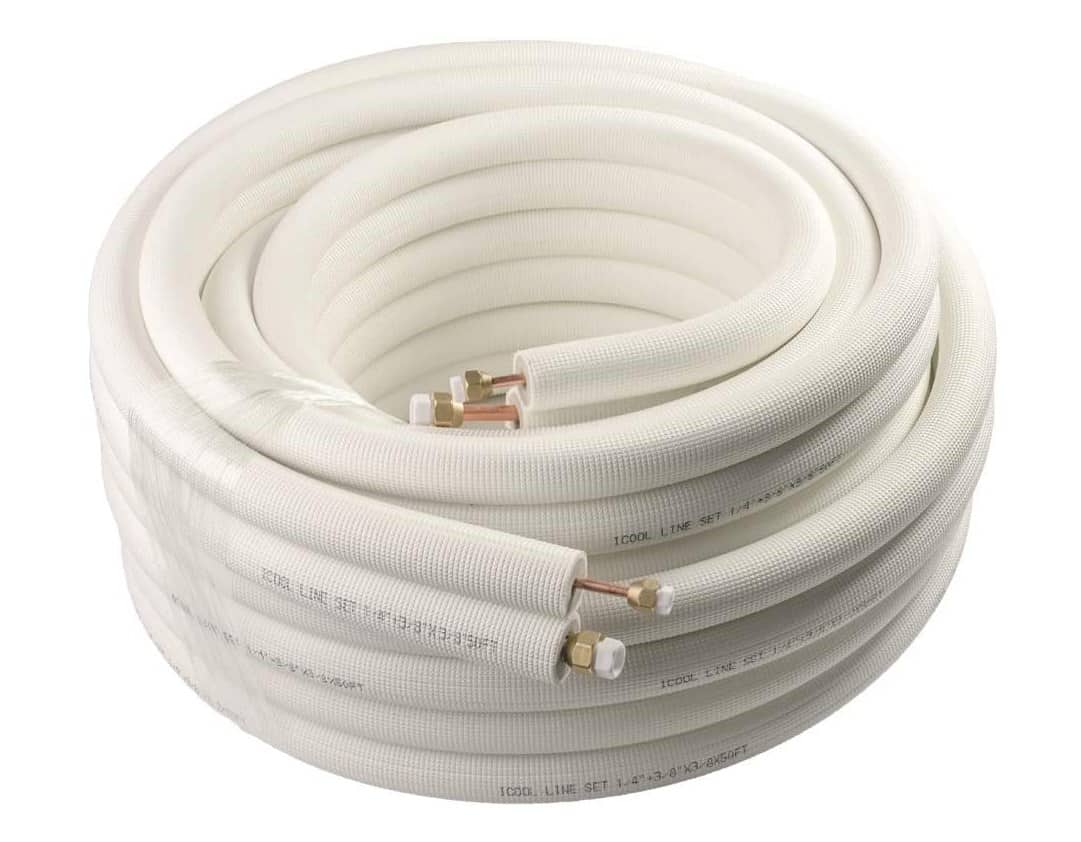 You should get the Worstore Line Set if you want to create as much separation between the compressor and the indoor air handler. The 50-feet refrigerant lines are easily adjustable and easy to cut, which enables you to choose how far the indoor and outdoor components are going to be.
Both lines have flare connections that are burr-free and corrosion resistant, and you can use them to create tight seals on 9,000BTU mini-splits. The pipes in liquid and suction lines are made of copper, while the insulation is made of cotton.
Pros
Easily adjustable length
High flexibility level
Reduces the risk of refrigerant leakage
UV resistant
Cons
Limited compatibility
Easily kinked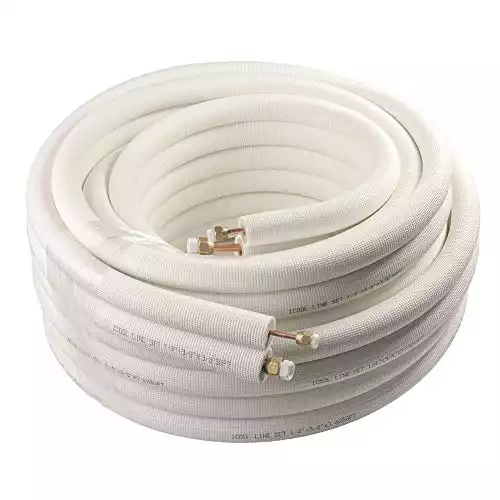 ICOOL AC Line Set – The best line set for R-410A refrigerants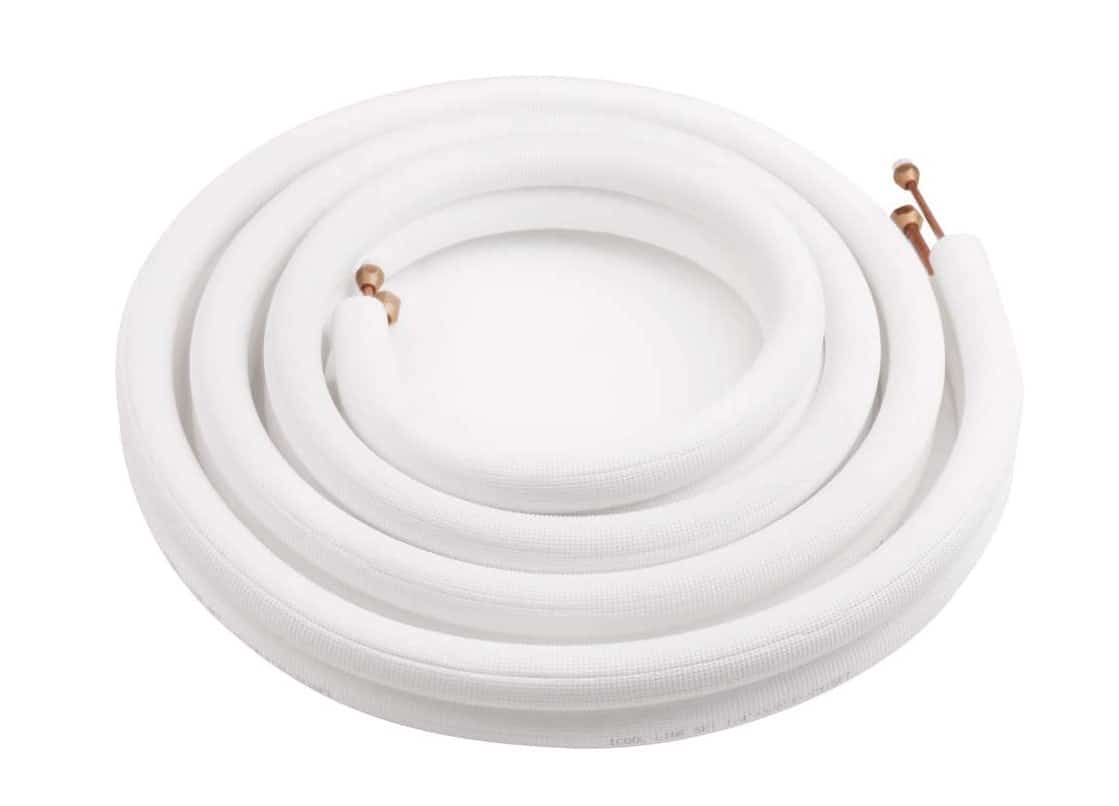 The climate-resistant foam insulation ensures that the ICOOL AC line set is going to perform equally well in warm and cold conditions. The width of its suction and liquid lines is ½-inch and ¼-inch, which means that you cannot use it with ACs with high cooling capacities.
This line set is just 16 feet long, and it is only a good option for you if you can position the outdoor and indoor units close to each other. The outer surface of the line set contains embossed polyethylene film that prevents the heat transfer between the copper tube and the outdoor air.
Pros
Contains fireproofing
Ships with multiple accessories
Pipes are made of pure copper
Suitable for 9,000BTU to 18,000BTU ACs
Cons
The line set is only 16 feet long
It might be difficult to bend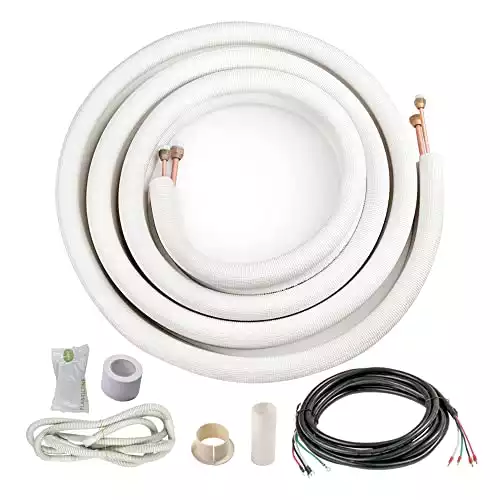 ICOOL 16 Ft. Mini Split Line Set | Amazon
The 16 Ft. line set is insulated high quality copper tubing. Seamless pure copper pipe shows no leaks, which is divided into 1/4" low and 1/2" high pressure lines.
Buy at Amazon
We earn a commission if you make a purchase, at no additional cost to you.
11/28/2023 06:38 am GMT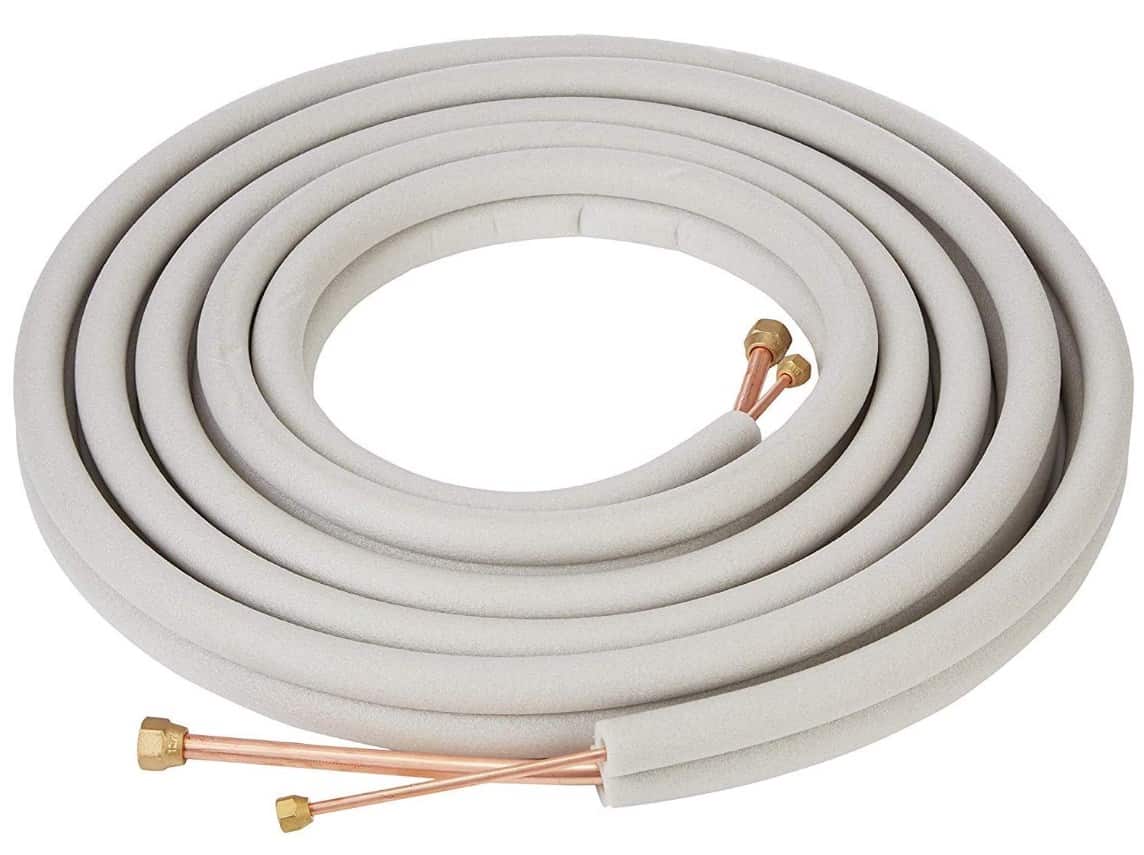 Although it is designed for Senville's 9,000BTU ACs, the Senville Mini Split Line Set can be used with all cooling systems compatible with ¼-inch and 3/8-inch connectors. Both lines are made of copper and have climate-resistant insulation.
The line set is 25 feet long, and it gives you plenty of options in terms of how you want to position the indoor and outdoor units. Also, refrigeration lines are flexible, and you can bend them with your hands, but they're also easily kinked.
Check out our full Sanville Mini Split Review.
Pros
The set includes 14/3 electrical wire.
Compatible with AC systems produced by different manufacturers
Adjust easily to different obstacles
Affordable price
Cons
Insulation could be better
Works only with 9,000BTU ACs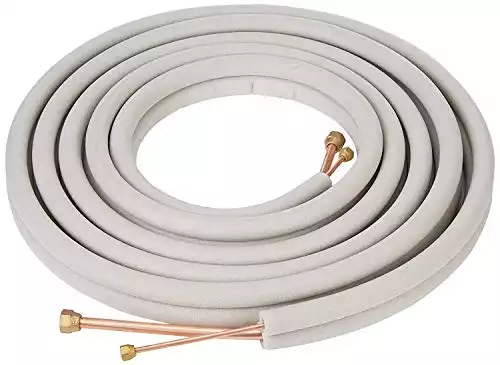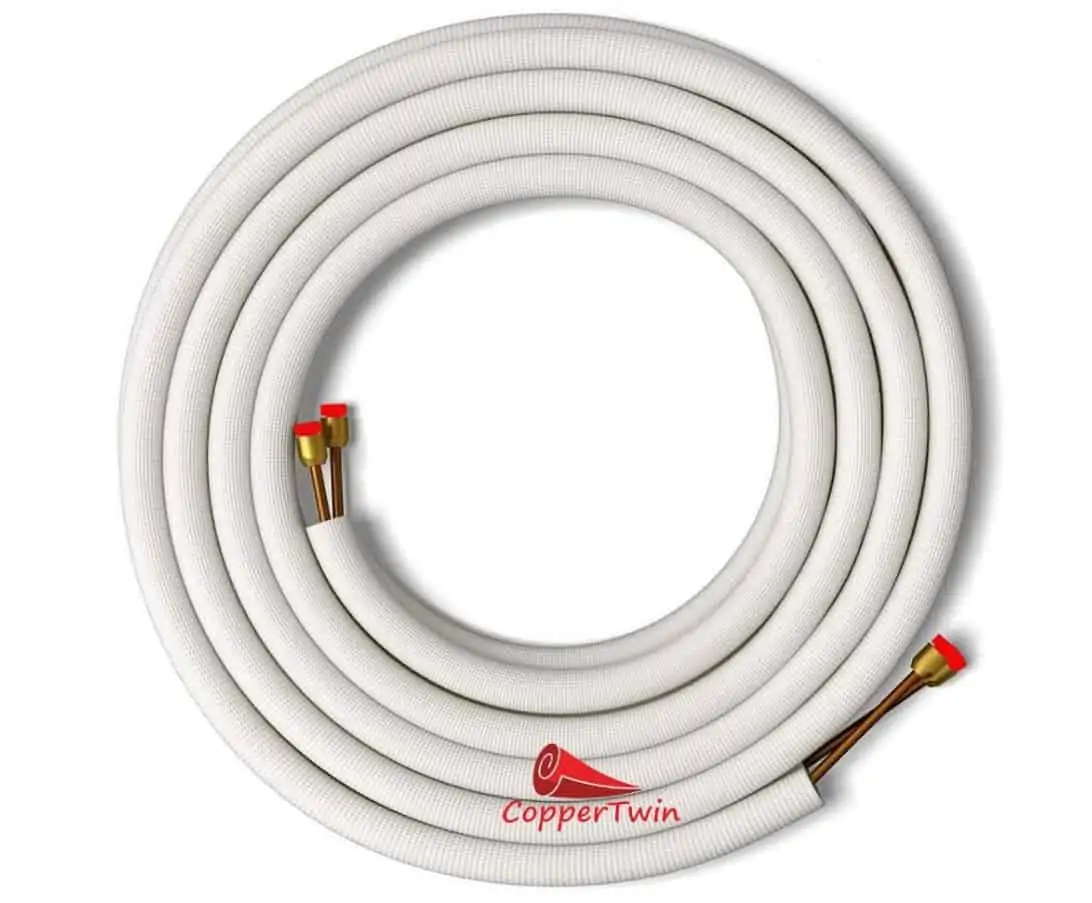 The DuctlessAir Line Set is pre-flared, and it arrives with built-in nuts, so you just have to vacate the air from it before you can start using it. Even though they're pre-flared, you might have to make adjustments to connectors to seal the refrigerant lines properly.
These refrigerant lines are best suited for systems that have a limited cooling range, and you cannot use them with 4 or 5-ton units. The copper pipes are insulated with polyethylene that protects them from condensation and heat loss.
Pros
Refrigerant lines are 25 feet long
Durable construction
Compatible with R-410A refrigerant
Less expensive than most of its competitors
Cons
Connectors don't make a tight seal
The installation process is difficult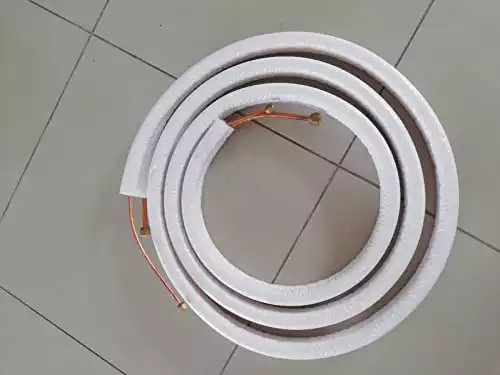 Frequently asked questions
Question: Do line sets have high upkeep requirements?
Answer: No, but you still need to perform regular maintenance checks to ensure they're not clogged or leaking.
Question: Can I insulate a line set by myself?
Answer: Yes, you can, but you need to know which insulation material is going to work best with your line set.
Question: Is it possible to extend the length of a refrigerant line by joining two-line sets?
Answer: Yes, it is, but you're going to need a flare union kit to attach two suction or liquid lines.
Question: Do line sets have warranties?
Answer: When purchased separately from the rest of the system, line sets usually don't have warranties, but some manufacturers do offer 90-day money-back guarantees.
Our verdict: Deciding which line set is the best for your AC system
As one of the most important components of an AC system, the line set needs to function normally at all times. Corrosion, unfavorable weather conditions, and numerous other factors can cause one or both refrigerant lines to fail.
If not dealt with promptly, a malfunctioning refrigerant line can damage the compressor and force you to replace the entire AC unit. That's why replacing a faulty line set is often the fastest way to restore your AC's cooling capabilities.
We recommend the Muller Industries 61280250 because it is compatible with common types of refrigerants, and you can use them with ACs with cooling outputs of up to 3 tons.
The ICOOL AC line set could be a better option if you need a line set for mini-splits or heat pumps that can't offer more than 18,000BTUs. Hopefully, this article has helped you find the best line set for your AC system.
| Product Image | Primary Rating / Price | Primary Button |
| --- | --- | --- |
| | | |
| | | |
| | | |
| | | |
| | | |
11/28/2023 09:09 pm GMT
Let us know in the comments, or continue reading our guide to the roof mounted air conditioners or best 3-ton heat pumps to explore different cooling and heating options for your home.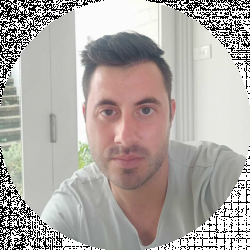 Latest posts by David Borgogni
(see all)