Starting a car on a cold winter morning can be a nightmare, even if you keep your vehicle safely tucked away in a garage. Getting the best garage mini-split can help you deal with this and similar issues by maintaining the same temperature in your garage throughout the year.
Besides the size of the parking space in your home, several other factors, such as the wall insulation or the layout of the space, will ultimately determine which mini-split you can get.
In addition, you must also consider the features a specific mini-split system offers to determine its capability to keep the air in your garage warm, dry and fresh.
In this article, we're going to explore the key features of the best garage mini split systems and introduce you to models that can be a great fit for different types of garages. You can also read our guide to mini-split systems if you want to find out more about how they work.
At a Glance – The 5 Best Garage Mini-Splits
Selection criteria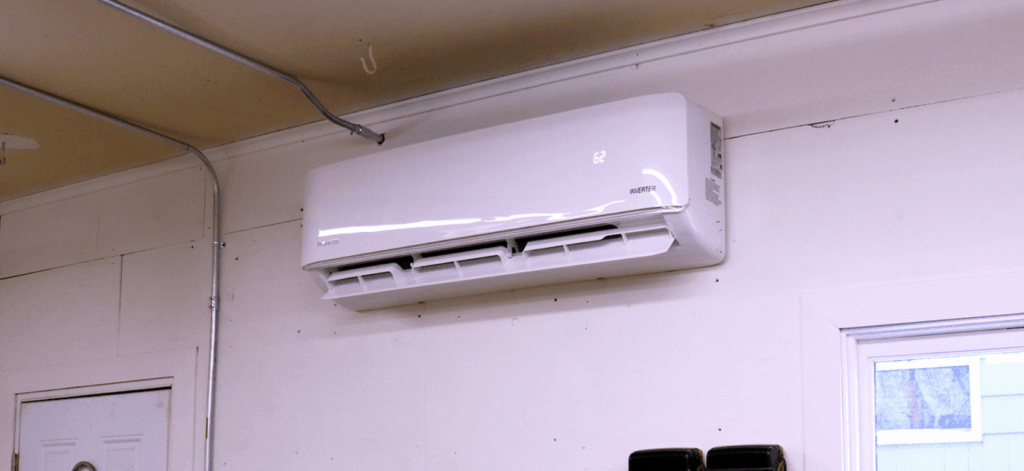 The main reason for installing a mini-split in a garage is to protect your car or gear from exposure to extreme temperatures. Nonetheless, temperature control isn't the only function these systems can perform.
During the selection process, we considered a wide range of factors to determine which mini-split system is the best for garage application. Let's take a look at a few of the most important parameters that helped us choose the mini-splits we featured in this article.
Standard garage size – The units we included in our selection of the best garage mini-splits are suitable for spaces that offer enough room for one, two, or three cars.
Operating temperature range – All mini-splits have a shut-off temperature limit. We utilized this feature to find models with a wide operating temperature range that can function normally at high and low outdoor temperatures.
Seasonal heating and cooling ratings – The HSPF and SEER ratings indicate the unit's power consumption during a cooling or heating season. We've selected the most energy-efficient mini-split models that perform equally well during the summer and winter months.
Check out our guide to the best 1.5-ton AC units to explore different types of systems you can use to regulate room temperature in your garage.
Choosing the right mini-split size for your garage
Mini-split systems are designed to heat or cool an area of a specific size, and their efficiency largely depends on matching their output to the size of the room you'd like to cool or heat.
Hence, getting a unit with a coverage range wider or narrower than the garage in which you want to install it will result in increased power consumption. Standard garage sizes span from 260sq/ft for a single-car garage to 400sq/ft for garages designed for multiple vehicles.
That's why the best garage mini-splits should have output ratings between 9,000 BTUs and 18,000 BTUs, depending on the size of the space where they're going to be installed.
So, if you have a single-car garage, you should search for 9,000BTU units, while 1-ton and 1.5-ton models are best suited for two and three-car garages. Go through our guide to the best 36,000 mini-splits if you need a cooling and heating system for spaces larger than 1,000sq/ft.
Understanding energy efficiency ratings
The unit you choose to install in your garage doesn't have to be highly energy-efficient since you're not going to use it for long stretches of time. Even so, opting for a model that doesn't consume vast amounts of energy to heat or cool a room can still have a positive effect on your monthly power consumption.
Looking into the unit's SEER and HSPF ratings can help you estimate how much electricity you're going to need to run the mini-split throughout the entire heating or cooling season.
Nonetheless, you don't have to spend a large sum of money to get an Energy Star certified model with high SEER and HSPF ratings since even units with average energy efficiency ratings can preserve energy while keeping your garage cool or warm.
Read our guide to the best 12,000 BTU mini-splits to find a 1-ton system that doesn't need a lot of power to regulate the temperature in your garage.
Operating temperature range

Having trouble starting a car on a cold winter morning or sitting in an overheated car during summer are some of the difficulties you'll frequently encounter if you don't have a way of controlling the room temperature in your garage.
Installing a mini-split in your garage can only help you deal with situations like these if the unit's operating temperature range enables you to use it under extreme weather conditions. The majority of these systems are designed to function normally within 120F to 5F temperature range.
A handful of models retain full heating functionality even when temperatures drop to -13F, and they might be your best option if you live in a cold climate region.
Units capable of operating at high temperatures are recommended for homeowners who live in a region where temperatures during summer often rise above 100F. Browse through our guide to the best windmill ceiling fans if you want to add an additional cooling source to your garage.
Key features of garage mini-splits
A wide range of features besides the mini-split heating and cooling capacities affect their performance.
Having the ability to choose the position of the unit's louvers, changing the airflow speeds, or programming the mini-split is among the options that have a major impact on the performance of these cooling and heating systems.
We've shortlisted some of the most important features of garage mini-splits, so let's take a closer look at them.
Timer – This feature will enable you to regulate the temperature in your garage without having to go to that part of your home every time you want to switch on the mini-split. Timers allow you to program the unit to switch off or on at specific hours.
Dehumidification function – The so-called dry mode enables you to control the air humidity level within the unit's coverage range. However, you need to check if the mini-split you'd like to get can absorb moisture during cold months.
Defrost mode – Even though the Defrost mode is a standard feature on all mini-splits, you should still try to find out how efficient this feature is on a particular model. Ideally, this option should protect the system from freezing without disrupting its functionality.
Read our guide to ventilation systems to find out how to improve the ventilation in your garage.
The most important factors to consider while choosing a garage mini-split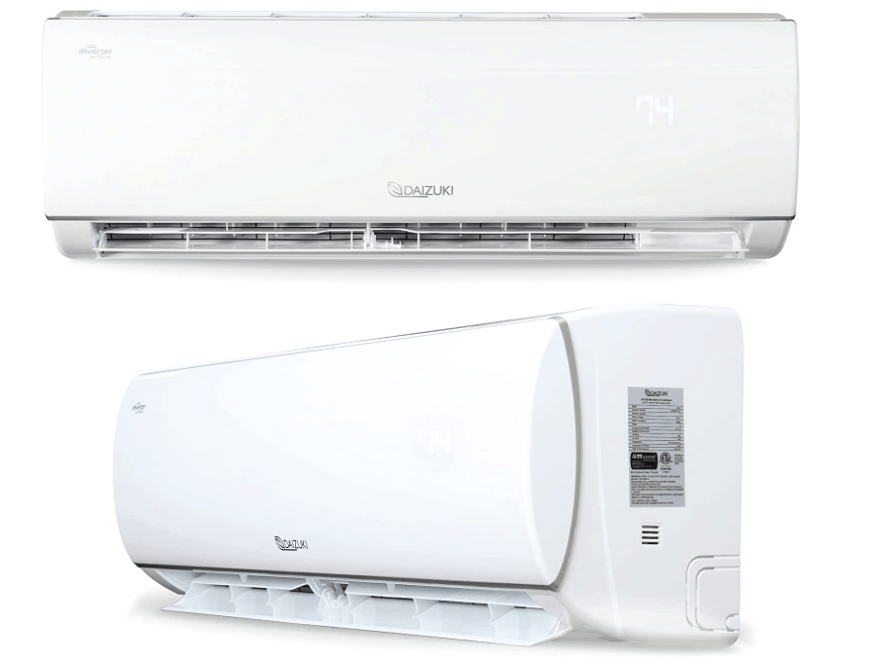 Brands like Pioneer, MrCool, LG, and countless others manufacture mini-splits capable of controlling the room temperature in a garage. Defining your search criteria will help you narrow down your options and save you countless hours of looking at models that don't fit the context in which you want to use them.
Consulting with an HVAC technician can also be useful if you're unsure which mini-split would be the best match for your garage. Let's go through several factors that are going to assist you in finding the right heating and cooling solution for this part of your home.
Maximum heating and cooling outputs
Climate, the quality of insulation, or the height of the ceiling in your garage can help you calculate how much cooling or heating power your mini-split system should have. In most cases, a 9,000 BTU or a 1-ton unit should be able to regulate the room temperature in a garage throughout the year.
A 1.5-ton mini-split is the right choice for you if your garage is larger than 800sq/ft. Optionally, you can get a multi-zone mini-split system and install one of the indoor air handlers that have sufficient cooling and heating outputs in your garage.
Lowest operating temperature
The average winter temperature in the United States is 33.2F, which means that most mini-split systems can function normally through the entire heating season, as most models work without disruption as long as temperatures remain above 5F.
Homeowners who live in the northern parts of the country should consider getting a unit with the lowest operating temperature of -13F to ensure their vehicles are protected from severe cold.
Dehumidification capacity
High levels of air humidity can cause mold and mildew accumulation or facilitate the rotting process of the furniture you keep in your garage. On average, these systems can remove around 4 pints of moisture from the air per hour.
Besides dehumidifying the air, mini-splits can also help you to ventilate your garage and remove the odors produced by your car.
Installation costs
Although models that come with installation kits are largely available, attempting to install a mini-split system on your own isn't advisable. Hiring an HVAC technician is the safest way to set up your garage mini-split and ensure it is working properly.
This service can be expensive even if you're installing a single-zone system, and you might spend up to $500 to have a mini-split you purchased installed professionally. In addition, installation accessories are often sold separately, which further increases installation costs.
Budget limitations and warranty duration
The price of garage mini-splits spans from $500 to $1,500, depending on the model and the features it offers. 9,000 BTU models are the least expensive, and they usually cost around $700, while 18,000 BTU units can cost up to $1,500.
Most brands issue different warranties for the compressor and other parts of the system, and their length varies between 5 to 10 years for the compressor and 2 to 5 years for the parts. Keep in mind that for some models, professional installation might be a prerequisite for the warranty activation.
The advantages of garage mini-splits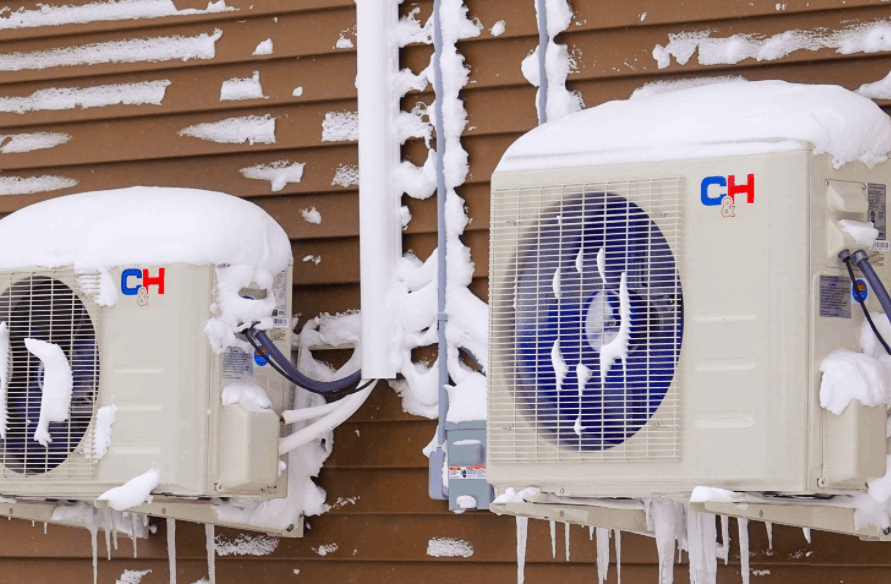 Year-round temperature control
Mini-splits enable you to regulate the air temperature in your garage regardless of the weather conditions. These systems allow you to protect your cars or equipment you keep in your garage from extreme temperatures.
A great alternative to central HVAC systems
Extending your HVAC system to the garage is often too expensive and impractical. Installing a ductless mini-split is a much simpler solution that will ensure your garage has a reliable heating and cooling source.
Low power consumption
These systems don't require vast amounts of power to regulate the temperature in your garage, and your monthly utility bills are unlikely to increase by much if you decide to heat or cool this part of your home with them.
The disadvantages of garage mini-splits
High installation costs
You must spend several hundred dollars to get your garage mini-split up and running. Besides, you also need to get all the accessories the HVAC technician needs to install this heating and cooling system in your garage.
Top 5 garage mini-splits
Senville LETO Mini-Split – The best mini-split for a single-car garage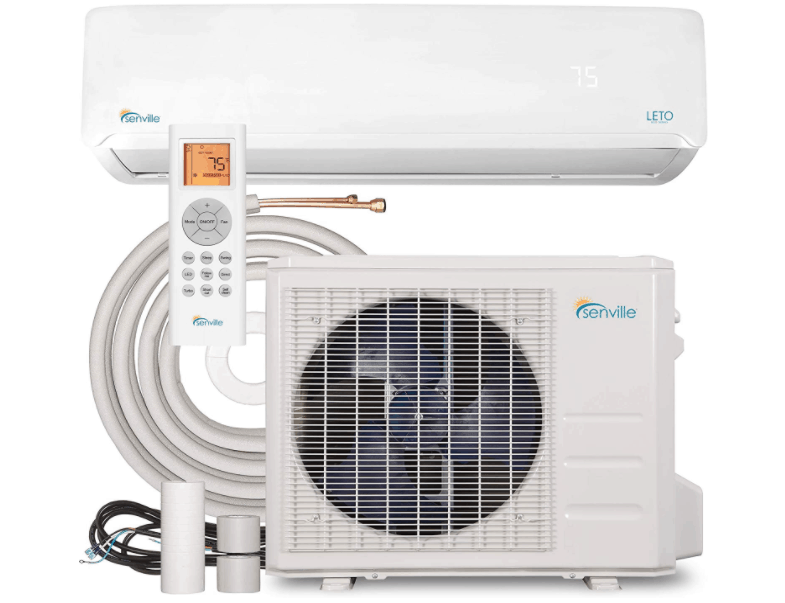 The versatile features of the Senville LETO mini-split make it a near-perfect fit for single-car garages. Besides cooling and heating functions, this mini-split lets you use its dehumidifier and fan options to lower humidity levels or improve ventilation in your garage.
The unit also has a Turbo mode that allows you to increase or decrease the room temperature quickly. Senville's model comes with an installation kit and 25ft long line sets that enable you to connect the indoor and outdoor components.
Continue reading our full Senville Mini Split Review.
Pros
Reusable air filters
The remote has the Follow Me function
Quiet operation
5-year warranty
Cons
Low HSPF rating
Poor customer support
Cooper & Hunter Hyper Heat Mini-Split – The best mini-split for a two-car garage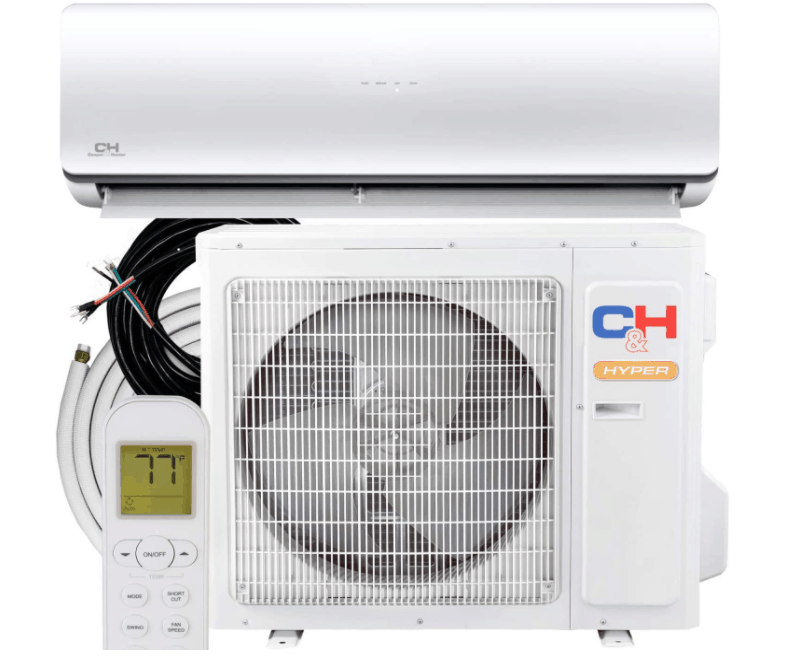 You should consider getting the Cooper & Hunter Hyper Heat Mini-Split if you have a 600sq/ft garage. This 1-ton mini-split has heating and freezing protection, and it can function normally even at temperatures as low as -22F.
Even though its SEER and HSPF ratings are impressive, this unit isn't Energy Star certified. Despite this, its power consumption during the heating and cooling seasons won't affect your monthly utility bill significantly.
You must purchase the WiFi adapter for this mini-split if you want to control it from your smartphone.
Pros
Excellent performance at low temperatures
High SEER and HSPF ratings
Variable fan speed
Ships with an installation kit
Cons
High price tag
Limited delivery options
Daizuki DXTX-20 Series Mini-Split – The best mini-split for a three-car garage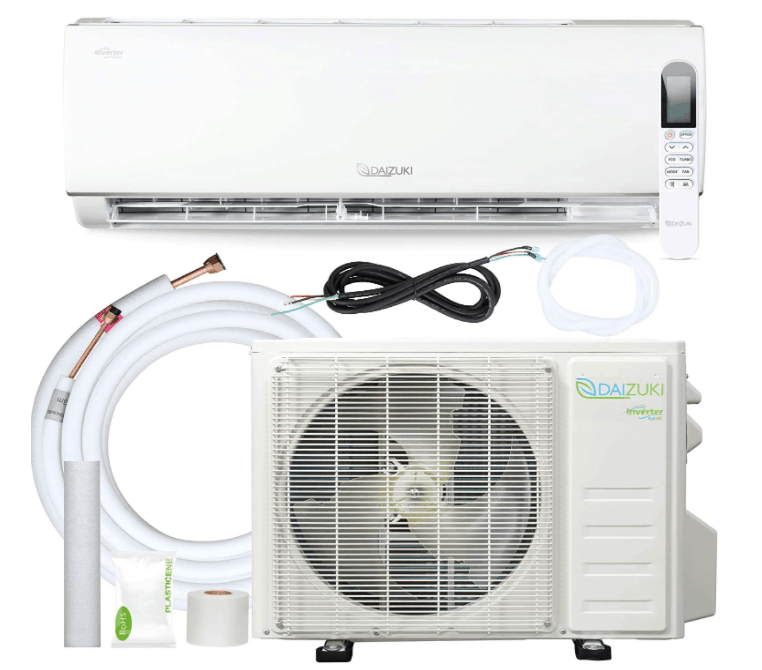 With a coverage range of up to 1,800sq/ft, the Daizuki DXTX-20 Series Mini-Split is a great heating and cooling solution for three-car garages. The system utilizes the inverter technology to regulate the speed of the compressor's motor, which boosts its energy efficiency.
Daizuki's mini-split has a variety of modes that allow you to program it or use it during the night to prevent the temperature in your garage from dropping below the set level. You can choose if you want to control this unit with a remote or through an app on your smartphone.
Pros
Auto Clean function removes moisture from the evaporator coil
Low power consumption
High airflow output
Wide coverage range
Cons
Short warranty period
The dehumidifier function could be better
Della 048-TL-9K1V-20S-I+O Mini-Spilt – The best single-car garage mini-split for low-temperature environments
Homeowners in need of a heating and cooling system that will protect their car from freezing temperatures should consider getting the Della-048-TL-9K1V-20S-I+0 Mini Split.
This unit remains operational even when temperatures drop to -4F, which means that you can continue using it even in harsh winter conditions. Its remote has the I Feel mode that enables the mini-split to create an even temperature in the entire garage.
In addition to the 20 SEER rating, this Della's model also has an ECO energy-saving mode that can lower its power consumption when you don't want to use the unit at full capacity.
Pros
A wide operating temperature range
Great power-saving features
Variable fan speed
Reasonable price
Cons
Limited coverage range
You may have to purchase additional installation accessories
Boreal Konstell Mini-Split – The most affordable garage mini-split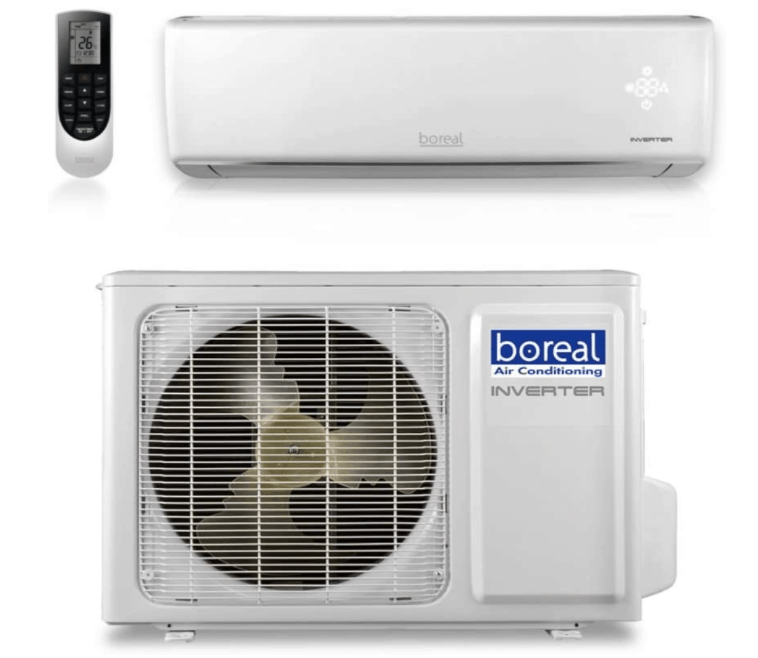 Even though it is one of the least expensive garage mini-splits on the market, the Boreal Konstell Mini-Split is still stacked with features. In addition to using the unit to cool or heat your garage, you can also dehumidify the air or set its fan speed.
The Auto-Restart feature activates the unit in case of a power shortage, while the Intelligent Defrost option protects it from freezing without disrupting its operation. The remote has the I-Feel function that activates the mini-split automatically as soon as it detects a temperature change in the room.
Pros
Effortless temperature adjustment
Low noise level
Multiple louver positions
Great price-performance ratio
Cons
The WiFi module is sold separately
It doesn't contain the installation kit
Frequently asked questions about garage mini-splits
Question: Do I have to clean the air filter on a garage mini-split?
Answer: Yes, you do. Air filters should be cleaned at least once in three months and replaced every 12 to 18 months.
Question: How many zones should a garage mini-split have?
Answer: There's no reason to get a multi-zone garage mini-split unless the space is too big for just one indoor air handler.
Question: Is it necessary to perform maintenance checks of garage mini-splits?
Answer: You should perform a routine maintenance check of your garage mini-split at least once per year to make sure all its components are functioning properly.
Question: Are outdoor condensers of garage mini-splits prone to rusting?
Answer: The outdoor condenser has a corrosion-resistant cabinet that protects its components from direct exposure to moisture. Despite this, some of the parts may corrode if they're not properly maintained.
Our verdict: Deciding which mini-split is the best fit for your garage
One of the easiest ways to deal with high and low temperatures in your garage is to install a mini-split. Which model you're going to choose depends on the size of your garage but also on the climate in the region where you live.
Checking the low-temperature performance of a mini-split is one of the most important steps you need to take if you want to use this system to protect your car from freezing temperatures. We recommend the Della-048-TL-9K1V-20S-I+0 Mini Split because its performance isn't affected by cold weather.
Opting for a model like the Cooper & Hunter Hyper Heat Mini-Split might be a good idea if you need a heating and cooling system for a two-car garage. We hope that this article has helped you find the best mini-split for your garage.
Let us know in the comments, or continue reading our guide to the best vertical window air conditioners if you're considering alternative cooling options for your garage.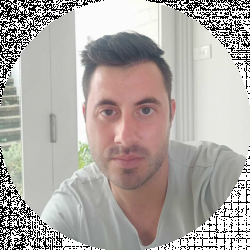 Latest posts by David Borgogni
(see all)