The durability of split and mini-split cooling systems is one of the main reasons so many people choose to install them in their homes. Even so, these systems break down over time, and the best HVAC gauges are one of the most efficient tools at diagnosing the issues that cause an AC to malfunction.
Besides detecting potential problems, these gauges are also used to charge or evacuate the refrigerant from the system. Their multi-functionality makes the HVAC gauges an indispensable part of all HVAC toolkits.
So, in this article, we're going to look at the key features of these gauges and help you find a model that is compatible with your AC system. Go through our guide to the best AC flush kits if you're looking for a way to remove impurities from the system's components.
At a Glance – The 5 Best HVAC Gauges
| | | | |
| --- | --- | --- | --- |
| Model | Gauge type | Refrigerant compatibility | Price range |
| Yellow Jacket 49968 | Analog | R-22, R-410A, R-404A | $$$ |
| XtremepowerUS HVAC Gauge | Analog | R-12, R-22, R-410A, R-134A | $$ |
| Fieldpiece SM480V | Digital | R-12, R-22, R-410A, R-134A, R-404A… | $$$$ |
| Testo 0563 1557 | Bluetooth | R-22, R-404A, R-410A… | $$$ |
| Mastercool 59661 | Analog | R-22, R-410A, R-404A | $$ |
Selection criteria
The HVAC gauge you choose needs to be compatible with the type of refrigerant your AC system uses to cool the air. However, some models are designed to work with just one refrigerant type, while others may be compatible with four or more types of refrigerants.
Besides compatibility, we used several other parameters to shortlist the HVAC gauges we included in this article. Let's look at some of the most important factors we considered while selecting the HVAC gauges.
Gauge type – Analogue, digital, and Bluetooth HVAC gauges all have their advantages. That's why we included each of these gauge types in our selection.
AC system compatibility – Cooling systems utilize different types of refrigerants, and an HVAC gauge can be compatible with just one or multiple refrigerants. The models we selected for this article are compatible with all common refrigerant types.
Durability – The quality of the gauge's components is essential for the accuracy of its pressure readings. Gauges you'll find in this article are made of durable materials, and you can use them to repair different types of AC systems.
Read our guide to the best HVAC capacitors if you need to replace the system's original part.
What is an HVAC gauge?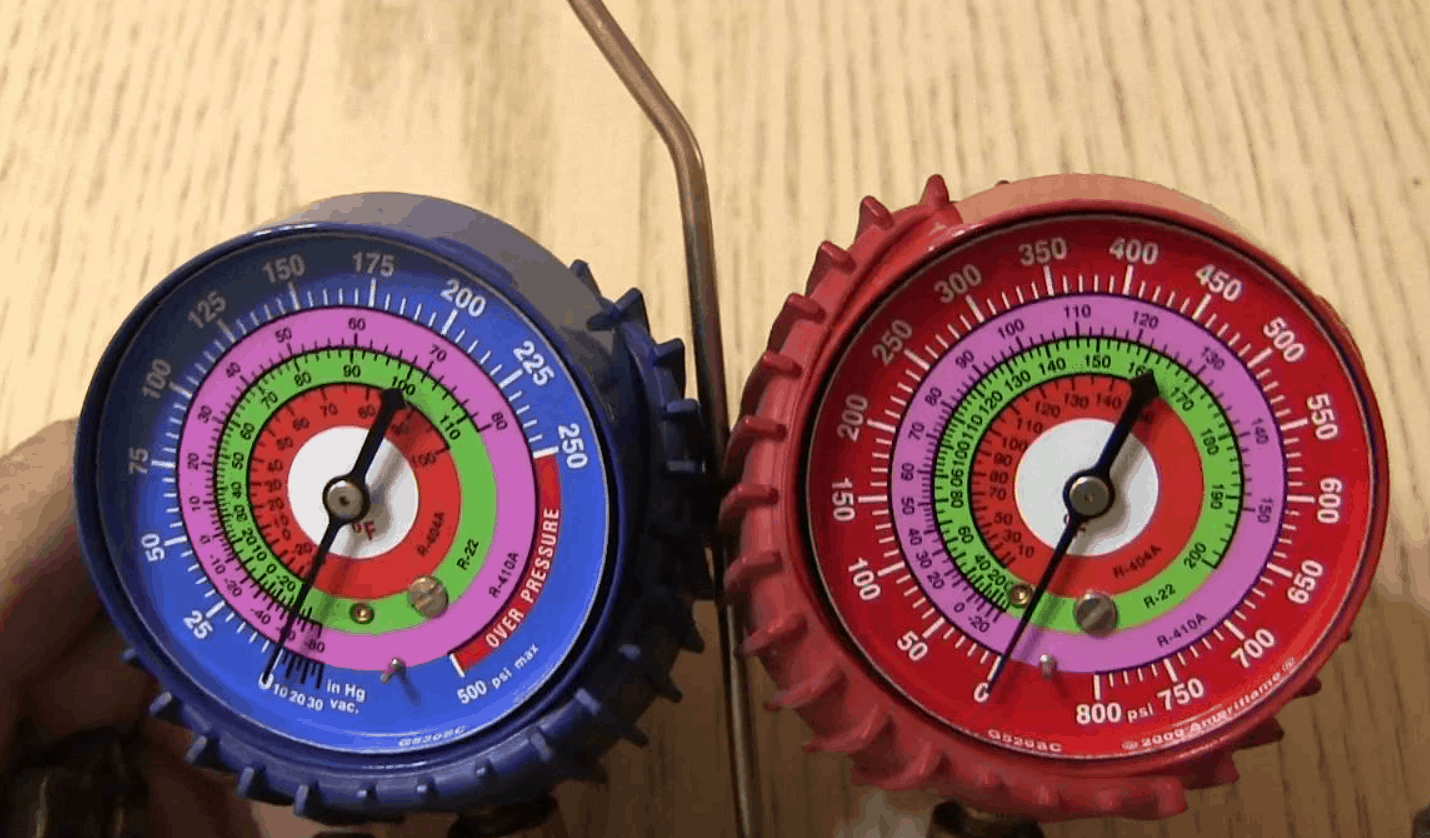 These devices are designed to read the pressure of liquids or gasses that circulate through an HVAC system, and they enable you to measure the vacuum pressure before charging the system. HVAC gauges usually have the following components.
Gauge manifold – This part of the device has low-pressure, high-pressure, and utility chambers. The low and high-pressure chambers enable you to connect the device to the AC system, while the utility chamber lets you add refrigerant to the system.
Readout gauges – Depending on their type, these tools can have a digital display that shows you the current pressure in the system or two readout gauges that use a needle to indicate the vacuum or pressure level.
Hoses – This component enables connecting an HVAC gauge to an AC system or a refrigerant tank. They are color-coded so that users can distinguish between low and high-pressure hoses.
Check out our guide to the best HVAC dampers to find out how you can make your central HVAC system more efficient.
Types of HVAC gauges
Depending on the technology they use to read the pressure in an AC system, HVAC gauges can be divided into three categories.
The accuracy, user-friendliness, and features of these devices depend on their type, which is why you need to be familiar with what each type of HVAC gauge has to offer to find a model that fits your needs.
Let's take a look at three types of HVAC gauges:
Analogue – The simple design and affordable price make analog HVAC gauges a popular option among HVAC professionals. Most models are pre-calibrated, so you can start using them as soon as you get them, and you don't have to calibrate them often, even if you just use them occasionally.
Digital – Highly accurate pressure readings and automatic calculation of superheating and sub-cooling values are benefits of using this type of HVAC gauge. Their performance can be affected by the display, as you need to change the entire device if you crack its display.
Bluetooth – You can pair a Bluetooth-enabled HVAC gauge with a smartphone and monitor or record its readings through a designated app. However, maintain the connection between these two devices isn't always easy, which affects the performance of Bluetooth HVAC gauges.
Browse through our guide to the best HVAC thermostats to explore options that can make controlling the room temperature in your home easier.
AC system compatibility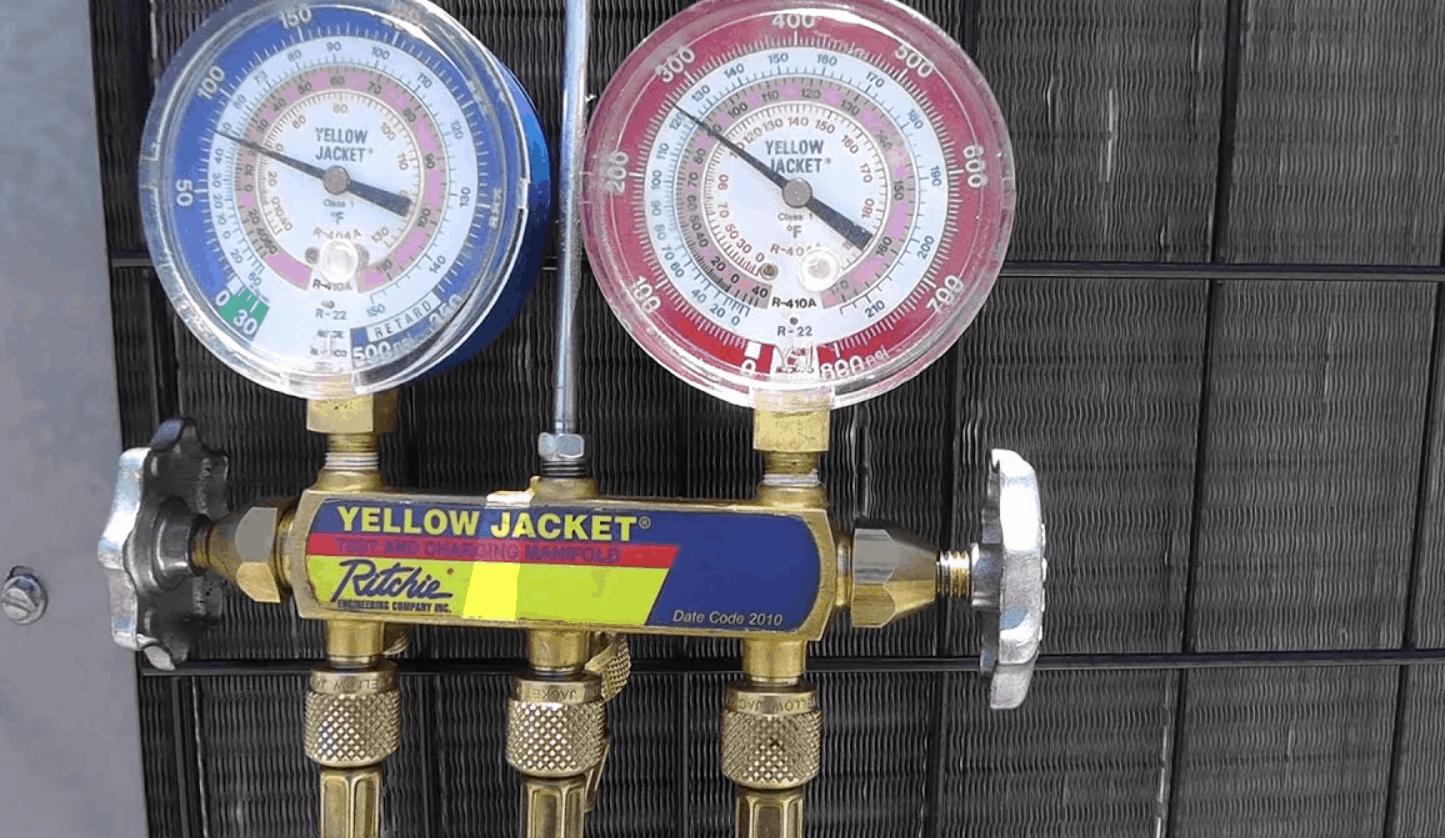 Heat pumps, mini-splits, and all other types of ACs utilize a refrigerant to cool the air. However, each system utilizes a particular refrigerant type that circulates under specific pressure.
That's why the pressure in systems that use the R-22 refrigerant system isn't the same as the pressure in a system that utilizes the R-410A refrigerant. Some HVAC gauges can work with just one refrigerant type, and you cannot use them to diagnose or repair systems that use other refrigerant types.
Gauges with multiple readouts enable you to measure the pressure or charge systems that utilize different refrigerant types.
However, if you opt for a gauge compatible with multiple systems, you need to remember that it is paramount to clean the hoses and gauge manifolds with nitrogen after every use to avoid contaminating a system with an incompatible refrigerant.
Check out our guide to the best HVAC tapes that can help you fix ducting and prevent refrigerant leakages.
Reasons to use an HVAC gauge
Repairing an HVAC system without an HVAC gauge is impossible because without this device, you won't be able to measure the system's static and load pressure. Also, these devices can help you detect clogging in the lineset or refrigerant leakage.
You're going to need an HVAC gauge if you have to evacuate the refrigerant or recharge the system. However, you cannot perform either of these tasks on your own unless you're a licensed HVAC technician because you need a license to purchase a refrigerant.
You need to be very careful while attaching the hoses to the AC system because the law prohibits releasing refrigerant into the air.
Moreover, making even a slight mistake while using an HVAC gauge can compromise the entire system, so hiring an HVAC contractor is your best option if you're not familiar with this process. Read our AC replacement coil guide if you need a new evaporator coil for your heat pump.
The most important factors to consider while choosing an HVAC gauge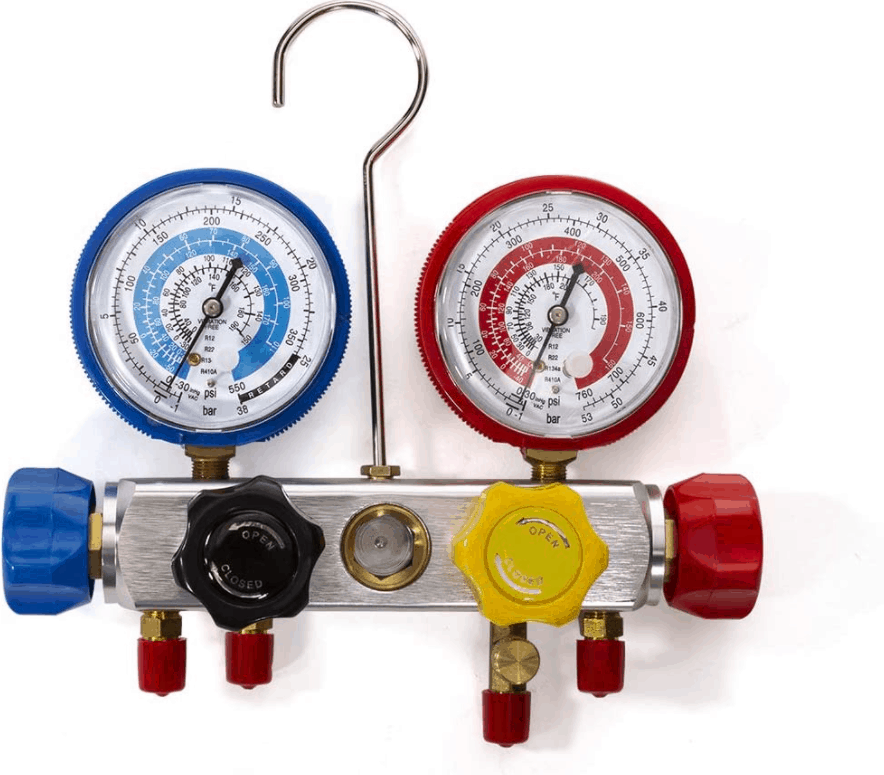 Maintenance checks of HVAC systems should be performed by a licensed technician, but having an HVAC gauge in your toolkit might make it easier for an experienced DIYer to determine if there's anything wrong with their home's heating or cooling system.
On the other hand, these gauges are a tool all HVAC technicians must have because they cannot do their HVAC jobs without them. Whether you're a DIYer or HVAC professional, you'll need to pay attention to several factors while choosing an HVAC gauge.
We've shortlisted some of the most important ones, so let's take a closer look at them.
The quality of the components
You should avoid models that have flimsy, plastic parts that deteriorate quickly. The HVAC gauge you choose should be made of aluminum or brass that comes with a set of sturdy O rings you can use to seal the hoses to the AC system and refrigerant tank.
You should keep in mind that hoses are sometimes sold separately from the gauge, so you need to ensure that the low, high, and utility hoses you get are compatible with your gauge.
Pressure reading accuracy
The efficiency and quality of an HVAC gauge depend on its ability to provide accurate readings consistently. Analog models are generally less accurate than digital or Bluetooth gauges, but they're easy to calibrate.
On the other hand, digital and Bluetooth models provide highly accurate pressure readings, but they have to be calibrated frequently to maintain their accuracy. Even models that arrive pre-calibrated require an occasional tune-up to continue providing precise pressure readings.
Feature set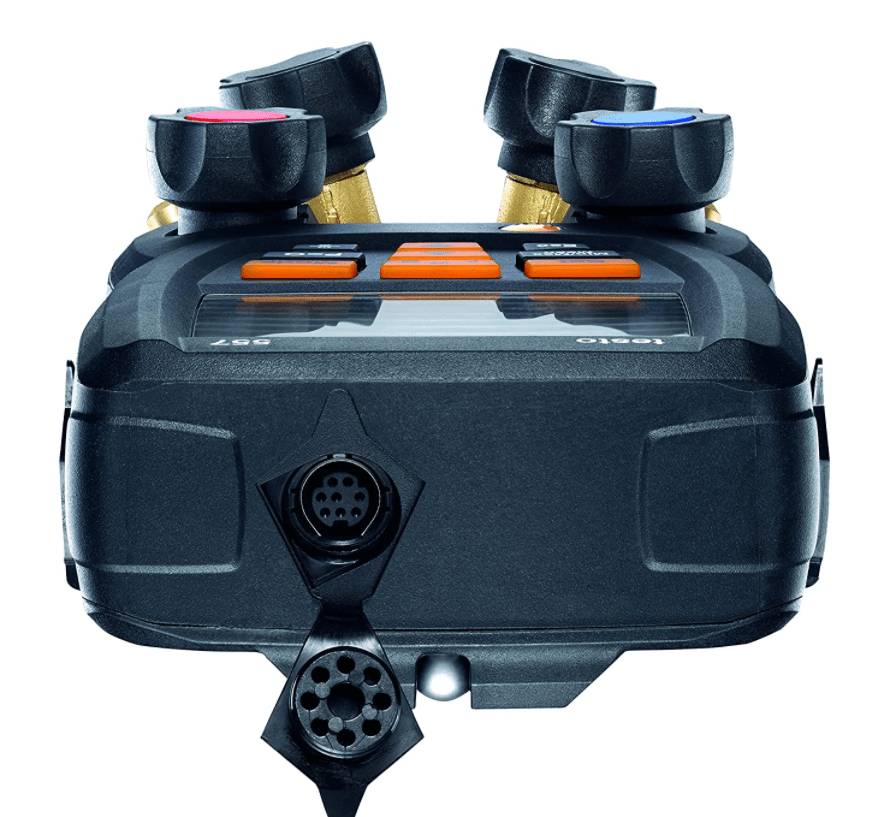 In addition to measuring the system's pressure and controlling to flow of the refrigerant, HVAC gauges can calculate the subcooling and sub heating values automatically.
The quality of the model's display will determine how easy it is going to be to monitor its readings, and you should opt for a gauge that has an anti-scratch glass or plastic display. Getting hoses equipped with an anti-blowback feature will keep the refrigerant leakages at a minimum.
Gauge's size and weight
HVAC systems aren't always easily approachable, so sometimes, you will be forced to use an HVAC gauge in a tight space. Choosing an ergonomically designed model will make it easier to keep a firm grip on the gauge while connecting its hoses.
Some models can have a hanger hook that free up your hands and seal the hoses tightly. An HVAC gauge can weigh between 2lbs and 6lbs, and they can get heavy if you have to hold them in your hands for a long time. Hence, opting for a lightweight model might make your job easier.
Cost and guarantee period
The price range of HVAC gauges spans from $50 or less up to $700, depending on their type and the features they offer. Bluetooth HVAC gauges are the most expensive option, even if the hoses and O rings aren't included in the set.
On the other hand, you can purchase an analog gauge compatible with a single refrigerant type for less than $50. The warranties for these tools can cover the entire set or just some of its parts, and their duration depends on the manufacturer.
The advantages of HVAC gauges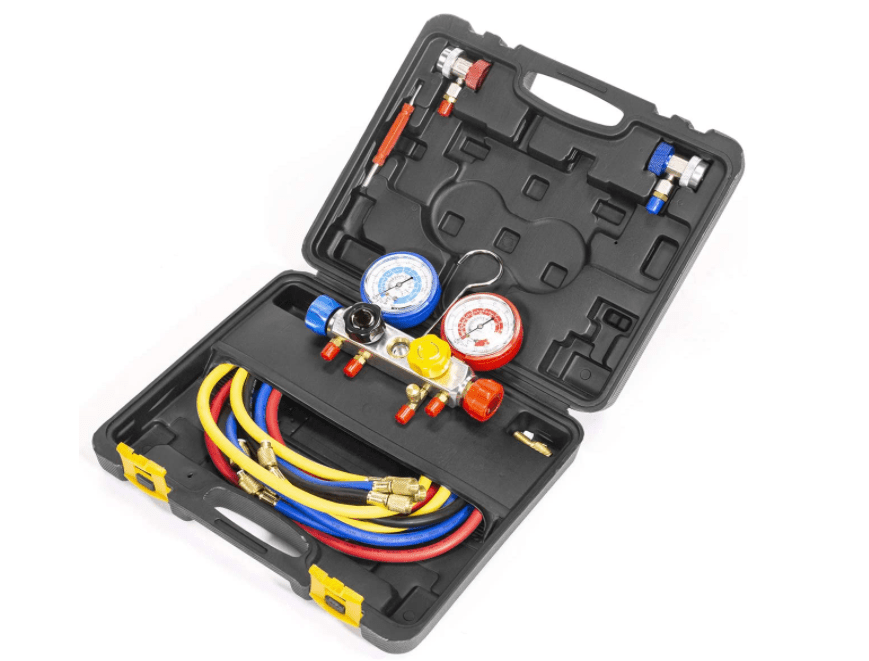 Quick diagnostics checks
Detecting the refrigerant leakage or clogging of refrigerant lines with an HVAC gauge is easy. These tools can help homeowners determine if they need professional assistance to repair their cooling or heating system.
Monitoring of the refrigerant flow
Replacing the unit's refrigerant might be necessary if its cooling capacities suddenly diminish. An HVAC gauge lets you connect the refrigerant tank to the cooling system and oversee the charging process.
Accurate readings
Pre-calibrated models provide you with temperature and pressure values that deviate less than 1F or 10 microns from the system's actual values. However, you need to calibrate these tools frequently to preserve their level of accuracy.
The disadvantages of HVAC gauges
Some models can be overwhelming for inexperienced users
The interfaces of digital HVAC gauges are often stacked with features that can be confusing for someone who hasn't used them before.
Top 5 HVAC gauges
Yellow Jacket 49968 – The best analog HVAC gauge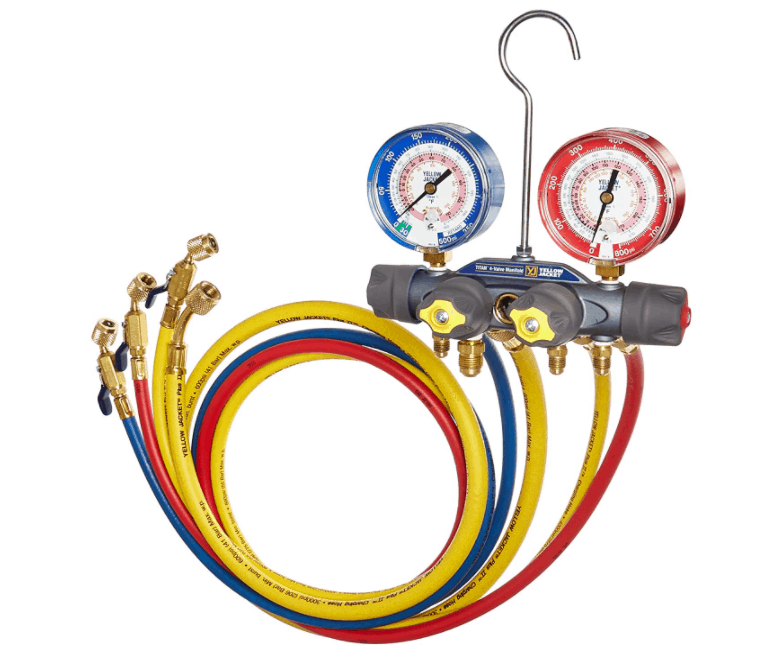 In addition to managing the cooling systems that utilize a now outdated R22 refrigerant, the Yellow Jacket 49968 enables you to work with ACs optimized for R-410A and R-404A refrigerants. The kit includes a gauge manifold and color-coded low and high-pressure hoses.
The manufacturer vouches for the accuracy of the model's pressure readings which makes it easier to evacuate or charge an AC. This model also has a metal hanger that enables you to find a suitable place for it while you're repairing a cooling or heating system.
Pros
Easy to use
High-pressure reading accuracy
Compatible with multiple refrigerant types
Made from high-quality materials
Cons
O rings wear out quickly
Manifold gauges can be difficult to read
XtremepowerUS HVAC Gauge – The best 4-way analog HVAC gauge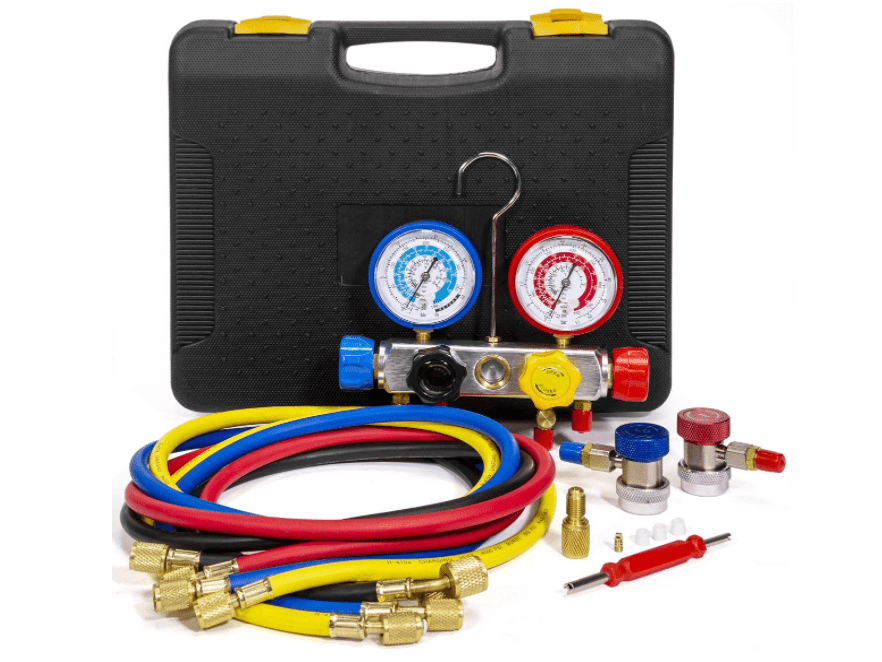 The Xtreme power US HVAC gauge might be a great choice for you if you're frequently working with different types of cooling and heating systems. This tool is compatible with four refrigerants, and you can use it to evacuate or charge ACs that use either of these refrigerants.
Its maximum burst pressure is set to 4,000PSI, while the maximum working pressure is limited to 800PSI. This HVAC gauge is inexpensive, and it comes with a 2-year warranty that covers all of its components.
Pros
Simple calibration process
Long charging hoses
Durable components
Affordable price
Cons
Hoses don't have the anti-blowback feature
Not aimed at inexperienced users
Fieldpiece SM480V – The best digital HVAC gauge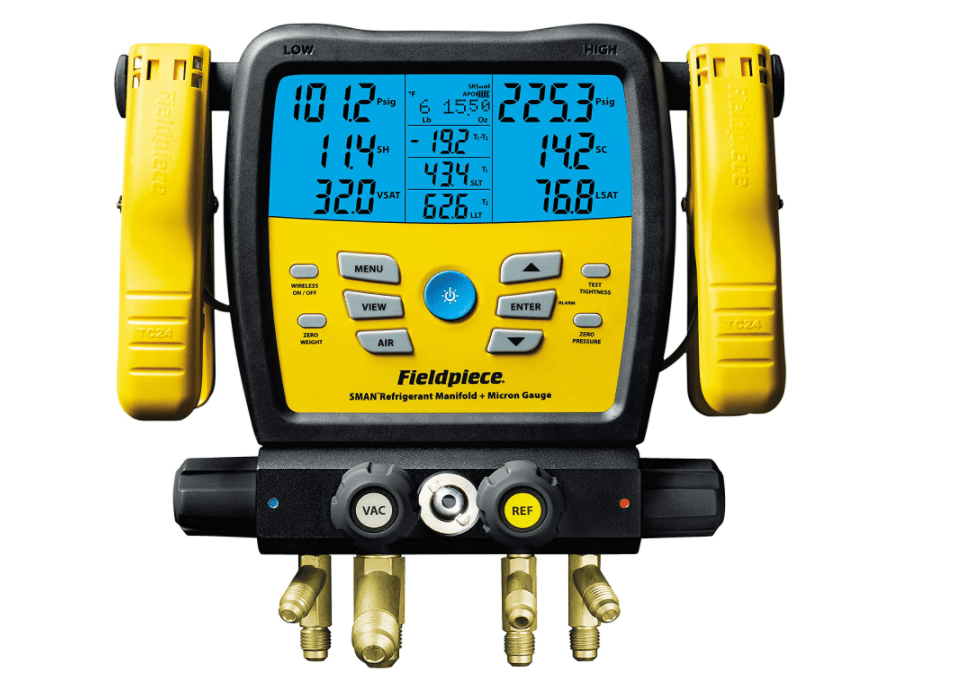 A professional HVAC technician can benefit from getting the Fieldpiece SM480V because it can memorize the refrigerant types and detected values from 10 different AC systems. The device is compatible with more than 70 refrigerants, including the most common ones like the R-410A or R-404A.
The manifold has 4 high and low-pressure valves, as well as a 4-inch LED display that is easy to read regardless of the light conditions. However, you must find compatible hoses for this digital HVAC gauge because they're not included in the set.
Pros
Micron gauges measure the system's moisture level
Easily readable LED display
Compatible with a wide range of refrigerants
Calculates the leakage automatically
Cons
Overwhelming interface
No warranty
Testo 0563 1557 – The best Bluetooth HVAC gauge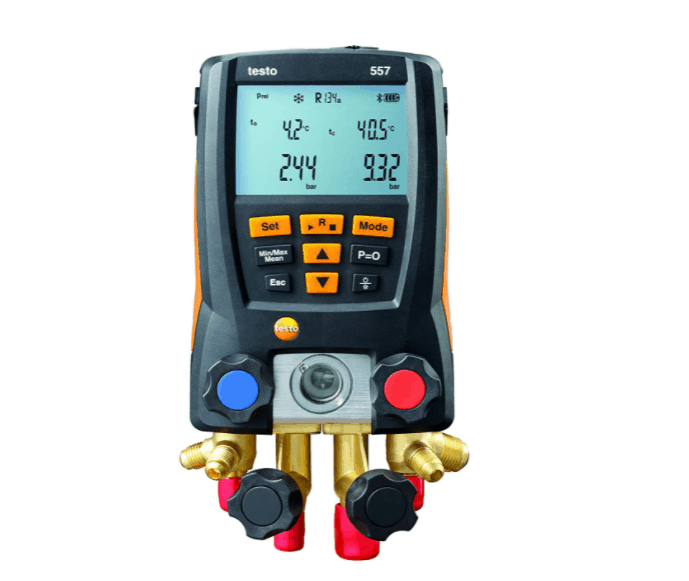 Compact and lightweight design enables you to use the Testo 0563 1557 in tight spaces. This digital HVAC gauge is Bluetooth-enabled, and you can use the Testo Refrigeration app to monitor its high and low-pressure readings.
The tool has 3/8-inch and ¼-inch valves and an automatic heat pump mode, which reduces the need to switch between different hoses. In addition, this Testo's model has 60 profiles that identify which refrigerant the system is using.
Pros
Stacked with advanced features
Sturdy and impact-resistant housing
Large backlit screen
Features a heat pump mode
Cons
Expensive
Hoses must be purchased separately
Mastercool 59661– The most affordable HVAC gauge set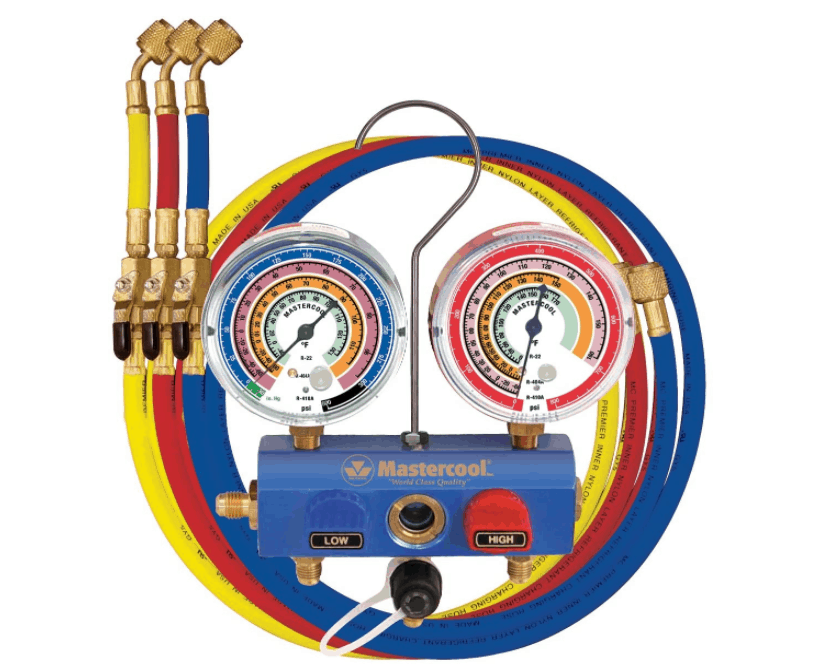 Sturdy aluminum construction protects the Mastercool 59661 from accidents that may occur at the worksite. The gauges are cover with impact-resistant Lexan lenses, and they're silicone dampened to ensure smooth needle movement during readings.
The set comes with 5-grade hoses that feature highly adjustable ball valves, which enables you to change the hose's position even while you're charging the system. The Mastercool 59661 comes with a carrying case that provides enough space to store all your equipment.
Pros
It doesn't require frequent calibration
Sight glass makes reading pressure values easier
Compatible with all common refrigerants
Face seals lower the risk of leakages
Cons
Heavier than most HVAC gauges
The manufacturer doesn't offer a warranty for this product
Frequently asked questions about HVAC gauges
Question: Are HVAC gauges difficult to read?
Answer: No, but you need to know which parameters you have to monitor. You should take some time to learn how to read HVAC gauges if you haven't used them before.
Question: How to prevent refrigerant leaks without anti-blowback hoses?
Answer: You need to detach the hoses from the AC system as fast as possible and then use the valve caps to stop the refrigerant from escaping the high and low-pressure lines.
Question: How long does it take to charge an AC system with an HVAC gauge?
Answer: It shouldn't take you more than half an hour to charge a fully evacuated AC system, but you should make sure not to overcharge the system.
Question: Can I calibrate an HVAC gauge alone?
Answer: If you're familiar with the process, calibrating an HVAC gauge shouldn't be too difficult, but you should hire a professional to do this for you if you've never gone through this process before.
Our verdict: Which HVAC gauge is the best addition to your toolset?
Detecting the problems that affect the efficiency of your cooling or heating system can prevent damage to some of the system's key components. HVAC gauges enable you to check if the refrigerant is leaking or if the lineset is clogged by measuring the system's pressure.
They also allow you to evacuate the refrigerant from a faulty AC and replace it with a refrigerant compatible with the system. We recommend the Testo 0563 1557 HVAC gauge because it enables users to perform accurate pressure and temperature readings.
If you're searching for an analog HVAC gauge set, you should consider getting a model with an excellent price-performance ratio like the Mastercool 59661.
So which HVAC gauge are you going to choose?
Let us know in the comments or continue reading our guide to the best 5-ton heat pumps if you need a new cooling and heating system for your home.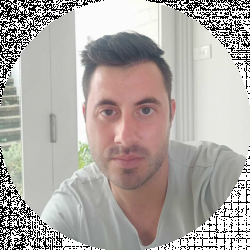 Latest posts by David Borgogni
(see all)