Sometimes repairing an HVAC is as simple as sticking tape over the leaky part of the system, but you can't use just any tape. Our guide to the best HVAC tapes will help you figure out which type of tape you can use to perform minor repairs to the HVAC system.
Using duct tape to fill holes in the ducting or strengthening the air conditioning cables is forbidden. The tape you use needs a wide temperature rating, excellent water resistance, and a high level of adjustability.
Consequently, only HVAC rated tapes are approved for professional repairs of HVAC systems. However, a professional HVAC toolkit should also include film and electrical tapes and general-purpose duct tape.
In this guide to the best HVAC tapes, we're going to examine the features these tapes should have and help you choose the model that will get the job done. You should check out our article on mini-split systems if you don't have a conventional HVAC system at home.
The 5 Best HVAC Tapes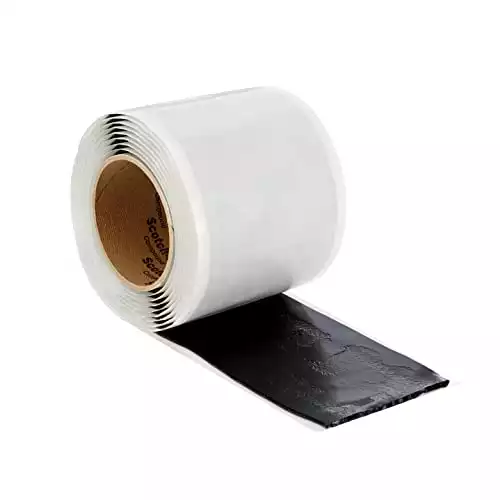 3M Scotch-Seal Mastic Tape | Amazon
3M Scotch-Seal Tape 2229 is a UV-resistant roll with good self-healing properties after being cut or punctured. The tacky mastic adhesive of the roll adheres over irregular surfaces to provide excellent moisture resistance.
Buy at Amazon
We earn a commission if you make a purchase, at no additional cost to you.
11/28/2023 06:56 am GMT
Types of HVAC tapes
The costs of replacing the entire ducting system every time it starts to leak are too high, but on the other hand, leaks increase the system's energy consumption and lower its efficiency. Whether the air or the refrigerant is leaking out of the system, you can stop it with a sealant or an HVAC-rated tape.
HVAC technicians utilize mastic sealant to treat warped or worn-out connections and seams in the HVAC system. This sealant is also available in the form of tape that enables technicians to seal unapproachable segments of HVAC systems.
In addition, HVAC tapes can have a backing made of aluminum, foil, aluminum, or fiberglass, and each type is capable of withstanding sudden temperature changes.
Arguably, the two most popular HVAC tapes are mastic and aluminum foil tapes because they perform well in humid conditions and their adhesives bond to most surfaces.
Combining mastic sealants with HVAC tapes is a standard practice among HVAC technicians because it offers a durable sealing solution for a leaking system.
Temperature rating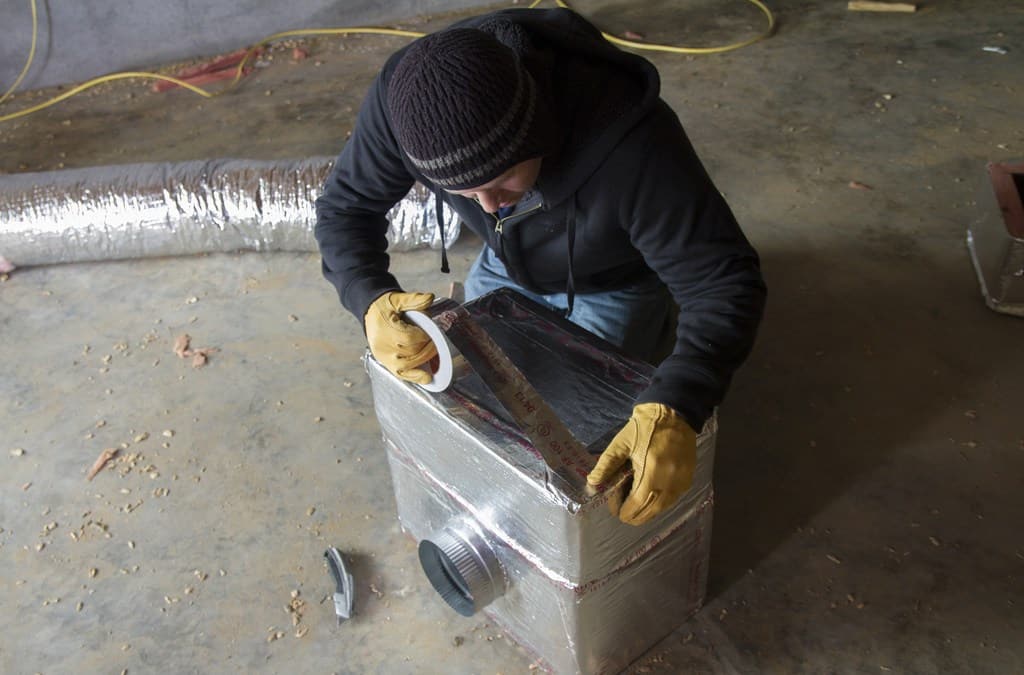 Conventional HVAC systems endure harsh temperature changes, as the temperature in ducting can rise well above 200F or drop below 10F, depending on the purpose for which you're using the system.
That's why the tape utilized to fix the leakage needs to maintain its adhesive power at high and low temperatures. Most HVAC tapes you'll find on the market have a temperature rating between -25F and 260F, while a handful of models comes with a temperature rating that spans from -40F to 300F.
It is also worth noting that the tape's temperature rating only indicates that its adhesive won't harden at low or high temperatures. Still, it doesn't suggest for how long the tape can withstand exposure to extreme conditions.
In most cases, you'll have to replace the HVAC tape after 3 to 4 months as their backing or their sealants start to fail.
Adhesion, strength, and tack
All HVAC tapes have the same components: aluminum, foil, vinyl backing, acrylic, rubber-raisin, or mastic adhesive.
Models that utilize rubber-raisin adhesives perform poorly under extreme temperatures, which is why most HVAC technicians opt for models with acrylic or mastic adhesives.
These HVAC tapes have different adhesion capabilities, as they're not equally effective on all surfaces. In addition, some manufacturers include the tack rating in the tape's list of specifications that shows how much time it needs to stick to a surface.
Models with high tack ratings usually stick to the surface as soon as they are applied, and they have more strength than HVAC tapes with medium or low tack ratings.
Although it may seem that opting for an HVAC tape with the strongest adhesive and the highest tack and strength ratings is the best choice, this isn't always the case because these models don't leave a margin for error.
Choosing an HVAC tape that needs some time to stick to a surface provides you with enough time to readjust it to cover the leakage better.
Conductivity and water resistance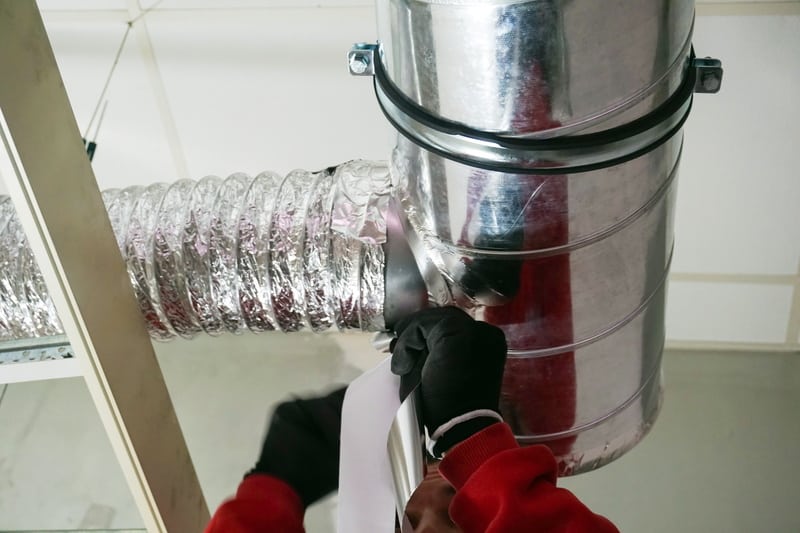 The aluminum HVAC tapes can be conductive or non-conductive, and you should choose an option that is best suited for the component of the system you're repairing.
Thermally conductive HVAC tapes prevent heat loss at both high and low temperatures, and in doing so, they increase the system's energy efficiency. Besides, the tape's thermal conductivity features allow you to fix seams and connections exposed to frequent temperature changes.
Tapes with good conductivity features don't shrink or swell at extreme temperatures, enabling them to keep the repaired component in place for a long time. Humidity and moisture within the HVAC system can wear out the tape if it isn't water-resistant.
Even though you'll be able to repair ducting with tapes that aren't resistant to water, they aren't as durable as the water-resistant models, so you might have to retape the same seams and connections after a few months.
HVAC regulation compliance
UL Standards or the Underwriter's Laboratory Rates indicate the tape's ability to withstand or prevent fires or water leakage. The codes within the UL standards that apply directly to HVAC systems are called UL Code 181 A and UL Code 181 B.
The UL Code 181 A regulates rigid ducting, while the UL Code 181 B contains regulations for flexible ducting. Checking if the tape you're interested in is suitable for rigid, flexible, or both types of ducting is the easiest way to check if you can use it to repair an HVAC system.
Also, you should bear in mind that some models aren't UL listed because they contain flammable components, but you can still use them to fix HVAC system leaks, although with a certain amount of caution.
The most important factors to consider while choosing HVAC tape
HVAC tapes can be a reliable and durable solution for the problem affecting the HVAC system's efficiency, but only if they're used in the right contexts.
So, for instance, if the conditions inside and outside of the ducting are humid, then the tape you use must be water-resistant. Going through the model's list of specifications is the best way to ensure that it is suitable for the task you want to perform.
We've shortlisted a few of the most important factors you need to consider while searching for an HVAC tape, so let's take a closer look at them.
Suitability for the type of ducting you're fixing
Repairing rigid and flexible ducting requires you to have either a suitable tape for both ducting types or a tape that meets UL requirements for one of the ducting types.
Finding this information won't be difficult, as most manufacturers include it on the packaging. Hence, you just need to pay attention to the UL listing and then determine if the tape model can be used for the HVAC repair you'd like to perform.
You should also check the tape's ASTM 2342 – 10 rating, if available, to find how durable it is.
Breathability and adjustability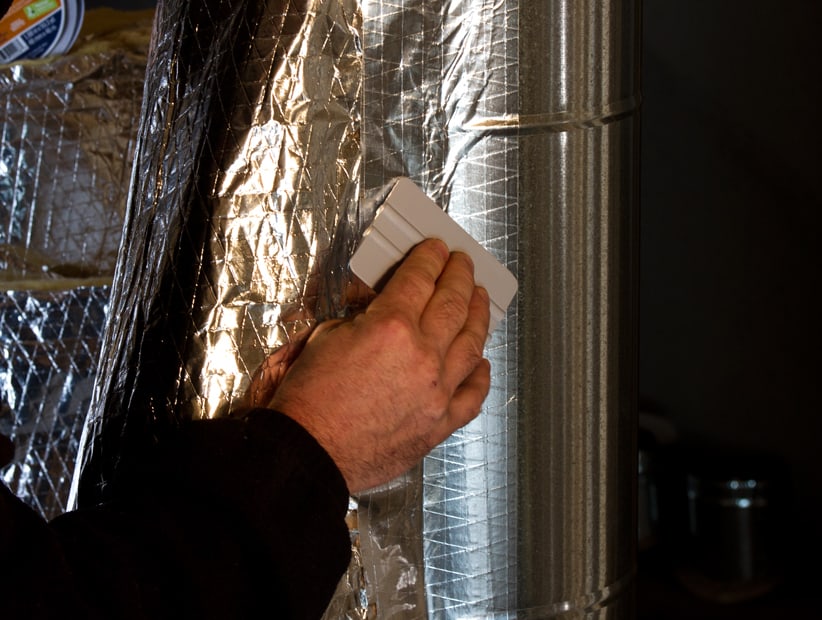 Reaching remote parts of ducting can be challenging, which is why HVAC technicians prefer tape to mastic sealants. You can cut HVAC tapes with a knife, scissors, or any other sharp object, which enables you to adjust them to the shape of the ducting.
Tapes that have a high permeability rating are incapable of preventing liquids, gases, and air from escaping the HVAC system, which renders them useless for repairing these systems. You should opt for a tape with a low permeability rating to ensure that it's capable of stopping the leakage.
The method of application
The majority of HVAC tapes are labeled as 'pressure-sensitive, which means that you have to apply pressure to stick them to the material.
You can apply the pressure with your hand or squeegees and any other item that allows you to put even amounts of pressure on all parts of the tape.
Opting for a model that doesn't have a pressure-sensitive label will enable you to skip this step, but you should keep in mind that tapes that aren't sensitive to pressure often utilize strong adhesives that stick to the material instantaneously, which makes readjustment impossible.
Shear rating
The strength or shear measure of the tape's cohesiveness and its ability to hold a specific weight regardless of the room conditions. Tapes with a low shear rating tend to deteriorate quickly, which ultimately compromises the integrity of the entire HVAC system.
Both the tape's backing and its adhesive contribute to the sheer rating, so you should opt for a model that has a backing that won't be affected by environmental factors and a moderately strong adhesive that sticks to a wide range of surfaces.
Roll size
Even though HVAC tapes aren't expensive, you should still choose a model that provides you with enough length to perform multiple repairs. Most HVAC tapes are between 30 and 60 yards long so that you can cover a significant portion of the HVAC system with a single roll.
The width of tapes varies between 1 and 4 inches, and they are wide enough to cover most holes in the HVAC system.
The advantages of HVAC tapes
HVAC tapes make repairs of unapproachable areas of ducting easy
Using sealants requires a level of precision that is difficult to achieve in parts of ducting that are hard to reach. HVAC tapes provide a simple solution to this problem as they can be shaped to fit a specific portion of ducting and stop the leakage.
Simple application model
Applying HVAC tapes to rigid and flexible ducting is easy, even if the model is pressure sensitive. You just have to stick the tape over the broken part of the HVAC system, and the adhesive will do all the work for you.
Excellent UV, fire, and water resistance
To meet the UL Code A and B requirements, HVAC tapes have to resist fire, humidity, chemicals, and UV rays well. Getting a model with all of these features will ensure that the tape will provide a permanent fix for the HVAC system.
The disadvantages of HVAC tapes
Adhesive can be too strong.
Some HVAC tapes are hard to remove once they're applied because the adhesive is too strong. The simple solution to this problem is to use more tape, but doing so will quickly deplete your HVAC tape supply.
Top 5 HVAC tapes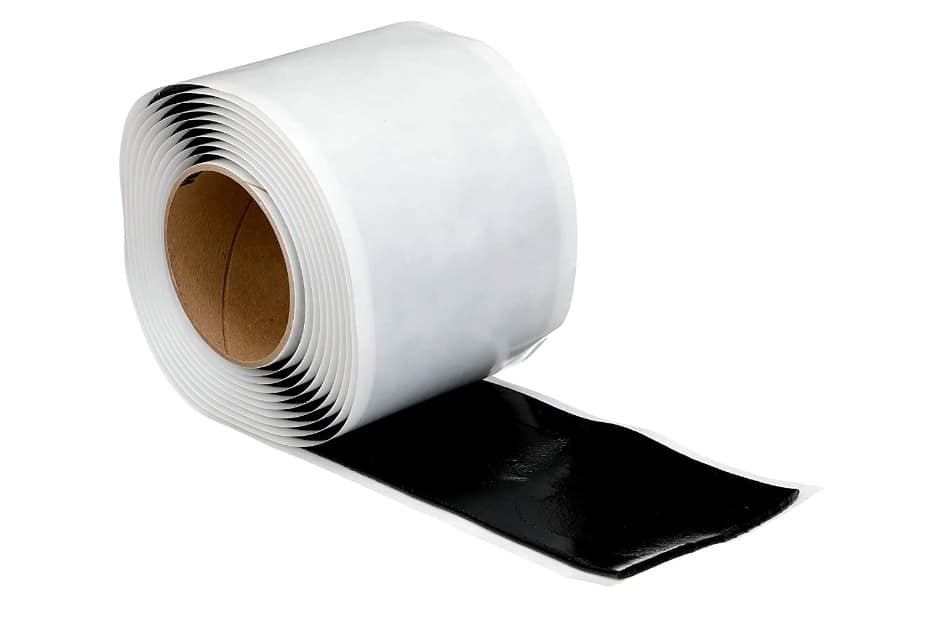 Besides fixing HVAC systems, you can use the 3M Scotch-Seal Mastic Tape to insulate electrical installations. The strong mastic adhesive ensures that you can apply this tape on rubber and other surfaces, but the surface should be cleaned before application for effective adhesion.
The tape is available in several widths, and the widest model can cover holes with a 3.5-inch diameter. Compared to other models, the HVAC tape has a standard temperature range as the maximum temperature it can withstand is limited to 195F.
This tape is not UL listed, but it is compliant with the RoHS 2011/65, so you need to check if you can use it to repair HVAC systems in your state.
Pros
Performs well at high and low temperatures
Simple application process
Highly adjustable
Capable of covering wide gaps
Cons
Contains flammable chemicals
Expensive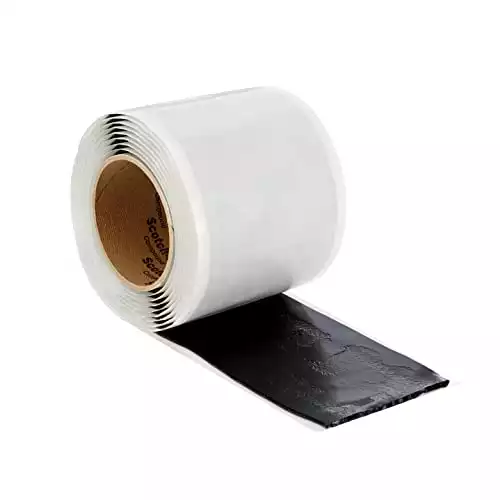 3M Scotch-Seal Mastic Tape | Amazon
3M Scotch-Seal Tape 2229 is a UV-resistant roll with good self-healing properties after being cut or punctured. The tacky mastic adhesive of the roll adheres over irregular surfaces to provide excellent moisture resistance.
Buy at Amazon
We earn a commission if you make a purchase, at no additional cost to you.
11/28/2023 06:56 am GMT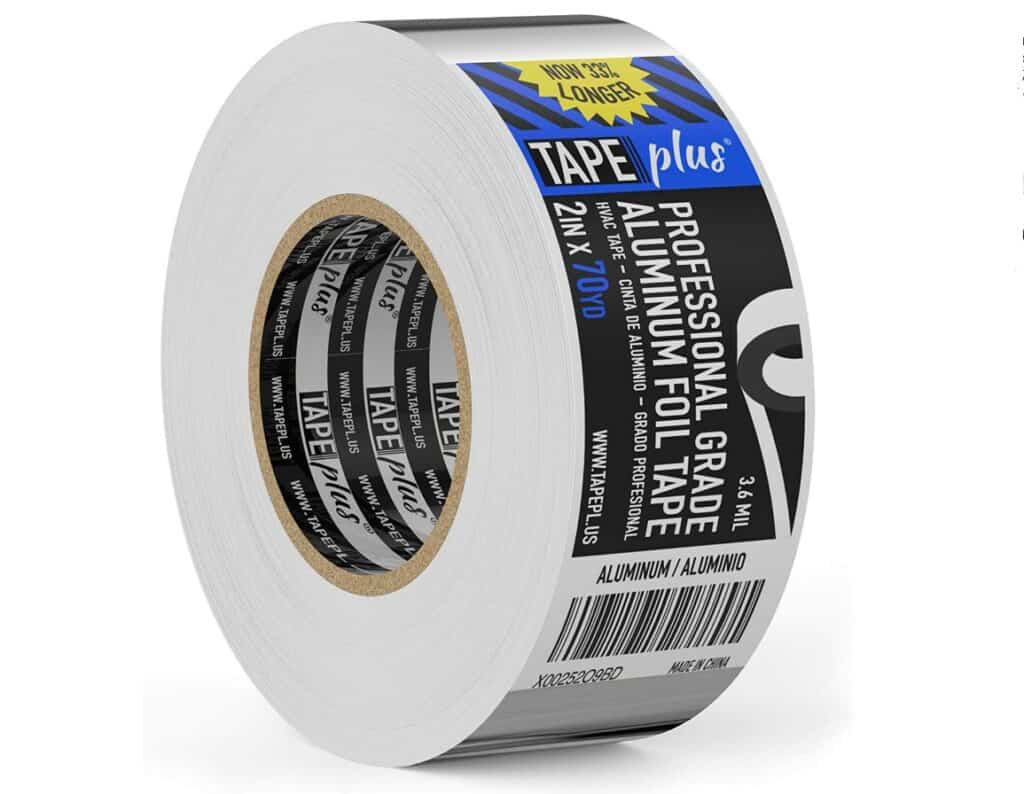 The ability to adhere to a broad spectrum of surfaces makes the TapePlus Aluminum Foil Tape one of the most versatile HVAC tapes on the market. You can use this tape to seal both hot and cold air vents and metal components of HVAC systems.
The tape's temperature range spans from -20F to 180F, ensuring excellent performance in extremely cold and hot conditions. In addition, this HVAC tape is resistant to mold, water, UV rays, and all other factors that may affect its sealing capacity.
Pros
A single role features 70 yards of tape
Cutting and shaping the tape is easy
Impressive performance at high temperatures
Suitable for rigid ducting
Cons
Requires pressure to achieve cohesion
Despite meeting the requirements, the tape isn't UL listed
Shurtape AF 100 Tape – Best HVAC tape for fixing large surface leaks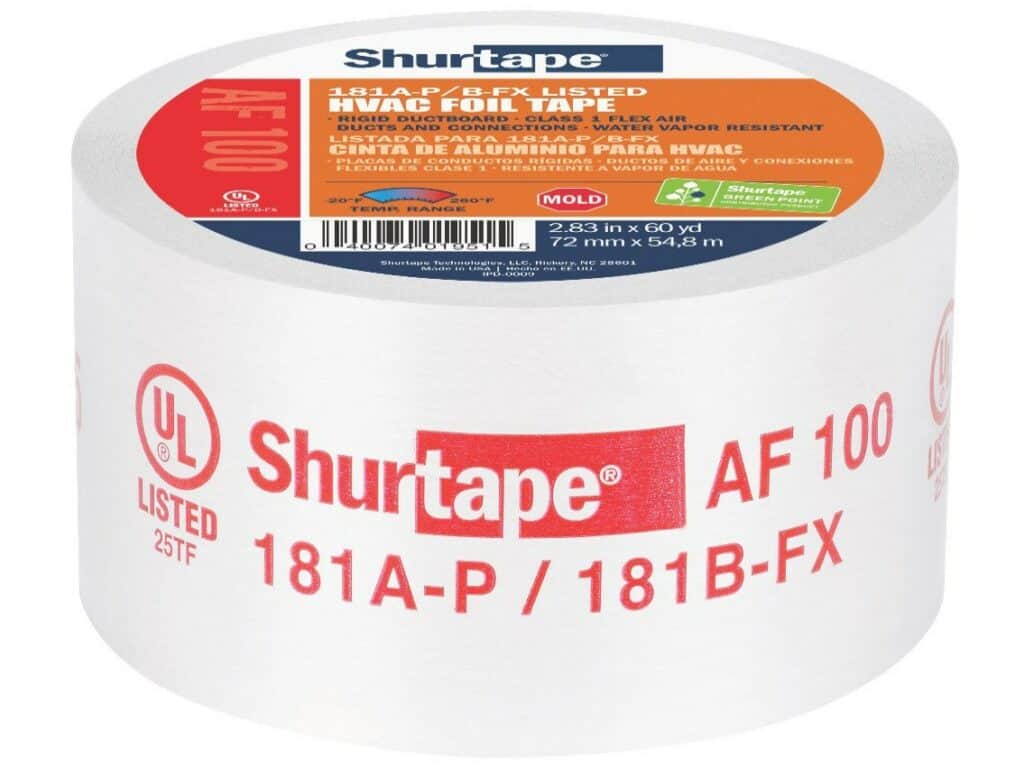 Dealing with large gaps at the seams or connections of the HVAC system will be much easier if you get the Shuretape AF 100 Tape. You can choose between versions with 2.5-inch and 2.8-inch widths, while both versions have a length of 60 yards.
The tape utilizes a butyl adhesive that sticks to most materials with a minimum amount of pressure, but exposure to humidity or sun rays can lower its adhesion capacities. The Shuretape AF 100 is compliant with UL 181 A and B codes, and you can use it to repair rigid and flexible ducting.
Pros
Wide temperature range
Tearing the tape is easy
Suitable for all types of HVAC systems
Recommended for indoor and outdoor use
Cons
Tack strength could be better
Doesn't resist humidity well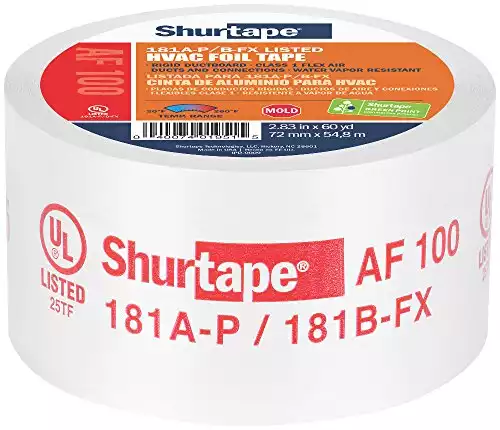 Shurtape Aluminum Foil Tape | Amazon
A tape that "does it all," AF 100 is engineered to form airtight bonds on joints and seams in application temperatures ranging from -20 to 260 degrees Fahrenheit and in humid conditions.
Buy at Amazon
We earn a commission if you make a purchase, at no additional cost to you.
11/28/2023 05:22 pm GMT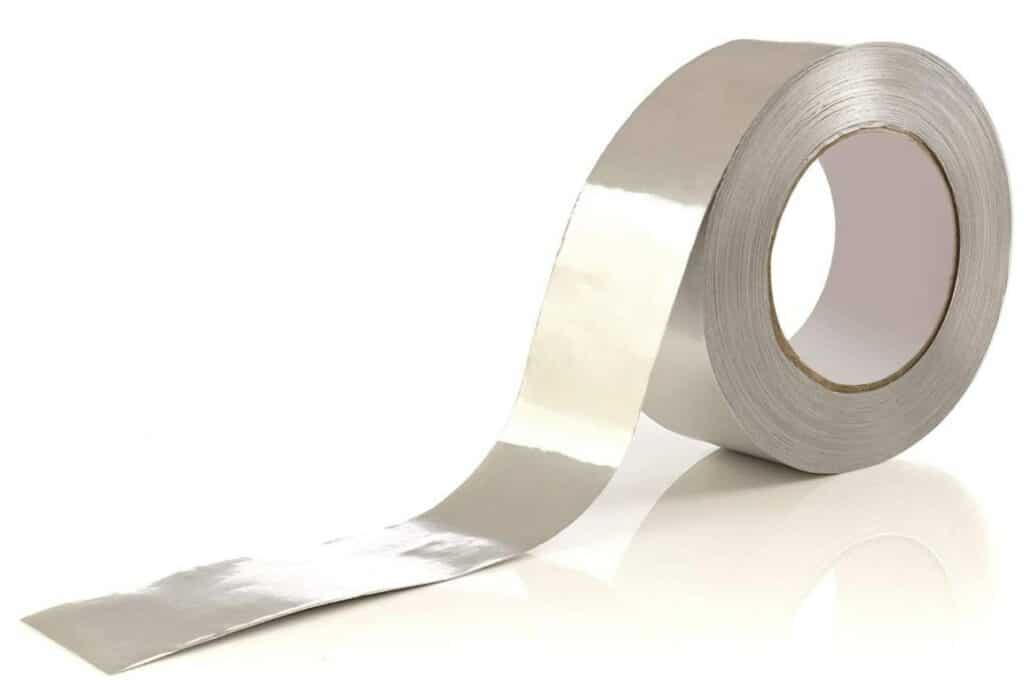 The Impresa Aluminum Foil Tape has a 1.7mil backing layer and a 1.7mil backing layer, while its width is 1.9-inches. You'll get 50 yards of this tape in one roll, which should be enough for multiple HVAC repairs.
The tape adheres to plastic and metal, enabling you to seal and fix all components of an HVAC system. Its thermal conductivity enables you to restore the system's efficiency and lower its power consumption needs.
The Impresa Aluminum Foil Tape is resistant to environmental factors, as it can withstand prolonged exposure to rain or sun.
Pros
Reflective silver backing
Sticks to even and uneven surfaces
Excellent sealing capabilities
Withstands temperatures up to 220F
Cons
Not UL listed
Removing the tape can be difficult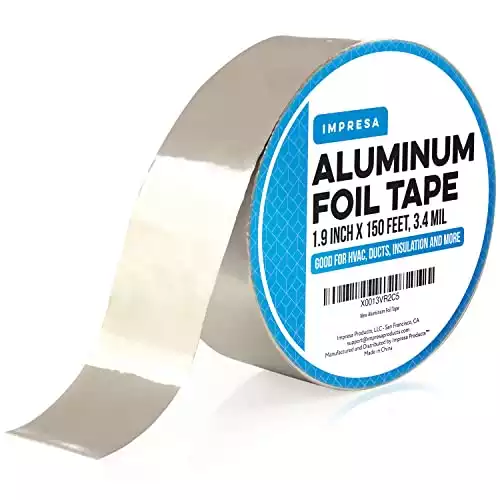 Impresa Aluminum Foil Tape | Amazon
High-quality, high tensile strength aluminum foil coated in epoxy resin with strong, cold-weather solvent acrylic adhesive set on an easy-release silicone paper liner to preserve the adhesive and provide ease of use.
Buy at Amazon
We earn a commission if you make a purchase, at no additional cost to you.
11/28/2023 06:18 pm GMT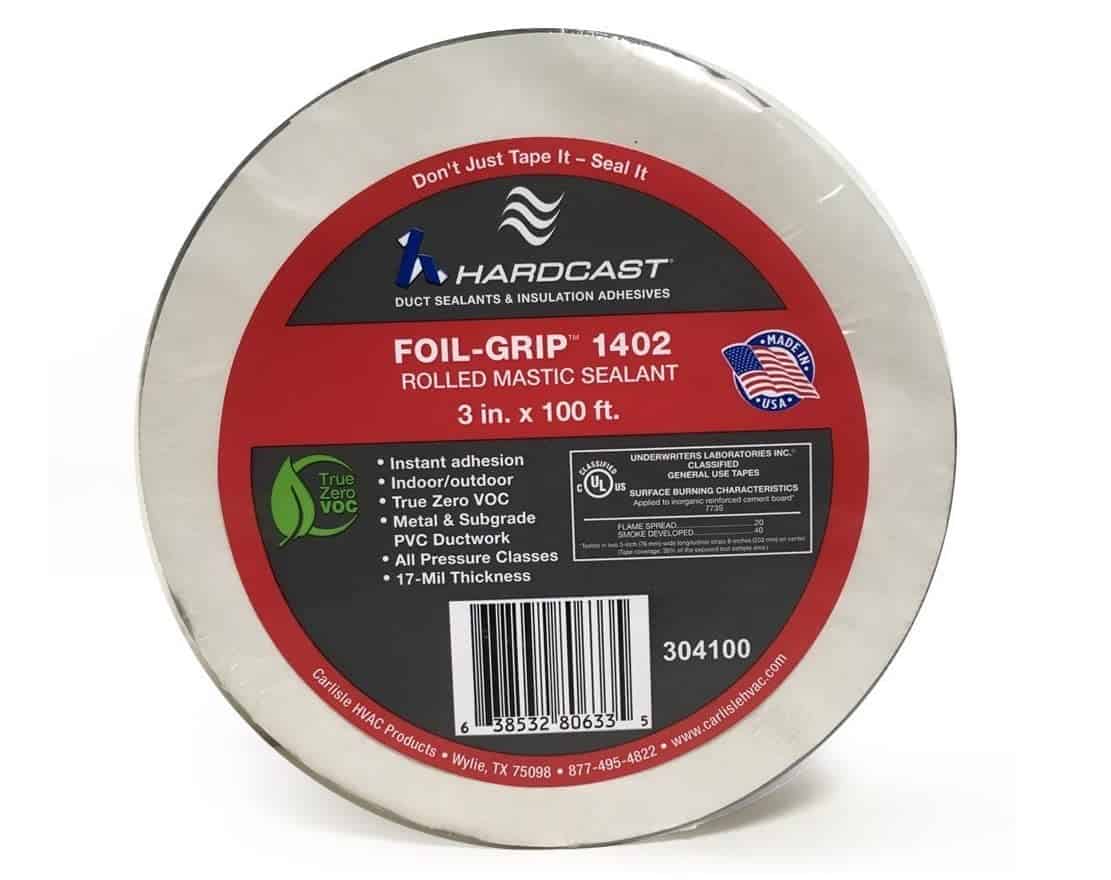 Eliminating the chances of an HVAC catching fire is impossible, but using the Hardcast Mastic Duct Foil to seal gaps will reduce these chances significantly.
The tape utilizes mastic adhesive to create an instant bond with the material, and there's no need to apply pressure to the tape to trigger the adhesion process. The Hardcast Mastic Duct Foil is designed for flexible ducting, and it is compliant with the UL 181 B code.
The Hardcast's HVAC tape is resistant to most chemicals, UV rays, moisture, mold, or water, making it a great long-term sealing solution.
Pros
Strong adhesive bonds with the material quickly
Designed for flexible ducting
Capable of covering wide gaps
Impressive temperature range
Cons
The strong adhesive doesn't leave too much room for error
A roll of Hardcast Mastic Duct Foil contains just 33 yards of tape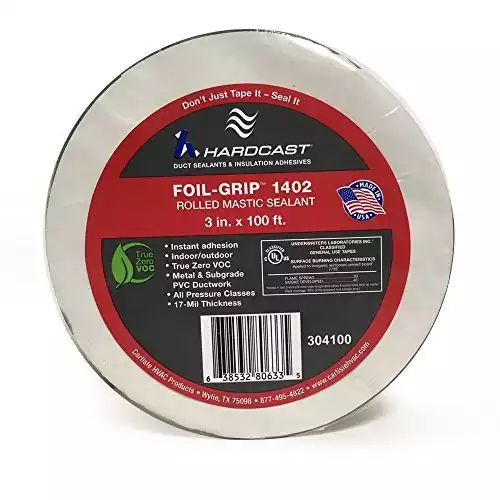 Frequently asked questions about HVAC tapes
Question: Is it safe to seal ducting with HVAC tapes?
Answer: Minor gaps and leaks can be resolved permanently with HVAC tapes, but these tapes aren't a long-term solution for damaged ducting.
Question: Can I apply the HVAC tape by myself?
Answer: Yes, you can. You don't have to hire a professional to apply the HVAC tape, but you shouldn't seal the gap or a hole unless you're sure that doing so will not cause further damage to the HVAC system.
Question: Do I need water-resistant HVAC tape?
Answer: You don't necessarily need a water-resistant HVAC tape, but getting a model that isn't affected by humidity will make the HVAC system seals more permanent.
Question: How much does a roll of HVAC tape cost?
Answer: Depending on a model, a roll of HVAC tape can cost between $10 and $40, making them a relatively inexpensive piece of HVAC equipment.
Our verdict: Which tape to add to your HVAC toolkit?
Fixing minor leaks or covering small holes in the HVAC system is an easy task anyone can perform, but simply sticking tape over a damaged component of the system won't always resolve the issue.
A licensed HVAC technician should look at the state of the HVAC system to determine if HVAC tape can solve the problem.
If you're dealing with an issue that doesn't require extensive repairs, you can get the Shuretape AF 100 Tape or the 3M Scotch-Seal Mastic Tape to seal the system and prevent fluid, air, or gas leakage. We recommend getting the Hardcast Mastic Duct Foil if you want to repair flexible ducting.
| Product Image | Primary Rating / Price | Primary Button |
| --- | --- | --- |
| | | |
| | | |
| | | |
| | | |
| | | |
11/28/2023 06:56 am GMT
Was this guide to the best HVAC tape useful? Let us know in the comment or continue reading our guide to heating systems to find out how they work.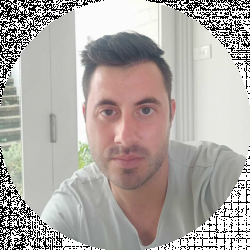 Latest posts by David Borgogni
(see all)