When we think of fireplaces, it takes us back to the holidays, such as Christmas. Having the whole family gather around a warm and open fire and enjoying each other's company is hard to forget.
The warmth that comes from the fireplace and that of the family forever remains etched in our hearts. For centuries, fireplace systems have been there as human beings gathered around the open fire for warmth, safety, and a sense of community. It is, therefore, no wonder that they are still being used till now.
However, with the advancement of technology, fireplaces have evolved. No longer do you need to on the wood-burning fireplaces as before, there are better options such as gas, gel, ethanol, and even electric ones to choose from.
If you are looking for the perfect fireplace for your home, then you have come to the right place. This comprehensive guide will help you narrow down your choices in the types of fireplace systems available in the market and choose the best one for you. Therefore, take a seat and sip your coffee as we take you through all the options.
Fireplace Fuel Types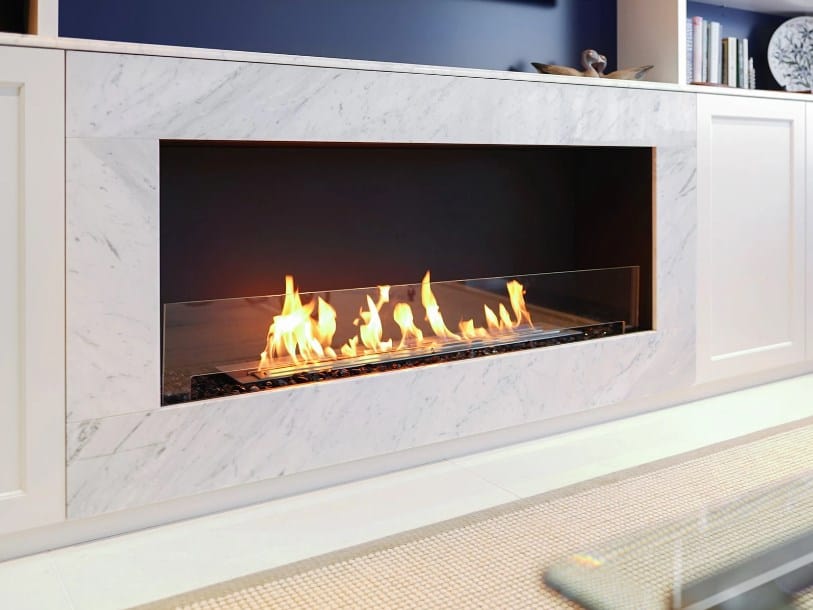 One of the first things that you need to look into is the fuel type. This will influence the mounting option, its design, and its location. There are different fuel types, and they include:
Wood-Burning Fireplace
These are the most traditional type of fireplaces. They have been there for centuries, as they are the simple form of fireplace. When most people think of a fireplace, they envision a wood-burning one. Woodfire has its own aesthetic, and you cannot beat its smell, look, and sound as the logs burn.
Types Of Wood-Burning Fireplace Systems
Site-built masonry
This is the traditional wood-burning fireplace . It is usually constructed from masonry, stone, or brick and consists of a chimney flue. They weigh between 6 and 7 tones, are long-lasting, aesthetically pleasing, and add value to the home.
However, site-built masonry fireplaces emit lots of smoke and are not efficient heat sources. The tile liners can also crack if the fireplace is not properly maintained and is exposed to chimney fires. Chimney fires will break the tiles; hence they will be incapable of performing their functions efficiently. It is therefore advised to always clean the masonry fireplace before the soot accumulates.
Prefabricated Fireplace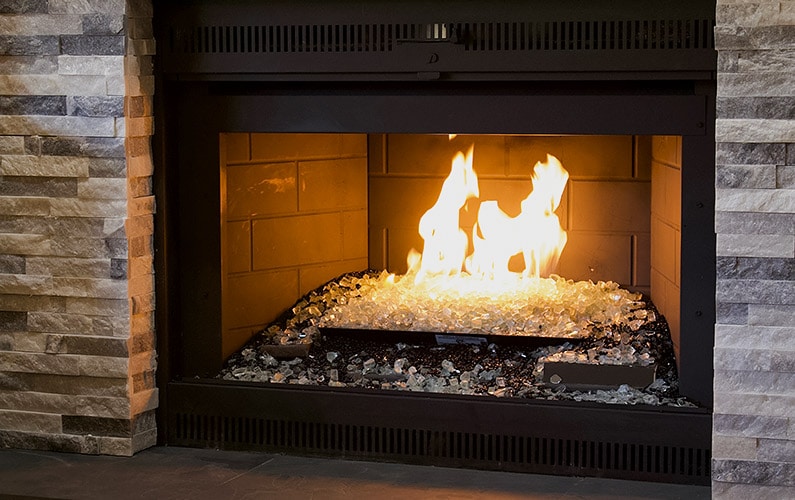 Also known as factory-built or zero-clearance fireplace systems, these are new to the scene and have been there for around 25 years compared to masonry fireplaces. Unlike their other counterparts, prefabricated types are usually made of metal parts assembled at the job site.
Prefabricated fireplaces have gained popularity over the years compared to standard masonry due to their numerous advantages. First, they are simple to install, and the labor and materials are cheaper than masonry fireplaces.
They also come in various sizes, styles, and shape options; hence you can choose what you prefer according to your taste and vision for the home. They also have insulated walls, a blower motor, and metal that improves air circulation and improves their heating efficiency.
However, these factory-built systems tend to wear out faster than masonry types. When it comes to durability, masonry wins hands down!
Wood-burning fireplaces are used to burn aged hardwood as it burns longer and causes less tar buildup than softwood. You can also use manufactured wood bricks made from sawdust and wood chips.
Wood-burning fireplaces, however, are becoming less and less common. This is because they are expensive to install as they require a chimney, and they also need professional cleaning done regularly.
The chimney needs lots of maintenance, and cleaning the ash out of the fireplace is no mean task. You also have to buy or chop wood to use it. Moreover, you will need special ventilation to ensure that you are safe. However, they are not going anywhere soon, as many people still love them. There are some alternatives, such as a wood-burning stove that will help heat the home too.
Electric Fireplace
Electric fireplace systems are quickly becoming the most popular fuel type in the market. They are the most cost-effective and easy-to-install fireplace system.
An electric fireplace is simply an electric heater that mimics a fireplace burning wood and creates warmth by heating the interior coils with electricity. Most of them also have an internal fan to distribute the heat better throughout the house.
Since there is no real flame inside this electric fireplace, a fake flame is usually produced to give a look and feel of a log burning. They use LED lights to create the illusion of fire on the screen. In some systems, you can even change the appearance of the flame, such as the color and other visual effects. Some newer models can even connect to Bluetooth and Wi-Fi, which is a plus for you.
Electric fireplaces are the easiest to install, with many units having a plug-and-play design. They can also be adjusted using remote control; hence you can control them from the comfort of your chair.
Isn't that great? Some also come with the option of turning off the heating option while still maintaining the visual ambiance, which is quite appealing and will come in handy when doing zone heating. They are also low maintenance and easy to clean, making them a fantastic option for your home.
Gas Fireplace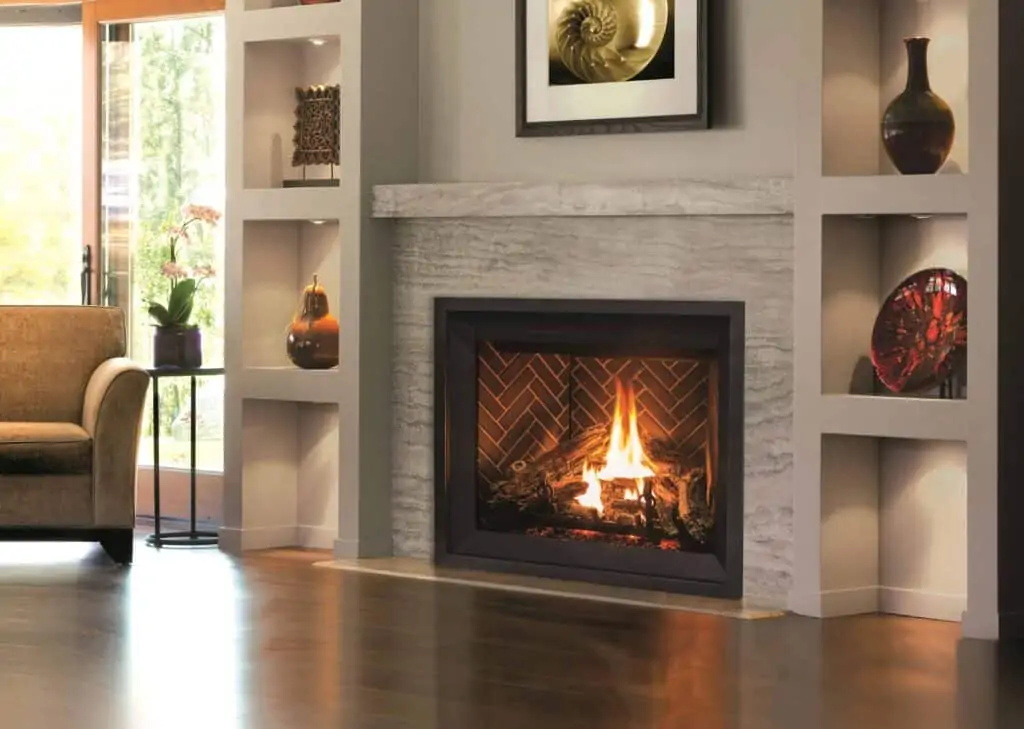 Gas fireplaces look and also act like wood-burning fireplaces. They produce smoke that requires ventilation installed. The only difference is that the fire is produced by gas, specifically natural gas or propane.
The good thing about a gas fireplace is that it is more manageable than its wood-burning counterpart, as you can control the gas being used to ignite the flame. This means that you can adjust it if you want more heat and likewise if you're going to reduce it. They are also fairly low cost and efficient, especially if you already have a gas line going to your home.
Types Of Gas Fireplaces
Direct Vent Fireplaces
These are quite popular as they promote healthy air quality, are efficient, and easy to operate. They usually draw their air and release their exhaust directly to the outside via a stovepipe. Since they do not draw air from inside the house, they are the perfect option for well-sealed and high-efficiency properties.
Vent-Free Fireplaces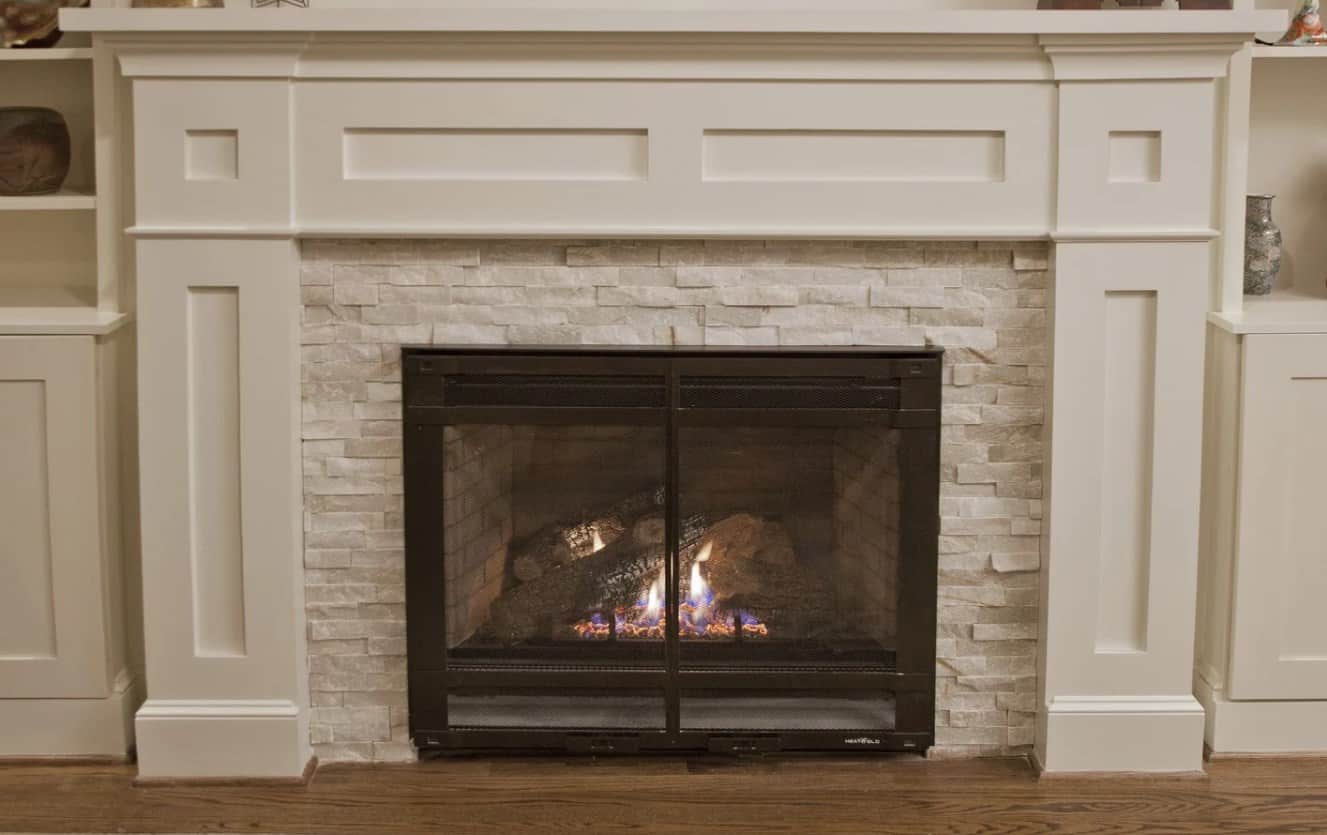 These systems do not require any vent or chimney to work. They come in several varieties, such as ventless gas logs, dual-sided glass fireplaces, built-in vent-free gas, and indoor and outdoor. They are best suited for large and high ceilinged rooms to ensure that humidity and carbon dioxide is dissipated.
There is a major issue that comes with using vent-free fireplace systems. Since the gas exhausts are not vented to the outside, carbon monoxide may enter the home, which is not safe. Also, vent-free gas appliances are not permitted in all areas; hence it is crucial to check the local area codes and regulations.
B-Vent Fireplaces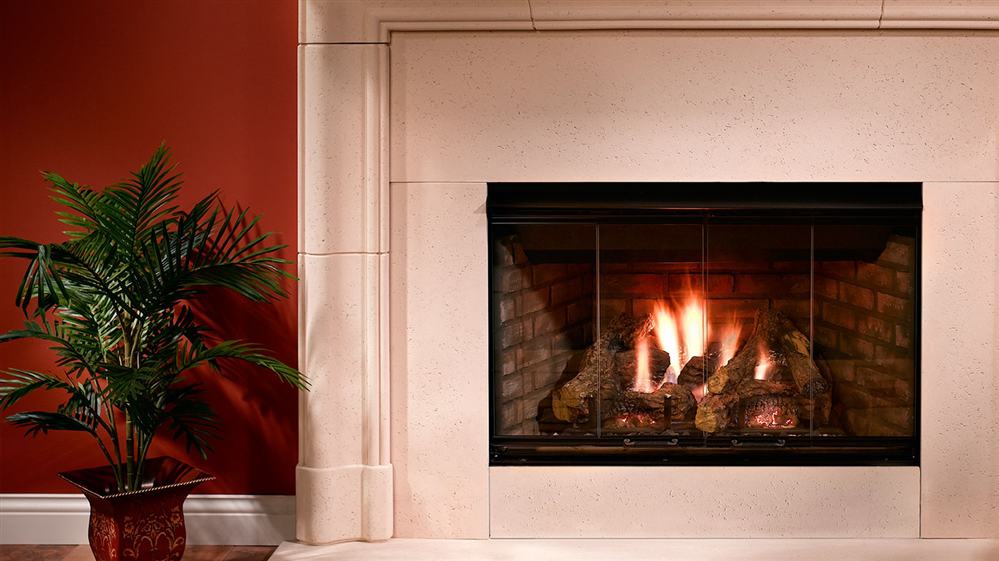 B-vent refers to the natural vent piping that is used in place of a chimney. These fireplaces resemble wood-burning types in their appearance and operation but do not come with their inconveniences. They are open to the room; hence they use the inside air and vent gas exhausts outside.
However, heat will tend to escape through the venting; hence b-vent systems are not the best primary heat sources but can be used for aesthetic purposes.
When choosing a gas fireplace system , the type of gas should be considered. Natural gas can use the existing gas line, which will be less costly for you. On the other hand, propane will need a propane tank to work, which will be more expensive.
Fireplace Gel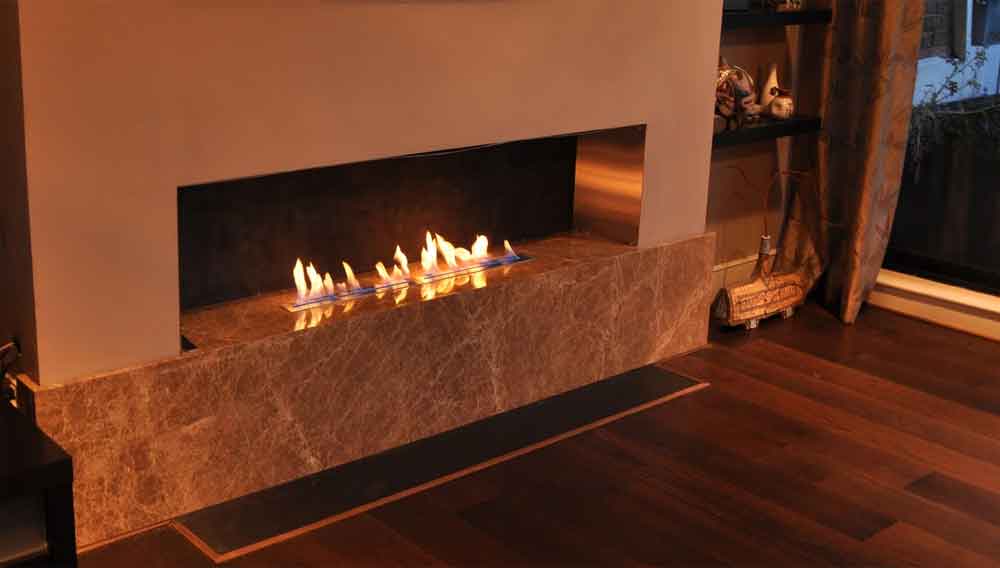 Gel fireplace systems are an incredible new addition to the batch. They are great as they are self-contained and lightweight; hence they can be moved from room to room or even mounted on a wall. They are also quite easy to install, as all they need is a can be filled with gel fuel, with no pipes, venting, and electrical wires required. Here, the flame is also real, unlike in electric and gas fireplaces. All you need to do is light the fuel gel can with a lighter, and you will get the flame burning.
However, they do not produce substantial heat, and their temperature cannot be adjusted. You should therefore not rely on them as a primary source of heat.
Ethanol Fireplace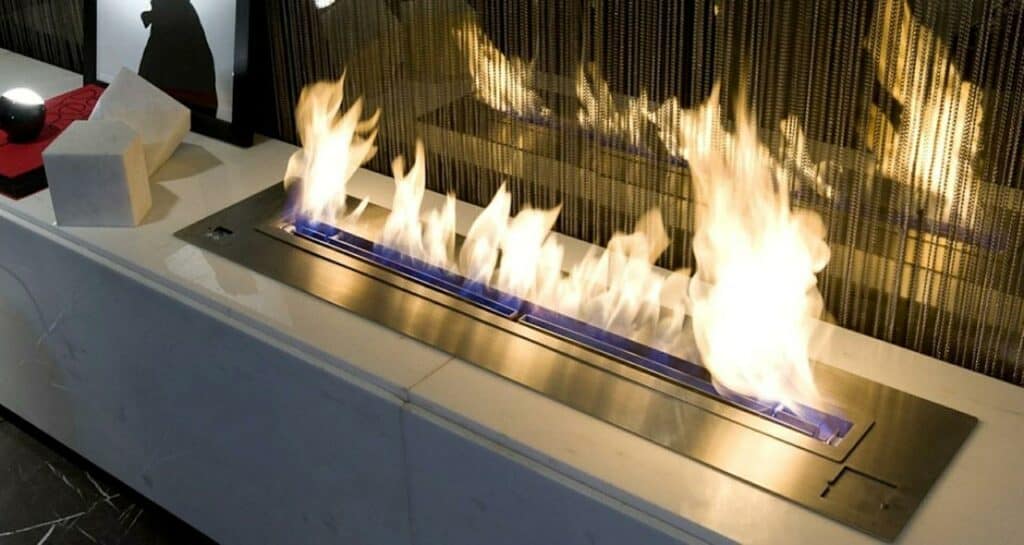 Ethanol fireplace systems are similar to gel, with the major difference being that a liquid bioethanol fuel is used instead of gel fuel for the former. Ethanol is vent-less and burns alcohol-based fuel to create real and smokeless fuel.
This fireplace is versatile and easy to operate, as it does not need a chimney or vents to work. To work, you will need to place the ethanol fuel into a container and light with a long lighter. If you want to decrease the flame size, ensure that you limit the burner opening. Unlike gel fireplaces, you can adjust the fireplace's temperature using the burner and easily turn it on and off.
Ethanol fireplaces are mainly used for decorative purposes, as they do not produce substantial heat to heat the entire house. Also, it is crucial to note that ethanol is flammable; hence you should handle it with absolute care.
Fireplace Mounting Options
Once you select the best fireplace system based on the fuel type, the next thing will be the mounting position. What you need to note is that not all mounting options go with all fuel types. Therefore, what works for one may not work for another; for example, putting a wood-burning fireplace on the wall will not be appropriate due to its massive size. The fireplace mounting options include:
Traditional Open-Hearth Fireplace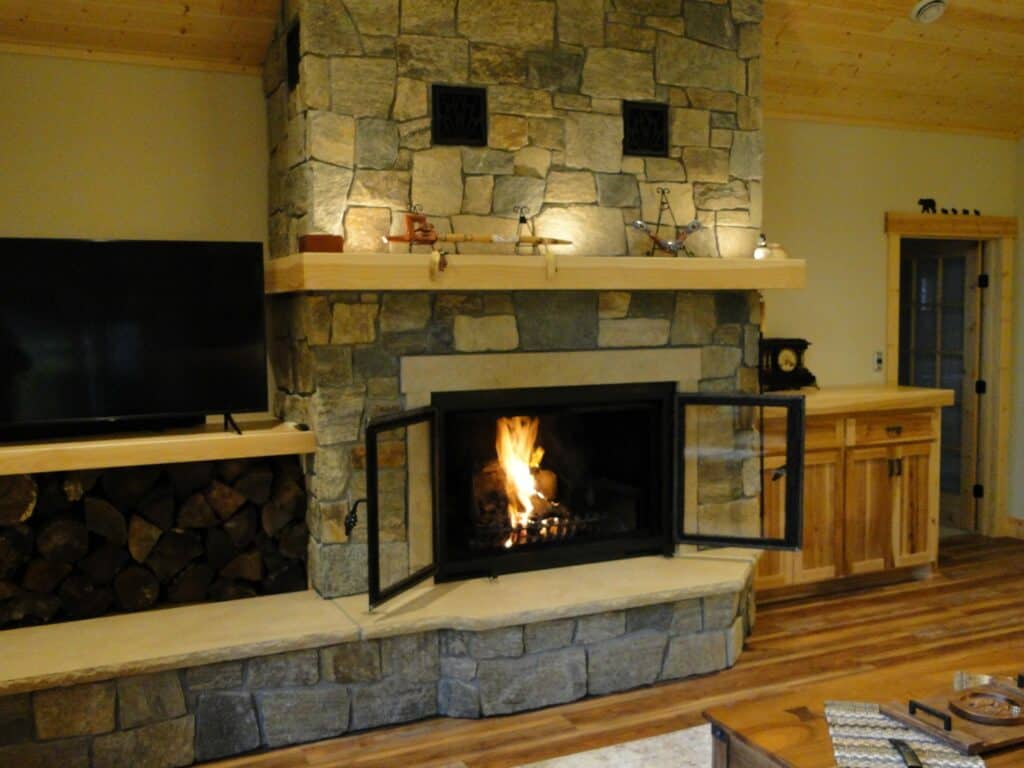 A traditional open-hearth fireplace is usually used with the wood-burning fireplace. It is built into the home's wall and is made using brick or stone. Here, you will need a chimney or flue for efficient ventilation. Out of all mounting options, this is the most expensive one. Therefore, it can be quite hectic if your house does not originally have a traditional open-hearth fireplace, as most people opt for it when they already have it constructed, as it is cheaper.
Built-In Insert Fireplace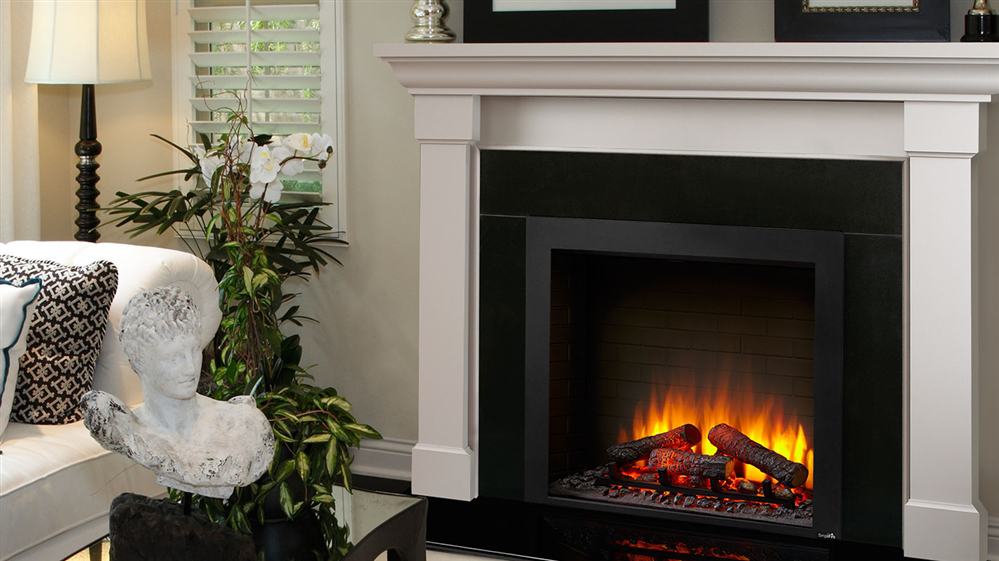 These come in handy if you already have a traditional wood-burning fireplace installed. The fireplace insert, be it gas, gel, electric, or ethanol, is usually inserted into the opening, and you will be good to go. It is the perfect way to convert your high maintenance traditional fireplace system to a more efficient and low maintenance fireplace.
Free-Standing Fireplace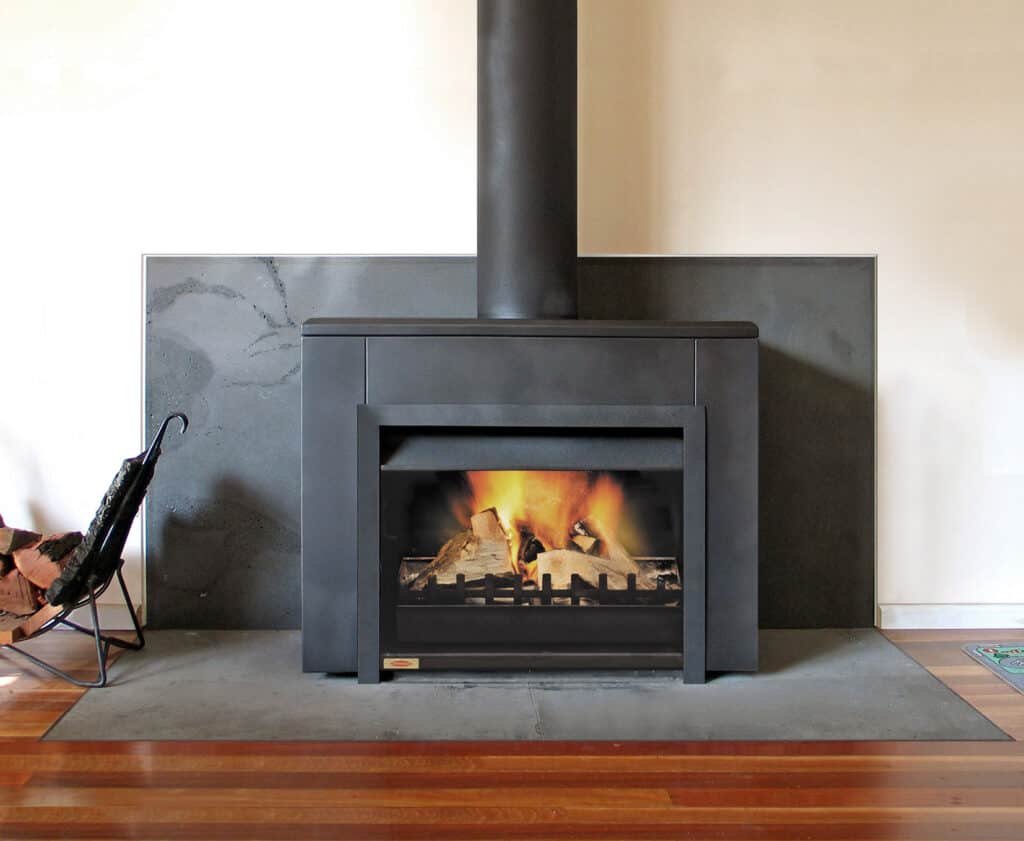 This mounting option incorporates a modern look, emulating the traditional fireplace. It comes with a mantel and can either be attached to the ceiling, wall or completely free-standing.
You will not need ventilation for the free-standing electric design and can move it to other rooms whenever you prefer. However, with the gas design, you will need a ventilation source and a gas line; hence, you cannot move it around.
Free-standing fireplaces have numerous designs, styles, and sizes to choose from. You can even have an entertainment center where the built-in fireplace will be at the bottom, and maybe the television will be on top of the mantel. This is especially great for people living in small apartments.
Wall-Mounted Fireplace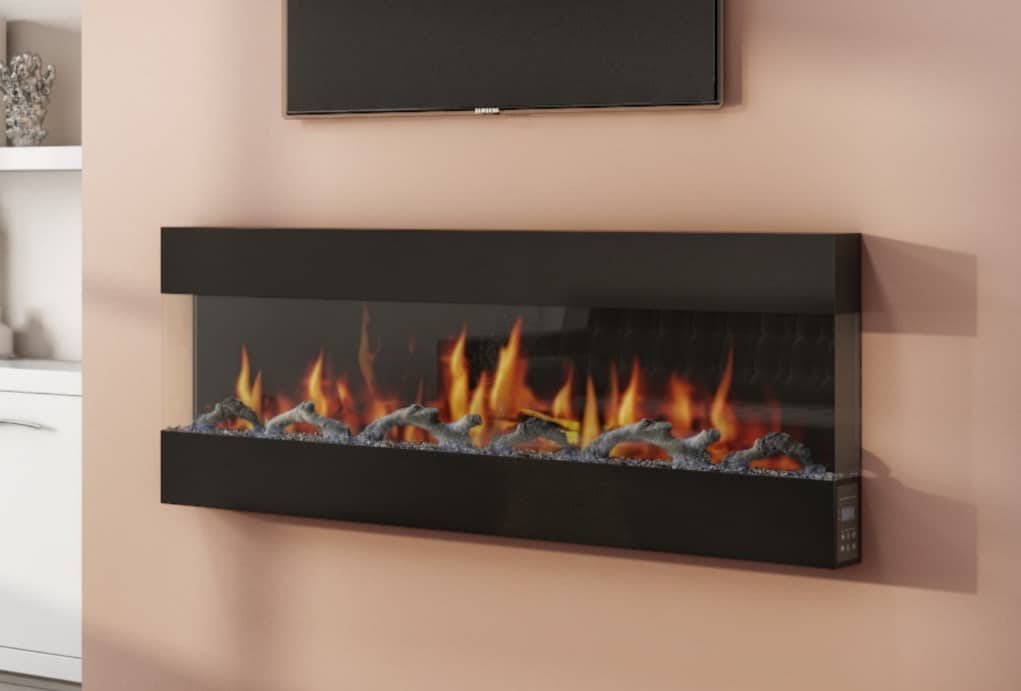 Wall-mounted fireplaces have been growing in popularity over recent years. This is because they are great for the outdoors and people living in small homes. They can also be moved from one room to another, which is a plus.
When dealing with wall-mounted fireplaces, you will need to choose between one that requires a chimney and another that does not require ventilation. The choice will depend on the fuel that you will be using.
Tabletop Fireplace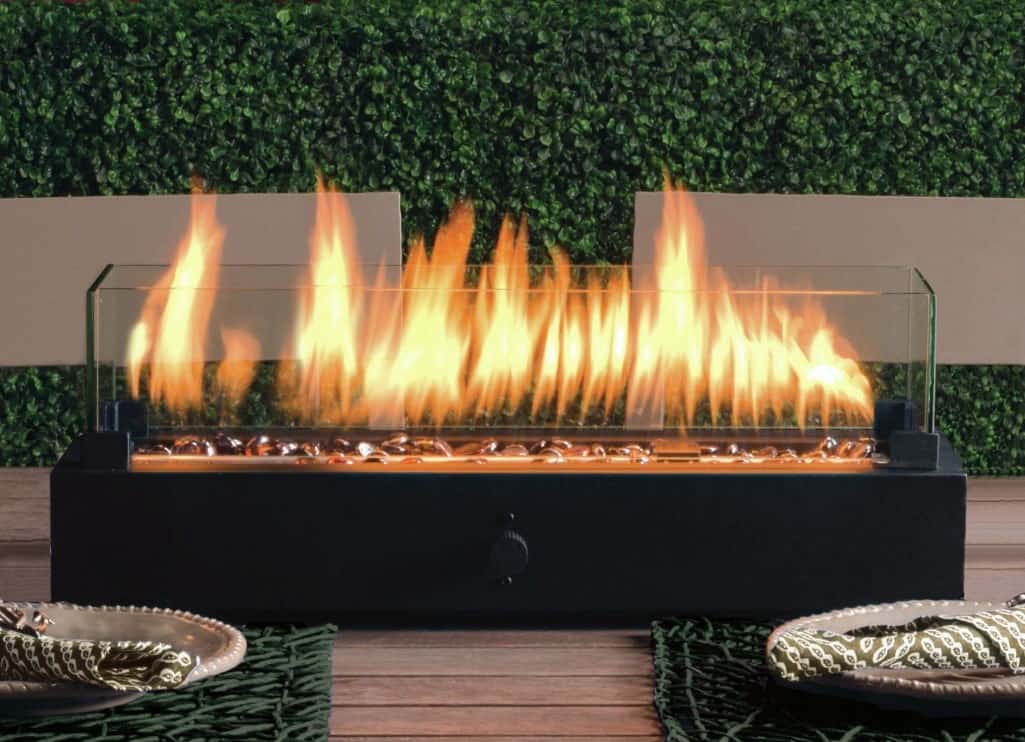 Are you going for an aesthetic look? If the answer is yes, then this is the mounting option for you. It is lightweight and can be moved around easily. It is also particularly efficient for outdoor spaces as you can light it up on a cold and lazy Sunday evening.
Hanging Fireplace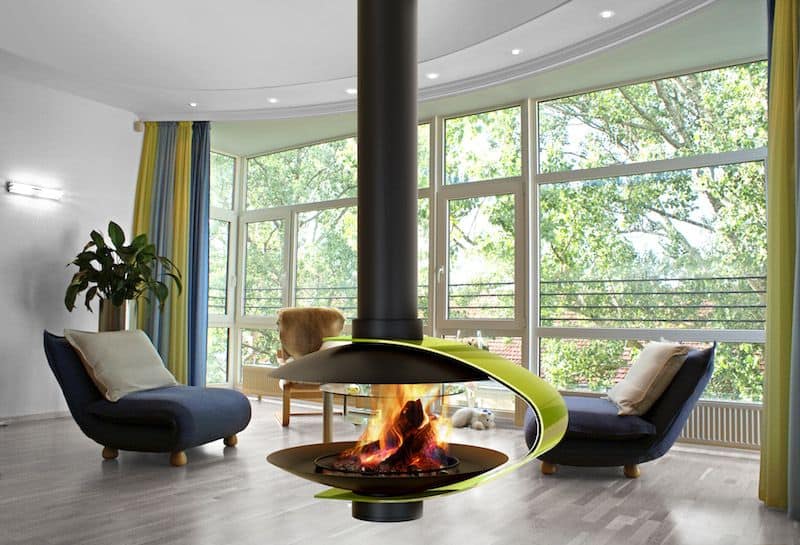 If you love the traditional rustic touch, then this option might not be for you. The hanging design is more modern and innovative and is usually hung from a ceiling. It creates an eye-catching focal point for the home and is generally used for decorative purposes.
Two-Sided Fireplace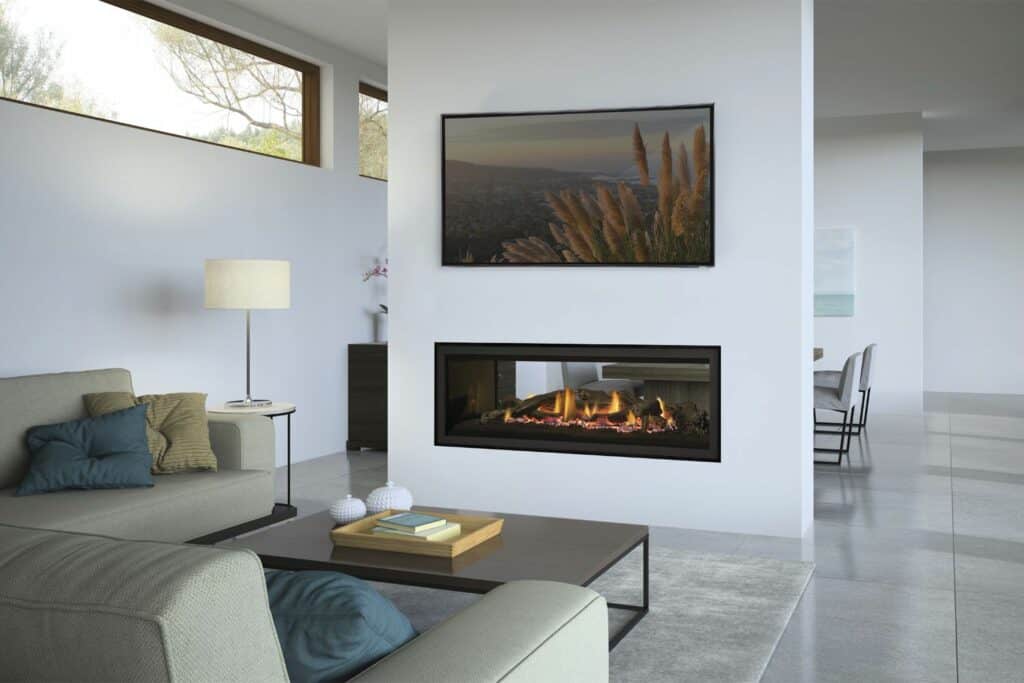 This one, we love because they can serve multiple rooms at once, which is a winner. For instance, you can use it to enjoy warmth in both of your living rooms. You can also place the two-sided fireplaces between the kitchen and the dining area or any other two rooms in the house that you prefer.
What Are The Fireplace Design Options?
Once you have selected the fuel type and mounting option, the next thing should be the design of the fireplace. Fireplaces come in various kinds and sizes, and the list is endless.
Fireplace Styles
The style you choose will influence the dimensions and materials used. Also, it is vital to note that your fuel type and mounting option largely affect the fireplace design style you end up going for.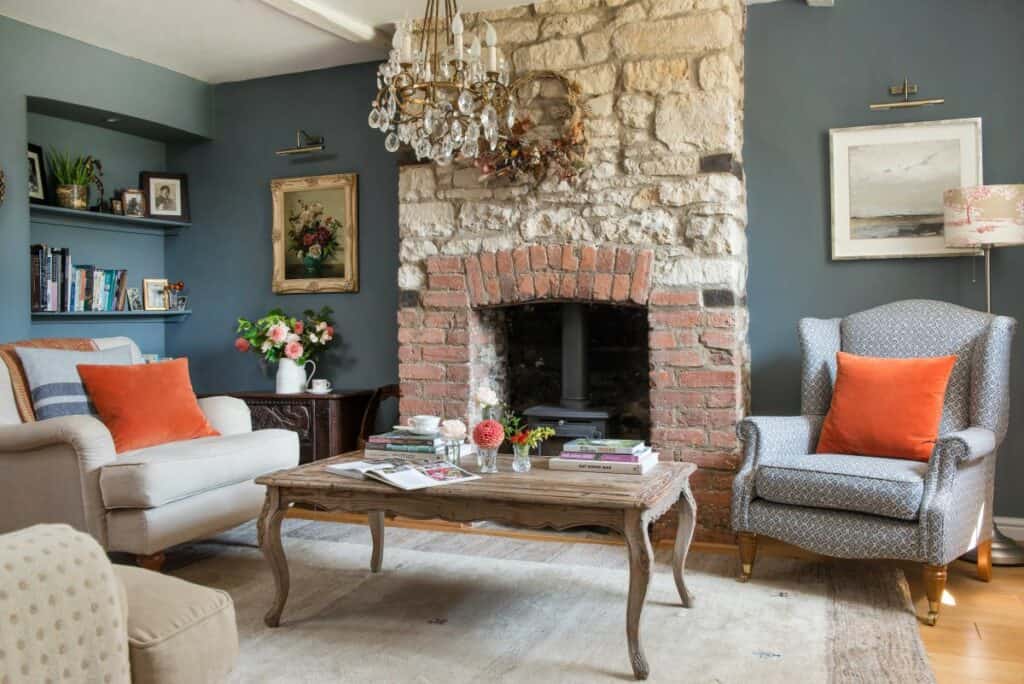 If you love the idea of ​​incorporating the feel of a log cabin in your home, then the traditional style is for you. It is constructed with bricks and stones and is great for someone looking for a rustic ambiance.
If you aspire to have a look with sharp and well-defined lines, then contemporary is the way to go. They are excellent for modern homes and go hand in hand with chic décor.
In modern styles, modern materials such as glass and marble are used instead of traditional bricks and stones. They have innovative designs and can be mistaken for art instead of a fireplace.
Fireplace Dimensions
The fireplace dimensions will depend on three major factors: fuel type, mounting option, and location. For example, electric and gas fireplaces are smaller than wood-burning fireplaces.
Fireplace Materials
The material of the fireplace is a crucial factor as it is what people will first notice when they look at it. Some of the most common fireplace materials include:
Ledgestone Fireplace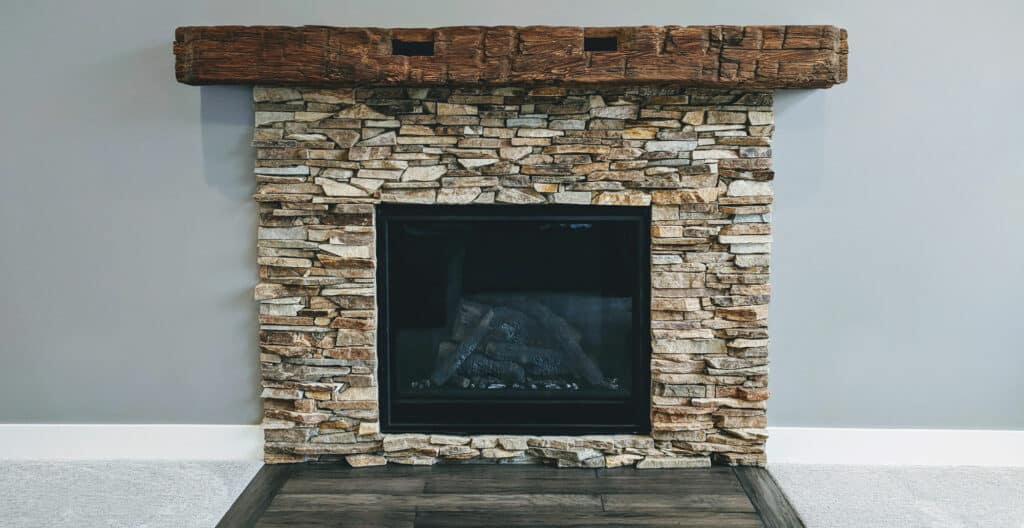 Ledgestone is often used in contemporary fireplaces and is one of the most popular materials in the market. Here, thin strips of stones are usually vertically joined to look like tiny ledges.
Concrete Fireplace
These have natural and crisp finishes, adding a contemporary feeling to the home. They are also great for retaining the fire's heat, hence keeping the house warm. They also come in numerous designs, colors, and textures; thus, you have a long list to choose from. Also, unlike brick, it is fireproof and unlikely to chip.
Marble Fireplace
Marble offers a classy and elegant look to the fireplace. They come in various colors such as granite, cream, beige and white; hence they can blend with all types of décor.
Metal Fireplace
Metal is a heat conductor but also resistant to fire. Therefore, it is a great material for the fireplace.
Fieldstone Fireplace
Fieldstone styles are naturally looking and usually look like the stones were found outside and placed around the fire. They are perfect for people who love rustic styles.
Plaster Fireplace
This type is common in Southwest America. Plaster creates the illusion that the firewall is coming out of drywall.
Bricks With Wood Fireplace
Combining brick with wood millwork will give you an incredible contemporary design. If you want a timeless and traditional fireplace, then this is the best option for you.
Fireplace Chimney And Flue
When it comes to the fireplace chimney and flue , only the traditional wood-burning fireplaces use it, with a few gas types. There are three main types:
Masonry Chimney
This chimney is constructed from stone, blocks, cement, or bricks to match the fireplace. They are often paired with a tile-lined flue. They are also quite durable, as long as proper maintenance is done regularly.
Reinforced Concrete Chimney
These are usually more prevalent in older homes and rarely found in modern homes. One major disadvantage is that they are prone to cracking, so they are not used in new construction.
Metal-Lined Flue
A metal-lined flue is a double-walled pipe used to vent out smoke. In some models, it may be triple-walled.
Fireplace Mantel
This is the decorative framework that is found around the fireplace. It can also be used as a shelf to keep your items or decorations. When buying a mantel , there are a few factors that you should consider. These include:
You should follow the

National Fire Code

standards for a wood-burning fireplace.

These include having a six-inch gap between the mantel and firebox and also adding an inch of clearing for every 1/8 mantel protrude.

Consider the heart size, room size, and home décor when selecting a mantel.

Choose a mantel that matches the dimensions and style of the fireplace.

Consider the costs.

Wood mantels are the cheapest type, with elegant wood mantels being mid-range.

If you are going for a more expensive option, a stone mantel will be appropriate.
Our Top Recommendations.
These are some of the best-selling fireplaces that we recommend.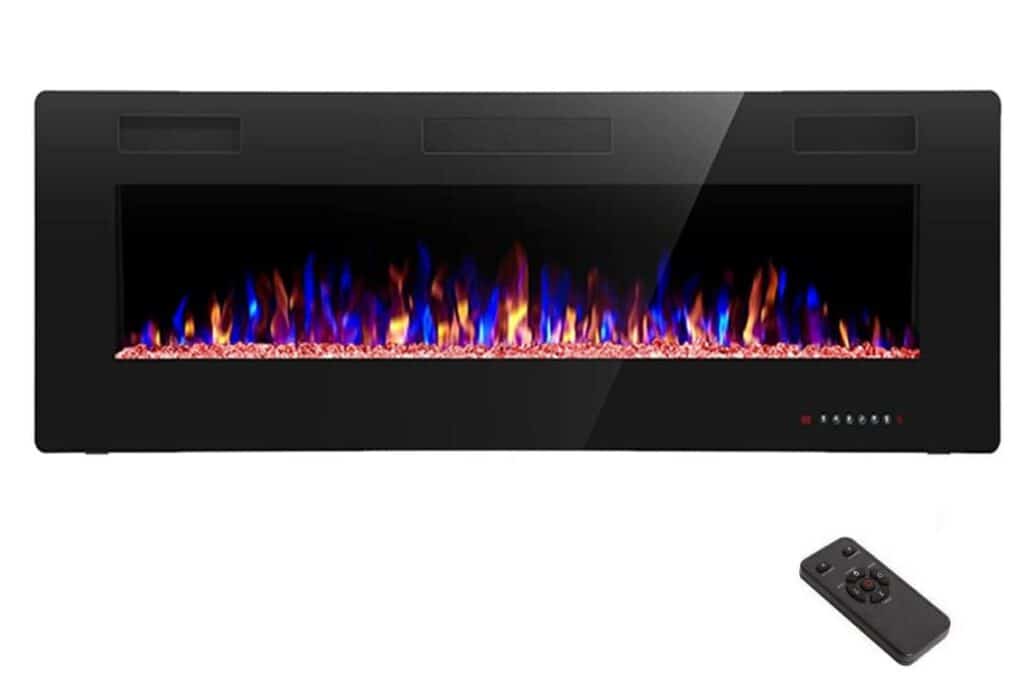 This RW Flame electric fireplace is the perfect upgrade to your home. It measures 50*18*3.98 inches and can be mounted on the wall or hanged to enjoy the different shades. It has a glowing LED fire bed that can be customized to 12 different colors, giving you something to play around with.
We love this electric fireplace system because of its multi-operating modes: remote control and touch screen. You can therefore play around with the fame brightness and colors from your couch or use the touchscreen.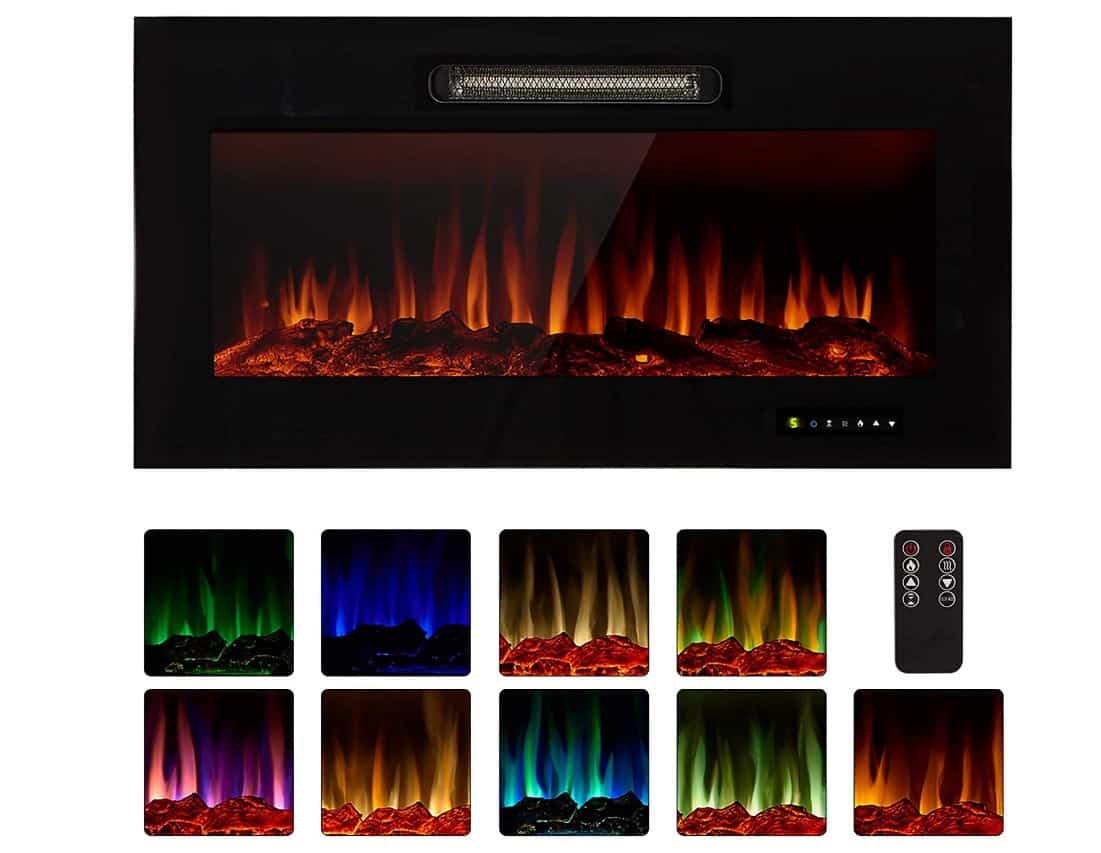 This fireplace system has won our hearts due to its efficiency. It has two heat settings; a high 1500W and a low 750W, which can heat up to 400 square feet of rooms with ease. It also has a thermostat that controls the room's temperature to suit the user's preference. You will also save energy as it uses LED technology instead of oil or gas. It also does not produce any harmful products; hence it is completely safe for your family and pets.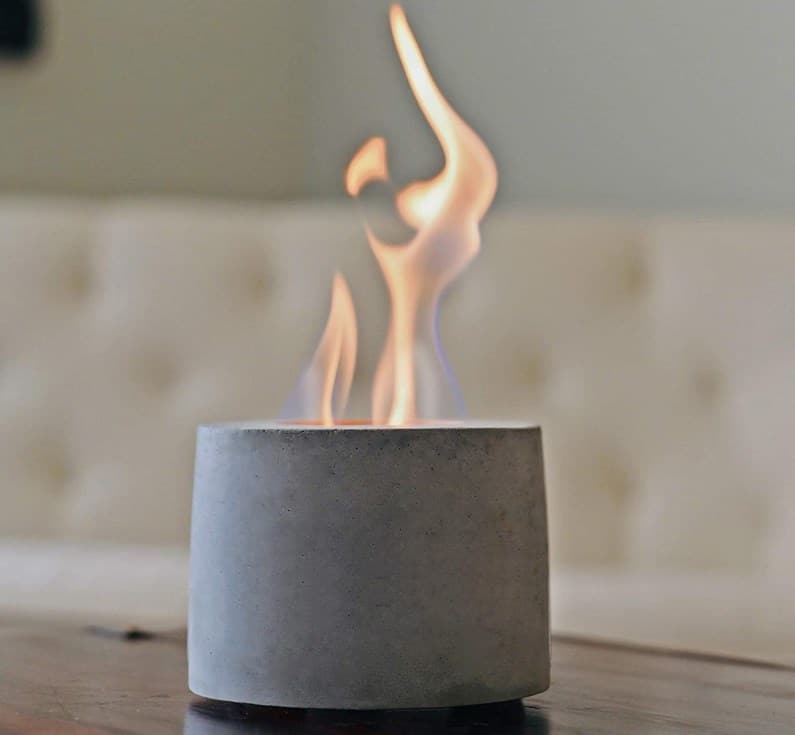 If you are looking for an environmentally friendly fireplace, this one is the best option for you. It uses smokeless and odorless alcohol, hence a great choice for both indoors and outdoors. It uses clean-burning fuel, which will help conserve the environment, which is great. It is also quite portable; therefore, you can carry it anywhere you want, be it the dining table, living room, or the outdoors.
FAQs
Question: How Much Does It Cost To Install A Fireplace?
Answer: The average installation cost of a fireplace depends on many factors. The price can range from $300 to $12000 or more, depending on the model. Most ethanol, gel, gas, and electric fireplaces range from $500-$2500 for the current unit . Installation costs will, however, vary based on various factors.
Electric Fireplace Costs
It is the easiest to install and the most affordable option. The electric fireplace installation will range from as little as $300 to $12,000. Installation costs will vary based on the framing work required, adding to the overall cost.
Gas Fireplace Costs
On average, a gas fireplace will cost around $1500-$2500 to buy it. This will vary based on whether you choose an unvented, insert, or direct-vented model. It may cost more to install than buying it, especially if you do not have an existing gas line and construction is needed. Installation costs can therefore range from $500 to $2500 or more.
Wood-Burning Fireplace Costs
Of the three options, wood-burning fireplaces have the most expensive installation costs. This is because they must be professionally installed, and the prices will range from a few thousand dollars to more than $10,000. Venting is also quite expensive; hence the costs will be higher than the fireplace itself. For the basic unit, the price will be $2000-$10,000, while the freestanding stoves will cost up to $3200.
Question: Can Fireplace Ashes Be Recycled?
Answer: No, you cannot recycle the ashes from the fireplace. However, you can reuse them in several ways by using them as a fertilizer for the garden, as an insect repellent, removing algae from ponds, and even using them as a house cleaning agent. Ash is also used in snowy climates on the icy walks, instead of using salt or sand.
Question: Is It Okay To Put An Electric Fireplace Under A TV?
Answer: It is perfectly safe to place the TV above the electric fireplace without adversely affecting it. However, this is not the case with other fireplaces, such as an open gas fire or log burners, as they give off multidirectional heat damaging the TV. This could void the manufacturer's warranty, and the last thing you need to replace your TV due to internal damage.
On the other hand, electric fires have their heat come out from the front or bottom, hence the TV will be safe. This is attributed to their radiant heating technology, which heats the surface objects instead of the air molecules, as is the case with traditional heaters. Also, electric fireplaces do not produce ash, soot, or smoke; hence they can be easily cleaned and are perfectly safe.
When mounting your TV, ensure that it is not put too high as it will cause neck pains. The most comfortable angle is when the bottom third of the TV is at your eye level. If you put the TV too high, you will suffer discomfort after around 30 minutes, and it may also lead to neck pain.
Other points to consider:
• Ensure that the electric fireplace is not too small or big for the TV, as it will create an imbalance.
• Check where the plugs are, as you will need them for both the TV and the electric fireplace.
• Consider the flame color that complements the interior design of the living room. They should either complement the tones or have a contrasting color to make a statement.
Conclusion
Now that you know about all the types of fireplace systems in the market, you will be well-versed in choosing the one that suits you best. It may seem daunting as there are many options to choose from, but once you know your needs and follow the above guide to the latter, you will be good to go. Also, ensure that you have a professional install it, and avoid the internet DIYs as fire is dangerous, and you need to be careful to keep safe.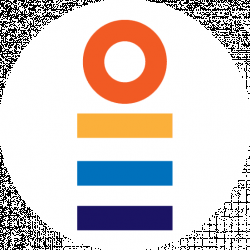 Latest posts by Angelique Alice
(see all)