Fireplaces used to be a fixture in almost all American homes a while back. Since they were the sole source of heat for many homes, they provided a place for families to gather in the evening, play games, chat and enjoy spending time with each other.
Fireplaces went out of fashion with the introduction of steam heating, but people never forgot the coziness they were able to provide. Today, those who want the warmth, snug comfort, and beauty that burning fireplaces provide—minus all of the attendant hassles—can opt for electric fireplaces instead.
Easy to use, easy to set up, and cheaper to operate, these modern fireplace versions provide the feel and look of classic fireplaces and will surely liven up any room.
The best part about electric fireplaces? You won't need to drag firewood in your home, worry about stray embers setting your place on fire, or get rid of ashes. When it comes to an electric fireplace, you simply have to turn on the switch and you'll start enjoying lifelike flames and, of course, additional warmth if necessary.
In fact, the hardest part about an electric fireplace is selecting one that's right for your home. For this reason, we've put together this guide to help you know what you should consider when picking an electric fireplace as well as our top electric fireplace selections.
How Electric Fireplaces Work
An electric fireplace generates heat in two ways: forced fans and infrared heaters.

Forced Fans
Forced fans, as the name implies, draw in cool air, heat it using a coil, and send it back out with its motorized fans. A forced fan is one of the most efficient fireplaces and some models cover as much as 400 sq. ft.
Pros
Heats up the whole room. Since it heats the air, the room stays warm even after turning off the fireplace.
Con
Takes quite some time to increase the heat produced.
Infrared Heaters
Since infrared heaters don't use a motor or fan to push heat into a room, they're some of the most silent models out there. Instead, they give off a light beam that warms the entire room, making them perfect for home offices or bedrooms.
Pros
They're quick to heat. Since they don't use air to generate heat, they don't lower the humidity or oxygen levels in your room.
Cons
Heat only fills what's directly ahead of it, instead of the entire room. After switching it off, the user instantly loses heat. It's searing to the touch.
Electric Fireplaces
Pros
Safe: An electric fireplace poses zero risks to your house since nothing is actually burning inside. It doesn't generate any of the dangers that come with gas or wood fireplaces, including sparks, chemical fumes, or smoke. Electric fireplaces stay cool to the touch, so they're safe to use near children and pets.
Long-lasting and low-maintenance: With electric fireplaces, you don't have to get yourself dirty cleaning up ash and soot. You also won't have to spend time worrying about controlling smoke or cleaning the area around the fireplace rim. Electric fireplaces require minimal maintenance and are likely to last for years.
Energy-efficient: Electric fireplaces are one of the most energy-efficient fireplaces on the market since they are easy to install and don't require supplementary materials like wood, gas, and so on. They also let you effectively heat some areas of your house where you spend time the most while lowering your central heating. This can help lower your monthly energy bills. With a good electric fireplace, you may only need to pay a few dollars.
Versatile: Since you only need an electrical outlet to install an electric fireplace, you have plenty of flexibility with where to place it. While many people opt to place electric fireplaces in their old fireplace mantels, you can install an electric fireplace almost anywhere in your house without worry—heck, you can place one under your TV set! Electric fireplaces are perfect for small apartments. You can also freely use an electric fireplace in areas that'd otherwise be impossible to burn wood or any other material. Many electric fireplaces come with temperature control options, which means you can use your fireplace throughout the year, even during the summer.
Cons
Limited heating power: The heating power of an electric fireplace is restricted. It should be used only as an additional heating source.
Lackluster flame effect: Cheaper models can have a disappointing flame effect and they can appear a bit tacky. For a more convincing flame effect, you should go for a high-end model.
Types of Electric Fireplaces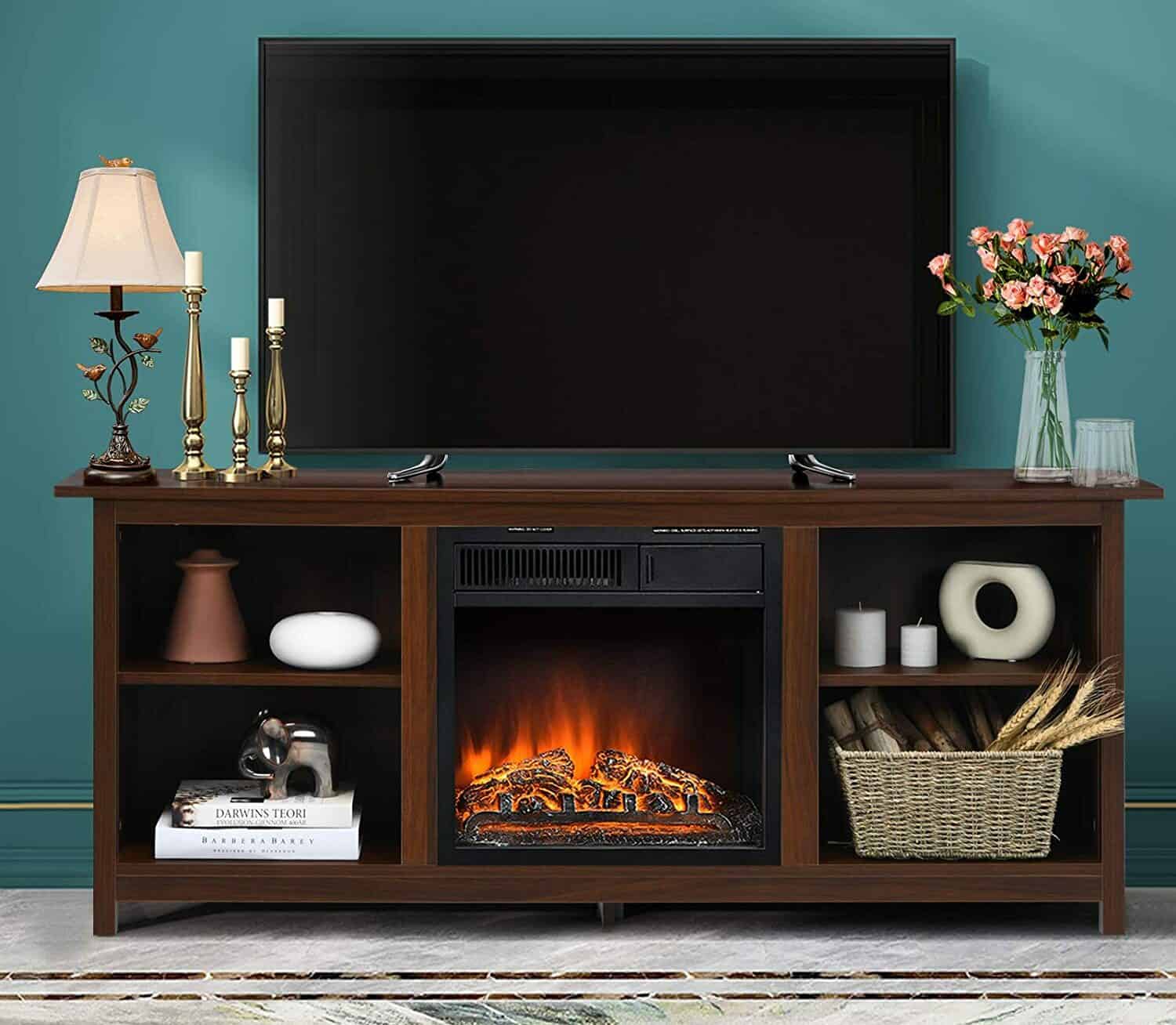 Electric fireplaces come in many different types, including:
Want-Mountable
Wall-mountable electric fireplaces come in two variants: Models either mounted to a wall or recessed into a wall. These fireplaces usually come with wall-mounting materials and brackets.
Wall-mounted fireplaces are easier to set up, but some people prefer fireplaces that are built into a wall. Wall-mountable fireplaces are more mobile than other models and also save valuable floor area, making them perfect for apartments, condos, and lobbies.
Electric Fireplace Mantels
These look just like traditional fireplaces but they're not real. They typically don't stick out of a wall and come with an insert firebox.
Built to resemble a classic wood-burning fireplace, electric fireplace mantels can act as secret storage for books, remote controls, and an assortment of media.
Fireplace TV Stands
A fireplace television stand adds heat, ambiance, as well as a place to sit your flat-screen TV. This durable entertainment center is designed like a wall fireplace and is built with lasting quality.
Most models feature ample storage space for media equipment and electronics and come in a wide range of styles to suit any outdoor environment.
Electric Fireplace Inserts
Electric fireplace inserts are built to fit inside open fireplaces, including any brick or steel-lined fireplace. This fireplace comes with LED inner glow logs. There are also exciting sparks that provide a lifelike flame effect.
Electric fireplace inserts have quite a simple setup. You just need to plug the fireplace into a basic 120-volt outlet and center it inside your existing fireplace. These fireplace inserts also run on heat or without heat.
How Much Space Do You Need to Heat?
Electric fireplaces typically heat rooms measuring between 400 and 1,000 sq. ft. based on the kind of electric heater. High-end infrared heaters can heat up to 1,000 sq. ft. of space, while fan-forced heaters usually heat up to 400 to 500 sq. ft. of space.
Consider the Heating Power of an Electric Fireplace
The amount of energy you need from an electric fireplace depends on where you'll set it up.
If you have a freestanding electric fireplace and you intend to use it in several rooms, you'll need to find a suitable compromise to ensure it provides adequate energy for each space.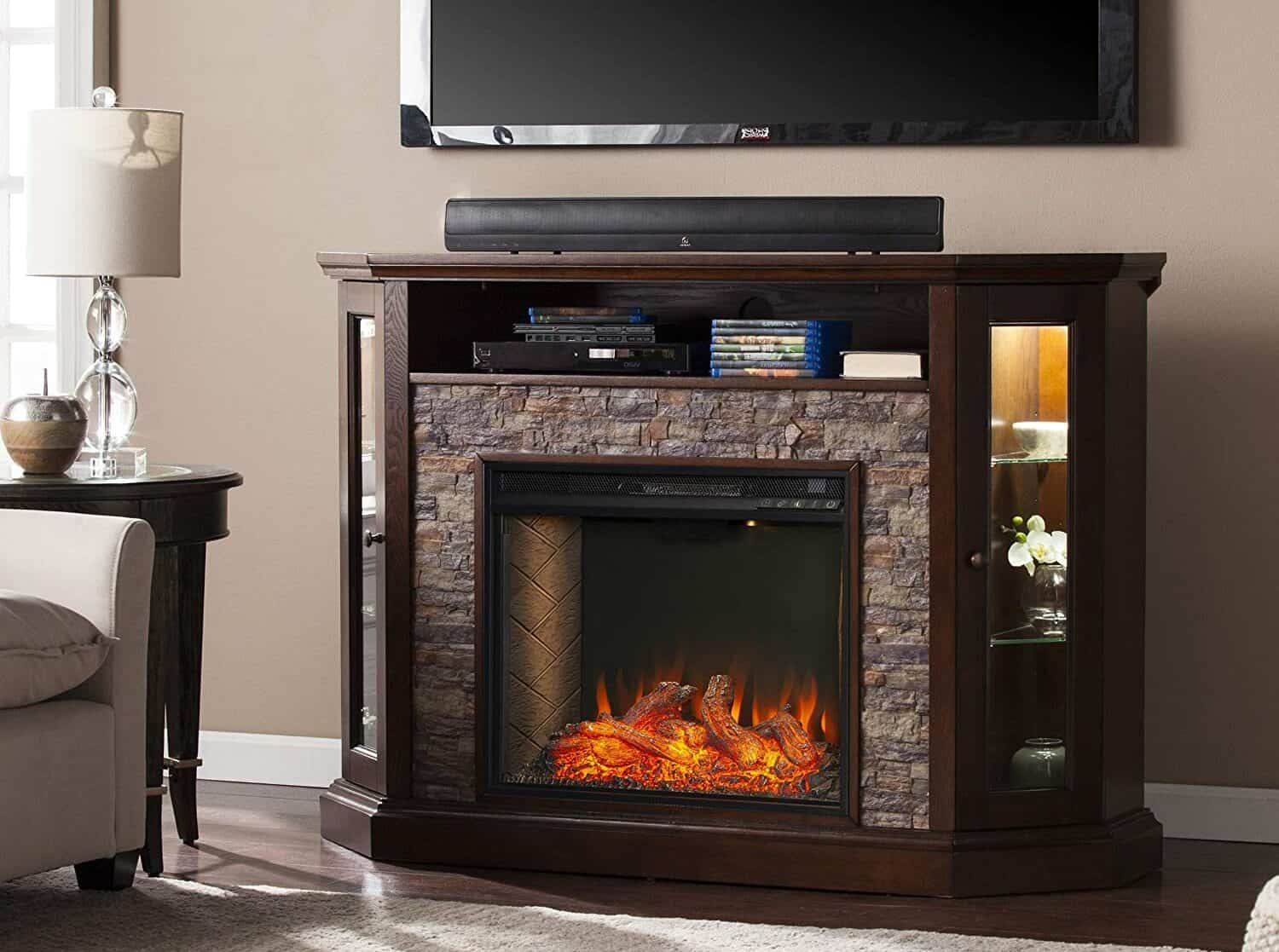 Keep in mind that 10 sq m. needs 1 kW of energy, so if your rooms have an average area of 15 sq m., pick an electric fireplace with a 1,500-watt power rating. Obviously, if it's a fixed or insert model, you only need to consider one room.
Don't overestimate the heating power of electric fireplaces—these appliances are decorative more than anything else. They are built to provide additional heat only.
Electric Fireplace Construction
The majority of electric fireplaces are largely made up of a grass front and metal framing. Some electric fireplaces are made up of hard plastic.
Electric Fireplace Features to Consider
There are many different options to consider when it comes to features of electric fireplaces:
Heatless operation
Pick a fireplace that works without heat and you'll surely enjoy the flame look without any extra heat.
Changeable heat
Various heat settings will give you better control over temperature and heat output, making your space feel much more comfortable.
Remote control
A remote control allows you to switch your fireplace on or off and regulate the heat while seated.
Timer
Being able to change the intensity, color, and height of the flames may help you set the right ambience.
Hidden manual controls
The majority of electric fireplaces feature a panel that you can close above the manual controls, increasing the aesthetic value of the unit.
Flame speed control
Based on your preference, you can regulate the pace at which flames flicker.
Brightness control
Generally found on the control panel, this control allows you to regulate the brightness of your flame.
Other Buying Considerations
Price
The prices of electric fireplaces vary widely based on the type, size, and features available.
The cheapest models go for about $200. They only have basic features, including realistic flames and a heater.
Mid-range models provide more features, including flame effect options and thermostat control. High-end models are usually large and come with a wide variety of features and powerful heaters.
Recessed/wall-mounted electric fireplaces are usually the costliest, while electric inserts tend to be cheaper.
Installation Cost
When considering your budget for an electric fireplace, be sure to factor it in the installation cost. Fortunately, most electric fireplaces are easy to install and hence don't require professional installation. You can do it yourself.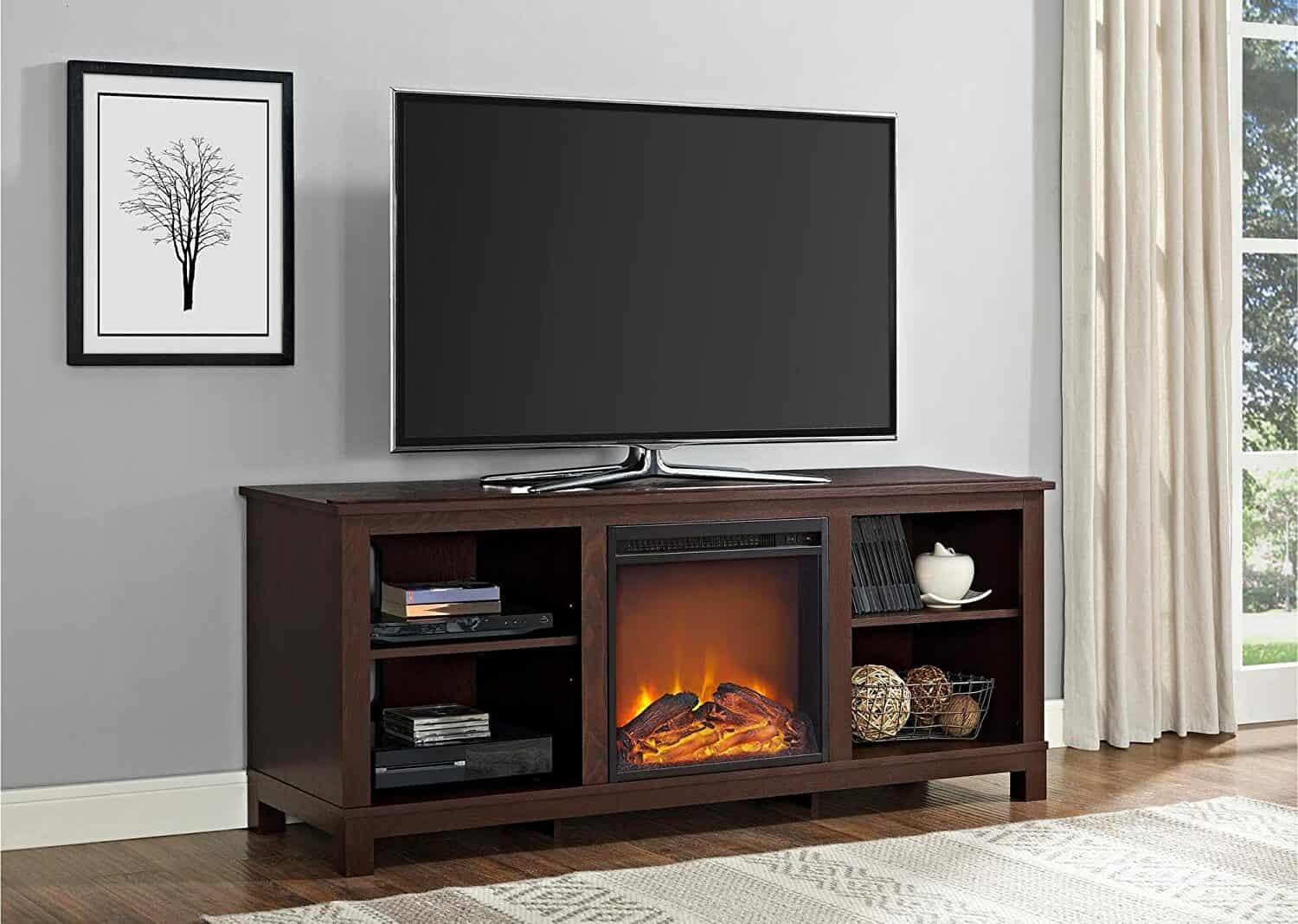 But if you're getting a fireplace that must be wall-mounted or recessed into your wall, you'll need to bring in a professional—factor the additional costs into your budget.
Do You Require a Construction or Electrical Permit?
When it comes to an electric fireplace installation, it rarely requires construction and electrical permits. This is because no major remodeling, electric work, or gas lines are involved.
Plug-in electrical fireplaces don't require a permit.
With recessed or wall-mounted electric fireplaces, most cases don't require a permit. But make sure to check your local zoning and building laws to be sure.
Our Top Picks
We chose these top electric fireplace models based on the above criteria. They are a varied list of products to suit various needs.
Best Electric Fireplace Overall: R.W.FLAME 50" Wall-Mounted and Recessed Electric Fireplace
Instantly update the heat and ambiance in any of your rooms with R.W. Flame 50" Wall-Mounted and Recessed Electric Fireplace. Measuring 50 inches wide, you can decide to have it recessed into your wall for a beautiful built-in appearance, or just mount it on your wall to enjoy radiant flames in a dozen different attractive shades.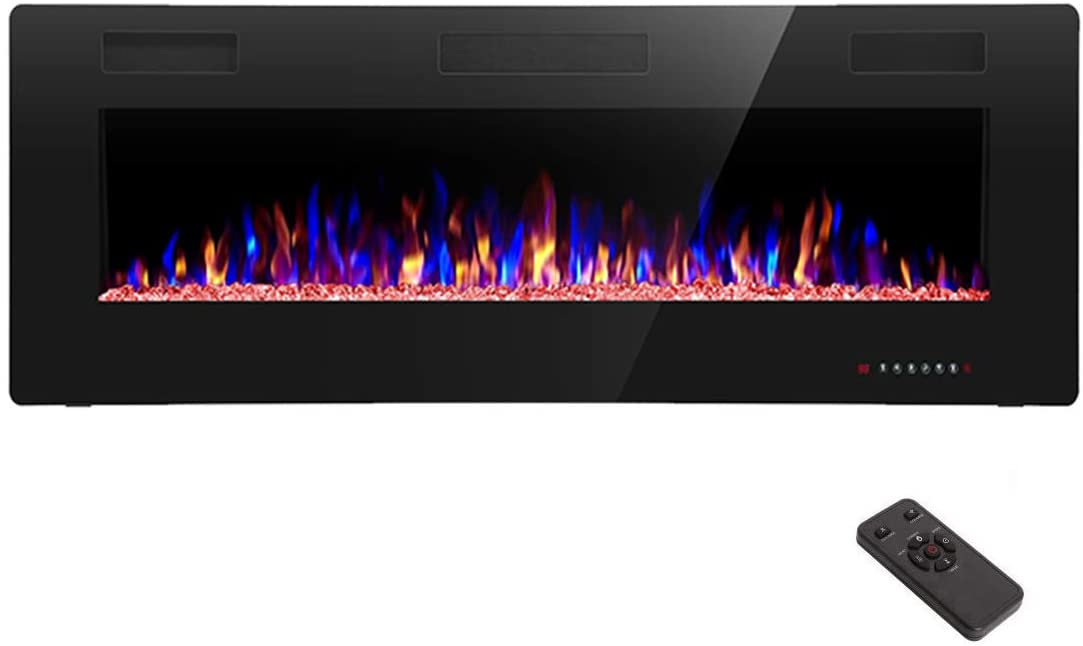 You can also customize the gleaming LED fire bed with a dozen different color choices, making it simple to blend rock and flame colors together for a unique look in your room and ambience. The unit is also available in other different sizes, ranging between 30 and 60 inches wide.
The front of this fireplace features heat touch-screen buttons, and there's a remote control included to help you regulate flame colors and brightness. In addition, this unit features a heater to help you beat the cold weather.
Best Electric Fireplace Heater: Duraflame 3D Electric Quartz Infrared Fireplace
If you want to stay toasty when it gets chilly, check out this electric fireplace from Duraflame. Apart from boasting very realistic flames, Duraflame 3D Electric Infrared Fireplace also features a powerful 5,200 BTU heater.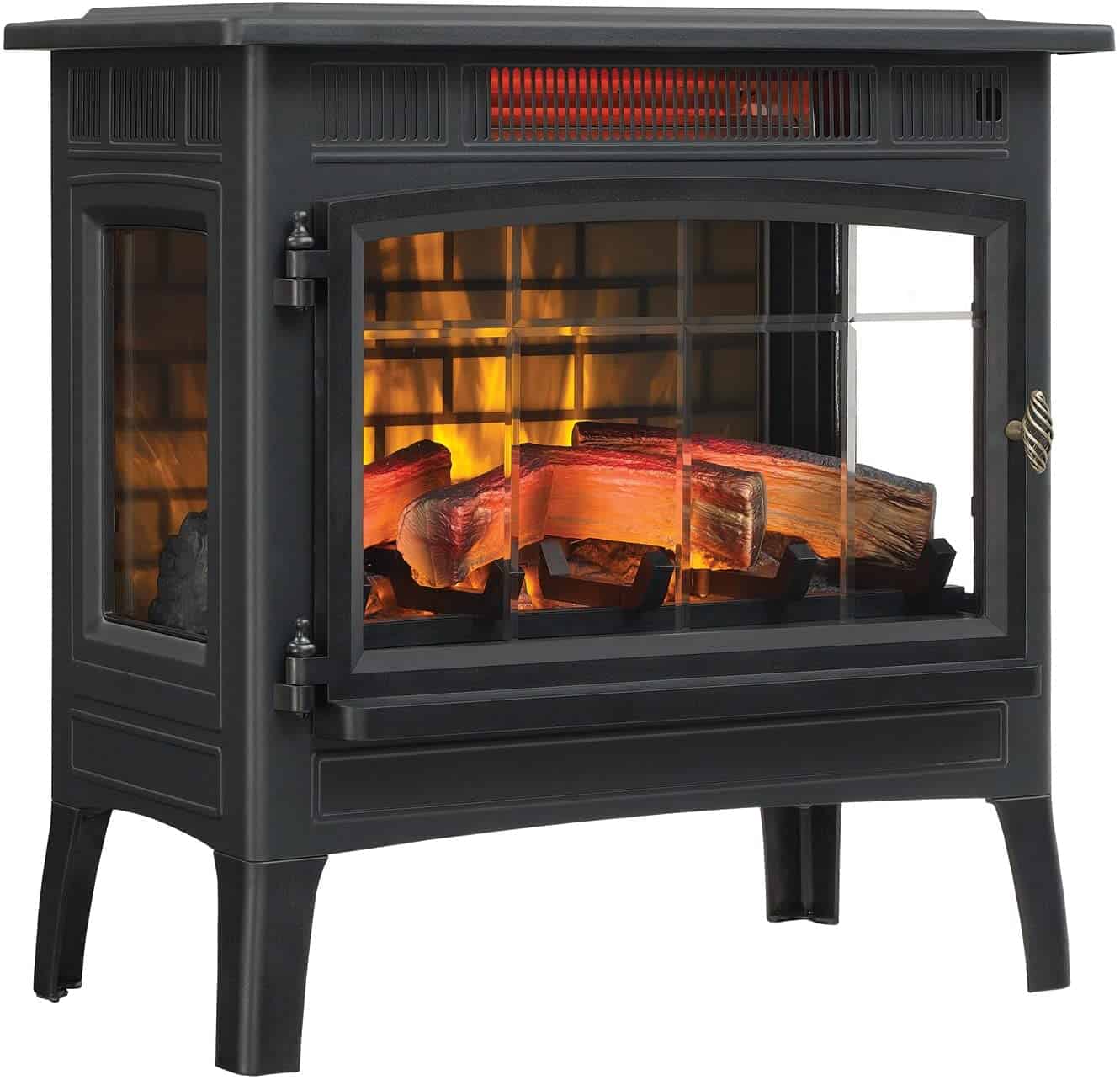 With quartz infrared heating technology, this electric fireplace will quickly generate warmth in your room. Since infrared heat has no effect on humidity levels, this unit won't bring about dry air like other traditional heaters.
Best Electric Fireplace Insert: PuraFlame Klaus Fireplace Insert with Mesh Screen and Fire Crackling Sound
Make your current fireplace an easy-to-operate, low-maintenance solution with this electric fireplace insert from PuraFlame. PuraFlame Klaus Fireplace Insert with Mesh Screen and Glass Door does exactly that by maintaining the natural beauty of a traditional fireplace with a mesh screen and glass door while providing you with instant access to heat and flames.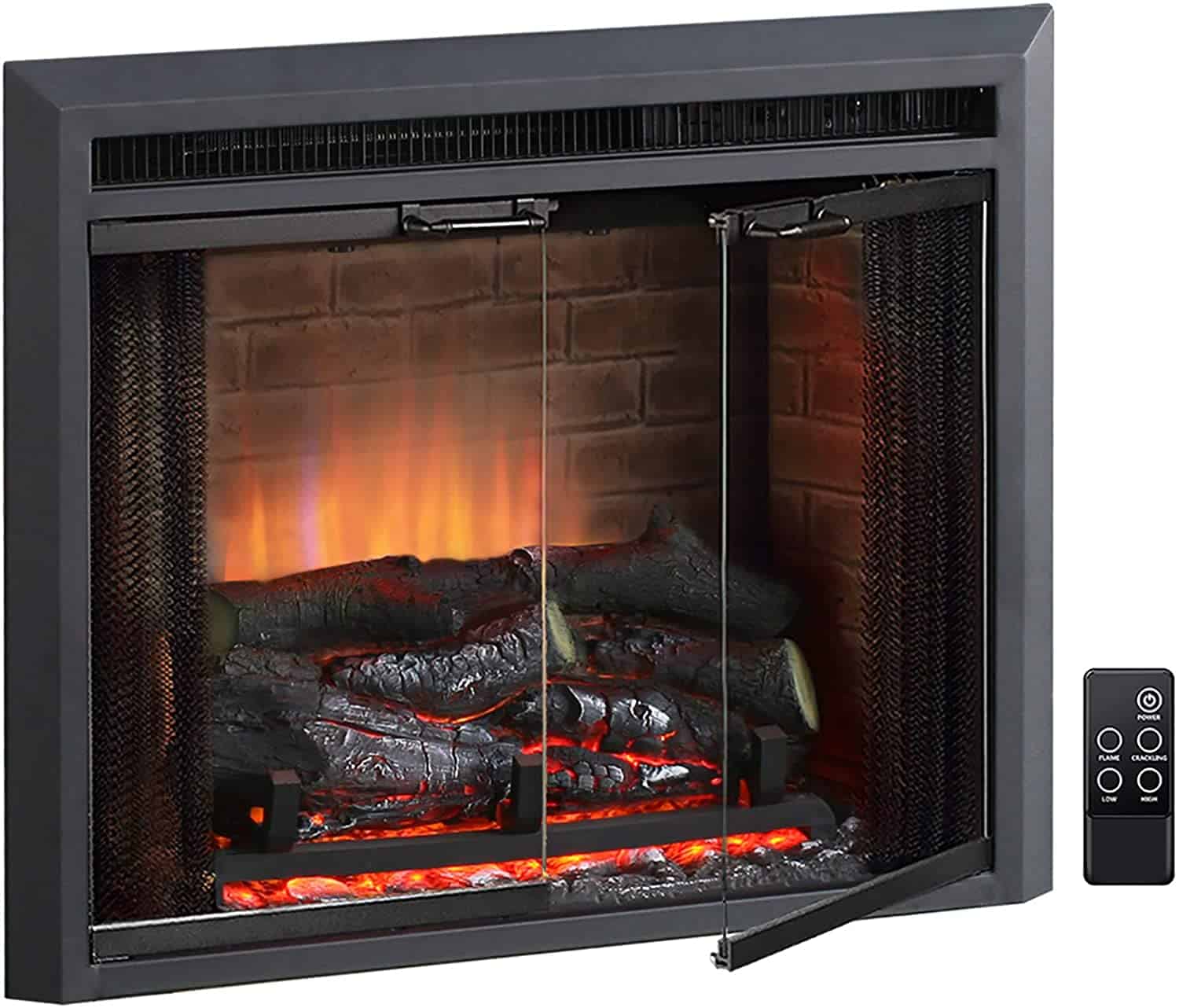 There's no sweeping up ashes or stoking a fire afterward, and the provided log set even produces a fire crackling sound to give off a more realistic fireside experience. You'll enjoy watching and listening to this amazing electric fireplace.
This unit measures 35 inches wide, though there are smaller sizes available if you're willing to forfeit the glass doors option. With a 1,500-watt heater, the electric fireplace also features an adjustable thermostat to help you find the right setting for you or avoid the heat together.
Best Splurge Electric Fireplace: Real Flame 56" Emerson Grand Fireplace
If you want a fireplace without compromising on quality or style, check out Real Frame 56" Emerson Grand Fireplace. This huge electric fireplace comes in both white-washed and English Oak finishes. The classic look is finished with a hardwood surface mantle—perfect for flaunting keepsakes or picture frames.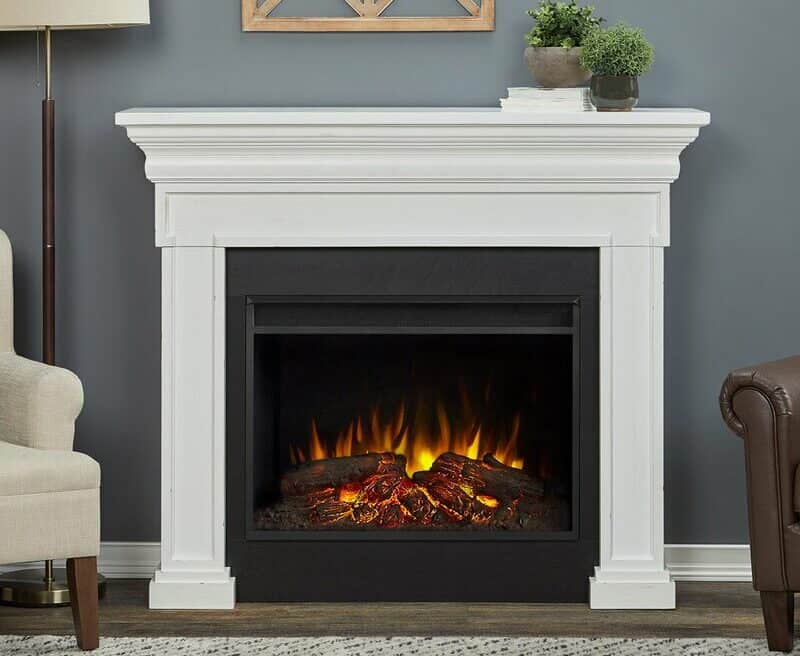 This large electric fireplace features a 1,500-watt heater which puts out as much as 5,000 BTU. It's built to warm up to 1,000 sq. ft. of space. The thermostat is in the range of 72 °F-99 °F and other useful features include variable flame brightness and a timer.
Best Electric Fireplace TV Stand: Ashland Pine Lorraine Electric Fireplace TV Stand
This electric doubles up as a TV stand, allowing you to get the most out of your space. Ashland Pine Lorraine Electric Fireplace TV Stand can hold up to a 55-inch TV and its weight capacity is 45 pounds. This fashionable model also comes in five finishes to suit your preferences and style.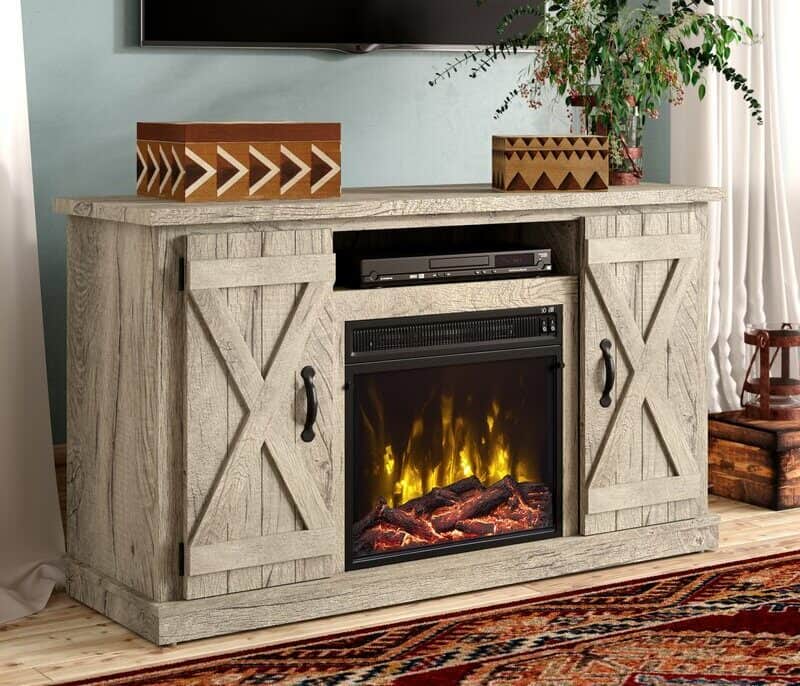 Featuring a center shelf over the fireplace insert and two-side storage cabinets, there's a lot of room for electronics and accessories. When you aren't watching TV, you'll be entertained by the sparkling electric flames. With a 4,600 BTU heater, this electric fireplace is designed to warm up to 400 sq. ft. of space.
A true multi-purpose electric fireplace, it'll let you display your TV, tuck away media and cords, and enjoy warm electric heat while watching the lovely flames.
FAQs on How to Find the Best Electric Fireplaces
Question: Who Makes Top-rated Electric Fireplaces?
Answer: The best electric fireplaces on the market today include:
• Duraflame 3D Electric Quartz Infrared Fireplace
• Charlton Home Edite 33" Electric Fireplace
• Kelly Clarkson Home Helina 55" Electric Fireplace
• PuraFlame Western Fireplace Insert
• Twin Star Home Quartz Infrared Electric Stove Heater
• Bold Flame 38" White Electric Fireplace
• Powerheat Quartz Infrared Electric Stove
• Ameriwood Home Carver Fireplace TV Stand
Question: What's the Most Lifelike-Looking Electric Fireplace?
Answer: The most lifelike electric fireplaces on the market include:
• Dimplex Revillusion 43.25" Built-in Firebox
• Dimplex Prism 74" Wall-mounted Fireplace
• Dimplex Optimyst II 28" Fireplace Insert
• Dimplex Opti-V Duet 54.25" Fireplace Insert
• Dimplex Ignite XL 100" Linear Electric Fireplace
Question: What should I Know Before Purchasing an Electric Fireplace?
Answer: Before buying an electric fireplace, you need to know the following:
• There's no actual flame
• You don't require a chimney, vent, or flue
• You'll require an electrical wall source nearby
• You can get an electric fireplace that you can insert in your current fireplace, such as a freestanding or wall-mounted model
• You'll need to ensure that the heater power is enough to warm your entire room
• Electric fireplaces typically come with a 12-24 month warranty
• Electric fireplaces tend to come with a variety of features, including LED sidelights, a thermostat, and remote control.
Question: What Are the Most Lifelike Flame Effects?
Answer: The most lifelike flame effects for electric fires include:
• Radia Flame 3D
• Celsi Three-Sided Electriflame VR
• RadiaFlame with Omniglide
• Celsi Ultiflame VR
• Celsi PuraFlame
• Dimplex Optiflame
• Dimplex Opti-myst
Question: Do Electric Fireplaces Look Authentic?
Answer: Yes, many electric fireplaces come with real features, including outstanding modern or realistic flames. Electric fireplaces are also convenient, with the comfortable ambiance of burning firewood minus the hassle. That being said, there are many different electric fireplace types and models.
Buy the Best Electric Fireplace Today
An electric fireplace easily adds warmth and ambiance to any room in your home. With realistic sounds and flames, you can recreate a real fireside experience, put your feet up, and take in the heat.
The numerous options out there accommodate the most style and size needs, realism and heat preferences, as well as other additional features. Check out our top electric fireplace options above and be sure to give your room a little bit of warmth and ambiance.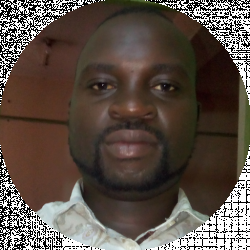 Latest posts by Haron Omaita
(see all)