Portable heat pumps are one of the best options to meet your cooling and heating needs without needing to buy different separate units or taking up so much space.
When it gets severely cold, portable heat pumps will provide toasty warmth; and on severely hot days, they'll provide a refreshing breeze. They're in fact, the best solution for ensuring quality and comfortable living situations for homes with limited space.
But the big question is which portable heat pump is the best? Well, we've picked a few of the best portable heat pumps out there and briefly gone over them below.
But, first things first, we've provided some valuable information about portable heat pumps which will no doubt help you make your final decision. If you're planning to buy one of these models, then you should definitely go through this buying guide.
Our Bottom Line Upfront: Portable heat pumps enable heating and cooling in a wide variety of settings. They work like portable air conditioners but in reverse. Rather than discharge hot air to an outer outlet, portable heat pumps distribute hot air into a room.
When buying a portable heat pump, be sure to consider your preferences, room size, energy efficiency, noise level, additional features, and, of course, budget.
How Do Portable Heat Pumps Function?
Portable heat pumps work like other heat pumps, but they're much more compact. The entire heating and cooling system is fitted in a small, sleek container, which you can conveniently move around your home.
For heating, a portable heat pump sucks up heat from the air outside (even during cold weather) and moves it into the air inside. The warmth is then distributed throughout the room. For cooling, a portable heat pump sucks up heat from the air indoors and blows it out of the house via the outdoor unit.
Single-Hose Heat Pumps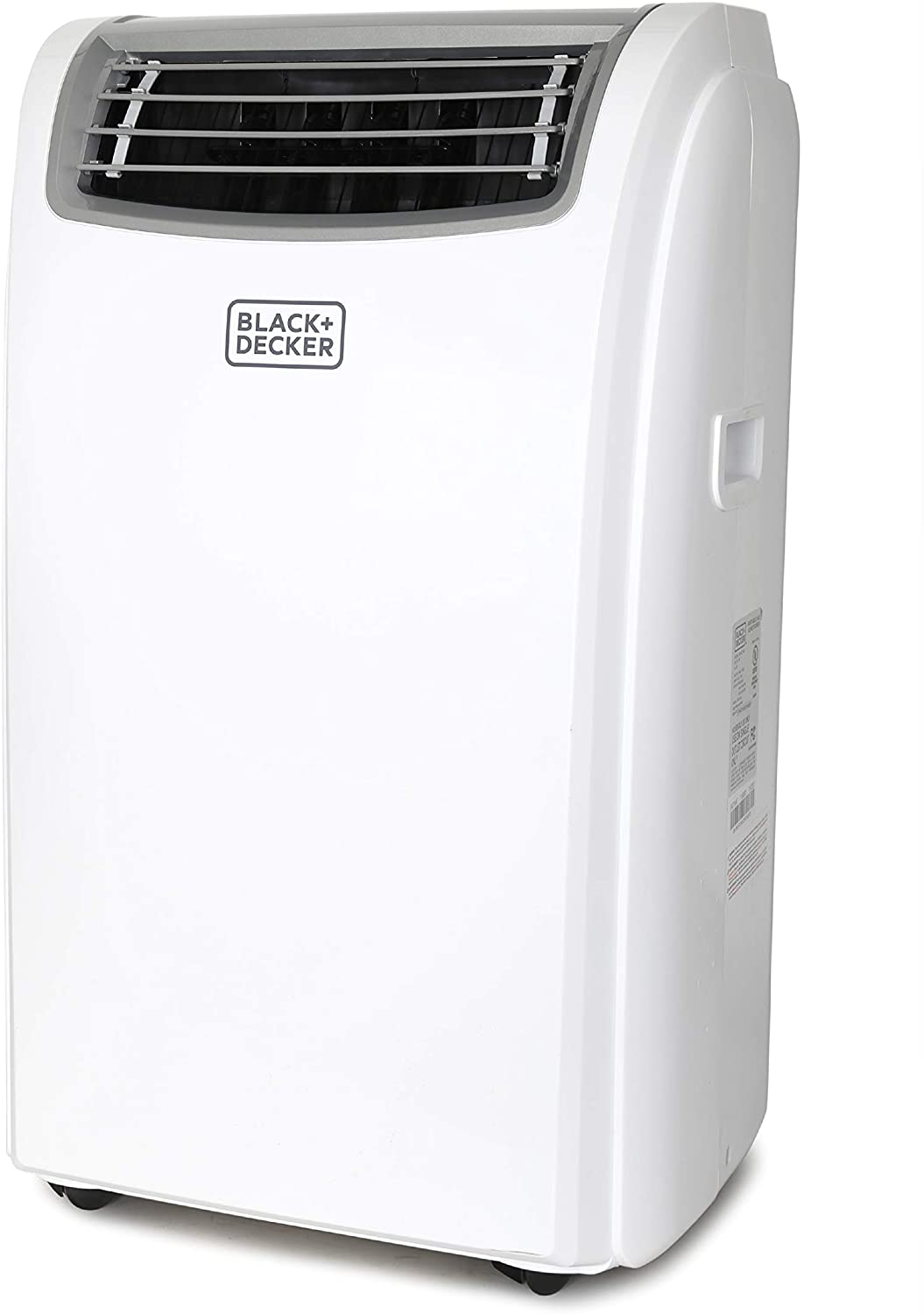 Single-hose heat pumps are the most basic models, with just one hose that must be lengthened to the outside. These heat pumps draw air from indoors and heat or cool it through the compressor. Then the heat and moisture which needs to be sent out of the room is expelled through the hose.
Dual-hose Heat Pumps
Dual-hose heat pumps work with two separate hoses. They use one hose for inlet air and the other hose for exhaust air. Instead of drawing air from inside the room, a dual-hose heat pump draws its air from outside the house. Once the indoor air cools down, this causes the compressor and other components to heat up.
In order to cool the components down, outdoor air is drawn in via the inlet hose to cool down the compressor. Then this air is blown outdoors via the exhaust hose, making the dual-hose heat pump much more efficient than a single-hose model.
If you want to heat or cool a larger room, then you should go for a dual-hose heat pump. This portable model uses more energy and costs more, but it's also much more efficient.
Benefits of Portable Heat Pumps
Here are some benefits of owning a portable heat pump. This should hopefully help you decide if they're the right option for you.
Energy Efficiency​
A portable heat pump uses so much less electricity than running two separate heating and cooling units. So if you buy this unit, you're sure to save lots of cash on your energy bills. For even higher energy efficiency, be sure to get an Energy Star-rated unit.
Excellent Portability
Portable heat pumps are lightweight, compact, and easy to move around. With most models having underbody wheels, you can easily move your unit around your house.
Minimal Size
A portable heat pump takes up much less space in your room than any other heating and cooling system. Moreover, portable heat pumps with air conditioning will heat and cool your room with one unit, saving you lots of valuable space.
Can Provide Heating and Cooling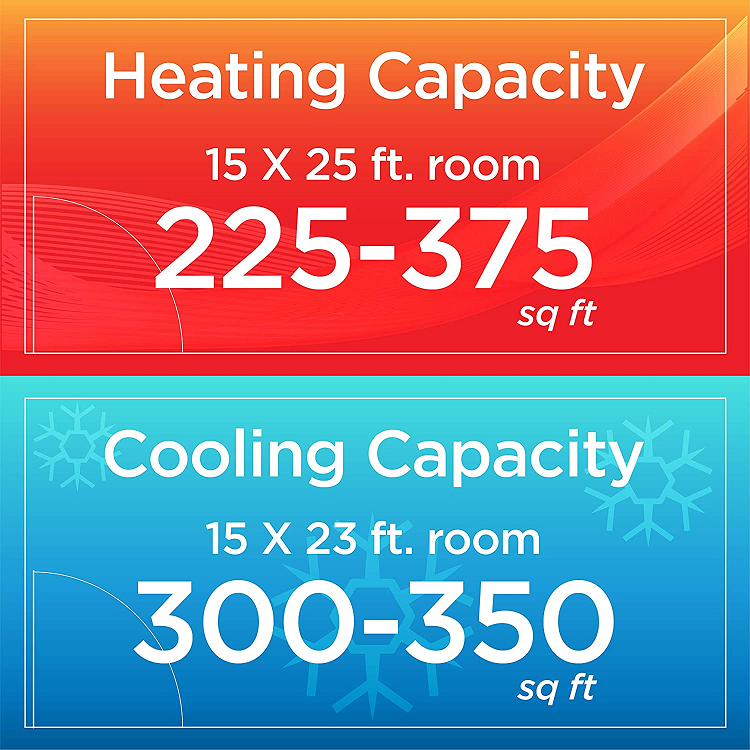 A portable heat pump can do the job of two separate units all at once. Instead of buying two separate heating and cooling systems to provide warm and cool air during the winter and summer, respectively, you should get a unit which can operate at your ideal temperature all year round.
Hassle-Free Installation
Portable heat pumps with air conditioners are very easy to install. They don't require an HVAC contractor to set them up.
You don't have to drill holes in your walls or modify your windows. Simply drag a flexible hose out of your window to draw the outdoors air and you're good to go. You can literally set up a portable heat pump anywhere by yourself.
Drawbacks of Portable Heat Pumps
Of course, no household appliance is without fault. Portable heat pumps have some shortcomings which don't make them the perfect solution in all situations.
Portability
While portability is definitely a plus when it comes to portable heat pumps, it's vital to keep in mind that some models are not so easy to move around your house. If a portable heat pump features a large and heavy hose, it's hardly convenient to move it around several times a day.
Limited Heating or Cooling Coverage
A portable heat pump is designed to heat or cool small spaces. Although they're perfect for spot cooling, they don't work efficiently in large spaces.
Placement
In order to get moisture out of your house, you must place your portable heat pump near a window. Certain heat pump models have a pan that gathers water that will need replacing. This can restrict where to install your unit.
Noise
Compared with mini-splits or central units, portable heat pumps come with everything contained in one compact unit, all of which will be in your room. This unit can be noisy and cause annoyance to some people.
What to Consider When Investing in a Portable Heat Pump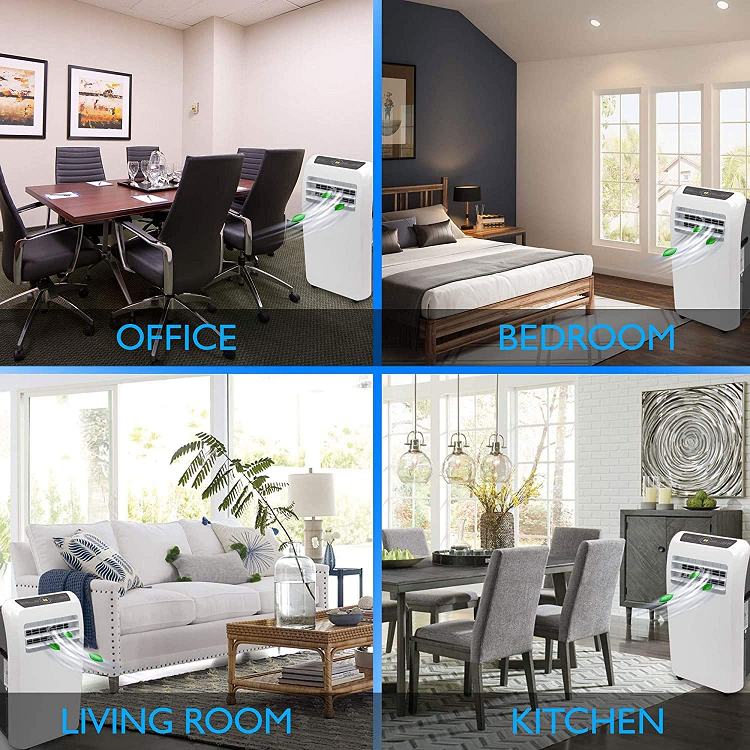 Portable heat pumps come in so many models and have so many features to check out. To save you the trouble of sifting through options, here are factors to consider when shopping.
Room Size
When buying a heat pump for your room, you should consider the size of the area you want to heat or cool. Doing so will ensure you pick the perfect fit.
For example, if your room is large, buying a unit with a lesser BTU output means it'll have to work much harder to heat or cool your room. It'll use more energy to do that and shorten its shelf life because of working too hard.
On the flip side, having a very powerful heat pump for a tiny room means the area will be cooled so fast that some humidity will be left in the area. As a general rule, every square foot of space requires 20 BTUs. Thus, if you have 300 square feet of space, you should buy a portable heat pump with at least 6,000 BTUs heating/cooling capacity.
Energy Efficiency
Be sure to check each model's EER rating to find out its energy efficiency. The less energy your portable heat pump consumes, the lower will be your energy bills.
Hose Length
The length of a portable heat pump's hose determines where you'll place it in your room. To place the unit far away from a sliding glass door or window, find a model with a longer hose.
Noise Level
Some portable heat pump models do make noise while being used. However, many quality branded models usually make minimal noise while in use.
Controls
Today, most people are opting for appliances they can control with their smartphones. This makes it easy to troubleshoot any issue without having to call in customer service each time there's a problem.
Moreover, having your portable heat pump connected to your smartphone will make it much more convenient to run it from anywhere in your room.
Additional Features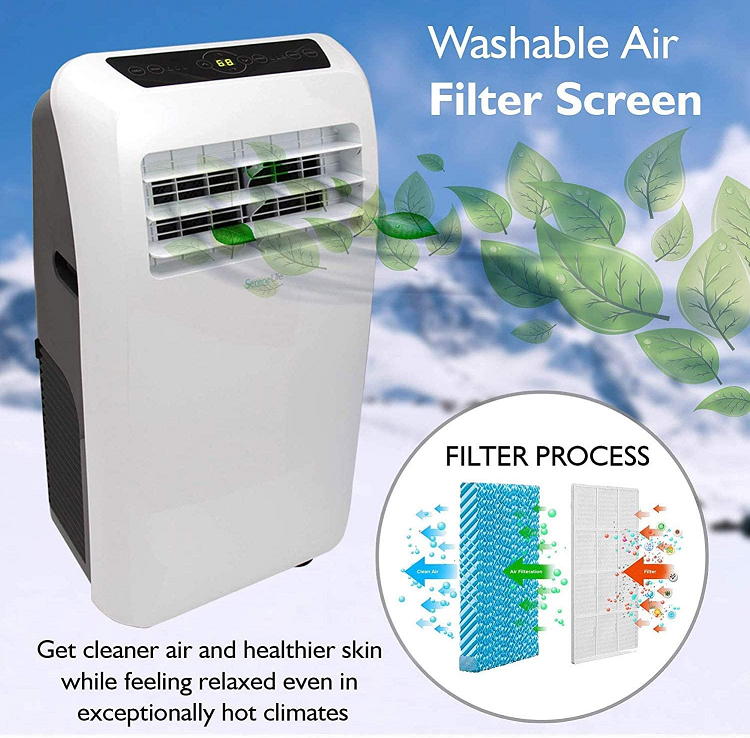 Want a portable heat pump that also works as a cooler? While this sounds really interesting, such appliances do exist. As summer temperatures continue rising, your unit can work as a cooler to dispense cold air equally.
There are also many other useful features that make it easier to operate a portable heat pump, including a timer, touch-screen LCD display panel, safety function, thermo control, ionizer, ozone-friendly refrigerant, fan speed control, and washable pre-filter.
Warranty Offerings
Check the manufacturer's warranty on your portable heat pump. How long is the warranty? Does the manufacturer provide support if components fail during the warranty time-frame? If the manufacturer does provide support, it'll prove how much they stand by their product and the longevity it offers.
Price
If your budget's a bit tight, you should consider buying a single-hose heat pump as it generally costs less than a dual-hose model. However, when it comes to price, room size can matter alongside energy efficiency.
While a dual-hose heat pump works well in bigger rooms and is more energy-efficient, a single-hose model will do just fine in smaller spaces.
Our Top Picks
There are lots of portable heat pumps out there, but which one should you buy to meet your specific needs? Well, your choice will depend on a number of factors, including your preferences and budget. That said, here are four of the best portable heat pumps currently on the market.
SereneLife SLACHT128 Portable Heat Pump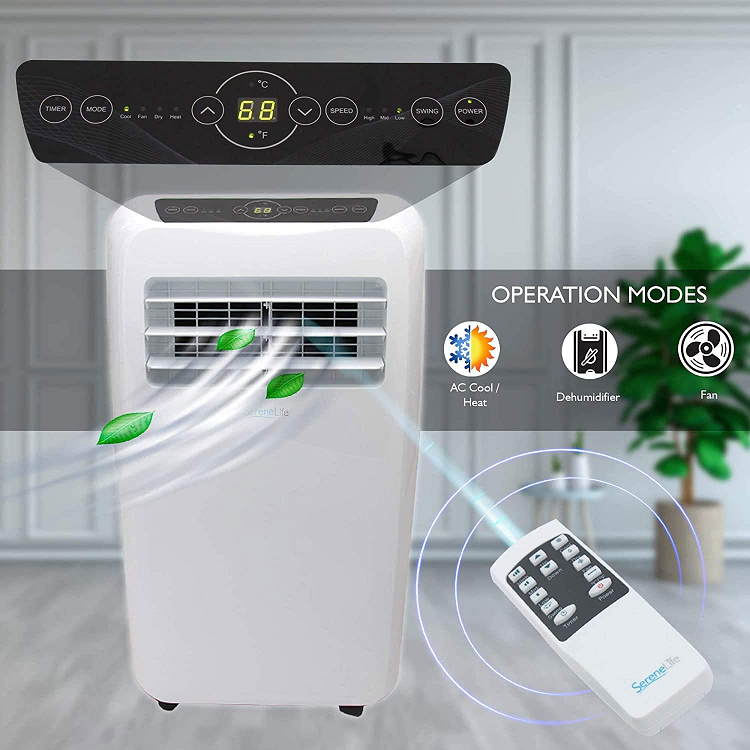 SereneLife SLACHT128 Portable Heat Pump is an excellent option if you want a compact unit that can do the heating, cooling, and dehumidification at the same time. It's also an excellent choice for people looking to save money and space.
Pros
Easy-to-use and lightweight that comes with a built-in dehumidifier
Great space-saving option
Remote control lets you adjust many settings, including fan speed and temperature
Four operating modes—heating, cooling, fan, and dehumidifier
Cons
A bit loud when in operation
Not very powerful
Black+Decker BPACT14HWT Portable Heat Pump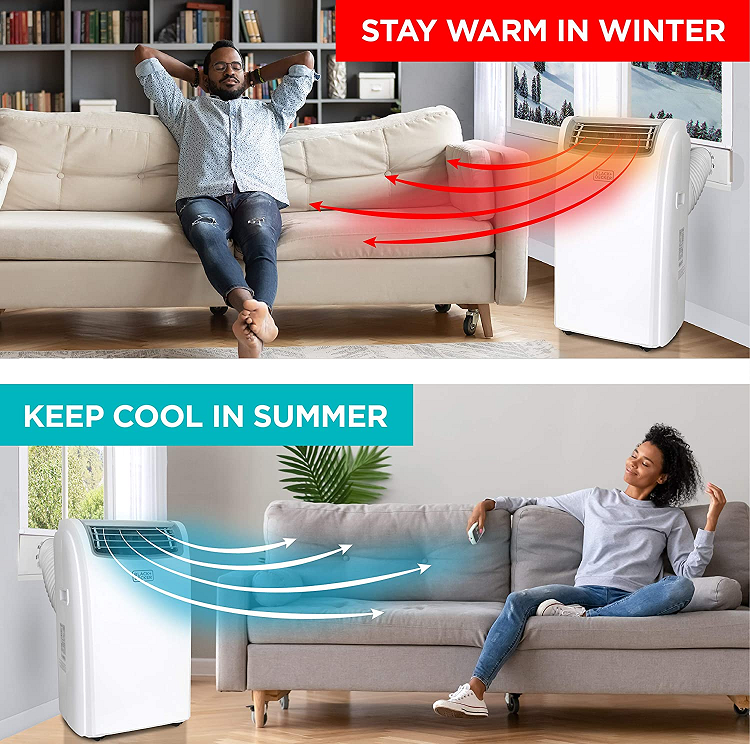 Black+Decker BPACT14HWT Portable Heat Pump is a truly versatile model that provides fast and consistent heating and cooling for up to 350 square feet of room size thanks to its 14,000 BTU heating/cooling capacity.
It generates vertical movement of air, creating a highly effective and gentle flow and maintaining consistent temperature in your room for nonstop comfort.
This portable heat pump features easy-to-operate LED electronic controls complete with a functioning remote control. With a noise rating of -75 dB, the unit doesn't make much noise even when operating on high settings.
With extra side carrying handles and rolling caster wheels, it also offers adjustable mobile comfort. It's easy to install, too.
Moreover, the simplicity and precision of flexible digital controls as well as 24/7 timer for sleep mode and on/off functionality make the unit a must-have!
Pros
Easy and quick to install
Heats and cools many rooms
Pretty easy to use and clean
4-in-1 functionality—heating, cooling, dehumidifier, fan
Cons
Some users don't trust the advertising
Some users hate the violent shaking and rattling of the heat pump
De'Longhi 4-in-1 Smart Portable Heat Pump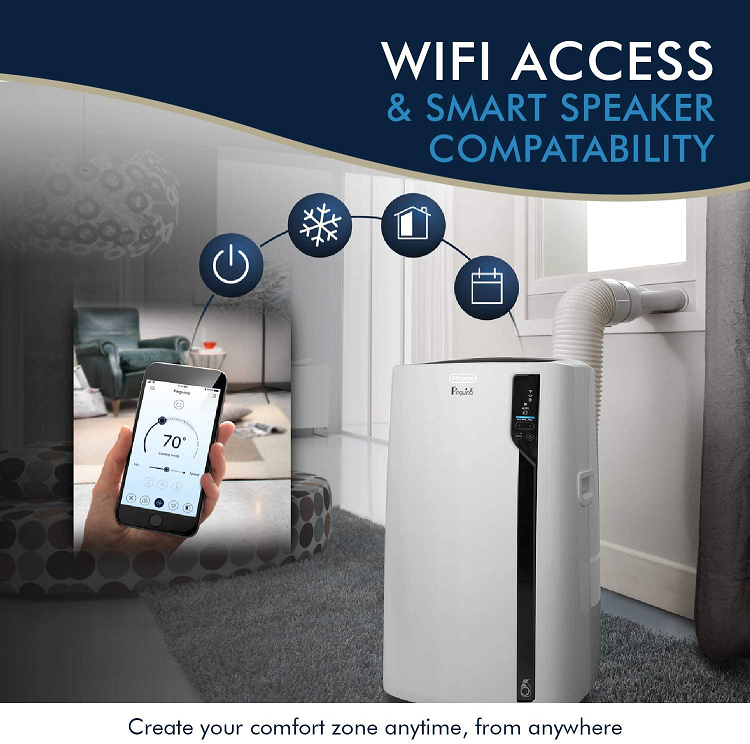 De'Longhi 4-in-1 Smart Portable Heat Pump has a 14,000 BTU heating and cooling capacity, making it ideal for 500 to 700 square feet of room.
With an innovative, fresh design, the unit also guarantees maximum energy saving and comfort. Its low power consumption and efficiency make it eco-friendly.
This portable heat pump features a thermostat and WhisperCool technology to ensure silent running, reducing its noise level by nearly 50%.
Its powerful dehumidifier gets rid of 87 pints of extra moisture within 24 hours. Thanks to its NoDrip technology that recycles condensed water, you can place this portable heat pump anywhere in your room. So, you don't have to worry about any leakage and resulting mess in your house.
This unit's automatic settings allow it to control its compressor and 3-fan speed settings to maintain a pre-programmed temperature. This means you can sleep peacefully if it gets too cold or too hot at night. Moreover, its air filter with BioSilver technology prevents the growth of any bacteria, mold, or mildew on the unit.
Pros
Saves energy
Smart speaker and Wi-Fi
Multipurpose to provide optimal comfort
Features a BioSilver air filter
Cons
Doesn't cool the room enough
Some users complained that the unit is defective
Black + Decker BPACT14WT 7,700 BTU Portable Heat Pump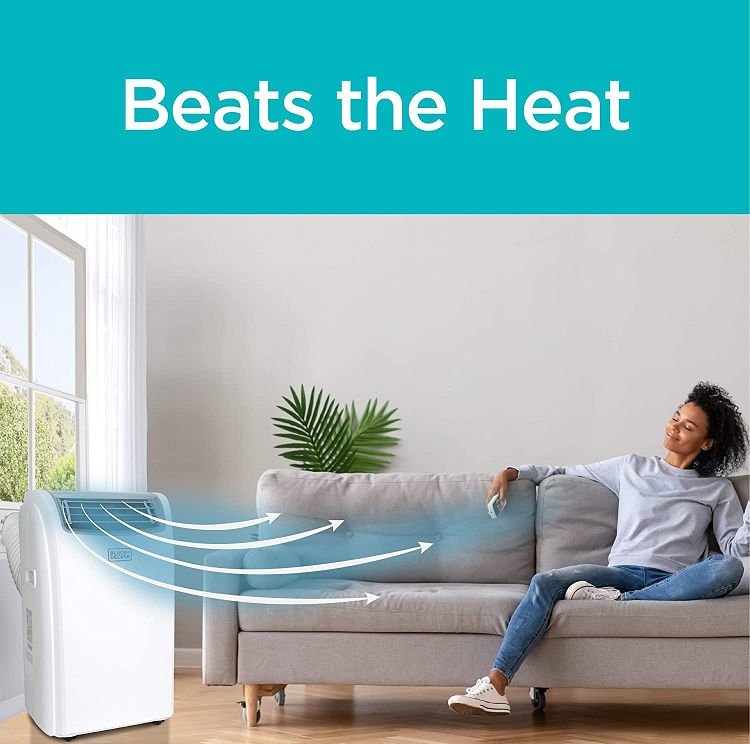 Black + Decker BPACT14WT 7,700 BTU Portable Heat Pump has 3-in-1 functionality—it's an all-in-one air conditioner, fan, and dehumidifier.
Its installation kit consists of a hose outlet/inlet adapters, user guide manual, water drain hose, window casement, and air exhaust hose. With a fully functioning remote control, you easily operate the unit's LED electronic controls.
Black + Decker BPACT14WT 7,700 BTU Portable Heat Pump can keep your home, small apartment, college dorm, or bedroom cool throughout the hotter months. It also comes with casters to provide quick and easy mobility, as well as an extensive warranty.
This portable heat pump with air conditioner also has a controlled panel mounted at the top, with its LED display enabling easy reading of temperature.
Pros
3-in-1 functionality
Quiet and powerful
Hassle-free cooling system
Easy to operate and clean
Cons
Some customers feel it doesn't provide value for money
Some customers complain about the faulty compressor
FAQs on Best Portable Heat Pump Options Guide
Question: What's the Most Reliable Heat Pump Brand?
Answer: The most reliable heat pump brands on the market are:
• Lennox
• Trane
• Carrier
• Rheem
• Goodman
• Ruud
• Bryant
• American Standard
• Coleman
• York
Question: Which Heat Pump Brand Has the Most Positive Reviews?
Answer: The Trane XR15 Heat Pump has the best reviews online. Its SEER rating is 16 and its HSPF is 9.5. Moreover, this highly efficient unit gives customers energy savings. Trane is popular for high-quality appliances and the XR15 is no exception.
Question: What's the Most Cost-effective Way to Operate a Heat Pump?
Answer: When using a heat pump, set the temperature at 20°C to 22°C. Don't set the temperature higher as this will make the appliance work harder and be less efficient. When you're not home during the day, keep your heat pump switched off.
Question: Does Breeze Maxx Function?
Answer: Yes, Breeze Maxx works perfectly and doesn't need extra effort to work at its best. The only maintenance you need to do is wipe it regularly to ensure it doesn't collect so much dust, and also fill up its water tank.
Question: Is Breeze Maxx a Mere Swamp Cooler?
Answer: Breeze Maxx is mainly designed to work as an air coolant. But it can also work as a fan, air cleaning system, or humidifier. The unit uses a special filter to trap dust and allergens, and it can humidify the air using its water container.
Last Word on Best Portable Heat Pump Options Guide
Portable heat pumps supplement other heat sources and are ideal for small rooms, offices, and workshops. They're an excellent option when it's impossible to install a wall-mounted heating and cooling system or if it's too costly to set up one.
While manufacturers claim you can heat and cool a 500-square-foot room with a 12,000 BTU heat pump, don't take this as gospel truth. The actual performance of a portable heat pump depends on the climate, humidity, insulation, room ceiling height, corners and furniture, and of course, your budget.
If you're looking for a budget option that will also save your space, then go for the SereneLife SLACHT128 Portable Heat Pump. For maximum comfort, energy savings, and efficiency, look no further than the De'Longhi 4-in-1 Smart Portable Heat Pump.
Now that you're clued up on how to pick the right portable heat pump for your own specific needs, go ahead and buy the right one. Happy shopping!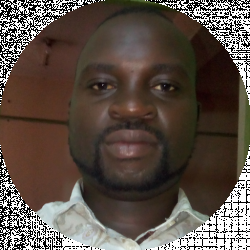 Latest posts by Haron Omaita
(see all)