One of the greatest disadvantages of conventional window ACs is that they're seasonal, and most people use them for just a few months per year. The best window heat pumps offer you an alternative by utilizing the same unit to cool and heat your home.
Rather than relying on a complex and often expensive HVAC system that lets you control the room temperature in your home throughout the year, you can use a window heat pump for the same purpose.
This article will take you through some of the most important aspects of window heat pumps and help you find the model that best fits your cooling and heating requirements. You should read our guide to the best 2-ton heat pumps if you don't want to install a heat pump in a window.
At a Glance – The 5 Best Window Heat Pumps
Key characteristics of a window heat pump
Horizontal and vertical window ACs are nearly identical to window heat pumps in terms of their visual appearance and output capacities. However, unlike other window ACs, this type of heat pump can be used for heating and cooling.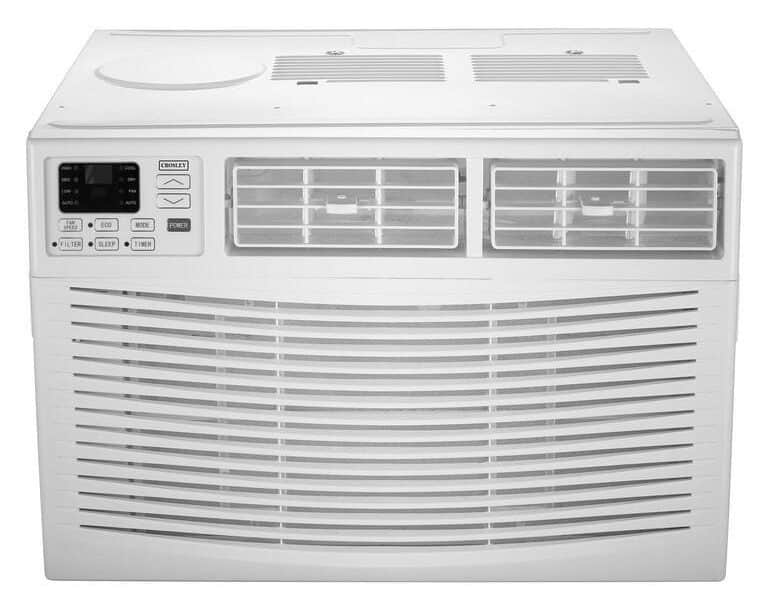 The front end of the unit is facing the room, while its rear end needs to be outside in order to have access to fresh air. Conventional heat pumps feature outdoor and indoor components that need to be connected with refrigerant lines.
The window version of this cooling and heating system has just one component responsible for removing the warm air from the room and replacing it with cool outdoor air. Their output capacities can seem limited when compared with most standard heat pump setups.
Go through our guide to the best vertical window air conditioners if the window frames in your home are too narrow for a window heat pump.
The core features of window heat pumps
All window heat pumps share some common features, but how advanced those features are largely depends on the model's price range. Being familiar with those features will make finding the right unit for your home much easier.
Here are some of the most common features of window heat pumps.
Variable speed – Single-speed window heat pumps are very rare, and most options on the market allow for fan speed adjustments. Two-speed and three-speed units are the most common, and you should search for alternatives if you want to have more control over the airflow speed.
Filtration system – This is a standard feature on all types of window heat pumps, although how advanced the filtration system will depend on the model. In most cases, filters are washable and reusable.
Energy-saving modes – The so-called Eco Modes lower the unit's power consumption while maintaining the room temperature at the pre-set level.
Automatic start and end – Nearly all models let you choose when and how long you want to use them. Timers and similar features are useful if you want the unit to run on a set schedule even while you're away from home.
Check out our guide to the best window fans if you're searching for a simple and affordable way to keep a room cool.
The coverage area of window heat pumps
The unit you choose needs to be powerful enough to cool or heat the room you want to install it. The output capabilities of window heat pumps are measured in BTUs, and they range from approximately 5.000 BTU to 24.000 BTU.
All window heat pumps have a different cooling and heating BTU output, so a model with excellent cooling capabilities doesn't necessarily have the same heating capacity. Consequently, this type of AC is rarely utilized as a primary heating source.
The coverage area of these ACs depends on their cooling and heating output. For example, a 24.000 BTU or 2-ton unit is powerful enough to cool a 1.500sq/ft area, while a 5.000 BTU window heat pump is suitable for a 100sq/ft room.
You should go through the guide to the best 4-ton AC units if you need a cooling system with a large coverage area.
Energy-saving capacity
Matching the window heat pump's output capacity to the room's size will positively affect the unit's power consumption. Oversized and undersized units tend to use more power to maintain the room temperature at the same level because they switch off and on very often.
Moreover, checking the unit's SEER (Seasonal Energy Efficiency Ratio), EER (Energy Efficiency Ratio), and HSPF(Heating Seasonal Performance Factor) can help you determine how much energy you're going to need to keep a room or an entire apartment cool or warm.
Getting an Energy Star certified model is perhaps the safest way to ensure that your household's power consumption will remain relatively low after you install a window heat pump.
You should remember that energy-efficient units are usually considerably more expensive than those that don't have power-saving features. Our guide to fan power usage can help you calculate how much electricity different types of fans will use.
Finding the right place for a window heat pump
You must position the window heat pump correctly to ensure you can maximize its cooling and heating capabilities. Although their name indicates that these units have to be installed in the window frame, most models are also suitable for the through-the-wall installation.
You should also make sure that the window is wide enough to hold this type of AC unit. Window heat pumps can weigh more than 100lbs, and in most cases, you will have to install a support platform that will handle the unit's weight.
The room's insulation can affect the heat pump's performance, which is why you should install it on a window that is relatively far from the nearest door and other parts of a room that allow for high amounts of heat transfer.
Read our article about the best 18.000BTU air conditioners if you need an AC to regulate the temperature in multiple rooms.
The most important factors to consider while choosing a window heat pump
Only a handful of manufacturers offer window ACs that have both cooling and heating modes. That's why the selection of window heat pumps you're going to have at your disposal isn't going to be versatile.
Nonetheless, finding the right model will be much easier if you set your search criteria in advance and decide how powerful the unit you want to get should be. We've selected several factors that can be useful during your search for a window heat pump, so let's take a closer look at them.
Model's dimensions and weight
One of the first things you need to do is measure the dimensions of the window frame where your new heat pump should be located. You can then compare these measurements to the dimensions of the unit you're interested in.
Most models are between 20 and 30 inches wide, while their height varies between 15 and 20 inches. You should keep in mind that these units are compatible with single or double-hung windows, and you can't use them with sliding windows.
Cooling and heating capabilities
All window heat pumps have different heating and cooling ratings. The heating output is usually lower than the cooling output, and the gap between these two outputs varies from model to model.
You need to check the unit's cooling and heating ratings to determine their coverage area. This type of AC is commonly used as a secondary heating source since its average BTU rating rarely exceeds 16.000 BTUs.
The cooling and heating outputs should be taken with a grain of salt since numerous factors can affect the unit's coverage range.
Noise levels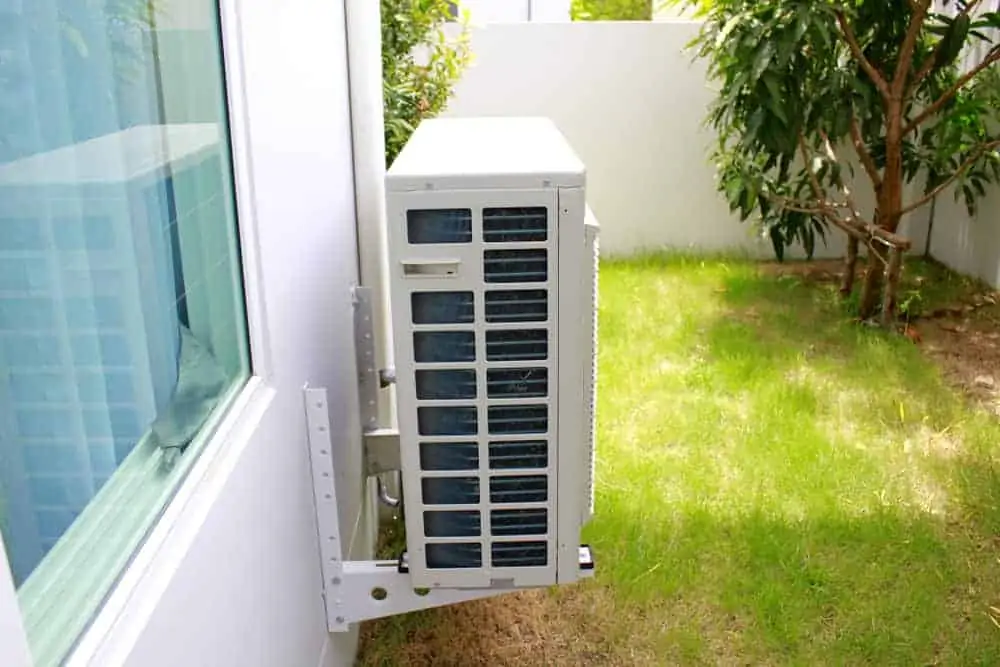 Window heat pumps don't generate more noise than other home appliances. Their noise level range oscillates between 50dB for quiet models and 70dB for relatively loud models.
Checking the unit's noise level is particularly important if you want to install it on your bedroom window since models that produce around 70dB of noise might end up disturbing your sleep.
This parameter isn't very important if the window heat pump is going to be installed in the living room or any other room used for daily activities.
Number of fan speeds
Having the ability to control the airflow speed allows you to adjust the room temperature to your need and limit the system's power usage. The vast majority of window heat pumps on the market have either two or three fan speeds, and you can operate them at full, half, or minimum capacity.
This prevents you from making intricate adjustments since most models don't allow you to raise or lower the room temperature for one or two degrees. As a result, window heat pumps consume more power than conventional heat pumps.
Cost and warranty
The coverage range or the features a window heat pump offers depends on its price. You can get an entry-level model equipped with basic features and a limited coverage range for approximately $400.
A high-end unit with a cooling output above 20.000 BTUs can cost you more than $1.000. Most brands offer warranties that last between 1 and 3 years for their window heat pump models. Also, some manufacturers might issue warranties for particular components that last longer than 3 years.
The advantages of window heat pumps
Year-round room temperature control
The heating function of window heat pumps enables you to use them throughout the year. However, their heating output is usually sufficient to keep a 300sq/ft or 400sq/ft room warm, and you must combine several units if you want to heat the entire home with this type of AC.
Simple installation process
You don't have to hire a professional to install a window heat pump in your home. Most models come with window-mounting kits that keep the unit firmly in place and provide enough support to handle the unit's weight.
Quiet operation
The outdoor and indoor sections of the unit generate different levels of noise, but none of the models you'll find on the market are loud enough to disturb you or your neighbors.
The disadvantages of window heat pumps
Limited fan speed adjustment options
Even though most models let you change the airflow speed, they offer a limited amount of speed settings. Hence, more often than not, these ACs let you choose between just two or three-speed options.
Top 5 window heat pumps
All of the window heat pumps we chose in this guide were chosen based on affordability, energy efficiency, and positive customer reviews.
LG LW8016HR – The best window heat pump for medium-sized rooms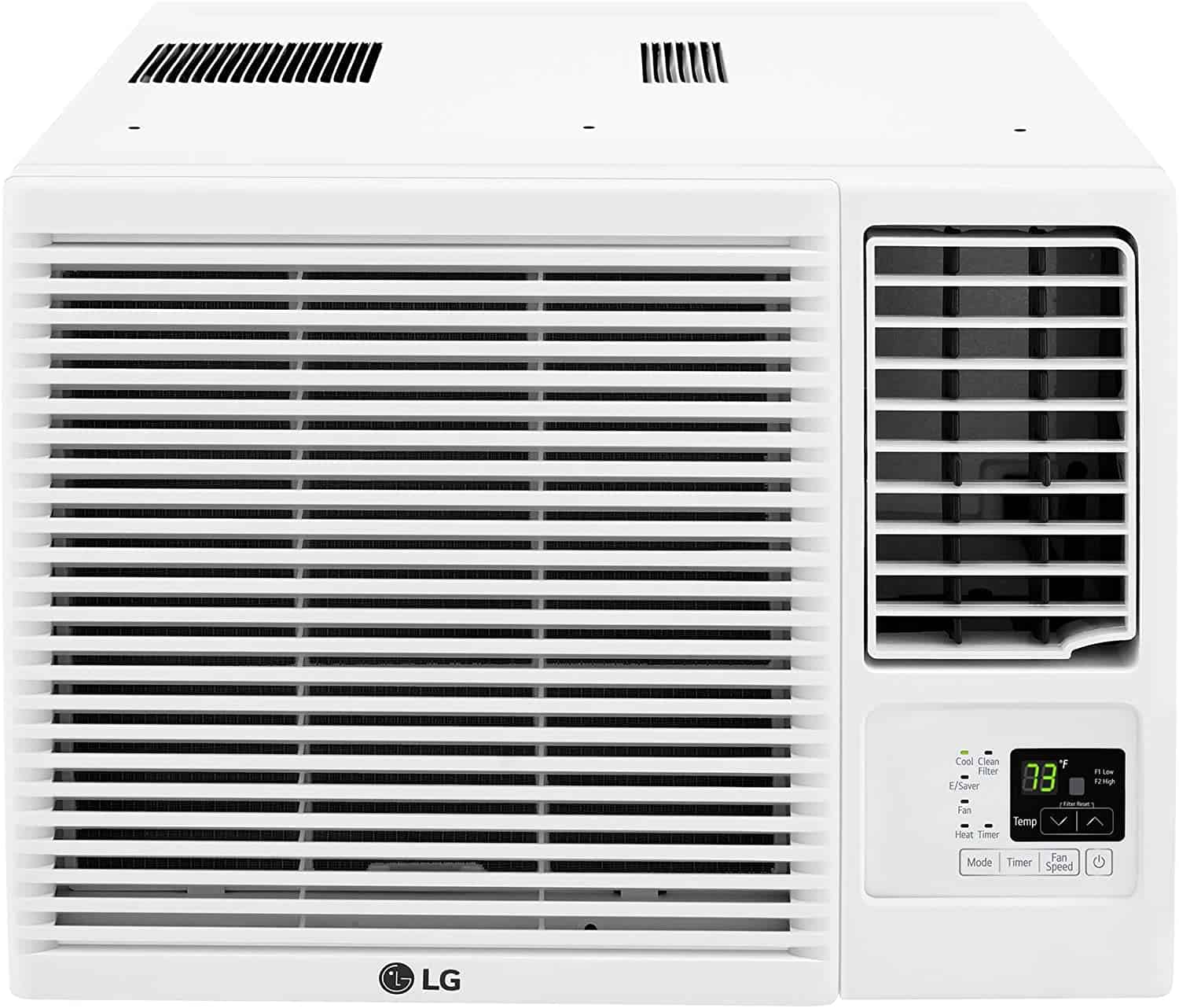 The 7.500 BTU cooling output and 3.850 BTU complementary heating output make the LG LW8016HR window heat pump a great fit for small and medium-sized rooms.
This LG's model has a high energy efficiency rating, and it features an Auto Restart function that activates the unit automatically after a power outage. You can only switch between two speeds, but the unit lets you choose from various airflow direction options.
The LF LW8016HR comes with a remote control that allows you to adjust its settings from anywhere within the room.
Pros
The unit weighs just 69lbs
Easy temperature adjustment
Energy-saving performance
Affordable price
Cons
1-year warranty
Only 2 fan speeds
Amana AH183G35AX – The most versatile window heat pump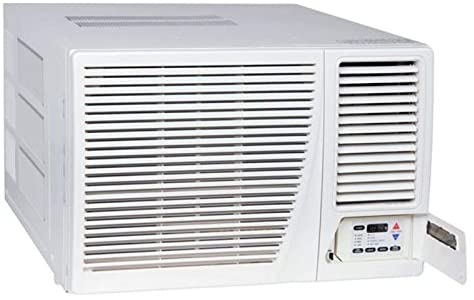 You should take a closer look at the Amana 83G235AX if you're searching for a window heat pump that can cool a 1000sq/ft area. This window heat pump can provide you with 17.300 BTUs of cooling capacity and 14.300 BTUs of heating capacity, while its maximum airflow output is 590CFM.
The unit can be installed in the window or through the wall, enabling you to choose the best position in a room. Even though it is labeled as energy-efficient, the Amana AH183G35AX isn't Energy Star certified.
Pros
The remote control allows for easy temperature adjustments
Balanced heating and cooling outputs
Utilizes eco-friendly refrigerant
Elegant design
Cons
This window heat pump weighs 162lbs
Limited air dehumidification capabilities
Koldfront WAC12001W – The most affordable window heat pump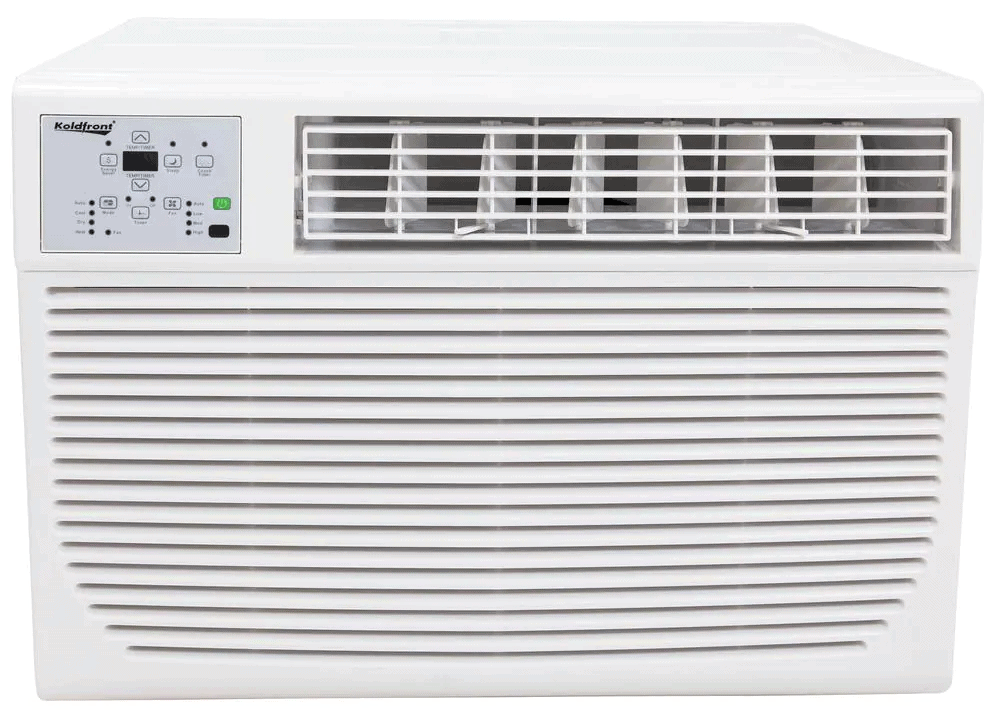 Despite the fact that Koldfront WAC12001W is less expensive than most of its competitors, it is still capable of remarkable performances. This unit has 4 modes of operation, and it lets you switch between three fan speeds.
Its coverage area is approximately 550sq/ft, while the maximum cooling and heating output gap is just 1.000 BTUs. The Koldfront's model has a remote that lets you enter the energy-saving mode or set a timer by simply pushing a button.
You can't use this heat pump on windows narrower than 27-inches or shorter than 16-inches.
Pros
Louvers allow users to direct air in 4 different directions
Features a 24-hour timer
The maximum dehumidification capacity is 60 pints per day
2-year warranty
Cons
Not compatible with 120V power outlets
Not aimed for through-the-wall installation
Frigidaire FFRH 1822R2 – The window heat pump with the best heating capacity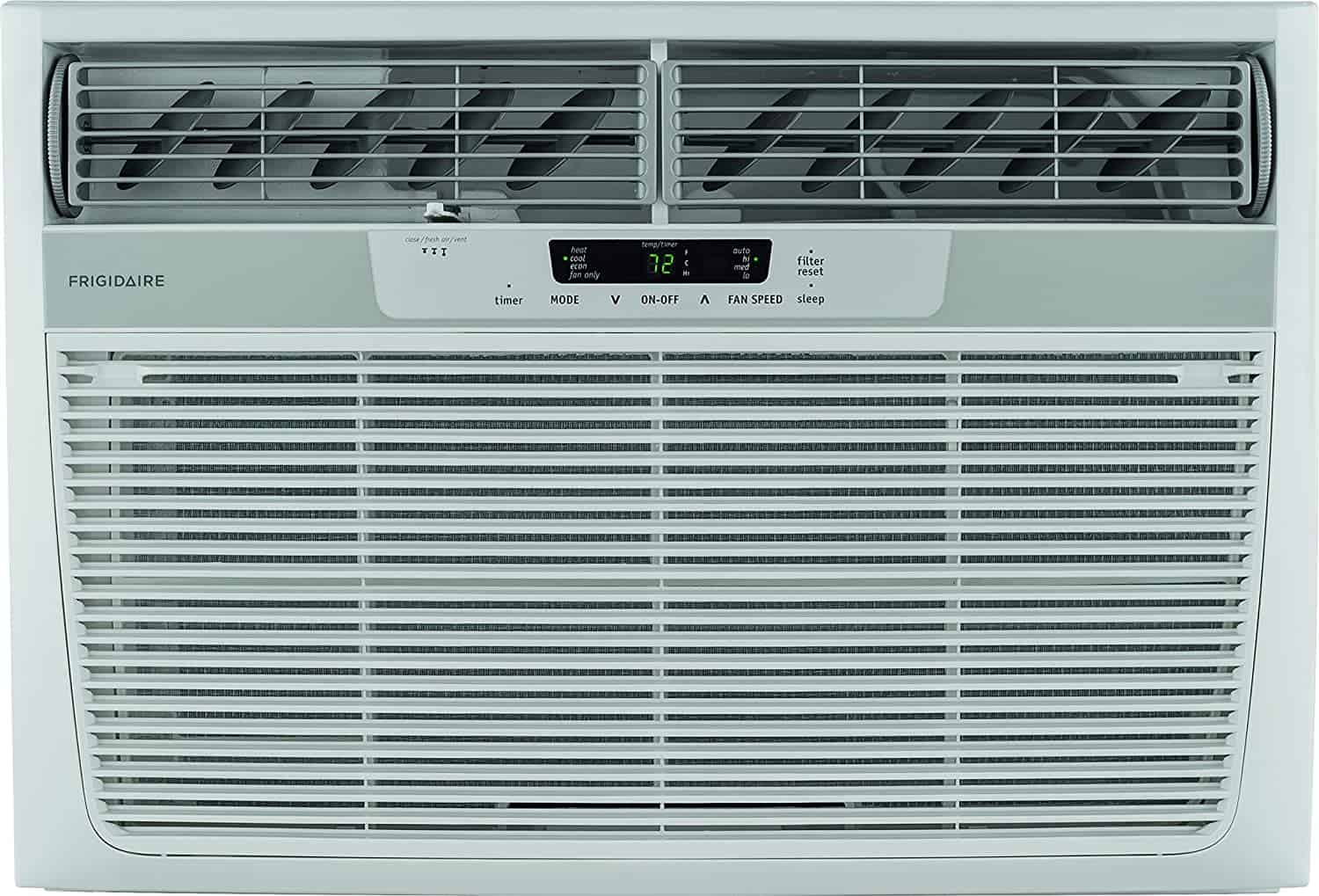 The low-power start-up feature ensures that the Frigidaire FFRH 1822R2 utilizes the minimum amount of electricity to start its motor. Besides, this window heat pump has a high EER rating that guarantees you won't spend too much money on utility bills.
The Frigidaire's heat pump has an 18.500BTU cooling capacity, and it is powerful enough to cool a 1.050sq/ft room. Its heating capacity is slightly lower, but the unit can still supply you with a 16.000 BTU heating output.
This Frigidaire's model features 3 fan, cooling, and heating speeds that allow you to adjust its output to the current outdoor temperature.
Pros
Equipped with an advanced set of features
Auto cool mode changes the fan speed if the room temperature increases or decreases.
Quiet operation
The air can be directed in 8 ways
Cons
Very heavy
Some components can break down quickly
Friedrich Chill Series EP24G33B – The most powerful window heat pump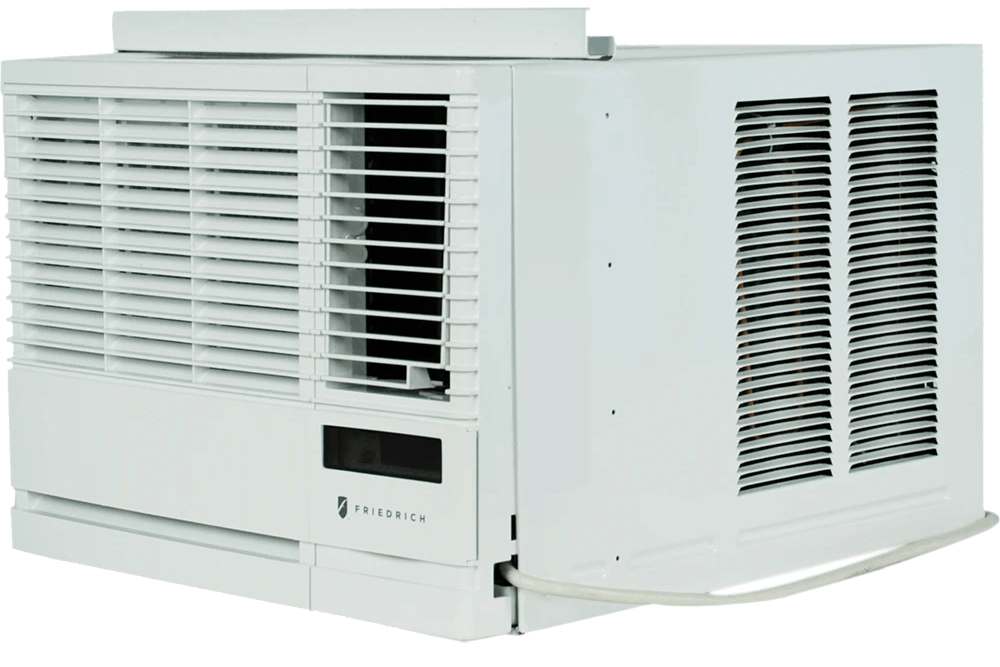 With a maximum cooling capacity of 23.000 BTUs or almost 2 tons, the Friedrich Chill Series EP24G33B is one of the most powerful window heat pumps on the market. Its heating capacities are considerably lower, as it cannot supply more than 12.000 BTU of heating output.
The unit has four modes of operation, including the Money Saver mode that lowers its power consumption. The auto sweep lowers move from left to right to redirect the airflow and ensure each part of the room receives the same amount of cool or warm air.
Pros
Features a washable and reusable antimicrobial filter
Suitable for spaces smaller than 1.500sq/ft
Adjustable fan speed
Window or through-the-wall installation options
Cons
Heating capacities could be better
Short warranty period
Frequently asked questions about window heat pumps
Question: Do window heat pumps have high maintenance requirements?
Answer: Besides cleaning the filter occasionally, window heat pumps don't have any other upkeep requirements.
Question: Are the cabinets of window heat pumps weather-sealed?
Answer: Not all window heat pumps have weather-sealed cabinets, and you need to check if the cabinet of the model you want to get is weather-sealed.
Question: What type of motor do window heat pumps use?
Answer: Most window heat pumps are equipped with a ball-bearing motor that starts quickly and makes almost no noise.
Question: Are window heat pumps WiFi-compatible?
Answer: Some units are WiFi-enabled, and you can control them from your Smartphone or your computer. However, this isn't a standard feature, and you need to check if the model you want to get is WiFi-compatible.
Our verdict: Deciding which window heat pump to choose
You won't have a lot of options at your disposal if you choose to regulate the room temperature in your home with a window heat pump. The market for these devices is relatively small, and it is dominated by a handful of brands.
Frigidaire, Amana, or LG are some of the most reliable manufacturers of window heat pumps, and you will get a unit capable of excellent heating and cooling performances if you opt for a model produced by any of these brands.
We recommend choosing the Amana 83G235AX because of its energy efficiency and wide coverage range. A model like the Frigidaire FFRH 1822R2 is an equally good option, but its coverage area might be too wide if you need a window heat pump that can heat or cool just one room.
Which window heat pump are you going to choose? Let us know in the comments, or continue reading our guide to the best 5-ton heat pumps if you need a heating and cooling system for an entire home.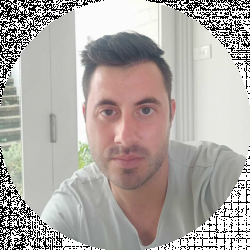 Latest posts by David Borgogni
(see all)