Cooling systems capable of controlling temperatures in an entire house aren't for everyone's budget. The best vertical window air conditioners offer an alternative to expensive cooling systems that are difficult to install.
These ACs are designed specifically for sliding windows or doors as you can't install them on single-hung or double-hung windows. Like all window ACs, units designed for vertical windows don't require professional installation as you just have to plug them into a power outlet to start cooling a room.
Only a handful of manufacturers produce ACs that can be mounted on sliding windows, which narrows down your options.
That's why in this guide to the best vertical window air conditioners, we're going to take you through their most important features and help you find the model that fits the window frame in your home perfectly.
Read our guide to the best portable GE air conditioners if you want to consider other cooling options besides window ACs.
At a Glance – The 5 Best Vertical Window Air Conditioners
Sorting out the terminology
There's quite a bit of confusion surrounding the AC unit's compatible sliding windows. Most of the confusion comes from the terminology used to refer to this type of AC unit. There are at least 4 terms that denote the same type of appliance as the vertical window AC.
You're likely to encounter terms such as 'casement window AC, 'sliding window AC' or 'crank window AC' during your search for an air conditioner you can install on a window that is opened vertically.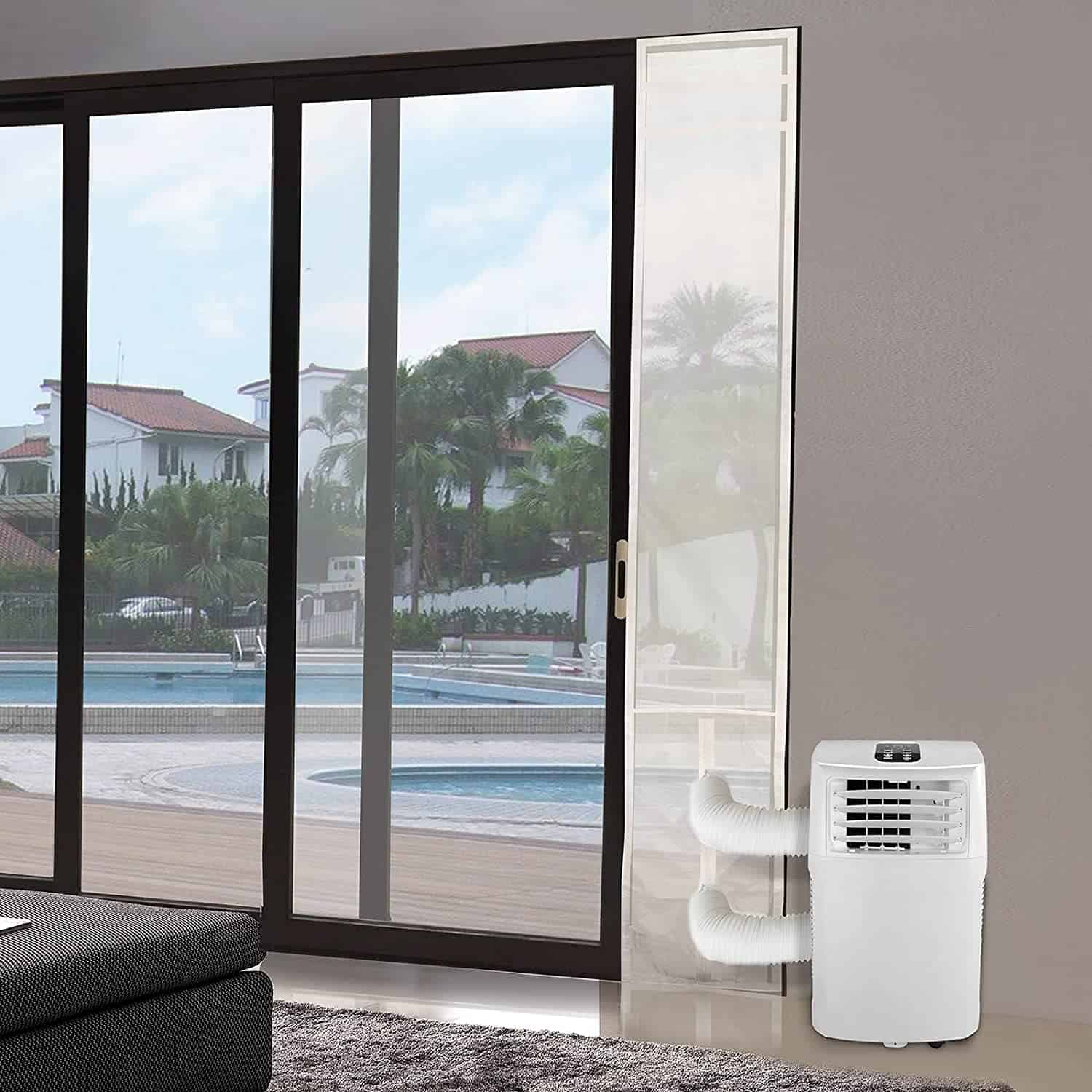 Each of these terms refers to the same type of appliance, and you shouldn't be confused by the terminology brands use to advertise these products. To avoid confusion, in this article, we're going to refer to this type of AC as the vertical window air conditioner.
It is also worth adding that these AC units can be installed in sliding doors, but doing so might create a gap between the doorframe and the unit that is difficult to cover. Go through our guide to cooling systems to learn more about different types of cooling systems.
Differences between regular and vertical window air conditioners
Regular and vertical window air conditioners are identical in terms of performance and features they offer, but despite this, these units can't be used interchangeably.
ACs designed for single-hung or double-hung windows contain horizontally oriented components, and turning such a unit on its side will cause permanent damage. Placing the unit in a vertical position will result in refrigerant and oil leakage, which will cause the compressor to fail.
In addition, the AC's condensation drain doesn't rotate when you turn a regular window AC sideways, and all the water will drip onto the floor. So, if you have a sliding window, you'll have to get a vertical AC that features components that will be damaged if the unit is installed in this position.
Casement ACs are usually tall and narrow instead of regular window air conditioners that are wide and short. Go through our guide to mini-splits if you need a more powerful cooling system for your home.
Cooling capacity and coverage area of vertical window air conditioners
You shouldn't expect too much from vertical window air conditioners regarding their output and coverage range. These units rarely have more than 1 ton, while the vast majority of models can't supply more than 8.000 to 10.000 BTUs.
That's why you can't use these devices to cool spaces that are larger than 450sq/ft, which makes them only a suitable cooling option for one room.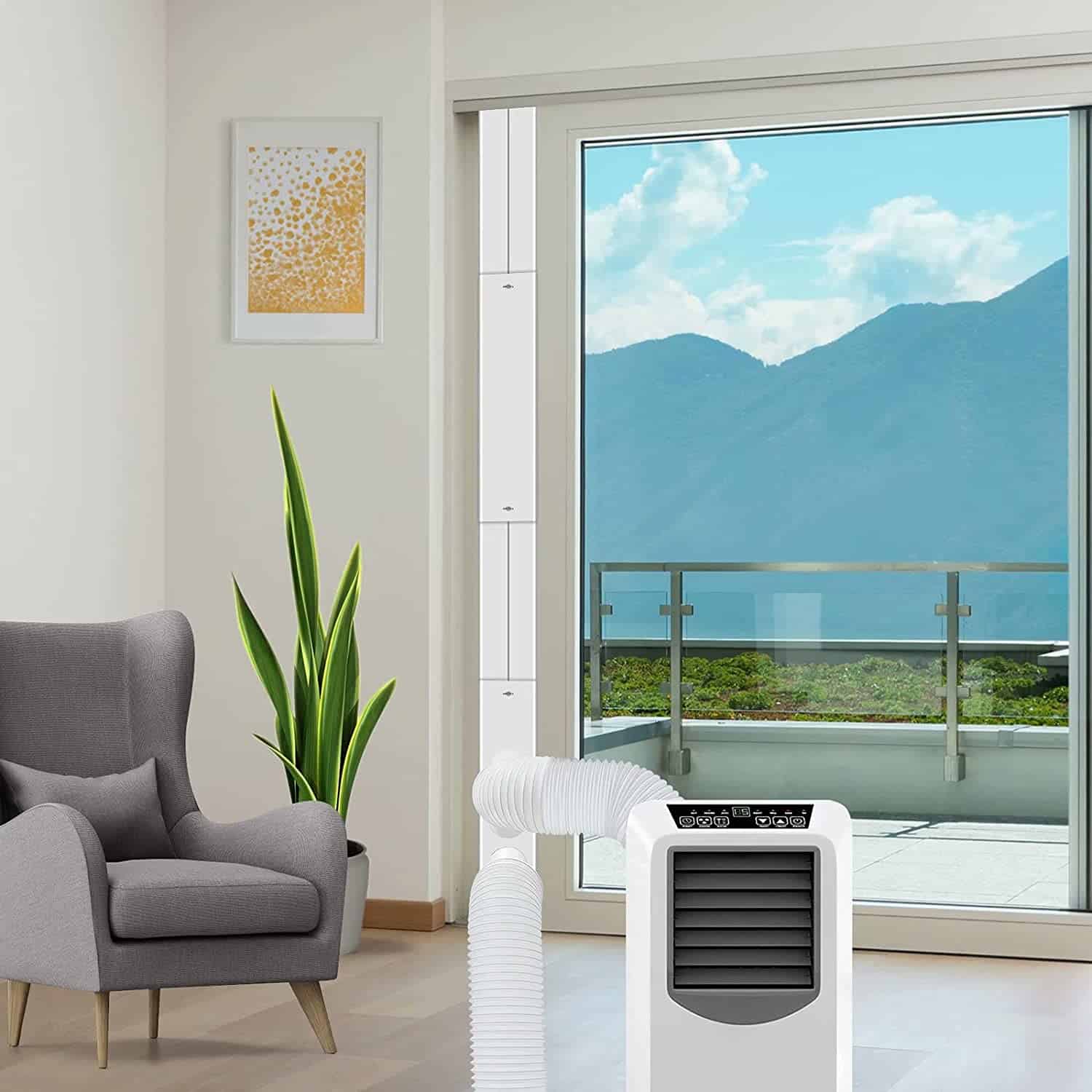 Moreover, their coverage range is affected by the room's insulation and the climate, so the coverage range of these units is considerably narrower in warm climates than in cold climates.
You should only take the unit's maximum output capabilities and coverage as a reference because its actual performance depends on various factors. Most importantly, you should do everything in your power to eliminate the heat transfer by covering the gaps between the unit and the window.
Read our guide to the best 5-ton heat pumps if you need a cooling system with a wide coverage range.
Volume of noise
Vertical window air conditioners are not noisy, as most models produce less than 60dB while operational, making them as loud as a bathroom exhaust fan or a microwave. The part of the unit that is facing outside generates approximately 2dB of noise more than the part that is inside the house.
Checking this information is usually easy since most reliable manufacturers include it in the product description. You should avoid brands that don't disclose the noise levels of their models because you might end up with a loud vertical window AC that disrupts your sleep or daily activities.
Also, the unit's noise level depends on its current output, as the AC is going to produce less noise when it is operating at half capacity than when it operates at full capacity. Go through our guide to the best window fans if you need a cooling option that works with double-hang and sliding windows.
Installation requirements
Comparing the unit's dimensions to the dimensions of your sliding window is one of the most important steps you need to take before starting the installation process. Vertical window ACs are usually around 15-inches wide, enabling you to fit them on relatively narrow windows.
Besides their width, you also need to check their height to determine how big the gap between the AC and the window frame will be. Installation kits don't always come with the unit, and you must purchase them separately if you want to cover the opening with a foam filler.
To ensure the stability of the AC, you must also create a platform on the window that will support it. The outside portion of the platform should be tilted downward so that the AC can dispose of condensed water properly.
Browse through our guide to the best mobile home air conditioner units if you're searching for an adequate cooling solution for your mobile home.
The most important factors to consider while choosing a vertical window AC
You won't have a wide variety of options at your disposal as only a handful of brands manufactures ACs that can fit on sliding windows. The reason for this is that single-hung and double-hung windows are far more common than sliding windows.
Besides, most of these units have similar features, widths, and output capabilities. None of the vertical window ACs you can find on the market can serve as a cooling solution for an entire house because their output capacities rarely exceed 10.000BTUs.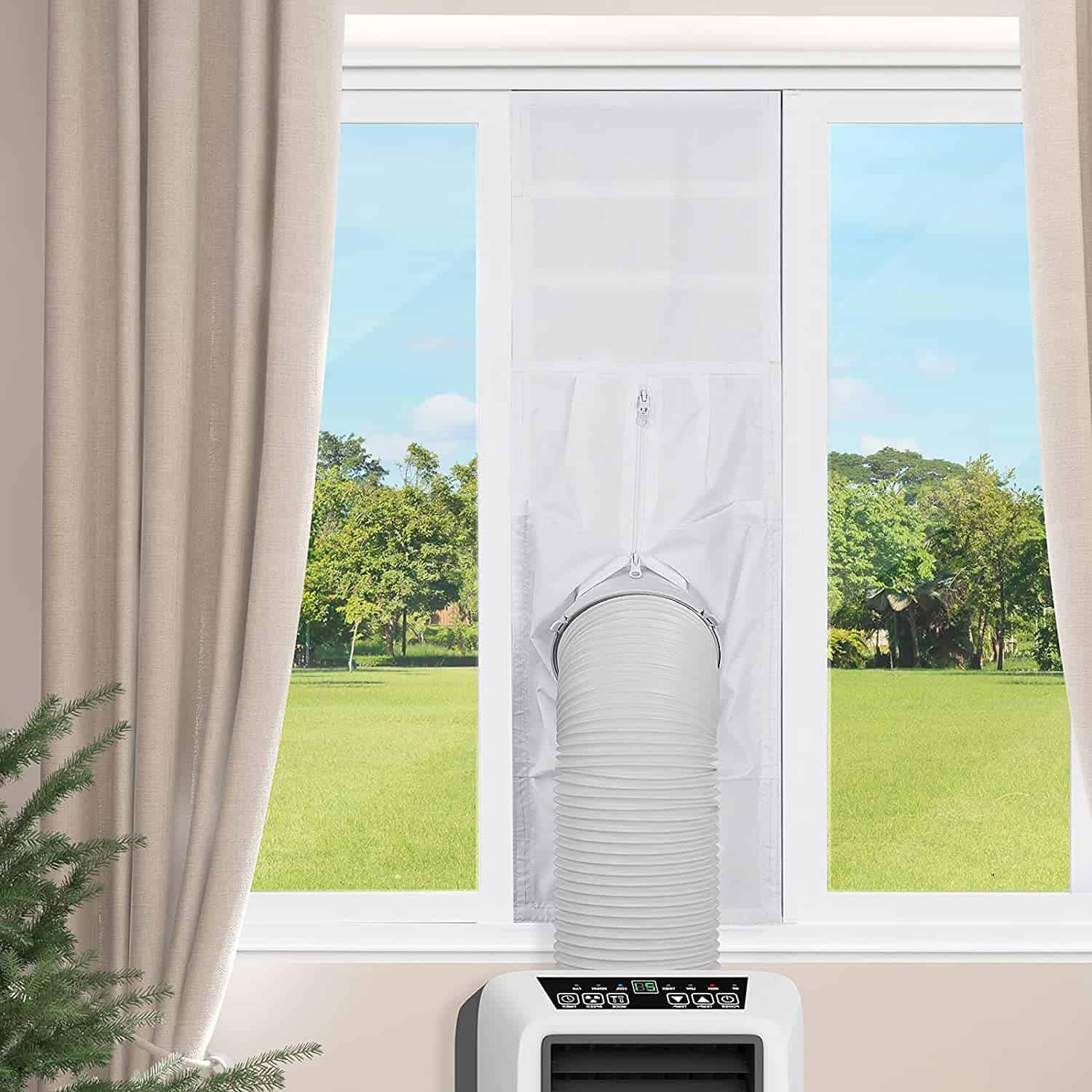 We've shortlisted some of the most important factors that can help you determine which vertical window AC is the right choice for you, so let's take a closer look at them.
Window type and size
The width of a regular window AC makes it a poor fit for sliding windows that are considerably narrower than single-hung or double-hung windows. The best solution for this issue is to get a vertical window AC that fits the narrow space in the window frame.
The standard width of casement window ACs is between 14 and 15 inches, but you need to check the model's exact dimensions to make sure you can install it. Some vertical window ACs can be installed through the wall, although this option isn't available on brick walls.
Installation kit
Filling the gap in the window generated by the unit is paramount to prevent heat from entering your home. However, the height of vertical window ACs varies, which means that the gap size isn't always going to be the same.
Installation kits for these units contain a foam filler panel you can cut to close the gap between the window frame and the AC. These kits can also feature a support platform that is sturdy enough to carry the unit's weight.
Energy efficiency ratings
Paying attention to the unit's EER and SEER ratings can potentially lower your utility bills. Like most ACs, vertical window air conditioners are powered by electricity, and energy inefficient models consume vast amounts of electricity to keep the room temperature constant.
Models that are Energy Star certified use much less electricity to cool a room than the units that don't have this certificate. The most energy-efficient vertical window ACs have SEER ratings between 10 and 13 and EER ratings between 8 and 11.
Cost and warranty
Most casement ACs are similarly priced as they cost between $400 and $600. In addition, the price difference between 8.000 BTU and 10.000BTU models is minimal since you'd have to spend $50 or $100 more to get a unit that has a 450sq/ft coverage area.
Brands mostly offer a one-year warranty for vertical window conditioners that includes free labor and replacement of broken parts, while some manufacturers also offer 5-year limited warranties that are applicable under certain conditions.
The advantages of vertical window air conditioners
Easy installation
Unlike heat pumps or central air conditioners, vertical window ACs don't have to be installed by professional contractors. Most models arrive with installation kits that include the support for the unit and the filler material that closes the gap in the window.
Air humidity control
Besides regulating the room temperature, casement ACs can also control the air humidity in the room in which they're installed. These units are equipped with a drain that disposes of condensed water so that you don't have to empty the condensate manually.
Reasonable pricing
Despite being slightly more expensive than regular window air conditioners, casement ACs are still more affordable than most cooling systems. Besides, you don't have to spend a small fortune on installation costs since you can install the vertical window air conditioner you purchased on your own.
The disadvantages of vertical window air conditioners
Limited portability
These units are heavy, and some models can weigh more than 70lbs. That's why moving them from one room to another whenever you need instant cooling isn't really an option. Also, you need to move the unit's support each time you want to place it on a different window.
Top 5 vertical window air conditioners
PerfectAire 3PASC10000 – The most compact vertical window air conditioner
With the dimensions of 23.5 x 14.75 x 21 inches, the PerfectAire 3PASC10000 is one of the best cooling solutions for narrow sliding windows. The unit can also supply you with 10.000 BTUs of cooling power, which is enough to keep a 450sq/ft area cool.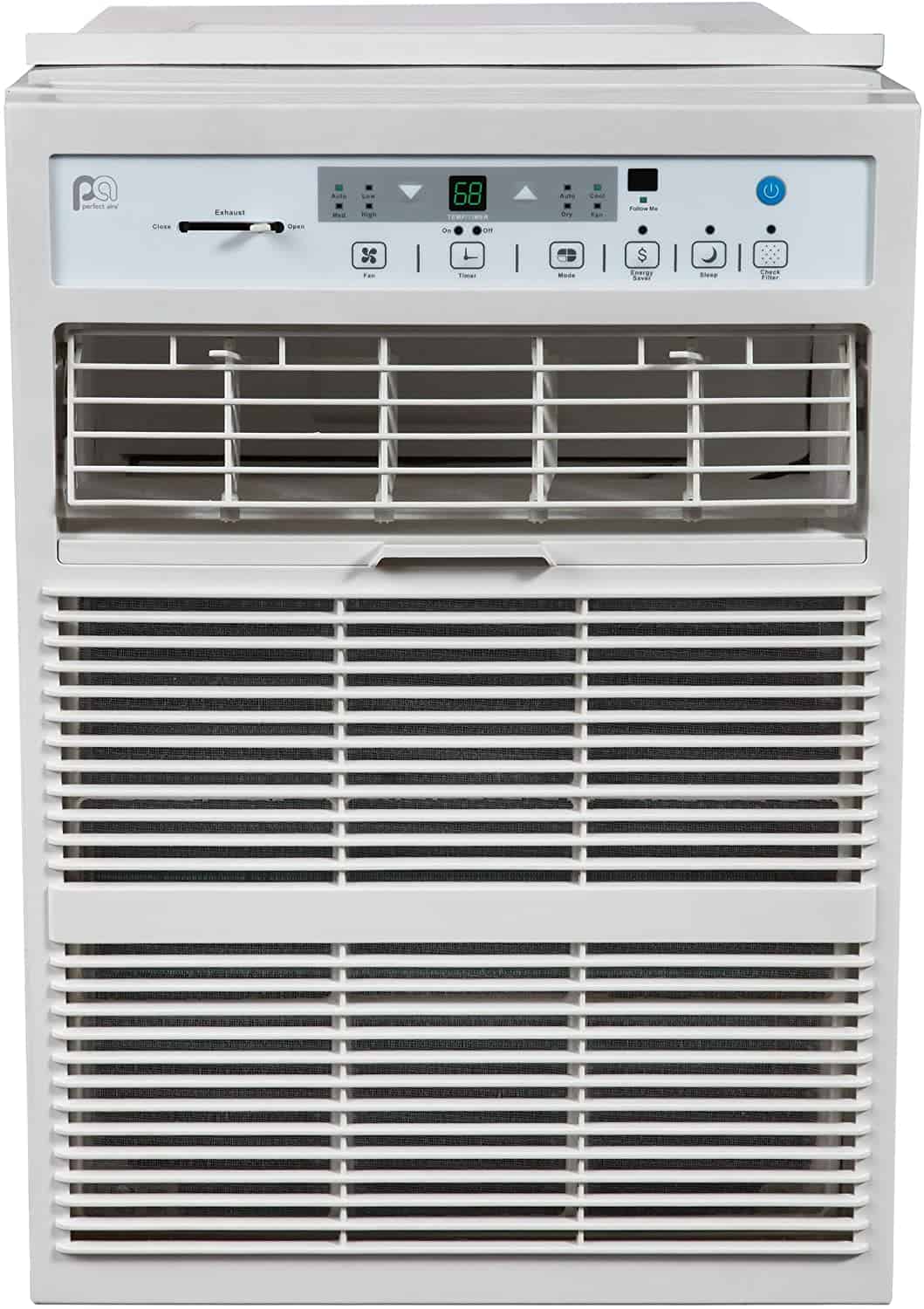 The AC lets you adjust the room temperature in the range between 62F and 86F, and it can operate at three different speeds. The unit is controlled with a remote equipped with the Follow Me feature that turns the remote into the thermostat to provide cooling to an entire room.
Pros
The AC comes with the installation kit
Features several modes of operation
High level of energy efficiency
It fits on most sliding windows
Cons
Heavy despite its compact size
Produces a lot of noise
Keystone KSTSW10A – The most lightweight vertical window air conditioner
You should take a closer look at the Keystone KSTSW10A if you need a lightweight and portable casement AC. The unit weighs just 35lbs, and it is 14.57-inches wide, which means that it isn't going to occupy too much space in your window.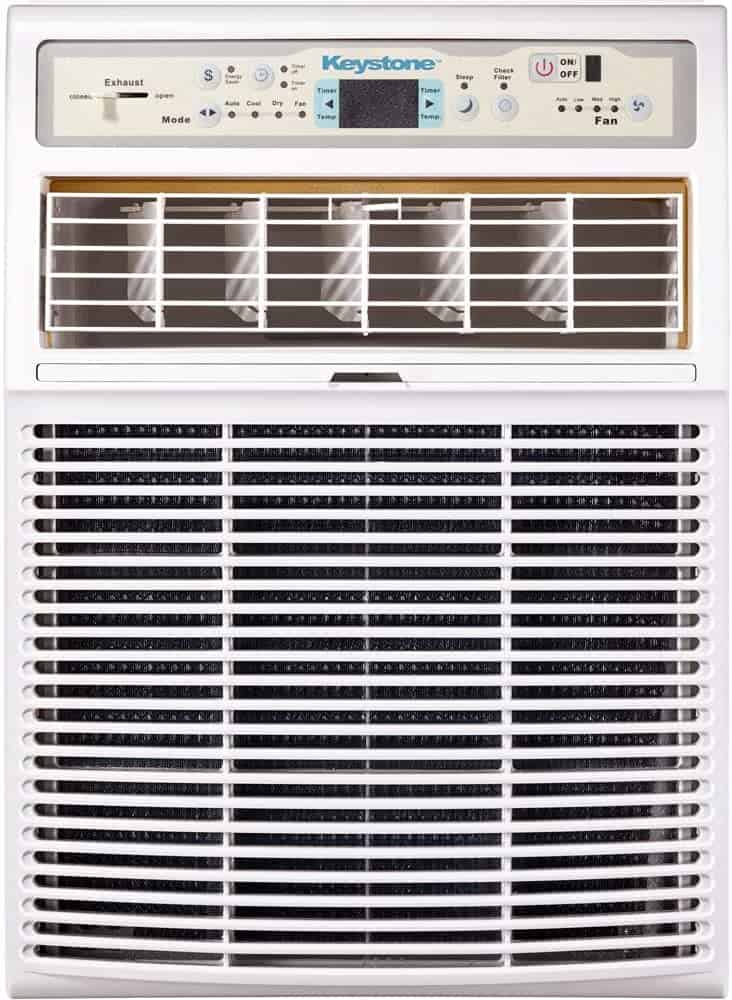 The Keystone's model has an output capacity of 10.000 BTUs, and it features a 4-way direction control that allows you to guide the airflow to a specific part of the room. It also has an Energy Saver mode that lowers its power consumption, but this vertical window AC isn't Energy Star certified.
Pros
The abundance of airflow control options
The excellent coverage area for a vertical window AC
Great dehumidification features
Lightweight construction
Cons
1-year limited warranty
No remote control
Frigidaire FFRS0822S1 – The most energy-efficient vertical window air conditioner
A multi-speed fan or a built-in timer that allows you to program the unit to switch off or on at specific hours are some of the features that make the Frigidaire FFRS0822S1 one of the best vertical window air conditioners on the market.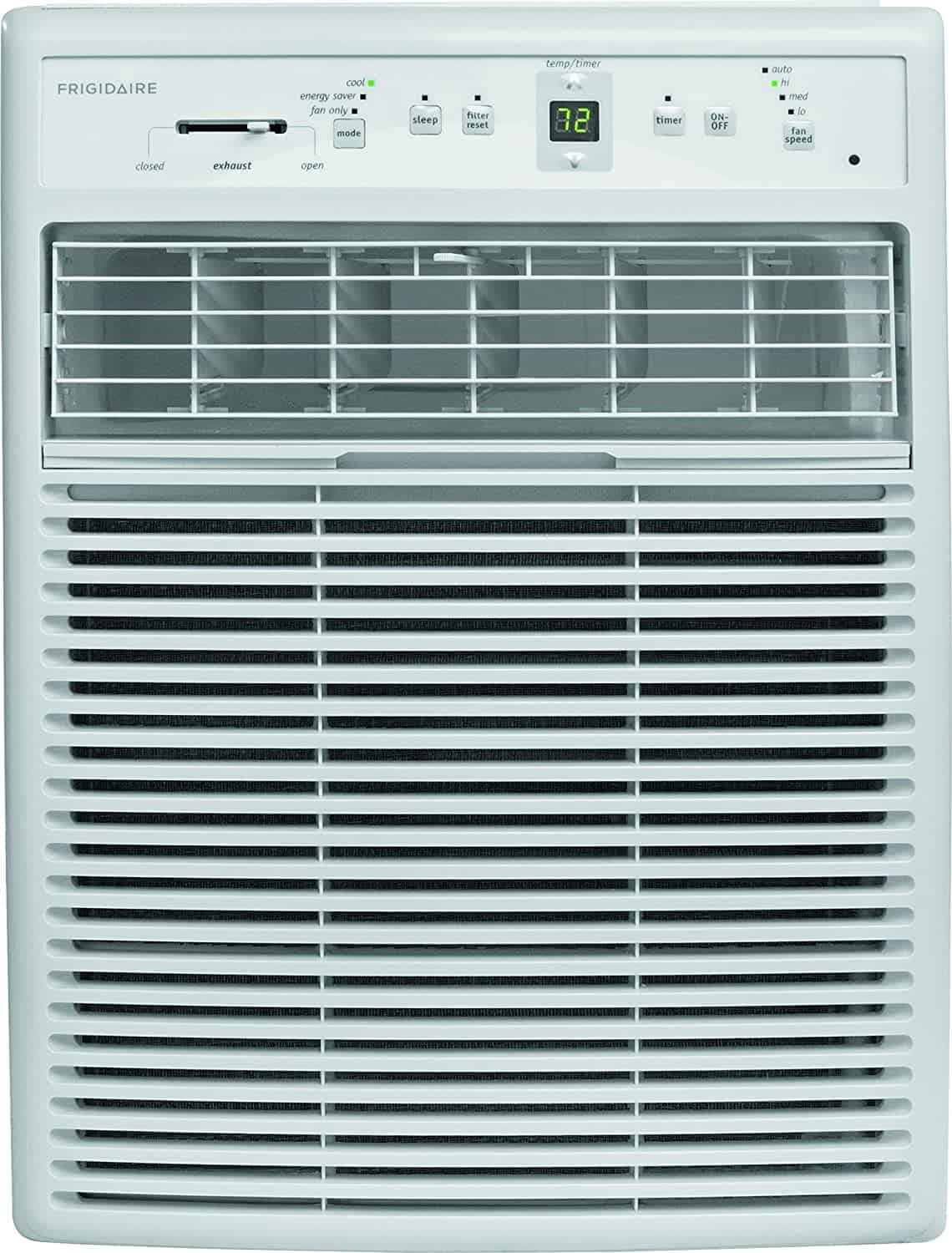 The unit has 8.000 BTUs, which means that it isn't powerful enough to cool spaces larger than 350sq/ft. Even so, its high SEER rating ensures that you won't have to spend a lot of power on maintaining the constant temperature in a room.
Pros
Variable fan speed
Programmable timer with 30-minute increments
High energy-efficiency ratio
Straightforward installation process
Cons
Slightly more expensive than similar models
Limited coverage range
ArticKing EWL08CRN1BJ9 – The easiest to install a vertical window air conditioner
Despite having a limited cooling capacity, the ArcticKing EWL08CRN1BJ9 is still a reliable unit that is easy to install. This vertical window AC is taller than 21 inches, and it can only fit on sliding windows that are wider than 16 inches.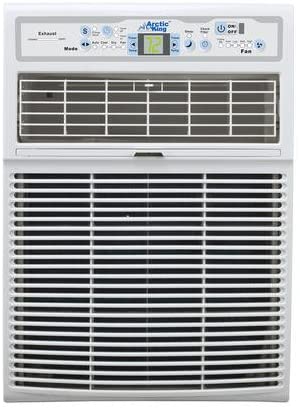 The sleep mode controls the room temperature during the night, while during the day, you can switch between different airflow speeds. The ArticKing's model has a remote control that lets you enter the Energy Saver more with a push of a button or activate the Follow Me function.
Pros
Washable air filter
Feature an Auto-Restart mode
Follow Me option measures temperature away from the AC
Energy Star certified
Cons
Bulky and heavy
Operates at just one speed
Koldfront CAC8000W – The most affordable vertical window air conditioner
You can choose to install the Koldfront CAC8000W AC on a sliding window or through the wall. The unit's output is limited to 8000 BTUs, so you shouldn't expect too much cooling performance.
You can switch between Cool, Energy Saver, Fan Only, and Dry modes depending on your current needs and choose the fan's speed. In addition, you can adjust the settings of this vertical window AC using a remote so that you can enter the Sleep mode without having to leave your bed.
Pros
Adjustable fan speed
All installation materials are included
Energy saver mode lowers the unit's power consumption
2-year warranty
Cons
Not suitable for all sliding windows
High noise levels
Frequently asked questions about vertical window air conditioners
Question: How long does a vertical window air conditioner last?
Answer: The durability of a vertical window AC depends on the brand and the model, and the lifespan of these units can vary between 5 and 25 years.
Question: How often do I have to clean the vertical window air conditioner's filter?
Answer: If your unit is equipped with a reusable filter, you should clean it once every four to six weeks.
Question: Can I use a vertical window air conditioner as a dehumidifier?
Answer: Yes, you can if the model you selected is equipped with this option.
Question: Are vertical window air conditioners weather resistant?
Answer: The casing of these units is usually made of metal, but you should still remove them from the window during cold months.
Our verdict: How to know which vertical window air conditioner is the best?
Only a handful of brands manufactures reliable vertical window air conditioners. This narrows down your options to just a few models with similar features, as most units have variable speed fans, power-saving modes, or remote control.
Ultimately, the physical size of a vertical window AC is the most important factor that determines if a particular model is a good choice for you. We recommend the Frigidaire FFRS0822S1 because it consumes less power than most of its competitors.
Optionally, you can get the PerfectAire 3PASC10000 to make sure that the unit can fit in a narrow window. Which of the best vertical window air conditioners are you going to choose?
Let us know in the comments or continue reading our guide to humidity control systems if the air in your home is too dry or too humid.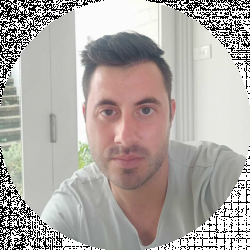 Latest posts by David Borgogni
(see all)