Conventional HVAC systems or 3-ton heat pumps usually regulate the temperature in an entire space rather than in a specific room, which results in high power consumption. The best GE portable air conditioners help you deal with this issue by allowing you to heat or cool a single room.
The limited coverage range of these devices makes them suitable for spaces that are smaller than 600sq/ft, and you're going to need multiple units if you want to use them as your home's primary cooling or heating system.
Models manufactured by General Electric aren't famous for their energy efficiency or high-end performances, but they can still lower your household's power consumption. So, in this guide, we're going to take you through some of the best GE portable air conditioners and hopefully help you choose the model that meets all your needs.
Check out our guide to furnace types, if you need a reliable heating solution for your home.
The 5 Best GE Portable Air Conditioners
A Brief Overview of the GE Brand
Despite being one of the oldest companies in the United States, General Electric is still one of the nation's largest companies more than a century after it was founded. In 2020, GE ranked 33 on the Fortune 500 list, while ten years earlier, it was among Fortune 20 most profitable companies in the US.
The brand currently manufactures products in the power, healthcare, aviation, digital, and renewable energy industries, which is why its portable air conditioners are among the best on the market.
At the moment, you can choose from six different models that have similar features but different output capacities. This enables you to choose a portable air conditioner suitable for the area you'd like to heat or cool.
Go through our guide to the best 2-ton heat pumps if you're searching for a heating and cooling system that has a larger coverage area than a portable air conditioner.
Estimating the Size of a Portable Air Conditioner
The output capacities of portable air conditioners are measured in British Thermal Units or BTUs, and the models manufactured by GE can have between 9.700BTUs and 5600BTUs. Hence, they cannot cool or heat rooms larger than 600sq/ft.
The company manufactures air conditioners designed primarily for cooling purposes, although some models also have a built-in heating mode. So, to choose the correct portable air conditioner, you must know the purpose for which you want to use the unit.
In addition, all of the brand's models have a dehumidifier mode that lets you regulate the room's humidity level. Each of GE's portable air conditioners features several fan modes, enabling you to adjust their output to the current weather conditions.
You should also bear in mind that the unit's maximum coverage area may differ as factors like your home's thermal insulation or the climate you live in can limit its ability to keep a room cool.
Go through our guide to humidity control systems to learn more about different methods you can use to regulate air humidity in your home.
Single vs Dual-hose Ventilation System
All portable air conditioners release hot air through their ventilation systems. Consequently, it is necessary to place them near a window to avoid releasing the hot air into a room.
Although portable air conditioners can have single and dual-hose airflow configurations, most models manufactured by the GE feature a single-hose ventilation system. Units that feature a single-hose system utilize the same hose to intake and exhaust the air.
In double-hose setups, one hose is used for air intake and the other to get rid of the hot air. Portable air conditioners with dual-hose ventilation systems can cool a room much faster than single-hose models, and they have higher energy efficiency.
The length of the hose is the same on all brand's portable air conditioners as their maximum distance from a window is limited to 5ft. Each of the GE's units can be used with sliding or double-hung windows between 20 and 46 inches wide and at least 4.8 inches tall.
Condensation Disposal System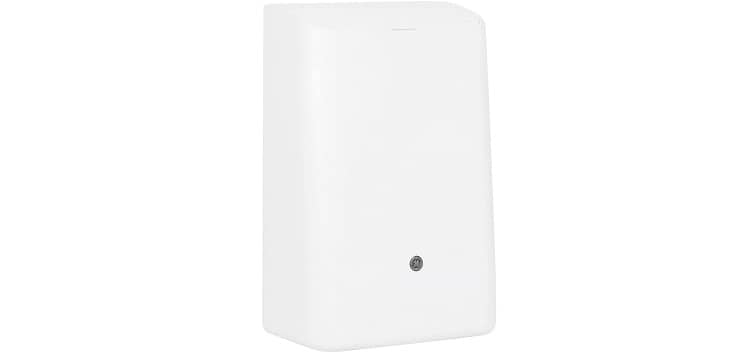 The amount of time you'll have to spend on the upkeep of a portable air conditioner largely depends on the condensation disposal system it uses. Let's take a look at the most common types of condensate types:
Drip condensate drain – The condensate produced by an air conditioner is collected in a removable bucket that has to be emptied to prevent overfilling. Models with low-volume buckets require frequent upkeep.
Partial drip condensate drain – The majority of condensate is disposed of through the exhaust hose, and the remaining moisture is stored in a drip bucket. This allows for less frequent maintenance checks.
Self-evaporative condensate drain – As implied by its name, the system ensures that all condensate is released into the air through the exhaust hose. The portable air conditioners manufactured by GE feature self-evaporative condensate drains that lower the unit's upkeep requirements.
The Unit's Portability
Although labeled as portable, these air conditioners can be difficult to move as they can weigh more than 70lbs. That's why you should search for a model that is equipped with wheels that enable you to change the unit's position effortlessly.
Moreover, using a portable air conditioner in multiple rooms is only possible if you have a window kit that lets you get rid of the hot air the unit generates. These kits are ship with all brand's models, so you won't have to spend more money if you want to use GE's portable air conditioners in multiple rooms.
Units produced by GE weigh between 70lbs and 75lbs, so you might struggle to move them around if you pick a model that doesn't have wheels. Besides being relatively heavy, GE's portable air conditioners are also bulky as their dimensions vary from 24-¾ x 14-¼ x 14 inches to 32 x 18-½ x 15-½ inches.
The Most Important Factors to Consider While Choosing a GE Portable Air Conditioner
Differentiating between GE's portable air conditioners just by looking at them is nearly impossible since they all have the same minimalistic design and are available in a single color.
Furthermore, just one model is suitable for use in small rooms, while all other are designed for medium-sized rooms. None of the brand's models can generate more than 10.000BTUs, so you must opt for a portable air conditioner produced by a competing brand if you want to cool spaces larger than 5.000sq/ft.
We've selected some of the most important factors you should consider while deciding which GE unit you should choose, so let's take a closer look at them.
Modes of Operation
The brand manufactures 3-in-1 and 4-in-1 portable air conditioners, depending on the number of available modes. The 3-in-1 models feature modes that enable you to dehumidify the air, lower the room temperature and control the fan's speed.
The 4-in-1 model has a heating function, and you can use it throughout the year. It has three cooling, heating, and fan-only speeds, while 3-in-1 units only have three cooling and fan speeds.
Unless you need an air conditioner with both heating and cooling functions, you should opt for one of the brand's 3-in-1 units.
Remote Control Options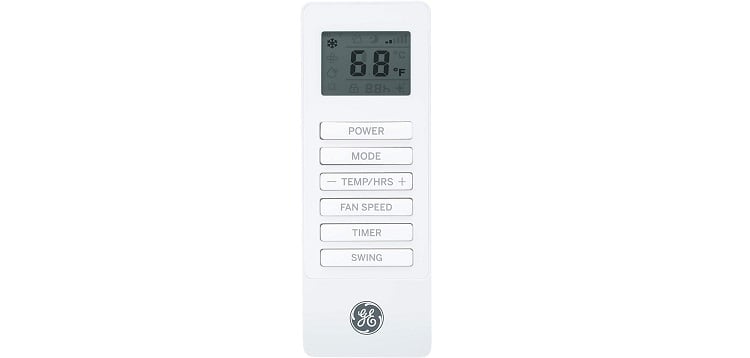 The tactile LED display is equipped with the Nightlight option to adjust the cooling settings in low light conditions on all models. The GE portable air conditioners also feature a remote that lets you adjust the unit's settings without having to approach it.
However, only the APWA14YZMW model can be controlled through a smart device. You must install the Android version of the SmartHQ app to program the unit or use it to cool a room before you get home. The app also lets you monitor the unit's power consumption to keep track of home much energy it is using on a monthly level.
Average Power Consumption
GE's portable air conditioners have average Energy Efficiency Ratings (EER) for units that require between 800W and 1400W to run normally. The brand's most expensive model is also its most energy-efficient unit with the EER 7.7.
Despite limited energy efficiency, GE's portable air conditioners can still lower your monthly power consumption by enabling you to cool a single room instead of an entire house.
However, you shouldn't expect huge power savings from these air conditioners because they use approximately the same amount of power as other home appliances.
Coverage Area
GE doesn't manufacture portable air conditioners with outputs larger than 10.000BTUs, so you won't be able to use any of the brand's models to cool spaces larger than 600sq/ft.
Several units can supply you with 9700BTU or 9450BTU outputs, and you should opt for them if you want to cool or heat an area between 400 and 450sq/ft. In case you want to use a portable air conditioner in a 200 to 300sq/ft. rooms, you should opt for a model with 5600BTUs or 6700BTUs.
Keep in mind that the unit's coverage area doesn't depend solely on its output capacity, as factors like the size and number of doors and windows can affect its cooling capabilities.
Cost and Installation
Unlike more complex heating and cooling systems, portable air conditioners don't require professional installation. GE's portable air conditioners come with a window kit that enables you to attach their hoses to different types of windows.
Simple installation process lowers their overall cost and makes them a budget-friendly cooling solution for households that can't afford expensive 4-tone heat pump systems.
Furthermore, GE's most expensive portable air conditioner costs a bit less than $600, while the brand's most economical model can be purchased for a little over $300.
The Advantages of GE Portable Air Conditioners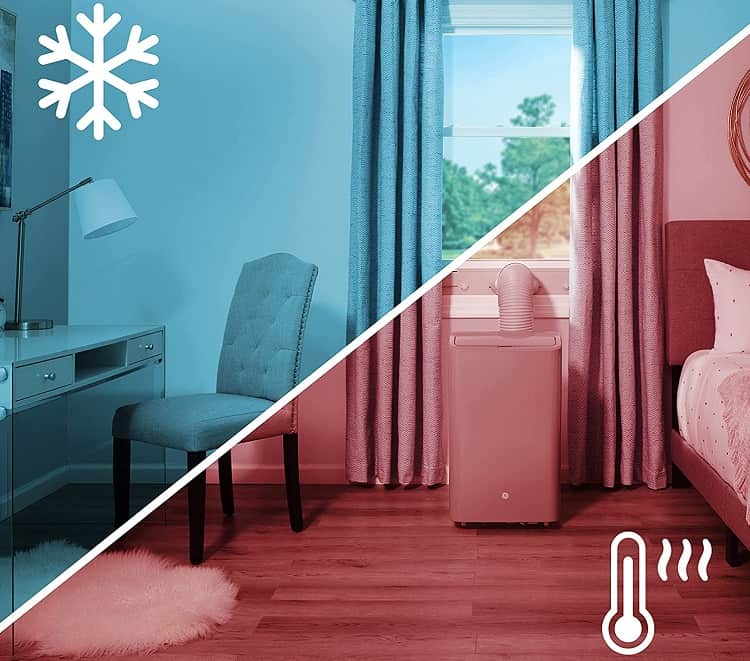 Quick and Easy Temperature Adjustments
You can choose the unit's output, fan speed, or operating mode regardless of which model you choose. The brand's WiFi-enabled model lets you adjust its parameters and monitor the power consumption from a mobile device.
Easy Setup
Installing a GE portable air conditioner doesn't require too much effort since you just have to mount the window kit that comes with the unit to a window and connect a hose to it. What's more, configuring the settings of these air conditioners takes only a few moments of your time.
Reasonable Price
When compared to models offered by industry-leading brands, like Honeywell or Whynter, EG's portable air conditioners are significantly less expensive. Models with more than 9000BTUs cost between $500 and $600, while units with lower output capacities cost around $350.
The Disadvantages of GE Portable Air Conditioners
Short warranty period
All General Electric appliances are covered by a limited 3-year warranty covering all parts that break down due to defects of the materials or craftsmanship. The company will replace the broken part free of charge, but the warranty owner must cover the service costs.
Top 5 GE Portable Air Conditioners
GE® APWA14YZMW – The Best GE Portable Air Conditioner for Large Rooms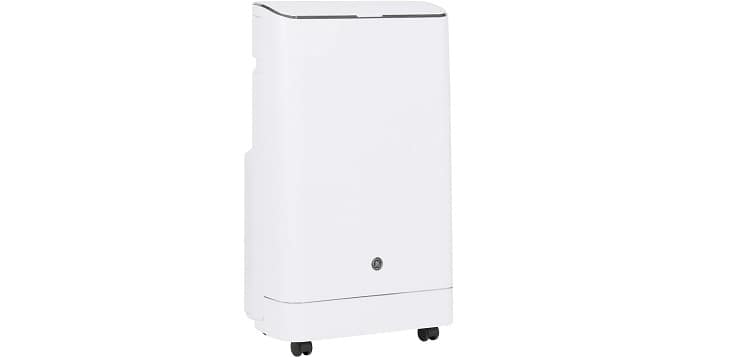 Cooling spaces with up to 550sq.ft with the GE® APWA14TYZMW portable air conditioner is easy, as the unit has the maximum output capacity of 9700BTUs. This GE's model is WiFi-enabled, and you can control it remotely through the SmartHQ app.
The auto evaporation technology disposes of the condensate efficiently, so you won't have to empty the unit's water bucket. It also features a 24-hour timer that lets you program when and for how long the air conditioner should run.
Pros
Supplies 250,220 or 180cfm or airflow
Self-evaporative condensate drain
Wheels make moving the unit easy
High dehumidification capacity
Cons
Limited color selection
Not compatible with windows wider than 46 inches
GE® APCA14YZMW – The Best GE Portable Air Conditioner for Rooms with Double-hung and Sliding Windows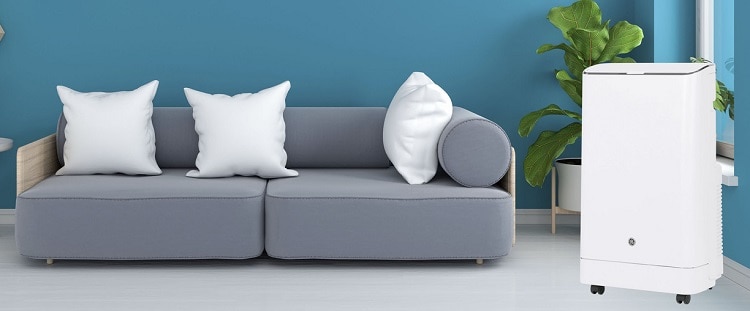 The easy-mount window kit enables you to install the GE® APCA14YZMW portable air conditioner quickly. The kit can be mounted on sliding or double-hung windows with widths between 20 and 46 inches.
The unit has 87.0 pints per day dehumidification capacity, while its maximum cooling output is limited to 9700BTUs. This GE's model features three cooling and fan-only speeds so that you can choose the option that best fits your current cooling needs.
This single hose air conditioner doesn't have built-in WiFi, but you can still control it remotely.
Pros
Easy-roll casters improve the unit's mobility
Simple mesh filter replacement process
The unit features the auto-restart option
Equipped with a digital thermostat
Cons
The efficiency of the auto evaporation condensate drain depends on the room conditions.
No heating mode
GE® APSA13YZMW – The most Versatile GE Portable Air Conditioner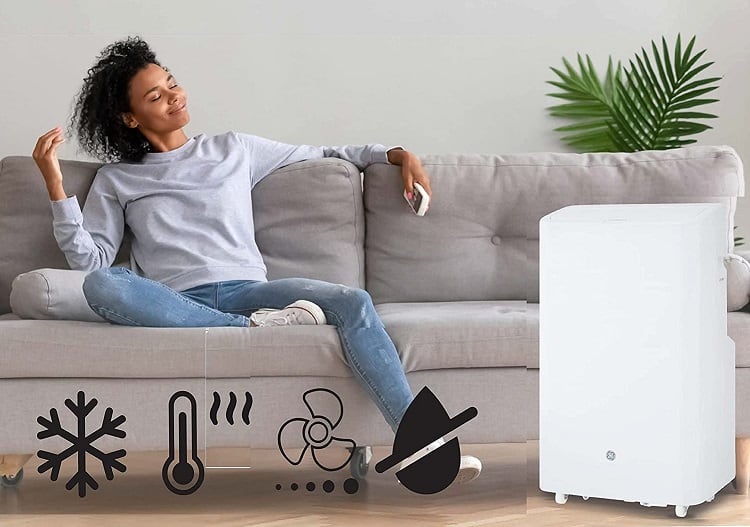 Besides cooling and dehumidifying spaces with up to 550sq/ft, you can also use the GE® APSA13YZMW portable air conditioner to heat a room. This unit has a heating output of 10.000 BTUs per hour, while its cooling capacity is limited to 9450BTUs.
This 4-in-1 single-hose air conditioner lets you switch between three heating, cooling, and fan-only speeds, and it features an LED display that allows you to adjust the output effortlessly. Like all other GE's models, this unit ships with an easy mount window kit so that you don't have to search for a compatible window kit.
Pros
Excellent heating capacity
No-drip condensate drain
The maximum dehumidifying capacity is 83 pints per day
Affordable price
Cons
The unit weighs 75lbs
Modest energy efficiency ratio
GE® APCA12YZMW – The Quietest GE Portable Air Conditioner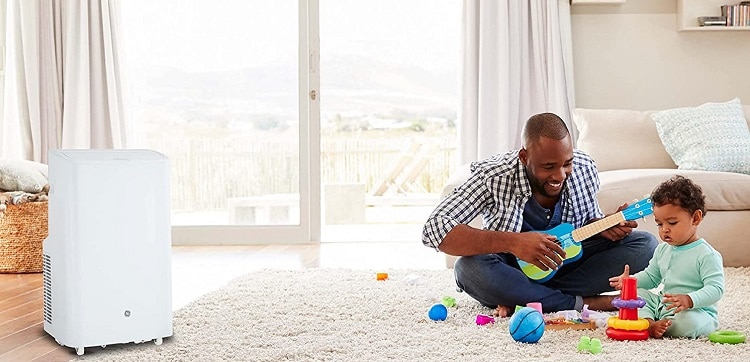 At first glance, the GE® APAC12YZMW isn't much different from other brand's 3-in-1 models, as it features a self-evaporative condensate drain system and a 24-hour timer. Like all other GE units, it is only available in white color, and it has an LED display equipped with the Nightlight feature.
However, this model is slightly smaller than the brand's high-end models, and its cooling capacity is limited to just 8200BTUs. It also generates less noise than units with higher cooling outputs, although the difference is just a few decibels.
Pros
Suitable for 450sq/ft. rooms
Easy speed adjustments
The unit can be programmed to start cooling in regular intervals
Generates low levels of noise
Cons
Unattractive design
Not compliant with California's Proposition 65
GE® APCA09YZMW – The most Affordable GE Portable Air Conditioner

Despite having a limited coverage range, the GE® APCA09YZMW is still a great cooling option for small rooms. Even though it is the brand's least expensive portable air conditioner, it has all the core features of the more expensive units.
The APCA09YZMW has 3 different fan-only speeds, as well as 3 cooling speeds, but its dehumidifying capacity is limited to just 57 pints per day. Also, the unit can't cool rooms larger than 250sq/ft because it has a cooling output of 5600 BTUs.
Pros
Utilizes the auto evaporation technology
Low power consumption
Quiet operation
Variable fan speed
Cons
Narrow coverage range
Short warranty period
Frequently Asked Questions about GE Portable Air Conditioners
Question: Which Refrigerant do GE Portable Air Conditioners Use?
Answer: All GE's models are charged with the R410A refrigerant that doesn't deplete ozone.
Question: What is the Operating Temperature of the GE Portable Air Conditioners?
Answer: GE's portable air conditioners perform best at temperatures between 60 and 86F.
Question: Do I have to Change the Filter on the GE Portable Air Conditioners?
Answer: You should replace the filter on your GE portable air conditioner at least once in six months, and you should clean it frequently.
Question: Where to Install the GE Portable Air Conditioner?
Answer: All of the brand's portable air conditioners come with a 5-foot exhaust hose and a 6-foot power cord, which means that you have to install them within 5 feet from a window and 6 feet from the nearest power outlet.
Our Verdict: Choosing the Right GE Portable Air Conditioner
Portable air conditioners offer solutions to many of the problems presented by conventional cooling and heating systems. Even though General Electric doesn't offer an impressive selection of models, each of the brand's units can perform great performances.
Besides, all portable air conditioners manufactured by GE can serve as air dehumidifiers, although their coverage range is limited to small or mid-sized rooms. We recommend choosing the GE® APWA14TYZMW portable air conditioner because of its cooling capacity and ease of use.
If the model's price exceeds your budget, we suggest considering the GE® APSA13YZMW that is both versatile and affordable. Which of the best GE portable air conditioners are you going to choose?
Let us know in the comments or continue reading out Amana Portable Air Conditioners Reviews or our guide to mini-split systems if you need a more powerful cooling system.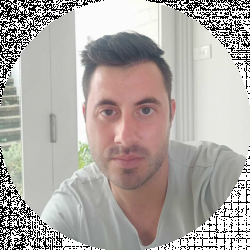 Latest posts by David Borgogni
(see all)