Conventional cooling systems are expensive, difficult to install, and too large to regulate the temperature in spaces smaller than 500sq/ft. The best Amana portable air conditioners provide you with an alternative to conventional cooling systems because they're affordable and easy to install.
Even though this brand manufactures a wide range of cooling and heating systems, Amana's selection of portable air conditioners features just a handful of models.
None of the brand's portable ACs has the heating option and you must consider alternative solutions if you're searching for a unit you can use throughout the year.
In this article, we're going to take you through the most important features of Amana portable air conditioners and help you choose the model that meets all your requirements. Go through our guide to the best GE portable air conditioners to explore models offered by competing brands.
At a Glance – The 5 Best Amana Portable Air Conditioners
Selection Criteria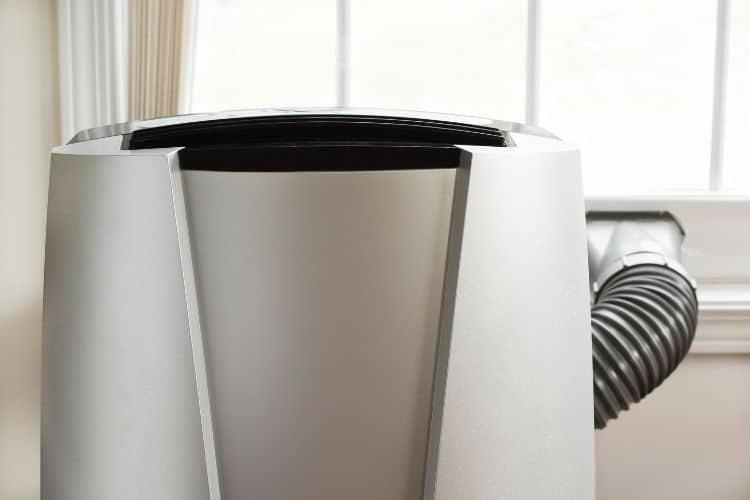 Most models manufactured by this brand share the same or a similar set of features, and there isn't too much difference between them in terms of their performance capabilities. Each unit functions as a single-hose ventilation system, and it utilizes the partial drip condensation disposal system.
We've gone through the features of all of the brand's models to determine which one has the most to offer. Let's go through some of the parameters we used to pick the units we included in this article.
Average hourly power consumption – Maintaining the room temperature at the same level with a portable AC might require you to spend huge amounts of power. Our selection of Amana's portable ACs includes units that have EER ratings above 8.
Coverage area – The coverage range of Amana's portable ACs spans from 150sq/ft to 500sq/ft. Units you'll find in this article are suitable for use in small and fairly large rooms.
Check out our guide to the best retractable ceiling fans if you need an elegant and functional cooling solution for a single room.
A Brief Overview of the Amana Brand
After more than half of the century, Amana is still one of the leading brands on the AC market. The Daikin group owns the company since 2002, but its products still offer the excellence the Amana brand is known for.
Besides portable air conditioners, Amana also manufactures central HVAC systems, packaged terminal air conditioners, and window ACs.
Each of these heating and cooling systems is designed to fit a wide range of contexts, and you can use them to regulate the room temperature or improve air quality in your home or at your workplace.
The brand's selection of portable ACs currently includes seven models capable of cooling and dehumidifying spaces that have between 200 and 350sq/ft. Each of these units comes with an installation kit and caster wheels so that you can change their location whenever you want.
Read our guide to mobile home air conditioners to learn more about easily portable AC units.
Related read: How To Find the Best Aman Window Air Conditioners.
Cooling Capacities of Amana Portable Air Conditioners
All of Amana's portable AC models utilize a single hose ventilation system. This means that the intake and exhaust air move through the same hose. To understand the output capabilities of the brand's portable ACs, you need to be familiar with the ASHRAE-128 and DOE 2017 standards.
ASHRAE-128 Standard – This set of guidelines provides instructions on how to calculate the capacities of systems. According to this standard, Amana's portable air conditioners offer outputs from 8,000 BTUs to 12,000 BTUs.
DOE 2017 Standard – Issued by the US Department of Energy (DOE), the 2017 standard introduced significant changes in the process of testing the outputs of portable air conditioners. Consequently, Amana's portable models have considerably lower outputs according to the DOE 2017 Standard as their cooling capacity is estimated to be between 6,500 BTU and 7,500 BTUs.
Even though the manufacturer claims that their products can cool spaces that have up to 500sq/ft, the more conservative estimate of their coverage range suggests that their output capacity is sufficient to regulate the temperature in rooms smaller than 350sq.ft.
Browse through our guide to the best 1.5-ton AC units if you need a cooling and heating system with a wide coverage range.
Dehumidification Capability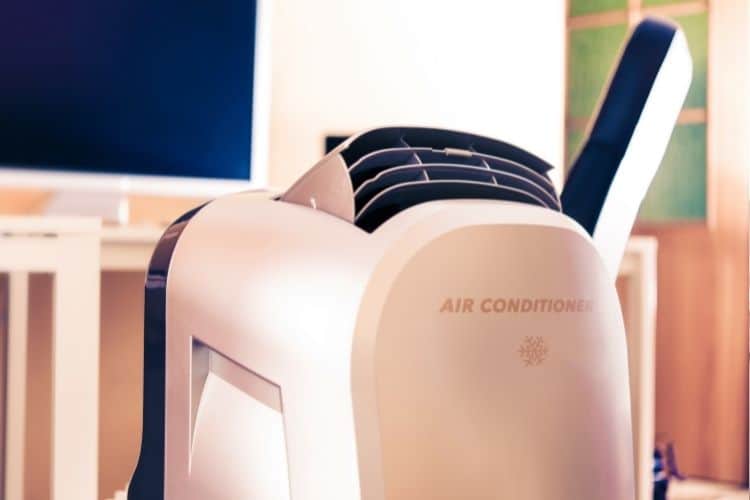 Besides cooling different rooms in your home, Amana's portable air conditioners can also regulate the air humidity levels within their coverage area. According to the manufacturer, the dehumidification and cooling coverage of all portable units is identical.
So, if you get a model with the 7,500BTU power output according to the DOE 2017 Standard, you can dehumidify a 300sq/ft or 350sq/ft room. All of the brand's models utilize the partial drip condensate drain system that only partially evaporates the moisture absorbed from the air.
Depending on the model, Amana's portable ACs can absorb 5 or 6 pints of moisture per hour. The condensate is stored in the internal tank, and in dry and warm conditions, the unit will evaporate the accumulated moisture so that you don't have to empty the bucket manually.
However, in cold or humid weather, you will have to empty this bucket manually once it gets full. Go through our guide to humidity control systems to explore different ways of controlling air humidity levels in your home.
Energy Efficiency
Opting for a portable AC that needs vast amounts of power to keep a room cool will increase your seasonal cooling costs by a couple of hundreds of dollars. Checking the unit's EER rating is the easiest way to find out how many Watts per hour it will use while operating at the maximum capacity.
All Amana's portable ACs have the 8.87 EER rating, while the information about their seasonal energy efficiency (SEER) is unavailable.
A unit should have an EER rating higher than 8 to be classified as energy efficient, which means that the power-saving capabilities of Amana's portable AC are slightly above the average. Nonetheless, these units offer various modes and features that enable you to control their power consumption.
Our guide to the best 72-inch ceiling fans can help you find an energy-efficient cooling solution for different rooms in your home.
The Most Important Factors to Consider While Choosing an Amana Portable Air Conditioner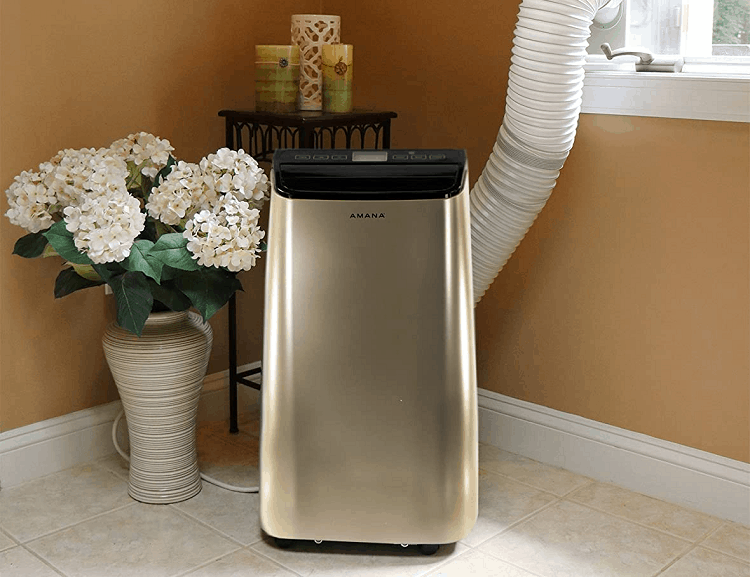 Despite having just 7 models to choose from, you still need to pay attention to a wide range of factors while selecting an Amana portable AC. Most importantly, the cooling output of the unit you pick needs to match the size of the room in which you're going to install it.
The coverage range of these units is sufficient to regulate the temperature in one room, and you have to explore alternative options if you need a more powerful cooling system. Let's look at some of the factors that can help you decide which Amana portable air conditioner is the right choice for you.
Window Type and Accessibility
The venting kit needs to be installed in the window to secure the constant supply of fresh air to the unit and to provide a way to dispose of the air the unit has processed. That's why you can only use this type of AC if you have single-hung, double-hung, or vertical sliding windows in your home.
Moreover, the average length of the exhaust hose is between 5 and 7 feet, which means that the AC needs to be relatively close to the window and the venting kit.
Cooling and Dehumidification Capacity
Amana manufactures portable ACs with a cooling capacity of either 6,500 BTUs or 7,500 BTUs. Such output is sufficient to cool a room between 200 and 350sq/ft, and you should opt for a 6,500 BTU model if you need a unit with a narrow coverage range.
Also, you can choose between models capable of absorbing 5 or 6 pints of moisture per hour. The actual dehumidification performance of these portable ACs largely depends on the weather conditions and humidity levels of the outdoor air.
Airflow Control Options
Although similar, the airflow control options on different Amana portable ACs aren't identical. Some models only let you switch between high and low airflow outputs, and they don't offer a high level of control over the unit's fan speed.
However, most of the brand's models let you choose between three airflow settings and provide you with 230CFM, 200CFM, or 182CFM of airflow, depending on your needs. Each model offers multiple air direction options so that you can lead the cool air toward the area of the room you want to cool.
Noise Level
The airflow setting you choose directly affects the unit's noise level. Amana's portable ACs generate between 50dB and 60dB of noise depending on the model and its current airflow output.
Leaving these units to run all night in your bedroom might disturb your sleep, as they will generate more than 55dB of noise while operating at maximum capacity. Hence, they're only a suitable cooling option for a bedroom if you use them at low or medium capacity.
Cost and Warranty
On average, portable air conditioners cost between $250 and $500, making Amana's models moderately priced. The brand's least expensive unit costs around $380, while Amana's most expensive portable AC costs $499.
All models come with a 1-year limited warranty that includes free part replacement and repairs. However, the air filter isn't covered by the warranty, while all damages resulting from the failure to install the unit properly or accidents must be covered by the user.
Despite having a short warranty period, Amana's portable ACs are durable, and with proper care, you can use them for 5 to 10 years.
The Advantages of Amana Portable Air Conditioners
Quick and Easy Installation
You don't have to hire an HVAC technician to get your Amana portable AC up and running. All of the brand's models come with the venting kit and the exhaust hose. You just have to place the venting kit into the window, adjust its slider panel and then attach the hose to the unit and the window connector.
Compatible With All Standard Size Windows
You can use Amana portable air conditioners if your windows have an opening width or height between 26-5/8 and 52 inches. Also, you can install the AC's venting kit vertically or horizontally, depending on the type of windows you have in your home.
All Units Have the Timer Feature
Programming Amana's portable AC will enable you to control the room temperature even when you're not at home. You can select when and for how long the unit will run within 24 hours, and the AC will remember the settings even in the event of power failure.
The Disadvantages of Amana Portable Air Conditioners
Short Qarranty Period
This brand issues only one-year limited warranties for its portable AC models, and it doesn't offer the possibility to extend the warranty after it expires. That's why you'll have to cover all expenses if the unit breaks down few years after you purchased it.
Top 5 Amana portable air conditioners
Amana AMAPO84AW – The Most Affordable Amana Portable Air Conditioner
Even though the manufacturer claims that the Amana AMAPO84AW can provide up to 8,000 BTUs of cooling power, its coverage range is still limited to just 150sq/ft. You can adjust its settings using the onboard controls or with a remote.
The unit can operate at high or low cooling speeds, and it can generate 123CFM of airflow while operating at the maximum capacity. Its dehumidification capacities are limited to just 1.5 pints per hour, so you shouldn't expect great performances in humid conditions.
Pros
It makes just 53dB of noise
Reusable air filter
Restarts automatically after a power failure
Affordable price
Cons
It doesn't have an Energy Saver mode
No Sleep mode
Amana AMAP121AD-2 – The Best Amana Portable Air Conditioner for Large Rooms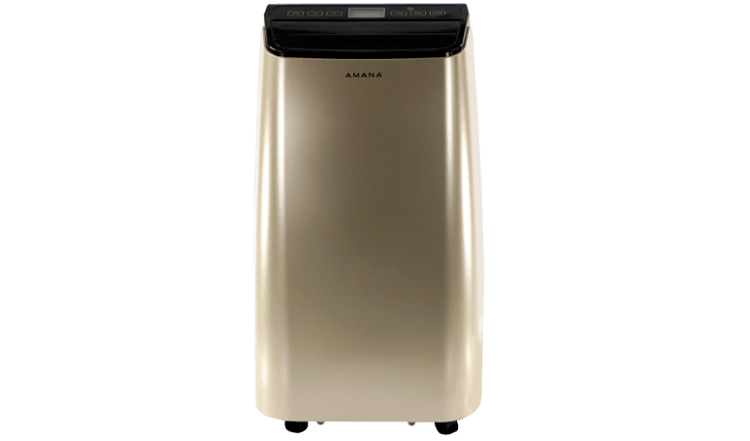 Besides the cooling and dehumidification function, the Amana AMAP121AD-2 features the Fan Only mode that enables you to filter the air in a room. The unit features a display and built-in controls that make it easy to switch between different modes or change the temperature settings.
Optionally, you can control this unit with a remote or use its Timer option to program it to switch on or off at specific hours. The Loss of Power Protection feature ensures that your settings are going to be saved after a power outage.
Pros
Good EER rating
High dehumidification capacity
Multiple air direction options
Elegant design
Cons
The air filter must be cleaned after 360 hours of runtime
Expensive
Amana AMAP102AW-2 – The Quietest Amana Portable Air Conditioner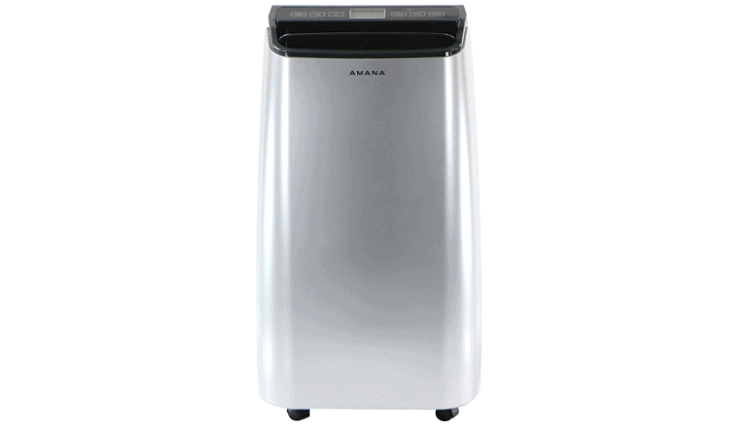 The modern and sleek design makes it easy to match the Amana AMAP102AW-2 with the rest of the room's décor. In addition, the unit makes just 54dB of noise at the lowest airflow output settings or 56dB of noise while supplying 230CFM of airflow.
This model has an adjustable thermostat as well as a remote, which gives you plenty of control options. It also features auto-swing lovers that allow you to distribute the cold air evenly across the entire room.
Its cooling output is limited to just 6500 BTUs, and you can't use it to regulate temperatures in spaces smaller than 250sq/ft.
Pros
It offers 3 cooling speeds
Features the Clean Filter reminder
Quick and easy setup
Great air ventilation capabilities
Cons
Short power cord
Limited cooling output
Amana AMAP101AB-2 – The Most Compact Amana Portable Air Conditioner
In case you need a cooling solution for a relatively small room, then the Amana AMAP101AB-2 might be an ideal solution for you. This AC weighs just 54lbs, and it has four wheels that enable you to move it from one room to another effortlessly.
The unit has a maximum cooling output of 6500 BTUs, and it can absorb up to 5 pints of moisture per hour. In addition, you can use it in the Fan Only mode whenever you want to ventilate the air in a room.
Pros
Programming the Timer is easy.
Sleep mode regulates the room temperature throughout the night
Quiet operation
Compact dimensions
Cons
Not WiFi-compatible
Dehumidification options could be better
Amana AMAP121AB-2 – The Most Powerful Amana Portable Air Conditioner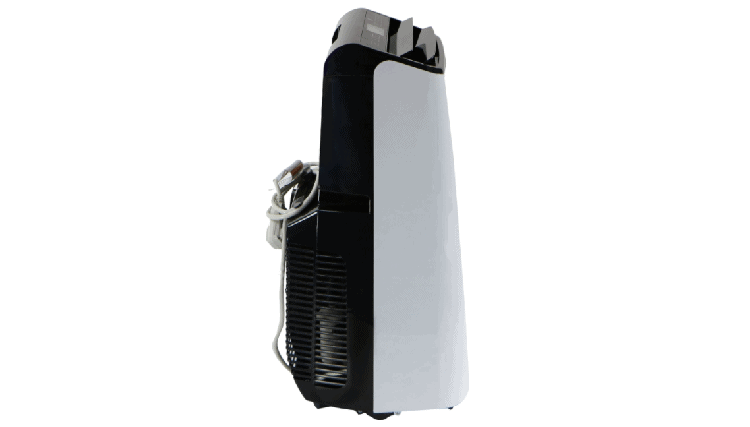 With the maximum cooling capacity of 12,000 BTU according to the ASHRAE-128 standard or 7,500 BTU according to the DOE 2017 standard, the Amana AMAP121AB-2 is one of the brand's most powerful models.
In addition, this unit is capable of absorbing 6 pints of moisture per hour, and you can use it to create dry conditions in rooms with high humidity levels. This Amana model can operate at three cooling speeds, and the maximum airflow volume it can generate is 224CFM.
Pros
Simple airflow direction adjustments
Display always shows current room temperatures
Available in several color options
Choosing the airflow direction is easy
Cons
The power cord is less than 6-feet long
Moisture disposal features could be better
Frequently Asked Questions About Amana Portable Air Conditioners
Question: Do Amana Portable Air Conditioners Have a Refrigerant?
Answer: Yes, they do. All of the brand's models are charged with the R410A refrigerant.
Question: Is Draining the Internal Tank on Amana Portable Air Conditioners?
Answer: Draining the internal tank on Amana's portable ACs is easy since you just have to place a water container under the unit and open the drain plug.
Question: How Often Do I Have to Clean the Air Filter on Amana Portable Air Conditioners?
Answer: The Clean Filter Reminder will be pop up on the unit's display after 360 hours of use. However, it is advisable to check if the upper or lower air filter needs cleaning every two weeks.
Question: What is the Operating Temperature of Amana Portable Air Conditioners?
Answer: The operating temperature range of the brand's models spans from 44F to 95F, and you shouldn't use them at low temperatures because the evaporator coil may freeze.
Our Verdict: How to Know Which Amana's Portable Air Conditioner is the Best?
There aren't so many energy-efficient cooling options for small spaces on the market since you either have to opt for a cooling system that is large enough to cool several rooms simultaneously or try to find a window and portable AC unit that doesn't consume a lot of energy.
All Amana's portable air conditioners have good EER ratings, and they're not going to increase your household's power consumption significantly. We recommend the Amana AMAP121AD-2 because it is energy efficient and equipped with features that allow you to control the temperature and air humidity.
A model like the Amana AMAP121AD-2 might be a good option if you need a portable AC you can use to cool small spaces. We hope that this article has helped you find the best Amana portable air conditioner for your home.
Leave a comment and let us know, or continue reading our guide to the best vertical window air conditioners if portable ACs aren't the right solution for the space you want to cool.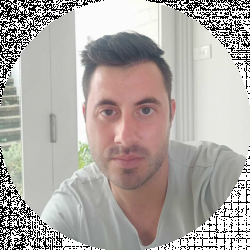 Latest posts by David Borgogni
(see all)