The temperature in a garage can get uncomfortably high or low during different times of the year, disrupting the activities you perform in this part of your home. Getting the best garage air conditioner will protect your vehicles and equipment from extreme temperatures and enable you to continue using your garage regardless of the weather conditions.
You can use several different types of cooling systems to regulate the room temperature in a garage, but which option you're going to choose depends primarily on the size of the space and the unit's output.
Also, you need to decide when you'll be using the AC to determine if the unit should have a heating function or not. In this article, we're going to explore different garage air conditioner options and assist you in choosing the model that meets your demands.
Also, you should consider getting a 72-inch ceiling fan if you just need an affordable cooling solution for your garage.
At a Glance – The 5 Best Garage Air Conditioners
Selection Criteria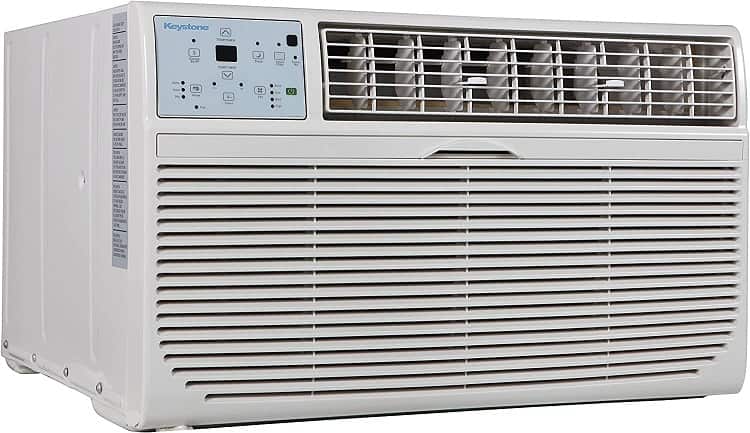 Any AC system that is powerful enough to regulate the room temperature in an area approximately the size of your garage can potentially be a suitable cooling or heating solution for it.
We used a number of parameters to shortlist the units we considered for this article, so let's take a look at the most important ones that ultimately helped us select the best garage ACs.
AC Type
Portable and window ACs or ductless mini-splits are among the AC types you can use to regulate the room temperature in your garage. However, you should keep in mind that some of these AC types might not have a heating function.
Coverage Area
The average size of a garage spans from 200sq/ft to more than 1,000sq/ft. Our selection of garage ACs includes units capable of cooling or heating for both small and large spaces.
Dehumidification Capacity
Besides controlling the room temperature, different types of ACs can help you regulate the air humidity level in your garage. AC models you'll find in this article are capable of absorbing high amounts of moisture from the air, although only under favorable weather conditions.
You should go through our guide to humidity control systems to find out how you can reduce air humidity in your garage.
Types of Garage Air Conditioners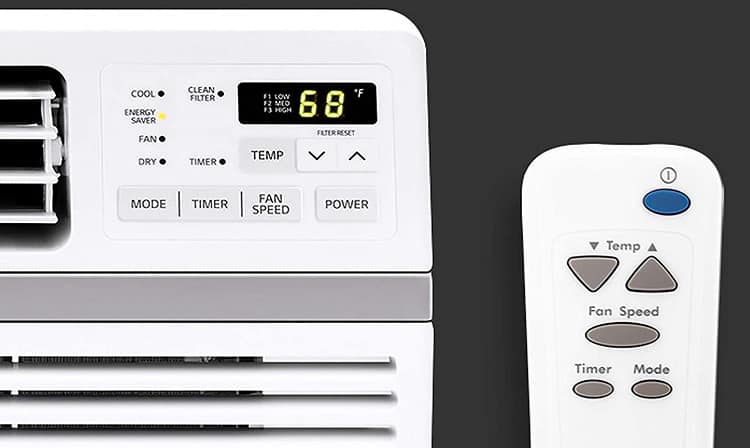 None of the air conditions you can use to regulate the temperature in your garage are specifically designed for these spaces, and you can use them as a primary or secondary cooling and heating source in all parts of your home.
Besides, garage AC models don't have any characteristic features that would make them more suitable for this purpose than other units. So let's take a look at some of the most common types of garage air conditioners.
Portable ACs
A set of caster wheels enables you to move these ACs from one room to another. You cannot cool garages that don't have a window or a wall opening with portable air conditioners because their exhaust hose must be connected to a venting kit that secures a supply of fresh air.
Window ACs
This type of AC is mounted directly on a single-hung or double-hung window. A vertical window air conditioner is also an option if your garage has sliding windows.
Through-the-wall ACs
These ACs are designed to be installed through an opening in the wall that was created specifically for them. They can be an excellent option for garages in which installing a portable or window AC is impossible.
Ductless Mini-splits
Arguably the most powerful cooling and heating solution for a garage, ductless mini-splits are capable of regulating the temperature in spaces larger than 1,000sq/ft. However, they're also the most expensive type of garage air conditioner.
Heating and Cooling Capacities of Garage Air Conditioners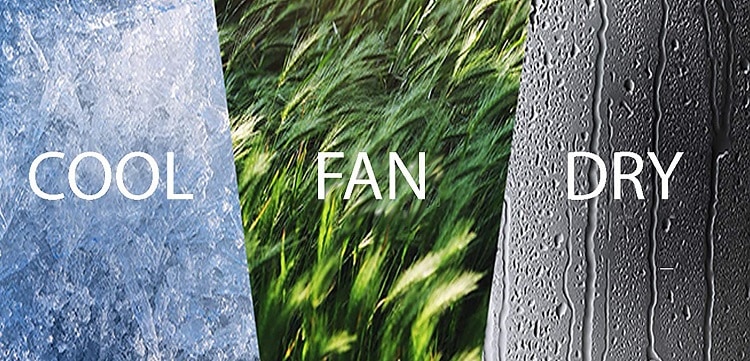 Regardless of the purpose for which an AC is going to be used, the size of the area you want to cool or heat is always a factor that ultimately determines which unit you should choose. Hence, you must know the size of your garage to be able to choose an AC model with matching output.
The average size of a single car garage is between 200sq/ft and 350sq/ft, which means that the unit you're going to use to heat or cool such as space should have between 6,000 BTUs and 9,000 BTUs.
If you have a garage built for four or more vehicles, you're going to need a more powerful AC system. The average size of four-car garages is around 900sq/ft, so you're going to need an 18,000 BTU unit to keep the area of ​​​​​​this size warm or cool.
Our guide to the best 1.5-ton AC units might help you find the model for your multi-vehicle garage.
Energy Ratings and Power-saving Features
Installing an air conditioner in a space that is not properly insulated is a waste of money. Residential insulation prevents heat transfer and maximizes the energy efficiency of air conditioning systems.
Consequently, the unit's energy efficiency ratings are going to be inaccurate if your garage doesn't have wall or ceiling insulation. However, there are two efficiency ratings you need to pay attention to if you are searching for an AC you can use to lower the room temperature.
EER rating

– This rating shows you how many kW of electricity the AC is going to use per hour while operating at the maximum capacity.

SEER rating –

Indicates the unit's seasonal power consumption and helps users estimate their cooling costs.
Additionally, you should check the AC's heating seasonal performance factor or the HSPF rating if it has both cooling and heating functionalities.
Features like the ECO mode or variable fan speed can also help lower the unit's power consumption because they allow you to choose how much of its capacities you want to use at any given moment.
The Complexity of the Installation Process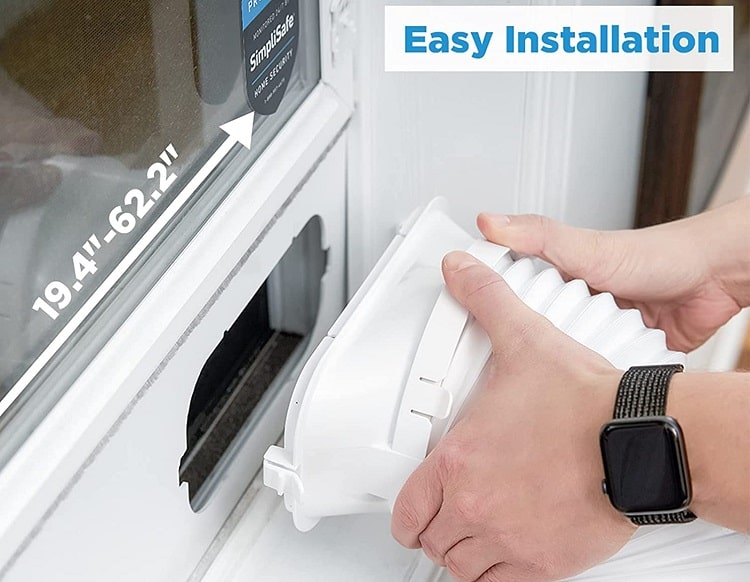 The installation requirements aren't the same for all types of garage ACs, since setting up a portable AC is much easier than installing a through-the-wall unit. Portable and window ACs are the easiest to install, and you don't have to hire a professional to complete this process for you.
On the other hand, attempting to install a ductless mini-split on your own isn't advisable because you might end up damaging some of the system's components and voiding the unit's warranty.
That's why you should avoid these units if you don't want to spend a lot of money on a cooling and heating system for your garage.
It is worth noting that each garage AC has specific installation requirements, and you should choose the options that best match the environment in which it is going to be placed.
Browse through our guide to the best 18,000 BTU air conditioners to learn more about what units with heating and cooling output can offer.
The Most Important Things to Consider While Choosing a Garage AC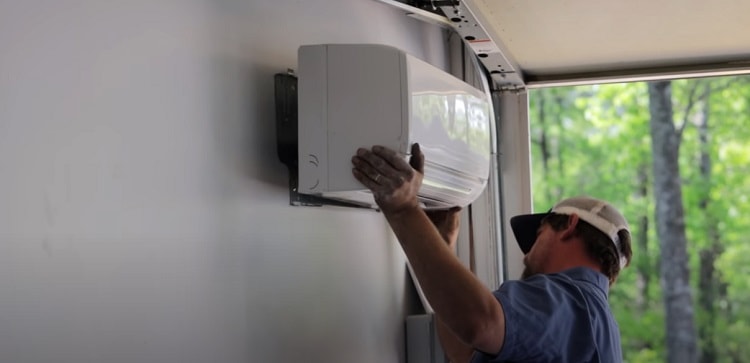 In addition to general factors like the purposes for which you are using your garage or the type of equipment you store in it, specific factors for a particular garage AC type can also help you find the model that matches your expectations.
For instance, your options are going to be limited if your garage doesn't have windows because some units rely on them for access to fresh air. So let's take a look at more factors that can assist you in your search for the best garage air conditioner.
The Garage's Size
Checking the dimensions of your garage is the quickest way to determine which size of the AC unit you need. Portable and window ACs are an affordable option for spaces that have up to 350sq/ft, while through-the-wall units can be a good fit for 400sq/ft to 500sq/ft garages.
Mini-splits are arguably the best solution for multi-vehicle garages because of their wide coverage range. Besides the size, you should also pay attention to the layout of the space since barriers that prevent the air from moving freely through the room can affect the AC's coverage range.
Insulation and Air Leakage
Controlling a room temperature in a space that isn't insulated is nearly impossible and very expensive. Before you decide to install an AC in your garage, you need to ensure its walls and ceiling are properly insulated.
Moreover, you should inspect the entire space and make sure that the cool or hot air unit produces doesn't have a place to escape. Placing the weather sealing around the garage door is one of the steps you can take to prevent air leakage.
Unit's Cooling and Heating Output
One of the first things you'll have to decide is whether you want to use your garage AC for heating. All types of air conditioners have cooling functionality, but only models equipped with the heat pump feature can help you regulate the room temperature during the winter months.
Afterward, you should search for units that have cooling and heating outputs suitable for the size of your garage. Garage ACs have an operating temperature range, and some models can only function normally if the outdoor temperature is in the forties.
Dehumidification Capacity
The high air humidity level can be harmful to your car or the equipment you keep in the garage as exposure to low and high temperatures. The dehumidification option is available on all types of garage ACs, but the amount of moisture they can absorb per hour varies from model to model.
These cooling and heating systems can help you regulate the air humidity in your garage, but their performance largely depends on weather conditions.
Costs and Warranty
The AC unit type, its output, or the features it offers are among the factors that affect the price of garage air conditioners. Portable and window ACs are the most affordable option because they won't cost you more than $500.
On the other hand, you may have to spend a few thousand dollars to get a ductless mini-split system up and running. All garage ACs come with a warranty, but the length of these warranties spans from just one year to more than ten years.
The Advantages of Garage Air Conditioners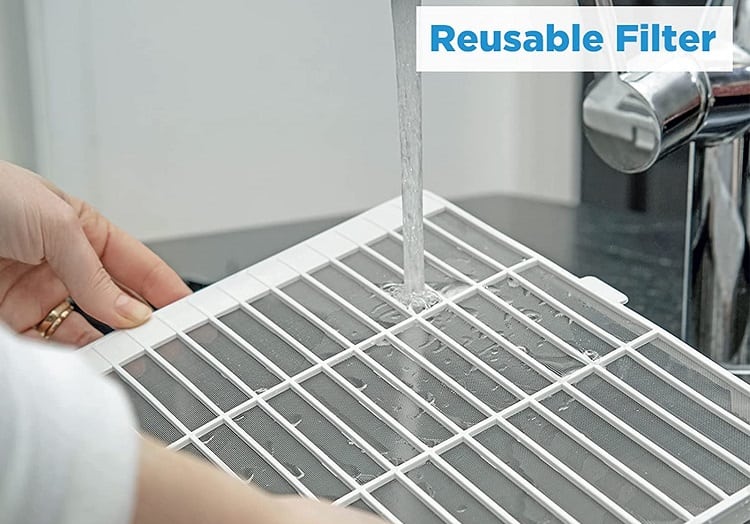 Protection Against Extreme Temperatures
Exposing your car or the equipment, you keep your garage in low or high temperatures and can damage them permanently.
Garage air conditioners enable you to regulate the room temperature in this part of your home and continue using it throughout the year without having to worry about the safety of your gear or vehicles.
Multiple Size Options
Finding a garage AC with cooling and heating outputs suitable for the size of your garage won't be difficult. 1-ton or 2-ton units are suitable for large garages, while units with outputs between 6,000 BTUs and 9,000 BTUs are usually a good fit for standard one-car garages.
Air Ventilation and Humidity Control
Dealing with stuffy and humid air in your garage will become much easier after you install an air conditioner. Most units have Fan Only and Dry modes that help you circulate the air or remove moisture from it.
The Disadvantages of Garage Air Conditions
Some Garage Air Conditioners don't have the Heating Function
The heating option isn't included on all garage air conditioners, and you need to check if the model you're interested in has this feature.
Top 5 Garage Air Conditioners
Midea Easy Cool MAP10S1CWT – The Best Portable Air Conditioner for a Garage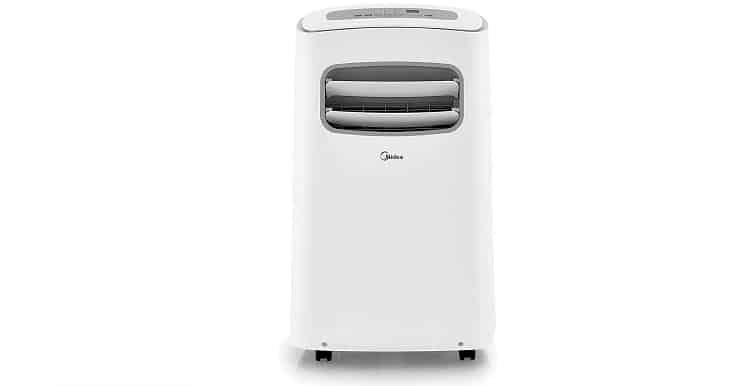 Cooling to 200sq/ft garage with the Midea Easy Cooling MAP10S1CWT doesn't require much effort because you can use voice controls to adjust the settings of this portable AC.
The unit's maximum cooling output is 10,000 BTUs according to ASHRAE standard or 5,800BTUs according to 2017 SAAC standard. The dehumidifier and fan features enable you to ventilate your garage or control the air humidity levels.
The Midea's model comes with an installation kit that contains a 5-ft exhaust hose and an adjustable vent kit that fits on windows that are 26.5 to 48 inches wide.
pros
Reusable air filter

Simple installation process

Compatible with Amazon Alexa and Google Assistant

Excellent power-saving features
Cons
No heating option

Short warranty period
LG LW1016ER – The Best Window Air Conditioner for a Garage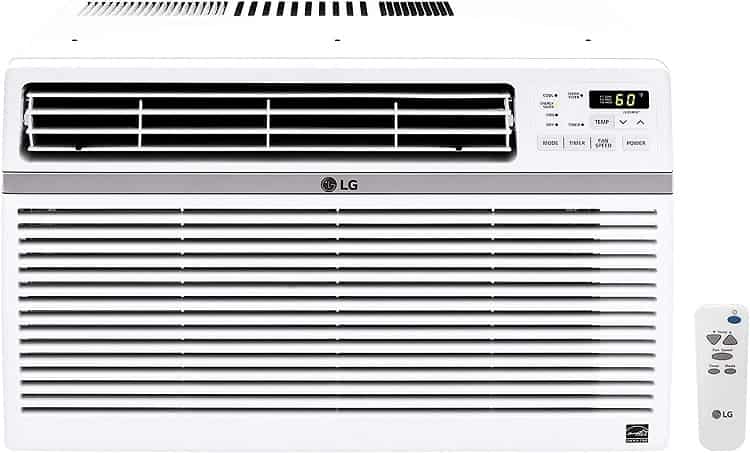 The 12.1 EER rating makes the LG LW1016ER one of the most energy-efficient window air conditions you can get for your garage. This unit fits windows that are 23 to 36 inches wide, while the minimum window height is 16 inches.
You can switch between 3 cooling and fan speeds and adjust the airflow volume to your current needs. In addition, you can choose from 4 different airflow directions or program the unit to switch off or on at specific hours.
pros
Energy Star certified

Capable of generating high airflow volume

low noise level

Affordable price
Cons
Keystone KSTAT14-2C – The Best Through-the-wall Air Conditioner for a Garage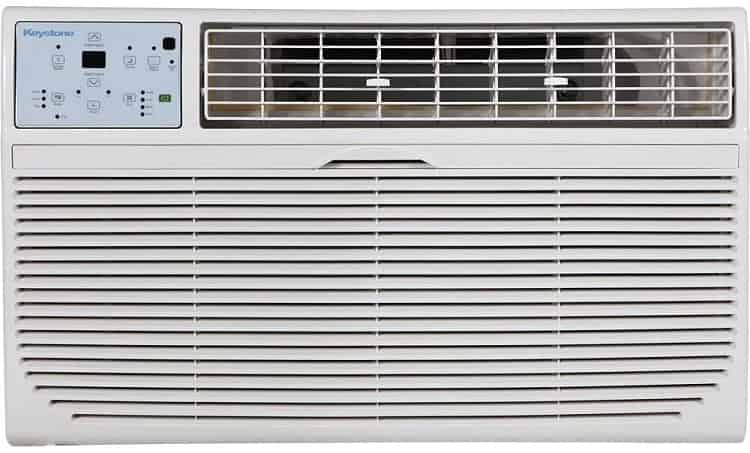 The Keystone KSTAT14-2C through-the-wall AC could be the right solution for you if your garage doesn't have windows. This unit can fit in a 24.5 to 27-inch wide sleeve, but you can purchase a sleeve specifically designed for this model if you don't have one.
The maximum cooling output this through-the-wall AC can offer is 14,000 BTUs, which is enough to regulate the temperature in a 700sq/ft room. Its dehumidification capacity is limited to 2.9 pints per hour.
The remote control has the Follow Me feature that ensures the unit will maintain an even temperature in the entire room.
pros
It offers 3 fan speeds

Wide coverage range

Excellent cooling performance

The air filter is easily accessible
Cons
Not Energy Star certified

short power cord
Daikin RX09AXVJU – The Best Mini-split AC for a Single-car Garage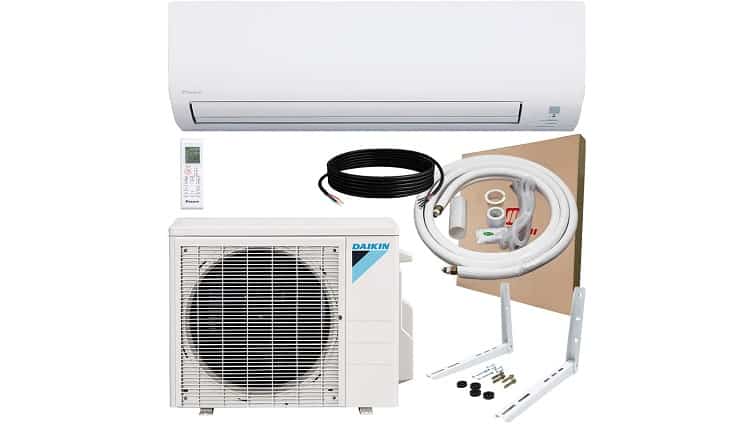 The heat pump feature ensures that you can continue using the Daikin RX09AXVJU ductless mini-split even when temperatures drop to 5F. The unit's heating and cooling outputs are 9,000 BTUs which makes it suitable for garages that have up to 350sq/ft.
This Daikin model is Energy Star certified because it has 19 SEER, 12.5 EER, and 9 HSPF ratings. Besides, this mini-split has several power-saving modes that enable you to minimize its power consumption when you're not using it at full capacity.
pros
Defrost mode protects the system from freezing

WiFi-enabled

Photocatalytic air filter

Low power consumption
Cons
Not a budget-friendly option

Limited dehumidification capacities
Air-Con 24ACZ – The Best Mini-split AC for Multi-vehicle Garages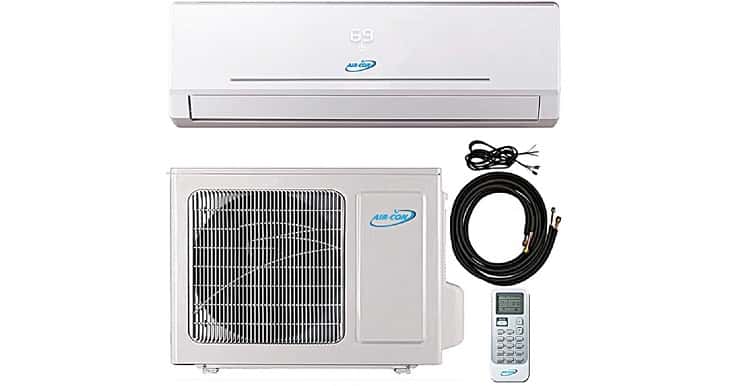 A single-zone mini-split with high output capacity like the Air-Con 24ACZ might be a great choice for garages designed for three or more vehicles. This 2-ton unit features a compressor with a corrosion-resistant cabinet and an indoor air handler that offers 7 fan speeds.
Its wide operating temperature range ensures that you can use this mini-split throughout the year with the same level of efficiency. This Air-Con model uses DC inverter technology that lowers its power consumption.
pros
High SEER, EER, and HSPF ratings

Excellent dehumidification capacity

Long warranty period

variable fan speed
Cons
Not WiFi-enabled

Too large for most garages
Frequently Asked Questions About Garage Air Conditioners
Question: Do Garage Air Conditioners Handle Dust Exposure Well?
Answer: You will have to clean and replace the air filter on your AC if your garage is very dusty.
Question: How Long of Garage Air Conditioners Last?
Answer: Maintenance is key to maximizing the life span of your garage air conditioner, as you can keep using the same AC for more than a decade if you its a clean air filter regularly or perform routine checks of its components.
Question: Do I Have to Charge my Garage Air Conditioner with a Refrigerant?
Answer: No, all units arrive pre-charged, and you don't have to charge them unless the refrigerant starts leaking.
Question: Can I Use a Portable Garage Air Conditioner if my Garage doesn't have a Window?
Answer: Yes, you can, but you must create a ventilation hole in the wall or under the garage door.
Our Verdict: Which Garage Air Conditioner Type Should You Choose?
Besides offering a safe place where you can keep your car, garages can be used as gyms, home-based workshops, or storage rooms. High temperatures in this area of ​​your home can limit the ways in which you can use them or cause the fluids in your car to evaporate faster.
Garage air conditioners help you deal with the problems presented by high and low temperatures throughout the year. A portable AC like the Midea Easy Cool MAP10S1CWT offers an effective and affordable way to lower the room temperature in your garage during the summer.
Investing in a unit that offers both heating and cooling functions, such as the Daikin RX09AXVJU might be a better choice if you want to continue using your garage throughout the year. Hopefully, this article has helped you find the best air conditioner for your garage.
Let us know in the comments, or continue reading our guide to the best ventless air conditioners or best 5-zone mini-split options that can help you regulate the temperature in your garage and other parts of your home with the same system.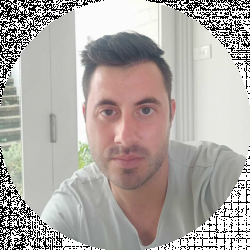 Latest posts by David Borgogni
(see all)