Staying cool throughout the summer can get challenging, even if you live in regions with a mild climate. The best 6,000 BTU air conditioners can't replace a whole-house HVAC system, but they can provide efficient spot cooling during the hottest days of the year.
Even though I have a powerful HVAC system that regulates the temperature in my home, I still keep a 6,000 BTU AC in my office because it prevents my equipment from overheating. Besides lowering the room temperature, my portable AC controls air humidity levels and filters out air pollutants.
In this article, I'll show you how to find the best 6000 BTU air conditioner that fits your cooling needs and suggest some of the best models produced by the industry-leading brands.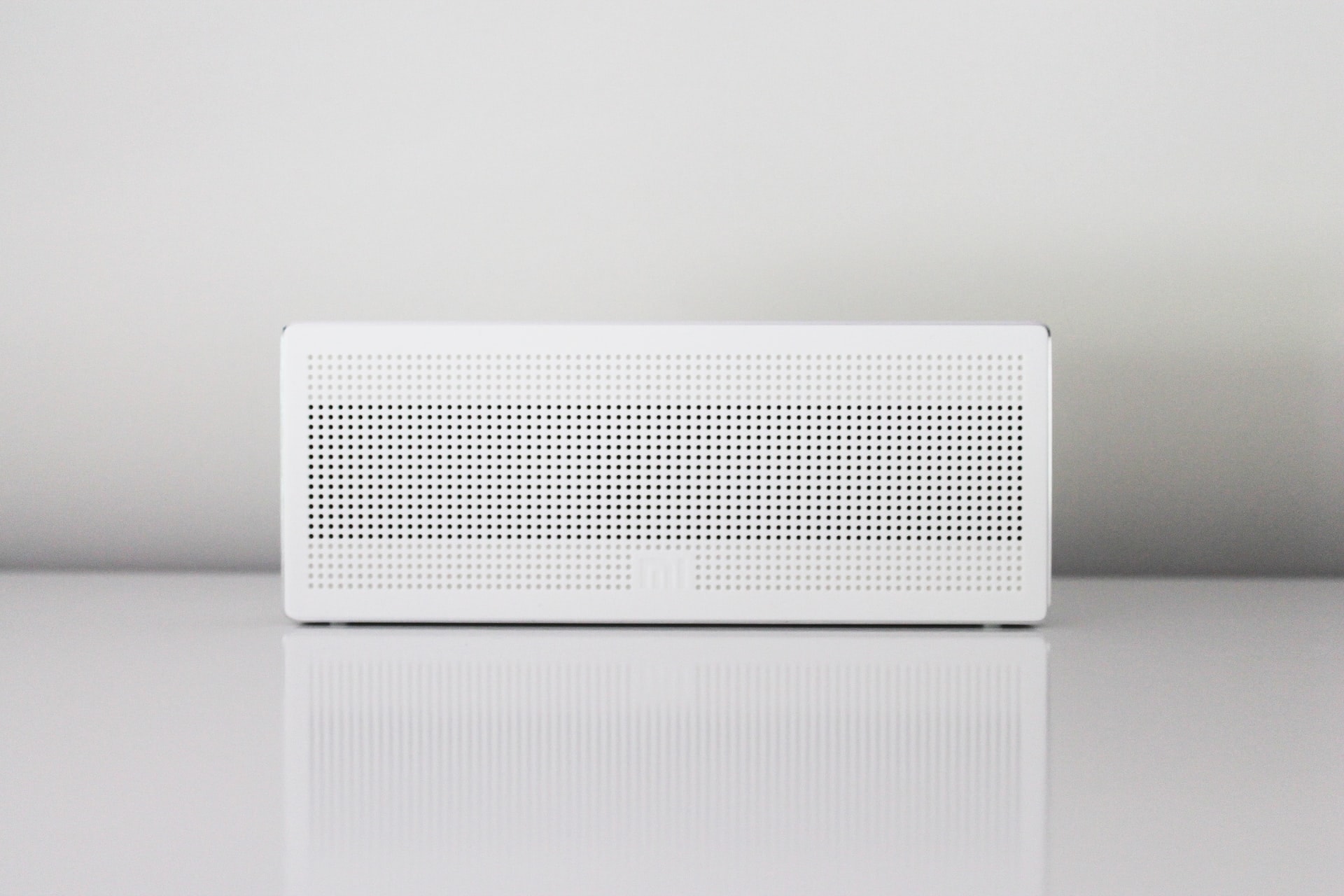 Bottom Line Up Front
Overspending on an AC with limited cooling capacities is often unnecessary, which is why I think the best 6,000 BTU ACs offer a perfect balance between performance and price.
A portable unit like the Midea MP05SRWBA3RCM is an excellent option if you're looking for a model with exceptional cooling, air filtering, and dehumidification capacities.
On the other hand, a window-mounted model such as the GE Profile PHC06LY can be a good choice if you're not planning on moving the AC often.
See also: The best Amana portable air conditioner
My Top Picks at a Glance
Types of 6,000 BTU Air Conditioners
Most 6,000 BTU air conditioners fall into portable and window-mounted categories depending on their mobility.
However, you should take the term portable with a grain of salt since these devices usually have short vent hoses that prevent you from keeping them far from a window or moving them freely from one room to another.
Here are some of the key differences between window-mounted and portable 6,000 BTU ACs:
Portable: These units are self-standing, so there's no need to install a support mechanism. Their vent hose is usually connected to an opening on a window kit, although ceiling, door, and wall connections are also possible. Consequently, all noise the unit makes is contained within a room.
Window-mounted: Most wall-mounted units have to be installed in a horizontal position since only a handful of models support vertical installation. A significant portion of the AC is on the window's exterior side, which is why it requires support that keeps it firmly in place. The majority of the noise the unit generates remains outside of the room.
See also: Casement window air conditioner guide

Common 6,000 BTU Air Conditioner Features
Most ACs with this size have a similar set of features, regardless of their type. So, besides cooling options, these units have dehumidification and air filtration functions. In addition, nearly all models are programmable and can turn off or on automatically at specific hours.
Here are some of the traits most 6,000 BTU air conditioners share:
Variable airflow speed
Fan-only mode
Sleep mode
Remote control (some models are WiFi-enabled and SIRI or Alexa compatible)
Energy-saving mode
LCDs
Top tip: Choose a model that comes with an installation kit to avoid spending time searching for an installation kit compatible with the unit you selected. 
The noise level, air filtration capacities, and maximum airflow capacity vary from model to model, so you must go through the spec list of each 6,000 BTU AC you're interested in to determine which model is the right option for you.
The Coverage Area of a 6,000 BTU Air Conditioner
The average size of a living room is 320sq/ft, which means that a single 6,000 BTU AC isn't enough to regulate temperatures in most living rooms.
The maximum size of a room these units can cool is limited to 250sq/ft in moderate weather conditions, but their coverage area might shrink to 200sq/ft if outside temperatures rise over 90F.
Several other factors like the room's insulation, ceiling height, or the number of windows can affect the coverage range of these units. Portable and window ACs of this size are only a reliable cooling option for small rooms that don't get a lot of sun exposure.
Optionally, they offer an easy way to supplement the central HVAC's cooling output and lower the temperature in a small part of your home. Purchasing multiple 6,000 BTU ACs usually costs more than buying an 18,000 BTU mini-split capable of cooling a relatively large space.
See also: How to find the best garage air conditioner
Power Consumption and Energy Efficiency
All models have an energy-saving label on the back that enables you to calculate their annual power consumption. Portable and window-mounted 6,000 BTU units draw around 600 Watts per hour, so you'll spend 2.4kW of electricity if you continually run your AC for four hours.
Models with Energy Efficiency Ratios (EER) above eight consume less power than ACs with EER ratings below this threshold. The unit's power consumption doesn't depend solely on its size since your portable or window AC will draw more power during hot days.
Top tip: Programming the unit to switch off and on automatically at certain hours will limit its power consumption. Also, you can use the AC's energy-saving and eco modes to reduce its power draw. 
Installing a 6,000 BTU in a room larger than 250sq/ft will affect its power consumption because it will work longer to reach and maintain the room temperature you selected.
Continue reading related AC Guides based on BTU:
Prices and Upkeep Requirements
The dehumidification function enables a 6,000 BTU air conditioner to remove humidity from the air. The water generated by the dehumidification process is usually stored in a bucket or pan with a limited capacity.
So, how often you have to empty the water condensate depends on how often you use this function and the unit's storage capacity. Opting for a self-evaporative model will eliminate the need to empty the water condensate manually.
All 6,000 BTU air conditioners have disposable or washable air filters that trap dust, pollen, and similar air pollutants. Cleaning or replacing air filters monthly is paramount for the unit's air cooling efficiency.
Prices of washable and portable ACs with 6,000 BTU cooling outputs are similar and range from $200 to $400. Brands like Midea, LG, or GE offer one-year warranties for their 6,000 BTU AC models.
See also: The best vertical window air conditioners
Selection Criteria
The model's size and coverage area weren't the only factors I considered while choosing 6,000 BTU air conditioners for this article.
The unit's EER rating or scope of its features were among countless criteria I utilized to narrow down the range of 6,000 BTU AC models suitable for homeowners with different air cooling needs. Let's take a look at more parameters I relied on during the selection process.
Brand recognition – Reputable AC manufacturers vouch for the quality of their products, and I used the criterion to identify the best 6,000 BTU AC models produced by industry-leading brands.
Quality of individual components – I only considered high-performance units that don't break down easily and outlast their warranties.
See also: The best slider window air conditioners
Top 9 6,000 BTU Air Conditioners
Frigidaire FFRE063WAE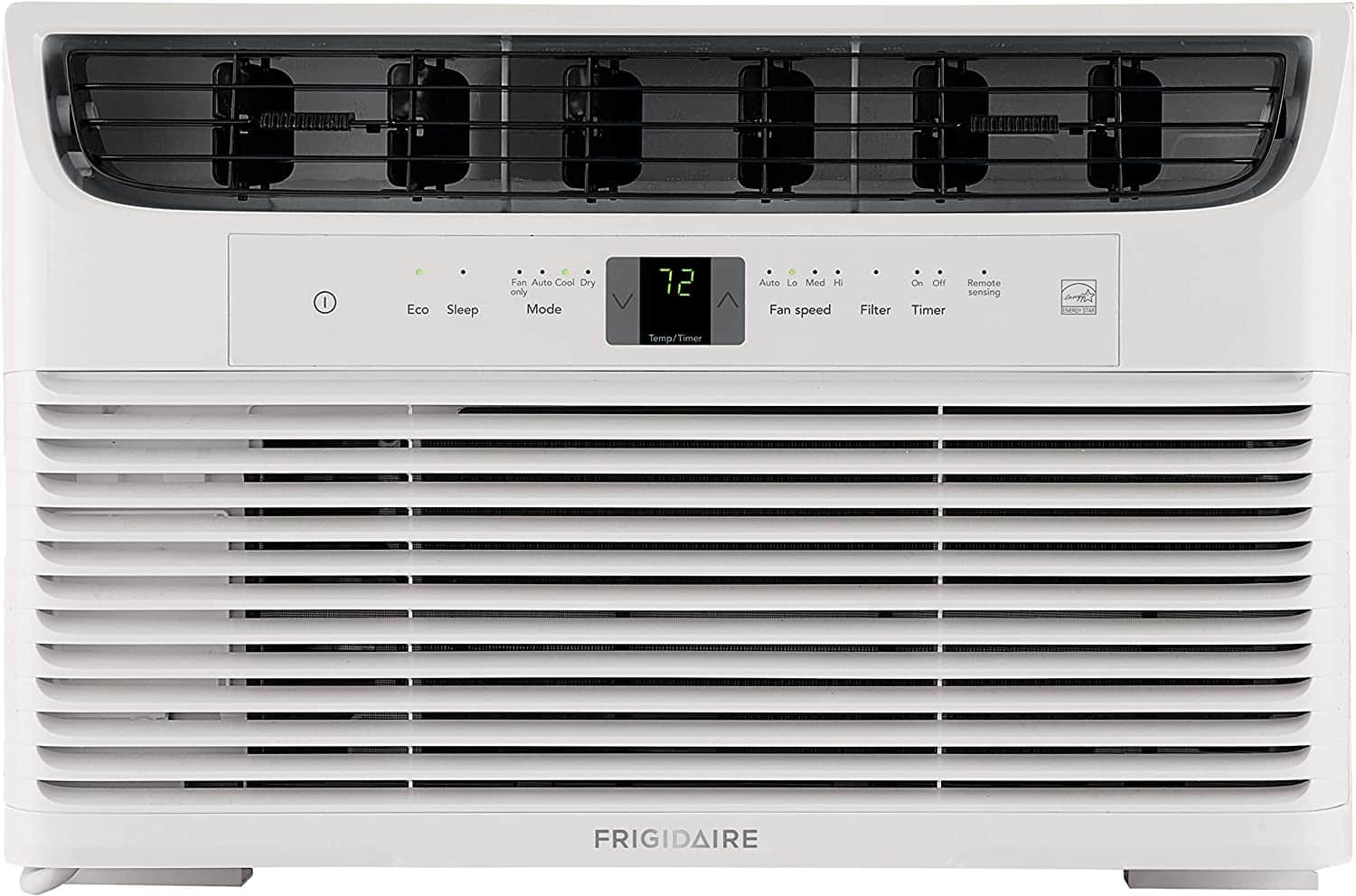 An Energy Star-certified 6,000 BTU AC like Frigidaire FFRE063WAE doesn't need a lot of power to keep a room cool. This model also has a programmable 24-hour timer that lets you choose when the unit is going to switch on and how long it is going to run.
This Frigidaire AC generates less noise while operating in Sleep mode, enabling you to keep your bedroom cool throughout the night and not worry about the noise it makes. The unit has a washable air filter, and you just have to clean it whenever the Filter light goes on to keep the AC running smoothly.
Pros
It offers excellent value for money
A reusable air filter lowers the unit's maintenance costs
Adjustable fan speed
Low power consumption
Cons
This Frigidaire model isn't WiFi-enabled
LG LP0621 WSR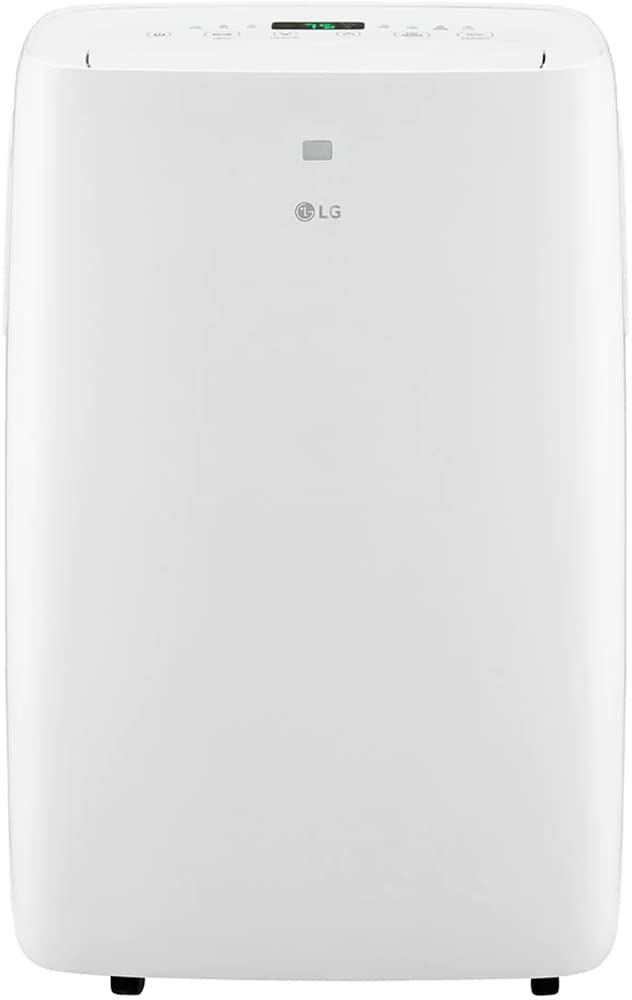 I don't think that the performance capacities of the LG LP0621 WSR are impressive. However, the portable 6,000 BTU unit can keep you cool during heat waves. This AC only has low and high fan speeds and an auto-swing option that allows it to distribute the cool air evenly throughout the room.
It produces 53dB of noise while operating at its maximum capacity, so it's unlikely to interrupt your daily activities. The unit doesn't occupy much space because it is just 27 inches tall and 17 wide. However, the vent hose is 59-inches long, which might make it difficult to find a spot for the AC near a window.
Pros
Easy temperature adjustment
The AC has a Water Tank Full indicator
Durable casters
The unit has a Filter Alarm function
Cons
This model isn't Energy Star-certified
Haier ESAQ406T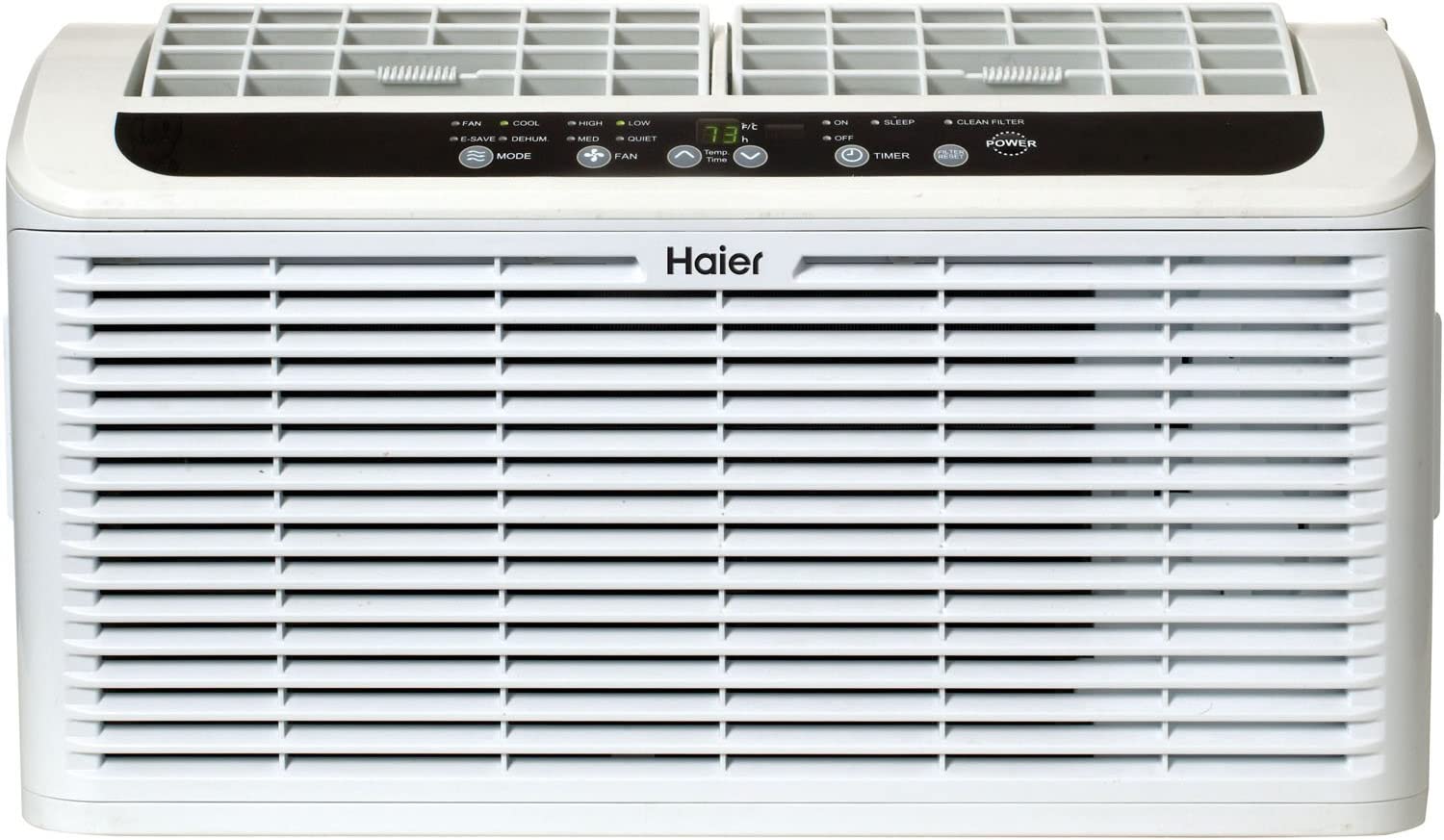 As one of the quietest window AC on the market, the Haier ESAQ406ST is an ideal fit for bedrooms. This Serenity Series model makes just 43dB while operating at its maximum capacity, and it's even quieter in the Sleep mode.
The AC has 4-way louvers that let you direct the air to a specific part of the room, while its Digital Temperature Adjust feature regulates the temperature automatically. Haier's AC is Energy Star-certified and has the Energy Saver Mode that caps its maximum power draw.
Pros
The AC is self-evaporative
The installation kit arrives with the unit
It has three fan speeds
This Haier AC model has a 12.2 EER rating
Cons
Midea MP05SRWBA3RCM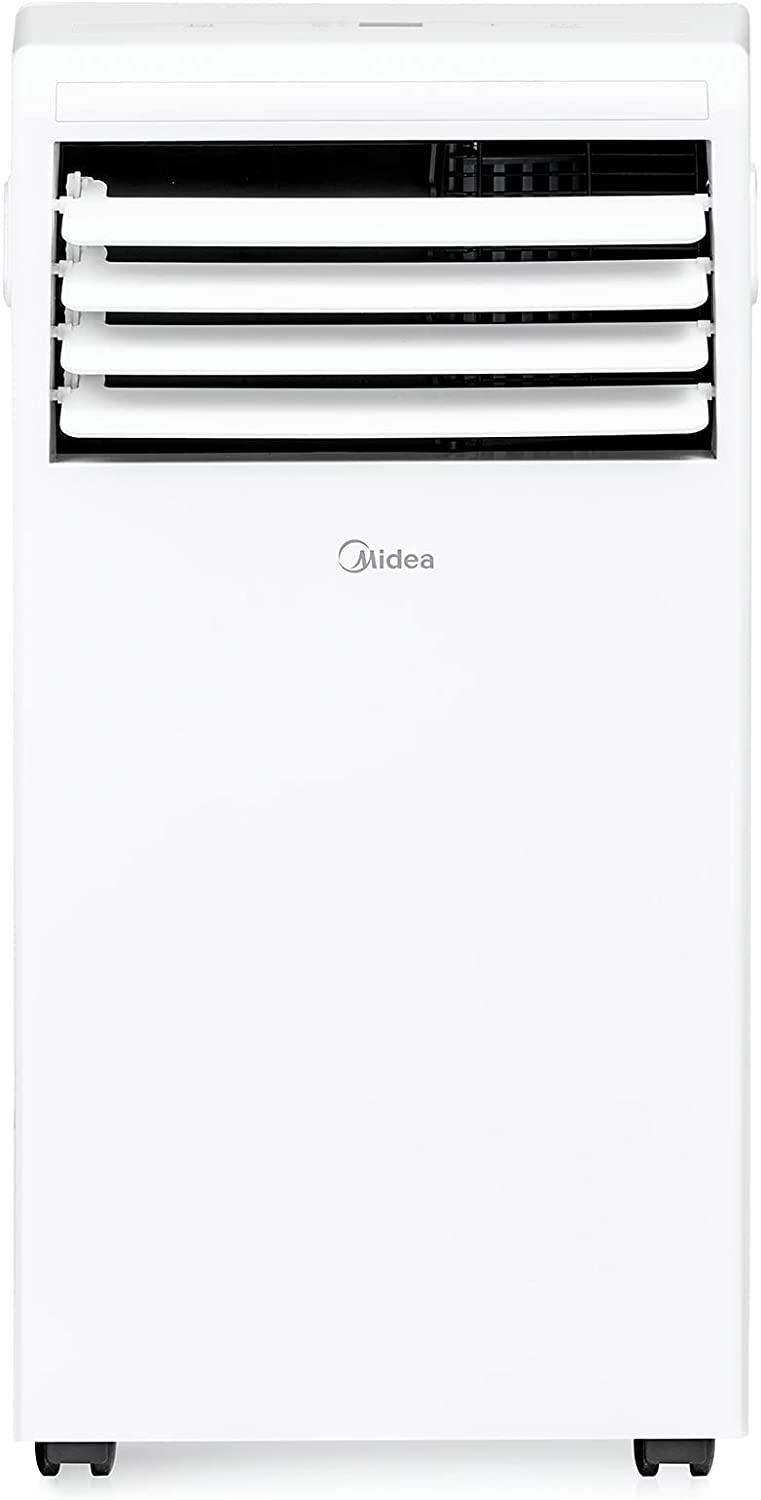 Even though its maximum cooling output is 6,000 BTUs, the Midea MP05SRWBA3RCM portable AC can't lower the temperature in spaces larger than 150sq/ft. Besides cooling, this 3-in-1 unit also has dehumidification and air filtration functionalities.
The unit can lower room temperatures from 62F to 86F, so you'll have to consider other options if you need an AC that can reduce the room temperature below 60F. The adjustable window bracket with a vent connection can fit 19.4 to 62.2 inches wide windows.
Pros
A reusable air filter is easy to clean
Remote control has a long range
Adjustable air fan speed
Moving the AC is easy
Cons
The vent hose is 5ft long
GE Profile PHC06LY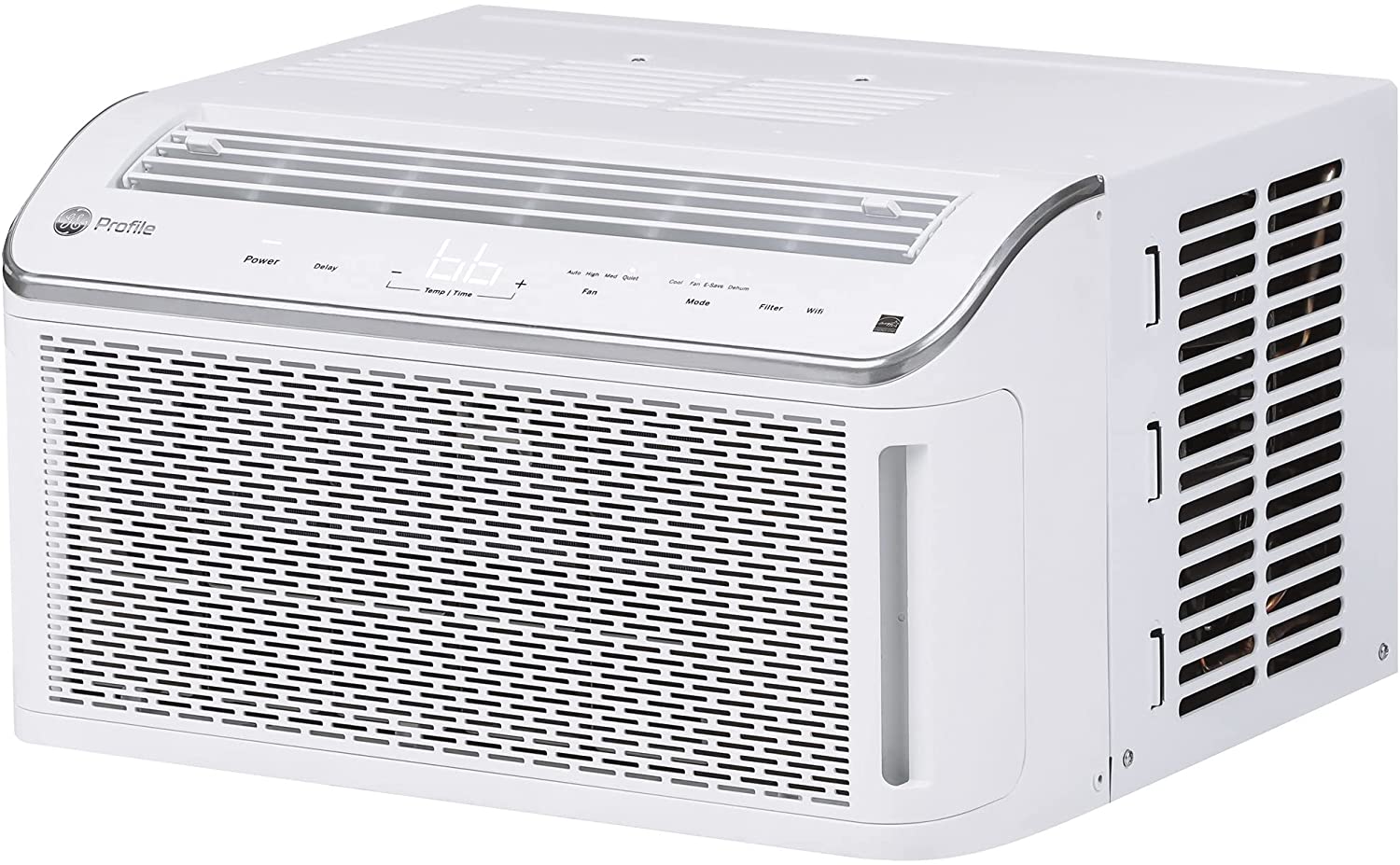 Installing the Smart HQ app will enable you to pair the GE Profile PHC96LY with Google Assistant or Amazon Alexa. This window-mounted AC has four cooling modes and three fan speeds which allows it to adjust to your current cooling needs.
Moreover, the unit's ECO mode lowers its power consumption by switching off the fan and compressor. The EZ mount kit is designed for double-hung windows, so you may not be able to install this model in your home if you don't have this type of window.
Is GE a good AC Brand? Find out here.
Pros
Geotagging and energy reporting features are available
This AC is Energy Star-certified
It generates up to 175 CFM of airflow
A high EER rating
Cons
The installation process can be difficult
TCL 6P91C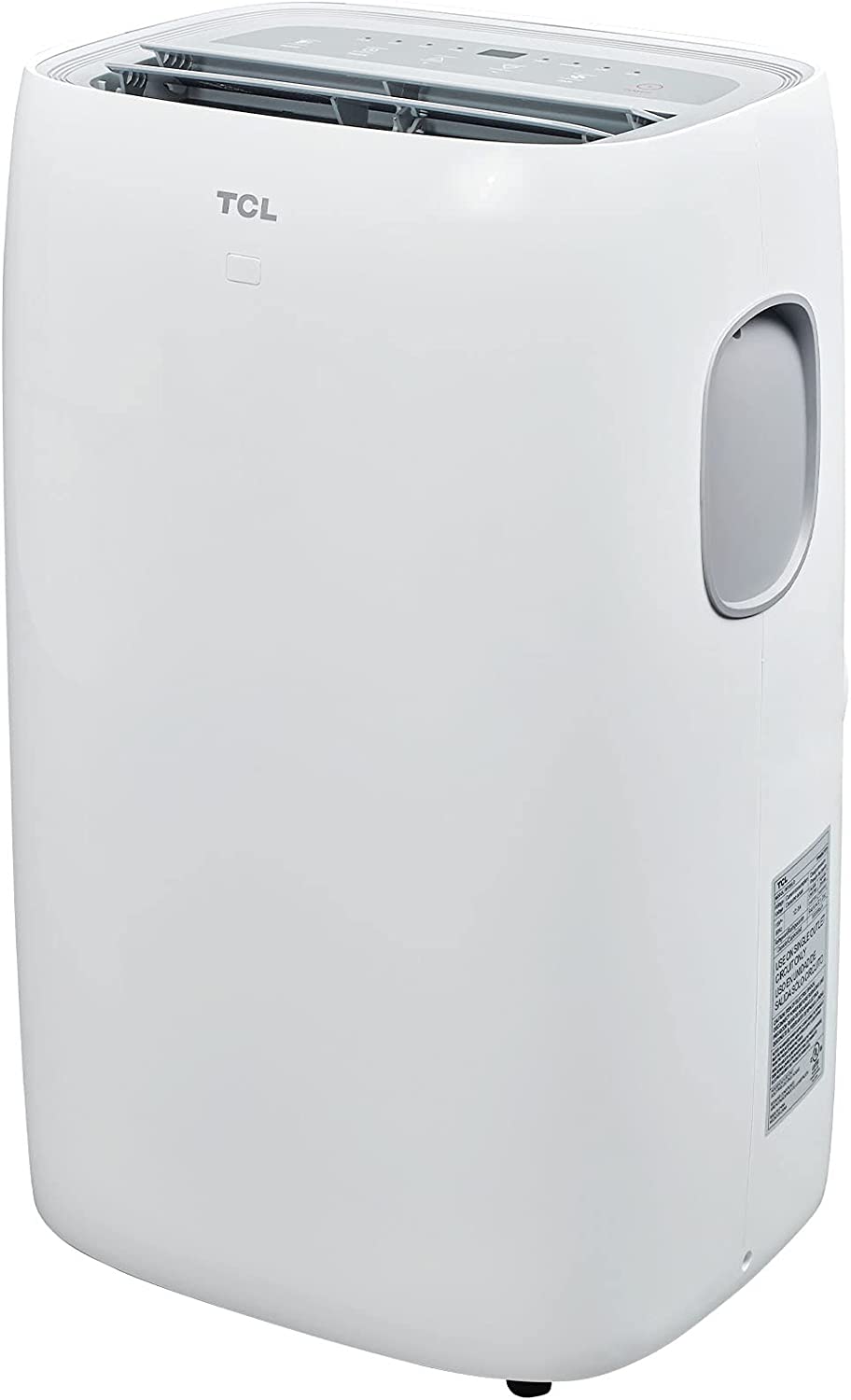 Depending on your current needs, you can use the TCL 6P91C as an AC, dehumidifier, or fan. Besides a digital control panel that lets you switch between different modes, select the room temperature or increase the unit's airflow speed, you can also utilize its Smart functions to adjust these settings.
The AC is compatible with Amazon Alexa and Google Assistant, so you can simply issue a voice command whenever you want lower the room temperature or activate the dehumidification mode. The unit has casters and handles that enable you to change its position effortlessly.
Pros
The maximum noise level is limited to 52dB
This portable AC weighs 54lbs
The AC restarts automatically after a power outage
Multiple control options
Cons
DELLA 048-TL-W6KW-1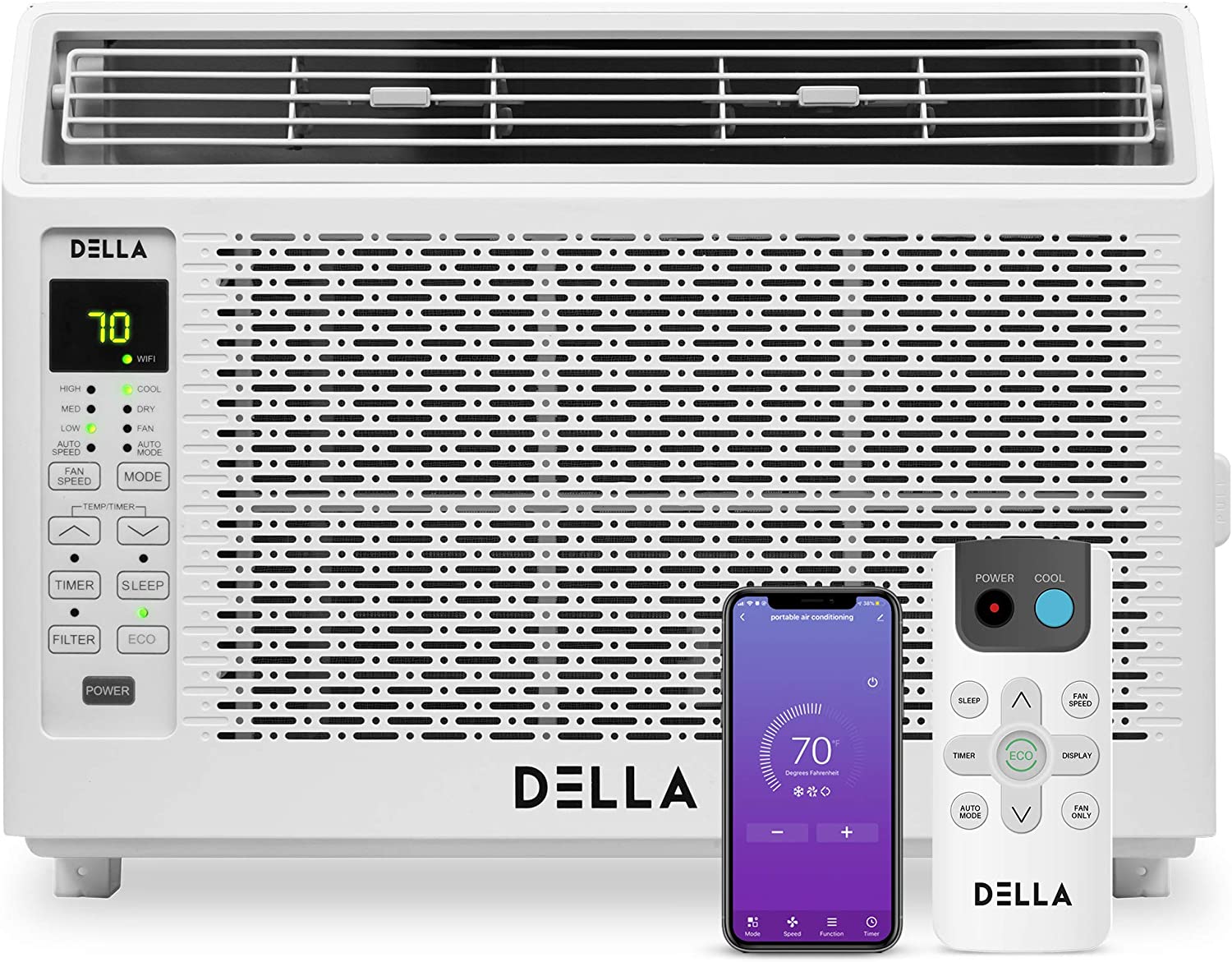 The 46 pints per day dehumidification capacity makes the DELLA 048-TL-W6KW-1 a good fit for hot and humid spaces. The AC has three fan speeds and the Auto Speed option that automatically adjusts the unit's fan speed to the room temperature.
DELLA's window-mounted model has ECO and Sleeper modes so that you can limit its power draw or regulate temperature during the night. This AC makes less than 50dB of noise while operating at maximum capacity, while its noise level is under 30dB in the Sleep mode.
Pros
The unit is Wi-Fi enabled and compatible with the DELLA+ app
It detects system malfunctions automatically
The AC has a reusable air filter
It doesn't consume a lot of power
Cons
It's not suitable for windows wider than 36 inches
KingHome KHPA06AK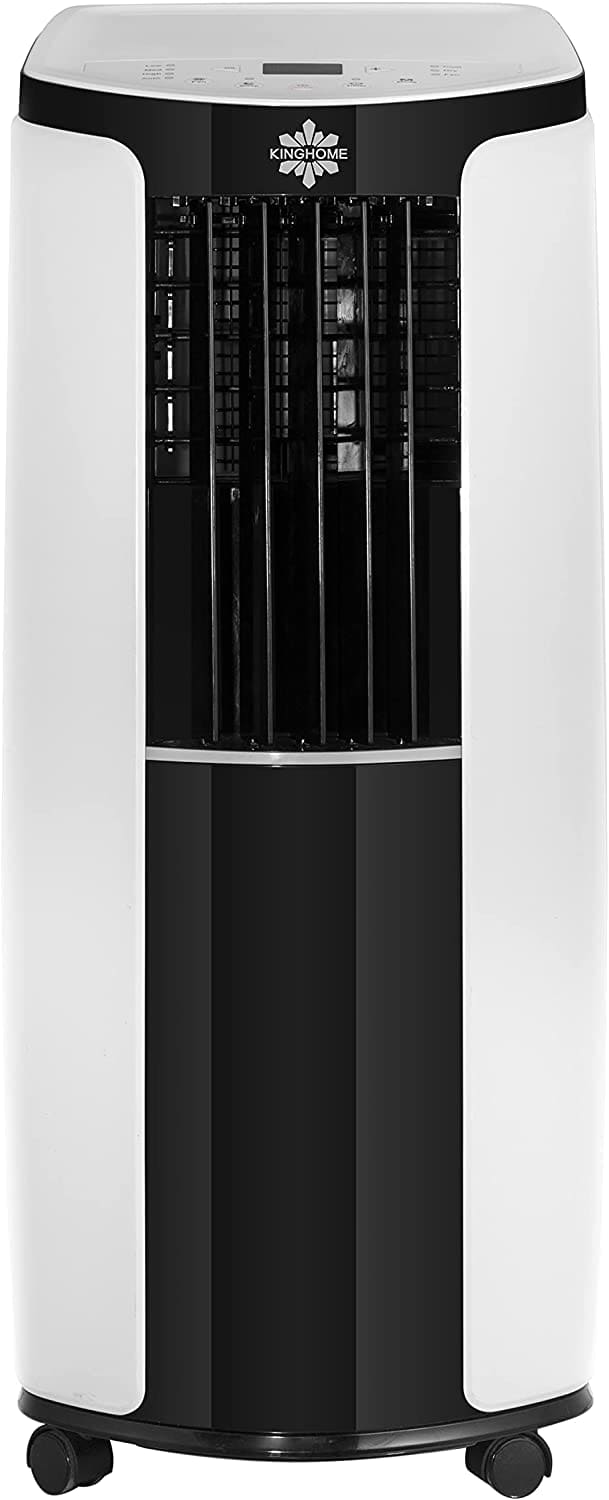 Setting up the KingHome KHPA06AK portable AC doesn't take more than a few minutes as you just have to place its venting kit on a window and connect the hose to the kit and the unit. The variable fan speed function lets you choose the preferred cooling output.
Optionally, you can use the 24-hour timer to program the unit to switch off and on in regular intervals or activate the Sleep mode to maintain the room temperature at the same level while you're asleep. This portable AC can absorb up to 2.9 pints of humidity per hour.
Pros
It doesn't occupy a lot of space
A washable mesh air filter is easily accessible
It doesn't make a lot of noise
The AC weighs 55lbs
Cons
Friedrich Chill Premiere FBAFRCCW06B10B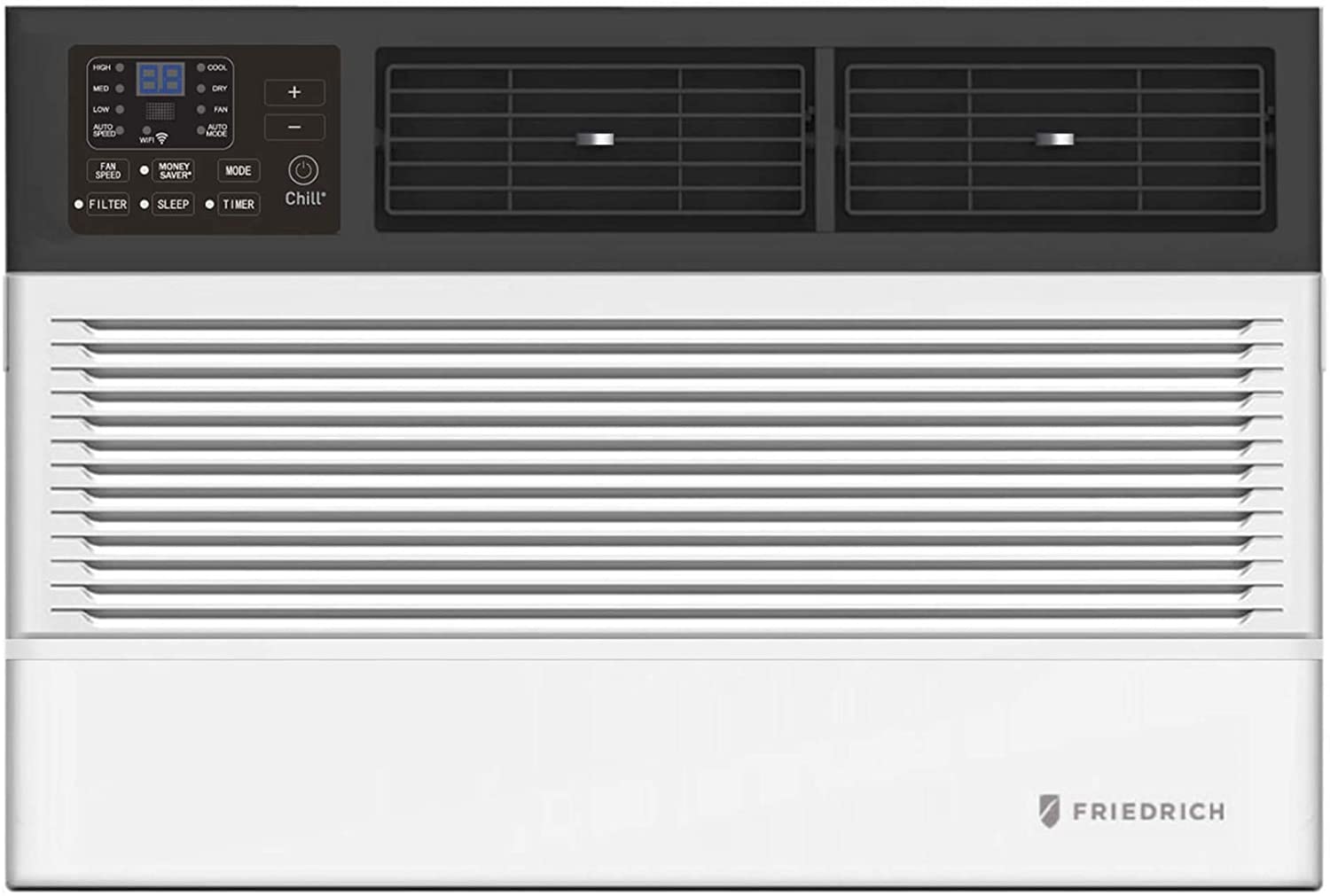 I think investing in the Friedrich Chill Premiere FBAFRCCW06D10B is a great long-term decision that can lower your cooling expenses considerably. This Energy Star-certified AC doesn't need a lot of power to keep room temperatures at desired levels, even during the hottest summer days.
The insulation on the cabinet's inner wall absorbs the noise the unit generates and enables it to operate quietly. Also, you can control this Friedrich's AC from an app or use voice commands to switch between modes or change the fan speed.
Pros
The AC has a reusable antimicrobial air filter
It has a high EER rating
Money Saver and Sleep modes limit the unit's power consumption
A 5-year warranty
Cons
Some of the AC's components wear out quickly
Frequently Asked Questions about 6,000 BTU Air Conditioners
Question: Do 6,000 BTU air conditioners use refrigerants?
Answer: Yes, all 6,000 BUT air conditioners utilize refrigerants to cool the air.
Question: Can I use a portable 6,000 BTU air conditioner without a vent hose?
Answer: You must connect a portable AC to a vent outlet in order to use it since that's the only way the unit can remove hot air from a room.
Question: What is the average lifespan of a 6,000 BTU air conditioner?
Answer: Most models last for five to ten years, but with regular maintenance, these ACs can last up to 15 years.
Question: Are 6,000 BTU air conditioners prone to refrigerant leaks?
Answer: Yes, they are, but luckily solving this issue isn't difficult or expensive.
My Verdict: Which 6,000 BTU Air Conditioner Has the Most to Offer?
Finding a 6,000 BTU air conditioner with excellent cooling and dehumidification capacities at an affordable price isn't difficult, as there are so many models to choose from.
I think that units like GE Profile PHC06LY or Friedrich Chill Premiere FBAFRCCW06D10B are some of the best window-mounted 6,000 BTU air conditioners on the market. However, they're not compatible with all window types, so you need to check if you can install them in your home.
Opting for the Midea MP05SRWBA3RCM or TCL 6P91C portable ACs can be a good idea if you want a unit you can set up in a couple of minutes.
I hope this article has helped you find a 6,000 BTU air conditioner that fits your budget and cooling needs. Please go through our LG 12,000 BTU air conditioner review to learn more about this wall-mounted model, or check out our full guide on how to find the best 12,000 BTU ACs.
Read More: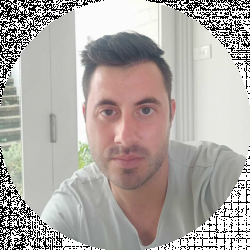 Latest posts by David Borgogni
(see all)