Having an additional cooling or heating source that supplements the central HVAC system helps maintain an even temperature throughout a household and lower its power consumption. The best 14,000 BTU air conditioners offer an easy way to regulate the temperature in a specific part of your home at affordable prices.
Even though their coverage range is limited, 14,000 ACs are still a reliable cooling source for mid-sized rooms. With so many models to choose from, selecting a 14,000 BTU AC that is a good fit for the space you want to cool is a daunting task.
In this article, I'll supply you with the information that will make this process easier and recommend some of the best 14000 BTU Air Conditioner models produced by industry-leading brands.
Bottom Line Up Front
AC's cooling output is one of the countless factors I consider while evaluating the unit's performance capabilities.
Even though determining if an AC is suitable for a particular space without knowing its coverage range in impossible, this aspect doesn't reveal much about the model's efficiency or the options is offers.
Hence, I recommend choosing a portable 14,000 BTU model like the Whynter ARC-14S in case you need an AC stacked with advanced features.
On the other hand, GE AHEK14AC is one of the best available options for homeowners searching for a window-mounted unit with supreme cooling and dehumidification capacities.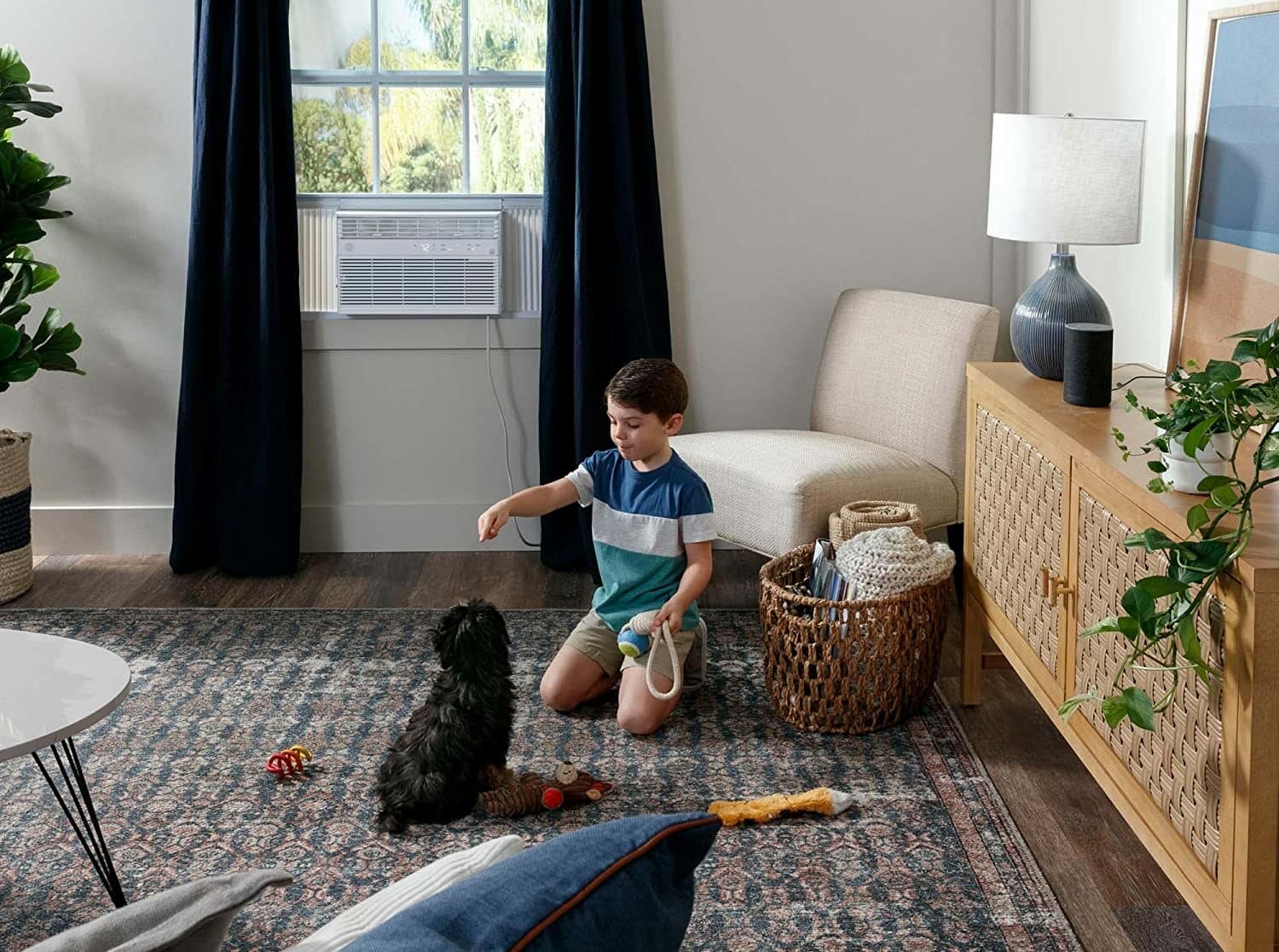 See also: The best mobile home air conditioners
My Top Picks At a Glance
Types of 14,000 BTU Air Conditioners
Every time I start looking for a new AC, I ask myself the same question. Which AC type do I want? The answer to this simple question helps me navigate the selection process faster by eliminating all AC types that don't meet my requirements.
Depending on their installation method, air conditioners fall into three categories. Let's take a look at the most common AC types.
Portable – Unlike other AC types, portable air conditioners are equipped with casters and handles that enable the user to change their position quickly. However, all portable models dispose of the warm air through an exhaust vent connected to a window, so users can't move the unit freely.
Wall-mounted – These ACs are compatible with sliding or double-hung windows and come with installation kits designed to support their weight. Their cooling outputs span from 5,000 to 24,000 BTUs.
Through-the-wall – Complicated installation process is the most common reason homeowners choose other AC types over through-the-wall models. However, these units have excellent performance capabilities.
The Coverage Range of 14,000 BTU ACs
The maximum size of an area a 14,000 BTU can cool varies from 500sq/ft to 800. However, the unit's coverage range also depends on its type, so wall-mounted and through-the-wall models often cover slightly more space than portable ACs.
Moreover, the following factors can affect the air conditioner's cooling range:
Unit's position in a room
Ceiling height
Climate and outdoor temperatures
Insulation quality
Number of doors and windows in a room
Top tip: Use a free online BTU calculator to determine if a 14,000 BTU air conditioner is the right choice for the space you want to cool. 
Moreover, 14,000 BTU units aren't a good fit for spaces under 500sq/ft as they'll have to work harder to maintain the room temperature at the same level. Hence, a combination of contextual factors and the model's cooling output can help you choose the right AC size for the space you want to cool.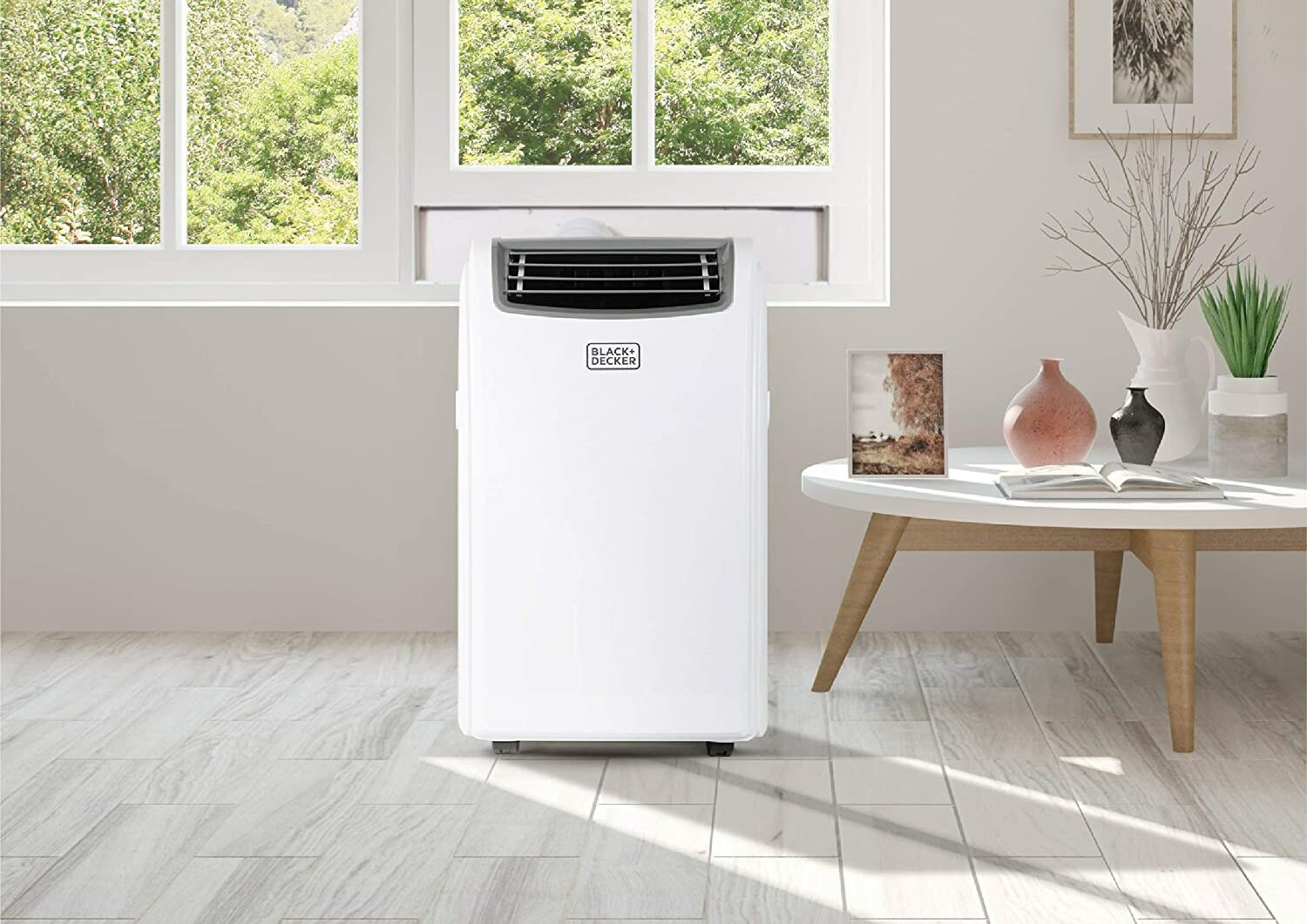 Power Consumption and Energy Efficiency
Portable, through-the-wall, and window ACs use considerably less power than mini-splits or heat pumps. Most 14,000 BTU units need around 1,250 Watts to supply cooling for an hour at their maximum capacity.
So, you'll have to spend between 5kW and 7.5kW of electricity to run a 14,000 BTU air conditioner for four to six hours. Hence, these units draw less power than most home appliances. What's more, most models have Energy Saving and ECO modes that lower their power consumption.
My advice is to check the unit's Energy Efficiency Ratio (EER) and opt for a model with an EER rating over 8.5. Also, getting an Energy Star-certified 14,000 BTU AC model will ensure you won't have to spend a lot of power to control the room temperature in a specific part of your home.
It's worth noting that outdoor temperatures also affect the AC's power draw because they have to work longer to achieve and maintain a set temperature level during sweltering days.
Check out more related AC guides based on BTU:
Key Features of 14,000 BTU ACs
Most 14,000 BTU AC models offer an identical set of features. In addition, models with mechanical controls are rare, as most brands offer units with LCDs and digital control panels that grant the user access to all unit's functionalities.
Here are some of the most common features of 14,000 BTU air conditioners:
Cooling, Dehumidification, and Fan-Only modes
Variable fan cooling and fan speeds
Sleep, ECO, and Energy Saver modes
Clean Filter reminder
Top tip: Besides reading the unit's spec sheet, you should also try to learn more about the quality of its components to determine its long-term performance capabilities. 
The majority of high-end models are WiFi-enabled and compatible with Amazon Alexa or Google Assistant. The noise level of 14,000 BTU air conditioners varies from 40dB to 65dB depending on the type and the model, so units with low noise levels are an ideal fit for bedrooms or kids' rooms.
Upkeep Requirements and Cost
Cleaning the air filter after approximately 250 hours of continuous operation and draining the condensate are the only maintenance requirements of 14,000 BTU air conditioners.
Moreover, opting for a self-evaporative model or a unit with a continuous drain function will eliminate the need to drain the water the unit accumulates while operating in Dry or Cool modes. Inspecting the unit after long periods of inactivity is advisable to ensure all its components are working properly.
Even though most brands offer one and two-year warranties for their 14,000 BTU AC models, their lifespan is significantly longer. On average, a portable AC lasts five to ten years, while a window or through-the-wall model usually lasts ten to fifteen years.
Prices of these units range from $400 to $600 for models with advanced features, while entry-level options usually cost between $200 and $300.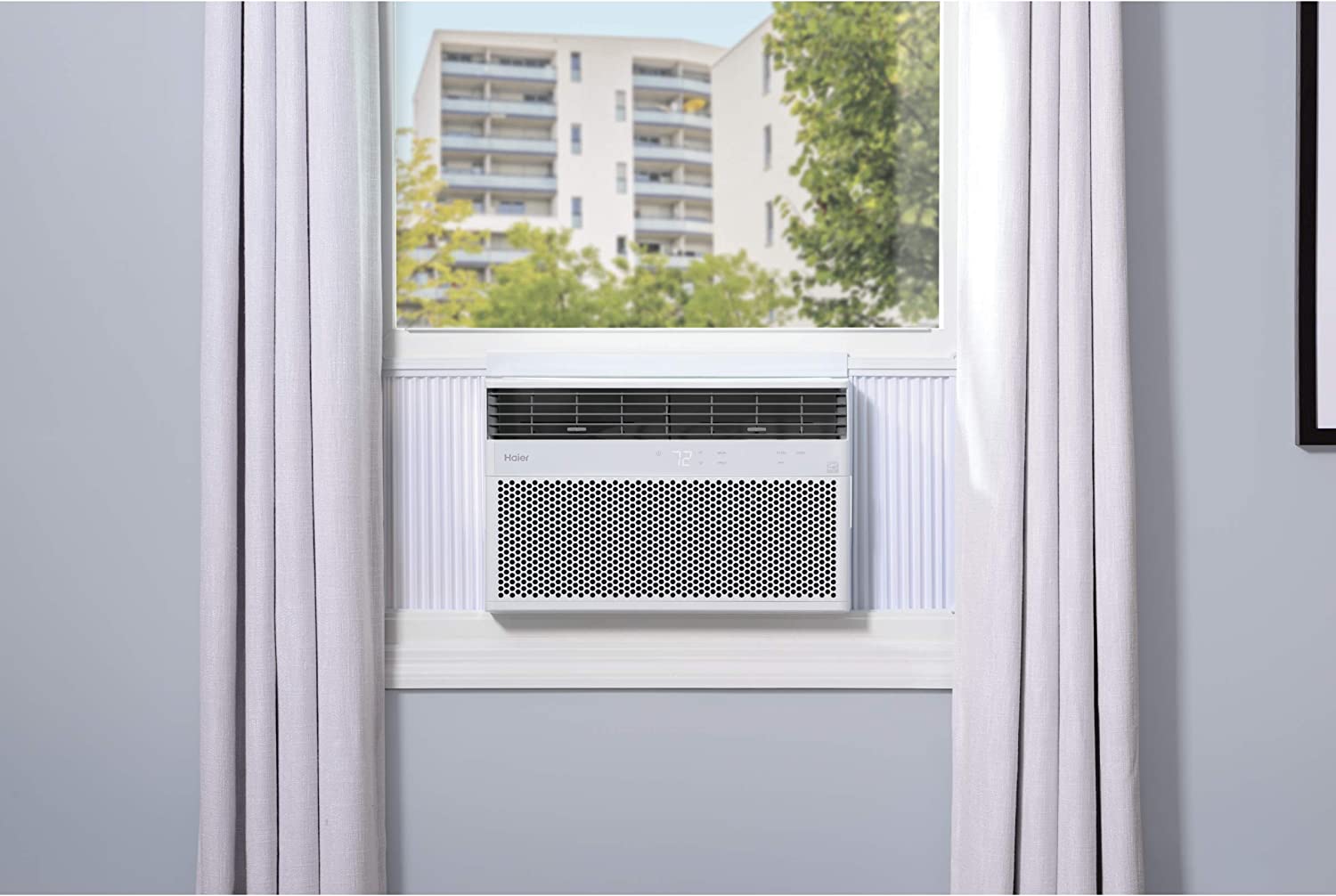 See also: The best casement window air conditioners
Selection Criteria
My main goal during the selection process wasn't just to identify the best 14,000 BTU AC models but to find the units suitable for use in different residential contexts.
As a result, I couldn't rely solely on my experience with 14,000 BTU air conditioners, and I had to utilize a variety of parameters to pick the models included in this article. Let's take a look at the vital criteria I used while choosing the best 14,000 BTU ACs.
Brand reliability – I only considered the models manufactured by reliable brands that vouch for the quality of their products.
AC's energy efficiency – This criterion has enabled me to eliminate 14,000 BTU air conditioners that need a lot of power to keep a 500sq/ft to 750sq/ft space cool.
Top 9 14,000 BTU air conditioners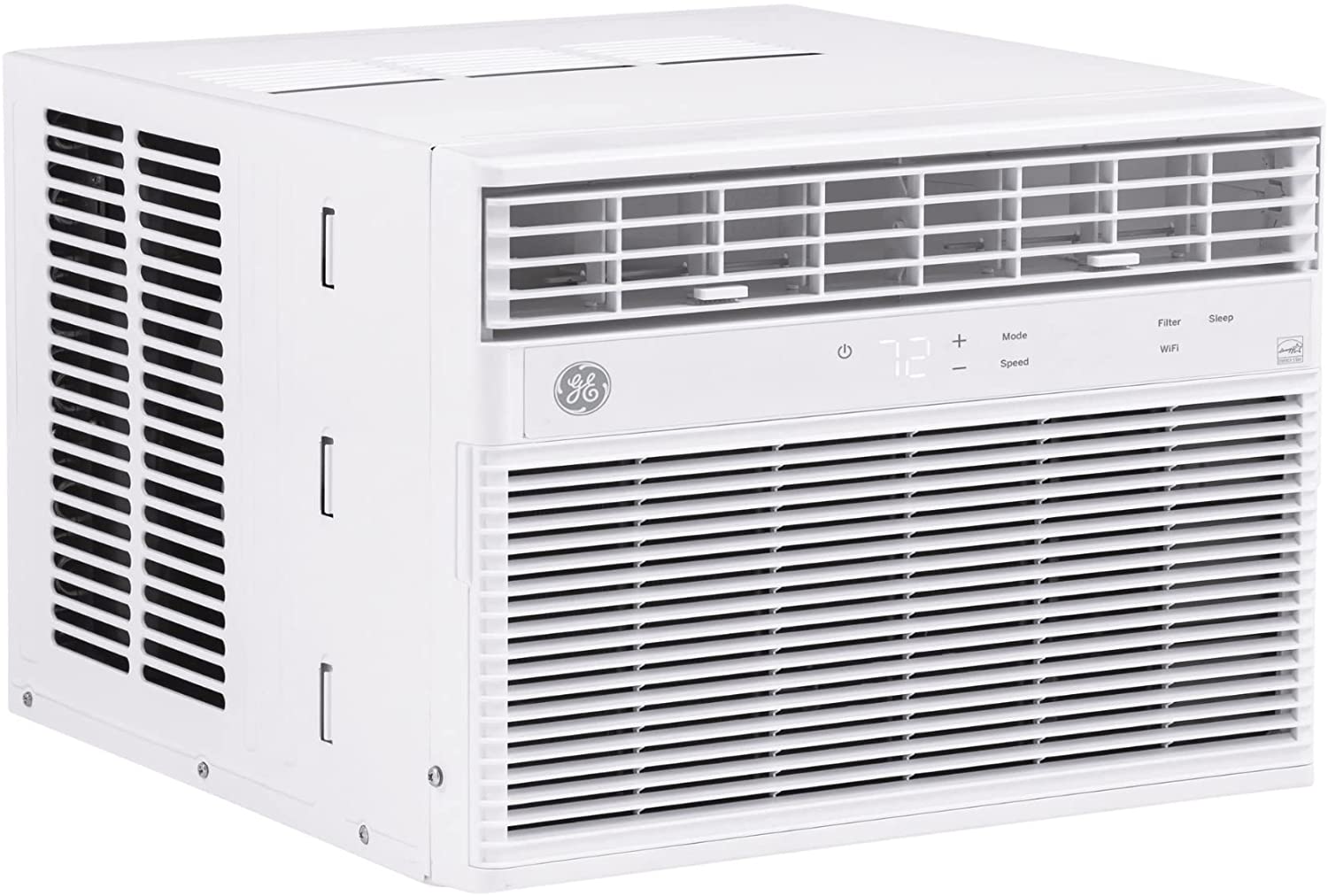 Four-way adjustable louvers, three cooling and fan speeds, or the Energy Star label are some of the GE AHEK14AC window AC's highlights.
Also, the unit is WiFi-enabled, and you can tweak its settings from the SmartHQ app or use its Amazon Alexa and Google Assistant compatibility to issue voice commands whenever you want to lower the temperature or activate the Fan-Only mode.
GE's model has the Energy Saver function and the ECO mode, so you can easily limit its power consumption.
Pros
This AC can generate 280CFM of airflow
The unit has an easily accessible washable air filter
EZ mount kit simplifies the installation process
It offers multiple control options
Cons
The AC can be loud while operating at maximum capacity
Black + Decker BPACT14HWT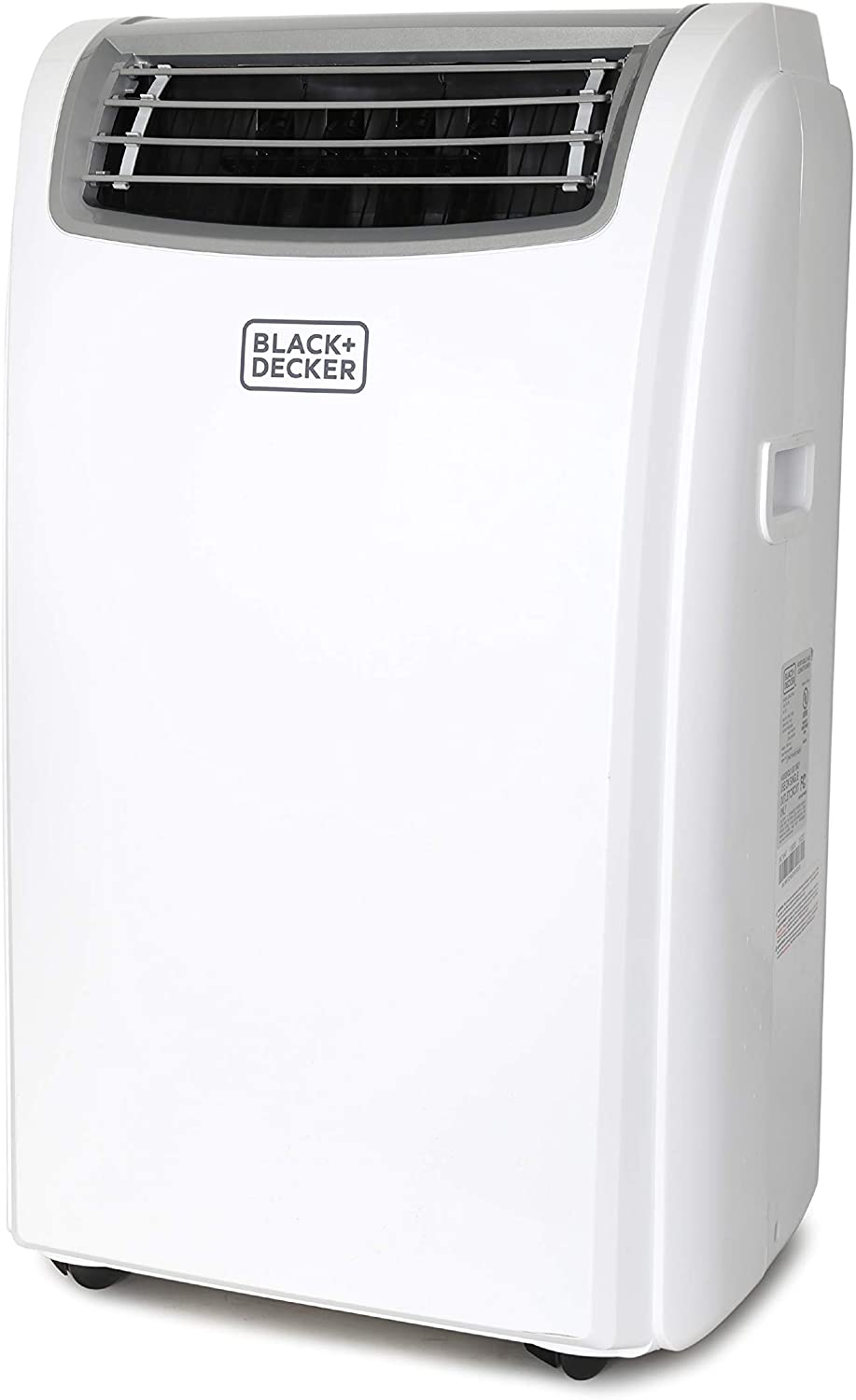 Arguably, the only downside of the Black + Decker BPACT14HWT portable AC is its short exhaust hose. The unit's wide operating temperature range, as well as its cooling and heating options, compensate for its limited mobility.
Even though its maximum cooling and heating outputs are 14,000 BTU, this model can't regulate the temperature in spaces larger than 350sq/ft. The self-evaporative unit has excellent dehumidification capacities, but you can only use this mode if the outdoor temperature is between 64F and 95F.
Pros
The installation kit is compatible with horizontal and vertical windows
It disposes of condensate automatically
Quiet operation
The manufacturer offers a five-year warranty for the compressor
Cons
It can't supply heating if outdoor temperatures are below 50F
See also: The best vertical window air conditioners
Haier QHEC14AC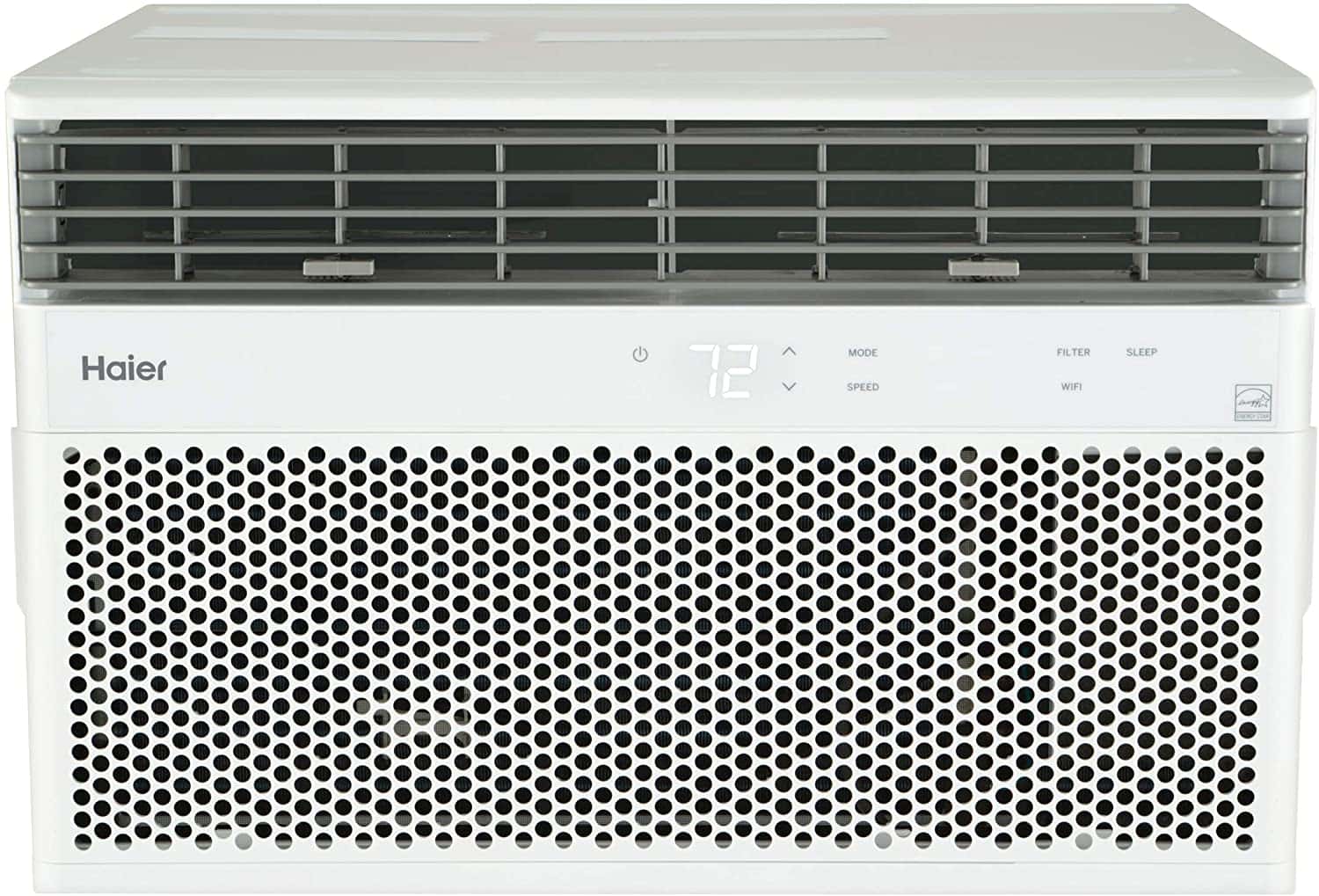 A sleek, elegant, and functional design makes matching the Haier QHEC14AC window AC with the room's style easy. The frontally positioned control panel grants you quick access to all unit's functionalities so that you can change a mode or increase the fan speed effortlessly.
This Haier's window AC is WiFi-enabled, and you can monitor its power consumption or program it to switch on and off at regular intervals. The unit has ECO and Energy Saver modes that ensure it uses the minimum amount of energy to achieve and maintain a certain room temperature.
Pros
A wide cooling range
This window AC is Energy Star-certified
It supports voice commands
Stylish and durable design
Cons
Its dehumidification capacities are limited
Honeywell MN4CFSWW9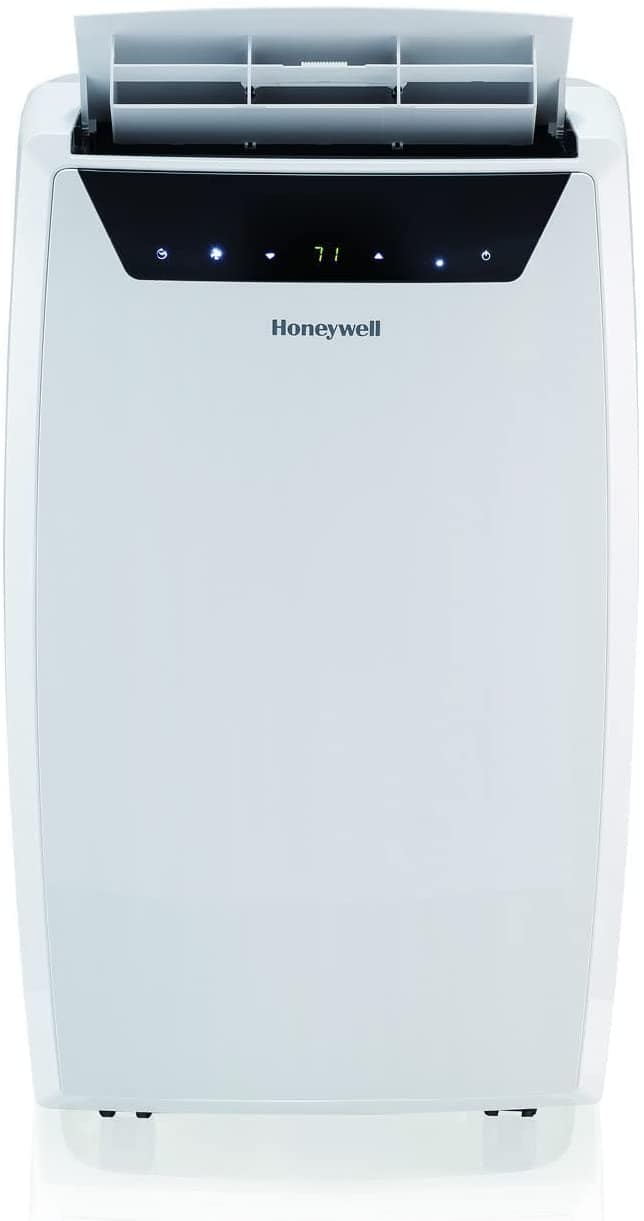 You should take a closer look at the Honeywell MN4CFSWW9 portable AC if you're searching for a unit with high-performance capabilities, you can move around your home easily. Its 14,000 BTU cooling output enables you to control the temperature in 500 to 750sq/ft spaces.
The unit has three fan and cooling speeds, so you can adjust its output to your current needs or use its louvers to direct the airflow to a specific part of the room.
The AC is self-evaporating, and you don't have to drain its pan, while the continuous drain option allows you to use the unit in spaces with high humidity levels.
Pros
Dual motor technology reduces the unit's noise level
Smart Digital Thermostat allows for intricate temperature adjustments
A washable air filter is easily accessible
It performs well in humid conditions
Cons
It isn't a budget-friendly option
Koldfront WTC14012WCO230V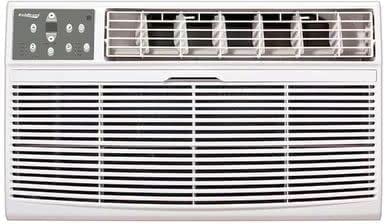 Opting for a through-the-wall model like the Koldfront WTC14012WCO230V can be a good option if you're looking for a unit you won't have to put into storage after a cooling season. Moreover, you need to ensure its dimensions fit the wall opening in which you want to install it.
The manufacturer doesn't include the sleeve with the unit, so you'll have to purchase this accessory to start using the AC. Besides the Cooling mode, this Koldfront's through-the-wall model also has Fan-Only and Dehumidification modes.
Pros
This AC has a 9.3 EER rating
Effortless temperature adjustments
It can cool a 700sq/ft room
Low noise level
Cons
It requires professional installation
LG LW1517IVSM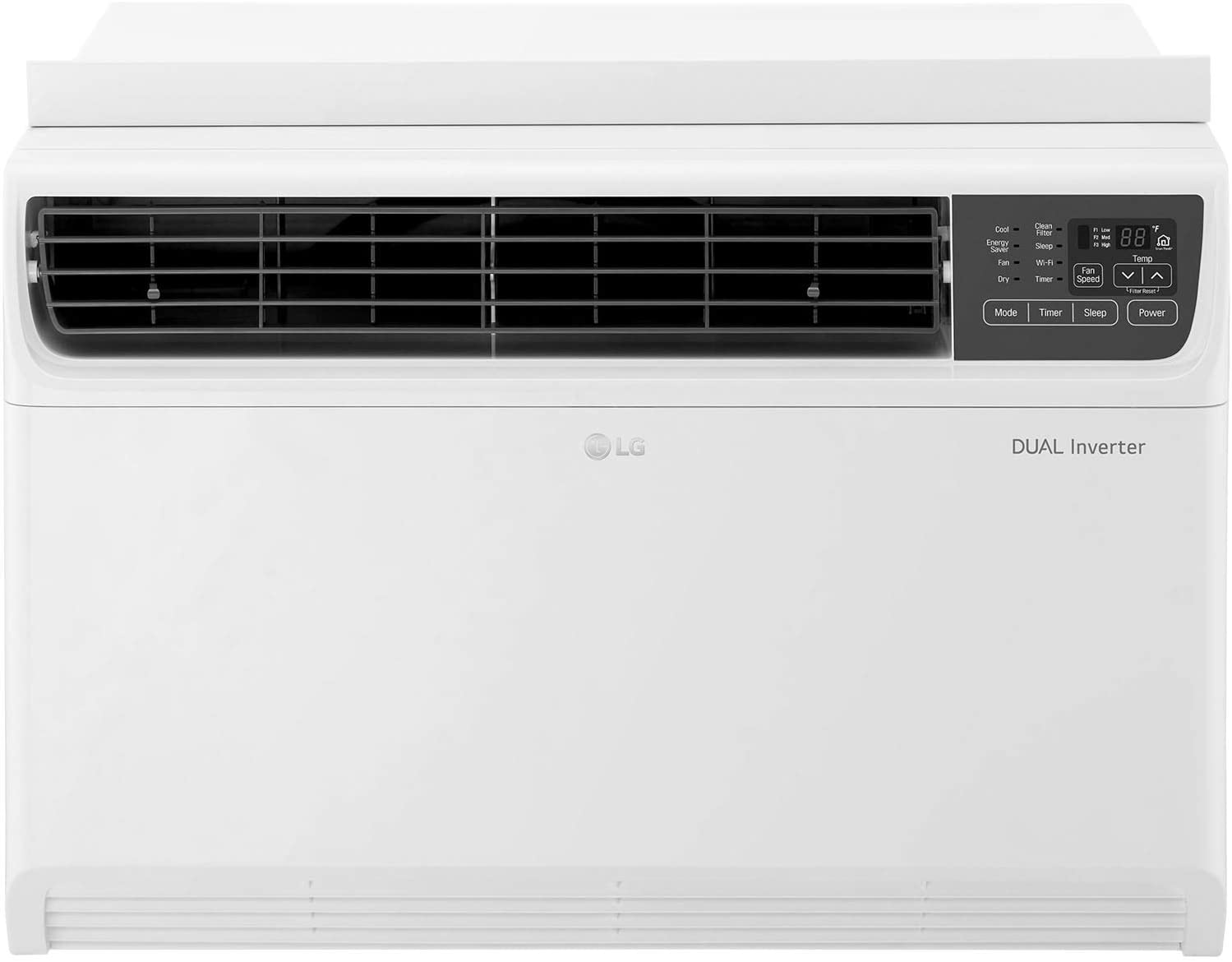 The Dual Inverter technology minimizes the LG LWM1517IVSM's power draw and maximizes its energy efficiency. This technology also limits the unit's maximum noise level, so the AC doesn't make more than 40dB of noise while operating in the Sleep mode.
This LG's wall-mounted model has four cooling and fan speeds, and it allows you to make incremental temperature adjustments. The AC also has Dry mode, and it can absorb 3.3 pints of moisture per hour. Its maximum airflow output is 505CFM.
Pros
It cools spaces up to 800sq/ft
ThinQ technology allows Amazon Alex integration
This window AC is Energy Star-certified
It's quieter than most window ACs
Cons
DeLonghi PACEX390UVcare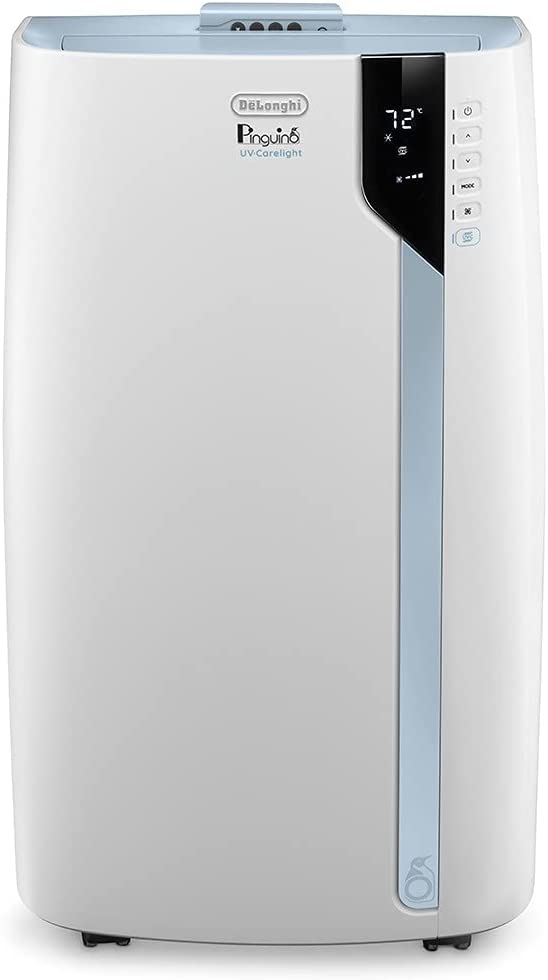 The innovative cabinet design makes the DeLonghi PACEX390 UV-CARE one of the quietest portable ACs on the market. The unit makes only 52dB of noise while operating at its maximum capacity, which makes it a perfect fit for bedrooms, home offices, and all other spaces that require peace and quiet.
Moreover, this portable AC protects against viruses as its UV-C technology can eliminate 99% of HCoV or H3N2 viruses. Moreover, its washable air filter captures air pollutants and improves the air quality in your home.
Pros
This portable AC has three fan speeds
Quick and simple installation
Intuitive controls
It has handles and sturdy casters
Cons
The unit's Fan-Only mode is underwhelming
Whirlpool WHAT142-2AW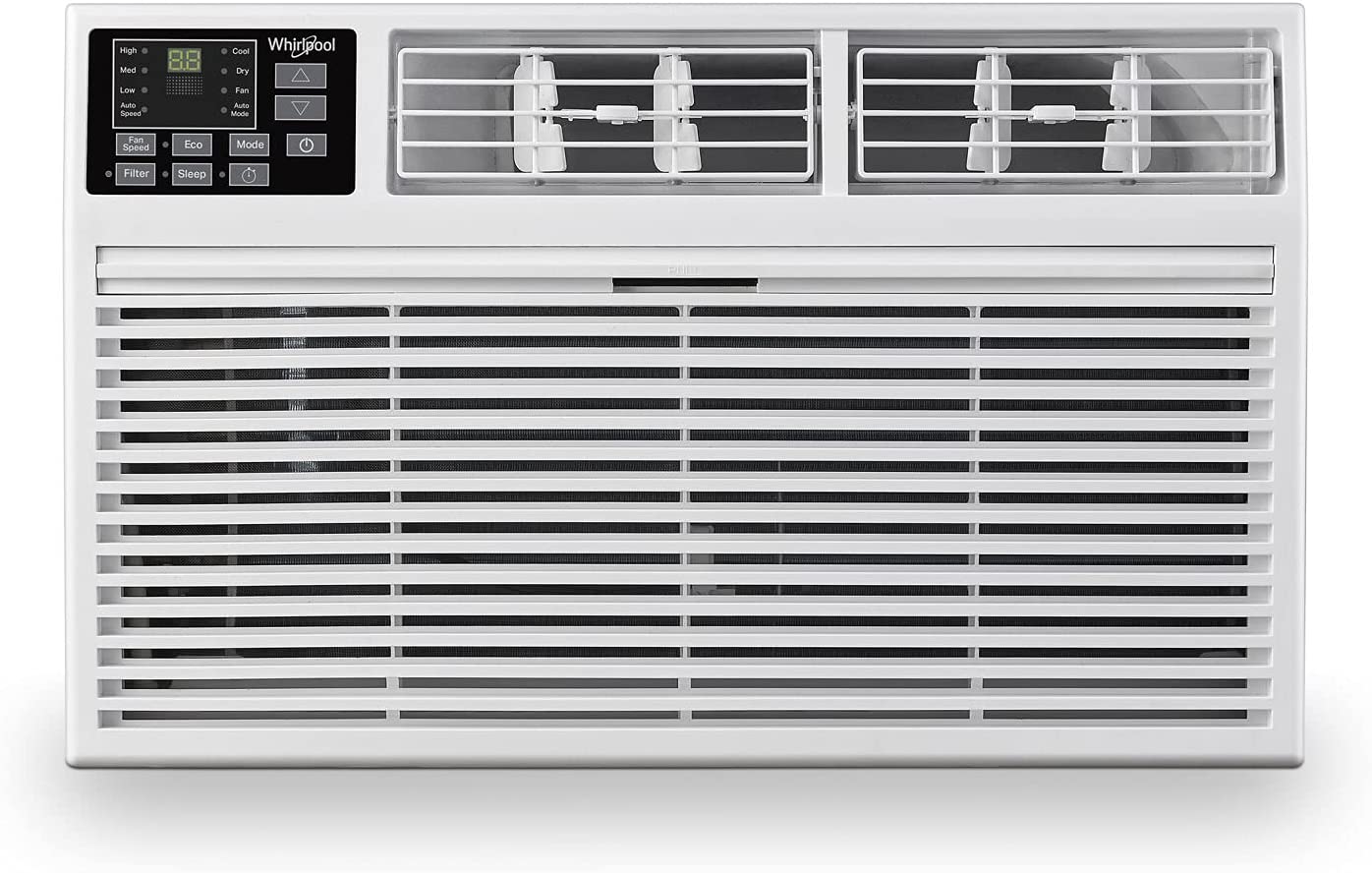 Placing the Whirlpool WHAT142-2AW into an existing sleeve is easy because it is compatible with all standard 24.5 to 27-inch wide sleeves. The Trim kit and rear grille arrive with this through-the-wall AC, so you can seal it quickly even if it's too small for the sleeve you have.
The unit has four modes, and you can use it to circulate, cool, or dehumidify the air. The Auto Mode regulates the room temperature automatically and prevents significant temperature changes.
Even though it isn't Energy Star-certified, the unit has energy-saving features that limit its power consumption.
Pros
It absorbs 2.1 pints of humidity per hour
8-way louvers allow the user to direct the airflow where they need it
The AC has a reusable air filter
The unit's components don't break down quickly
Cons
AC's cord is less than feet long
Whynter ARC-14S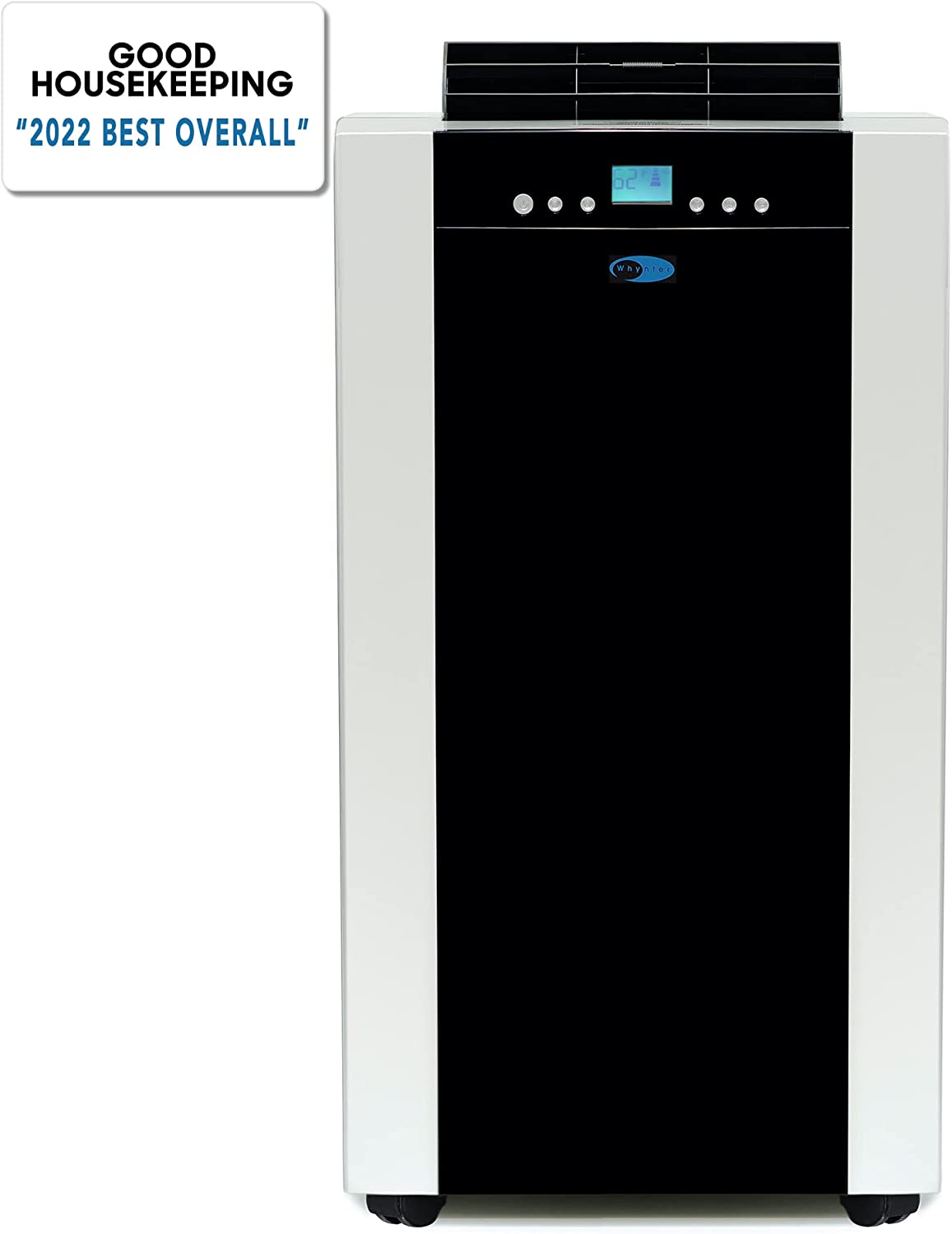 Even though its maximum cooling output is 14,000 BTUs, the Whynter ARC-14S portable AC struggles to control the temperature in spaces larger than 500sq/ft. Nonetheless, the dual-hose functionality maximizes its efficiency, so the unit won't need much time to reach the temperature you selected.
The model's maximum airflow speed is 430CFM, but you can switch between three fan speeds and control its airflow output.
Whynter ARC-14S has impressive dehumidification capacities as it can absorb 101 pints of moisture per day, but the unit isn't self-evaporative, and you have to drain the condensate manually or use the continuous drain option.
Pros
It makes only 56dB of noise
The AC's operating temperature range spans from 61F to 89F
It doesn't draw a lot of power
The unit utilizes an eco-friendly refrigerant
Cons
It's not compatible with windows wider than 46 inches
Frequently Asked Questions about 14,000 BTU Air Conditioners
Question: Can I place a portable 14,000 BTU AC on an uneven surface?
Answer: A portable 14,000 BTU must be level at all times, and placing it on an uneven surface can lower its efficiency or damage some of its components.
Question: Are all 14,000 BTU ACs compatible with 110V power outlets?
Answer: Some models come with plugs designed for 230V outlets, and you can't use them with 110V sockets.
Question: Do I have to put a 14,000 BTU window AC into storage during the winter?
Answer: Removing your window-mounted AC from the window is only necessary if its side panels are letting the cold air through.
Question: How long does it take to install a 14,000 BTU air conditioner?
Answer: Installing portable or window-mounted ACs doesn't take long, but setting up through-the-wall models can be time-consuming, especially if you don't have a sleeve.
The information I provided in this article should help you find a 14,000 BTU air conditioner you'll be able to use for years. Please browse through our guide to the best GE portable air conditioners for more information about the brand's portable ACs
My Verdict: How to Pick the Right 14,000 BTU AC for Your Home?
The air conditioner's maximum cooling output is one of the countless factors I consider while evaluating the unit's overall quality.
I think that choosing an AC type, checking the model's dehumidification capacities, or its EER rating can make it easier to find the right unit for the space you want to cool.
I suggest considering portable models like the Whynter ARC-14S or Honeywell MN4CFSWW9 with high-end features if you want to get a unit that won't occupy much space or generate a lot of noise.
The GE AHEK14AC is arguably one of the best window-mounted 14,000 BTU ACs on the market, and it is a reliable cooling option for most residential contexts.
Read More: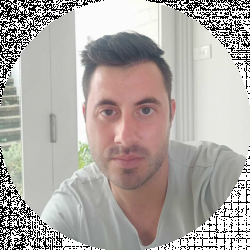 Latest posts by David Borgogni
(see all)