I don't like being too warm or too cold, so I use my HVAC system daily during cooling and heating seasons. Extensive HVAC system usage has prompted me to become familiar with the best 14x24x1 air filters because I change the unit's air filter every month during summer and winter.
The vast selection of models with different filtering capacities seemed intimidating initially because I didn't know which HVAC air filter would be the right fit for my system. However, it also presented me with an opportunity to test how different 14x24x1 air filters perform on my HVAC unit.
In this guide, I'll share the knowledge I acquired by using these filters to help you choose the model capable of improving your home's air quality. Also, I'll walk you through some of the best 14x24x1 air filters you can find on the market right now.
Bottom Line Up Front
Having a clear understanding of your unit's performance capabilities is, in my opinion, the vital aspect of choosing a 14x24x1 replacement air filter since a highly efficient model might be too restrictive for your cooling or heating system.
I recommend selecting a MERV 8 model like Nordic Pure Air Filters or Aerostar Air Filters if your AC, furnace, or HVAC system can't support filters with thick media such as FILTI 7500 Healthy Home Elite Series Air Filters and AIRx Allergy Air Filters.
What is MERV rating exactly? Check out this guide to find out.
My Top Picks At a Glance
Types of 14x24x1 air filters
The first thing I check when encountering a 14x24x1 air filter I never used before is its media material and surface. These two parameters help me determine the model's type and compare it with other filters from the same category.
Depending on which media material they use and media design, these filters can fall into one of the following categories:
Fiberglass – The only reason I'm mentioning this media material is so that you know to avoid it. The performance capabilities of filters with this media material match their low price, as they struggle to trap pollen, dust mites, and similar air pollutants.
Pleated synthetic – Most 14x24x1 filters use synthetic media material that doesn't absorb moisture. Pleated media design increases the media's surface and the filter's efficiency.
Electrostatically charged – Polypropylene, nanofiber, polyester, or synthetic are some of the media materials filters from this category can have. Electrostatic properties help the material retain a higher percentage of particles smaller than a micron.
Air filter dimensions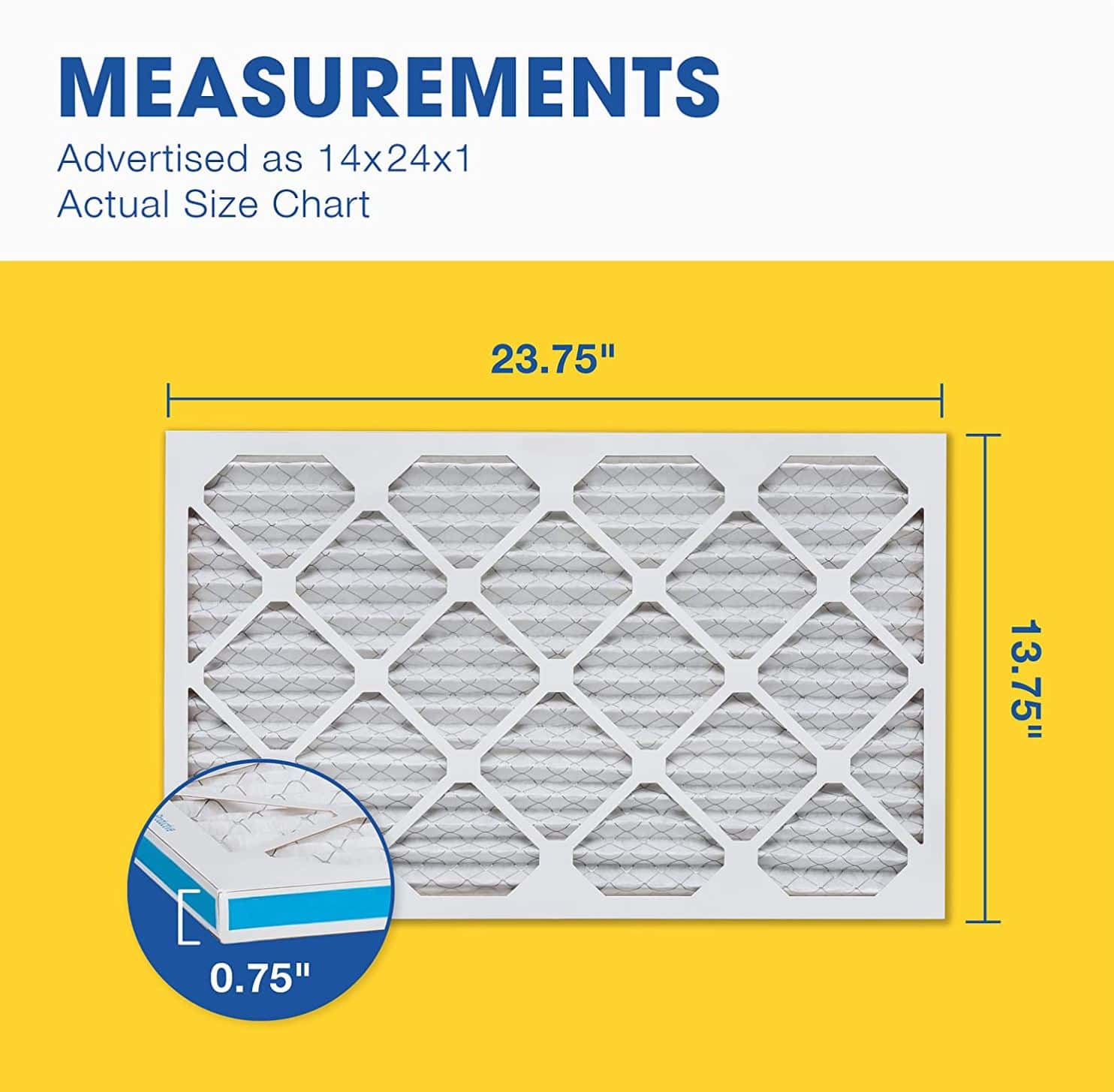 Like most homeowners, I struggled with fitment issues when I got my first HVAC system because I didn't know the difference between the filter's nominal and actual size.
However, it was enough to make this mistake a couple of times before realizing that doing the due diligence and checking the dimensions of my unit's vent and its original filter could save me hundreds of dollars over the years.
The filter's nominal size shows you the rounded value of its length, height, and depth, so a 14x24x1 model will be a quarter to half-inch smaller than its nominal dimensions.
Top tip: Using an air filter that isn't big enough for your unit can affect its coverage and allow the air quality air to escape into your home. 
That's why measuring the right dimensions of the filter you are replacing is an important step that will help you figure out the actual size your new filter should have.
Air filter ratings
The fastest way to find out which and how many air pollutants an air filter can trap is to check its efficiency rating.
However, the model's efficiency often depends on the size of its media material, as filters that retain a high percentage of particles smaller than micron can also restrict the unit's airflow and increase its power consumption because they have thick media.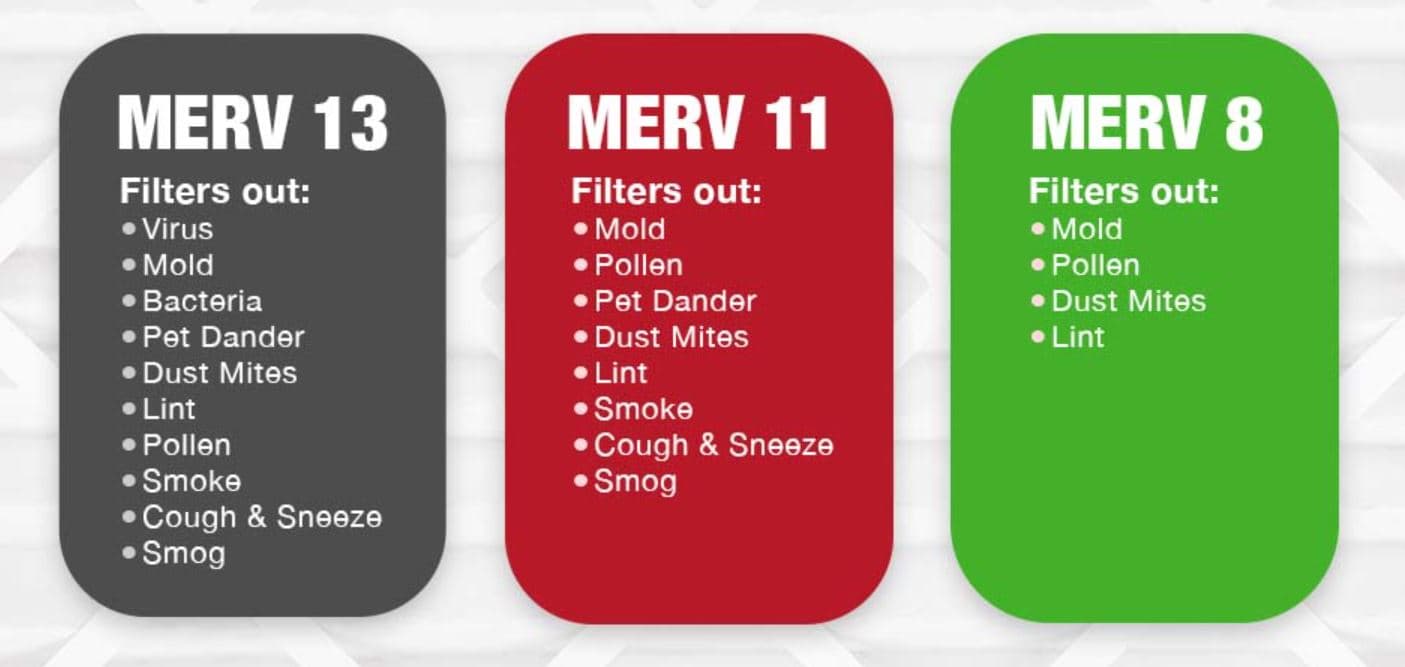 All 14x24x1 air filters have one of the following efficiency ratings:
MERV – Almost all 14x24x1 models produced by reputable brands have MERV ratings that indicate how efficient they are at trapping macrososcopic and microscopic particles. Experts don't recommend filters that have MERV ratings above 13 for residential use.
MPR – 3M, one of the industry-leading brands, developed the Microparticle Performance Rating. Hence, the brand's Filtrete models can have MPR ratings that range from 100 to 2,800.
The Home Depot also has an efficiency rating system for the air filters in its assortment, but the FPR is almost identical to the MERV rating.
Key features of 14x24x1 air filters
Besides the dimensions, media material, and efficiency rating, I also consider several other factors while deciding which 14x24x1 air filter to choose. For instance, the filter I use on my HVAC system has anti-microbial properties that prevent mold growth.
The model's dust holding capacity and its media's heat and moisture resistance are among the factors that help me determine its performance capabilities. Some filters with cardboard frames can bend if exposed to high humidity levels or hot temperatures.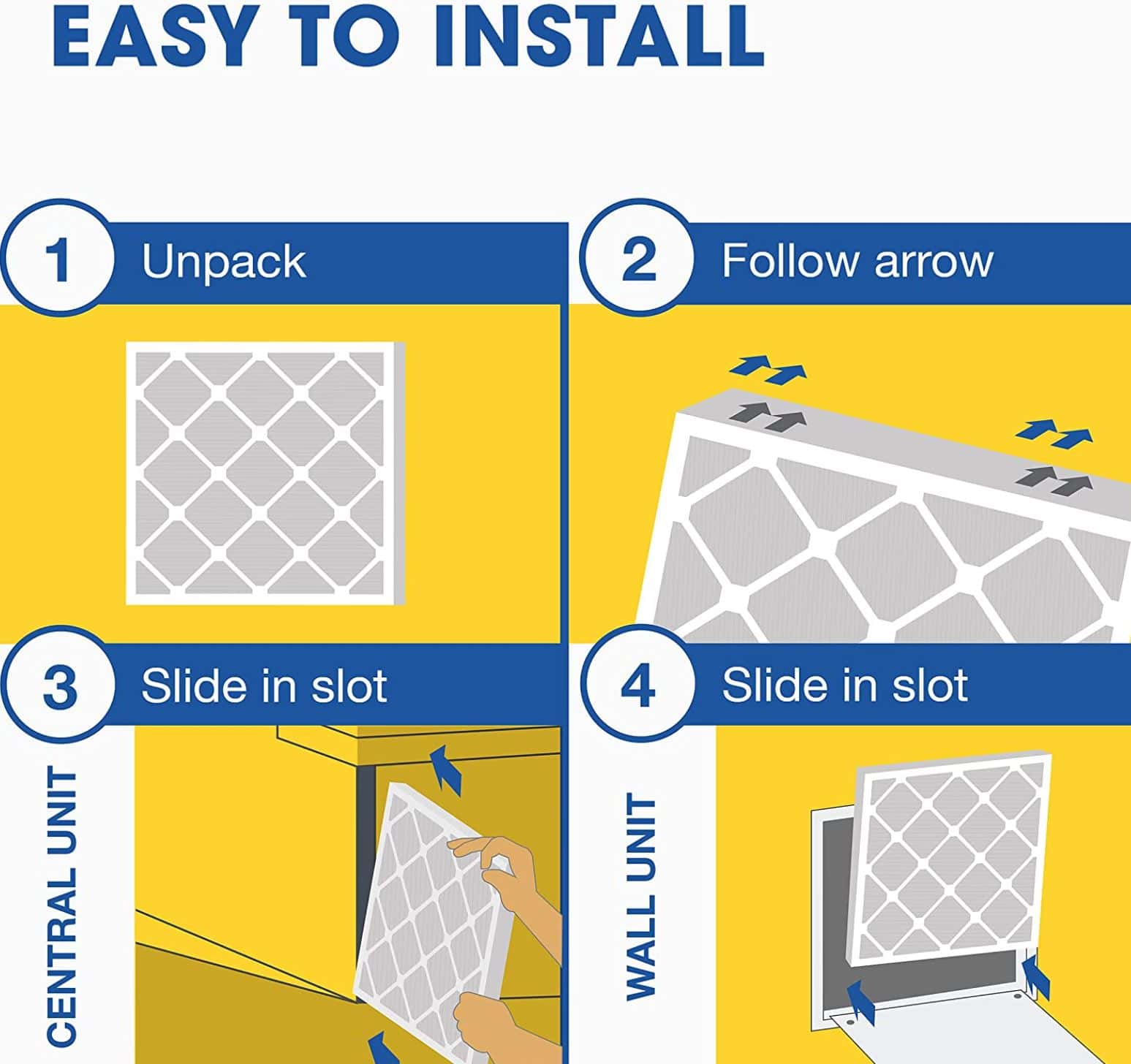 On the other hand, air filters with rigid metal frames can be hard to install on vents that are hard to reach.
Top tip: Don't overcommit to a single air filter brand. Test the 14x24x1 filters produced by several brands to determine which one is the best solution for your HVAC system, furnace, or AC. 
Some models can also absorb and neutralize odors, and they can be useful if you don't have an efficient way of dealing with cooking smells.
Upkeep and replacement frequency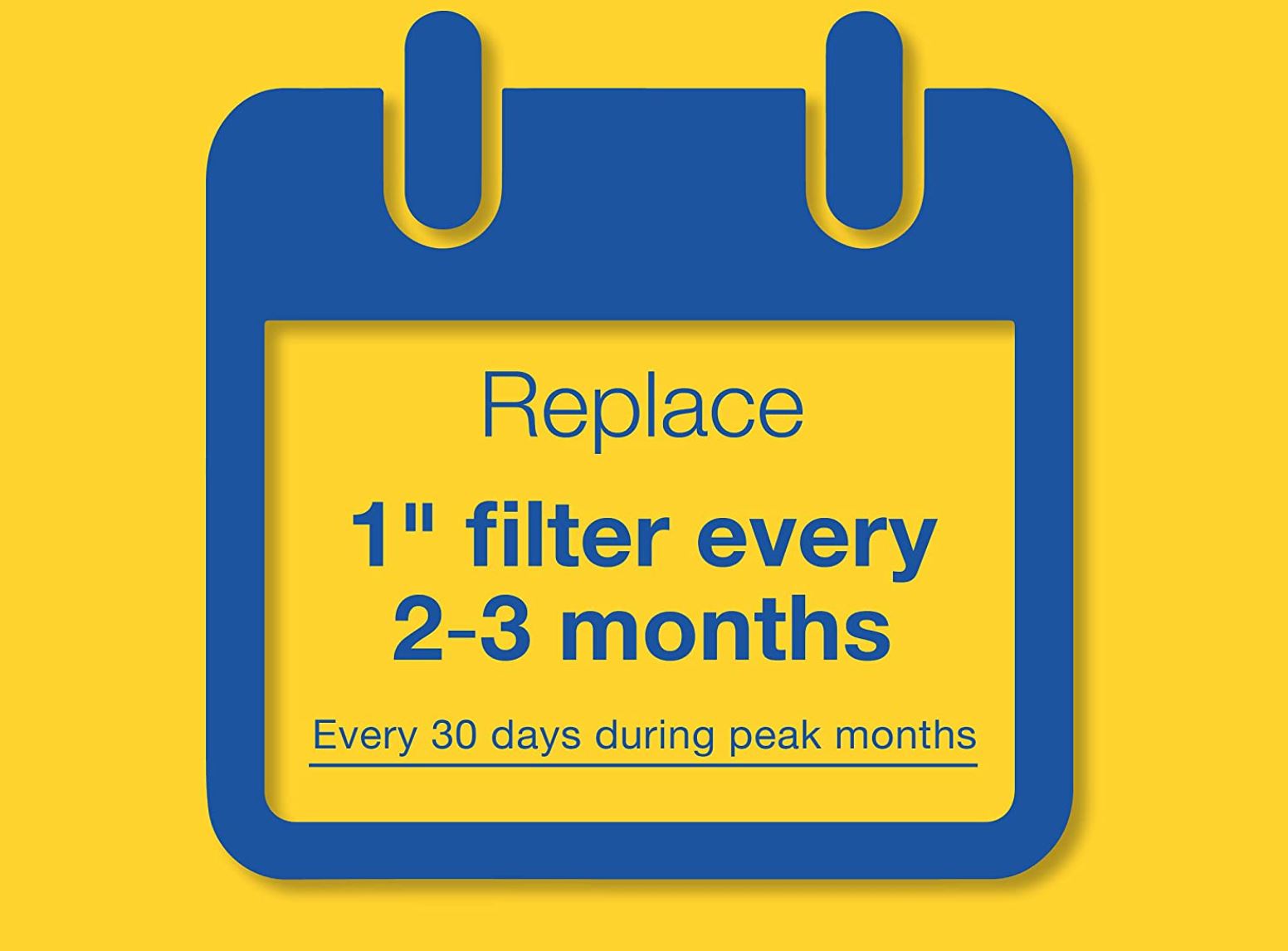 Most homeowners prefer using disposable air filters because they're more affordable and allow a wider margin of error. Opting for a washable model that doesn't quite fit your heating or cooling system can be an expensive mistake, as some reusable air filters are priced over $50.
Most manufacturers claim that their disposable 14x24x1 air filters maintain the same performance level as they accumulate dirt. Still, their average lifespan during the cooling and heating season varies from 30 to 45 days.
Air filters with high MERV ratings accumulate dirt quickly, and they require frequent checks to determine the right moment to change them. A single washable air filter can replace over thirty disposable ones, but removing all dirt they accumulate isn't always simple.
The average cost of a 14x24x1 disposable air filter varies from $5 to $20, while prices of reusable models range from $40 to $100.
Related reads based on Air Filter Sizes:
Selection criteria
I couldn't include all 14x24x1 air filters I wanted in this article because there are too many models capable of excellent filtering performances. That's why I had to rely on strict parameters to guide me through the selection process.
In addition to the model's dimensions, I also considered its construction quality, dirt holding capacity, and various other factors. Here are some of the key criteria I used to pick the best 14x24x1 air filters:
Efficiency rating – This parameter has helped me identify models suitable for a wide range of heating and cooling systems and eliminate those not recommended for residential use.
Affordability – My goal was to choose the best 14x24x1 air filters in each price range so that you can select the option that best fits your budget.
Related Air Filter Guides based on MERV ratings:
Top 9 14x24x1 air filters
AIRx Allergy Air Filters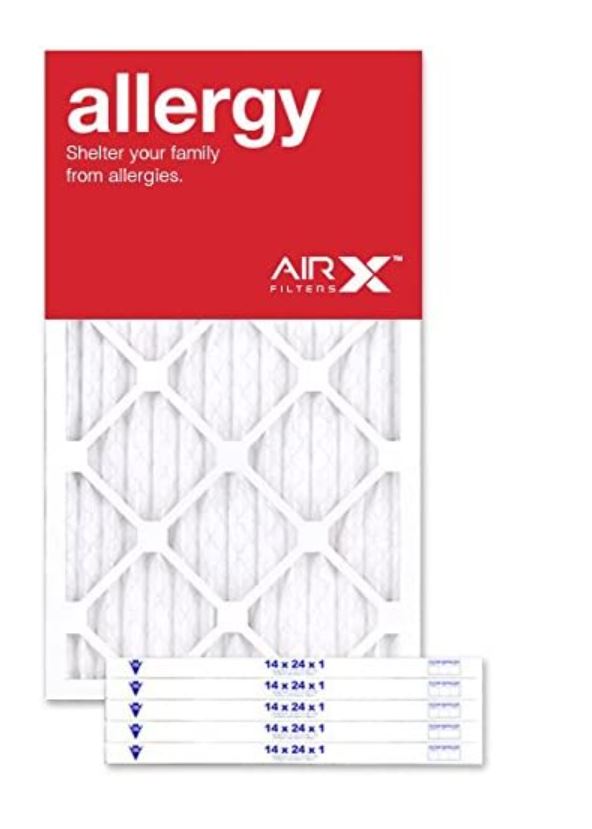 You'll have to check your heating or cooling system's specifications before buying AIRx Allergy Air Filters because they're too restrictive for my home's HVAC's system. As indicated by their MERV rating, these filters are highly efficient as they can capture more than 80% of particles larger than a micron.
Their pleated synthetic gradient media can function normally at temperatures above 200F and doesn't absorb moisture when the filter is used in humid conditions. The beverage cardboard frame and wire backing prevent media sagging.
Pros
Suitable for heating and cooling systems that are produced by different brands
It captures allergenic particles
The filter's not affected by heat or humidity
An affordable price
Cons
It can increase the system's power consumption
Aerostar Air Filters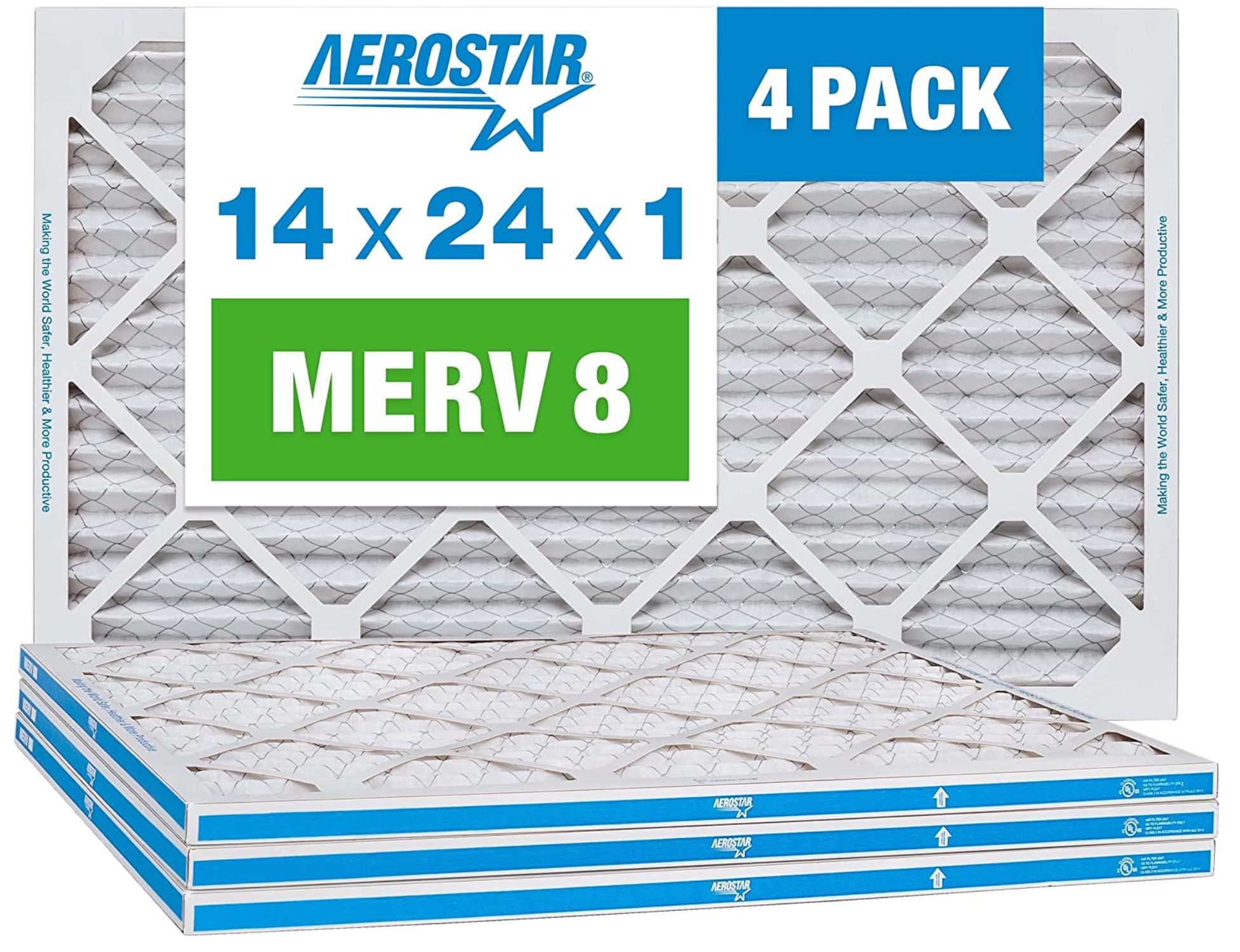 I use MERV 8 models similar to Aerostar Air Filters in my home because they're a safe choice for my cooling and heating system that doesn't support high-efficiency filters.
What I like about this model is that its electrostatically charged synthetic media collects more than 90% of air pollutants larger than 3 microns, such as pollen, dust mites, or mold spores.
The filter has a low airflow resistance, so it won't affect the unit's performance. However, its dirt holding capacity is limited, and you'll have to change it monthly.
Pros
Aerostar Air Filters are available in various sizes
Strong and durable construction
It protects the unit's key components from dirt accumulation
Cons
The filter has a short lifespan
FILTI 7500 Healthy Home Elite Series Air Filters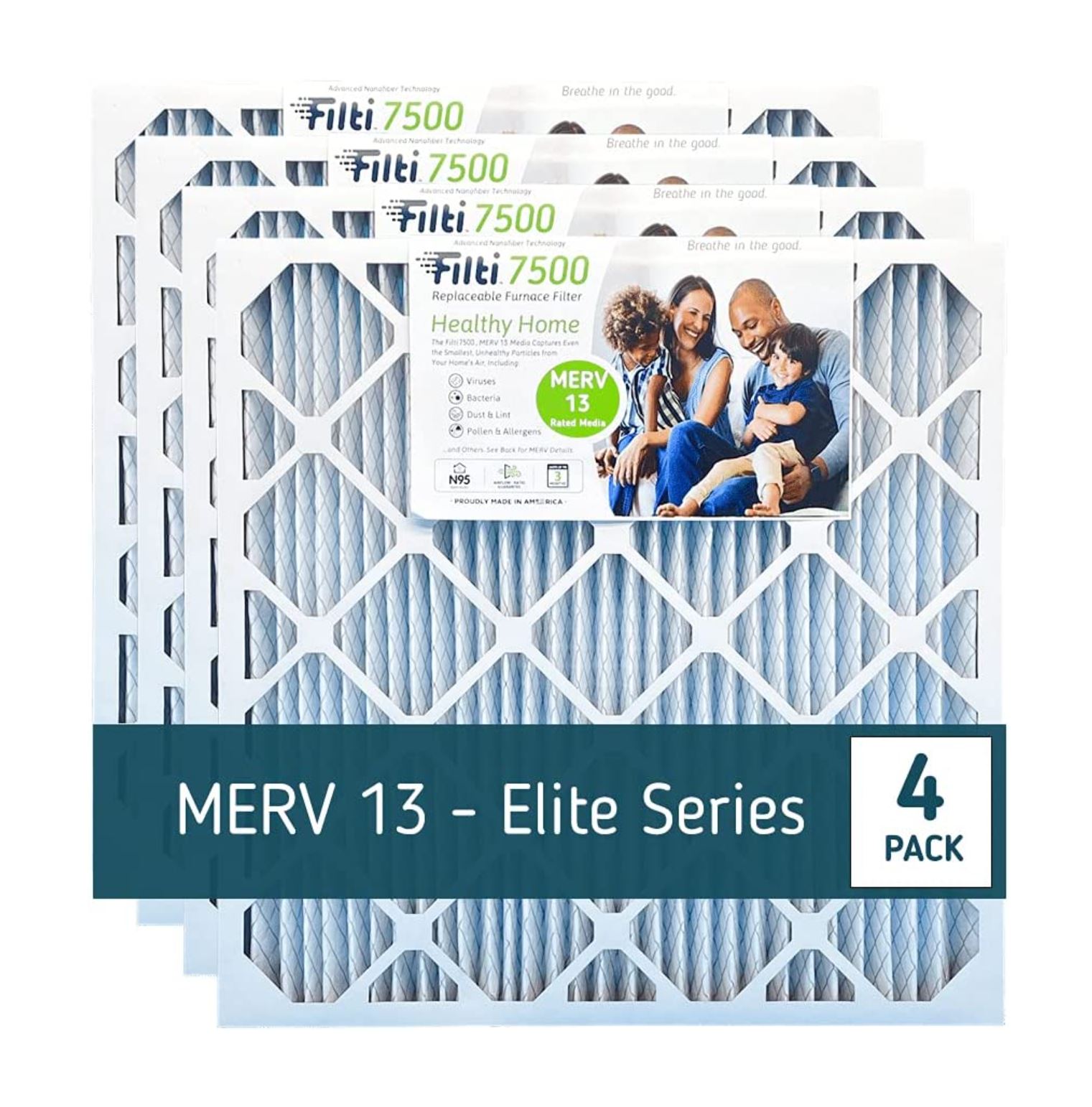 I recommend considering FILTI 7500 Healthy Home Elite Series Air Filters if you suffer from allergies or live in polluted areas. This MERV 13 air filter traps around 75% of viruses, smog particles, and similar microscopic air pollutants that reach the surface of its nanofiber media.
The model's three-layer construction includes a metal backing and a composite element that protect the nanofiber media from heat and humidity. In my opinion, the only real disadvantage of this filter is its low dirt-holding capacity which limits its lifespan to around a month during warmer and cooler seasons.
Pros
A unique three-layer design
Suitable for households with pets
The frame isn't prone to warping
The installation process is relatively easy
Cons
This filter might cause a pressure drop
Filtrete Clean Living Basic Dust Air Filters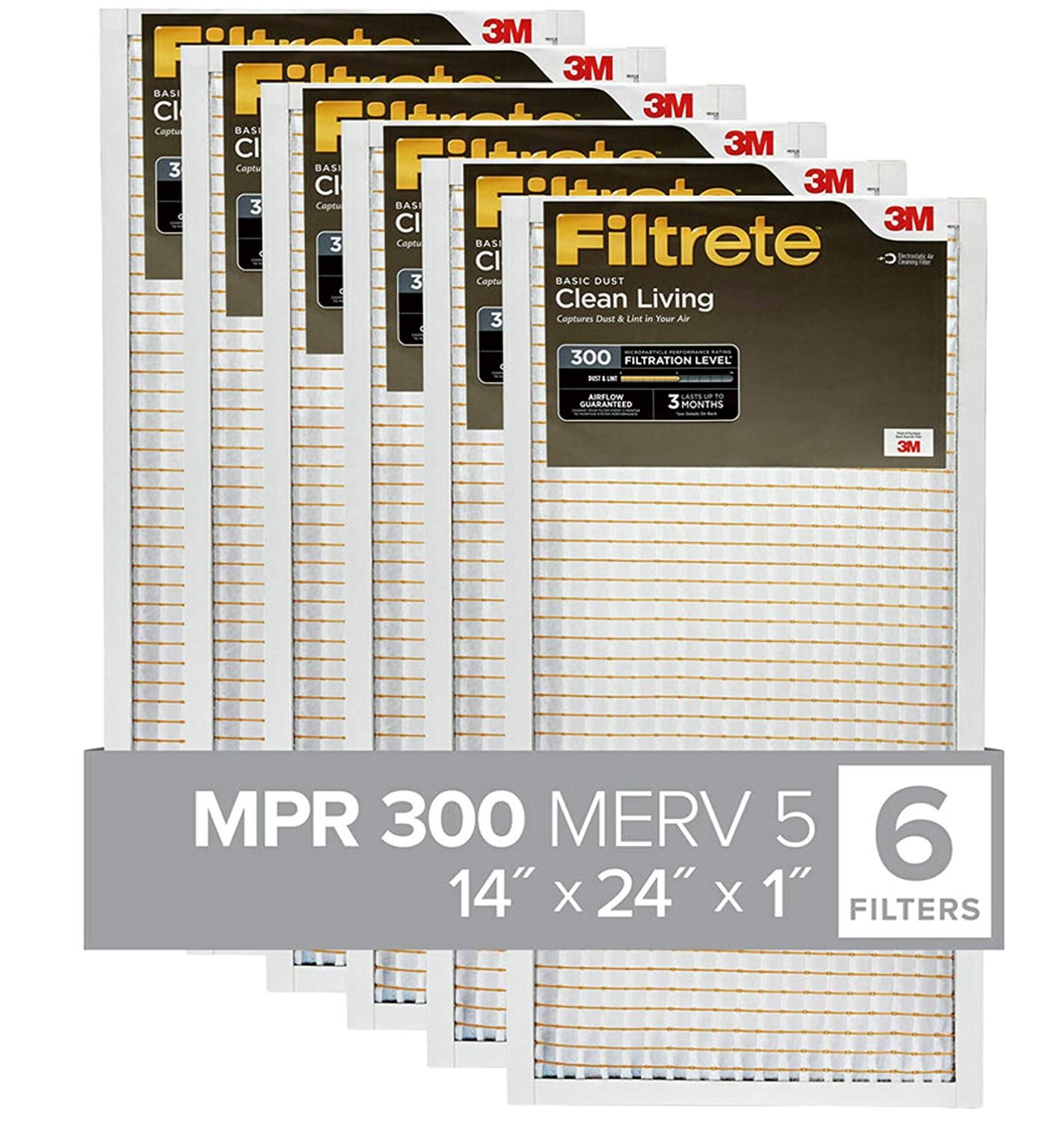 Even though they cannot capture microscopic particles, I believe that Filtrete Clean Living Basic Dust Air Filters are a reliable choice for most households. Like all 3M's air filters, this model has a sturdy frame that can withstand moderate heat and humidity.
Its electrostatically charged synthetic media is moisture-resistant, so you don't have to worry about bacteria and mold growth. The filter's low airflow resistance maximizes the unit's performance and ensures its power consumption remains unchanged.
Pros
All parts are made of high quality materials
Less expensive than most 3M Filtrete air filters
It doesn't restrict the airflow
Cons
It's not a good option for homeowners with strong allergies
Trophy Air Washable Air Filter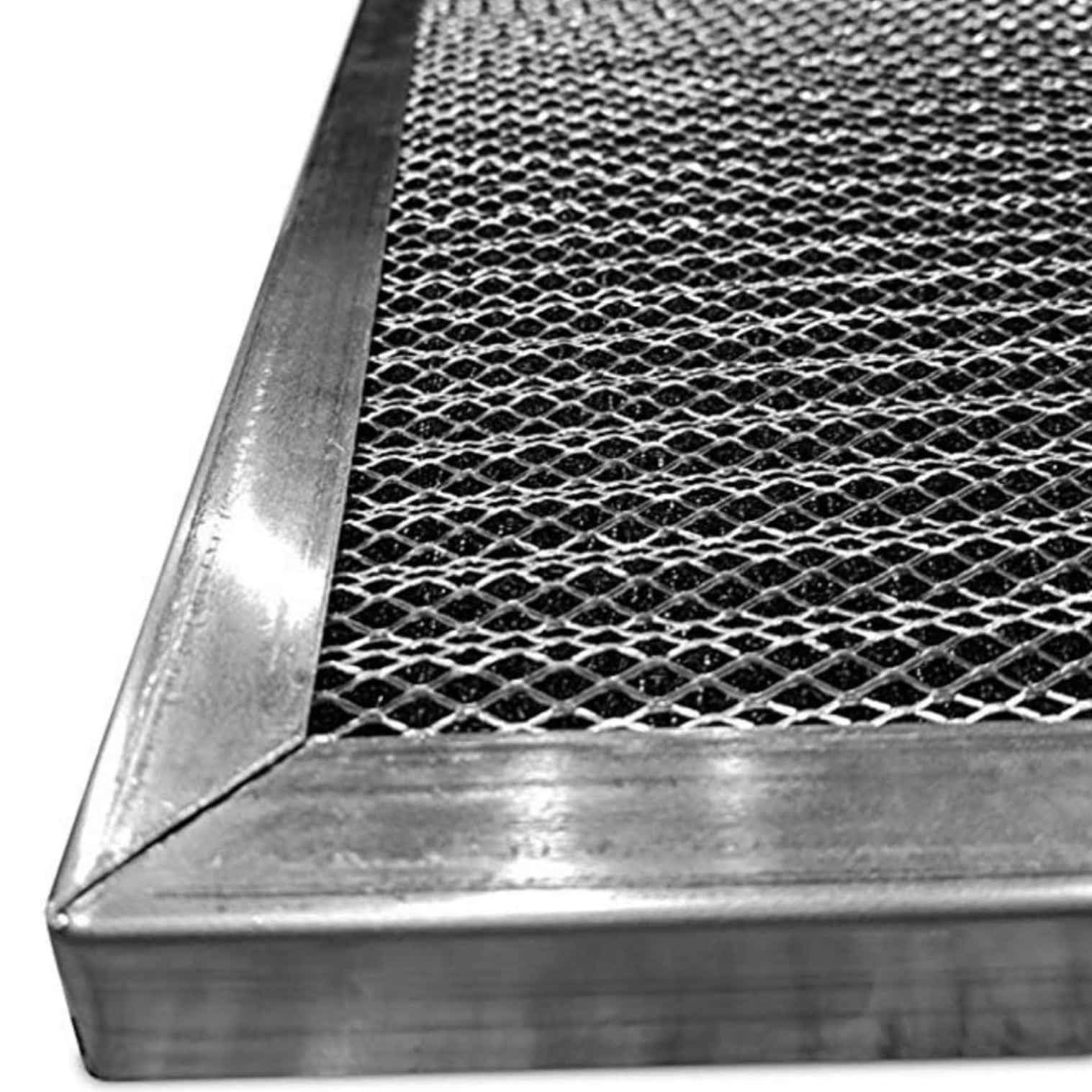 An affordable price and sturdy construction, the Trophy Air Washable Air Filter is a great option for most HVAC, heat pump, AC, or furnace systems. I've learned that a single reusable filter can maintain my unit's efficiency at the same level while significantly cutting down my costs.
This reusable model has two-layer electrostatic media that traps most large air pollutants that pass through it.
However, it can't trap microscopic allergenic particles or viruses. The aluminum frame and metal backing aren't prone to corrosion and perform well at high temperatures. The filter does not have a high dirt holding capacity and requires frequent cleaning.
Pros
The filter remains in good condition for several years
The media doesn't lose electrostatic properties quickly
The frame doesn't bend
This filter is inexpensive
Cons
It doesn't trap a large percentage of microscopic air pollutants
K&N Washable Air Filter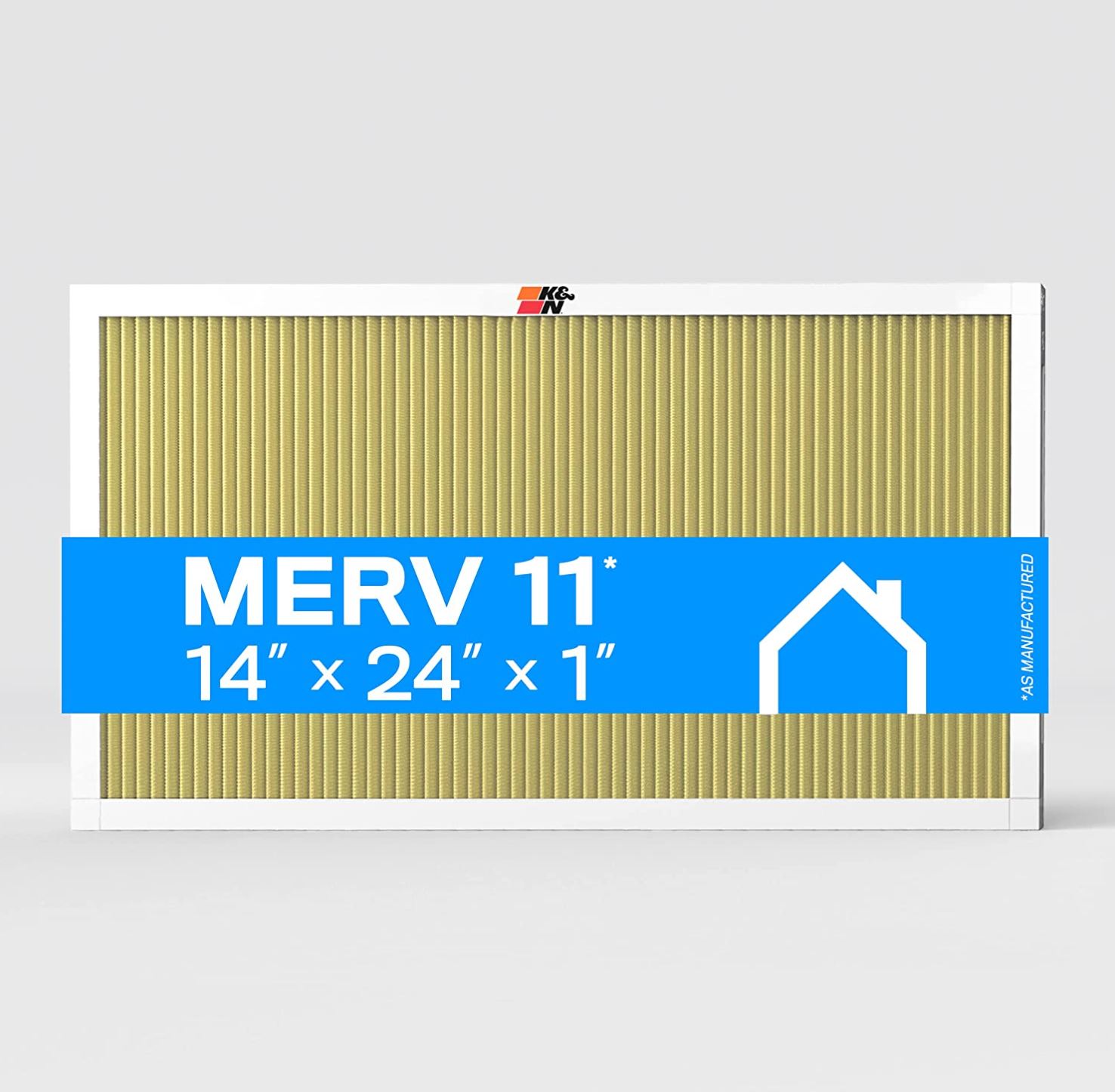 Getting a K&N Washable Air Filter will eliminate the need to look for its replacements for at least two years, even if you change disposable air filters on your unit every month. However, I don't recommend buying this filter before making sure it is compatible with your heating or cooling unit.
Its pleated synthetic media doesn't have electrostatic properties, but despite this, it can still reduce dust levels in your home or help alleviate allergy symptoms. Media material is held in place by a galvanized steel mesh backing and the ABS plastic frame.
Cleaning the filter is easy, as you have to apply the K&N HVAC Filter Cleaner and rinse it with water.
Pros
Remarkable filtering efficiency
It reduces the heating or cooling unit's upkeep costs
The frame and backing are made from durable materials
It performs well in challenging conditions
Cons
It might increase the system's power draw
Nordic Pure Air Filters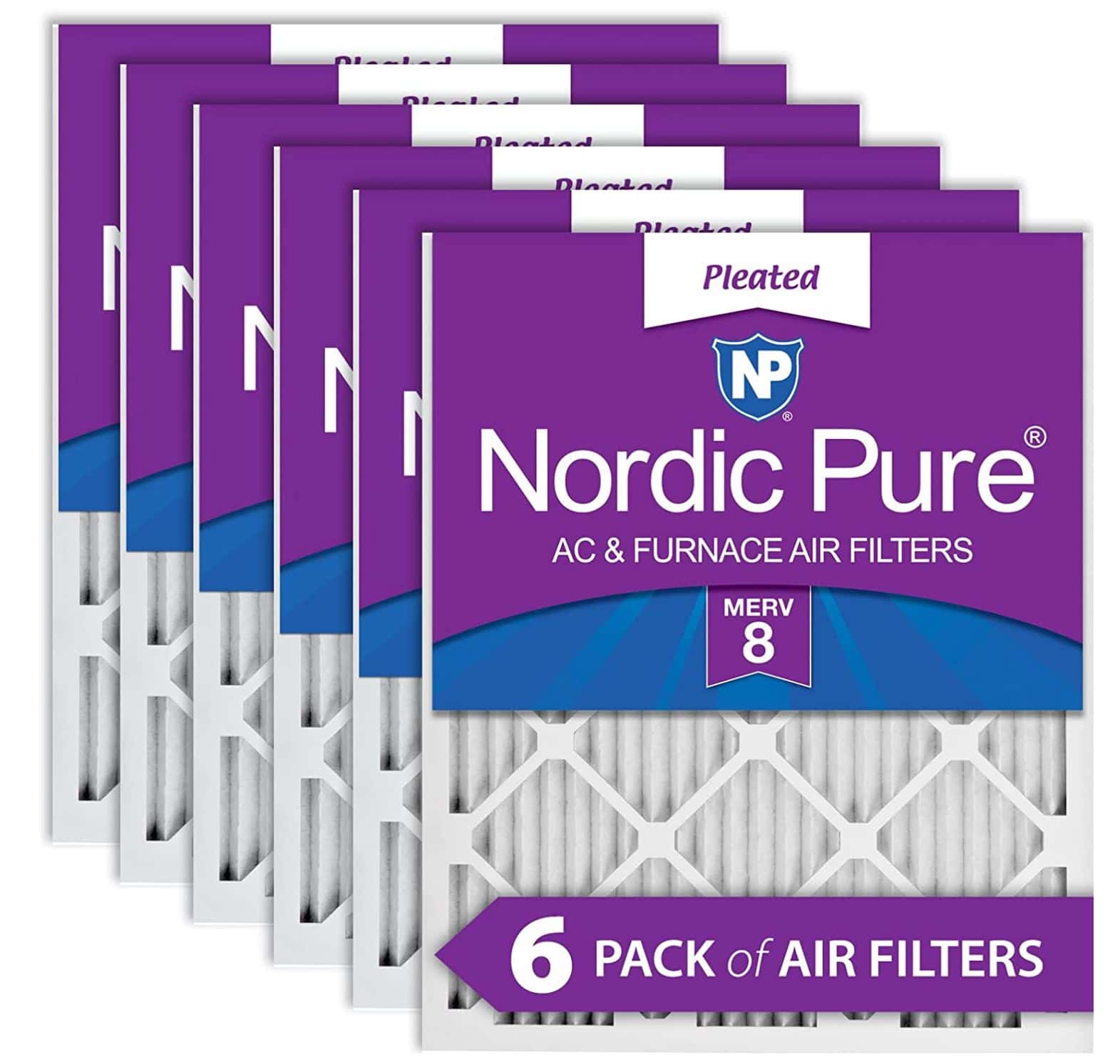 Although they're not one of the brand's most efficient models, Nordic Pure Air Filters still helped me improve air quality in my home. The MERV 8 rating indicates that their electrostatic synthetic pleated media can capture the most air pollutants like mold, lint, or dust.
Also, I find it important that the material's properties prevent bacteria and mold growth on the filter during its 90-day lifespan because I live in a region with a humid climate. The filter has a beverage-board cardboard frame that does not bend when exposed to high temperatures or air pressure.
Pros
A cost-effective solution for most HVAC, furnace, or AC units
Media has a high number of pleats per foot
Straightforward installation process
Low airflow resistance
Cons
Carter Washable Air Filter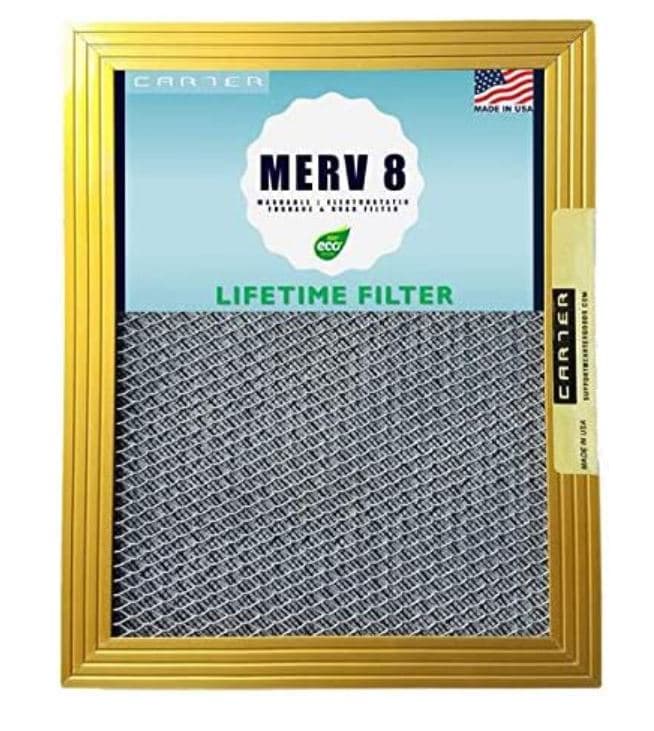 A high arrestance and low airflow resistance are, in my opinion, among the main advantages of the Carter Washable Air Filter.
The model's multilayered electrostatic polypropylene media isn't pleated, but despite this, I was impressed by its ability to capture air contaminants from the air that passes through the filter.
The aluminum frame and steel mesh backing support the media material and prevent it from moving. The media can hold more than 160 grams of dirt, so you won't have to clean the filter often. I recommend using the CEF Electrostatic Air Filter Cleaner to remove all accumulated dirt from the media.
Pros
The filter has a low airflow resistance
It isn't affected by heat or humidity
The filter has a high dirt holding capacity
It has a lengthy lifespan
Cons
Actual dimensions could cause fitment problems
Arm & Hammer Air Filters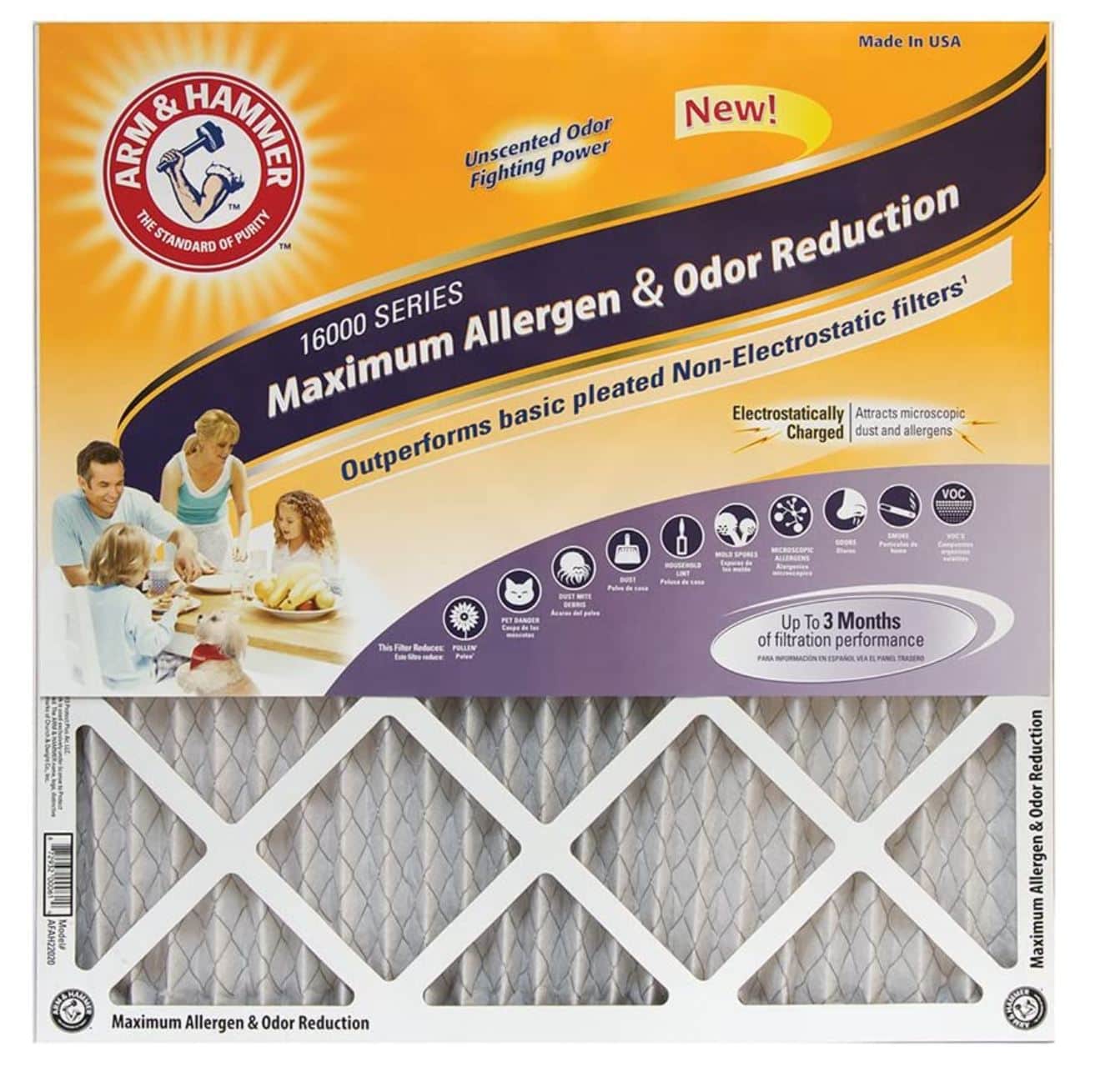 Besides improving the air quality in my home, Arm & Hammer Air Filters has also helped me neutralize unpleasant bathroom and kitchen smells.
This MERV 11 model captures allergenic micro particles, pollen, and dust mites, which makes it a good option for homeowners who, like me, are prone to string allergic reactions to these particles.
Its electrostatically charged pleated media contains baking soda, Oguard II, and carbon granules that neutralize most odors and VOCs. I've never seen the filter's cardboard frame warping in hot or humid conditions.
Pros
The filter has a large media surface
It eliminates most odors
Designed for allergy sufferers
Cons
It's more expensive than most 14x24x1 air filters
Frequently asked questions about 14x24x1 air filters
Question: Do 14x24x1 air filters protect against coronaviruses?
Answer: The size of the coronavirus is one micron, so most 14x24x1 air filters can't offer protection against this virus.
Question: How much dirt can a disposable 14x24x1 air filter hold?
Answer: The dirt holding capacity of these filters depends on the model and varies from 5 to 10 grams.
Question: What is a smart 14x24x1 air filter?
Answer: Bluetooth-enabled models are called smart air filters because they allow users to monitor their performance or receive notifications to replace the filter.
With a bit of luck, this article has helped you gather the information you need to find the 14x24x1 replacement air filter for your cooling or heating system. Please browse through our Perfect Aire Dehumidifier review to find out how this model can help you control humidity levels in your home.
My verdict: How to know which 14x24x1 air filter is best?
The air filter you choose should be able to keep the air quality in your home at an acceptable level and protect the unit's components from dirt accumulation. That's why the best option is a model with a filter efficiency rating suitable for your cooling or heating system.
I recommend choosing Nordic Pure Air Filters or Aerostar Air Filters if you don't have high air quality requirements because they won't increase you're unit's power consumption or restrict its airflow.
AIRx Allergy Air Filters or FILTI 7500 Healthy Home Elite Series Air Filters can help you eliminate microscopic allergenic particles. Still, you must ensure they're compatible with your heating or cooling system before buying them.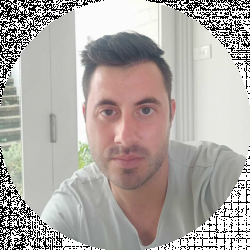 Latest posts by David Borgogni
(see all)