Indoor humidity can cause a myriad of health problems, and it creates a fertile ground for the development of air pollutants. In this Perfect Aire Dehumidifier review and guide, we're going to take a look at several models that can help you keep air humidity levels in the recommended range.
Like all humidity control systems, Perfect Aire's dehumidifiers can reduce or eliminate mold accumulation, moisture condensation, and other symptoms of high air humidity. However, their dehumidifying capacity depends on the model.
This brand manufactures dehumidifiers intended for use in residential and commercial settings, so the model you choose should be adjusted to the context in which you're planning to use it.
Our Perfect Aire dehumidifier guide is going to walk you through the most important features of these electrical appliances and help you choose the one that meets all your needs.
Read our guide to mini-split systems to find out how you can use them to control air humidity levels in your home.
At a Glance – Top 4 Perfect Air Dehumidifiers
Selection criteria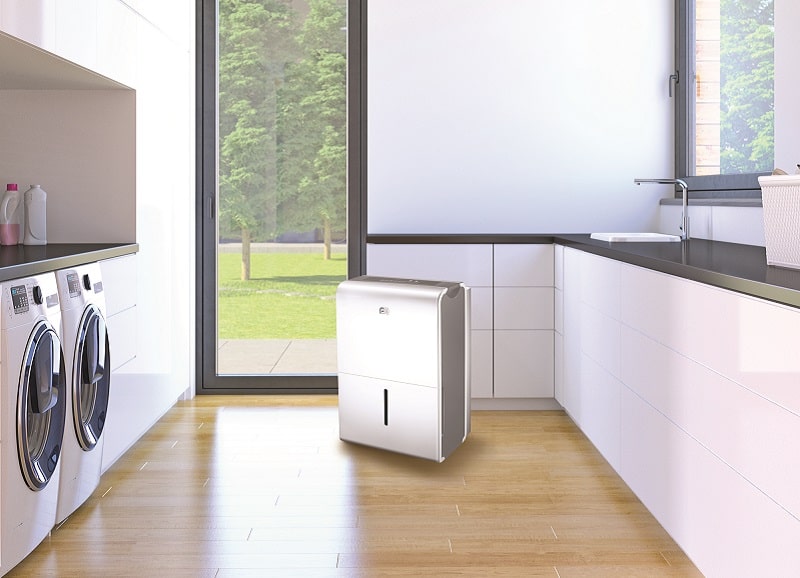 Currently, the brand's selection of dehumidifiers includes 11 models that have similar sets of features. The key difference between Perfect Aire's dehumidifiers is their dehumidifying capacity since you can opt for a model that can absorb 8 or 250 pints of moisture in 24 hours.
We utilized several search parameters that helped us choose the models that are designed for small and large indoor spaces. Here are some of the most important parameters we used to select the Perfect Aire dehumidifiers featured in this article.
Dehumidification capacity:
Figuring out which dehumidifier size you need isn't always simple since several factors can affect the unit's coverage range. That's why we selected models with different dehumidification capacities so that you can choose the one that fits your requirements.
Energy efficiency:
Although they don't use as much power as heating and cooling systems, dehumidifiers can increase your household's monthly power consumption. Most models you'll find in this article are Energy Star certified, and they don't need a lot of power to keep the air humidity at a constant level.
Portability: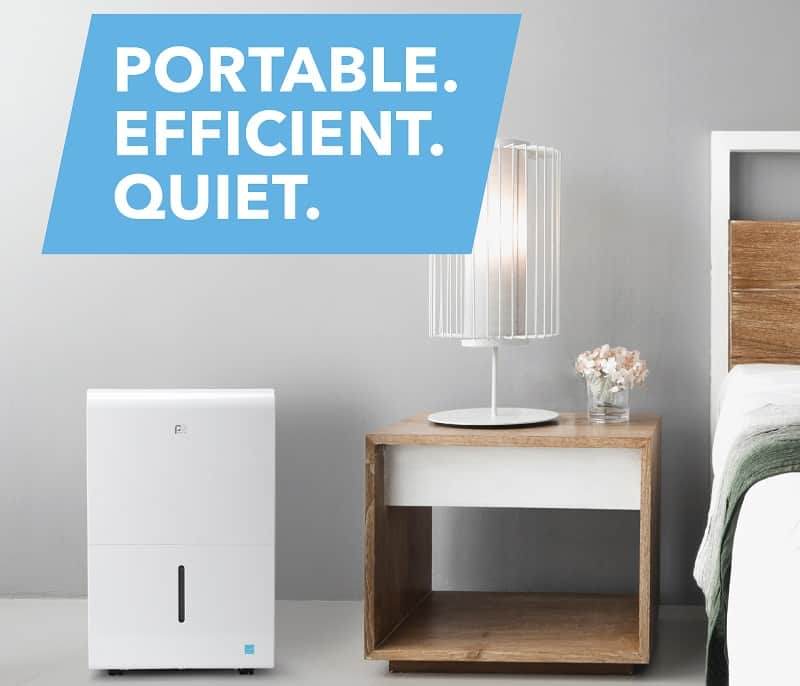 A heavy and bulky dehumidifier is difficult to move, so we only considered easily portable models.
Go through our guide to heating systems if you're searching for an economical heating solution for your home.
Key factors to consider before buying a Perfect Aire dehumidifier
Frigidaire, LG, or Midea are some of the brands that offer dehumidifier models that perform at the same level as Perfect Aire's models. So, the first thing you'll have to do during your search for a new dehumidifier is to compare the prices and features of models produced by several different brands.
Doing so will provide you with the information you need to decide if a Perfect Aire dehumidifier is the best option for you.
Besides looking at the brand's competition, several other factors can help you choose the right Perfect Aire dehumidifier, so let's take a look at some of the most important ones.
Get familiar with the brand's dehumidifier models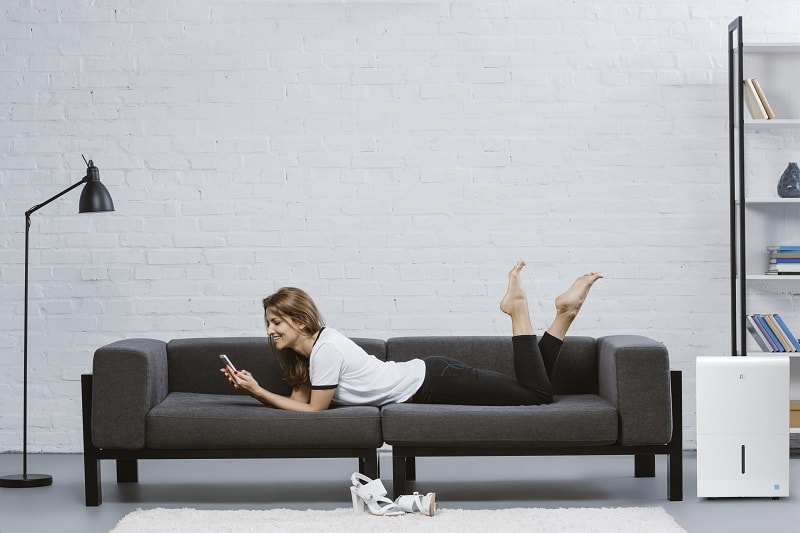 Perfect Aire currently offers 11 dehumidifier models capable of absorbing between 8 and 250 pints of moisture per day. In addition, all models offer the continuous drain option that allows you to dispose of humidity as soon as the dehumidifier absorbs it.
Dehumidifiers produced by this brand can be divided into the following categories:
Residential dehumidifiers:
The dehumidifying capacity of these models span from 8 to 60 pints per day. All models feature water buckets, but they can also be connected to a garden hose for continuous drainage.
Commercial dehumidifiers:
These units are larger and heavier than residential dehumidifiers, which is the reason why they're equipped with a pair of wheels. They also have a duct ring that allows you to connect them to an HVAC system.
All of the brand's dehumidifiers are equipped with a soft-touch control panel that grants you quick access to the unit's functions or informs you if the water tank is full. Read our Danby dehumidifier review for more information about this residential dehumidifier.
Measure the size of the area you want to dehumidify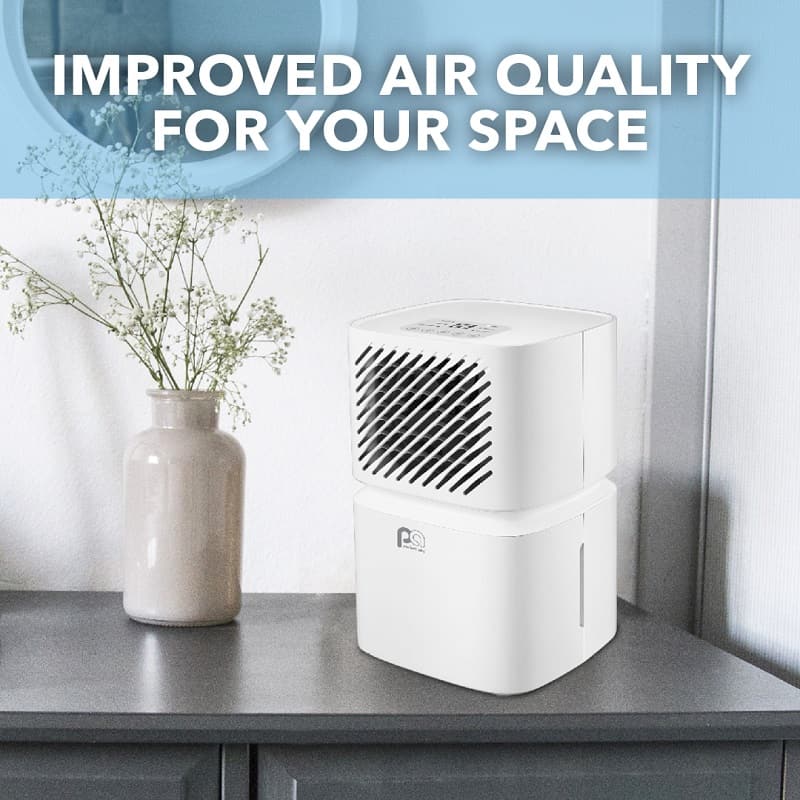 Calculating the dehumidifier's coverage range is tricky because it often depends on the current weather conditions and the room's humidity level. Also, you'll need to calculate the size of a room in cubic feet to know which Perfect Aire dehumidifier to get.
Broadly speaking, models with dehumidification capacity below 20 pints per day are best suited for crawlspaces, bathrooms, and similar spaces that can be affected by high levels of humidity.
Units that can absorb between 22 and 60 pints of moisture in a day can dehumidify spaces that have up to 2,000sq/ft.
Perfect Aire's dehumidifiers are lightweight and portable, and you can easily move them from one room to another if you decide to opt for a model with a relatively limited dehumidification capacity.
Go through our guide to casement window ACs if you need a unit that can help you control the air temperature and humidity levels.
Check the model's power consumption.
Dehumidifiers draw significantly less power than ACs or water heaters since their power consumption rarely exceeds 700W. So, the Perfect Aire dehumidifiers you choose won't consume more power than your computer.
Moreover, some of the brand's residential dehumidifiers are Energy Star certified, meaning they're highly energy-efficient. Commercial models that can absorb more than a hundred pints of moisture per day are not Energy Star certified, and they may draw over 1,000W of power.
Although a Perfect Aire dehumidifier isn't going to significantly increase your household's power consumption, checking how much power it draws can help you determine if a specific model is a right choice for you.
Read our Gree mini-split model guide if you're looking for a new ductless AC system.
Learn more about the model's water disposal system
All residential Perfect Aire dehumidifiers store the moisture they absorb in a water bucket, offering the continuous drain option.
The water bucket's storage capacity isn't the same as the unit's daily moisture absorption capacity, and you may have to empty the water bucket a few times a day if you're using the dehumidifier in a room with a high level of air humidity.
For instance, the Perfect Aire's 8-pint model comes with a 4.6-pint bucket, so you'll have to empty its water bucket at least once if you leave the unit running for 24 hours.
Utilizing the continuous drain option without a standard garden hose is impossible, but you should keep in mind that only some Perfect Aire dehumidifiers come with this accessory. Read our Blueridge mini-split review to learn more about its cooling and heating capacities.
The cost of Perfect Aire dehumidifiers
Depending on its size, intended use, and features, a Perfect Aire dehumidifier can cost $150 and $2,800. Most residential models cost less than $600, so you can get a dehumidifier capable of absorbing high volumes of moisture at a relatively affordable price.
Units that can absorb up to 35 pints of moisture per day cost less than $300. Of course, the price of Perfect Aire's dehumidifiers can also depend on a retailer, which is the reason why you should compare the different prices retailers offer for the model you're interested in.
Check out our guide to the best inline duct fans if you're looking for a way to improve the dehumidification capacities of your home's ducting system.
Choosing the right Perfect Aire dehumidifier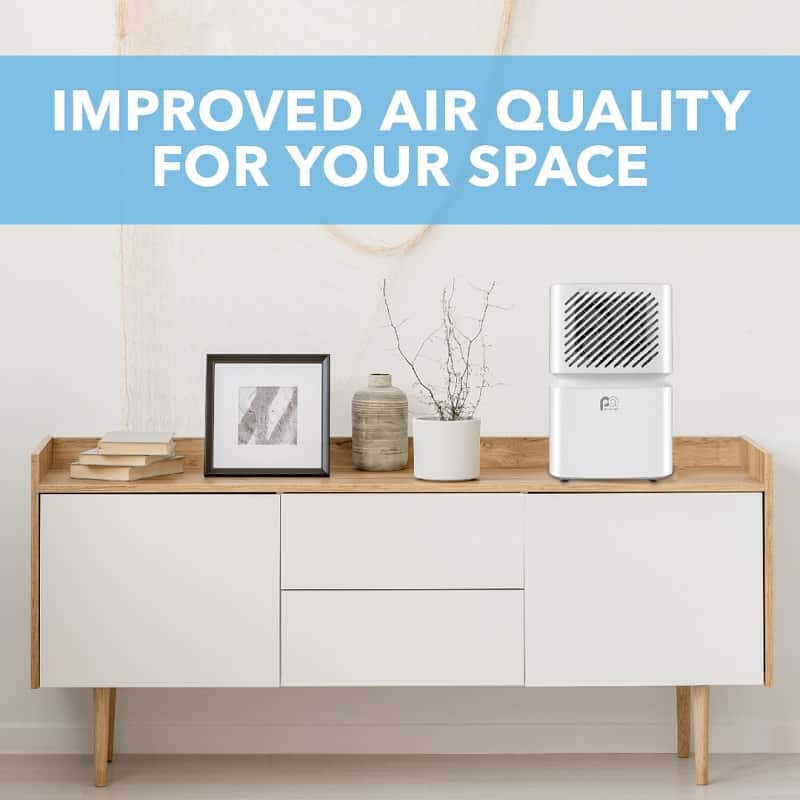 Finding a Perfect Aire dehumidifier shouldn't be too difficult if you already know the size of the unit you're looking for. The brand offers only eight units designed for residential use that can absorb up to 60 pints of air humidity in a day.
So, depending on how humid or large the space you want to dehumidify, you can opt for an 8-pint or 50-pint model. We've shortlisted several factors that can make the process of selecting a Perfect Aire dehumidifier even easier, so let's take a look at them.
Learn more about the dehumidifier's features
The features of Perfect Aire dehumidifiers are more or less identical since all models allow users to switch between different modes or adjust the fan speed. In addition, all units have a Full Tank indicator that informs the user when to empty the water bucket.
However, some models don't have the pump mode that allows vertical drainage. Going through the dehumidifier's features will provide you with an insight into its performance capacities.
Don't forget about the model's portability
Although portability might not seem like an aspect you should pay a lot of attention to, getting a heavy and bulky unit can make it difficult to move and use a dehumidifier in different parts of your home.
Moreover, only models designed for commercial use have wheels, while residential Perfect Aire dehumidifiers can only be carried from one location to another. It is worth adding that the weight and dimensions of these dehumidifiers vary from model to model.
Go through the dehumidifier's warranty
Perfect Aire offers a No-Hassle 1-year warranty for all of its dehumidifiers, including free replacement of the unit's components. The brand also has an optional extended warranty that can last for up to three years, but you should keep in mind that this warranty isn't free.
These warranties protect your appliance only under certain conditions, so you might not be able to get a free part replacement even if you purchase the extended warranty.
Check the upkeep requirements
Aside from emptying the water bucket, you won't have to do much else to keep a Perfect Aire dehumidifier in good condition. All units are equipped with reusable air filters that require cleaning once in a few months. These dehumidifiers can last for 5 to 10 years with minimum upkeep.
The advantages of Perfect Aire dehumidifiers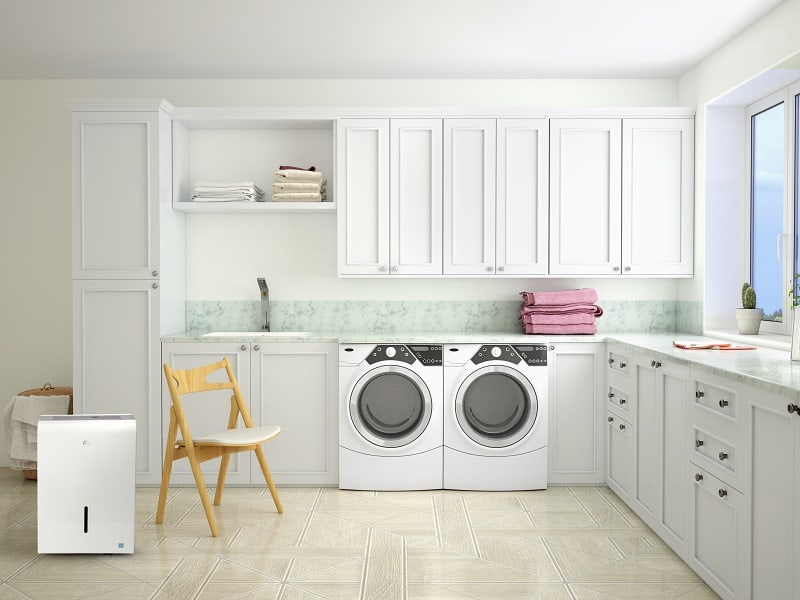 Effortless air humidity control
Adjusting the air humidity levels in your home with Perfect Aire dehumidifiers is easy since all of the brand's models allow you to set the preferred air humidity level with a push of a button.
Multiple water disposal options
All Perfect Aire dehumidifiers have a continuous drain feature that allows you to connect them to a garden hose and dispose of the water instantly. In addition, all models have water buckets that can store up to 12.7 pints of water.
Excellent low-temperature performance
You can continue using Perfect Aire's dehumidifiers even when temperatures drop to 50F or 45F since models designed for residential use control the defrost process automatically and defrost the evaporator as soon as ice accumulation is detected.
The disadvantages of Perfect Aire dehumidifiers
Limited water bucket capacity
Unless you decide to use the continuous drain option, you'll have to empty the water bucket often, especially if you use the unit in spaces with high air humidity levels.
Short warranty period
Perfect Aire's 12-month warranty period is short when compared to warranties issued by competing brands.
Top 4 Perfect Aire dehumidifiers
Perfect Aire 1PAD8 – The best Perfect Aire dehumidifier for tight spaces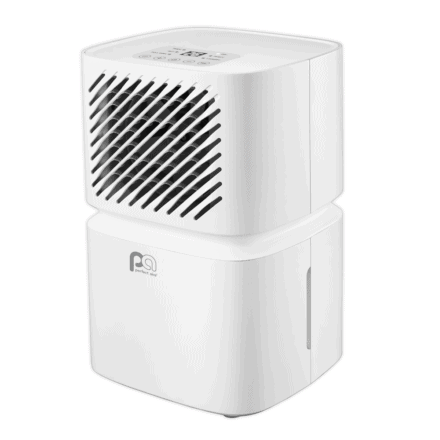 With the dimensions of just 15.75 x 10.25 x 10-inches, the Perfect Aire 1PAD8 is a nearly ideal dehumidification option for tight spaces. Its coverage area is limited since the unit can't absorb more than 8 pints of moisture per day, but you can still use it to dehumidify spaces that have up to 250sq/ft.
The 1PAD8 has the automatic shutdown option that switches it off when its water bucket is full, as well as the Full Tank indicator that reminds you to empty the bucket. The unit has a 24-hour timer that allows you to program it to switch on and off at specific hours.
Perfect Aire 1PFD35 – The best residential Perfect Aire dehumidifier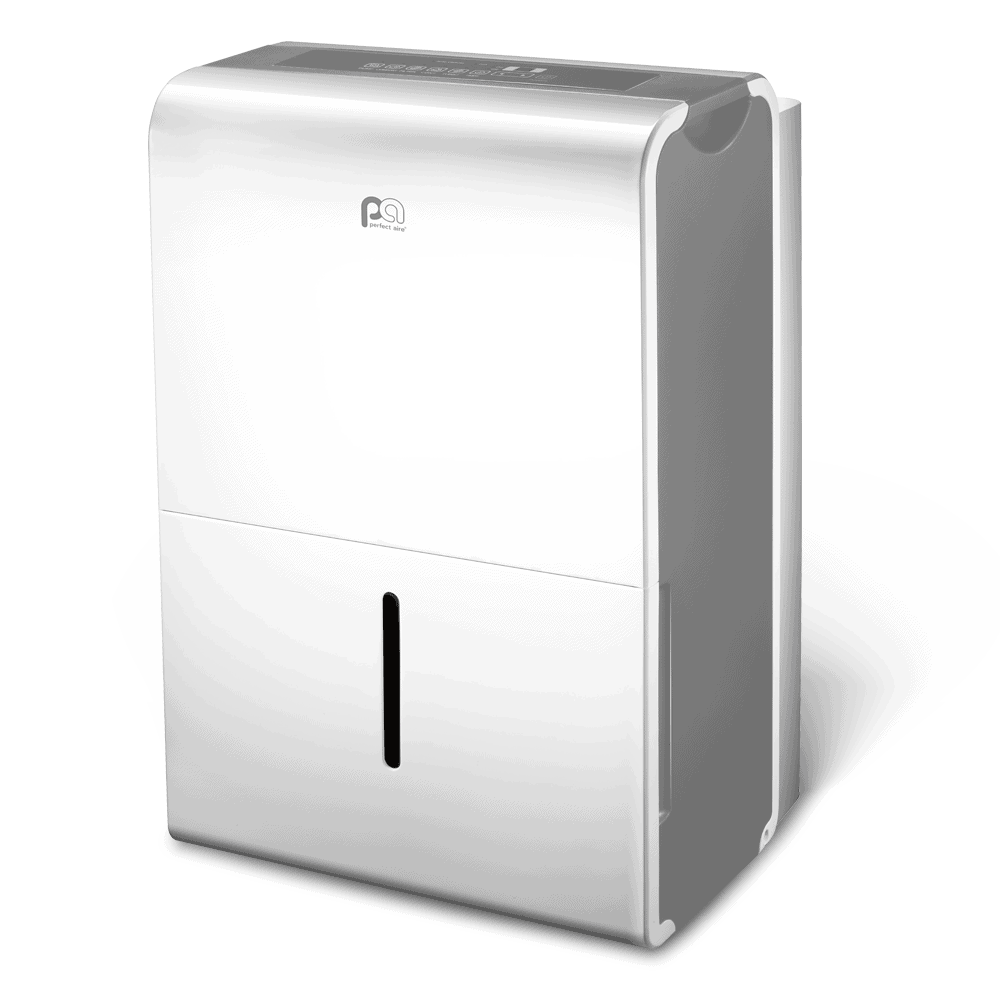 You can use the Perfect Aire 1PFD35 to dehumidify basements, bathrooms, or laundry rooms that have up to 600sq/ft. The unit's maximum daily dehumidification capacity is capped at 35 pints, but its water bucket cannot hold more than 12.7 pints of water.
This model can regulate the air humidity level based on the current room temperature, while the continuous operation feature allows you to use the dehumidifier for 24 hours. The Direct-to-drain option enables you to use a garden hose to dispose of the water to the nearest drain.
The 1PFD35 weighs 40lbs, and it doesn't have casters, so moving it from one room to another can be difficult.
Perfect Aire 2PFDP50 – The most energy-efficient Perfect Aire dehumidifier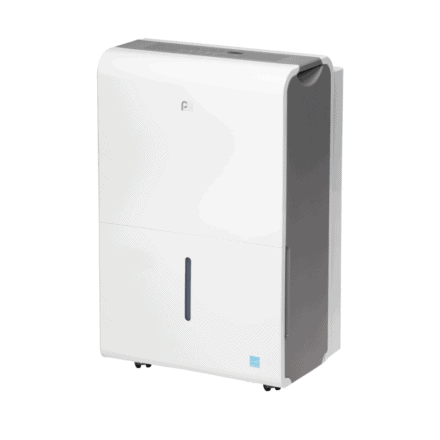 Under ideal conditions, the Perfect Aire 2PFDP50 can regulate the air humidity in a 2,000sq/ft area. However, the unit rarely operates in perfect conditions, so its actual coverage range would be closer to 1,500sq/ft.
This model features the pump mode that allows you to drain water vertically in situations where a floor drain isn't available. Like all other Perfect Aire's residential dehumidifiers, the 2PFDP50 has the turbo mode, continuous dehumidification option, programmable timer, and a washable air filter.
The unit cannot function normally at temperatures below 41F.
Perfect Air Damp2Dry 1PACD150 – The best commercial Perfect Aire dehumidifier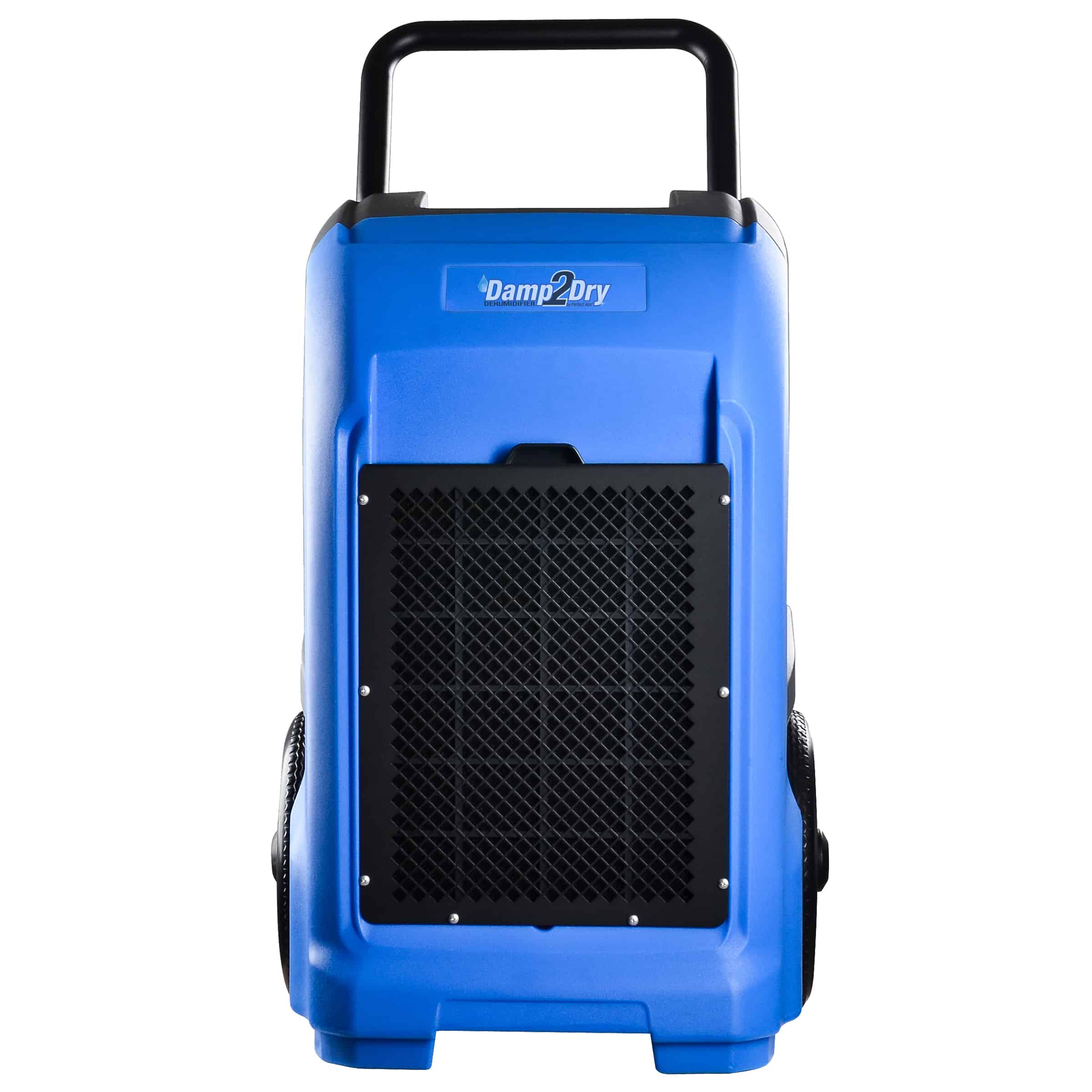 The Perfect Air Damp2Dry 1PACD150 can absorb up to 150 pints of humidity in a day, which makes it suitable for use in spaces that are flooded or in commercial settings.
The unit has a pump that can send water up to 16 feet vertically, as well as a duct attachment ring that enables you to connect it to your home's HVAC system. This model doesn't have a water storage bucket, and it comes with a 40ft drain hose.
The 1PACD15 weighs 81 pounds, but it has a pair of casters and a metal handle, so you won't have too much trouble moving it.
Frequently asked questions about Perfect Aire dehumidifiers
Question: Do Perfect Aire dehumidifiers use refrigerants?
Answer: Yes, they do. All Perfect Air dehumidifiers use the eco-friendly R-410A refrigerant.
Question: Do Perfect Aire dehumidifiers filter air?
Answer: Even though they have air filters, Perfect Air dehumidifiers cannot remove allergenic particles from the air.
Question: How long should I use a Perfect Aire dehumidifier?
Answer: You should run a Perfect Aire dehumidifier for 12 hours per day to achieve optimal dehumidification results.
Question: Are Perfect Aire dehumidifiers noisy?
Answer: Although they're not among the quietest dehumidifiers on the market, the brand's models don't generate more than 55dB of noise.
Our verdict: Choosing the best Perfect Aire dehumidifier
Lowering the air humidity levels in your home with Perfect Aire residential dehumidifiers is a simple task since each model has an easily accessible control panel that lets you switch between different modes or set a preferred air humidity level.
Moreover, some of the brand's models have the Comfort mode that allows the unit to regulate the air humidity level based on the current room temperature. We recommend the Perfect Aire 1PFD35 model if you need a dehumidifier for medium-sized spaces.
The Perfect Aire 2PFDP50 model can be an excellent choice for homeowners needing a dehumidifier with a large coverage area. Was this Perfect Aire dehumidifier review and guide useful?
Let us know in the comments, or continue reading our Aprilaire 5000 review to learn more about the features this whole-house air cleaner offers.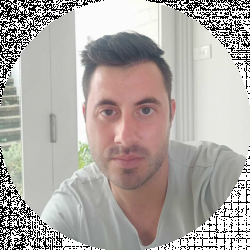 Latest posts by David Borgogni
(see all)