The air humidity levels should remain at 30% to 50% at all times to avoid mold and fungi accumulation on the walls. In this Danby dehumidifier review, we're going to evaluate its capability to keep the air humidity in your home within recommended levels.
The Danby brand offers more than twenty dehumidifier models with different condensate storage capacities, so in this article, we're going to take a closer look at the Danby DDR030BLWDB-ME model.
This unit isn't suitable for all spaces, so to determine if it is the right choice for you, you need to know the room's average humidity level and size. Obtaining this information will enable you to narrow down your options and pick a model that meets your needs.
You can find additional information about how you can maintain air humidity in your home within normal levels in our guide to humidity control systems.
Key specifications of the Danby Dehumidifier
Like a mini-split system, a dehumidifier needs to have a proper size for the space in which it is used to achieve maximum efficiency. That's why you need to choose the Danby's unit that is suitable for the area you'd like to dehumidify.
The DDR030BLWDB-ME has a medium moisture storage capacity, and it isn't a good fit for small rooms or spaces larger than 2,000sq/ft. So, you should consider a model like the Danby DDR020BIWDB if you want to dehumidify a single room or the Danby DDR050EBPWDB if you need a unit designed for spaces larger than 3,000sq/ft.
| | |
| --- | --- |
| Maximum capacity | 30 pints |
| Continuous drain function | Yes |
| Air filter type | Washable air filter |
| Minimum operating temperature | 41F |
| Fan speeds | Two fan speeds |
| Control options | Electronic controls |
| Warranty duration | 24 months |
| Latest price | Check latest price here |
Core features of the Danby DDR030BLWDB-ME Dehumidifier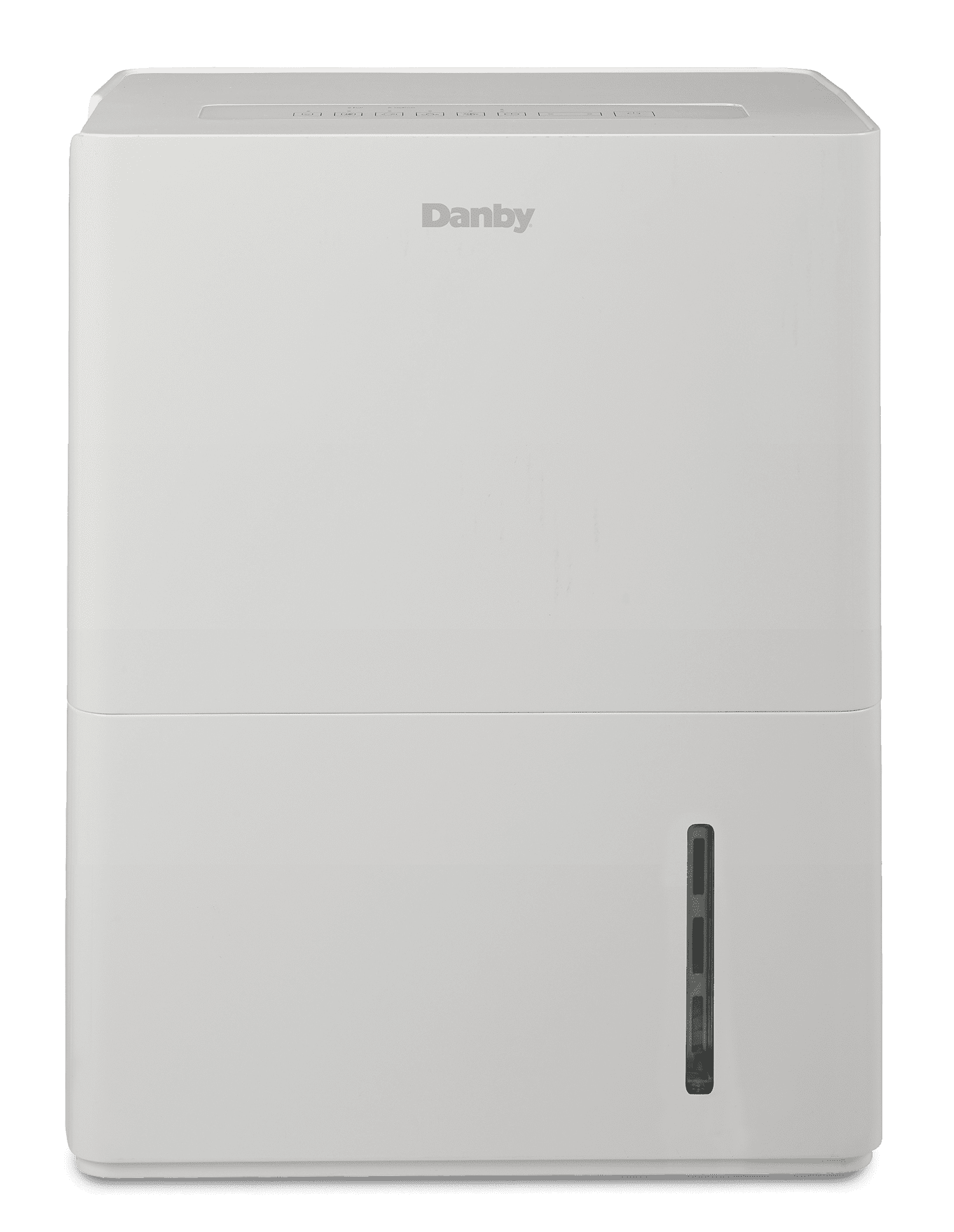 Even though heat pumps and other types of ductless air conditioning systems can act as dehumidifiers, they're often not powerful enough to maintain the air humidity at acceptable levels.
Pairing your home's cooling and heating system with a dehumidifier will allow you to control how dry or humid the air in your home is. Besides a vast selection of dehumidifiers, Danby also manufactures window ACs and portable ACs that absorb moisture from the air.
The DDR03BLWDB-ME model shares many of its core features with other dehumidifiers manufactured by this brand. The dehumidification capacity is the biggest difference between each unit since individual models can absorb between 22 pints and 60 pints of water in a day.
You should bear in mind that the portability of these units varies from model to model because casters aren't a standard feature on all dehumidifiers this company produces. Check out our Senville mini-split review if you're searching for an energy-efficient ductless cooling and heating system.
Coverage Area
A dehumidifier's coverage range depends on the conditions in the room in which it is placed. Hence, a 30-pint dehumidifier can regulate the air humidity in spaces larger than 2,000sq/ft if the humidity level is between 60% and 70%.
The unit's coverage range shrinks to approximately 1,500sq/ft if the humidity level is above 80%. That's why the Danby DDR030BLWDB-ME can be a reliable option for spaces that have between 1,500 and 2,000sq/ft, depending on the air humidity level.
Its default dehumidification percentage is set to 40%, but you can increase it or decrease it depending on your needs. The unit's target humidity level should be 10% lower than the current air humidity level to achieve the best performance.
Also, the doors and windows in your home should remain closed while the Danby DDR030BLWB-ME is working to avoid wasting energy. Go through our guide to ventilation systems to discover how you can improve ventilation in your home.
Dehumidification Capabilities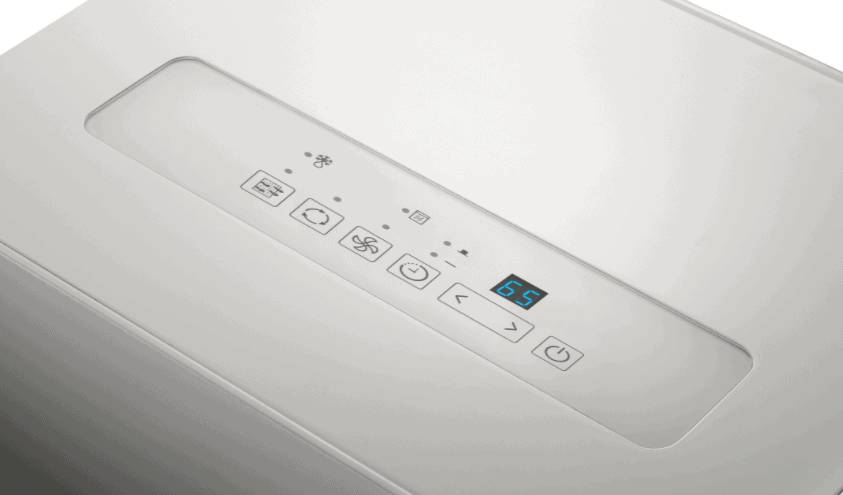 This Danby's model can store up to 30 pints of condensate in a day, and it features a continuous drain outlet that allows you to use a garden hose to dispose of the water the dehumidifier generates. The unit's control panel features the Bucket Full Light, so you don't have to manually check the bucket.
Also, the dehumidifier's compressor and fan stop working until the bucket is emptied and reinstalled correctly into its place. This model is also equipped with the Smart Dehumidify feature that controls the air humidity level automatically based on the current room temperature.
Optionally, you can use the Timer function to program the unit to switch off or on at specific hours. Read our guide to the best inline duct fans if you're looking for a way to increase the dehumidification capacities of your ducting system.
Condensate Storage and Drain Options
How often you have to empty the DDR030BLWDB-ME's bucket depends on the room's air humidity. The unit's display shows you the current room air humidity with 5% plus/minus accuracy, and you can adjust its target humidity settings in the range between 30% and 90%.
In most cases, you'll have to empty the bucket every two to three days unless you opt to use the continuous drain option.
You'll have to connect a 5/16-inch garden hose or female threaded end. Neither of these components comes with the dehumidifier to the unit to start using these functions. Also, you should keep in mind that the hose needs to be in a straight downward position at all times.
Bending the hose or placing it in the upward position and using a hose that is longer than 6-feet can stop or limit the water drain and lower the unit's dehumidification capacities.
Please browse through our LG 12,000 BTU air conditioner review to learn more about this powerful window AC.
Air Filtration
Even though it isn't as functional and efficient as a whole-house air cleaner like the Aprilaire 5000, the DDR030BLWDB-ME can still trap air pollutants and allergenic particles. The unit is equipped with a reusable air filter that requires cleaning after 250 hours of operation.
You may have to wash the filter more often if the dehumidifier is used in spaces with high concentrations of pet dander or fur. The unit's control panel features the filter indicator light that informs you when to clean the filter.
The unit's fan allows you to switch between two speeds depending on your current dehumidification needs. The space around the device needs to be cleared to avoid blocking its air inlets and outlets and disrupting a continuous circulation of air.
Our guide to the best wall exhaust fans can help you improve the ventilation in your bathroom.
Operating Temperatures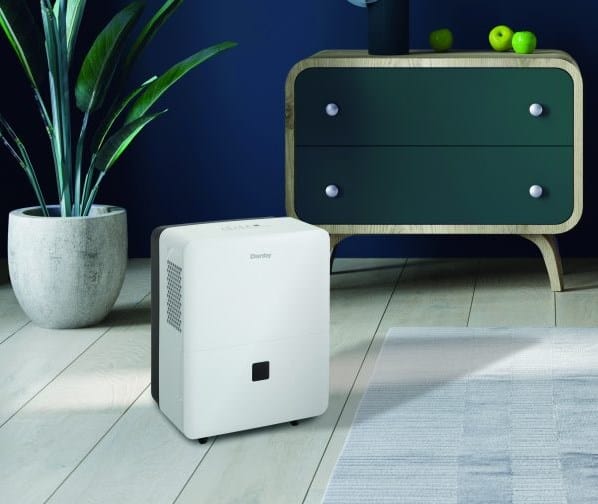 This unit isn't designed to operate at low temperatures, and you shouldn't use it in spaces that don't have proper heating. However, its de-icer function prevents frost accumulation and enables you to use the unit, usually at temperatures higher than 41F.
The dehumidifier's maximum recommended operating temperature is 90F, and its efficiency might decrease if you're using it in scorching conditions.
Even though Danby's model is Energy Star certified, its power consumption might increase if you decide to use it outside of its recommended temperature range. In addition, if the frost forms on one of the unit's coils, you'll have to leave it running in the Fan model until the frost melts.
Read our Goodman 3-ton heat pump review if you're looking for a cooling and heating system with a wide operating temperature range.
Noise Levels
The average sound level of dehumidifiers ranges from 50dB to 70dB, which places the Danby DDR030BLWDB-ME in the category of quiet dehumidifiers. The unit generates between 50dB and 56dB of noise, so you'll still hear it working, but it is unlikely to disrupt your daily activities.
If the unit's noise level increases suddenly, you'll have to check if its water bucket is positioned correctly. Also, a dirty air filter and placing the dehumidifier on an uneven surface can be the reasons why the DDR030BLWDB-ME is generating more noise than usual.
Go through our guide to the best ventless air conditioners to learn more about AC you can use to humidify and dehumidify the air.
Care Requirements
Besides washing the filter at least once in two weeks and emptying the water bucket, this Danby's model doesn't have any other requirements. You need to check if the unit's drain port is clean before connecting a garden hose to it to make sure that nothing interrupts the flow of the water.
Before storing the dehumidifier for a longer period, you need to clean its air filter, empty the water bucket and the lower drain and then leave the appliance to dry. Also, you should clean the appliance's exterior with a wet cloth because cleaning chemicals might damage its plastic components.
The DDR030BLWDB-ME must be plugged into a 3-prong power outlet, and you can't connect it to a power source with an extension cord. Take a look at our Blueridge mini-split review to find out more about this single-zone AC.
Warranty and Cost
You can purchase this product directly from the manufacturer or through a licensed retailer. Purchasing this humidifier from Danby's online store in the US might not be possible because currently, this model is only available in the brand's store aimed at the Canadian market.
The model costs $300, but you might be able to get it for less than $200 at Target or similar retail stores. This dehumidifier comes with a limited 2-year warranty that guarantees free repair or replacement of the unit's components.
The DDR030BLWDB-ME's plastic parts are under warranty for thirty days from the date of the purchase, and you cannot extend their warranty. In addition, you must register the product to activate its warranty.
Go through our guide to the best Lowes mini-splits to explore different cooling and heating options you can find at this store.
The Pros of the Danby Dehumidifier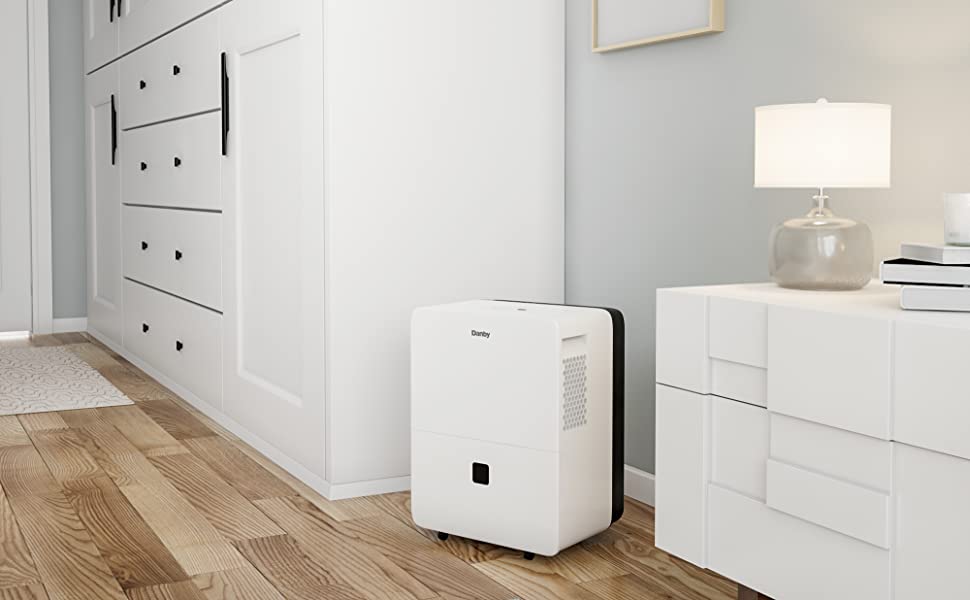 Lightweight And Easily Portable
This Danby's dehumidifier has compact dimensions, and it weighs just 35lbs. This model also has four casters that make moving it from one room to the other easy. The unit's portability enables you to use it to control air humidity in different parts of your home.
Excellent Performance at Low Temperatures
The de-icer function prevents frost formation on the unit's coils and allows you to use the dehumidifier at temperatures higher than 41F. The model's wide operating temperature range enables you to use it in a variety of situations.
Automatic Air Humidity Control
Danby's dehumidifiers are equipped with the Smart Dehumidify feature that adjusts the air humidity level based on the room temperature. You can also use the Timer function to program the dehumidifier to switch off automatically after running for a specific amount of time.
High Energy Efficiency
The Energy Star certificate guarantees that these dehumidifiers aren't going to increase your household's monthly power consumption. Besides, these units are stacked with features that allow you to control how much power they're using.
Wide Coverage Area
You can use dehumidify spaces that have more than 3,000sq/ft with Danby dehumidifiers. The brand's DDR030BLWDB-ME model is powerful enough to dehumidify spaces that have up to 2,000sq/ft if the air humidity is between 60% and 70%.
The Cons of the Danby Dehumidifier
The Water Bucket Must Be Emptied Manually
The condensate the appliance absorbs is stored in a 30-pint water bucket that needs to be emptied frequently so that the unit can function normally. Most of Danby's models have an overflow limit and other safety features that prevent you from using the dehumidifier while the water bucket is full.
No Remote or WiFi
You can only adjust the settings of these dehumidifiers from the control panel because they don't have a remote. Also, Danby's units are not WiFi-enabled so controlling them through an app or virtual assistants isn't possible.
The Best Alternatives to Danby Dehumidifier
Comparing the Danby dehumidifiers to the models manufactured by the brand's competitors will help you find an option that fits your expectations and budget. Brands like Midea, Frigidaire, or GE all offer units with high dehumidification capacities that can be an excellent alternative to Danby's models.
We've shortlisted several dehumidifiers that can perform at the same level as the DDR030BLWDB-ME or similar models, so here's what they have to offer.
Midea Cube MAD35S1QWT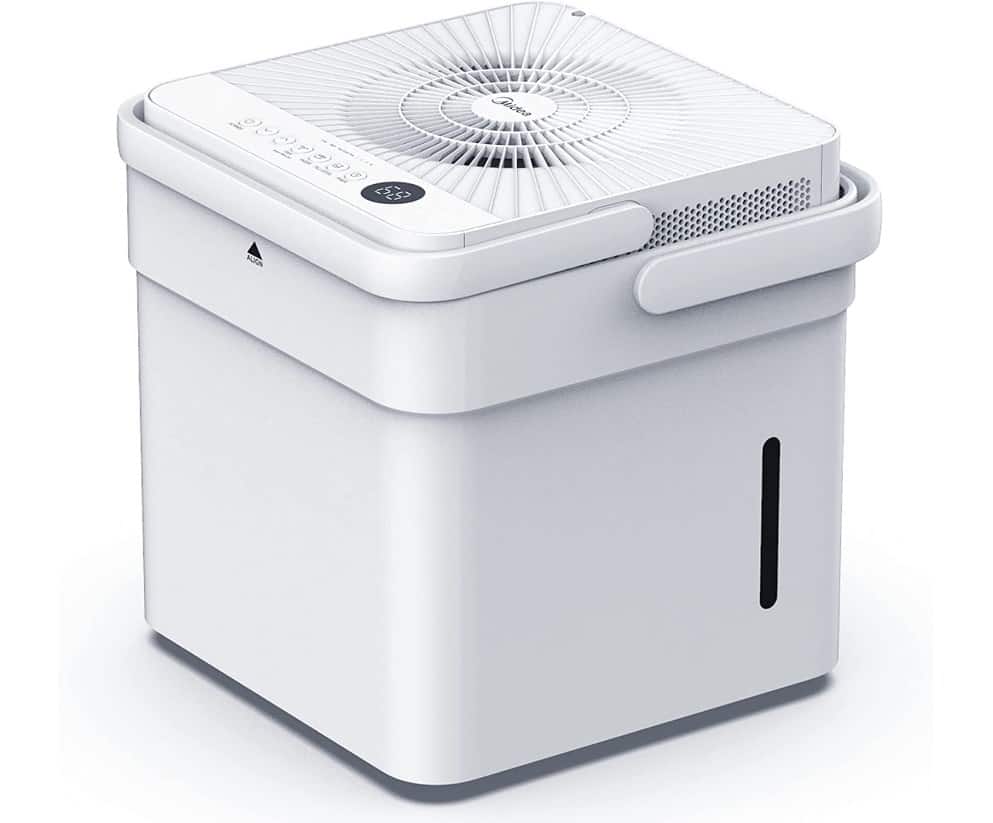 You can choose if you want to store the condensate the Midea Cube MAD35s1QWT absorbs in its 35-pint water bucket or use a garden hose to drain the water.
According to the manufacturer, the unit's coverage range is 3,500sq/ft, but the information regarding its performance in wet conditions isn't available. The unit has the full water tank alert that informs you when you need to empty the water bucket as well as preset water tank levels.
This dehumidifier is WiFi-enabled, and you can control it through the Midea Air app or Amazon Alexa.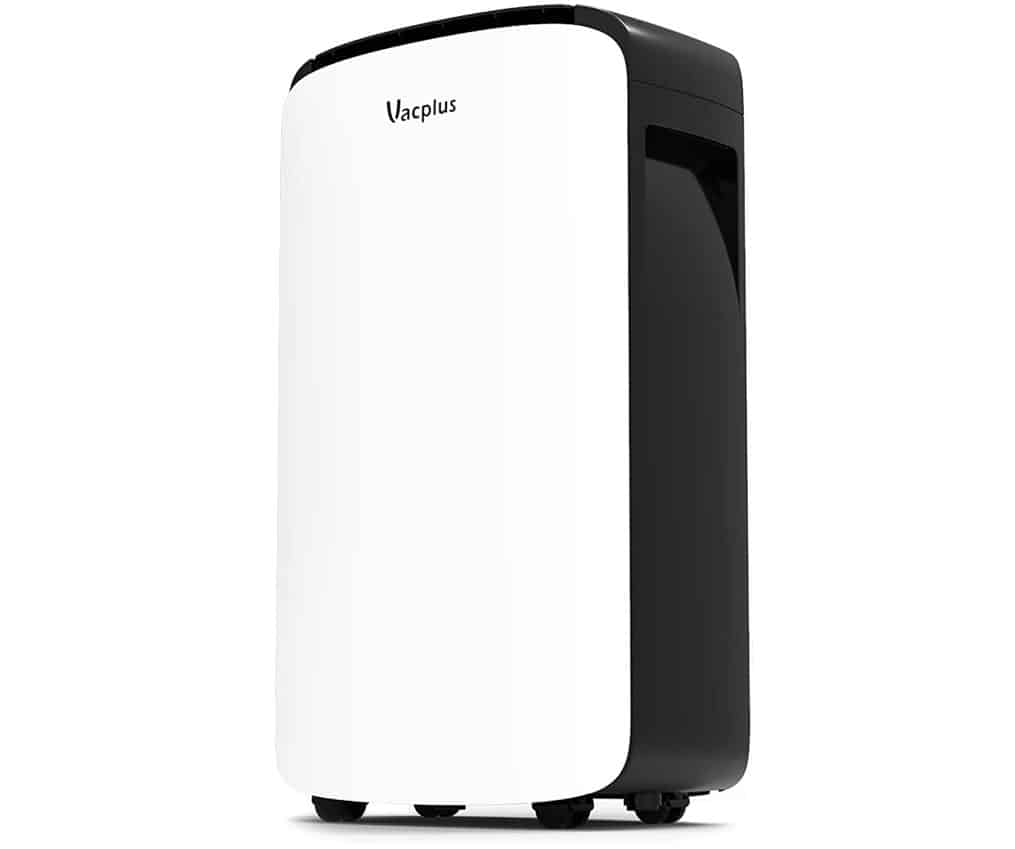 Despite being considerably less expensive than Danby dehumidifiers, the Vacplus VA-D1903 can still absorb 30 pints of moisture per day if the air humidity is below 90% and the room temperature is lower than 86F.
The unit has two drain modes, as you can opt to store the condensate in the water bucket or remove it with the drain hose. Its intelligent humidity control feature monitors the air humidity in a room and maintains it at the target value automatically.
The Clothes mode helps you dry your laundry quicker while eliminating odors and preventing condensation.
Whirlpool WHAD301CW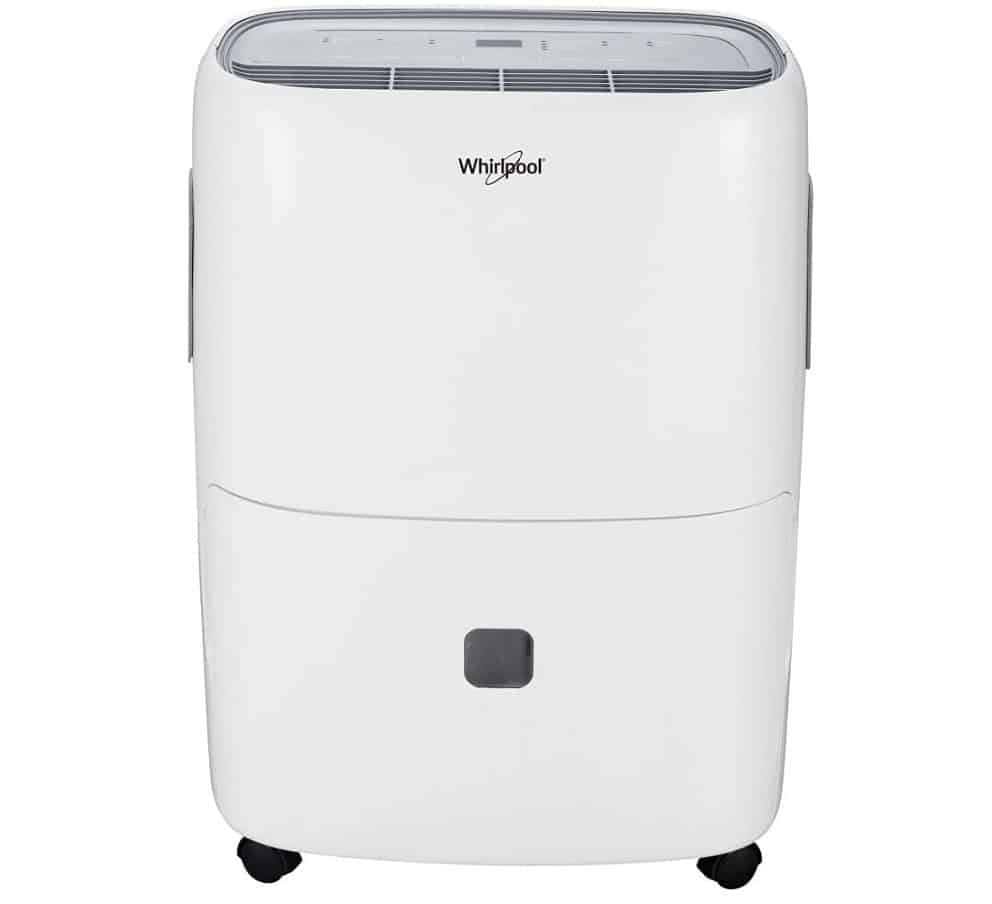 Despite absorbing 30 pints of moisture in a day, the Whirlpool WHAD301CW can't regulate air humidity in spaces larger than 400sq/ft. The unit has preprogrammed humidity levels for bedrooms, basements in living rooms so that you don't have to tinker with its options.
The dehumidifier shuts down automatically once its bucket is full, and it offers the continuous draining option that eliminates the need to empty the water bucket. Its fan can operate at three speeds, while the automatic defrost feature protects the coils from low temperatures.
FAQs
Question: Do Danby dehumidifiers use a refrigerant?
Answer: Yes, all brand's models are charged with the eco-friendly R-410A refrigerant.
Question: Is the water produced by Danby dehumidifiers toxic?
Answer: Although you can't drink the so-called gray water the dehumidifier creates, you can still use it to water your plants.
Question: What to do if the error code shows up on display?
Answer: In case AS or ES error codes pop up on the dehumidifier's display, you should switch off the appliance and turn it back on after 10 minutes. If the issue persists, you'll have to service the appliance.
Question: What to do if I cannot plug a Danby dehumidifier directly into a power outlet?
Answer: Change the unit's location and position it so that its power cord can reach the power outlet.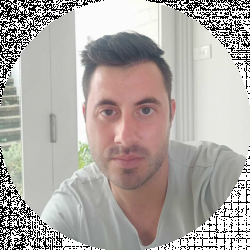 Latest posts by David Borgogni
(see all)