Exhaust fans are necessities for bathrooms because they help manage odors and vent moisture that can build up when you bathe or shower. Leaving humid air in your bathroom can lead to mold, cause corrosion, and damage paint or wood.
The criteria I used to select the best exhaust fans listed in this article include fans that have excellent features, reasonable prices, gorgeous design, and perhaps all three. Each fan has its own strengths, but I choose quality products you can trust.
Best Wall Exhaust Fan Buying Guide
While some areas have building codes that dictate how you can use bathroom ventilation, others don't. You also want to make sure you pick a fan that fits the size and function of your bathroom and pay attention to aesthetics and noise level.
Local codes
Some local building codes require that all bathrooms have an exhaust fan, but they may also require a minimum capacity or a particular size circuit for the type of fan you use. Check your local rules to make sure you install your exhaust fan correctly based on whether it has a light or a heat lamp combination feature.
You may even have to draw a permit to install it, so check with the permit department in your area to make sure you have everything you need before getting started.
Bathroom size
You need to choose an exhaust fan of the appropriate size for your bathroom. If the fan is too small, it won't work as efficiently as it should. If it's too big, it could create a draft that will make you cold while you dry off.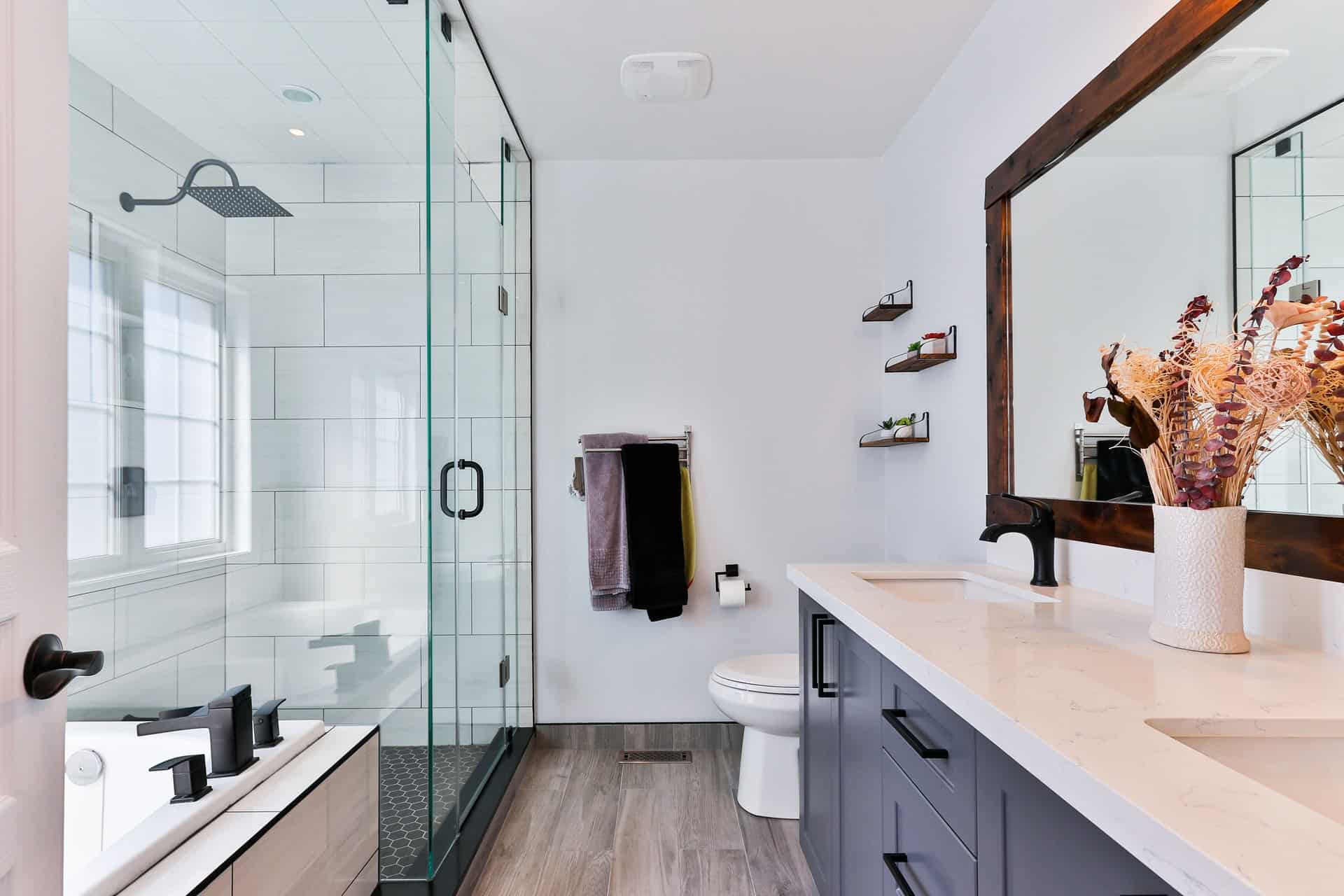 In some cases, two fans are recommended, so do some research on the size and configuration of your bathroom before you purchase anything.
Sound ratings
Quieter fans will have a lower sound rating. For some, noise doesn't matter when switching it on after a hot shower, but for others who may want to run it while taking a relaxing bath, a noise rating of 1 or less will offer a quieter experience.
Style
While most exhaust fans are very simple in design, some aren't very discrete. Depending on the look you're going for, you may want to choose an exhaust fan with a particular design that fits in with your bathroom style better.
Some designs blend in while others stand out, so what you choose will depend on whether you want to make a statement or ensure that your exhaust fan isn't noticeable at all.
Features
Exhaust fans offer features other than just a way to eliminate moisture and odors. If you're willing to increase your budget, you can find fans that also have lights, heaters, automatic humidity sensors, and even built-in bluetooth speakers.
Panasonic WhisperCeiling DC Fan
Panasonic has a great reputation for producing quiet exhaust fans, and they're one of the most popular brands on the market. The WhisperCeiling DC fan is one of their models, and it offers a quiet experience that's perfect for most people.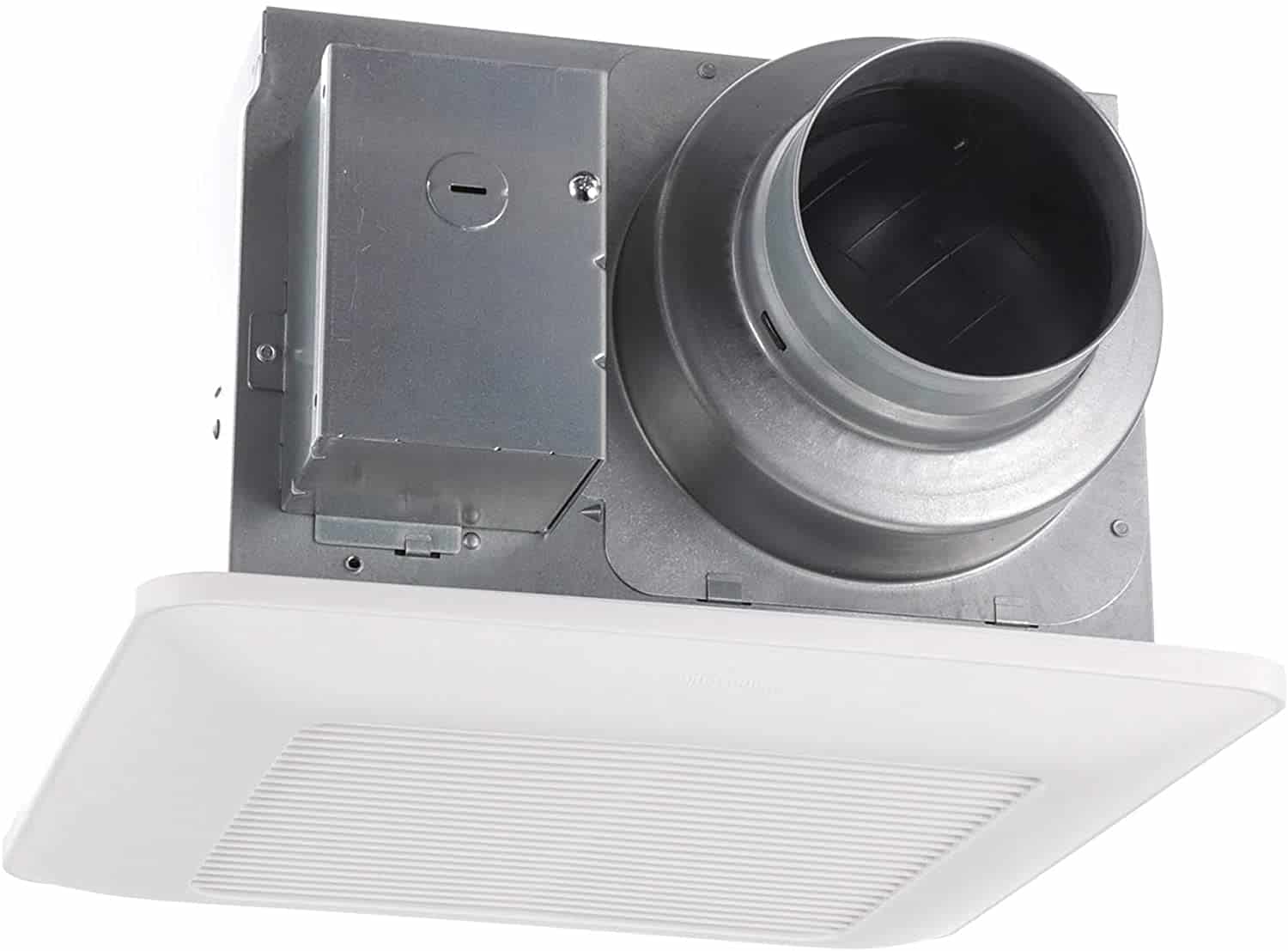 The WhisperCeiling DC fan has a Pick-a-Flow fan speed selector that makes it great for bathrooms of many sizes. You can adjust your fan's speed to 50, 80, or 110 CFM. To make it even better, the noise rating comes in at just 0.3, which means it's perhaps the quietest exhaust fan you can buy.
It also comes with Flex-Z brackets that make installation quick and easy. You can install the unit in the bathroom without needing access to the attic.
The fan gets great reviews from users and people are pleased with how it clears moisture from the bathroom. It does a fantastic job of getting rid of moisture after a long shower and it will keep your mirrors from fogging up.
This fan will be effective in any bathroom less than 110 square feet and the Energy Star rating gives you the peace of mind you need to know it's efficient.
Pros
Versatile
Quiet
Great for many bathroom sizes
Easy to install
Cons
Broan 688 Ceiling and Wall Fan
This budget option from Broan increases ventilation without increasing the price tag. They make an affordable and efficient fan that's great for any homeowner who needs to keep the cost of their installation down.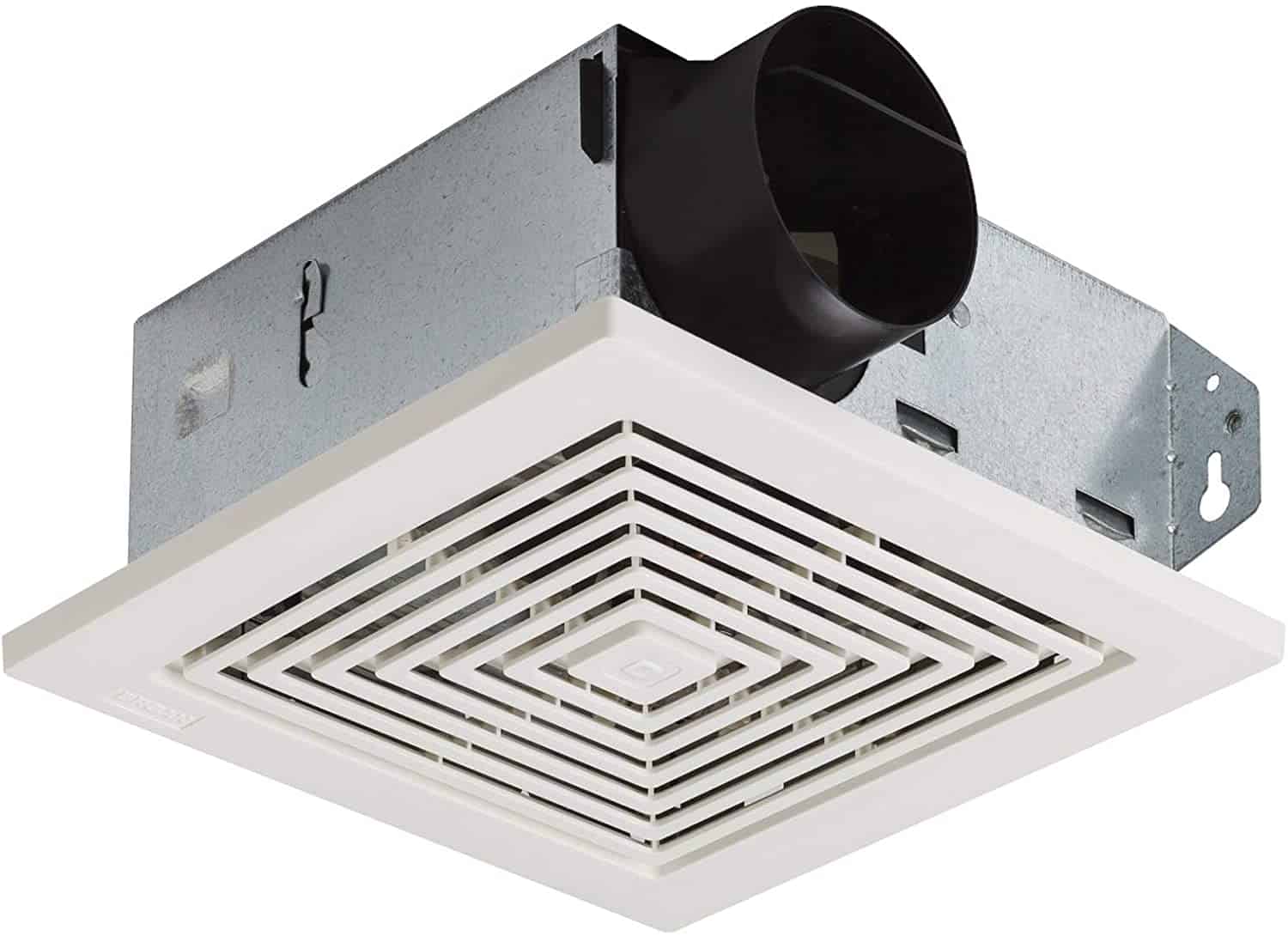 While it only has one speed of 50 CFM, the Broan 688 is a great choice for smaller bathrooms up to 50 square feet. It's also easy to install and versatile enough to install in the wall or the ceiling.
This fan is rated at 4 sones, so it's quite loud when compared to other models. It's not great for those who want to keep the noise level down, but it's a great option for offering privacy in a small bathroom.
It's also not a great fit if you need some serious moisture management because the fan speed is limited, but if you have a small space that doesn't get too steamy, it could be an excellent choice.
Pros
Affordable and efficient
Easy to install
Cons
Broan-NuTone Fan With LED Light
If you're looking for a fan with a light feature, this option from Broan is a great choice. It offers a fan speed of 110 CFM to give you great air movement and features an LED light that you can wire with the fan or independently.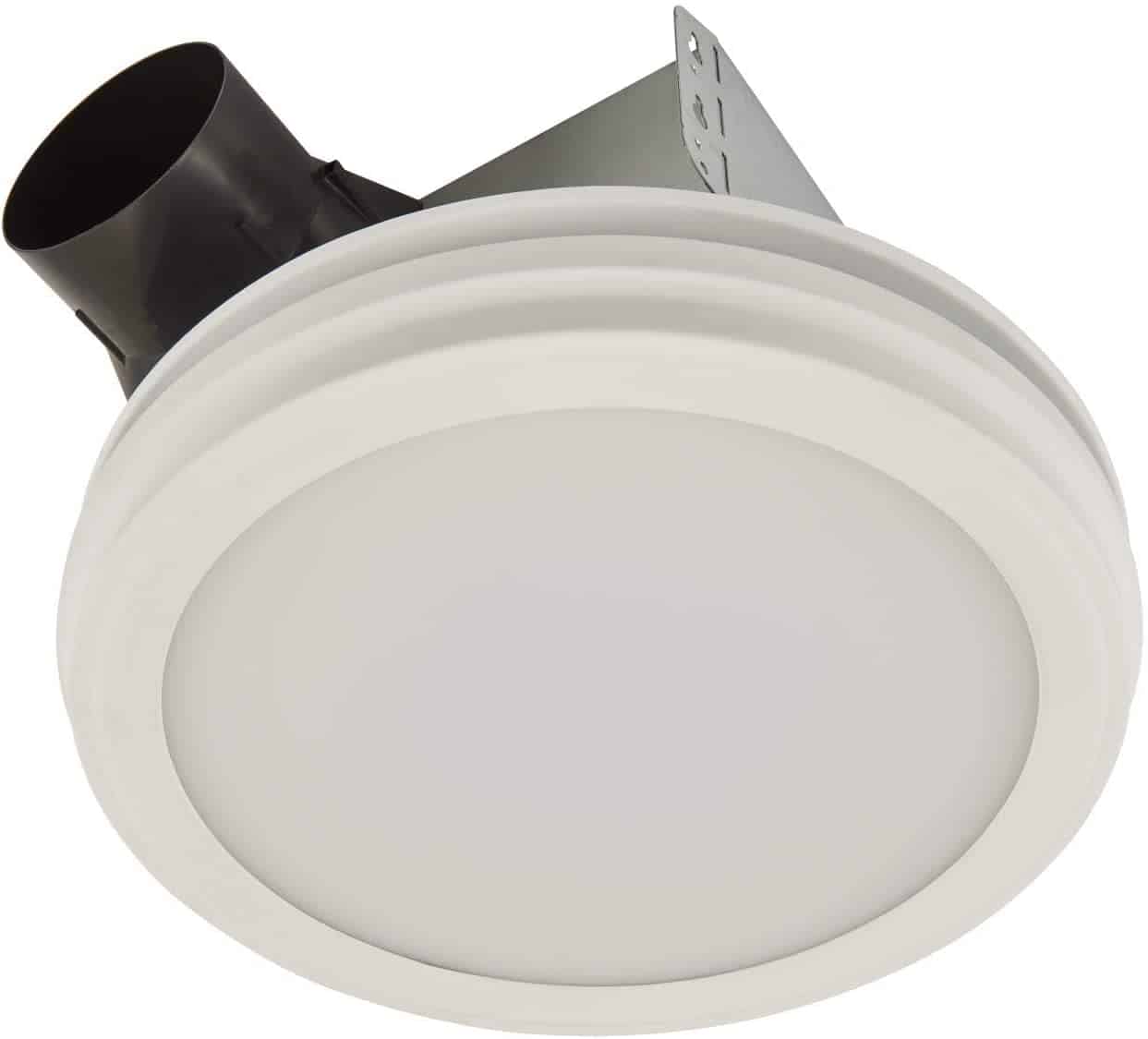 This built-in LED lights up the outside of the grill on the fan for even distribution and it's bright enough to illuminate the entire bathroom by itself. In comparison to other exhaust fans with lights, this one isn't nearly as dim and is much more attractive. You also won't have to replace the light very often because it lasts for up to 25,000 hours of use.
This fan will effectively remove moisture in 110 square feet or less and is rated at 1.5 sones, so it's not completely silent, but is very quiet.
Pros
LED light wired together with the fan or separately
25,000 hours of use
Very quiet
Cons
Air King Humidity Sensing Ceiling Bath Fan b
For something that can sense humidity, this solution from Air King is perfect. The point of an exhaust fan is to control humidity, and you shouldn't be limited by forgetting to turn it on. As your humidity levels rise, even if no one is in the room, the fan will begin to ventilate the room on its own.
This fan circulates air at 80 CFM and the noise level is only 0.5 sones. Already, it's capacity is impressive, but with the addition of a humidity sensor, this fan takes your experience to the next level. Plus, it's great for most bathrooms.
You can program it yourself to turn on at a preprogrammed humidity level as high as 80%, so it's customizable to your preferred usage.
It's also certified by Energy Star, so you know it's efficient, and the UL rating indicates that it's safe to use in wet environments like the shower. Install it in rooms less than 80 square feet and it should work like a charm.
Pros
Humidity sensing
UL-listed
Energy Star certified
Cons
Broan-NuTone 9093WH Fan, Heater, Light Combo
Some people are turned off by exhaust fans because as it ventilates air, it makes the room colder. In that case, you need an exhaust fan that also has a heater. This Broan 9093WH is a combination fan that includes a fan, light, and heater.
You can get out of the shower in a warm room or simply crawl out of bed into a warm bathroom, this fan has a direct heat source to heat the entire room along with a 100-watt bulb that will light the entire room.
The 7-watt night light is perfect for getting to the bathroom in the middle of the night, adding a useful feature that most people will appreciate.
The fan operates at 70 CFM, so it works best in bathrooms less than 65 square feet and it includes a wall switch with four different functions, allowing you to operate the fan, heater, light, and night light all separately.
Pros
1500-watt heater
Features fan, heater, light, and night light
Includes a four-function wall switch
Cons
Hunter Home Comfort 83002 Sona Exhaust Fan
This exhaust fan from Hunter Home is the best option for those who want something unobtrusive. It appears like a flush-mounted light fixture and is quite decorative, so it's a great addition to your bathroom in terms of form and function.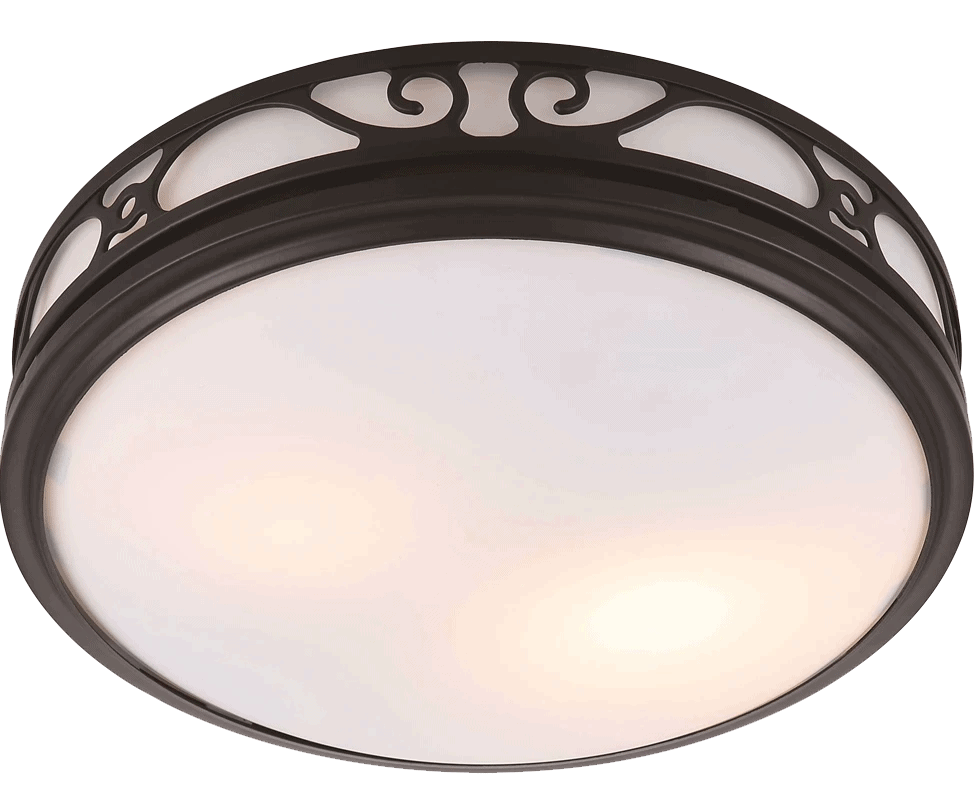 The motor inside is capable of 110 CFM, so it's great for larger bathrooms. It also includes two 60-watt bulbs for extra lighting and a 7-watt night light.
The Hunter Home Comfort fan is easily mistaken for a light fixture with a frosted dome that diffuses light to give you a soft glow. You'll need an extra light source if you want bright white in your bathroom.
It operates at 3 sones, so it's quite a bit louder than other models. If you're going for appearance, this is the best choice.
Pros
Beautiful appearance
110 CFM motor
Features two 60-watt bulbs and a night light
Cons
Not bright enough to illuminate entire bathroom
Noisy
Broan 682 Duct-Free Fan
The Broan 682 duct-free ventilation fan is a great option for bathrooms that don't have an external vent. It can help improve air quality and circulation without the need for any ducting. This fan uses charcoal filters to absorb any odors while the fan moves air.
This is a perfect option for bathrooms without attic access or basement bathrooms that can remain stagnant without the use of a fan. However, homeowners should note that you may need to meet some additional building codes in some areas to install this fan.
Rather than using an external vent, this fan moves air through a filter to purify it and then recirculates it back into the bathroom. It does a great job of removing odors and improving circulation in smaller powder rooms or half baths.
This fan isn't recommended for large bathrooms or bathrooms with showers because it doesn't control high humidity levels well. And because the unit doesn't connect to any ducting, it doesn't come with a noise rating. However, it's not silent.
Pros
Charcoal filter absorbs odors
Improves air circulation
Perfect for basement bathrooms
Cons
Not ideal for large bathrooms
May not meet building code requirements
Unknown noise level
FAQ
If you're looking for the right exhaust fan for your bathroom, or maybe even a kitchen, there are plenty of options. These frequently asked questions could help you make a better decision.
Question: How do I choose an exhaust fan?
Answer: Aside from aesthetics and extra features, which is a highly personal choice, you should keep in mind that you need at least 1 CFM for every square foot of space in the room. This should give you a better idea of how powerful the fan should be.
If your bathroom is square, multiply the width by the length. However, if you have an odd shaped bathroom, you can simply measure the bulk of the space and estimate, or measure it in sections and then add them all together.
Question: What is the difference between an exhaust fan and a ventilation fan?
Answer: An exhaust fan works to remove pollutants from the air, which helps to eliminate moisture and odors. A ventilation fan simply brings clean air into the space from an outside source, which will keep your room feeling fresher and less stagnant, but may not remove moisture or odors as effectively.
Question: Which exhaust fan is better, plastic or metal?
Answer: For a bathroom, exhaust fans with plastic blades work better because they won't rust with prolonged exposure to moisture. However, if you want to remove heat or odors from the kitchen, a fan with metal blades is best because it's easier to clean.
Question: Can you use a regular fan as an exhaust fan?
Answer: If you're having trouble getting a permit to install an exhaust fan or you simply need to expel odors temporarily rather than all the time, you can use a regular fan to do it. Perhaps you simply experienced a mishap in the kitchen or you're dealing with a visitor who smells like smoke.
Simply use a table fan to suck up the air and blow it out an open door or window. If you point it in the right direction, you can achieve an exhaust-like performance.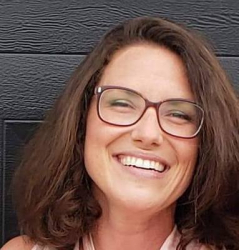 Latest posts by Sarah Caldwell
(see all)