Keeping your home cool or warm with an AC unit usually comes at a high cost as these devices utilize vast amounts of power. In this guide, we're going to show you how to find the best 18,000 BTU air conditioner that isn't going to inflate your monthly utility bill.
Matching the unit's size to the size of the space you want to heat or cool is paramount for lowering the amount of power the AC is going to use to maintain a constant temperature in your home. That's why an 18,000 BTU conditioner isn't a good option if you want to regulate the temperature in just one room.
In this guide to the best 18000 BTU air conditioner, we're going to help you find a unit that meets all your expectations. Make sure to go through our guide to the best 5-ton heat pumps if you're searching for a cooling solution for an entire house.
At a Glance – The 5 Best 18,000BTU Air Conditioners
Types of AC units
Air conditioners come in all shapes and sizes, so the first thing you need to do is decide which type of AC you want to get. All types of ACs can have different outputs, as you can get the same unit with 12,000 BTU, 18,000 BTU, or 48,000 BTU output. Let's take a look at some of the most common types of AC units.
Window air conditioners – As their name implies these ACs are mounted on a window frame. They don't require professional installation, and most models come with installation kits that enable you to get the unit up and running in less than an hour. Also, there's a wide selection of units that offer 18,000 BTU output.
Through-the-wall air conditioners – These units are very similar to window ACs in terms of design and performance capabilities. However, installing a through-the-wall air conditioner can be difficult since you have to create an opening in the wall where the AC is going to be located.
Mini-splits – Ductless AC systems contain outdoor and indoor components that are connected with the refrigerant lines. Mini-splits require professional installation, which increases their cost significantly.
Split systems – Heat pumps and central ACs are usually designed to heat or cool spaces larger than 1000sq/ft, but some manufacturers offer 1.5-ton models. This is the most expensive type of AC because the components and the installation can cost you several thousand dollars.
Go through our guide to mini-splits to learn more about how these air conditioners work.
The coverage area of an 18,000 BTU air conditioner
The output of all air conditioners is measured in British Thermal Units or BTUs. This value shows you how much energy is needed to raise the temperature of one pound of water by 1F.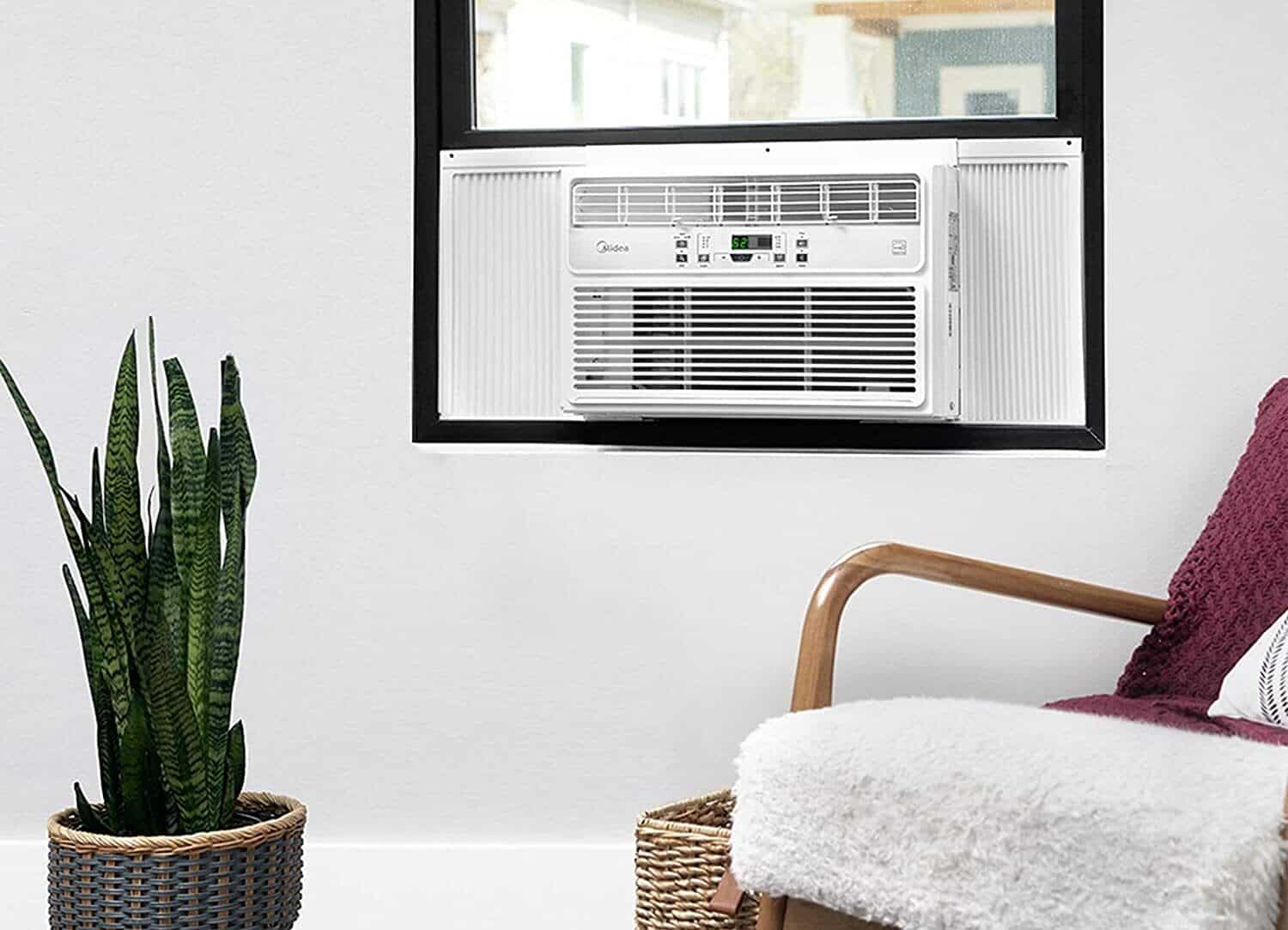 A residential AC unit can have anywhere between 1.000 BTUs and 60.000 BTU depending on the type and its output capacities. An 18,000 BTU air conditioner is sometimes referred to as a 1.5-ton unit, which suggests that it is capable of freezing or melting 2.000lbs of ice in less than 24 hours.
However, some manufacturers label their models as 1.5-ton units despite the fact that their output is lower than 18,000BTUs, which is the reason why you must check the unit's output capacities before you purchase it.
An 18,000 BTU AC can cool or heat spaces that have between 700sq/ft and 1.000sq/ft, but you should keep in mind that the unit's coverage range can be affected by a broad range of factors. Read our guide to furnace types if you want to set up a heating system in your home.
Energy efficiency ratings
The unit's power consumption is one of the most important parameters you need to pay attention to while deciding which AC to choose. The manufacturer usually discloses both SEER and EER ratings in the product description, which makes it easy to find out how much power an AC needs to cool your home.
SEER is a seasonal efficiency rating, and it shows you how much power the unit uses to cool an area of a specific size during a three or six-month period. On the other hand, the EER rating indicates the amount of power an AC requires to cool a particular area in one hour.
It is worth pointing out that 18,000 BTU air conditioners don't necessarily have impressive SEER and EER ratings. Most models you can find on the market have SEER ratings lower than 14, while the average EER rating is around 10.
Continue reading related AC Guides based on BTU:
Brand quality
There's an abundance of AC models to choose from, but you shouldn't expect the same level of performance from all units capable of producing 18,000 BTUs. Little-known brands often produce affordable ACs that lack the quality offered by models manufactured by established brands.
So, opting for an affordable 18,000 BTU air conditioner can turn out to be a bad long-term investment because you'll have to replace or repair its components often.
Instead, opting for a model manufactured by one of the industry-leading brands such as Lennox or Pioneer will help you avoid having to deal with costly repairs frequently.
ACs produced by reputable brands can last for decades, so you shouldn't settle for a cheap option you'll have to replace after few years. Read our guide to cooling systems if you're unsure which type of AC is going to work best in your home.
Installation requirements
The amount of time and skill required to install an AC largely depends on the type of air conditioner you choose. Wall and through-the-window ACs are the easiest to install as you just have to position them correctly and plug them into a power outlet.
Installing 1.5-ton heat pumps, mini-splits, and central AC involves connecting the indoor and outdoor components as well as connecting the entire system to your home's electrical grid.
Consequently, most homeowners can't install these cooling and heating systems by themselves since the process is too technical, and even a minor mistake can compromise the integrity of the entire system.
Hiring a contractor to complete this job for you is the easiest solution to this problem, but doing so will increase the overall costs of your cooling or heating system. Check out our guide to the best GE portable air conditioners if you don't want to spend a lot of money on AC installation.
The most important factors to consider while choosing an 18,000 BTU air conditioner
Finding an 18,000 BTU AC that fits your budget and your needs isn't too difficult, especially if you take some time to become more familiar with the best brands on the market and the models they offer.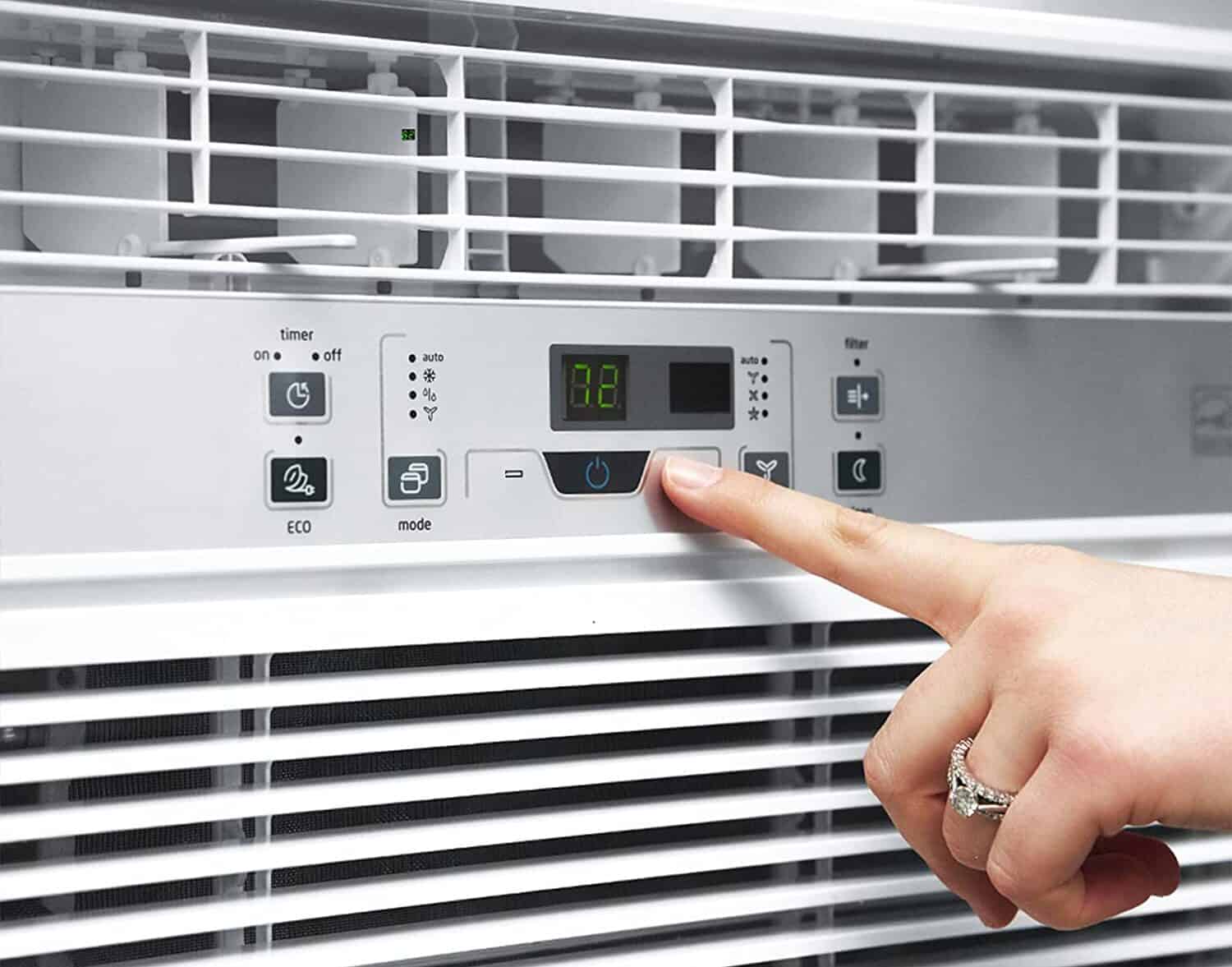 Doing research will help you figure out if the unit you're interested in has features that will make it easy to maintain the room temperature at the same level. Let's take a closer look at some of the factors that can help you determine which 18,000 AC model is the correct choice for you.
Size of the area you want to cool
Under ideal conditions, an 18,000 BTU AC should be powerful enough to cool or heat a 1.000sq/ft, but the unit's coverage can be lowered by several factors. The layout of the space can affect the AC's coverage significantly because different types of barriers prevent the free flow of the air.
The thermal insulation of the space is another important aspect you have to consider since walls and ceilings in poorly insulated spaces can't prevent heat transfer.
That's why calculating the unit's coverage area can be difficult, and you should consult a professional to find out if an 18,000BTU is powerful enough to heat or cool your home.
Airflow control options
The type of compressor an AC unit uses determines whether you can adjust the airflow speed. Models that feature a one-stage compressor can only operate at their maximum capacity, and you can't increase or decrease their output.
Dual-stage compressors allow for more versatility as you can adjust the unit's output to your current needs. ACs equipped with variable-speed compressors enable you to control how much of their output capacity you want to use at any given moment.
Unit's noise levels
Regardless of their type, 18,000 BTU ACs don't make a lot of noise. Even so, you should still check the unit's noise level before you decide to buy it.
The outdoor and indoor components of split and mini-split AC don't produce the same amount of noise, as outdoor components are usually louder by few decibels than indoor components. Opting for a model that makes less than 70dB of noise will ensure that your AC isn't going to disturb you or your neighbors.
Upkeep requirements
AC units don't have high maintenance requirements, so you won't have to spend a lot of time cleaning the cooling or heating system you choose. However, the upkeep requirements of an AC vary from type to type, and you must check what you have to do to keep your AC unit functional.
You should ask a contractor how often you have to schedule maintenance checks if you opt for a split or mini-split system. You won't have to perform a system check more often than once per year in most cases.
Cost and warranty
An 18,000 BTU air conditioner can cost between $500 and $1,000, although some models can turn out to be more expensive when installation fees are factored in.
The price of these ACs also depends on the features they offer, so you should expect to pay more for programmable units with variable-speed compressors. The duration of the warranty period depends on the manufacturer and the AC type you choose.
Most window ACs come with a one-year warranty, while heat pumps and central AC usually have warranties that last for five to ten years.
The advantages of 18,000BTU air conditioners
Easy room temperature adjustments
All 18,000 BTU AC units make controlling the room temperature a straightforward process, as you just have to set the preferred temperature, and the unit will do the rest for you. You can also program these units to switch off and on in equal intervals and maintain the room temperature at the same level.
Long lifespan
When installed properly, air conditioners can last for more than ten years. It is worth pointing out that the model's durability depends on a broad range of factors, but even the least expensive units can remain in good condition for years.
Excellent coverage range
Although an 18,000 BTU isn't powerful enough to cool an entire house, you can still use it to control the temperature in your bedroom, living room, and other frequently used spaces. It is advisable to consult with a professional if a unit of this size is suitable for the space you want to cool or heat.
The disadvantages of 18,000 BTU air conditioners
Some 18,000 BTU air conditioners are difficult to install
Connecting the outdoor and indoor components of mini-split and split systems is a task for a trained technician because failing to install these units properly can result in refrigerant leakage and other defects that can damage the system.
Top 5 18,000 BTU air conditioners
Frigidaire FFRE1833U2 – The best window 18,000 BTU air conditioner
A window air conditioner like the Frigidaire FFRE1833U2 is a reliable option if you need an easy-to-install unit. According to the manufacturer, this model has a 1.020sq/ft coverage area, an 11.8 EER ratio, and dehumidification capacities of 5.5 pints per hour.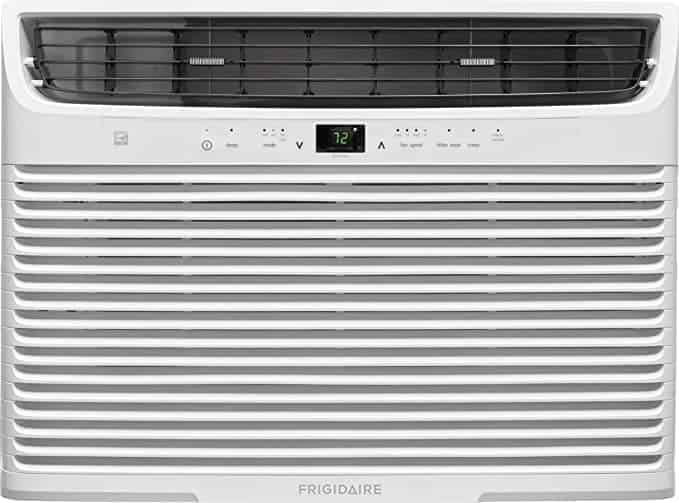 You can activate the Energy Saver option if you want to reduce the unit's power consumption while keeping the room temperature at the selected level. The installation kit is included in the package so that you can ensure that the unit is securely positioned in the window.
Pros
Adjustable fan speed
Excellent air dehumidification capacity
Quick and easy installation
Reasonably priced
Cons
The unit weighs more than 100lbs
Not suitable for all windows
Goodman GSX13 – The best split 18,000 air conditioner
As an Energy Star certified unit, the Goodman GSX13 consumes less power than most ACs in its price range.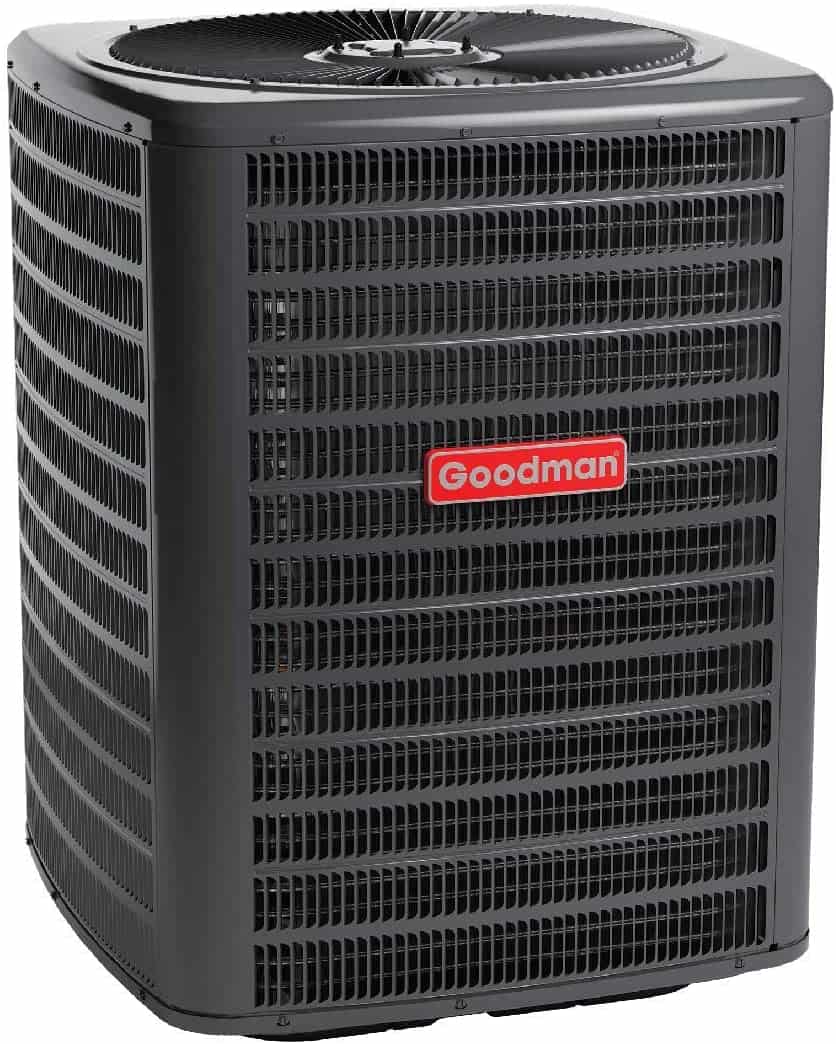 This split AC offers a plethora of options that allow you to control the room temperature, but its single-speed PSC condenser fan motor and a single-stage compressor prevent you from lowering its output.
The GSX13 ships with 15-feet of fully charged tubing so that the contractor doesn't have to charge the system before you can start using it. The manufacturer offers a 10-year limited warranty for this model.
Read also: How to Find the Best AC Motor Fans.
Pros
Excellent energy efficiency
Great cooling capabilities
Durable components
Low upkeep requirements
Cons
Equipped with a single-stage compressor
Complicated and expensive installation process
Rheem ROSH09AVSA – The most affordable 18,000 mini-split air conditioner
The Rheem ROSH09AVSA AC is available in sizes that span from 9.000 BTUs to 42 BTUs, which enables you to choose the option that is best suited for the space in which you want to install it. The mini-split air conditioner will have the same features regardless of the size you choose.
Rheem's model utilizes the inverter technology to reduce power consumption and maintain the constant room temperature. Also, the unit's air handler is quiet, and it is unlikely to disturb you while you sleep.
Pros
Inverter technology lowers the unit's power consumption
The panel filter is reusable
Good humidity control options
Remote control
Cons
Short warranty period
The outdoor unit can be connected to a limited number of indoor air handlers.
Check out our guide to humidity control systems to find out how you can increase or lower the air humidity in your home.
Keystone KSTAW18C – The best through-the-wall 18,000 BTU air conditioner
Finding the place where you can install the Keystone KSTAW18C shouldn't be difficult as you can place the unit on the wall or the window. This 18,000 BTU AC is Energy Star certified, and it has an excellent 11.8 EER rating.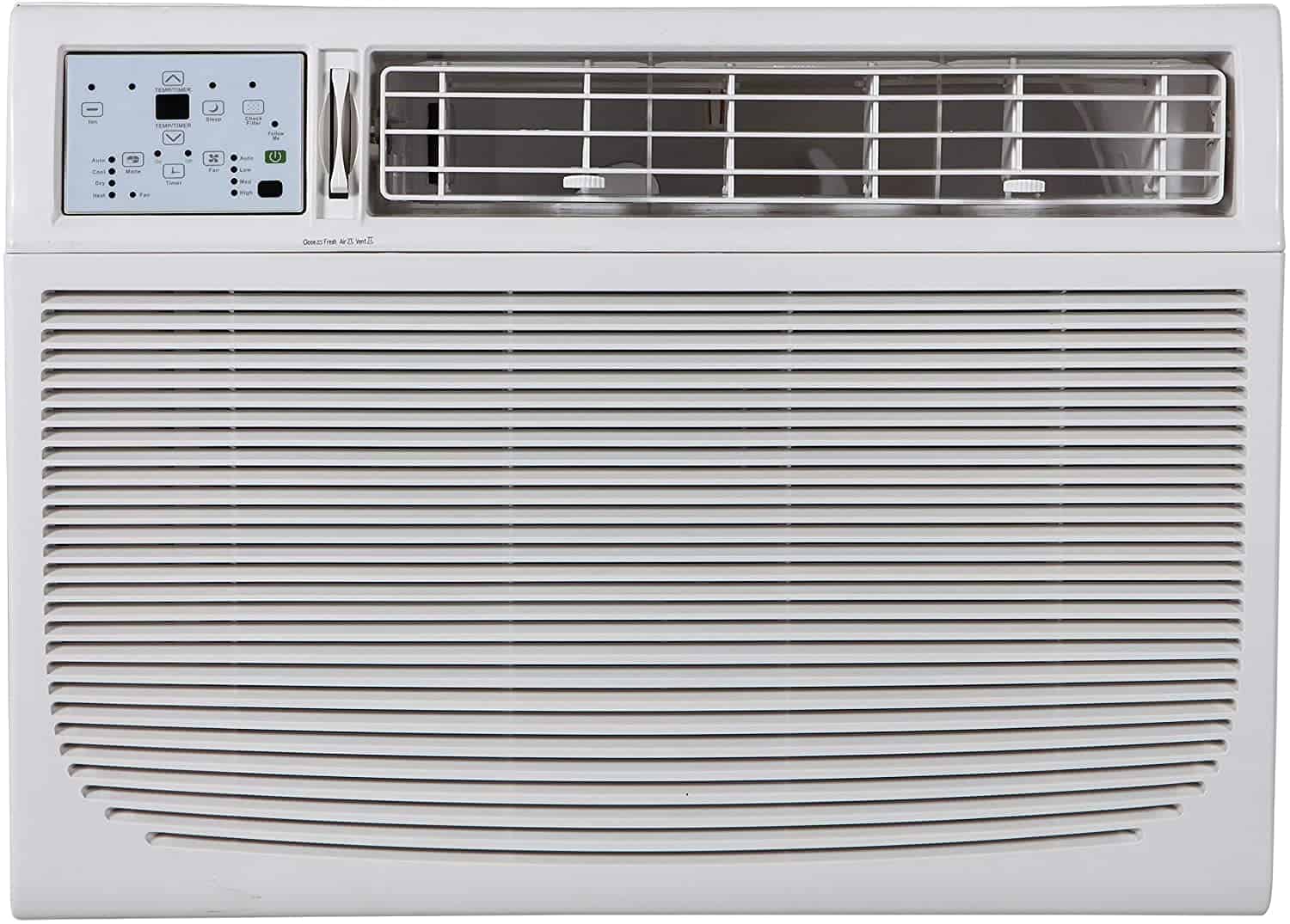 The unit's remote is equipped with the Follow Me feature that lets you measure the room temperature away from the AC so that you can maintain an even temperature throughout the room. The Keystone KSTAW18C has a dehumidifier feature, but it can only absorb 3.8 pints of moisture per hour.
Pros
Suitable for window and wall installation
High energy efficiency rating
The remote has the Follow Me feature
Equipped with a 24-hour self-timer
Cons
Requires a 230V/20A power outlet
1-year limited warranty
Pioneer WYSO18GMFI19RL-16 – The most energy-efficient 18,000 BTU air conditioner
The 19 SEER rating makes the Pioneer WYUSO18GMFI19RL-16 one of the most energy-efficient mini-splits on the market. Besides cooling, you can also use this unit to heat your home during cold months, but you should keep in mind that its coverage range is relatively narrow.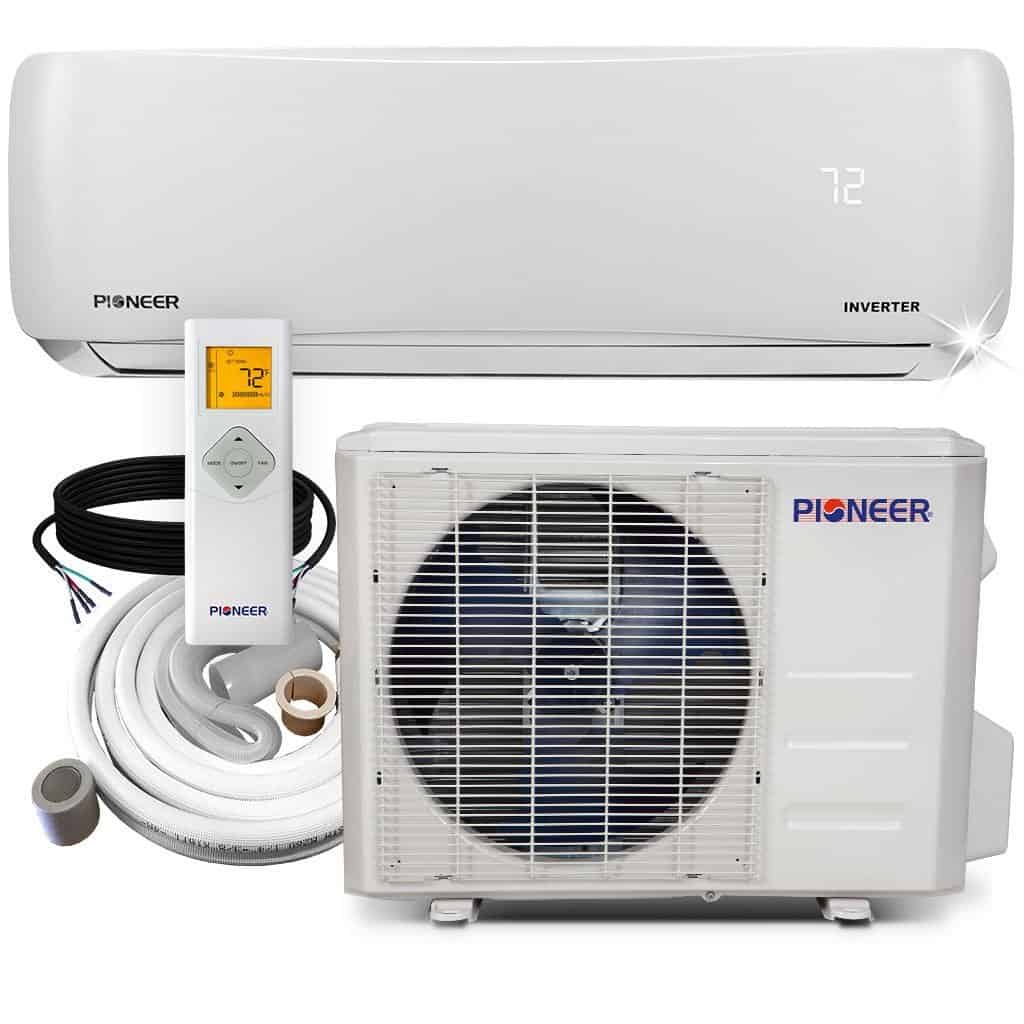 The indoor unit offers high, medium, and low airflow options, and the unit generates a different amount of noise while each of these options is selected. The outdoor unit produces around 57dB of noise, and its noise level doesn't oscillate.
Pros
It uses an eco-friendly refrigerant
Excellent safety features
Multiple installation kit options
5-year limited warranty
Cons
Expensive
Limited coverage range
Frequently asked questions about 18,000 BTU air conditioners
Question: Can I use an 18,000 BTU air conditioner for heating?
Answer: The answer to this question depends on the type of AC you choose, but some 18,000 BTU units have both cooling and heating capabilities.
Question: How to know if an 18,000 BTU is the right choice for me?
Answer: Calculating the unit's coverage range on your own isn't advisable, and you should hire an HVAC technician to help you determine an appropriate AC size for the space you want to heat or cool.
Question: Do all 18,000 BTU air conditioners use refrigerants?
Answer: Yes, they do, but all models you can find on the market use refrigerants that don't deplete the ozone layer.
Question: Are 18,000 BTU air conditioners easy to move?
Answer: Window and wall ACs are the easiest to move because they're not attached to the wall or the outdoor component, but they usually weigh more than 100lbs, so changing their location isn't necessarily easy.
Our verdict: What's the best 18,000 BTU air conditioner?
Instead of trying to figure out which 18,000 BTU air conditioner is the best, you should determine if a unit of this size is a good fit for the space you want to cool or heat. Also, you should decide which type of AC you want to get since window ACs and mini-splits have different features.
18,000 BTU air conditioners are not equally efficient at controlling a room temperature, so you should search for an Energy Star certified model that has high EER and SEER ratings. We recommend the Frigidaire FFRE1833U2 because it has excellent cooling and energy-saving capabilities.
But, this unit doesn't fit on all types of windows, and you should consider alternative options like the Pioneer WYUSO18GMFI19RL-16 or the Goodman GSX13 if you don't want to install your AC in a window. Which of the best 18,000 BTU air conditioners are you going to choose?
Let us know in the comments or continue reading our guide to the best 4-ton AC units if you need a cooling system with a broad coverage range.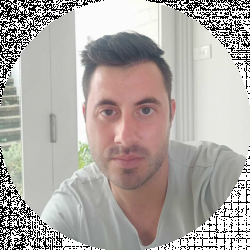 Latest posts by David Borgogni
(see all)