The temperatures hover around the mid-90s throughout the summer in my home region. So, being familiar with the best 12,000 BTU air conditioners has enabled me to stay cool and perform my daily activities normally despite sweltering temperatures.
These ACs don't have a vast coverage range and are best used as a single-room cooling option. However, most models aren't easily portable, so knowing where you want to install a one-ton AC makes the selection process easier.
In this article, I'll cover the key aspects of choosing a 12,000 BTU air conditioner and help you select the best Best 12000 BTU Air Conditioner for your needs.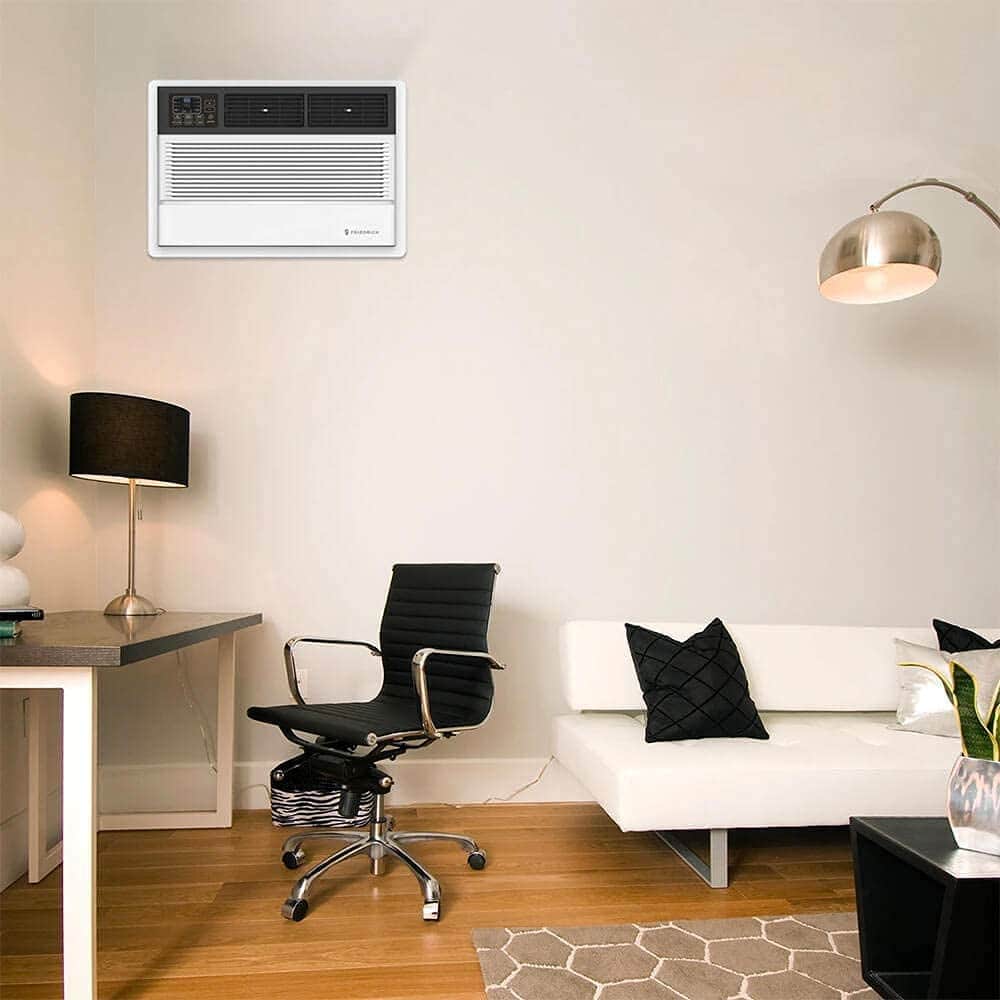 Bottom Line Up Front
I'm not wealthy enough to buy inexpensive ACs that last for a season or two before breaking down. Instead, I prefer getting a more expensive but reliable model that performs well throughout the year.
That's why I recommend getting a 12,000 BTU air conditioner like DELLA 048-MS-12K2V-17S if you need a permanent heating and cooling source for your garage or living room.
A portable model such as Whynter Elite ARC-122DS is an excellent seasonal option you can easily put into storage after the summer ends.
Please read: The best Pioneer mini-splits
My Top Picks At a Glance
The Most Popular 12,000 BTU AC Categories
I dedicate a lot of time to understanding the requirements of space I'd like to cool or heat while deciding which air conditioner type to choose. Some rooms in my home don't have the necessary infrastructure to support certain AC models, as their windows might be too small or their walls too thin.
So, before exploring different AC categories, you must first check if the room where you want to place the unit has everything the AC requires to function properly. Afterward, you can use the information you gathered to choose a model from one of the following categories:
Window – Even though they don't require professional installation, mounting these units on a window can be challenging. Even though some models have heating functions, most homeowners use these ACs during summer.
Mini-split – These systems are comprised of outdoor and wall-mounted indoor units connected by a lineset.
Portable – Simple installation process, compact design, and low power consumption are among the key characteristics of portable ACs.
Through-the-wall – The so-called built-in 12,000 BTU air conditioners are a reliable option for spaces in need of a permanent heating or cooling source.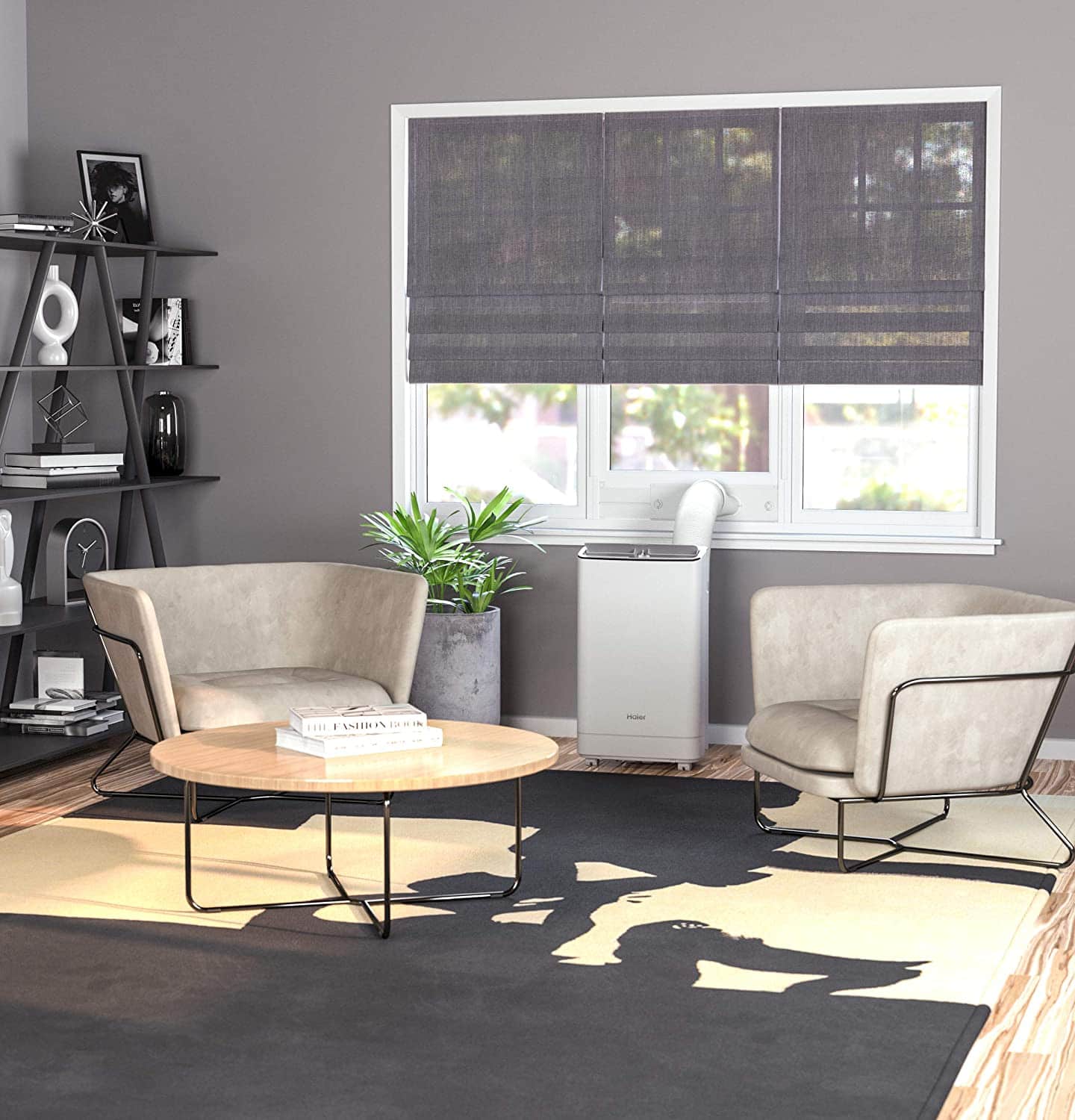 You might also like: The best GE brand air conditioners
Output and a Coverage Range of 12,000 BTU ACs
I don't evaluate the space where the air conditioner should be located just because of the unit's installation requirements. I use the room size to pinpoint the models powerful enough to adjust the temperature within a specific area.
So, I would only install a one-ton, or 12,000 BTU unit in 400 to 600sq/ft space because using an AC with this output in smaller or larger areas would increase its power consumption.
Top tip: Don't install a 12,000 BTU air conditioner in an uninsulated space because it will draw a lot of power and struggle to maintain the temperature at the same level.
Also, you shouldn't assume that all one-ton models have the same coverage range since portable or window models might struggle to keep a 600sq/ft space cool.
In addition, seemingly inconsequential factors, like the ceiling height or the number of windows in a room, can limit the unit's range.
Heating and Cooling Efficiency
My monthly utility bill didn't increase after installing a 12,000 BTU air conditioner in my home. The unit I selected needs less than 1kW to reach a specific temperature and around 300 Watts more to maintain it.
Most manufacturers include the efficiency rating in the model's product description, so estimating its monthly power usage isn't too difficult. The Seasonal Energy Efficiency Rating (SEER) shows you the AC's maximum efficiency during the cooling season.
You should also pay attention to the following ratings:
EER – Energy Efficiency Ratio indicates how much power a 12,000 BTU AC needs to cool a room at 95F outdoor temperature.
HSPF – If you're searching for units with a heating function, you should check each model's Heating Seasonal Performance Factor.
Also, I suggest choosing an Energy Star-certified AC because these units draw less power than models that don't have this certificate.
Continue reading related AC Guides based on BTU:
Standard Features of 12,000 BTU ACs
The list of functions these units offer varies slightly from model to model. Still, most portable, through-the-wall, window, or mini-split ACs have similar features that let you increase or decrease room temperature and dehumidify the air.
In addition, the Fan Only mode is a standard option on most models and you can use it to circulate the air in the room instead of cooling it. Sleep and Energy Saving modes that limit the unit's power draw during certain hours are also common.
Top tip: Opting for a WiFi-enabled 12,000 BTU lets you control the temperature in your home even while you're away. 
Portable and window AC usually have short power cords, which is why I always measure the distance between the location where I want to install a unit and the nearest power outlet to ensure I don't have to use extension cords.
Although most 12,000 BTU models come with installation kits, I suggest checking if the unit you'd like to get arrives with the components you need to install it.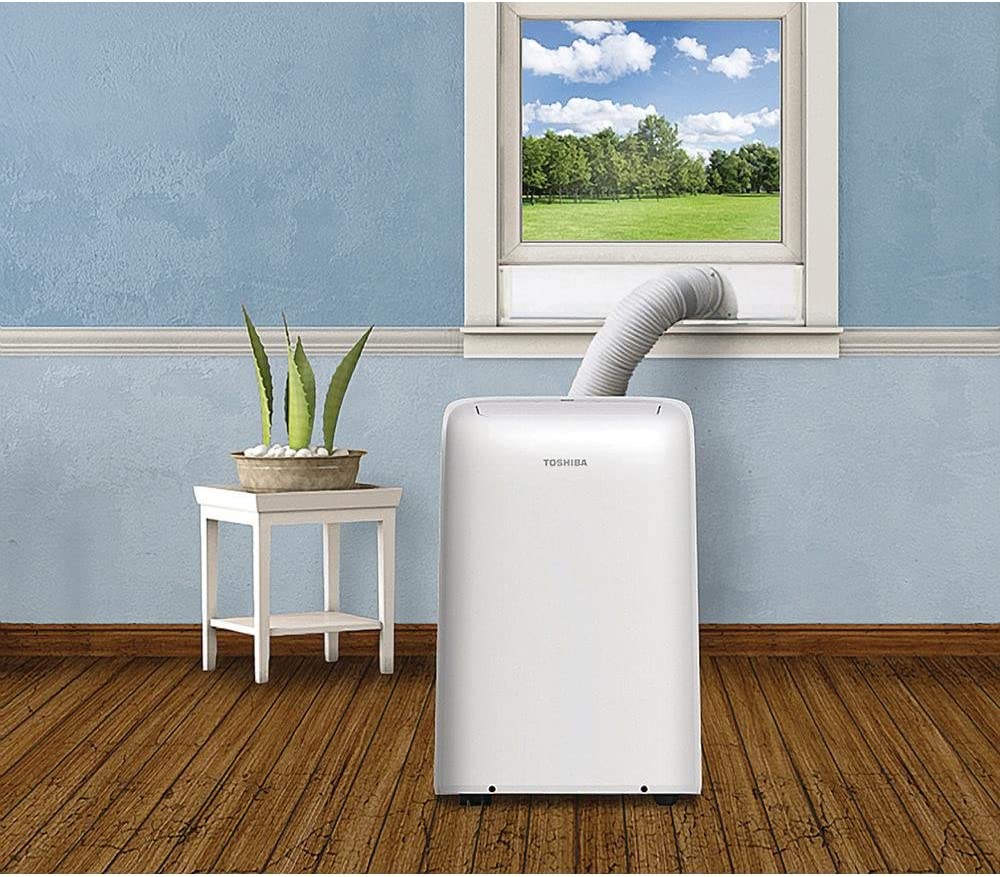 Maintenance and Cost
I can hardly stress enough how important it is to take proper care of your 12,000 BTU AC. Failing to clean or replace its air filter will limit its cooling or heating capacity, encourage mold and bacteria growth and allow dirt to accumulate on the unit's components.
I replace the air filter on my AC unit before every cooling season and perform routine checks every few weeks to determine the right moment to install a new one. Doing so keeps my AC in excellent condition and extends its lifespan.
Moreover, I don't have a self-evaporative AC, so I have to empty its drain pan to ensure it can function correctly. Prices of 12,000 BTU air conditioners depend on their type, list of features, and manufacturer.
Portable models are the least expensive option as their price ranges from $200 to $600. On the other hand, you may have to spend more than $1,000 to purchase and install a 12,000 BTU mini-split system.
See also: The best Gree mini-splits
Selection Criteria
I had to browse through the specifications of hundreds of 12,000 BTU air conditioners before I could decide which models to include in this guide. Hence, the output capacity wasn't the only criterion I relied on during the selection process.
The model's price, installation costs, and energy efficiency were among the criteria I utilized to pick suitable units for a wide array of contexts. Here are a few more parameters that helped me select the best 12,000 BTU air conditioners:
AC's durability – I believe that the AC's true value lies in its longevity, which is why all models in the final selection have high-quality components.
Range of options – Each model I listed in this guide offers a variety of features that ensure the user's comfort.
Check also: The best 6,000 BTU air conditioners
Top 9 12,000 BTU ACs
Black & Decker BD12WT6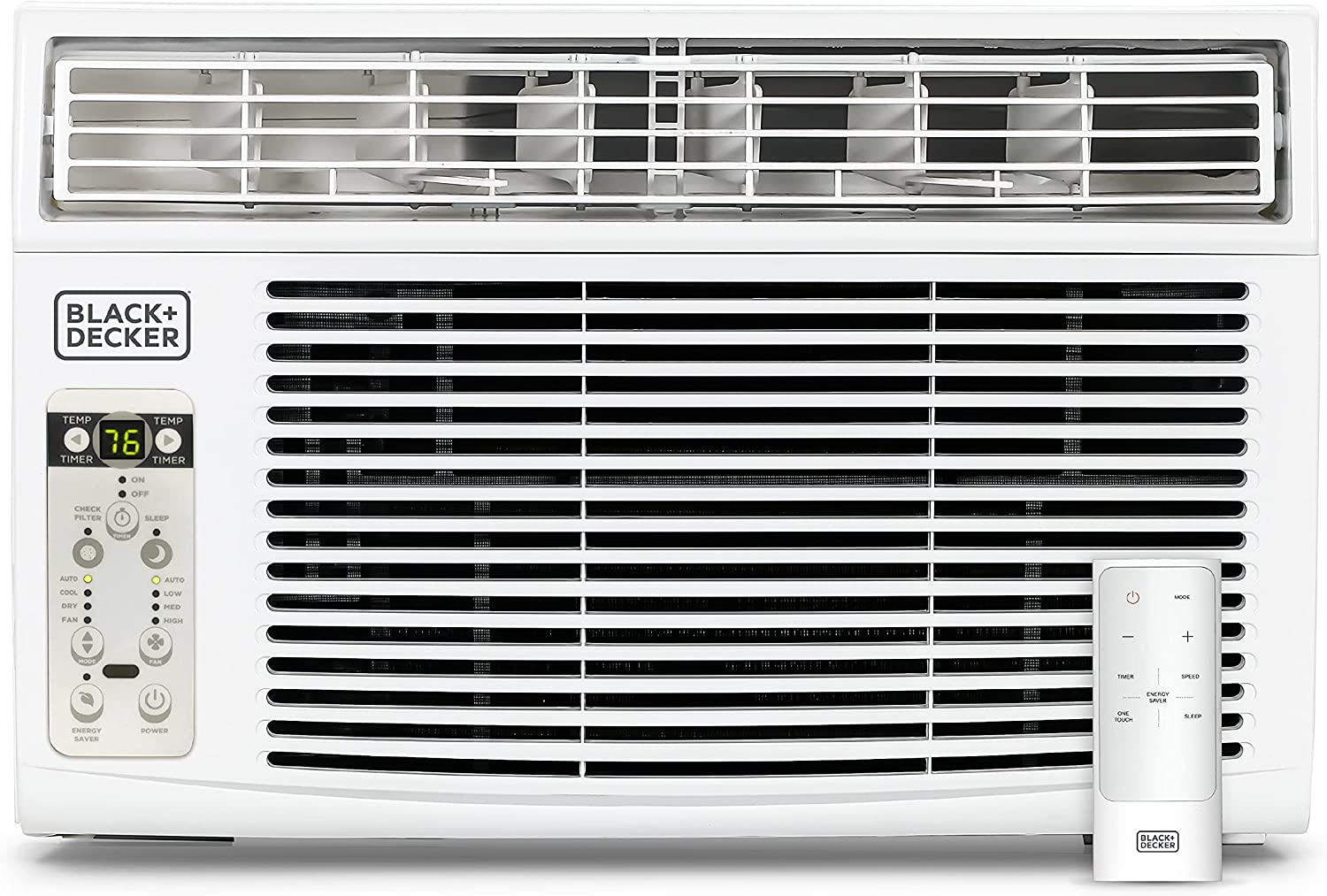 You can only install the Black & Decker BD12WT6 on double-hung windows, so I suggest exploring other options if the space the AC is for has some other window type. Also, you must check if you can install this unit on windows wider than 36 inches.
Despite these downsides, I think this Black & Decker's Energy Star-certified model offers excellent performance at a reasonable price. In addition to keeping the room temperature in the 62F to 86F range, the unit can dehumidify or circulate the air.
Pros
The unit weighs 67.7lbs
It has a washable nylon air filter
The AC is programmable
It utilizes an eco-friendly refrigerant
Cons
It has underwhelming dehumidification capacities
DELLA 048-MS-12K2V-17S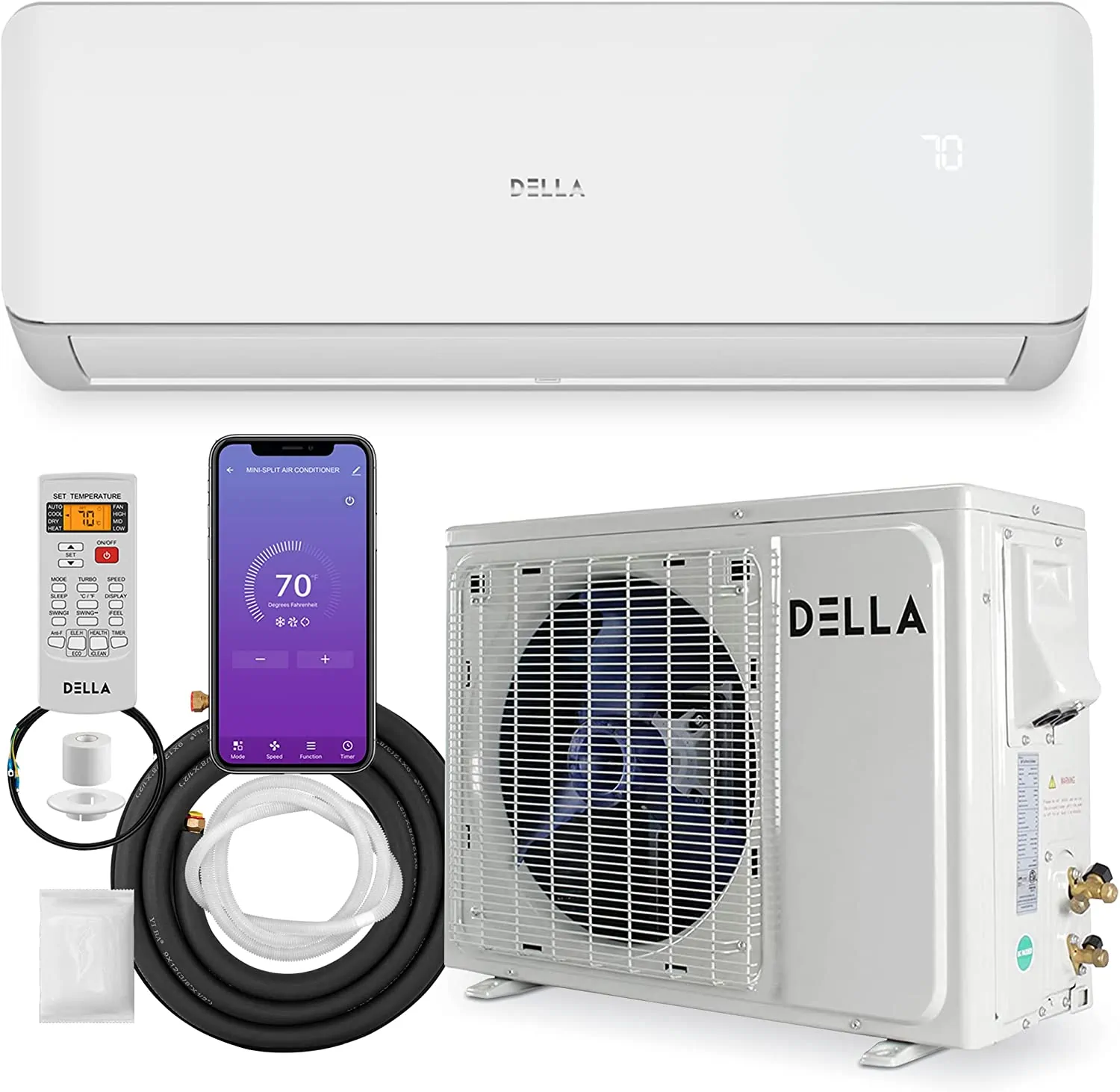 Initially, I didn't want to include the DELLA 048-MS-12K2V-17S, but its remarkable features prompted me to reconsider my decision. This mini-split can heat or cool spaces up to 550sq/ft, and you can employ it equally effectively in residential or commercial contexts.
Its indoor unit is equipped with 4D airflow technology that enables it to distribute warm or cold air horizontally and vertically. The unit also has a smart sensor that helps it maintain an even temperature throughout the room.
Pros
Inverter technology reduces the mini-split's power consumption
It has an auto-defrost function
This AC has a high SEER rating
The indoor unit makes less than 40dB of noise
Cons
The AC has a short warranty period
Toshiba RAC-PD1211CRU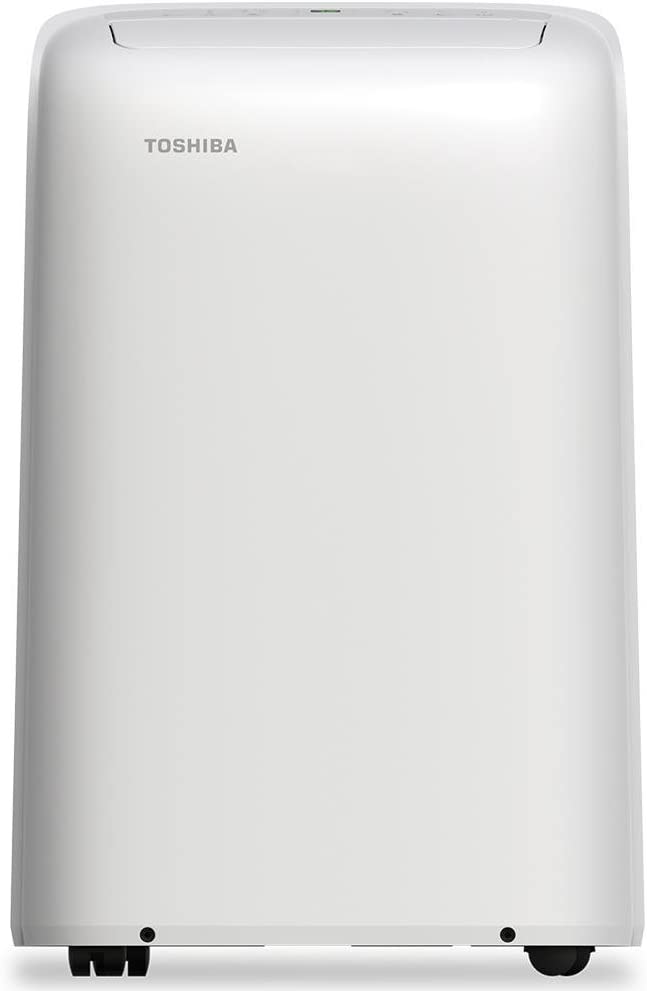 I prefer buying air conditioners produced by well-known brands. That's why I think that Toshiba RAC-PD1211CRU is one of the best portable 12,000 ACs for spaces smaller than 350sq/ft. Its elegant design and compact size make finding the space for the unit easy.
This model has four sturdy casters that enable you to move it around your house effortlessly. Besides cooling, the unit can ventilate a room or control its humidity levels, while the Sleep Mode lets you regulate room temperature at night.
Pros
The control panel is easily accessible
It doesn't draw a lot of power
The manufacturer offers a one-year warranty
Cons
This model isn't self-evaporative
LG LT1216CER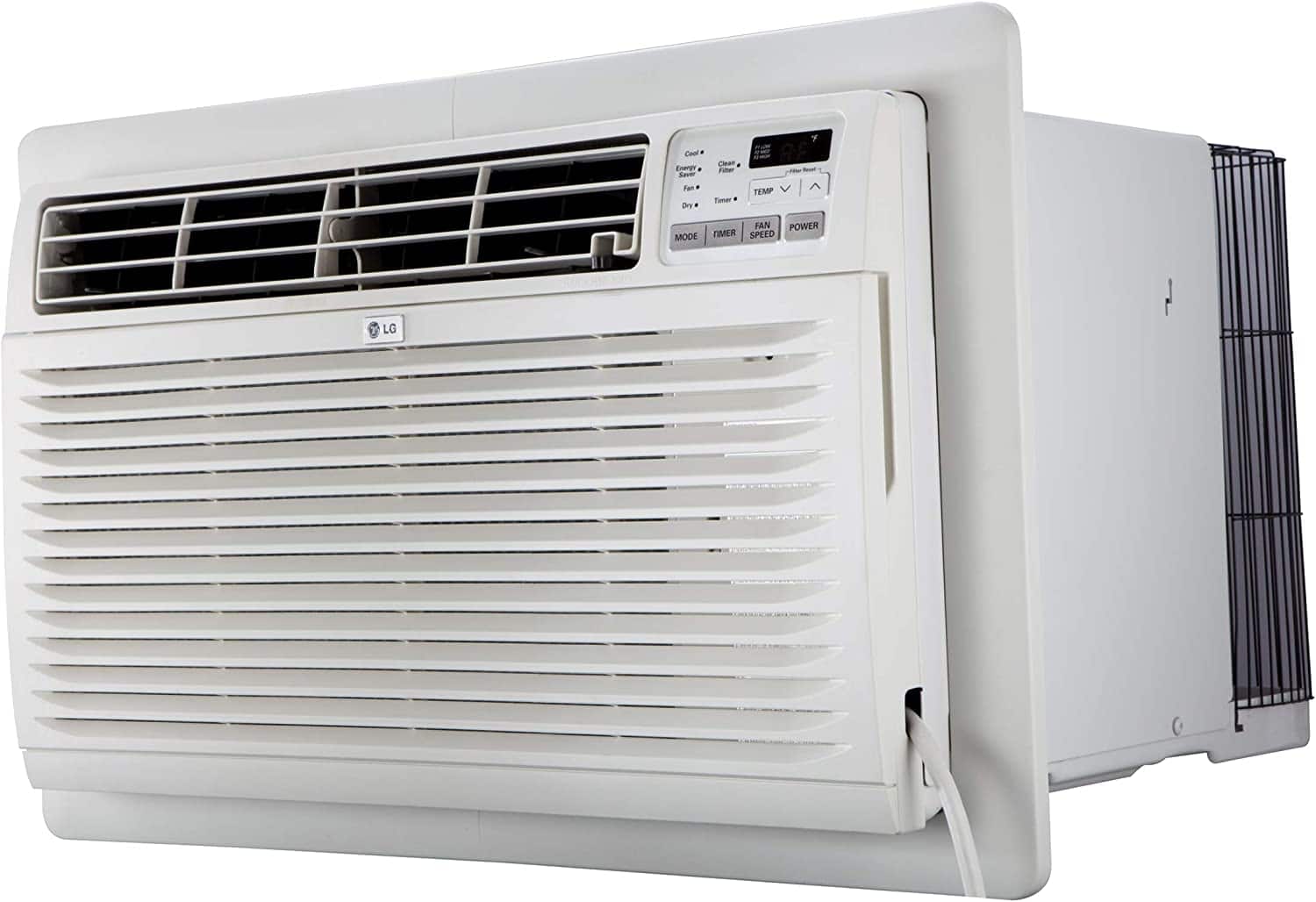 I wouldn't call the features the LG LT1216CER through-the-wall AC offers impressive, but despite this, the unit has everything most homeowners need to keep a certain part of their home cool.
This LG model has Cool, Dry, Fan Only, and Energy Saver modes, as well as the Timer function that lets you program it to operate automatically at even intervals. Unit's Filter Clean option informs you when to wash its reusable air filter.
Pros
It is Energy Star-certified
This model has three fan and cooling speeds
It has an excellent moisture-absorption capacity
The unit is compatible with most sleeves
Cons
This through-the-wall AC can be hard to find
Midea MAW12V1QWT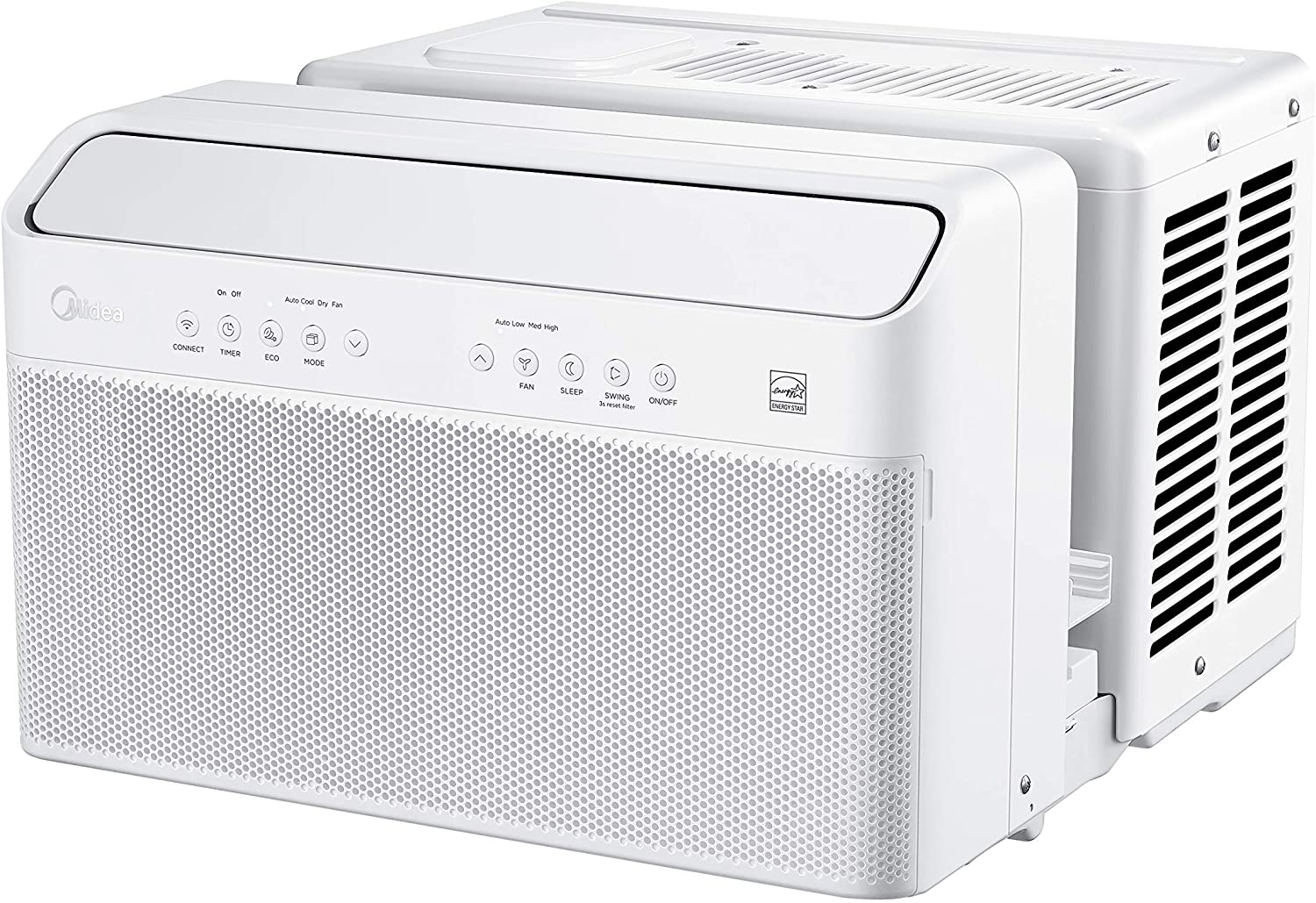 If the 12,000 BTU version of the Midea MAW12V1QWT window AC is too powerful for the space where you'd like to install your new unit, you can consider 8,000 BTU or 10,000 BTU versions of this model.
I love the variety of control options this WiFi-enabled model offers, as it allows users to adjust its settings on the built-in control panel, through the MideaAir app for Android and iOS devices or by issuing voice commands with Google Assistant and Amazon Alexa.
Pros
Unique U-shape enables users to open the window
It utilizes the inverter technology that reduces its vibration and noise levels
This unit has an Anti-Theft mechanism
The AC has high SEER and EER ratings
Cons
It doesn't have the Heat mode
Air-Con BO7PP9L3S3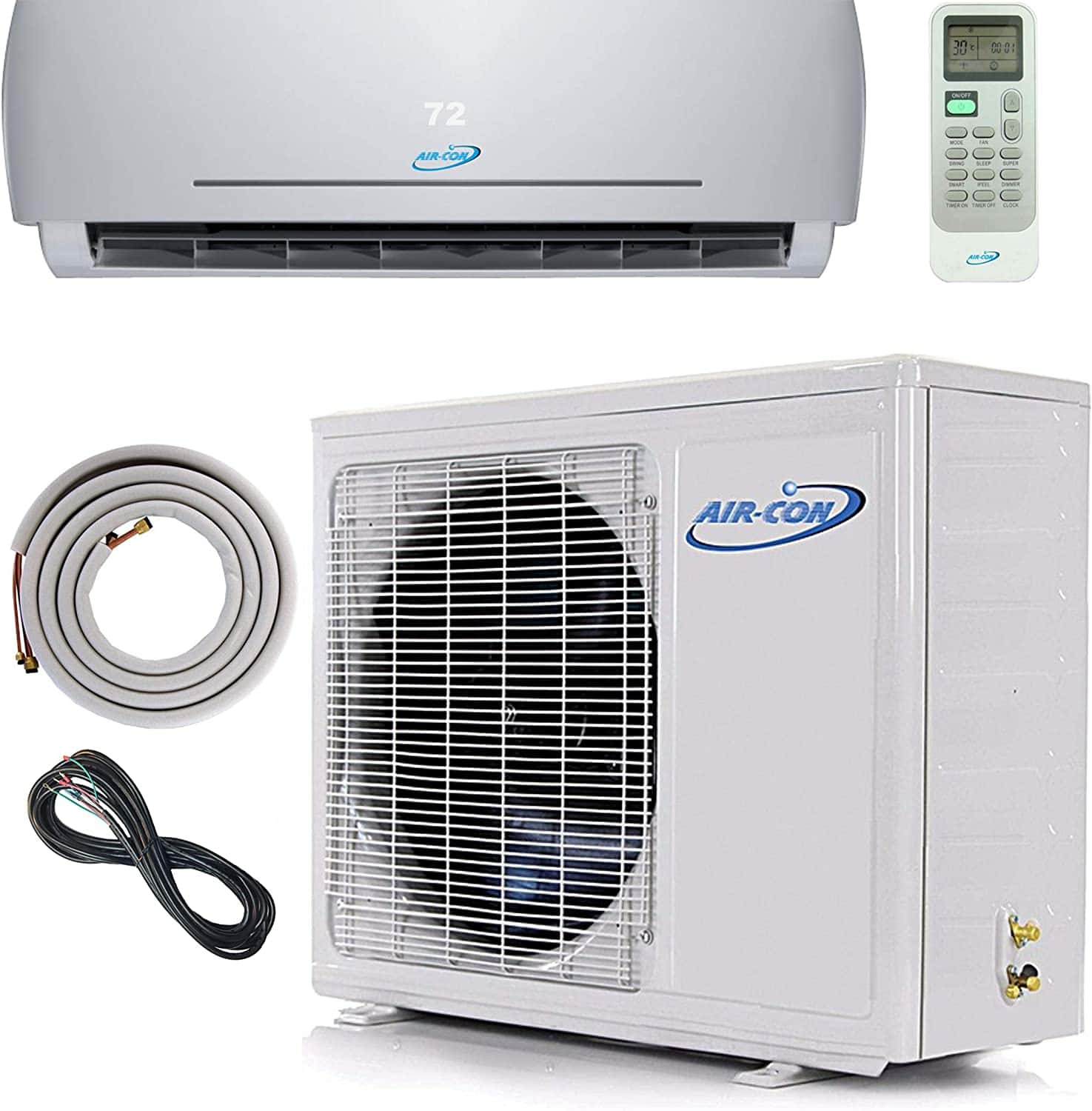 I think that the Air-Con BO7PP9L3S3 is one of the most durable mini-split models released in the last few years. The manufacturer offers a seven-year warranty for the outdoor compressor and a five-year warranty for all other parts of the system.
You can keep using this mini-split even when outdoor temperatures drop below zero or rise above 95F. Moreover, you can switch between Sleep, Fan, Swing, and I Feel modes or program the AC with a push of a button.
Pros
It resumes working after a power failure
This mini-split is WiFi-enabled
It helps regulate the room's air humidity level
Cons
The lineset is only 12 feet long
Whynter Elite ARC-122DS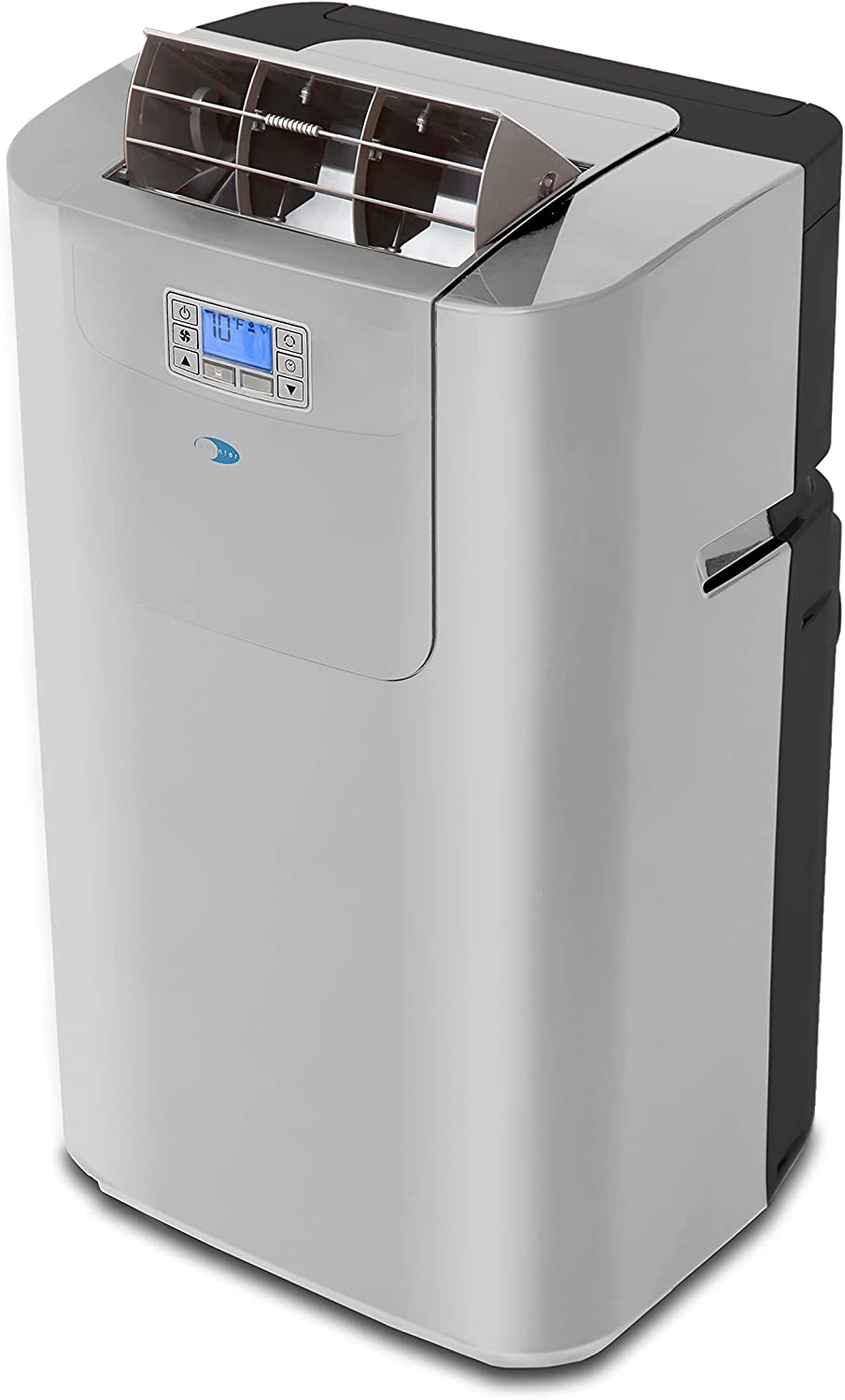 Including the Whynter Elite ARC-122DS among the best 12,000 ACs was an easy decision, considering it was voted 2022's quietest portable air conditioner. The unit's 400sq/ft coverage range makes it suitable for a broad spectrum of commercial and residential settings.
This Whynter model can operate in three modes at different cooling and fan speeds. It can absorb 76 pints of moisture per day and dispose of it automatically, so you don't have to spend a lot of time on its upkeep. The air conditioner has a 13 SEER rating but isn't Energy Star-certified.
Pros
This AC is lightweight
Its air filter contains carbon
It has a wide operating temperature range
The unit performs well in humid environments
Cons
It's more expensive than most portable ACs
Friedrich E90FRUCT12A30A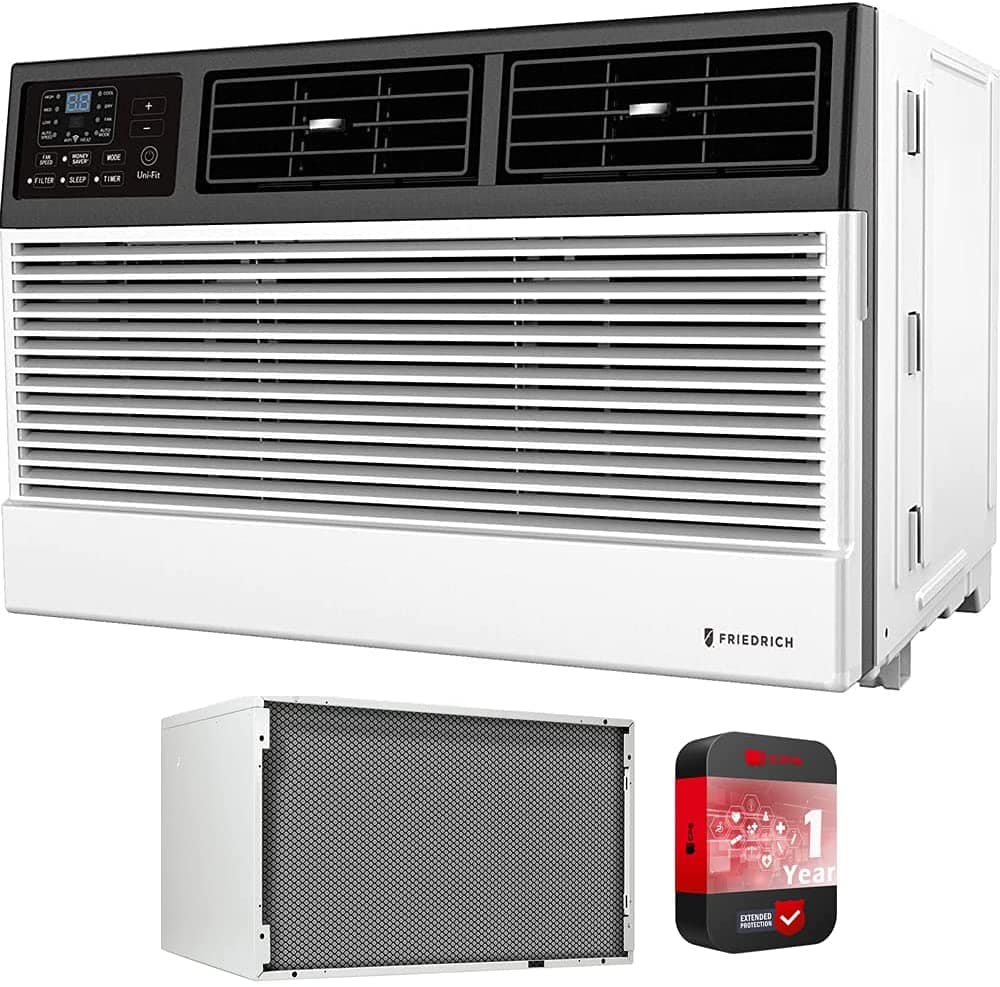 The advanced features Friedrich E90FRUCT12A30A through-the-wall AC offers more than justify its steep price. This model fits 24.5, 26, and 27-inch sleeves and arrives with decorative trim that covers the empty space and prevents outdoor air from entering your home.
It can operate at three speeds in Cooling or Fan modes, but you can also use its Auto mode to control the room temperature automatically. The AC's WiFi-enabled, so you can adjust its settings from your phone or with Amazon Alexa and similar devices.
Pros
It has a universal design
The unit's equipped with the Money Saver technology
The AC has excellent sound insulation
This model has 8-way louvers
Cons
Haier QPCA12YZMW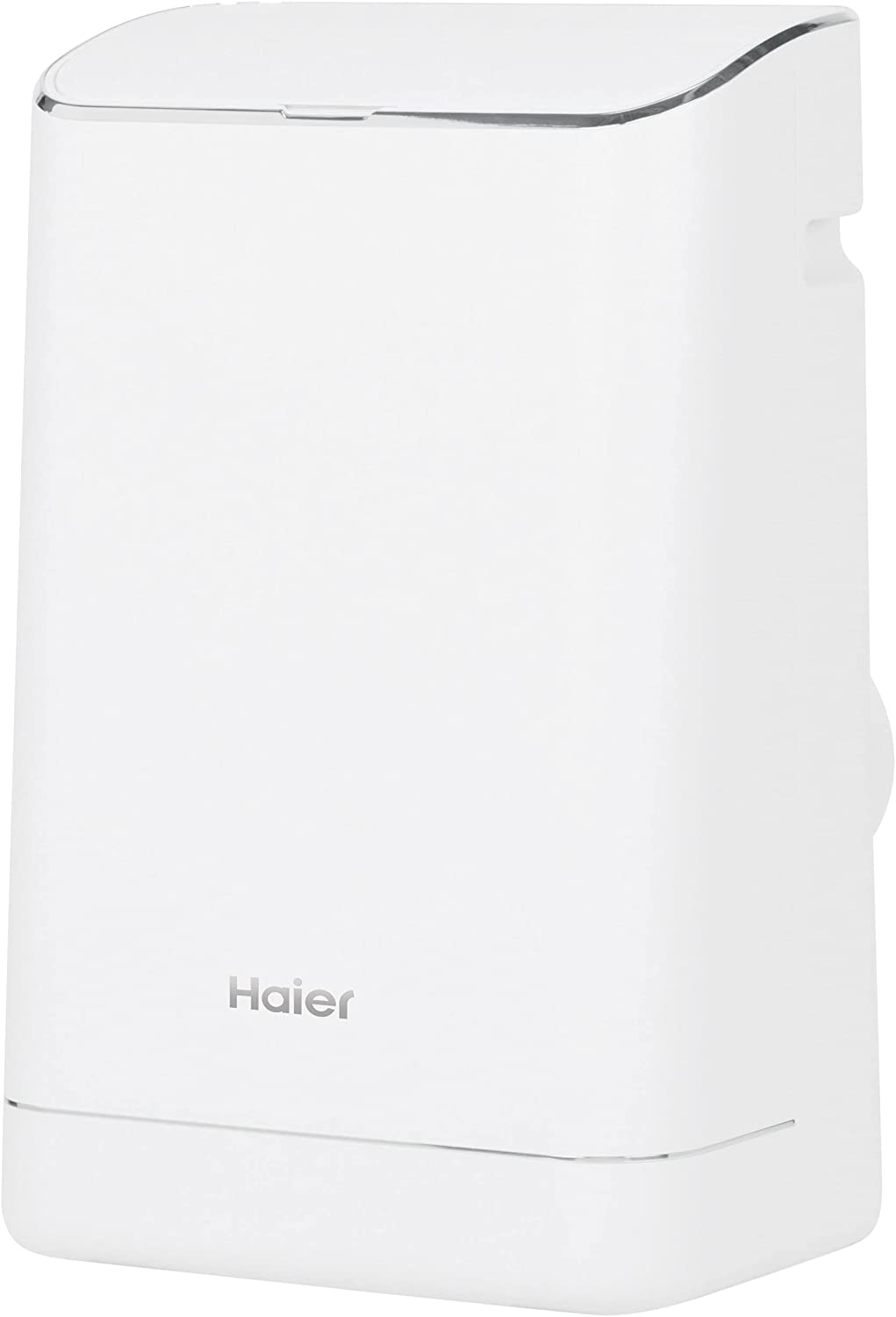 I suggest considering the Haier QPCA12YZMW if you'd like to get a portable AC that performs well in humid conditions. This self-evaporative unit doesn't have a drain pan and can absorb up to 77 pints of moisture in a day.
Its cooling features aren't less impressive since the AC can cool a 450sq/ft room quickly and maintain its temperature in the 64F to 86F range. However, you can only use this Haier's model if the windows in your home are 20 to 46 inches wide.
Pros
Straightforward installation process
Low upkeep requirements
It has easy-roll wheels
Cons
The unit is loud when operating at maximum capacity
Frequently Asked Questions about 12,000 BTU Air Conditioners
Question: Are 12,000 BTU ACs a reliable heating option?
Answer: These ACs can be an additional heating source. Their power consumption and coverage range make them a poor choice for a primary source of heating.
Question: Do all 12,000 BTU ACs have washable air filters?
Answer: Yes, most models come with reusable air filters, but you still have to check if the unit you pick uses disposable air filters.
Question: Can I make a noisy 12,000 BTU AC quieter?
Answer: Dampening the unit's noise without affecting its performance isn't possible.
I hope that I succeeded in my goal and that this article has helped you find the best 12,000 BTU air conditioner for your needs. Please take a look at our guide to the best 18,000 BTU mini-splits if a one-ton unit isn't big enough for the space you'd like to cool or heat.
Final Thoughts
I remember how stressed I was while searching for my first 12,000 BTU AC because I didn't know if the model I selected was powerful for my room.
However, this process doesn't have to be stressful since checking the model's coverage range, energy efficiency rating and dehumidification capacity provides you with enough information to know how well it will perform in dry or humid conditions.
Getting the DELLA 048-MS-12K2V-17S mini-split is, in my opinion, only a good choice if you need a system you can use during the warmest and coldest months of the year.
I recommend choosing a window AC like Midea MAW12V1QWT or a portable model like Whynter Elite ARC-122DS if you're looking for a unit that can keep you cool during summer.
Related Reads – How to Find the Best: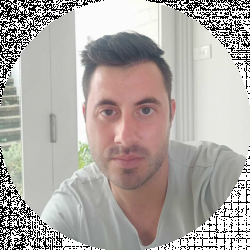 Latest posts by David Borgogni
(see all)