I converted the shed in my courtyard into an art studio a while ago, but I couldn't use the space throughout the entire year. I embarked on a mission to find the best AC unit for my shed capable of maintaining the same temperature in my improvised studio during the hottest and coldest months.
Soon after setting up the AC unit, I realized that it was using too much power and was struggling to heat or cool a relatively small space. The unit's performance improved after I insulated the shed, as the heat transfer drastically reduced.
In this article, I'll share the knowledge I acquired while searching for the best AC units for sheds and walk you through some of the models that could be the right option for you.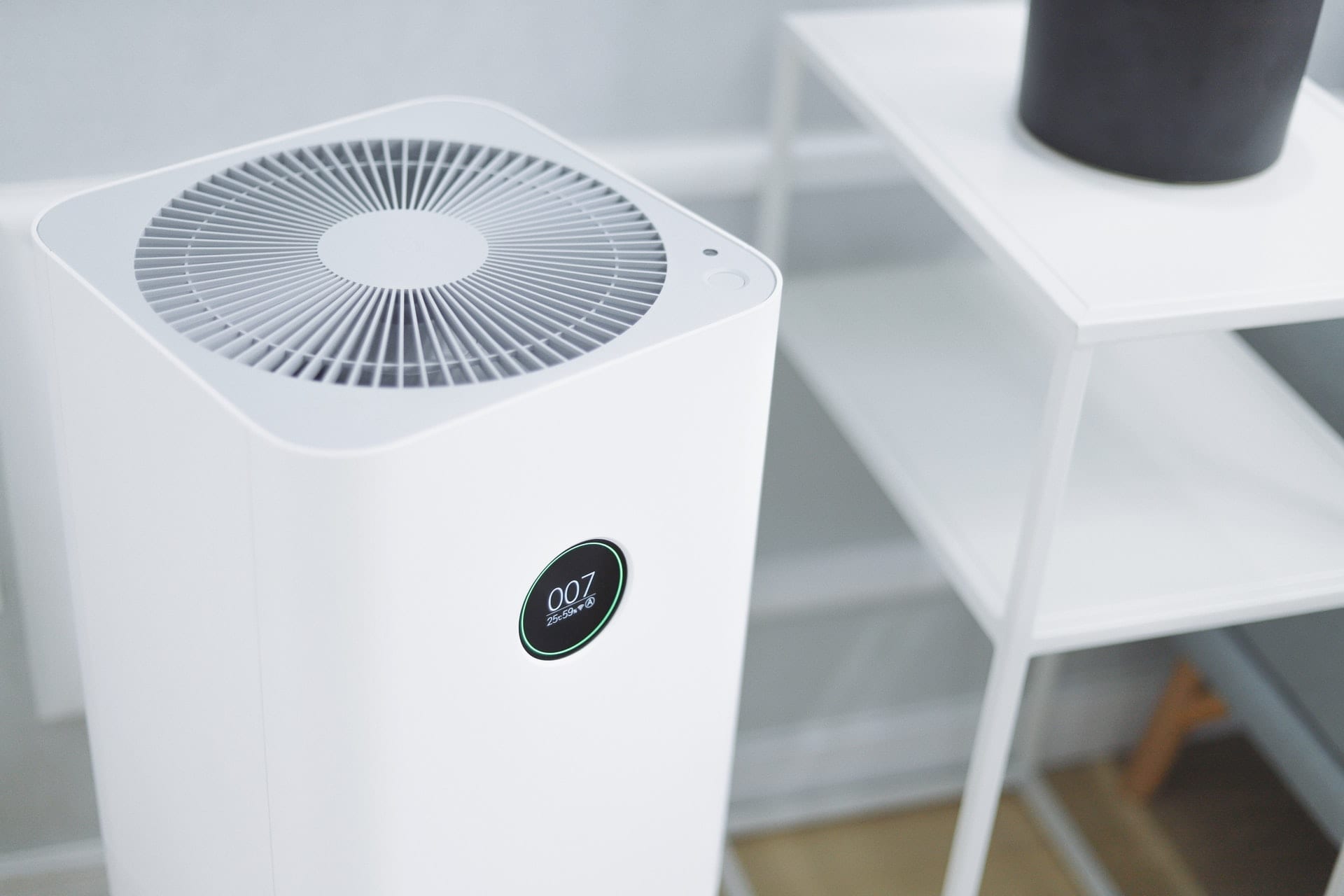 Bottom Line Up Front
A wide range of factors can affect your decision to choose one AC model over another, including the size of the area you want to cool or heat and the unit's installation requirements.
I recommend choosing a potable model like the SereneLife SLACHT108 or Black & Decker BPACT08WT if you want a unit you can install quickly. However, opting for a Senville LETO SENL-09CD-16 or Daikin RXB09AXVJU is arguably the best long-term cooling and heating solution for your shed.
See also: How to find the best mini-split
My Top Picks At a Glance
Types of ACs for sheds
Brands don't manufacture AC units designed for specific spaces. Hence, you can install any AC type in your shed if the structure is connected to a power grid. However, some AC types have specific installation requirements that make them a poor fit for some sheds.
For instance, I didn't even consider window ACs while choosing a cooling and heating unit because my shed doesn't have double-hung windows. Let's take a look at different types of AC you can use in a shed.
Mini-splits – Most models have cooling and heating functions, so you can use them to keep your shed cool or warm as long as outdoor temperatures remain in the unit's operating temperature range. It's also worth adding that mini-split systems aren't a good option for spaces smaller than 450sq/ft.
Window – These units usually don't have high cooling and heating outputs. However, I only recommend choosing them if you've no intention of using one of your shed's windows.
Portable – A self-standing AC equipped with casters gives you some flexibility in terms of its positioning. Keep in mind that all models have exhaust vents that must be connected to an opening in a window or a wall.
Through-the-wall – The features and performance capacities of through-the-wall ACs are identical to those offered by other types of ACs. The installation process can be challenging.
See also: The best slider window air conditioners
Recommended Cooling and Heating Outputs of Shed ACs
My shed is small, so the AC unit I selected was suitable for spaces smaller than 200sq/ft. The average shed size spans from 150 to 300sq/ft, which means that in most cases, you're not going to need a 2-ton or 3-ton heating and cooling system to regulate the temperature in your shed.
Even so, you must calculate the size of the area you want to heat or cool before considering different AC options. A model with 10,000 BTU output is suitable for rooms up to 350sq/ft since most units need around 20 BUTs to heat or cool one square foot of space.
Top tip: Besides the unit's cooling and heating outputs, I also considered its dehumidification capacity while selecting an AC for my shed. 
I don't recommend getting an AC that is too big for your shed because it will use a lot of power and struggle to maintain the temperature you selected.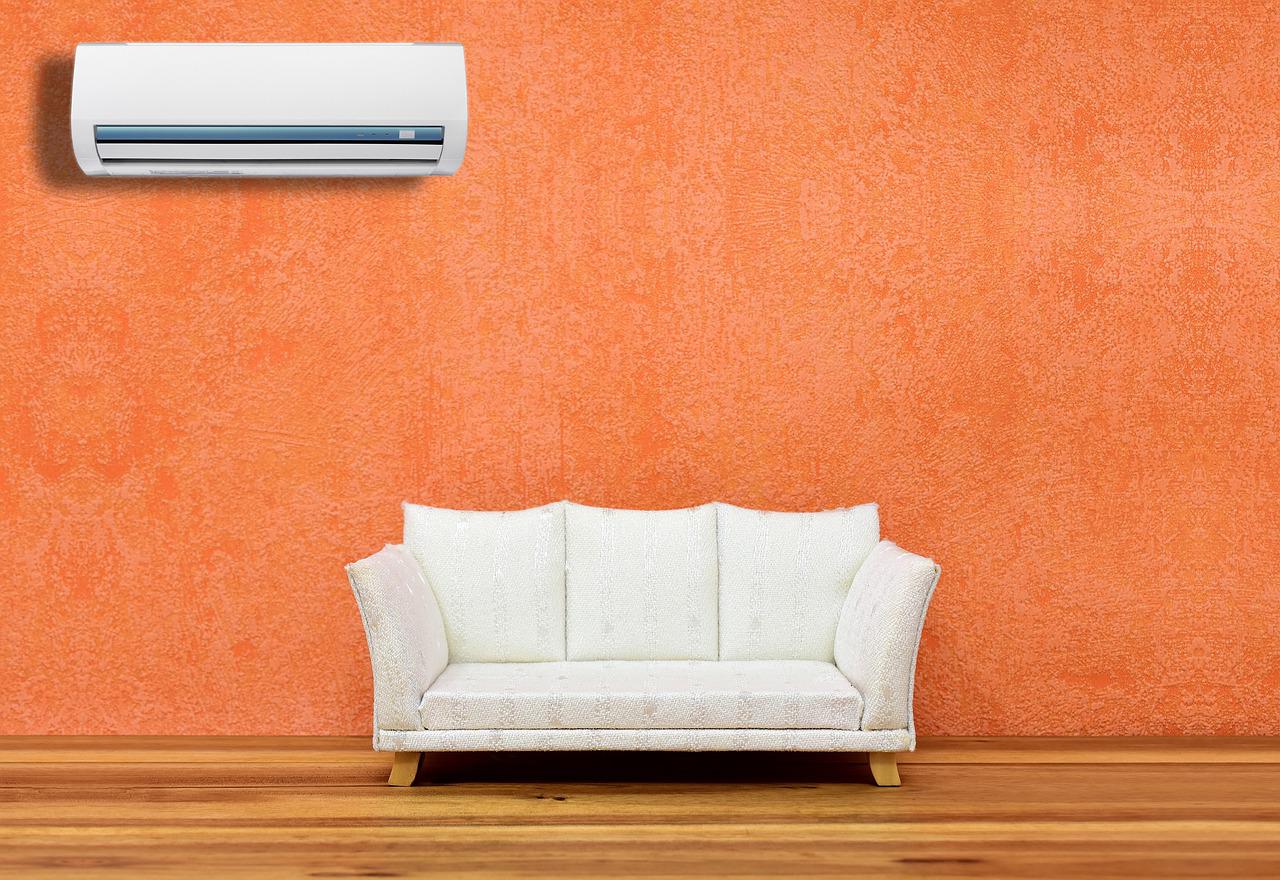 Energy Efficiency Ratings
The average power consumption of AC units depends on their type, so a window model draws between 900 and 1,500 Watts per hour, while a portable AC can use up to 4kW per hour. The easiest way to determine AC's efficiency is to check its SEER and HSPF ratings.
SEER – Seasonal Energy Efficiency Rating indicates how much power the unit needs to maintain the room temperature at the same level throughout the cooling season. ACs with SEER ratings higher than 16 are considered energy-efficient.
HSPF – This rating shows how much power a unit needs to control room temperature during the heating season. Hence, you won't have to pay attention to it if you opt for an AC that only has the cooling function.
Energy Star-certified models have high SEER and HSPF ratings and draw around 10% less power than models that don't have this certification.
See also: The best 6,000 BTU air conditioners
Improving the Unit's Cooling and Heating Efficiency
I wasn't familiar with the concept of heat transfer when I decided to install an AC unit in a shed that wasn't insulated. As a result, the unit was largely ineffective despite its excellent energy efficiency ratings, as it drew more power than I expected.
I discovered that more than 50% of the cold and warm air my unit generated escaped through uninsulated walls and windows. So besides adding R-13 insulation to the shed's walls, I also had to ensure that the air couldn't escape through the door and windows.
Top tip: I recommend getting a programmable unit that will allow you to control the temperature in your shed even when you're away. 
Exploring different ways of controlling air humidity in your shed can make your unit more efficient. Besides insulating the floor, I recommend improving the shed's ventilation system and using the AC's dehumidification function to reduce the humidity levels.
Prices and Upkeep Requirements of Shed ACs
I don't spend more than a few hours per month on maintenance of my AC, as I only empty its water bucket and clean the air filter. Spending slightly more on a model with a continuous drain function eliminates the need to empty the drip pan.
In case you opt for a mini-split system, I suggest hiring a licensed technician to perform annual system checks. Cleaning the outdoor condenser's fins and coils or inspecting its refrigerant lines on your own isn't advisable as you might accidentally damage these components.
Prices of AC units for sheds vary from $200 to $1,000, depending on the type and the maximum cooling or heating output. Window and portable ACs usually come with one-year warranties, while most brands offer five-year warranties for their mini-split systems.
See also:How to find the best garage air conditioner
Selection Criteria
Almost all industry-leading brands offer products capable of controlling temperature and air humidity in a shed. Hence, deciding which models to include in this article wasn't a simple task because I had to consider various contextual factors as well as the AC's features.
Here are some of the key criteria I relied on during the selection process:
The average shed size – The most common shed dimensions are 8×12, 10×16, 12×16, and 20×20 feet. I used this information to select ACs with appropriate cooling and heating outputs for spaces up to 450sq/ft.
AC type – The final selection includes different AC types so that you can choose the one that best fits your needs and budget. Also, all models in this article are produced by reputable brands.
See also: The best Amana portable air conditioner
Top 9 AC units for sheds
Senville LETO SENL-09CD-16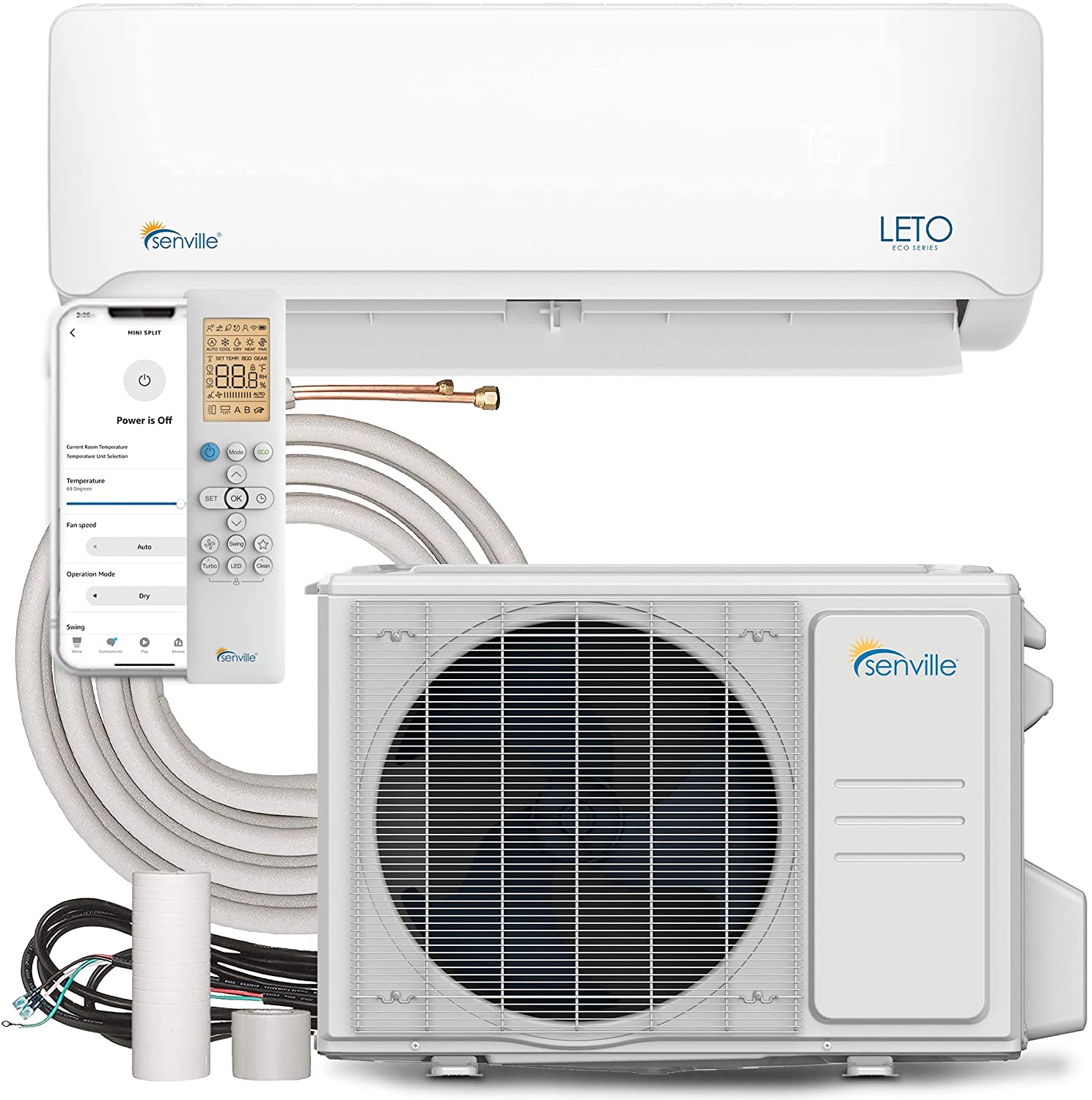 I think the Senville LETO SENL-09CD-16 mini-split could be an excellent cooling and heating solution for your shed if you're planning to use the space as your home office or store items that can't withstand exposure to extreme temperatures.
The unit can supply heating at outdoor temperatures above 5F and circulate or dehumidify air granting you complete control over the room's climate. Moreover, its smart functions enable you to adjust settings with Amazon Alexa.
Pros
This unit has a high SEER and HSPF ratings
The outdoor condenser makes just 55dB of noise
It arrives with installation accessories
A 5-year warranty
Cons
This model might be too big for most sheds
Midea Easy Cool Window Air Conditioner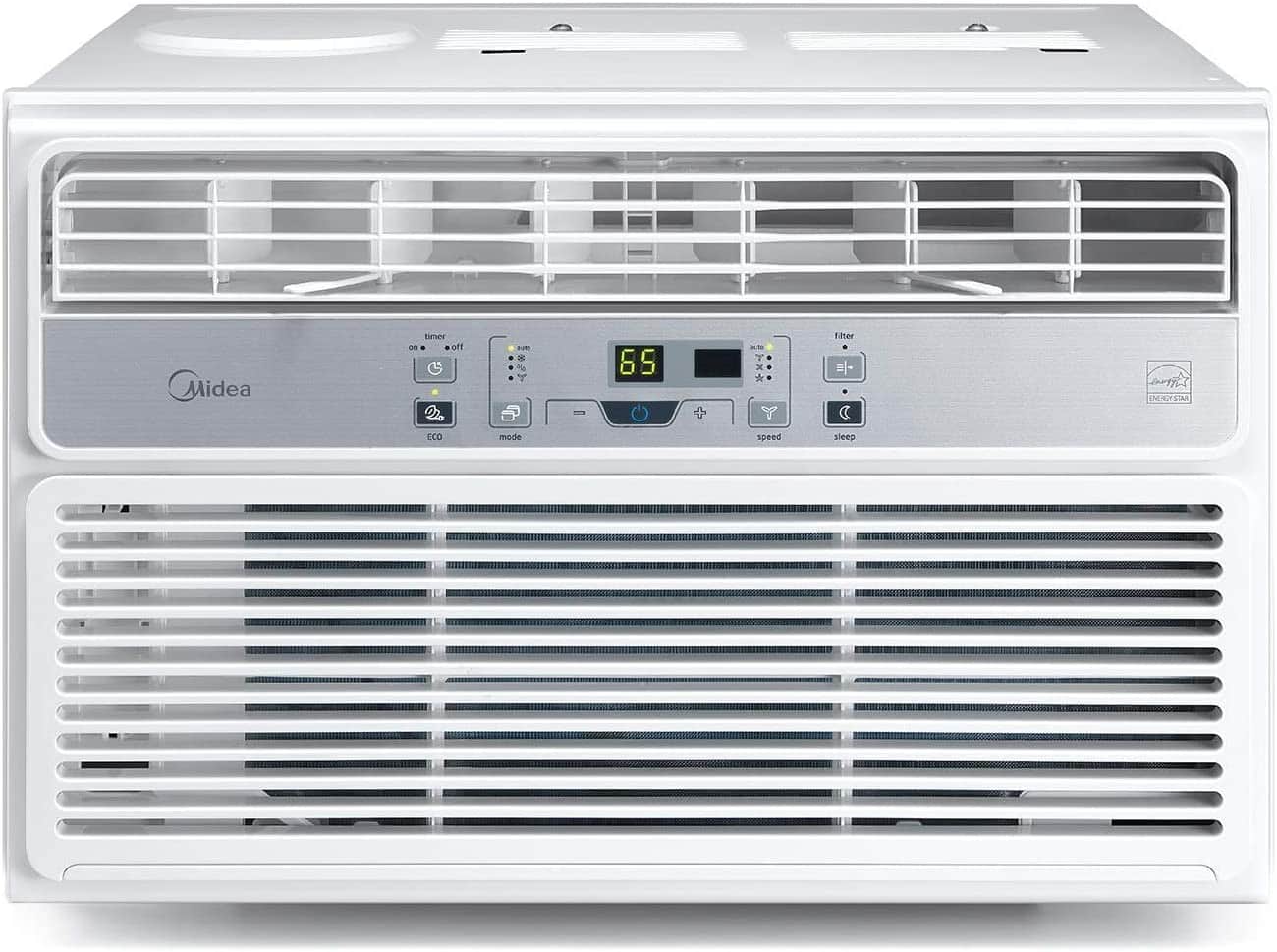 An inexpensive unit like the Midea Easy Cool Window Air Conditioner can be a good fit for sheds smaller than 250sq/ft. Its 6,000 BTU cooling output, adjustable fan speed, and excellent dehumidification capacity allow you to keep the shed's room temperature and air humidity at acceptable levels.
I also love the fact that this Energy Star-certified model doesn't need a lot of power to reach the temperature you select. The only downside is that you can only install this AC on 23 to 36-inch wide windows.
Pros
Quick and easy installation
The unit has a washable air filter
Low power consumption
This unit can last for more than ten years
Cons
It doesn't have a continuous drain function
SereneLife SLACHT108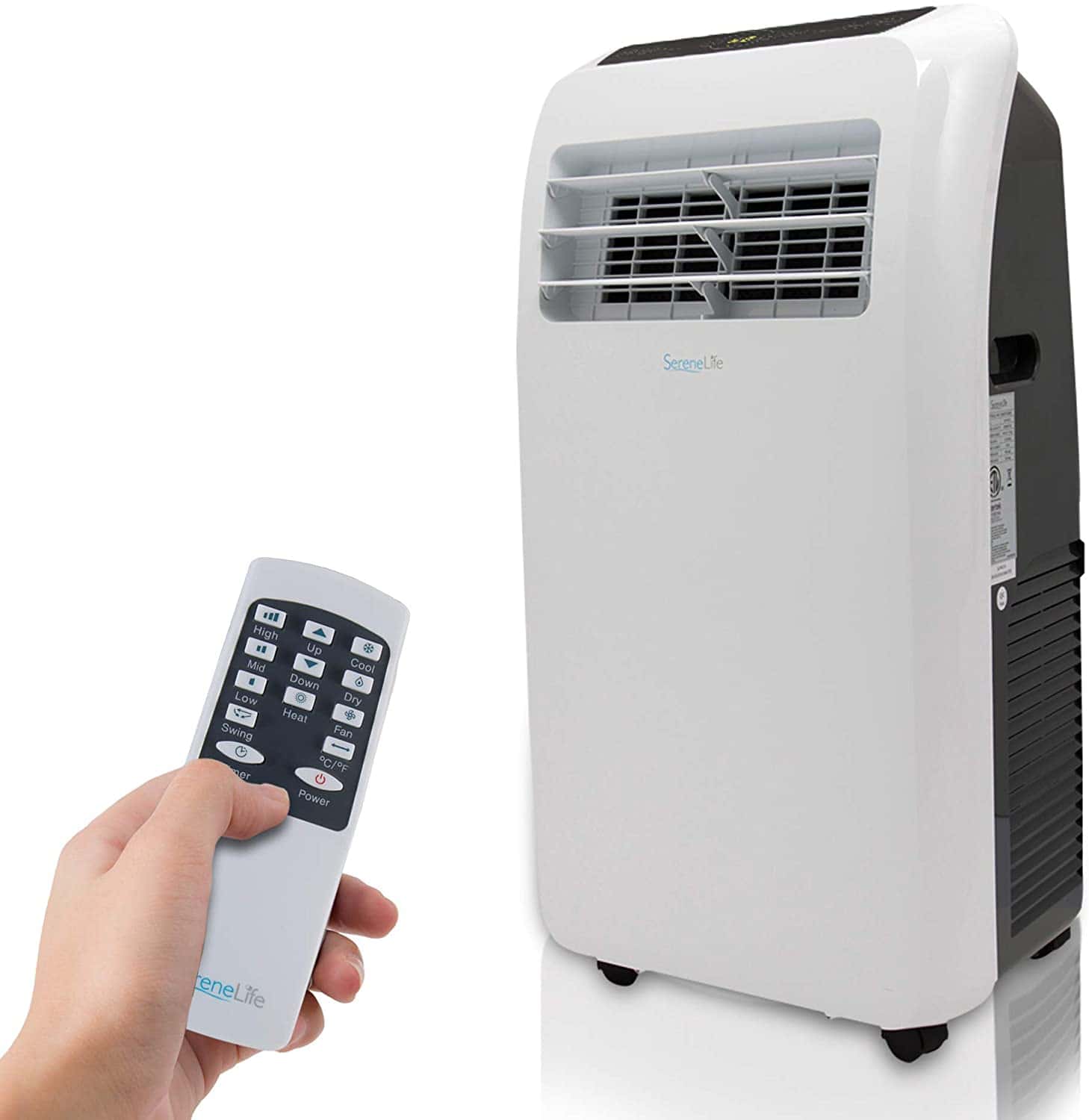 Even though its cooling and heating range is slightly bigger than the average shed size, SereneLife SLACHT108 portable AC can still help you control the temperature in 350 to 450sq/ft spaces.
The unit can absorb more than 3 pints of moisture per hour while operating in the Dehumidification mode. This AC is relatively quiet as it makes just 56dB of noise while operating at maximum capacity, so it's unlikely to disturb you.
Despite its hefty price tag, I recommend choosing this portable AC if you need a lightweight unit that won't occupy much space in your shed.
Pros
Sturdy casters move smoothly over uneven surfaces
Variable fan speed
Intuitive controls
The AC has high dehumidification capacity
Cons
It's not a budget-friendly option
Friedrich CCF05A10A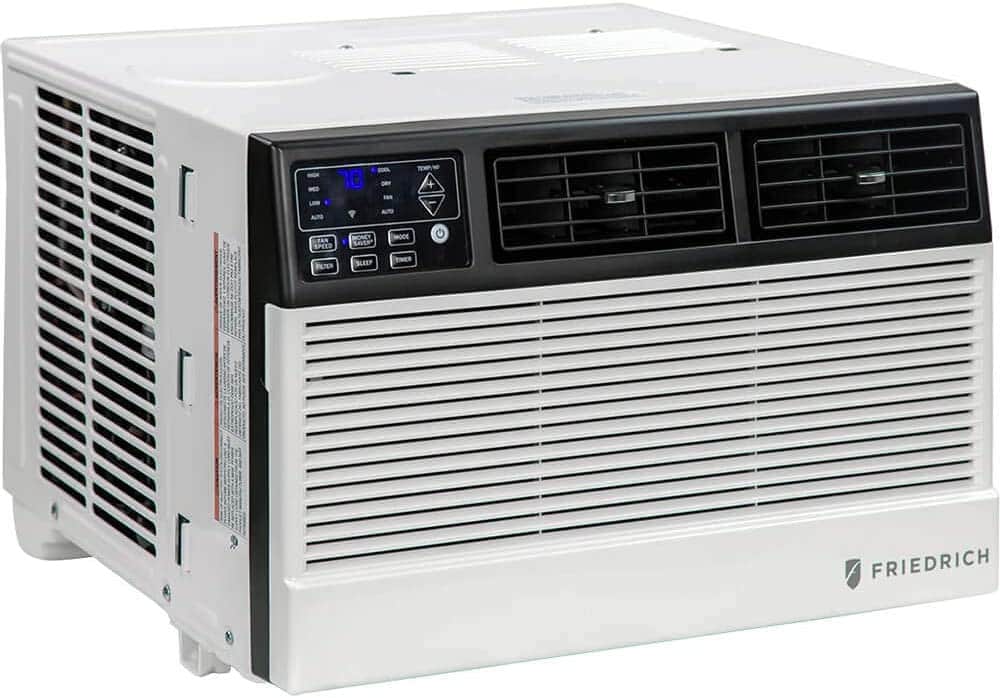 I've used several models from the Chill Premier series, including the Friedrich CCF05A10A wall AC, which surprised me with its cooling efficiency. The unit doesn't consume much power and lets you change fan speeds or modes effortlessly.
Its dehumidification capacity isn't impressive, but it helped me regulate air humidity in my home's basement. This WiFi-enabled model is compatible with Amazon Alexa, so you can use voice commands to adjust its settings.
Buying this model before making sure the walls on your shed are thick enough to support a through-the-wall AC isn't advisable.
Pros
This unit utilizes QuietMaster technology
Users can customize their cooling schedule
The effortless fan speed and temperature adjustment
Cons
This AC isn't Energy Star certified
Daikin RXB09AXVJU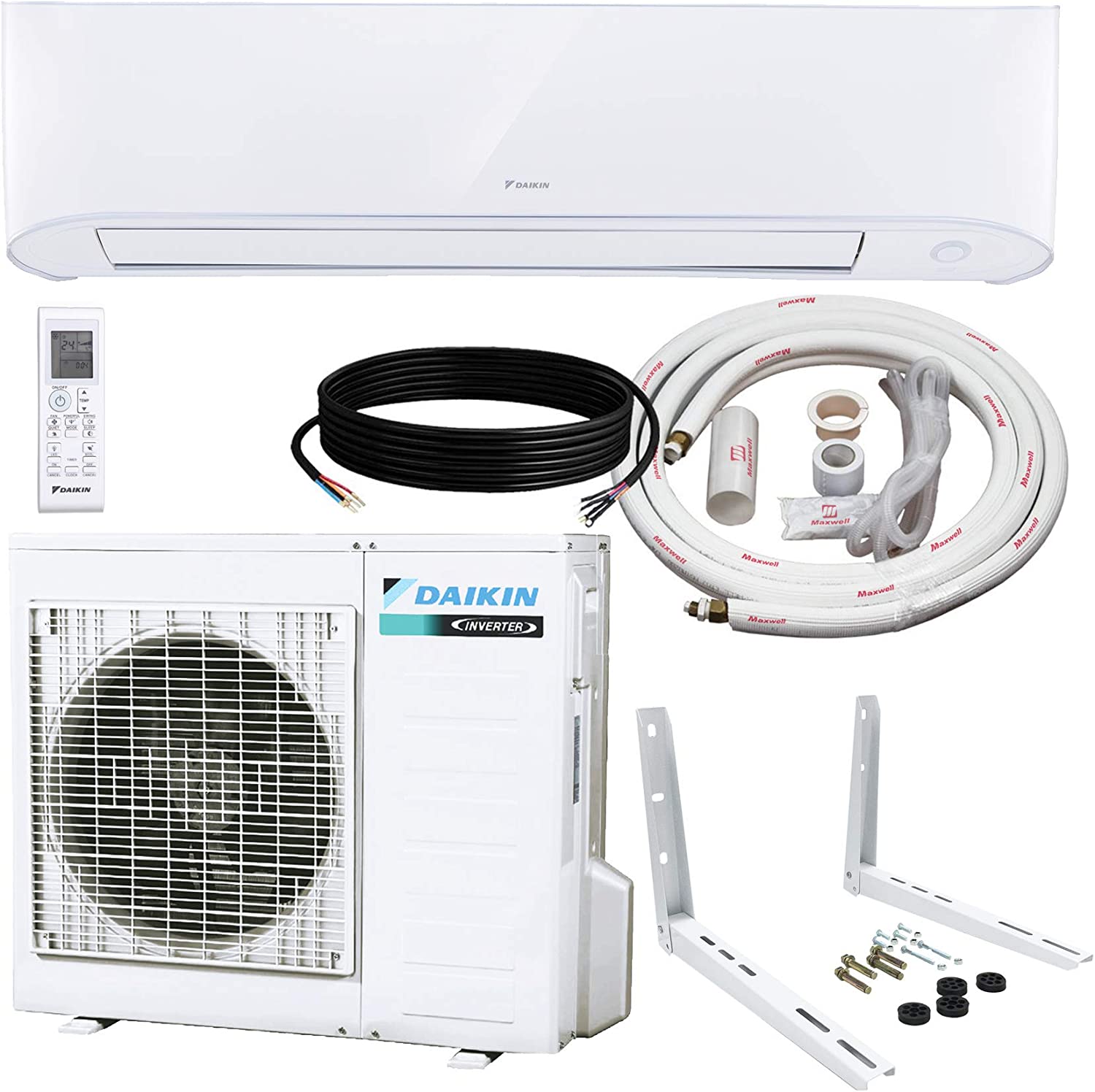 Even though I think the Daikin RXB09AXVJU's performance capabilities are impressive, I don't recommend installing it in your shed unless you plan to use the space on a daily basis. Also, the unit's 9,000 BTU cooling output makes it a poor fit for sheds smaller than 400sq/ft.
You can control the unit's settings via a remote or an app that allows you to program the AC to switch off and on at specific hours. I find the ECO+ mode useful because it offers an easy way to control the AC's power consumption.
Pros
It provides cooling and heating throughout the year
The manufacturer offers a ten-year warranty for this model
The unit has 17 SEER and 9 HSPF ratings
AC's air filter has deodorizing properties
Cons
Installation can be expensive
LG B06XFVQFP9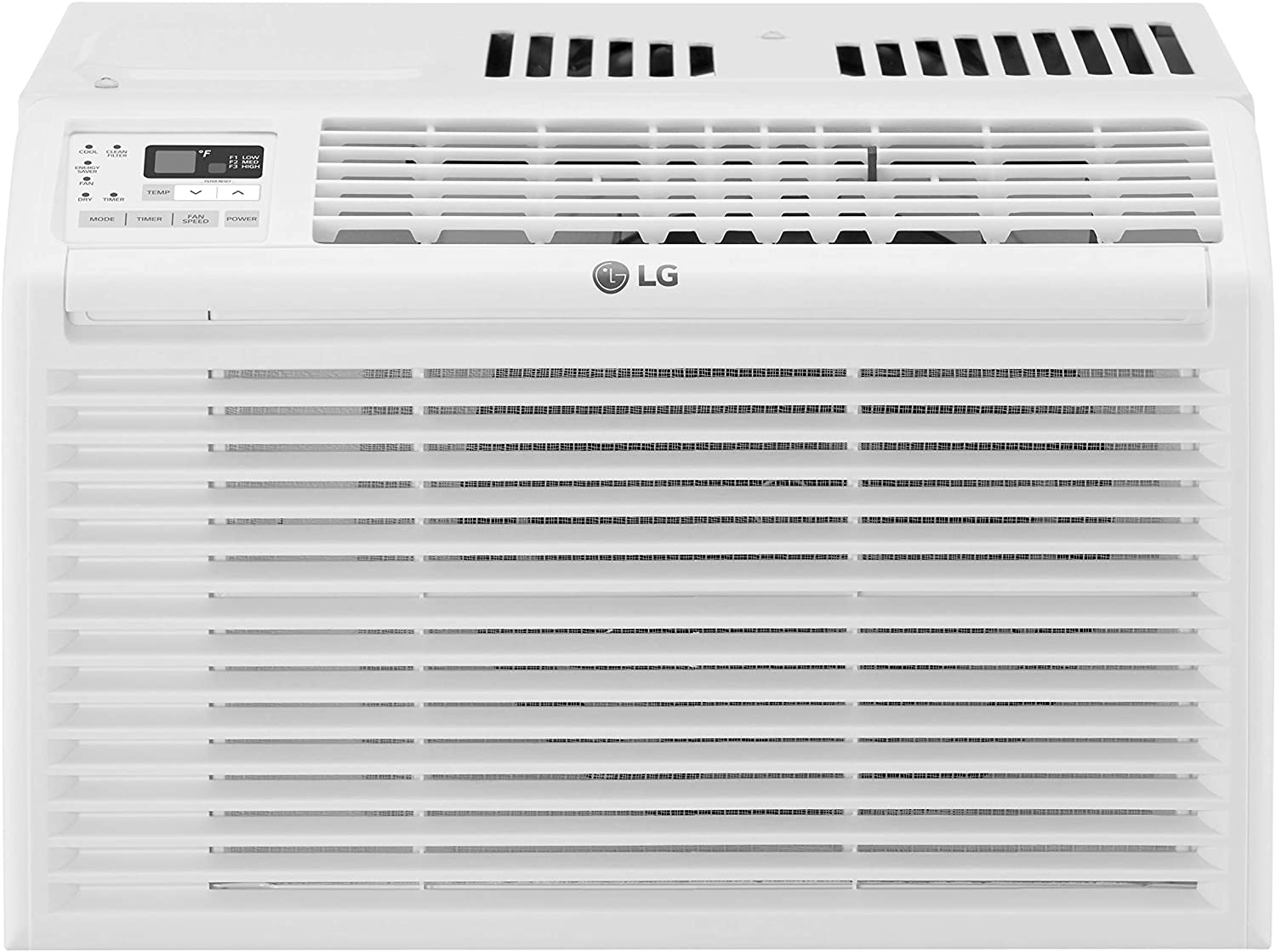 Simple and elegant design, low noise level, and efficient cooling performance are some of the things I like the most about LG BO6XFVQFP9 window AC. This unit doesn't have advanced features, but you can still switch between Cool, Dry, Energy Saver, and Fan modes or make incremental temperature adjustments.
The model arrives with installation accessories, but keep in mind that you won't be able to use it if your shed's window is wider than 35 inches. Also, I suggest exploring alternative options if your shed is larger than 13×20 feet.
Pros
The unit's control panel is easily accessible
The AC starts automatically after a power failure
It has three fan speeds
Cons
Prolonged exposure to sunlight or rain can damage the AC
Black & Decker BPACT08WT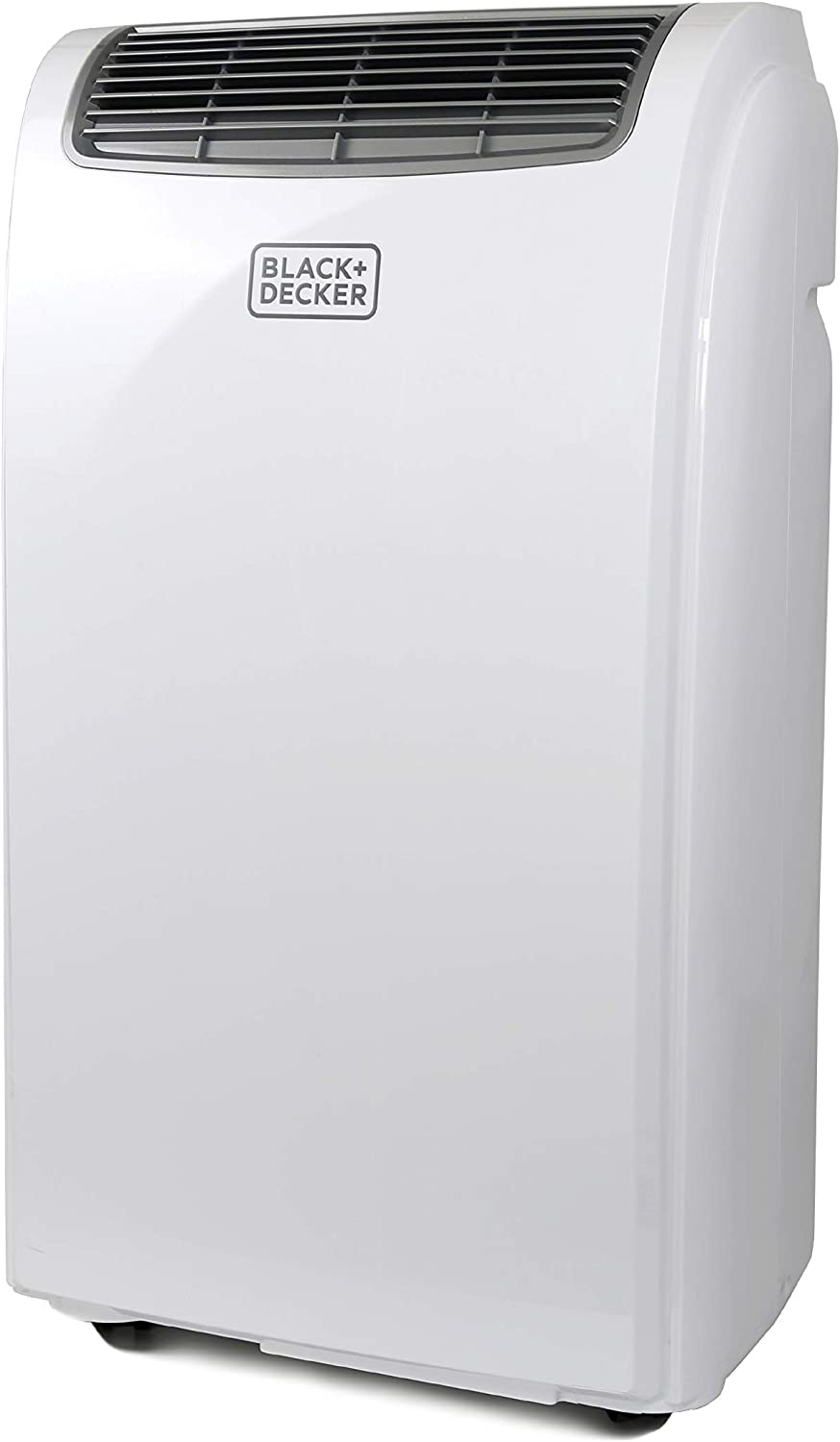 The only reason I don't own the Black & Decker BPACT08WT portable AC is that my shed doesn't have sliding or double-hung windows. This unit doesn't have a heat mode, but its cooling capacities are remarkable as it can lower the temperature in a 150sq/ft room in a few minutes.
I also like the model's self-evaporative functionality, which eliminates the need to empty its drip pan. It's worth noting that finding the right spot for this unit can be challenging because its exhaust hose is less than five feet long.
Pros
The unit's control panel features a LED display
It uses an eco-friendly refrigerant
AC has a 24H timer and a Sleep mode
The manufacturer offers a five-year warranty for the unit's compressor
Cons
Whirlpool WHAT-081-1AW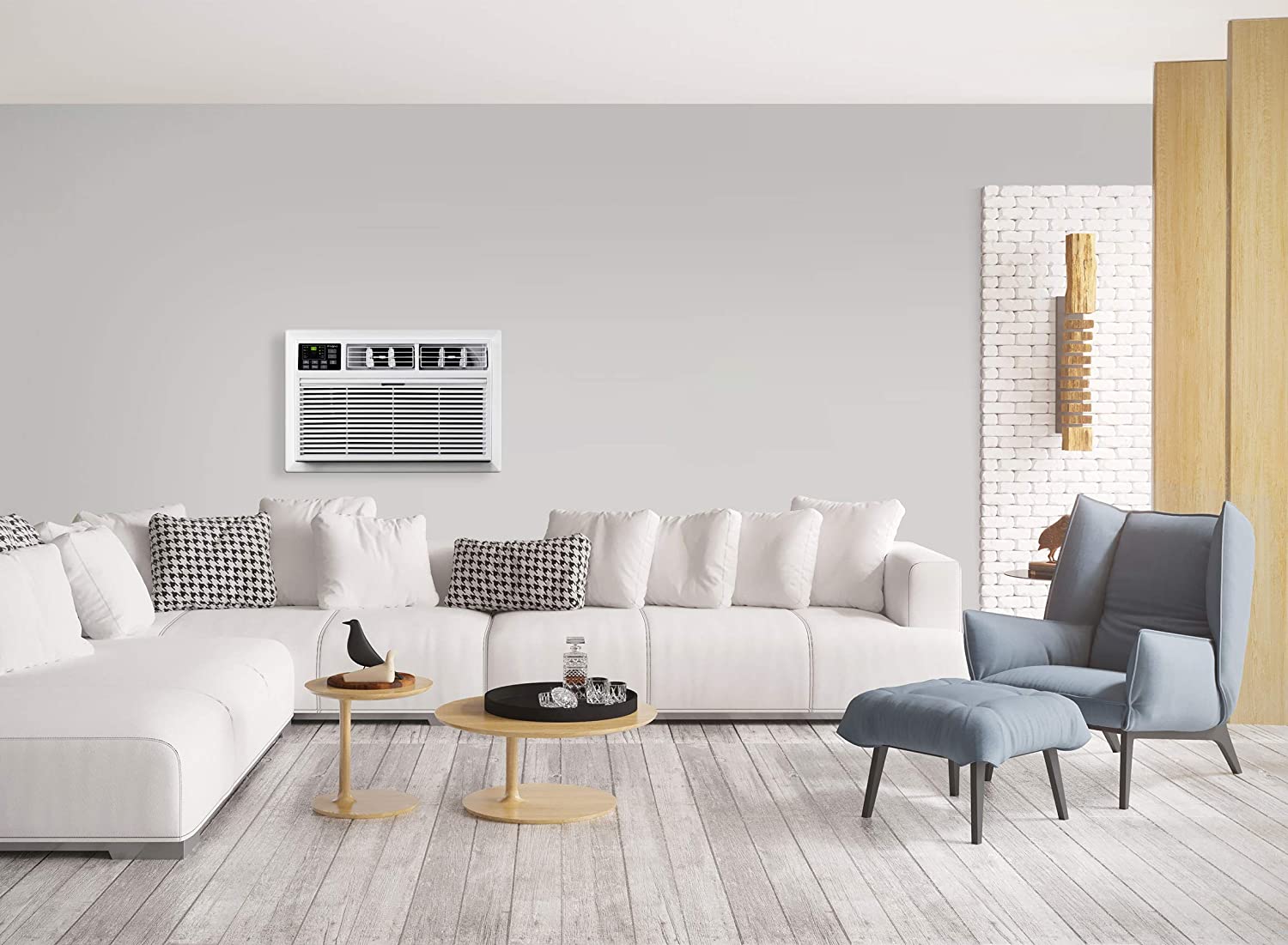 Your shed's wall should be at least 8-inches thick to support a through-the-wall AC like the Whirlpool WHAT-081-1AW. Moreover, the model's 8,000 BTU cooling and heating output makes it too big for sheds smaller than 300sq/ft.
However, its 8-way louvers that direct the air to a specific part of the room, adjustable fan speed, and excellent dehumidification capacity are some of the reasons I consider this Whirlpool model one of the best AC units for sheds.
Pros
ECO and Sleep modes reduce the unit's power consumption
The air filter is easily accessible
It provides even cooling and heating throughout the room
It fits most existing sleeves
Cons
It can't be installed on a thin wall
Keystone KSTAP05PHA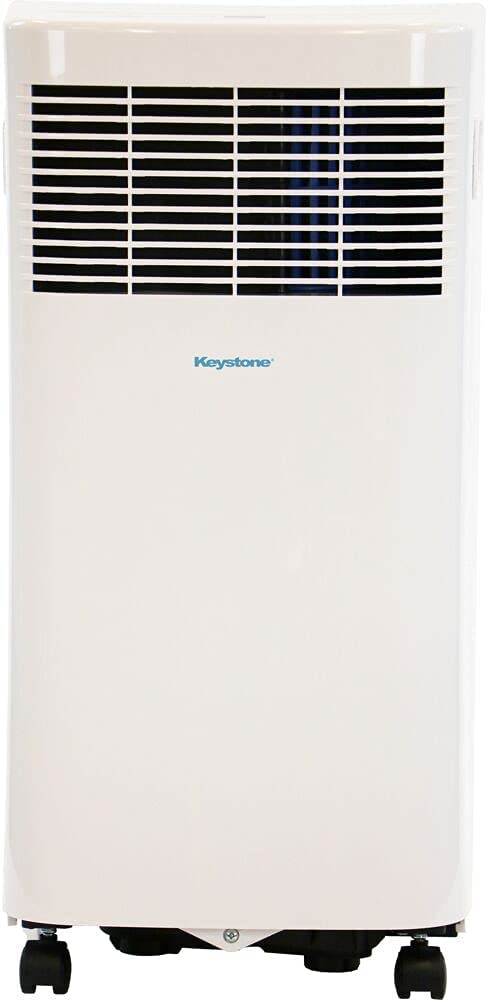 Getting an inexpensive portable AC that doesn't have a heating mode is, in my opinion, a good option if you only use your shed during summer. Keystone KSTAP05PHA isn't highly efficient, but its power consumption is unlikely to inflate your monthly utility bill.
Its continuous dehumidification option can help you remove up to 2.1 pints of moisture per hour from the air in your shed. The unit's fan has two speeds, and you can only switch between low and high cooling options.
Pros
AC's louvers are self-adjustable
This model comes with a venting kit
It has a reusable air filter
Cons
This unit can be loud when operating at maximum capacity
Frequently Asked Questions about AC Units for Sheds
Question: Do all AC units for sheds use the same refrigerant?
Answer: Most models are charged with eco-friendly R410A or R-134A refrigerants.
Question: Can I use an AC unit for sheds without a water bucket?
Answer: You will most likely damage some of the AC's vital components if you decide to use it without the drip pan.
Question: Is it safe to use a space heater to warm up my shed?
Answer: AC units for sheds are a much safer heating option than space heaters that cause more than 20,000 fires in the United States annually.
I hope this article has helped you decide which AC unit is the right fit for your shed. Please go through my other guide to the best RV furnaces if you need a reliable heating solution for your motor home.
My Verdict: Choosing the Right AC Unit for Your Shed
Installing an AC in my shed was one of the best decisions I've made because it allowed me to use the space more often and protected the artwork I was making from humidity.
My experience has taught me that using an AC in an uninsulated space is a waste of money, so I recommend insulating your shed before you start exploring different cooling and heating options.
Portable ACs such as SereneLife SLACHT108 or Black & Decker BPACT08WT are an excellent choice if you're looking for a unit you can easily move. I think that investing in mini-split systems like Senville LETO SENL-09CD-16 and Daikin RXB09AXVJU is only a good option if you want to use your shed daily.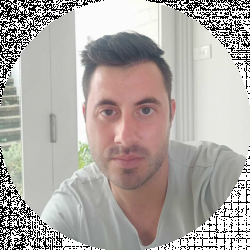 Latest posts by David Borgogni
(see all)