The more pollutants an air filter can remove from the air that passes through it, the better, right? Following this logic, you can damage your cooling or heating system because the best MERV 14 air filters are too restrictive for most units.
Moreover, I don't recommend air filters with MERV ratings above 13 for residential use even though they trap close to 85% of 0.3 to 1-micron particles and more than 95% of particles larger than 3 microns.
You won't have a wide range of options if you're looking for a MERV 14 replacement air filter for your heat pump, furnace, or HVAC system since only a handful of brands produce models with such high MERV ratings.
In this article, I'll walk you through the information you'll need to select a MERV 14 air filter for your cooling or heating system and recommend a few models that could be the right choice for you.
Bottom Line Up Front
I advise against using MERV 14 air filters unless a professional familiar with your unit's performance capabilities recommends them.
Also, I suggest testing several models with MERV 13 or MERV 12 ratings and then upgrading to a MERV 14 air filter if they can't deliver the desired air quality.
In my opinion, Nordic Pure Air Filters and Filtrete Healthy Living Air Filters are some of the best MERV 14 models that will eliminate almost all air pollutants from your home.
My Top Picks At a Glance
What is MERV rating?
All air filters capture a specific amount of air pollutants, but their efficiency level depends on their ability to retain a large percentage of particles smaller than a micron. The Minimum Efficiency Reporting Value test filters with the ASHARE 52.2 standard and rates them on a scale of one to twenty.
MERV 14 models trap up to 85% percent of particles smaller than a micron and more than 90% of particles larger than a micron. They're more efficient at capturing viruses, 2.5PM particles, and allergens than MERV 13 or MERV 12 air filters that retain less than 75% of microscopic particles.
Here are a few of the properties all MERV 14 air filters have:
These filters can filter out cigarette smoke, smog, bacteria, or odors
Fifty or more pleats per foot of filter media
Suitable for hospitals, commercial venues, and industrial spaces
3 M's Microparticle Performance Rating measures the filter's efficiency on a scale of 100 to 2,800. Air filters with MERV 14 rating produced by other brands are equivalent to 3M Filtrete models with 2,800 MPR.
Check out more Air Filter guides based on MERV ratings:
Understanding the Dimensions of MERV 14 air filters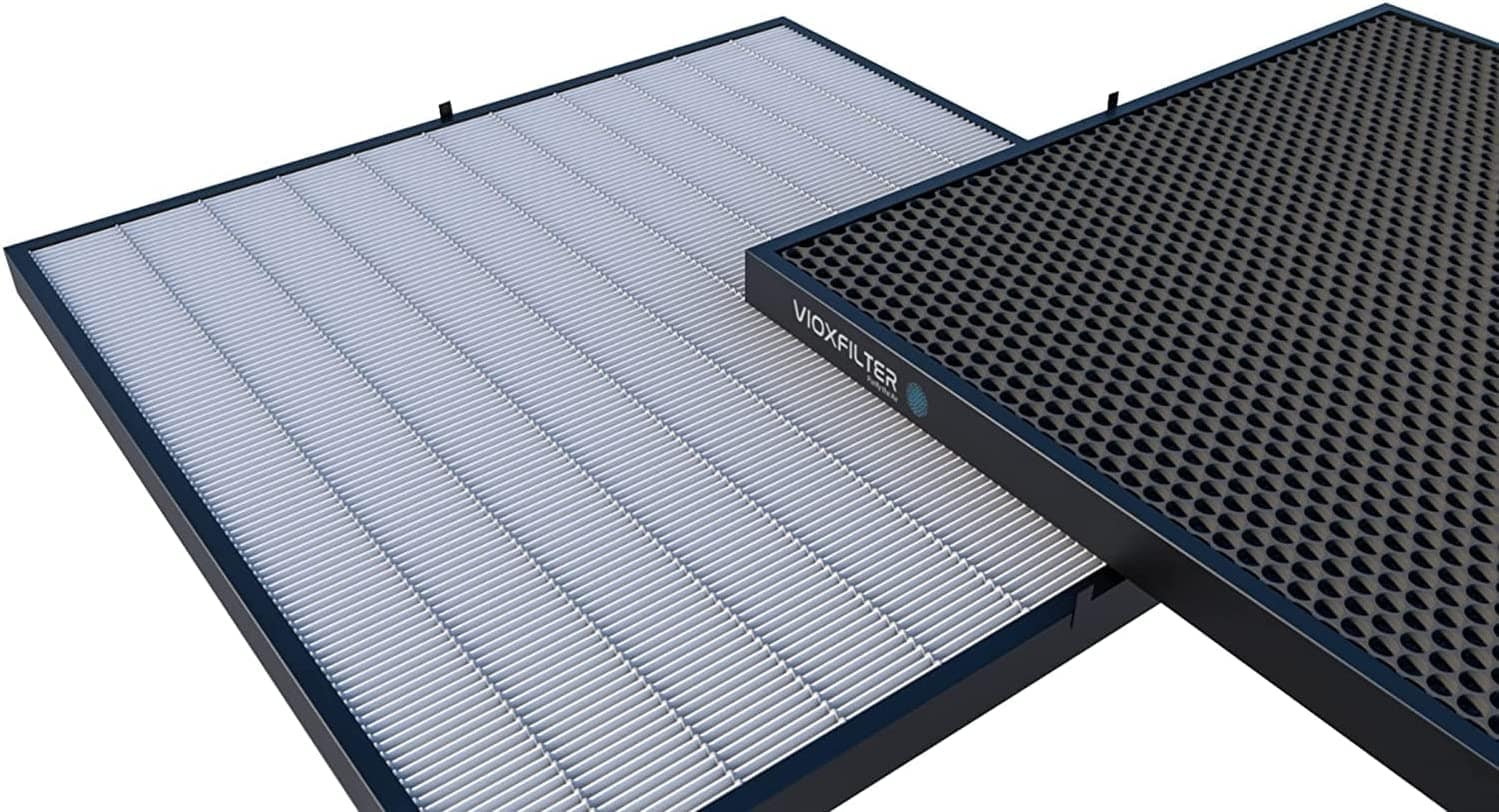 As an owner of multiple cooling and heating appliances, I can confirm that finding an air filter that fits the unit's vent is the most challenging part of the selection process. The length and width of MERV 14 models range from 10 to 35 inches, while their width spans from one to five inches.
The filter's nominal size, such as 14x24x1, isn't the same as its actual size, which is usually 0.25 to 0.5 shorter. So, you will have to use the nominal size to shortlist the MERV 14 filters and then check the actual size of each model to determine if they're compatible with your unit's vent.
Top tip: Stacking multiple one-inch wide filters on a vent compatible with a four-inch-wide filter can potentially damage your heating or cooling system. 
Measuring the filter you want to replace and the vent is the quickest way to find out the actual dimensions the new MERV 14 air filter should have.
Types of MERV 14 air filters
The quality of the media material largely contributes to the filter's efficiency. Moreover, its ability to trap microscopic or macroscopic particles depends on the size of the media surface. Nearly all MERV 14 air filters have large media surfaces that capture most air pollutants they get in contact with.
Air filters with high MERV ratings fall into the following categories:
Synthetic: Low moisture absorption and excellent heat resistance are this media material's key traits that let it retain its efficiency in hot or humid environments. Most models have a pleated media design that extends its surface and increases filtering efficiency.
Electrostatically charged: Air filters with polyester, polypropylene, and synthetic media often have electrostatic properties. This feature enables them to attract a high percentage of microscopic particles from the air that passes through their media.
It's worth adding that some MERV 14 air filters can have cotton or composite fiber media, with electrostatic field and pleated design.
Key features of MERV 14 air filters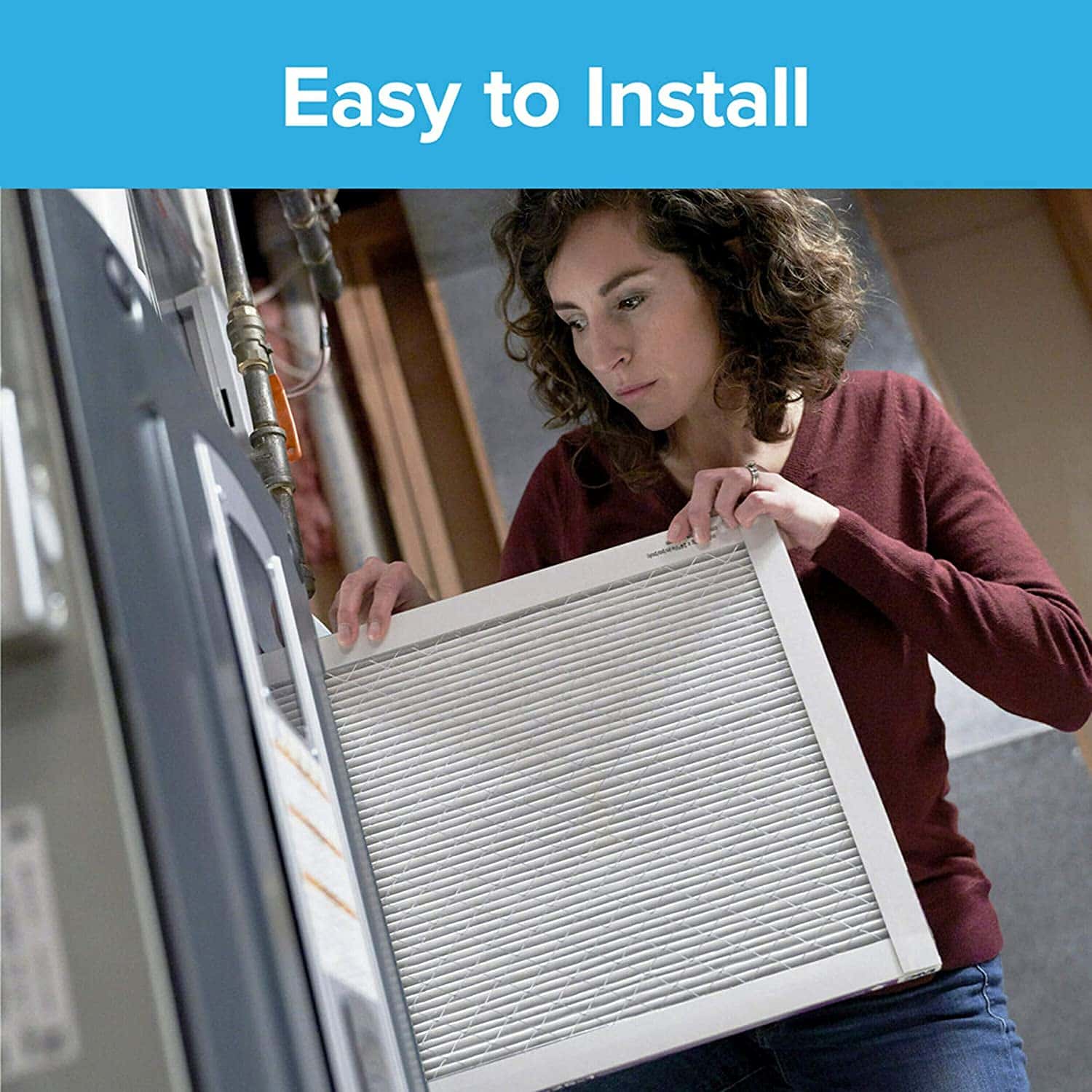 Besides having more pleats per foot and a larger media surface than air filters with lower MERV ratings, MERV 14 models have the same main characteristics as all other HVAC, AC, or furnace filters.
Most models with this filtering efficiency rating have cardboard frames and wire backing that supports the media material. These air filters don't absorb moisture or allow mold growth during their lifespan, and their operating temperature range usually spans from 180F to 220F.
Top tip: Opting for a model with a rigid frame can make the installation process more complicated if the vent isn't easily accessible. 
Even though MERV 14 models can absorb cigarette smoke or oil smell, their ability to neutralize odors is limited. So, you must opt for a model with carbon-enriched media if you want an air filter that helps you deal with cooking and even bathroom smells.
Costs and upkeep requirements
MERV 14 air filters can get clogged and affect the unit's cooling or heating capacity if they're not changed frequently. They accumulate dirt quickly due to their high filtering efficiency, which is why their lifespan is often considerably shorter than the one indicated by the manufacturer.
Most brands claim that their MERV 14 air filters can last for 3 months, but during cooler and warmer seasons, the product's lifespan shrinks to thirty days.
Hence, you'll have to perform biweekly visual inspections if you use these high-efficiency filters to ensure they're in good condition.
Finding a washable MERV 14 air filter is difficult because most manufacturers offer disposable models. These filters are not exactly budget-friendly, and you may have to spend upwards of $100 on a six-pack of MERV 14 filters every six to eight months.
Continue reading related guides if you're looking for a specific Air Filter Size:
Selection criteria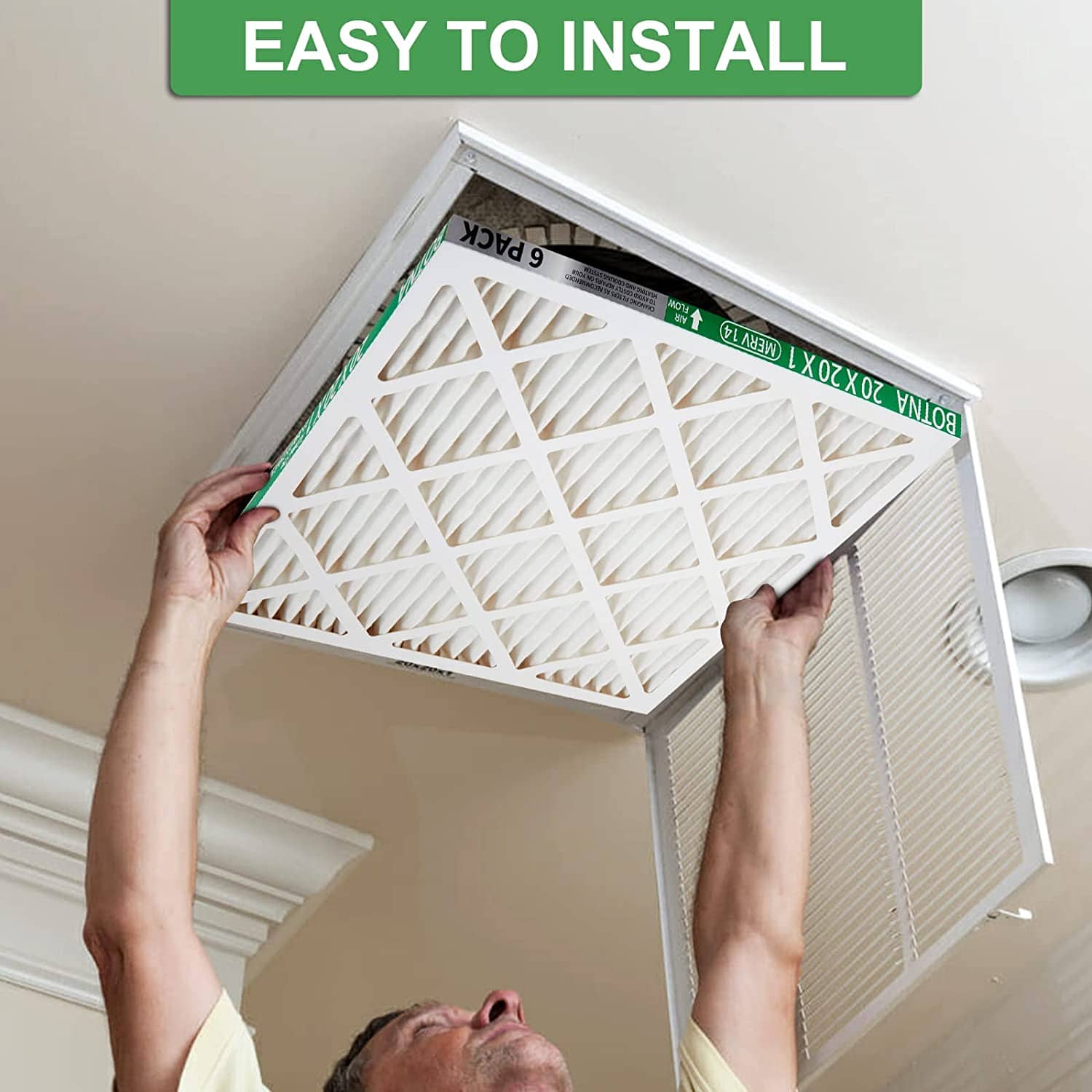 I don't think finding the right air filter for your unit based solely on its MERV rating is possible.
Factors like the model's size, media material, or sturdiness are as important as its efficiency rating because, without them, you won't be able to tell if the filter fits on your unit's vent or how it behaves in humid conditions.
The criteria I relied on during the selection process included each of these factors and numerous others. Here are some of the key aspects I strongly considered when deciding which MERV 14 to include in this article:
The quality of the model's construction – I used this criterion to eliminate all MERV 14 filters that don't have a frame that can withstand exposure to high air pressure.
Ease of use – Every model I included in the final selection had to be easy to install or remove, so you won't have to spend a lot of time replacing the MERV 14 model you choose.
The six best MERV 14 air filters
Nordic Pure Air Filters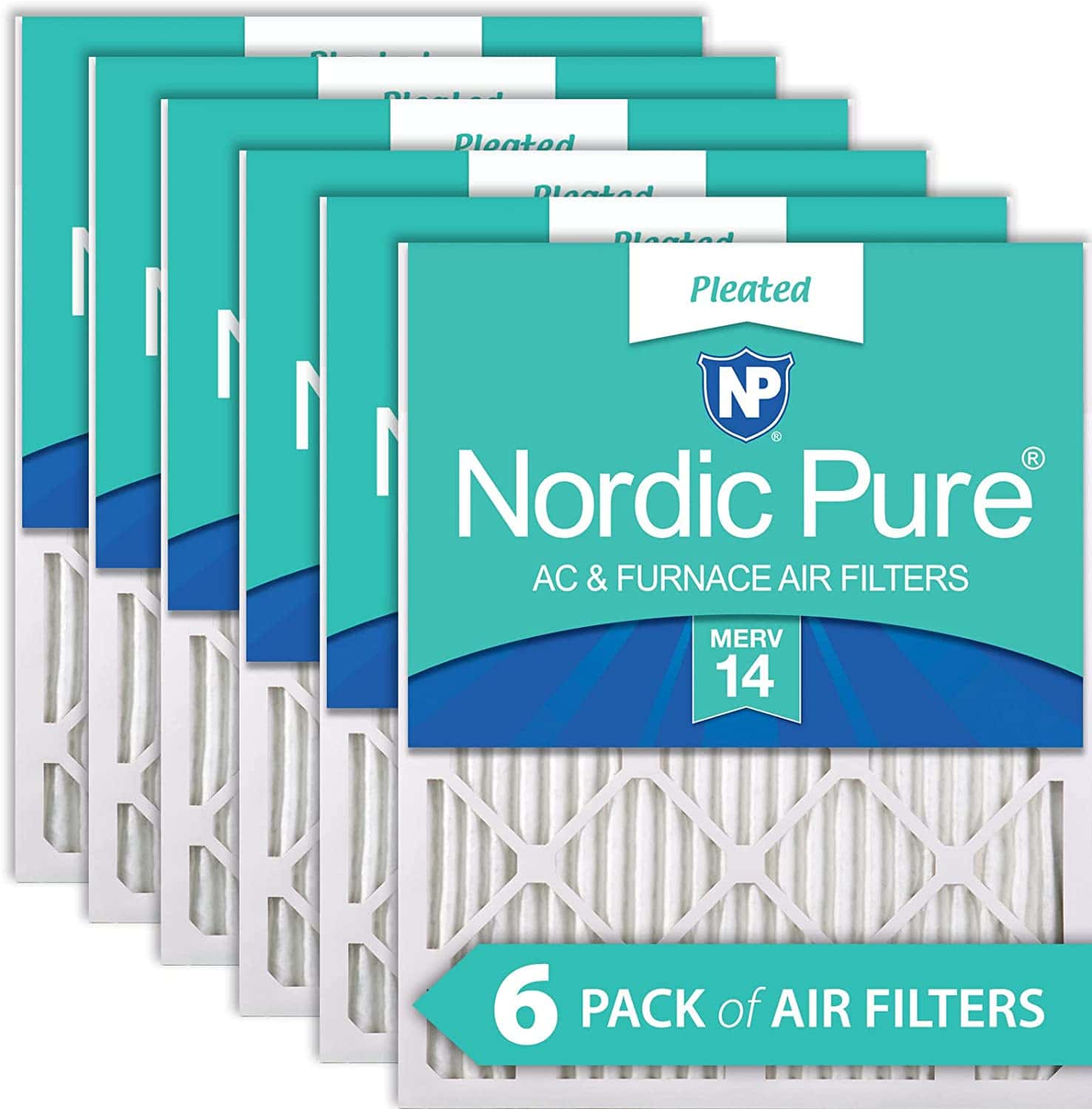 You should consider getting the Nordic Pure Air Filters if you're looking for a replacement MERV 14 filter compatible with 19.5×19.5×0.75 vents. I like that this model performs well in challenging conditions because has a strong cardboard frame and a metal mesh backing that are moisture and heat resistant.
Its electrostatically charged synthetic media has more than twenty pleats per foot. A large surface helps the filter trap all common air pollutants, allergenic particles, bacteria, and viruses.
In my experience, these filters usually last for about a month, even though the manufacturer claims they remain equally effective for around 90 days.
Pros
Excellent performance in hot, warm, and humid environments
It has a sturdy construction
It helps alleviate asthma and allergy symptoms
Good value for money
Cons
Botna Air Filters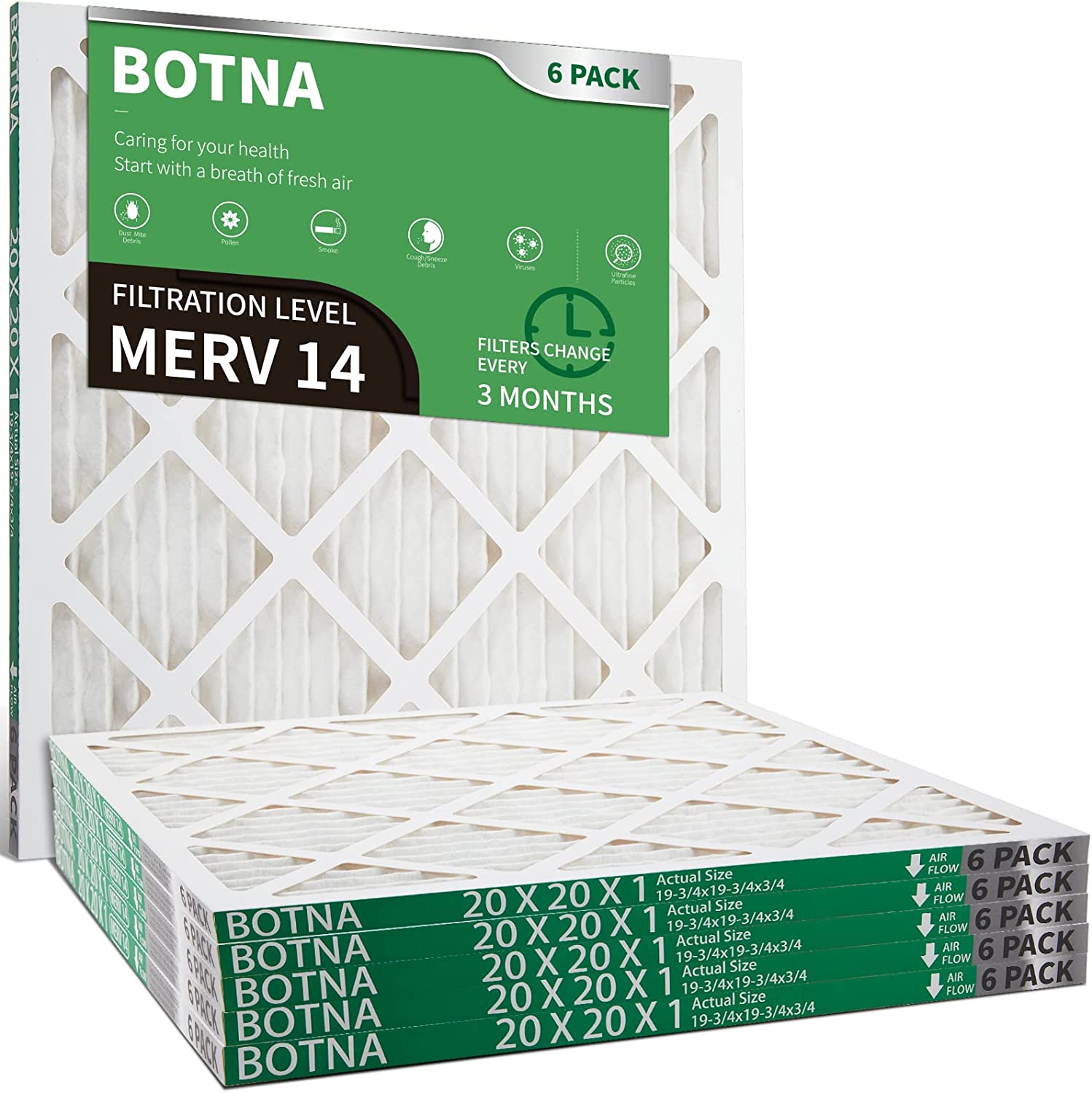 Even though they're designed primarily for residential use, I think that Botna Air Filters are better suited for commercial or industrial settings. Their pleated cotton media has a powerful electrostatic field that attracts 99% of macroscopic and microscopic particles from the air that goes through the filter.
The cardboard frame is heat and moisture resistant, so the filter won't warp if exposed to moderate humidity or mid to high temperatures.
Finding out that the galvanized mesh backing prevents media sagging and ensures the filter remains equally effective throughout its lifespan was the reassurance of the model's quality for me.
Pros
The filter doesn't cause a significant pressure drop
Suitable for people with respiratory problems
It has a large media surface
Simple installation process
Cons
These filters get dirty quickly
Filtrete Healthy Living Air Filters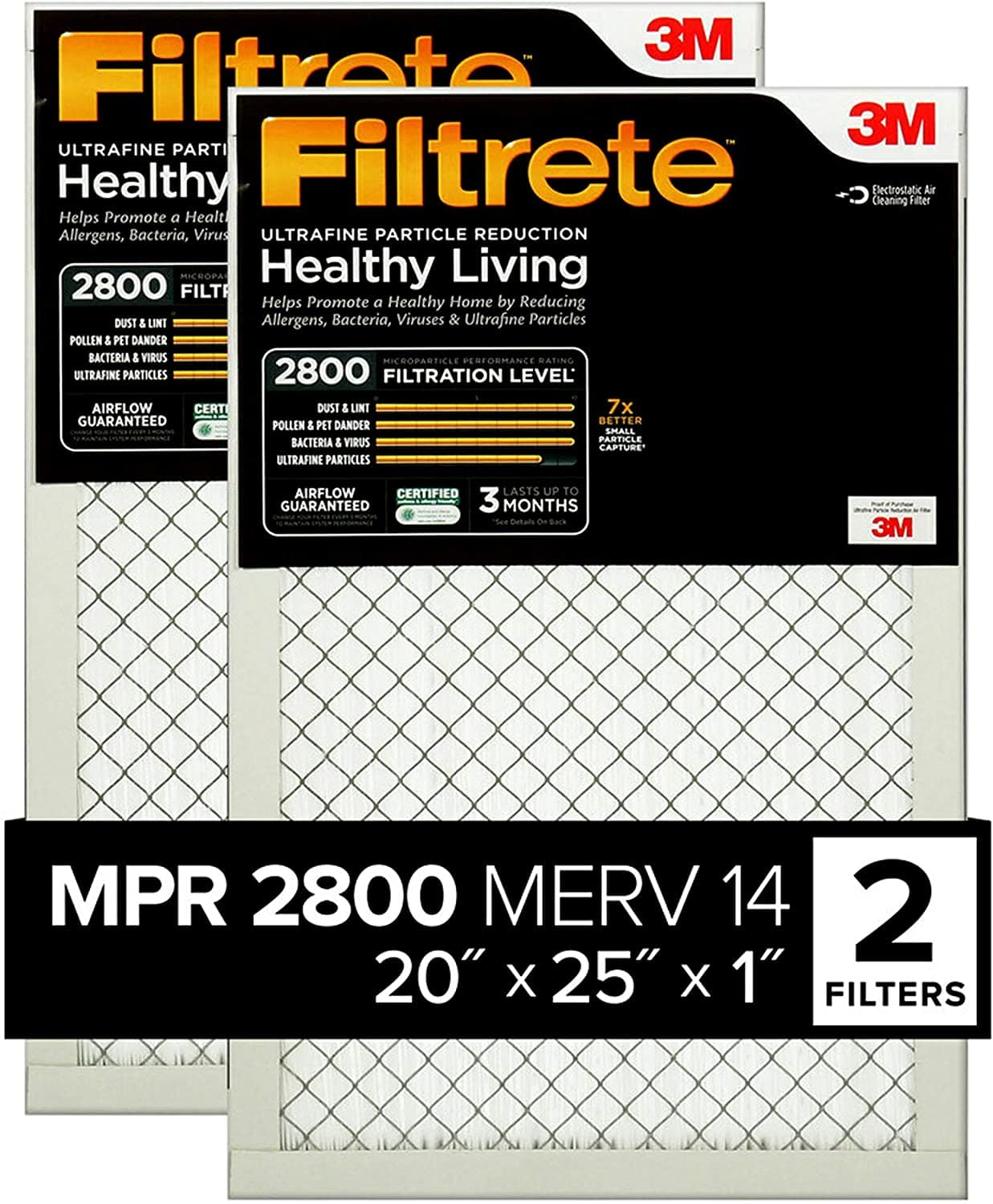 You can choose from multiple size options of Filtrete Healthy Living Air Filters if the 20x25x1 inch model isn't compatible with your unit's vent. Like 3 M's models with lower MERV and MPR ratings, these air filters have a sturdy construction that enables them to perform well in challenging conditions.
The synthetic and electrostatically charged pleated media captures 81% of particles smaller than a micron and up to 93% of 3 to 10-micron particles. What I don't like about this model is that its thick media can restrict the airflow of the unit.
Pros
All models from the Healthy Living series are allergy and asthma friendly
This filter traps most viruses
Media material doesn't absorb moisture
The filter is designed with 3 M's 3-in-1 technology
Cons
It cannot eliminate odors
CleanReal Air Filters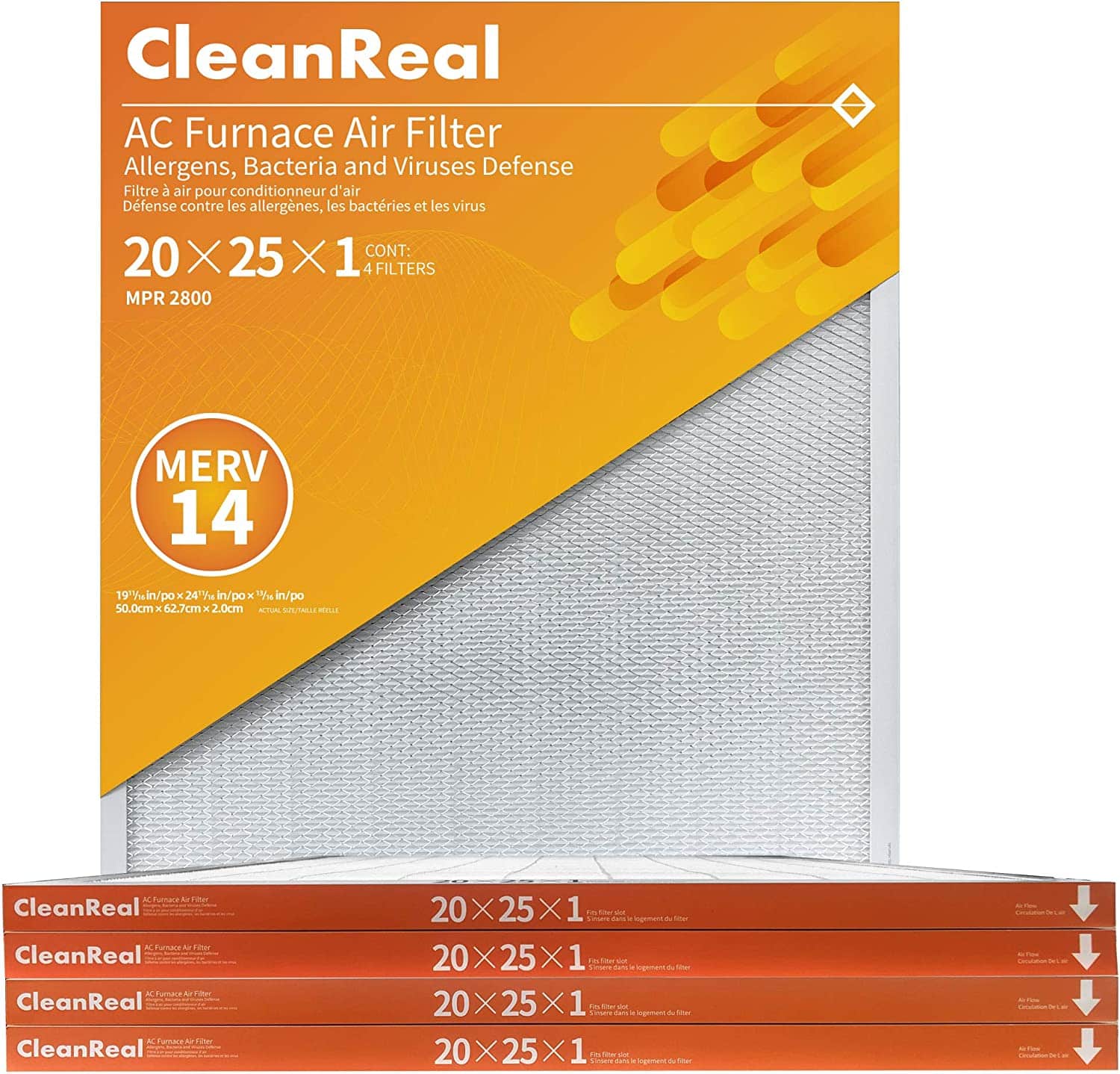 I strongly believe innovative design and a large media surface make CleanReal Air Filters an excellent fit for nearly all homes with high air quality expectations. The composite fiber media has 70 pleats per foot and a powerful electrostatic field that doesn't weaken throughout the filter's 90-day lifespan.
I also like that the media has V-shaped airflow channels that don't restrict the air movement and reduce the filter's noise level. The heat and moisture-resistant metal backing and a rigid frame keep the media firmly in place, so you don't have to worry about warping or sagging.
Pros
Unique media design
Its highly efficient
The frame doesn't bend easily
It utilizes positive noise reduction technology
Cons
It might increase the unit's power consumption
Vioxfilter Air Filters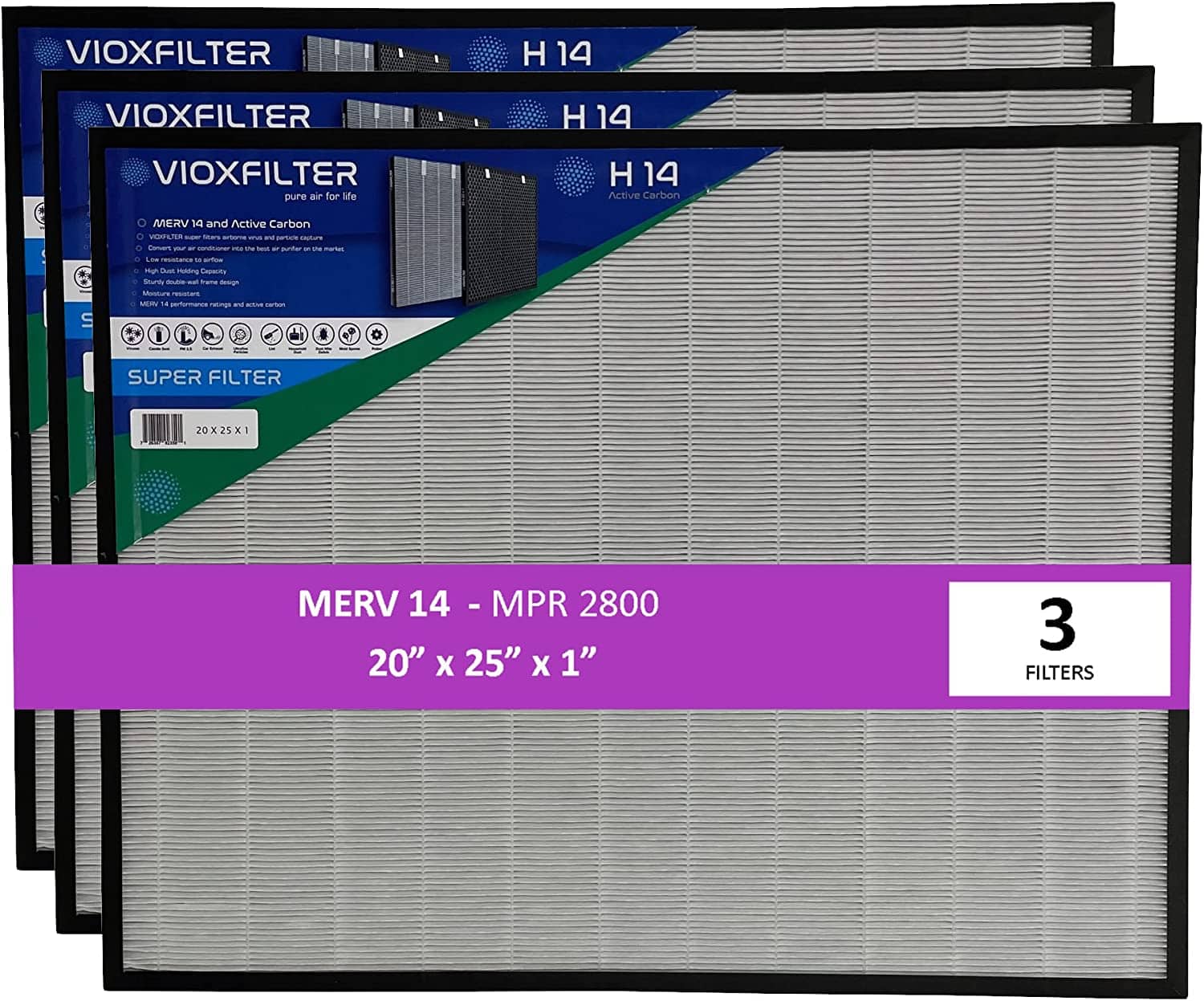 Besides trapping 2.5PM particles, paint pigments, or carpet fibers, Vioxfilter Air Filters can also neutralize odors and absorb cigarette smoke. Its 3-in-1 construction includes a pre-filter, carbon layer, and non-woven synthetic media material.
The filter captures 99% of particles larger than 3 microns and 86% of particles smaller than a micron while providing low airflow resistance. The metal frame isn't affected by heat or humidity exposure and doesn't bend under pressure.
However, I think this Vioxfilter model is best suited for hospitals, museums, or laboratories. I would only use it in residential contexts if I'd like to eliminate even the tiniest air pollutants.
Pros
The air filter is available in different sizes
It helps neutralize odors
The filter has a high particle arrestance rate
It holds up to five grams of dust
Cons
It's more expensive than most MERV 14 air filters
Nordic Pure Carbon Air Filters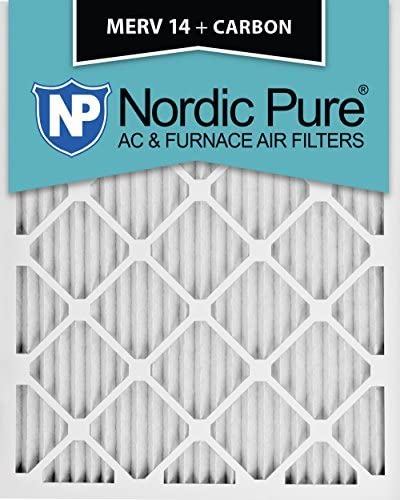 I'm certain that buying a 12-pack of Nordic Pure Carbon Air Filters is an excellent long-term investment that will positively impact air quality in your home year-round. Electrostatically charged media has a vast surface due to the pleated design that maximizes the filter's efficiency.
In addition to capturing more than 80% of particles smaller than a micron that passes through it, the filter media also neutralizes odors and VOCs. Its anti-microbial properties prevent mold and bacteria growth. I find it essential to point out that these filters require replacement after 30 to 45 days of continuous use.
Pros
It helps eliminate VOCs
The frame is made of eco-friendly recycled beverage board cardboard
Media is moisture-resistant
Cons
It's only compatible with MERV 14-rated cooling and heating systems
Frequently asked questions about MERV 14 air filters
Question: Can I clean a disposable MERV 14 air filter?
Answer: Vacuuming or washing disposable MERV 14 air filters isn't possible.
Question: What to do if a MERV 14 air filter restricts my unit's airflow?
Answer: Replace a MERV 14 air filter with a lower MERV rating model as soon as you notice it is restricting the cooling or heating system's airflow.
Question: How many pleats per foot should a MERV 14 air filter have?
Answer: Air filters with this efficiency rating can have more than 70 pleats per foot. However, obtaining this information for a specific model is often tricky because manufacturers don't always include it in the product's specifications.
I hope this article has helped you determine if MERV 14 air filters are a great fit for your system and choose the model that meets all your air filtering requirements. Please go through our guide to best wall exhaust fans to find out how to use them to improve air quality in your home.
My verdict: How to know which MERV 14 air filter is the best?
MERV 14 air filters deliver hospital-level air quality, and most models aren't recommended for residential use. I don't recommend getting a high-efficiency air filter unless you're sure it won't affect your cooling or heating unit's performance.
Vioxfilter Air Filters, Nordic Pure Air Filters, and Filtrete Healthy Living Air Filters are some of the best MERV 14 models on the market, capable of remarkable filtering performances.
However, none of these filters lasts long, and you'll have to spend a substantial amount of money to keep replacing them through the warmer and cooler seasons.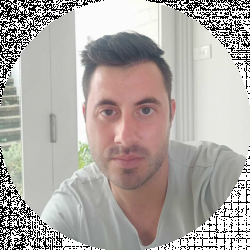 Latest posts by David Borgogni
(see all)