I must admit that I wasn't thinking about air filters while choosing a furnace for my home. Shortly after installing the furnace and in the midst of a heating season, I embarked on a mission to find the best 16x20x1 air filter money could buy as the original one got so dirty that it started affecting the performance of my furnace.
Even though it's been years since I got my first replacement HVAC air filter, I still remember how frustrating this process was for me.
In this article, I'll share all the information I wish I had while looking for my first 16x20x1 air filter and recommend some of the best models that can enhance the performance of your HVAC system.
Bottom Line Up Front
I think that the Nordic Pure Pleated Air Filters and Filtrete Healthy Living Ultra Allergen Air Filters have the most to offer in terms of their capacity to trap microscopic air pollutants.
However, both of these air filters exceed the needs of most homeowners, so a model like the Aerostar Pleated Air Filter could be an excellent pick if you don't need an air filter with a high MERV rating.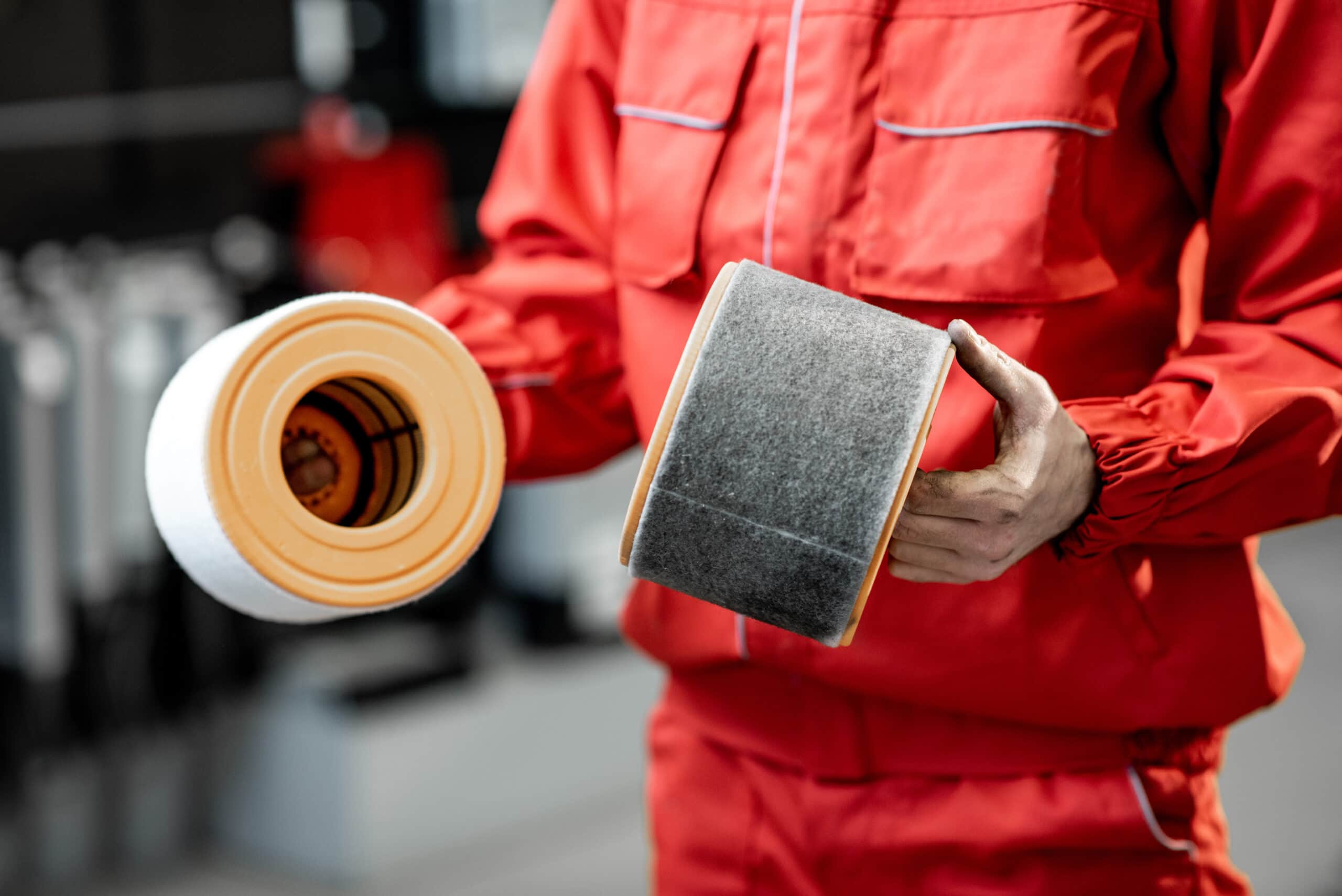 My Top Picks At A Glance
Types of 16x20x1 Air Filters
The first term I learned when I started researching 16x20x1 air filters was filter media. It didn't take me long to realize that these filters utilize different materials to trap microscopic and macroscopic particles. Hence, their type depends on the filter media material they're using.
The most common 16x20x1 air filter types are:
Fiberglass – I used this air filter type only once for less than a month. This was more than enough time to understand that their inability to capture a high percentage of dust or pollen from the air that passes through them is the reason why they're so affordable. I suggest staying away from fiberglass air filters even if you're on a tight budget.
Pleated – Most 16x20x1 models you'll encounter have pleated filter media made of synthetic materials. The pleated design results in a large filter media surface that retains most air pollutants regardless of their size.
Electrostatically charged – Some pleated air filters can have electrostatically charged media. However, models that utilize polypropylene fiber media have a stronger electrostatic field, and they're more efficient at trapping particles with sizes up to 0.3 microns than pleated air filters.
See also: How to find the best furnace
Air Filter Sizes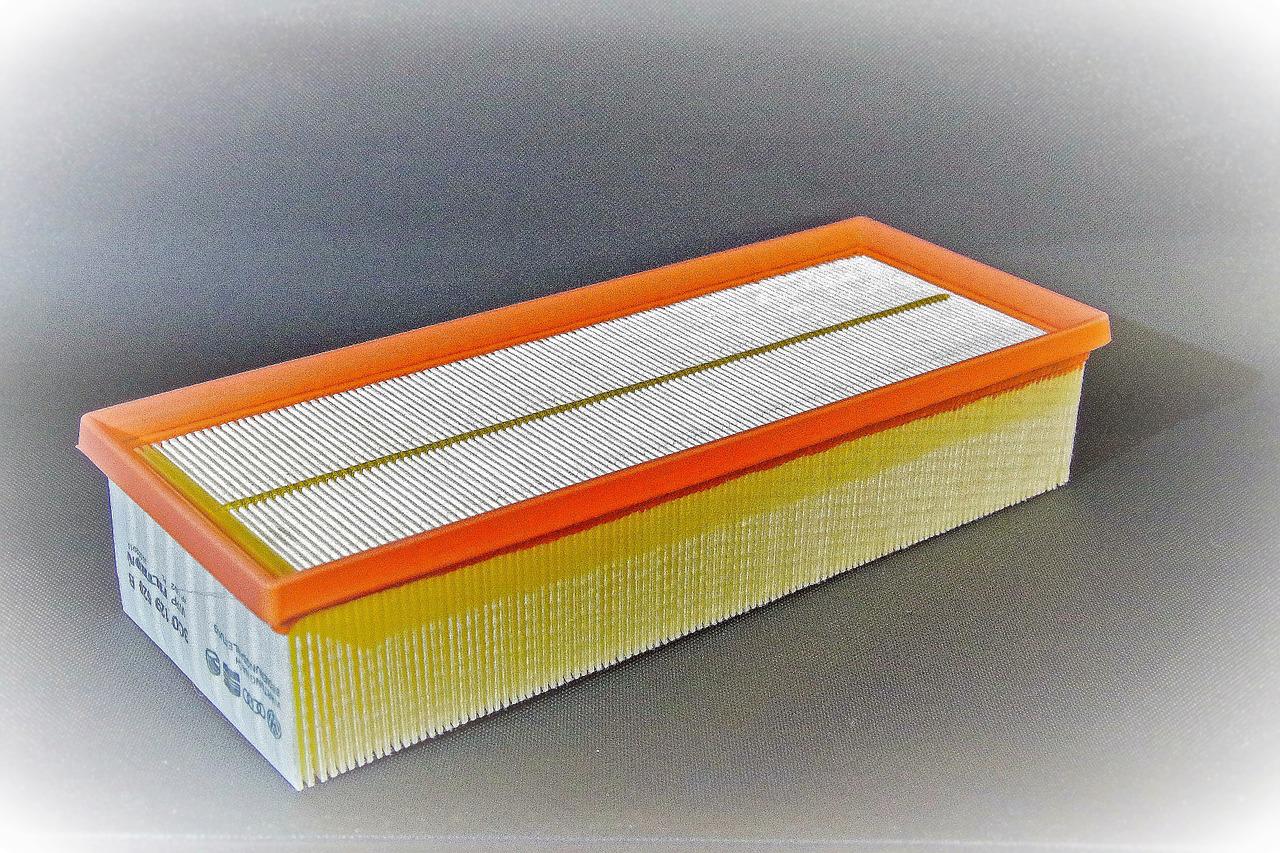 Arguably, the most challenging part of finding a replacement for a 16x20x1 air filter is getting the size right. The nominal and actual size of an air filter are slightly different, which often leads to frustrating fitment issues.
Depending on the model, the actual size of a 16x20x1 can be anywhere from 15.5×19.5×1 to 15.8x 19.8×0.8 inches. In my experience, using the old air filter as a reference is the best way to get a replacement with identical dimensions.
Top tip: You can use tape to seal off a wobbly air filter, but keep in mind that this can cause pressure drops and air leaks. 
In addition, you can measure the size of the vent register to get the actual air filter dimensions. Doing so will make the search for a replacement filter much easier because it will enable you to know if a specific model is too big or too small.
Related reads based on Air Filter Sizes:
Air Filter Ratings
Learning to read air filter ratings shouldn't take more than ten minutes of your time.
A high rating indicates that a product can capture more than 90% of particles from the air it filters, but it also suggests that a specific model could affect the unit's airflow. A low rating indicates that a filter can't retain a high percentage of microscopic particles.
These are the most common air filter ratings:
MERV – This rating shows you the filter's weakest performance while dealing with microscopic and macroscopic particles on a scale from 1 to 20. Models with MERV ratings 7 through 13 don't significantly impact the unit's airflow as long as they're clean.
MPR – As indicated by its name, the Microparticle Performance Rating measures the filter's ability to trap particles that vary in sizes from 0.3 to 10 microns. 3M brand developed this rating, so you won't find MPR on air filters produced by other brands. 
The Home Depot's FPR is similar to the MERV rating despite using a slightly narrower rating scale.
See also: Guide to humidity control systems
Key Features of 16x20x1 Air Filters
Checking the filter's actual size, efficiency rating, and filter media type is usually enough to determine if a specific model is a good option for your furnace or AC. However, each air filter has additional features that can affect its performance.
For instance, taking the time to learn more about the quality of the product's frame can help you determine how the filter is going to behave in hot or humid conditions. Most models have a cardboard frame with a wire backing that prevents filter media from sagging.
Air filters can help you eliminate bathroom or cooking odors but keep in mind that this isn't a standard feature as most standard models don't have the capacity to absorb cigarette smoke or similar unpleasant smells.
Furthermore, only filters with MERV ratings above 11 have the capacity to capture 2.5PM particles.
Related reads:
Upkeep Requirements and Replacement Frequency
I change air filters on my furnace every month during the heating season to ensure that the unit functions normally. Ultimately, how often you'll have to change the air filter depends on the frequency at which you're using a furnace or an AC.
I use disposable pleated air filters with a strong electrostatic field because I have a dog and am prone to allergies. These filters have zero upkeep requirements, but I still check them every few weeks to determine when I should install a replacement.
Washable 16x20x1 air filters are a good alternative to disposable models because they eliminate the need to shop for filters every six to twelve months. Cleaning a washable filter is easy since applying a mild detergent and rinsing it with water removes all dirt from the filter media.
However, you won't be able to use your heating or cooling system while waiting for the filter to dry.
See also: The best washable furnace filters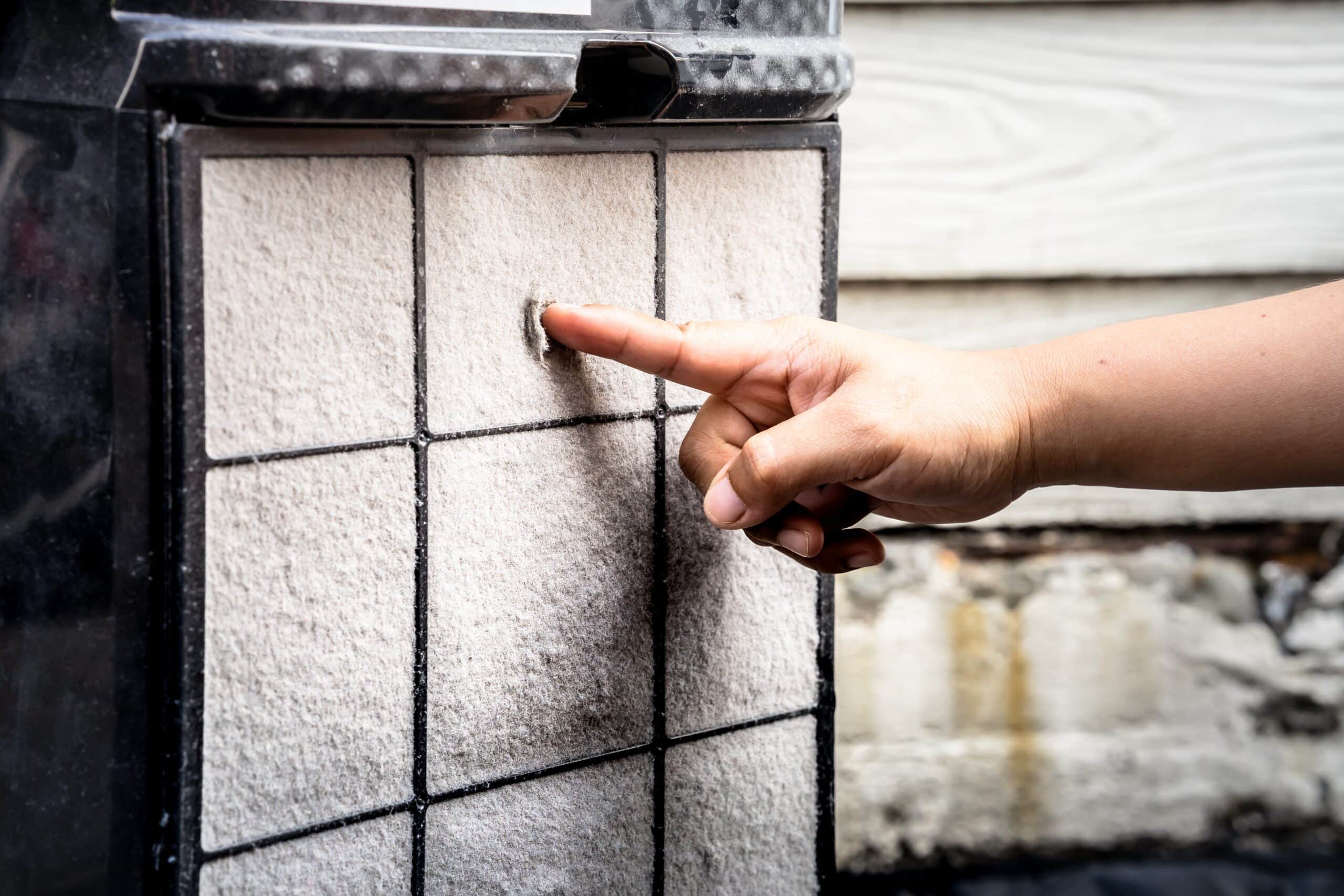 Selection Criteria
The filter's size is just one among countless parameters I used to select the best 16x20x1 air filters. The model's longevity, sturdiness, and quality of its filter media were some of the key criteria I utilized during the selection process.
My main goal was to create an overview of products suitable for households with a broad range of air filtering needs. Here are some of the key criteria that guided me through this process:
MERV rating: I utilized this parameter to identify models suitable for people with low and high air filtering requirements.
Air filter's sturdiness – The final selection includes models with different resistance levels to humidity and hot temperatures. Each air filter was carefully selected to meet the demands of homeowners living in different climates.
See also: The best 18,000 BTU mini-splits
Top 9 16x20x1 Air Filters
Nordic Pure Pleated Air Filters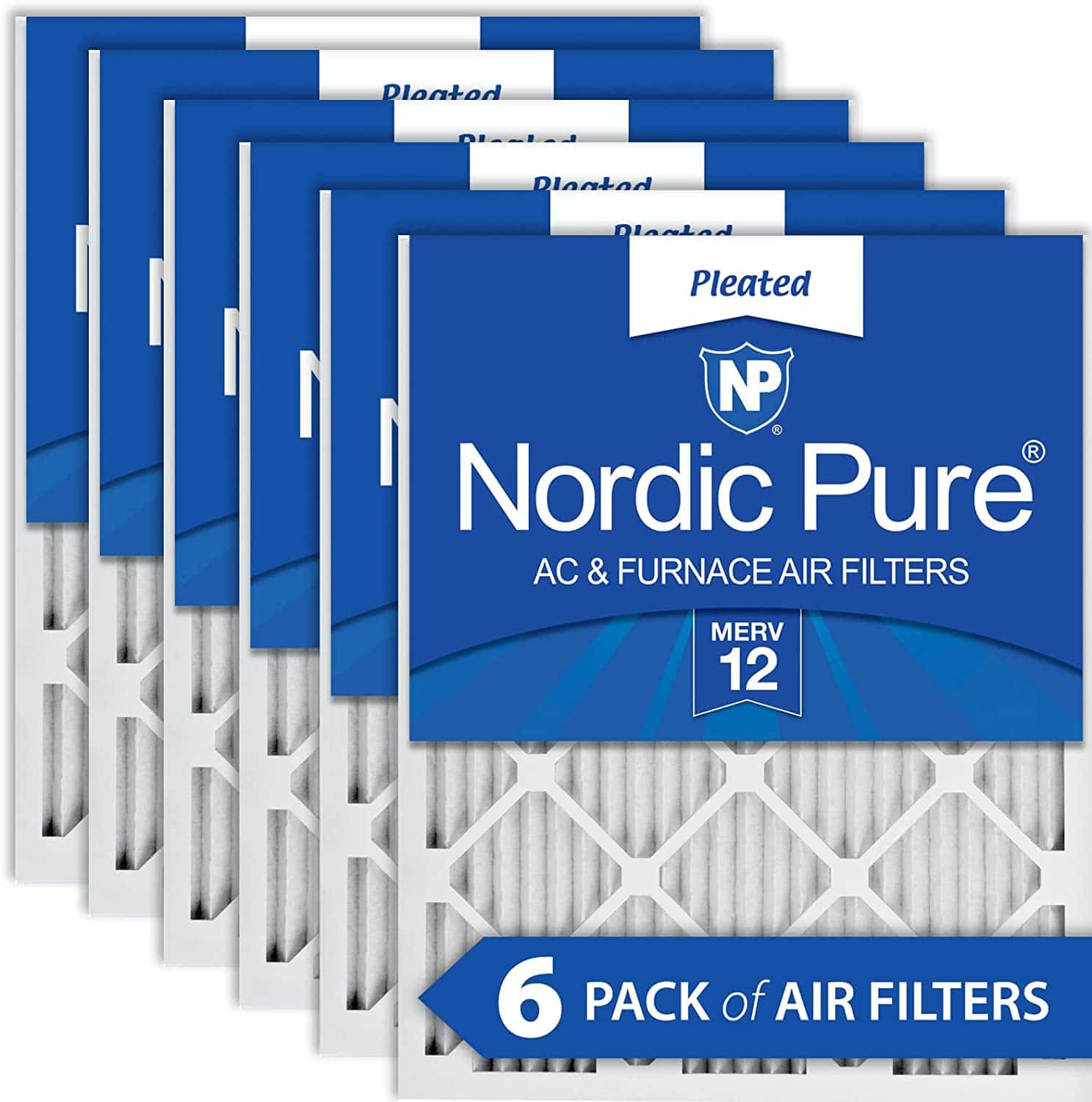 There's a lot to like about the Nordic Pure Pleated Air Filters. A MERV 12 rating, a synthetic pleated filter media with a strong electrostatic field, and a strong cardboard frame produced from recycled materials are some of the things that impressed me when I first discovered this air filter.
This Nordic Pure model can remove bacteria, viruses, mold spores, or lint from the air in your home at a high degree of efficiency. Despite having a high MERV rating, this air filter doesn't restrict the unit's airflow.
Pros
It reduces the need for house vacuuming
Suitable for asthma and allergy sufferers
It enhances the furnace's performance
Eco-friendly design
Cons
Filtrete Healthy Living Ultra Allergen Air Filters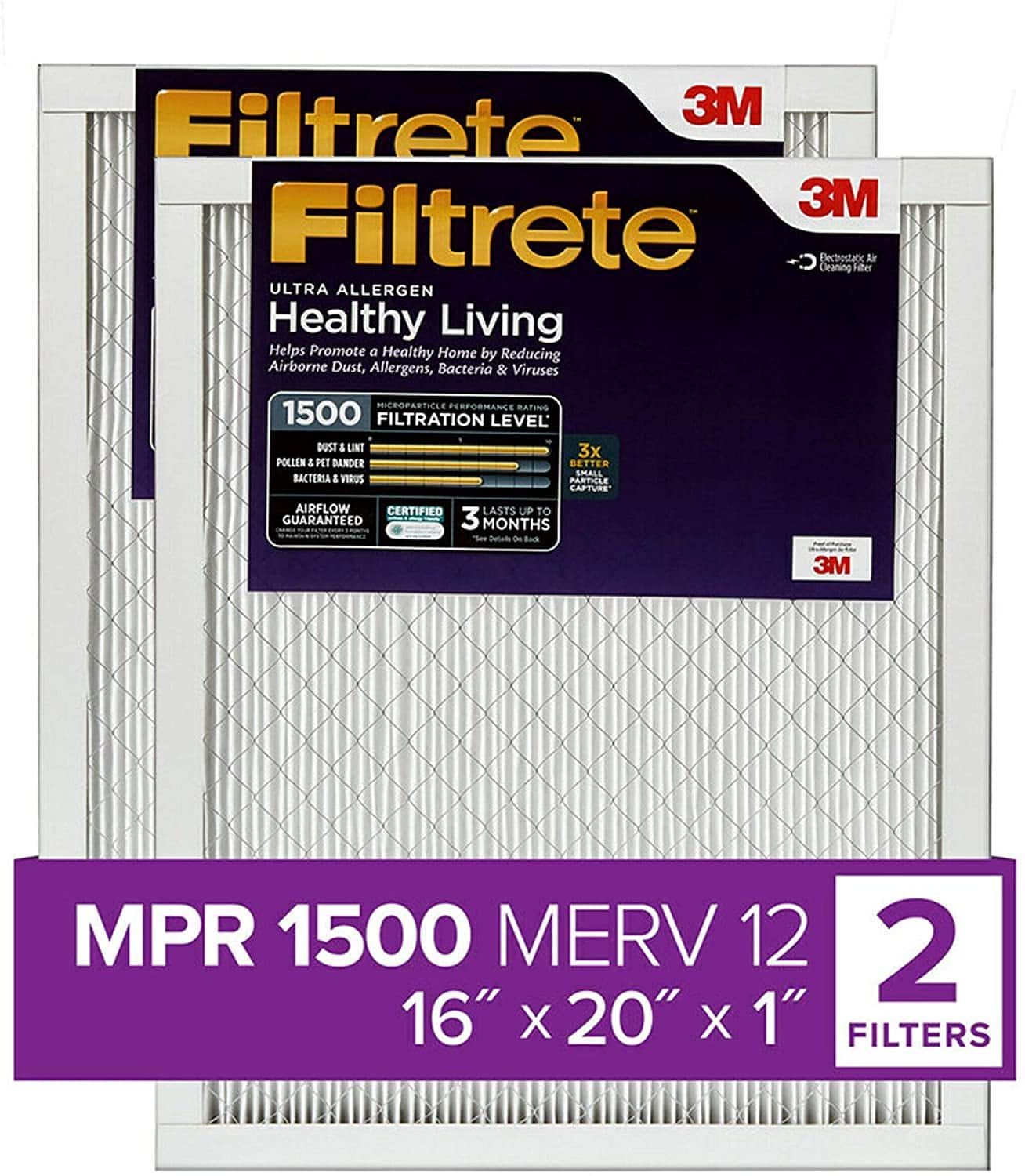 Manufactured by one of the industry's most reliable brands, the Filtrete Healthy Living Ultra Allergen Air Filters is an obvious choice for homeowners struggling to keep the air in their homes clean.
Besides eliminating the allergenic particles from the air it filters, this model can also efficiently deal with bacteria, viruses, and cigarette smoke. The electrostatically charged pleated filter media and filter's frame perform well in hot and humid conditions, as they're not prone to sagging or warping.
Pros
Filter media is made of high-quality materials
Available in multiple sizes
It's easy to install
Cons
This air filter is prohibitively expensive
Aerostar Pleated Air Filter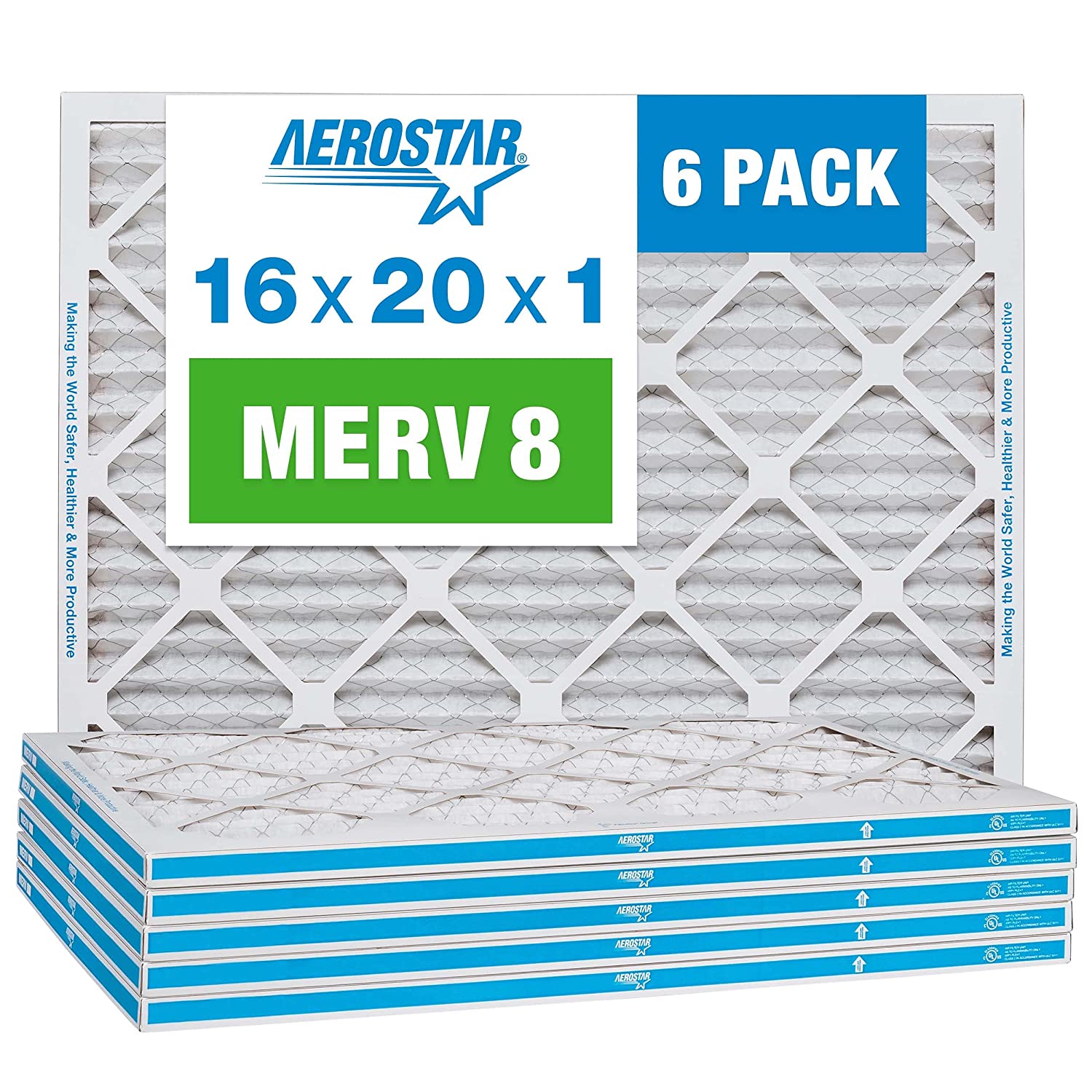 You can choose between 4-pack and 6-pack versions of the Aerostar Pleated Air Filters. A single 4-pack of these air filters is more than enough for an entire cooling or heating season, even if you're extensively using a furnace or an AC.
Even though it has pleated electrostatically charged filter media, this MERV 8 model cannot collect a high percentage of microscopic particles. So, you should only opt for this Aerostar model if you want to eliminate dust, pollen, and mold from the air in your home.
Pros
It's compatible with ACs and furnaces produced by different brands
It doesn't affect the unit's airflow
A budget-friendly option
The air filter has a sturdy cardboard frame
Cons
It can't capture allergenic particles
Filterbuy Pleated Air Filters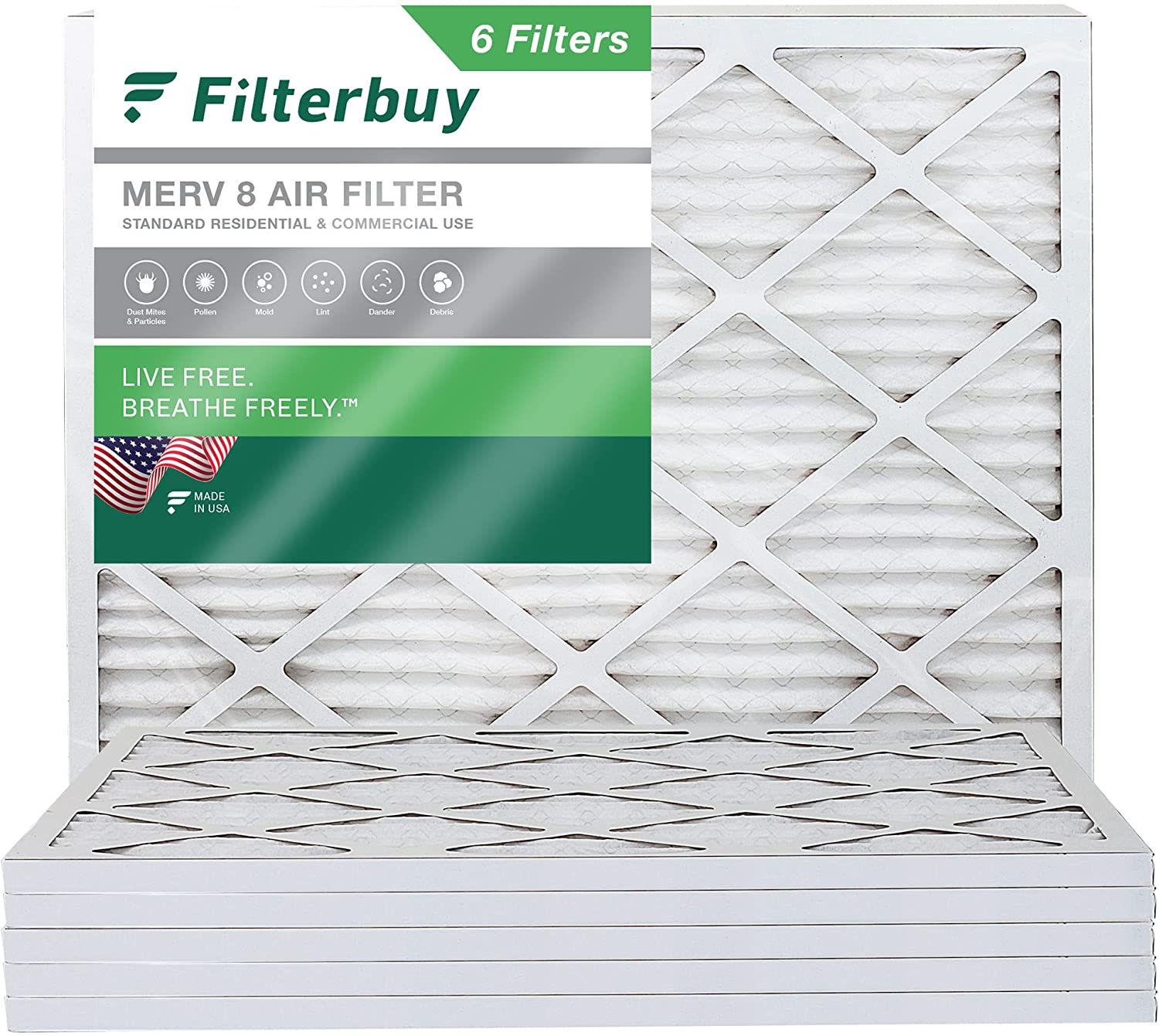 The dual wire backing keeps the filter media firmly in place, so you don't have to worry about sagging while the filter is in use. Filterbuy Pleated Air Filters offer standard filtering performance as their synthetic pleated media only traps common air pollutants like dust or mold.
This model has a sturdy beverage board frame that can withstand exposure to temperatures up to 200F or moderate amounts of humidity. This air filter can last up to 90-days, but its lifespan is considerably shorter during the cooling and heating seasons.
Pros
A heat-resistant frame
A large filter media surface
This air filter is made from recyclable materials
Cons
A single air filter costs nearly $7
AIRx Allergy Pleated Air Filters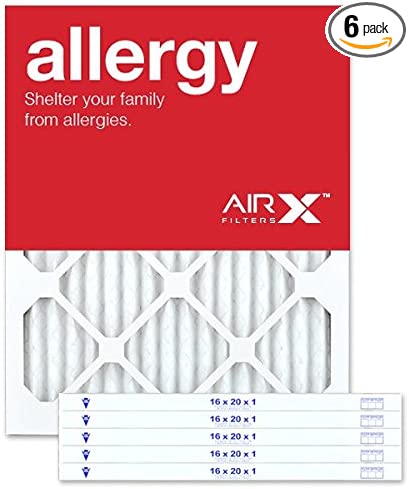 I think that the AIRx Allergy Pleated Air Filters deliver excellent value for money. A single pack of six air filters can last for more than a year and improve air quality significantly. The synthetic gradient pleated media retains a high percentage of mold, bacteria, and smoke that passes through it.
This model has a double-wall beverage board frame designed for use in humid conditions. Moreover, the filter media isn't affected by temperatures higher than 200F.
Pros
It helps alleviate allergy symptoms
Heat-resistant filter media
It retains microscopic particles
Cons
It's more expensive than most MERV11 air filters
Filti 7500 Air Filters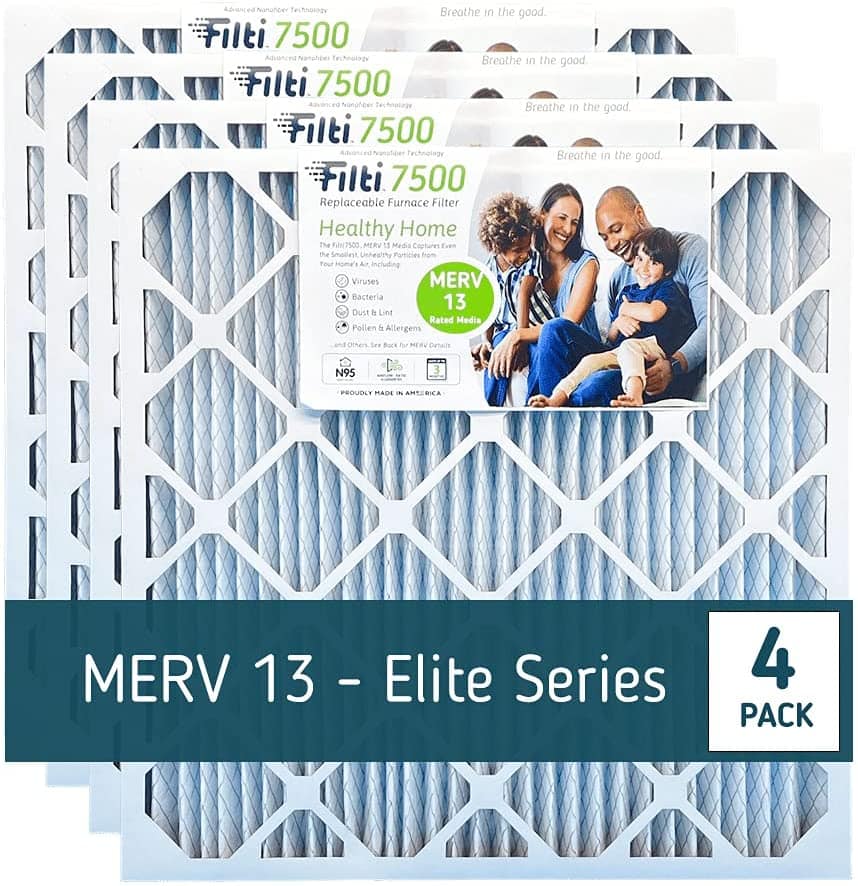 I think that the Filti 7500 Air Filters exceed the requirements of most homeowners because they remove even the tiniest air pollutants from the air that passes through them. Unlike most MERV 13 air filters, the Filti 7500 has nanofiber media that doesn't require a large surface to trap microscopic particles.
The filter media has a three-layer construction engineered to maximize the model's air filtering capabilities. The beverage board frame isn't affected by heat or humidity, ensuring that the filter remains in perfect condition throughout its 90-day lifespan.
Pros
Innovative filter media design
Excellent air filtering capabilities
This air filter is easy to install
A rigid cardboard frame
Cons
The air filter's actual size can cause fitment issues
K&N Washable Air Filter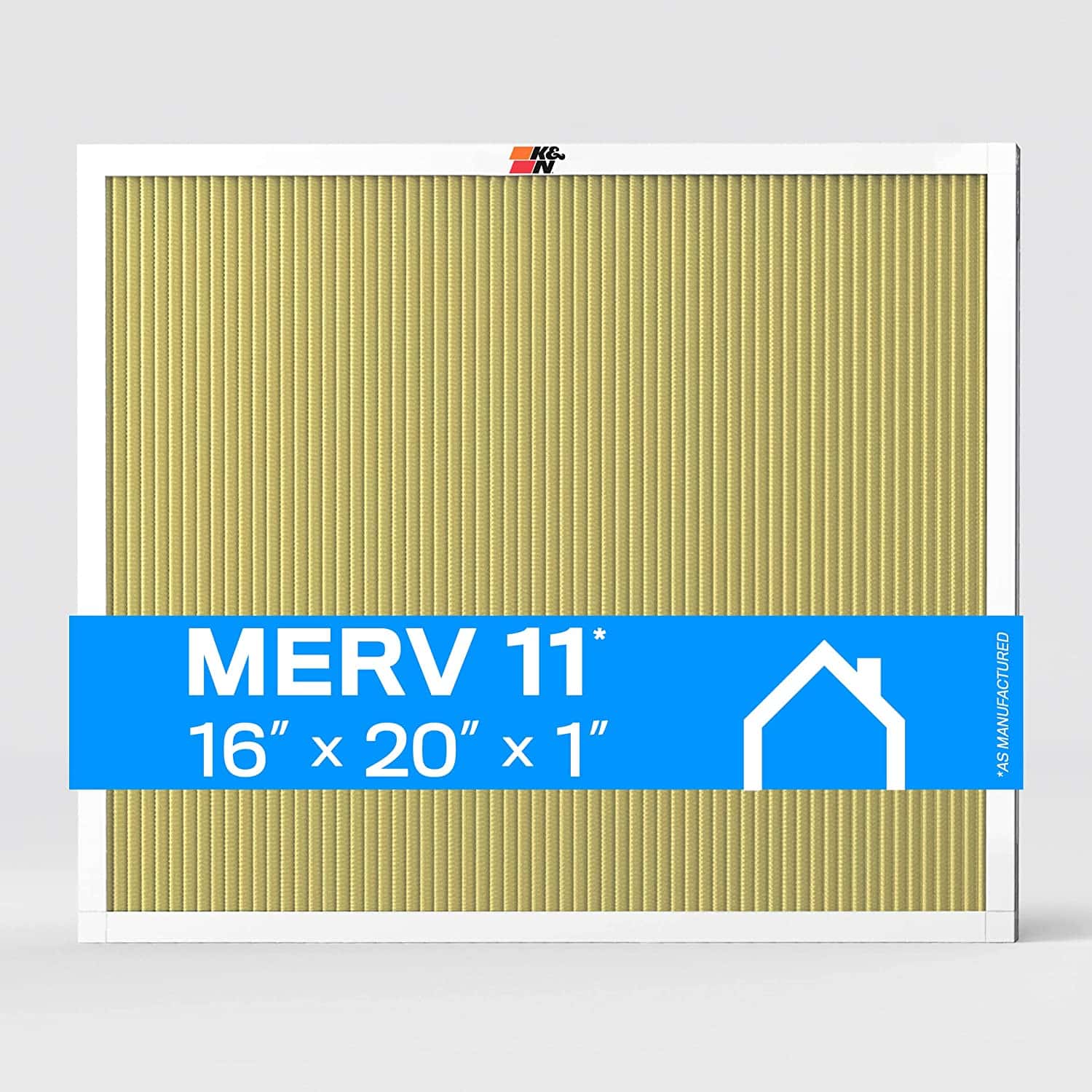 I think that purchasing the K&N Washable Air Filter is an excellent long-term investment because it can replace more than thirty disposable air filters. The synthetic polymer filter media captures nearly all particles that pass through it regardless of their size.
Consequently, this K&N filter can significantly improve the air quality in your home and ensure that your AC or furnace is working seamlessly. Applying a cleaning detergent and rinsing it with water restores the model's air filtering capacities.
Pros
It's an excellent choice for people suffering from allergies
It lasts much longer than disposable air filters
It's produced by a reliable brand
Cons
This air filter might affect your unit's airflow
Crisp Filters Furnace Air Filter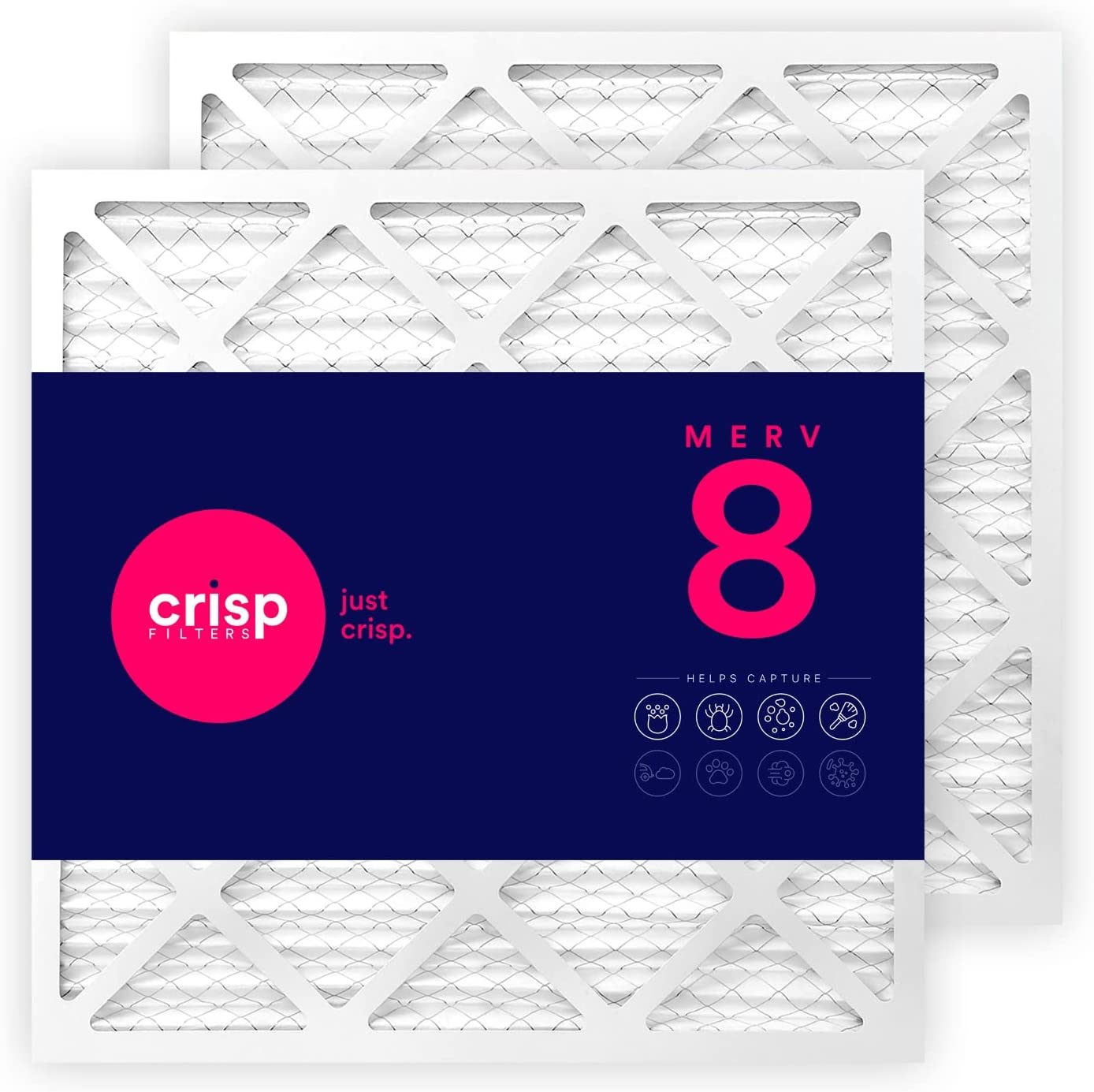 Opting for an affordable MERV 8 model like the Crisp Filters Furnace Air Filter can still help you improve the air quality in your home. This air filter isn't designed to capture smog, viruses or eliminate allergenic particles, but it's highly efficient at trapping dust mites, pollen and mold due to pleated filter media.
This model has a cardboard frame that doesn't perform well at high temperatures. I recommend changing this filter monthly even though the manufacturer claims that the product can maintain the same filtering efficiency for three months.
Pros
It meets the air filtering requirements of most homeowners
The air filter is moisture-resistant
It maintains the unit's power consumption at an average level
Pleated filter media
Cons
It's not perfect for all AC and furnace models
Colorfil Air Filters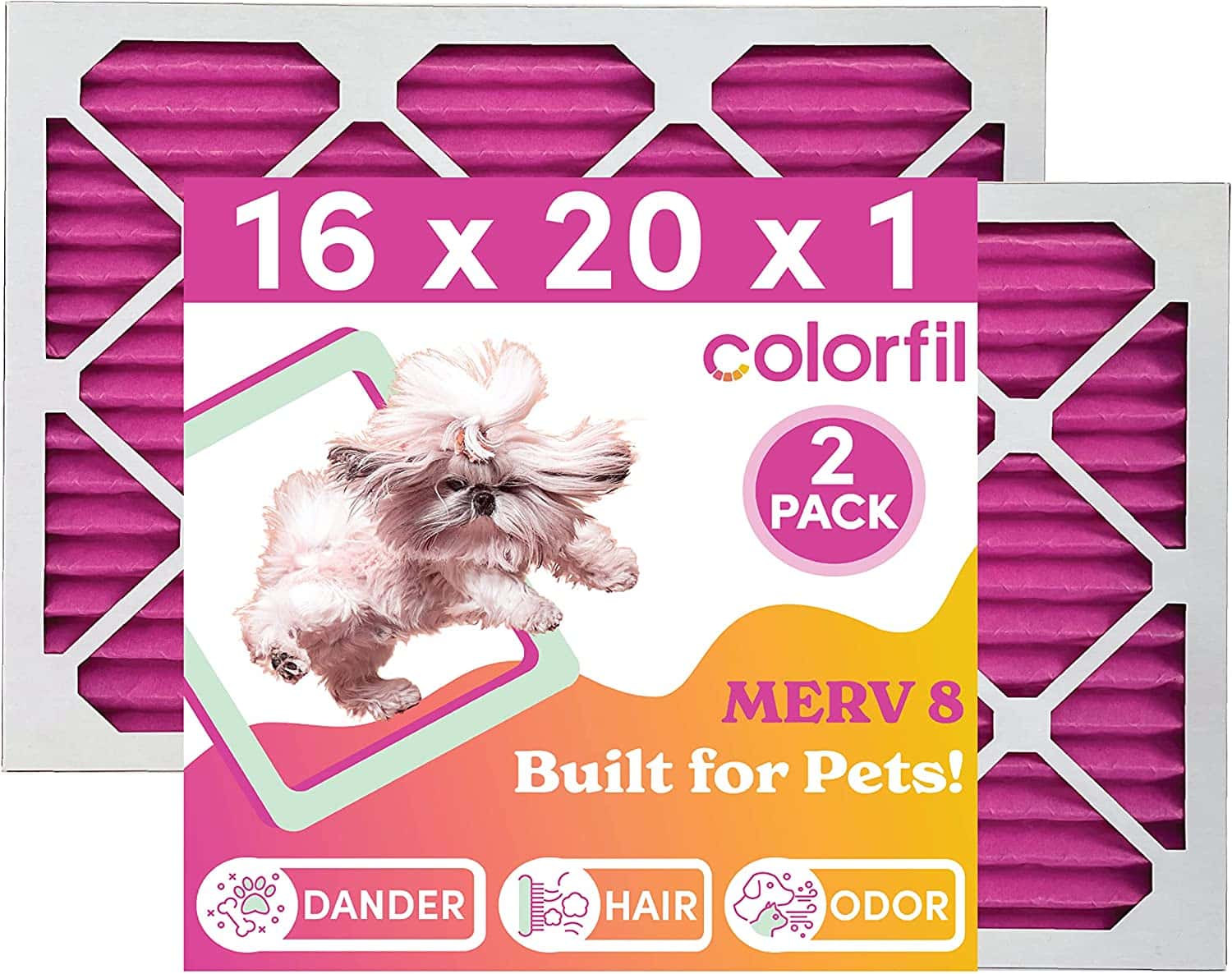 The real value of the Colorfil Air Filters doesn't lie in their air filtering capabilities, as the model has a modest MERV 8 rating but in odor elimination capacity. Despite this, the filter can still lower the amount of dust or pollen in your home.
The filter changes color from pink to dark gray as it eliminates cooking, pet, and bathroom odors, making it easy to determine the right moment to install its replacement. Moreover, you can use this air filter as a substitute for an air purifier.
Pros
Efficient odor neutralization
The filter changes color to inform you when it is the right moment to change it
Pleated filter media
Cons
It's more expensive than conventional 16x20x1 air filters
Frequently Asked Questions about 16x20x1 Air Filters
Question: Are 16x20x1 air filters recyclable?
Answer: Even though most models are made of recycled materials, 16x20x1 air filters aren't recyclable, and you should dispose of them as common waste.
Question: How many 16x20x1 air filters do I need per year?
Answer: An average household uses between four and eight air filters every year.
Question: Do 16x20x1 air filters have special storage requirements?
Answer: Air filters should be kept in a cool and dry place.
My Verdict: How to Choose the Right 16x20x1 Air Filter?
I don't support upgrading to a higher MERV rating than the one you're already using before consulting an HVAC technician who can tell you how the change will affect the unit's airflow. With that being said, I think that MERV 11 or MERV 13 16x20x1 air filters can have a significant impact on air quality.
So, unsurprisingly, I recommend choosing a model like Nordic Pure Pleated Air Filters or Filtrete Healthy Living Ultra Allergen Air Filters that will remove nearly all hazardous particles from the air in your home.
I understand that these two models are overkill for most people, so you should consider the Aerostar Pleated Air Filters if you want a filter that can trap only dust, mold, and pollen. Please go through our guide to the best 5-ton heat pumps if you'd like to learn more about these HVAC systems.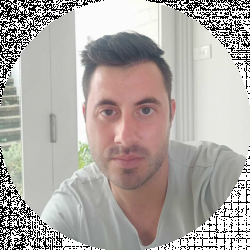 Latest posts by David Borgogni
(see all)