It took me several years to fully understand the performance capabilities of the best 16x25x24 air filters. I was testing models with different MERV ratings and filter media materials to determine which model could maximize my HVAC's efficiency and remove microscopic air pollutants from the air in my home.
I discovered that the air filter that best fits my HVAC system has electrostatically charged pleated synthetic media and MERV 11 rating. However, each homeowner has different air filtration expectations from their cooling or heating systems.
So, in this article, I'll supply you with the information you need to determine which are the best 16x25x4 air filters for your HVAC system and recommend several models that could help you improve air quality in your home.
Bottom Line Up Front
Getting the 16x25x4 air filter with the highest efficiency rating isn't necessarily the right choice for all cooling and heating systems. Instead, you should search for a model that won't cause pressure drops or restrict the unit's airflow.
I think Nordic Pure Air Filters are an excellent fit for ACs or furnaces that support air filters with high MERV ratings. However, models like Honeywell Home MicroDefense Air Filters or Filterbuy Air Filters might be a better option for systems that don't support air filters with MERV ratings above 10.
My Top Picks At a Glance
Types of 16x25x4 air filters
I learned that navigating through the selection process is much easier if you understand the differences between different filter media types.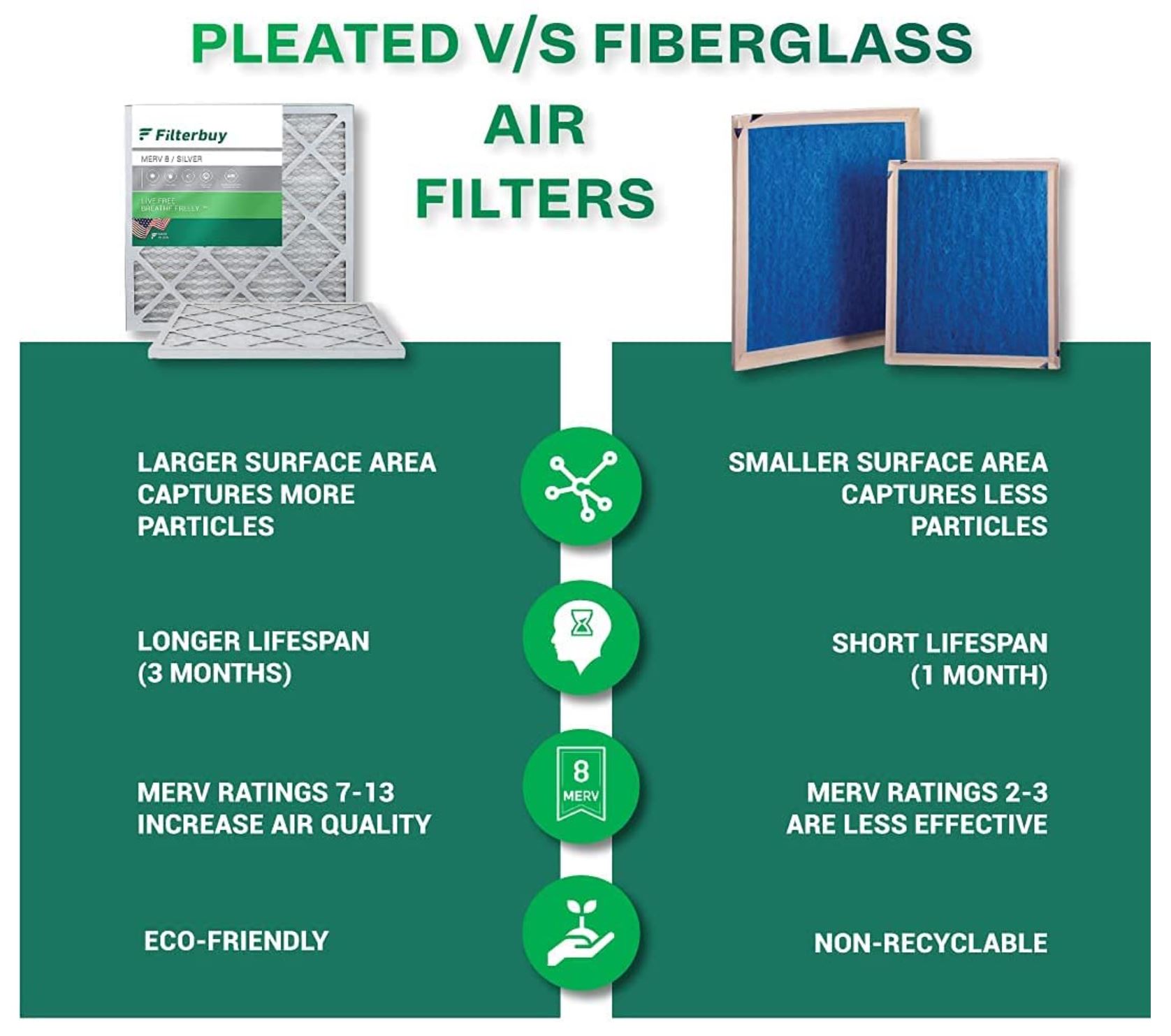 I also discovered fairly quickly that the filter's performance capabilities depend on the media design and material, as I noticed significant differences between models with fiberglass and synthetic media. Here are the most common 16x25x4 air filter types:
Synthetic pleated – Most industry-leading brands offer models with pleated synthetic media material. The width of these air filters also contributes to their efficiency, but this doesn't mean that all 4-inch wide models have the capacity to trap microscopic air pollutants.
Electrostatically charged media – Synthetic, polyester, or polypropylene materials are often used as media for these air filters. A strong electrostatic field enhances the filter's ability to capture particles smaller than a micron.
16x25x4 air filters with fiberglass media aren't common, but you should avoid these models if you encounter them because they're not durable or capable of good air filtering performances.
Air filter sizes
You can't choose the size of your cooling or heating system's air filter, but you need to make sure that its replacement has the same dimensions. However, 16x25x4 is just the nominal size of air filters, while their actual size is around 0.25 to 0.5-inches shorter.
Hence, the first thing you need to do once you determine that your HVAC system's original air filter needs to be replaced is to measure the vent and the old filter. Doing so will provide you with the actual dimensions the replacement filter should have.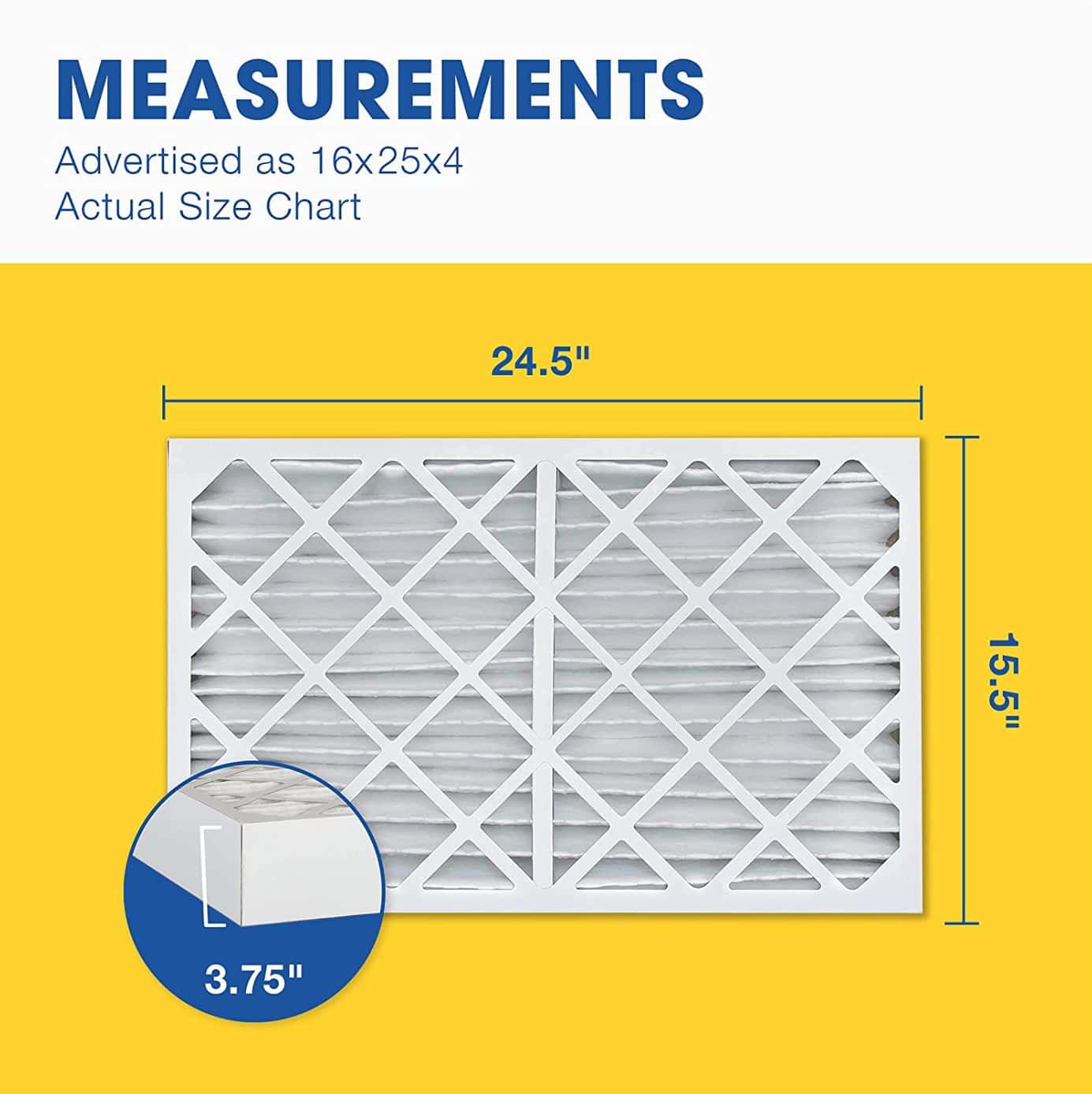 Top tip: Some HVAC vents require air filters that are 4-3/8-inches wide. Keep in mind that these vents aren't compatible with 4-inch wide filters. 
Moreover, using a filter that is too small for your system can limit its cooling or heating capacities and affect the air quality in your home. Consequently, choosing the right air filter size is paramount for your AC's or furnace's efficiency.
Continue reading related Air Filter guides based on their size:
Efficiency ratings
The easiest way to determine how efficient an air filter is at trapping macroscopic and microscopic particles is to look at its efficiency rating. Most manufacturers include this information on the packaging, so you don't have to spend much time trying to figure out the model's efficiency.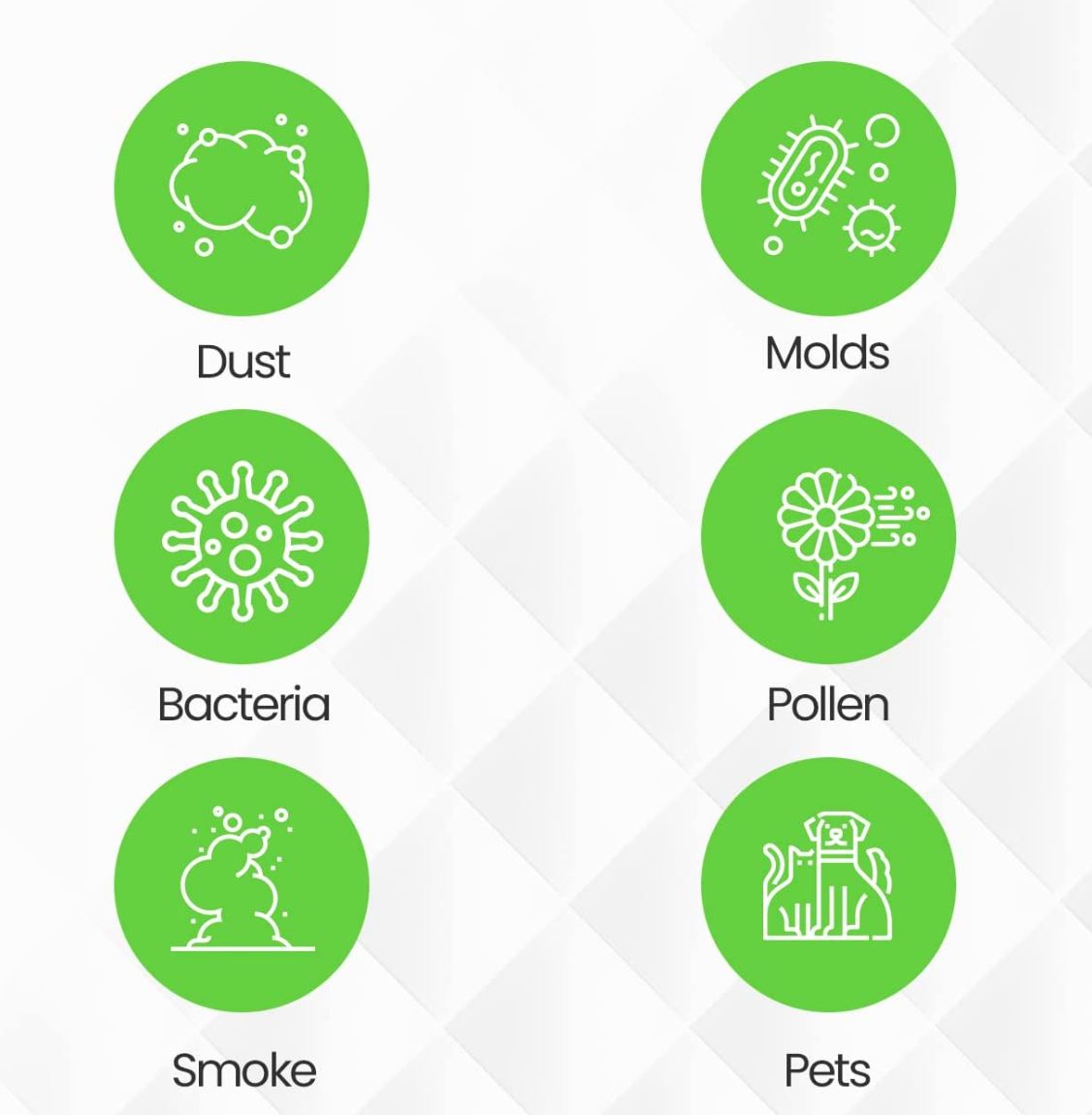 Let's take a look at the most common air filter efficiency ratings:
MERV – The Minimum Efficiency Reporting Value (MERV) has become the industry standard since 1987 when it was first introduced. Despite this, some 16x25x4 air filters aren't MERV-rated. I don't recommend choosing a model that doesn't have a MERV rating because its filtering capacities might be substandard.
MPR – This efficiency rating was developed by the 3M, and it is only used for the brand's products. It measures the filter's ability to capture 0.3 to 1.0-micron particles and rates them on a scale from 100 to 2,800.
Continue reading related Air Filter guides based on MERV ratings:
Key features of 16x25x4 air filters
Air filter quality doesn't depend solely on its media material and efficiency rating. These parameters don't tell you much about the product's performance in challenging conditions or its ability to neutralize odors.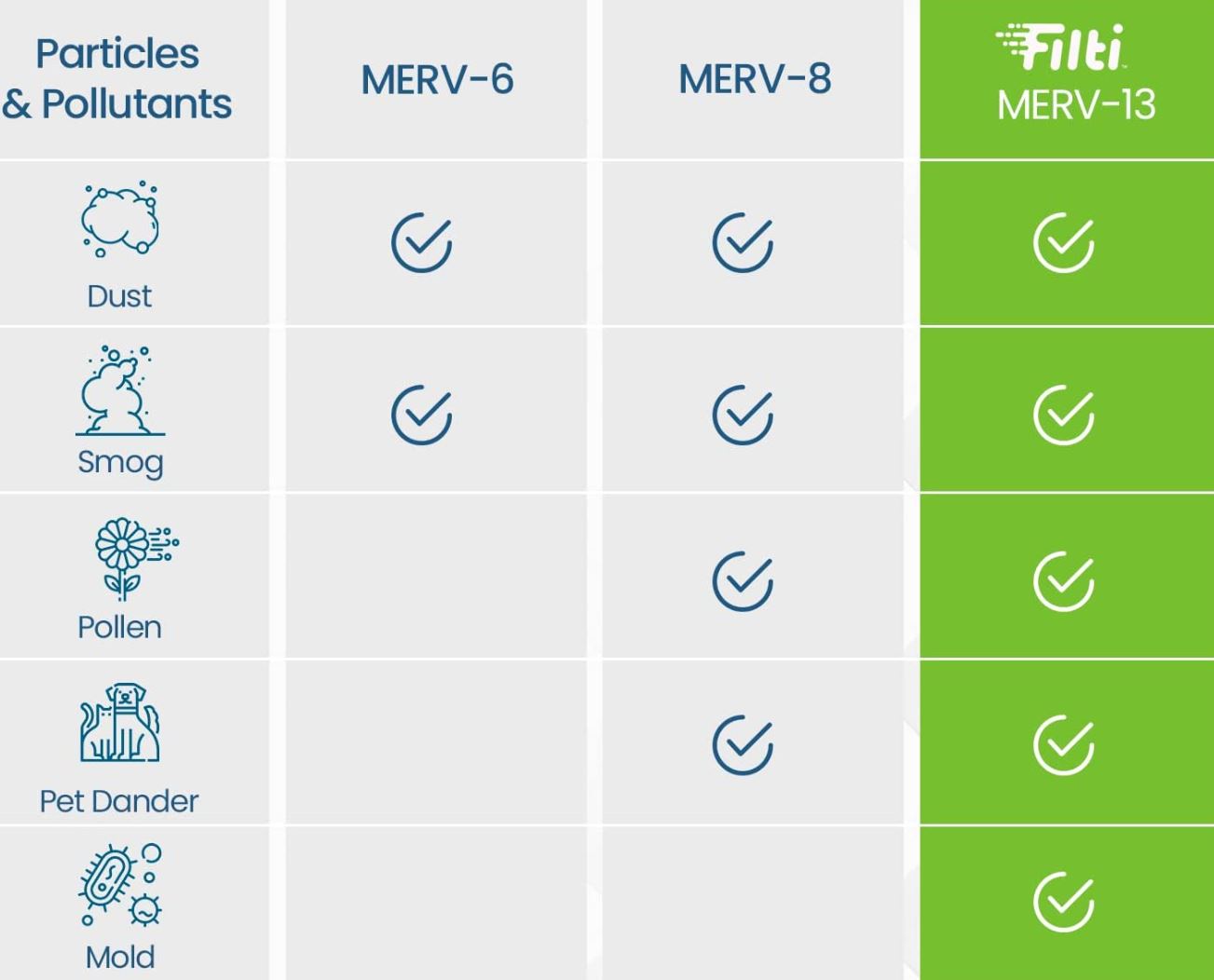 Models with heat and humidity tested frames and media aren't prone to mold accumulation, and their performance remains the same when exposed to high temperatures. Frame sturdiness is yet another factor that contributes to air filter quality.
Most models have cardboard frames with wire backing that keeps the media in place. Unlike air filters with plastic or metal frames, air filters with cardboard frames might warp if they're exposed to heat or humidity for too long.
Top tip: Opting for a washable 16x25x4 model like the AirCare Furnace and AC Filter will eliminate the need to frequently replace the unit's air filter.
Models with odor absorption capacities usually don't have high-efficiency ratings, but they can help you neutralize cooking or bathroom smells.
Cost, durability, and upkeep requirements
The frequency at which you have to replace the unit's air filter depends on how often you're using your HVAC system. Most manufacturers claim that the lifespan of their disposable 16x25x4 air filters varies from three to twelve months.
It is advisable to replace models with an estimated three-month lifespan every month during the cooling and heating seasons. Disposable air filters don't have any upkeep requirements, while washable models require cleaning every two to three months.
Even though most ACs and furnaces inform their users when to change an air filter, regular visual inspections can help you ensure that this component won't affect the system's efficiency. The average cost of a 16x25x4 air filter is considerably higher than the price of a standard 1-inch wide model.
In most cases, you'll have to spend between $15 to $20 on a single 16x25x4 air filter, so buying a four-pack or a six-pack every six to twelve months can get expensive.
Selection criteria
I primarily relied on my experience with 16x25x4 air filters while deciding which models to include in this article. Still, I considered MERV ratings, filter media quality, and various other factors that enabled me to shortlist the best models for homeowners with different air filtering needs.
Filter's affordability was also one of the key parameters I utilized throughout the selection process to identify models suitable for all budgets. Here are a few more criteria I used to pick the best 15x25x4 air filters:
Brand reliability – I only considered air filters produced by established brands that offer high-quality products.
Model's sturdiness – The quality of the filter's frame and its ability to withstand exposure to heat or humidity played an essential role during the selection process.
Top 9 16x25x4 air filters
Honeywell Home MicroDefense Air Filters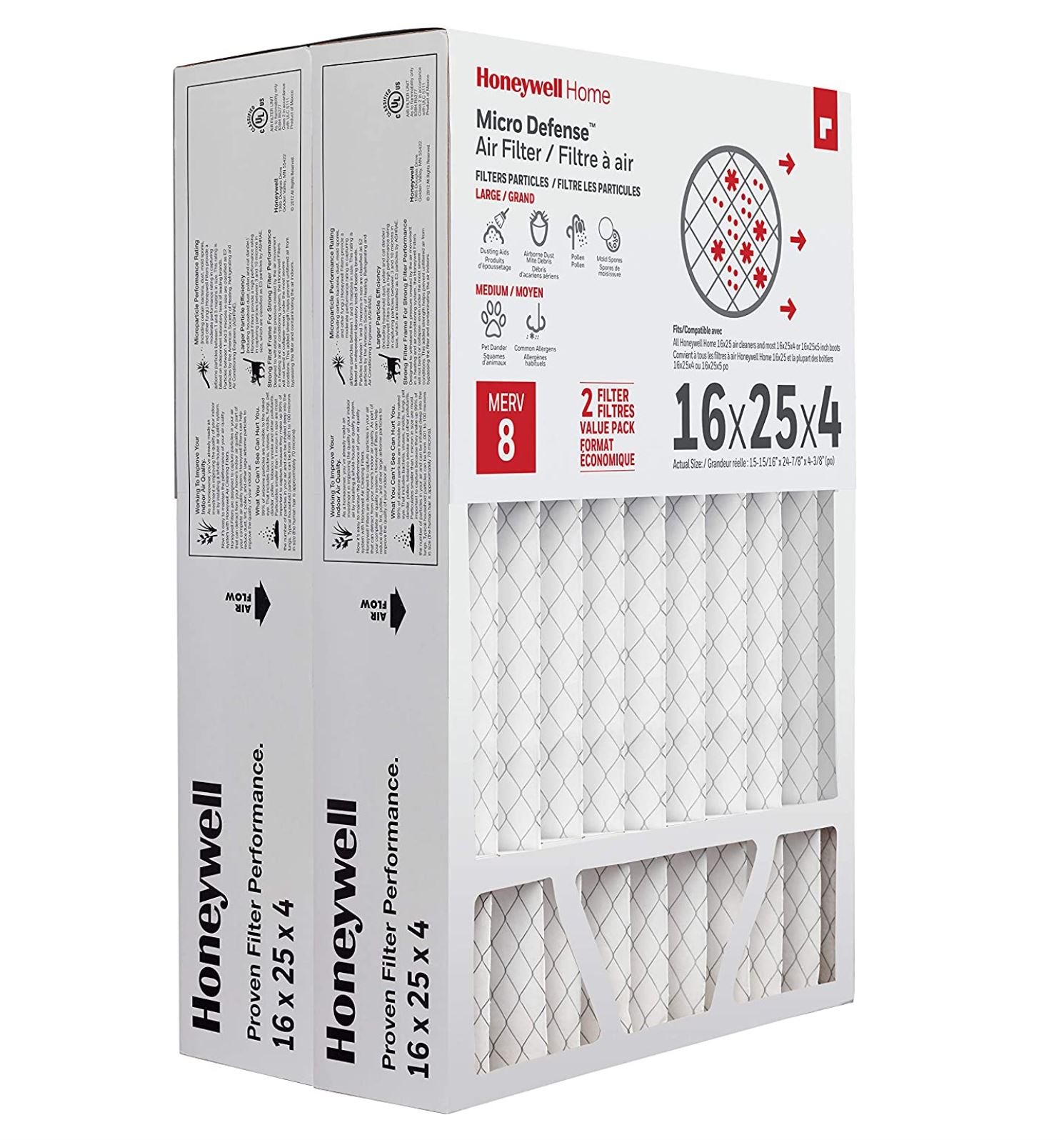 The primary reason I included the Honeywell Home MicroDefense Air Filters in this article is their durability. These filters require annual replacement, although extensive use of an HVAC system can shorten their lifespan.
They retain more than 70% of macroscopic particles such as mold spores, dust mite debris, or pollen from the air they filter. In addition, this Honeywell model traps 50% of 3 to 5-micron particles it gets in contact with, including allergens and pet dander.
Pros
An excellent replacement for Trion, Space-Guard, and Aprilaire air filters
These filters don't restrict the unit's airflow
Long lifespan
A budget-friendly price
Cons
The filter can't capture particles smaller than 3 micron
Aerostar Pleated Air Filters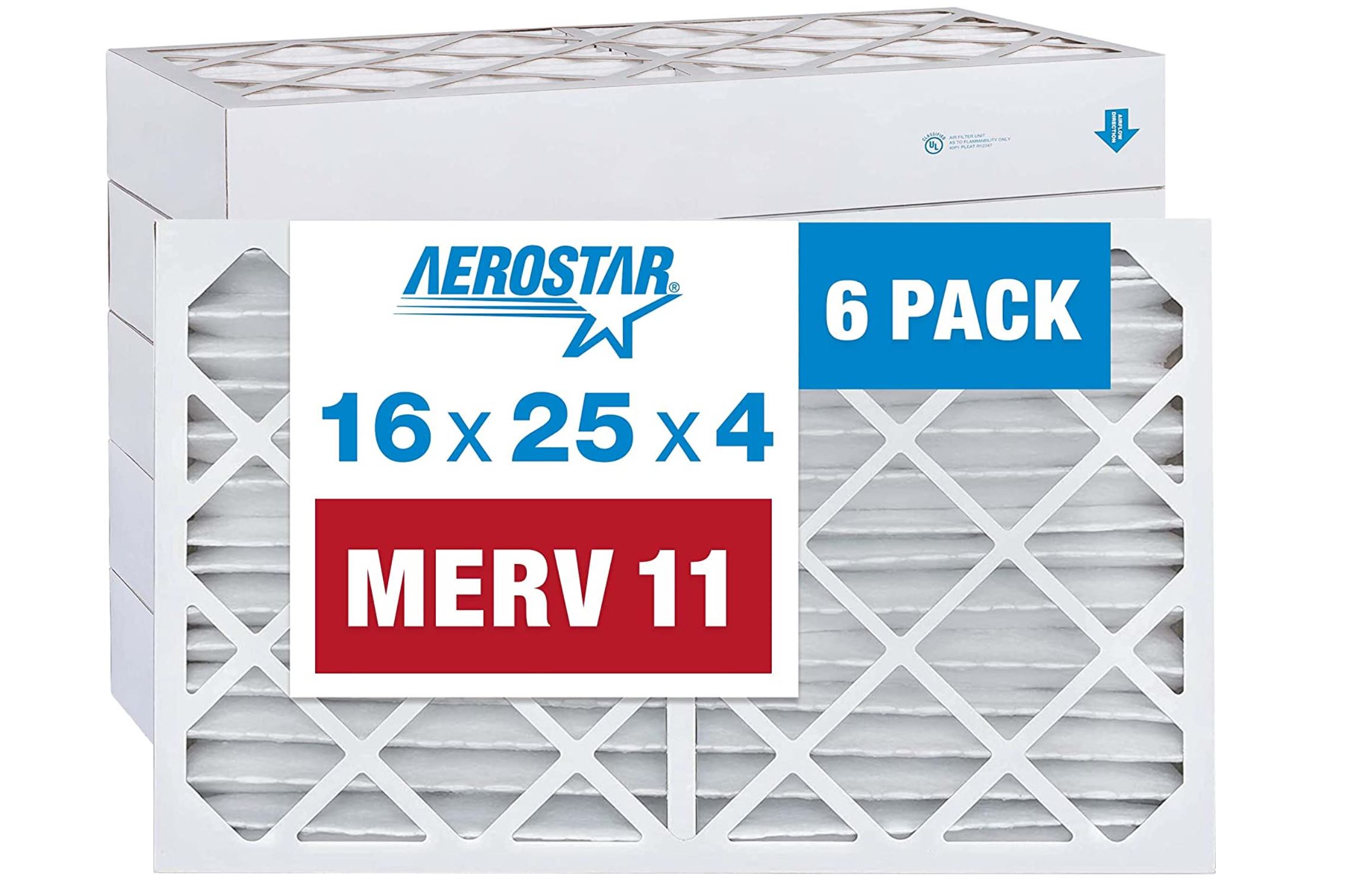 The actual size of the Aerostar Pleated Air Filters is ½-inches shorter than their nominal size, so you must check if they fit on your HVAC's vent.
Despite potential fitment issues, these filters have plenty to offer, as their electrostatically charged pleated media can trap smog, lint, or pollen with the same level of efficiency. Their frame is made of recycled cardboard that can withstand moderate heat and humidity exposure.
Aerostar Pleated Air Filters can last for three to six months, but you may have to replace them more often during the cooling and heating seasons.
Pros
Installing and removing the filter is easy
It improves the home's air quality
Sturdy design
Cons
The filter might cause a pressure drop
Nordic Pure Air Filters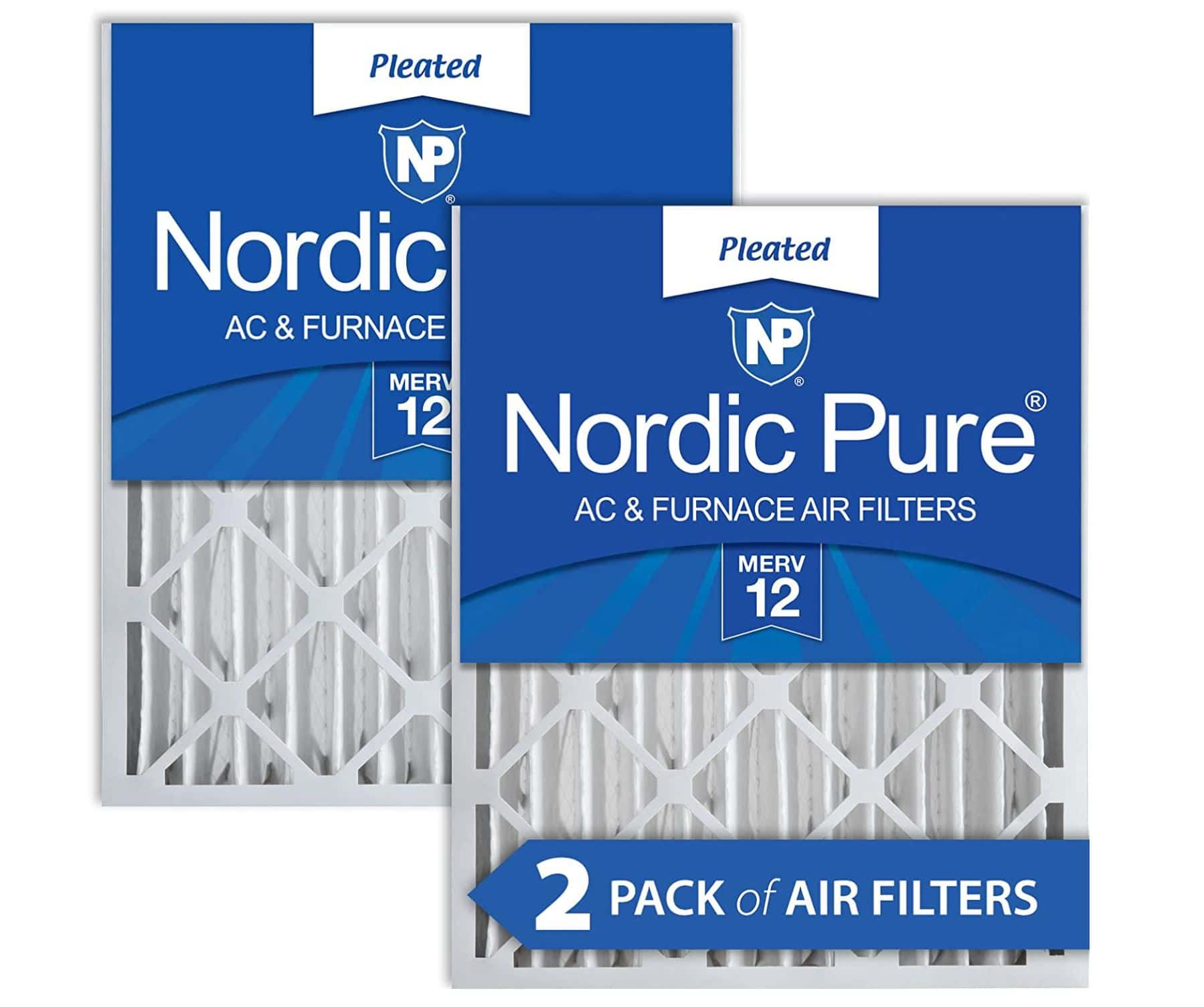 Like all brand's products, the Nordic Pure Air Filters deliver remarkable filtering performances. This MERV 12 model traps viruses, allergenic particles, and other microscopic air pollutants with high efficiency.
Its electrostatically charged media has a large surface due to the pleated design that extends the model's filtering proficiency even further. The filter has heat and moisture-resistant beverage board frame and a metal mesh support grid that prevents the media from moving.
Pros
The estimated lifespan of these filters is three to six months
The filter media prevents mold growth
Suitable for homeowners who suffer from allergies
It's made of eco-friendly materials
Cons
It exceeds the air filtering needs of most homeowners
Filterbuy Air Filters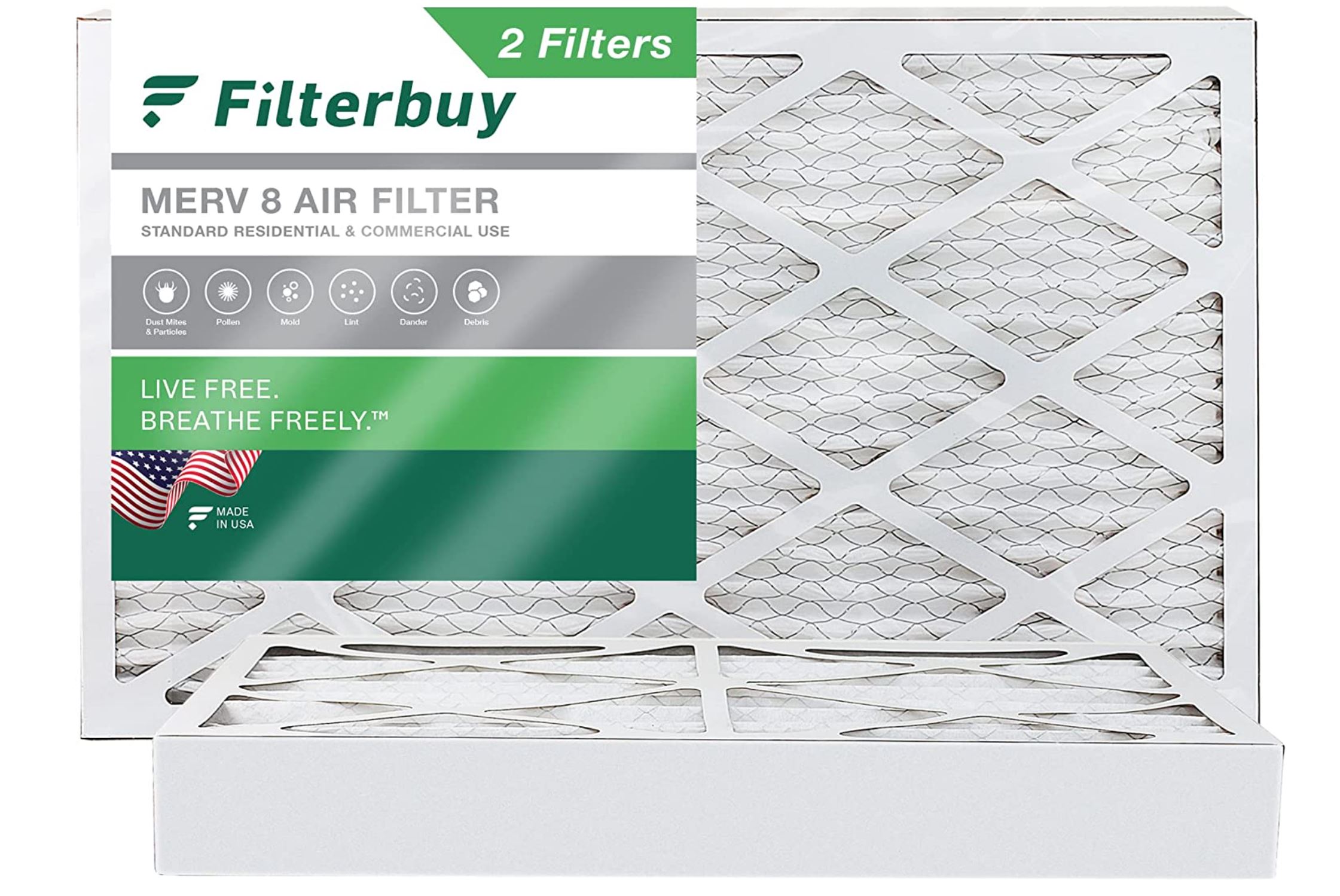 Opting for an affordable model like the Filterbuy Air Filters doesn't mean you'll have to sacrifice your home's air quality. Even though they have MERV 8 efficiency rating, these filters can still trap more than 90% of particles that pass through them.
The model's pleated media has a strong electrostatic field that attracts microscopic and macroscopic particles. However, Filterbuy Air Filters can only capture a moderate amount of allergenic particles, which is why they're not ideal for people who struggle with allergies.
Pros
A high MERV rating
Compatible with most HVAC systems
The media has twelve pleats per foot
A sturdy frame with wire backing
Cons
These filters get dirty quickly
BestAir Carbon Infused Air Filters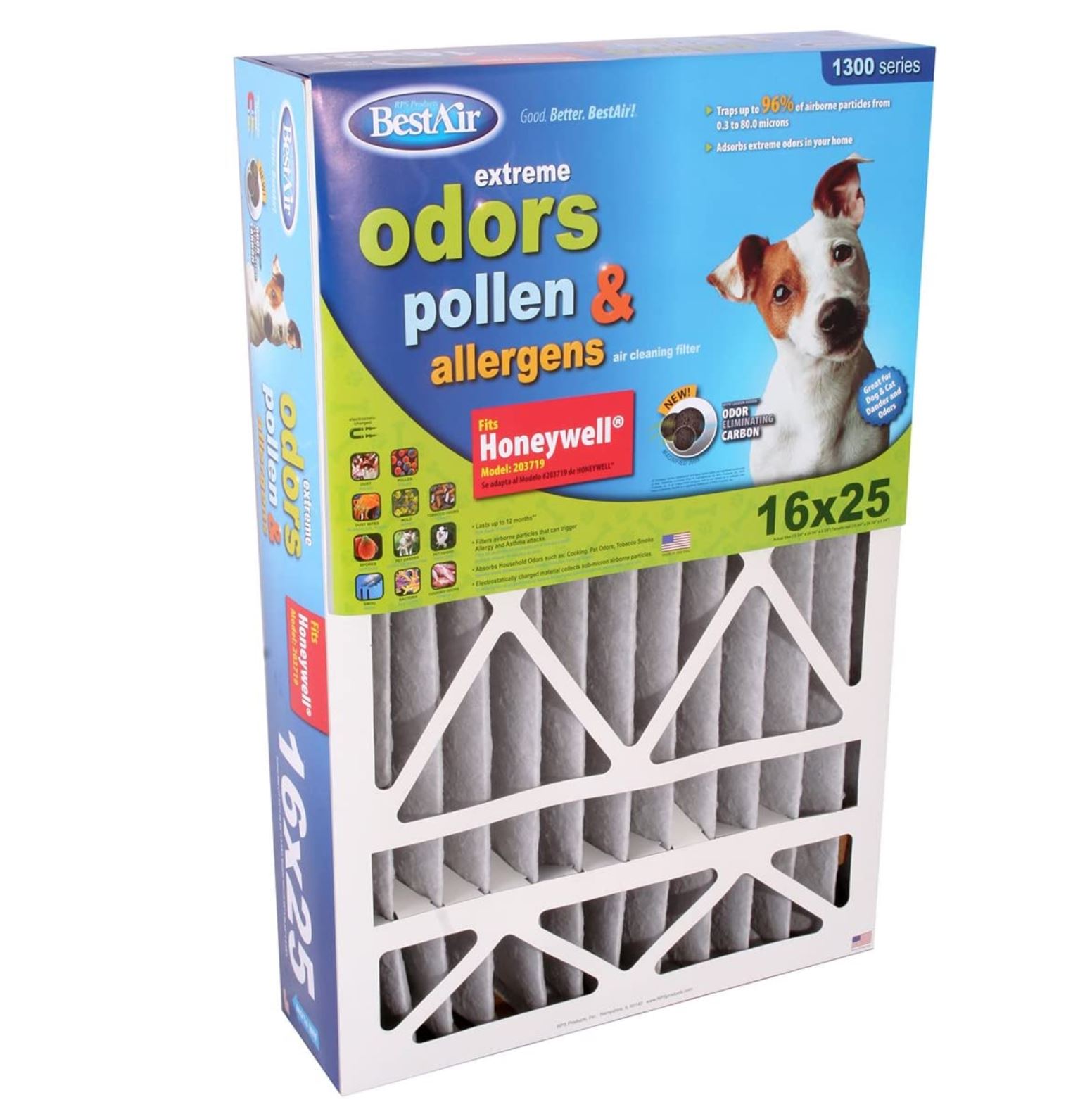 You should consider getting the BestAir Carbon Infused Air Filters if you're looking for a replacement for Honeywell or Tiron AirBear filters. Its pleated synthetic media has a vast surface that traps microscopic particles that trigger allergic reactions and asthma attacks.
The media is infused with carbon that helps it absorb odors efficiently and neutralize unpleasant smells or smoke. The cardboard frame can only withstand moderate heat or moisture exposure, but despite this, the filter can last up to twelve months.
Pros
It offers good value for money
The filter captures 96% of particles that pass through it
It's recommended for allergy and asthma sufferers
Excellent odor absorption capabilities
Cons
It is only compatible with Honeywell HVAC systems
FILTI 7500 Air Filters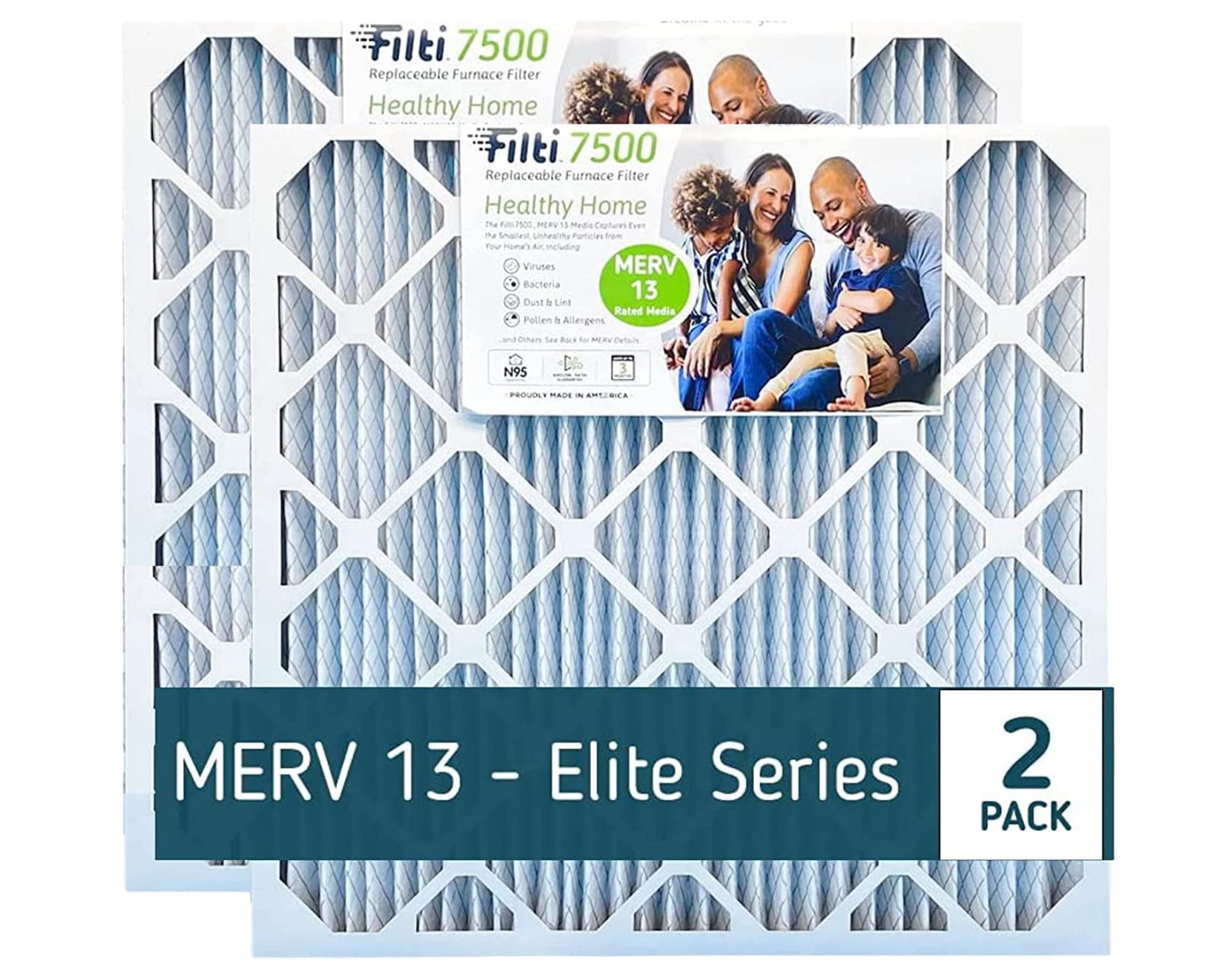 The unique melt-blown three-layer nanofiber media construction enables the FILTI 7500 Air Filters to capture over 90% of microscopic particles from the air they filter. Consequently, their lifespan is limited to just 90-days, or 45 days during cooling and heating seasons.
The metal backing and a sturdy cardboard frame prevent media sagging and ensure the same level of performance throughout the product's lifetime. The nanofiber media prevents mold or bacteria growth and can withstand moderate heat and moisture exposure.
Pros
Straightforward installation process
Filter media can capture ultrafine air pollutants
It has an immediate impact on air quality
Cons
This FILTI 7500 model can affect the unit's airflow
Glasfloss Air Filters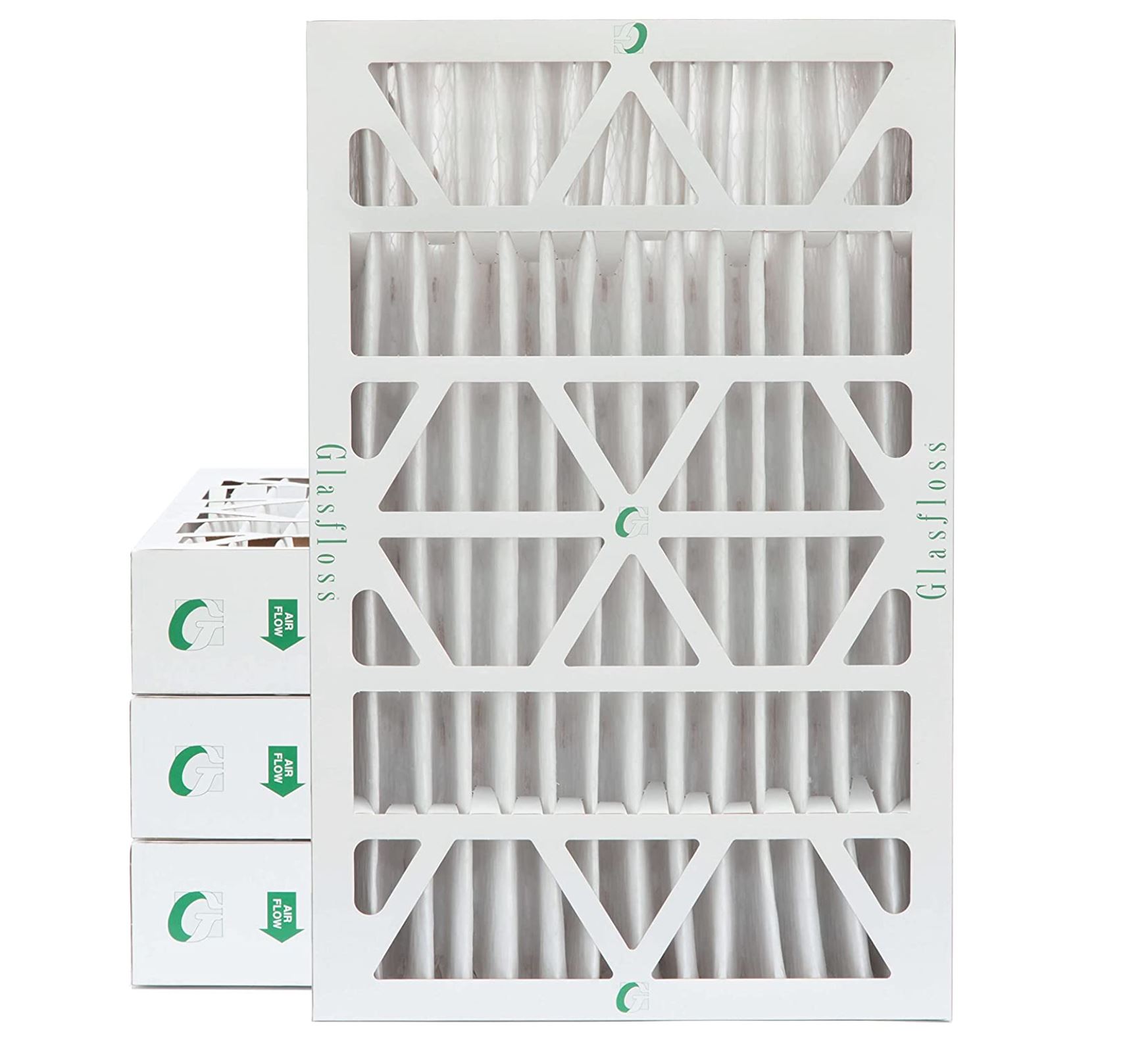 The performance capacities of Glasfloss Air Filters aren't stunning, but they're good enough to meet the air filtering requirements of most homeowners. This MERV 10 model removes dust, pollen, mold, or pet dander from the air it filters but doesn't retain a high percentage of microscopic airborne particles.
Its pleated media doesn't affect the unit's airflow while the filter is clean, but its efficiency starts to dip as air pollutants begin to accumulate. Hence, you'll have to replace these air filters frequently, especially during heating and cooling seasons.
Pros
The frame isn't prone to warping
The filter has a vast media surface
An affordable air filtering solution
Galvanized metal grid prevents media from sagging
Cons
It doesn't have anti-allergenic properties
Filtrete Healthy Living Ultra Allergen Air Filters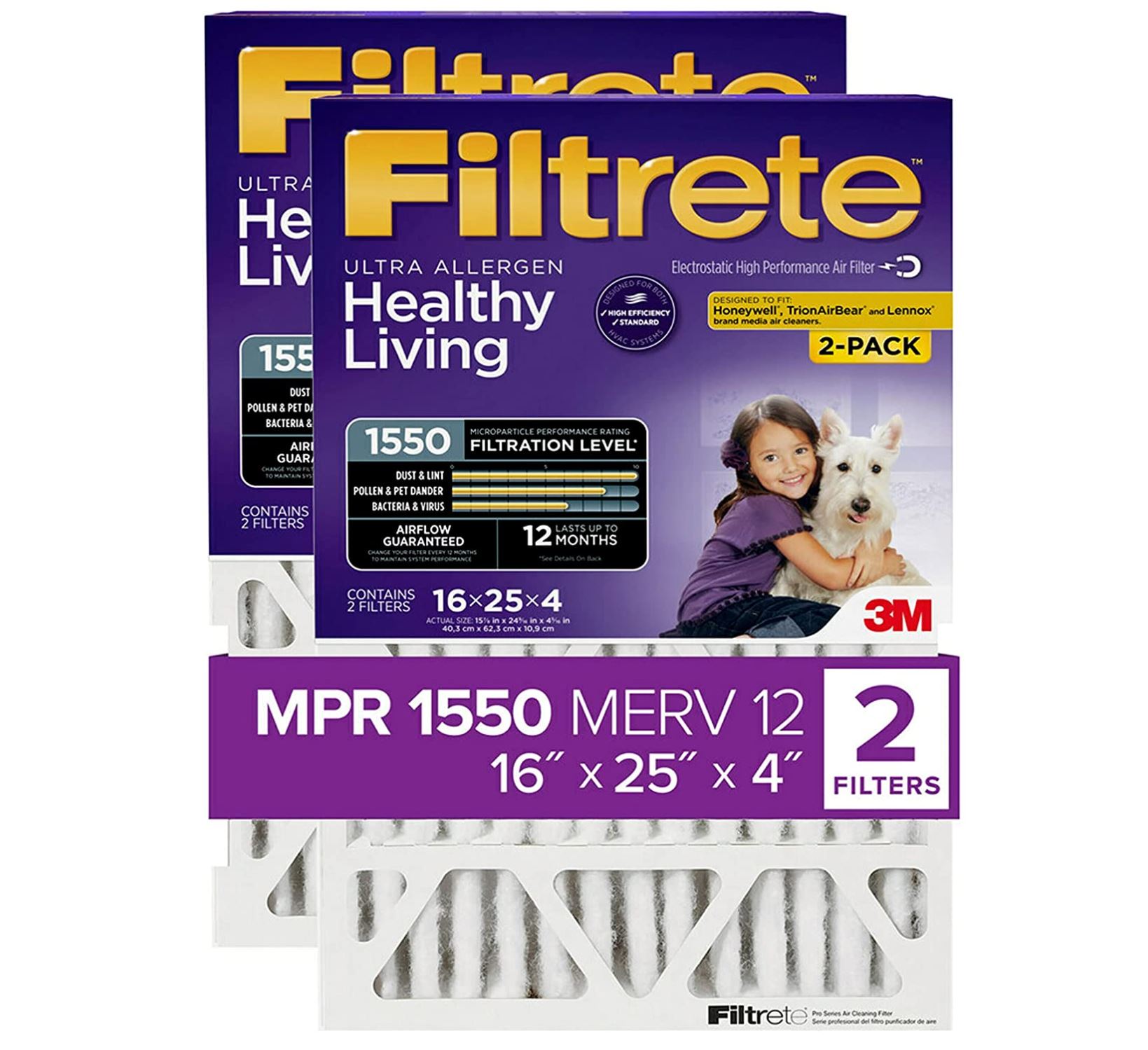 I think that investing in Filtrete Healthy Living Ultra Allergen Air Filters is a good decision that will have a positive impact on your HVAC system and air quality in your home.
Even though they're more expensive than most 16x25x4 air filters, their high price is more than justified by their remarkable performance capabilities.
The pleated synthetic media has a strong electrostatic field that enables it to capture more than 50% of 0.3 to 1-micron particles from the air that passes through it.
Pros
A single filter can last up to a year
Three-step installation process
Heat and humidity resistant frame
Compatible with most heating and cooling systems
Cons
It can't neutralize odors
Pamlico Air Filters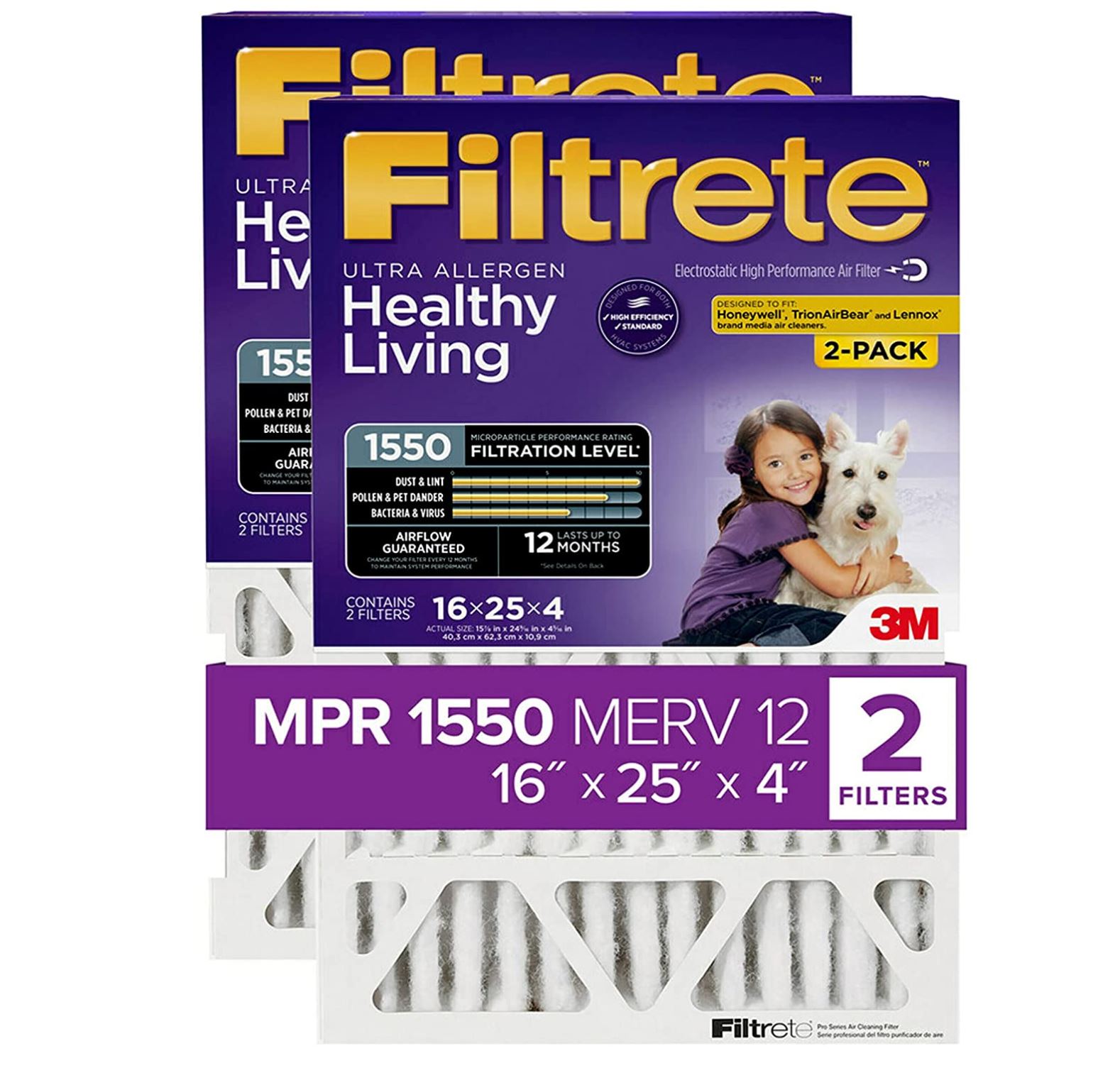 Even though they have MERV 11 efficiency rating, Pamlico Air Filters don't restrict the unit's airflow or cause pressure drops.
The synthetic electrostatically charged pleated media captures both microscopic and macroscopic particles, and it can help you get rid of viruses, bacteria, or smog, but it can't trap 2.5PM particles. The filter has a moisture-resistant cardboard frame and a wire backing that prevents the media from sagging.
Pamlico's model is compatible with a wide range of ACs and furnaces produced by industry-leading brands.
Pros
An affordable price
High-quality filter media material
It can withstand heat or humidity exposure
Cons
It accumulates dirt quickly
Frequently asked questions about 16x25x4 air filters
Question: Can I upgrade to a 16x25x4 air filter with a higher MERV rating?
Answer: Yes, you can, but you shouldn't do so before consulting an HVAC technician familiar with your system's specifications.
Question: How long does it take to install a 16x25x4 air filter?
Answer: The installation of a replacement air filter usually lasts a few minutes, and the most challenging step is determining the filter's correct position.
Question: Is it safe to use an HVAC system without a 16x25x4 air filter?
Answer: Using a cooling or heating system without an air filter isn't safe. That's why you must switch off your HVAC system while changing its filter.
Hopefully, this article has helped you find a 16x25x4 replacement air filter suitable for your AC or furnace. Please go through our guide to the best 20x20x1 air filters for more information about models with these nominal dimensions.
My verdict: What is the best 16x25x4 air filter for your HVAC system?
I tested numerous 16x25x4 air filters before I settled for a model that delivered the best results on my HVAC system. Knowing how an air filter will perform on your cooling or heating unit or how long it will last is impossible before you try it out.
I recommend testing Nordic Pure Air Filters and checking if their MERV rating is overwhelming for your HVAC system. These filters can help you eliminate most air impurities from your home, but only if they don't restrict your unit's airflow.
Filterbuy Air Filters and Honeywell Home MicroDefense Air Filters are affordable alternatives to models with high MERV ratings that won't cause pressure drops or affect HVACs performance in any way.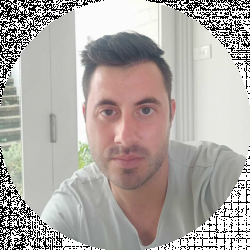 Latest posts by David Borgogni
(see all)