Besides letting you control the temperature in your household, heating and cooling systems system can improve your quality of life by filtering out harmful particles. The best MERV 11 air filters remove impurities that can trigger strong allergic reactions and prevent microscopic particles from settling in your HVAC system.
These filters aren't designed exclusively for people with allergies, and their benefits include less cleaning due to high dust absorption capacities and smoke elimination.
In this article, I'll walk you through some of the best MERV 11 air filter models and supply you with the information you'll need to choose the suitable option for your furnace or AC system.
Bottom Line Up Front
The size of the cooling or heating system's vent register will ultimately determine which MERV 11 air filter is the right fit for your HVAC system. The Filtrete Micro Allergen Defense is excellent for systems compatible with 1-inch wide air filters.
The Honeywell FC100A1037 is among the best options for whole-house cooling and heating systems.
What is MERV rating actually? Check out this guide to find out.
My Top Picks at a Glance
What is MERV?
ASHARE, or the American Society of Heating, Refrigerating and Air-Conditioning Engineers, developed the Minimum Efficiency Reporting Value (MERV) in 1987.
MERV rates air filers on a scale from 1 to 20 based on their worst performance when exposed to particles with sizes ranging from 0.3 to 10 micrometers.
Air filters with MERV ratings over 13 can collect up to 95% of all particles they get in contact with, while models with ratings between 7 and 13 are as efficient as HEPA filters. MERV 11 models have the following properties:
Ability to trap particles with sizes from 0.3 to 1.0 micrometer
Superior protection against allergens in residential contexts
Suitable for use in hospital laboratories
Unrestricted airflow
Most cooling and heating systems have MERV 8 air filters that struggle to capture microscopic allergenic particles. So, switching to a MERV 11 air filter can help you remove mites, dust, or pollen pores from your home without putting too much strain on your HVAC system.
Related reads:
Size Options of MERV 11 Air Filters
The vent registers on different HVAC, AC, or furnace systems don't have uniform dimensions. Hence, the length of the air filters they're using varies from 12 to 30 inches. Moreover, the width of MERV 11 filters varies from 1 to 5 inches.
The fastest and easiest way to determine which size the replacement air filter should be is to look at the dimensions of the filter you're replacing. If you can't find the dimensions of the old air filter, you can measure the size of the vent register.
Top tip: Don't use duct tape to fasten an air filter that is too small or too big for a vent register because doing so might affect the system's airflow. 
Measuring the vent register will provide you with the actual dimensions of the air filter that are around ¼-inch shorter than the dimensions specified on the air filter packaging.
Read also: Best Place to Buy HVAC Air Filters Online.
Types of MERV 11 Air Filters
The material used to produce filter media determines the quality and efficiency of MARV 11 air filters. You can choose from the following MERV 11 filter types:
Fiberglass – Despite having a relatively high MERV rating, air filters that contain fiberglass media struggle to trap microscopic particles. Low price and minimal impact on the system's airflow are the only advantages of these air filters.
Pleated – The pleated design increases the media surface, enabling the air filter to capture a high percentage of air pollutants passing through the media. The media is usually made of synthetic materials resistant to high temperatures and humidity.
Electrostatically charged – These air filters contain electrostatically charged mediathat attracts microscopic particles. However, their ability to trap large particles often depends on the strength of the electrostatic field. Most models are washable and much more durable than pleated air filters.
These filters can have metal, plastic, or cardboard frames that behave differently in hot and humid conditions. Hence, the performance of a MERV 11 filter can also depend on the sturdiness of its frame.
Installing a MERV 11 Air Filter
Replacing an old air filter is a simple process that doesn't take more than a few minutes. Once you've located the position of the vent register on your cooling or heating system (they're usually located near the unit), you'll have to perform the following tasks:
Step 1 – Make sure that the cooling or heating system is switched off. Remove the protective cover and an old air filter and check for residue dust or mold around the vent register. Proceed to clean this area if you find mold or dust.
Step 2 – Search for the arrows on the replacement filter indicating the airflow direction to determine its correct position, and then place the filter into the vent register.
Step 3 – Check if the air filter fits the vent register tightly. Put the protective cover in its place and test if your HVAC system is functioning properly.
See also: The Ultimate Haier Air Conditioner Parts Guide
Durability and Upkeep of MERV 11 Air Filters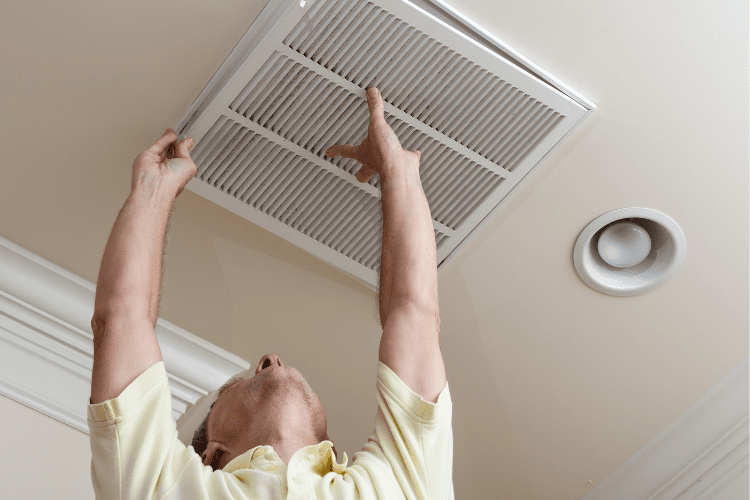 A number of factors that range from air quality in the region where you live to how often you're using an HVAC system affect the frequency at which you have to replace MERV 11 air filters.
Disposable models can last up to three months, but they can accumulate enough dirt to start obstructing the airflow in thirty days. That's why you'll have to check the filter's state frequently to know when is the right moment to remove it.
Washable air filters can last for several years, and during their lifespan, they can replace more than thirty replaceable models. However, they accumulate dirt quickly and require cleaning every few months.
Rinsing the filter with water and a mild detergent is usually enough to remove all dirt. Using a washable air filter while it is still wet can damage it, so you should leave the filter to dry before returning it to a vent register.
See also: The best washable furnace filters
Selection Criteria
Nearly all air filter manufacturers offer models with MERV 11 rating, but the properties and performance capabilities of these models aren't identical. Hence, selecting air filters based solely on their MERV rating wasn't possible.
I considered a variety of factors during the selection process that helped me choose the best models. Here are some of the vital criteria I utilized to pick MERV 11 air filters featured in this article:
Filter size – My goal was to include MERV 11 filters compatible with different HVAC systems. Consequently, most models in this article have different dimensions.
Filter type: I included all common filter types in the final selection so that you can choose the option that best fits your requirements.
Top 9 MERV 11 Air Filters
Filtrete Micro Allergen Defense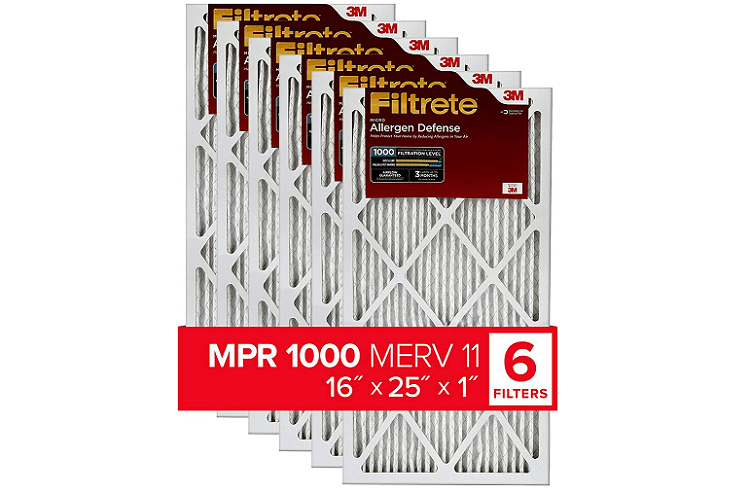 The electrostatically charged filter media the Filtrete Micro Allergen Defense uses can trap smog, smoke, lint, or dust particles. The filter has a sturdy frame that can withstand heat exposure and prevents the filter media from sagging.
However, this model doesn't capture viruses, bacteria, or PM 2.5 air pollution particles efficiently, and you'll have to consider one of the 3M's models with higher MERV ratings if you want to remove these pollutants from the air in your home.
Pros
An affordable price for a pack of six air filters
Highly efficient at trapping allergenic particles
It's easy to install
Excellent performance in moderately humid conditions
Cons
Not suitable for use in non-residential contexts
Aerostar Pleated Air Filter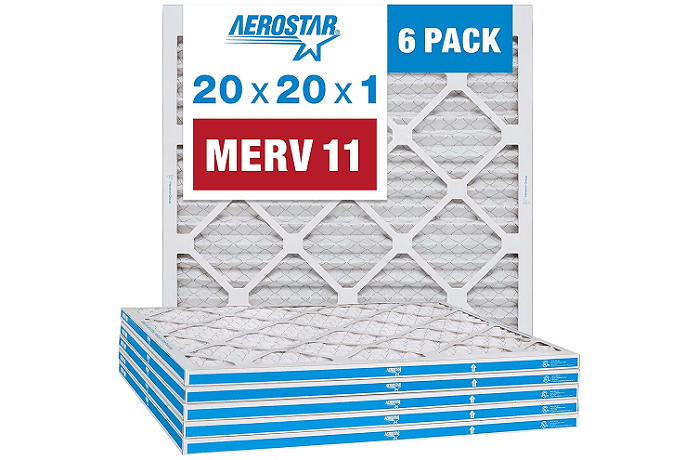 If you're looking for inexpensive and highly efficient air filters, you should take a closer look at the Aerostar Pleated Air Filters. This 20x20x1 model utilizes synthetic electrostatic filter media capable of capturing cough and sneeze particles, smoke, lint, or smog.
Its maximum lifespan is 90 days, but you may have to change it more often if you're a smoker or use your HVAC system often. The filter has a moderately durable cardboard frame that doesn't warp easily.
Pros
Long pleated filter media surface
Low airflow resistance
It can trap smoke particles
Cons
Fitting these air filters into the vent register can be challenging
Honeywell FC100A1037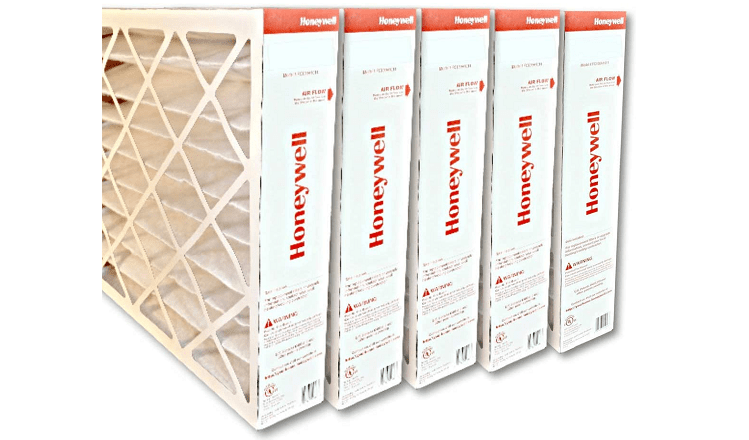 A model like the Honeywell FC100A1037 is more durable than standard 1-inch wide disposable air filters as it can maintain the same efficiency level for up to twelve months. Like most 4-inch wide models, this air filter is designed for whole-house systems.
This Honeywell's air filter causes a minimal pressure drop and maintains the unit's airflow on the same level. It captures microscopic and macroscopic particles with the same level of efficiency, but it isn't a great fit for industrial or commercial settings.
Pros
An excellent replacement for Aprilaire 2200 and Space-Gard 2253 air filters
A long lifespan
It removes a high percentage of allergens from the air it filters
 Straightforward installation process
Cons
It isn't a budget-friendly option
Filterbuy Pleated Air Filter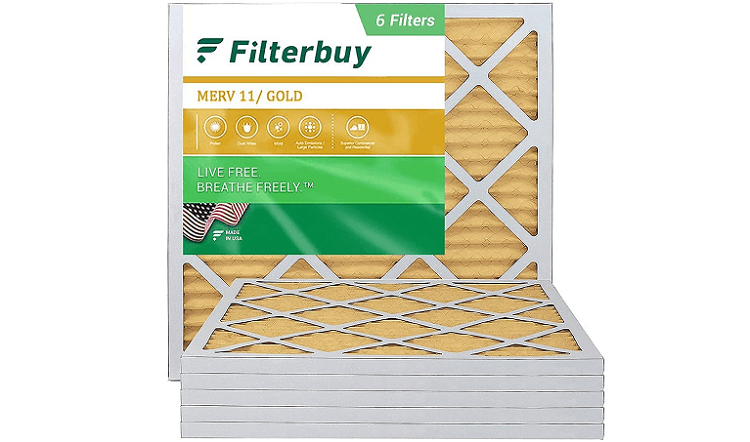 The synthetic filter media with 12 pleats per foot enables the Filterbuy Pleated Air Filter to remove up to 95% of particles from the air that passes through it. In addition, the model's filter media is electrostatically charged, which enhances its ability to capture microscopic particles.
This model has an industrial-grade frame with dual wire backing capable of withstanding exposure to temperatures up to 200F. The Filterbuy Pleated Air Filter is an excellent fit for homeowners struggling with allergies caused by pet dander or pollen particles.
Pros
A pack contains six air filters
Sturdy construction prevents media sagging
Large filter media surface area
It has a strong electrostatic field
Cons
The model's actual size is 13.5x 13.5 inches
AIRx Allergy Pleated Air Filter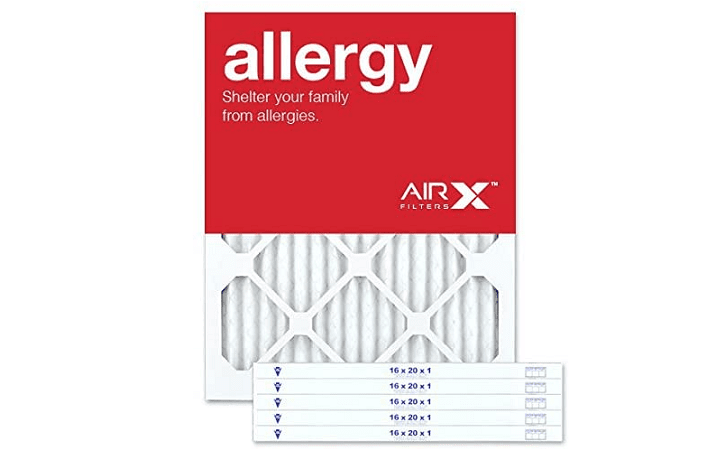 You can choose from eight sizes of the AIRx Allergy Pleated Air Filter, but all versions of this model are 1-inch wide. The electrostatically charged synthetic gradient media can capture particles with sizes from 1 to 10 microns, including smog, mold, or lint.
Its double-wall beverage board frame is moisture-resistant, and it doesn't warp in humid conditions. Moreover, the filter media and the frame are unaffected by temperatures up to 225F. This AIRx model can also absorb odors.
Pros
Sturdy and durable construction
Excellent quality of filter media
An affordable price
Available in eight sizes
Cons
It may not fit on all vent registers compatible with 16x20x1 filters
Aprilaire 210 Air Filter
You can use the Aprilaire 210 Air Filter as a replacement for filters on various Aprilaire air purifiers. The model's performance is enhanced by the Self-Seal technology that prevents the air from evading the filter.
The installation process is easy due to Aprilaire's Interlock Rail System, which lets you install the filter in three steps. This model is four inches wide, and it has a large filter media area that traps dust and other particles.
Pros
Compatible with multiple Aprilaire air purifier models
The manufacturer offers the Pure Fit promise and Clean Coil Commitment
Odor reduction properties
Reduces the need for house cleaning and vacuuming
Cons
More expensive than standard MERV 11 air filters
Simply by MervFilters Air Filter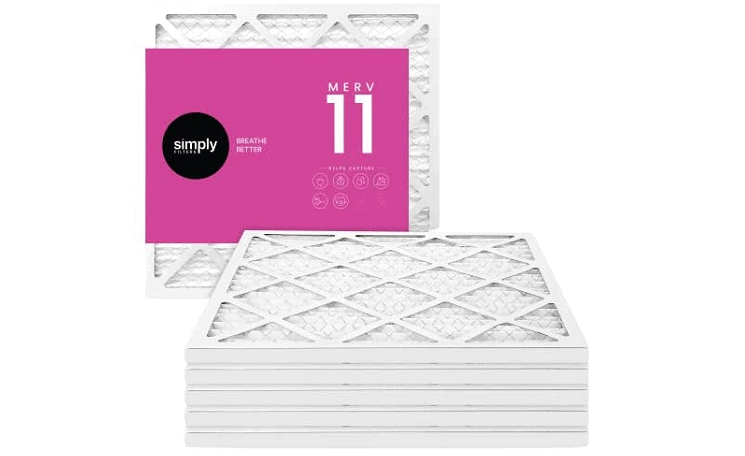 Even though it is one of the most affordable models on the market, the Simply by MervFilters Air Filter can still help you eliminate allergenic particles. The pleated electrostatically charged synthetic fiber media attracts more than 90% of the particles it filters.
This air filter has a cardboard frame that withstands moderate exposure to humidity, but prolonged use in humid conditions might cause warping.
The lifespan of these MERV 11 filters varies from 30 to 90 days, depending on how frequently you use your cooling or heating system.
Pros
Filter media is made of high-quality material
Compatible with ACs and furnaces produced by different brands
It reduces the amount of dust in a household
A reasonable price
Cons
It's available in just one size
Arm & Hammer Max Allergen Air Filter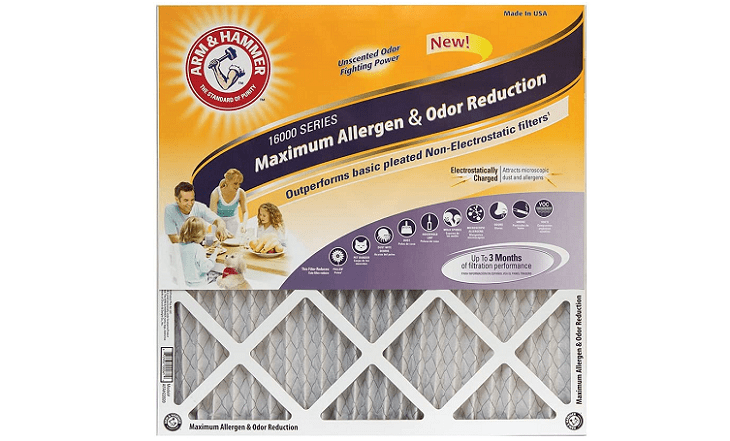 In addition to the removal of harmful air pollutants, the Arm & Hammer Max Allergen Air Filter also helps homeowners get rid of odors. The model has fiberglass filter media that doesn't cause pressure drops or disrupt the airflow.
However, the filter might struggle to capture microscopic particles it gets in contact with despite having a relatively high MERV rating. This Arm & Hammer model has carbon granules that increase its odor absorption capacities, while its cardboard frame prevents filter media from sagging.
Pros
It utilizes baking soda and Oguard II technology to trap odors
It doesn't affect the unit's airflow
This air filter reduces the need for dusting
This model lasts up to 90 days
Cons
Less efficient at capturing allergens than other MERV 11 air filters
Rensa Air Filter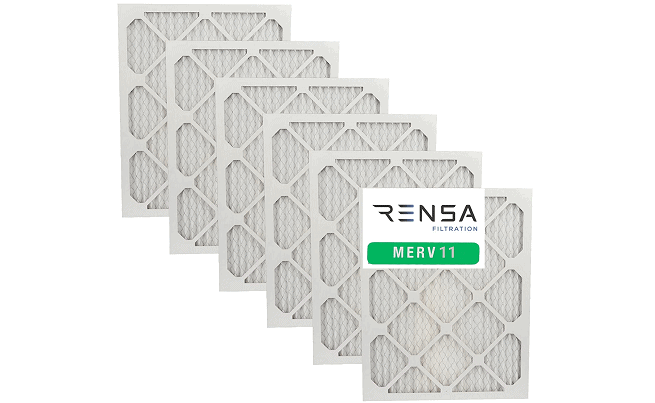 A pleated electrostatically charged air filter like the Rensa Air Filter can help homeowners eliminate particles that cause strong allergic reactions. Its beverage board frame has a metal backing that keeps the filter media firmly in place.
This Rensa's model is suitable for use in hospitals, pharmaceutical facilities, schools, offices, and homes, which speaks volumes about its efficiency. However, the air filter isn't washable, and it can last up to three months.
Pros
Available in three sizes
Highly efficient at trapping allergenic particles
The product is flame, spark, and smoke tested
Suitable for residential, commercial, and industrial settings
Cons
This air filter doesn't have a high amount of pleats
Frequently Asked Questions About MERV 11 Air Filters
Question: Do all MERV 11 air filters last 90 days?
Answer: Most models have a maximum lifespan of 90 days. Still, you may have to change your MERV 11 every month during cooling and heating seasons.
Question: How many MERV 11 air filters do I need per year?
Answer: Theoretically, four MERV 11 air filters should be enough for an entire year, but some homeowners use six or more MERV 11 air filters in twelve months.
Question: Are all MERV 11 air filters heat-resistant?
Answer: Some, but not all, MERV 11 models can withstand exposure to temperatures above 200F.
Question: Do MERV 11 air filters protect better from allergens than MERV 8 air filters?
Answer: MERV 8 air filters are the industry standard, but they don't have the capacity to trap microscopic particles that can trigger an allergic reaction. Upgrading to a MERV 11 air filter can help you get rid of these particles almost entirely.
My Verdict: Deciding Which MERV 11 Air Filter is the Best
Assuming that all MERV 11 air filters are the same is a mistake. These air filters come in various sizes and use different media to trap air pollutants.
I don't recommend using models with fiberglass filter media because they often struggle to deal with microscopic particles.
I think that the Filtrete Micro Allergen Defense is one of the best options for homeowners who are allergic to dust mites or pet dander. Models like the Aerostar Pleated Air Filter and Filterbuy Pleated Air Filter are also capable of high-end performances.
The Honeywell FC100A1037 might be the right option if you're looking for a four-inch-wide air filter. Please go through our guide to the best ventless air conditioners to find out how they can help you improve air quality in your home.
Continue reading related Air Filter guides we have covered based on Air Filter size: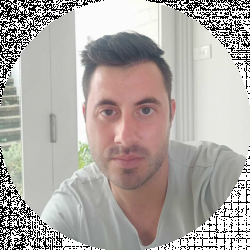 Latest posts by David Borgogni
(see all)