Haier manufactures some of the best portable and windows ACs on the market, but despite this, the components of the brand's unit still fail from time to time. This Haier air conditioner parts guide will help you find a new component for your Haier AC.
This brand produces a wide range of air conditioners, including mini-split systems, but in this article, I'll focus on the window AC and portable AC units. Replacement parts don't fit on all Haier AC units, and you must know the model number in order to track down compatible parts.
The search for a new Haier air conditioner part shouldn't take too much of your time, especially if you know exactly what you're looking for. In this article, I'm going to show you what you need to do to find a compatible part for your Haier portable or window AC.
Browse through our guide to cooling systems to learn more about different types of ACs you can use to regulate the temperature in your home.
Haier brand overview
Haier Group Corporation is one of the largest manufacturers of consumer electronics and home appliances in the world. Its Haier Smart Home division is one of the fastest-growing companies on the home appliance market as it recently purchased brands like Candy or GE.
That's why some replacement parts can fit on ACs produced by GE and other brands owned by the Haier Smart Home division.
Haier has service centers in almost all major cities in the United States. You can use the brand's website to book a service appointment and keep track of the appliance's repair status.
In addition, you can search for replacement parts through Haier's website, so there's no reason to consider options offered by other retailers. It is advisable to have your appliance checked by a licensed Haier technician before you decide to replace an original component.
Read our guide to the best GE portable ACs to familiarize yourself with the brand's product line.
Haier window and portable ACs
Currently, the brand's selection of window and portable AC's includes twenty models that have different sets of features and cooling outputs. Differentiating between these units can be difficult as they all have alphanumeric names.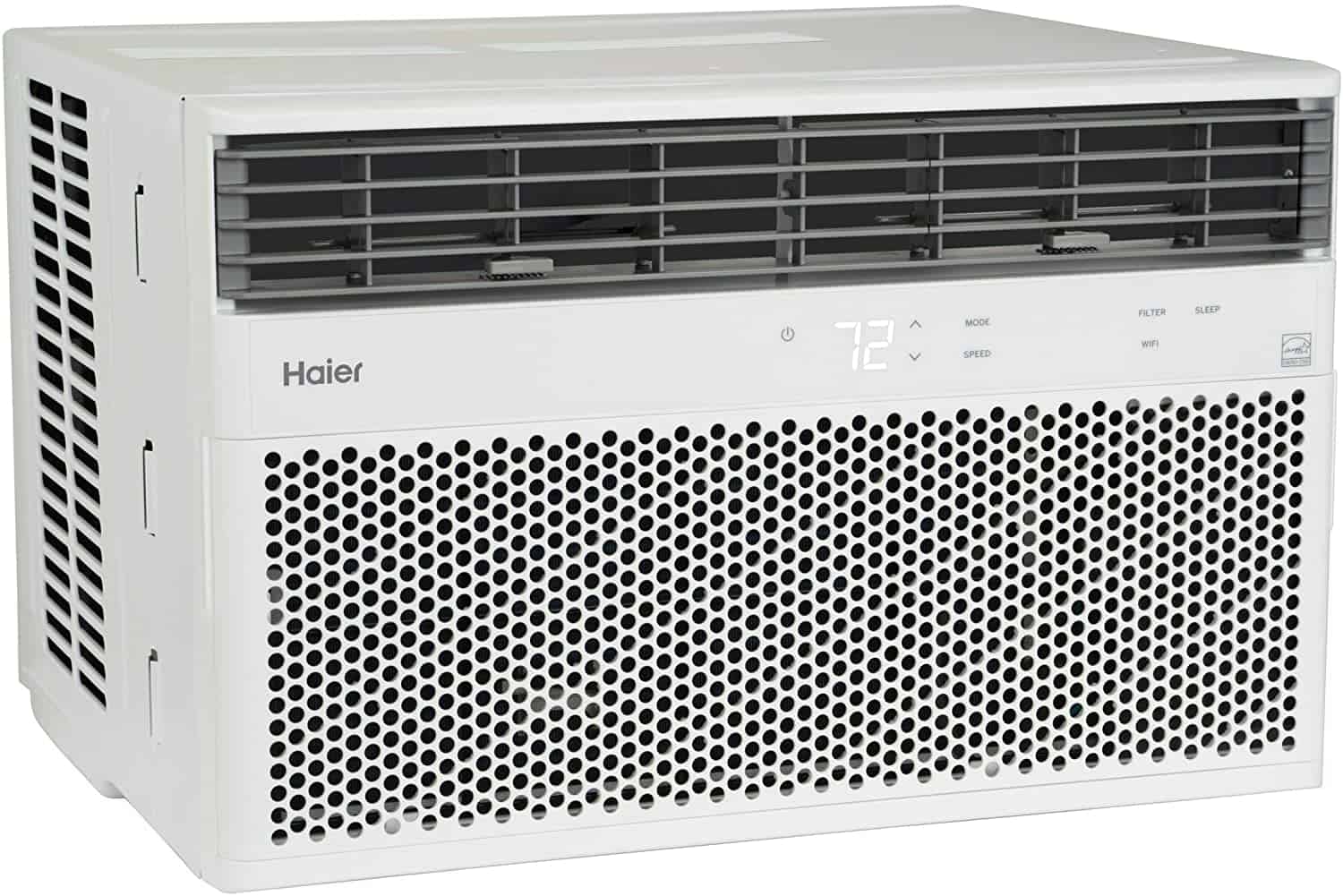 It is almost impossible to know, without checking, if a unit named QHEK08AC is a portable or a window AC. As a result, you must first find out which AC model you have so that you can determine which replacement parts are compatible with it.
It is worth adding that finding parts for models such as the Haier ESA3189L that was released more than ten years ago can be difficult. At the moment, Haier offers only seven portable AC models that have similar features and performance capabilities.
This, however, doesn't mean that you can use the same replacement parts on all brands' portable ACs. Instead, you must check if a component you want to get is compatible with the unit you're repairing.
See our guide to the best Amana portable air conditioners if you'd like to replace your portable AC.
Getting familiar with AC parts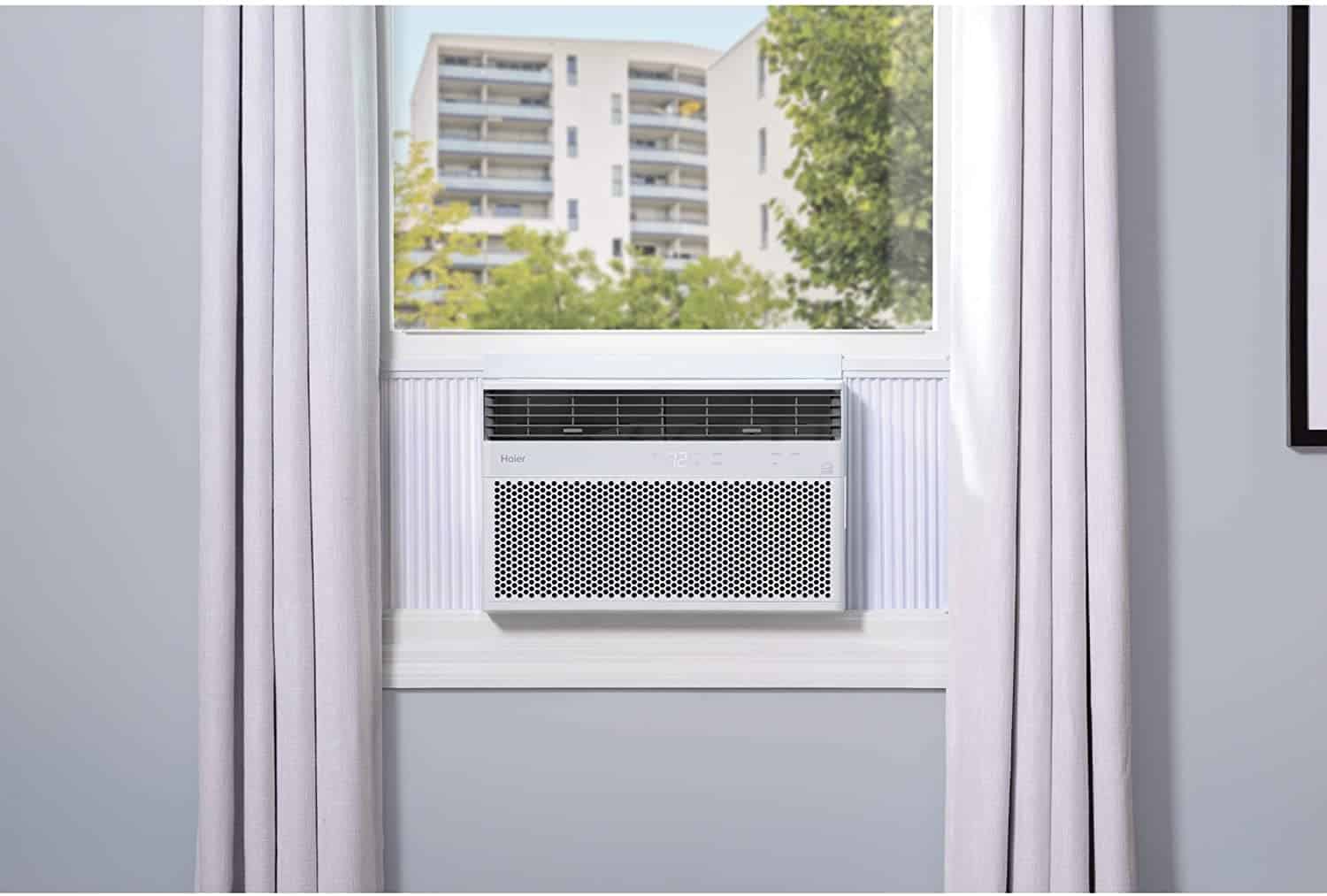 The core components of all air conditioners are the same since each unit must have a compressor, an evaporator coil, and a condenser coil. Nonetheless, mini-splits, portable ACs, and window ACs don't have identical components.
Let's go through the most essential parts of portable and window ACs.
Compressor: An AC cannot compress the refrigerant or dispose of hot air without a compressor. This component doesn't fail often, and if you're dealing with a bad compressor, you might want to consider getting a new window or portable AC.
Evaporator coil: This part absorbs the heat from the air, and it is usually located near the blower fan. The unit's heat absorption and cooling capacity decline if this component starts malfunctioning.
Condenser coil: The refrigerant releases the heat is absorbed from the air once it reaches the condenser coil. Go through our guide to the best AC replacement coils to find out more about different types of AC coils.
Expansion valve: This component depressurizes and cools the refrigerant before it enters the evaporator coil.
Air filter: The air that circulates through an AC carries particles that can damage the unit's components. That's why all AC's have an air filter that traps dirt and pollutants. You must either clean or replace this part frequently.
Blower wheel: This component works together with the fan motor to keep the air circulating through the appliance. Dirt accumulation is one of the most common reasons why blower wheels break down.
You won't be able to install a window AC without a curtain and a curtain frame. These components come with the AC, but they tend to wear out quickly, which is the reason why homeowners often look for their replacements.
Unlike window AC, portable units ship with a vent hose and window seal components that enable you to supply the unit with fresh air and dispose of hot air. Go through our guide to window casement air conditioners to learn more about the cooling capacities of these appliances.
Warranty coverage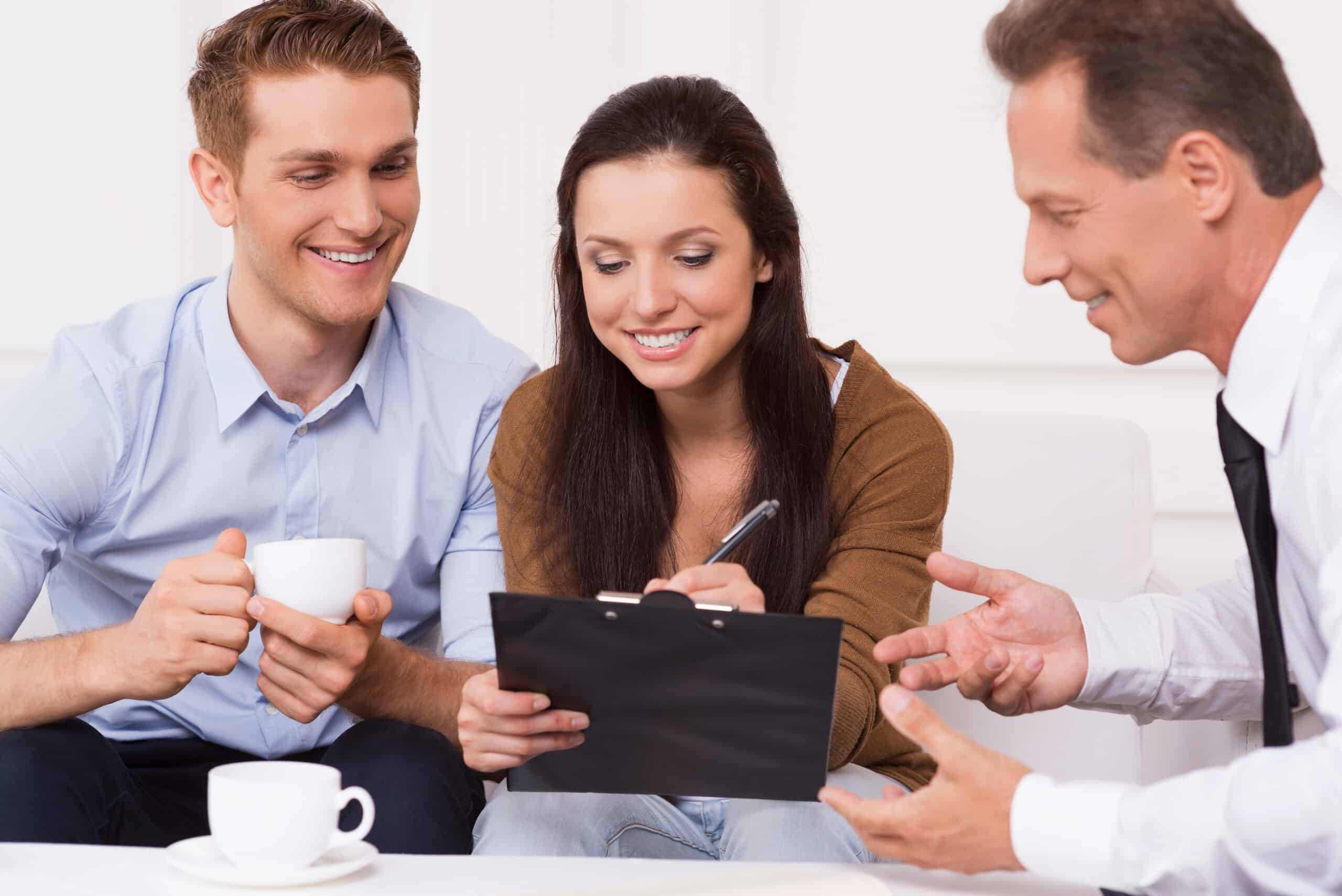 Haier windows and portable ACs are covered by the brand's standard warranty for major appliances. The duration of the warranty depends on the model, but in most cases, it lasts for 12 months.
During the warranty period, you can repair or replace all malfunctioning parts for free. Also, you can use the brand's website to get in touch with a technician that can help you repair your appliance.
You shouldn't attempt to fix a Haier window or portable AC by yourself because you might void the appliance's warranty. Moreover, you should hire an HVAC technician to replace a faulty part for you to avoid damaging the AC accidentally.
Also, performing regular maintenance checks of your Haier window or portable AC will reduce the chances of one or more of its components breaking down. Check out our LG 12,000 BTU review if you're looking for a new window AC.
The most important factors to consider while searching for Haier air conditioner parts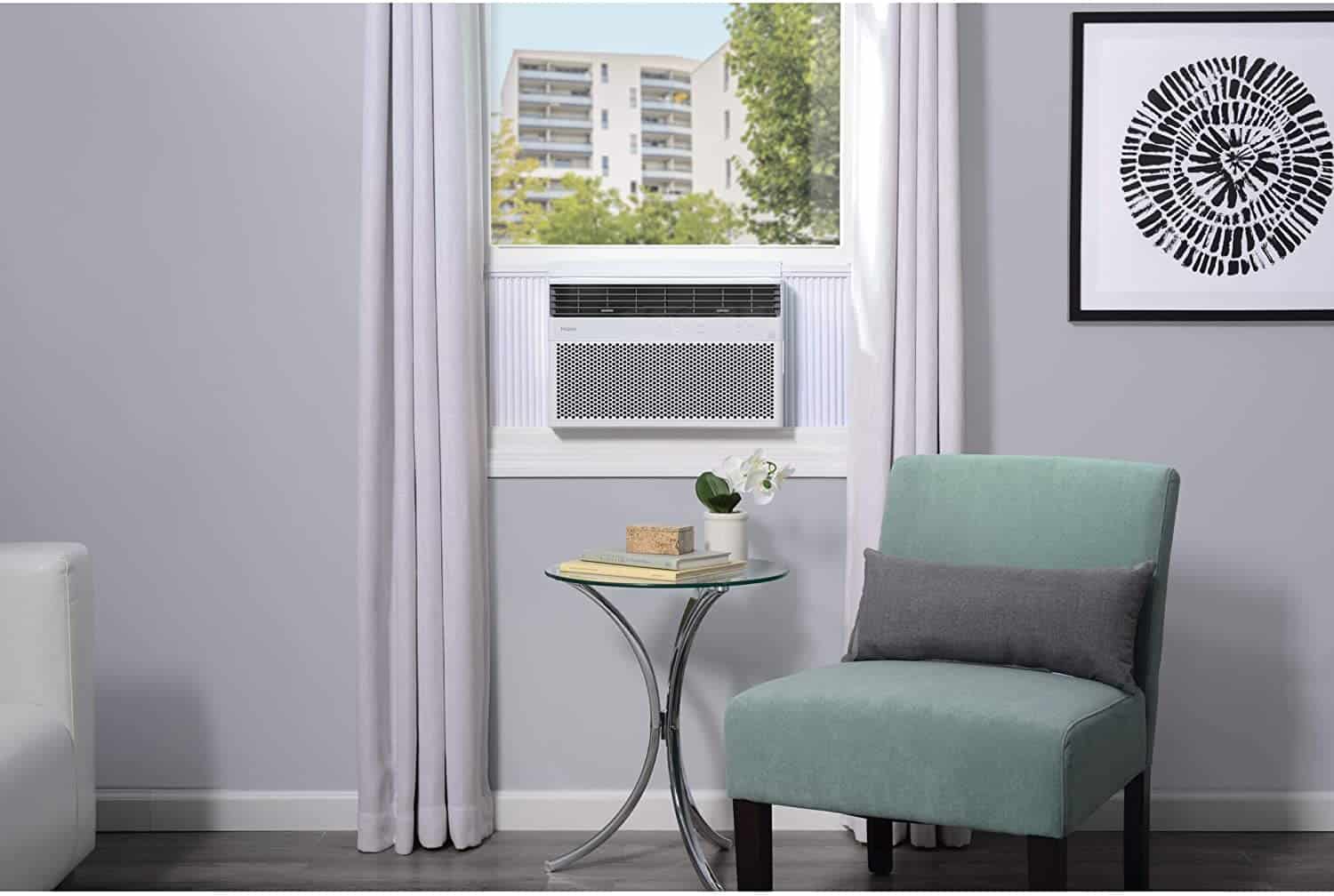 Ideally, a technician who inspected your Haier AC unit and detected the root of the problem should advise you which replacement part to get. Also, you can use the brand's website to find the part you want to replace.
Although the search for a Haier air conditioner part shouldn't be difficult or long, several factors can make locating the component you need easier. Let's take a look at some of the most important factors you should take into account while looking for a Haier air conditioner replacement part.
Part compatibility
You must find out the air conditioner's model number before you can start searching for replacement parts. The model number is usually located inside the unit's housing, so you'll either have to open your AC or go through its manual to check this number.
Once you have the model number, you should use it to gain access to all components that are compatible with your AC. In case you don't want to purchase a new part online, you should take this number with you to a store that sells AC replacement parts.
OEM vs. aftermarket parts
Getting a part recommended by the manufacturer will ensure that you won't have to worry about its quality. OEM parts for Haier AC are usually more expensive than aftermarket parts, while their performance capabilities are similar.
Also, checking if an aftermarket part is compatible with your unit can be difficult since manufacturers of these parts don't always provide a lot of information about them.
Part durability
Aftermarket parts are often made of flimsy and inexpensive materials that can't withstand heavy-duty usage. That's why you should try to find out if other users had negative experiences with the model you'd like to get in order to avoid purchasing its replacement months after you installed it.
Besides, you should only purchase replacement parts that come with a warranty to avoid having to spend additional money in case the part you purchased breaks down unexpectedly.
Repair costs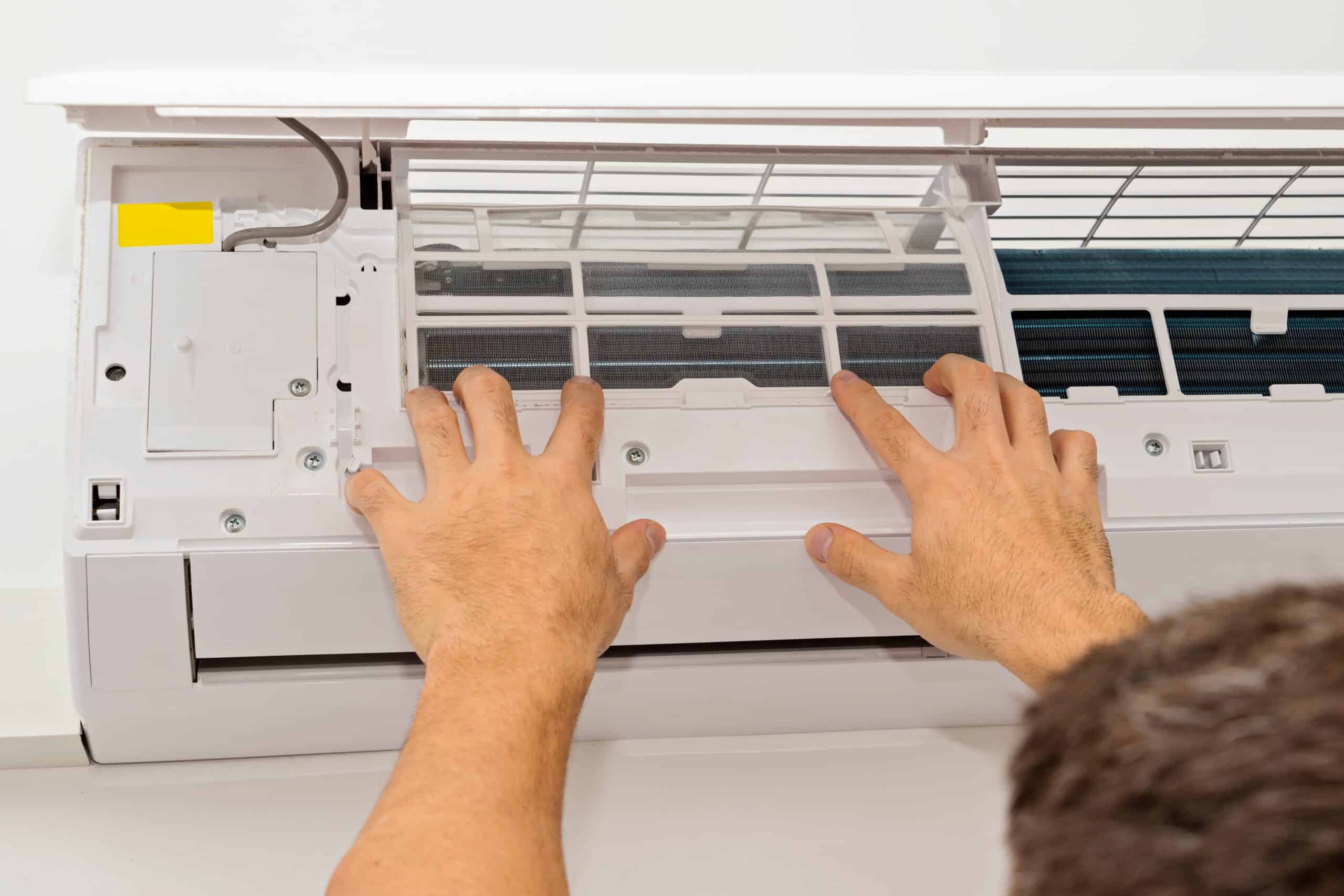 Sometimes it is easier and less expensive to get a new window or portable AC than to repair an old one. A new evaporator or condenser coil for these Haier's appliances can cost more than $200, while the repair costs usually span from $150 to $350.
Hence, it is often better to replace a Haier AC if one of its core components breaks down because you can get a new unit for the amount you have to spend to repair it. That's why you must first assess the extent of the damage before deciding to search for replacement parts.
Haier part list
The parts featured in this list are compatible only with Haier's portable and window ACs, but you're going to need the model number to determine if a part matches your unit.
What's more, the list doesn't contain all available Haier parts, so you need to check the manufacturer's website if you're searching for a new evaporator coil or power cord.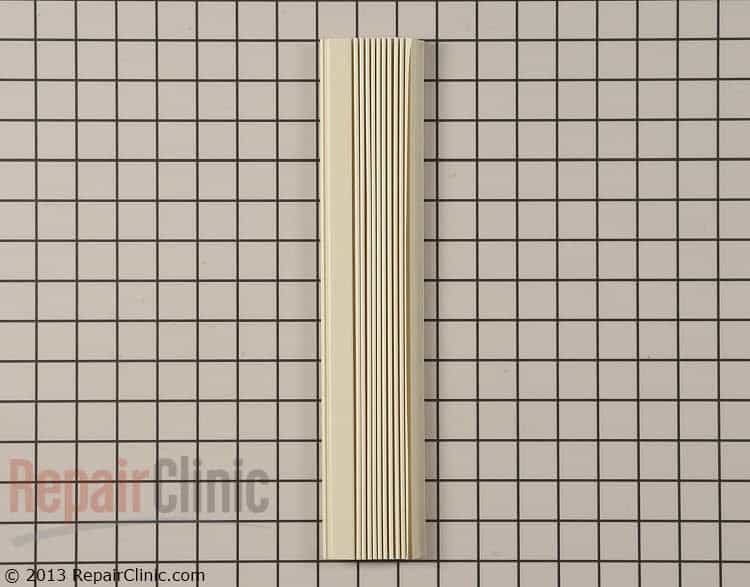 You don't have to consult with an HVAC technician if you want to replace this component because it doesn't affect the unit's performance. However, a faulty window side curtain can make your AC less efficient by allowing warm outside air to enter the room.
This product is compatible with GE and Haier window ACs.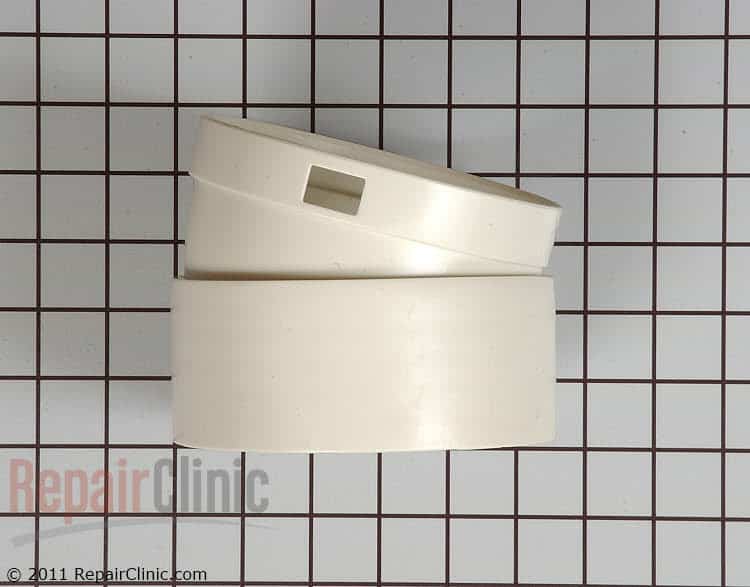 Portable ACs have a vent coupling installed on their backs that allows you to connect the unit to the vent hose. In case this component stops working properly, the AC won't be able to move the warm air outside of your home or have a fresh air supply.
This model is an alternative part for the part number AC-1945-04.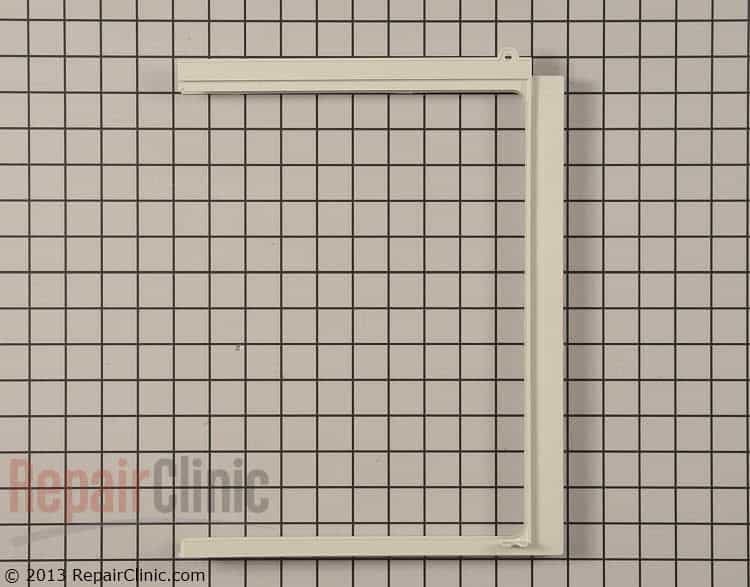 Mounting a curtain onto a window without a frame is impossible. So, if this component breaks, the curtain won't be able to prevent the outside air from entering your home.
The WJ65X23747 frame is compatible with a handful of AC models, and you need to check if you can use it with the curtain you want to repair.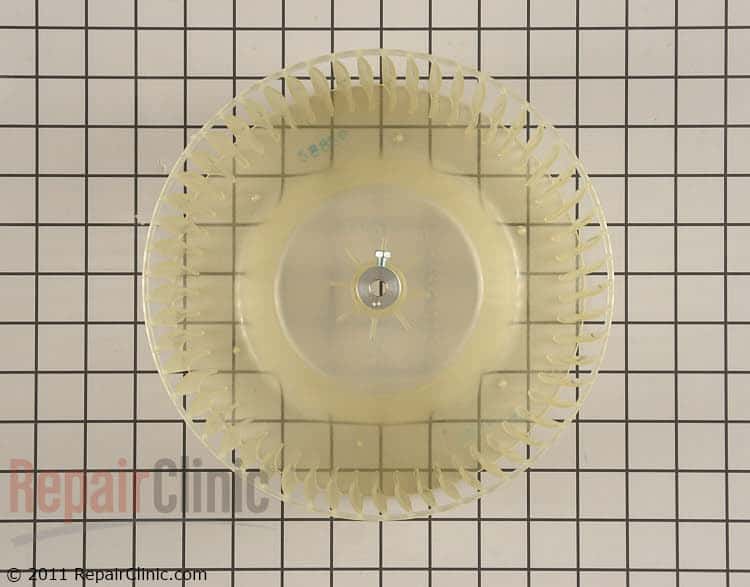 The WJ88X22300 is an OEM part manufactured by Haier, but it is compatible with a handful of brands' ACs. This component of the blower motor is responsible for generating a steady airflow, and your unit won't be able to move air efficiently if this component breaks down.
Besides Haier's models, this blower wheel is also compatible with some GE air conditioners.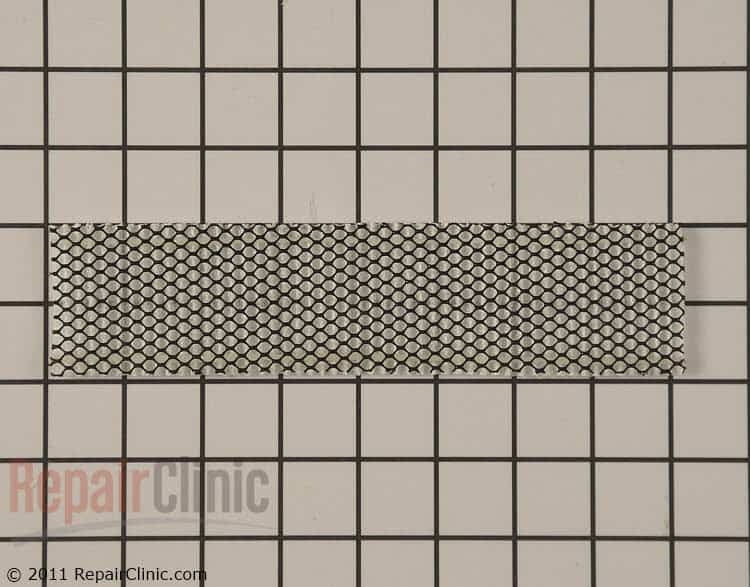 Some, but not all Haier ACs have reusable air filters. So, if you own a unit that has disposable air filters, you'll have to find a suitable replacement. For example, the WJ85X23968 is a paper filter that fits older Haier units and replaces parts number AC-2800-54, AC-2800-103, and AC-2800-116.
You shouldn't use this filter for longer than three months.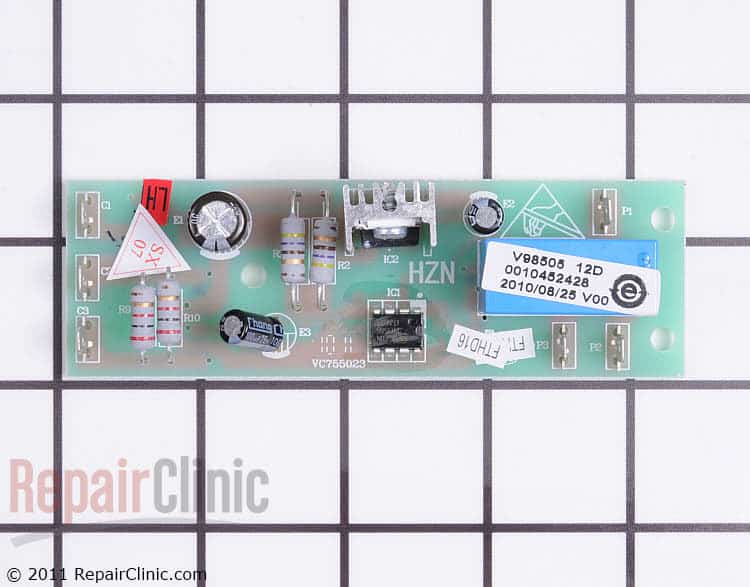 A malfunctioning control board can cause many problems, as the AC may have difficulty starting up or maintaining the room temperature. This fan delay board can be used instead of AC-5210-78, AC5210-80, and 0010452428 parts.
An OEM part serves as a replacement for control boards on GE's and Haier's ACs.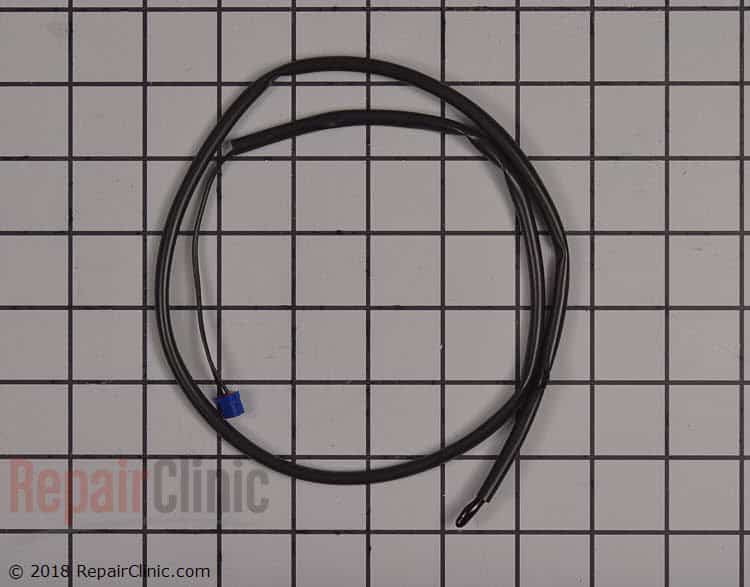 An ambient temperature sensor measures the air temperature that enters the AC and sends this information to the control board. The control board uses this information to switch the compressor off or on and reach the set temperature.
You can use the WJ26X24066 to replace the AC-6250-23 temperature sensor.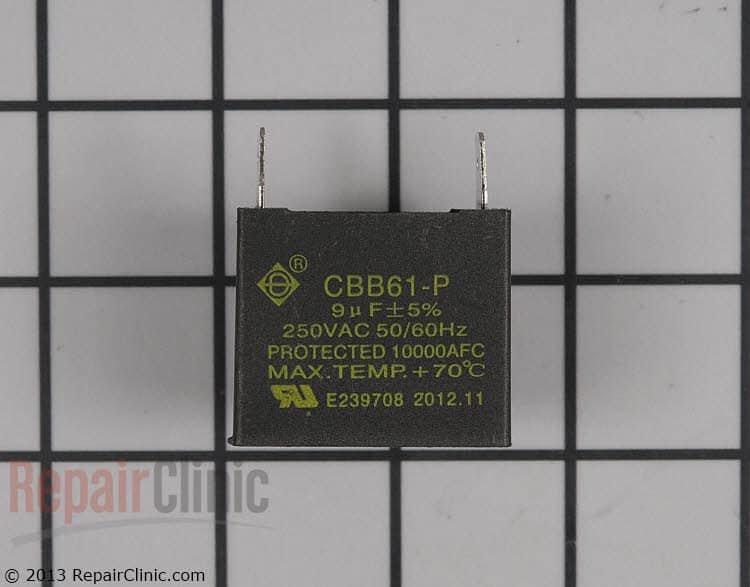 You cannot start an AC without a capacitor, so if this component fails, you won't be able to use your Haier unit. Capacitors are also among the least durable AC components as they often wear out after a couple of years of frequent usage.
This 9-microfarad run capacitor can be used on Haier's and GE's dehumidifiers and air conditioners.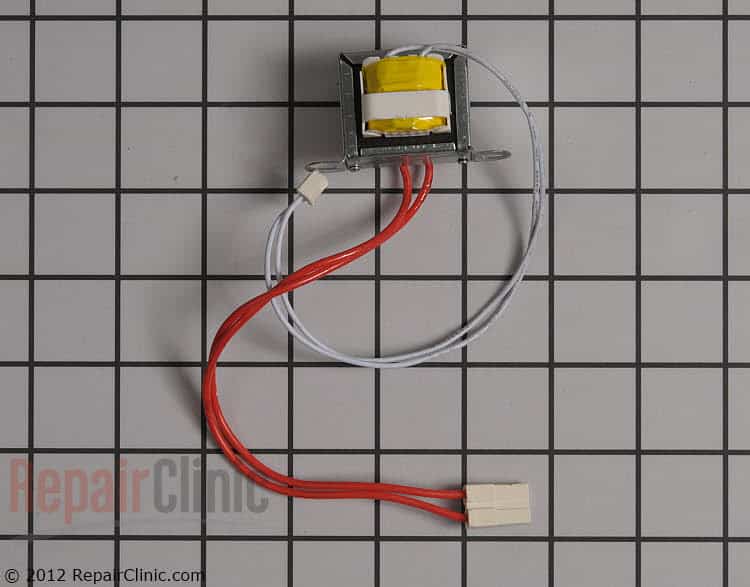 The sole purpose of this component is to step down the voltage so that it can't damage a control board or similar electronics. A blower motor or compressor runs on 120 or 220 VAC, but controllers only need 24VAC to function normally.
You won't be able to use your Haier AC if its transformer is faulty. This OEM part can replace three different original transformers found in Haier and GE AC units.
Compressors usually fail on old ACs, and it is often easier and cheaper to get a new window or portable AC than to replace this component. Moreover, a Haier air conditioner compressor costs more than $200, and you'll have to spend as much on installing a replacement part.
Part D6985813 replaces several original parts, but you need to check if it is compatible with your Haier AC.
Frequently asked questions about Haier air conditioner parts
Question: How long do Haier air conditioner parts last?
Answer: It is impossible to predict how long a Haier air conditioner part will last, but if the replacement part keeps failing, you should consider changing the entire AC.
Question: Are Haier air conditioner parts expensive?
Answer: Most Haier air conditioner parts cost less than $100, but a compressor or an evaporator coil costs more.
Question: Where can I buy Haier air conditioner parts?
Answer: You can either try to purchase the part you're looking for through the brand's website, or you can get it from an online retailer.
Question: Can I install Haier air conditioner parts by myself?
Answer: You don't need to hire a licensed technician if you only want to replace a caster wheel on your portable AC or get a new curtain frame for a window AC. However, you shouldn't try to install a new control board or a transformer by yourself.
Final thoughts
Haier manufactures some of the best window and portable ACs on the market that can remain in perfect condition for an entire decade. However, despite their quality, the components of these ACs start to wear out over time, and you need to replace them to continue using the unit.
Luckily, replacement parts for Haier's AC are not challenging to find if you know the model's number. Moreover, you won't have to search for new parts if your AC is still under warranty because the brand offers a free replacement of all failed components during the warranty period.
Even after the product's warranty expires, you can still use the company's website to locate the nearest service center where you can leave your portable or window AC to be repaired. Was this Haier air conditioner guide useful?
Let me know in the comments, or continue reading our Frigidaire FFPA0822U1 AC review to find out what this portable AC has to offer, or how to find the best AC Units for your Shed.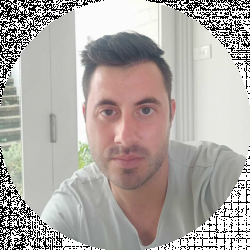 Latest posts by David Borgogni
(see all)