Scorching outdoor temperatures can turn any space into a boiling pot regardless of how well insulated that space is. In this Frigidaire FFPA0822U1 AC review, we'll help you determine if this unit is powerful enough to maintain thermal comfort in a specific part of your home throughout the cooling season.
This portable AC lets you choose which area of your home you want to cool, and it saves you hundreds of dollars on installation costs. This unit can also lower your cooling costs because it consumes considerably less power than heat pumps and similar types of ductless air conditioners.
Our Frigidaire FFPA0822U1 AC Review will examine the model's most important features and evaluate its performance capabilities. You should also browse through our guide to the best Amana portable ACs to explore the cooling options offered by this brand.
Key Specifications of the Frigidaire FFPA0822U1 AC
| | |
| --- | --- |
| Maximum cooling output | 8,000 BTU |
| Combined Energy Efficiency Ratio | 5.1 CEER |
| Maximum airflow volume | 241 CFM |
| Exhaust type | Single exhaust |
| Dehumidification capacity  | 2.5 pints per hour |
| Product weight  | 58.9lbs |
| WiFi-enabled | No |
| Latest price | Check latest price here |
Core features of the Frigidaire FFPA0822U1 AC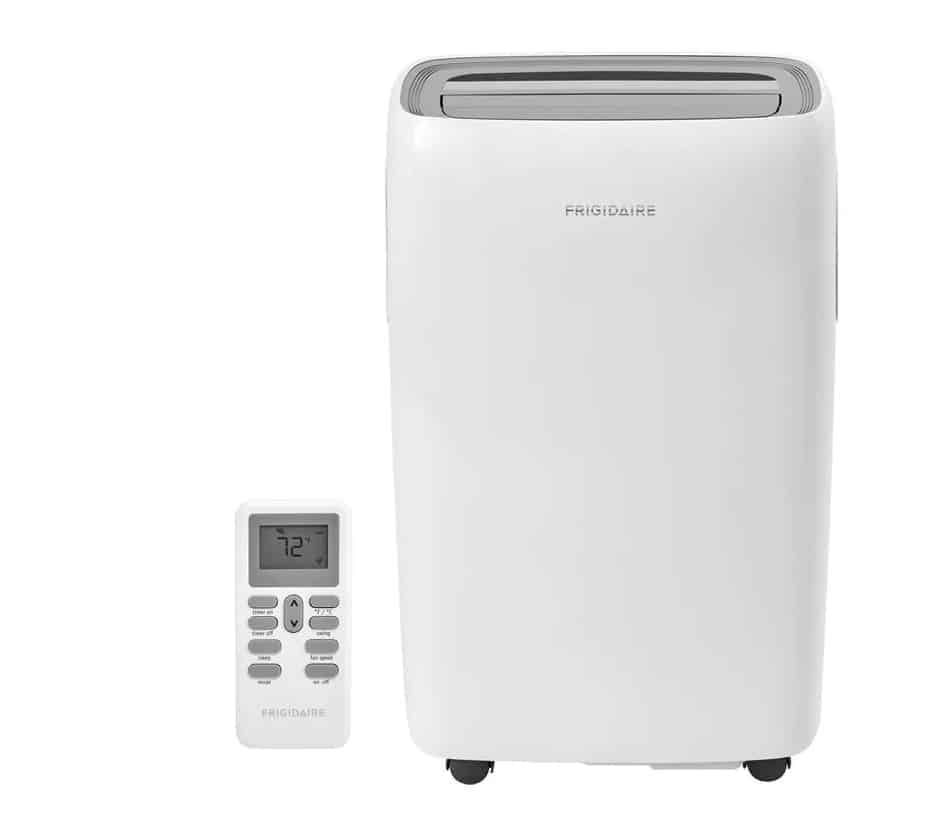 Despite being labeled portable, this Frigidaire's AC can only work in rooms that have windows. The reason for this is its single-hose exhaust system that allows the unit to remove and replace the air in a room.
Also, the maximum length of the hose varies from 2 to 4 feet, so you won't be able to position the AC far from the window. All of these factors limit the unit's portability since you have to reset its exhaust system every time you move it from one room to another.
Another limiting factor in terms of the unit's usability is its 72-inch power cord that might not be long enough to reach the nearest power outlet once you position the AC within four feet from the nearest window.
Browse through our guide to cooling systems to get more information about the cooling options you have at your disposal.
Coverage area
Portable ACs don't have high cooling outputs, as their power output is capped at 14,000 BTUs. The Frigidaire FFPA0822U1 AC isn't among the most powerful units on the market because its maximum power output is 8,000 BTUs.
The unit's output based on the Department of Energy (DOE) rating is 4,400 BTUs. According to the manufacturer, this unit can regulate the temperature in spaces that have up to 350sq/ft, but this estimate might not be accurate.
The spec sheet doesn't offer any information regarding the unit's performance at temperatures above 100F. Hence, estimating the amount of time this portable AC will need to cool a 350sq/ft room can be difficult, as its performance depends on the current weather conditions.
This Frigidaire model doesn't have a heat mode, and you can only use it to regulate room temperature during the summer months. That's why you should consider alternative options if you're searching for a portable AC you can use as an additional heating source.
Our guide to the best GE portable ACs can help you find a unit equipped with cooling and heating functions.
Ventilation system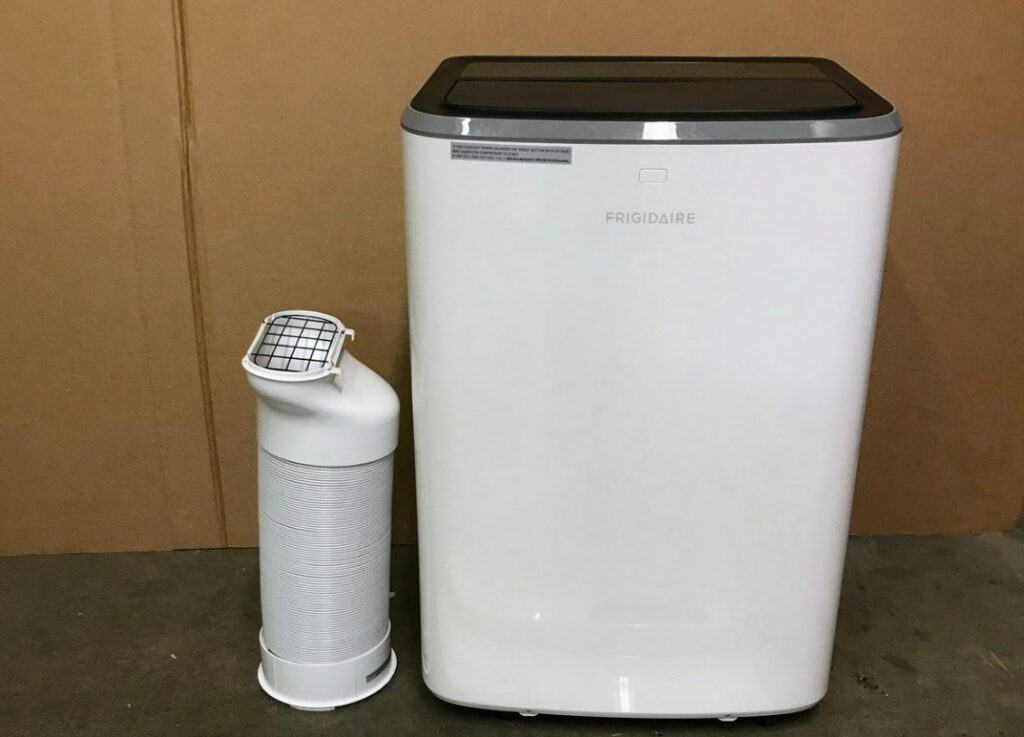 A portable AC can either have a single or a dual hose ventilation system. Units that utilize a dual-hose system have a separate hose for air intake and air exhaust. Single-hose models use the same hose to dispose of hot air and secure a supply of fresh air.
The Frigidaire FFPA0822U1 AC is a single-hose model, which means that it may need a long time to reduce room temperature. The unit's operating range spans from 60F to 90F, but there's no indication how long it is going to need to reach the selected temperature on a very warm day.
As we already noted, this AC has a relatively short hose, and it might be difficult to install it in spaces where windows aren't easily approachable. On the other hand, the unit's compact dimensions make it easier to find space for it in a room.
Read our guide to the best garage air conditioners if you need a reliable cooling solution for this part of your home.
Cooling efficiency ratings
The power-saving features of this Frigidaire's model are underwhelming because the unit doesn't have the Energy Saving mode. Moreover, its combined energy efficiency ratio is just 5.1 CEER, so it is hardly surprising that this AC isn't Energy Star certified.
The Low-Voltage Start-Up feature enables the unit to preserve energy after it's switched on, while the Timer function allows the user to reduce the power consumption by programming the AC to run for a specific amount of time.
The unit also has the Sleeper mode that lowers the amount of power the AC needs to maintain the temperature at the same level.
Although it is far from being the most energy-efficient portable AC on the market, the Frigidaire FFPA0822U1 won't increase your monthly utility bills significantly even if you let it run for few hours every day. Go through our guide to window ACs to learn more about what this AC type has to offer.
Airflow adjustment options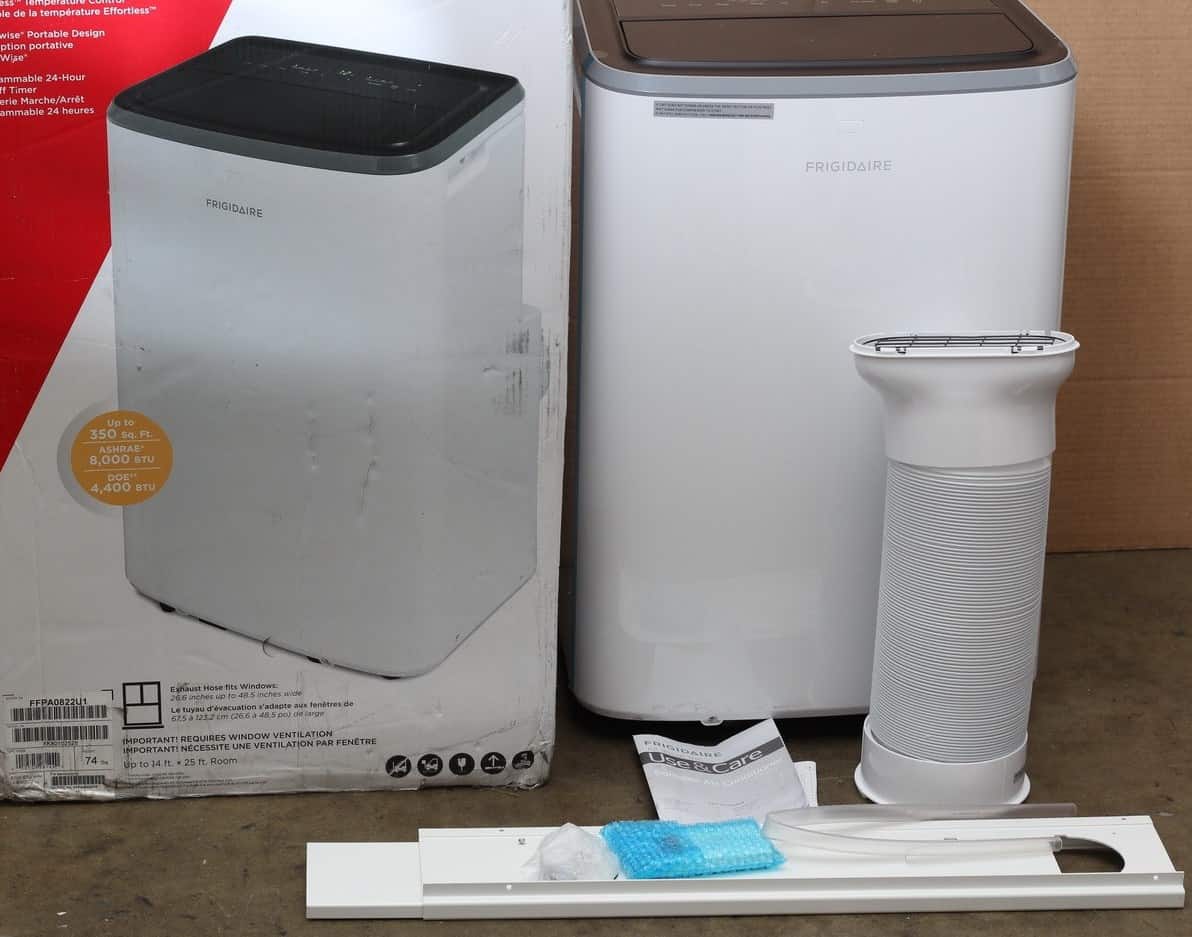 The motor of this portable AC can run at 480RPM, 550RPM, and 620RPM, which enables you to select a fan speed that matches your current cooling needs. Frigidaire's model generates a different amount of airflow volume at each speed.
So if you choose to operate the unit at the lowest speed, the air conditioner will supply you with 206 CFM of airflow volume. The Frigidaire FFPA0822U1 can't generate more than 241 CFM of airflow, and you can use its swing louver to direct the cool air to a particular part of a room.
Using this AC at low or medium settings will reduce its coverage range, which is the reason why most homeowners only operate the unit at the maximum capacity.
You can adjust the AC's settings using its electronic panel or the remote that comes with this model, but you should keep in mind that the louver can't be adjusted manually. Check out our guide to the best window fans if you're considering cooling options that have a similar coverage range like the Frigidaire FFPA0822U1.
Noise level
The majority of noise this AC makes is generated by just three components, the compressor, the evaporator, and the fan. The loudest component is the fan, and it covers most of the noise produced by the other two parts.
The unit's highest noise rating is 51dB, which makes it quieter than most home appliances. The amount of noise this AC will make depends on the airflow volume you choose, and operating the unit at medium or low speeds will lower its noise level.
However, Frigidaire's model might be too loud for bedrooms and other parts of your home you use for relaxation since it might struggle to cool a room if it's not functioning at maximum capacity. Our guide to the mini-split systems can help you find an AC that's not going to make a lot of noise.
Air filtration and dehumidification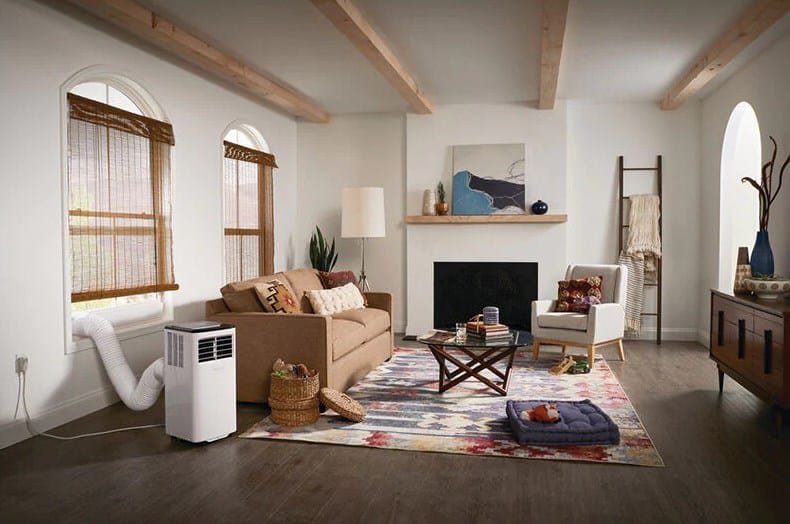 Besides the cooling mode, the Frigidaire FFPA0822U1 also has Dry and Fan Only modes. While operating in the Dry mode, the AC can absorb 2.5 pints of moisture per hour or 67 pints of moisture in a day.
However, its drainage system isn't automatic, and you have to empty its drain buckets frequently. Optionally, you can use a garden hose to drain the water to avoid having to open the drainage section every time it fills up.
This AC has a reusable and washable filter as well as Filter Check Indicator that prevents you from using the unit with a dirty air filter.
The Frigidaire's portable AC doesn't use a HEPA filter, and you should consider other options if you're looking for an air conditioner that can help you get rid of allergenic particles in your home.
Also, you should go through our guide to humidity control systems if the air in your home is either too dry or too humid.
See Also: What the Best Frigidaire Air Filters?
Installation requirements
Portable air conditioners usually come with installation kits that allow their users to set up their exhaust systems and start using them almost instantly.
Frigidaire's portable AC models are notoriously complicated to install because their window brackets don't have predrilled holes that allow you to attach them to a window.
Hence, you'll need several HVAC tools to install this unit, and you should bear in mind that you cannot adjust the length of the brackets to a window by cutting them. Also, you need to make sure that the bracket is positioned correctly because you won't be able to attach the hose to it if it's upside down.
Despite this, it shouldn't take you more than half an hour to complete the setup process and start using the AC. This Frigidaire's model comes with pre-installed end adapters that make connecting the hose to the unit easy.
Read our guide to the best ventless ACs if you need a cooling solution for a space without windows.
Warranty and price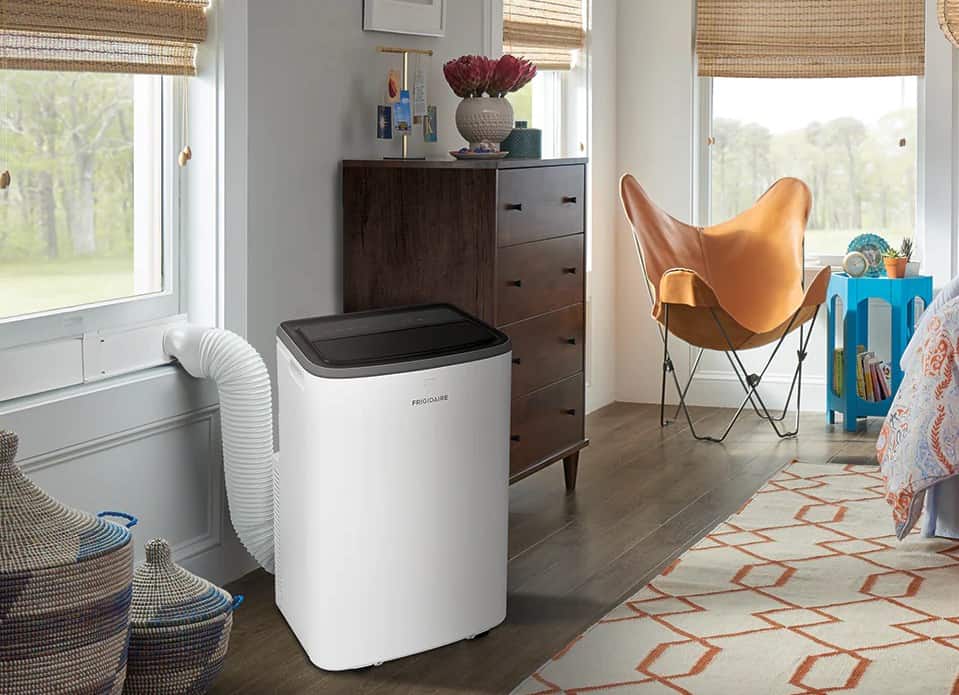 The Frigidaire FFPA0822U1 offers a standard set of features you can find on almost all portable ACs. Also, its 8,000 BTU cooling output limits its coverage range.
You'll have to spend almost $400 to get this AC, which makes it overpriced considering the features it offers and its performance capabilities. However, the warranty enables you to replace all faulty parts for free, covering labor costs.
The warranty for this model lasts for 12 months, and you cannot extend it. Browse through our guide to the best Home Depot mini-split options if you need a cooling and heating system that is powerful enough to regulate the room temperature in your entire home.
The pros of the Frigidaire FFPA0822U1 AC
Modern design
This Frigidaire's model has a sleek and minimal design that fits a wide range of home decors. The unit occupies a minimum amount of space in a room, and it doesn't need a lot of storage space because of its compact size.
Easy to move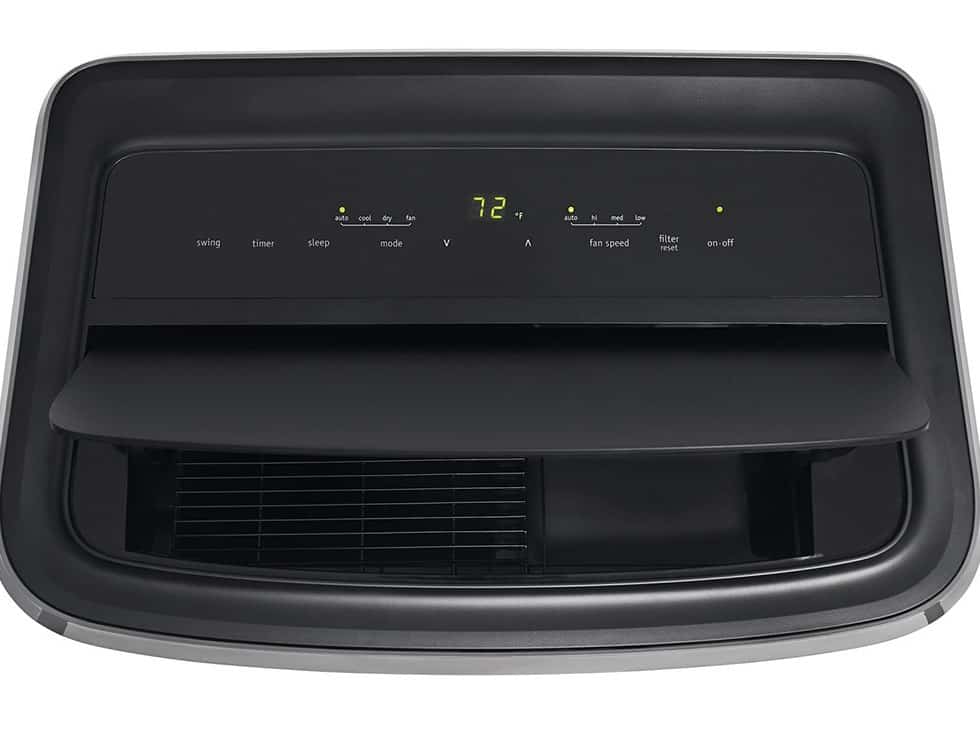 This AC weighs 58.9lbs, but it is equipped with four wheels that allow you to move it around your home effortlessly. You must get several window brackets if you want to use Frigidaire's model to cool multiple rooms.
Intuitive controls
Switching between different modes, programming the AC to run in equal intervals, or adjusting its fan speed is simple. The unit also has an electronic panel that lets you adjust the settings with a push of a button and a display that shows the temperature you choose.
Adjustable airflow settings
Swing louvers allow you to change the direction of the airflow in accordance with your needs. Also, you can choose from three fan speed settings and adjust the airflow volume to the current room conditions.
Good dehumidification capacity
You can remove up to 67 pints of moisture from the air with the Frigidaire FFPA0822U1 in a single day, but this AC isn't self-evaporative, and you must attach a water hose to the unit to avoid draining the water manually.
The cons of the Frigidaire FFPA0822U1 AC
Poor price-performance ratio
The features you'll find on this portable AC aren't different than those offered by more affordable models. Unfortunately, this Frigidaire's model isn't Energy Star certified, and its power-saving features are underwhelming.
The best alternatives to the Frigidaire FFPA0822U1 AC
The performance capabilities of the Frigidaire FFPA0822U1 AC are average at best, as it can't cool a room quickly at high temperatures or evaporate the condensate automatically. Despite all of its downsides, this portable AC is a reliable and durable cooling option for small spaces.
Finding a unit with similar or better performance capacities shouldn't be too hard since there are plenty of options to choose from. We've shortlisted some of the best alternatives to Frigidaire's model, so let's take a look at what they can offer.
Black + Decker BBP06WTB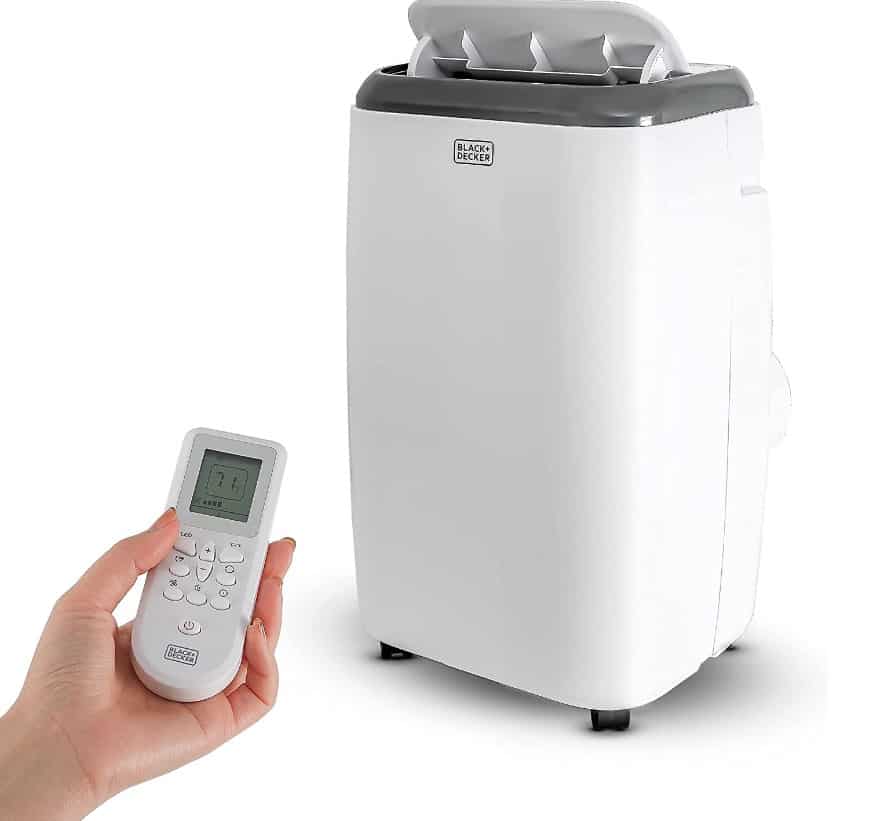 The price difference between the Frigidaire FFPA0822U1 and Black + Decker BBP06WTB is less than $60, and yet the Black + Decker's model offers 2,000 DOE BTUs more than the FFPA0822U1 AC. The BBP06WTB makes 52dB of noise at the highest airflow output, which makes it slightly louder than Frigidaire's model.
Besides the cooling mode, this 6,000 DOE BTU unit also has dehumidification and fan modes, and you can use it to dehumidify and cool a room simultaneously.
The Black + Decker's portable AC comes with an installation kit designed for single-hung or double-hung windows that are between 27.5 and 47.2 inches wide.
Whynter ARC-14S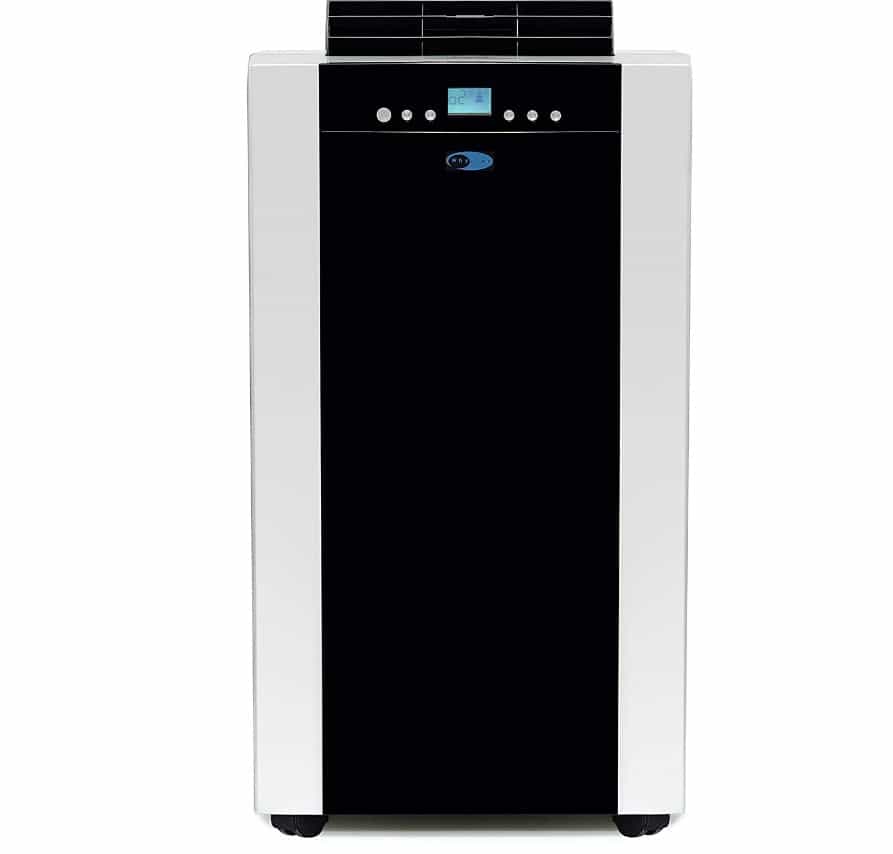 The dual-hose exhaust system the Whynter ARC-14S is using ensures that the AC can cool a room quickly. According to the ASHRAE BTU ratings, the unit's cooling output is 14,000 BTU or 9,200 BTU according to DOE ratings.
The washable carbon air filter traps air pollutants efficiently and helps you improve the air quality in your home. The AC can absorb 71 pints of moisture in a day, and it has a self-evaporative function that removes up to 98% of condensate in spaces where air humidity is above 70%.
The AC doesn't have a heat mode, and it only lets you adjust the room temperature in the range from 61F to 89F.
LG LP0621WSR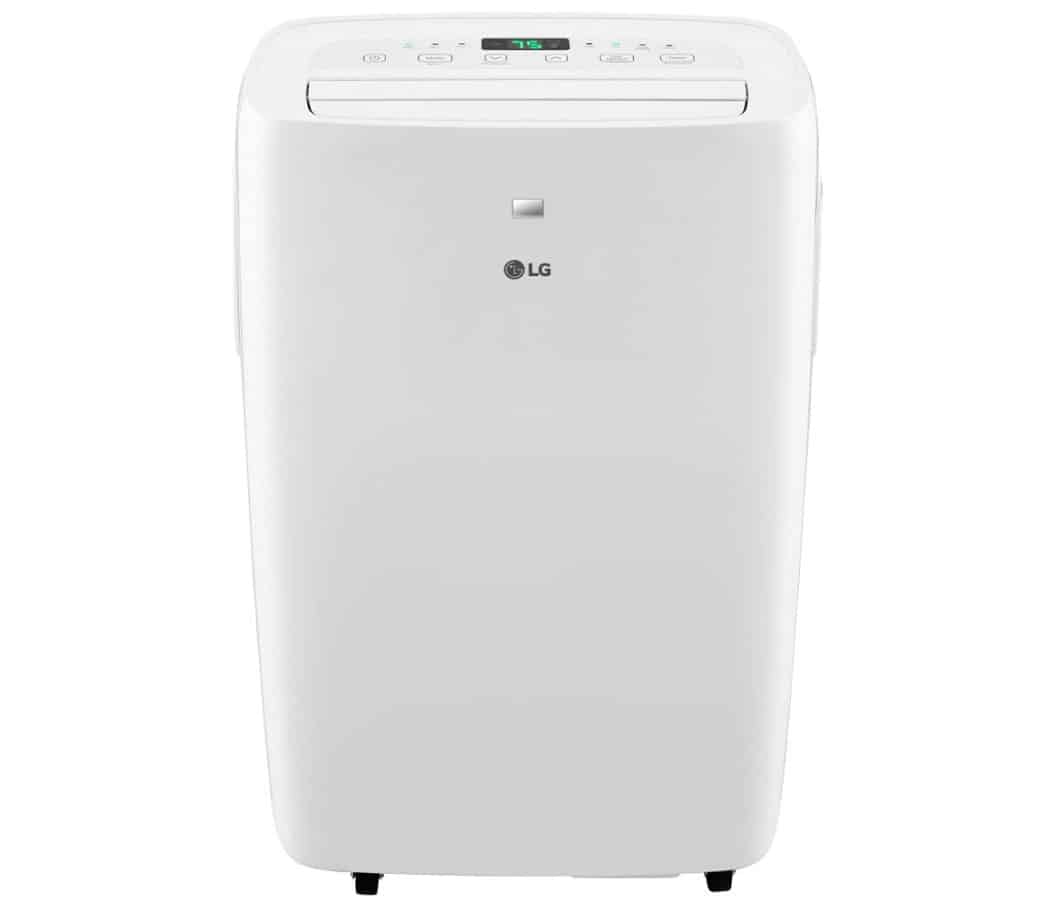 Despite being more affordable than the Frigidaire FFPA0822U1 AC, the LG LP0621WSR is the more powerful unit that can supply you with 6,000 DOE BTUs of cooling output. Its 6.51 CEER rating is also higher than the CEER rating of the Frigidaire's unit.
The LG's portable AC has just two fan speeds, and it can generate a maximum of 250CFM of airflow. It also has Filter Alarm and Water Full Indicator functions that inform you when you have to drain the water or wash the filter.
The LP0621WSR comes with a remote and an easy-to-use installation kit.
Frequently asked questions about the Frigidaire FFPA0822U1 AC
Question: Does the Frigidaire ffpa0822u1 AC have a clean air ionizer?
Answer: This portable air conditioner doesn't have the clean air ionizer function.
Question: Can the Frigidaire ffpa0822u1 AC cool and dehumidify the air simultaneously?
Answer: Yes, it can, but using the continuous drainage and cooling features at the same time is going to affect its performance.
Question: How long can the Frigidaire ffpa0822u1 AC last?
Answer: This Frigidaire model can work for up to ten years without breaking down.
Question: Are replacement parts for the Frigidaire ffppa0822u1 AC hard to find?
Answer: No, you can find the replacement part for the ffpa0822u1 AC at the manufacturer's website.
Our Verdict: How to know if the Frigidaire FFPA0822U1 AC is the right choice for you?
The set of features the Frigidaire FFPA0822U1 AC offers isn't impressive. The unit has just 4,400 DOE BTUs, so the manufacturer's 350sq/ft estimate can easily turn out to be inaccurate. The AC isn't Energy Star certified, and you shouldn't expect remarkable power-saving performances from it.
In addition, this model costs a bit less than $400, and it is more expensive than portable ACs with similar performance capabilities. Therefore, we don't recommend this portable AC because it fails to outperform most of its competitors.
Models like the LG LP0621WSR or the Black + Decker BBP06WTB are a better cooling option as their power output is higher, and they can generate more airflow than the FFPA0822U1 AC.
Did you find this Frigidaire FFPA0822U1 AC review useful? Let us know in the comments or continue reading our, Frigidaire FFRA0511R1 Review,  Aprilaire 5000 review if you're searching for a whole-house air cleaner.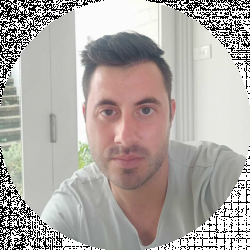 Latest posts by David Borgogni
(see all)