Cutting the heating and cooling costs is the main reason why homeowners consider alternatives to central HVAC systems. The best Home Depot mini-splits offer remarkable power-saving performance throughout the year, regardless of the size of the system you choose.
With such a large diversity of available options to choose from can make shopping for a mini-split at Home Depot difficult, so in this article, we're going to provide you with the information that might be useful during your search for a ductless mini-split and review some of the best Home Depot mini split options you can find at this store.
Go through our guide to mini-splits to learn more about how these cooling and heating systems work.
At a Glance: The 5 Best Home Depot Mini-Splits
Model
Energy Efficiency 
Cooling and Heating ratings
Price range
DuctlessAire 1-ton Ductless Mini-Split
21 SEER
Cooling:12,000 BTU

Heating: 12,000 BTU

$$$
Bosch Gen 2 Ductless Mini-Split
25 SEER
Cooling: 18,000 BTU

Heating: 18,000 BTU

$$$$
Pioneer Ductless Mini-Split
22 SEER
Cooling: 36,000 BTU

Heating: 28,000 BTU

$$$$
Ramsond Ducltess Mini-Split
22.5 SEER
Cooling: 48,000 BTU

Heating: 54,000 BTU

$$$$$
Gree Ductless Mini-Split
22 SEER
Cooling: 21,000 BTU

Heating: 22,600 BTU

$$$
Selection criteria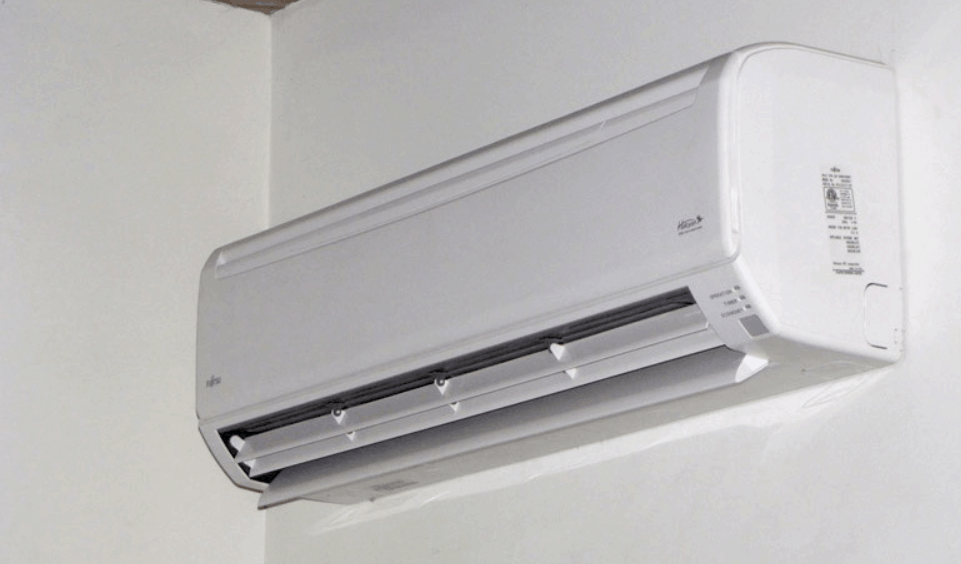 All mini-splits perform three basic functions as they are designed to regulate the room temperature, dehumidify and filter the air. However, the cooling and heating capacities, control options, or operating temperature range vary from model to model.
We used some of these core features to find the best mini-splits at Home Depot, so let's take a closer look at some of the most important parameters that helped us select mini-splits for this article.
The number of zones – Home Depot offers systems equipped with one or more indoor air handlers that allow you to split the unit's output into multiple zones. Our selection includes models that have one, two, or more zones so that you can choose the option that matches the size of the space you want to cool or heat.
Cooling and Heating capacity – Opting for a mini-split equipped with the heat pump function will enable you to use the system to regulate the temperature in your home throughout the year. We featured units that offer both heating and cooling functionalities in this article.
Energy efficiency ratings – Mini-splits with high SEER and EER ratings can lower your monthly power consumption and save you hundreds of dollars on heating and cooling costs per year. That's why one selection of the best mini-splits at Home Depot only includes models that have SEER ratings above 20.
Our guide to the best 18,000 BTU mini-splits can help you find a suitable heating and cooling solution for spaces that have up to 900sq/ft.
Types of ductless mini-splits
Ductless mini-split systems feature two components connected by line sets. The outdoor compressor generates cool air that is distributed to one or more indoor handlers. Depending on the number of indoor air handlers, we can differentiate between the following types of mini-splits.
Single-zone – These systems feature just one indoor component, so a single air handler manages their entire cooling and heating output. Single-zone systems are suitable for spaces that don't have many obstacles that might obstruct the free flow of air, and their size rarely exceeds 18,000 BTUs.
Multi-zone – Depending on their size, mini-splits can have up to five indoor air handlers, and their output capabilities increase with the number of zones they offer. Dual-zone systems usually offer between 18,000 BTUs and 24,000 BTUs, while quad-zone mini-splits provide you with 48,000 BTU or more of cooling and heating power. It's worth pointing out that each air handler in the system can have different output capacities.
Check out our guide to the best 12,000 BTU mini-splits if you need a cooling and heating system for a relatively small space.
The coverage range
The size of the area you can heat or cool with mini-splits largely depends on their maxim output capacity. However, other factors like the room's insulation, the climate, or the layout of the space can limit their coverage range.
Under ideal conditions, a 60,000 BTU should regulate the temperature in spaces larger than 3,000sq/ft. Even though there are only a handful of models with such high output capacities, they're still the best whole-house heating and the cooling solution you can find at Home Depot.
The majority of multi-zone models this retailer offers have between 36,000 BTUs and 48,000 BTUs, which means that they're suitable for residential and commercial spaces smaller than 2,500sq/ft.
Units that offer up to 24,000 BTU are usually the best choice if you need a way to regulate the room temperature in a specific area of your home. Browse through our guide to the best 36,000 BTU mini-splits for more information about these cooling and heating systems.
Energy-efficiency ratings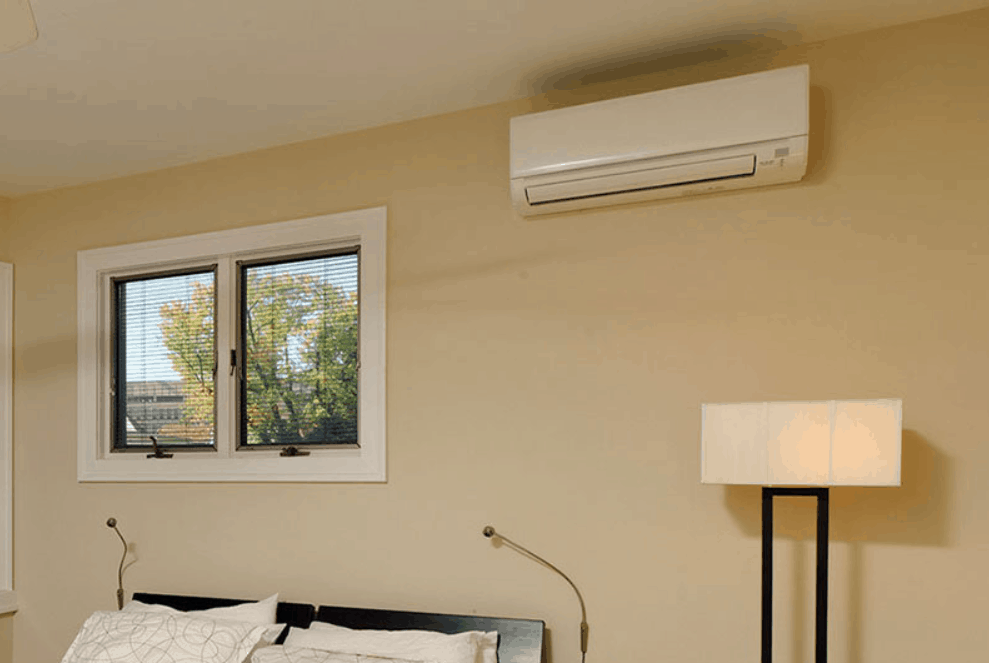 The power consumption of mini-splits depends on numerous factors since the system will draw more power in extremely hot or cold conditions regardless of its high energy-efficiency ratings.
Despite this, models with excellent SEER, EER, and HSPF ratings require less power to maintain an even room temperature in extreme weather conditions. So let's take a closer look at what these ratings actually mean.
Energy Efficiency Ratio (EER) – This rating shows you how much electricity a unit will consume per hour while operating at its maximum capacity. You should avoid models with EER ratings lower than 10 because they won't reduce your monthly utility bills significantly.
Seasonal Energy Efficiency Ratio (SEER) – Checking this rating will let you know how much power the unit will use over the entire cooling season. The ratio is calculated at temperatures spanning from 60F to 100F to mimic its working conditions. Units with SEER ratings higher than 20 are capable of lowering your cooling expenses up to 40%.
Heating Seasonal Performance Factor (HSPF) – The HSPF is the winter equivalent of the SEER rating, and it is calculated in the same way by dividing the unit's output and its hourly power consumption. Ideally, the mini-split you choose should have the 9 HSPF rating or higher.
Go through our guide to the best 1.5-ton AC units to learn more about different energy-efficient cooling systems.
Core features of mini-splits
Despite being the most important feature of mini-splits, the unit's heating and cooling capacities aren't the only parameters that determine the performance capabilities of these systems. As we already mentioned, their ability to absorb moisture or filter air largely contributes to the level of comfort mini-splits can offer.
Here are some of the key features these systems should have:
Multi-positional louvers – This feature enables you to direct the air from the air handler to a specific area of the room and maximize the system's cooling and heating abilities.
Dehumidification capacity – The amount of moisture a mini-split can absorb in one hour or one day is measured in pints. On average, these systems absorb 4 pints of moisture per hour while operating in the Dry mode.
Defrost mode – Preventing the ice build-up on the unit's evaporator coils during the winter months is paramount for ensuring optimum performance. That's why most mini-split models are equipped with the Defrost mode that thaws the ice automatically.
Reusable air filter – Opting for a model that features a washable air filter will eliminate the need to replace this component every few months. In addition, units equipped with a HEPA filter remove allergens from the air and allow you to use the same filter for a long time.
Read our guide to humidity control systems if you need an efficient way of regulating air humidity in your home.
The most important aspects to consider while choosing a Home Depot mini-split
Home Depot offers hundreds of mini-split models manufactured by some of the industry-leading brands. Pioneer, Bosch, or GREE are some of the most dominant mini-split brands you'll encounter at this home improvement store.
The features units produced by these brands have, and their performance capabilities depend on the model. We've shortlisted several factors that can help you narrow down your search and find the mini-split system that matches your expectations.
The size of the space you want to heat or cool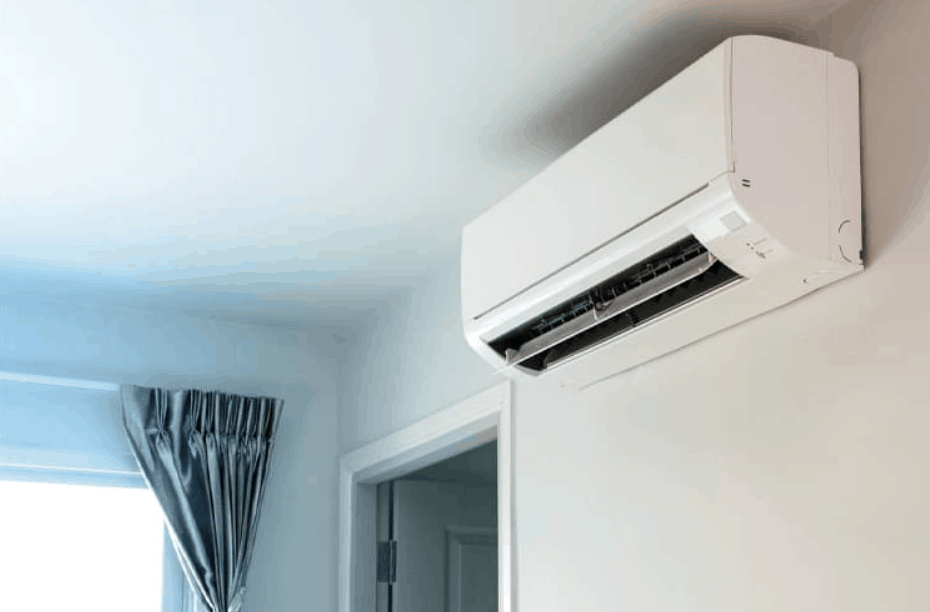 The layout and size of the space will limit your options to models with particular power outputs. For instance, a 1-ton mini-split can heat or cool a 600sq/ft room, but walls and other barriers that may prevent air from moving freely can limit its coverage range.
If you need a multi-room cooling and heating solution, you should choose a model that comes with two or more indoor air handlers.
Unit's SEER, EER, and HSPF ratings
Checking the model's SEER, EER, and HSPF ratings will let you know how much power it needs to heat or cool a room. In addition, home Depot features a versatile selection of energy-efficient mini-splits that may cut your cooling costs down to $200 per year.
Keep in mind that units with 22 SEER or similar seasonal energy efficiency ratios are usually very expensive.
Noise levels
Mini-splits produce between 20dB and 60dB of noise while operating at maximum capacity. The unit's noise level isn't very important if you want to install it in a garage or a home-based workshop, but it can become an issue if you want to use it to regulate the temperature in your bedroom.
You should choose a model that doesn't make more than 40dB of noise if you need a cooling and heating system for spaces where you spend time with your family, while a louder model that makes up to 60dB of noise could be a good solution for a kitchen or similar spaces.
Read our full guide on how to find the best Garage Mini Splits.
Installation options
Home Depot features an impressive selection of mini-splits that come with DIY installation kits, but you should only choose this option if you feel confident enough to install a mini-split system on your own.
However, most industry-leading brands require professional installation, and Home Depot can help you connect with local contractors that can guide you through the entire process of buying and installing a new mini-split.
Prices, delivery options, and warranties
Home Depot's mini-splits can cost anywhere between $200 and $5,000 depending on the model and its output capacities. Also, multi-zone systems tend to be significantly more expensive than single-zone units because they feature several indoor air handlers.
The mini-splits warranty duration spans from just a few years for entry-level models to more than a 10-year or lifetime warranty for high-end models.
Home Depot offers multiple delivery options, and you can choose to pick up the model you purchased at a local store or have it delivered to your home address.
The advantages of Home Depot mini-splits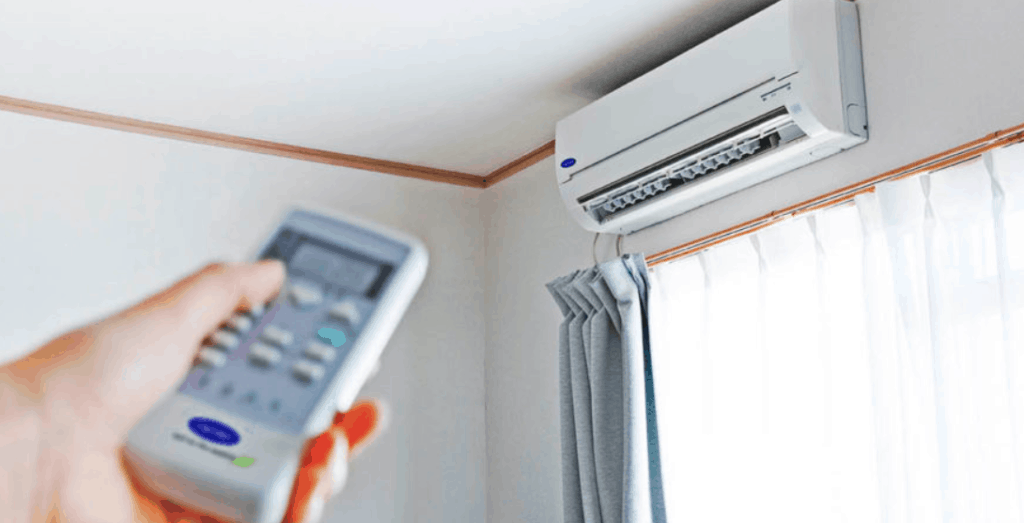 The wide array of options
Shopping for a mini-split at Home Depot enables you to choose from hundreds of different options. Besides featuring models made by some of the industry-leading brands, this home improvement retailer allows you to pick the unit whose size and features the best match the context where it is going to be used.
Power-saving performances
The vast majority of mini-splits you can find at Home Depot have high energy-efficiency ratings, and they can potentially lower your monthly heating and cooling costs.
Excellent selection of accessories and replacement parts
Home Depot is one of the first places where you should look for a support-mounting bracket, a line set flush kit, refrigeration lines, or any other accessory you might need to install or repair your mini-split system.
The disadvantages of Home Depot mini-splits
Limited heating and dehumidification abilities
All mini-splits have an operating temperature range, and some models can't operate at full capacity if the outdoor temperatures are lower than 5F. In addition, these systems can't dehumidify the air during the winter months.
Top 5 mini-splits at Home Depot
DuctlessAire 1-ton Ductless Mini-Split – The best single-zone mini-split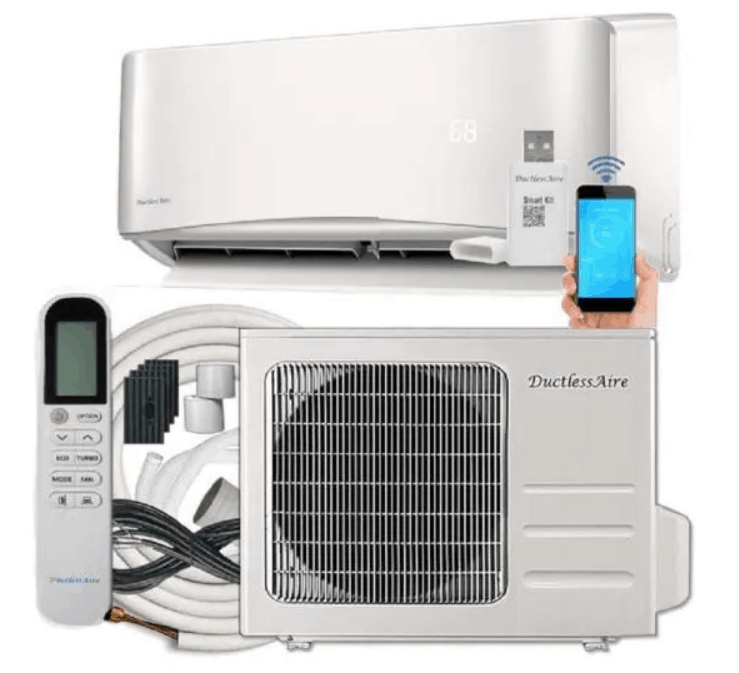 You can use the DuctlessAire 1-ton Ductless Mini-Split with the same amount of efficiency throughout the year. In addition, the unit features a Turbo mode capable of lowering or raising room temperature quickly. This mini-split is Energy Star certified, and it has a 21.5 SEER rating.
This DuctlessAire's model is perfect for home offices, bedrooms, and all other types of open-floor spaces with sizes up to 600sq/ft. You can control this unit with the remote or use its WiFi module to adjust its settings from a home control app.
Pros
It takes only 24dB of noise at full capacity
Excellent safety features
Multiple control options
Equipped with a reusable HEPA filter
Cons
A limited number of fan speeds
Short warranty duration
Bosch Gen 2 Ductless Mini-Split – The best dual-zone mini-split
The Energy Star certification ensures that the Bosch Gen 2 Ductless Mini-Split won't increase your monthly power consumption. This system contains a pair of 9,000 BTU indoor air handlers that enable you to regulate the room temperature independently in different zones.
The Timer setting allows you to program the unit to switch off and on at specific hours, while the remotes Follow Me function ensures that the temperature is even in all parts of the room. Also, this Bosch's mini-split has a self-diagnostics feature that detects all defects of the system.
Pros
Effortless temperature adjustments
Excellent performance at low temperatures
Quiet operation
10-year warranty
Cons
Not WiFi-enabled
It contains enough refrigerant to charge a 35ft line set
Pioneer Ductless Mini-Split – The best three-zone multi-split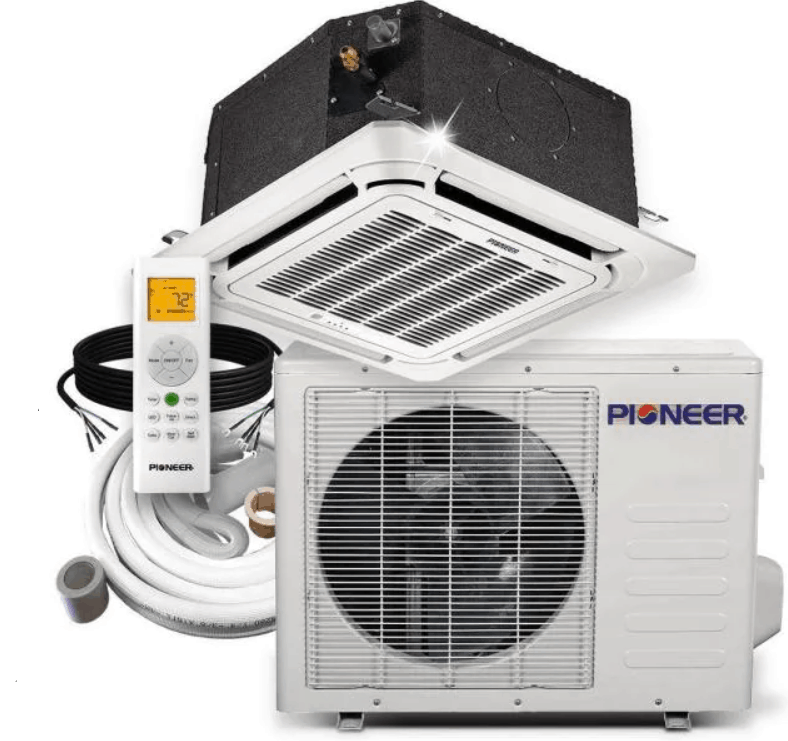 Each of the Pioneer Ductless Mini-Split's indoor air handlers had a 12,000 BTU output capacity, which enables you to divide the system into 600sq/ft zones. The outdoor condenser unit is equipped with inverter technology that lowers the unit's power consumption.
The Pioneer's mini-split has an impressive 22 SEER rating as well as a 9.5 HSPF rating that ensures high levels of energy efficiency at temperatures higher than -13F. The unit offers 26 cool settings, and it features a variable speed fan motor that lets you control the system's airflow output.
Pros
Ships with an installation kit
Low power consumption
Wide operating temperature range
Reasonable pricing
Cons
The line set is just 16ft long
Very loud
Ramsond Ductless Mini-Split – The best five-zone mini-split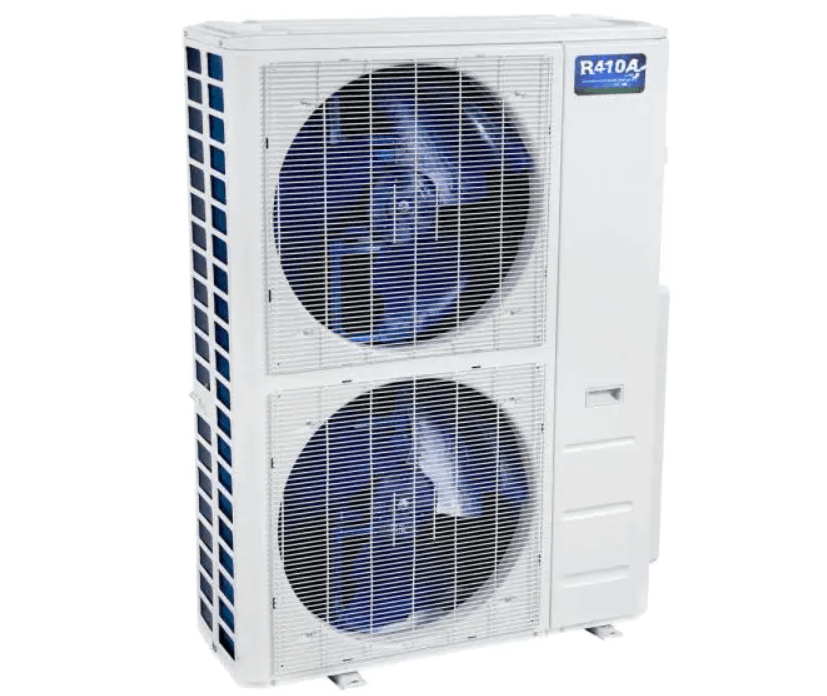 Homeowners in need of a cooling and heating system with a wide coverage range should consider getting the Ramsond Ductless Mini-Split. This 4-ton unit features 5 indoor air handlers capable of regulating temperature in spaces smaller than 2,700sq/ft.
You'll get a remote controller for each air handler, but you can also adjust the system's settings via smartphone. The unit has an automatic defrost feature that prevents ice build-up on evaporator coils and overload protection that prevents you from putting too much strain on the system.
Pros
Excellent whole-house cooling and heating solution
Great energy-saving features
Reusable air filters
Each zone is controlled separately
Cons
It makes 64dB of noise
Limited airflow control options
Gree Ductless Mini-Split – The best inverter mini-split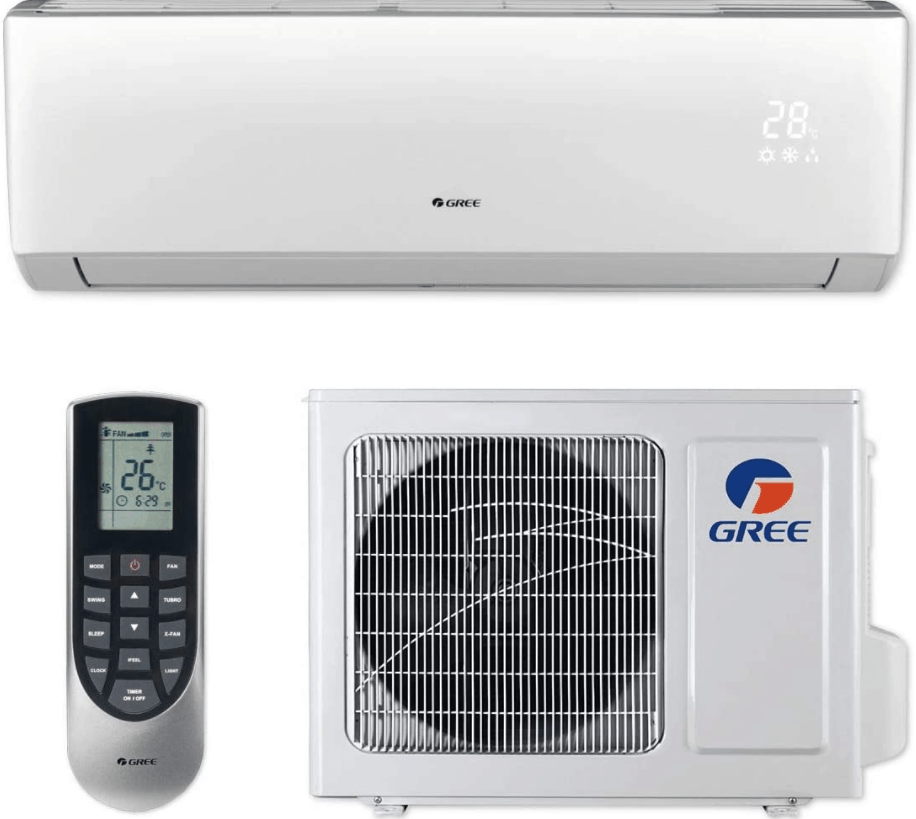 The Gree Ductless Mini-Split is arguably one of the most energy-efficient 1.5-ton models you can get at Home Depot. This unit lets you create two zones that have approximately 450sq/ft and control how much power you're using to cool or heat each zone.
This mini-split is equipped with the G10 inverter technology, and it features a variable-speed compressor that lowers its power consumption and maximizes its efficiency. Its dehumidification and air ventilation capacities allow you to improve the air quality in your home.
Pros
Low noise level
Wide range of cool settings
Coils have anti-corrosion coating
Affordable price
Cons
All installation accessories must be purchased separately
No WiFi controls
Frequently asked questions about Home Depot mini-splits
Question: Does Home Depot have a return policy for mini-splits?
Answer: Yes, you can return the mini-split up to 90 days after you purchased it to the nearest store or schedule a return online.
Question: How long does Home Depot need to deliver a mini-split?
Answer: Delivery times depend on the availability of the model and your place of residence, but the mini-split should be delivered 7 to 10 workdays after you buy it.
Question: Can Home Depot help me install my mini-split?
Answer: You can use Home Depot to find a contractor who is going to help you choose a mini-split system and install it.
Question: Do mini-splits have high upkeep requirements?
Answer: Mini-splits don't require frequent maintenance since you just have to perform the system checkup once per year.
Our Verdict: Should You Buy Your New Mini-Split at Home Depot?
The chances are that you're going to find a mini-split you're looking for at Home Depot regardless of the size, the number of air handlers, or any other features you may need. The home improvement retailer features a versatile selection of mini-splits manufactured by some of the best brands in the industry.
We recommend the DuctlessAire 1-ton Ductless Mini-Split because it is a near-perfect option for small, open-floor spaces. Opting for the Ramsond Ductless Mini-Split might be a good choice if you're looking for an energy-efficient heating and cooling solution for an entire home.
Which Home Depot mini-split are you going to choose? Let us know in the comments or continue reading our guide to the best 2.5-ton heat pumps if you're considering split system cooling and heating options or check out how Home Depot's models compare to Lowe's Mini Spit Systems here.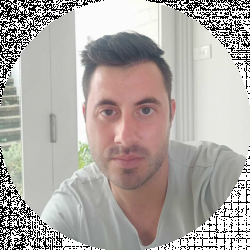 Latest posts by David Borgogni
(see all)