Window ACs are not as powerful as heat pumps or mini-split systems, but they can still be an effective cooling solution for spaces that have up to 1,000sq/ft. Our Frigidaire FFRA0511R1 review will supply you with the information you need to decide if this model fits your cooling needs.
You should keep in mind that the FFRA0511R1 is one of the brand's entry-level models that doesn't have an advanced set of features. Also, the unit can only be installed on windows, and you should consider other options if you need an AC, you can install it through a wall.
This Frigidaire FFRA0511R1 review is going to take you through the AC's most important features and help you understand its advantages and limitations. Also, you should read our guide to the best window ACs if you're not familiar with how these cooling systems work.
Key specifications of the Frigidaire FFRA0511R1
| | |
| --- | --- |
| Maximum cooling output  | 5,000 BTU |
| Combined energy efficiency ratio | 11.0 CEER |
| Maximum airflow volume  | 136 CFM |
| Dehumidification capacity | 1.1 pints per hour |
| Minimum window width | 23 inches |
| Window mounting kit  | Pleated quick mount |
| Control options | Mechanical |
| Latest price | Check latest price here |
Core features of the Frigidaire FFRA0511R1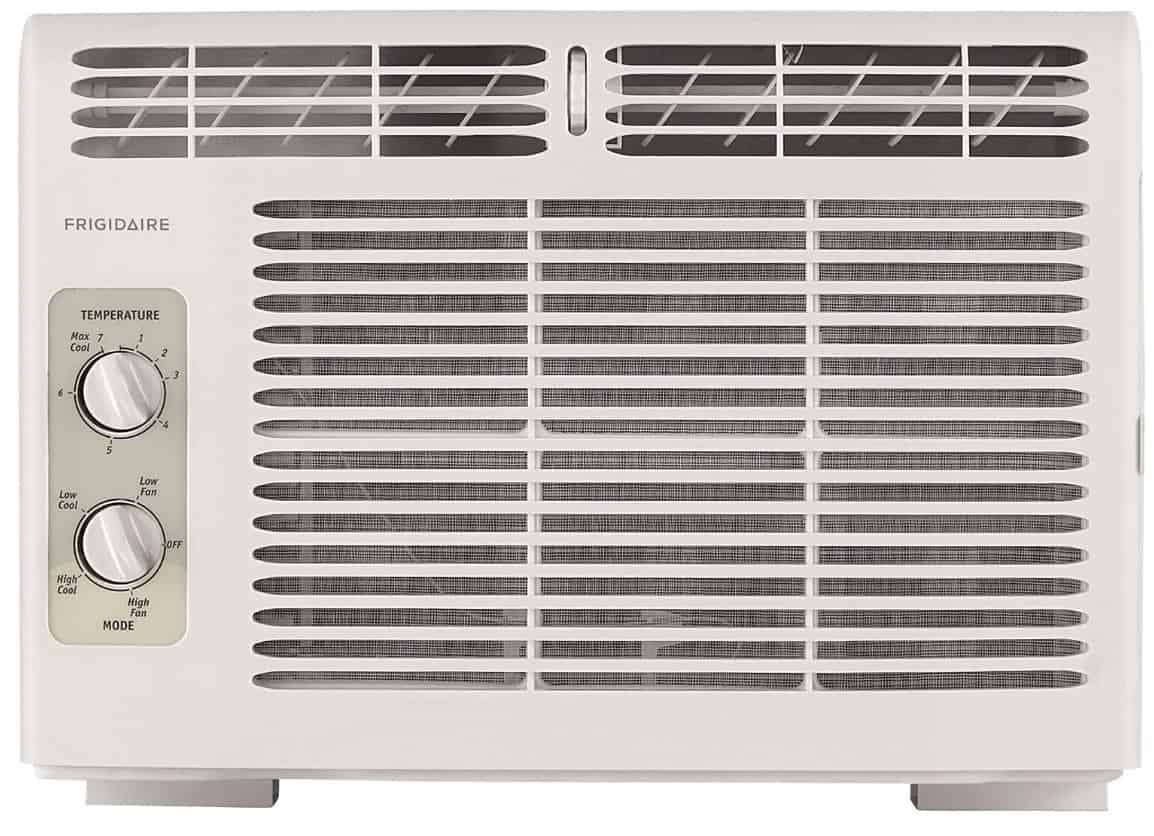 Frigidaire's selection of window ACs includes over thirty models capable of cooling and heating both small and relatively large spaces. You should evaluate your cooling needs to avoid going through the features of each brand's model in an attempt to determine which one is the right choice for you.
Also, the brand manufactures models designed for horizontal and vertical installation, and you need to get a vertical unit if you have a sliding window or a horizontal one if you have single-hung or double-hung windows in your home.
The FFRA0511R1 AC is a horizontally oriented unit, and installing it on a sliding window will damage its components. However, you should consider getting a model like the Frigidaire FFRS0822SE if you need a casement air conditioner.
Check out our guide to the best vertical window ACs if you need an AC for a casement window.
Dimensions and design
The FFRA0511R1 AC's visual side is far from impressive. Its design looks dated, and it is characterized by louvers in the upper front section of the AC. The louver section is split in half by the wheel that lets you adjust the position of the louvers.
Two control knobs are located in the lower-left section of the unit's front, and they allow you to adjust the unit's settings quickly. The dimensions of the FFRA0511R1 are 16 x 12 x 15-1/4-inches, and you can install it on windows that are between 23 and 36 inches wide.
Its compact size makes this AC an excellent cooling solution for spaces with narrow windows such as garages or bathrooms. However, the FFRA0511R1 is heavy for such a small unit because it weighs almost 50lbs, so you'll have to ensure that it has the support it needs to avoid potential accidents.
Go through our guide to the best garage air conditioners to explore different cooling options you can use in this part of your home.
Coverage area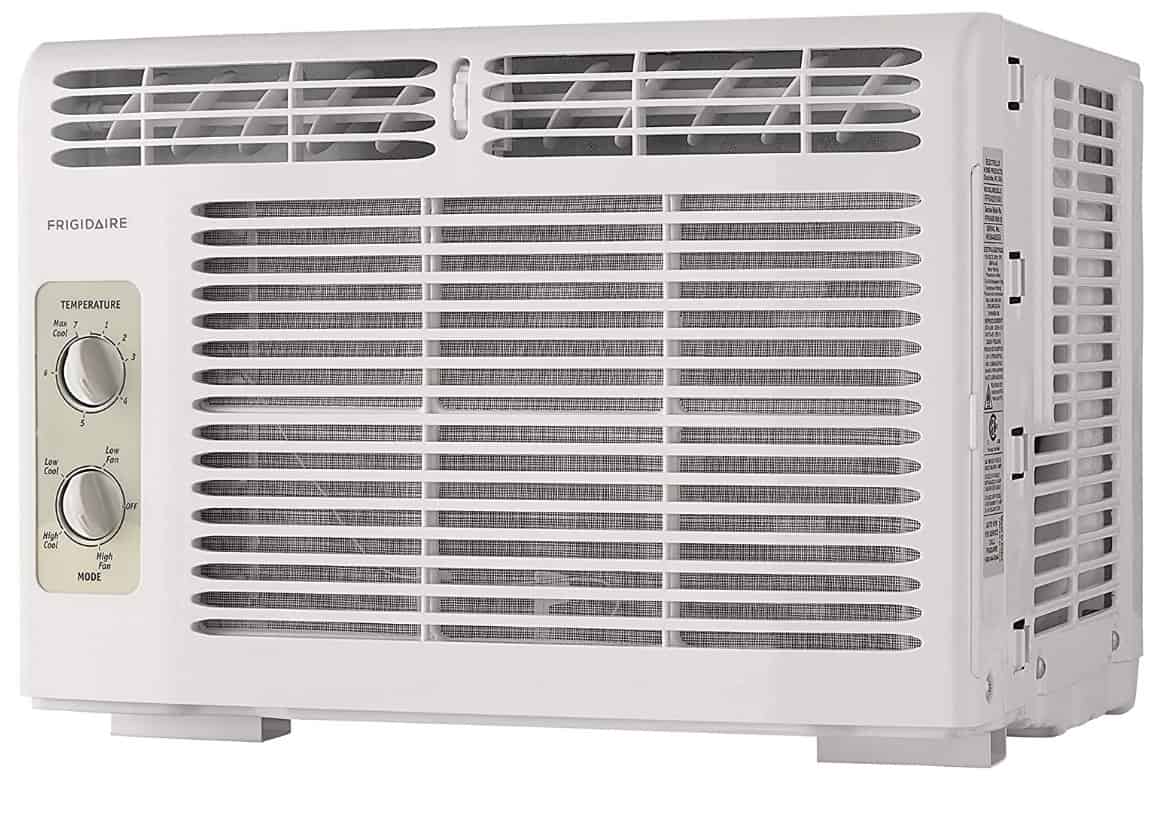 With a cooling output of 5,000 BTUs, the FFRA0511R1 is one of Frigidaire's least powerful window AC. This model can't regulate the temperature in spaces larger than 150sq/ft, but its coverage range might shrink at high outdoor temperatures.
The manufacturer doesn't provide any estimates of the unit's performance at temperatures above 100F, so it is fair to assume that the AC might struggle to regulate the room temperature on extremely hot days.
Also, the information about the AC's temperature range isn't included in the product description, but most models operate between 60F and 90F. This unit has a temperature knob with seven settings, and you can increase or decrease its temperature settings by simply turning the knob.
However, this Frigidaire's model doesn't have a display that shows you the current temperature, and you must adjust this setting instinctively. Our guide to the best 18,000 BTU air conditioners can help you find a model that has a much more comprehensive coverage range than the Frigidaire FFRA0511R1.
Cooling efficiency
In most cases, this window AC can lower the room temperature within its coverage area quickly and efficiently. In addition, the unit's high CEER and EER ratings indicate that it doesn't need a lot of power to maintain the temperature at the same level.
The motor can run at two speeds, its maximum speed is 1530RPM, and its low speed is 1310RPM. The AC's mode knob lets you switch between high and low cooling and fan modes depending on your current needs.
However, the FFRA0511R1 doesn't have sleep and timer modes that would allow you to minimize its power consumption. Despite this, the AC is going to use less than 2kW if it runs for six hours continuously.
Its power consumption might increase in spaces that don't have good insulation or at extreme outdoor temperatures. Browse through our guide to the best window heat pumps to find an AC you can use in hot and cold weather conditions.
Airflow controls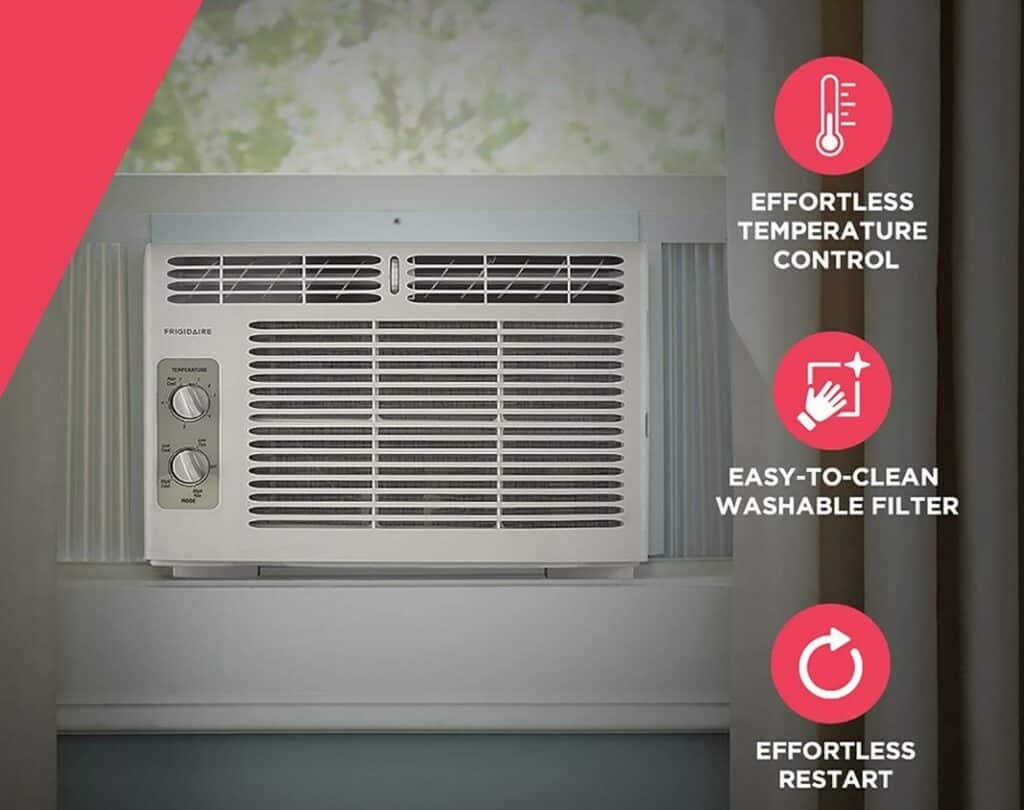 The maximum airflow volume this AC can generate is 136CFM, and you can lower its output to 111CFM if you don't want to use it at its maximum capacity. This Frigidaire's model is equipped with 2-way louvers that limit the airflow distribution patterns you have at your disposal.
The FFRA0511R1 doesn't have built-in temperature sensors, and it will continue to run for as long as you leave it on. Also, the unit can't switch on automatically whenever the room temperature rises above the level you selected.
All airflow and temperature adjustments have to be made from the AC's control panel because the unit isn't compatible with remote controllers. Read our LG 12,000 BTU air conditioner review if you need a window AC that can provide you with more airflow volume than the Frigidaire FFRA0511R1.
Noise level
This AC isn't a good cooling option for the parts of your home you use for rest because it is loud. Its lowest noise level is 51.3dB, but if you change its cooling mode to high, the noise level increases to 56.5dB.
Hence, some of the best places to install the FFRA0511R1 are a bathroom, workshop, or garage because you won't pay so much attention to the noise it makes while you're in these rooms.
Also, keep in mind that the unit's outdoor part is louder than its indoor section, and it might disturb your neighbors if it is installed too close to their home.
This guide to the best Amana portable air conditioners can help you find a quiet unit with the same cooling output as the Frigidaire's unit.
Dehumidification and air filtration
One of the reasons why this AC can be an effective cooling solution for kitchens and bathrooms is its dehumidification capacity. The unit can absorb 1.1 pints of moisture per hour, and it helps you lower the air humidity levels in damp rooms.
In addition, its air filtration system eliminates odors and traps particles that pollute the air. The unit's equipped with a washable filter, but it doesn't have a filter alarm informing you when to clean the filter.
Accessing the model's filter is easy, and you can also replace its original filter with an electrostatic filter. Check out our guide to ventilation systems to explore different methods you can use to improve the air quality in your home.
Related read: How to Find the Best Frigidaire Air Filters?
Installation requirements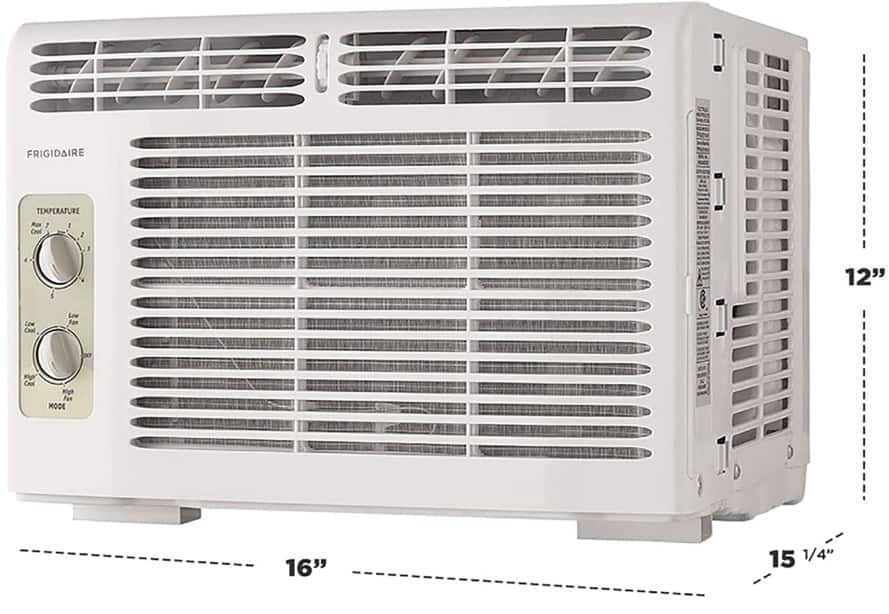 Mounting the FFRA0511R1 AC on a window isn't difficult, and it shouldn't take you more than 30 to 40 minutes to complete the process. The unit arrives with an installation kit that contains a side panel that closes the space between the AC and the window, but you must purchase the support bracket separately.
You must install the AC within six feet away from a power outlet to avoid using an extension cord to connect the unit to a power supply. This model has an LCDI 5-15P plug, and you cannot connect it to power outlets that aren't compatible with this plug type.
The manufacturer discontinued this model, and it might be difficult to find replacement parts for it. Our guide to the best GE portable air conditioners can help you find a unit you can install quickly.
Warranty and price
Purchasing the FFRA0511R1 AC directly from the manufacturer is no longer possible, and you must find an online or offline retailer that still has this unit in stock. This model was originally priced at $250, but its price has decreased to approximately $160.
The sealed part of this cooling system includes the compressor, condenser, tubing, and the warranty protects the evaporator for two to five years. You'll also get a 1-limited warranty that, among other things, covers the labor costs if you decide to buy this window AC.
Read our Aprilaire 5000 review if you're looking for a way to improve the quality of air in your home.
The pros of the Frigidaire FFRA0511R1
Long-lasting components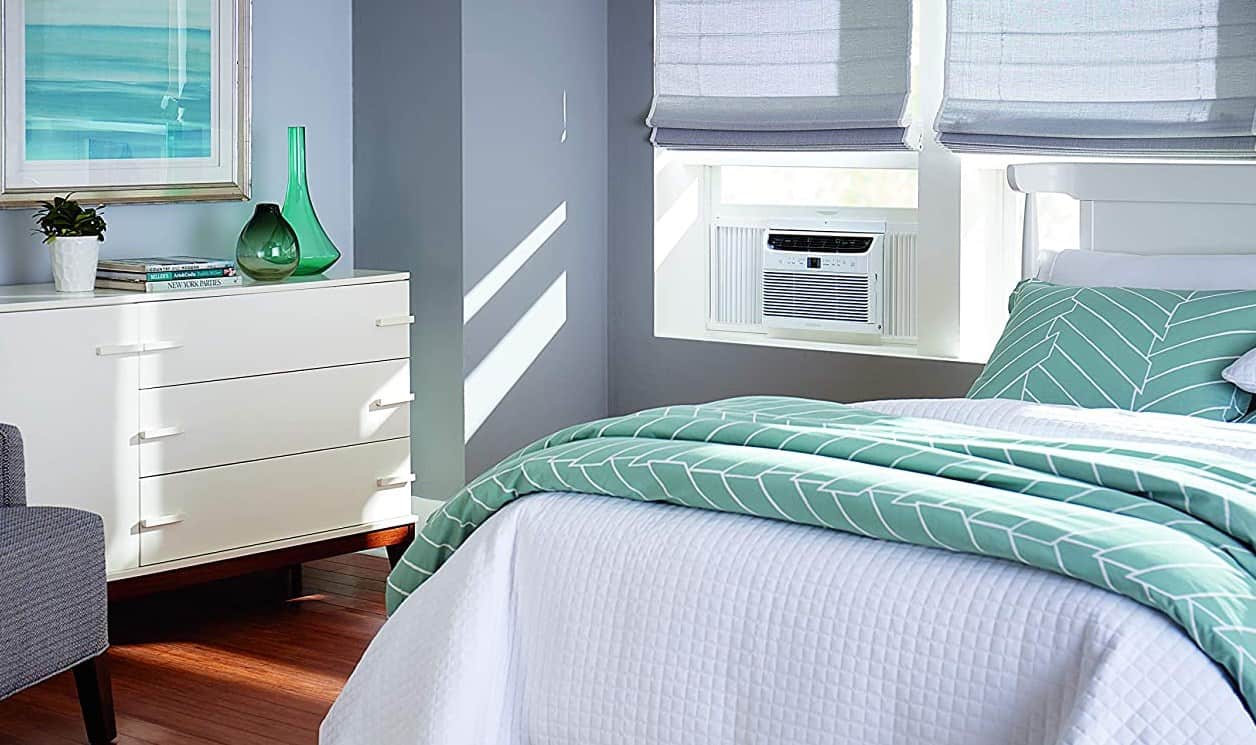 All of the AC's essential components are made from high-quality materials, and they don't fail often. That's why you'll be able to keep using this unit long after its warranty period expires.
Simple settings adjustments
You just have to turn the mode or temperature knob to change the unit's settings. In addition, the louver knob allows you to change the louver position and alter the airflow direction.
Compact dimensions
This AC can be an excellent choice for rooms with large windows because it is only 16-inches wide and 12-inches tall. You'll also get a side panel that seals the space around the unit and prevents dust or hot air from entering a room.
Energy-efficient cooling
Even though the FFRA0511R1  isn't Energy Star certified, it still needs just 120 watts to run for an entire hour. Hence, this window AC is unlikely to increase your utility bill significantly during the cooling season.
Reasonable price
This Frigidaire model isn't expensive. Its price-performance ratio is impressive, even though it lacks the bells and whistles that come with high-end models.
The cons of the Frigidaire FFRA0511R1
Lacks basic features
Programming the unit to switch off and on automatically isn't possible because it doesn't have the 24-hour timer function. Also, the unit doesn't have sleep mode, which means it cannot automatically maintain the room temperature at the same level.
The manufacturer discontinued this model
Although it is listed on the Frigidaire's website, the FFRA0511R1 is no longer in production. You can still buy this window AC from different retailers, but you might not be able to find spare parts for this model.
The Best Alternatives to the Frigidaire FFRA0511R1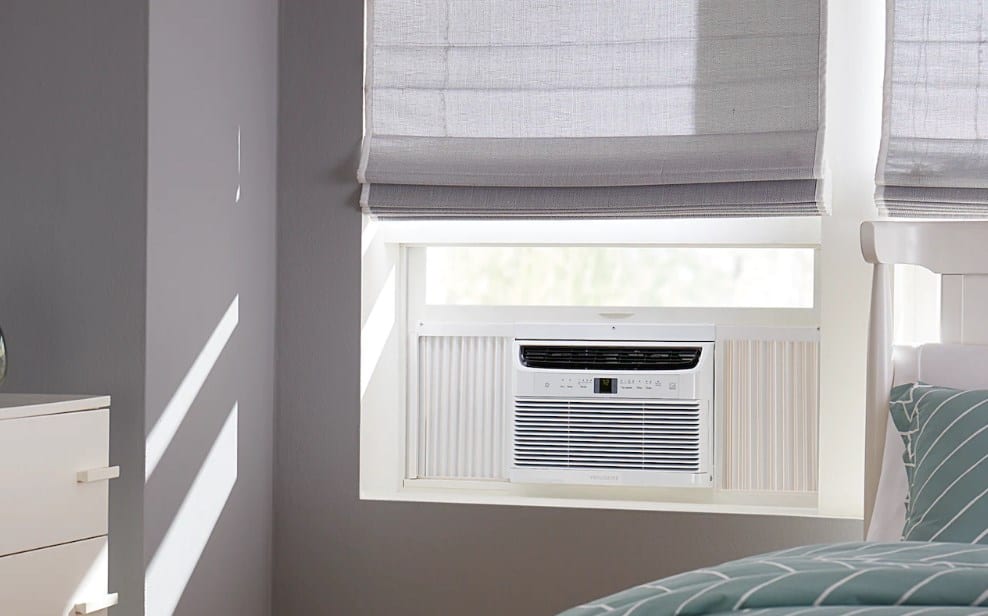 Besides Frigidaire's models like the ffra051WAE or ffre053WAE, you choose from a wide range of 5,000 BTU window ACs manufactured by competing brands. The FFRA0511R1 has numerous downsides, such as mechanical controls or a 2-way air flow direction option, to mention a few.
Arguably, its most significant advantage is the price, but you should keep in mind that it isn't significantly cheaper than models with similar cooling outputs produced by other manufacturers.
We've selected several models you can consider as alternatives to Frigidaire's FFRA0511R1 AC, so let's take a closer look at their features.
Emerson Quiet Kool EARC5RD1H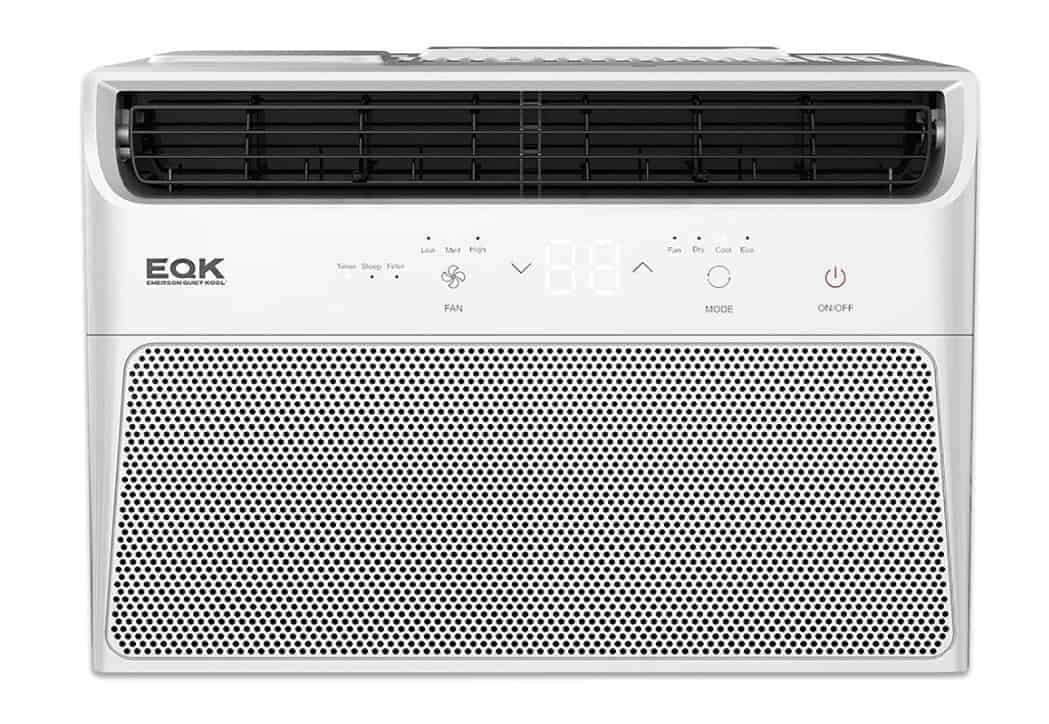 The modern and elegant design of the Emerson Quiet Kool EARC5RD1H makes matching the unit with the room's décor easy. In addition, the unit has a large LED display that lets you check the latest temperature setting quickly, and you can use it in Cool, Fan, and Dry modes.
This window AC can operate at three different fan and cool speeds, and its 8-way louvers allow you to choose where you want to direct the airflow. Emerson Quiet Kool's model has timer and sleep functions that allow you to regulate the temperature in a room even when you're not at home.
Keystone KSTAW05BE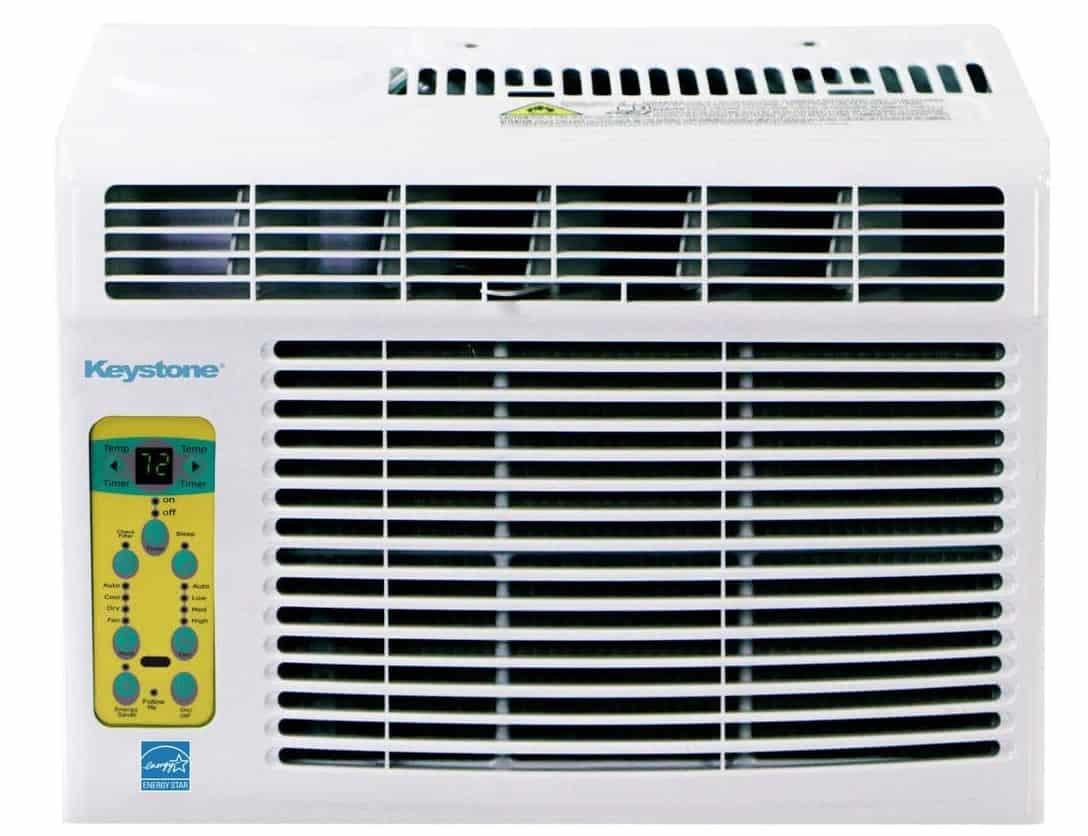 Despite the affordable price, the Keystone KSTAW05BE is stacked with features that increase your level of comfort. For example, the AC's remote has the Follow Me feature that measures the temperature at its current location and ensures even temperature throughout the unit's 150sq/ft coverage area.
This model offers auto, low, mid, and high-speed options, and you can use it in cool, dry, fan, and auto modes. Moreover, the unit has an energy saver mode that lowers its power consumption whenever you don't want to use it at its maximum capacity.
Also, the Keystone KSTAW05BE is Energy Star certified, and it requires a minimum amount of power to lower the room temperature in your home.
Amana AMAPO50W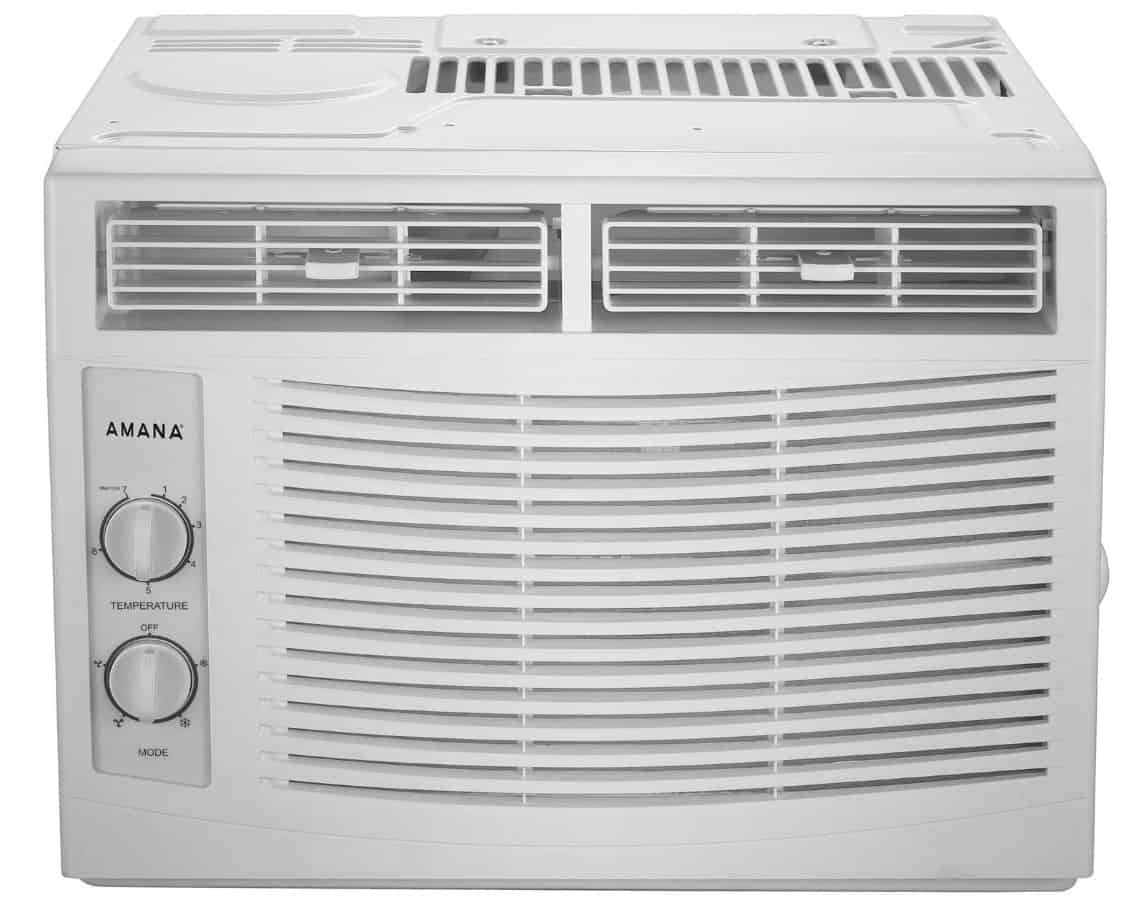 The Amana AMAP050W is one of your best options if you're on a limited budget. However, this AC doesn't have a lot to offer, as it only has two cooling and fan modes. Its maximum airflow volume is 135CFM, while its dehumidification capacity is limited to just 1.06 pints per hour.
This window AC has both timer and sleep modes, so you can choose when and for how long you want it to run. Its louvers can be placed in eight different positions, enabling you to decide how you want to distribute the cool air the AC produces.
Frequently Asked Questions about the Frigidaire FFRA0511R1
Question: How often should I clean the Frigidaire FFRA0511R1's air filter?
Answer: It is advisable to check on the AC's filter at least once per week and wash it every other week.
Question: Is Frigidaire FFRA0511R1corrosion resistant?
Answer: This window AC isn't corrosion resistant, and you must protect its outdoor part from rain.
Question: What is the Frigidaire FFRA0511R1's lifespan?
Answer: The AC's compressor is under warranty for five years, and its lifespan should exceed the duration of its warranty.
Question: Do I have to clean the Frigidaire FFRA0511R1's components?
Answer: Failing to clean the evaporator or the compressor will result in mold and dust accumulation that can damage these components. You should contact an HVAC technician if you don't feel comfortable cleaning a window AC on your own.
Our Verdict: Who should get the Frigidaire FFRA0511R1?
Buying a discontinued window AC is always a risk because you can't be sure you'll be able to find replacement parts for it if you need them. The Frigidaire FFRA0511R1's features are basic but sufficient to cool, ventilate or dehumidify spaces that have up to 150sq/ft.
Moreover, the unit doesn't need much power to lower the room temperature, although its performance largely depends on the current weather conditions. Therefore, we recommend the Frigidaire FFRA0511R1to homeowners who need a cheap and energy-efficient window AC.
You should also consider models like the Amana AMAP050W or the Keystone KSTAW05BE if you're searching for an affordable cooling solution you can install in your kitchen or bathroom. Was this Frigidaire FFRA0511R1 useful?
Let us know in the comments, or continue reading our Senville mini-split review to explore the options offered by more powerful cooling and heating systems.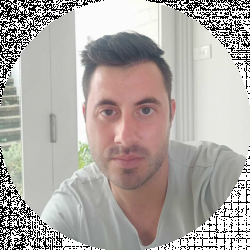 Latest posts by David Borgogni
(see all)