One of the reasons I like using Frigidaire ACs is that almost all models I ever had were equipped with reusable air filters. So, finding the best Frigidaire Air Conditioner Air Filter for my unit was never a difficult task, as I simply opted for the replacement recommended by the manufacturer.
However, some models use disposable air filters that usually last three to six months. The sizes and dust collection capacities of these filters vary from model to model, which slightly complicates the selection process.
In this article, I'll take you through the key aspects of choosing the best Frigidaire Air Conditioner filters and help you find the right option for your unit.
Bottom Line Up Front
The replacement air filter you choose must be compatible with your Frigidaire AC unit. So, the first step you must take is to find out the AC's model number and use it to search for compatible air filters.
Washable models such as Frigidaire 53044525579 and Frigidaire 5304525620 are compatible with Window ACs like Frigidaire FFRE06B3Q1 or Frigidaire FRA052XT7.
Disposable air filters Frigidaire PureAir RAC-6 are designed for the brand's FHPH142AC and FHPW142AC1 portable units.
See also: Frigidaire FFRA0511R1E review
My Top Picks At a Glance
Types of Frigidaire ACs
Understanding the differences between the brand's cooling and heating appliances will make finding a replacement air filter for your Frigidaire AC easier. The brand currently offers three types of ACs with similar performance capabilities.
As I already noted, each of these AC types utilizes different permanent or disposable air filters, so a through-the-wall model like the FHTW123WA1 is only compatible with Frigidaire PureAir RAC-7 filters, so installing Frigidaire PureAir FRPARC1 RAC-1 or Frigidaire PureAir RAC-5 on this unit isn't an option.
Frigidaire offers the following types of ACs:
Window – The cooling and heating outputs of these units vary from 18,500 to 5,000 BTUs. Most models have easily accessible washable air filters.
Built-in or through-the-wall – Frigidaire's product lineup currently includes 17 built-in AC models with cooling and heating outputs between 8,000 and 14,000 BTUs.
Portable – This AC category contains only four units that can have washable or disposable air filters.
Some of the brand's ACs are WiFi-enabled, and you can use the Frigidaire app to determine the right moment to change the unit's air filter.
See also: The best 6,000 BTU air conditioners
Locating and Cleaning a Frigidaire AC Air Filter
All Frigidaire ACs, I ever used had a Filter Change reminder on their control panels that informed me a filter was in use for 250 hours. The manufacturer recommends cleaning their disposable air filters monthly, but I never managed to use my Frigidaire AC for more than 250 hours in a month.
Even so, I still think that biweekly visual inspections of the unit's air filter and cleaning the filter every 30 to 45 days can prolong the unit's lifespan. Accessing an air filter on a Frigidaire AC is easy, as they're usually located behind a door with a handle on the unit's front section.
Air filters on some portable models can be located at the back of the unit, but they're still easily accessible. Cleaning a washable air filter is a straightforward process that includes the following steps:
Step 1 – Turn off the unit, and remove the air filter. Proceed to vacuum the excess dust, but pay attention not to damage its media.
Step 2 – Wipe the filter with a sponge you soaked in soapy water, then rinse it with clean, warm water. Leave the filter to dry for a few hours before returning it to the AC.
See also: Frigidaire FFPA0822U1 AC review
The Average Lifespan Of a Frigidaire AC Air Filter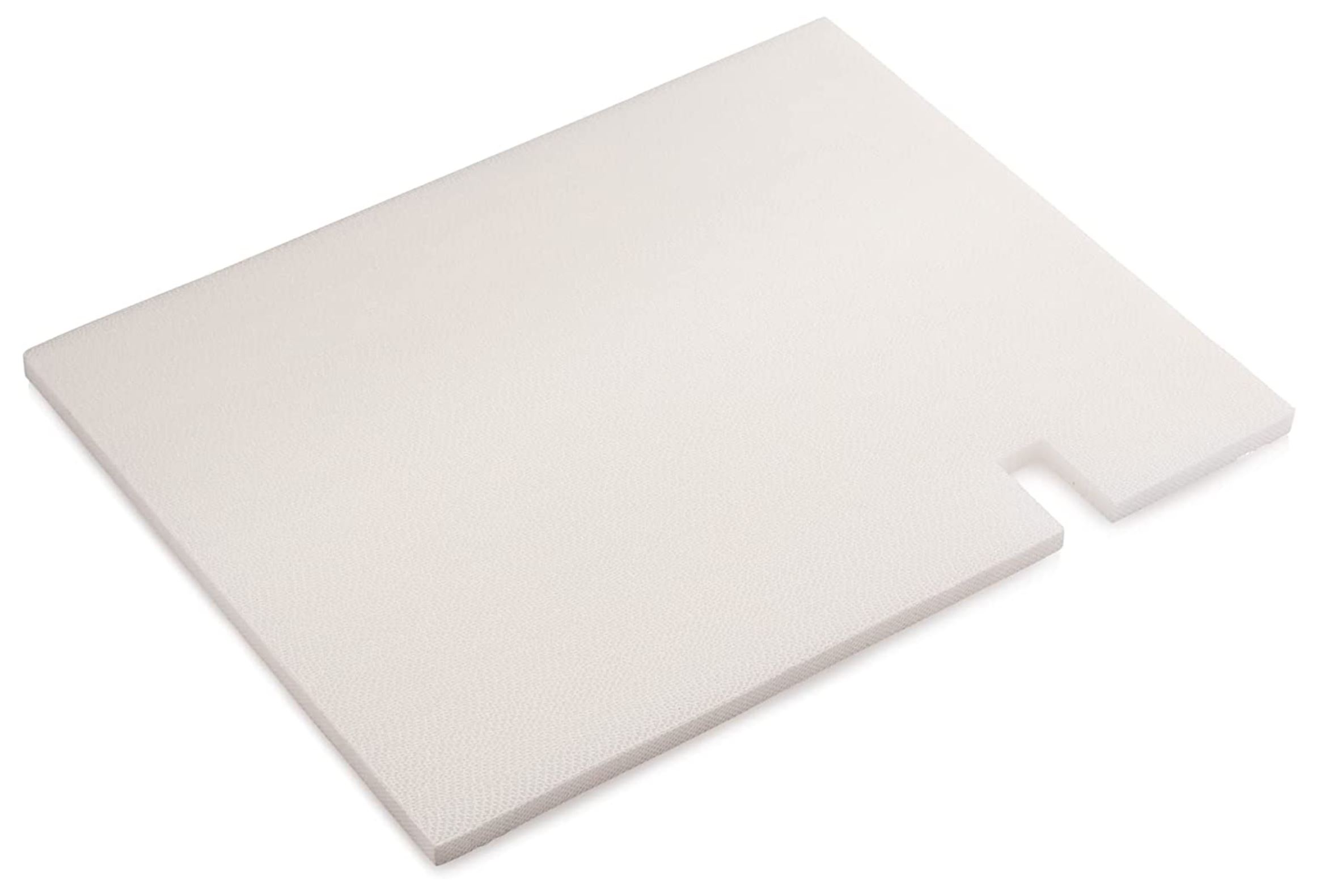 All Frigidaire air conditioners come with disposable or reusable air filters. Disposable models wear out relatively quickly as the manufacturer recommends replacing them every three to six months. Washable air filters are more durable as they usually last for several years.
Failing to clean these filters regularly can shorten their lifespan and cause damage to the AC unit. I recommend checking how much dirt the filter has accumulated every few weeks because I think Filter Change reminders aren't always reliable.
Top tip: The air filter's lifespan depends on how often you're using your Frigidaire AC, as extensive usage can wear out the filter faster than the manufacturer indicated. 
In my experience, Frigidaire units compatible with disposable air filters require at least six filter replacements throughout the year. Also, I recommend cleaning or replacing an air filter on your Frigidaire AC before a cooling or heating season starts.
Standard Features of Frigidaire AC Air Filters
Frigidaire doesn't offer a lot of information about its air filters. So, determining the model's MERV rating or finding out which media material it has is often impossible.
The brand's washable air filter replacements have identical features as the original parts, so you can't upgrade the unit's filtering efficiency. The dimensions of air filters compatible with a portable, window, or built-in Frigidaire ACs depend on the model, but most filters are less than 1-inch wide.
I recommend choosing an air filter with electrostatically charged media because it attracts a high percentage of microscopic air pollutants. However, doing so is only possible if you own a Frigidaire unit compatible with these filters.
Most Frigidaire ACs I used didn't have air filters that could significantly improve the air quality in my home, which is why I suggest considering other ways of eliminating harmful particles from the air in your household.
Check out more Air Filter guides based on MERV ratings:
The Key Factors To Consider When Choosing a Frigidaire AC Air Filter
It didn't take me long to find a replacement air filter for my Frigidaire AC, but I own a model with a reusable filter, so all I had to do was check my unit's ID number and explore the available options.
In most cases, the brand offers a single replacement option for a specific AC unit, but despite this, I had to pay attention to the following factors:
Is the replacement part discontinued? – Frigidaire frequently introduces new washable air filter models, so the replacement for your AC may no longer be in production. However, the brand offers alternatives that fit their old AC units.
Air filter's dimensions – Even though replacement parts are designed to fit specific models, I still think double-checking the measurements of the worn-out filter before you purchase a new one can be beneficial.
Frigidaire's disposable air filters aren't universal, and they're made for particular AC units. So, you must check if an air filter you want to get is compatible with your Frigidaire AC.
See also: The best washable furnace filters
Selection Criteria
The limited availability of information about Frigidaire air filters has made choosing the best models difficult. Moreover, the brand offers a versatile selection of portable, window, and built-in ACs equipped with different air filters.
That's why I decided to create an overview of replacement air filters compatible with some of the brand's best AC models. Keep in mind that the filters you'll find in this article may not be a suitable option for your air conditioner.
Top 8 Frigidaire AC Air Filters
Frigidaire 5304525534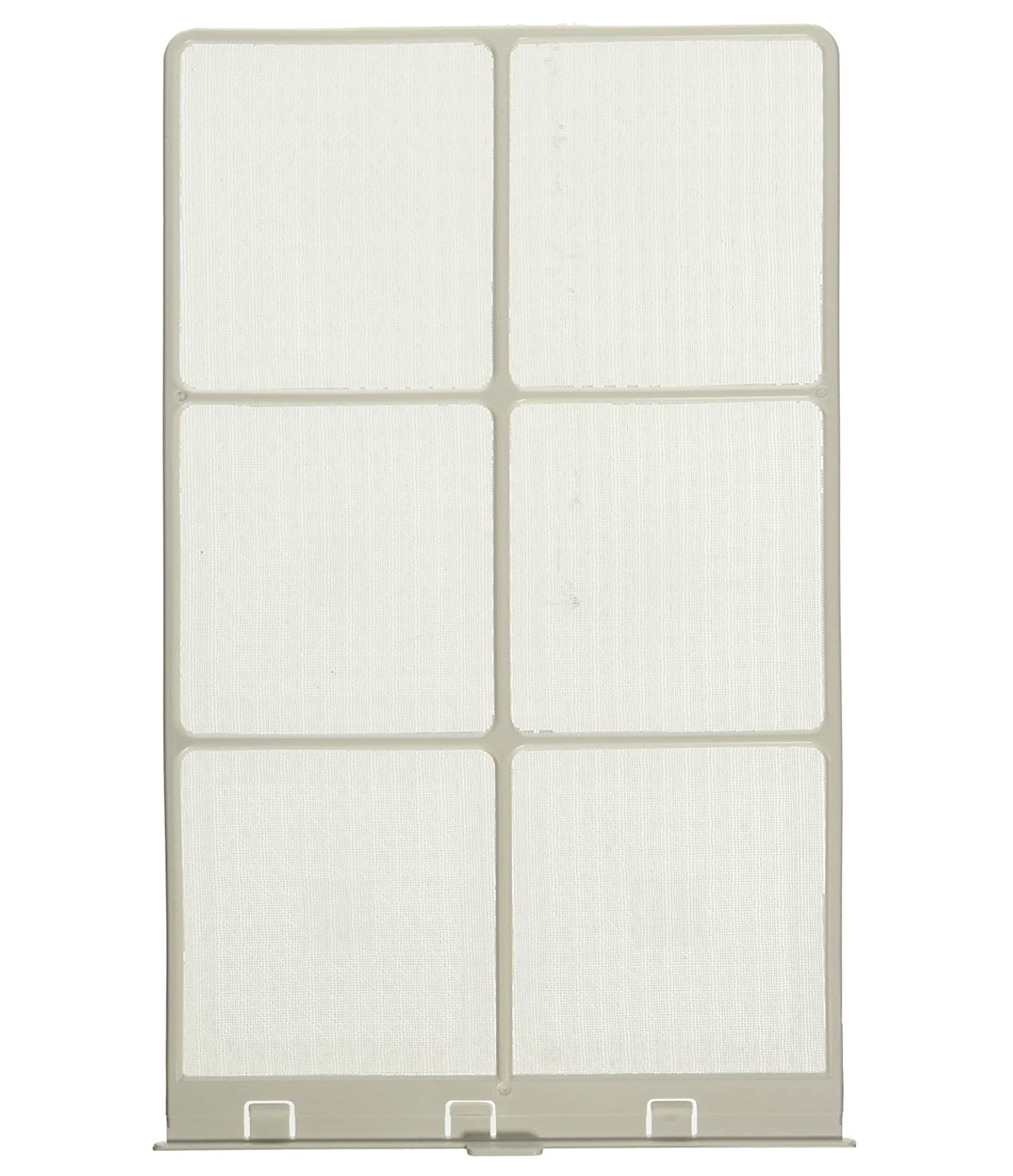 I recommend measuring your window AC's vent before deciding to purchase the Frigidaire 5304525534 air filter. This washable replacement part measures 18x22x1 inches, and you'll have no problems fitting it on vents with identical dimensions.
Moreover, the filter is also compatible with AC units produced by Crosley and Gibson brands, but you must check if it fits on the model you own. The affordable price and its sturdy plastic frame are among the reasons why I think this model can be a good replacement for your AC's original air filter.
Pros
It protects AC's components from common air pollutants
Installing the filter is easy
It can last for several years
Cons
The manufacturer doesn't offer a lot of information about the filter's features
Frigidaire 53044525579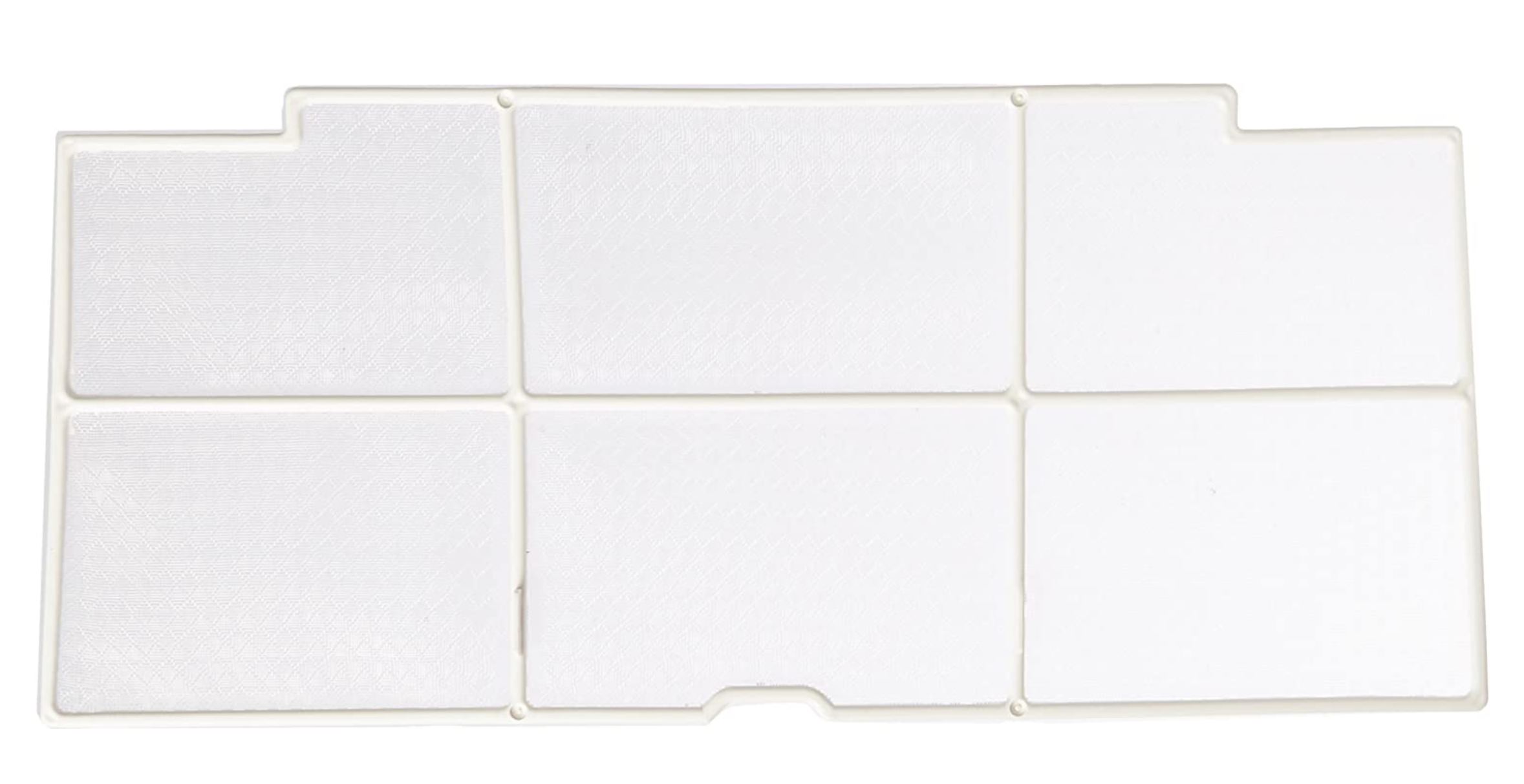 The manufacturer discontinued several window ACs compatible with the Frigidaire 53044525579 air filter, and I suggest exploring other options unless you have a Frigidaire FRA123CV1 or FFRE06B3Q1 unit.
Also, this air filter is compatible with several Crossley window ACs. I think the easiest way to determine if this filter is a good fit for your unit is to compare its dimensions to the size of the AC's vent. The air filter measures 12x24x1 inches and has a plastic frame.
Pros
This OEM product is recommended by the manufacturer
A sturdy frame performs well at high temperatures
Filter media doesn't absorb moisture
Low maintenance requirements
Cons
Some AC compatible with this air filter are discontinued
Frigidaire 18FFRACF01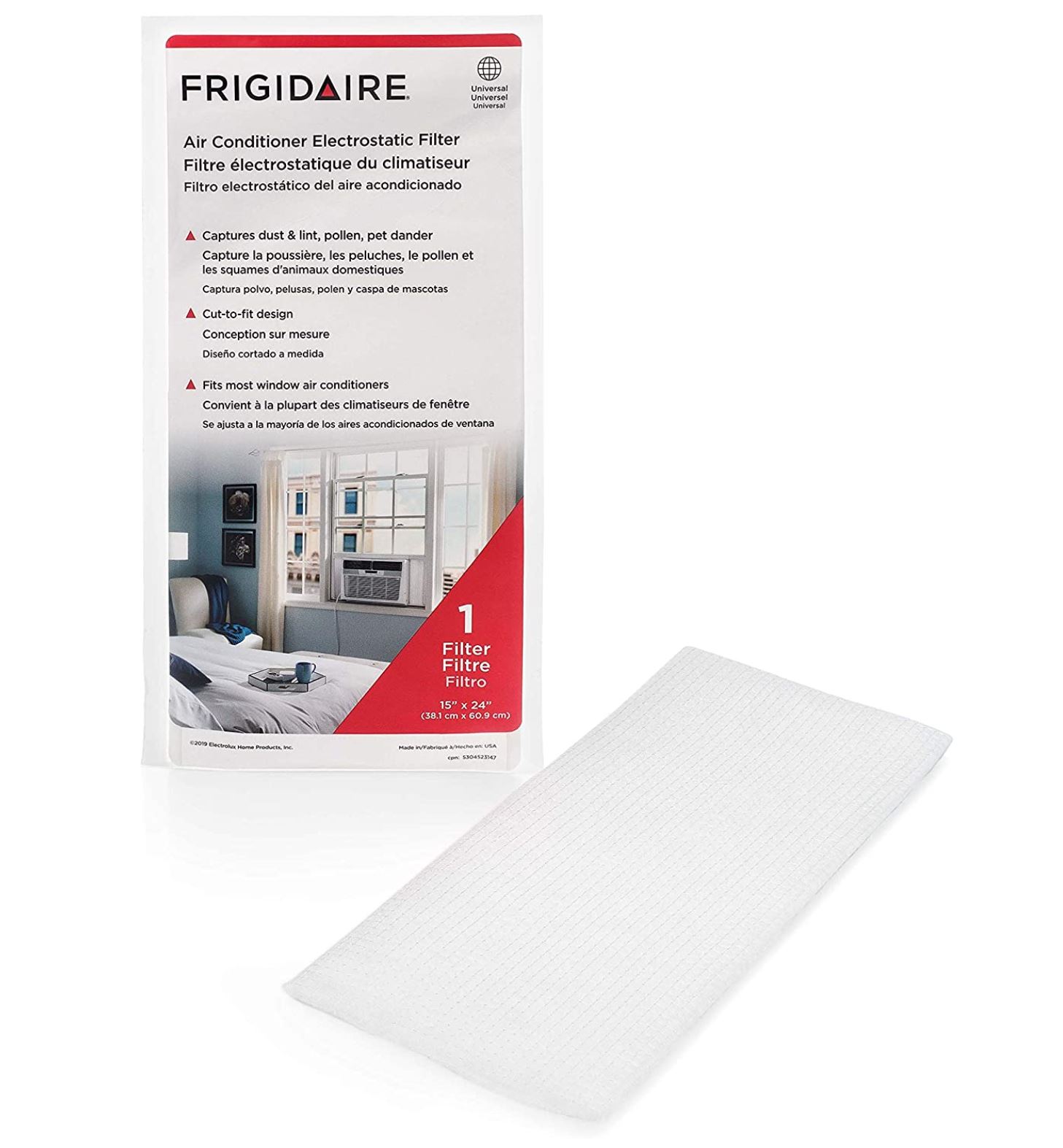 Despite its underwhelming filtering efficiency, I still think that Frigidaire 18FFRACF01 can be a good option for homeowners that can't find a suitable air filter replacement for their window AC unit.
Even though its dimensions are 15×24 inches, this model solves the fitment issues by letting you cut it while using the unit's old filter as a pattern.
The filter is made of thin electrostatic polypropylene material that can capture large air pollutants like pet hair or dust, but it can't trap microscopic particles.
Pros
It doesn't restrict the AC's airflow
Adjustable size
It's compatible with a wide range of window ACs
Cons
Frigidaire 5304525620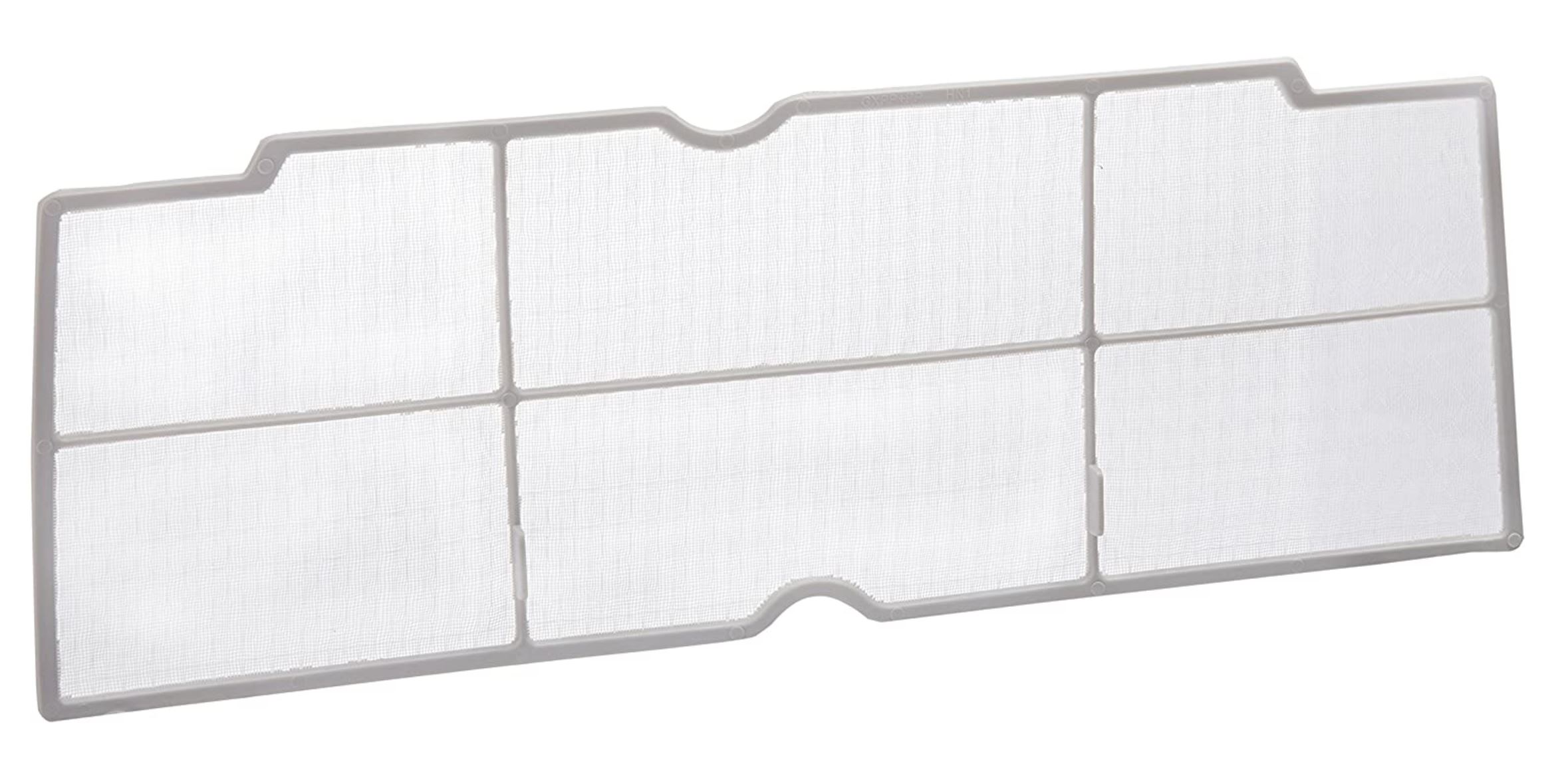 The limited compatibility is, in my opinion, one of the Frigidaire 5304525620's greatest downsides. Moreover, determining if this air filter fits your window AC might take a while. Its filter media prevents dirt accumulation on the unit's parts, but it cannot trap allergens or viruses.
The filter's frame is made of plastic that withstands prolonged exposures to high temperatures or air humidity levels. However, its media isn't moisture-resistant, and bacteria or mold can grow on it if you don't wash it often.
Pros
Genuine OEM part for Frigidaire air conditioners
It prolongs the unit's lifespan
This filter isn't expensive
Cons
It doesn't perform well in humid conditions
Frigidaire PureAir RAC-6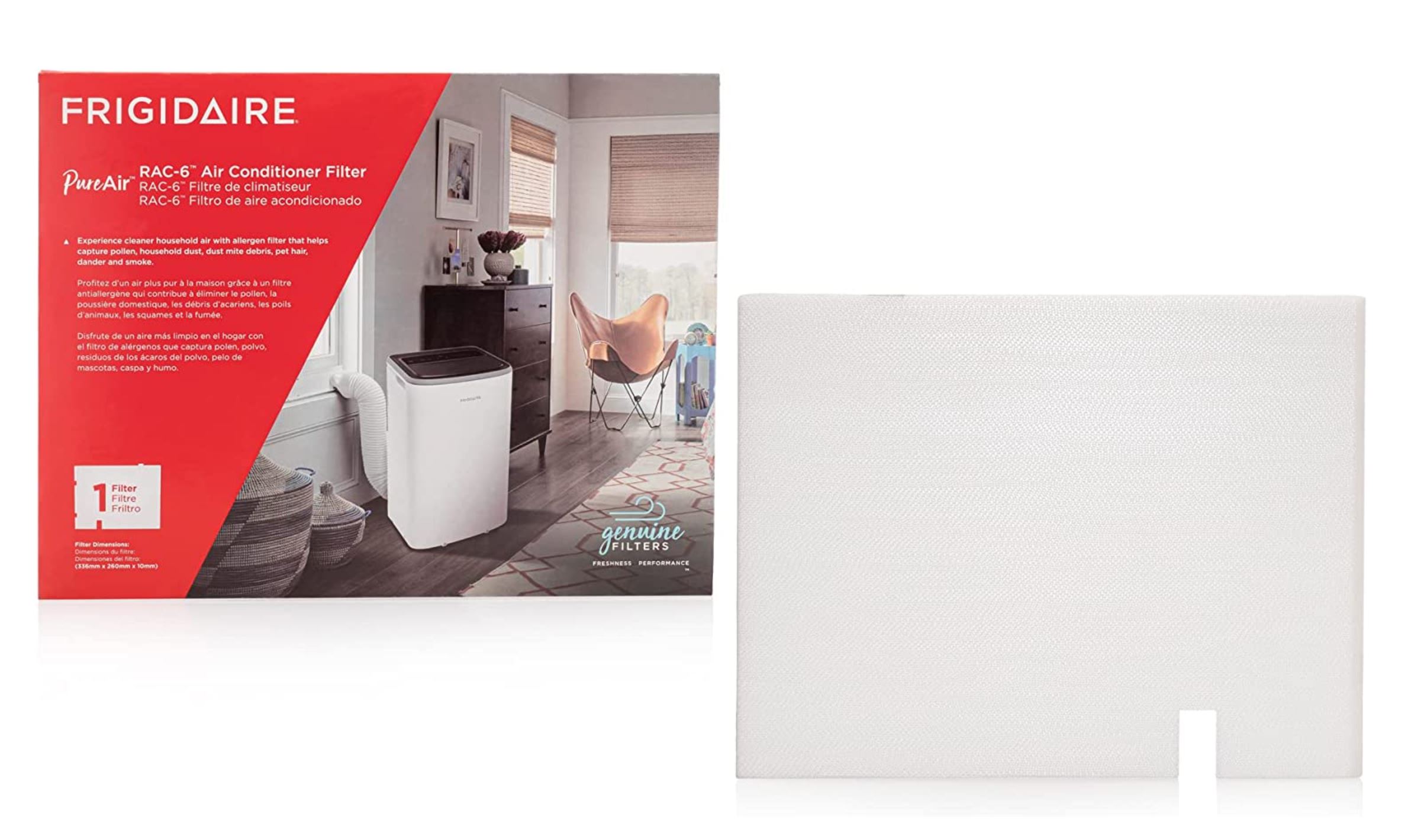 When I first encountered the Frigidaire PureAir RAC-6, its price seemed steep to me. However, I changed my opinion after testing this portable AC air filter. The model's only compatible with Frigidaire's FHPH142AC1 and FHPW142AC1 units, and I think its limited compatibility is its only true disadvantage.
Besides trapping large air pollutants like pollen or pet dander, this filter can also capture allergenic particles and smoke. Even though the manufacturer claims this model can last for six months, you may have to change it more often, especially if you're using your AC daily.
Pros
It has an excellent filtering efficiency
This filter offers good value for money
The Genuine Filters label guarantees the product's authenticity
Cons
The filter isn't washable
Frigidaire PureAir FRPARC1 RAC-1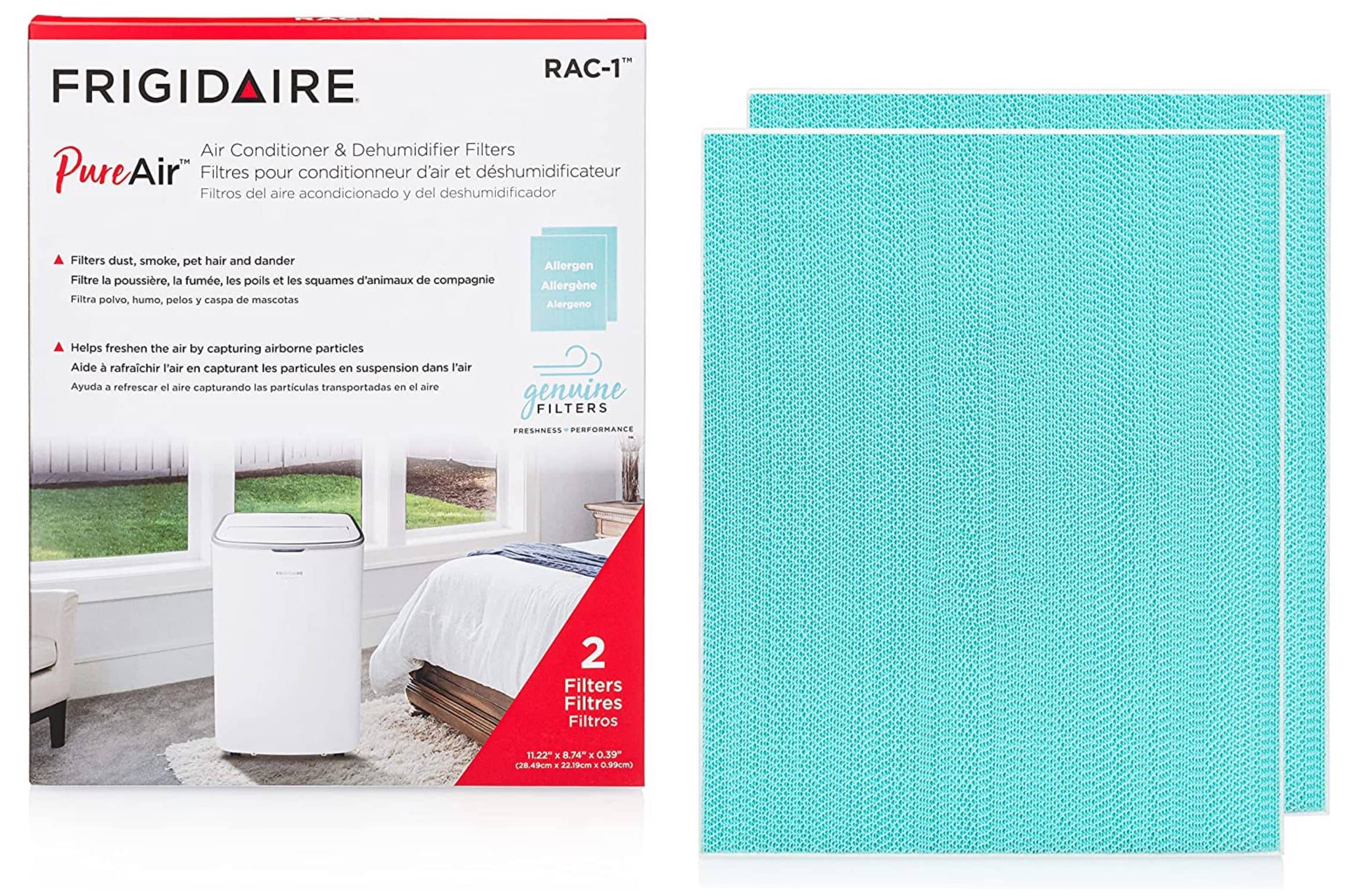 Like all models from the brand's PureAir series, Frigidaire PureAir FRPARC1 RAC-1 isn't compatible with a wide range of ACs. However, I think this model is one of the best available options if you need a replacement air filter for the Frigidaire FHPC102AB1 portable AC or Frigidaire FGAC5044W1 dehumidifier.
The filter has antiallergenic properties and captures more than 90% of particles larger than 3 microns that land on its surface. This model isn't reusable, and you'll need to replace it every three to six months.
Pros
All filter's components are made from high-quality materials
It's suitable for households with pets
It doesn't affect the unit's airflow
Cons
This filter is made for specific Frigidaire AC units
Frigidaire PureAir RAC-5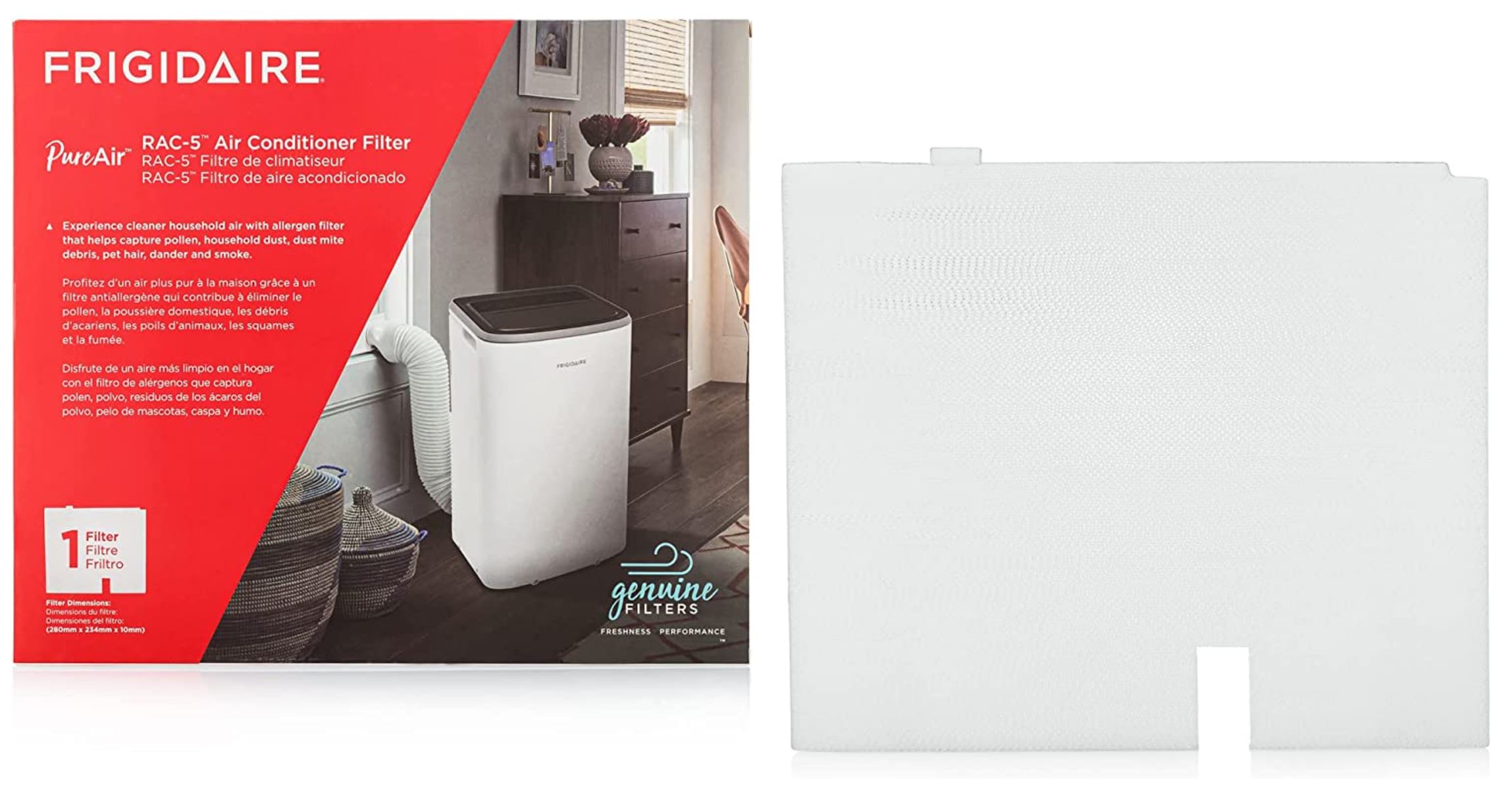 I suggest taking a closer look at the Frigidaire PureAir RAC-5 if you need a replacement air filter for FHPW122AC1 or FHPC102AC1 portable ACs. This model can improve the air quality in the room where these AC units are installed by trapping pollen, dust, and similar allergenic particles.
Also, you can use the Frigidaire Wellbeing App to monitor its performance and receive reminders to change the filter. I advise against using this filter in humid conditions because its media material could absorb moisture.
Pros
An affordable price
Straightforward installation process
It helps alleviate allergy symptoms
Cons
Media material doesn't have antimicrobial properties
Frigidaire 5304477176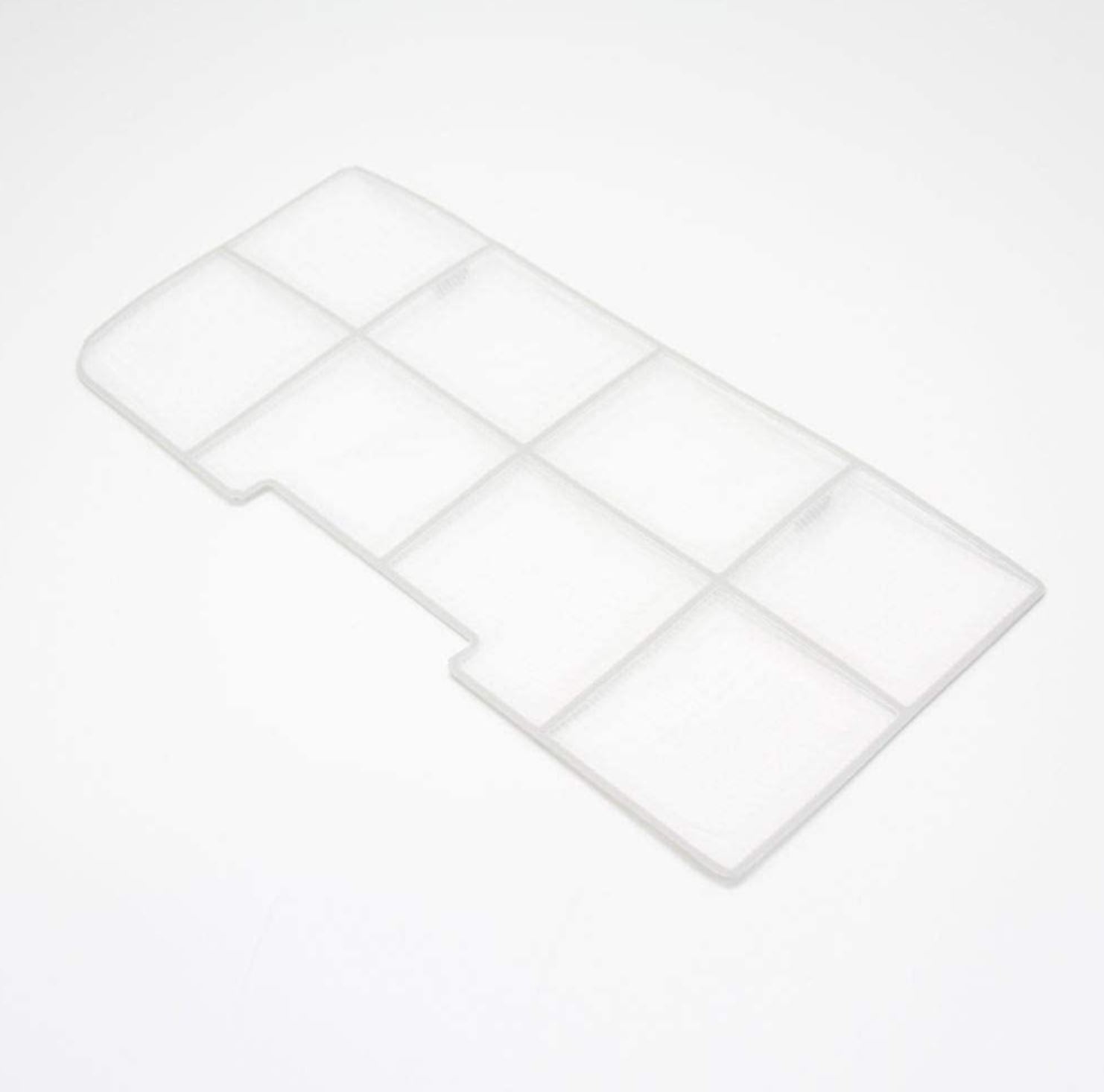 You will need the AC's ID number to determine if you can use the Frigidaire 5304477176 as a replacement for the unit's original filter. This reusable filter is designed for Frigidaire's window ACs, but you may be able to use it with some of the brand's built-in models.
Its filtering capacities are far from impressive, but I like the fact that it doesn't cause pressure drops or restrict the airflow. Even though the filter's frame is made of plastic, I don't recommend using it in sweltering conditions.
Pros
An inexpensive OEM part for Frigidaire ACs
Cleaning this filter isn't time-consuming
It captures most large air pollutants
Cons
Confirming the filter's compatibility with a specific AC unit can be difficult
Frequently asked questions
Question: Can I vacuum clean a washable Frigidaire AC air filter?
Answer: Yes, you can, but doing so won't remove all dirt the filter accumulated. Washing a reusable Frigidaire AC air filter is the only way to remove all dirt it collected.
Question: Is it safe to use third-party air filters on Frigidaire ACs?
Answer: Yes, it is, but only if you can find an air filter that perfectly fits your unit's grille. Also, the model you choose shouldn't restrict the AC's airflow.
Question: Do Frigidaire AC air filters have MERV ratings?
Answer: The manufacturer doesn't provide MERV ratings for any of its air filter products.
With any luck, this article has made your search for the Frigidaire air filter suitable for your AC slightly easier. Please go through our guide to the best 16x20x1 air filters if you need replacement air filters with these dimensions.
Final thoughts
Although I never struggled to find a replacement air filter for Frigidaire ACs I used over the years, I understand how difficult and frustrating this process can be.
Most air filters are designed for specific portable, window, or built-in units, so you won't have a variety of options at your disposal while looking for your AC's new air filter.
I think that Frigidaire 53044525579 and Frigidaire 5304525620 could be the right option for you if you need a replacement filter for a Frigidaire window AC. Also, I suggest checking if the Frigidaire PureAir RAC-6 is compatible with your portable unit.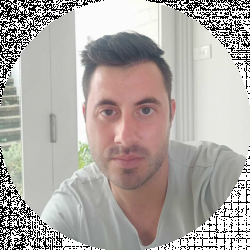 Latest posts by David Borgogni
(see all)