As a pet owner living in a high-traffic urban area, I deeply care about the air quality in my home. Over the years, I've tested some of the best 10x30x1 air filters, only to find that most models weren't ideal for my cooling and heating appliances.
Some HVAC air filters I used were too restrictive for my AC and furnace, while others failed to trap dust, pet dander, and other common air pollutants. I've learned that finding the perfect balance between air quality and a unit's performance isn't as easy as it sounds.
So, in this article, I'll provide you with a guideline that should assist you in finding a 10x30x1 air filter that matches your cooling or heating unit and suggests several models capable of delivering excellent filtering performances.
Bottom Line Up Front
I don't think it is advisable to experiment with high-efficiency models if you're changing your AC's, heat pump's, or furnace's air filter for the first time. Instead, I recommend opting for a disposable low airflow resistance model like Filterbuy Air Filters.
Over time you can upgrade to more efficient models like Honeywell Allergen Plus Air Filter or Nordic Pure Air Filters, but only if they're compatible with your cooling or heating system.
See also: MERV Ratings Explained. What is MERV?
My Top Picks At a Glance
Types of 10x30x1 Air Filters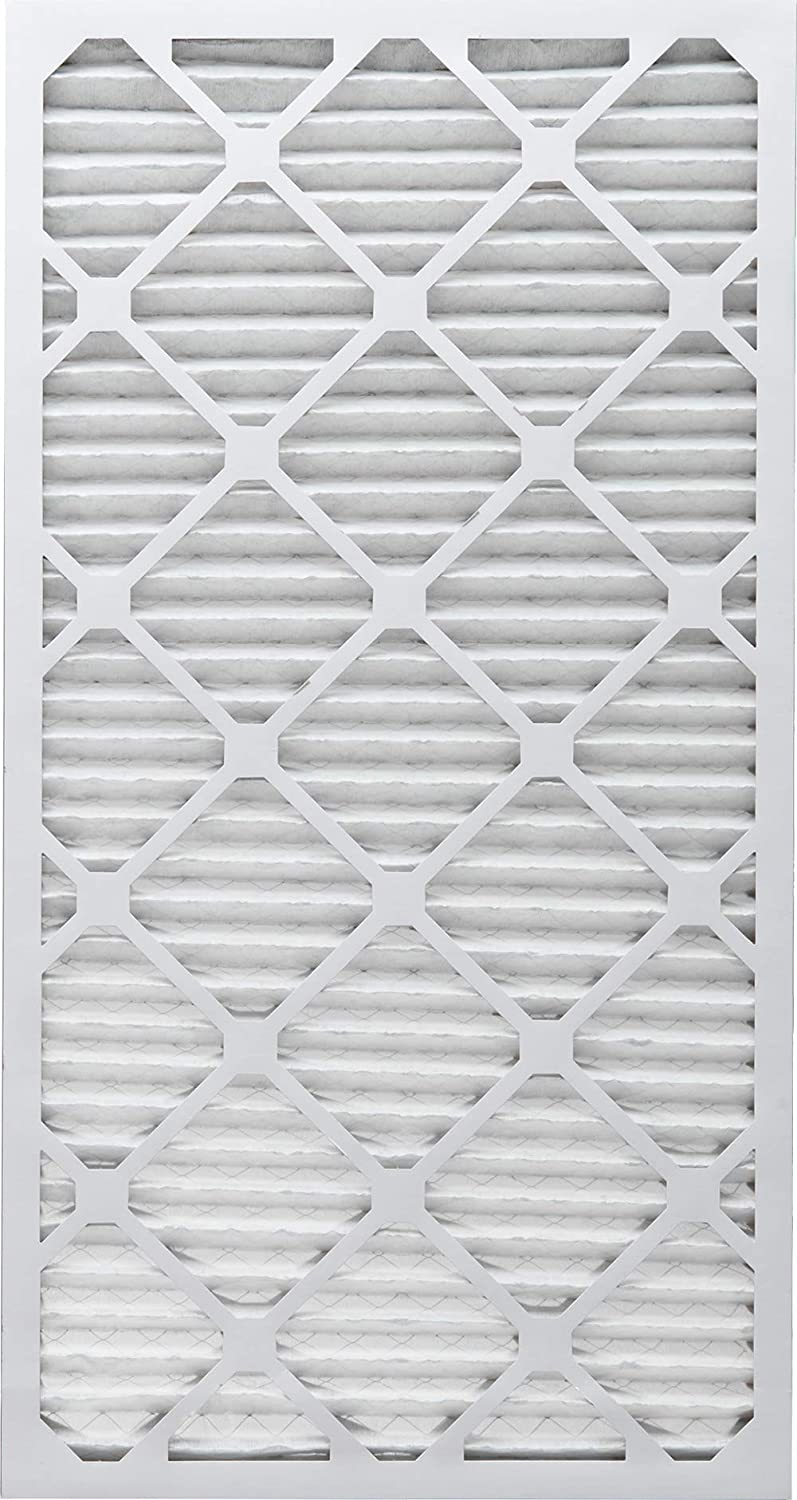 The value of the air filter's media material can hardly be overstated. So, the first parameter I check when evaluating the quality of a 10x30x1 air filter is its media material.
However, two air filters equipped with the same media material don't necessarily have the same performance capabilities, which is why I also pay a lot of attention to the size of the media surface. These two parameters also help me differentiate between different 10x30x1 air filter types.
Synthetic – I've never used an air filter with synthetic media that struggled to perform well in hot or humid conditions. Models with pleated media design are more efficient at trapping microscopic particles due to a large media surface.
Electrostatically charged – These models utilize an electrostatic field to attract air pollutants. Their media is made of different materials, including synthetic, nanofiber, polypropylene, or polyester.
Even though they're inexpensive, I avoid 10x30x1 air filters with fiberglass media because they lose their filtering abilities quickly.
See also: The best 14x30x1 air filters
Air Filter Dimensions
I wish I could describe how frustrated I was every time I purchased an air filter that was either too big or too small for my unit's vent.
So, I speak from experience when I say that learning the difference between the model's nominal and actual dimensions will make the process of choosing a replacement air filter less painful
14x30x1 are the filter's nominal dimensions, and they're not sufficient to determine its compatibility with a specific vent. The model's actual dimensions are between 0.25 and 0.5 inches shorter than its nominal size.
Top tip: Prolonged use of 14x30x1 air filters that are too small for your cooling or heating unit can cause damage to the evaporator coil and other vital parts. 
However, avoiding potential fitment problems is easy because measuring the vent and the unit's original air filter will provide you with the actual dimensions the replacement model should have.
Continue reading related guides if you're looking for a specific dimension:
Efficiency Ratings
3M, one of the industry-leading brands, doesn't offer 10x30x1 air filters, so you don't have to be familiar with its Microparticle Performance Rating to find a replacement filter for your cooling or heating system.

The efficiency of these models is measured with MERV or FPR ratings, and having a basic understating of each rating system will make the selection process easier.
MERV – This rating indicates the filter's ability to trap microscopic and macroscopic particles on a scale from one to twenty. Most homeowners use models with MERV ratings below 10, while models with MERV ratings over 13 aren't recommended for residential use. 
FPR – FPR measures the filter's capacity to trap 0.3 to 10-micron air pollutants on a scale from one to ten. An air filter with 7 FPR offers the same efficiency level as a MERV 11 model. However, you'll only encounter this efficiency rating on air filters sold at The Home Depot.
Check out more Air Filter guides based on MERV ratings:
Key Features of 10x30x1 Air Filters
I never base my assessment of the filter's quality on a single parameter. Instead, I try to gather as much information as possible about a specific model before I decide to test it.
Hence, the air filter's actual dimensions, efficiency rating, and filter media material are often the starting points for my evaluation process. Frame sturdiness, the model's operating temperature range, and dirt-holding capacity are some aspects I use to determine the air filter's longevity.
Top tip: Always take the information you find in the product's spec sheet with a grain of salt until you check if a 10x30x1 air filter can actually perform as well as the manufacturer suggests. 
I favor models equipped with media materials that have antimicrobial properties because they prevent bacteria and mold growth on the material's surface. On the other hand, I rarely use 10x30x1 air filters that can neutralize odors because I don't think their performance justifies their price.
Upkeep Requirements and Replacement Frequency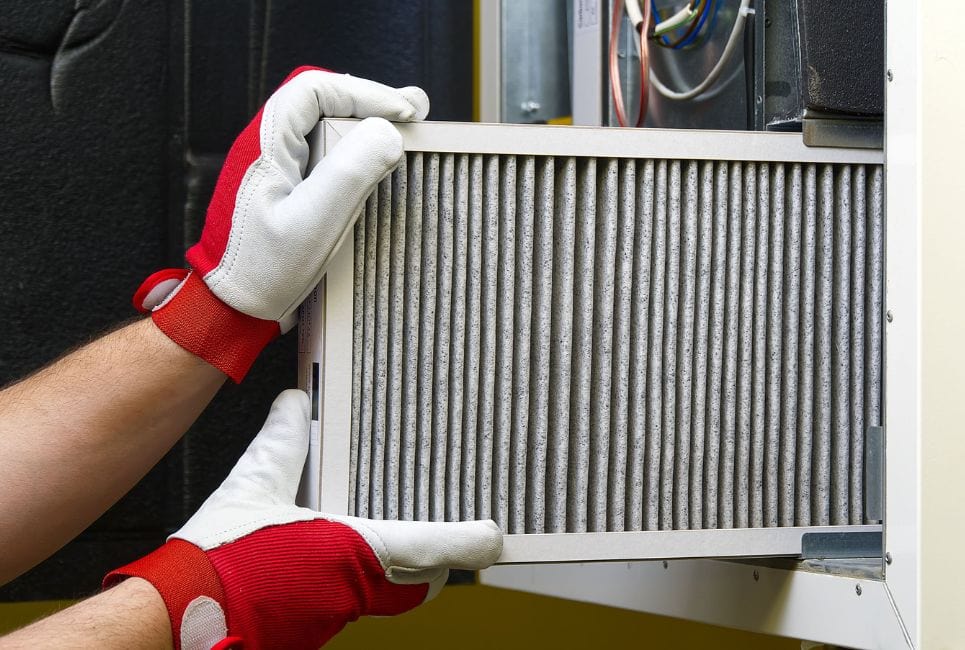 I use my cooling and heating appliances daily during summer and winter. That's why I must change 10x30x1 air filters every 30 to 45 days and perform biweekly visual inspections. Also, I replace the unit's air filter after long periods of inactivity regardless of how dirty it looks.
Most homeowners aren't as diligent as I am and they rely on the unit's Air Filter indicator that informs them when to install a new filter. Even if you decide to use this indicator, you'll have to replace your cooling or heating system's air filter at least once every three months.
Reusable models don't necessarily have a higher dirt-holding capacity than disposable 10x30x1 air filters, and you have to clean them monthly during cooling and heating seasons.
The prices of a single disposable 10x30x1 air filter range from $5 to $20, but most models are sold in four-packs or six-packs that cost between $20 and $120. Washable 10x30x1 air filters cost around 50$.
See also: The best 16x25x4 air filters
Selection Criteria
Despite using 14x30x1 air filters for years, shortlisting the best models wasn't an easy task for me. My main goal was to create a versatile selection of filters that could meet different air quality expectations. I used a variety of parameters such as the model's efficiency rating or price range to achieve this goal.
It's also worth adding that the 14x30x1 air filters in this article have different actual dimensions, and you need to check if they're compatible with your unit. Here are some of the key factors I relied on during the selection process:
Media material quality – I utilized this criterion to eliminate all models with media material that can't withstand exposure to heat or humidity.
Model's sturdiness – All models I included in this article have durable frames and backings that ensure the air filter remains in excellent condition throughout its lifetime.
See also: The best 16x20x1 air filters
Top 9 10x30x1 Air Filters
Honeywell Allergen Plus Air Filter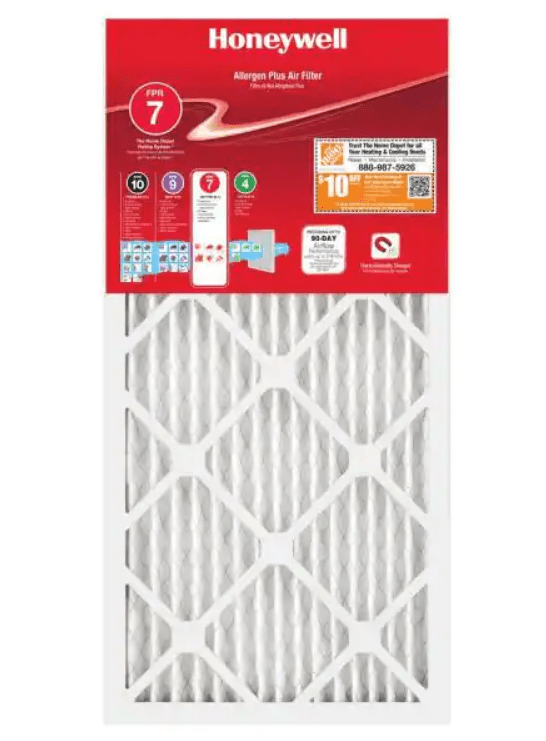 I wasn't expecting the impact the Honeywell Allergen Plus Air Filter had on air quality in my home as the dust levels dropped significantly within just a few days. Moreover, its electrostatic media attracted most allergens I struggle with, so I was able to breathe better while testing this air filter.
Clay-coated cardboard frame also contributes to the filter's quality because it can withstand prolonged exposure to heat and humidity. The model's biggest downside, in my opinion, is its thick pleated media that can restrict the airflow on some units.
Pros
This filter can trap 1-micron particles
Straightforward installation process
The media material prevents mold and bacteria growth
Cons
It can't neutralize odors
Flanders PrecisionAire Air Filters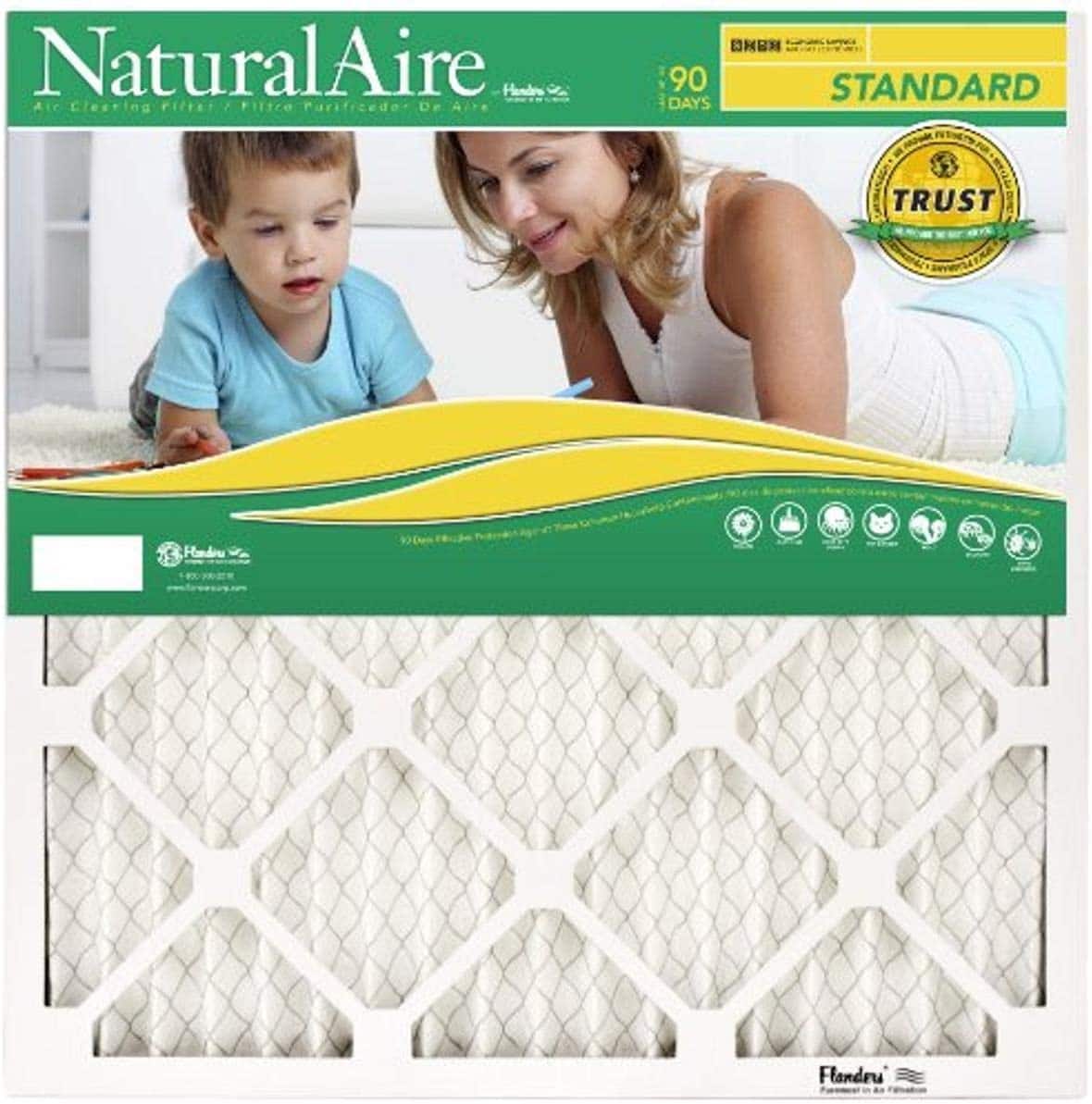 I don't think you should spend a lot of time trying to decide if Flanders PrecisionAire Air Filters are a good choice for you if you're looking for air filters that can capture a high percentage of microscopic particles.
I still think this model has plenty to offer to homeowners that don't have high air quality expectations. Besides, a single 12-pack of Flanders PrecisionAire Air Filters will eliminate the need to search for replacement filters for more than a year.
Pros
It filters out large air pollutants efficiently
The filter has a clay-coated frame
It offers good value for money
Cons
The media doesn't have electrostatic properties
Air-Care Washable Air Filter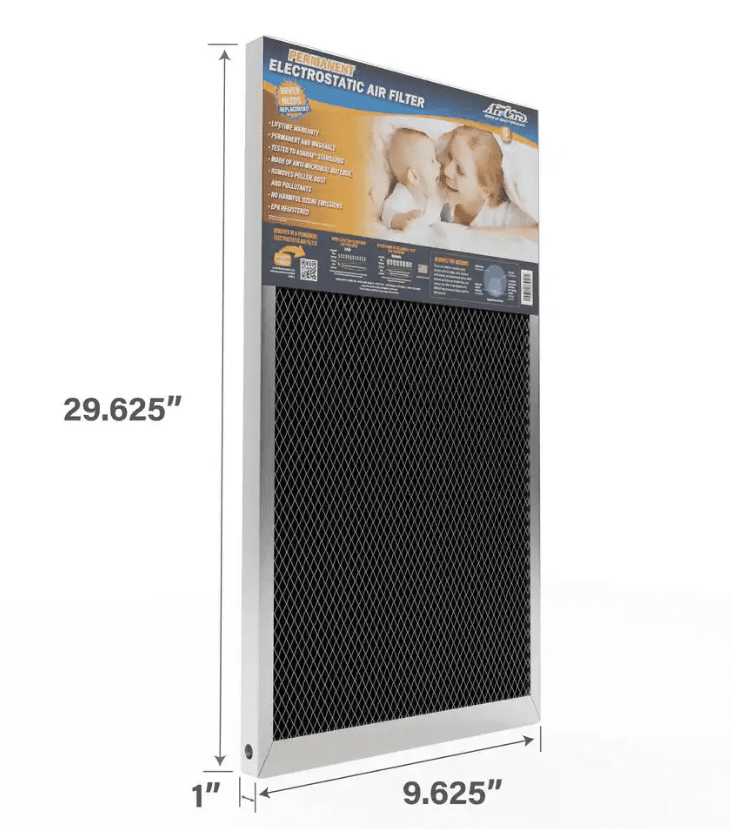 The actual size of the Air-Care Washable Air Filter is 29.625×9.625×1 inches, so you may experience fitment problems if you fail to check its compatibility with your unit. What I like the most about this permanent air filter is its longevity since its estimated lifespan is 1,000 months.
On the other hand, I think its dirt-holding capacity leaves much to be desired because the model requires cleaning every 30 to 45 days. The filter's frame is made of galvanized steel, so you don't have to worry about corrosion or warping.
Pros
The polypropylene media has antibacterial properties
The filter has a rigid metal backing
A long lifespan
Its filtering capacities don't diminish over time
Cons
It can't capture microscopic allergenic particles
Filterbuy Air Filters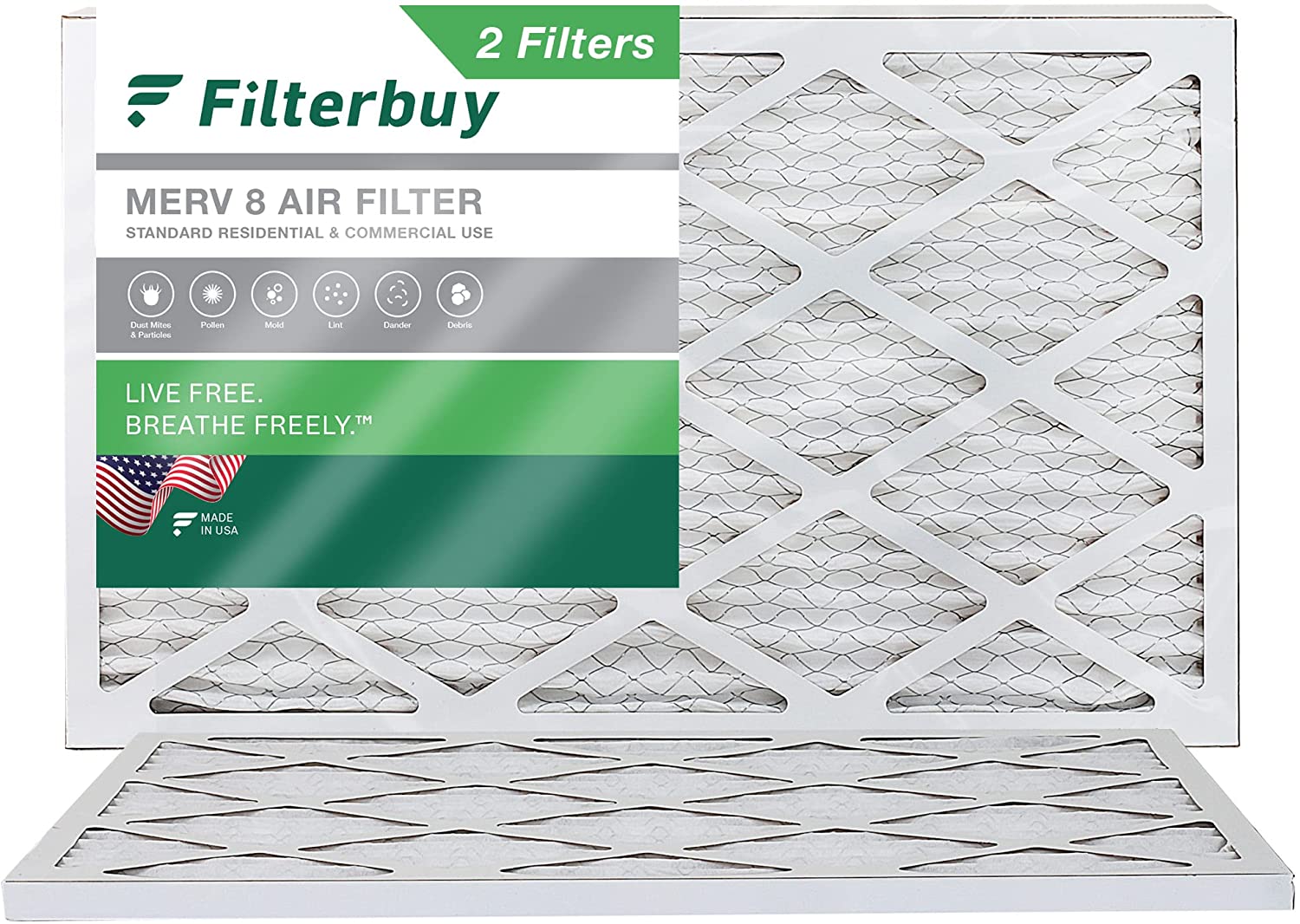 My skepticism towards Filterbuy Air Filter vanished a few weeks after I installed it on my AC. Its filtering performance wasn't breathtaking, but this model isn't designed to deal with microscopic air pollutants.
Its electrostatic pleated synthetic media didn't affect my unit's airflow, and it captured dust, pollen, and similar particles larger than 3 microns with high efficiency. Moreover, the beverage board frame wasn't affected by high humidity levels in my home.
Pros
Dual wire backing prevents media sagging
The filter has a large media surface
It is compatible with various heating and cooling systems
Low airflow resistance
Cons
It doesn't have a high dirt-holding capacity
Nordic Pure Air Filters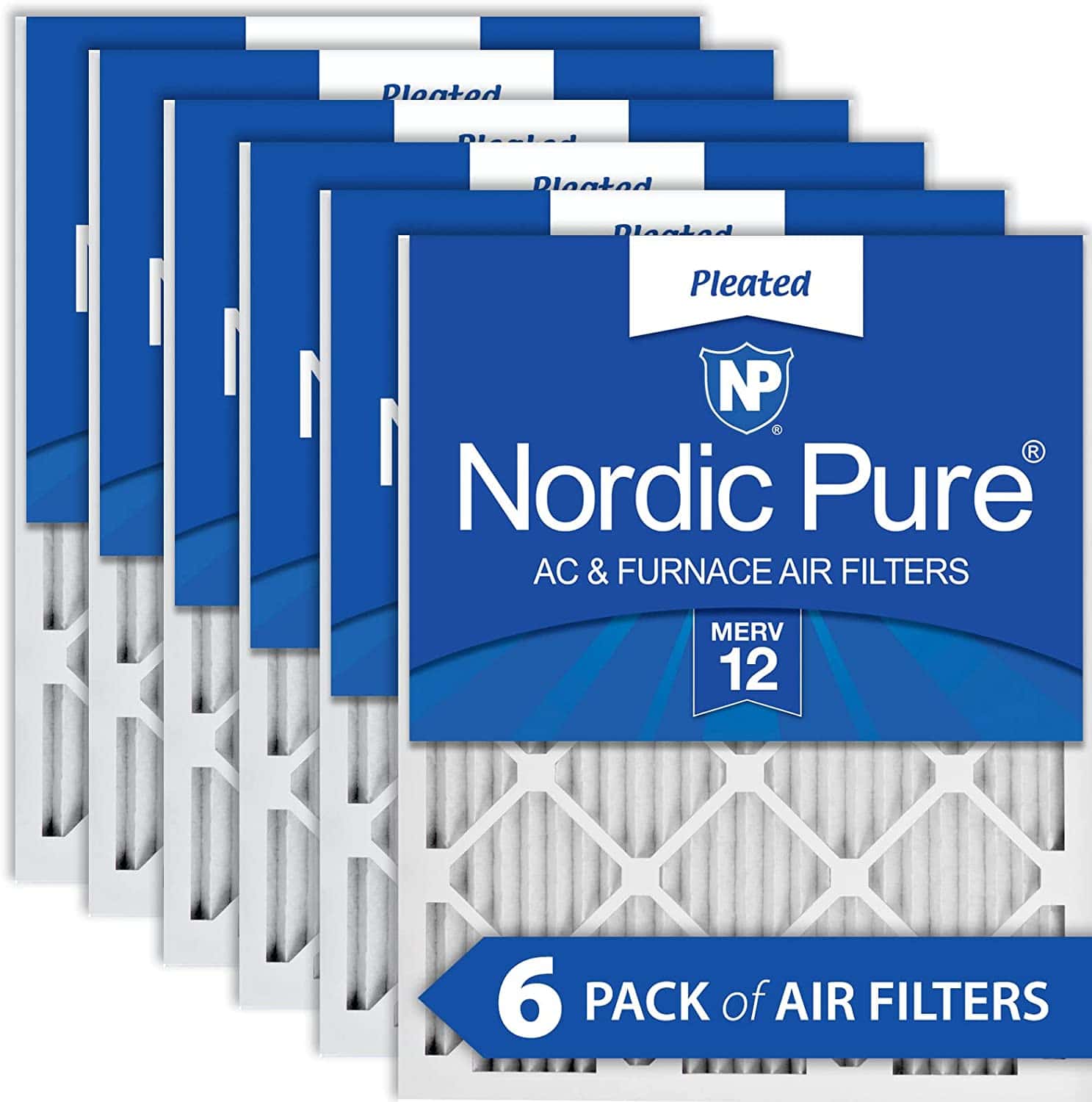 Besides MERV 12 model, you can also opt for MERV 8 and MERV 10 versions of Nordic Pure Air Filters. I don't recommend choosing the MERV 12 version of these air filters, even though they can remove almost all contaminants from the air in your home unless they're compatible with your unit.
Pleated media has electrostatic properties that help it capture smog, candle soot, and viruses. The cardboard frame can withstand moderate exposure to heat and humidity, but I suggest limiting its use in adverse conditions.
Pros
It helps alleviate allergy symptoms
The media material prevents mold growth
Affordable price
Cons
It doesn't neutralize odors
AIRx Allergy Air Filters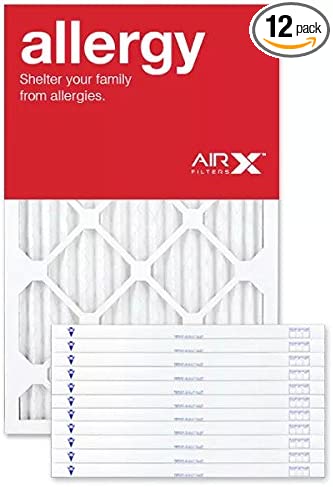 Investing in a 12-pack of AIRx Allergy Air Filters before making sure you have a cooling or heating unit compatible with MERV 11 air filters is risky. Even so, I think there's a lot to like about this AIRx's model, as it has a sturdy cardboard frame and wire backing that perform well at temperatures above 200F.
The synthetic gradient media has a pleated design that enlarges its surface, while its electrostatic properties ensure the filter can trap particles smaller than a micron.
Pros
It's less expensive than most 10x30x1 air filters
The filter maintains its efficiency in adverse conditions
Media material doesn't absorb humidity
This filter is made from recycled materials
Cons
It might cause pressure drop
SpiroPure Air Filters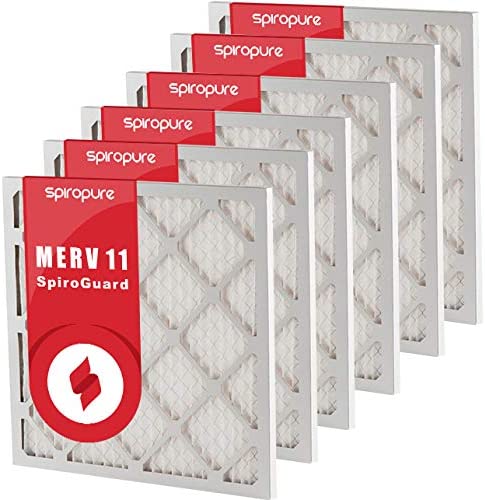 Although the manufacturer claims that SpiroPure Air Filters are suitable for commercial venues, I think they're only a good fit for residential use. This MERV 11 model can trap up to 79% of 1 to 3-micron particles, but it can't capture more than 50% of particles smaller than a micron.
The model's maximum lifespan is four months, but you may have to change them more often during the heating season. It's also worth adding that these filters are designed for geothermal furnaces, but they're also compatible with ACs.
Pros
The filter has the airflow indicator for easy installation
Pleated media design
MERV 8 and 13 versions of this model are available
A budget-friendly price
Cons
The filter's frame might warp in humid conditions
Filters Fast Air Filters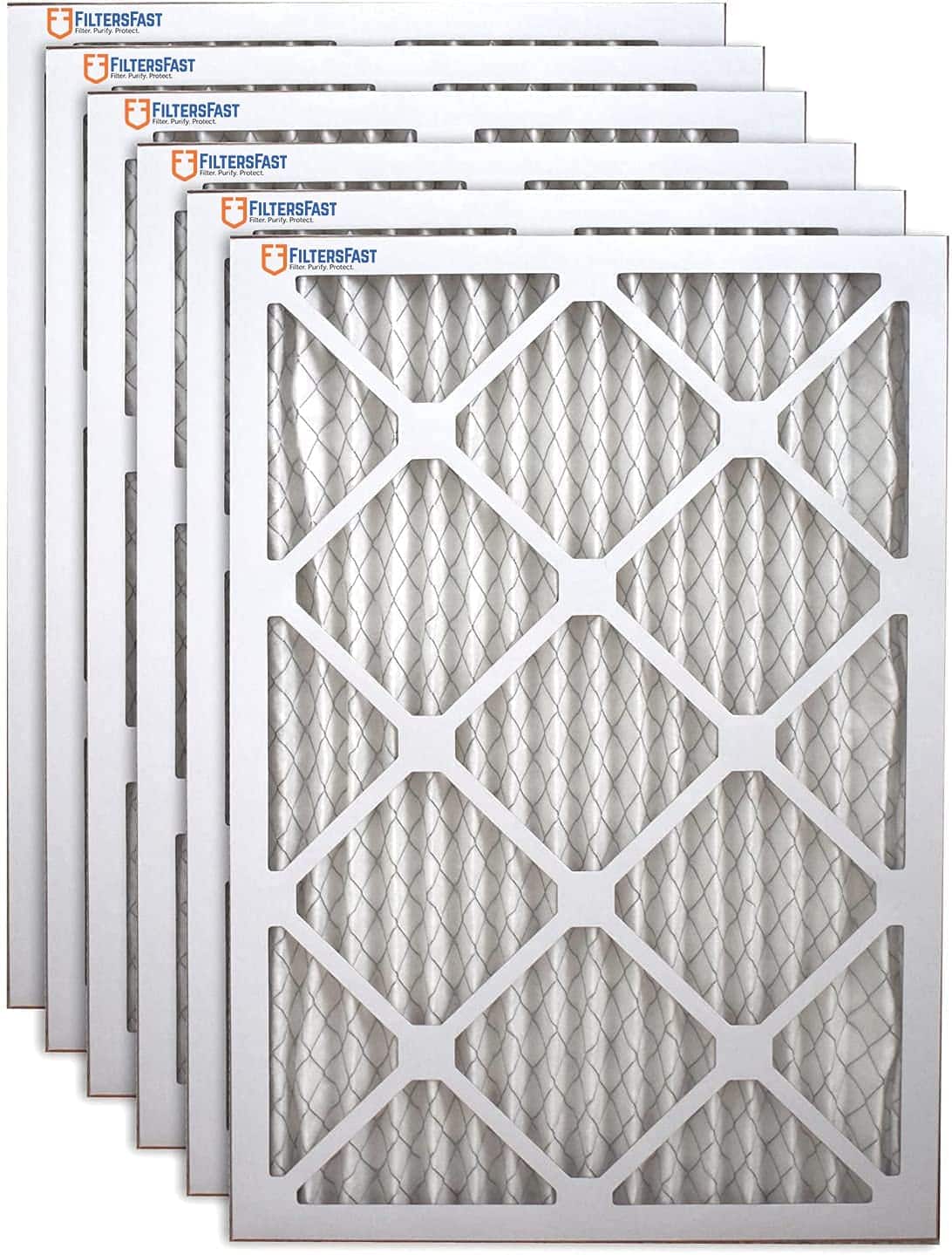 Most homeowners that don't have high air quality requirements can benefit from opting for Filters Fast Air Filters. Their MERV 8 rating suggests that they can't trap microscopic particles efficiently, but they can still keep the air in your home clean while protecting your unit from dirt accumulation.
The Tribo-Electric synthetic media has 15 pleats per foot and contains microfibers that prevent moisture absorption. This filter doesn't have high airflow resistance, so it won't increase your unit's power consumption or limit its cooling or heating efficiency.
Pros
The filter has heat and moisture-resistant media
A reliable replacement air filter
It enhances the unit's performance
Cons
Filterbuy Odor Eliminator Air Filters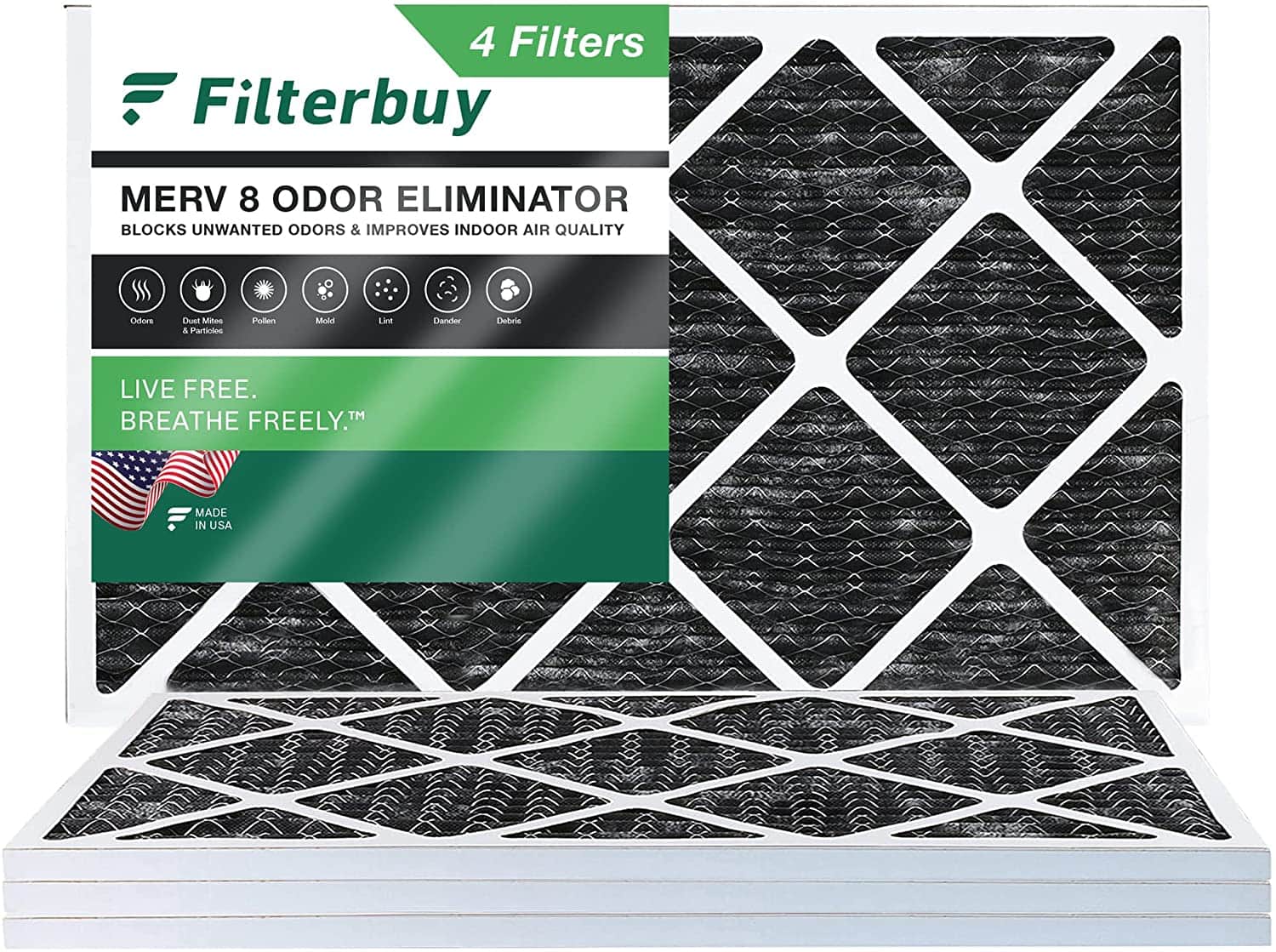 Despite being reluctant to use air filters that can neutralize unpleasant smells, I still think that Filterbuy Odor Eliminator Air Filters can help homeowners deal with bathroom, laundry or cooking smells. The only real difference between these filters and other Filterbuy models is the carbon-infused media.
The carbon component enables the filter's electrostatically charged synthetic media to absorb odors while simultaneously trapping close to 90% of particles larger than 3 microns. Like all brand's models, this filter has a cardboard frame and wire media backing.
Pros
The filter can withstand exposure to temperatures up to 200F
The media is moisture resistant
Eco-friendly design
Cons
This air filter is expensive
Frequently asked questions about 10x30x1 air filters
Question: Are 10x30x1 air filters prone to clogging?
Answer: These air filters will only clog if they're not changed within the recommended timeframe.
Question: How much time does it take to change a 10x30x1 air filter?
Answer: Most models have airflow indicators that show you the filter's correct position. This simplifies the installation process, so replacing a 10x30x1 air filter shouldn't take more than a few minutes.
Question: Do a permanent 10x30x1 air filter have a high dust-holding capacity?
Answer: The dirt-holding capacity of these air filters depends on the model, but in most cases, washable 10x30x1 air filters can't hold more than ten grams of dust.
Hopefully, reading this article has helped you find the right replacement air filter for your furnace, heat pump, AC, or HVAC system. Please go through our guide to the best washable furnace filters to learn more about the models designed for these heating systems.
My Verdict: How to Know which 10x30x1 Air Filter Is the Best
A broad range of factors spanning from my budget to how many pleats per foot the model's media has, affect which 10x30x1 air filter I'm going to choose. However, I don't think that someone who's choosing their first replacement air filter should pay attention to all those factors.
I suggest choosing a reliable model with standard filtering capabilities like Filterbuy Air Filters if you don't have a lot of experience with 10x30x1 air filters because this model can improve air quality in your home without restricting the unit's airflow.
Honeywell Allergen Plus Air Filter andNordic Pure Air Filters can help you get rid of microscopic air pollutants, but you much check if they're compatible with your cooling or heating system.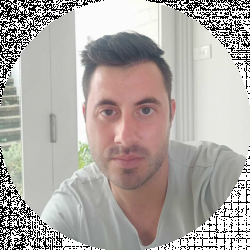 Latest posts by David Borgogni
(see all)