After years of experimenting with different air filter types, I concluded that searching for the best 14x25x1 air filters comes down to finding the model that meets your air filtering needs and sticking to it.
Moreover, I discovered that upgrading to a model with a higher MERV rating than the one on the unit's original air filter without consulting an HVAC technician is a potentially dangerous decision that can lower the efficiency of your cooling or heating system.
So, in this article, I'll share with you the information that will help you determine which 14x25x1 air filter is the best option for your HVAC system and recommend several models that might be the right option for you.
Bottom Line Up Front
The impressive air filtering performance and longevity of Nordic Pure Air Filters are some of the reasons why I think these 14x25x1 filters are the best choice for people struggling to keep microscopic air pollutants away from their homes.
However, this Nordic Pure model has a high MERV rating, which means that it can restrict the airflow on some units.
That's why you should consider getting the Filterbuy Air Filters if you don't have high air filtering demands and want to make sure the replacement filter you choose won't affect the HVAC system's airflow rate.
Check out this guide to learn more about MERV ratings.
My Top Picks At a Glance
Types of 14x25x1 Air Filters
The quality of the media material determines the filter's capacity to trap microscopic and macroscopic air pollutants. However, models with the same filter media materials can have different MERV ratings.
This means that the design and properties of filter media also play an essential part in the air filter's performance. You can choose from the following three air filter categories that utilize different media materials:
Fiberglass – Disposable and inexpensive air filters usually have fiberglass media that has a minimal impact on the unit's airflow. The low efficiency is the biggest downside of models with this media material.
Pleated synthetic media – The pleated media design improves the filter's efficiency by increasing the size of the media surface. The synthetic media material can capture particles smaller than a micron.
Electrostatically charged media – Models with pleated synthetic media can also have electrostatic properties. However, the media of most electrostatically charged models is made of polypropylene, polyester, or similar materials.
See also: How to find the best ventilation system
Air Filter Sizes
I had to learn the difference between the filter's nominal and actual size the hard way since I wasted more money than I cared to admit on air filters that almost fit my HVAC's vent.
14x25x1 is the filter's nominal size that can help you shortlist the models that can potentially fit on your unit's register or grille. The actual sizes of these filters are ½ to ¾ inch shorter than their nominal sizes, so you won't be able to fit a 13.5×24.5×0.5 model on a vent with 13.75×24.75x.0.75 dimensions.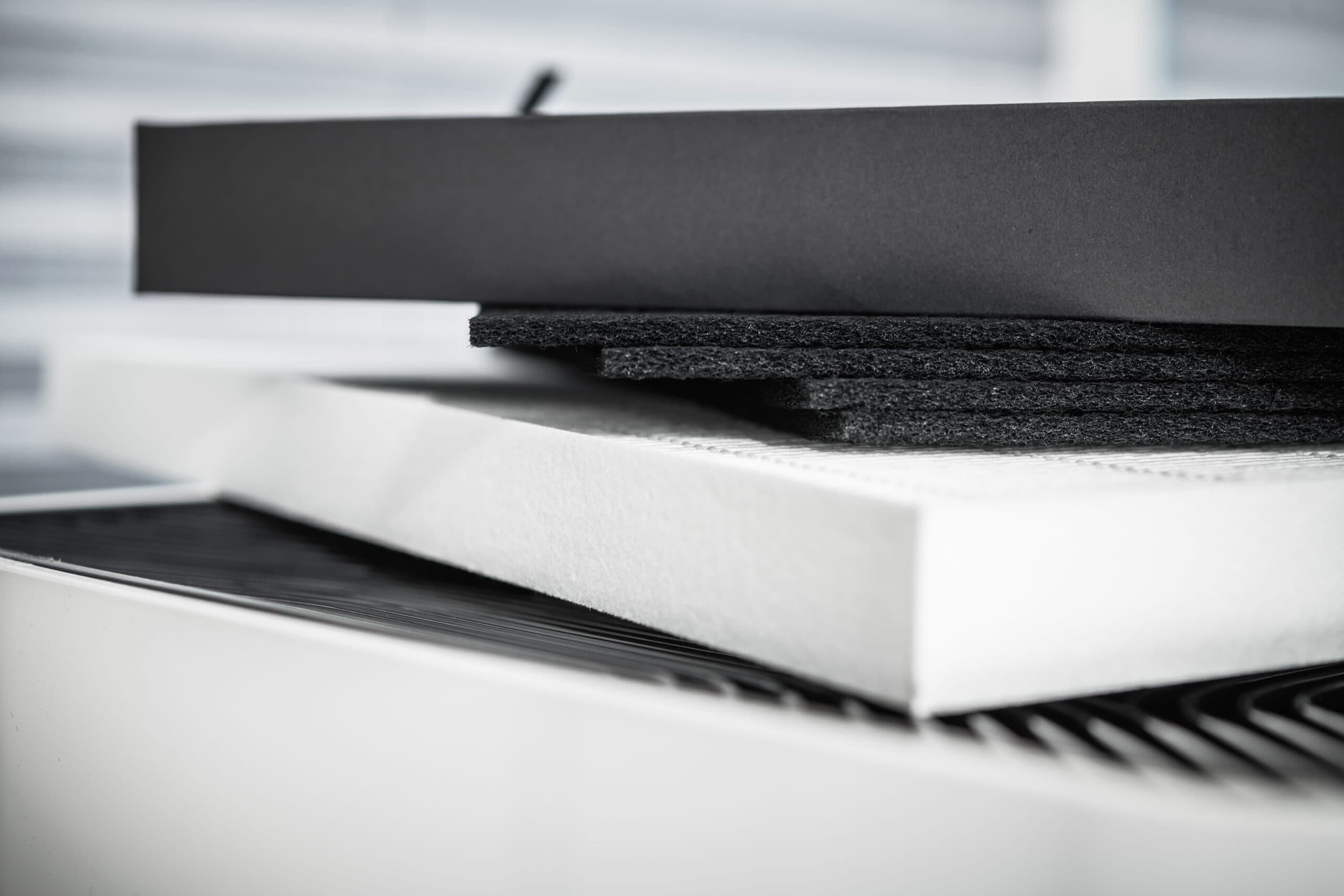 Top tip: Measure the filter you'd like to replace and the vent before you start searching for a new air filter to avoid wasting time and money on models that aren't compatible with your HVAC system. 
I advise against using duct tape to fasten an air filter to a register because you might end up causing an air leak and lowering the efficiency of your cooling or heating system.
Continue reading related Air Filter guides based on their size:
Air Filter Ratings
Getting the most efficient air filter you can lay your hands on isn't always the best choice, especially if the filter you're replacing has moderate air filtration capabilities.
Manufacturers use different rating scales to measure the filter's efficiency and indicate its ability to remove microscopic air pollutants from the air that passes through the filter media. Here are the three most common ratings you'll encounter while searching for a replacement air filter:
MERV – All air filters produced by industry-leading brands have MERV ratings that indicate their lowest performance while dealing with particles in the range from 0.3 to 10 microns. Most cooling and heating systems utilize MERV 8 filters, while the highest MERV ratings recommended for residential use vary from 13 to 16.
MPR – As implicated by its name, the Microparticle Performance Rating measures the filter's ability to capture particles that are smaller than a micron. However, MPR is only featured on the packaging of the products manufactured by the 3M brand.
If you shop for air filters at The Home Depot, you'll encounter the Filter Performance Rating that rates filters on a scale from one to ten.
Continue reading related Air Filter guides based on MERV ratings:
Key Features of 14x25x1 Air Filters
In my experience, the only way to determine if a 14x25x1 model can meet your air filtering requirements is to use it for a while.
However, gathering information about the air filter's construction, heat and humidity resistance, or odor elimination capacities can help you determine which models are worth testing. The air filter's sturdiness often depends on the quality of its frame and the backing that keeps the media in place.
Some models with cardboard frames might react poorly to heat and humidity exposure, unlike air filters with plastic or metal frames.
Top tip: Measuring the power consumption of your cooling or heating unit before and after installing a new air filter will enable you to find out if the replacement has a negative impact on the unit's efficiency.
Keep in mind that air filters that can neutralize odors don't have the capacity to eliminate VOCs.
Cost and Upkeep Requirements
A disposable 14x25x1 air filter can hold around seven grams of dust, so even the most durable models last only a few months. Buying a pack of four or six disposable air filters will get you through a cooling or heating season, but it won't be enough for an entire year.
A single six-pack of 14x25x1 air filters costs between $40 and $60, so you'll have to spend around $100 per year if you want to change your HVAC system's air filter every month. Reusable models are an affordable alternative that can replace more than thirty disposable filters.
Still, their MERV ratings are usually below ten, which means that they can't capture microscopic allergenic particles efficiently. In addition, you'll have to wash a reusable air filter frequently to maintain their efficiency at the same level.
See also: How to find the best cooling system

Selection Criteria
My main goal during the selection process was to create an overview of 14x25x1 air filters with moderate and high-end performance capabilities.
Besides the model's dimensions and my experiences with different air filter brands, I also used MERV ratings and the model's sturdiness as guidelines while selecting 14x25x1 air filters for this article. Let's take a look at the crucial factors I considered while deciding which models to include in the final selection.
Price range – I utilized this criterion to identify the best models suitable in all price ranges so that you can choose the option that best fits your budget.
Filter's lifespan – This parameter has enabled me to choose the best disposable and washable 14x25x1 models capable of meeting the air filtering needs of most homeowners.
See also: How to find the best furnace blower
Top 9 14x25x1 Air Filters
Nordic Pure Air Filters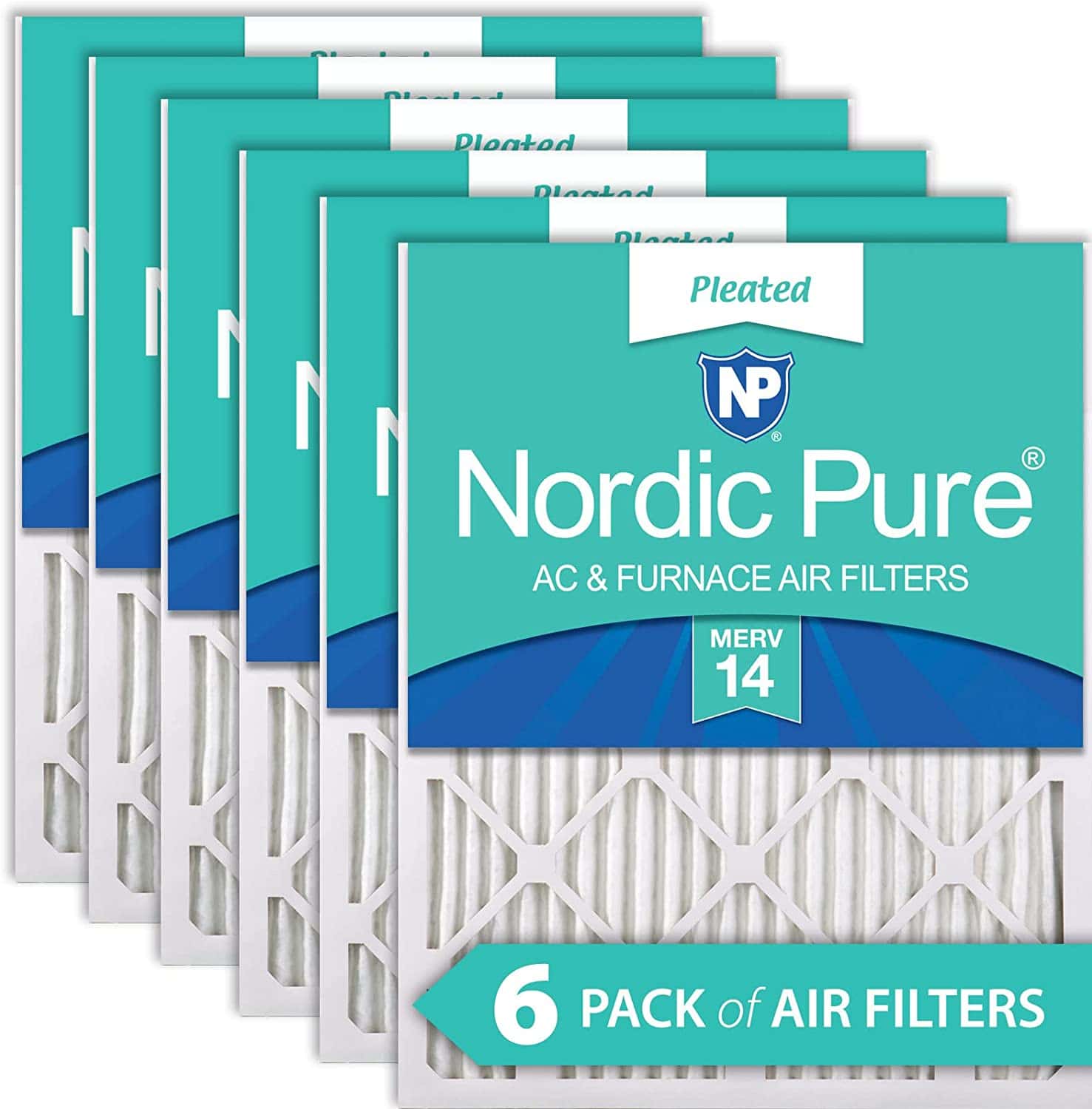 To say that I was impressed the first time I installed a Nordic Pure Air Filter on my HVAC system would be an understatement. This MERV 14 model proved to be more efficient than most 14x25x1 air filters I had tried before, as I noticed that the air quality in my home drastically increased after I started using it.
The model's electrostatically charged synthetic pleated media captures viruses, pet dander, or smog with the same level of efficiency, and it helps keep a home free of allergenic particles.
Pros
The frame is made of recycled material
High-quality filter material
Excellent performance in hot and humid conditions
Cons
This air filter could be too restrictive for some HVAC systems
Filtrete Smart Air Filters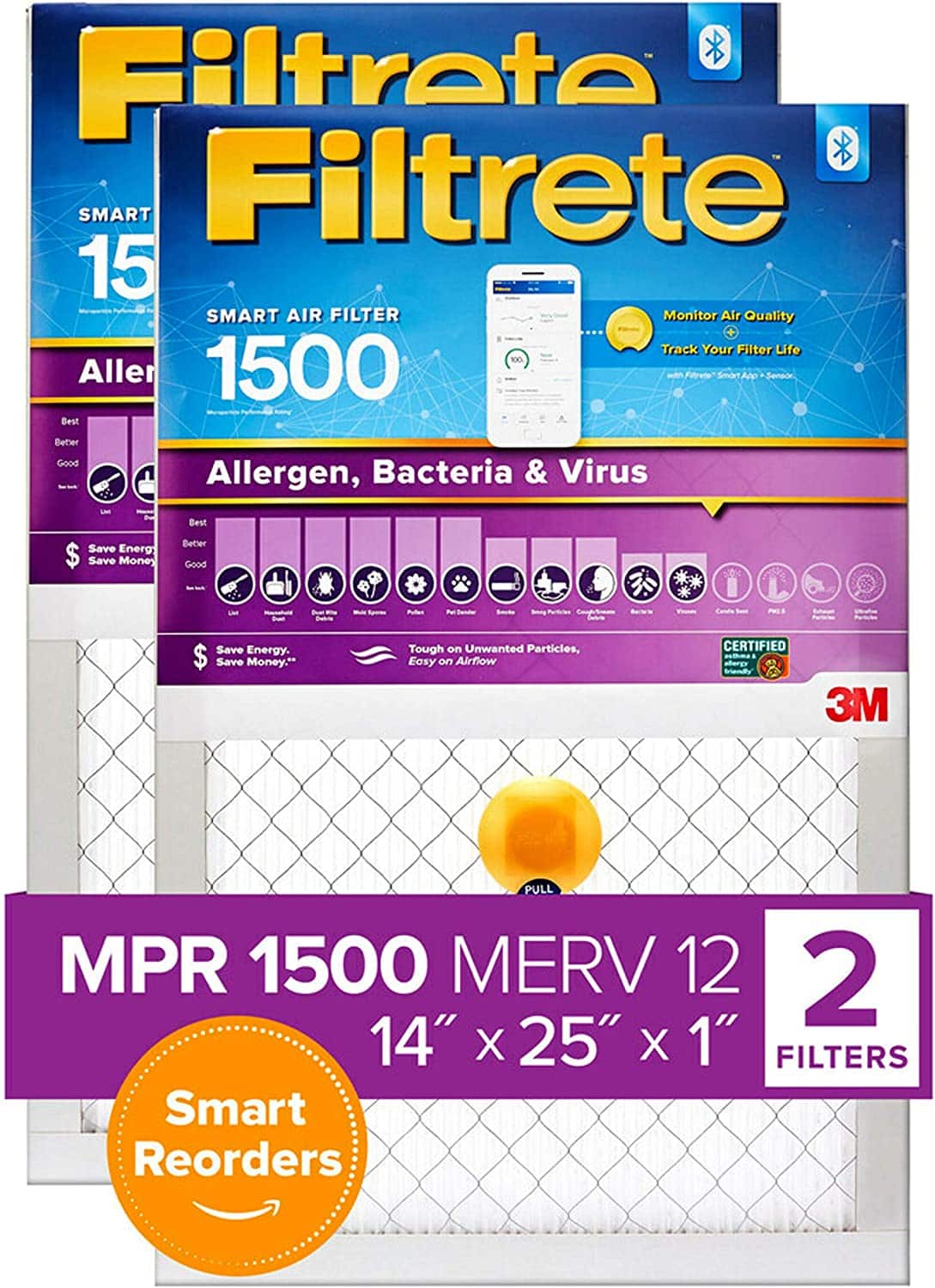 Downloading the Filtrete Smart App and pairing it with the Filtrete Smart Air Filter will enable you to monitor its performance and remaining filtering capacity. In addition, the app notifies you when to replace the air filter.
This 3M model is allergy and asthma-friendly, which means that it eliminates more than 70% of microscopic particles that can cause respiratory problems or allergic reactions. The filter can't sustain the same level of efficiency for more than sixty days.
Pros
Monitoring the filter's performance is easy
No filter media sagging
It doesn't cause pressure drops or affect the unit's airflow
Suitable for use in residential and commercial contexts
Cons
It's more expensive than most 3M air filters
Filterbuy Air Filters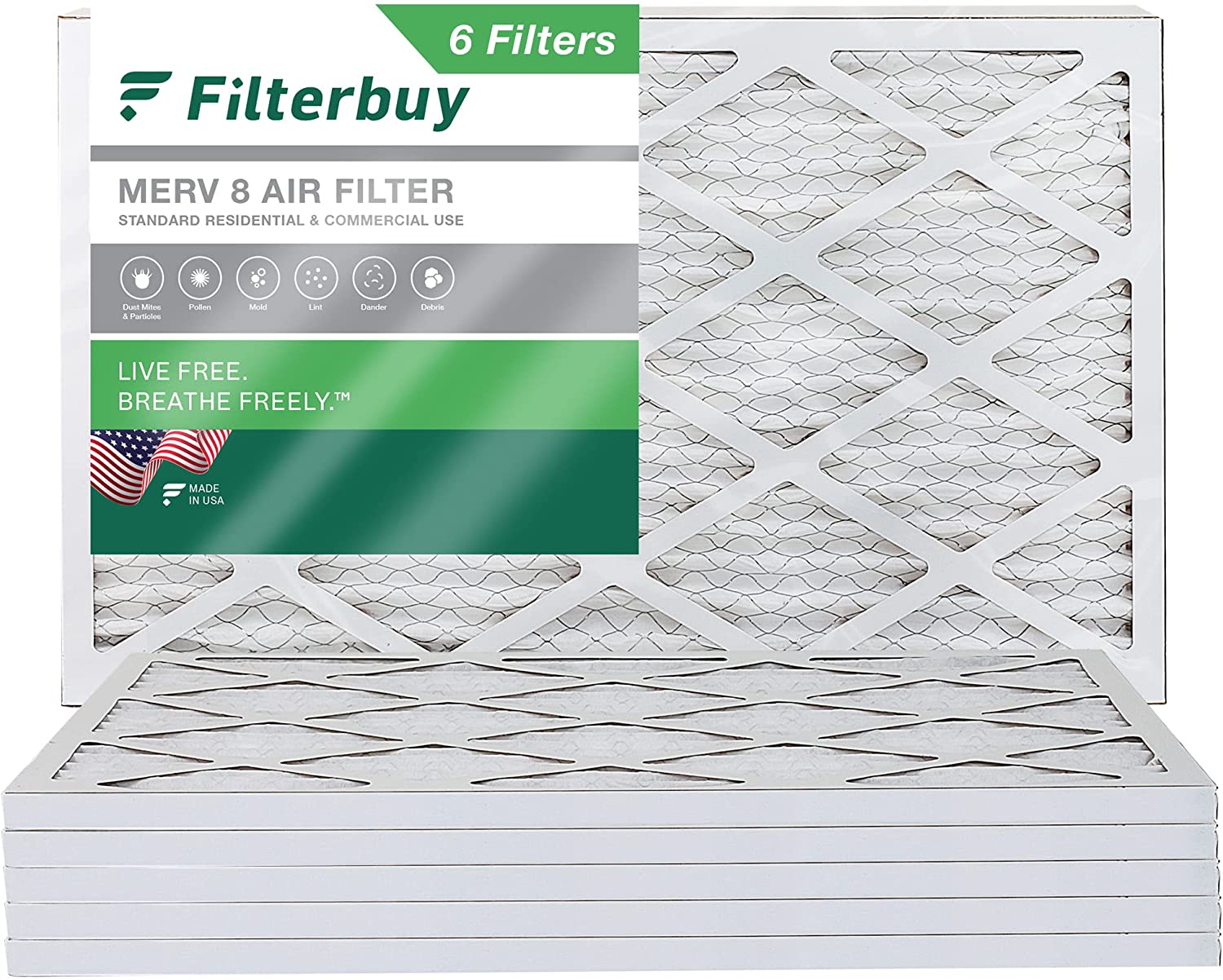 Even though they're not as efficient as models with higher MERV ratings, Filterbuy Air Filters can still capture mold spores, dust mites, and similar air pollutants. These filters have electrostatically charged media that attracts microscopic particles.
Filterbuy's model has a cardboard frame that performs well in hot conditions, while the dual wire backing prevents media warping. Also, the filter doesn't affect the airflow, despite having a pleated media design with twelve pleats per foot.
I recommend changing these filters monthly even though the manufacturer claims the product's lifespan is 90 days.
Pros
Filter media is moisture-resistant
It increases the unit's efficiency
A single filter costs less than $7
It collects up to 90% of particles from the air it filters
Cons
The media's electrostatic field weakens quickly
Castle Filters Air Filter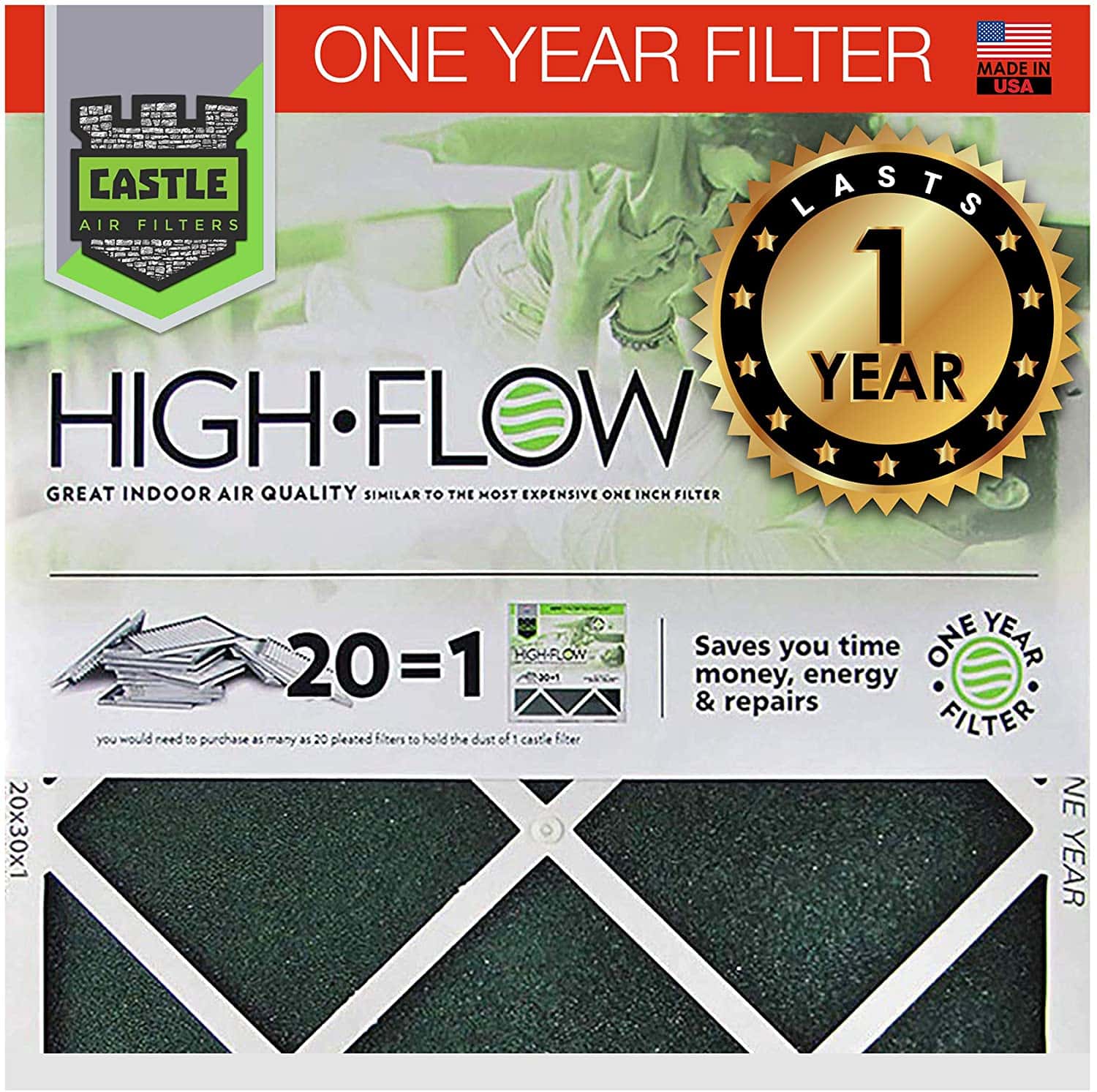 You should consider getting the Castle Filters Air Filter if you're looking for an affordable model that lasts longer than standard disposable air filters. The unique filter media has three ¼-inch layers of open-celled foam, while the middle layer contains a sticky substance that captures dust.
However, this air filter can't retain a high percentage of microscopic particles that pass through it, which is why it is only a good option for a home that doesn't have high air filtering requirements.
Pros
This air filter lasts up to a year
It can hold twenty times more dust than a standard disposable air filter
It offers good value for money
Cons
The filter's frame isn't sturdy
Arm & Hammer Air Filters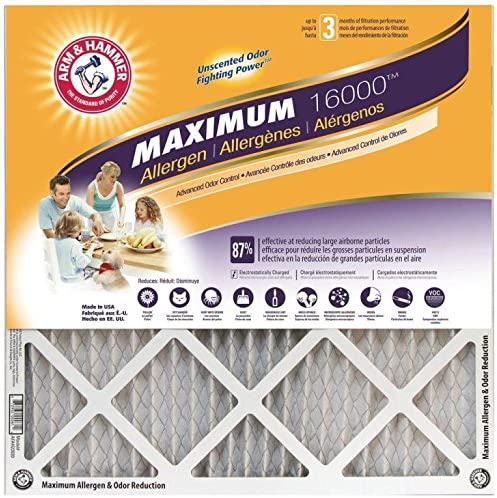 Besides having the capacity to reduce the presence of allergenic particles in a household, Arm & Hammer Air Filters can also neutralize cooking and bathroom odors. The pleated media has a large surface and a strong electrostatic field that retains most particles larger than a micron.
Moreover, the media contains carbon granules, baking soda, and Oguard II that enable it to absorb unpleasant smells. The product has a cardboard frame that can't withstand prolonged exposure to heat or humidity.
Pros
It neutralizes odors efficiently
Pleated electrostatic media
Straightforward installation process
It helps alleviate allergy symptoms
Cons
This air filter has a flimsy construction
Venti Tech Washable Air Filter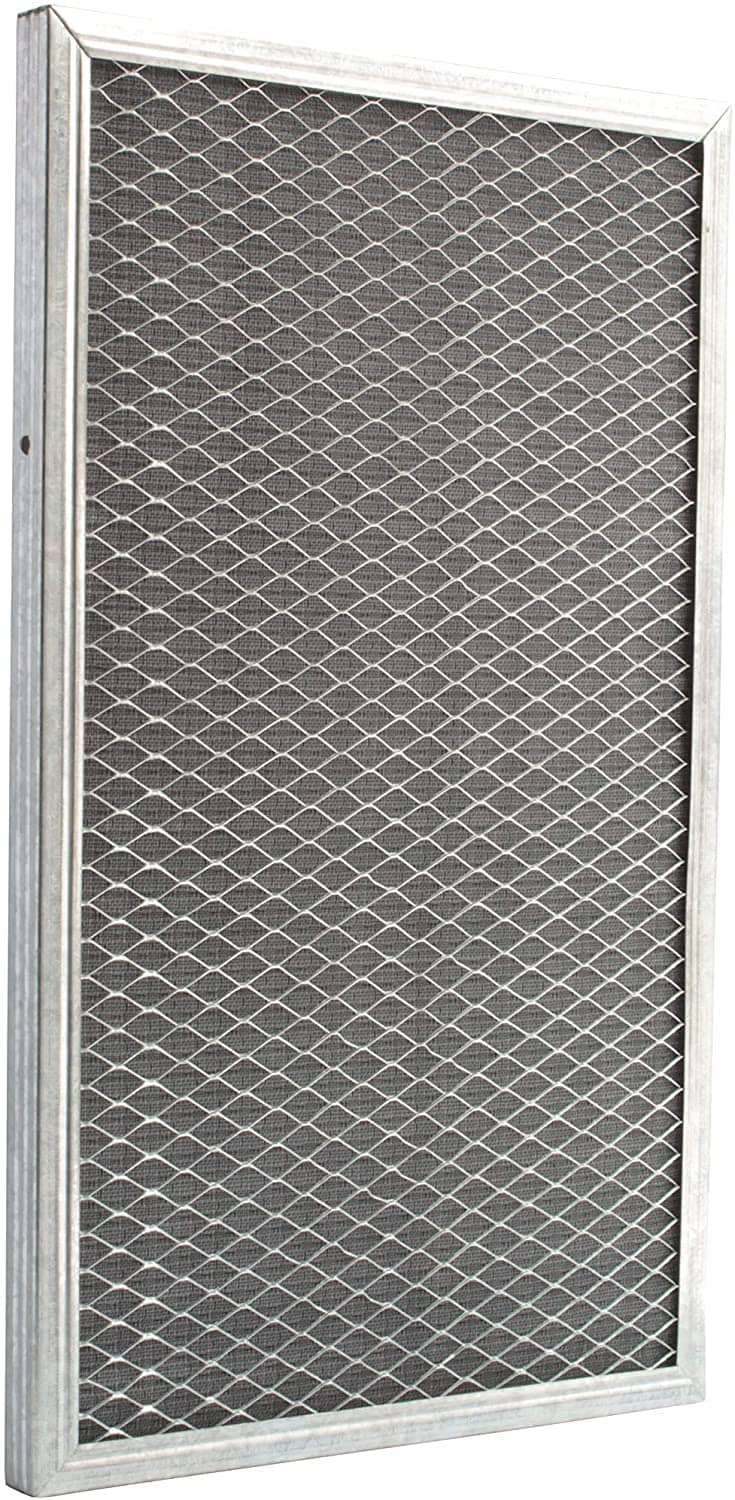 A single Venti Tech Washable Air Filter will replace up to forty disposable 14x25x1 air filters. The galvanized steel frame ensures the filter isn't affected by hot or humid conditions, while the woven propylene media provides an equivalent to MERV 8 air filtering efficiency.
Also, the filter is multidirectional, so you don't have to worry about the airflow direction during installation. Venti Tech's model requires cleaning every two to three months, and you can simply rinse it with water to remove the accumulated dirt.
Pros
Suitable for residential and commercial use
Low airflow resistance
Affordable price
The filter's performance isn't affected by heat or humidity
Cons
This air filter isn't MERV rated
Filti 7500 Air Filters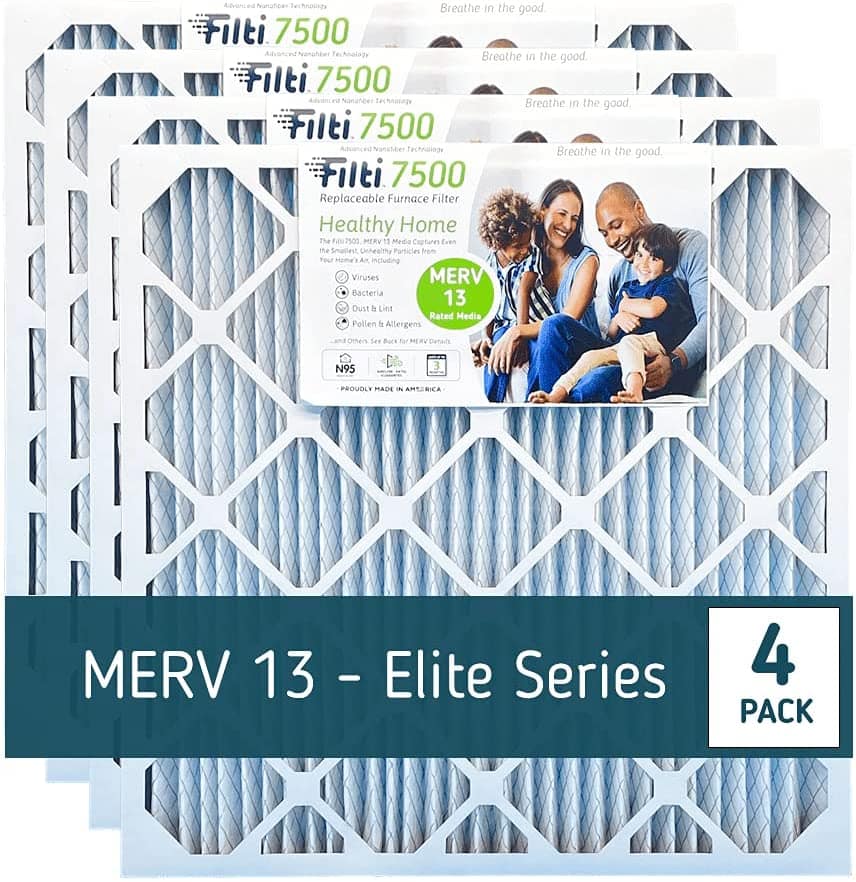 The high-performance level of Filti 7500 Air Filters will meet the needs of even the most demanding homeowners. The MERV 13 rating indicates that the three-layer nanofiber media can effectively collect ultrafine air pollutants, but the filter could affect the airflow on some HVAC systems.
The cardboard frame and metal backing ensure the media remains in place throughout the filter's 90-day lifespan. Keep in mind that these filters usually don't last for three months due to their high dust collection capacity.
Pros
It absorbs a high percentage of allergenic particles from the air it filters
Straightforward installation process
Three-layer filter media design
Cons
These filters aren't suitable for all cooling and heating systems
AIRx Dust Air Filters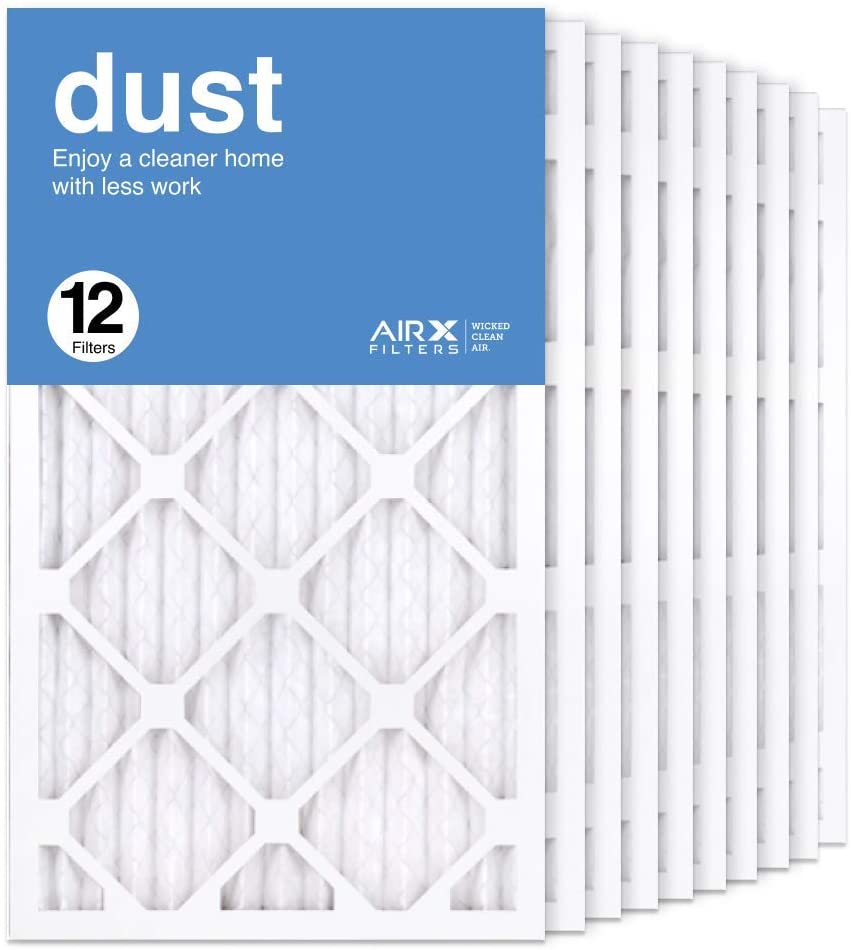 Affordability is one of the greatest advantages AIRx Dust Air Filters can offer because they can't retain particles smaller than 3.0 microns. Hence, these filters are only a good option if you need a model that can capture lint, pollen, or similar macroscopic air pollutants.
The synthetic gradient media doesn't retain its air filtering efficiency for long, which is why you have to replace AIRx Dust filters at least once per month. The media is moisture resistant, so using the filter in humid conditions won't impact its effectiveness.
Pros
The beverage board frame can withstand exposure to temperatures up to 225F
It doesn't restrict the unit's airflow
Good value for money
Installing and removing these air filters is easy
Cons
These filters don't last long
K&N Washable Air Filter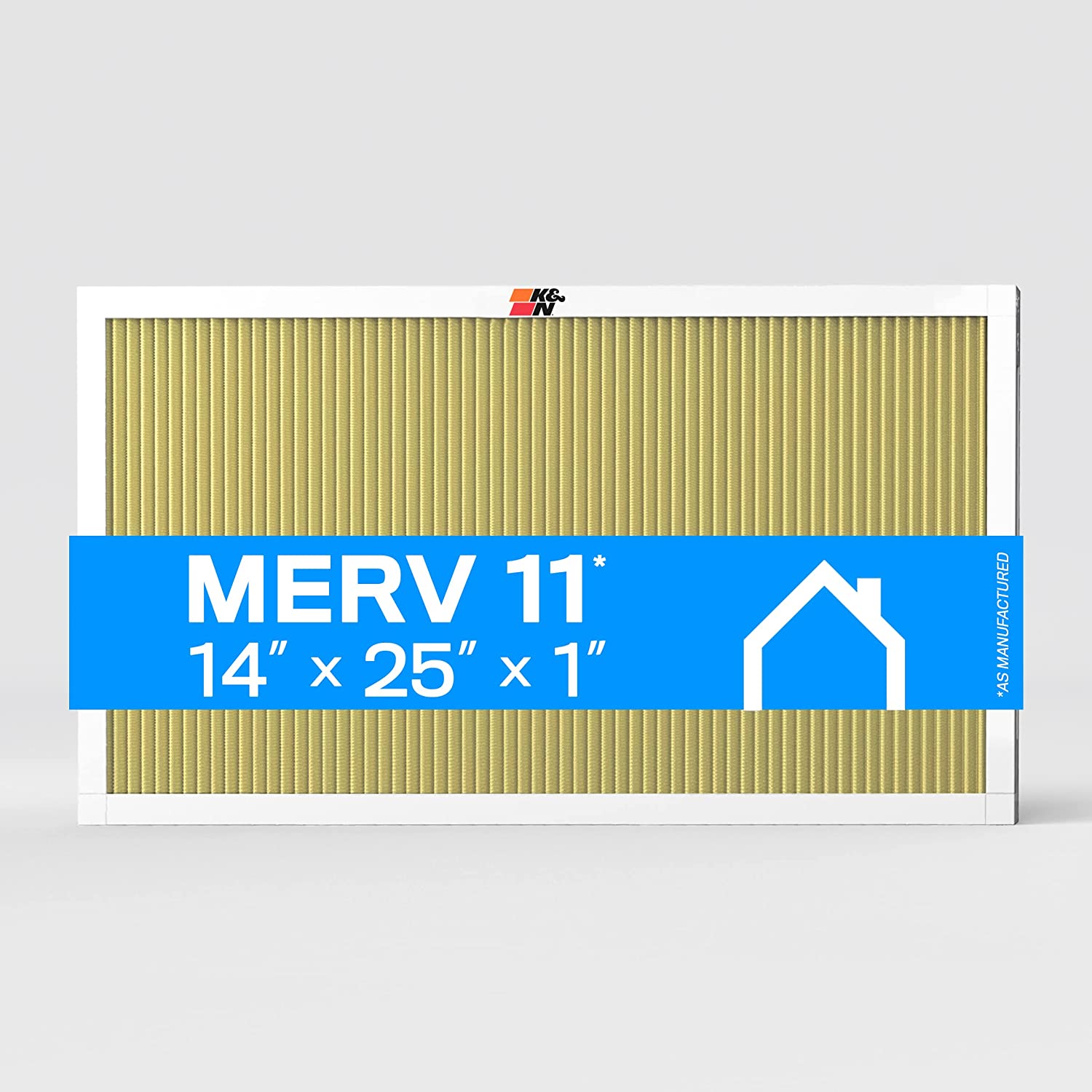 The average lifespan of the K&N Washable Air Filter is around five years. This reusable filter can replace more than thirty disposable air filters during that time. The synthetic polymer media has a pleated design that enhances the filter's performance.
Hence, this K&N model can absorb more than 90% of all particles that pass through its media regardless of how big or small they are. The filter's cleaning frequency depends on how often you're using your cooling or heating system, but you shouldn't leave the filter unwashed for more than two months.
Pros
Galvanized steel mesh protects media from moisture
The frame is made of ABS plastic
It absorbs microscopic allergenic particles
Cons
It isn't a great fit for ceiling-mounted returns
Frequently Asked Questions about 14x25x1 Air Filters
Question: Do 14x25x1 air filters warp while they're in use?
Answer: Yes, some models might warp due to a variety of factors, and you should remove the filter as soon as you notice that the filter is starting to bend.
Question: Can I vacuum clean washable 14x25x1 air filters?
Answer: Yes, you can use a vacuum cleaner to remove dust from reusable 14x25x1 air filters, but you still have to wash these filters every few months to maintain their efficiency at the same level.
Question: Do I need a 14x25x1 air filter with a high MERV rating?
Answer: Most people don't need 14x25x1 air filters with MERV ratings above 11, but if you're struggling with allergies or live in an area with polluted air, models with MERV 12 or higher ratings might help you improve air quality in your home.
My Verdict: How to Choose the Right 14x25x1 Air Filter for Your Unit?
The first replacement filter I ever got for my HVAC system had the same MERV rating as the one I was replacing. Once I got to know the unit's capabilities better, I upgraded to a model with a higher MERV rating that could help with my allergies.
Even though I think that Nordic Pure Air Filters are some of the best 14x25x1 air filters on the market, I don't recommend buying them unless you're sure they won't impede your cooling or heating unit's airflow.
The Filterbuy Air Filters are a safer option that won't affect the unit's performance, but their filtering capabilities are nowhere near those offered by Nordic Pure Air Filters. Please read out guide to humidity control systems to find out how these systems can help you regulate humidity levels in your home.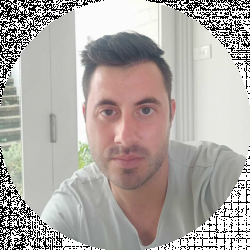 Latest posts by David Borgogni
(see all)