Achieving the balance between furnace's or HVAC's performance and the air quality is the most challenging task I faced while looking for the best 20x25x4 air filters.
Opting for a highly efficient model proved to be a mistake because the HVAC filter I chose restricted the airflow of my home's cooling and heating systems. On the other hand, filters with low MERV ratings struggled to keep the air quality in my house at a satisfactory level.
In this article, I'll show you how I learned to find the right 20x25x4 air filter for my HVAC system and recommend several models that could be a good fit for your cooling or heating appliances.
Bottom Line Up Front
I recommend choosing a replacement filter with similar performance capabilities to those offered by the filter you're replacing. So, if your unit's original air filter had MERV 8 efficiency rating, you should consider models like Honeywell Home Air Filter or Aerostar Air Filters.
Despite their excellent filtration capacity, FILTI 7500 Air Filters or Filtrete Air Filters are only a good option if you're sure they won't restrict your unit's airflow.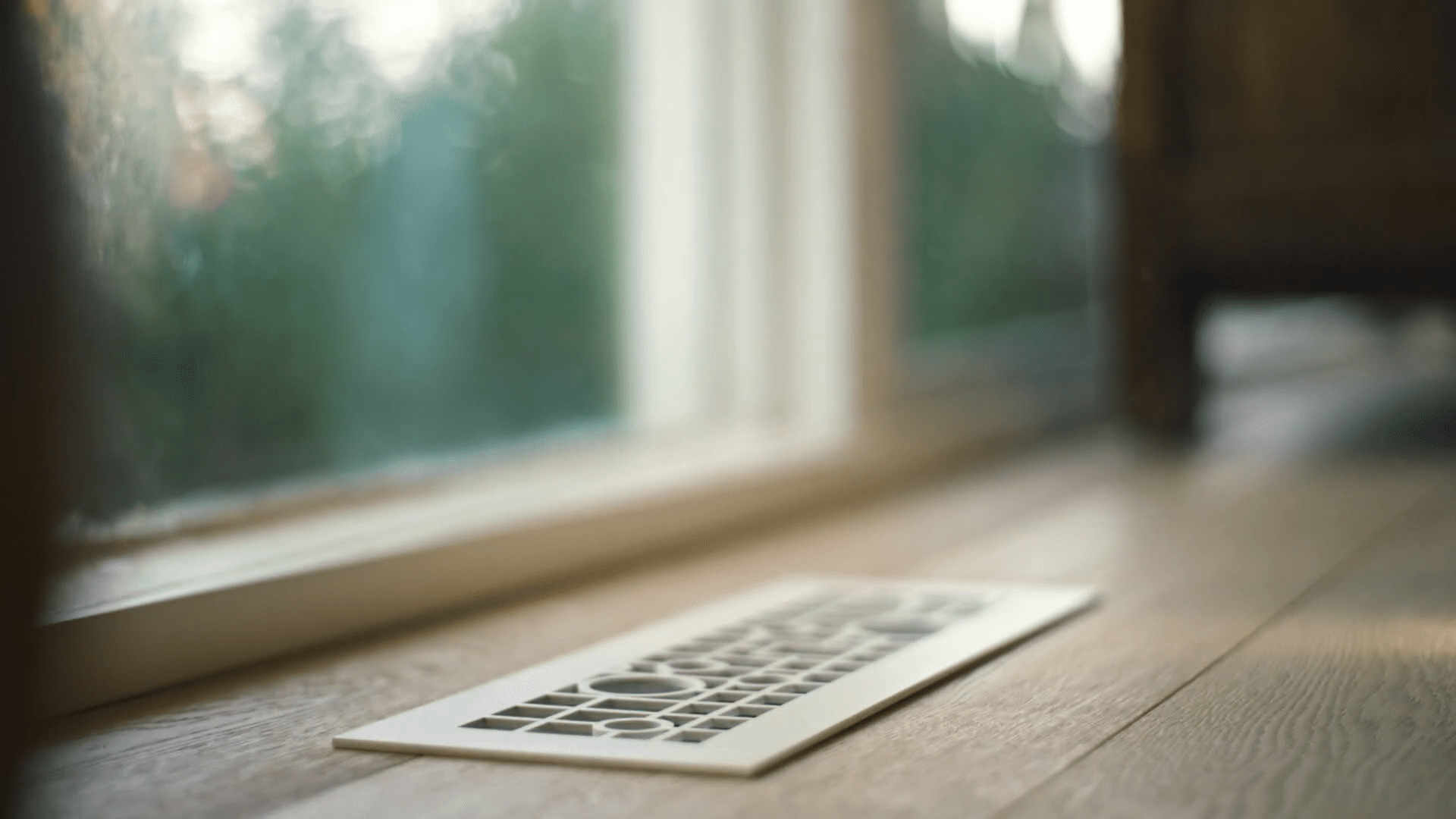 My Top Picks At a Glance
Types of 20x25x4 Air Filters
Media material and the size of its surface area are the first parameters I check while evaluating a 20x25x4 air filter I'm unfamiliar with. These two factors provide me with enough information to understand what I can expect from a particular model in terms of efficiency and durability.
There are 20x25x4 air filter types that utilize different media materials and designs. So, depending on the model's filter media, you can choose from one of the following categories:
Fiberglass: Air filters with this media material are inexpensive and inefficient, which makes them a budget-friendly option for homeowners with low air filtering requirements.
Pleated synthetic: Most 20x25x4 air filters have synthetic media with more than ten pleats per foot. The pleated media design enhances their filtering performance and allows them to trap a high percentage of microscopic particles.
Electrostatically charged – These models usually have synthetic, polyester, or polypropylene media with a strong electrostatic field that attracts different types of air pollutants. Some electrostatically charged models have pleated media.
Understanding Air Filter Sizes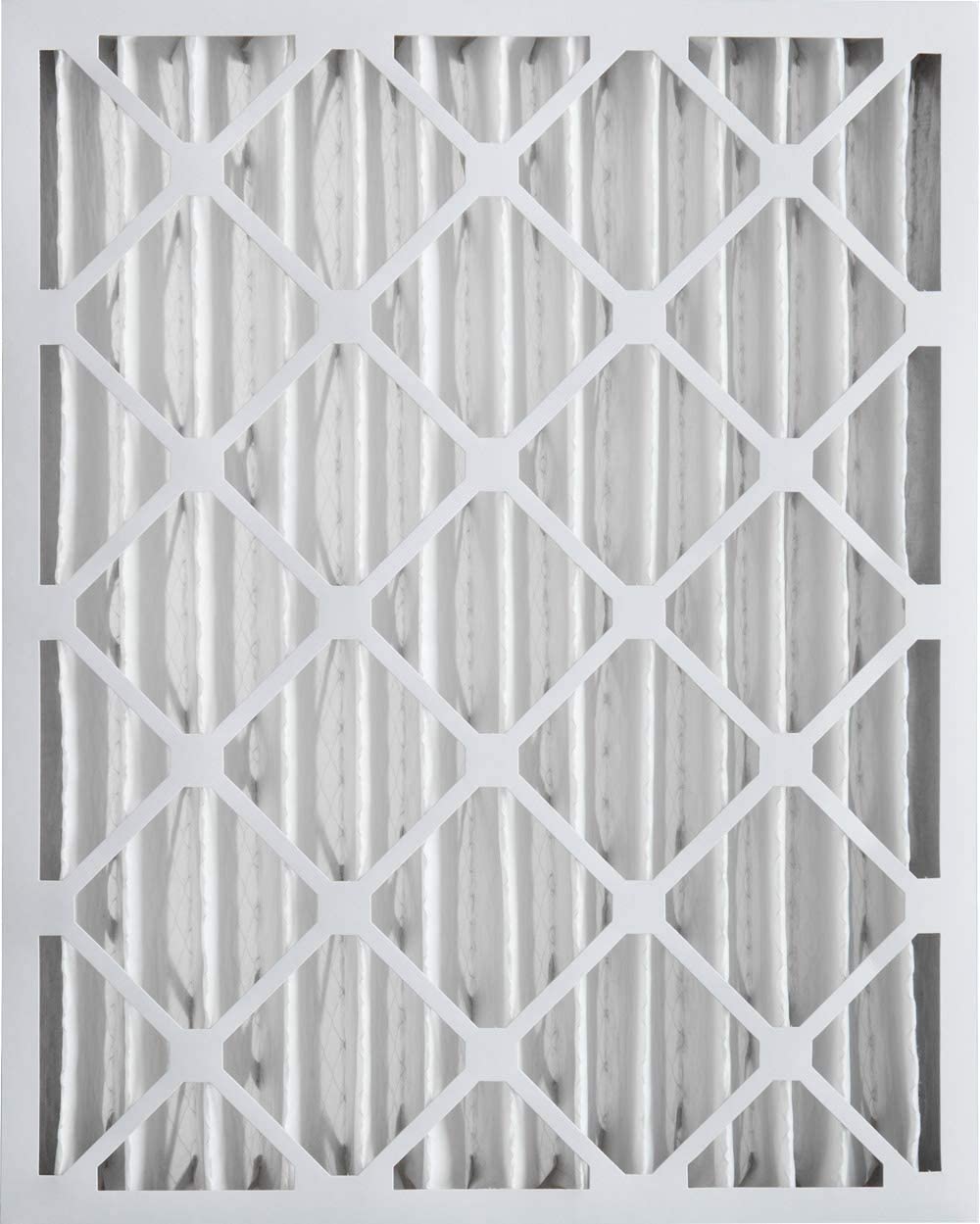 Cooling and heating systems compatible with four-inch wide air filters aren't common, so you must first determine if this filter width is suitable for your AC, heat pump, or furnace. Moreover, the nominal and actual width of these filters isn't the same.
The filter's nominal dimensions show you the rounded value, while their actual dimension can be 0.25 to 0.5 inches shorter. Hence, the true width of a four-inch air filter varies from 3.5 to 3.75 inches. The same applies to the model's length and height, as their actual dimensions are never exactly 20 or 25 inches.
Top tip: I advise against trying to fit a four-inch-wide air filter on a vent compatible with one-inch wide models because you may damage your cooling or heating unit. 
Measuring the filter you'd like to replace, and the grille or register is the most reliable way of determining the size of the replacement filter.
Continue reading related guides if you're looking for a specific Air Filter Size:
Filtering Efficiency Ratings
The amount of dust an air filter can capture and hold depends on its width, so a one-inch wide model can't hold more than ten grams of dirt. On the other hand, a four-inch-wide air filter can hold up to hundred grams of dirt.
All 20x25x4 air filters have efficiency ratings that indicate the amount of microscopic or macroscopic particles they can capture. However, models that can trap particles smaller than a micron can restrict airflow and increase the unit's power consumption.
Here are some of the most common air filter efficiency ratings:
MERV – Most 20x25x4 air filters have MERV ratings in the range from 7 to 16, which means that even the least efficient model can capture particles as small as 3 microns. Models with higher MERV ratings can trap viruses or allergenic particles.
MPR – Only 3M's air filters have Microparticle Performance Rating that measures their efficiency on a scale from 100 to 2,800. Models with MPR 600 through 800 are equivalent to MERV 8 20x25x4 air filters.
Check out more Air Filter guides based on MERV ratings:
Key Features of 20x25x4 Air Filters
I only paid attention to the model's dimensions and MERV rating while choosing my first 20x25x4 replacement air filter. However, I soon realized that these two parameters don't offer enough information about the filter's performance.
Frame sturdiness, the media's operating temperature range, humidity resistance, and the quality of the media backing are some of the aspects I started considering while choosing 20x25x4 air filters for my cooling and heating systems.
I think opting for a model with moisture-resistant media reduces the chances of mold growth during the filter's lifespan. Also, models with wire backing and rigid frames are less prone to media sagging and more durable in challenging conditions.
Top tip: Consulting an HVAC technician familiar with your cooling or heating system can help you find a 20x25x4 air filter suitable for your unit. 
It's worth adding that opting for a model with carbon-enriched media can help you neutralize cooking odors and cigarette smoke.
Cost and Upkeep Requirements
The average lifespan of a 20x25x4 air filter varies from six to twelve months. Still, most homeowners use more than two four-inch wide filters per year, as they accumulate a significant amount of dirt during cooling and heating seasons.
Disposable models don't have any upkeep requirements other than occasional visual inspections. I recommend checking on your unit's air filter monthly to make sure it isn't warped or moldy. Also, it is advisable to replace the unit's air filter before the cooling or heating season.
Opting for a washable 20x25x4 air filter can lower your annual AC, furnace, or heat pump upkeep costs. Their cleaning frequency depends on the model, but in most cases, you'll have to wash a reusable air filter twice per year.
Prices of disposable 20x25x4 vary from $10 to $40, while washable models cost around $100.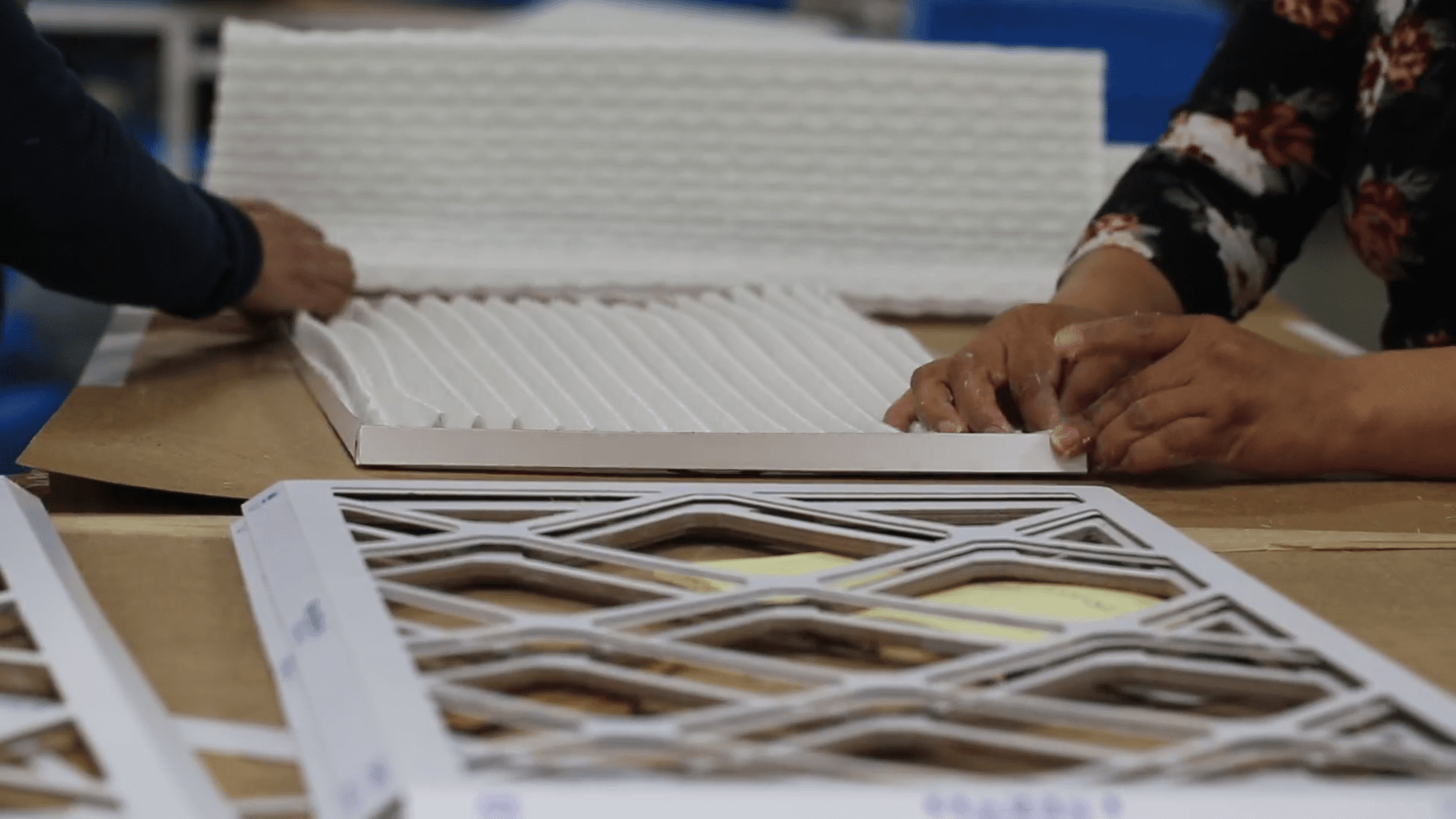 Selection Criteria
My goal during the selection process was to identify 20x25x4 air filters suitable for different cooling or heating units. That's why the models you'll find in this article aren't equally efficient at removing microscopic and macroscopic particles from the air they filter.
Besides the filter's efficiency, I also utilized a variety of parameters that enabled me to pinpoint the 20x25x4 models that fit most residential contexts. So, let's take a look at some of the criteria I relied on during the selection process.
Brand reliability – I only considered models produced by well-established brands known for high-quality products.
Value for money – This criterion has helped me identify the 20x25x4 air filters that offer excellent value for their price range.
Top 9 20x25x4 Air Filters
Honeywell Home Air Filter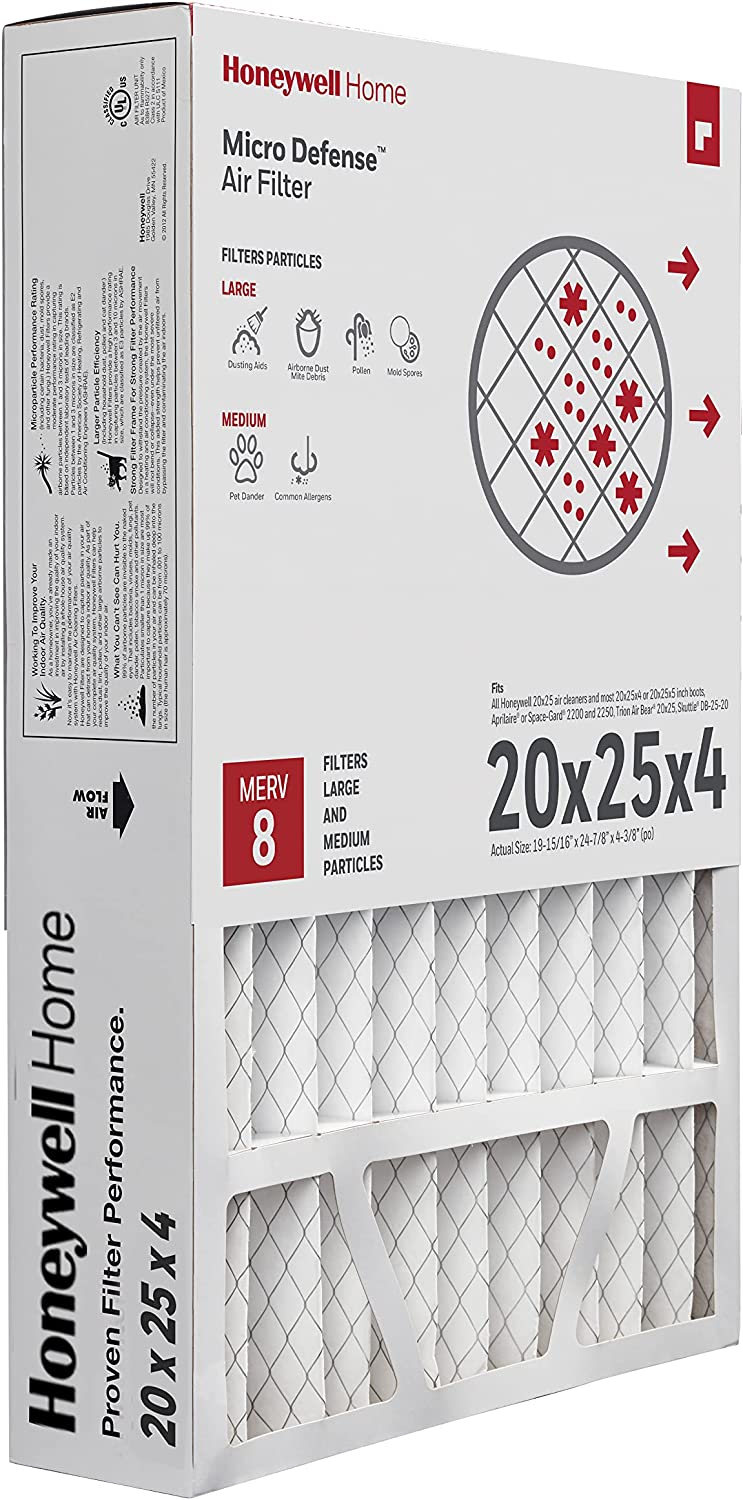 You should consider getting the Honeywell Home Air Filter if you need a replacement for an Aprilaire, Trion Air Bear, Space-Gard, or any of the Honeywell Home models. I never had problems fitting these filters on cooling or heating appliances they're compatible with.
This MERV 8 model filters up to 50% of virus carriers, allergenic particles, or bacteria and more than 70% of large air pollutants like dust mites or mold spores. I also like that its pleated synthetic media has a vast surface and a strong electrostatic field that doesn't weaken throughout the filter's lifetime.
Pros
The filter doesn't restrict the unit's airflow
It performs well in hot and humid conditions
The filter lasts up to a year
It traps common allergens
Cons
BestAir HW2025 Air Filter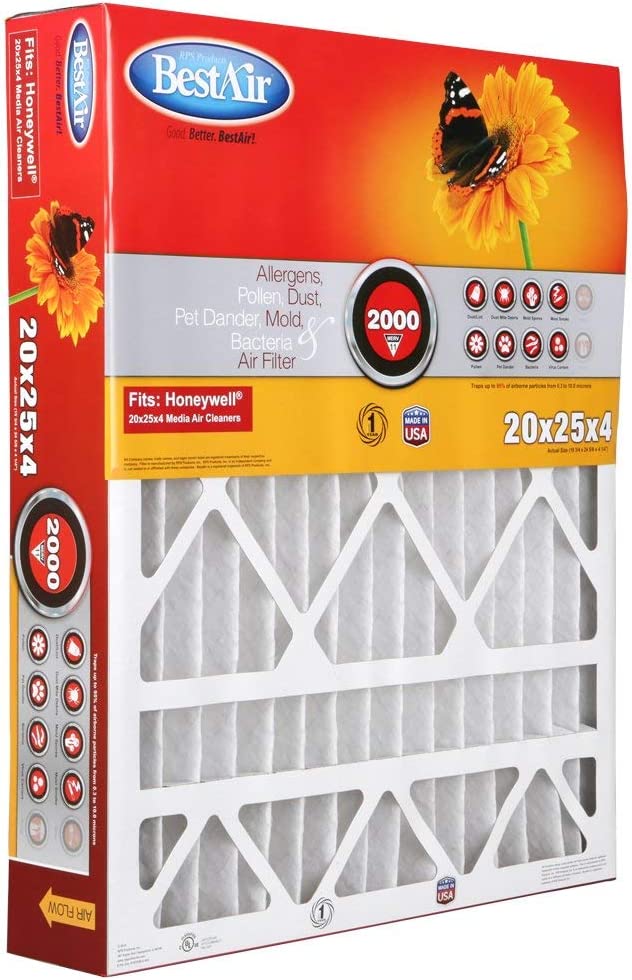 Upgrading to a MERV 11 model like the BestAir HW2025 Air Filter will increase the air quality in your home and help you deal with allergies or virus carriers. However, I don't recommend choosing this air filter if you don't know how it will affect the unit's airflow.
The pleated synthetic media can capture close to 95% of all particles in the range from 0.3 to 10 microns and hold a substantial amount of dirt. Hence, you don't have to replace this filter often.
Pros
Installing this filter is easy
It's suitable for homes with pets
The media material doesn't allow mold growth
The filter has a strong frame
Cons
It only replaces Honeywell air filters
Aerostar Air Filters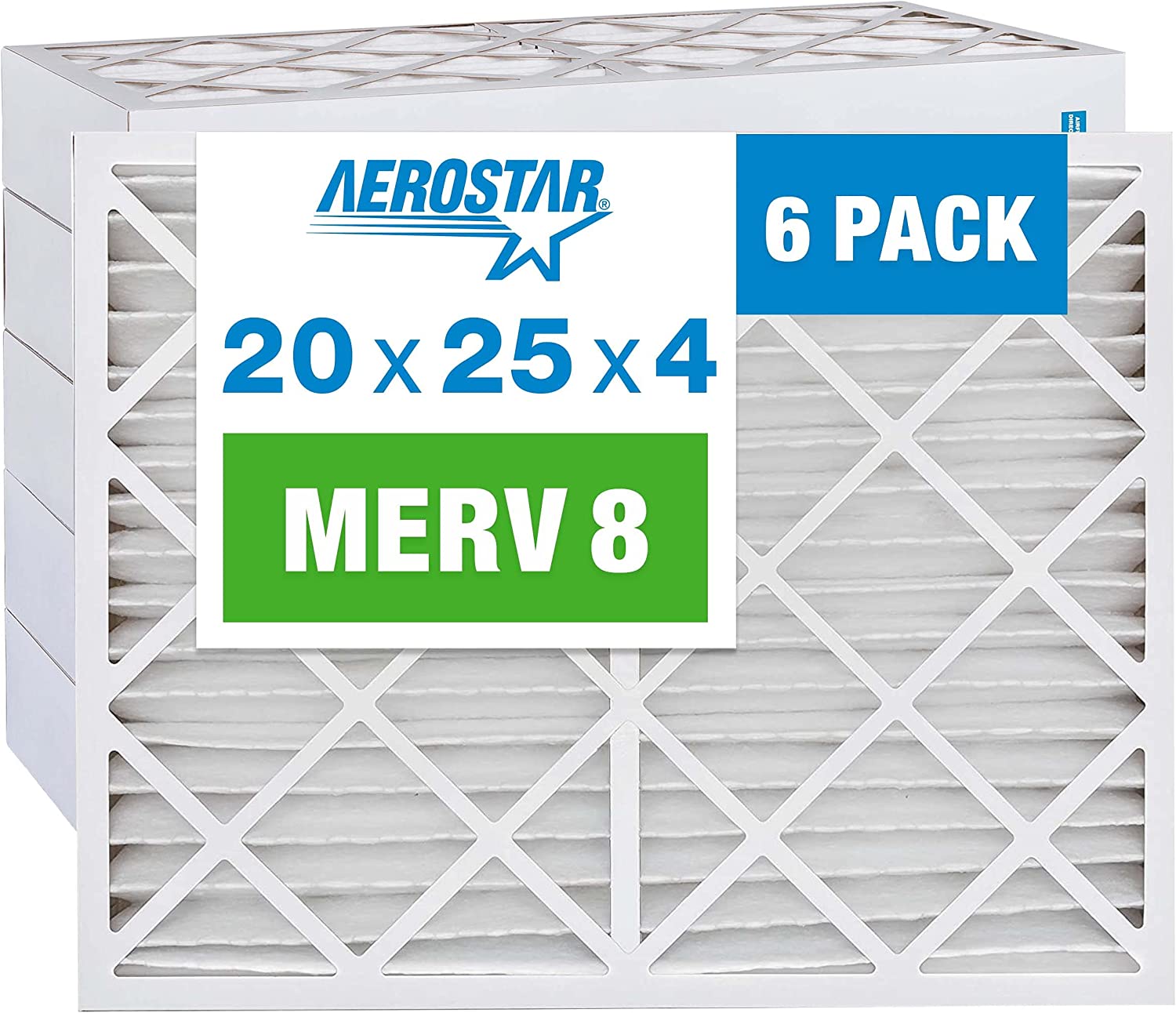 I think that Aerostar Air Filters are a budget-friendly option for homeowners with moderate filtration requirements. A six-pack of these filters lasts more than a year, as you'll have to replace them once every three to six months.
What I like about its pleated media design and material's electrostatic properties is that they ensure that the filter can trap most air pollutants larger than 3 microns. These filters have a heat-resistant cardboard frame and media backing that perform well in challenging conditions.
Pros
The filter is compatible with most cooling and heating units
It doesn't restrict the airflow
Media material can withstand humidity exposure
An affordable price
Cons
It's not a good option for people with allergies
Filtrete Air Filters
Like all 3M's products, Filtrete Air Filters can make an immediate impact on air quality in your home. I recommend choosing this allergy and asthma friendly model only if your unit is compatible with highly efficient air filters.
I think it's also worth adding that despite its high MEVR rating this brand's model doesn't have the capacity to alleviate respiratory problems caused by 2.5PM or ultrafine particles.
In addition to removing over 90% of dust, pollen, or pet dander from the air that passes through them, these filters also trap more than half of the viruses, sneeze aerosols, and bacteria that reach the surface of their media.
Pros
Electrostatically charged media doesn't lose its properties over time
It has a durable construction
These filters last more than six months
Cons
Glasfloss ZL Air Filters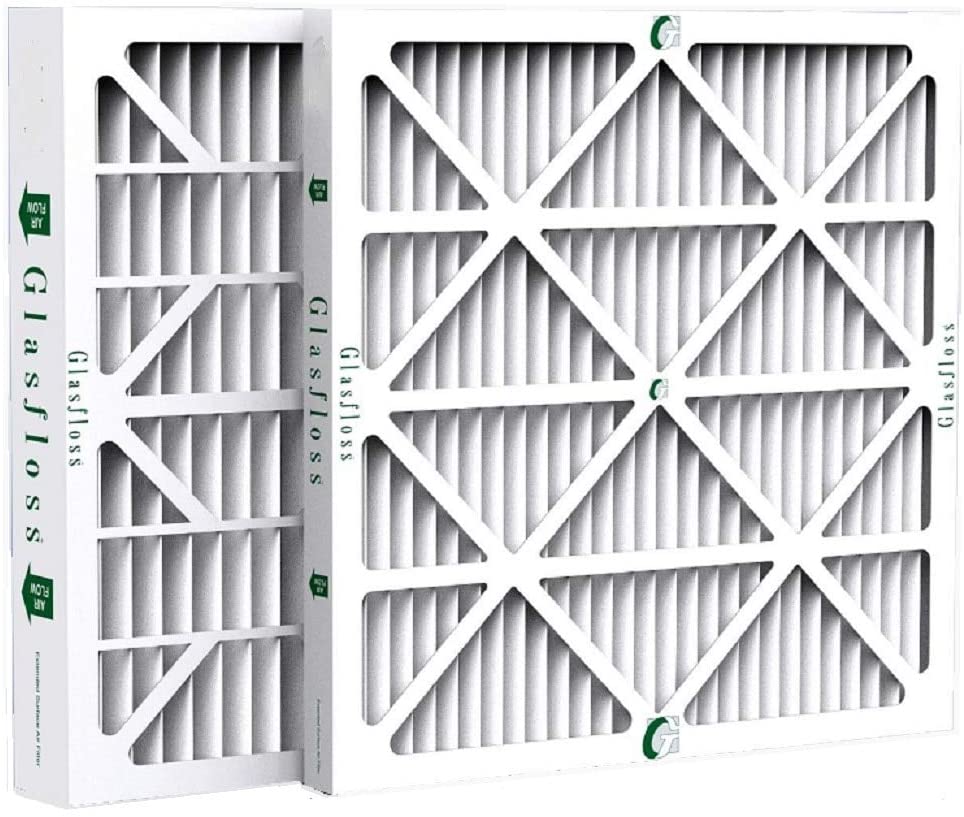 Homeowners who, like me, are living in humid climates can benefit from the Glasfloss ZL Air Filters because their media contains fibers that prevent moisture absorption. Moreover, I like that the media is reinforced with galvanized metal that prevents it from moving throughout the filter's lifespan.
The electrostatic media material has a large surface due to its pleated design, and it retains more than 50% of 1 to 3 micron particles that pass through it. The beverage board frame doesn't bend even when exposed to high pressure or extreme temperatures.
Pros
Low airflow resistance
Moisture-resistant media isn't prone to sagging
Excellent value for money
The filter can hold a high amount of dirt
Cons
These filters can be hard to find
FILTI 7500 Air Filters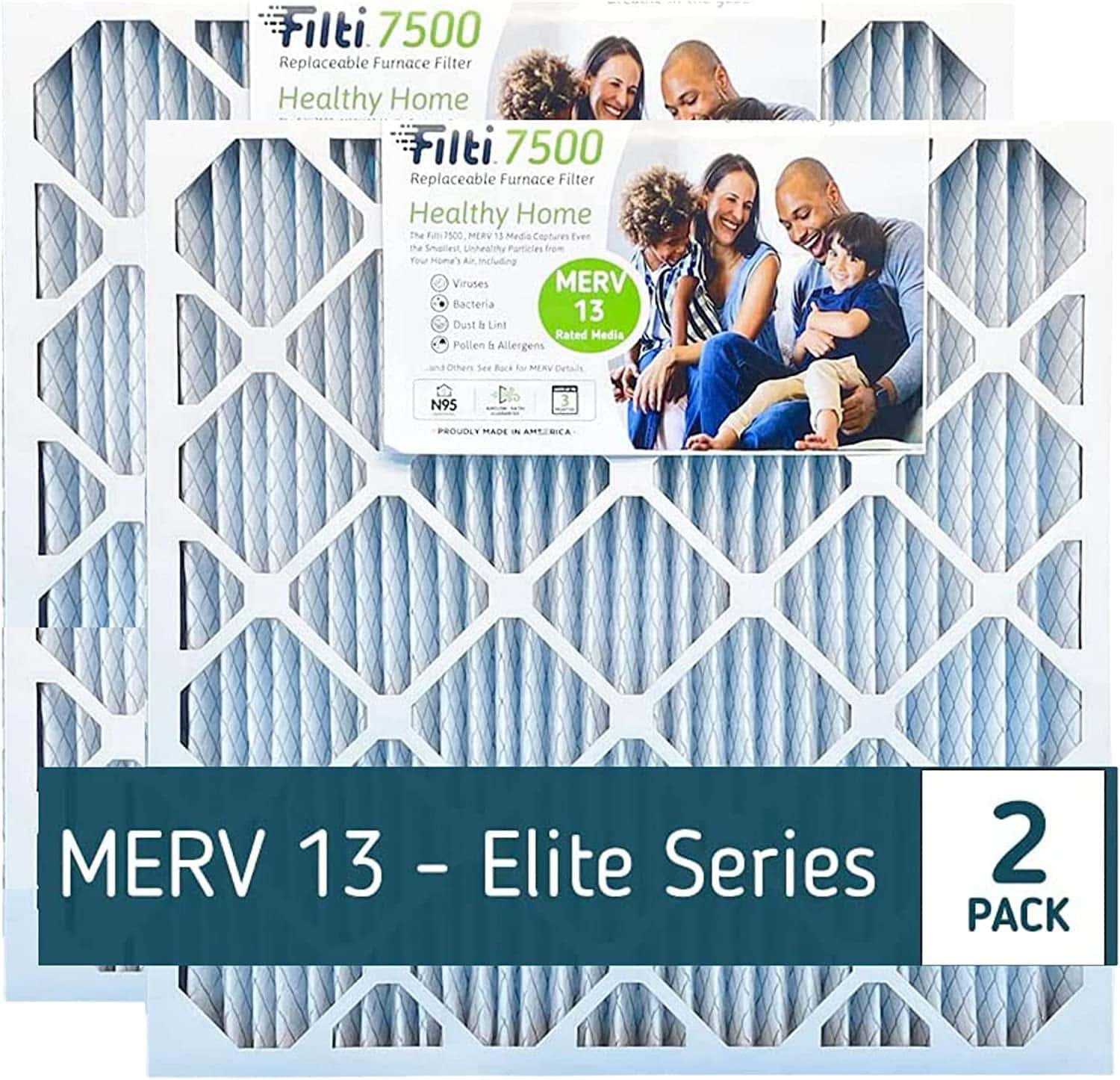 Despite their incredible efficiency, FILTI 7500 Air Filters aren't an ideal fit for all cooling and heating systems, as their thick media may cause pressure drops or restrict airflow. The filter has a three-layer structure, and its media is located between a metal backing and a composite board.
The media layer is made of fiber material that retains nearly all microscopic and macroscopic particles that land on its surface. However, I don't think these filters are the most economical option you can get because you'll have to replace them every few months as they accumulate dirt quickly.
Pros
Unique construction maximizes the filter's efficiency
It captures 75% of particles smaller than a micron
This filter is made from recycled materials
Cons
This filter might restrict the unit's airflow
Nordic Pure Air Filters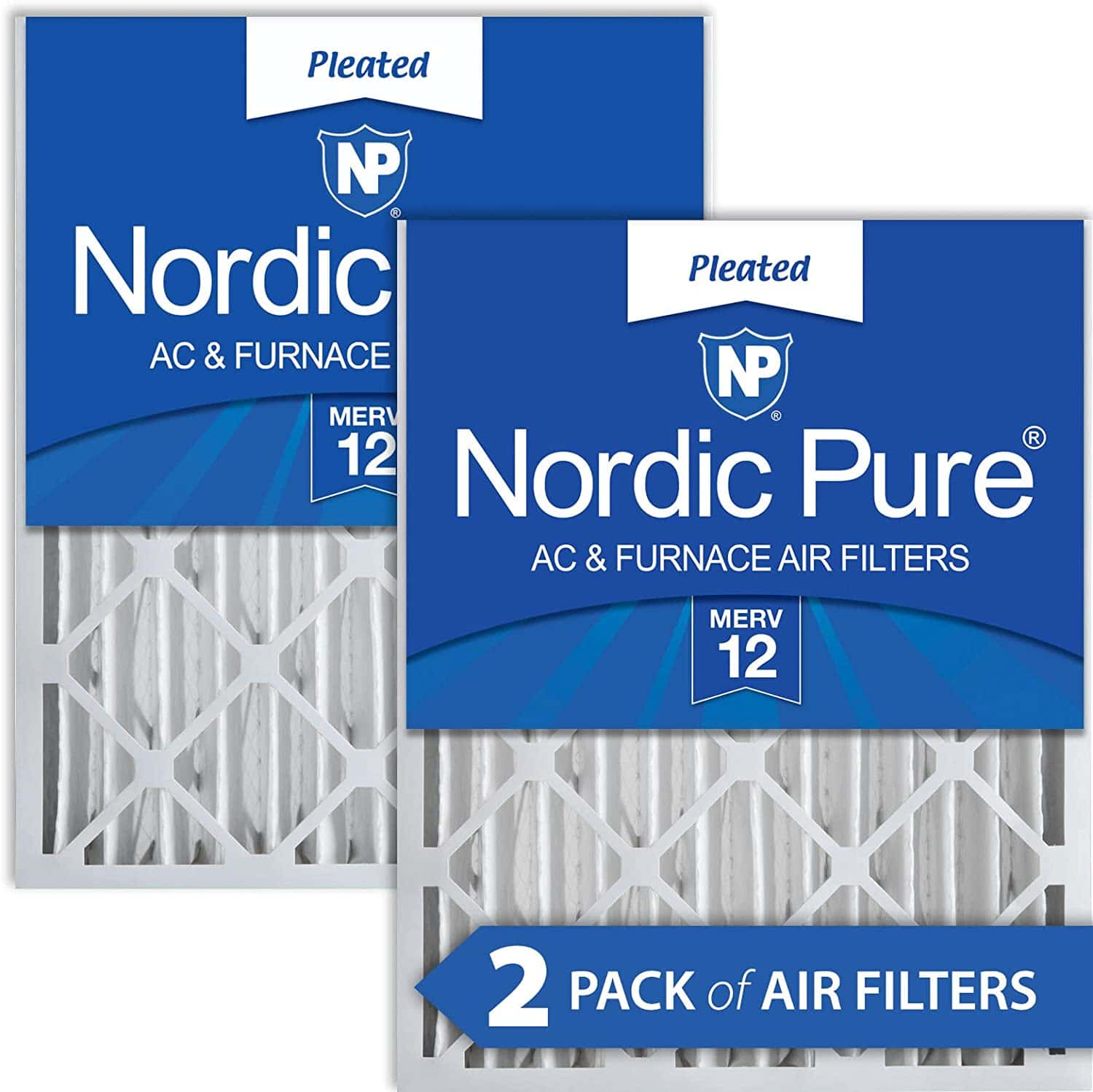 Besides the MERV 12 version of the Nordic Pure Air Filters, you can also choose from models with MERV ratings that range from 7 to 15. In addition, some models have carbon-enriched media that neutralizes odors, and in my opinion, each version of these filters can be a good fit for different cooling and heating systems.
The MERV 12 model has pleated synthetic media with electrostatic properties that can capture microscopic air pollutants like exhaust particles, smog, or candle soot. In addition, this air filter can remove more than 90% of viruses, bacteria, or mold spores from the air in your home.
Pros
Homeowners can choose from multiple air filtration options
Filter's synthetic media doesn't absorb moisture
A straightforward installation process
It lasts three to six months
Cons
Filter's actual size can cause fitment problems
Filterbuy Air Filters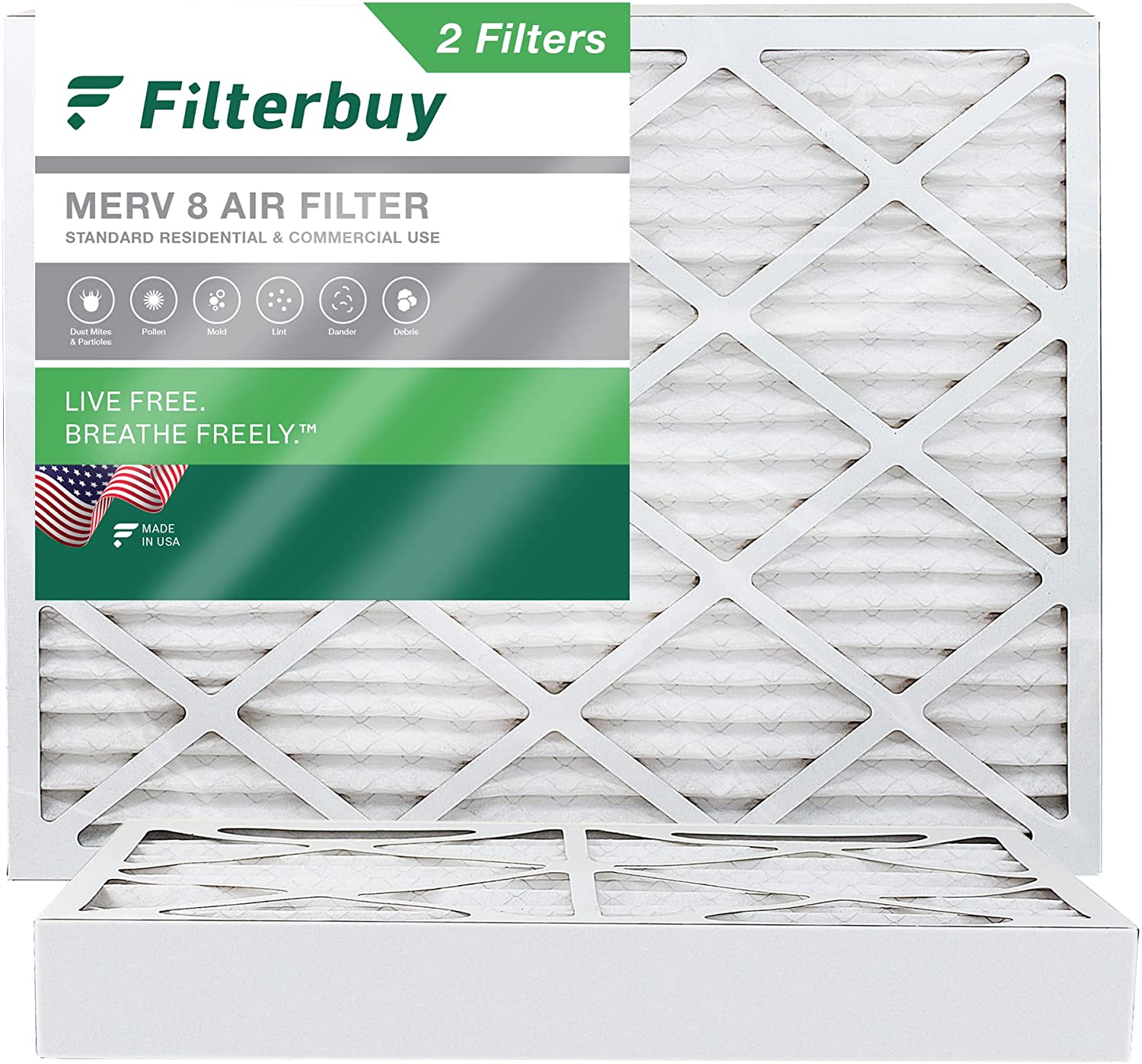 You shouldn't expect high-end performances from the Filterbuy Air Filters because they're designed to capture large air pollutants. Even so, I think that these filters can decrease dust levels in your household and help with pollen allergies.
Electrostatically charged synthetic media has twelve pleats per foot and traps close to 90% of particles larger than 3 microns that reach its surface. Both the media and the cardboard frame perform well in hot and humid conditions because they're moisture and heat-resistant.
Pros
Dual wire backing keeps media in place
It delivers standard air filtering performances
Less expensive than most four-inch wide filters
Cons
TopTech TT-FM-2025 Air Filter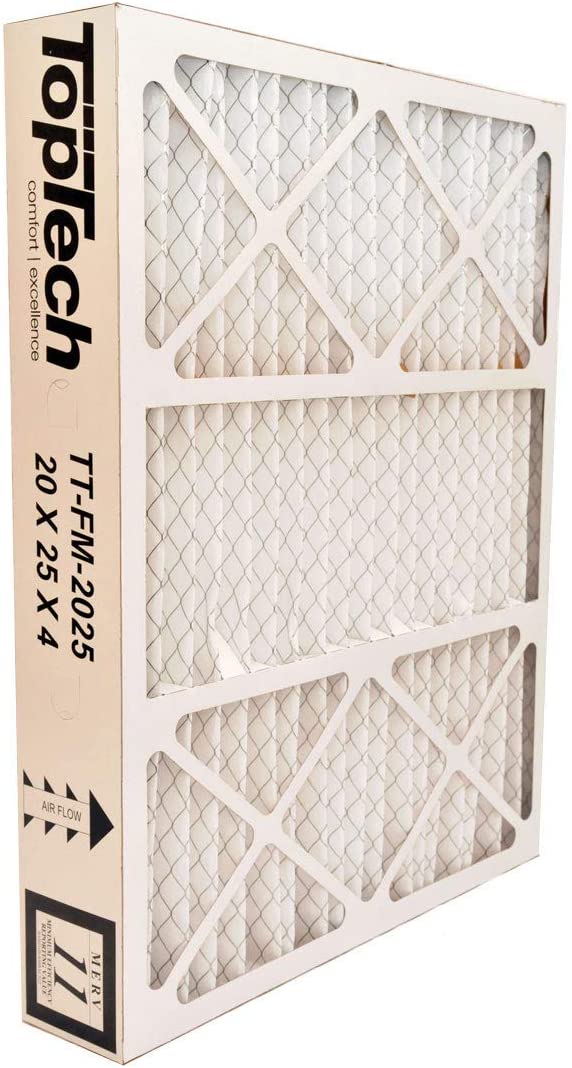 The TopTech TT-FM-2025 Air Filter is a direct replacement option for Carrier furnaces, and you can't use it with other heating or cooling systems. Aside from limited compatibility, my experiences with this air filter are positive, because it's both durable and efficient.
Its remarkable filtering capabilities make it a good fit for residential and commercial contexts, as the model can remove nearly all impurities from the air it filters regardless of how big or small they are.
Its synthetic gradient media supported by a galvanized metal grid maintains its efficiency even at high temperatures.
Pros
It has a high MERV rating
The filter's efficiency doesn't decrease over time
Synthetic media is moisture resistant
The filter's peak temperature is 225F
Cons
It only fits on Carrier furnaces
Frequently Asked Questions about 20x25x4 Air Filters
Question: Can I use 20x25x4 air filters on a cooling or heating system designed for one-inch wide filters?
Answer: The short and simple answer is no. You can only use 20x25x4 air filters with heating or cooling systems compatible with four-inch wide filters.
Question: Should I upgrade to a 20x25x4 air filter with a higher MERV rating?
Answer: You should consult a professional before getting a 20x25x4 air filter with a MERV rating higher than the one you're already using.
Question: How many 20x25x4 air filters do I need per year?
Answer: Most homeowners use two to three 20x25x4 air filters per year, but you may have to replace these filters more often if you're using your cooling or heating unit daily.
The information I shared with you and the 20x25x4 air filters I included in this article should help you find the model that will improve the quality of the air you breathe and protect the key components of an HVAC system, AC, or furnace from dirt accumulation.
Please go through our guide to ventilation systems for more information on how to improve air quality in your home.
My Verdict: How to Choose the Best 20x25x4 for Your Cooling or Heating System?
Long lifespan and excellent filtration capabilities are some of the advantages 20x25x4 air filters offer. However, these filters are designed for specific cooling and heating systems, so you can only use them if you have a furnace, AC, or heat pump that supports four-inch wide filters.
I recommend choosing Honeywell Home Air Filter or Aerostar Air Filters because their MERV 8 rating suggests their media isn't thick enough to restrict airflow or cause pressure drops.
Models like FILTI 7500 Air Filters, Filtrete Air Filters, and Nordic Pure Air Filters offer high filtering efficiency. Still, you should consult an HVAC technician before buying them to avoid potential complications.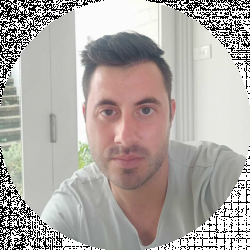 Latest posts by David Borgogni
(see all)