All AC units operate on the same principle, as they absorb the hot air, dispose of it through the venting system, and replace it with cold air. Unlike heat pumps or mini-splits, the best ventless air conditioners don't need a venting system to get rid of the heat it absorbs.
A ventless AC is a contradiction in terms because an air conditioning system needs an exhaust and a steady supply of fresh air to function normally. That's why terms like evaporative or swamp ACs are used to describe units that don't rely on venting systems to lower room temperature.
In this article, we're going to examine key features of ventless air conditioners and suggest several models that might be a good fit for your home. Go through our guide to the best mobile home air conditioners if you need a cooling solution for an RV or manufactured home.
At a Glance – The 5 Best Ventless Air Conditioners
Selection criteria
Evaporative ACs have become a popular cooling solution in warm climates because they're easily portable, eco-friendly, and usable in both outdoor and indoor conditions.
Unlike other types of ACs, these units don't rely on a refrigerant to cool the air, and instead, they utilize water to dispose of the heat they absorb. Consequently, the size of a water tank and other key properties of these ACs have helped us select the models we featured in this article.
Let's take a closer look at some of the most important parameters we used to select the best ventless air conditioners.
Brand credibility – Swamp ACs are produced by many companies, and their properties or quality often depend on the manufacturer. That's why our selection only includes models produced by well-established brands.
Maximum airflow output – The unit's coverage range depends on its maximum airflow capacity. In this article, we featured units capable of cooling spaces between 250 and 500 sq/ft.
Water tank capacity – The size of the unit's water tank determines how long you can use it continually. Models we selected can hold between 4 and 13 gallons of water, and they don't need frequent refilling to keep functioning for hours.
Check out our guide to cooling systems if you need more information on how different cooling systems work.
What's a Ventless Air Conditioner?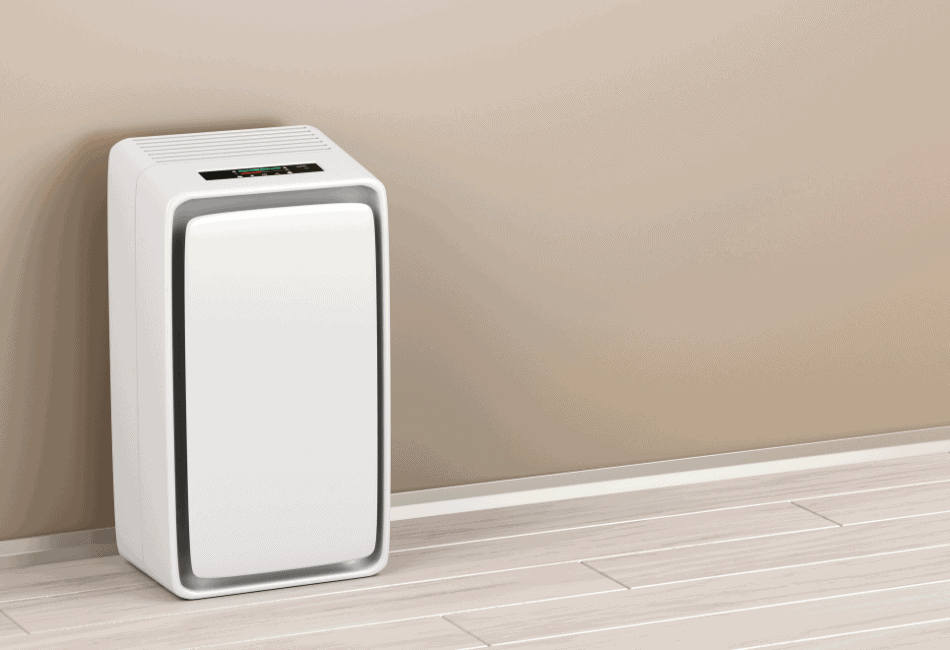 Swamp ACs have a lot in common with ceiling fans because they supply a cold breeze that cools the air rather than absorbs heat like other types of AC systems.
Evaporative and portable AC look alike, as they're usually equipped with caster wheels and have lightweight construction. However, portable air conditioners have the ability to remove a certain amount of heat from the room, which is the reason why each model has a specific BTU rating.
Evaporative ACs, on the other hand, don't have BTU ratings, and their cooling capacity is measured in the same way the cooling capacity of a fan is measured.
Hence, the airflow volume of a swamp AC determines its coverage range, so the higher the airflow volume a unit offers, the more powerful its cooling capacities will be.
The lack of a venting system makes evaporative ACs an ideal cooling solution for rooms without windows or spaces where installing a venting system is not possible. Read our guide to the best Amana portable ACs if you need more cooling power than ventless air conditioners can offer.
How do Evaporative ACs Work?

These cooling systems have simple construction, as their components include a water distributor, a water tank, a pad, and a fan. Some models can have an ice reservoir in addition to the water tank that improves their cooling capabilities.
The unit's pads absorb the water from ice or water distributors. Once the fan sucks the hot air into the system, the water from these pads starts to evaporate, lowering the air's temperature.
Pads on most swamp ACs have multiple layers, which increases their surface and the unit's ability to reduce the air temperature. Some models can lower the temperature of the air that enters the system by 20F.
The fan then blows the cooled air out of the machine and into the room, creating a breeze that supplies instant cooling. Evaporative ACs are often equipped with air filters that trap allergenic particles and improve the air quality in your home.
Browse through our guide to the best retractable ceiling fans to explore alternatives to ventless ACs.
Cooling Capacities of Ventless Air Conditioners
As we already noted, evaporative ACs cannot remove the heat from the room. Instead, they bring in the cold air that provides instant cooling. These units don't actually lower the temperature in the room, but they can cool the people in that room.
Two factors affect the cooling capabilities of these units, the fan's output and the surface of the pads. The airflow volume ventless ACs can generate depends on the model, and it varies from 500CFM to more than 5,000 CFM.
Models with large pad surfaces are more efficient at reducing the air temperature because they release a higher amount of water molecules into the air. Adding ice to a water tank won't improve the unit's cooling abilities unless the model features a separate ice tank.
Even though they're often labeled a cooling solution for rooms without windows, ventless air conditioners are more efficient when used in spaces with open windows. Check out our guide to the best windmill ceiling fans if you need an additional cooling solution for a specific room in your home.
Air Humidification Potential
Unlike all other types of ACs that dehumidify the air, ventless ACs increase the air humidity level. This property makes them a good addition to spaces where the air is dry because they eliminate the need to use other types of humidity control systems.
The same feature limits their use to warm and dry climates because their efficiency decreases drastically in humid weather conditions.
So if you live in Arizona or New Mexico, an evaporative AC can help you cool down, but homeowners in the northern part of the country won't benefit from getting a ventless air conditioner.
That's why you need to check if you live in an area that has a climate that is suitable for these ACs before you decide to buy them. Mold and bacteria accumulation is one of the greatest downsides of using these units in humid conditions because it can lead to respiratory complications.
Browse through our guide to the best inline duct fans if you're looking for a way to improve the dehumidification capacities of your central HVAC system.
The Most important things to consider while choosing a ventless air conditioner
The maximum airflow volume a ventless air conditioner can supply will determine its suitability for a particular space. The coverage area of these units spans from 200sq.ft up to 1,600sq/ft, which means that you can use them to cool a single room or an entire home.
It is worth adding that these units don't have EER or SEER ratings, so determining their energy efficiency can be difficult. We've shortlisted several factors that can make your search for a ventless air conditioner quicker and easier, so let's go through them.
Unit's features
Besides the coverage range and maximum airflow output, considering features like the timer, variable fan speed, or the low water indicator can help you decide which model is a better choice for you. The settings on the majority of models can be adjusted with onboard control buttons or with a remote.
These features enable you to adjust the unit's airflow to your needs or to program it to switch on automatically. Some models also feature a display that shows you the current temperature in the room.
Size and weight
The portability of evaporative ACs is one of their essential properties because they're not designed to be used in just one room. Checking the unit's dimensions can help you determine how difficult it would be to carry it with you whenever you need an outdoor cooling source.
Caster wheels are a standard feature on these ACs, but they won't be of much use if the unit weighs more than 40lbs and you need to move it up the stairs. Keep in mind that models capable of generating high airflow volumes are usually bulky and heavy.
Water and ice tank capacity
The water tank is a standard feature on all evaporative ACs, but their capacity varies from model to model. The size of the water tank also determines how long a unit can run continually, and opting for a swamp AC with a small water tank means that you'll have to refill it often.
On average, an evaporative AC with a 14-gallon water tank can function for more than 6 hours without refilling. Models equipped with an ice tank have better cooling capacities than the basic units with this feature.
Noise level
As cooling systems are designed primarily for indoor use, ventless air conditioners shouldn't be loud. However, some models can generate more than 70dB of noise while operating at maximum capacity, making them a poor fit for bedrooms.
Ideally, the evaporative AC you choose should make between 20dB and 50dB because it will enable you to use it in all settings without having to worry about the noise it makes.
Price and warranty duration
Prices of ventless air conditioners are similar to the prices of portable ACs, as their cost ranges from $150 for entry-level units to $600 for high-end models.
Bear in mind that the price of these ACs increases with their airflow capacities, and a unit that can supply less than 500CFM of airflow is significantly less expensive than a unit capable of supplying more than 5000CFM.
The warranty period is usually limited to 12 months, although some brands offer longer warranties.
The advantages of ventless air conditioners
Cooling without venting systems
Ventless air conditioners don't need a venting system to generate cool air, making them a good cooling solution for spaces where installing the AC's venting system isn't possible.
Air humidification properties
These ACs offer an easy way to deal with dry air in your home. The water they use to cool the air evaporates and increases the air humidity level. However, you often cannot control the speed at which the water evaporates, so in some situations you may end up increasing the air humidity level too much.
No installation process
You just have to fill the unit's water tank and adjust its settings before starting using it. Also, you won't have to spend a lot of time on the AC's upkeep or perform maintenance checks.
The disadvantages of ventless air conditioners
Not suitable for all climates
The performance of ventless air conditioners largely depends on the climate, as they need dry and warm conditions to deliver their best cooling performances. That's why these ACs are not a great choice for homeowners who live in regions with wet climates.
Top 5 Ventless Air Conditioners
Luma Comfort EC111B – The Most Portable Ventless Air Conditioner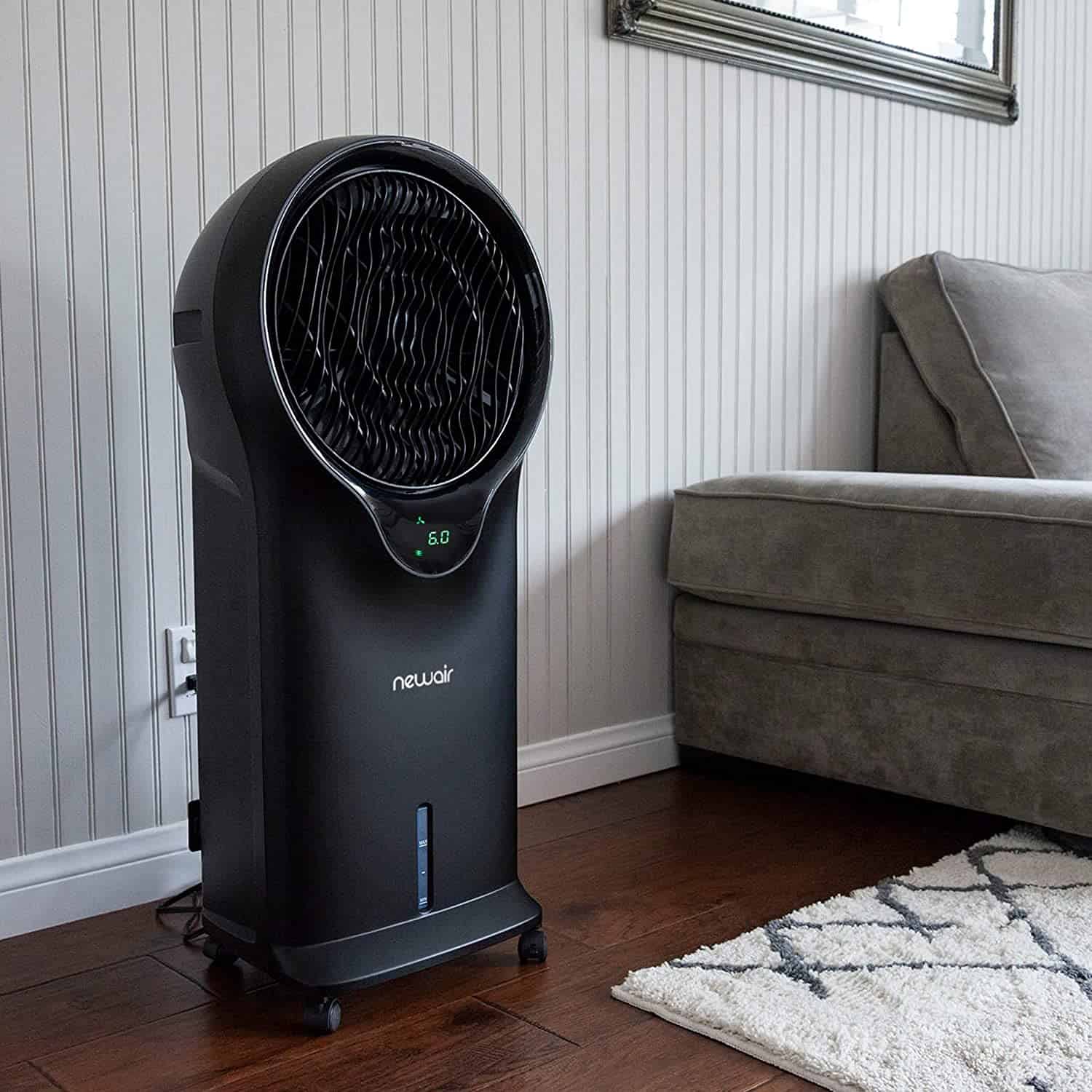 The lightweight and compact design of the Luma Comfort EC111B evaporative AC enables you to move it around your house effortlessly. Besides weighing just 16lbs, this unit is only 34.5-inches tall, and you won't need a lot of storage space for it.
This Luma model has a removable 1.75-gallon water tank, and it can supply up to 500CFM of airflow. The unit can operate in Fan Only and Cooling modes, and you can switch between three fan speeds.
Pros
Perfect for small spaces
Equipped with durable casters
Adjustable fan speed
Low power consumption
Cons
No ice tank
Short continuous runtime
Frigidaire EC400WF – The Ventless Air Conditioner With The Largest Water Tank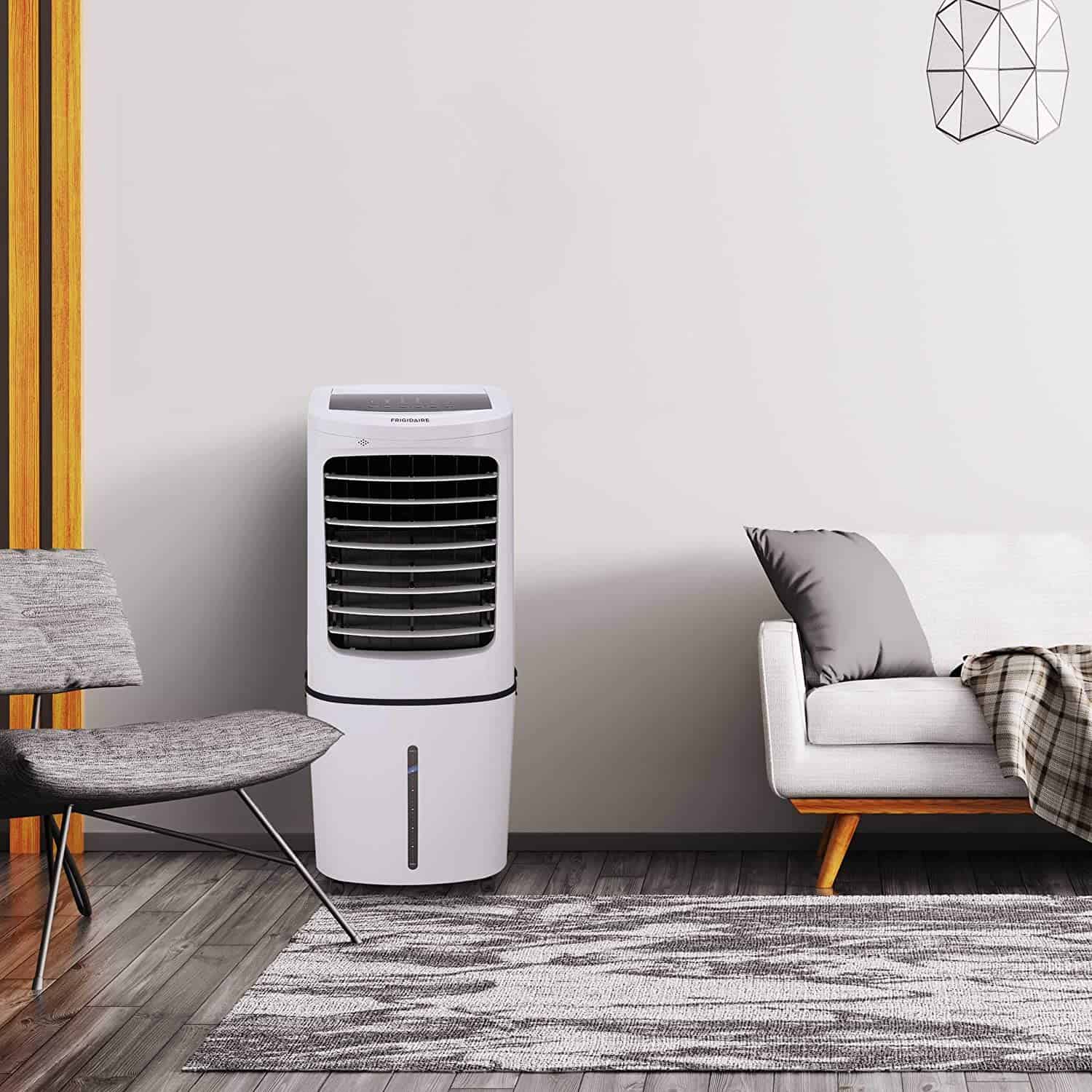 In case you need a ventless air conditioner that can run for hours without refilling, then the Frigidaire EC400WF might be the right solution for you. The unit features a removable 13-gallon water tank that enables you to use it for more than 6 hours without refilling.
This AC has 3 cooling and 3 fan speeds, so you can either cool or ventilate spaces that have up to 450sq/ft with it. The Frigidaire's model has two ice packs that help cool the water in the tank faster.
Check out related products from Frigidaire:
Pros
Large water tank
Sturdy and durable components
Honeycomb pads have a high water absorption capacity
Low upkeep requirements
Cons
The noise level is at 73dB
1-year limited warranty
Honeywell CL30XCWW – The Best Outdoor Ventless Air Conditioner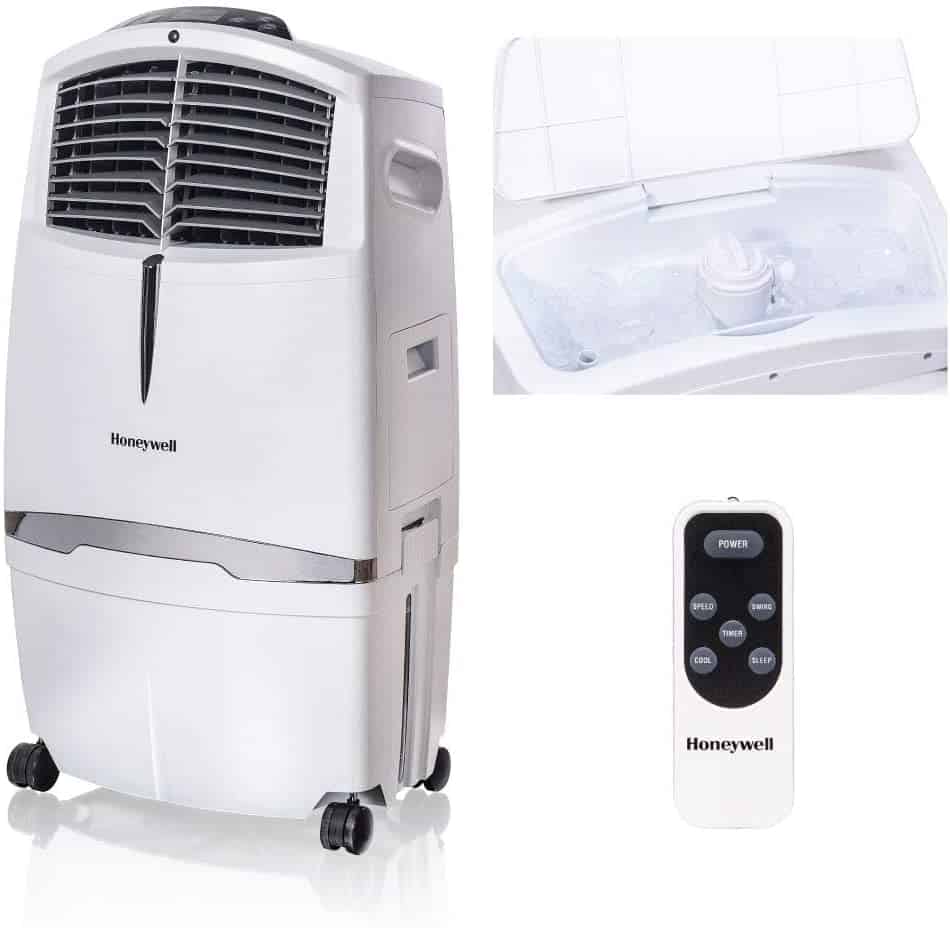 The Honeywell CL30XCWW can generate up to 790CFM of airflow, and its airflow reach is 32-feet, so you can use it as a cooling source in your living room or on the patio. Besides a 7.9-gallon water tank, this unit also has an ice compartment that extends its cooling capacities.
The active carbon air filter absorbs allergenic particles from the air, while the unit's humidity settings allow you to regulate the room's air humidity levels. The CL30XCWW has a low water indicator that informs you when you need to refill its water tank.
Pros
Great air cooling features
Reasonable price
Multiple cooling and humidity options
Effective air filter
Cons
It doesn't function normally if air humidity is above 60%
Limited runtime
Hessaire MC18M – The Most Powerful Ventless Air Conditioner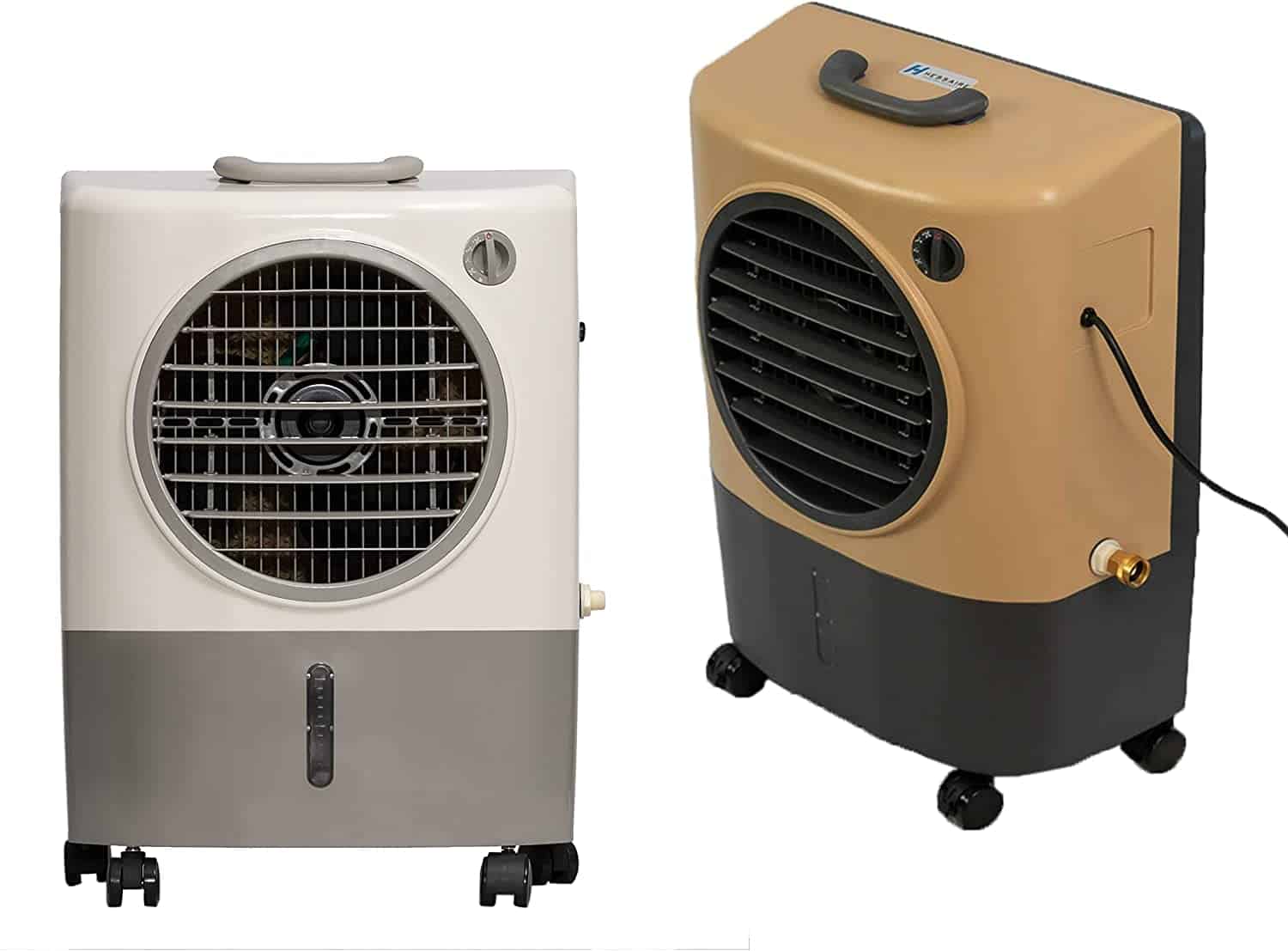 Despite an affordable price, the Hessaire MC18M still has impressive performance capabilities. The unit's maximum airflow output is 1,300 CFM, making it powerful enough for indoor and outdoor use.
The MC18M can operate at just two cool or fan speeds, and its coverage range is limited to 500sq/ft. This AC doesn't have a long runtime because it has a 4,8-gallon water tank, but a garden hose adapter enables you to refill the tank while the unit is in use.
Pros
Multi-positional louvers
Offers the continuous fill option
Quiet operation
Suitable for indoor and outdoor use
Cons
Small water tank
Operates at just two cooling speeds
NewAir AF-1000W – The Best Spot Cooling Ventless Air Conditioner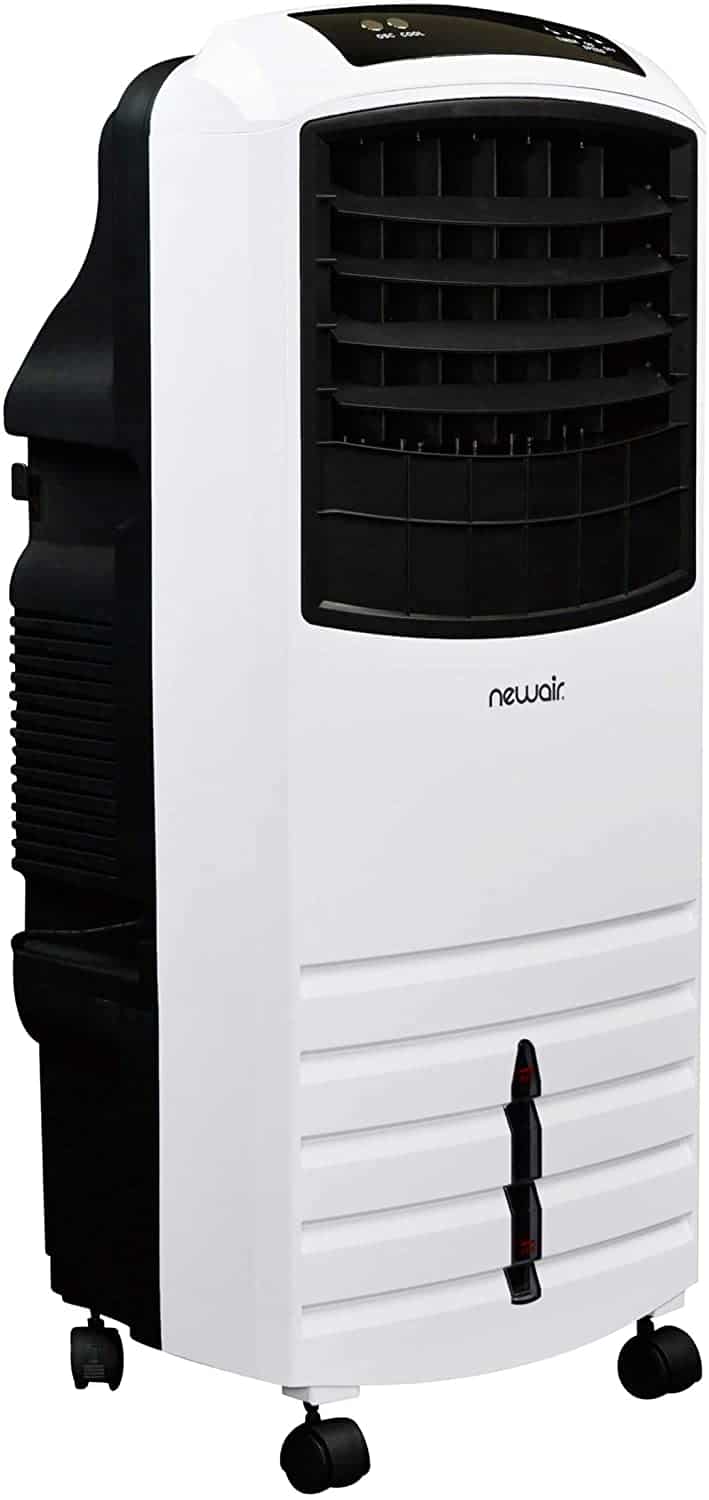 The New Air AF1000W enables you to choose if you want to cool a specific part of the room or the entire space by allowing you to choose the position of its louvers. The unit's maximum airflow output is 1,00CFM, but its coverage range is limited to 300sq/ft.
Its tank can hold up to 5.3-gallons of water, but you cannot detach it from the unit or refill it while the AC is still operational. The AF1000W's timer allows you to program the unit to switch off and on within 10-hour intervals.
Pros
Intuitive controls
It offers three cooling modes
High airflow output
Inexpensive
Cons
Prone to mold and bacteria accumulation in humid conditions
Some components are built from flimsy materials
Frequently Asked Questions About Ventless Air Conditioners
Question: Can I use ventless air conditioners in outdoor conditions?
Answer: Yes, you can, but you should keep in mind that these ACs need much power to supply cooling in outdoor conditions.
Question: How often do I have to refill the ventless air conditioner's water tank?
Answer: You should refill the water tank once the unit's low water indicator goes off. Also, you should replace the water if the AC hasn't been used for a few days.
Question: Do ventless air conditioners need access to fresh air?
Answer: No, these ACs don't need access to fresh air to cool a room, but a supply of fresh air can enhance their cooling performance.
Question: Are ventless air conditioners energy efficient?
Answer: Swamp ACs use less power than conventional ACs, but estimating their energy efficiency is difficult because they don't have efficiency ratings.
Our Verdict – Choosing the Best Ventless Air Conditioner For Your Home
Window ACs are a great cooling solution as long as the space you want to cool has windows. In fact, installing all types of ACs in a room without windows is either difficult or very expensive.
Ventless air conditioners offer an affordable solution to this problem since they don't need a way to dispose of hot air. However, they're only a reliable option for home or business owners who live in regions with a hot and dry climate.
We recommend the Luma Comfort EC111B if you need an evaporative AC, you can easily move from one room to another. The Hessaire MC18M might be a better choice for you if you need a unit capable of generating a high airflow volume.
We hope that our article has helped you discover the best ventless air conditioner for your home. Let us know in the comments or continue reading our guide to the best vertical window ACs if the climate in your region prevents you from using a ventless AC.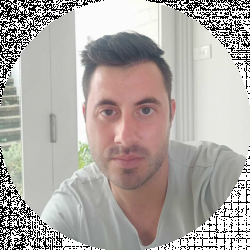 Latest posts by David Borgogni
(see all)