An efficient home ventilation system helps you get rid of the stuffy air or cooking smells, but this commodity comes at a great expense. The best window fans are affordable and they cut down your household's power consumption while providing constant air circulation.
In this article, we're going to show you how to find the best window fan and watch you in selecting the model that meets your requirements.
Go through our guide to cooling systems for more information about the methods you can use to reduce the temperature in your home.
The 5 Best Window Fans
The cooling capacity of window fans
Wind fans are more energy-efficient than ceiling fans or tower fans because they consume less power. Like all other types of fans, window fans are powered by electricity, and you can only install them on windows that are located near a power outlet.
Let's take a closer look at the two most common types of window fans and their cooling capacity:
Whole house

– These devices usually have just one fan with large blades.

Although their coverage capacity varies, some models are capable of supplying ventilation for spaces that have 2,000sq.ft.

Single or multiple room –

The coverage area of ​​most window fans does not exceed 500sq.ft, regardless of the number of fans a particular model has.

Hence, these devices can only cool one or two rooms.
Read our guide to the best 5-ton heat pumps if you're looking for a way to cool spaces larger than 3,000sq/ft.
The reversibility option
A window fan can either draw the air from the outside and circulate it through a room or it can be used as an exhaust that removes the heat and unpleasant smells from a room.
The process of reversing the fan's airflow depends on the model, and you can change the direction in which the air is flowing manually or with a switch.
Fans manual

– These devices aren't very practical because you have to reinstall them every time you want to reverse the flow of the air.

Even though installing a manually reversible fan is not difficult, it still requires time and effort to switch between the intake and exhaust options.

Electrical fans –

You can reverse the flow of the air by simply pushing a button, and there's no need to reinstall the unit every time you want to change the airflow's direction.

This enables you to use the unit to remove the heat from a room during the day and bring in the fresh air during the night.
Check out our guide to the humidity control systems for more information on how you can control the air humidity levels in your home.
Single vs twin window fans
Depending on the model, the window fan can have between 1 and 3 fans, but the majority of units you can find on the market have one or two fans. Even though they're used for the same purpose, the amount of air they can draw in or out isn't the same for all models.
Single fan units –

Designed to supply vast amounts of cool air to a household, single-fan models often have the capacity to supply cooling and ventilation for an entire home.

Their large fans occupy a lot of space and generate a significant amount of noise.

That's why you must check if a unit can fit in your window and how loud it is.

Twin window fans –

Their relatively small size makes them suitable for different types of windows, while the side-by-side fans minimize the amount of energy you have to use to cool a room.
Go through our guide to the best GE air conditions if the cooling capacities of single and twin window fans don't meet your requirements.
Controlling the airflow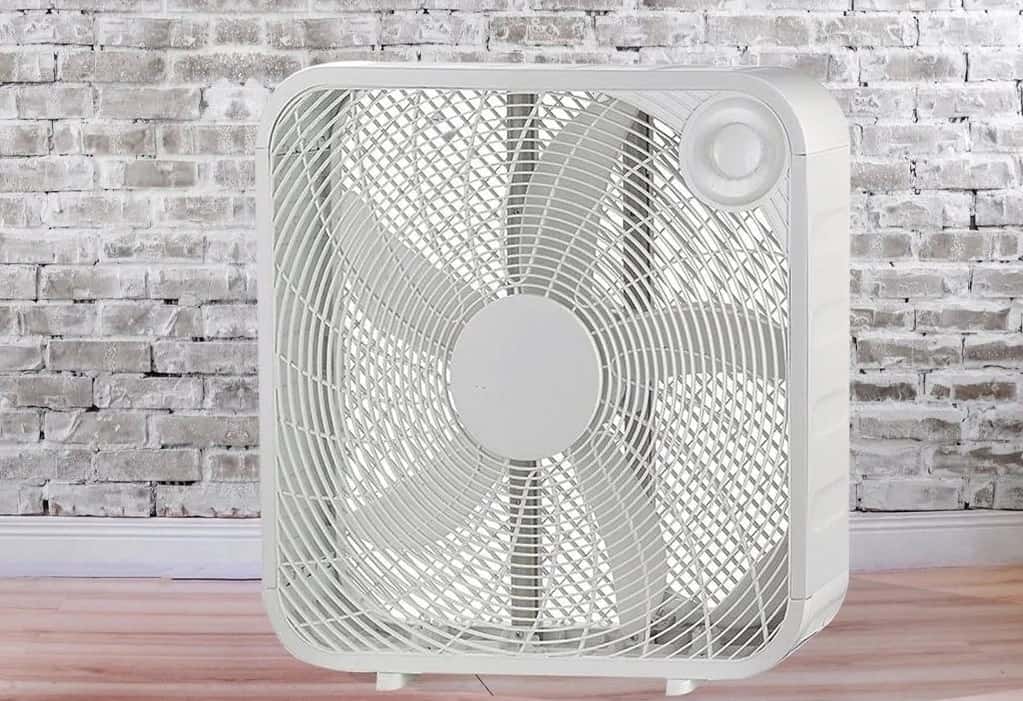 Besides choosing the direction in which the air is going to flow, these fans also allow you to control the amount of air that enters and leaves the room. Their cooling capacity is measured in cubic feet per minute (CFM), but manufacturers don't always include this information in the product description.
Moreover, add twin fan models let you set the preferred room temperature or operate fans at different speeds. You can also use one fan to bring cool outside air into the room and the other to exhaust the hot air from the room.
Only a handful of models come with a remote, and in most cases, you will have to make all adjustments manually. Programming units equipped with thermostats to switch off or on automatically is an option that enables you to use them while you're not at home.
Read our guide to the best 3-ton heat pumps in case you need a system capable of maintaining the same temperature in your home throughout the year.
Portability and the installation process
These fans are usually compact, and they often cover the lower portion of the window. Their size varies from model to model, so you must check the unit's length to know if it can fit on the window on which you want to install it.
Most models come with an adjustable extender that resembles an accordion, which enables you to simply pull the extender until it covers the entire length of the window.
Installing these devices requires a minimum amount of effort, but you should keep in mind that they are not compatible with all types of windows. In most cases, you just have to open the window, place the fan on the windowsill, and then close the window.
You should also make sure that all gaps between the fan and the window are covered, as they might lower the unit's cooling efficiency. Go through our guide to residential insulation to learn how you prevent heat transfer.
The most important factors to consider while choosing a window fan
Getting a window fan can be a simple and inexpensive cooling solution that will allow you to control the temperature in your home during the hot summer months.
But, you shouldn't expect too much because these devices just circulate the air, only once the temperatures rise over 90F, the air you're letting into your home will have the same temperature. That's why it's important to look into the unit's reversibility options that enable you to draw the hot air out.
There are only a handful of factors you need to take into consideration while deciding which window fan you want to get, so let's take a closer look at them.
The size of the area you want to cool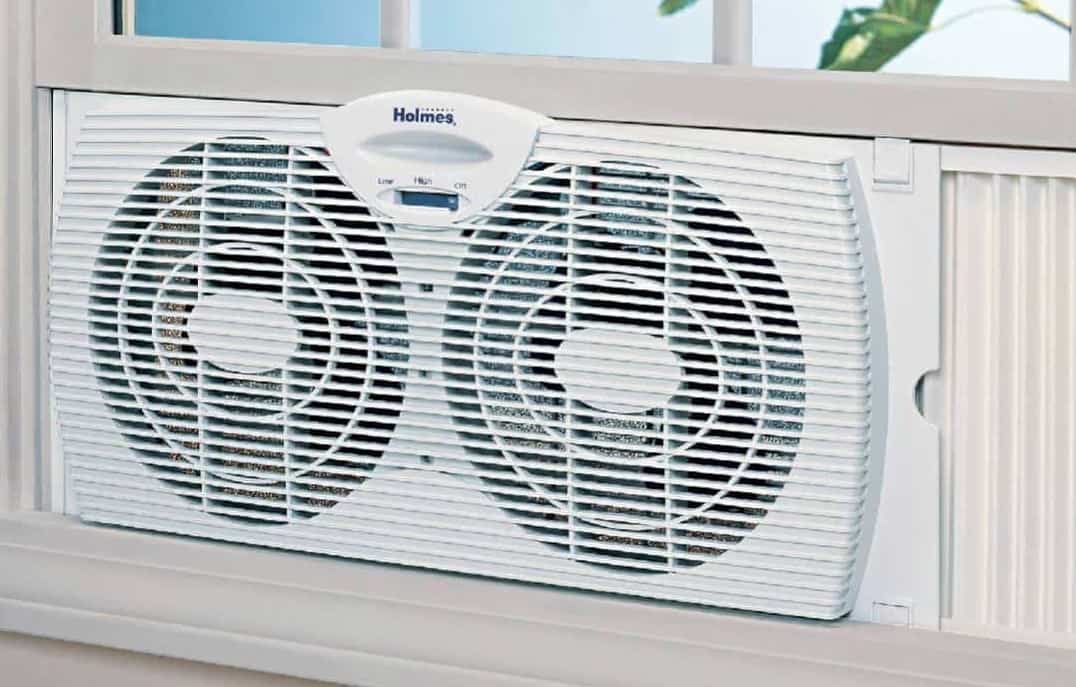 One of the first things you'll have to decide is whether you want to cool one or more rooms with the window fan you'd like to get. Doing so will enable you to determine if you should get a single fan unit that has a coverage area up to 2,000sq/ft or a twin fan model designed for spaces smaller than 500sq/ft.
You should also try to find out how many CFM of airflow the fan can generate, but getting this information might be difficult.
In general, the unit needs 1 CFM to cool the area of ​​1sq/ft, but you should always opt for a model that has a slightly higher airflow output than the size of the space in which it is going to be installed.
The quality of the unit's components
Checking the durability of the window fan's parts can help you determine the model's durability. Regardless of their price, most units have housings, blades, or side screens that are made of plastic.
Opting for a model that is equipped with metal fan blades is a good long-term investment as the blades remain in good condition for a long time.
In case you live in a region that has a humid climate, you should choose a model with louvers that prevent the moisture from reaching the unit's internal components.
Airspeed options
These devices don't provide a precise fan speed control, the most units let you choose between just three options. These models can operate at low, medium, and high speeds, and you can switch from one-speed setting to another by pressing the appropriate button.
Even so, making intricate speed adjustments on these devices is not possible, and you have to opt for other cooling systems if you want to decrease the room temperature gradually.
It is worth adding that entry and medium-level window fans often operate at just one speed, so finding an affordable model that allows you to change the speed might be difficult.
Window compatibility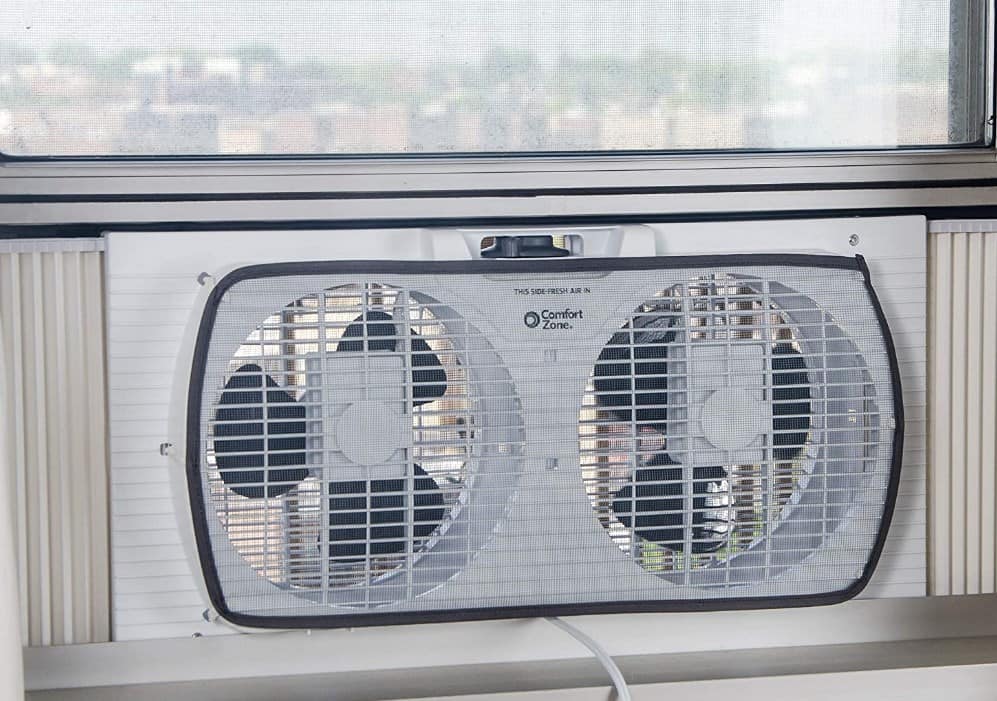 These devices are usually installed on double-hung or sliding windows, and they are not compatible with conventional casement or other types of windows. In addition, fitting these devices on irregularly shaped windows commonly featured in old buildings and houses is virtually impossible.
The length of a window fan rarely exceeds 30-inches, which is the reason why most units come with extenders that enable you to cover the gaps between the fan and the window frame.
Nonetheless, you should bear in mind that the length of side screens is limited and you must check if they're long enough to fit on your windows.
The cost and upkeep
Getting rid of all the dust and dirt that accumulates in the fan can be an arduous task if the model you choose has nonremovable louvers. The easiest solution is to use compressed air or a vacuum cleaner to flush the dirt from the fan.
In case you want to clean the fan blades, you might have to open the unit's casing to reach all of its parts. Most window fan brands offer warranties that last between 1 and 5 years, and you must check the manufacturer's care instructions before you start cleaning the unit.
You can spend anywhere between $30 and $200 on a window fan, depending on the features of the model you're interested in offers.
The advantages of window fans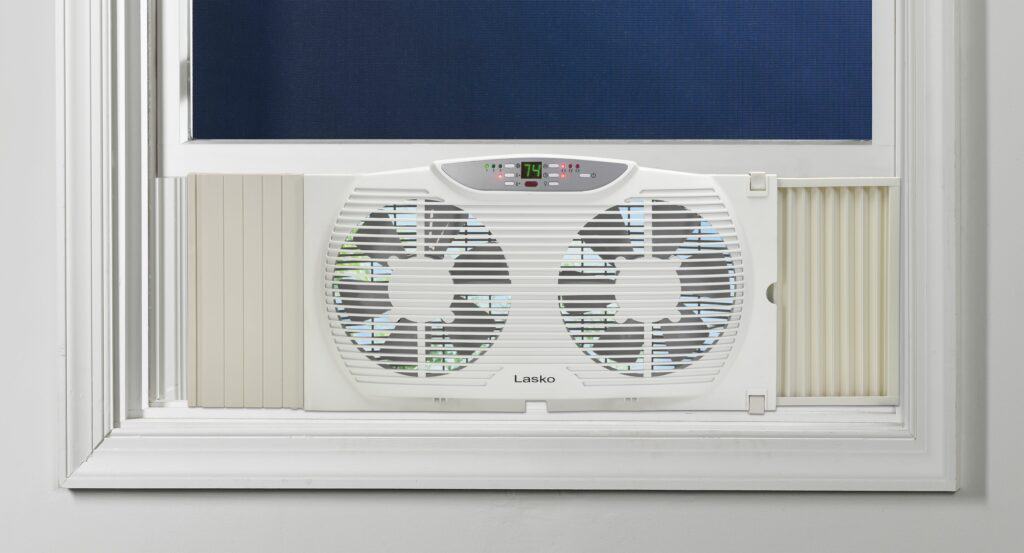 No installation costs
Window fans enable you to lower the budget you dedicate to your home's cooling system as you don't have to spend money on hiring a licensed technician to install it. The installation process takes a few moments of your time as you have to place the unit inside the windowsill and close the window.
Removal of unpleasant odors
These devices are a perfect fit for bathrooms and kitchens because they can draw the air out of the room. Using a window fan as an exhaust allows you to get rid of cigarette smoke, food smells, and all other lingering odors.
Low power consumption
Even though the window fans are powered by electricity, they consume significantly less energy than other cooling systems. But, you should keep in mind that a single unit may not be powerful enough to cool an entire home.
The disadvantages of window fans
Not suitable for use in humid conditions
Direct exposure to water can damage a window fan permanently, and you must remove the unit from the window while it's raining outside. This prevents you from using these fans during hot and rainy stretches of the year.
Top 5 window fans
Holmes 8-inch window fan – The best fan for sliding windows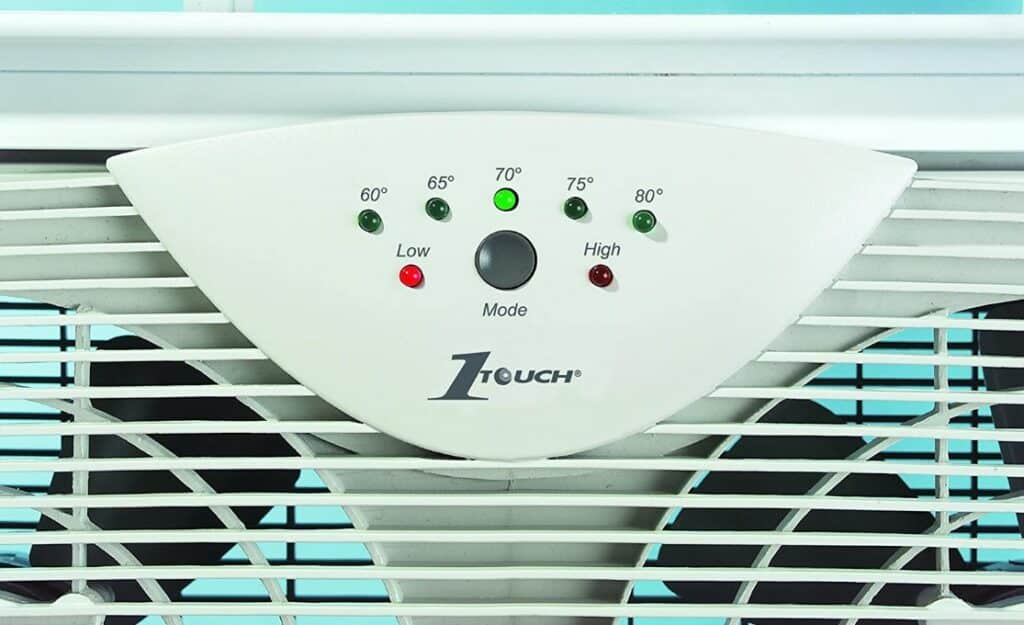 The Holmes 8-inch window twin fan is compatible with double hang and slider windows, but the unit must be installed vertically on slider windows. This model is available with manual controls or with a programmable one-touch thermostat so that you can choose the option that best fits your needs.
The thermostat lets you switch between different modes and choose the room temperature you want to achieve. You can also opt to use one fan as an air intake and the second one as an exhaust in case you'd like to replace the room's hot air with the fresh outside air.
Pros:
Adjustable side screen

The unit switches off automatically once the set room temperature is reached

The motors are water-resistant

Reasonable price
Cons:
plastic construction

The unit's fans can operate at just two speeds
Air King 9166F – The most powerful window fan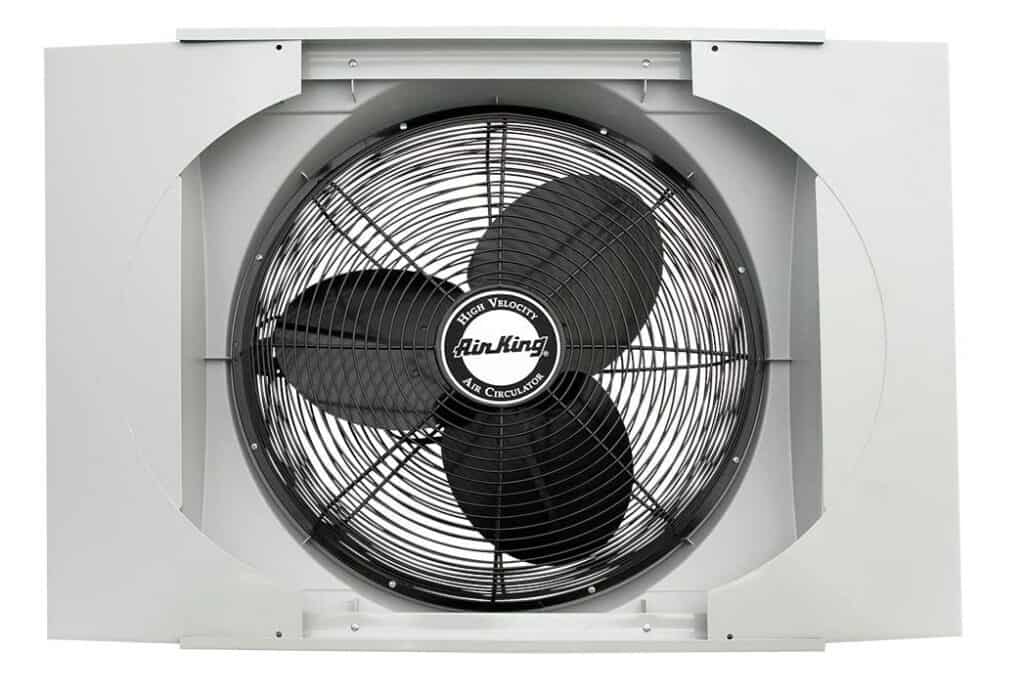 Despite having a simple and somewhat unattractive design, the Air King 9166F can supply you with the maximum airflow output of 3560 CFM. The unit is equipped with a 1-phase 1/6 HP motor and a fan that has 20-inch steel blades.
Users can switch between three intake and exhaust speeds and adjust the unit's output to their current needs. This Air Kind's model features a plastic housing and a metal grille that protect its internal components from damage.
In addition, the 9166F has a Storm Guard feature that enables you to close the window without having to uninstall the fan.
Pros:
Made from durable materials

high airflow output

variable fan speed

The unit is OSHA compliant
Cons:
Occupies a lot of space

Short warranty period
Bionaire Reversible Airflow Fan – The best window fan with remote control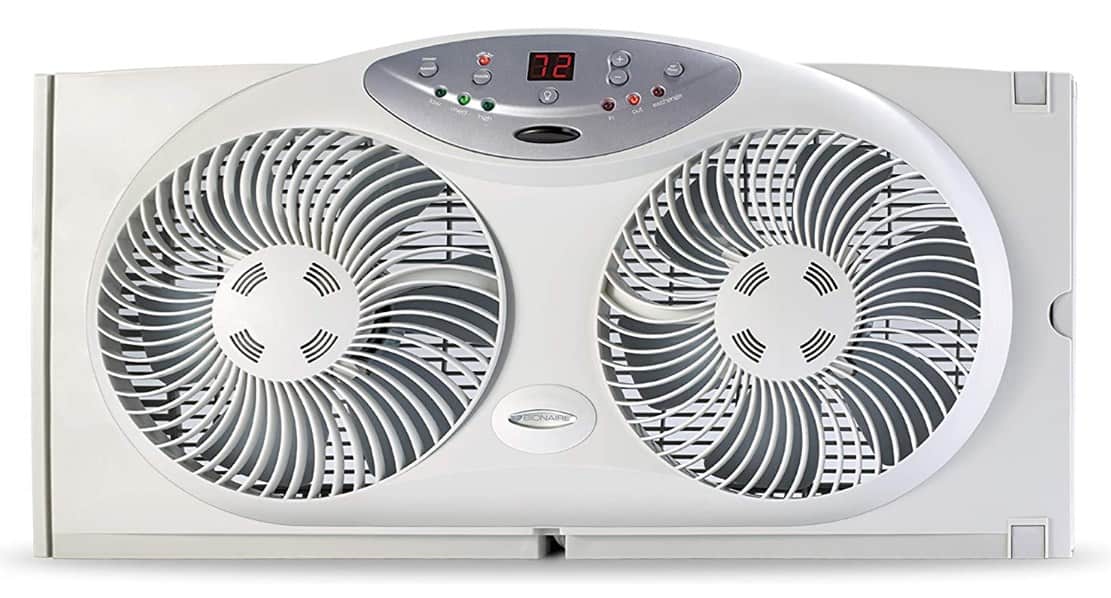 Setting the desired room temperature or using the twin fans in intake and exhaust modes simultaneously are just a few among the Bionaire Reversible Airflow fan offers.
The programmable thermostat turns on the unit automatically once the room temperature changes and switches it off after the set temperature is reached.
Each of the fans can operate at three preset speeds and you can use the unit's remote to control the current temperature or adjust the airflow output. The Bionaire's fan is compatible with windows with widths between 24 and 37 inches.
Pros:
Electrically reversible airflow

Ships with a remote control

The current room temperature is displayed on an LCD screen

Compatible with casement windows
Cons:
Limited airflow output

Flimsy construction
SAILFLO Exhaust Shutter Fan – The best window fan for kitchens and bathrooms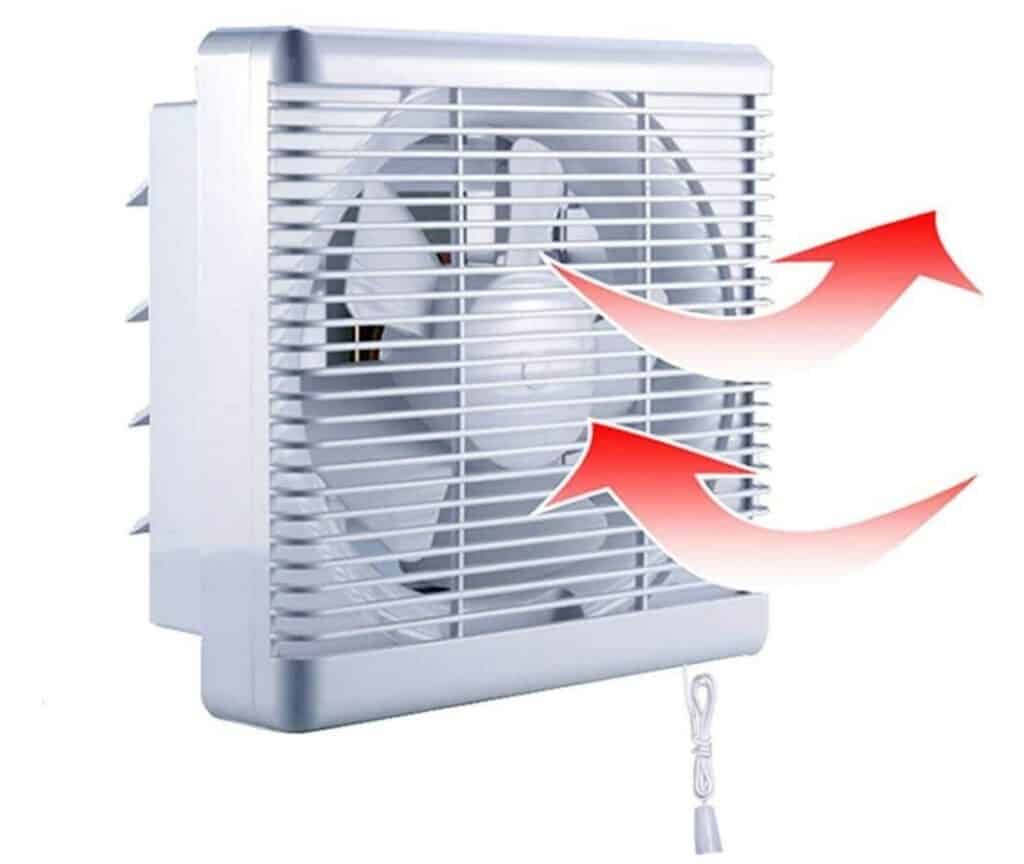 Homeowners in need of an affordable ventilation solution that will help them get rid of odors should take a closer look at the SAILFLO Exhaust Shutter Fan . Besides smells, this fan draws the hot air out of the room and replaces it with cool outdoor air.
Its airflow output capacity is around 300CFM which makes it powerful enough for most bathrooms, attics, basements, or kitchens. Unlike most window fans that can be plugged directly into a power outlet, this unit has to be connected to the house's electrical system.
Also, the SAILFLO's fan can operate at just one speed, which significantly limits its cooling capabilities.
Pros:
Great ventilation solution for bathrooms and kitchens

Low upkeep requirements

Noiseless operation

Occupies a minimum amount of space
Cons:
Components are made of plastic

The engine isn't water-resistant
Comfort Zone CZ319WT – The most affordable window fan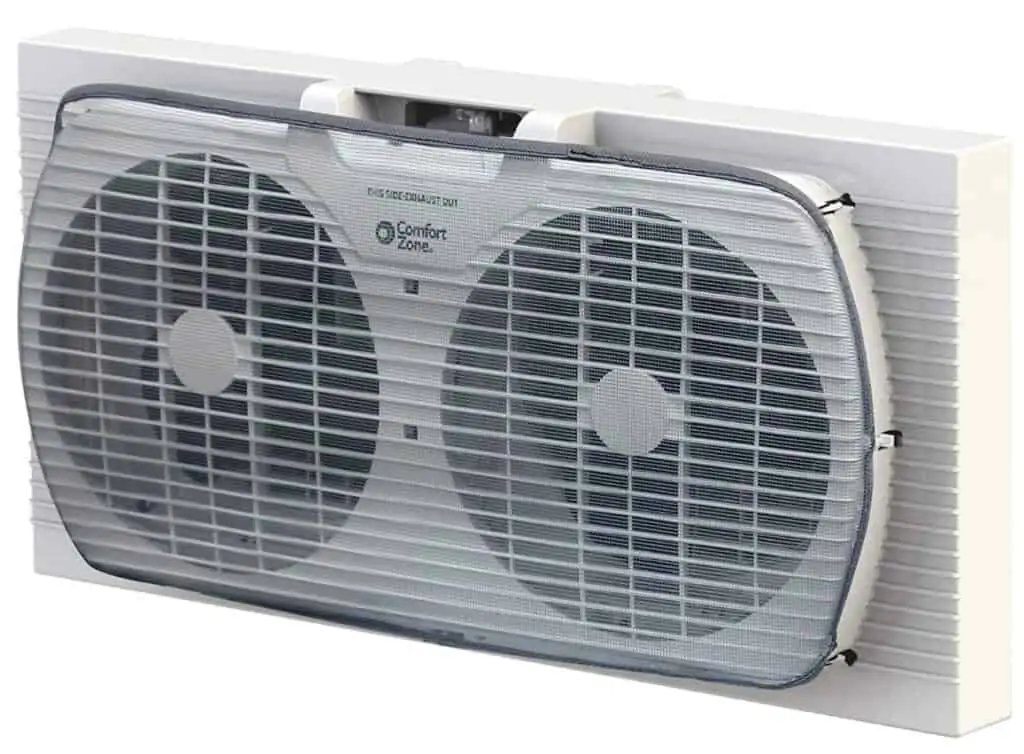 Despite being one of the least expensive windows fans on the market, the Comfort Zone CZ319WT is still capable of great performances. This twin fan model can operate at two speeds and it lets you change the direction of the airflow.
However, the unit's airflow can only be altered manually, so you must reinstall it every time you want to draw the hot air out of a room. The CZ319WT's airflow output is suitable for small rooms, and you should consider alternative options if you want to cool or ventilate a large space.
Pros:
Quick and easy installation process

Fans operate at two speeds

Features auto-locking side screens

Affordable price
Cons:
manual reversible function

Not very durable
Frequently Asked Questions
Question: Can I use window fans in all weather conditions?
Answer: No, these devices are designed for use in warm weather conditions, and exposure to rain can damage them.
Question: Do window fans cool the air?
Answer: Window fans don't contain a refrigerant that cools the air, and their cooling capacities outside depend on the temperature of the air.
Question: How long does a window fan need to cool a room?
Answer: The amount of time a window fan needs to lower the room temperature depends on its maximum airflow output, the outside temperature, and the room's insulation.
Question: Are window fans eco-friendly?
Answer: Window fans are more eco-friendly than other cooling systems because they don't use refrigerants.
Our verdict – How to choose the best window fan for your home?
Keeping the air in your home fresh can have far-reaching health benefits, frequent ventilation gets rid of viruses or dust particles that enter your living area. Window fans ensure that the air in your home is replaced frequently so that you don't have to open the windows and create drafts.
Nonetheless, they're not an excellent cooling solution because their performance depends on the outdoor temperature.
We recommend choosing the Air King 9166F if you need a powerful window fan capable of cooling your home or the Holmes 8-inch twin window fan in case you want to ventilate or cool a single room.
Hopefully, this article has helped you figure out how to find the best window fan? Which model are you going to choose? Let us know in the comments or continue reading out guide to the best water heater systems .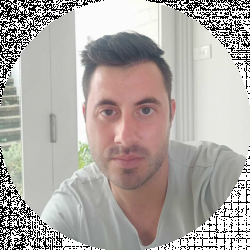 Latest posts by David Borgogni
(see all)