The process of choosing a cooling system for your home can get complicated as there are so many options to choose from. This guide to the best 4-ton AC units should help you understand how these systems work and choose the model that meets all of your requirements.
There are numerous types of AC units capable of generating 48000BTUs or more, we will be focusing on central AC systems in this guide to the best 4 ton AC units.. It is also worth adding that most AC models are available in multiple sizes, so you don't necessarily have to go for the 4-ton option if it exceeds your cooling needs.
You should look at our guide to the best 4-ton heat pumps to learn more about alternatives to central AC systems.
At a Glance – The 5 Best 4-Ton AC Units
What is the Central Air Value?
The term central air conditioner usually refers to a split system composed of outdoor and indoor units. The outdoor unit is commonly used as a metal cabinet that serves as the housing for the compressor and the condenser.
This metal cabinet is connected to the indoor unit with a series of pipes that allow the air and the refrigerant to flow between the two components. In addition, the system's evaporator that is responsible for generating cool air is located in the indoor unit.
The variation of this system called the packaged central air conditioner features only the outdoor unit that houses the condenser, compressor, and evaporator.
This type of central AC unit has to be connected to the duct system that protrudes through the structure's external wall, which is why it is usually installed on buildings that already have a duct system.
Read our guide to cooling systems if you're struggling to understand the differences between different types of cooling systems.
The Coverage Area of ​​​​​​​​4-ton AC Units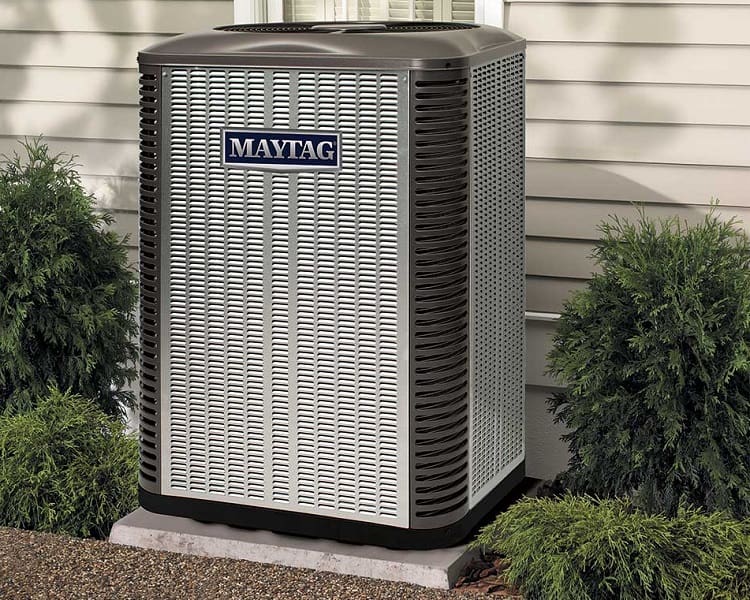 The amount of space you can cool with a 4-ton AC unit depends on the climate you live in. So, if you live in a cold climate, you can use this system to cool to 2,400 sq/ft area, while its coverage range drops to approximately 1,900 sq/ft in regions with moderate climates.
In warm climates, these systems can't cool spaces larger than 1,600 sq/ft, and given the fact that the average size of a single-family house in the United States is around 2,400 sq/ft, you must make sure that a 4 -ton AC unit is powerful enough to keep your entire home cool.
Getting an AC unit that is too large for your home is just as bad as choosing a system that isn't big enough because, in either case, the system needs high amounts of power to maintain a constant temperature in all rooms.
Check our guide to mini-splits to learn more about these air conditioning systems.
Energy-Saving Features of 4-ton AC Units
High utility bills are one of the most common side effects of inefficient cooling systems. That's why you should pay close attention to the unit's energy efficiency ratings.
The Seasonal Energy Efficiency Rating or SEER shows how much energy the unit needs to consume during the cooling season to maintain the room temperature at the same level during that time.
The energy efficiency ratio or EER shows how much power an AC system needs every hour to achieve its maximum cooling capacity measured in British Thermal Units (BTUs).
Choosing a model that is Energy Star certified is probably the easiest way to ensure that your cooling system will consume too much power. However, you should bear in mind that the unit's efficiency can be affected by your home's insulation and numerous other factors.
Read our guide to residential insulation to find out how to prevent heat from entering your home through the ceiling or walls.
The Durability of 4-ton AC Units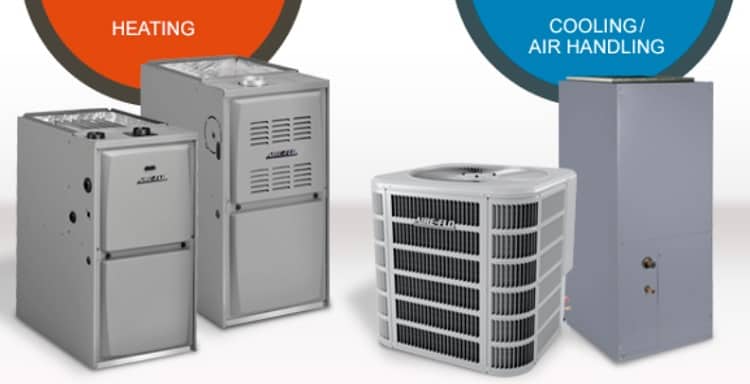 The quality of central air conditions varies depending on the brand and the model, only the basic single-stage AC is considerably less durable than a high-end variable speed cooling system.
Manufacturers like Goodman , Payne , or AIRE-FLO are generally considered budget brands whose models aren't stacked with features offered by Amana , York , or Trane brands.
Nonetheless, most 4-ton AC units can remain functional for more than ten years, although all models require maintenance regardless of how much they cost.
Refrigerant leakage or corrosion is more common on entry-level systems because they don't have water-resistant outdoor components, which can ultimately cause the metal parts to rust and leak.
Central 4-ton ACs don't have high upkeep requirements as maintenance checks are usually performed once per year. Go through our guide to the best GE portable air conditioners if you don't want to go through the trouble of installing a 4-ton AC unit in your home.
Installing a 4-ton AC Unit
The complex ductwork or connecting the system's outdoor and indoor components are overwhelming tasks for skilled and experienced DIYers. That's why you have to hire a licensed contractor to install a central 4-ton AC unit in your home.
Depending on the system's complexity, it takes between 4 and 8 hours to complete the installation process. The installation of a central air conditioner can cost between $1,000 and 10,000, and the service can be even more expensive if your home doesn't have existing ductwork.
In addition, you'll have to acquire the permit to install a 4-ton AC unit through the contractor you choose before the installation process can start. The cost of acquiring this allows is usually added to the overall installation costs.
Go through our guide to water heater systems if you don't want to use the central AC to heat water in your home.
Factors to Consider While Choosing a 4-ton AC Unit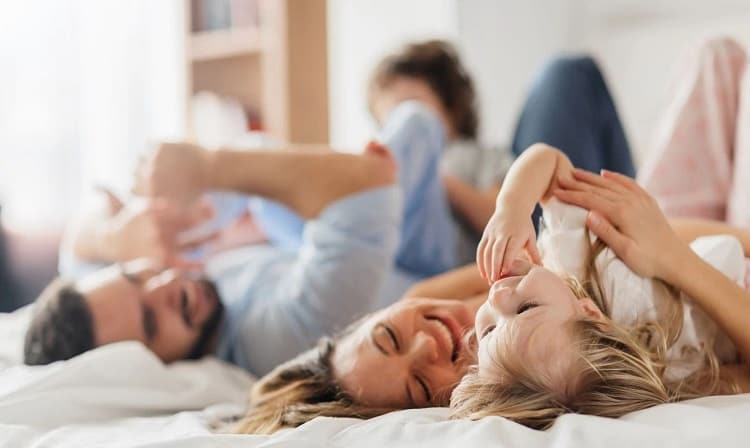 You shouldn't choose a 4-ton AC unit by yourself, especially if you're not familiar with all aspects of these cooling systems. Instead, you should consult with a contractor every step of the way and make sure that the model you choose is a good fit for your home.
This doesn't mean you should let the contractors make all the decisions for you, but rather that you should work with them on finding an optimal cooling solution for your house, and to do that, you'll need to pay attention to a wide range of factors.
We've shortlisted some of the most important ones, so let's take a closer look at them.
The Size of Your Home
The coverage range of 4-ton ACs ranges from 1,600 sq/ft in warm climates to 2,400 sq/ft in cold climates. If your home is smaller or larger than the coverage range of a 4-ton AC unit, you should search for a model with a higher or lower tonnage.
The unit's coverage is largely affected by the climate, which is why you should ask the contractor if a 4-ton cooling system is a good solution for your home. You should also factor in the structure's insulation because poorly insulated spaces are generally difficult to cool.
Compressor Type
You can choose between single-stage, dual-stage, and variable speed compressor types. As their name implies, single-stage units operate constantly, and you can't lower their output. Consequently, they consume more power than dual-stage units that let you adjust their current output.
Variable speed central ACs grant you complete control over their output as they can offer up to 700 compressor settings.
Such a wide variety of output options allows for a gradual increase or decrease in airflow. It boosts the unit's energy efficiency since you don't always have to use it at the maximum capacity.
Noise Level
ACs are not loud because they generate a similar noise as vacuum cleaners, washing machines, or hairdryers. The quietest models are slightly louder than a refrigerator or an electric toothbrush, while the loudest models are as loud as a coffee grinder.
You should opt for a unit that produces between 50dB and 60dB if you want to make sure that the central AC isn't going to disturb your neighbors. Units that generate more than 70dB of noise are better suited for households with large backyards or commercial buildings in non-residential parts of the city.
4-ton AC Unit Brand
The quality of a 4-ton AC often depends on the manufacturer, so you shouldn't expect the same level of performance from all brands. However, comparing models produced by different brands will enable you to find the most reliable cooling solution for your home.
You should keep in mind that the performance of a 4-ton AC unit depends on its features, so going through the model's specification list is going to help you understand the model's capabilities.
However, units equipped with high-end features cost significantly more than central ACs with a basic set of options.
Cost and Warranty
Even the least expensive central AC units cost more than a thousand dollars, while you can spend more than $3,000 on a high-end model. In addition, the installation costs of these units are incredibly high, and in some cases, you may have to spend more than $10,000 just to install the AC switch.
The length of the warranty depends on the manufacturer, but most brands offer 10-year limited warranties. You should search for a model that is covered by a warranty that includes free replacement or repair of broken components.
Read also:
The Advantages of 4-ton AC Units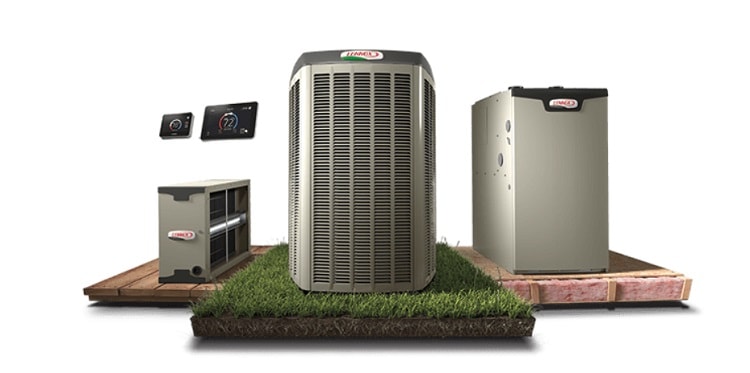 Great Coverage Range
These units are designed to supply cooling to large venues and homes. Their coverage range helps you avoid installing separate AC units in different parts of your home. In addition, you can control the entire cooling system with just one thermostat.
Long Life Span
Even the least expensive 4-ton AC units last for more than a decade, while in most cases, these cooling systems remain functional for more than 20 years. Moreover, you won't have to spend time on their maintenance as the contractor that installs the unit is usually in charge of their upkeep.
Excellent Energy Efficiency
Opting to install a 4-ton central AC unit in your home will save you hundreds of dollars on utility bills every year. In addition, most models have SEER and EER above-average ratings and Energy Star certifications that vouch for their high energy efficiency.
The Disadvantages of 4-ton AC Units
High Price Tag
Obtaining and setting up a 4-ton AC unit is likely to cost you several thousand dollars. These cooling systems are far from being budget-friendly, and you should search for alternative options if the cost of the AC switch exceeds your budget.
Top 5 4-ton AC Units
Lenox XC25 – The Most Energy-efficient 4-ton AC Unit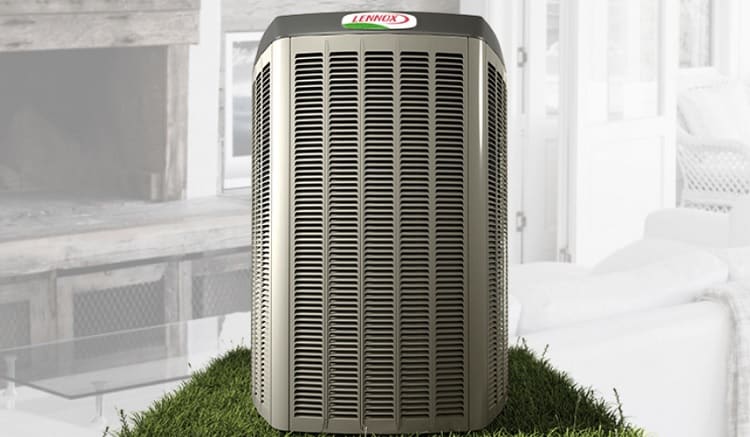 The stunning list of features of the Lenox XC25 suggests that this variable speed unit can be remarkable performances. The Precise Comfort® technology lets you adjust the AC's output to your current needs and minimize the power consumption.
This Lenox model is among the most energy-efficient 4-ton AC units on the market because it has a 26 SEER ratio that earned it the Energy Star certification in 2021. the iComfort thermostat.
pros
Impressive energy efficiency

Use eco-friendly refrigerant

Generate low amounts of noise

Durable PermaGuard cabinet
Cons
very expensive

Underwhelming warranty
Rheem RA20 – The Best Variable Speed ​​​​​​4-ton AC Unit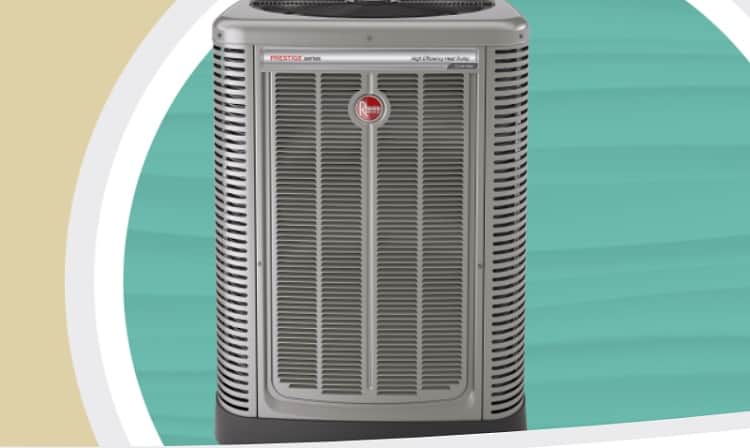 The Copeland scroll variable compressor the Rheem RA20 uses grants you complete control over the unit's output. Besides cooling the air in your home, you can use this AC unit as a water heater via the EcoNet smart home system.
The unit's metal components are corrosion resistant, which reduce the risk of refrigerant leakage and minimize the upkeep requirements. The Rheem RA20 is Energy Star certified, and it has the SEER20 and 13 EER ratings.
This 4-ton AC comes with a limited 10-year warranty that included conditional part or unit replacement.
Read also: Rheem vs Ruud Brand Comparison.
pros
Easy output adjustments

Low power consumption

All components are powder coated

Excellent dehumidifying options
Cons
Generates a lot of noise

The unit can be difficult to use
Armstrong Air 4SCU20LX – The 4-ton AC Unit with the Best Remote Control Options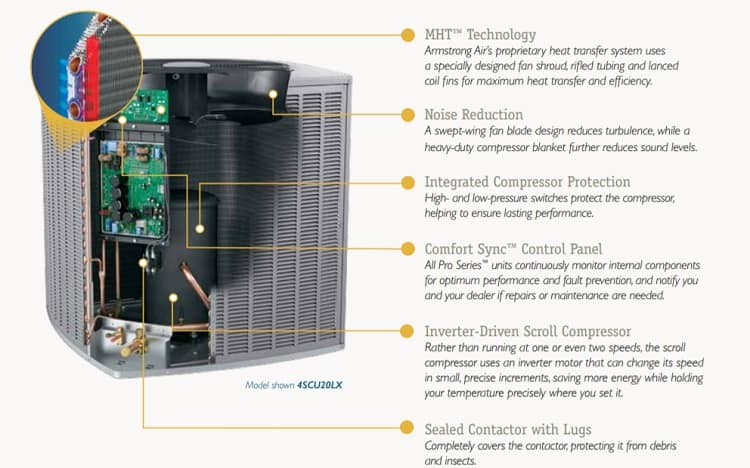 Pairing the Armstrong Air 4SCU20LX with a Comfort Sync A3 thermostat will enable you to control the cooling system remotely.
The thermostat minimizes the amount of time you have to spend on its upkeep because it monitors the unit's internal components and it automatically alerts the contractor who installed it as soon as it detects a faulty part.
Controlling the AC's speed is remarkably easy as you can increase or decrease its output in small increments to find the optimum room temperature. The system's compressor is protected by a mix of high and low-pressure switches that allow it to remain in perfect condition for years.
pros
need temperature control

Internal monitoring allows for easy failure

Great SEER and EER ratings

Excellent protection against microbes
Cons
The outdoor unit isn't corrosion resistant

Not a budget-friendly cooling solution
Maytag M1200 PSA1BF – The Most Affordable 4-ton AC Unit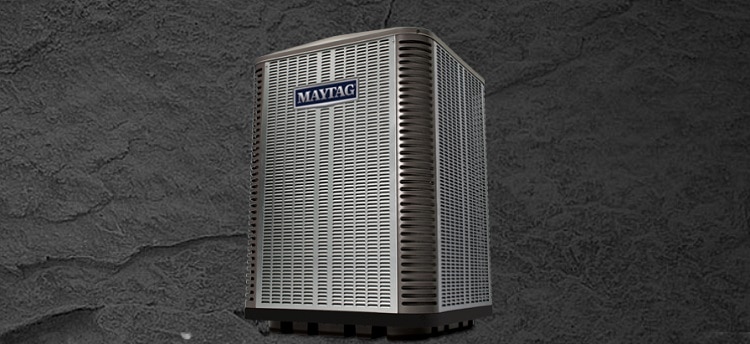 Although less energy-efficient than some of its competitors, the Maytag M1200 PSA1BF 4-ton AC unit can still lower its monthly utility bill. This model has a 16 SEER rating which suggests that it won't consume too much power to cool your home.
The Maytag model doesn't come with indoor components, and you must pair it with a variable speed air handler or furnace to start using it. You can also use it as a dehumidifier if the air in your home is too humid.
In addition, the system's internal components are corrosion-resistant, which ensures they won't break down easily.
pros
Energy Star certified

Suitable for commercial and residential use

12-year warranty

reasonably priced
Cons
The indoor component must be purchased separately

Complex and expensive installation process
York YXV – The Quietest 4-ton AC Unit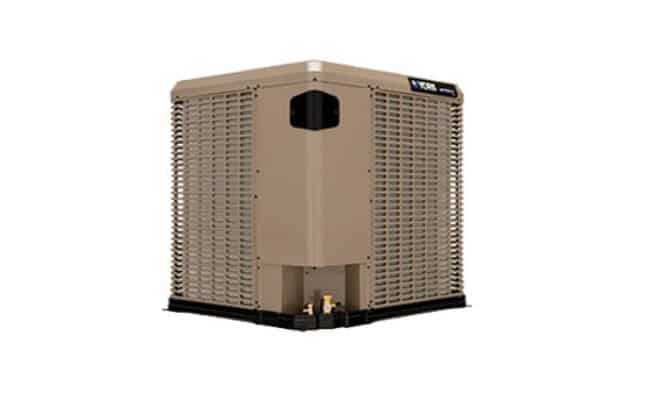 You should take a closer look at the York YXV if you're concerned with the amount of noise a cooling system will make. The QuietDrive™ system that dampens vibrations and sounds is the main reason why the AC generates just 53dB of noise.
The unit's variable speed compressor lets you adjust its output to the current weather conditions. That's why the York YXV is one of the most energy-efficient units on the market. Pairing this 4-ton central AC with the Hx or Hx3 touch screen thermostat enables you to control the entire system from one place.
Pros
Climate Set feature adjusts the unit's output to weather conditions

quiet operation

The compressor is covered by a lifetime warranty

The zoning system is available through an Hx3 thermostat
Cons
More expensive than similar models

The system is prone to corrosion
Frequently Asked Questions about 4-ton AC Units
Question: Are 4-ton AC units pre-charged?
Answer: Most 4-ton AC units arrive charged, and there's no need to charge them during installation. Even so, you must check if the model you selected is going to arrive pre-charged.
Question: Do All 4-ton AC Units have Remote Control Options?
Answer: The vast majority of 4-ton AC units are controlled through a thermostat, while only WiFi-enabled models can be controlled remotely.
Question: Are Outdoor Components of 4-ton AC Units Waterproof?
Answer: Even though the AC components of outdoor units are designed to stand prolonged exposure to water, You should still protect them from rain.
Question: Do I have to Replace the Old Ducting when Installing a New 4-ton AC Unit?
Answer: Yes, you should, even though installing new ducting will make the installation process more difficult.
Our verdict: Deciding which 4-ton AC Unit to Get?
Obtaining a 4-ton AC unit is a long-term investment since most cooling systems can last for several decades. Deciding to install a 4-ton central AC in your home will lower the amount of power you're using to keep your home cool and save you hundreds of dollars every year.
We recommend the Lenox XC25 4-ton AC unit because of its durability and remarkable power-saving features. If this model doesn't fit your budget, you should consider getting a more affordable option like the Armstrong Air 4SCU20LX .
Which of the best 4-ton AC units are you going to choose? Let us know in the comments or continue reading our guide to the best 5-ton heat pumps if you need a cooling system for large spaces.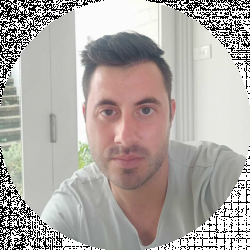 Latest posts by David Borgogni
(see all)