Finding the right mini-split system for your home or office will be much more difficult if you enter the market without the necessary information. In this Blueridge mini-split review, we're going to supply you with the information you need to decide if the Blueridge Mini-Split is the right choice for you.
The Blueridge brand is owned by Alpine Home Air, and it contains hundreds of single and multi-zone mini-split units. That's why in this article, we're going to review the features of the Blueridge BMKH1824 mini-split, which is best suited for spaces that have up to 1,200sq/ft.
This Blueridge Mini Split review will take you through the most important characteristics of this single-zone system and provide you with several alternatives in case this unit doesn't meet your expectations.
You should check out our guide to the best 5 Zone mini-splits if you need a cooling and heating system for an entire home.
Key specifications of the Blueridge BMKH1824 Mini-Split
The Alpine Home Air's Blueridge brand features models with heating and cooling capacities spanning 9,000 BTUs to more than 50,000 BTUs.
Also, these units can have up to five indoor air handlers so that you can choose if you want to divide your home into several cooling and heating areas or treat it as a single cooling and heating zone.
Let's take a closer look at the specifications of the Blueridge BMKH1824 model.
| | |
| --- | --- |
| Cooling and heating capacity | 18,000 BTU |
| Seasonal Energy Efficiency Rating | 24.5 SEER |
| Heating Seasonal Performance Factor | 12 HSPF |
| Operating temperature range  | 129F to -22F |
| Dehumidification capacity  | 3.8 pints per hour |
| Number of zones  | Single zone |
| WiFi-enabled | Yes |
| Latest Price | Check latest price here |
Core features of the Blueridge BMKH1824 mini-split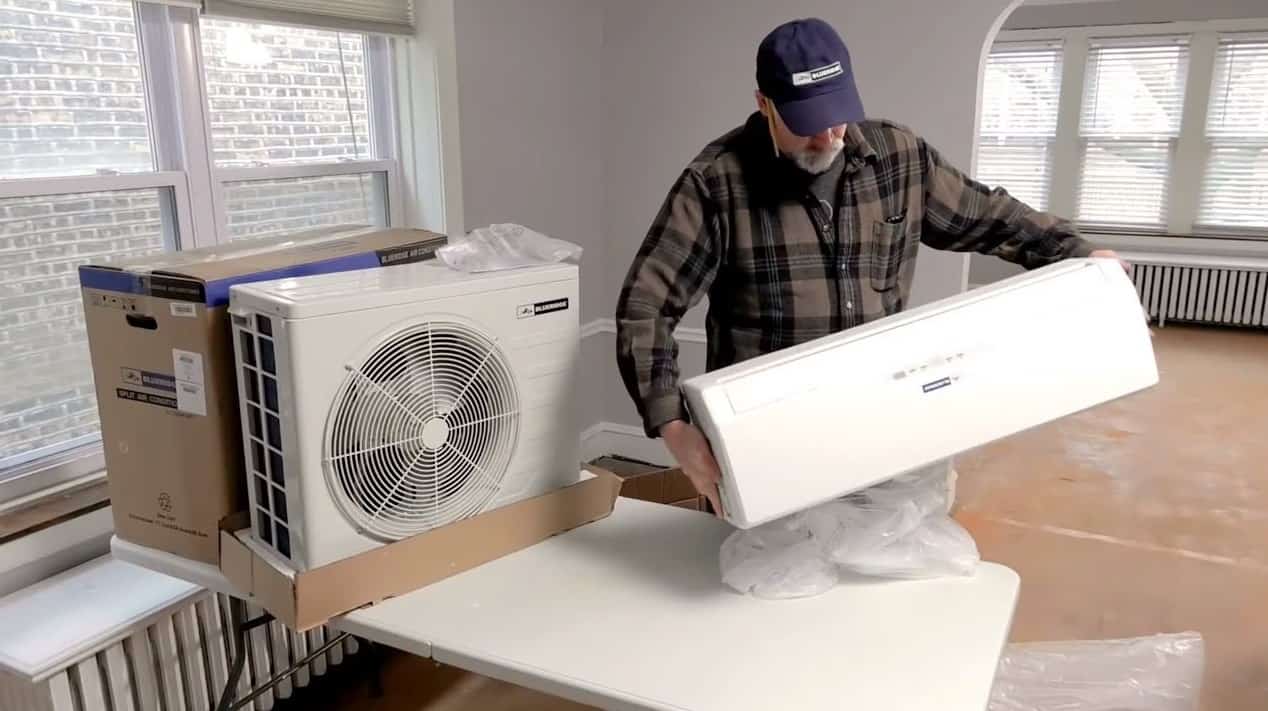 Before you start searching for a new mini-split, you need to gather some basic information about the space where you want to install the new unit. Checking the room's insulation and measuring its size is a mandatory step you need to take to determine how powerful the mini-split system is supposed to be.
In addition to the model we will review in this article, the Blueridge brand offers a wide selection of units that can offer anywhere from 9,000BTU to 60,000BTU.
Besides the sheer cooling and heating power, you also need to pay attention to the unit's energy efficiency, its dehumidification capacities, and the level of airflow control it offers.
Mini-splits produced by this brand are famous for their durability because, with proper maintenance, they can last for more than a decade. Go through our guide to the best Home Depot mini-splits if you want to explore Blueridge alternatives.
Coverage area
It is worth pointing out that the mini-split's coverage area doesn't solely depend on its maximum cooling or heating output.
For instance, the room's layout plays an important role in the mini-split's coverage because walls and other types of barriers can prevent the air from spreading evenly throughout the unit's coverage area.
The Blueridge BMKH1824 has the maximum cooling output of 18,000BTUs, while its maximum heating output is estimated at 24566BTUs. This means that the unit can cool spaces up to 1,000sq/ft or heat spaces smaller than 1,200sq/ft.
It only has one indoor air handler, and you cannot divide its output into multiple zones or control the room temperatures in different parts of your home independently. The unit arrives with a remote, but you can also use its built-in WiFi feature to adjust its settings from a smart device.
Read our guide to the best 24,000 BTU mini-split options if you need a unit with a wider coverage area than the Blueridge BMKH1824.
Properties of the compressor
The performance of any mini-split unit largely depends on the properties of its compressor. The Blueridge BMKH1824 features a two-stage compressor that grants you a high level of control over the unit's airflow output.
In addition, the G-10 inverter technology lowers the amount of power the AC is using by allowing the compressor's motor to continue running after the set temperature is reached.
Also, the Blueridge BMKH1824 is pre-charged with enough R-410A refrigerant to allow you to install the indoor air handler 25 feet away from the compressor.
The maximum distance between these two components cannot exceed 131 feet, but you must add more refrigerant to the system if you want to install them more than 25 feet away from each other.
The compressor's housing is made of sturdy and corrosion-resistant materials that protect the components of the outdoor unit from harsh weather conditions. Browse through our guide to the best Lowes mini-splits to explore other cooling and heating options you have at your disposal.
Cooling and heating efficiency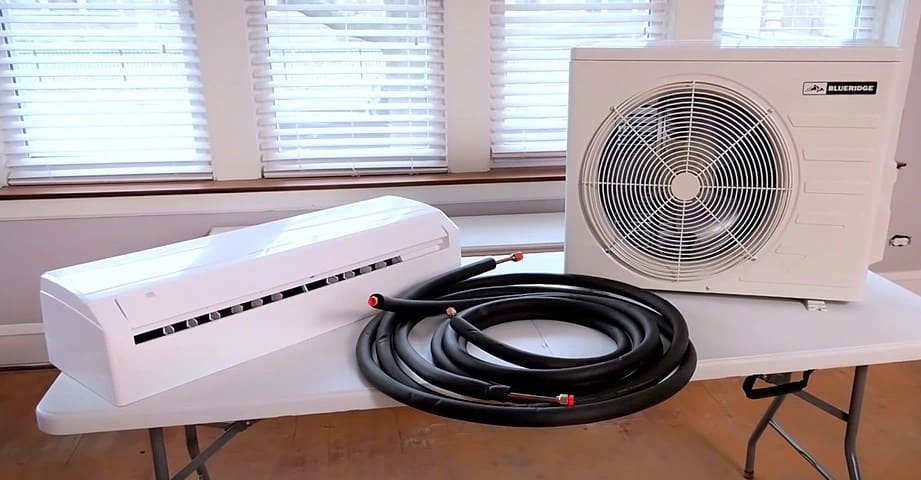 You can keep using the Blueridge BMKH1824 to control the room temperature in your home throughout the year. This unit's high cooling and heating seasonal ratios indicate that it doesn't need vast amounts of energy to achieve and maintain the chosen temperature.
Besides, this mini-split retains 90% of its heating capacities at temperatures as low as -22F, while its cooling capacities remain the same even at temperatures above 120F. With 24.5 SEER and 12 HSPF ratings, Blueridge's model is one of the most energy-efficient 1.5-ton mini-splits on the market.
In addition, the unit has 13.5 EER and 3.52 COP ratings that confirm its power efficiency. None of these values should be taken as absolute because they're calculated under specific weather conditions. Hence, the mini-splits heating and cooling efficiency depend on the current outdoor temperature.
It is worth adding that the Blueridge BMKH1824 is Energy Star certified. Go through our guide to the best 36,000 BTU mini-splits if you're searching for a 3-ton unit.
Airflow control options
The airflow range of this mini-split spans from 353 CFM to 736 CFM, depending on the fan speed you choose. The indoor air handler can operate at seven speeds in both cooling and heating modes.
Moreover, the variable speed two-stage compressor contributes to the unit's cooling and heating capacities in extremely hot or cold conditions. The 180-degree vertical air supply feature lets you swing the louvers down or up and set the air's direction.
4-way louvers enable you to switch between different air distribution patterns and distribute the air evenly throughout the unit's coverage area.
The mini-split remote is equipped with the I FEEL feature that detects the room temperature at the remote's current location and activates the system if the measured temperature is below the one you set.
This feature ensures that the Blueridge BMKH1824 can maintain an even temperature throughout its coverage area. Check out our guide to the best 12,000 BTU mini-splits for more information about 1-ton mini-splits.
Noise levels
Besides lowering the unit's power consumption, the inverter technology also reduces the amount of noise it makes. You can install the Blueridge BMKH1824 in your bedroom or any other space where you want to have peace and quiet because it generates a minimum amount of noise.
The noise range of its indoor air hander spans from 34dB to 51dB, while the outdoor compressor makes just 59dB of noise while operating at the maximum capacity. Hence, leaving the unit to run through the night is unlikely to disrupt your sleep or disturb your neighbors.
You should go through our guide to the best 1.5-ton AC units if you don't want to use a mini-split system to cool or heat your home.
Air filtration and dehumidification capacity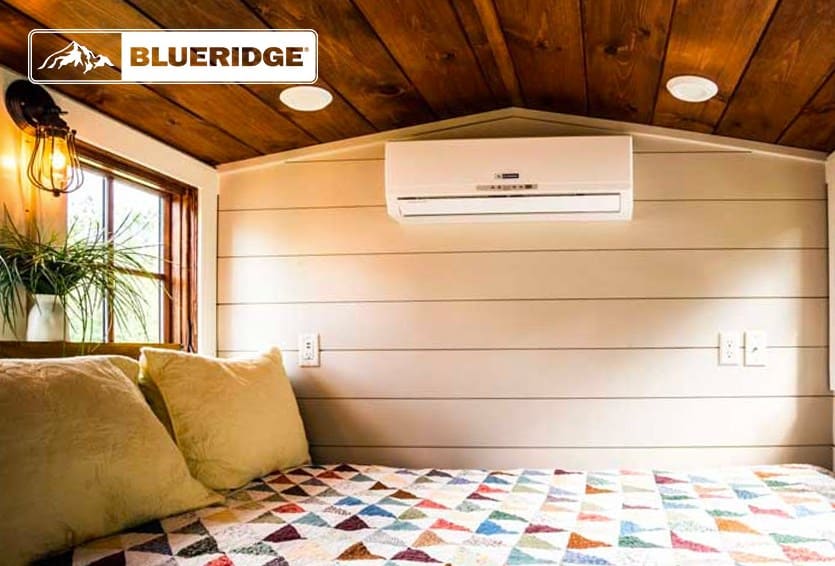 This Blueridge mini-split can help you improve the quality of air in your home because it is equipped with a reusable and washable polymeric air filter. In addition to making your living environment healthier, the air filter also prevents dust and debris accumulation on the system's components.
Nonetheless, this filter cannot capture microscopic allergenic particles. The unit can absorb up to 3.8 pints of moisture per hour, and it can help you regulate the air humidity levels in your home. Our guide to humidity control systems might help you find a way to deal with dry or humid air in your home.
Installation requirements
All installation accessories for this mini-split have to be purchased separately, including the line sets. The model is compatible with 5/8-inch suction and ¼-inch liquid lines, and you can't use it with larger or smaller line sets.
The manufacturer claims that the Blueridge mini-splits can be installed by an experienced DIYer, but you must still hire an HVAC professional to complete the installation for you, even if you're skilled enough to install all the system's components on your own.
This model arrives with the installation instructions, but you must make sure you have the right HVAC tools and installation accessories if you choose to install the unit by yourself.
Cost and warranty
The Blueridge MBKH1824 isn't among the most affordable 1.5-ton mini-splits on the market because it costs close to $1,800. Its high price is justified by strong power-saving performance and a wide range of advanced features.
Moreover, the manufacturer offers a 7-year warranty for the unit's compressor and a 5-year warranty for all other system parts. However, the warranty doesn't cover the damages that occur as a consequence of inadequate installation.
Our guide to the best 18,000 BTU mini-splits can help you find more affordable models than the Blueridge MBKH1824.
The pros of the Blueridge MBKH1824 mini-split
Wide range of applications
You can use this mini-split system to regulate the room temperature in your home, garage, office, or any other space you want to heat or cool. Its wide coverage range makes it a great fit for well-insulated open spaces that don't contain many barriers that can obstruct the flow of the air.
Excellent power-saving performance
Like all Energy Star certified mini-splits, the Blueridge MBKH1824 has the power to reduce your monthly power consumption. The unit is almost equally efficient during the cooling and heating season because it retains 90% of its heating capacity at subzero temperatures.
Low noise level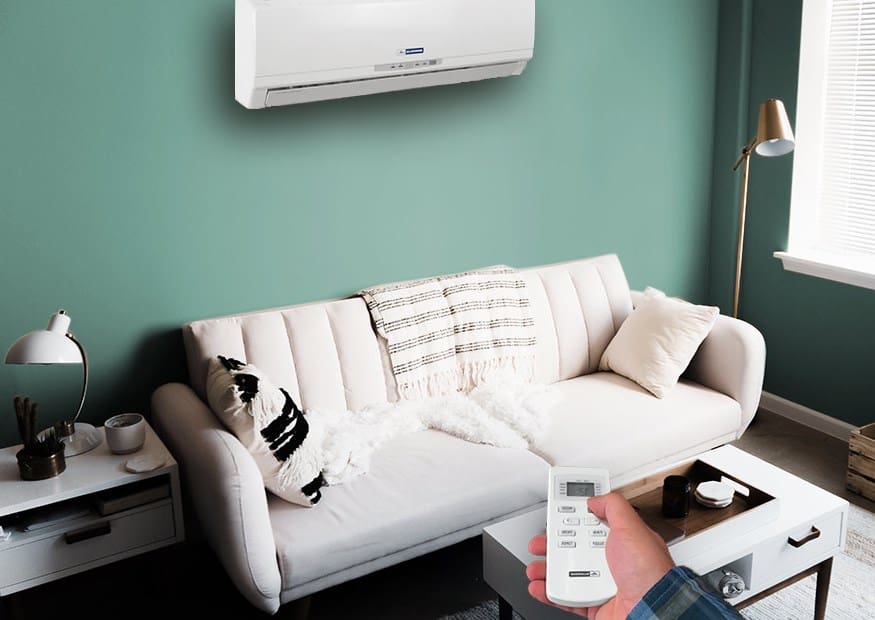 With the maximum noise level at 51dB, this mini-split system is quieter than an average conversation. The unit's noise level drops by almost 20dB when you're not using it at its maximum capacity, so you probably won't hear it working even if you let it run during the night.
Multiple control options
You can decide if you want to adjust the mini-split's settings with a remote or through the iOS and Android-compatible app on your smartphone. The remote has the I FEEL feature that detects temperature drops and alerts the system to lower or increase the temperature in the room.
Long warranty period
You will be able to repair all system components for free over a 5-year period, provided that they're properly installed. Also, the 7-year compressor warranty ensures that you have to spend vast sums of money to repair or replace the key component of the mini-split system.
The cons of the Blueridge MBKH1824 mini-split
All accessories must be purchased separately
After you purchase the Blueridge MBKH1824, you'll only have the indoor air handler and the compressor. The line set, drain hose, or wall bracket are some of the accessories you need to get before you can install this mini-split.
Not budget-friendly
Blueridge offers several 18,000 BTU mini-splits that are considerably less expensive than the MBKH1824 model. In addition, multiple competing brands offer 1.5-ton mini-splits that are more affordable than this Blueridge's unit.
The best alternatives to the Blueridge MBKH1824 mini-split
Investing in a highly energy-efficient mini-split like the Blueridge MBKH1824 will eventually pay off because you'll reduce your monthly cooling or heating costs. However, spending almost $2,000 on a single-zone unit might be excessive if your budget is limited.
We've shortlisted several alternative cooling and heating solutions that are more affordable than Blueridge's model, so let's take a look at what they have to offer.
You should read our guide to finding the best heat pump if you're interested in other types of ductless systems.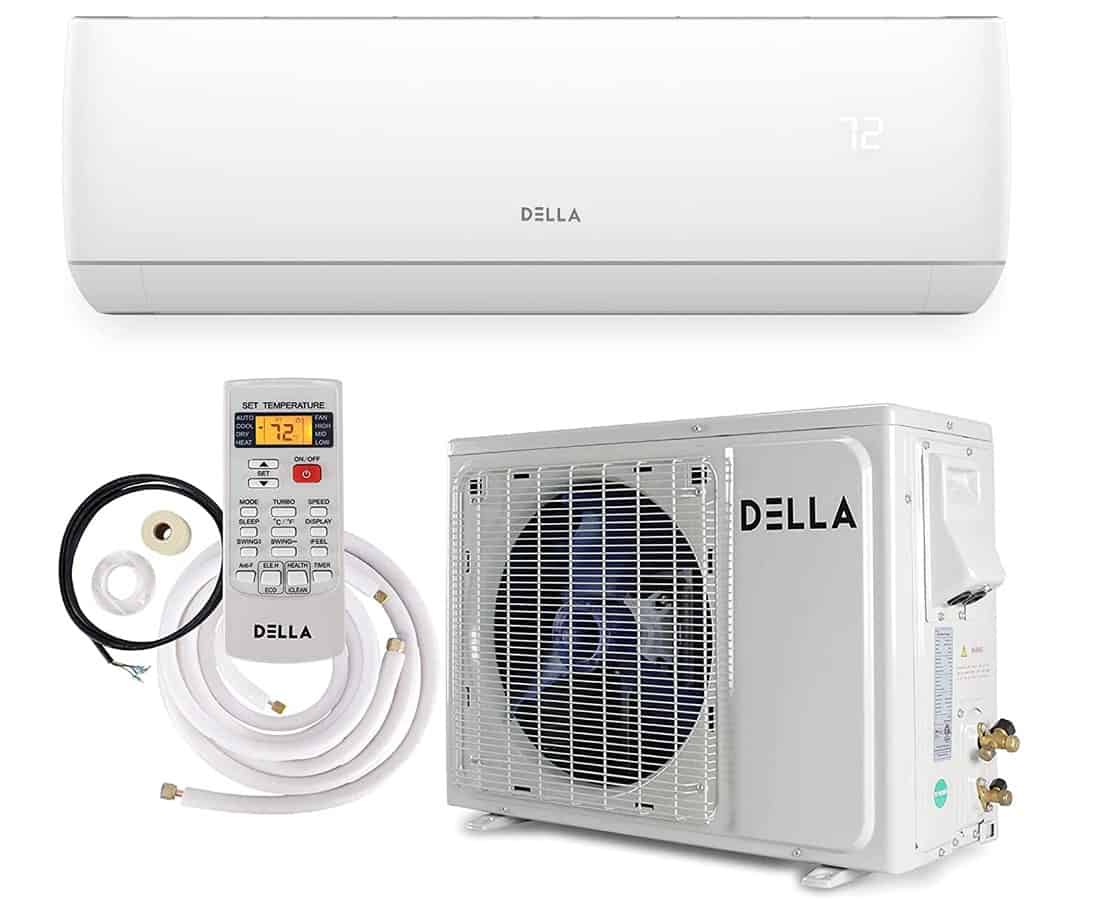 Like the MBKH1824, the Della 048-MS-18K2V-17S is pre-charged for 25 feet which enables you to choose where and how you want to position its indoor and outdoor components.
The unit has 17 SEER and 9HSPF ratings, which means that it's going to consume significantly more power during the cooling and heating seasons than Blueridge's model to regulate the temperature in an area of the same size.
The mini-splits maximum cooling and heating output is 18,000 BTU, but its operating temperature range is somewhat narrower because you cannot use it at temperatures lower than 4F. Della's model makes just 46dB of noise at the maximum cooling or heating capacity or 34dB at the lowest output.
Della 048-MS-18K2V-17S | Amazon
This 12000 BTU/h, 17 SEER, 115V/60Hz, 9 HSPF, AHRI Certified pre-charged air conditioner unit features a ductless mini-split inverter plus a system with a heat pump and dehumidification.
Buy at Amazon
We earn a commission if you make a purchase, at no additional cost to you.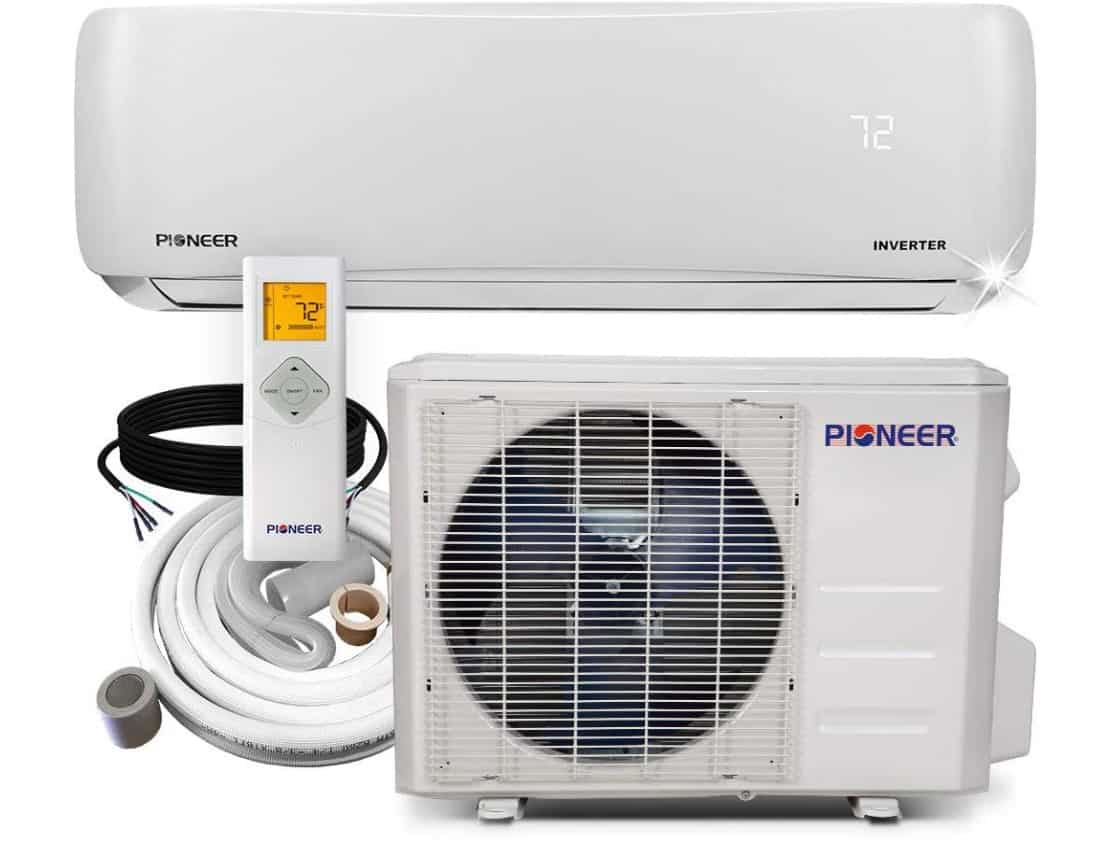 The capacity range of the Pioneer WYS018G-19 spans from 1 to 3 tons, so you can choose the version that has output capacities higher or lower than 18,000 BTU. This Pioneer Mini Split utilizes the inverter technology, and it has high seasonal cooling and heating ratings.
You cannot install the indoor air handler more than 16 feet away from the compressor without having to add more refrigerant to the system. The unit's remote has the Follow Me feature, and it lets you switch between ECO, Timer, or Self Clean modes.
This mini-split doesn't have WiFi functionality, and you can't adjust its settings through an app on your smartphone.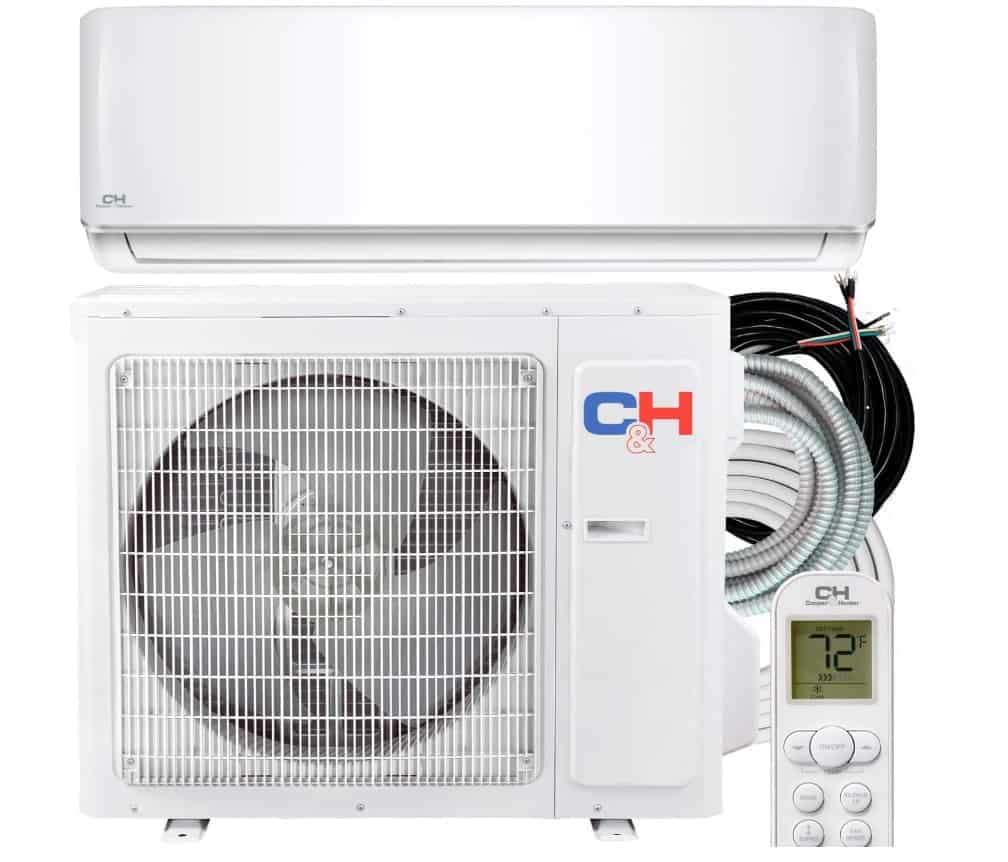 Besides the indoor air handler and outdoor compressor, you'll also get the full installation kit if you decide to purchase the Cooper & Hunter Sophia Series CH-18PH-230VI mini-split.
The mini-split performs well in both hot and cold weather, and it can function at almost full capacity as long as the outdoor temperature remains above -13F. The 16 SEER rating suggests that the unit isn't among the most energy-efficient options on the market.
Also, you won't be able to control this mini-split from a smartphone unless you purchase the adapter that allows you to connect the unit to a WiFi network.
Frequently asked questions about Blueridge mini-splits.
Question: How long does the delivery of the Blueridge mini-splits take?
Answer: If you purchase a mini-split through the brand's website, your order will be shipped the same or the following day. The delivery times depend on your place of residence.
Question: Can I add an indoor air handler to the Blueridge MBKH1824?
Answer: No, the MBKH1824 is a single-zone mini-split, and you cannot turn it into a multi-zone system.
Question: Does the Blueridge MBKH1824 have the self-diagnostics feature?
Answer: Yes, it does, and it will display the error code as soon it detects a problem with one of the system's components.
Question: How often do I have to perform maintenance checks?
Answer: You should perform a maintenance check of the entire system at least once per year, but consulting with the HVAC technician who installed your mini-split can help you determine how frequently your unit needs to be checked.
Our verdict: Is the Blueridge MBKH1824 mini-split the right choice for you?
Wide coverage area, high energy efficiency ratings, and low noise levels are some of the reasons why the Blueridge MBKH1824 is one of the best single-zone mini-splits on the market. Also, the unit is suitable for a wide range of contexts, and it is an equally good match for a living room and a bar.
We recommend this mini-split system to anyone who needs a way to regulate the room temperature throughout the year without having to use a lot of electricity.
However, this Blueridge model may not be for everyone's budget, and we recommend the Pioneer WYS018G-19 if you need an affordable mini-split with excellent energy efficiency ratings. We hope that this Blueridge MBKH1824 review has helped you decide if this is the right model for you.
Let us know in the comments or continue reading our guide to the best 4-ton AC units if you need a cooling and heating system with a wide coverage range.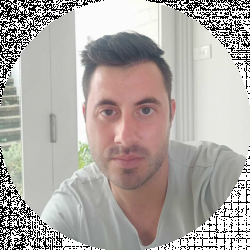 Latest posts by David Borgogni
(see all)