Excessive power consumption is arguably the biggest concern homeowners have while searching for a new cooling and heating system. That's why the best 24,000 BTU mini-splits are such a popular option, as they can regulate the temperature in relatively large spaces while using moderate amounts of power.
In addition to having high energy efficiency ratings, these systems also have dehumidification and air filtering functions that can improve the air quality in your household.
Some models even come with DIY installation kits that allow you to install the system by yourself and save hundreds of dollars on hiring an HVAC professional to set up the system for you.
This article will help you become more familiar with 24,000 BTU mini-splits and suggest some of the best 24000 BTU mini split options you can get for your home or office. You should also read our guide to mini-split systems to learn more about how they work.
At a Glance – The 5 Best 24,000 BTU Mini-Split Options
Selection Criteria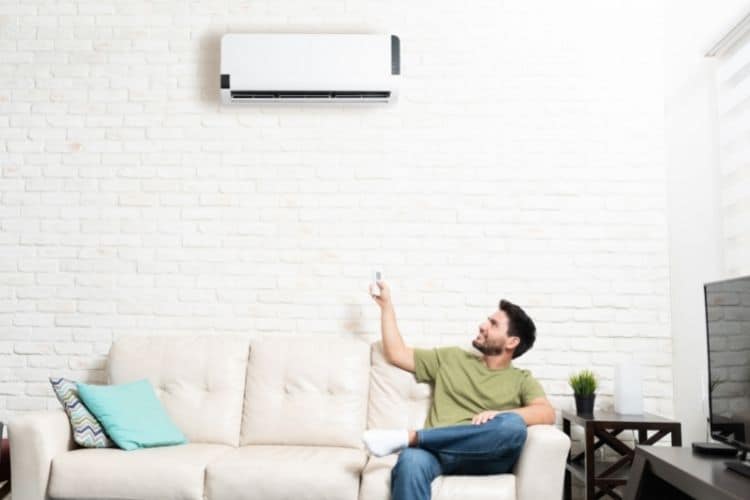 In addition to the unit's features, factors such as the climate or the layout of the space where the 24,000 BTU mini-split is going to be installed can prompt you to choose one model over the other.
We've used a wide range of parameters to select the best 24,000 BTU mini-splits, so let's take a look at some of the most important ones.
Energy efficiency ratings – Most brands use energy efficiency ratings to highlight the power-saving features of their ductless mini-split systems. We've used these ratings to find the models that don't consume vast amounts of power during the heating or cooling season.
Price range – Units that have 24,000 BTU output capacity are more expensive than 1.5-ton or 1-ton models. We've included both affordable and expensive mini-splits in this article so that you can choose the option that best fits your budget.
A maximum number of zones – Having the ability to divide the unit's output into multiple zones can lower your monthly utility bills since you don't have to regulate the temperature in all zones at the same time. Units that have just one zone are a better choice for a large space that doesn't contain barriers that prevent the cold or hot air from spreading through the room.
Go through our guide to the best 18000 BTU air conditioners to learn more about the different types of ACs you can use in your home.
Types of 24,000 BTU Mini-Splits
All ductless mini-split systems operate on the same principle. The cold or hot air is generated by using line sets to move the refrigerant between the unit's outdoor and indoor components.
Depending on the number of indoor components in a system, you can choose between the following types of 24,000 BTU mini-splits.
Single-zone – The unit treats the entire coverage area as a single zone because it has just one indoor air handler. This type of mini-split isn't an ideal solution for two-story houses since walls, and other types of barriers limit their coverage range.
Multi-zone – 24,000 multi-zone mini-splits usually feature two indoor air-handlers with identical power output capacities. So, in most cases, you'll get a pair of 12,000 BTU indoor air handlers since models that split the unit's cooling, or heating output unevenly are rare. You need to get a mini-split with a higher output capacity if you're searching for a three-zone system.
Check out our guide to 4-ton ACs if you're searching for an alternative to the mini-split system.
The Coverage Area of 24,000 BTU Mini-Splits
Under ideal conditions, you're going to need 20 BTU to heat or cool a 1sq/ft of floor space. But, the indoor and outdoor conditions are rarely perfect, which makes it difficult to estimate the coverage range of 2-ton mini-split systems.
Depending on the climate in your region, these units can heat or cool between 1000sq/ft and 1,200sq/ft of floor space which makes them a good choice for 4-room apartments.
All types of ductless mini-splits have an operating temperature range, and extremely hot or cold ambient temperatures can reduce their coverage range.
The position of the indoor air handlers also affects the unit's coverage range since installing them in poorly insulated spaces is going to limit their cooling and heating capacities.
Moreover, you need to check if the unit's cooling and heating outputs are identical since some models cannot heat a 1,200sq/ft space. Read our guide to residential insulation to find out how to prevent heat transfer in your home.
The Power Efficiency of 24,000 BTU Mini-Splits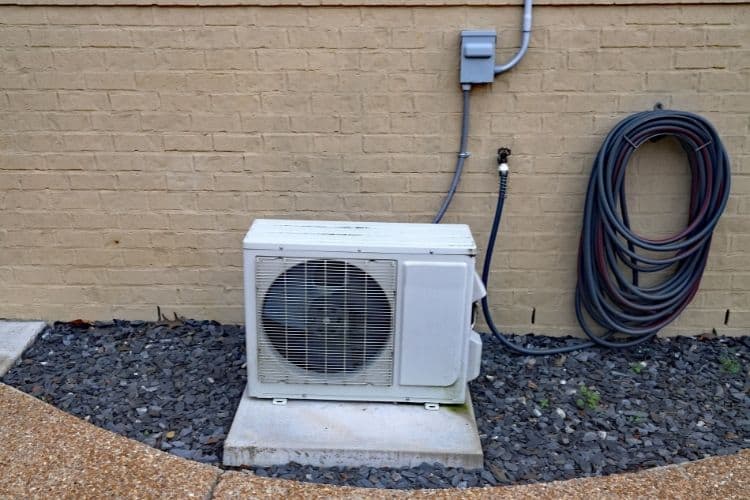 Estimating the costs of using a 24,000 BTU unit to regulate the temperature in your home shouldn't be too difficult since most brands include energy efficiency ratings in descriptions of all their products.
The average cost of using a 2-ton mini-split for an hour is $0.32, but the unit's actual power consumption depends on its SEER, EER, and HSPF ratings.
Each of these ratings is calculated at specific outdoor temperatures, and it might change if the current ambient temperature is higher or lower than the one used to measure the unit's energy efficiency.
Energy Star certified models have the best power-saving features, but they're more expensive than the models that don't have this certificate. 2-ton mini-splits with SEER ratings above 18 and EER ratings above 8.5 are considered energy efficient even if they don't have the Energy Star certification.
You should opt for a 24,000 BTU mini-split that has an HSPF rating above 9.5 if you're planning to use this system for heating. Browse through our guide to furnaces if you need a heating system for an entire house.
The Essential Features of 24,000 BTU Mini-Splits
Heating and cooling aren't the only functions mini-split systems offer. In fact, most units have the same set of features regardless of their size, and you can use them to regulate air humidity levels or filter out allergenic particles.
Here are some of the most important features a 24,000 BTU mini-split should have.
Auto clean function – Units equipped with this feature eliminate the moisture from the indoor air handler automatically. This prevents different types of microorganisms from damaging the system's components.
Dehumidification – Mini-splits absorb the moisture from the air while operating in this mode. Some models can absorb more than 100 pints of moisture in one day.
WiFi compatibility – Getting a WiFi-enabled mini-split will allow you to adjust its settings from your phone. Keep in mind that WiFi adapters are usually sold separately from the mini-split.
Timer – This function lets you program when and for how long the unit is going to be running.
Go through our guide to the best window heat pumps if you need an AC system that is easy to install.
The Most Important Factors to Consider While Choosing a 24,000 BTU Mini-Split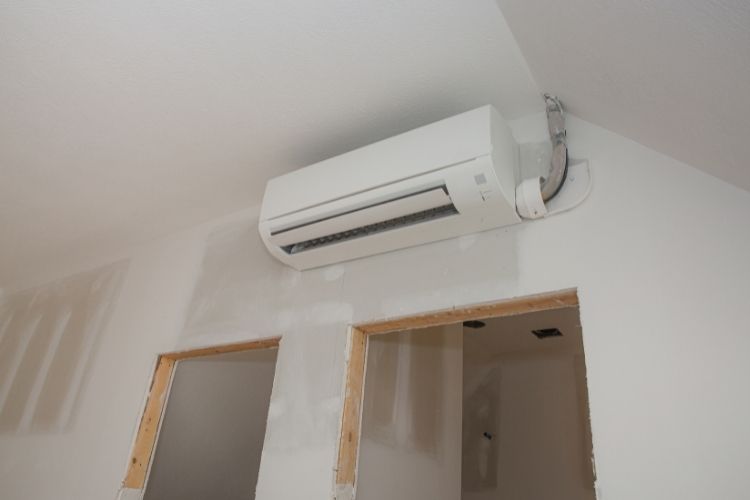 Even though you can choose from hundreds of 2-ton mini-split models, most options will offer a similar set of features. The unit's energy efficiency rating and your budget limitation are probably the most important factors that will ultimately determine which model you're going to choose.
We've listed several additional factors that might make your search for a 24,000 BTU mini-split easier, so let's take a closer look at them.
Single-Zone vs Multi-Zone System
The number of indoor air handlers a mini-split system has isn't going to affect its coverage range.
Multi-zone systems allow you to use air handlers independently from each other, and in doing so, they lower the amount of power the system needs to regulate the room temperature in a specific part of your home.
Single-zone models might struggle to achieve and maintain an equal room temperature across the entire coverage area if the weather is extremely hot or cold.
Heating Capacity
Mini-splits are primarily cooling systems which is the reason why some models don't have the heating mode. The unit's heating output isn't always the same as its cooling output since a 24,000 BTU mini-split can supply you with 24,500 BTUs or just 12,000 BTUs of heating power, depending on the model.
These systems need more power to increase the room temperature for 1F than to lower it for 1F.
Air Filter Type
All 2-ton mini-splits have air filters that safeguard the system from insects and particles in the air that can damage its components.
Units equipped with HEPA filters capture allergenic particles like pollen or pet dander, and you should opt for a mini-split that features this type of air filter if one or more members of your family members suffer from allergies.
You should choose a model with a washable filter to avoid having to install a new filter every few months.
Noise Levels
Depending on the model, 24,000 BTU mini-splits make between 20db and 60dB of noise. Models that produce up to 30dB of noise are a great fit for bedrooms, while units with a higher noise level are better suited for shared spaces in your home or your office.
Air filters for mini-splits cost between $20 and $80, while the filter replacement service costs around $100.
Overall Cost and Warranty Length
The price of 24,000 BTU mini-splits ranges from $1,250 for entry-level models to approximately $3,000 for a high-end model. You should also add installation costs to your expenses since most 2-ton mini-splits require professional installation.
The compressor warranty is usually longer than the warranty for other parts of the system, so the model you choose might have a 7-year warranty for the compressor and a 5-year warranty on all other components.
Bear in mind that the duration of the unit's warranty depends on the brand you choose.
The Advantages of 24,000 BTU Mini-Splits
Variety of Functions
Besides heating and cooling, 24,000 BTU mini-splits offer functions that allow you to improve your home's ventilation system or regulate the air humidity levels. These features increase the quality of air in your home and create a healthier environment for your family.
Multiple Airflow Direction Options
2-ton mini-splits allow you to choose the direction of the airflow by changing the position of their louvers. This enables you to direct the airflow to maximize their cooling and heating capabilities or direct the air towards a specific area of the room.
Power-Saving Performances
The cost of using a 24,000 BTU mini-split for an hour is just $0.32, so your utility bill isn't going to increase significantly even if you use the unit for several hours every day. Most models have high SEER, EER, and HSPF ratings that guarantee moderate power consumption.
The Disadvantages of 24,000 BTU Mini-Splits
Limited Coverage Range
The average size of a household in the United States is well above 2,000sq/ft, which means that 24,000 BTU mini-splits aren't powerful enough to be the only source of heating and cooling in most homes in the United States.
Top Five 24,000 BTU Mini-Splits
Daikin B06XKBDLLW – The best multi-zone 24,000 BTU mini-split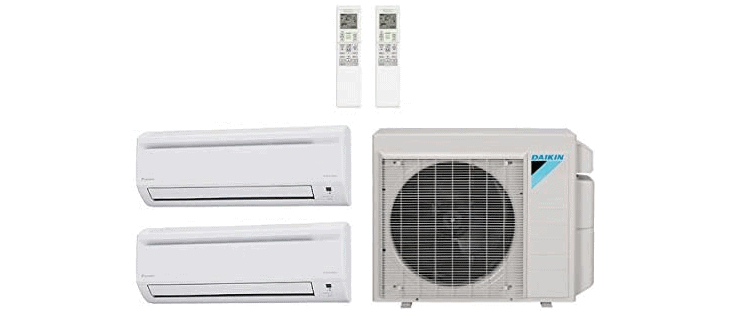 You'll get a pair of 12,000 BTU air handlers that allow you to split your home into two separate zones if you opt for the Daikin B06XKBDLLW mini-split. The unit offers heating and cooling modes, and you can use it throughout the year with the same level of efficiency.
This model ships with remote controllers for both air handlers, but you must purchase the line sets and all other accessories you're going to need during the installation process. Daikin's mini-split has to be installed by a licensed HVAC technician because attempting DIY installation is going to void the warranty.
Pros
Low power consumption
Suitable for residential and commercial settings
Long warranty period
Performs well at low temperatures
Cons
Very expensive
The installation kit must be purchased separately
Mitsubishi MY-GL24NA – The Best 24,000 BTU Mini-Split for Warm Climates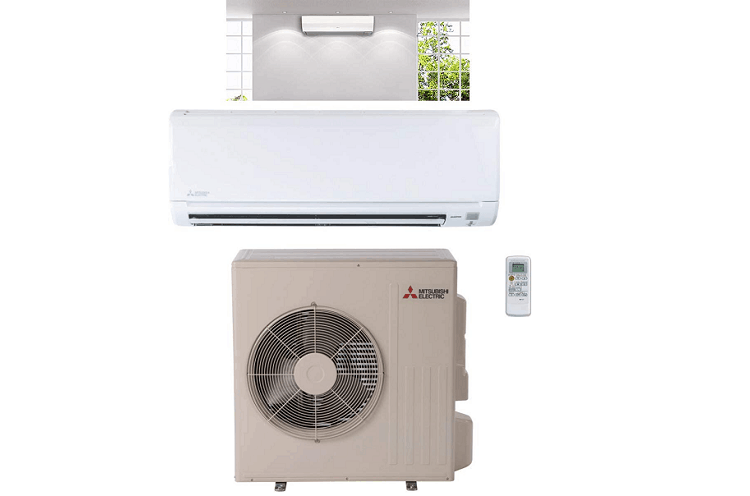 The accurate temperature control provided by the Mitsubishi MY-GL24NA mini-split is made possible by the inverter technology and electronic linear expansion valve that control the speed of the condenser's motor and regulate the flow of the refrigerant.
In addition, the blue fin condenser features an anti-rust coating that protects it from physical damage caused by wind or rain exposure. This 24,000 BTU unit has just one air handler, and it is equipped with an advanced air filtration system that retains allergenic particles.
This Mitsubishi model doesn't have a heating option, and you can only use it to lower the temperature in your home.
Pros
Excellent SEER rating
Great dehumidification capacity
WiFi-enabled
Variable fan speed
Cons
The model's price doesn't include installation accessories
No heating option
Commercial Cool CSAH2420AC – The Best 24,000 BTU Mini-Split for DIY Installation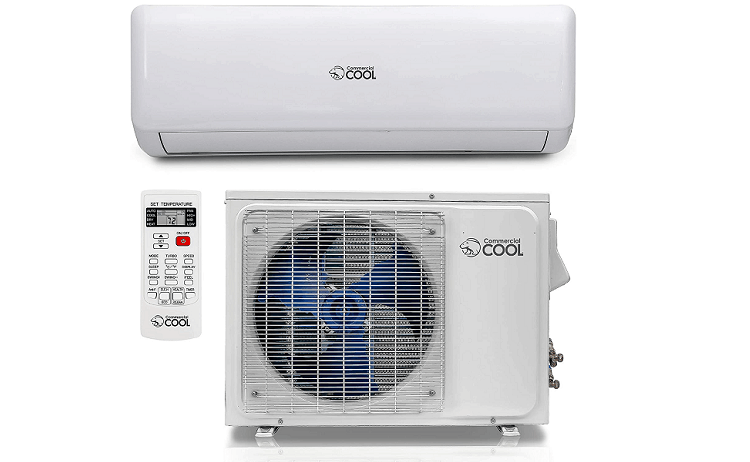 The Commercial Cool CSAH2420AC mini-split might be the right solution for you if you don't want to spend additional money on installation. The unit arrives with a DIY installation kit that contains pre-charged line sets and all other accessories you need to install the outdoor and indoor components.
This mini-split lets you set the room temperature in the range from 60F to 90F, and you can use it during cold and warm months. In addition, the unit's dehumidifier can absorb up to 126 pints of moisture in a single day.
Pros
Removable and washable air filter
Simple installation process
Excellent safety features
Cools and heats rooms quickly
Cons
Very loud
Not Energy Star certified
Commercial Cool 24,000 BTU 17 SEER Ductless Mini Split Air Conditioner | Amazon
The Commercial Cool CSAH2420AC Split Air Conditioner is an excellent and efficient way to cool or heat your home all year round. Easy to install, and clean with removable and washable air filters our system delivers comfort for your home or office any time throughout the year.
Buy at Amazon
We earn a commission if you make a purchase, at no additional cost to you.
09/26/2023 11:16 am GMT
MrCool DIY-24-HP-230B – The most energy-efficient 24,000 BTU Mini-Split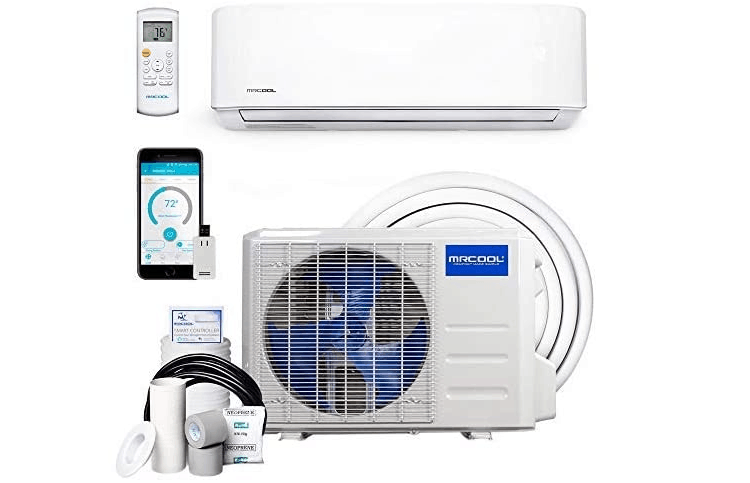 Besides the remote controller, you can also use Google Assistant or Amazon Alexa to adjust the settings of the MrCool DIY-24-HP-230B mini-split. The variable-speed DC inverter compressor reduces the amount of power the unit needs to maintain the room temperature at the same level.
The mini-split informs you when you have to clean or replace the air filter, and it detects refrigerant leakages automatically. The unit's operating temperature range spans from 5F to 122F, which means that you cannot use it to heat your home if the temperatures drop below 0F.
Pros
Great power-saving features
Automatic refrigerant leakage detection
Multiple control options
Gold fin condenser is corrosion resistant
Cons
It doesn't perform well at low temperatures
Requires professional installation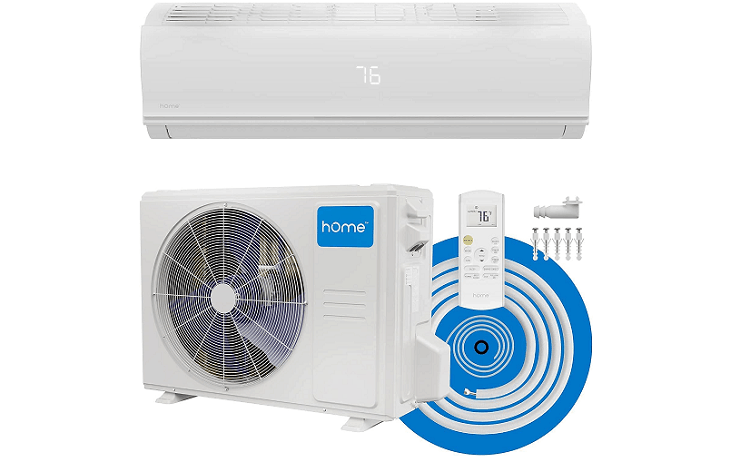 You can lower the room temperature to 62F or increase it up to 86F with the hOmeLabs 24000 BTU mini-split. The single-zone unit lets you switch between heating, cooling, dry, fan, and auto modes with a push of a button.
Moreover, the remote has the Follow Me feature that measures the temperature at its current location, which enables the mini-split to create even temperatures throughout the room.
The model utilizes the inverter technology to control the speed of the condenser's model, but the manufacturer doesn't offer the unit's SEER, EER, or HSPF ratings which suggest that the mini-split power consumption is high.
Pros
Affordable price
Quiet operation
Features washable air filters
Ships with an installation kit
Cons
No WiFi control option
Not energy-efficient
hOmeLabs Split Type Inverter Air Conditioner | Amazon
This split-type air conditioning system from hOmelabs is equipped with inverter technology so it consumes less power and is able to cool down a room more quickly than a traditional ac unit.
Buy at Amazon
We earn a commission if you make a purchase, at no additional cost to you.
09/26/2023 11:57 am GMT
Frequently Asked Questions About 24,000 BTU Mini-Splits
Question: What Type of Refrigerant do 24,000 BTU Mini-Splits Use?
Answer: All mini-splits, regardless of their size, have line sets charged with non-ozone depleting refrigerant.
Question: How Often Do I Have to Clean Air Filters on 24,000 BTU Mini-Splits?
Answer: You should clean the unit's air filter after 300 hours of operation, while filter replacement is recommended after 3,000 hours of operation.
Question: Do 24.000 BTU Mini-Splits Have High Upkeep Requirements?
Answer: Besides cleaning the filter occasionally, these cooling and heating systems don't require any other form of maintenance. However, you should schedule routine checks once or twice per year.
Question: Can I Heat My Home With a 24,000 BTU Mini-Split?
Answer: Despite offering a heating function, 2-ton mini-splits aren't the most economic or efficient heating solution you have at your disposal.
Our Verdict: How to Know Which 24,000 BTU Mini-Split is the Best?
Finding a perfect cooling and heating solution for spaces smaller than 1,500sq/ft can prove to be a challenging task, as portable or window ACs consume high amounts of power.
A 2-ton mini-split is much more energy-efficient than any of its alternatives, and it allows you to make intricate temperature adjustments. We recommend the Daikin B06XKBDLLW mini-split because it lets you divide the coverage area into zones and lower the power consumption.
In case you're searching for a single-zone unit, a model like the MrCool DIY-24-HP-230B mini-split is one of your best choices.
Which 24,000 BTU mini-split are you going to choose? Let us know in the comments, or continue reading our guide to the best portable air conditioners if you need a cooling system for a modular home or check out some of the best: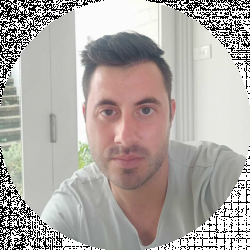 Latest posts by David Borgogni
(see all)